Set up the front page
Here are the steps to set up your front page:
Go to Pages → Add New and add a page.
Label it appropriately, e.g. home page, front page. For example, we call it Welcome to Oceanica Hotel
In the Page Attributes, select Front Page template.
Publish your page.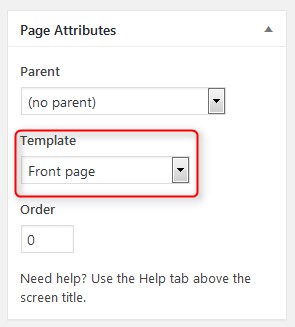 5. Go to Settings → Reading: set "Front page displays" to Static Page.
6. In Settings → Reading set Front Page to the one you created during the step #2.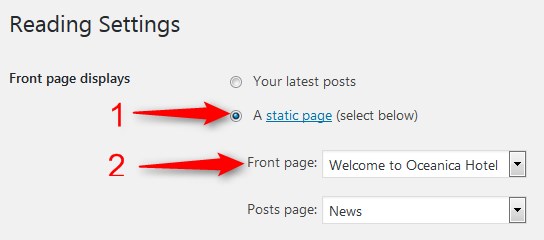 7. Save changes.
Edit front page
The front page can feature several sections: 2 widget areas, recent news, and your featured pages (via child pages).
The front page of Oceanica can be easily editable with the WordPress Customizer – a live editor.
To start working with it, go to your WordPress dashboard → Appearance → Customize.
The changes you make in the left-hand side menu are instantly visible (but not saved until you click Save button). You may also notice the blue icons with the pencil – you can click on them to get an instant access to all theme parts you want to modify.