Hotel WordPress Themes & Elementor Templates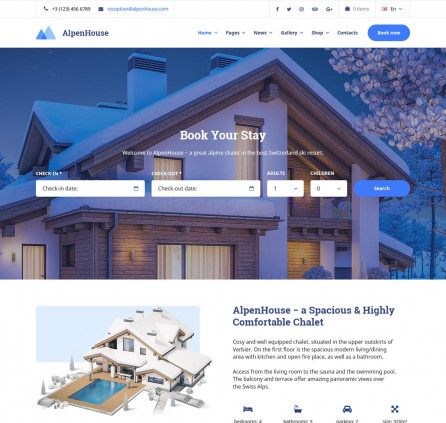 WordPress Apartment Booking Theme
View Demo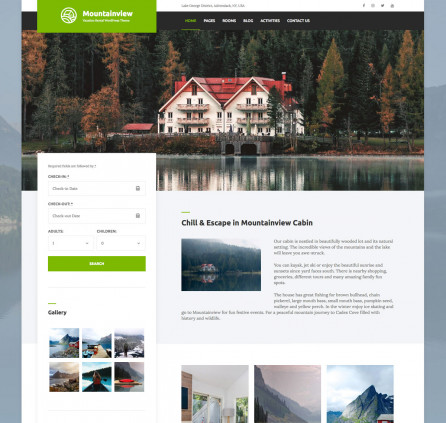 Vacation Rental WordPress Theme
View Demo
Looking for trusted WordPress themes for hotels? These are vacation rental WordPress themes and hotel themes with the built-in WordPress Hotel Booking plugin by MotoPress included for free.
These property rental WordPress themes will definitely help you display the facilities and advantages of your single property website, small family hotel, elite boutique, hostel, or cozy apartment for rent. Each template is beautifully designed, well-structured, and equipped with an easy booking tool - the WordPress Booking plugin. Here you can choose a holiday rental website template or a hotel wp theme for any specific needs.
The MotoPress WordPress reservation plugin offers you an easy property management system, an iCal channel manager for OTAs, built-in payment gateways, offline and online payments, availability calendar, extra services, booking calendar, custom rates, seasonal pricing, taxes & fees, discount coupons and much more. All these features are implemented in each WordPress rental theme by MotoPress.
Use this perfect combo of the Hotel Booking plugin and Vacation Rental WordPress themes and build your successful business with MotoPress.
Here you can also find a vacation rental WordPress theme free download is possible.
Popular Hotel WP Themes for Small Business
Hotel WordPress themes in our collection feature business-fueled designs for various categories. For example, we offer a wide range of themes for every type of business, including hotels with multiple rooms, beachfront resorts, mountain inns, campgrounds, pet boarding houses, villas, urban bed and breakfasts, and more. With so many options to choose from, you're sure to find a hotel WP theme that suits your business and design taste.
Hotel Booking Themes WordPress with Built-in Reservation Functionality
Our themes are designed with functionality in mind, so you can do more than just showcase your business - you can manage reservations, bookings, and payments all in one place.
All of our hotel booking WordPress themes come pre-integrated with the booking plugin, complete with all of its key features styled specifically for each theme. This means that you can get started with your website right away, without having to worry about the technical details or visual design.
Specifically Designed Elementor Templates for Hotels
To cater the needs of those of you who take delight in Elementor, the most used third-party WordPress website builder, we have great news. We offer a range of themes that are specifically designed to work seamlessly with Elementor. This means that you can easily customize any of these themes in Elementor or with any of its addons.
For instance, our selection of Elementor templates for hotels includes designs like the luxurious Ciestra resort theme, the modern and stylish Aquentro serviced apartment theme, and the adventurous Campterra campground theme.
When customizing these Elementor templates for hotel, you'll be able to add modern video and image galleries, tabs, maps, animated icons, and any other essential design elements to boost the online presentation of your lodging business.
Hotel WordPress Templates to Present and Promote your Business
With our hotel WordPress templates, you can have a fully functioning website up and running in just one day, so you can start promoting your business and driving more bookings right away.
Our templates are designed to help you showcase your business in the best possible light, with areas to highlight your deals, rooms, promos, image galleries, and more. Using our collection of hotel WordPress templates, you can communicate your unique style, ideas, and message to your clients, so they know exactly what to expect when they book with you.
Most Popular Hotel WordPress Themes
| Name | Description | Price | Rating | Downloads | Updated |
| --- | --- | --- | --- | --- | --- |
| Booklium | Bed and Breakfast WordPress Theme | | | 1,777 | 04.09.2023 |
| Luviana | | | | 1,083 | 10.02.2023 |
| Alpenhouse | WordPress Apartment Booking Theme | | | 1,276 | 29.05.2023 |
| Villagio | Real Estate WordPress Theme | | | 1,281 | 04.09.2023 |
Detailed Video Tutorials
What types of rental properties can I use these themes for?
We offer solutions for hotels, resorts, boutique hotels, villas, cabins, apartments, campings, pet boarding, trailer rental, boat rental, bed and breakfast, and various vacation rental sites.
Do all MotoPress vacation rental WordPress themes support the Hotel Booking plugin?
Definitely, all these hotel and vacation rental themes come bundled with the premium version of the Hotel Booking plugin. They are actually built with this plugin from the ground up. This means if you want to use Hotel Booking functionalities, you won't find a better design solution than these hand-crafted themes that are created to work with this plugin.
Can I use these hotel and rental themes without Hotel Booking?
Yes, you can use them without Hotel Booking as mere hotel designs, or simply disable online booking options in Hotel Booking, or even connect other booking plugins.
Which hotel themes are built with Elementor?
The following WordPress themes are built with Elementor: the Alpenhouse hotel booking theme, the Ciestra resort theme, the Aquentro apartment rental theme, the Albatross spa hotel theme, and the Campterra camping theme.
What is the best WordPress theme for hotels?
When it comes to choosing the best WordPress theme for your hotel, there are several factors to consider. First and foremost, you need to think about the type of property you have and what kind of layout will work best for you. Do you have a single property, or multiple properties that you want to showcase on your website? This will help determine which theme layout is right for you.
Another important factor to consider is the color scheme of the theme. You want to choose a color scheme that reflects the atmosphere and vibe of your property. This will help create a cohesive and professional look across your website.
Integrated booking, payment, and channel manager options are also crucial features to look for in a hotel WordPress theme. You want to make sure that your guests can easily book and pay for their stay on your website, and that you have the ability to manage bookings and availability in real-time.
What is a hotel theme?
A hotel theme is a pre-designed website template that's tailored specifically for hotels, inns, and other hospitality businesses. These themes come with a range of features and functionality that are essential for any hotel website, including integrated booking systems, real-time availability calendars, room and amenity listings, image galleries, and more. With a hotel theme, you don't have to start from scratch when building your website, which means you can launch your site much faster.
What are top five most popular hotel WordPress themes?
The top downloaded and used themes for hotel include Booklium, Oceanica, Villagio, Albatross, and Luvina. While the premium themes offer even more features and customization options, the Albatross Elementor hotel theme is a great choice for those on a budget, as it's completely free. No matter which theme you choose, you can rest assured that it will be perfectly suited for your hotel or vacation rental business.
What is the most popular WordPress theme?
It's hard to pick one, but the numbers say that the Booklium theme is definitely growing in popularity among hotel and vacation rental businesses. And that's explainable.
This theme offers a range of turnkey designs for different types of hotels, making it easy for businesses to choose the design that best fits their needs.
In addition to its attractive design, the Booklium theme is also fully integrated with the WordPress Hotel Booking plugin