Elementor Templates & Themes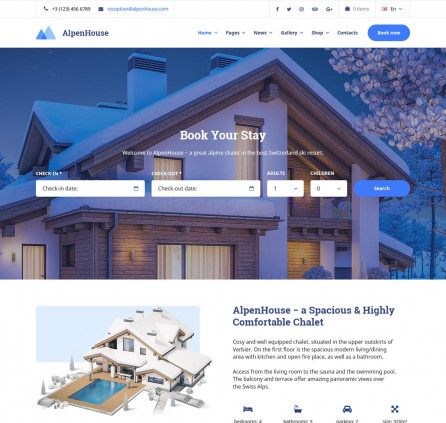 WordPress Apartment Booking Theme
View Demo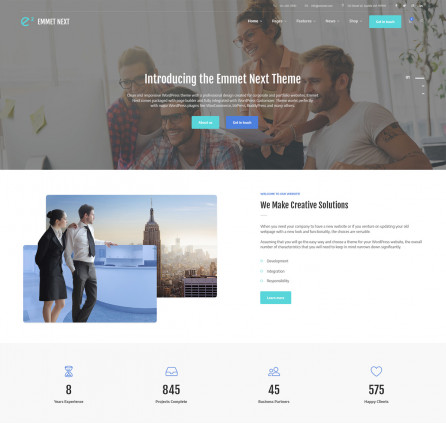 View Demo
In the MotoPress collection of the Elementor pro templates, we have solutions for multipurpose businesses and, our primary focus, a library of the Elementor hotel themes powered by the MotoPress Hotel Booking plugin.
Elementor WordPress Themes
Elementor WordPress themes are solutions designed to work specifically with the Elementor page builder, allowing you to spend less effort on style tweaking. These themes come with the pages designed and built with Elementor. You'll be able to edit all pre-designed widgets and sections visually with the Elementor page builder, enriching pages with your custom content.
Elementor Pro Themes
Elementor Pro is a premium extension for the Elementor page builder that delivers advanced functionality and extra professionally-designed Elementor templates.
Elementor Pro themes feature a drag-and-drop interface, premium widgets, pre-designed templates & widgets, and compatibility with the WooCommerce plugin. The Theme Builder lets you create and customize any website section and page without any limitations. Also, you can insert contact forms and popups via the dedicated tools.
Best Elementor Themes
If you need a neat and organized business WordPress Elementor theme, the Emmet Next theme has got you covered. It's a revamped, Elementor-optimized version of Emmet - one of the MotoPress WP themes bestsellers for businesses. It's pre-packed with tons of on-demand pages marketing-focused blocks for a truly professional look.
The library of Elementor hotel templates is a real powerhouse for hospitality business owners. The functionality core is the MotoPress Hotel Booking plugin, which is responsible for property presentation, prices, online booking with the international payment gateways, online availability calendars, and even automatic synchronization with OTAs (iCal sync with Booking.com, Airbnb, etc.). Property presentation pages are designed with Elementor and you can edit them (update the room capacity, images, etc.) via a visual Elementor interface.
The lineup of Elementor hotel themes comes with Hotel Booking-backed designs for a vacation rental, hotel, resort, single property, and a WordPress campsite booking website.
Elementor themes with the MotoPress Appointment Booking plugin integrated cover different niches: education, beauty & spa, healthcare, medicine, etc. The plugin powers themes with such features as a mobile-friendly booking widget, unlimited services & employees, multiple payment gateways, booking management tools, and more.
WooCommerce Elementor Themes
WooCommerce Elementor themes fill two needs with one deed - they ensure a seamless site-building and editing experience with Elementor and come optimized for WooCommerce. The latter enhances your website with e-commerce features: payment gateways, shopping functionality, sorting & filtering options, and more. Therefore, you can launch a fully-featured online shop website.
Built with a great customer experience and flexible templates in mind, the Laveri theme combines Elementor-based design dedicated to clothing stores and integration with WooCommerce.
Don't waste time and pick the WordPress themes designed with the best page builder!
What is the best theme for Elementor?
The best theme for Elementor can vary depending on your specific needs and preferences. When it comes to hotel themes (our primary specialization), Alpenhouse, Ciestra, and Aquentro ship with dedicated professional designs and the MotoPress Hotel Booking functionality.
Are there the best free Elementor themes for hotel websites? Yes, you can download the Albatross free hotel booking and spa resort Elementor theme for free. This theme is also packed with a free version of the MotoPress Hotel Booking Lite plugin - a solution for accepting direct accommodation bookings on your site.
Additionally, there are appointment booking WordPress themes powered up by the Appointment Booking plugin: Medmix - for medical websites, Edme - for teachers & online tutors, Lotus Spa - for beauty and spa salons, etc. Emmet Next is an improved version of the popular Emmet theme.
Are Elementor templates free?
Elementor offers both free and premium templates. When you install the Elementor page builder plugin, you will have access to a library of free templates that you can use to build your website. These free templates cover a wide range of design styles and page types, such as homepages, landing pages, about pages, and more.
However, Elementor also offers a Pro version, which is a paid upgrade. With Elementor Pro, you gain access to additional premium templates and blocks that are not available in the free version. These premium templates often come with more advanced features, designs, and customization options.
Can I use Elementor with any theme?
Yes, Elementor is designed to work independently of the theme and is compatible with most themes available in the WordPress ecosystem. However, it's important to note that some themes are specifically built to be compatible and optimized for use with Elementor. These themes often provide additional styling options, custom widgets, and specific integration features tailored for use with Elementor.
Can I create a template in Elementor?
Yes, you can create your own templates in Elementor. Elementor provides a powerful and user-friendly interface that allows you to design and customize your website's layout, sections, and elements. You can then save your design as a template to reuse it across multiple pages or even export and import it into other websites.
How do I get Elementor themes?
You can get Elementor themes in several ways:
Official Elementor theme Library.
Marketplaces and theme repositories.
Third-Party Theme Providers. For example, MotoPress offers themes that are specifically designed to work well with Elementor. They come with customization options and integrations tailored for use with Elementor. These themes suit different niches: vacation rentals (Alpenhouse or Ciestra), education (Edme), medicine (Medmix), online stores (Laveri), and others.
Custom development.
What is the best template for Elementor?
The best template for Elementor depends on your specific needs, preferences, and the type of website you are building. Elementor offers a wide range of pre-designed templates that can serve as a starting point for your website design.
Themes from this page are not Elementor templates you can integrate via the Elementor Library and use on specific pages. These are standalone WordPress themes that need to be installed and activated on your entire website as regular themes, so their styling will be applied across the site. However, they come packed with pre-built pages created with Elementor you can easily tailor to your preferences.
Does Elementor Pro have themes?
Elementor Pro does not provide its own dedicated themes. However, Elementor Pro offers a vast library of professionally designed templates that can be used to create stunning websites. These templates cover a wide range of industries, styles, and page types, including homepages, landing pages, about pages,
portfolios
, e-commerce pages, and more.
How do I get an Elementor template?
To get an Elementor template, you can follow these steps:
Install and activate Elementor.
Access the Elementor Template Library while creating a new page or editing an existing one.
Browse the Template Library in the Elementor panel on the left-hand side of the screen.
Explore and preview Templates to find the one that suits your needs.
Import the template into your page.
Customize the Template to fit your preferences and requirements.
Save and publish on your website.