10 Best Appointment Scheduling Integrations with Stripe
The Stripe appointment booking solutions help many businesses to efficiently manage their bookings. Such services also allow easy payment processing using one of the most versatile online payment gateways. In today's post, we'll take a look at popular appointment management services and WordPress plugins that support Stripe and help their users increase conversion.

Before we begin our overview of the top solutions that support Stripe booking & online payments, here are the top 5 software services and plugins for WordPress to consider.
Top 5 Stripe Appointment Booking Software Services to Power Up Your Business
Many popular Stripe appointment booking solutions are provided as online software products. Using a monthly or annual subscription, such apps provide tools for better appointment management. From easy-to-use employee schedules to customizable booking forms and third-party integrations, such solutions can introduce your business to new opportunities.
*Prices are subject to change
1. Acuity Scheduling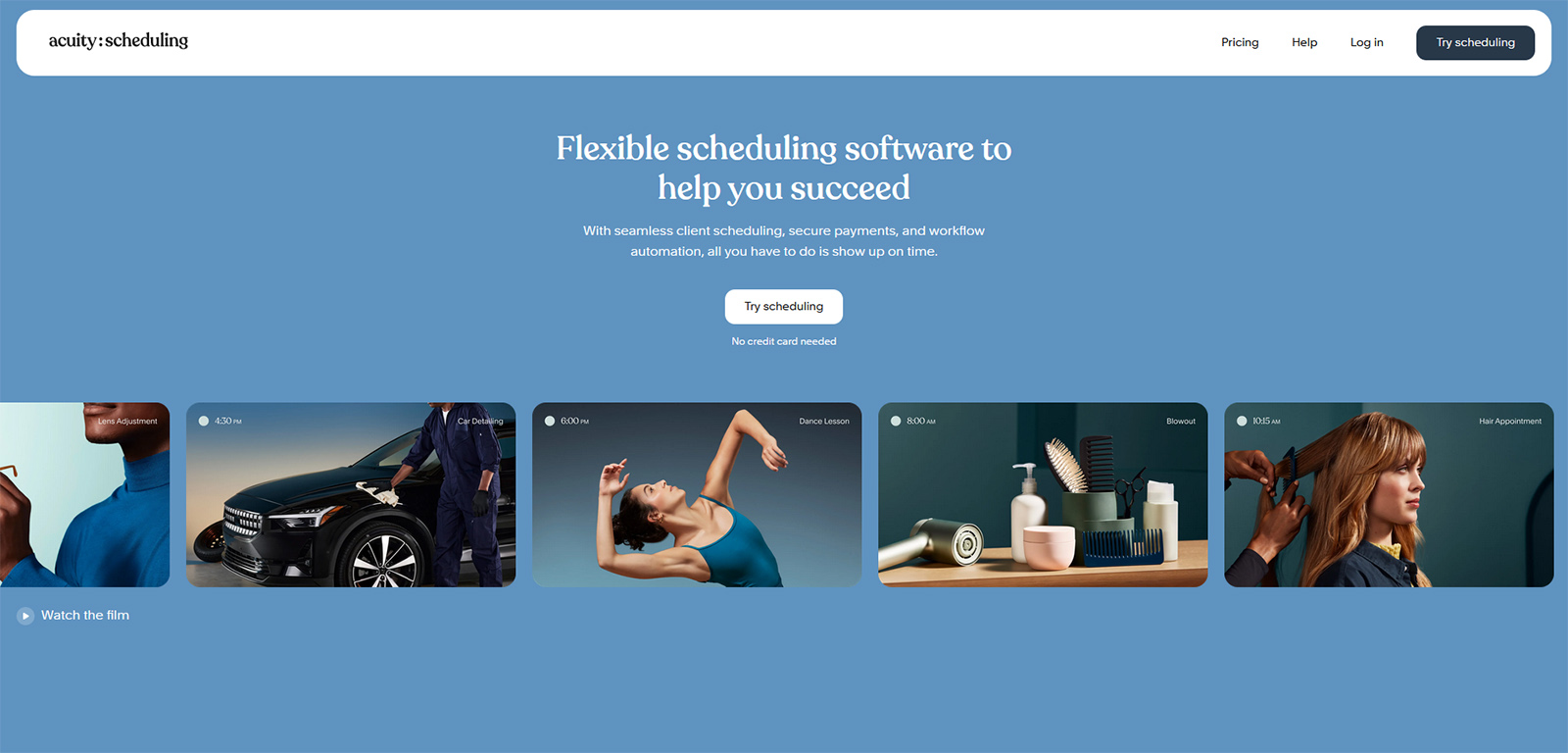 We start our overview with Acuity Scheduling, one of the most known software systems for appointment management. This solution provides automated booking features designed to save you time performing routine reservation tasks. Additionally, it helps with no-shows by sending customizable notifications to your clients. When it comes to online payments, the official Stripe scheduling integration allows collecting them via a mobile app or your website using customizable booking forms. It is available as a part of the Emerging plan for $16 per month.
Key features:
Self-scheduling to help you automate the booking process;
Confirmation, reminder, and follow-up emails;
Vault credit cards for charging clients later;
Advanced analytics module providing detailed reports.
| Name | Developer | Released in | Price |
| --- | --- | --- | --- |
| Acuity Scheduling | Squarespace | 2006 | from $16/month |
2. Setmore
Are you looking for one of the top-rated Stripe appointment booking solutions that will help you reach new customers anywhere? If so, Setmore has you covered. This scheduling software offers an outstanding variety of tools to help you manage your bookings effectively. Moreover, it includes a Stripe payment gateway that provides you with more control over paid bookings. You can access it with the Pro plan with a monthly fee of $5 per user.
Key features:
All-in-one calendar view accessible on any device;
Secure online payments without additional fees;
Automatic appointment confirmations via e-mail;
Built-in bookkeeping system to store all your transaction data;
A diverse range of additional integrations (Facebook, Zoom, WordPress).
| Name | Developer | Released in | Price |
| --- | --- | --- | --- |
| Setmore | Setmore Appointments | 2011 | from $5/month per user |
3. Calendly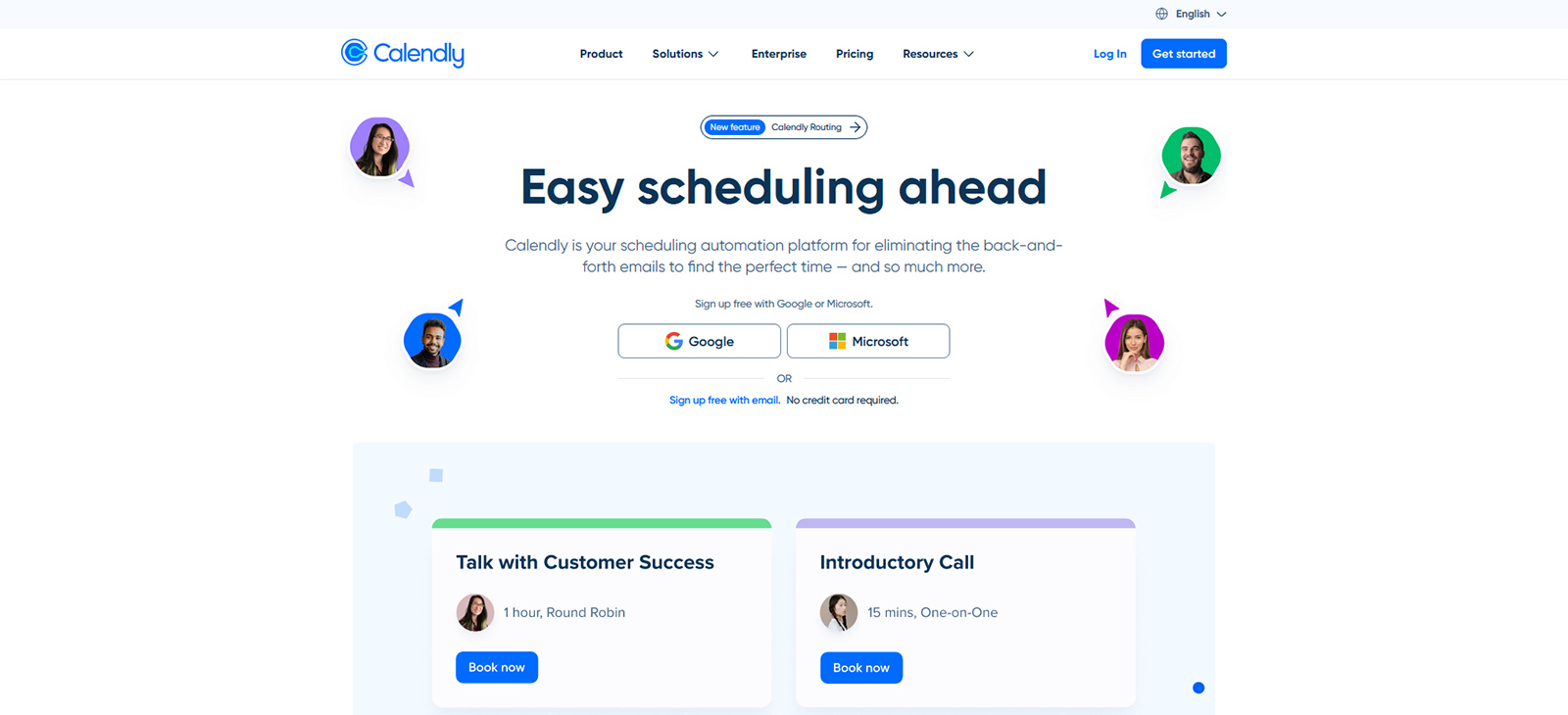 Next on our list of appointment booking plugins is Calendly. This solution is fitting if you need automated scheduling functionality for a team-based business. It can be easily integrated into the whole workflow of your organization. Moreover, with the Calendly Stripe integration, you can connect many payment methods. This will simplify billing for your team and customers. You can connect it alongside other integrations and apps for $10 per employee monthly using the Standard pricing plan.
Key features:
Team scheduling with automated notifications;
Group and collective event types;
Multiple calendars and schedules that can be synced with your employees' favorite platforms;
Easy-to-track billing reports;
Customizable reminders and notifications.
| Name | Developer | Released in | Price |
| --- | --- | --- | --- |
| Calendly | Calendly | 2013 | from $10/seat monthly |
4. SimplyBook.me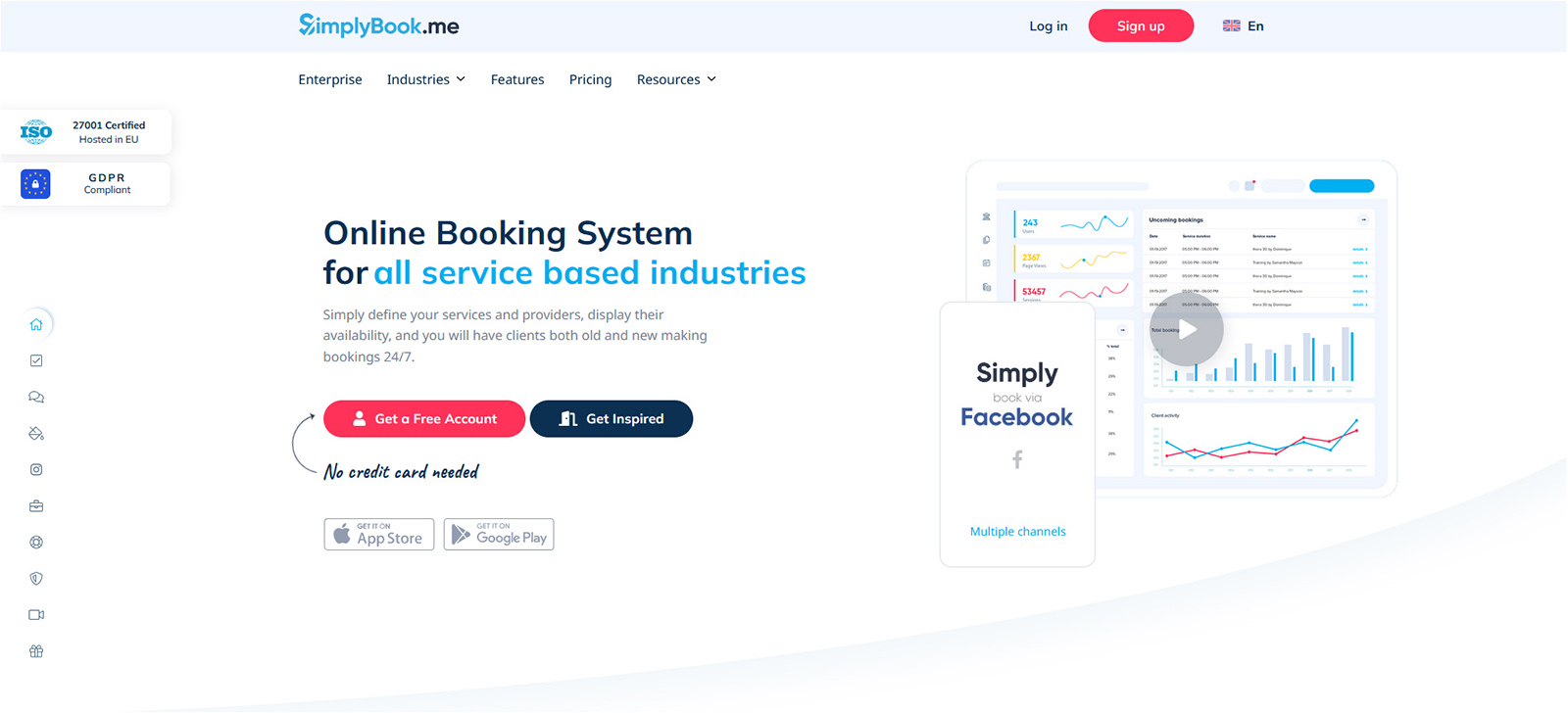 SimplyBook.me provides an extensive set of tools for managing and scheduling your bookings. It comes with a wide variety of advantages, such as a dedicated admin app, membership subscriptions, and waiting lists. Moreover, the platform offers a Stripe appointment booking that enables fast & reliable payment processing. You can enable it with the Basic plan available for €8.25/month.
Key features:
Advanced employee and resource schedule management;
Recurring appointments & event bookings;
Automatic notifications synced to the client's time zone;
Customizable booking website with rich design options;
Easy appointment canceling & rescheduling.
| Name | Developer | Released in | Price |
| --- | --- | --- | --- |
| SimplyBook.me | SimplyBook.me | 2011 | from €8.25/month |
5. Google Calendar

One of the most widely used apps for appointment management now also supports Stripe booking. With many businesses using Google Calendar for the management of their core processes, now they don't have to use third-party solutions for payment processing. Additionally, the platform now allows for appointment & payment control within a single platform. Thanks to the variety of apps and pricing plans for them, you can get all Google Workspace provides in terms of appointment scheduling for $10.80 per month for a single user with the Business Standard plan.
Key features:
Familiar & easy-to-use tools designed for collaboration;
Shareable online calendar with multiple schedules;
Email verification support for appointments;
Prevention of double bookings through calendar synchronization;
Customization of appointment booking pages across multiple platforms.
| Name | Developer | Released in | Price |
| --- | --- | --- | --- |
| Google Calendar | Google | 2009 | from $10.80/user monthly |
5 Best Stripe Appointment Booking WordPress Plugins
Software solutions are a great fit for many medium and large businesses that have their websites developed from scratch. However, some companies fully rely on WordPress and its Stripe appointment booking plugins & integrations. No wonder there are lots of outstanding plugins that can compete with popular SaaS products. Below we'll review some of them.
6. MotoPress Appointment Booking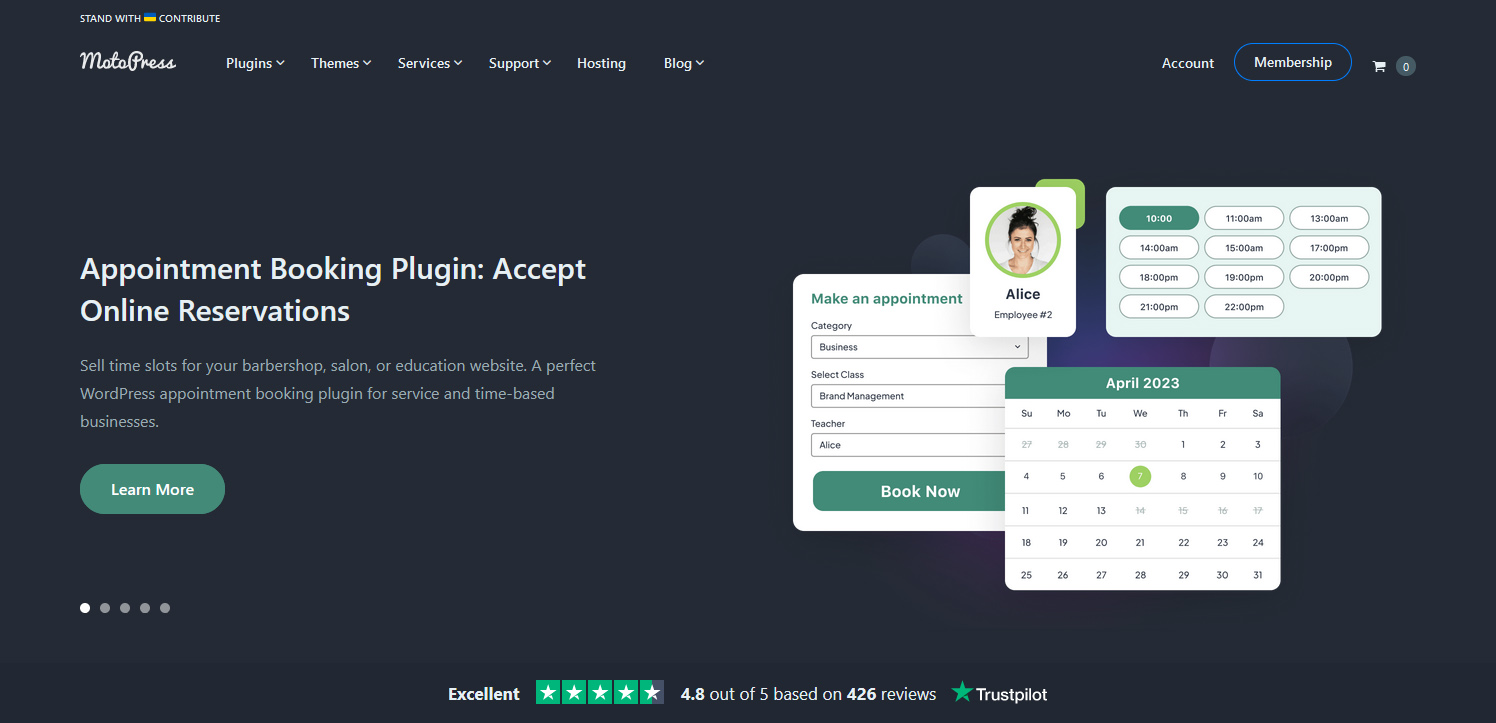 The Appointment Booking plugin by MotoPress is designed to simplify the scheduling process for customers and employees of various businesses. From beauty salons to gyms, many companies have already experienced the benefits of this plugin. For just $59 per year, you get to manage unlimited online bookings and enable online payments using the WordPress solution by the official Stripe partner.
Aside from this effective online booking solution, the developer also provides an extensive choice of plugins and themes for any task. If you want to get exclusive access to the evergrowing collection of MotoPress solutions, we recommend taking a look at the Membership pricing options. Starting with only $299 per year, you get all MotoPress products at your disposal. This not only allows you to save huge but also provides easy access to varied booking and scheduling solutions released by MotoPress alongside various customization options & plugins for the world's leading CMS.
Key features:
Step-by-step booking wizard for your customers;
Notifications for booking status changes;
Accounts for recurring clients;
Easy & quick payments using Stripe payment gateway as well as PayPal, direct bank transfer, and more;
| Name | Developer | Released in | Price |
| --- | --- | --- | --- |
| Appointment Booking | MotoPress | 2020 | from $59/year |
7. BookIt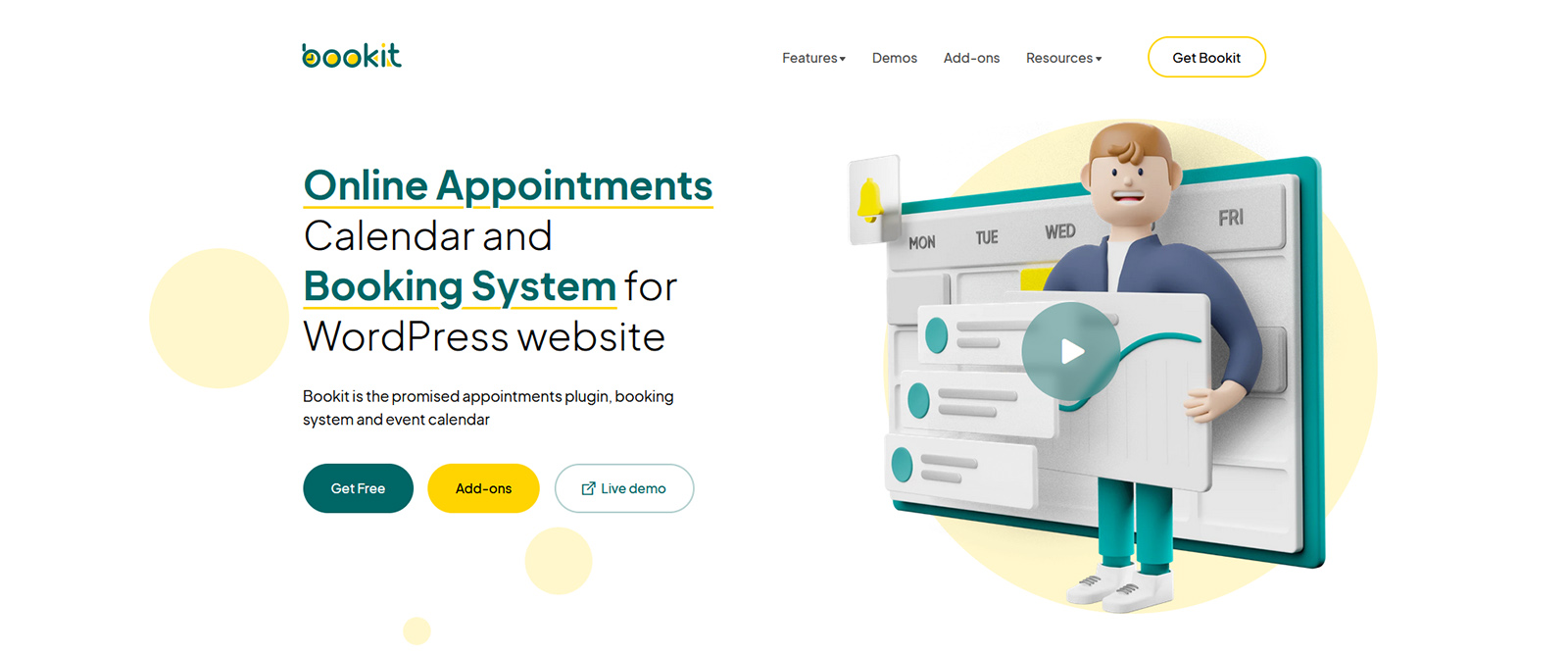 Another Stripe appointment booking solution for WordPress worth mentioning is BookIt. This free plugin introduces automated bookings allowing business owners to increase their level of service. With the Stripe scheduling addon, available for $29.99 per site, website owners can easily accept payments. Moreover, they don't need to worry about setting up other expensive solutions.
Key features:
Lots of booking customization options;
Email templates for notifications;
Import/export of appointments;
Diverse payment methods;
Varied calendar layouts for displaying your appointments.
| Name | Developer | Released in | Price |
| --- | --- | --- | --- |
| BookIt | Stylemix Themes | 2019 | from $29.99/year |
8. BookingPress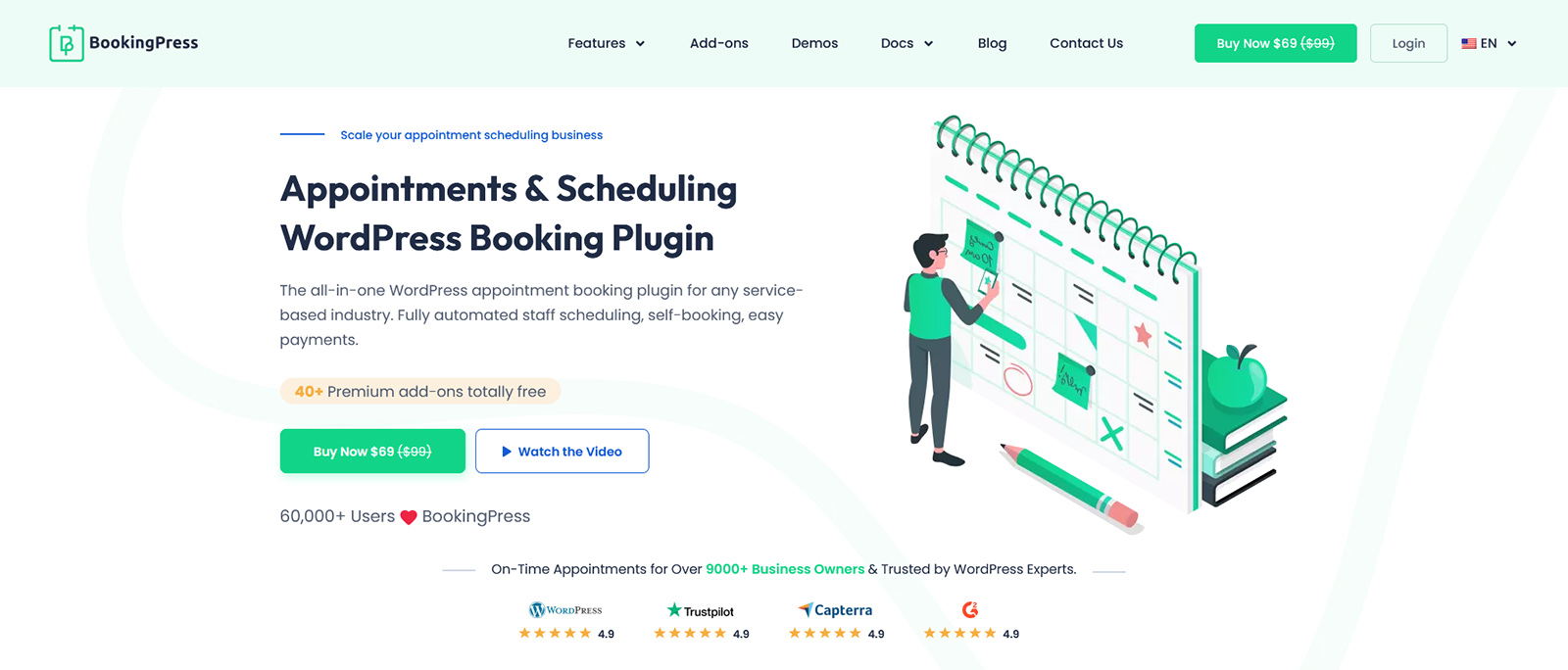 If you are looking for a WordPress plugin that meets the needs of various industries and would fit any website, BookingPress is your pick. It is an all-in-one tool that provides efficient management of online appointments. Moreover, it provides an extensive set of add-ons that improve its functionality starting from $69 per year. With their help, you can use the Stripe scheduling integration and provide your clients with an easy way of paying for your services.
Key features:
Easy-to-edit booking form;
Deposit payment support;
Built-in spam protection;
Customizable WordPress booking widget;
Simple payment processing via Stripe and other gateways.
| Name | Developer | Released in | Price |
| --- | --- | --- | --- |
| BookingPress | Repute Infosystems | 2022 | from $69/year |
9. Booknetic

Booknetic is a great WordPress plugin that helps to smoothly integrate scheduling functionality into any WordPress website. Like many other top-rated Stripe appointment booking solutions, it supports form customization. Moreover, it has a dedicated booking widget with a visual form builder. You can experience all that Booknetic has to offer for a single payment of $79. However, adding Stripe payment gateway support requires a separate add-on available for $19.
Key features:
Multiple appointments within a single booking session;
A variety of add-ons extending the default functionality;
Workflows module to automate every appointment-related action;
Advanced reminders for your clients;
Support of multiple locations.
| Name | Developer | Released in | Price |
| --- | --- | --- | --- |
| Booknetic | FS Code | 2019 | $79/once |
10. WebbaBooking

For those who need a modern solution that fits their business and improves the buyers' experience, WebbaBooking may be a suitable option. The powerful Stripe booking system that comes with this plugin can help you get rid of any routine tasks. It can also help with increasing your income. Additionally, this solution comes with a Stripe integration as a part of its Premium plugin version for $19 per month. As a result, you get a simple yet effective way of enhancing your financial processes.
Key features:
Flexible scheduling system;
Unlimited custom fields for your booking forms;
Secure online payments with the premium plugin version;
Multiple time slots & services;
Automated reminders via e-mail and SMS.
| Name | Developer | Released in | Price |
| --- | --- | --- | --- |
| Webba Booking | WebbaPlugins | 2017 | from $19/month |
Wrapping Up
Such a wide choice of reliable Stripe appointment booking solutions can certainly back up your business with smoothly working payment gateways. Moreover, the scheduling capabilities of these software and WordPress solutions can improve your website's functionality and help you increase revenue. Introducing Stripe as a part of the appointment booking activities system for your business has some advantages that can't be missed, for example:
Comprehensive payment system: One of the primary reasons for businesses to use Stripe integration is its approach to payment processing. With this solution, you don't have to worry about implementing dozens of popular payment systems and supporting all major currencies as Stripe scheduling does it all for you.
Better user experience for your customers: If you want to simplify the purchasing of your services and make your customers' experience memorable in a good way, using Stripe appointment booking integration will help your business's online presence stand out.
Enhanced payment security: It is also worth noting that Stripe offers better transaction security than many other systems. This platform adheres to the latest security standards in card payment and uses machine learning to avoid fraud.
Global access to online payments: Finally, Stripe is one of the main platforms that guarantee global access to world-renowned payment methods. Moreover, it provides a variety of tools for businesses that require smooth payment management within a unified and constantly updated solution.