Create a WordPress Availability Calendar With These Seven Plugins
There are different cases when you might need to use a WordPress availability calendar, with or without an option to book a slot.
If we look at them from the functionality perspective, which is obviously based on your normal business routine, there are several types of availability calendar plugins that differ by purpose and features.
Based on whether you need to display availability of services or spaces, hours or dates, things boil down to two broad scenarios:
Availability calendar for appointments (classes and courses, salon appointments, yoga sessions, car repair service, etc.) – in this case, you'll need to look for multipurpose WordPress appointment booking plugins.
Availability calendar for properties (hotel rooms, location-based properties, classrooms as spaces, etc.)
There are also plugins that are capable of covering both cases, needless to say.
The only hard-and-fast rule I believe is worth mentioning is that niche-dedicated availability calendars for WordPress perform better since they are sharpened for a specific business. Therefore, it's easier for them to keep pace with specialist tools and go hand in hand with the needs of a particular business.
Since we don't know which category you fall into, we'll cover both.
Each of these categories, in their turn, is presented with plugins of different scales. For example, some WordPress booking calendars offer multi-location support for appointment booking, integration with third-party services, staff member assignment, while others are limited to the bare minimum. I'd recommend you to come up with your own checklist of features before considering the right WP booking calendar.
As you see, we are not going to list ticket or event booking plugins in this collection (by the way, we've already revised a huge list of the WordPress event scheduling plugins before, if that's what you are looking for). Although they also relate to WordPress booking software, they don't deal directly / necessarily with availability calendars for booking business hours or dates, that is, available & unavailable slots.
Moreover, some WordPress appointment booking plugins come with extra functionality to address advanced needs. For example, Group Booking add-on for Bookly WordPress appointment reservation plugin is pretty handy for tours and excursions, while the MotoPress Appointment Booking plugin is perfect for reserving hourly lessons/sessions.
Given that oftentimes businesses need to do more than just display the availability calendar, we've chosen popular multidimensional availability calendar WordPress plugins.
In this walkthrough, I'll showcase best-in-class plugins for each category named at the beginning and, of course, try to highlight their main strengths.
WordPress Availability Calendar Plugins For Appointments
This is probably the category of the fiercest competition. You are spoiled for choice because there is a decent number of good solutions packaged with all manner of tools.
But we won't feature ALL of them to not bewilder you.
In the effort to be unbiased and diverse, we've chosen the most downloaded free WordPress booking calendar, a highly popular premium solution we've used ourselves, a CodeCanyon bestseller and, finally, a straightforward plugin with the highest interaction with a Google Calendar.
Overview
This plugin can become your ultimate tool for managing online bookings for your appointment-based service, whether you control the team of employees or provide service on your own (individual solopreneurship). The WordPress Appointments engine by MotoPress offers easy-to-use but rather advanced booking functionality starting from a one-page booking form for clients and finishing with simple management via backend.
In terms of the appointment WP plugin functionality, we may highlight the following:
The plugin offers a flexible profile & schedule customization for each staff member (the number of employees is unlimited). With each new schedule, you may adjust individual working days & days-offs, breaks and non-regular working hours, etc.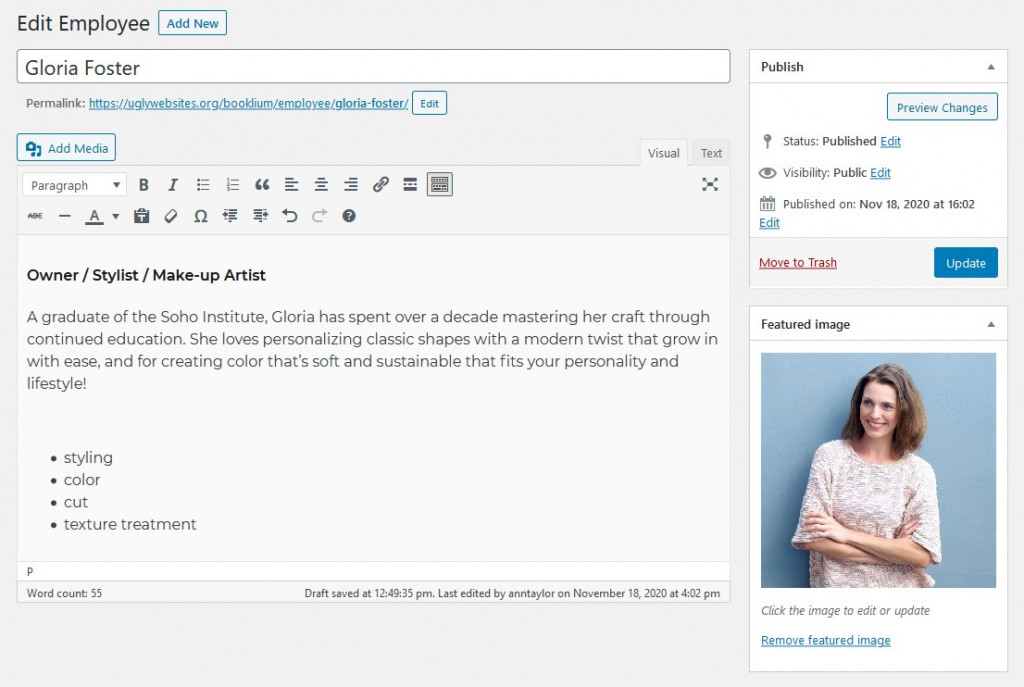 The number of offered services is unlimited. You may create bookable services with custom time slots, add buffer times before & after appointments, make one service available for multiple bookings, and finally, offer one-time (recurring services.)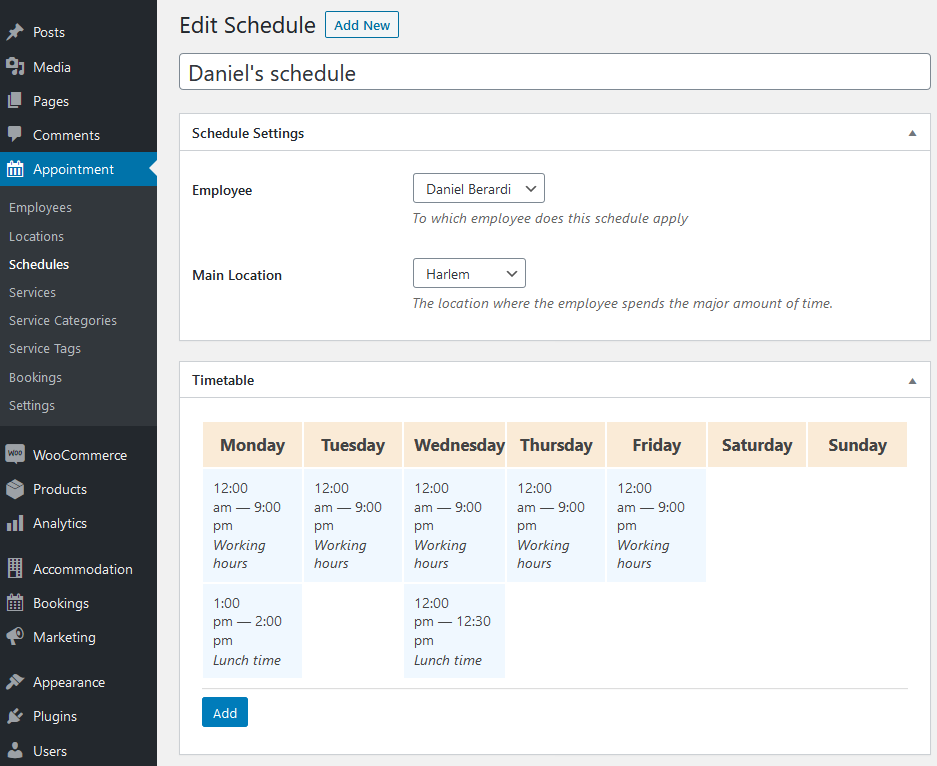 Users can offer multiple services at multiple locations. You will be able to assign one person to multiple locations if needed.
For users, a booking form is one-page and fully-responsive on all devices.
How to add a calendar
After activating the plugin, you will see the Appointments menu on the WordPress dashboard. In the Settings menu, you will be able to edit basic plugin parameters (currency, the default time slot for bookings, etc.). Then you will be able to add employees and the needed locations; create work schedules; customize a list of services and categorize themes in 2 ways (categories & tabs), and finally, add a shortcode to display a booking wizard (all these steps will be seen in the drop-down menu). Afterward, bookings will be available for editing on the admin dashboard.
Try Appointment Booking plugin.

Overview
This is the most downloaded free WordPress booking calendar plugin that has been around since 2009. Its main benefit (apart from a free version) is that it's very straightforward and feature-rich at the same time. It's positioning itself as a tool for both appointment and hotel bookings. A free version is a good fit for a personal booking website with a few bookable services.
The plugin's settings are thought out quite well, with a bunch of handy video tutorials, allowing you to start easily and operate quickly. The plugin works for both hours and dates time slots, meaning you are free to enable multiple bookings during one day.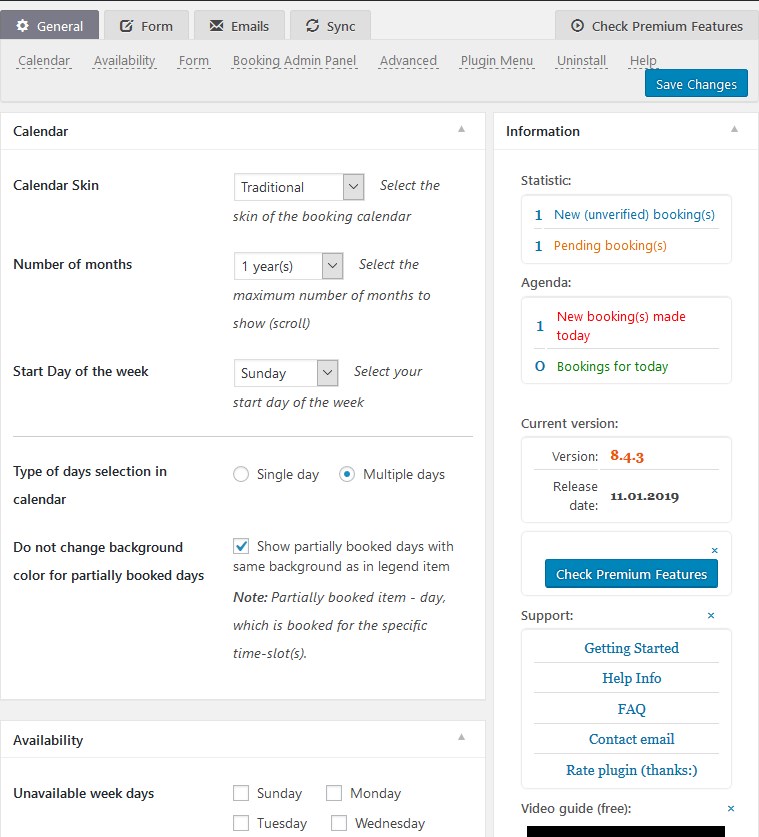 Since the plugin supports iCal format, you can share your booking data with external calendars and platforms – for example, sync booking to your WordPress Google Calendar booking or even external travel agent marketplaces like HomeAway.
The free version is limited in terms of booking management, payment gateways for online bookings, email notifications, and more. The Pro versions offers a wide choice of plans tailored for businesses of different scale. The only thing that slightly damages the reputation of this plugin, in my opinion, is a bit of old-fashioned calendar design.
How to add a calendar
Add a dedicated service or property page and then insert a booking calendar into that page. The plugin comes with a custom Gutenberg block so that you can customize its look before inserting it into a page in a visual mode.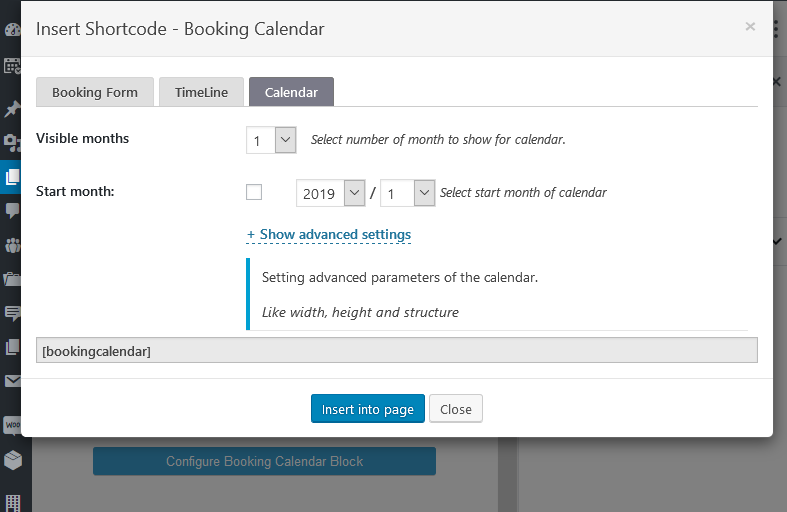 The availability calendar template can be inserted with or without a booking form. You can display them in a post, page or widget. That means you can attach a calendar with a booking form to the already existing room or service that you've built with any WordPress theme or page builder.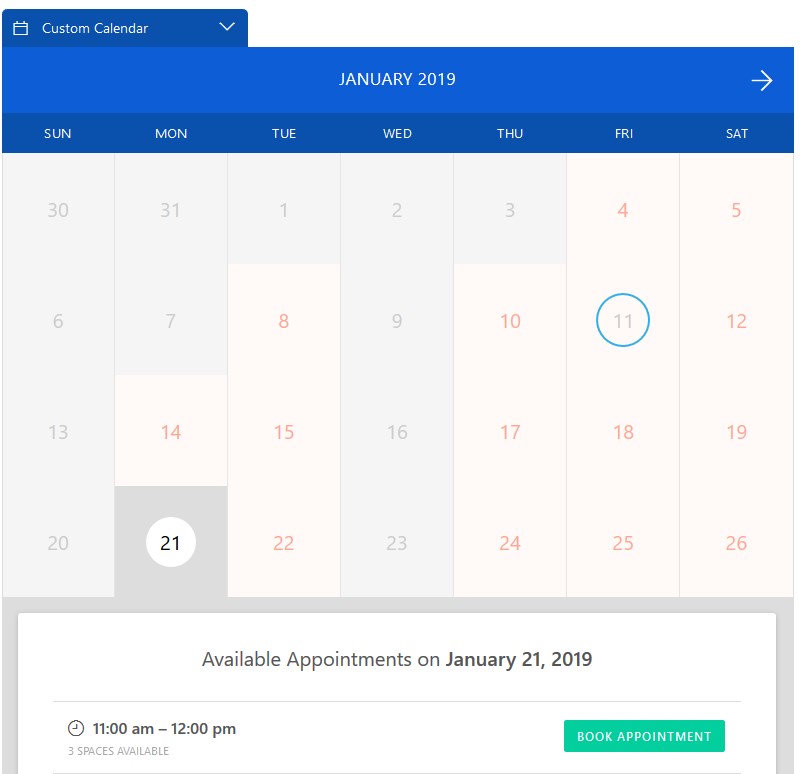 Overview
If you have a small appointment business and looking to manage appointments and process inquiries hands-off, this premium solution might be just that sweet spot.
About a year ago, we tested it first-hand to make sure it would satisfy the needs of solopreneurs like hairdressers or makeup artists. As a result, it was included in the Entrepreneur WordPress theme (you get the plugin for free with this theme, by the way).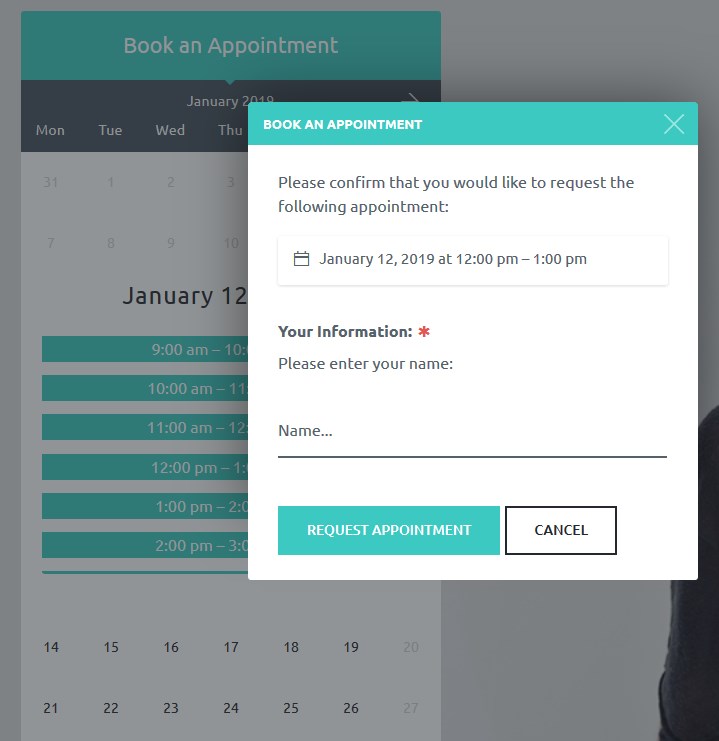 The plugin is perfect for quick and simple bookings that can be set for custom time slots, not necessarily hours. It comes with beautiful design skins, a crisp look on mobile devices, and the ability to add unlimited custom fields to collect the necessary information. For the highest level of flexibility, appointment and cancellation buffer options are provided.
Such an on-demand feature for many entrepreneurs as a customer login area is also provided by Booked (as an alternative to a guest booking). Clients who make appointments through your WordPress website can view and manage their pending and approved appointments. You can also add appointments manually via the dashboard.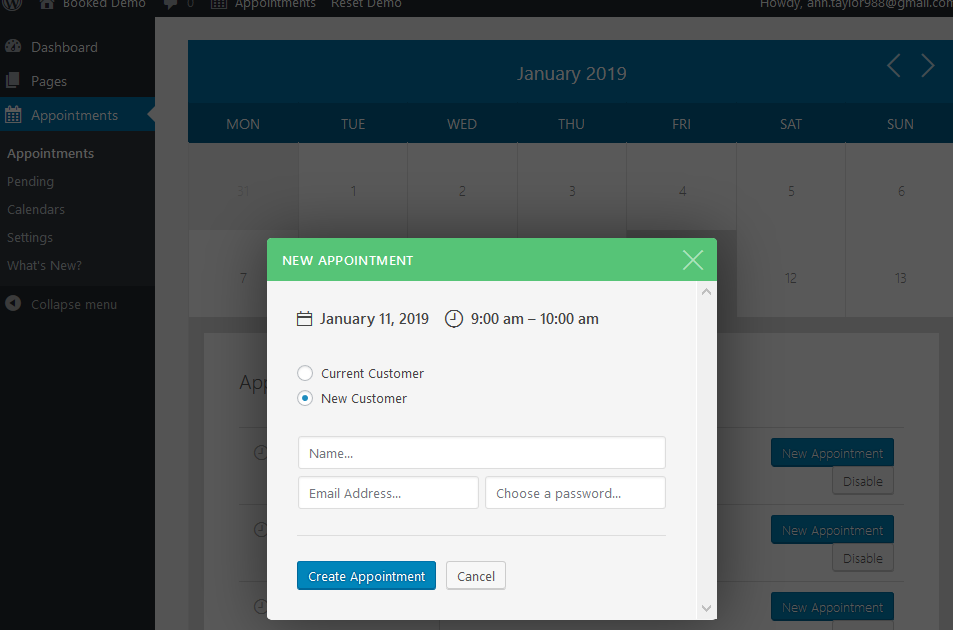 Thanks to WooCommerce integration, you can implement a variety of region-specific payment gateways to enable clients to pay via your website. Dashboard appointment management is very user-centered so it's unlikely a steep learning curve will be required.
How to add a calendar
Booked allows you to create WordPress availability calendars for each service. That will help you display multiple calendars with their default time slots, custom time slots and custom fields, no matter days or times. You can create all your calendars via Appointments > Calendars – each of them comes with a unique ID, which you'll need to include to the shortcode of the appropriate service page (just copy and paste it). That's it! All booked and available days will be marked appropriately. You can use the plugin with your current WordPress theme.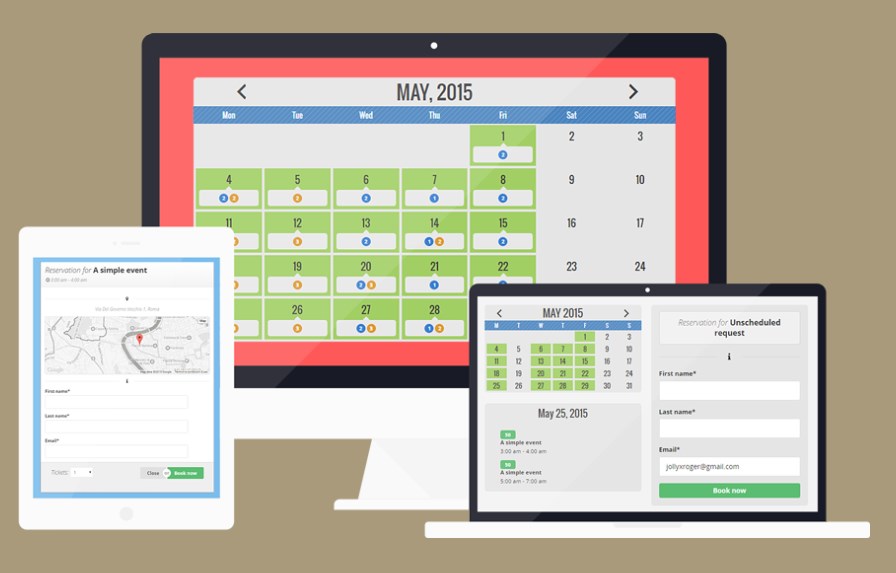 Overview
If you are looking for a flexible appointment availability calendar WordPress plugin with a deep Google Calendar connection, Team Booking claims to be just that suitable.
It can come in sync with a Google Calendar and a WordPress website in terms of creating and adding bookable events. The plugin allows featuring unlimited services of three major types: single appointments, events with tickets, and unscheduled services. You can set up custom duration for services.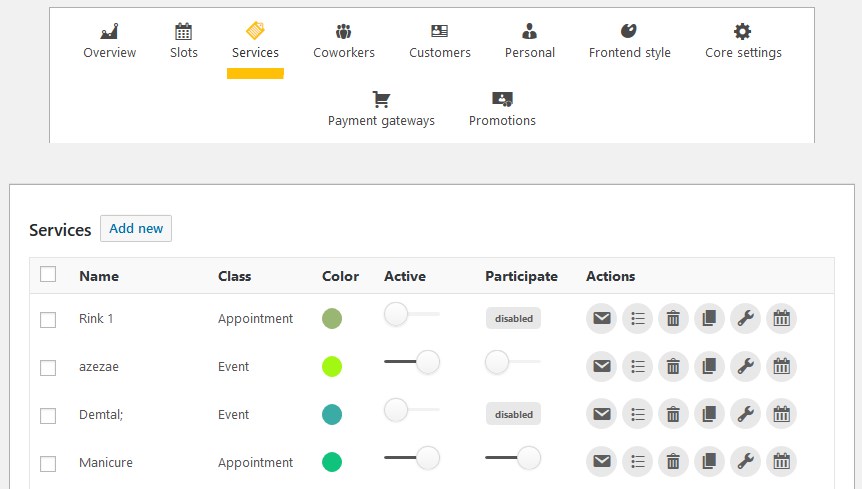 You'll manage staff members/service providers (it's called "team" for a reason) and free / booked slots via Google Calendar, and then sync your settings to the availability calendars listed on your WordPress website.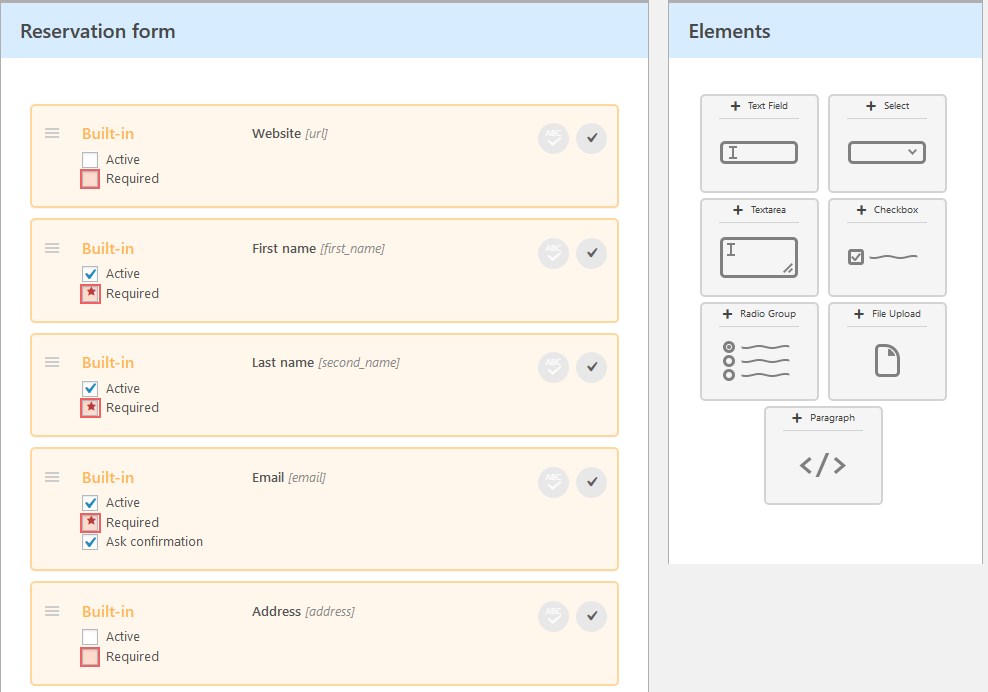 Of course, there is also a reservation form you can implement with this plugin (you can add custom fields, data validation, etc.). By default, your clients can pay through the website via PayPal or Stripe. Customers are not required to have a Google calendar to book a slot.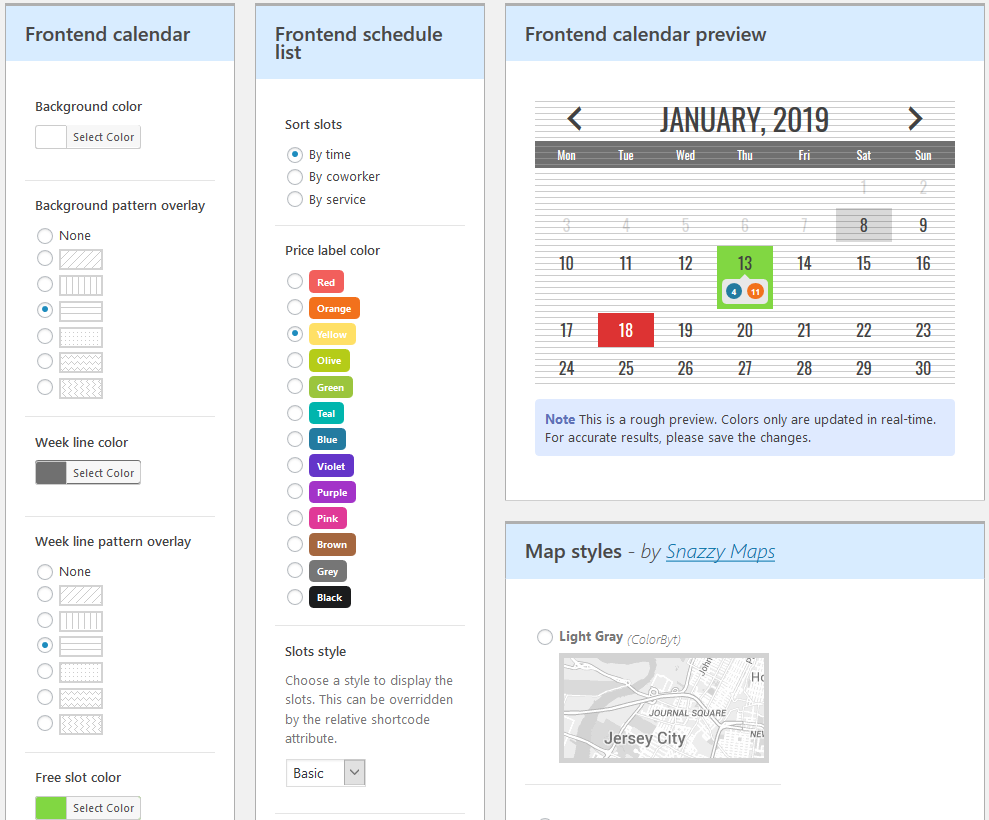 It's worth mentioning that it's a great pleasure to work with the plugin – the tools are clearly systemized and well-explained. This is an excellent feature WordPress newbies will enjoy.
How to add a calendar
Since you are creating service-dependent reservation WordPress forms with this plugin, you can give each a custom configuration.
In order to gain access to a Google Calendar and use its data, you'll need to get the Google APIs, so your task is to create a Google Project and hook it up to your WordPress website via Team Booking (you'll be provided with a great step-by-step guide). Then create all needed services and optionally assign multiple service providers (sellers) to enable them to create availability calendars, accept and manage appointments by themselves.
Finally, add calendars or reservation forms to a WordPress calendar page, post or widget with shortcodes (a great flexibility is offered to how you can combine and customize them).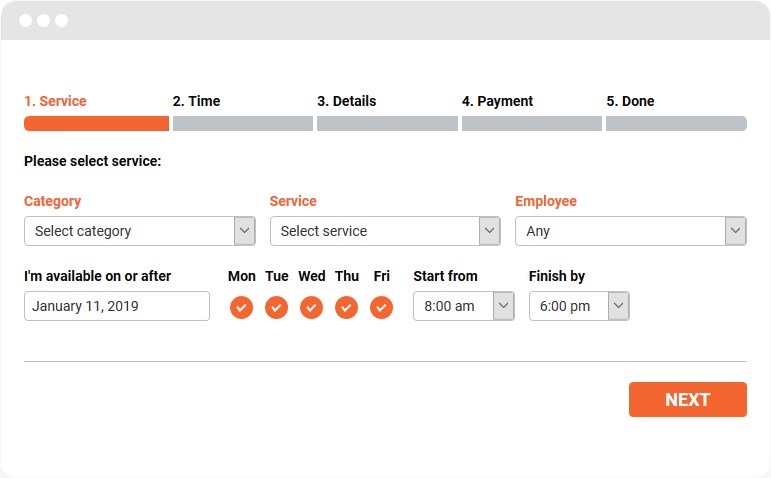 Overview
Bookly holds the WordPress stage of appointment reservation for one simple reason: it offers a hugely deep level of flexibility for different cases and loads of features and paid add-ons. At the same time, it's straightforward throughout frontend and backend tools. The plugin is used by thousands of people and it's hard to find a solution that can measure up.
Bookly makes it easy to add calendars to WordPress, add multiple service providers, each with their own appointment booking calendar. If you've been looking for a multi-vendor appointment booking solution for teams or business chains, it can fulfill the functions of a directory.
You can easily adjust calendars: designate a custom duration of time slots available for booking (padding time available), set up appointment limits, integrate multiple payment systems to handle online bookings, including by means of WooCommerce (in addition to full price, you can charge a deposit or take cash on arrival), assign staff members, and more.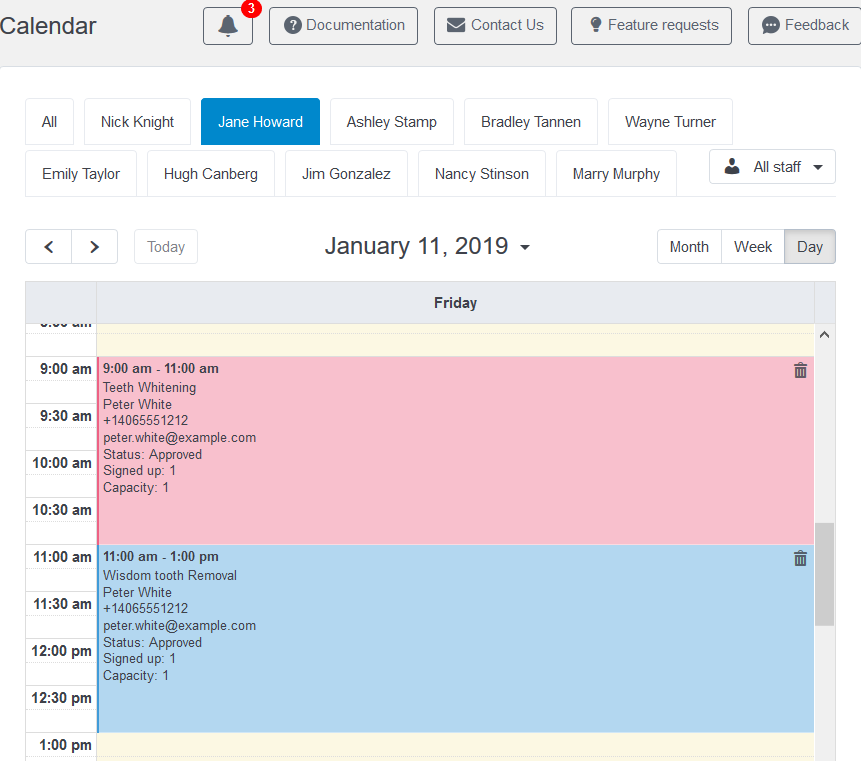 For better interaction with clients, Bookly supports SMS and email notifications, so you can set client reminders on autopilot. To sync bookings across different calendars, you can connect Bookly to external services like Google Calendar.
If you are unsure whether Bookly is the right tool for you, you can check out their Help Center FAQ section with multiple custom scenarios explained. Overall, it'll definitely pay off to invest in such a holistic and reliable solution.
How to add a calendar
The process is very easy! You need to add all services with their custom settings and assign service providers to them first. As you see, you can't just attach the plugin to the services you might have already listed; the plugin doesn't just deliver the availability calendar, it sets you up with all goal-directed tools under one roof. After all key settings are in place, you can display the calendar on the frontend using a user-friendly shortcode generator (for those in Classic editor). I hope they'll introduce Gutenberg editor integration anytime soon.
WordPress Availability Calendars For Rental Properties
In this category, let's take a closer look at plugins designed for such a specific product type as accommodation (hotels, apartments, hostels, etc). For the next comparison, we selected three types of WordPress availability calendars:
free availability calendar for properties (WP Simple Booking Calendar)
plain VR (vacation rental) calendar that is flexible enough to be implemented into your up-and-running website (VR Calendar Sync PRO)
all-in-one rental property booking system with the availability calendars (MotoPress Hotel Booking)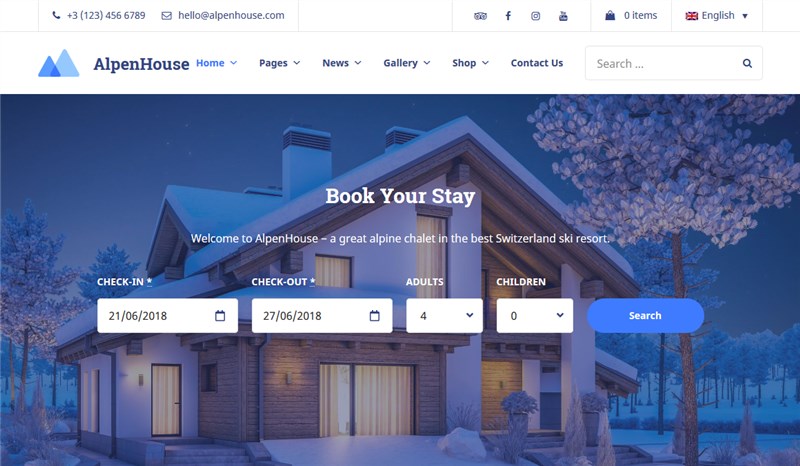 Overview
This is a spot-on solution for those who need a full-blown property reservation system – from adding and managing properties to taking reservations. As you might guess, availability calendar is just one piece of the pie.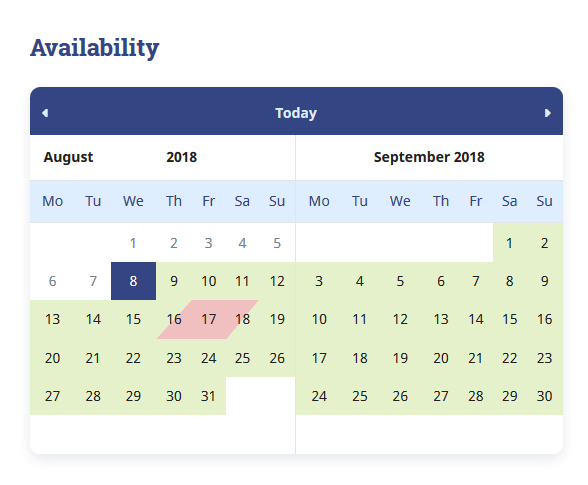 MotoPress WordPress Hotel Booking plugin is not just a booking calendar WordPress plugin. It is optimized to function as an all-around property or hotel management WordPress software.
This best booking calendar plugin WordPress allows you to add rental units with details and images, set up seasonal pricing and flexible rates based on different conditions (e.g. a number of renters, the time they spent in, etc.), store all bookings data, sell extras, request balance due and get used of more tools crafted with the lodging business in mind.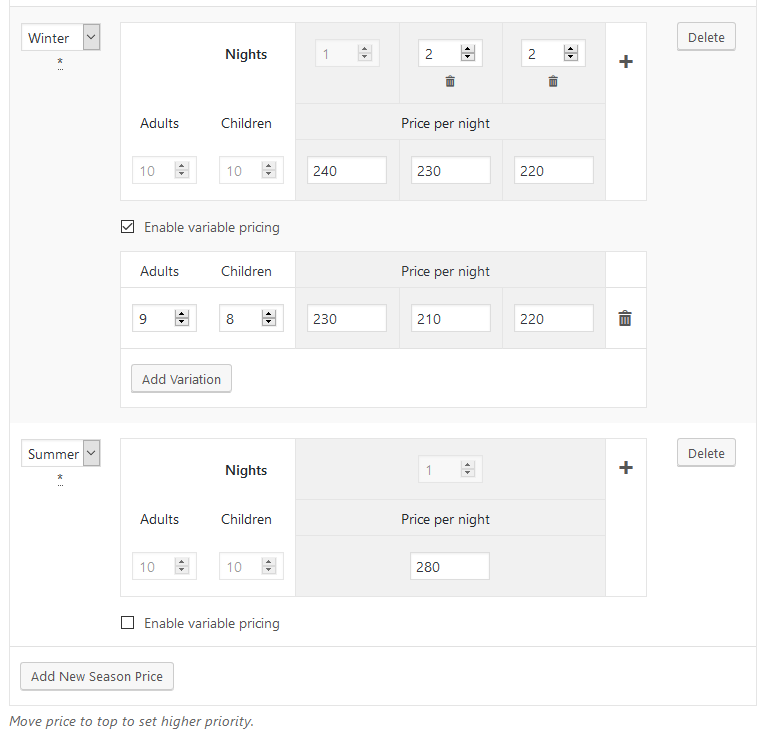 It's also easy to take online reservations via any suitable payment gateway. You can experience all these features first-hand for free in a personal trial account.
Availability calendars, which are generated automatically for each property, show up-to-date availability information in real-time. You can connect them to OTAs by exchanging iCal URLs to avoid double bookings and show all available dates properly. in just the same way, you can sync your bookings with your Apple or Google calendar.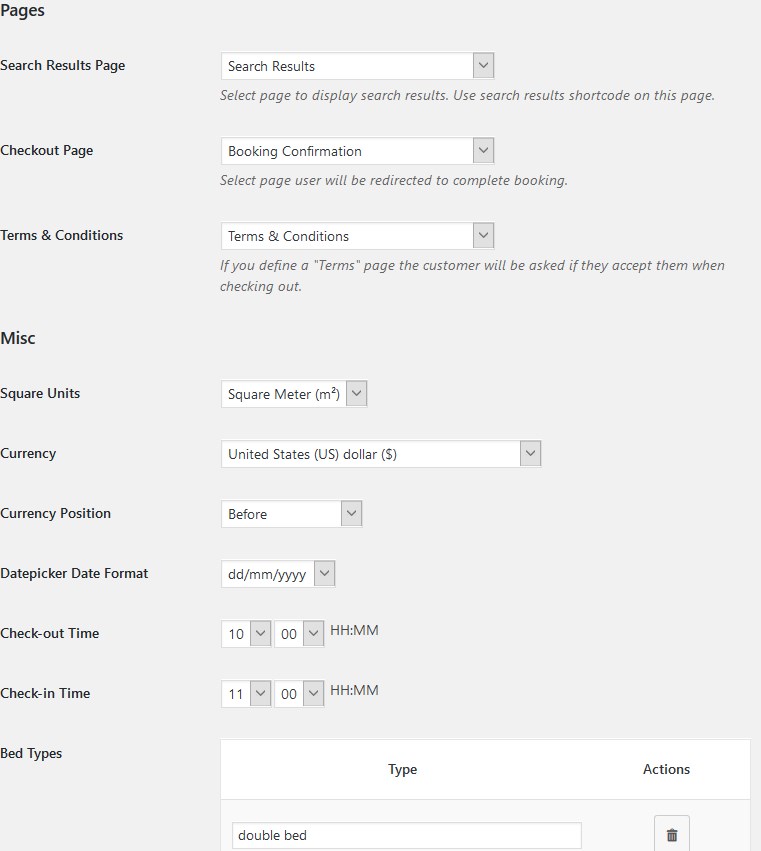 In a nutshell, it's a great 360-degree solution for taking care of a small hotel, vacation rental or another type of lodging business, without a need to connect multiple plugins and tools. The plugin is translated into multiple languages and is ready to be turned multilingual by means of WPML plugin.
How to add a calendar
The calendar is generated automatically for each property you add via Accommodation menu; you can also add it manually (with a specific property ID) to any page or post.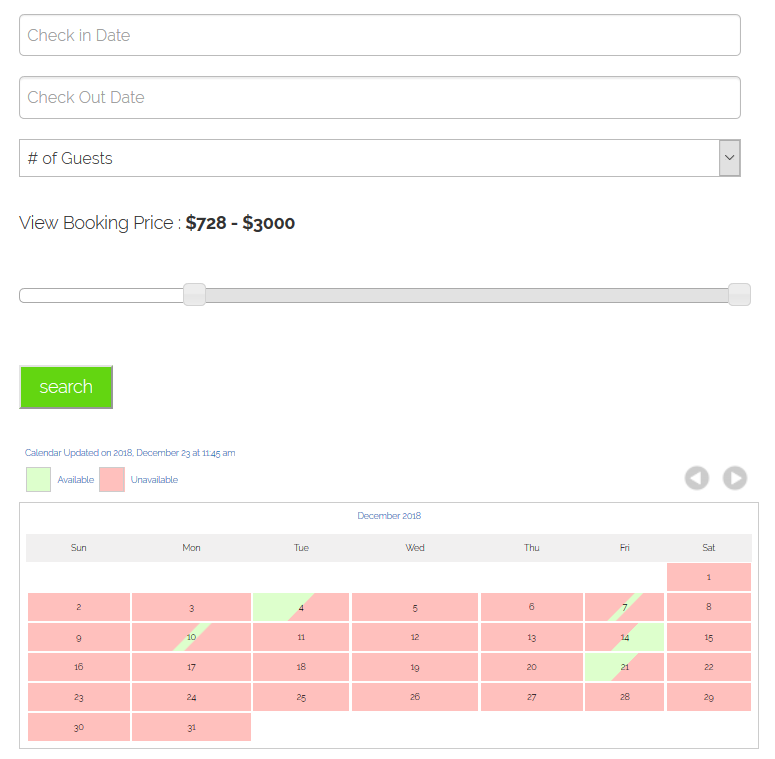 Overview
This plugin lets you get unchained from the PMS or reservation software itself, so it's rather a utility that can be attached to your life hotel booking or rental property website, no matter how it was built.
The foremost aim of this plugin is to help you connect bookings submitted on the third-party marketplaces in order to sync those with your brand website bookings. Basically, it empowers two-way sync to display available/unavailable days on your website with the third-party (HomeAway, Airbnb, etc.) booking data taken into consideration.
The look and feel of the calendar are fully customizable.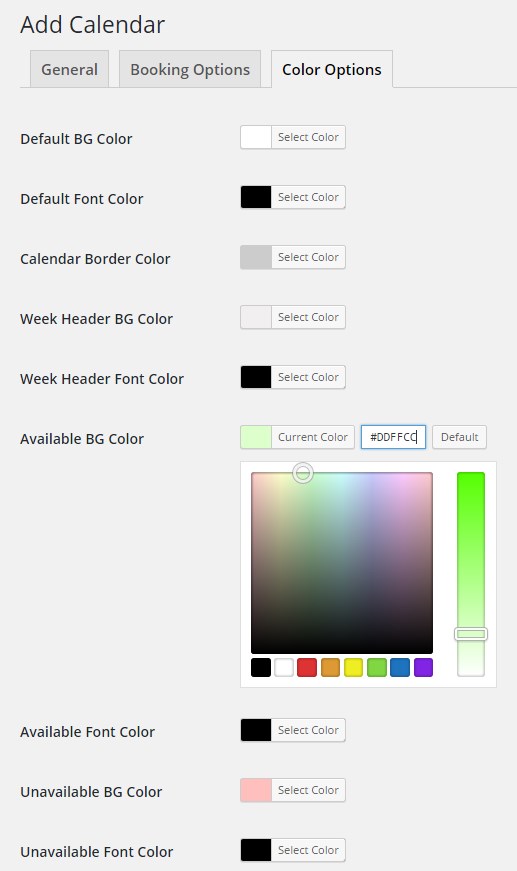 How to add a calendar
To make a calendar public, you should simply add and customize the calendar itself, generate a calendar shortcode and paste it into the appropriate property page. There is also a separate section to configure iCal synchronization settings. The prospective renter will see the available days in your calendar on the website.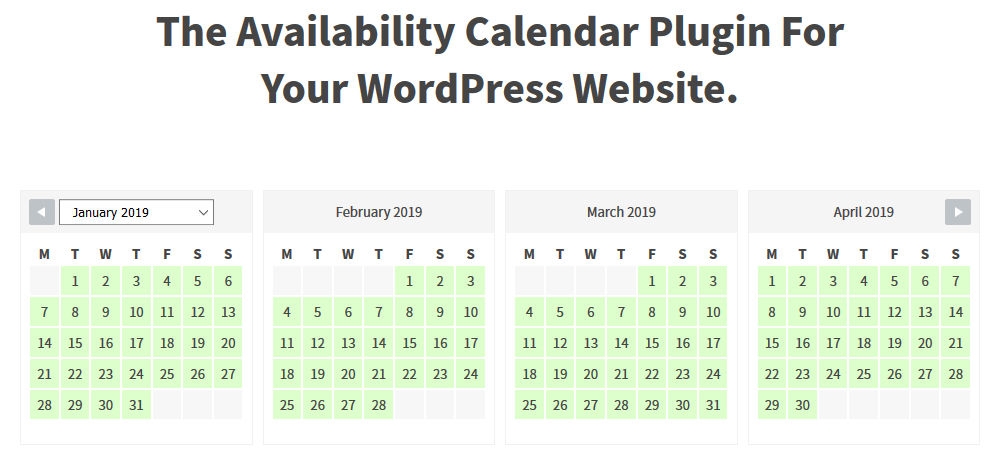 The WP Simple Booking Calendar is a popular free (freemium, to be more precise) plugin for displaying WordPress availability calendars for spaces of a different kind (holiday homes, cabins, hotels, etc).
It comes with quite straightforward and easy-to-set-up settings so that you can reach one aim: display the availability of your property. It's a proper solution if you want to take reservations "offline" (over the phone, via email) and then registers them manually via the backend.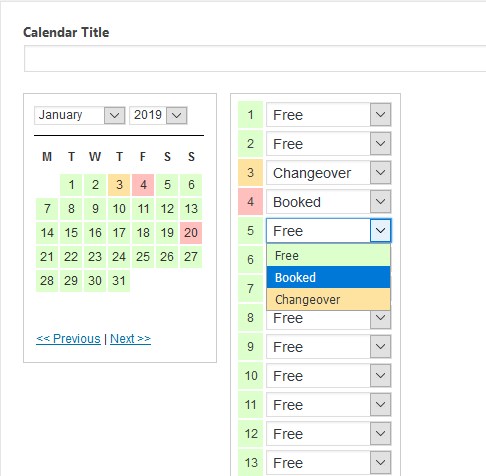 A free version of WP Simple Booking Calendar supports just one calendar, while with Pro you get much more features. For example, there is a nice customization toolkit letting you change calendar colors, shape, legend, and more to showcase clean-looking calendars.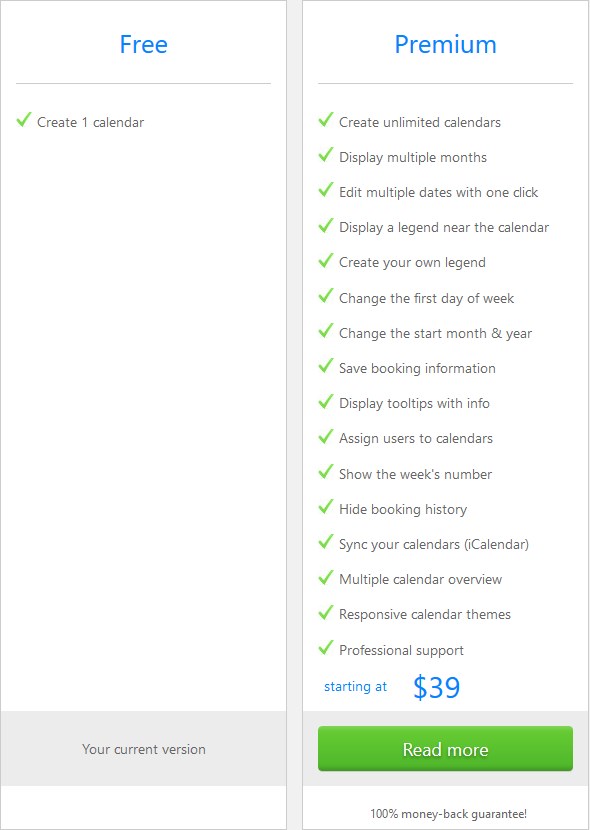 By exchanging iCal scheduling data (events), you'll have no trouble setting up connections with third-party property marketplaces like VRBO (Pro feature).
How to add a calendar
Once you have created a new calendar with this WordPress booking calendar, you can add it to the needed property page and modify the rest of the settings via shortcode generator (works in TinyMCE; requires Gutenberg integration so far). You can use this plugin easily with your current WordPress installation.
Pick a WordPress Booking Calendar to Show Real-Time Availability
So did we manage to save you some time? Have you figured out the best WordPress availability calendar plugin for your website? If you have any questions, don't hesitate to ask. If you've got any experience in your search for the best availability calendar for a website, don't leave us in the dark and share it.
---
Disclosure: this page contains external affiliate links and we may be paid commission if you buy the products featured above. The thoughts on this page are our own and have not been based on the payment.
What kind of availability calendars can you add to your WordPress site?
Depending on whether you rent out services or spaces, there are appointment booking plugins and property booking plugins that come with their availability calendars by hour or by night.
How to sync bookings to external calendars?
Availability calendars on your WordPress website can be synced with other external calendars in different ways. In most cases, you need to check out whether a plugin you use supports the iCal format.
How to sync availability calendars to Google and Apple Calendar?
These popular applications work with the iCal file exchange format, which means the software you use also must support this format in order to exchange the free and booked slots data.