10+ Best Free and Premium Pricing Table Plugins for WordPress
Customers are always seeking the best option if there is more than one package to offer. It is convenient for them to see the pros and cons of each product at a glance. Thus, your online business needs such a tool as a pricing table. It shows the main features of different items and makes the users fully informed and able to compare costs. You have to install the pricing table plugin WordPress developed and place clear and well-ordered information on your website.
Visitors can view it and find the most appropriate service, product, or plan. In this list, we want to unveil details about the best pricing table plugins for WordPress. It displays both free and paid solutions.
You should pay attention to the customization options they offer. Look for an easy way to add necessary content and tailor the table's design to your aesthetic needs.
Premium Pricing Table Plugins for WordPress
Stratum – Elementor Widgets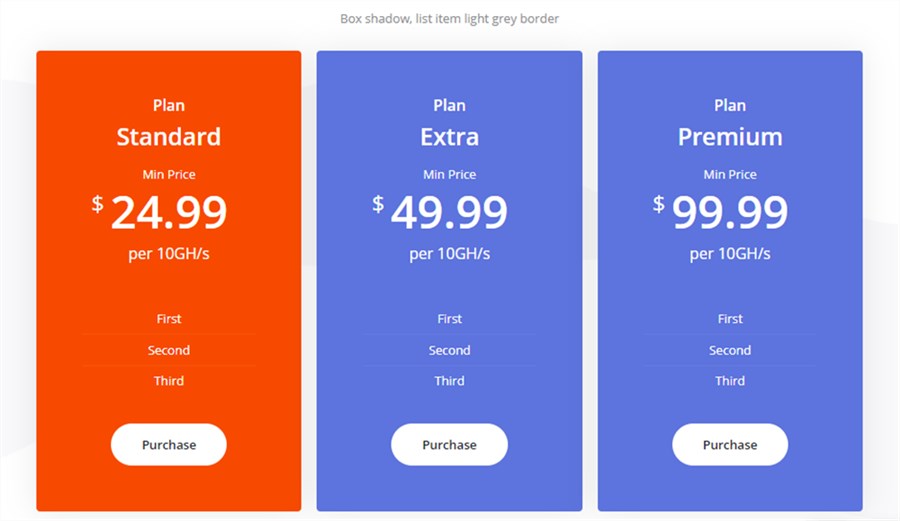 Stratum is a great solution containing a range of easy-to-use Elementor widgets. Different kinds of websites can be created with the collection of 20+ various tools. They all are free, but some of them contain premium advanced extra settings. But why do we call it the best pricing table plugin for WordPress?
The answer is: with Stratum, you get access to Pricing Table Widget. This table builder is designed to help you in visualizing info about several products. Thus, users can compare features you highlight in tables and prices depending on some sufficient criteria.
Pricing Table Widget provides you with fully customizable areas where you are able to write relevant content: title, subtitle, description, price, and button. Moreover, each of these areas has a typography panel and customizable colors. There are also price and button settings waiting for editing.
Let your customers know the main information about your products in the visually appealing format using the Stratum plugin for WordPress and Elementor Pricing Table Widget in particular!

WP Table Manager – Pricing Table Plugin for WordPress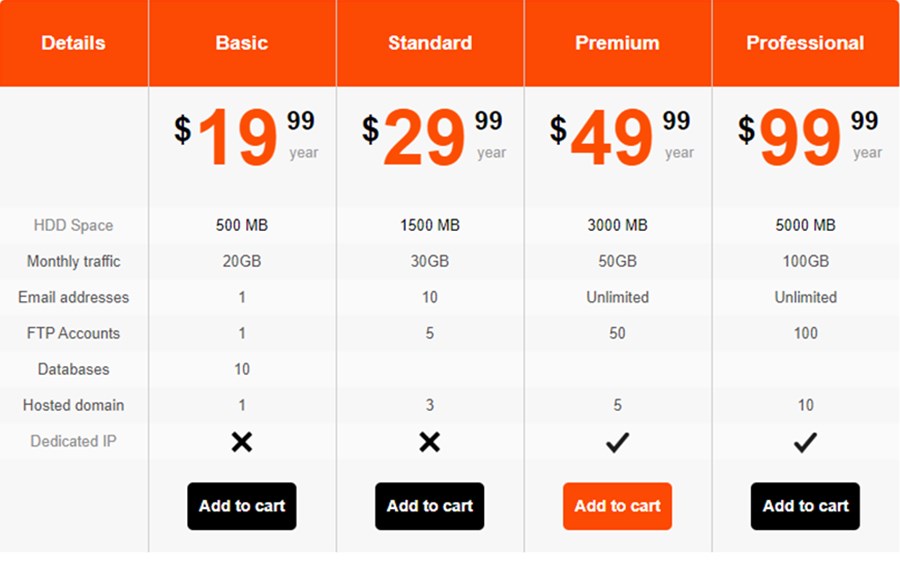 As we know, tables are essential in the effective visual perception of any information on the website. The pricing table, created with the help of WP Table Manager, can make visitors choose your website. This best pricing table plugin WordPress is a productive instrument for the pricing tables as you can display necessary options even being a beginner in IT.
Easily integrated with Google Sheets, Microsoft Excel, and Open Office, this feature-rich plugin allows the website owners to select the number of rows and lines, paginate tables and customize their design and layout as a whole. The responsive tables can include images or Excel files if you wish.
Numerous operations such as content filtering and ordering, cells and columns freezing and simultaneous editing of several cells come in handy while creating large pricing tables.
Being the WordPress best pricing table plugin, WP Table Manager will leave you pleased with the tables on your website!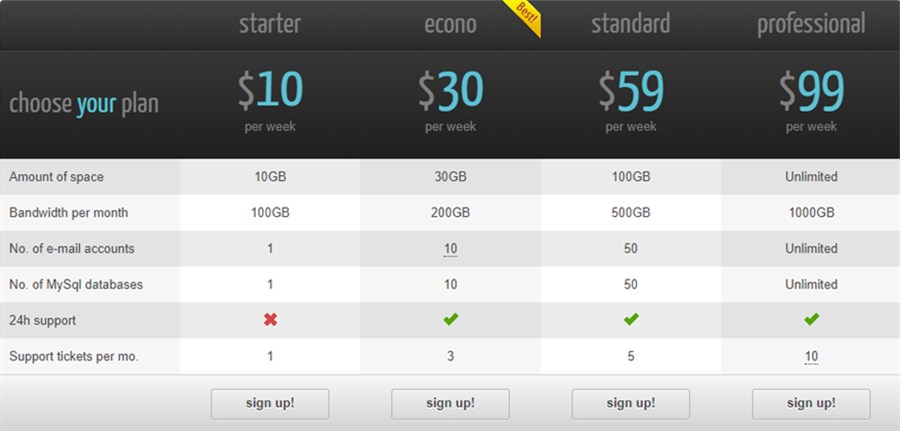 Looking for an easy-to-use best WordPress pricing table plugin? Then CSS3 Responsive WordPress Compare Pricing Tables plugin is waiting for its being installed on your device. After that, your website gets supplied with 2 table styles and 20 pre-designed color versions.
This package includes an enlarged options panel and a wide range of features that can build up a pricing table with an up-to-date design. For example, you can set up a hover animation of the column, active columns, ribbons, tick/cross icons, and more.
If the column has to be highlighted, then apply this option as well. All these changes can be previewed in real-time so you have an opportunity to see them before table publishing.
Finally, CSS3 Responsive WordPress Compare Pricing Tables is a solution for the website with unextended needs for the pricing tables with an unlimited number of lines, columns, and rows.
ARPrice – WordPress Pricing Table Plugin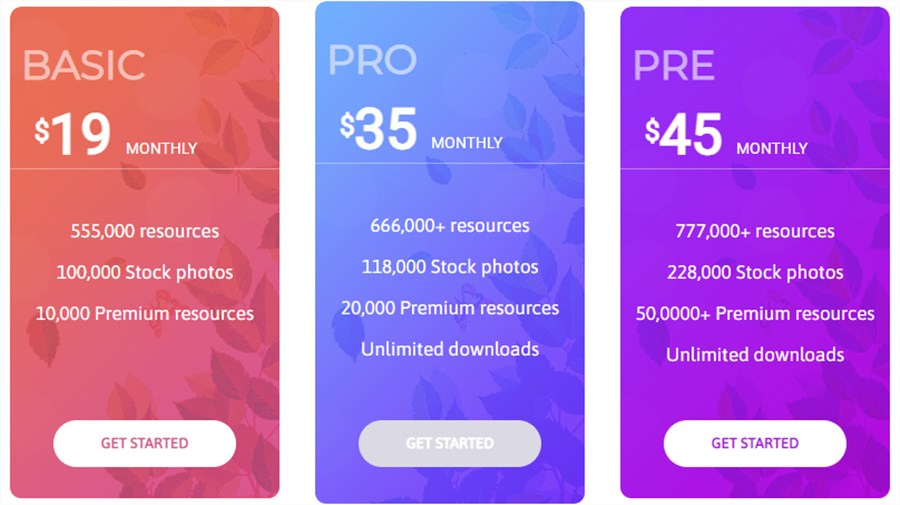 Is full control over the tables required? That's an easy task for ARPrice – the best WordPress pricing table plugin. You will be astounded by the number of options this plugin offers.
300+ good-looking templates, over 3000 icons, 900 Google Fonts, unlimited number of columns, lines, rows, and color options – all of these features are aimed at making the pricing table on your website attractive and recognizable. In addition, there are some pros to place the ARPrice WP plugin on a high level.
With drag & drop editor it is possible to change the position of table components in clicks and view the changes at once. Further, a toggle button for the price can be added to show the difference e.g. between monthly and yearly offerings.
You need no great effort to add animation effects or measure the activities connected with each table in real-time. ARPrice plugin is also compatible with Gutenberg, Divi, and WPBakery WordPress editors.
Pricing Table — Best Pricing Table Plugin WordPress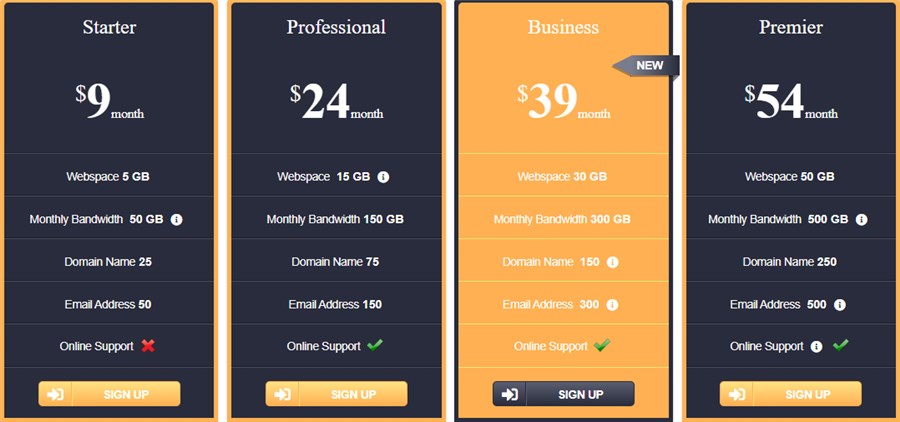 To enhance your website, you must make the purchase process extremely transparent for visitors. The WordPress best pricing table plugin – Pricing Table, created by Elfsight, is a powerful tool. With this WP plugin, the most effective pricing table can be created on your website.
The integral information about your products is on a display: picture, title, price, button, and features. All the table elements are flexible and their design can be modified in compliance with your preferences.
You can select from 4 pre-designed table skins. All details connected with the pricing table style are ready for your handy changes. Use the drag & drop option or hide any column.
The most beneficial column must be highlighted, and it is essential to make the button eye-catching shifting its size and color.
The mobile responsive Pricing Table plugin provides price build-up boxes for currency, prefixes "From" or "Up to", postfix (per hour, per day, etc.), and caption.
WRC Pricing Tables – Premium Pricing Table Plugin WordPress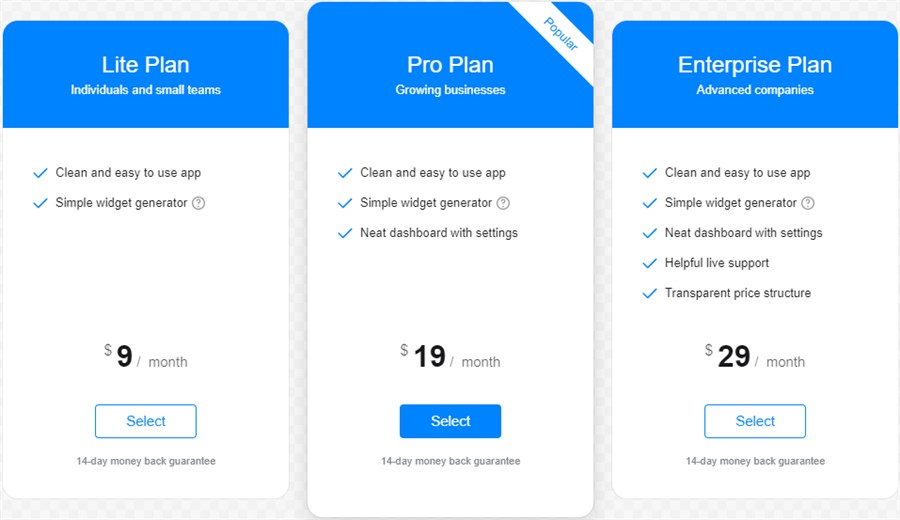 WRC Pricing Tables is a simple-to-use resource in pricing table creation. The detailed information about your offerings can be displayed both through comparison or separate tables with an unlimited number of columns, lines, and rows. Besides, you can add simple animation effects and ribbons.
To tell the truth, you are empowered with more options for your pricing tables namely in the paid version. Upgrading this best pricing table plugin WordPress developed to the premium version, you get awards represented by 50+ ready templates of table designs, import & export system, and toggle button.
Different new alignment options of e.g. price unit, feature name which can be made hidden, price & button sections, etc. will arouse your interest as they help you create a unique pricing table.
WRC Pricing Tables plugin has other advantages including support for Google Fonts, Fonts Awesome, and PayPal button integration.
AffiliateX – Amazon Affiliate WordPress Plugin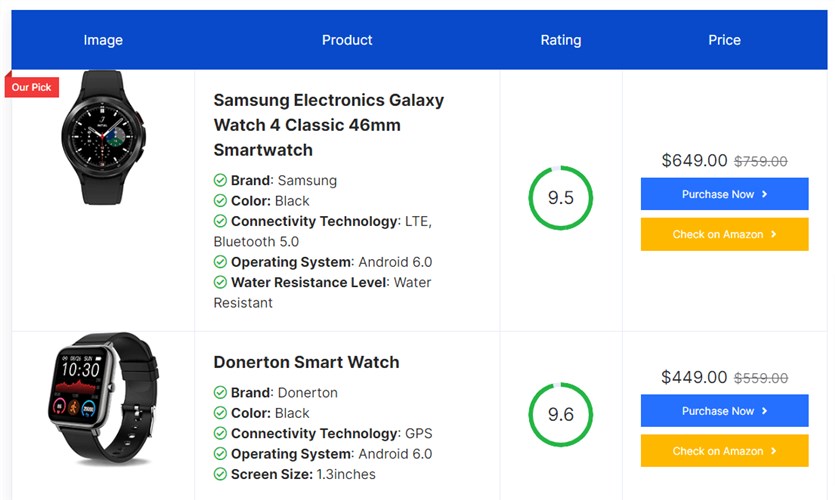 AffiliateX is an amazon affiliate WordPress plugin that can help you set up an attractive pricing table for your website. Alongside the pricing table, it also provides blocks for building single product tabs, specifications, versus line, coupons, pros and cons and many more.
AffiliateX's pricing table is extremely beneficial to increasing your business's profits. It allows you to showcase the features of your product and set the price for it in an easy-to-read format.
AffiliateX's pricing table is very user-friendly and easy to use. You can easily change the appearance and feel of the pricing table with a live preview in your default Gutenberg Editor. Additionally, the table is responsive so it will adjust to any screen size.
AffiliateX is a freemium plugin, which means you can enjoy the basic features at no cost and upgrade to the premium features as desired. Overall, AffiliateX's pricing table is an excellent choice to try out for the pricing table.
Qi Addons – Addons for Elementor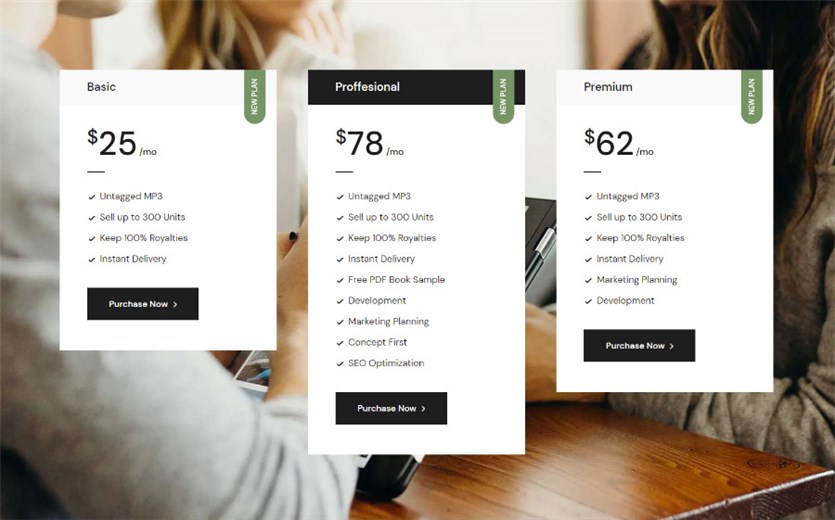 Qi Addons for Elementor is a powerful tool and a large collection of free widgets for Elementor. It offers an abundance of customization options allowing you to add functionality to your website without compromising style.
Its pricing table widget lets you embed a wide range of differently presented pricing tables. You can choose between 6 predefined layouts, add icons to your tables, make them visually attractive by adding images, ribbons & badges, and more.
Whichever style, layout, and type of table you add, you can easily customize it to match your needs and web design style.
Comparison Tables – Best Pricing Table Plugin for WordPress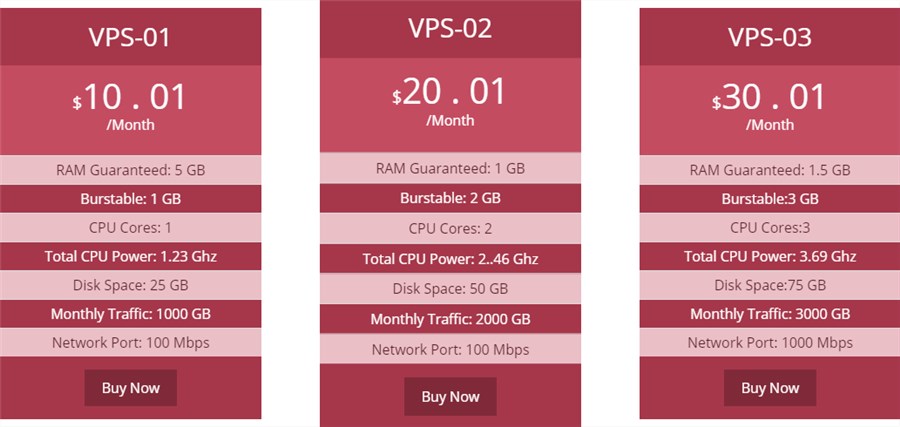 The name of the plugin – WordPress Pricing Tables, Sliders & Comparison Tables – hints you at its three ways of functioning. Along with featured pricing tables, pricing sliders and comparison tables are developing.
You are supported with 50+ well-designed templates. All of them are mobile-friendly. But even if you don't find the one you need, create your own table template with the tools of this WordPress plugin.
The toggle button for price points e. g. weekly, monthly, yearly, compatibility with any WP theme, support of drag & drop builders such as WPBakery Page Builder and Fusion Builder, and multilingual support are available. What's more, visitors' attention can be drawn to the highlighted columns.
You can save your time with this table builder as even discounts for experienced users are counted automatically. By the way, you will be glad to order the data in a matter of minutes.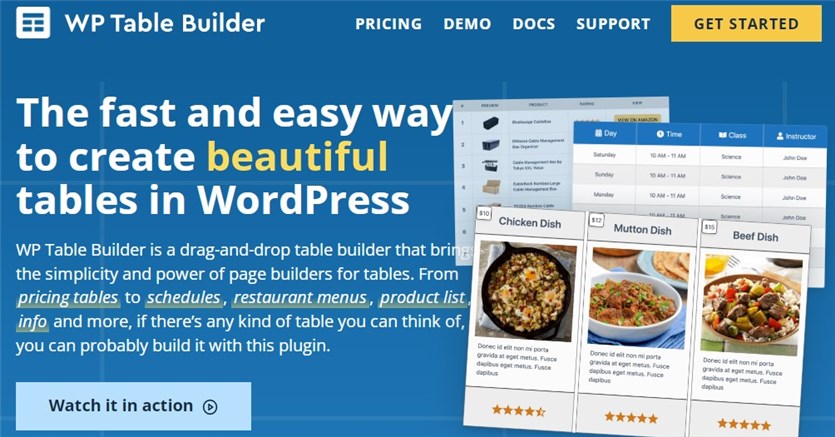 WP Table Builder is an easy and fast way to insert a pricing table into your WordPress website. Use this drag-and-drop builder to create responsive and customizable tables. Also, add different elements including text, images, icons, listings, etc.
The plugin comes with ready-to-go templates. Gutenberg integration enables you to embed tables right from the block without using a shortcode.
Advanced customization options let you move cells/columns/rows to another place, add new cells, and duplicate them in clicks. Sorting options work even for complex tables so that you can set vertical/horizontal sorting.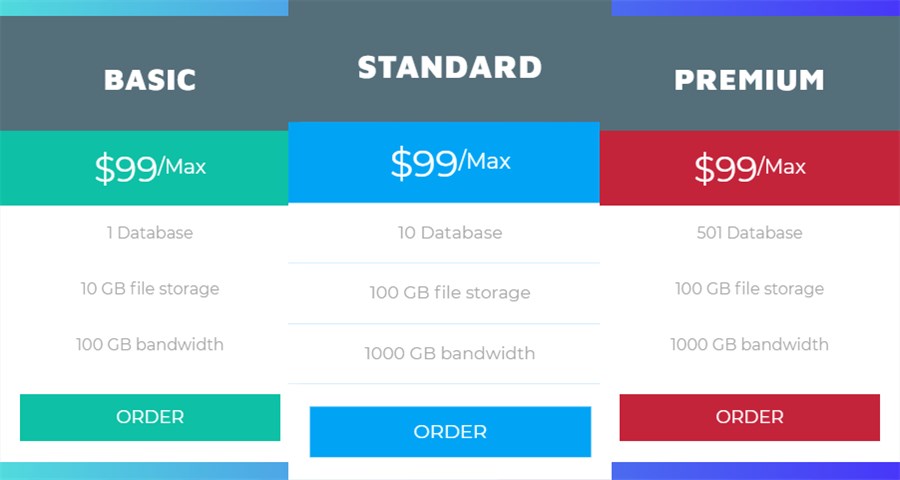 WPBakery Page Builder, formerly known as Visual Composer, is a tool-rich WordPress plugin. That's why your website will be notable for a good-looking pricing table by using the completely responsive WPBakery Ultimate Pricing Table Add-on.
It features 50+ pre-made designs, unique layouts, and customizable options. Add Font Awesome icons or some modern animation effects to your pricing table to comply with creativity demands. They ensure clear table positioning and good visual perception. Visualized information will help your website visitors find the best deal for them.
The pricing table will be viewed as the original one if you adjust all required parameters this plugin suggests: button style, colors of separate table elements, and background image. As a result, the table appearance varies depending on your personal opinion.
Top 5 Free WordPress Pricing Tables Plugins
Getwid – Gutenberg Blocks

The collection of free blocks, provided by the Getwid Gutenberg Blocks plugin, can come in handy for different types of websites. This is not an exception for the website with a pricing table. Getwid, the best pricing table WordPress plugin, has a solution for you – Price Box Block.
This full-featured tool allows you to show data variations in comparison and pricing tables. The plugin features suggest that the table will inherit all peculiarities of the WordPress theme you have downloaded before.
Each of the table elements can be edited separately. For example, headings and buttons, their size or color can be modified, and these changes are available for viewing in real-time. In addition, bullet points placed inside the column order the info in a better way.
This multi-purpose Getwid block guarantees that the pricing table on your website will look appealing. Start using it through the Getwid Gutenberg Blocks plugin installation!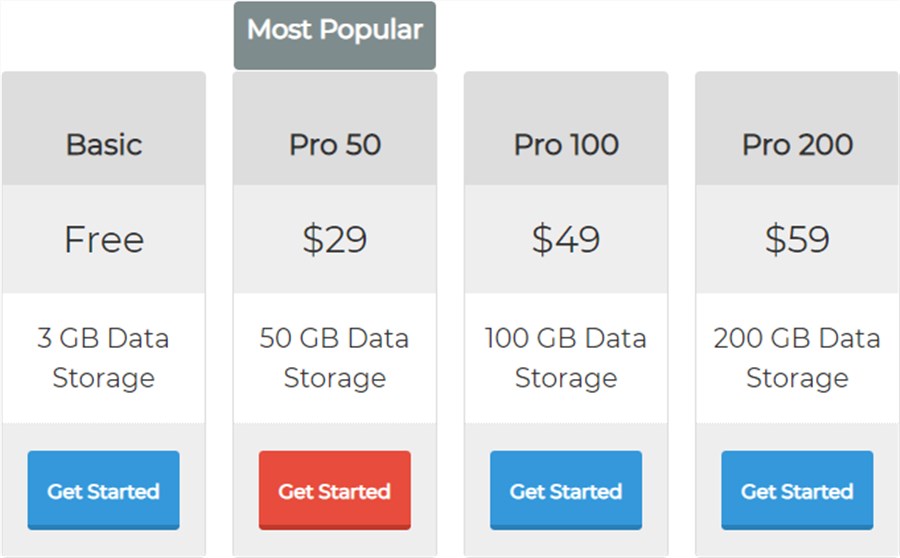 It is hard to imagine the simpler pricing table creating than with Easy Pricing Tables. This process meets your aesthetic needs. Brick by brick, you can create, design, and bring out the pricing table without even advanced skills in writing code.
As a result, your WordPress website will feature a beautiful and flat table. Not to start from the very beginning, choose the most suitable design among 6 ready responsive design templates.
This best pricing table plugin for WordPress is compatible with the Gutenberg editor, making it possible to introduce different changes right in the block editor. They are connected with separate elements: title, button, price, text, icons, and more. Plus, images, video, ribbons, and hover animation will add attention value to your pricing table.
Which link can help your website visitors? That's a payment link leading to WooCommerce, Stripe, or PayPal page. Put it directly into your table and make the purchase process easier.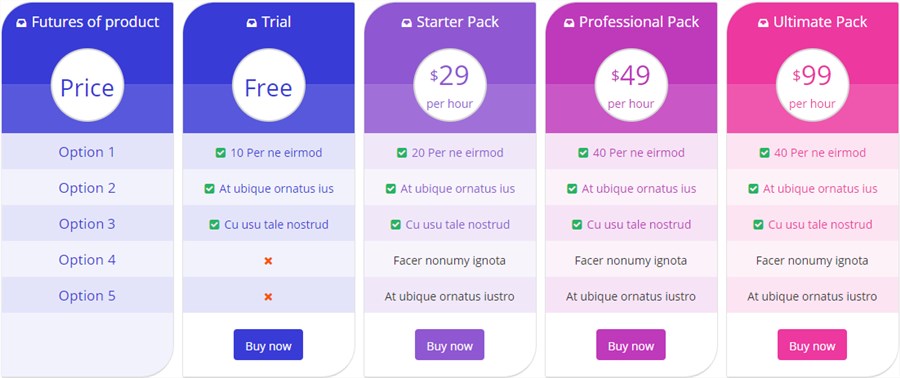 Free in use, Pricing Table by Supsystic supporting an unlimited number of rows and columns is a good answer if you are looking for a pricing table plugin. This customer-oriented plugin considers main visitors' requests and offers frequently required options in 7 preset designs.
Among many features, we can single out the drag & drop builder used to build tables, pricing toggle buttons, modern animation effects added on a Hover or Click Button, and scheduled columns appearing in a particular period. All of them make your pricing table outstanding.
Full media support allows you to upload images or videos because background also plays an important role in information perception. Added icons and buttons are customizable i.e. you can experiment with their size and color.
Your WordPress site will feature a top-level pricing table with full information the visitors will see after a few clicks with the Pricing Table plugin.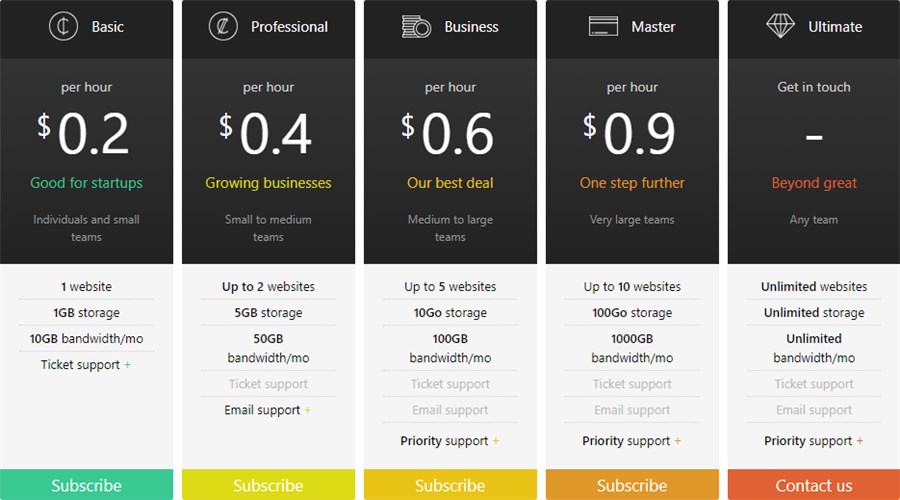 A professional pricing table can be provided to your WordPress website by Responsive Pricing Table. This free and mobile-friendly WordPress best pricing table plugin is highly recommended because it works with no limitations concerning tables number.
You are also not restricted in customizing options of the pricing table elements using CSS classes. For instance, add name, subtitle, features, and price into each column. Then select a color scheme, buttons, and icons for these parts. If you want, the payment button, directing to PayPal or Stripe services, can appear inside the table as well.
Sometimes it is necessary to emphasize a specific column. With Responsive Pricing Table, it is completed in clicks e.g. by changing its color. That's the way to make visitors concentrated on a particular offering.
Hence, both you and your website visitors will stay satisfied with this pricing table plugin as it completely meets the needs.
Pricing Tables – WP Addon for WPBakery Page Builder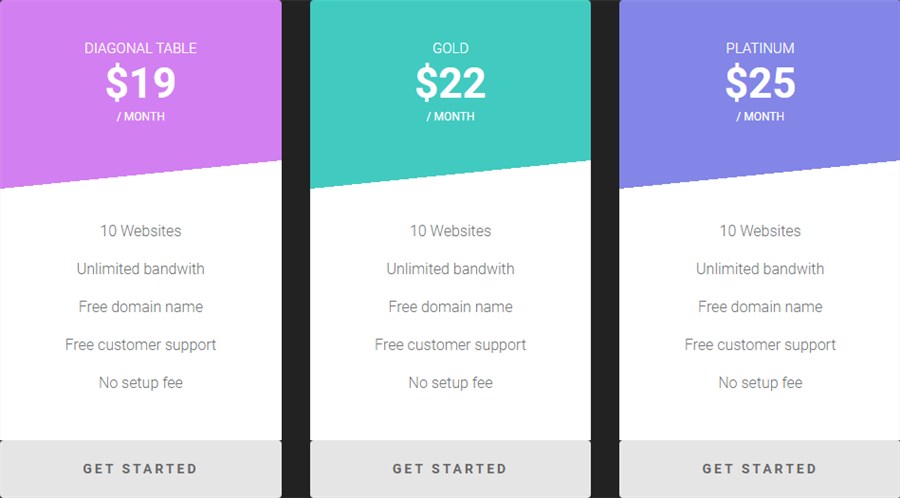 WPBakery is a well-known page builder for WordPress website owners. If you have already installed it, you will find an option to present several packages simultaneously. Your customers will evaluate which one fits them most.
Pricing Tables addon for WPBakery Page Builder is an effective and easy way to insert an amazing pricing table into your website with no code required. What's more, it's totally free.
The advantages of this best WordPress pricing table plugin are manifested in the pre-designed table layouts, functioning on any device, animation effects, etc. It allows you to demonstrate the price details relative to your plans or products, taking little space on your WordPress page.
Day-and-night expert support assures you an immediate answer in case of any bugs. Even having no experience in pricing table building, you will get access to the simple tool for doing that.
Final Words
A pricing table plugin is one of the ways to improve interaction with visitors on your website. It makes them feel acknowledged. Customers make their final choice, and you as a WordPress site owner can influence this choice.
This list of free and paid WordPress pricing table plugins is our advice for your professionally developed website. Find the best one for you and we will be glad to help you!