Stratum Widgets: Elementor Pricing Table Widget
Among the many ways how one can display actual prices for their products or services, pricing tables must take pride in place. Creating an attractive Elementor pricing table for free requires only 2 simple steps:
installing the Elementor page builder;
downloading a collection of free Stratum Elementor Widgets (one of which is a Price Table widget).
With Stratum for Elementor, you are getting FREE access to 20+ advanced widgets with a special focus on elements to boost your business performance or a personal brand.
Accessing Stratum allows you to use 7+ alternatives to PRO widgets, including the Price Elementor Table widget and others (Advanced Slider, Advanced Posts, Testimonial Carousel, Flip Box, Masonry Gallery, Price Menu).
See also: the Pricing table block for the block editor
The Purpose of the Elementor Price Table Widget
Unlike the recently reviewed Price List & Price Menu Elementor widgets serving as the best tools for building beautiful lists of items with prices (restaurant menus and other product lists), the goal of any price tables WordPress is a visual comparison of 2 or more similar products/service packages.
You can use this price tables WordPress widget for:
Displaying a Woocommerce pricing table to compare tariffs for your selling products;
Urging customers to make a choice between the 2 or more options;
Boosting conversions (customers are more eager to make a purchase seeing the 'most-popular, 'hot' offers);
Following the latest web trends of pricing grid templates.
Key Benefits
No need to pay for the advanced Price Table widget functionality (unlike the alternative widget in Elementor PRO)
Multiple text sections in one pricing comparison template (subtitles & unlimited number of list items)
Highly-customizable CTA button (with the option of placing the button URL)
Regular & hover styling settings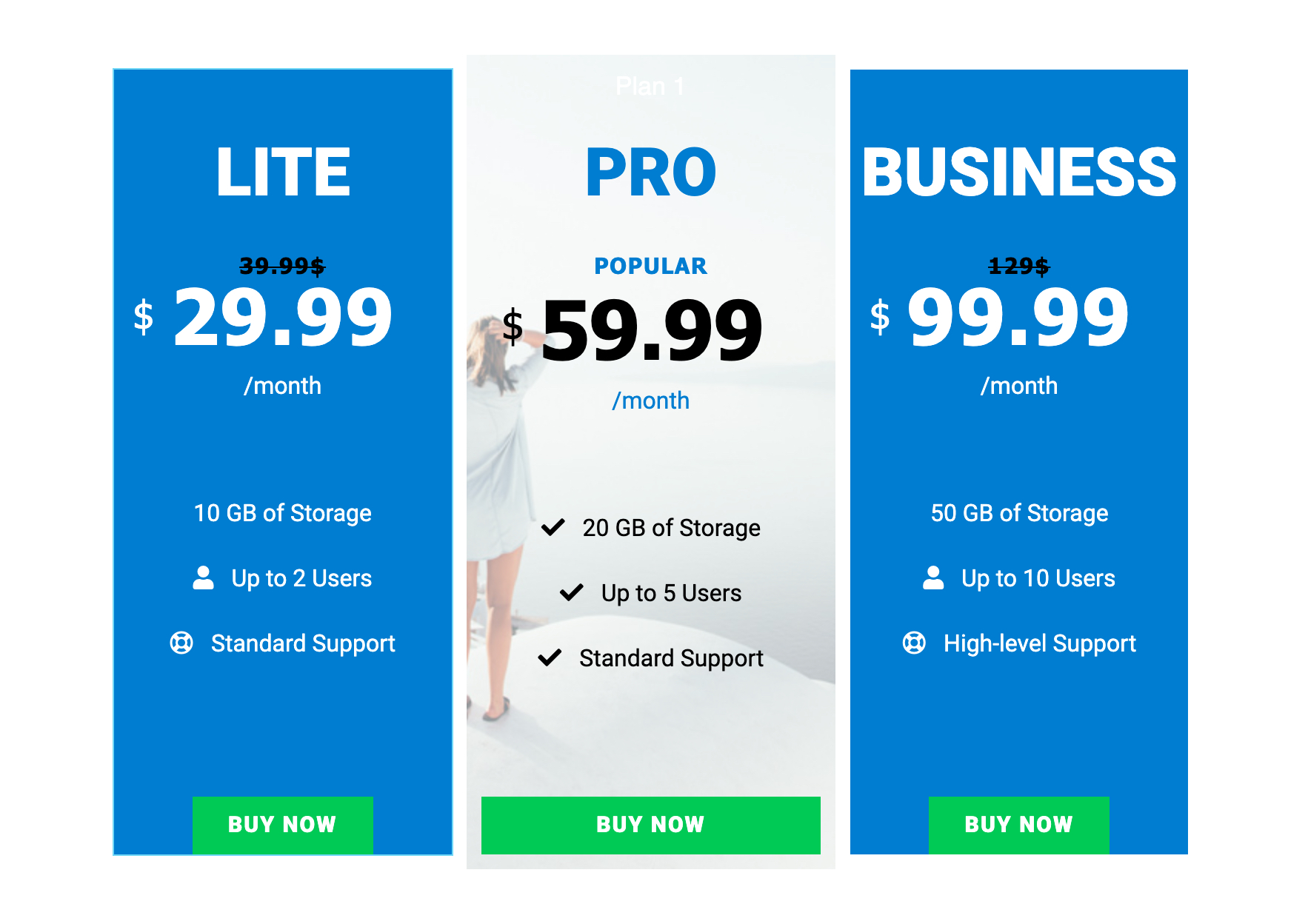 Now let's go deeper into the WordPress Pricing Table widget content & styling customizing options.
Price Table Elementor Widget: General Features & Settings
Content Settings
General
The General set of customization settings contains multiple content options for displaying as much data as possible:
Title & title typography
Subtitle & subtitle typography
Price text & price subtitle typography
Price & typography
Currency & currency alignment
Price description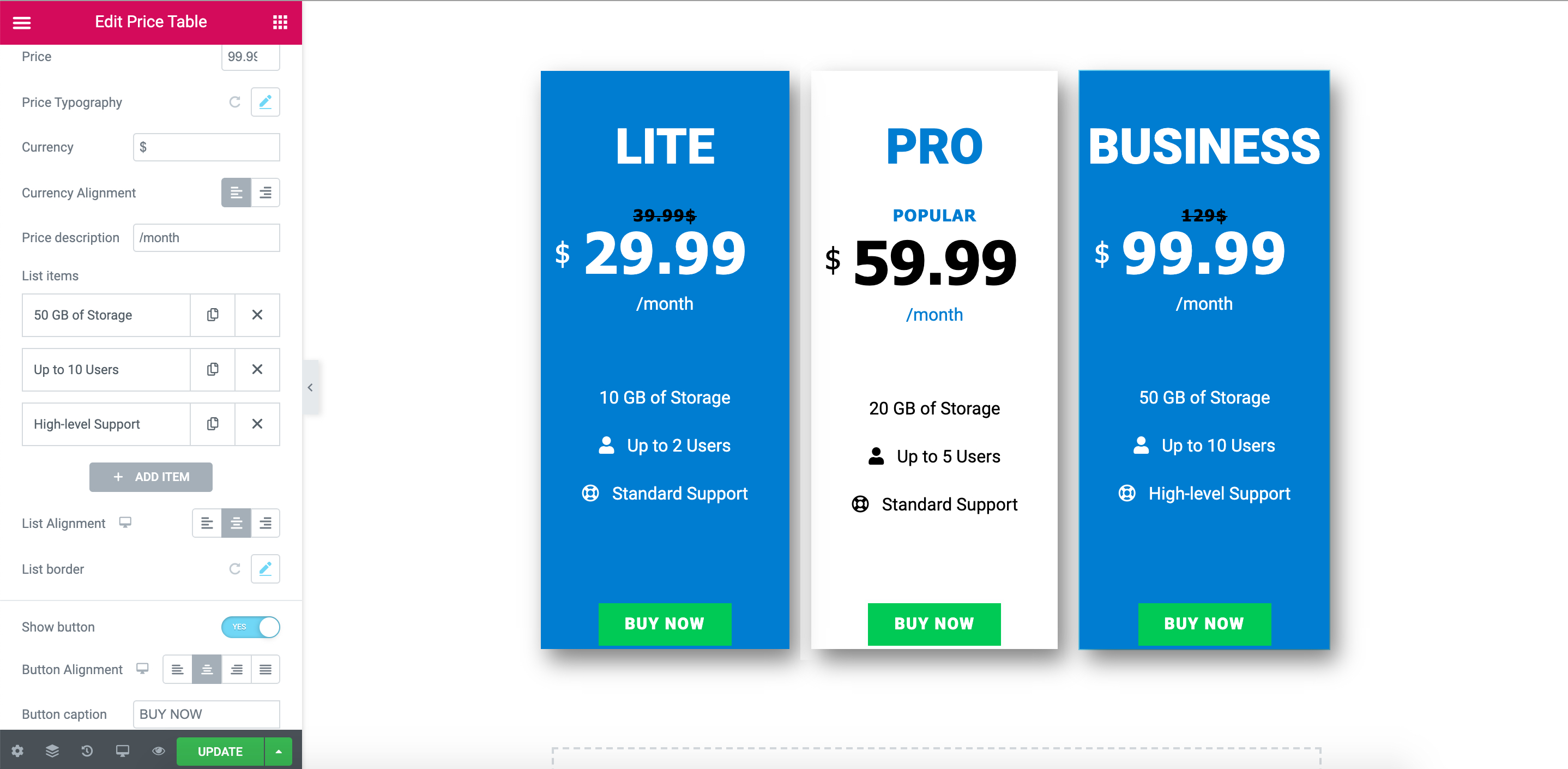 Also, there come extra settings such as:
There are no limitations to the number of items that you may insert in the pricing table for a website. However, this pricing table template does not imply a carousel pricing layout: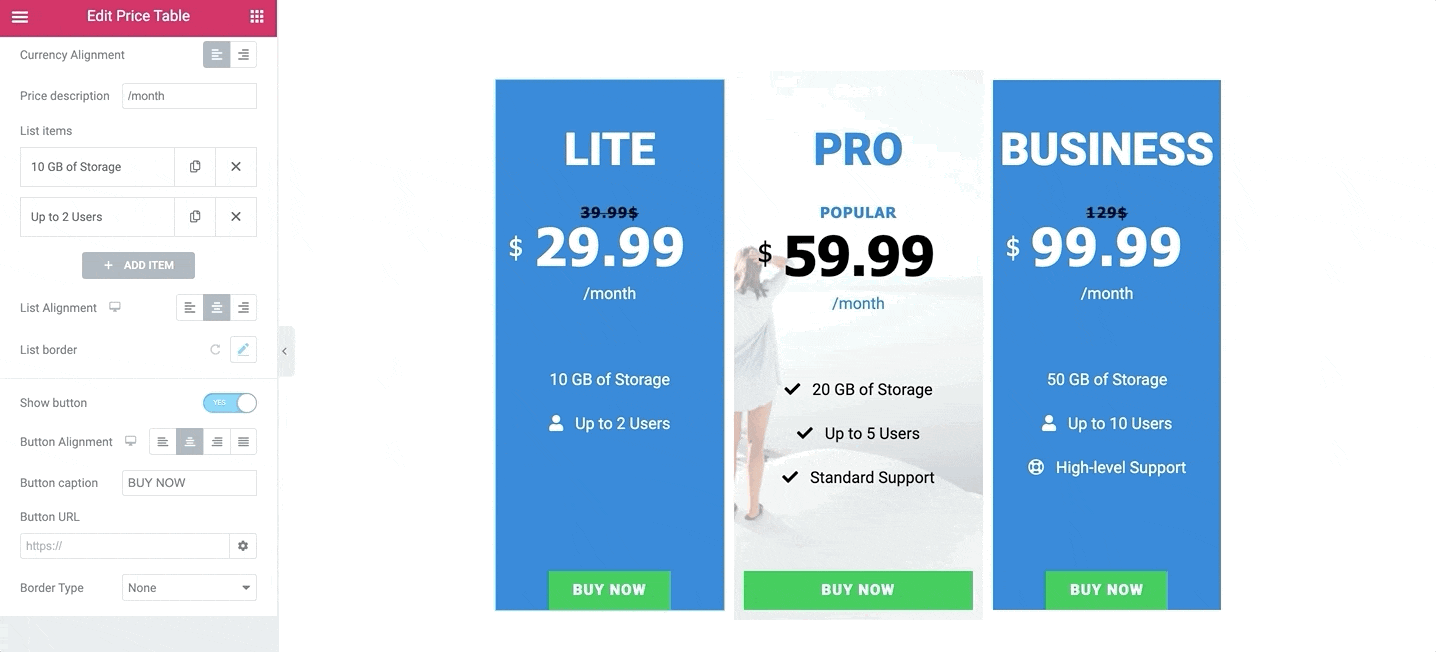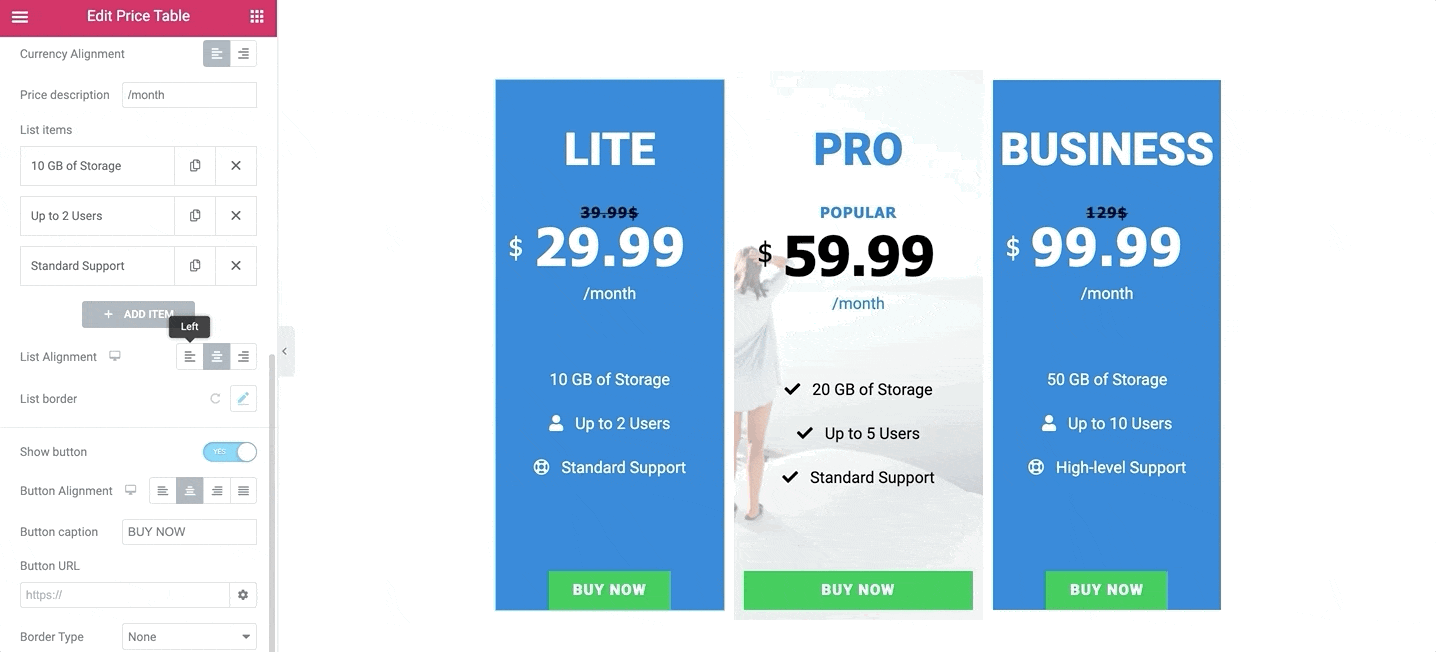 Depending on your preferred pricing table design, you may decide whether to disable the button or keep it. If you choose to keep it, you can change the button's alignment, alter its caption, insert the URL, and change its border type: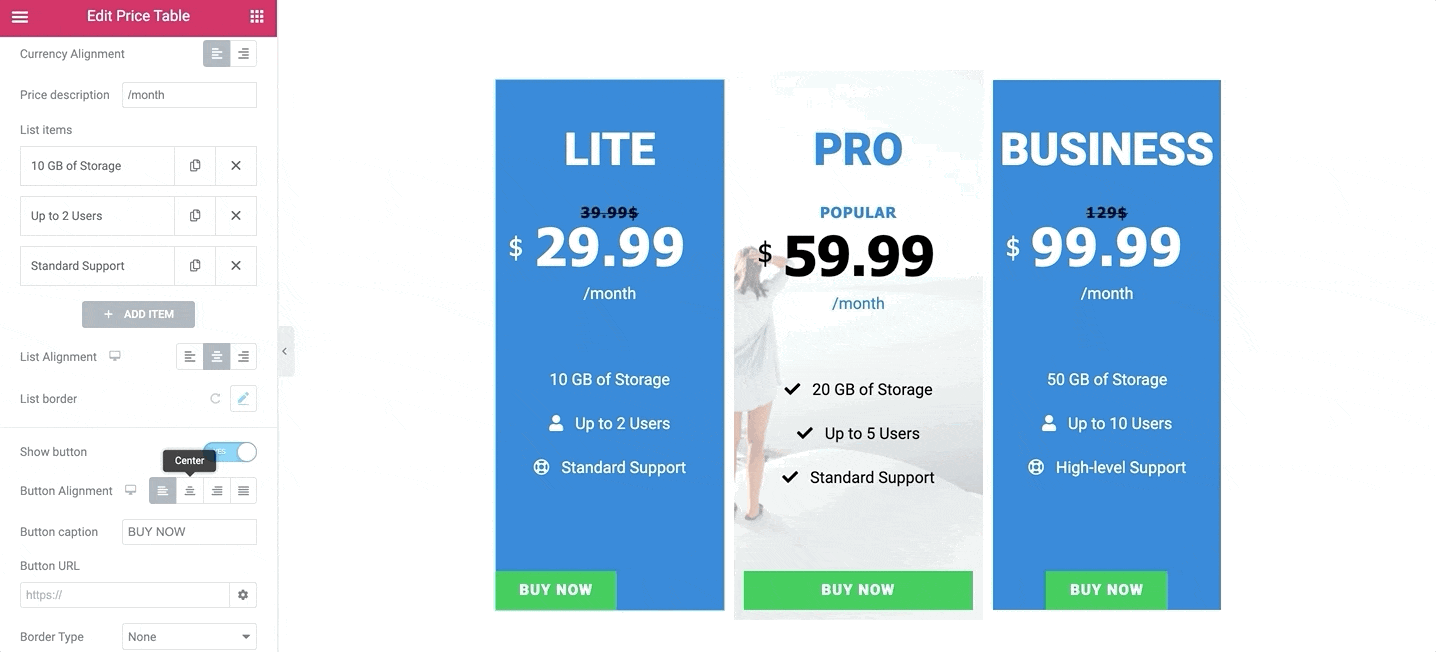 Styling Options
Style
The styling section consists of color settings for each text element for both normal and hover modes: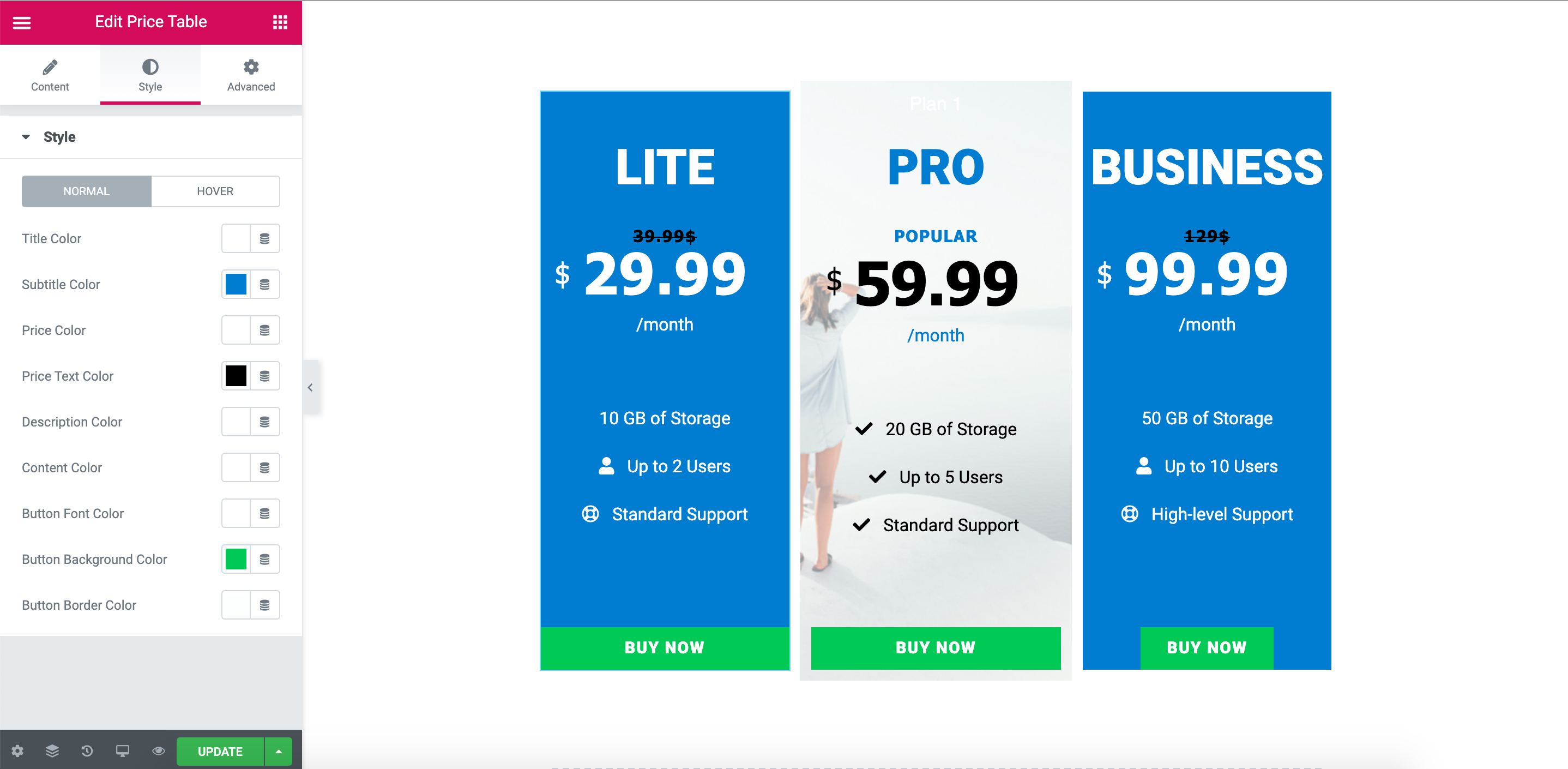 Advanced Settings
Apart from basic content & styling settings, you may get the advantage of advanced functionality to give your pricing comparison table more of a professional touch. You can:
edit the background (image, one color, or gradient) for both normal and hover modes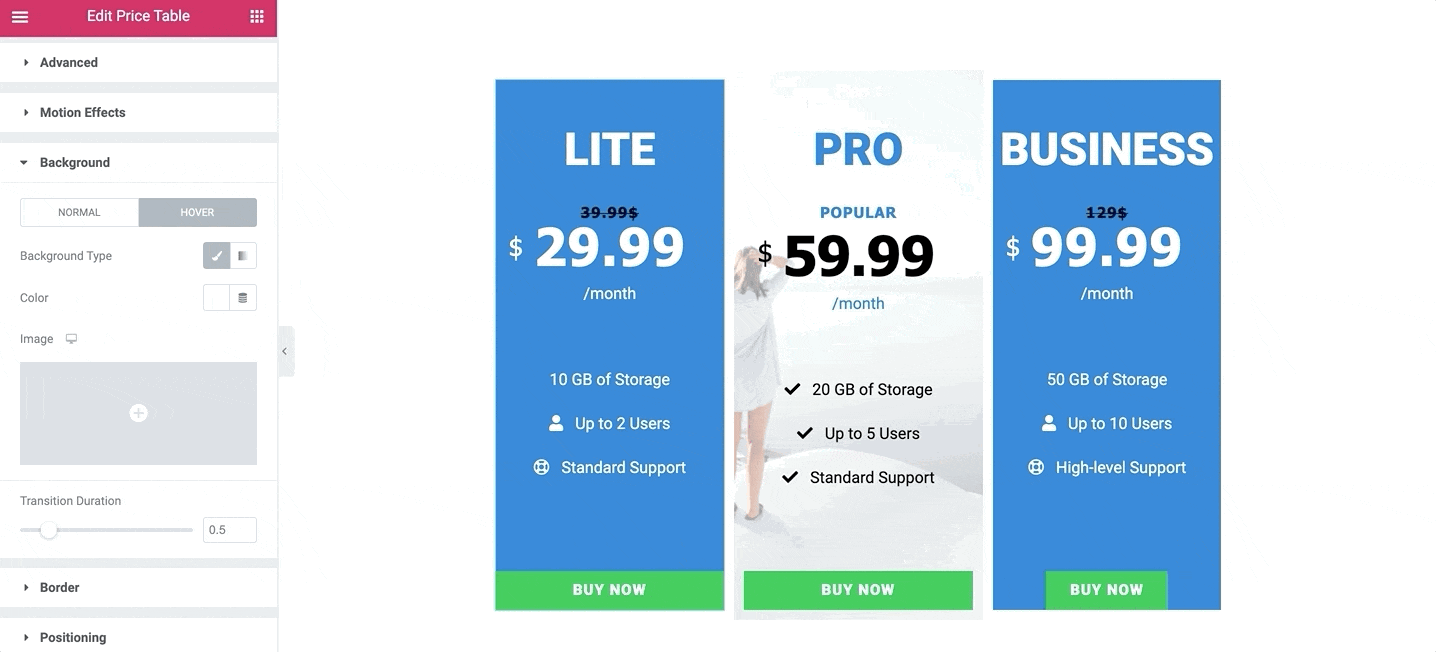 set up the border type & radius & shadow for each column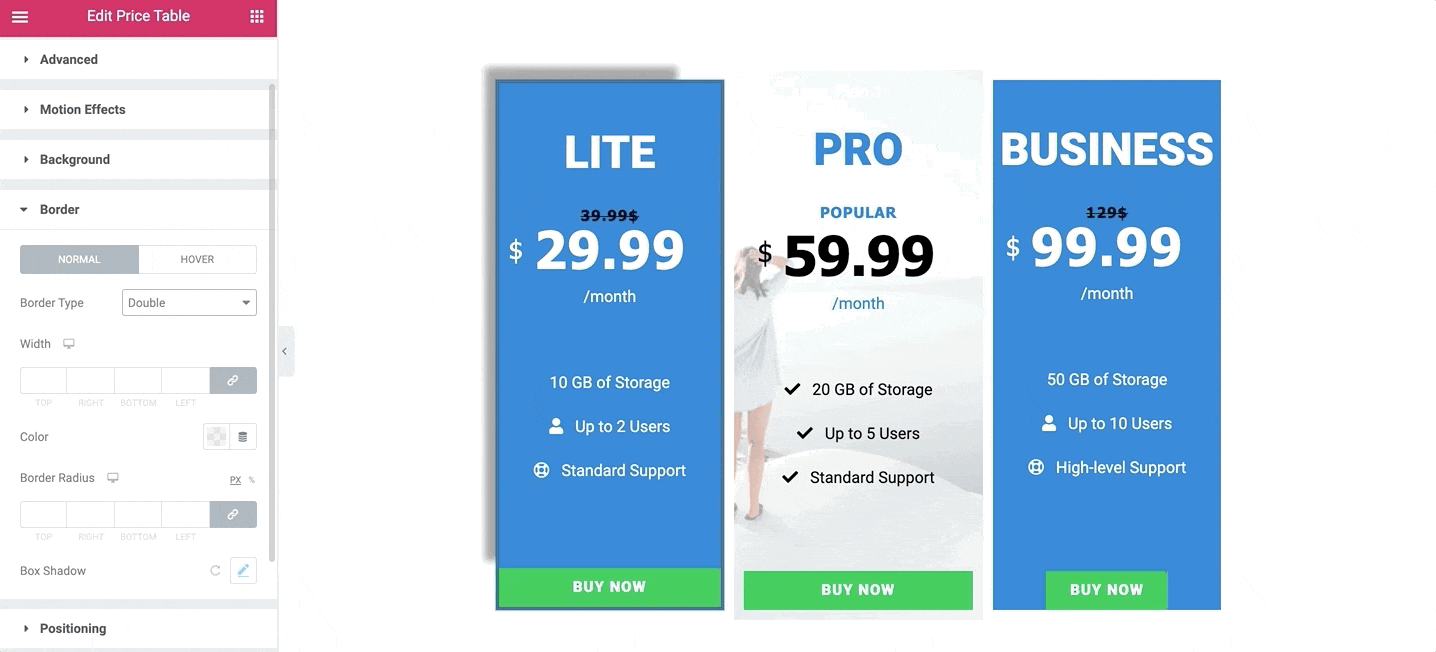 set up positioning & responsive visibility & attributes
set up motion effects
edit custom CSS
Explore 20+ More Stratum Elementor Widgets
Stratum is certainly much more than just a good widget for creating Elementor tables. You might want to explore more about the other 20+ Stratum elements.
Why Stratum for Elementor?
20+ business-oriented widgets for FREE;
Inherits visual styling of your current theme;
Does NOT slow down your website;
Elementor template library integration;
Compatible with other Elementor addons;
Fully-adaptive;
Unlike similar Elementor Pricing Table plugins, Stratum contributes to the attractive look of your pricing tables templates (or any other chosen widget). The addon inherits the default styling of your currently using Elementor theme, so it automatically suggests which typography and colors can make this module look organically with your overall page style.
Download Stratum free widgets and you will be able to see the plugin going through frequent boosts and watch it replace the most popular premium addons.
But first, take a look at Stratum demos of all 20+ widgets and think of your perfect widget design.
And in case the functionality of Stratum Lite will not be enough to fulfill all the design ideas, do not worry. We released the premium version of our favorite Elementor collection called Stratum PRO. You can read more about the difference between Stratum Lite and Pro down the link. Overall, the premium package gives you access to a few exclusive features for each widget, including the responsive Pricing Table widget. Even if you use Stratum Free, you will see features marked as "pro", which you can unlock after purchasing the pro version. For as low as $19, you can enjoy the full functionality spectrum of Stratum without switching to Pro.
If you are interested in any of the other free Stratum widgets, read their full reviews in the blog section down the link. For more questions, concerns, and other useful information about the Stratum addon, or join our official Facebook community.
P.S. Elementor Pricing Table addon was developed by MotoPress – the company develops free and premium WordPress software for both beginners and experienced users. Along with Elementor, MotoPress created a free collection of 40+ multipurpose static & dynamic blocks for the default WordPress editor – Getwid Gutenberg Blocks.