Stratum Widgets: Table Elementor Widget
Since version 1.3.7, the Stratum Elementor widgets library is offered with the Advanced Table widget you can download for free.
Although there are numerous ways to create a table in WordPress, you don't need to search for third-party table plugins (e.g. TablePress WordPress plugin) if you are on Elementor.
The free version of Elementor has no table widgets in its collection but fortunately, you can satisfy this need with the Stratum Elementor table widget. It allows you to build WordPress custom tables visually without any special tech skills.
Read further and you will learn how to add a table in WordPress with the Stratum + Elementor duo.
The Purpose of the Elementor Table Widget
WordPress tables are quite handy for any type of website, no matter whether it's an ecommerce site that needs to display online sizing charts or a travel blog that compares benefits of different travel agencies.
The list might get too long if we really try to enumerate all the possible cases where a table or a chart comes in handy.
Using this free table widget for Elementor, you can organize, compare and break down any information so that it's much easier comprehended by the website visitors.
Now let's see what tools you can with Stratum's free table widget for Elementor by reviewing its features and tools.
How to create a table in WordPress with the Stratum's Elementor widget.
Start with adding a table widget to the page as you would normally do with any other widget in Elementor.
Now let's go through the individual tabs to see what you can edit via them. Via the Content tab, you can customize table headings and table body.
Table heading
Add and customize columns headings: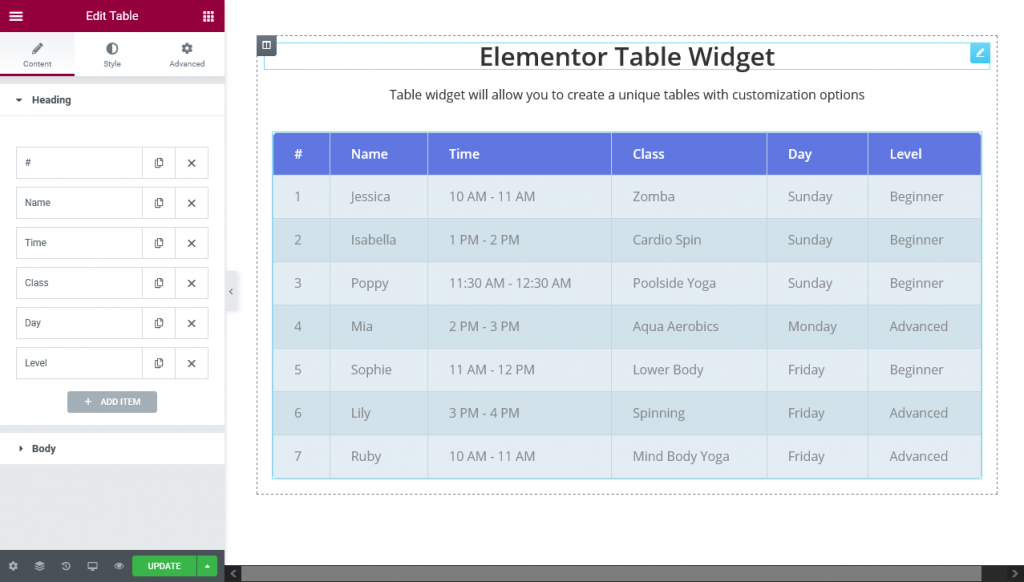 Column title (heading) and alignment
Optionally add an icon or an image next to the heading title
Customize text and background color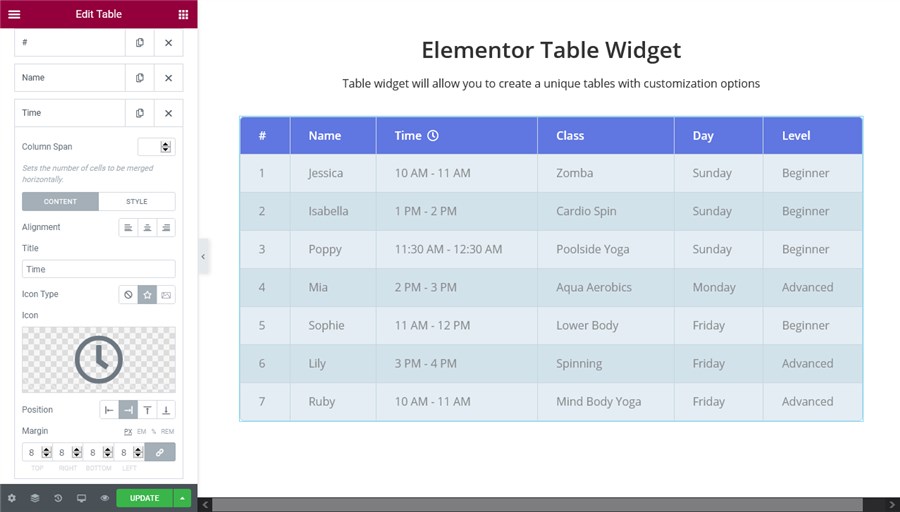 You can add as many items as you want.
Table body
In this menu, you can organize rows and columns. There are two item types you can add: rows and columns.

So by adding rows you just designate how many rows a table should contain, while the rest of the settings are for columns.
For example, here is what you can change:
Choose a content type to display in a column: a plain title, text or an Elementor template (the latter is available in Stratum PRO only).
You can accompany titles with icons or images; opting for a text, you can apply basic formatting and upload media files; and you can integrate entire Elementor templates into the table body, either default or your custom ones (the latter is available in Stratum PRO only).

You can change the text and background color of the column.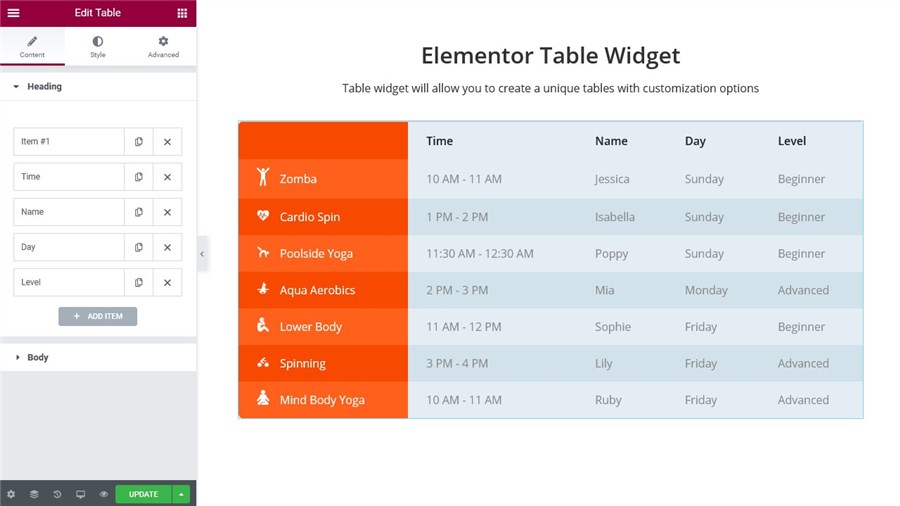 If you want to merge cells, specify the number of columns in the Column span: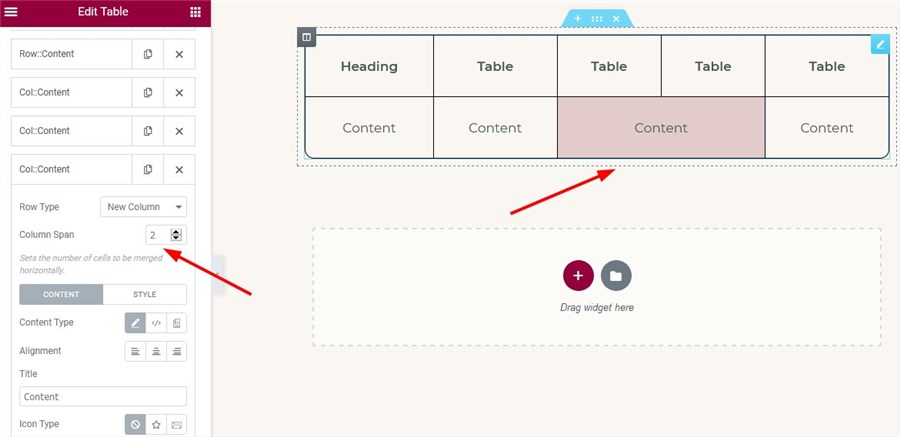 General style
In this tab, you can customize the look of the entire table, borders, etc.
Choose a table layout (auto or fixed). Auto means it'll be resized depending on the viewport of the screen.
Set a table width.
Set table alignment.
Edit a border style and width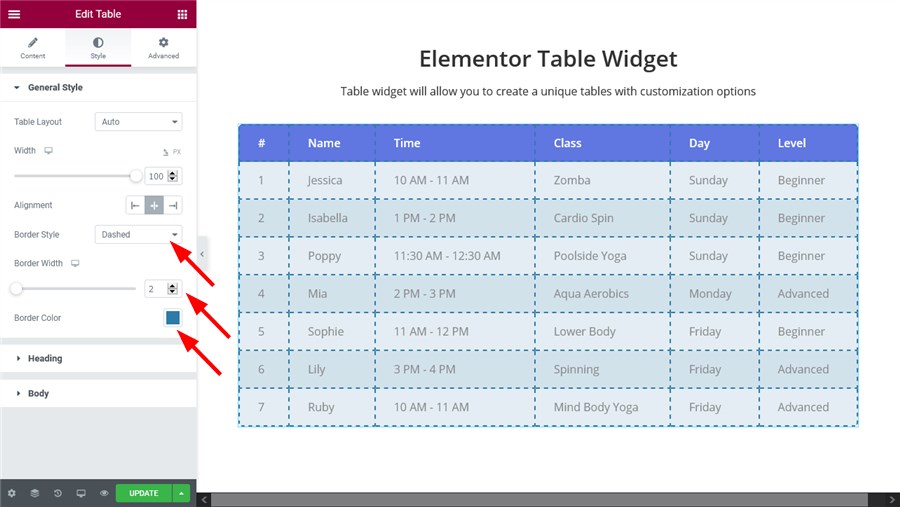 Heading style
Here you can customize the heading style in the following ways:
Border radius
Column height
Paddings
Horizontal and vertical alignments
Typography panel
Icon size
Text, background and icon color for the normal and hover states.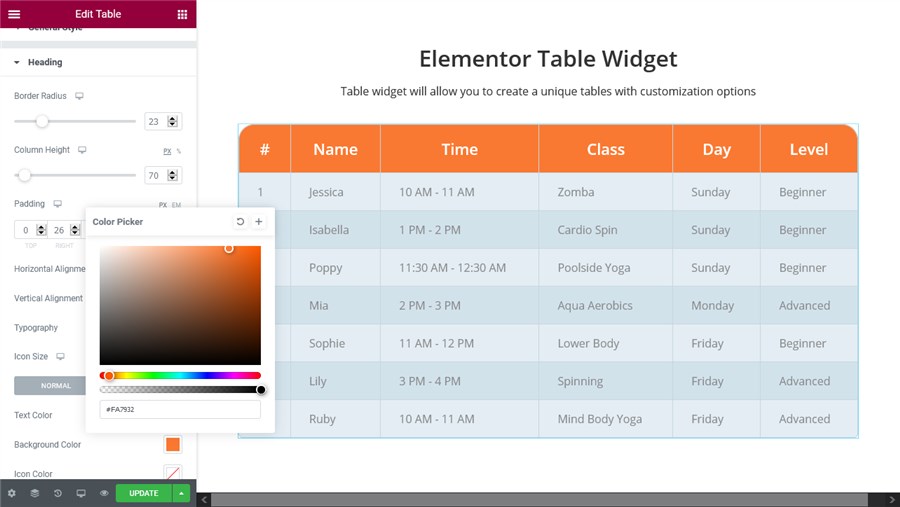 Table body
Set border radius, column height and paddings
Apply horizontal or vertical alignments for content
Full typography panel
Icon size
Text, background and icon color for four states.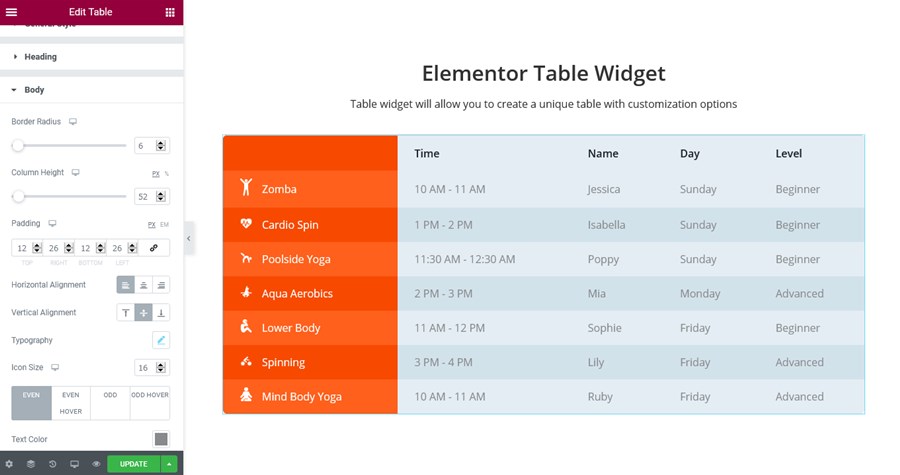 Voila! Now you know how to create tables in WordPress using Stratum – the best WordPress table plugin alternative!
Download Elementor Table Widget Free
In the good old Classic Editor days, it wasn't that easy to build a table in WordPress without specialist plugins or builder addons. With Elementor and Stratum, it's a piece of cake. You can build really advanced tables in WordPress, customize individual rows and columns, merge cells and more with just one tiny widget. The only difference in the Table widget versions, is that you can't embed Elementor templates into the table body in the free Startum version – all the other settings are free to use!