Stratum Widgets: The Circle Progress Bar And Counter Elementor Widgets
We have already reviewed some of the powerful Stratum Elementor widgets for creating advanced posts, sliders, and stunning Masonry galleries. Today, we'll speak about widgets that contribute to a better visual perception of the website data with the circle counter WordPress plugin.
Thanks to the Circle Progress Bar & Counter addons by Stratum, you'll have no problems creating appealing and well-perceived visuals. In this article, we will guide you on how to maximize the customizing options of Stratum for Elementor and come up with amazing styling!
See also: the Progress bar widget for the block editor (Gutenberg).

Why Should I Use the Circle Progress Bar & Counter Widgets?
If you are not a coding geek, you might know nothing about jQuery and how to build circle bars and counters with it. And that is completely okay as long as you own a WordPress website and use Elementor as your "one and only" page builder along with its standard and third-party widgets.
Although you can find alternative Progress Bar and Counter widgets among the General Elementor addons, they are not identical. The default Elementor progress bar is not circular, while the basic counter widget does not offer such extra settings, as the title suffix, animations effects, and more.
Overall, the Stratum addon with Circle Progress Bar & Counter widgets lets you:
Display the progress in percentages and/or with a text description;
Use multiple styling settings;
Instantly adjust the style of elements to your current WordPress theme.
Key Benefits
The main advantage of Stratum elements over Elementor ones is the ability to automatically set up the widget styling that corresponds to the style of a theme. At the same time, all widgets (including these two ones) provide highly flexible customization settings, which let you alter ANY element of the module.
In terms of progress bars and counters features, Stratum offers a few extras, such as:
Circle Progress Bar settings: width, widget float;
Counter settings: neat counter titles & subtitles, smooth animation, horizontal alignment;
Circle Progress Bar styling: circle/no-circle, background padding, line sickness, hover effect settings;
Counter styling: animation effect, individual typography styling, display of decimals, types of numerals, hover effect settings;
Mobile-friendly layouts.
Now let me give you an example of how you can customize both Stratum widgets to make it look amazing on any kind of webpage without any extra info circle WordPress plugin.
Stratum Progress Bar Widget: General Features & Settings
Content Settings
This section contains basic customization settings, where you can edit:
Widget Float
View Percentage OR Written Text
Circle Width
Progress (from 0 to 100)
This is how the progress bar circle widget looks right as you insert it onto your website VS after a bit of customization: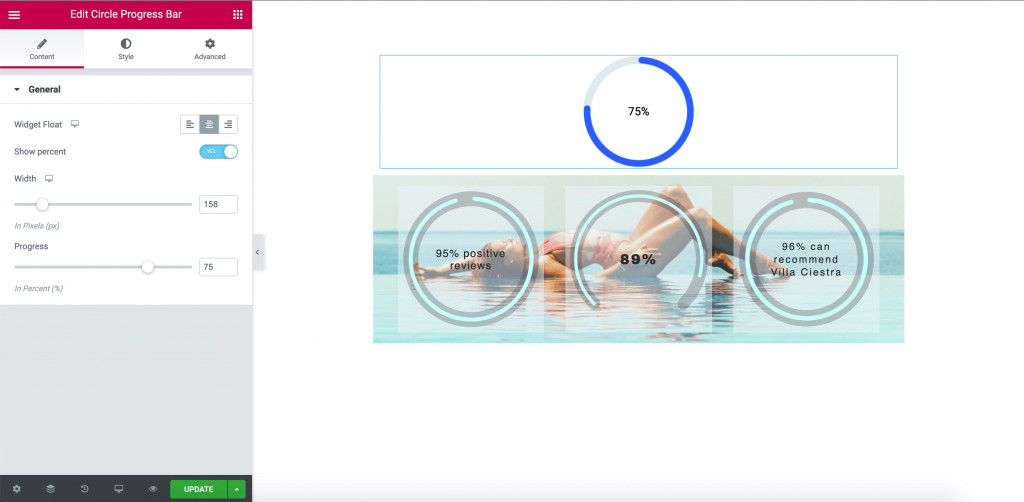 Styling Options
The styling options offer a sufficient number of handy settings to style-up your progress bar from its plain to a more advanced look: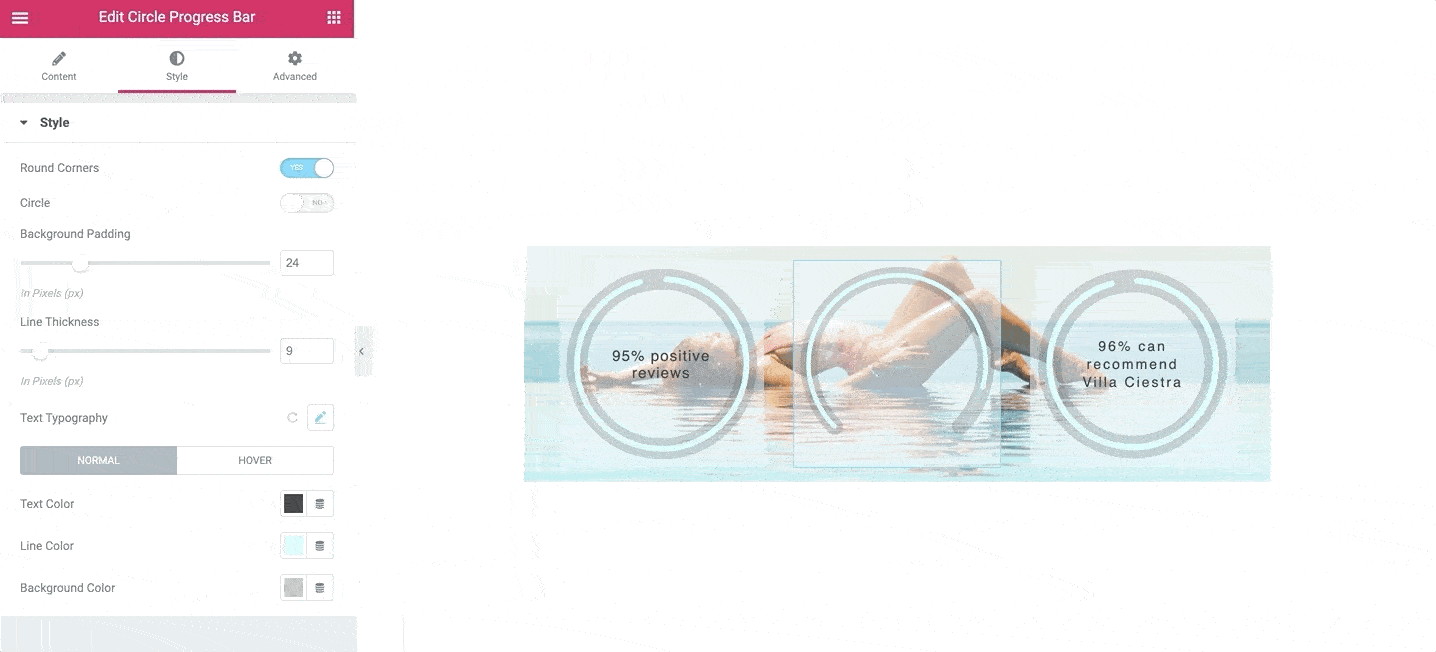 Background Padding
Line Thickness
Just look at how different your bars can look once you change the dimensions of your background padding and line thickness! You can experiment as much as I did here with these three identical bars (but with the change of thickness and padding, you start to perceive each of them in a different way):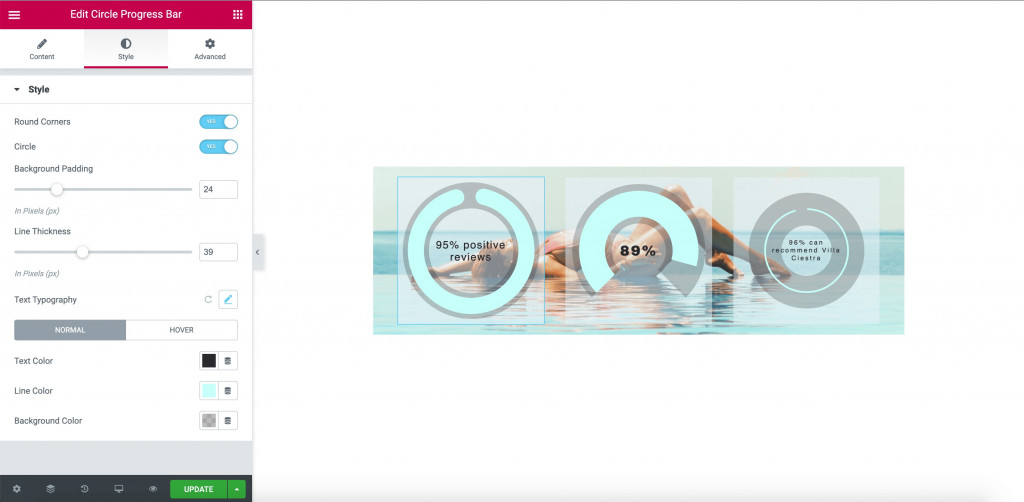 Elementor provides you with standard yet very flexible typography settings for creating eye-catching captions of different shapes, sizes, and fonts: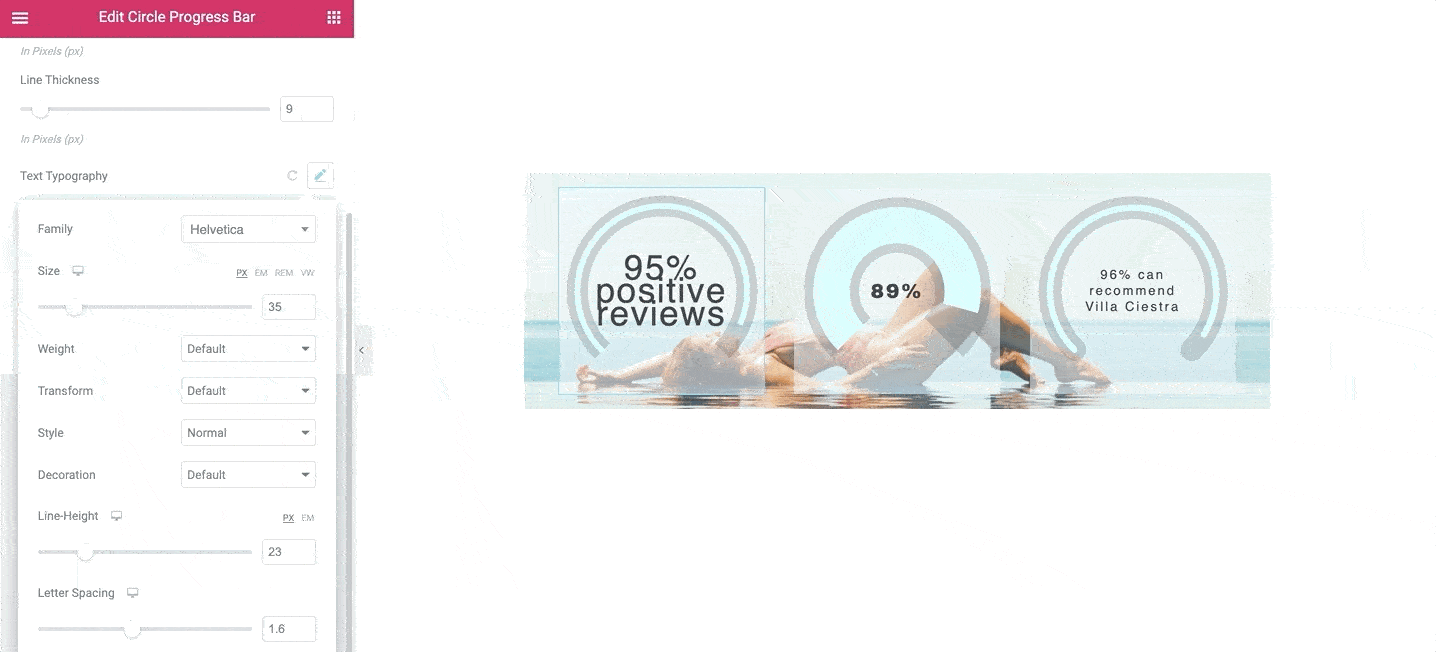 As mentioned earlier, Stratum provides automatic adjustment to the current theme styling, including the used fonts & colors. The color palette highlights those colors used in your WordPress theme, so you can pick the best-matching ones for your Stratum circle progress bar: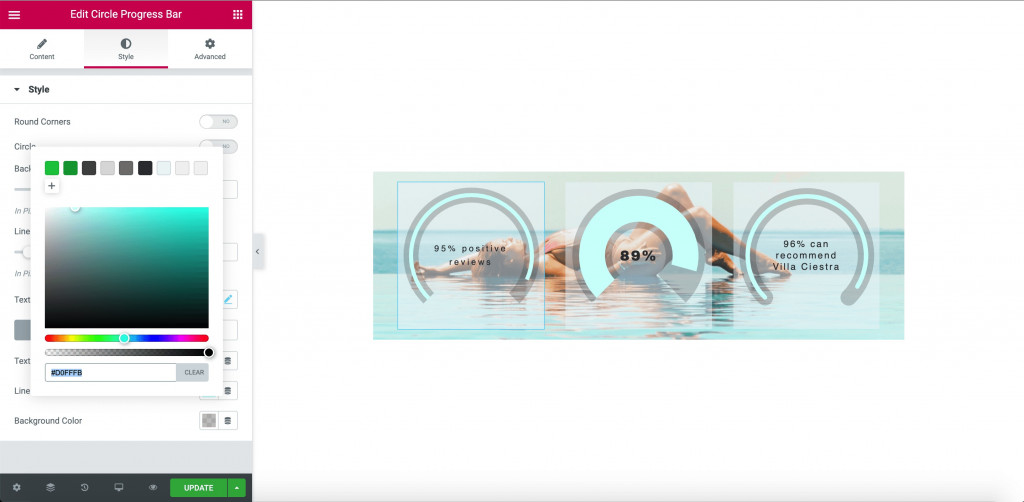 The hover settings let you change the color of your text, line, and background to alter the style of your current progress bar as you hover the mouse over it: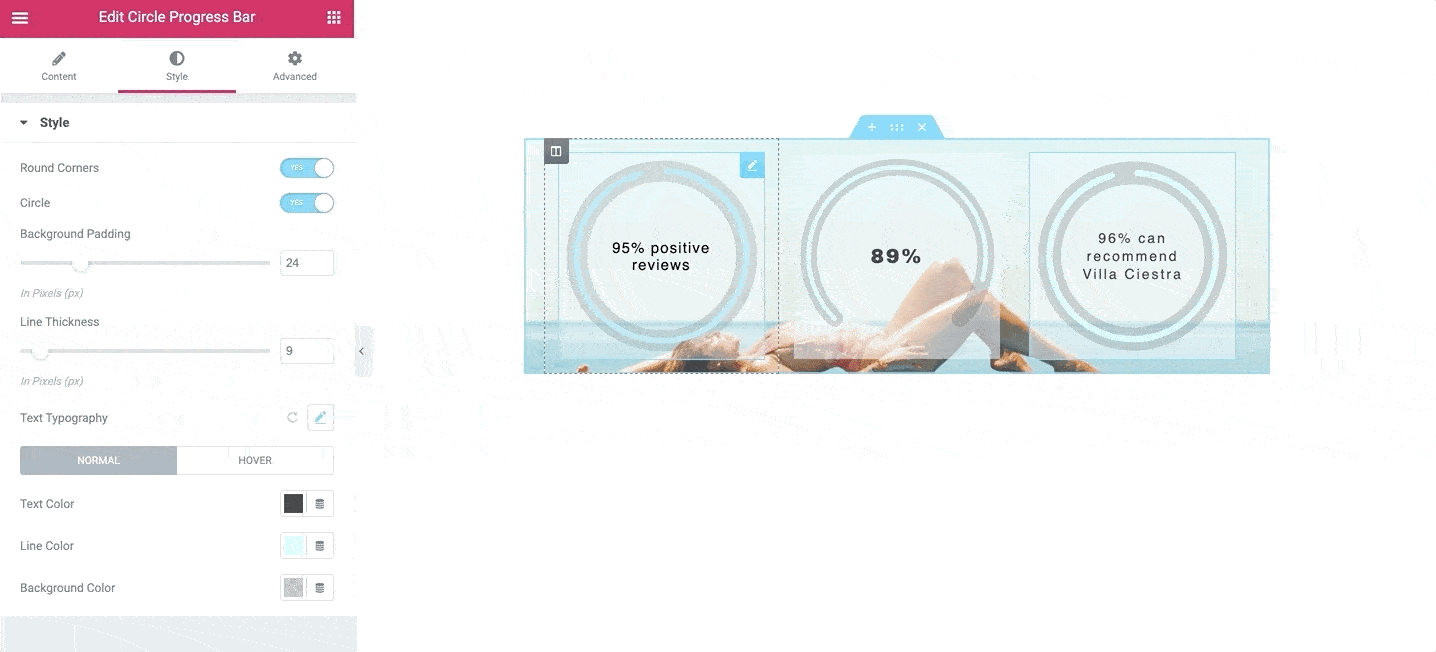 Stratum WP Counter Widget: General Features & Settings
Content Settings
The number of basic content settings includes the following:
Start / End Value
Animation Duration
Smooth Animation
Counter Prefix / Counter Suffix
Horizontal Alignment
As you insert the WordPress counter widget onto your website, it looks plain, but as you fill in the content and do the styling, you may end up with a pretty impressive counter section.
This is a Before & After example of the Stratum counter: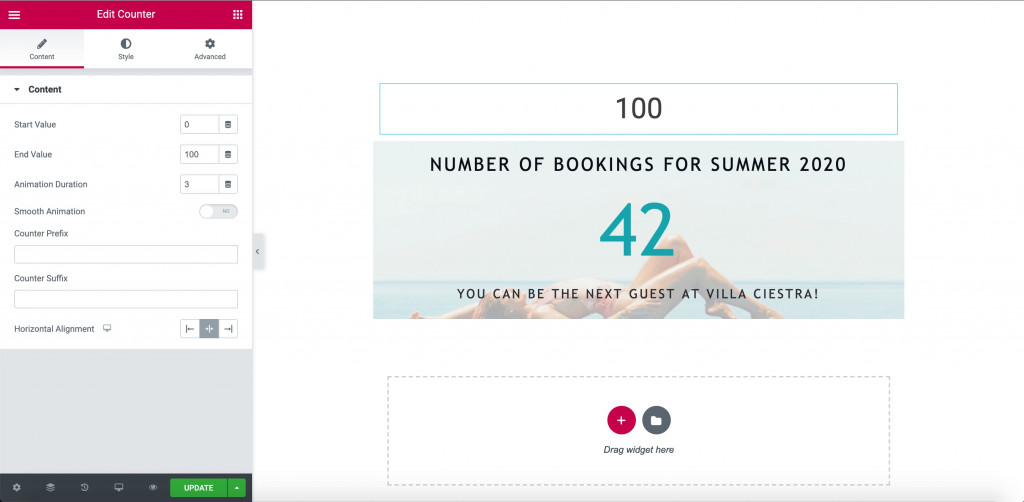 Styling Options
Animation effect (OurExpo, OutQuintic, OutCubic)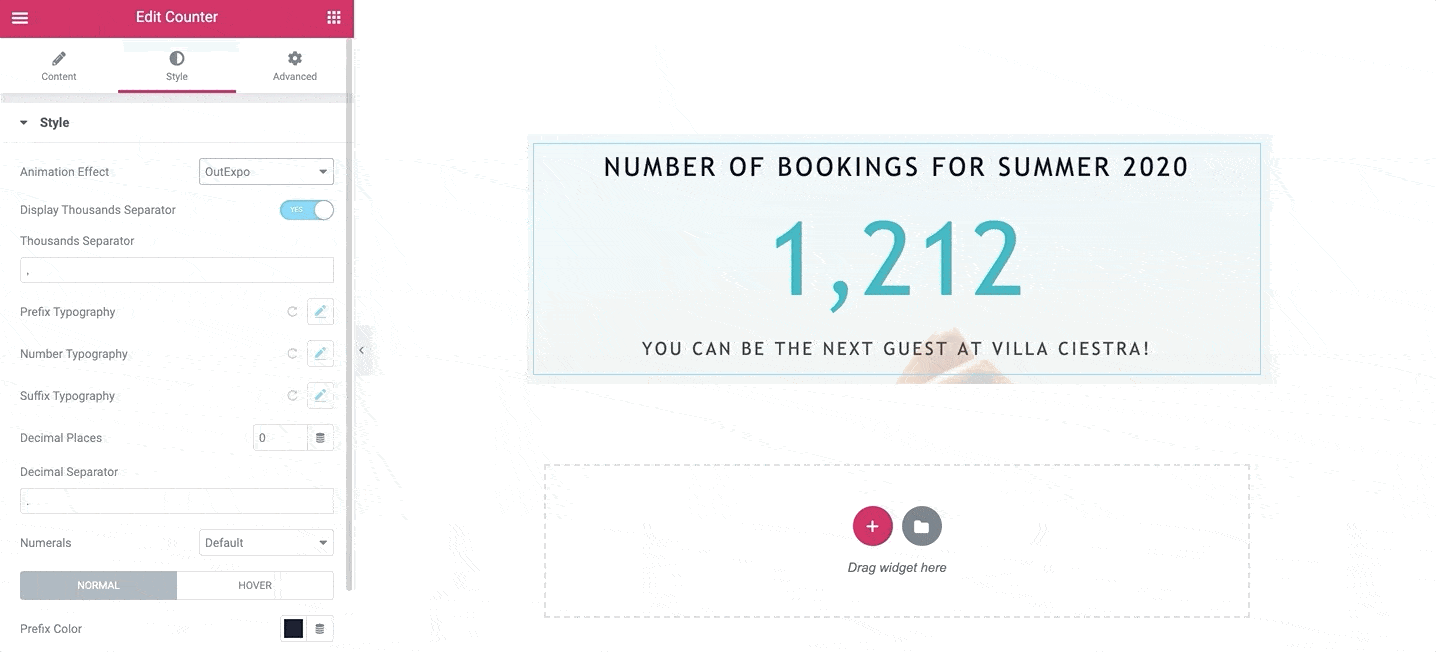 Display Thousands Separator
Thousands Separator
You can choose a different thousands separator that corresponds to the numeral formatting of your particular country/region:
Prefix / Number / Suffix Typography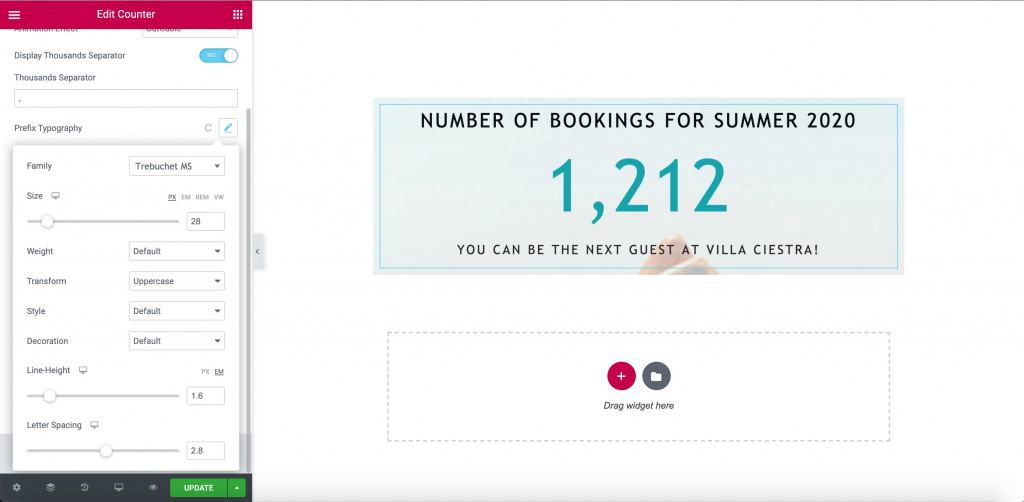 Decimal Places
Decimal Separator
Just like a thousands separator, you can choose your own any kind of a decimal separator in accordance with the needed numeral formatting (typically, a comma or a point):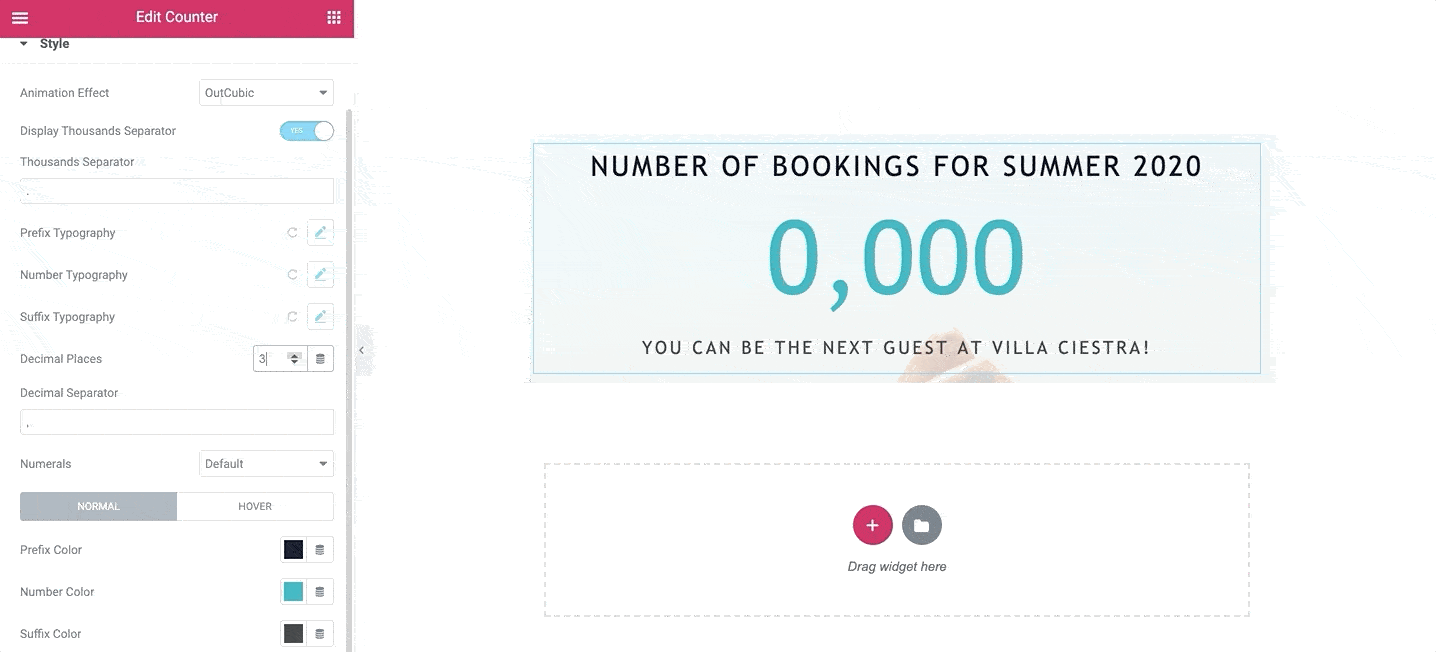 Numerals (Default, Eastern Arabic, Farsi)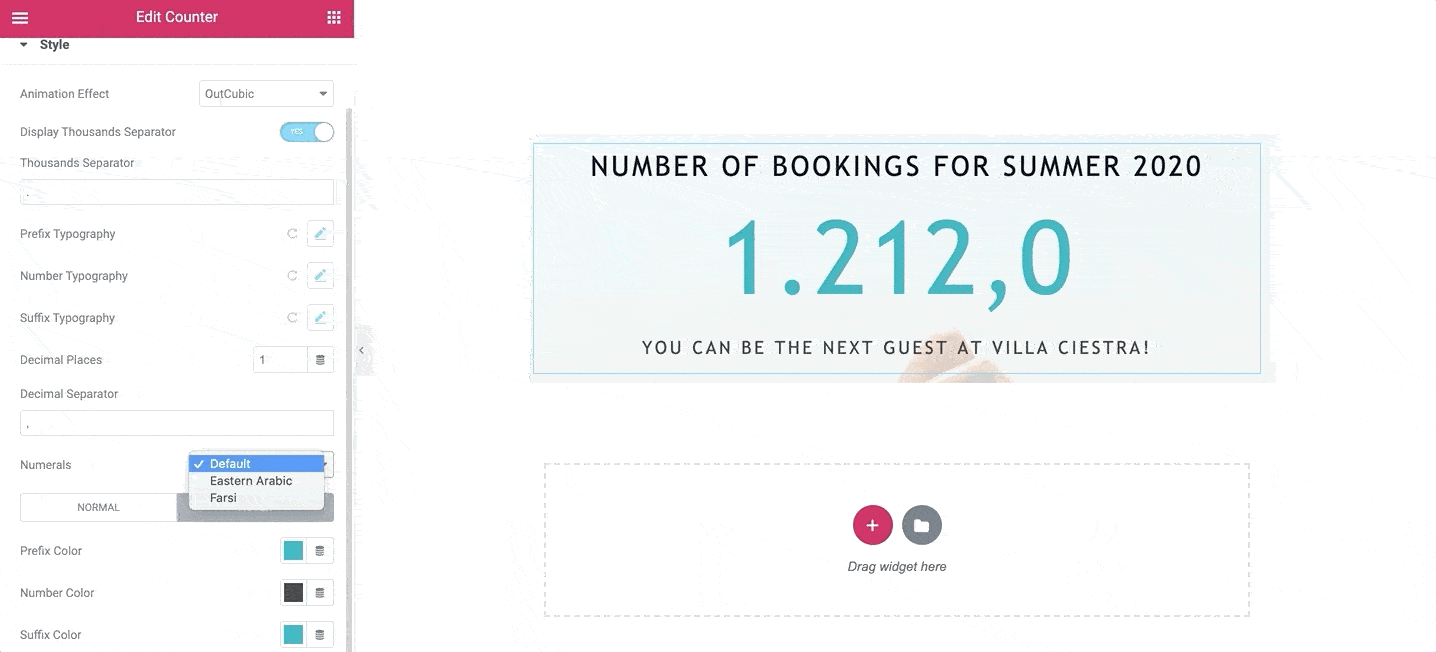 Color settings
Hover Settings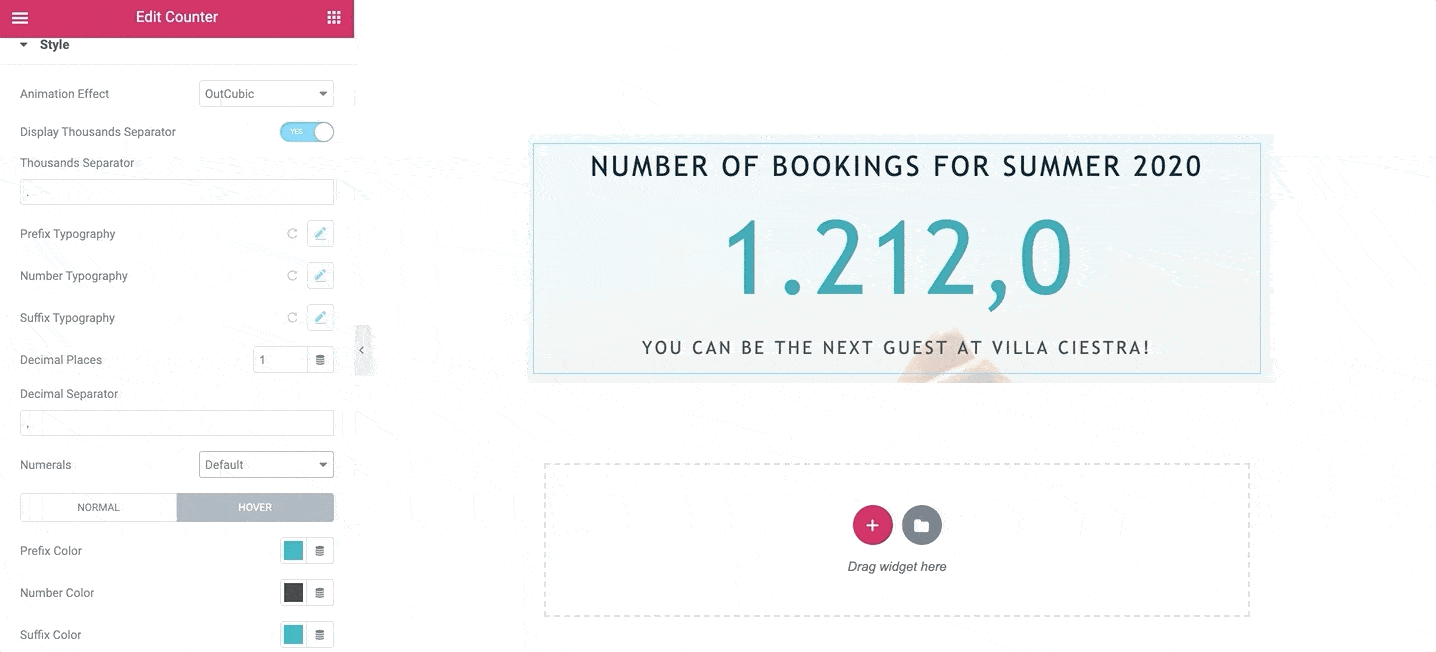 Download More Stratum Elementor Widgets For Free
Now you know everything about the Progress Bar & Counter widgets, which can be a great substitution for the separate progress bar & counter plugins. Now, you can also learn more about 20+ more advanced widgets from the Stratum collection. We have an entire Stratum blog section devoted to this Elementor addon, so you can check out what more it can offer.
Why Stratum for Elementor?
24+ Elementor widgets for free (updated regularly);
Some elements are free analogs to paid Elementor elements;
Automatically adjust to a visual styling of your theme;
Advanced design toolchain;
Elementor template library integration.
You don't need a standalone circle progress bar WordPress plugin when you have Stratum, nor do you need a WordPress counter plugin. Download Stratum and enjoy all the functionality in one place! Do not hesitate to check out all demos of Stratum widgets to visualize your perfect designs.
Moreover, after the release of Stratum PRO – the premium version of our favorite addons collection – users can add up even more advanced functionality to their current Stratum Lite widgets. This will only cost you $19 annually for a single website.
All the layout, content, and styling options can be viewed in the free version of Stratum and they will be marked as "pro". If you have not downloaded free Stratum from wordpress.org, you can buy PRO Elementor Extras directly from our website, and it will have both Stratum Lite + Pro options.
Last but not least, we have created a Stratum Facebook community for you to ask questions regarding the addon, learn quick tips on Stratum  & Elementor widgets, and, of course, stay tuned to the latest news and updates.
P.S. The team of MotoPress develops WordPress software for different page builders and block editors. In addition to Elementor addons, we created Getwid – a free collection of 40+ multipurpose Gutenberg blocks. Check it out if you are also working with the default WordPress editor.