Stratum Widgets: Masonry Gallery Elementor Widget
The Masonry layout is a cascading grid style often used in web design, which looks more interesting and beautiful if compared with the basic Elementor Image Gallery. The layout allows placing images of various dimensions in full size without cropping their sides, so it works well with anything from posts displays to portfolios and galleries.
One of the 20+ Stratum Elementor addons is the free Masonry Gallery widget allowing everyone in spite of their professional experience to create stunning galleries with advanced functionality. The Masonry Gallery is one of the 7+ Stratum widgets considered as analogs to widgets from the paid Elementor version. The other widgets from the list of PRO alternatives are Advanced Slider, Advanced Posts, Testimonial Carousel, Price List, Price Table, and Flip Box.
See also: the Image gallery block for the block editor (Gutenberg)
The Purpose of the Masonry Elementor Image Gallery Widget
Although creating the Masonry Image Gallery is more or less easy for users knowledgeable in CSS code, it is definitely not for a beginner. Luckily, with the existence of Elementor and its supplemental solutions (Stratum is the one), even a non-professional would feel confident in creating and editing website sections.
So what exactly is the Stratum Masonry Widget for?
You can display the latest photos of your blog website.
You can create beautiful portfolios for any purpose and website type, and place them anywhere on the website.
You can post the company's event updates (in a visual form).
Benefits of Stratum Masonry Gallery
As mentioned earlier, the biggest advantage of Stratum Elementor extras is the 100% free access to all widgets & their functionality. The addon offers 7+ alternatives to widgets that you may only purchase in a PRO version. The other half of widgets come with more extended functionality than their analogs in a free Elementor collection.
We may compare the Stratum Masonry Gallery to the basic Elementor Image Gallery, however, it would not be correct to draw a parallel between these two WordPress gallery widgets. The last one has a VERY limited set of layout and styling options but most importantly, it's definitely not a Masonry Gallery with its beautiful image grid.
The other significant advantage of Stratum elements over Elementor ones is the ability to automatically set up the widget styling that corresponds to the style of a theme. At the same time, all widgets (including these two ones) provide highly flexible customization settings, which let you alter any module element.
More Perks of the Masonry Widget by Stratum
Real-time instant customization;
Variety of animation effects;
Multiple hover effects for each content element;
Interesting layout options.
Now that you learned the benefits of our free and highly advanced widget, let's get acquainted with its major features & settings.
Stratum Masonry Elemenetor Image Gallery: General Features & Settings
Content Settings
In the content section, you can upload as many images (max of 5 MB) as you need, either from the WordPress media library or upload the new ones from your device. Before inserting images, you may also add small captions under each image: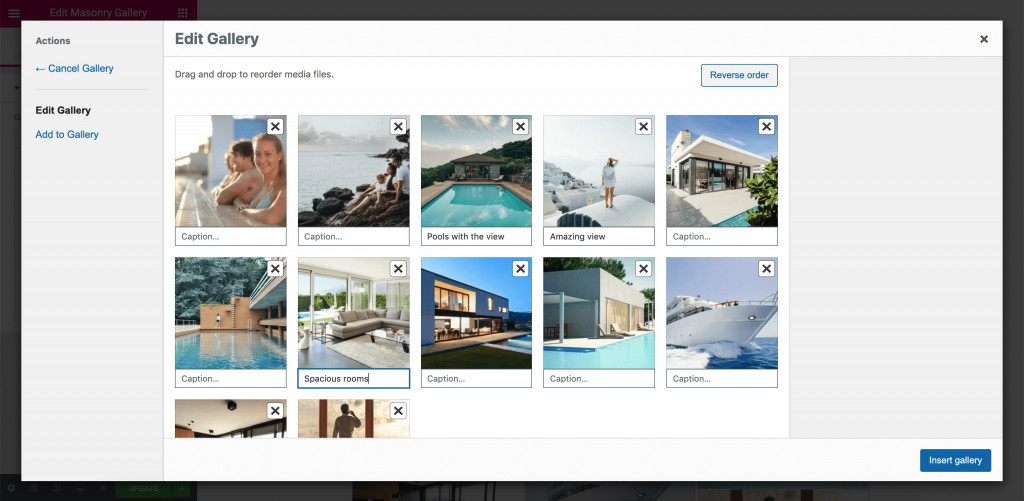 The look of your gallery partially depends on the number of images. The more Masonry images you add – the more "extended" gallery effect you receive: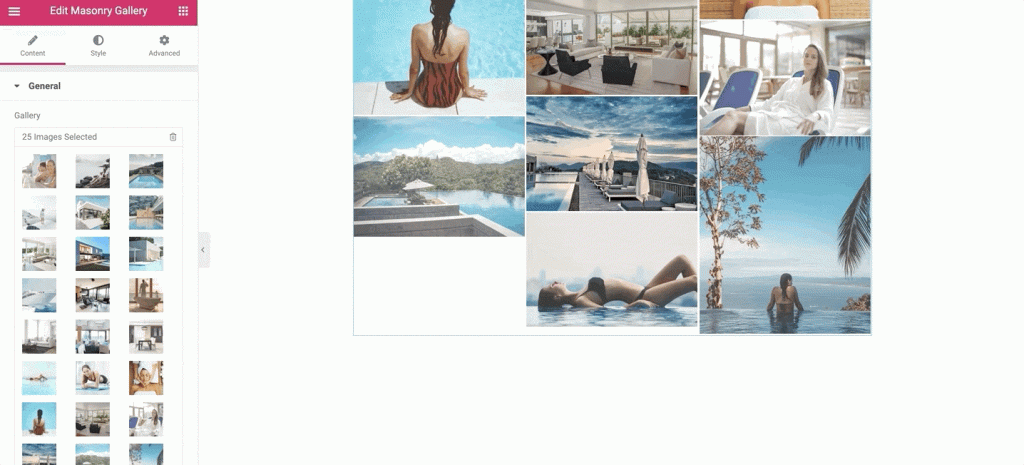 Styling Options
Compared to the Elementor Image Gallery from the default collection, the number of styling options in Stratum seems very impressive.
This is how the styling functionality of the Basic photo gallery widget looks like in free Elementor. The available styling options are: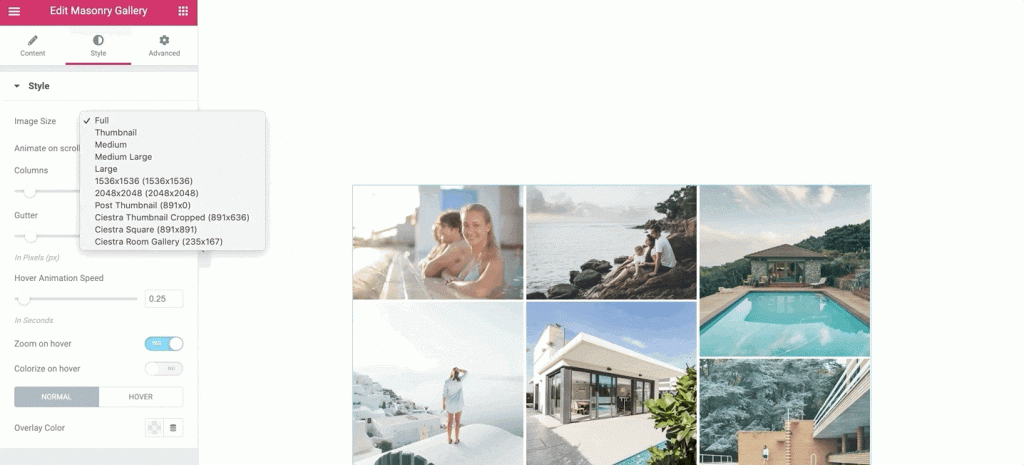 border type (along with the width & radius)
basic caption settings (alignment & color & typography)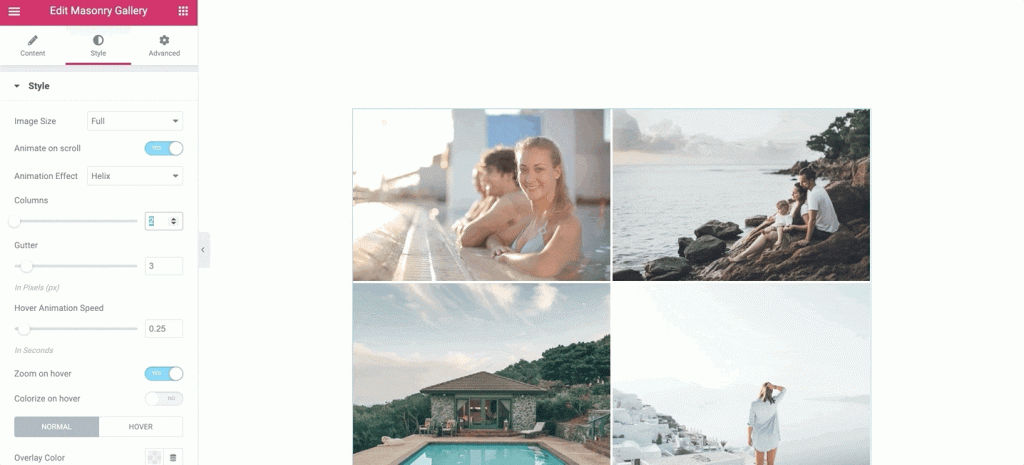 With the Stratum Elementor add-ons, however, you can not only create beautiful Masonry image layouts but also access more advanced styling functionality:
Image size
Animate on scroll
animation effects
the number of columns
gutter customization
Hover animation speed
zoom / colorize on hover
image overlay/hover overlay
The objective comparison of such free options as the WordPress Image Gallery widget in Elementor and the Masonry Image Gallery by Stratum shows that our feature-rich widget is an absolute winner by many significant criteria.
20+ FREE Elementor Widgets With Stratum
If there is a simple yet effective approach to building websites, it is Elementor. If there is a free way to access advanced Elementor functionality, it is Stratum.
Not only you may create an image gallery but also take advantage of 20+ more Stratum Elementor Extras for absolutely no cost (and no extra charges). The addon widgets are highly business-friendly allowing users to create attractive and eye-catching visuals and ultimately, boost up website traffic & conversions. Finally, you can enjoy the perks of 20+ high-quality widgets meant for completely different business goals in a single place!
Craving for more customization options to access a few exclusive features for each widget? With the Stratum PRO package, you can reach highly professional design in a few clicks. All of it will cost you only $19 for a single license.
All you need is to look at the Stratum Lite customization panel – all the premium features will be marked as "pro". For more information, take a look at the Stratum Lite VS Pro comparison.
Stratum was developed by MotoPress developers with 8-year experience in the market of WordPress software. We keep posting more about Stratum widgets, addon updates, etc. in our blog section, so take a look if you want to know more.
Likewise, we are always welcome to see you in our Stratum Facebook community – the place where you can ask any kind of Stratum-related questions, get some helpful tips, and, of course, stay tuned to the latest news & updates.
P.S. In case you are looking for other ways to access a free but highly-editable WordPress gallery widget, here is a little hint. The Getwid collection of 40+ free Gutenberg blocks is an awesome alternative to Stratum in terms of functionality. It would be fair to say that Getwid offers a few more dedicated features than Stratum because of its earlier release.
If you are the one to enjoy the default WP block editor, make sure you don't miss out on Getwid!