Stratum Widgets: Elementor Testimonial Carousel Widget
We keep introducing users to powerful Stratum widgets – one of the advanced and high-functional collections of free Elementor addons. This time we take a closer look at the Testimonial Carousel.
See also: the Testimonials widget for the block editor.
Why Do I Need a Testimonial Carousel Widget?
If your website has to do with business or promoting your self-brand, a section with customer feedback will increase your credibility level. Feedback gives users more trust and stimulates them to make a choice in your favor.
The Elementor Testimonial Carousel lets you:
Showcase testimonials in the most beautiful & space-consuming way;
Edit reviews in the style that matches your entire website theme;
Place the feedback section anywhere on the website.
Although Elementor offers a Testimonial Carousel in the Pro version, why purchase a premium package when there is a free Stratum widget? This addon collection will provide you with super flexible options while building Testimonial Carousels.
Elementor testimonial slider plugin free download (in Stratum's pack).
Key Benefits of The Elementor Testimonial Carousel
Advanced carousel settings: slider direction, navigation style, keyboard control, free move mode;
Various slide effects and the ability to change the animation speed;
The ability to edit the slide padding and margins & spacing between elements;
Vivid subtitle editing options;
The ability to edit Navigation styling (bullets & arrows).
General Features & Settings
Let's see what makes a good Elementor testimonial template.
Content Elements
This is where you insert the text and images to each of your testimonials, as well as edit their alignment and width. The content section includes:
Items (reviews): image, heading, subtitle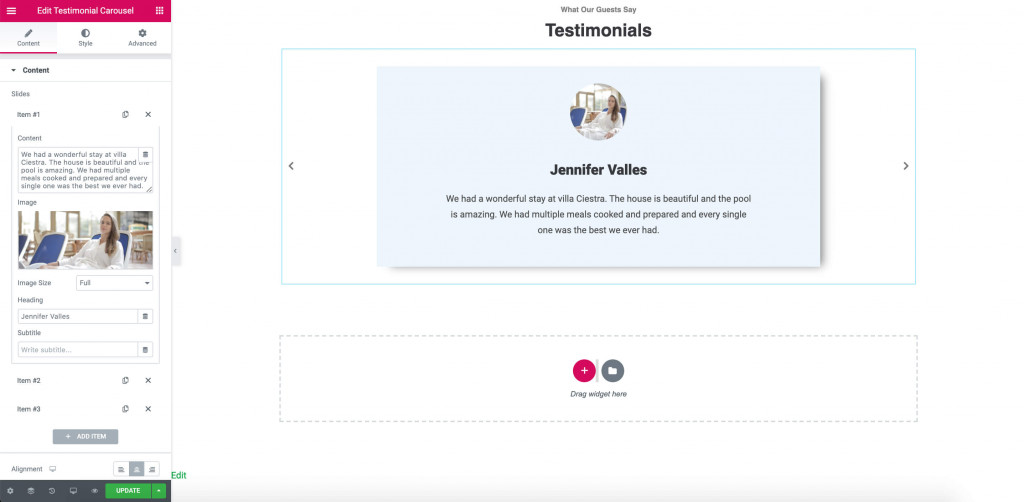 Alignment, Slider & Content Width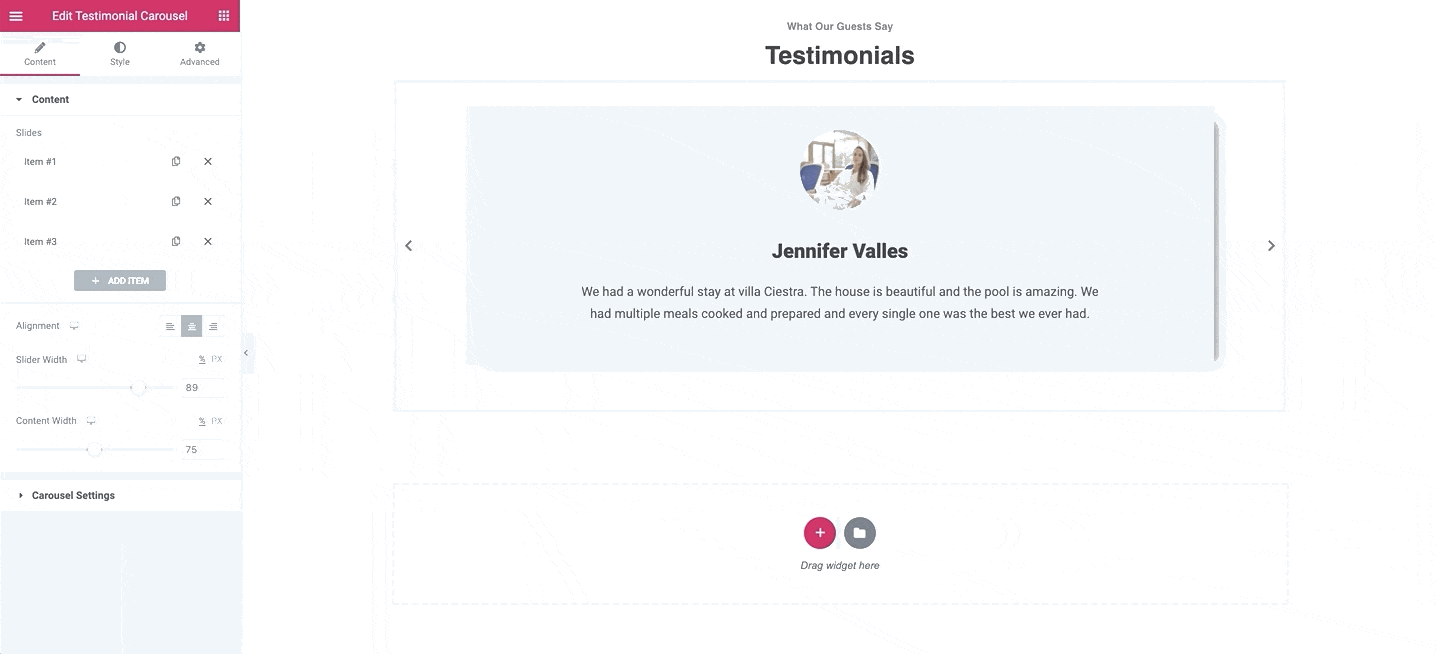 The Testimonial Elementor widget offers an extended set of carousel layout options: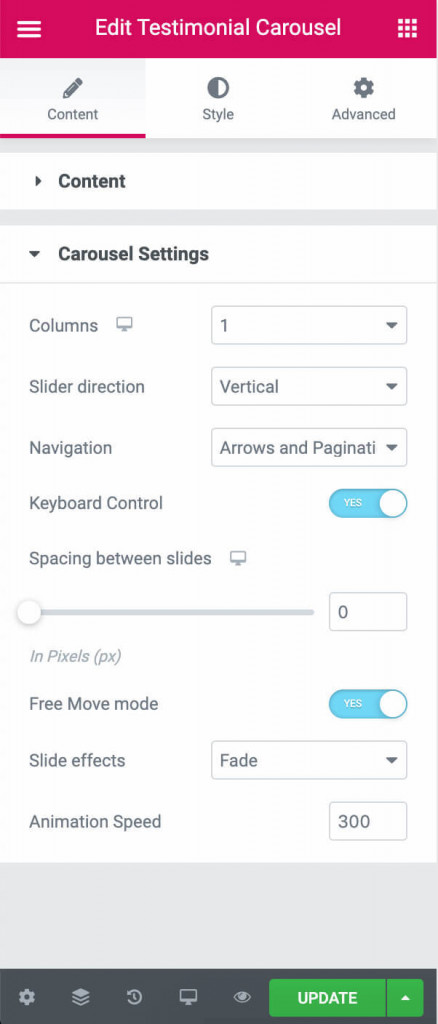 The Number of Columns: up to 4 or auto
Slider Direction: vertical / horizontal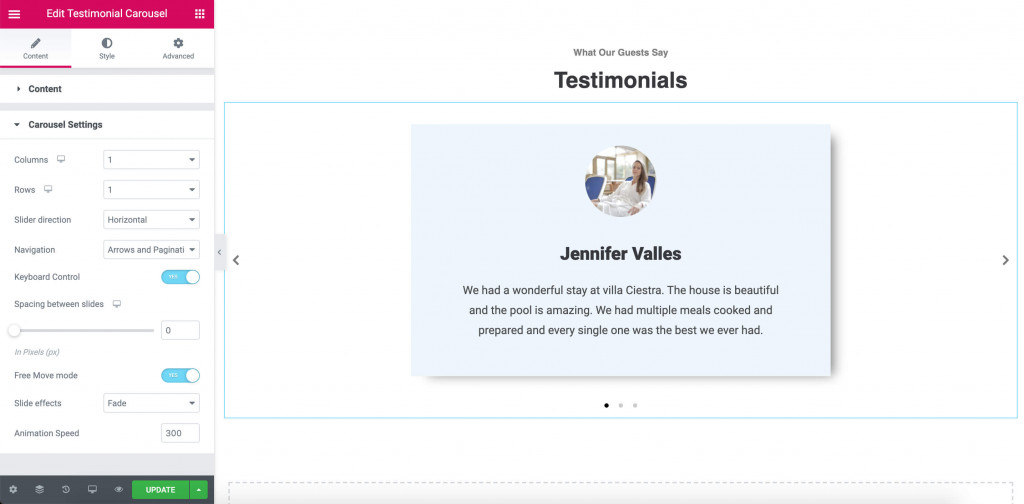 Navigation: arrows, pagination, both or none
Spacing Between Slides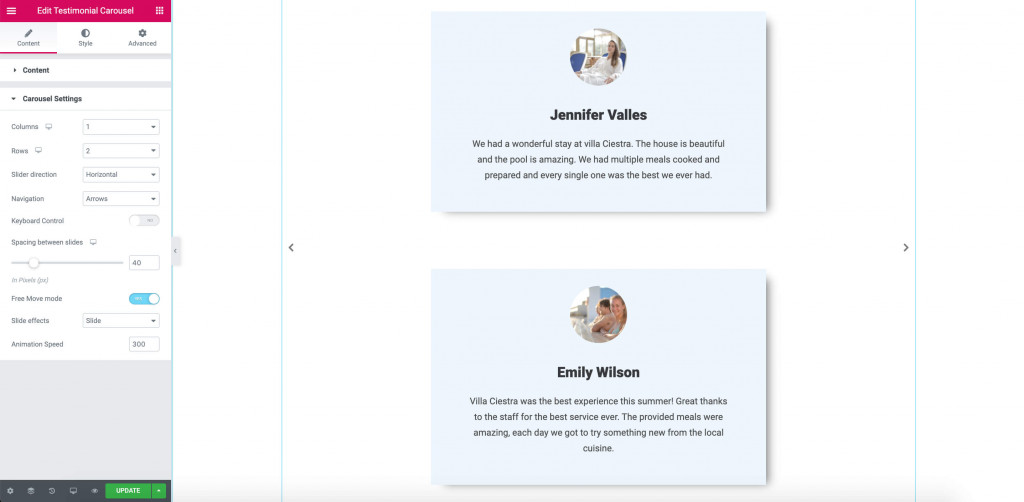 Keyboard Control (navigation with arrow keys) and Free Move Mode (switching without navigation)
Slide Effects: slide / fade / cube / coverflow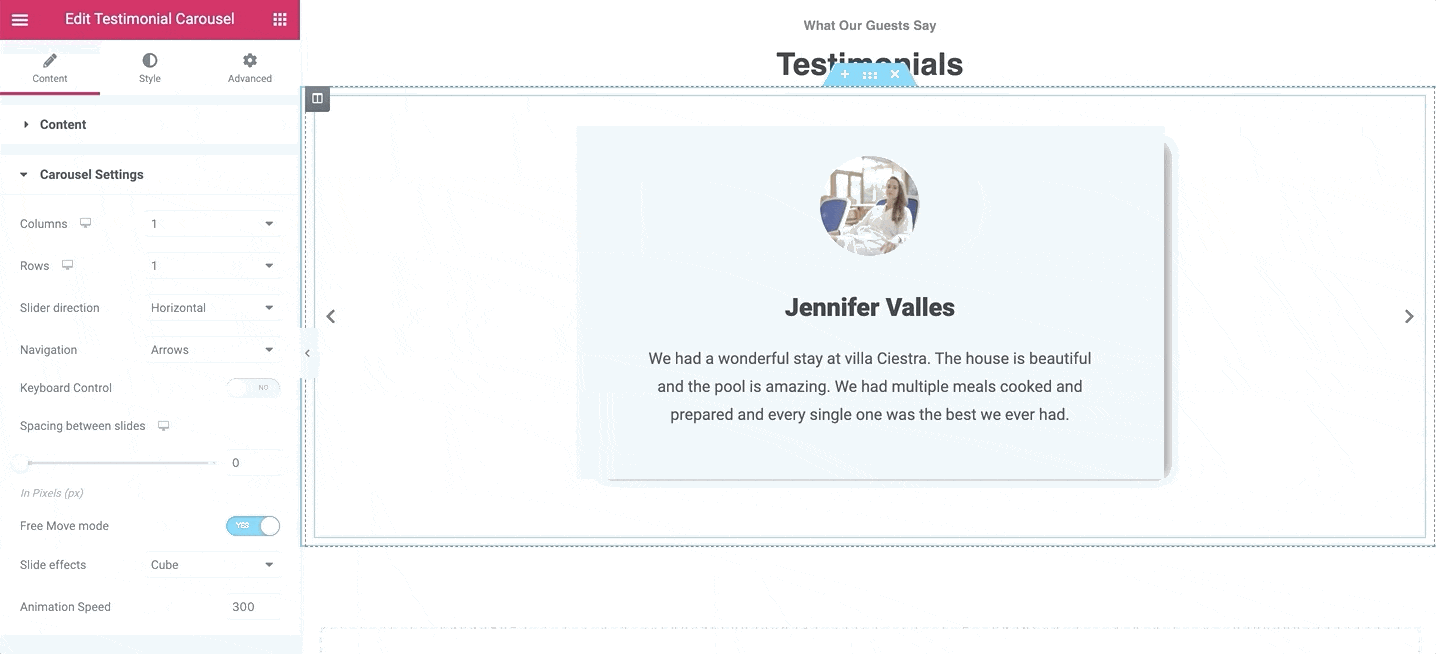 Styling Options For Testimonial Carousel Widget
One of the great things about Stratum is that the widget inherits the style of your currently active WordPress Elementor theme meaning it will organically fit the overall theme design.
Nonetheless, this Elementor Testimonial widget gives you enough flexibility to alter the default style options, including layouts, typography, motion, and much more.
And this is how you do it:
Style of Slides
Background Color
Box Shadow (horizontal, vertical, blur, spread & position)
Border Type (solid, double, dotted, dashed, groove, or none)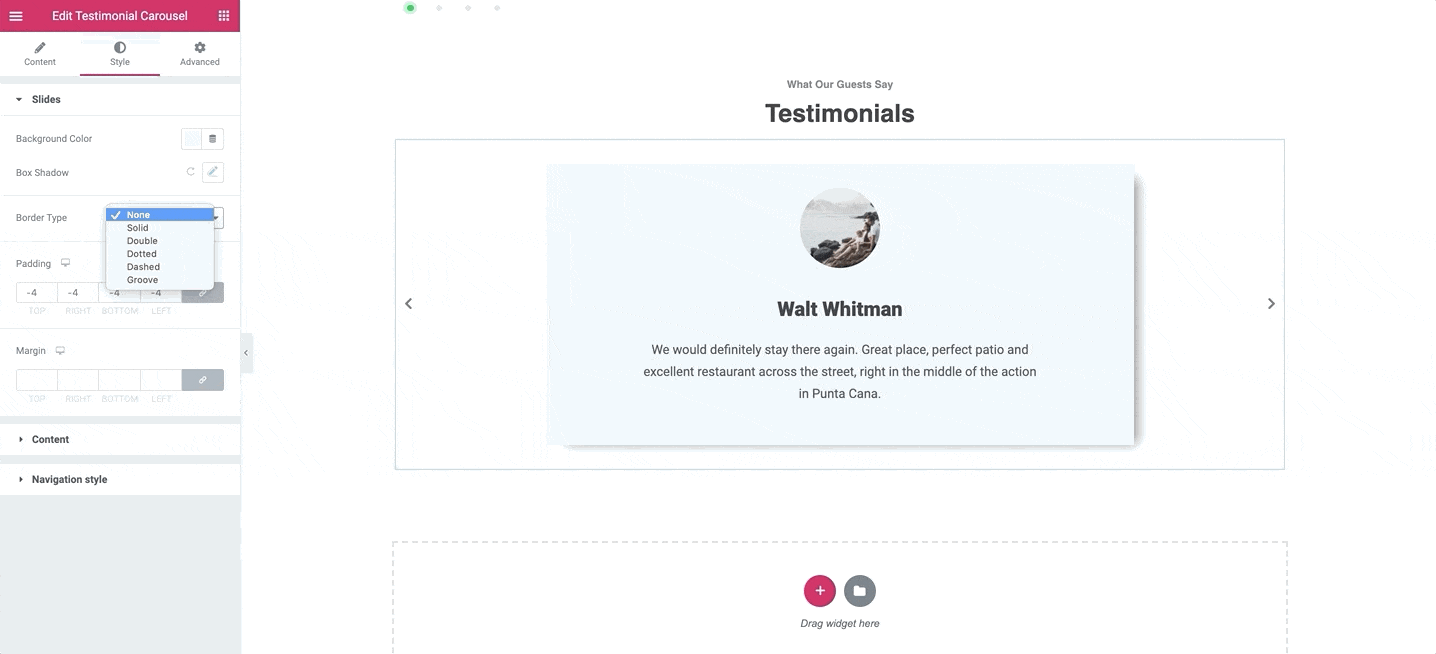 Style of Content
Image & Heading & Subtitle Spacing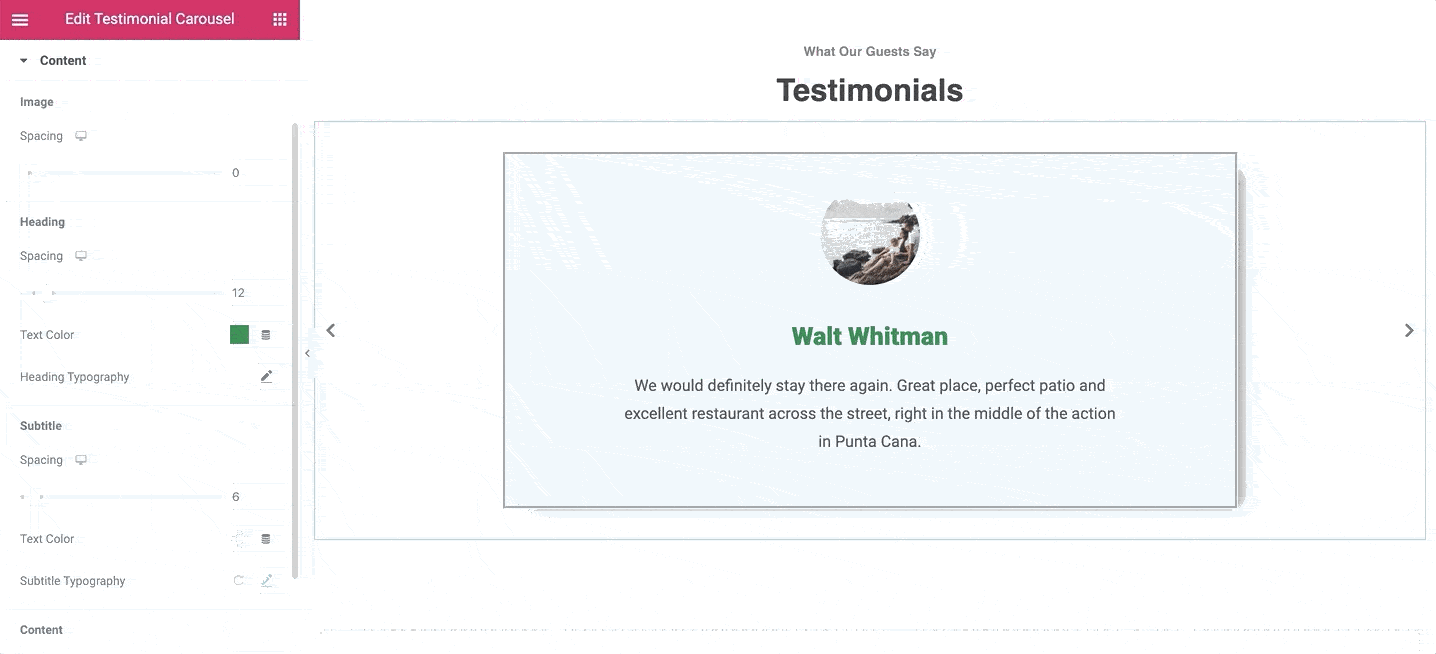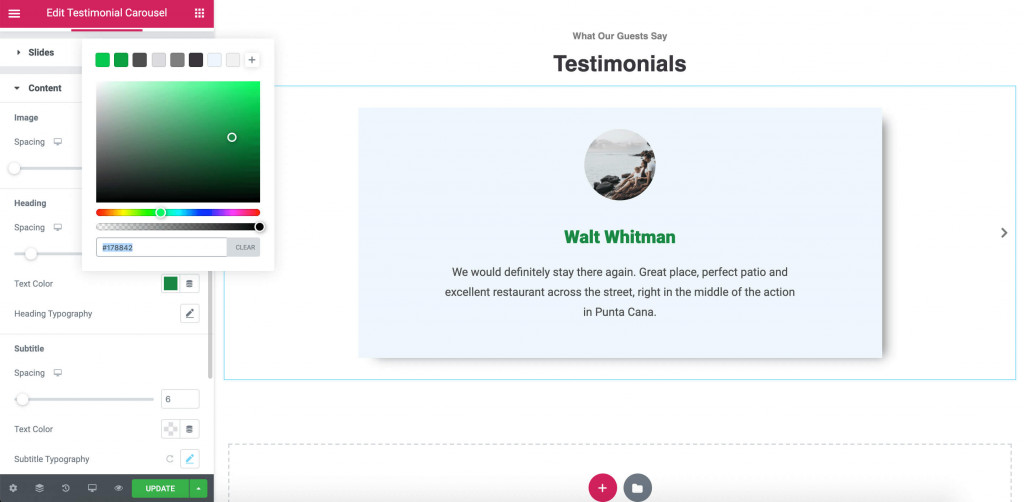 Navigation Style
Apply different sizes and positioning of your navigation arrows and/or bullets as well as change their color and shapes: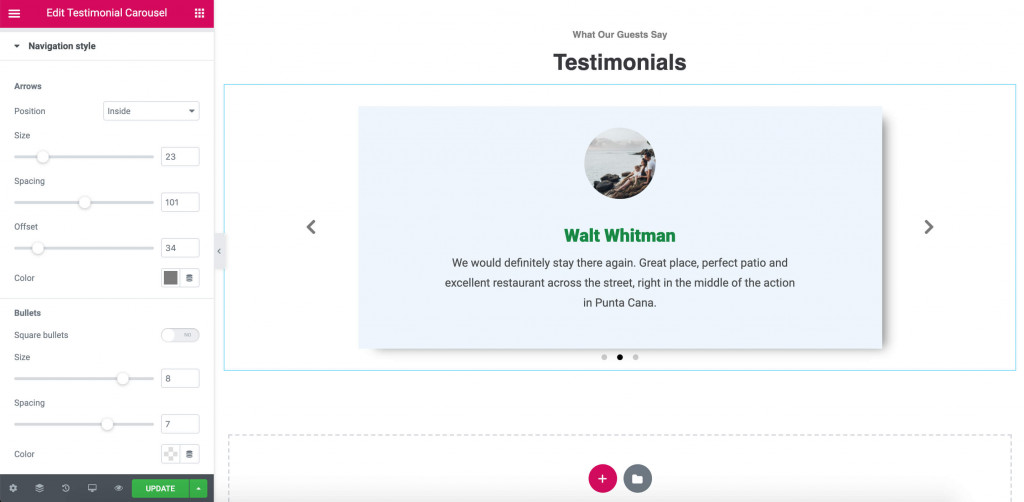 Advanced Options For Testimonial Carousel WordPress Widget
Now that we reviewed the basic content and styling options, we may take a look at the visual presentation of the Stratum widget with the help of advanced Elementor options. It offers:
Advanced (margin & padding for different devices, Z-index, CSS ID, CSS Classes)
Motion Effects (entrance animation, animation duration & delay)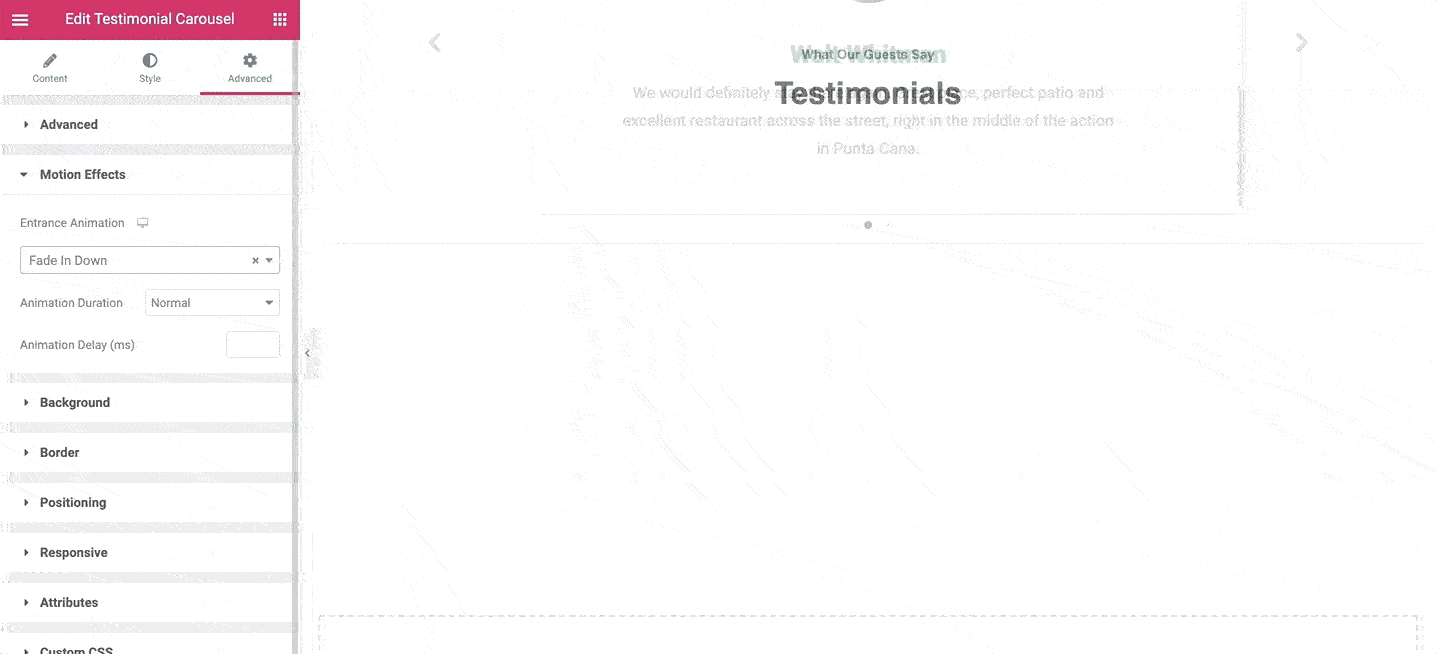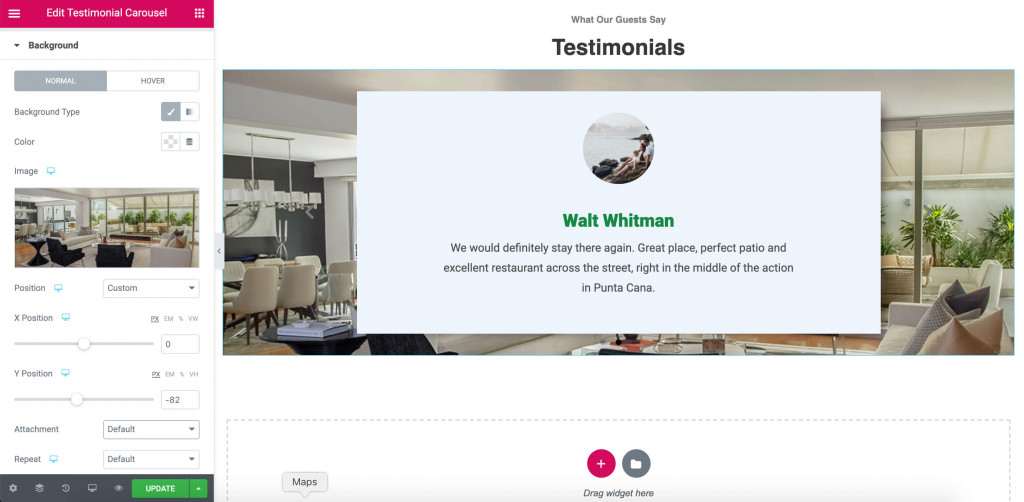 Border (border type, width, color, border radius, box shadow)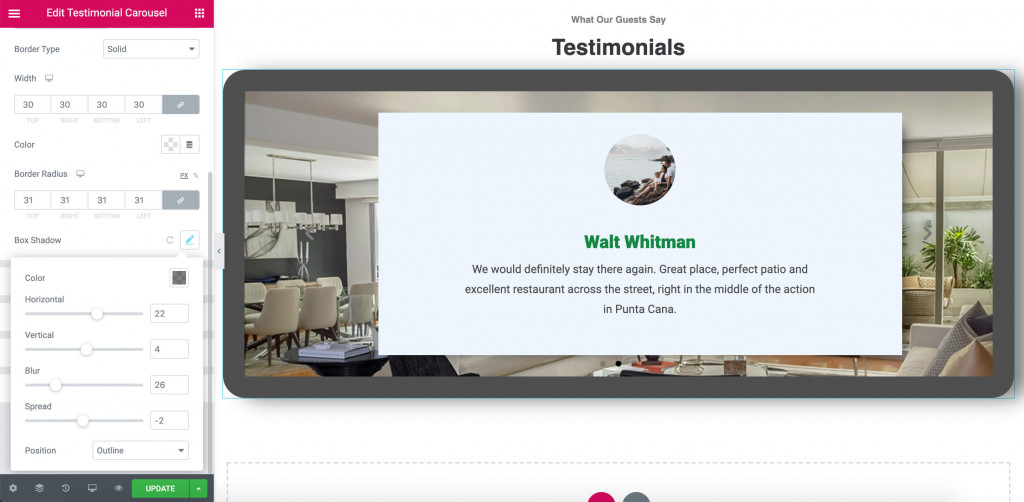 Get Stratum Elementor Widgets for Free Now
Overall, the Stratum Testimonial Carousel widget provides the necessary toolkit for flexible customization. Not only will it give you the most advanced styling options for free but also ensure you'll get the most lightweight editing experience.
The Testimonial Carousel widget comes with a package of other advanced Elementor widgets designed by a MotoPress team. Download Stratum Free Elementor Widgets by the link.
Now when you installed and start exploring Stratum Free, you will see that some functionality is marked as "pro". Our team released the premium version of Stratum (Stratum PRO) for the purpose of satisfying users with a higher level of demands regarding the website functionality. Stratum PRO costs only $19 for a single website and for that price, you are getting a handy collection of beyond-advanced features for separate widgets.
Follow the link to compare Stratum Free vs Pro on our website, and make the final decision. Also, take a look at all 20 Stratum widgets demos down the link.
If you are not only working with Elementor but also Gutenberg WordPress block editor (both work well together), you might like Getwid – our largest collection of Gutenberg blocks. Getwid may become a cool Stratum alternative for a default WP editor.