30+ Best Elementor Templates for Your WordPress Website 2023
No doubt, Elementor has become one of the smartest ways to build and customize a WordPress website – it's fast, easily configurable, and allows you to create content with reach layouts. Even a free version of page builder built-in Elementor templates opens up lots of opportunities for any type of website and doesn't require any coding skills.
I'm pretty sure that a high editing speed, focus on quality design and an unparalleled customization toolkit are the keystones that made Elementor builder so successful.
Today you can find lots of beautiful Elementor templates and themes in the official Elementor store and on dozens of independent WordPress shops. Some stores are totally dedicated to Elementor templates and add-ons, and others have at least one Elementor item in the product lineup (they integrated both already existing and new Elementor WordPress themes).
Can you use Elementor with any theme?
Does Elementor work with any theme? Both yes and no. Most WordPress themes that work with Elementor will specify it in their list of features. In case it was not mentioned, check if WordPress themes Elementor are built according to WP guidelines.
Remember that it's always better to put a website under construction while you are working on it.
Top Elementor Best Templates
In this collection of the best Elementor templates and themes you are going to find absolutely diverse solutions, hand-picked according to officially recommended items by the Elementor team. The roundup includes widely-used paid & free Elementor themes, in particular:
Elementor business templates
Creative themes for Elementor
Portfolio Elementor templates
Elementor themes for specific niches like restaurants, rental properties, and news websites
Elementor landing page templates
Elementor blog templates
Elementor bundles (themes and add-ons).
Emmet Next Elementor Business Theme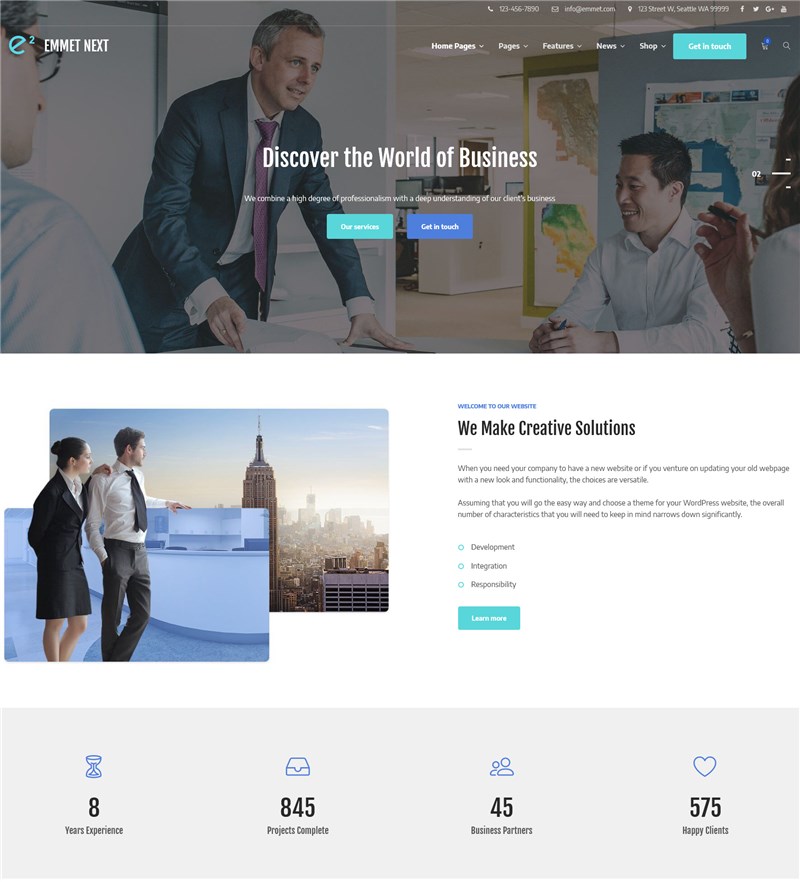 Emmet Next is a popular WordPress business theme designed with an Elementor builder. It's an enhanced version of Emmet – a multipurpose WordPress theme used by thousands of consulting and other business websites worldwide. Emmet Next, as one of the best Elementor themes, features much more custom-crafted elements than its precursor and comes with several front-page alternatives, including header video, slider, and more appealing content elements.
You'll be provided with multiple ways to customize the theme using lots of attention-grabbing calls-to-action, feature events in a beautiful calendar, create a shop with WooCommerce, and more – all under one roof.
Laveri Elementor Clothing Store Theme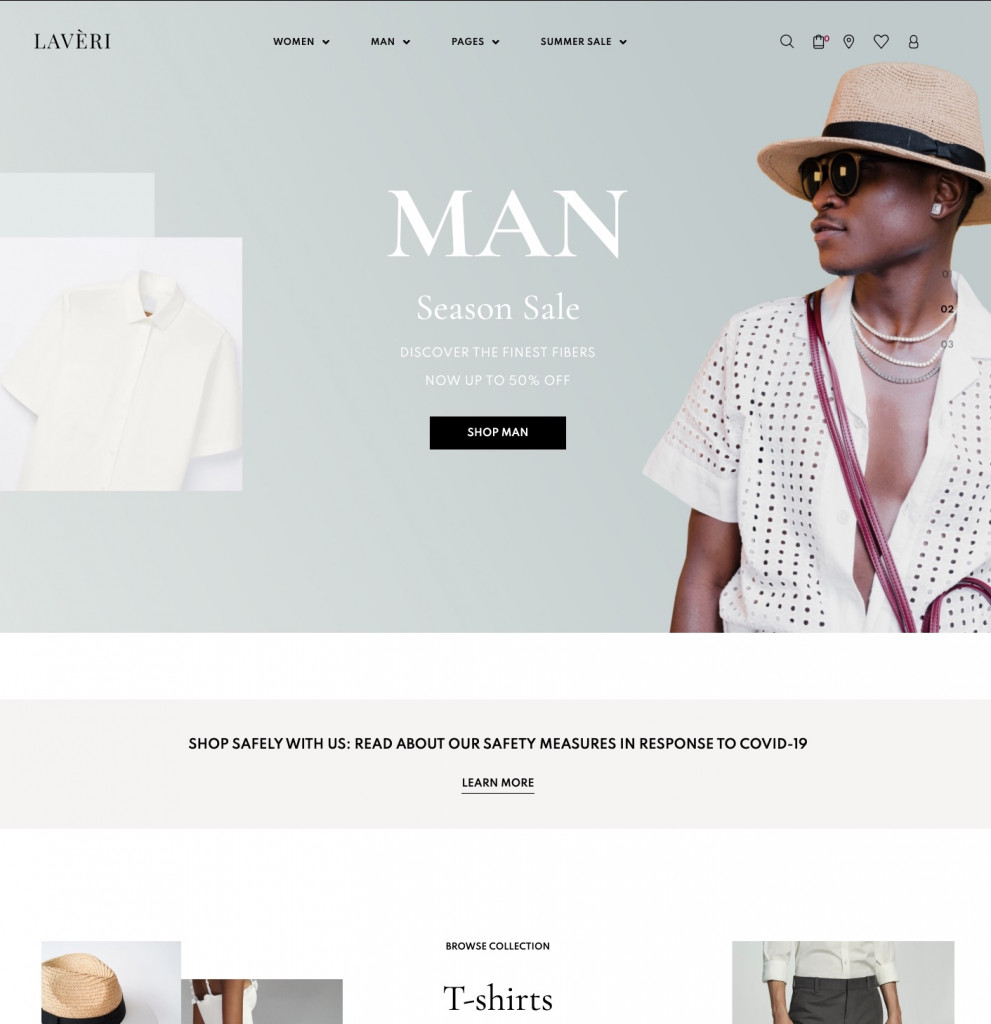 If you are looking for a WooCommerce template suitable for online shop websites selling clothing, shoes, jewelry, accessories, etc. The Laveri homepage features a stunning slider showcase with efficient call-to-actions and beautiful visuals. Stuffed with a set of WooCommerce features, Laveri promises users a convenient search using multiple filters (color, size, material, rating), good-looking shop catalogs, as well as multiple payment & delivery options.
Originally optimized for Elementor, Laveri includes a couple of premium Elementor add-ons for even easier customization. The first one is a collection of 24+ advanced Elementor widgets, while another one is a custom Elementor Mega Menu builder.
Watch a video of how to build a site with Laveri step by step:
Phlox Multipurpose Elementor Template theme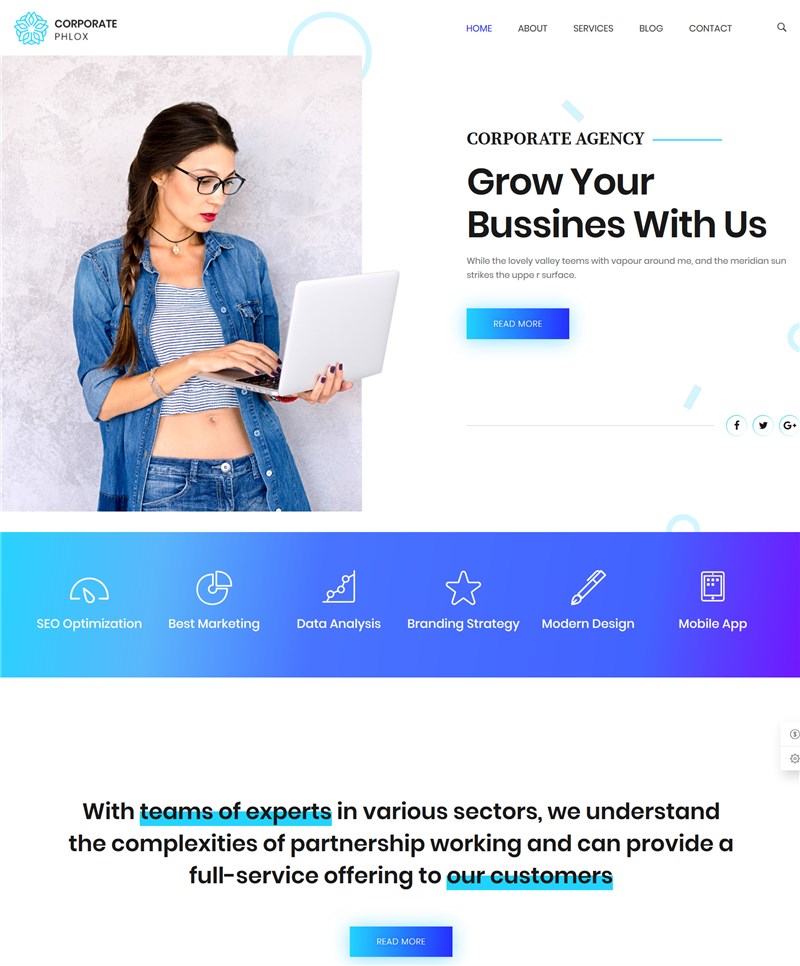 It's one of the best WordPress Elementor templates. The theme is very powerful through the medium of Elementor page builder and unbelievable 25+ demo templates for any purpose and brand needs. Such a variety of unique and professional templates and more than 160 Elementor elements allow you to construct any imaginable layout for any sort of website.
For example, there are out-of-the-box website templates easily editable visually with Elementor: a vivid blog, photographer's portfolio, shop, different creative studios, business and even a restaurant template. Tons (and growing) of custom Elementor modules are going to provide you with real customization freedom.
ColorWay Responsive Business WordPress Theme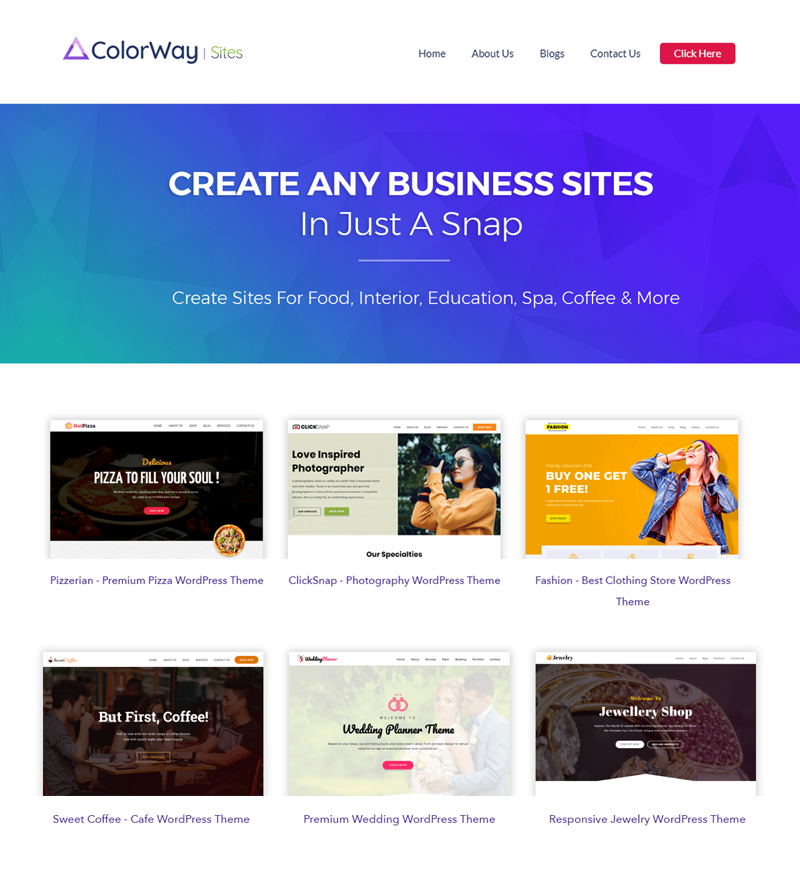 ColorWay is a clean & modern WordPress theme designed for business, medical, fashion, restaurant & various other websites. It comes with an Elementor page builder that lets you easily create complex landing pages live without having to switch between the editor and the preview mode via its drag & drop functionality.
Additionally, ColorWay has various features like a customization option using which you can personalize almost every element like colors, fonts, sliders, and add a lot more to your website in a few clicks. Also, it is compatible with WooCommerce that helps you to create an e-commerce website with numerous elements like sliders with unique animations, multi-column featured area, multiple page layouts (boxed & full-width) & many more for a professional website.
Pursuit App and Cloud Software Elementor theme
Pursuit WordPress theme for Elementor has your attention right away thanks to more than 50 customizable templates packed in one theme. Though the main focus of the majority of templates is finances, cryptocurrency, tech projects, and related topics, the demos and Elementor blocks are universal so you can use them for almost any business niche.
With Pursuit, you are supplied with awesome 40+ custom widgets and unlimited design options to tweak the theme and make it suitable for your brand needs. Multiple headers and background options ensure you'll have a chance to fully recreate the front page and achieve a truly unique look. Pursuit theme supports video backgrounds, fancy animation styles, and WooCommerce shop design.
OceanWP Best Free Elementor Theme for Multipurpose Use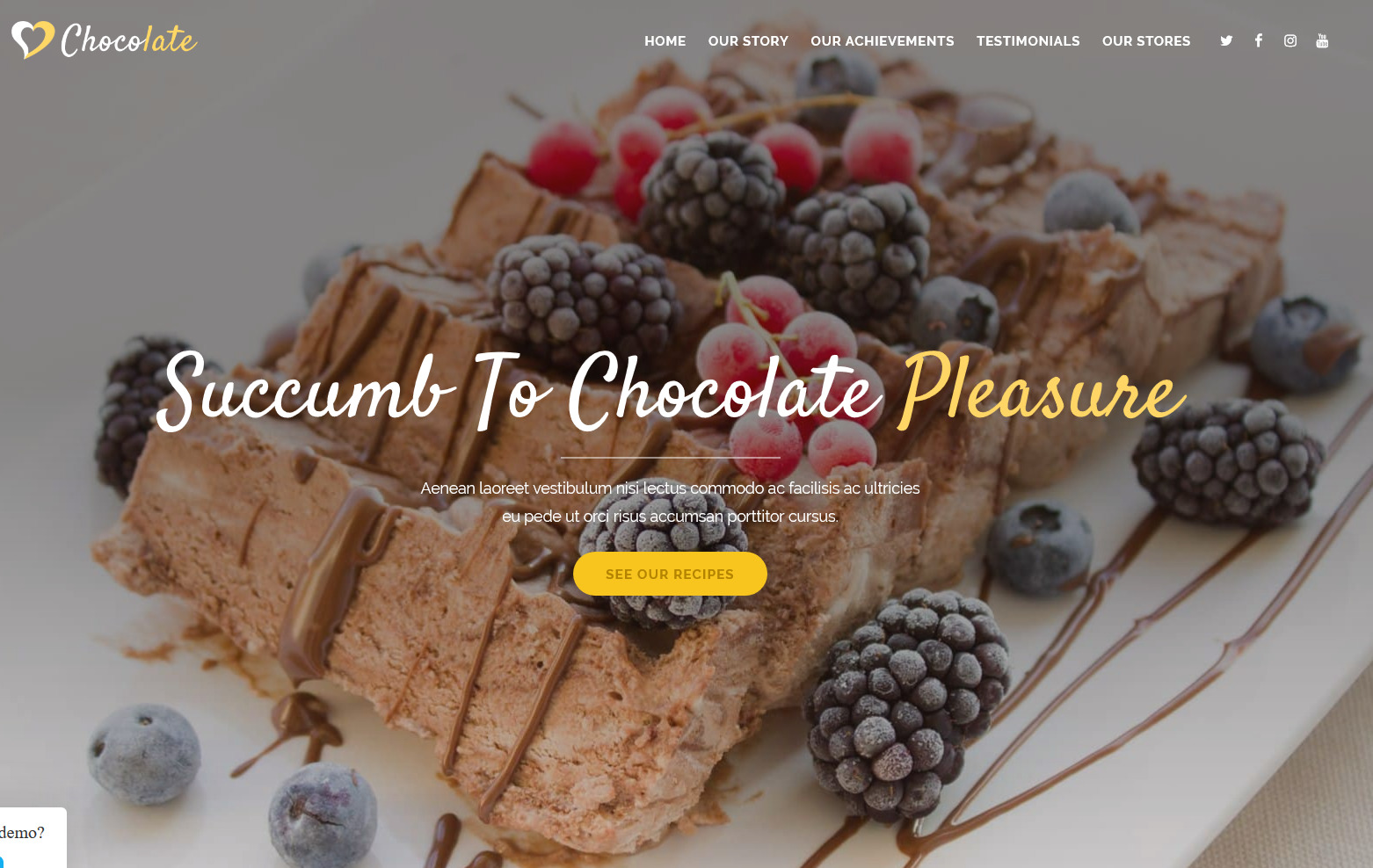 OceanWP is one of the most loved WordPress multipurpose solutions, in particular, one of best Elementor free themes. A fantastic collection of creative Elementor free templates is offered within one theme – from inspiring blog designs to complex corporate and eCommerce templates.
The main strengths of this theme are polished performance and dozens of on-demand extensions like Instagram widgets, sticky elements, etc. All this makes OceanWP extremely popular with WordPress agencies and freelancers who build websites for clients. Guys also constantly release new widgets for Elementor and WooCommerce features unlocking even more editing options for constructing professional and beautiful websites.
Aquentro Single Rental Property WordPress Theme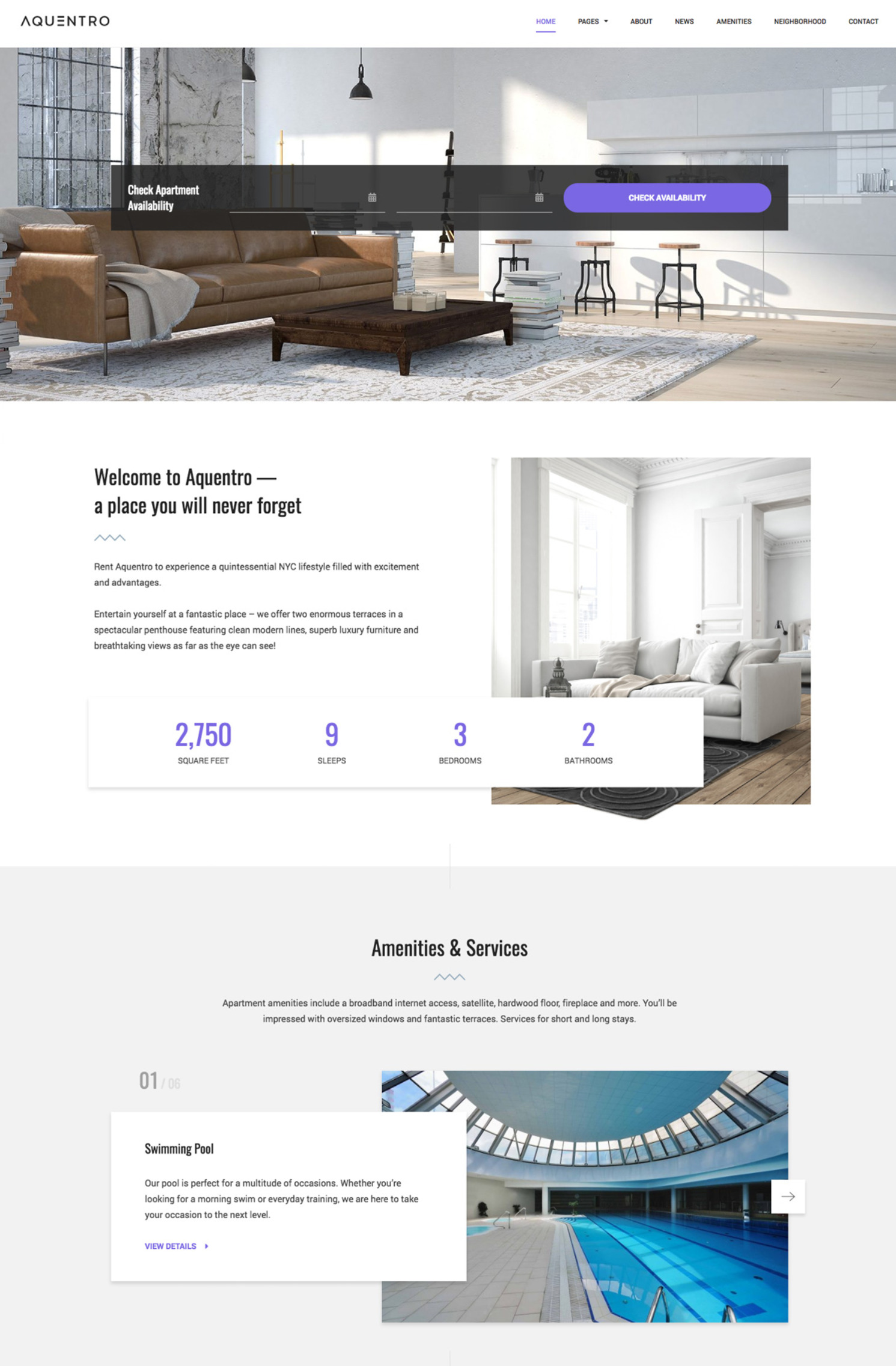 This is a stunning urban-style WordPress Elementor theme for rental property websites. By default, Aquentro is optimized for a single property, but it won't be a problem to use it for multiple properties or a hotel bookable by the room.
You'll feel very comfortable with the front page designed in Elementor – there are standard WordPress blocks as well as a unique custom widget built specifically for this theme. For example, you can edit visually the property amenities & services slider, galleries and slideshows, testimonials, and every piece of the theme. Since this single property rental WordPress theme is powered by the premium MotoPress Hotel Booking plugin (included for free), just like all Elementor pro themes come with more functionality, you'll get a professional room reservation engine along with design, without extra expenses. By the way, if you are curious how real websites built with Elementor and Hotel Booking plugin look, check out these Elementor website examples.
Scoop Elementor Blog Template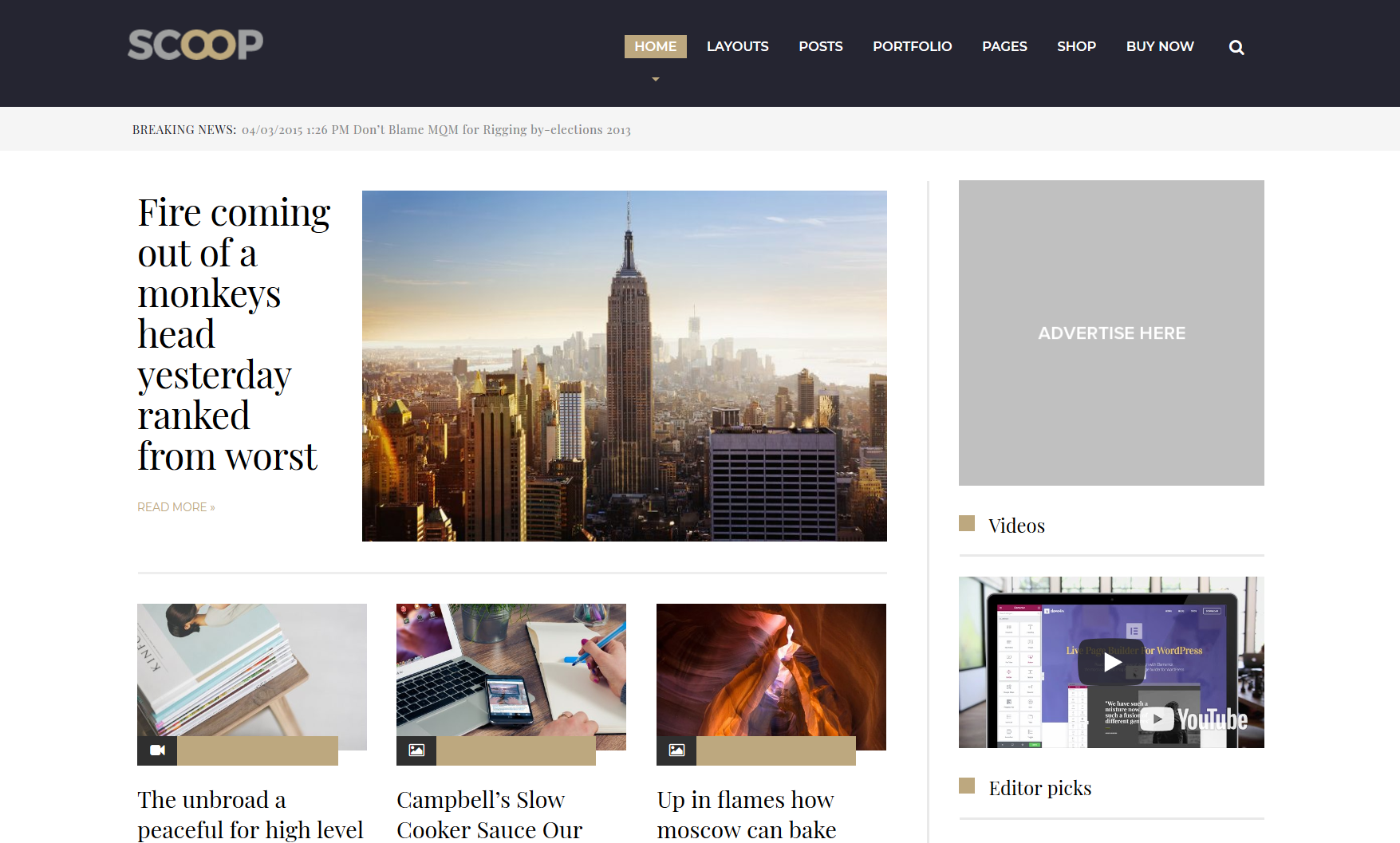 Scoop is a properly thought-out and lightweight magazine WordPress theme crafted by Pojo – Elementor creators. It's gonna give you all the power of Elementor visual editing along with truly balanced and uncluttered design for content-rich websites. All those essential elements like attention to detail, a lot of space for high readability, smart color contrasts, lots of advertising spaces, and even WooCommerce integration are offered with Scoop. It can perfectly serve as an Elementor blog template or a magazine website.
It's highly flexible in terms of customization letting you choose from six front page layouts, set up vertical slideshows, and display different media content in harmony.
Thorium Portfolio WordPress theme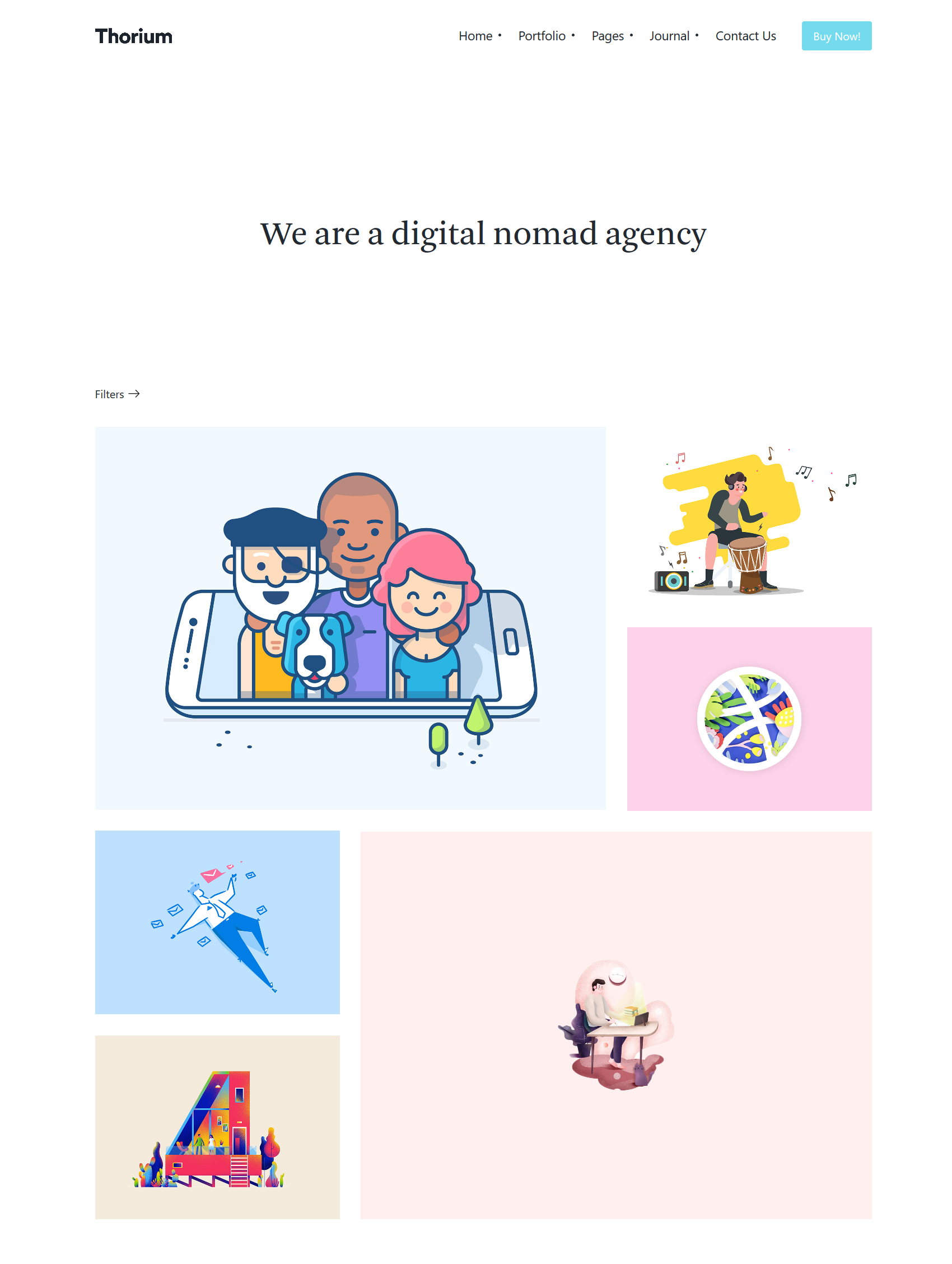 Thorium is a nice WordPress theme for Elementor designed for creative agencies and freelancers. With this vivid template, you can create a website landing page or a creative portfolio with categorized projects. It will provide a very smooth user experience for your visitors thanks to stunning animation effects and perfectly balanced layouts.
At first glance, it's a great all-around solution for a designer's portfolio, however, I'm sure it's perfectly suited for any creative project of any size. The theme sets you up with a toolkit to change typography and colors, add icons and personalize a sidebar widget. Armed with Elementor, you can tweak the layouts and bring more authenticity to your portfolio.

Stratus Software Startup & Tech WordPress theme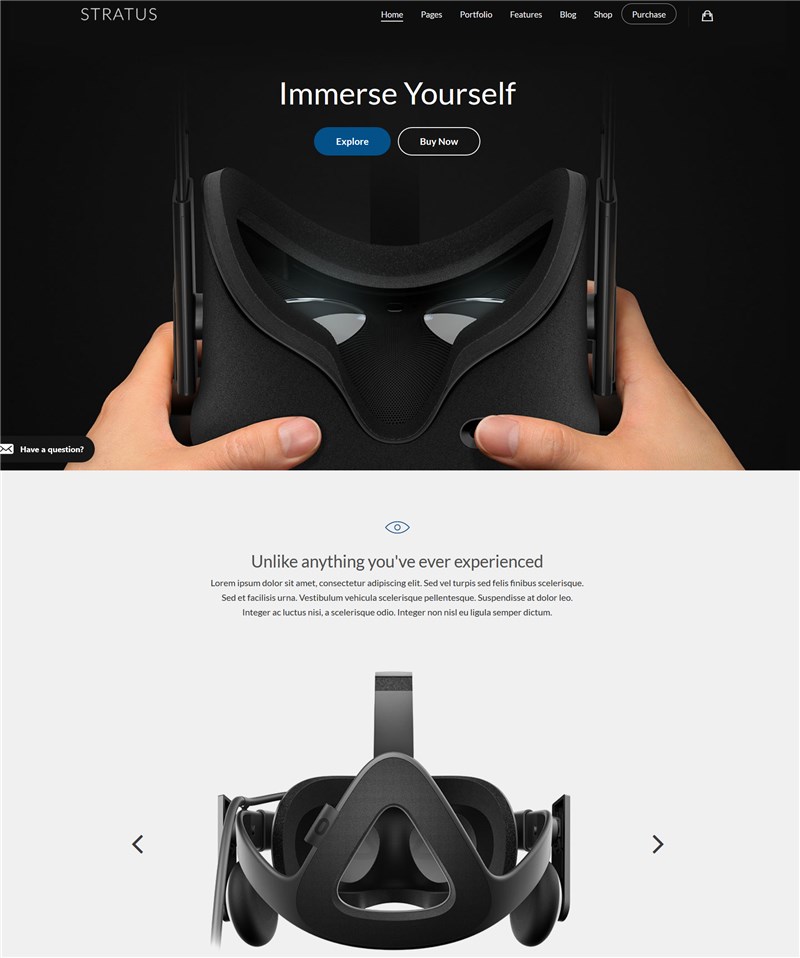 Stratus is a WordPress theme for different software and tech companies: apps, SaaS, startups, and other needs. Thanks to sample data import, you'll be able to start in clicks. The template comes with dozens of ready-made premium designs to suit any taste and needs, plus, lots of on-demand inner pages that you can simply fill in with your content.
The frontend editing with Elementor will make your work even more productive and enjoyable thanks to 40+ widgets, multiple modular Elementor pro templates, and fantastic design options. Such fancy elements as sliders, video backgrounds, and catchy transactions are available with handy kits.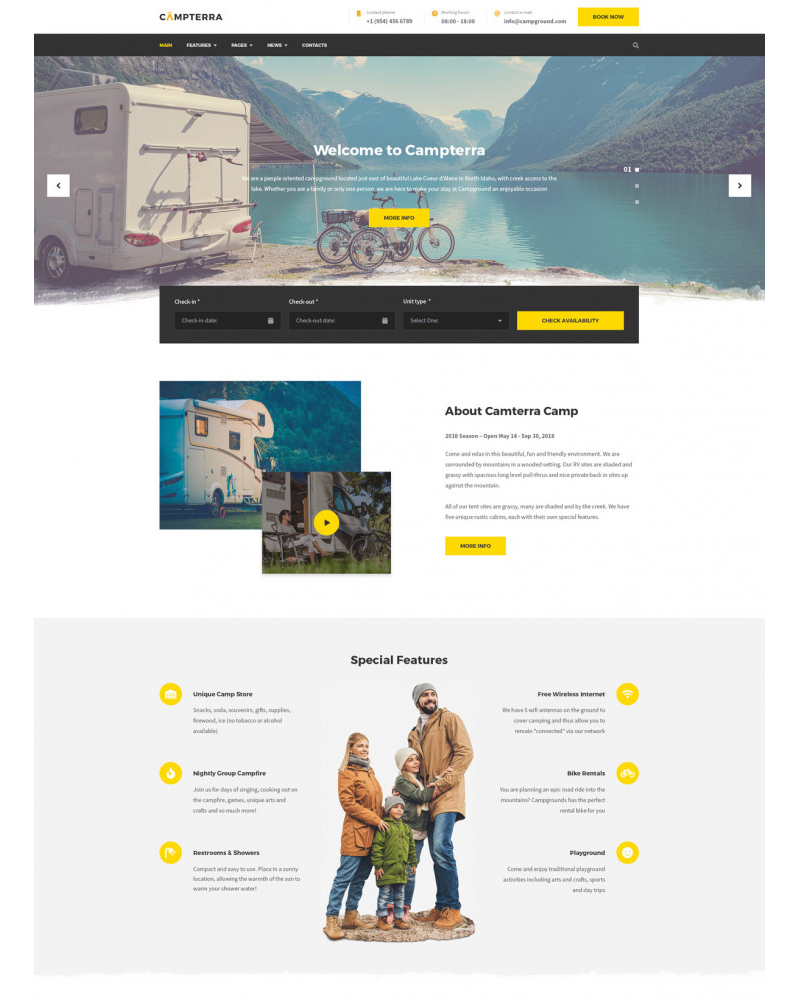 Campterra is one of Elementor WordPress templates for hotel booking designed by MotoPress. It allows you to present and list all the services, extra amenities, and activities, campsite or caravan pitches you provide for rent. One of the best assets of the theme in question is a custom-designed front page that can be set up according to your needs effortlessly via Elementor. The content-rich but still lightweight homepage contains a full-screen slider that can be featured with vibrant calls to action catching your site visitors' attention from the very first sight. The Intro section and special features block are also there for you to welcome your customers and give exposure to the best things you can offer.
What's more, your clients will be able to book everything they find suitable for their leisure online and directly from your website. This becomes possible by means of the MotoPress Hotel Booking plugin, integrated into the theme for free. The plugin creates a search availability form on the front page and allows your visitors to look for and book the items they wish, whereas you are given a free hand to manage the received bookings and set different booking confirmation modes. On top of that, the engine allows you to include extra booking features: sales & discounts, bookable extras, custom property rates for individual accommodations, etc.
Bryte Multipurpose Elementor Template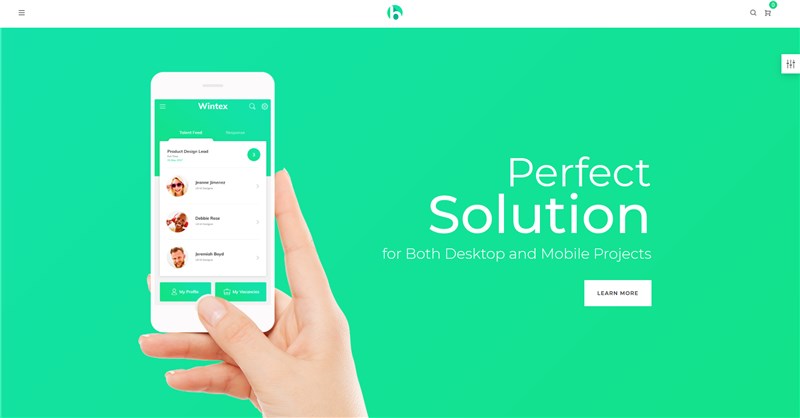 Let's continue our list of best themes for Elementor with Bryte – a user-friendly WordPress theme for a diversity of business and personal needs: business, consulting, finances, creative portfolio, and more. All innovative Elementor premium templates of Bryte come integrated with the best Elementor tools to simplify site editing in times.
You can play up with header and footer styles, change skins, tweak the widgets created with Elementor and even build a massive shop with great navigation and unique design. Above all, the theme is supplied with a custom JetElements plugin that opens up even more customization opportunities with a wide range of exclusive Elementor blocks.
AlpenHouse Rental Property WordPress theme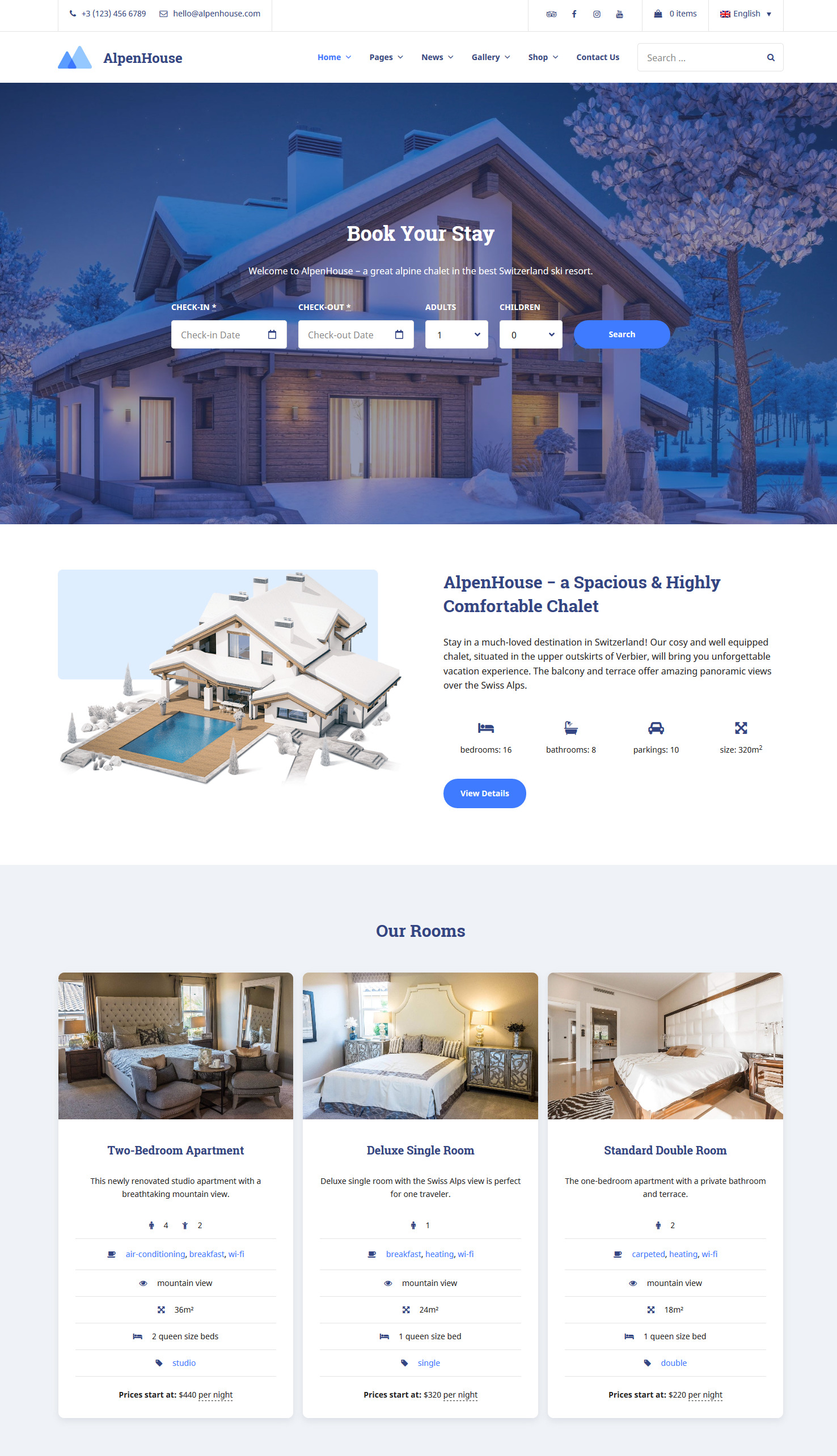 Alpenhouse is a vacation rental WordPress theme built with Elementor and MotoPress WordPress reservation system. Depending on your needs, your front page can feature the search availability widget in different styles. Additionally, you can place a video, slider, or a simple image in the header – there are several pre-made templates available.
Alpenhouse Elementor WordPress theme is perfectly suitable for ski chalets, cabins, hotels, b&bs, and other types of holiday homes. The theme can be a perfect marketing tool for your rental property. Even hosts without tech expertise can build a website for their lodging. An absolutely user-friendly duo of Elementor visual page builder and Hotel Booking plugins makes it really the best theme for Elementor users.
Berlin Restaurant WordPress theme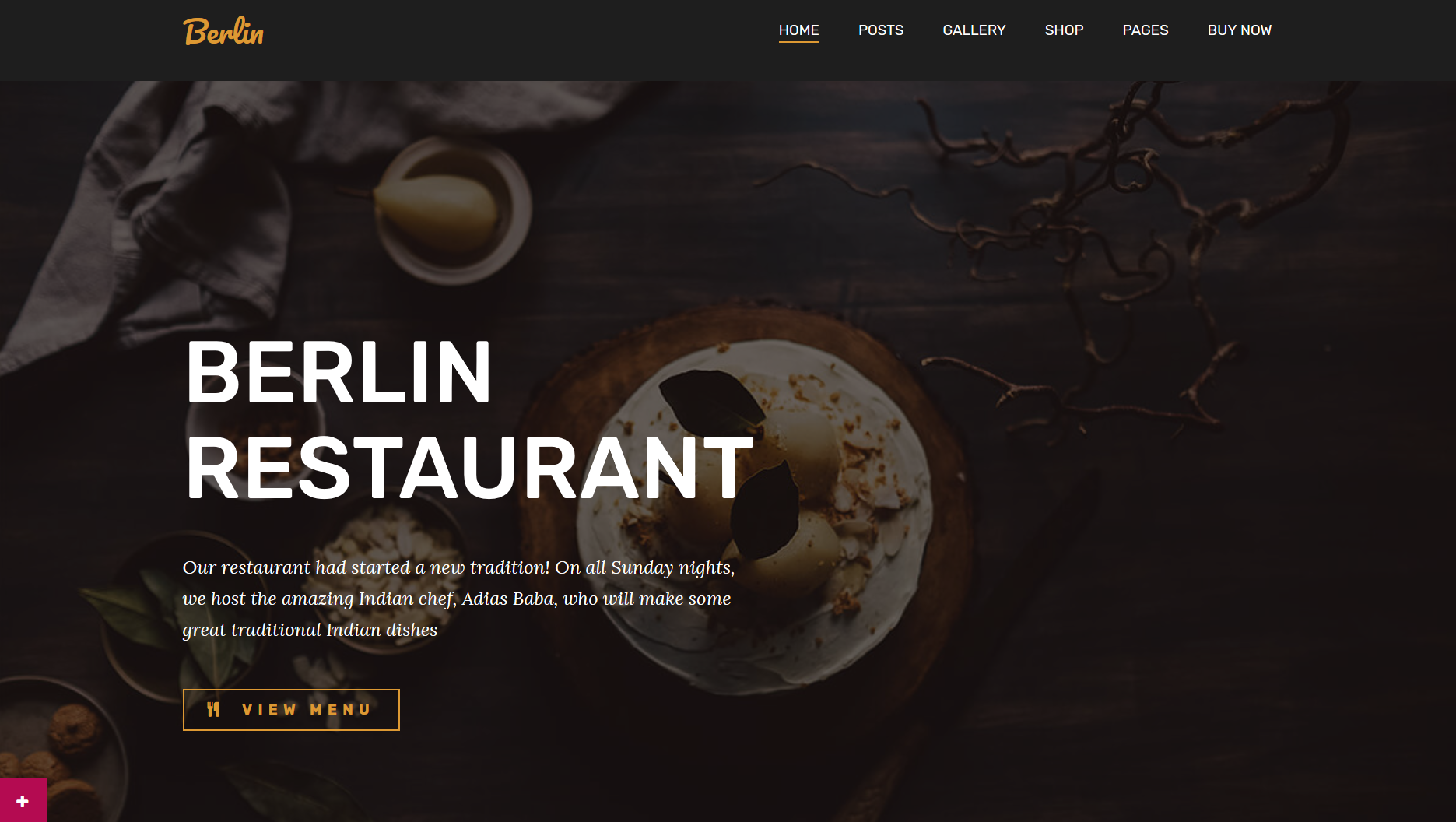 This theme is capable of lots of things as it's created by the Elementor team. It, of course, is visually stunning and Elementor-powerful. The theme is in the first place optimized for restaurant websites, business portfolios, and e-shops. You'll enjoy a stunning parallax header and overall design minimalism. Another level of great visual contrast is achieved with different fonts and their sizes, bold header intro, and professional content Elementor blocks hierarchy.
Portfolio pages and other inner pages are ready to be tuned in. The theme supports WooCommerce so if you are looking for a cafe theme, you can sell foods and beverages online.
Astra Multipurpose Elementor template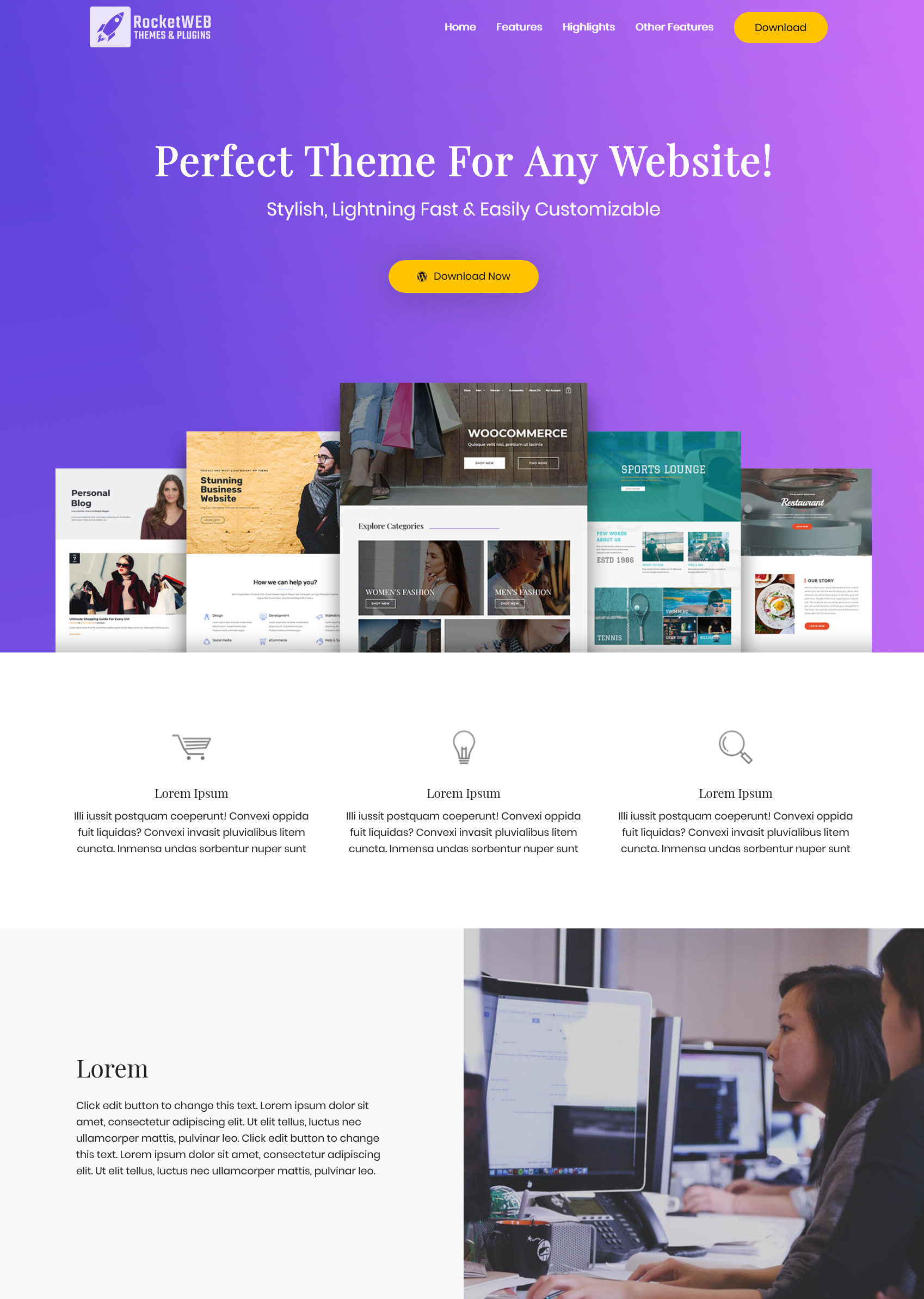 Astra is one of the most recognized WordPress Elementor themes that provides a deep level of flexibility with any of dozens of available templates. With Astra, you can start a simple hobbyist website as well as run a complex system of operations with a restaurant, hotel, or e-course website. You can also use it as a perfect Elementor blog page template.
A handy theme layout control is provided for all posts and custom post types; the widgets are fully editable, the header and footer are completely under your control. In addition to that, Astra makes it possible to connect top popular WordPress plugins for different needs, for example, WooCommerce for online shops and LearnDash LMS for creating online courses. There is hardly anything you can't create with this theme. Last but not least, the Astra theme comes with a huge collection of free Elementor templates available via the plugin.
Ciestra Resort WordPress theme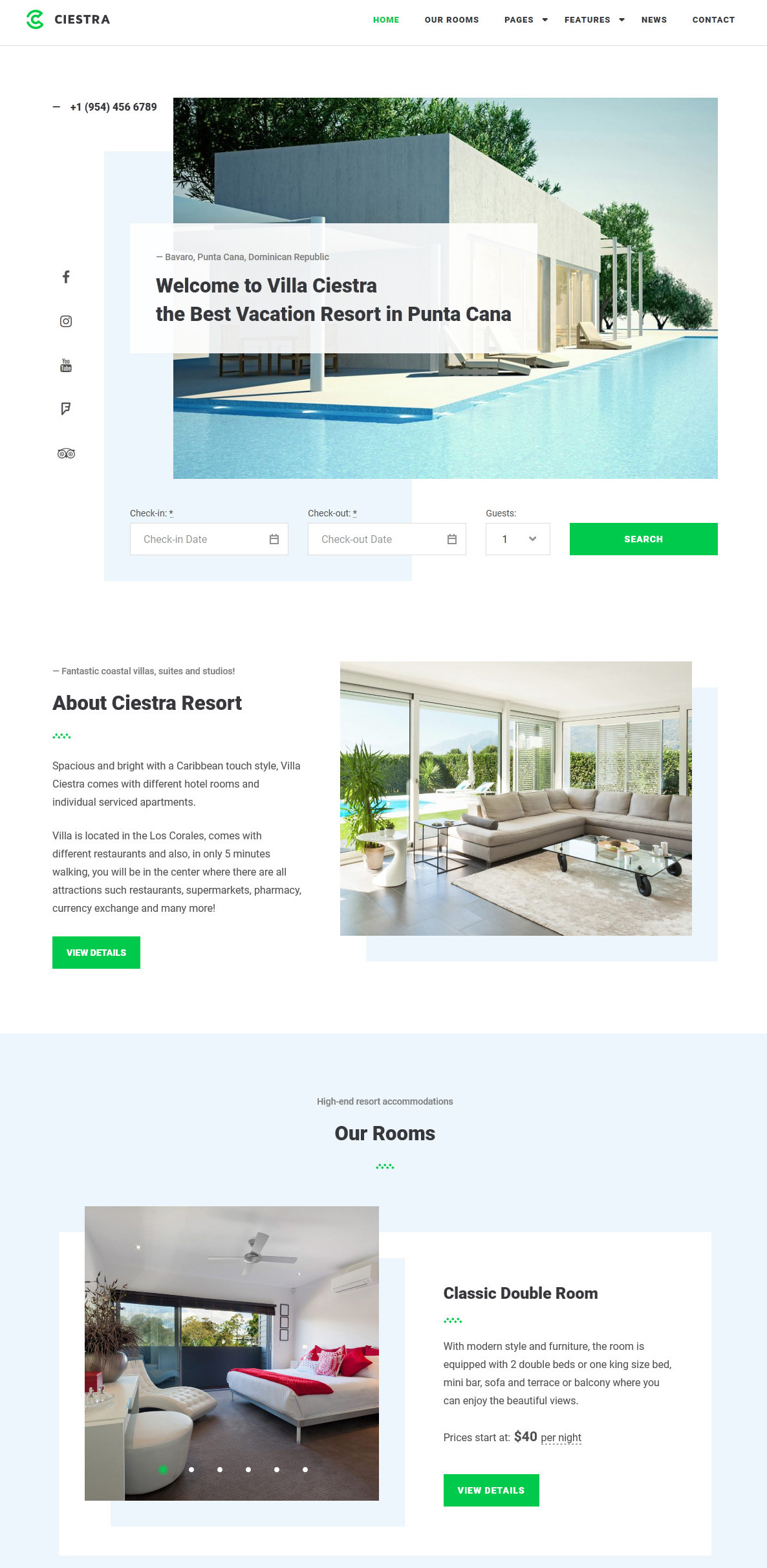 It's a WordPress Elementor theme with a lot to offer, especially for hoteliers and rental property owners. The properties are added with the integrated premium WordPress booking plugin while the front page and preferable inner pages can be customized with Elementor. There are lots of catchy sliders, functional calls-to-action, and other widgets built-in Elementor – it means all your modifications are going to be a breeze.
The properties and their details (amenities, bed types, etc.), different widgets like the departure & arrival dates form can also be added and customized in Elementor with a help of the easy-to-handle integration plugin. Is it the best theme to use with Elementor for hotel websites? Up to you.
Albatross – One of Best Elementor Themes Free for Hotels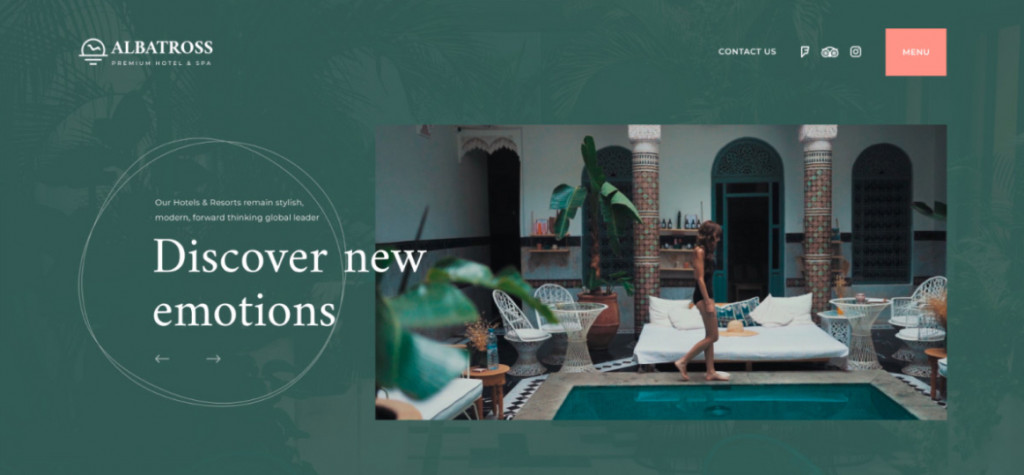 Albatross is one of the best free Elementor themes for the fact that it supports an entire booking engine. It's the best WordPress theme for Elementor hotel or any accommodation rental business (BnBs, vacation rental, etc).
Albatross is all about classic-like design, clean layouts, and smart SEO markup. Of course, the highlight of this template is free booking functionality from Hotel Booking (LITE). The free engine provides features for setting up an availability & booking calendar, pricing rates, bookable extras, payment gateways, notifications and more.
Elementum Multipurpose WordPress theme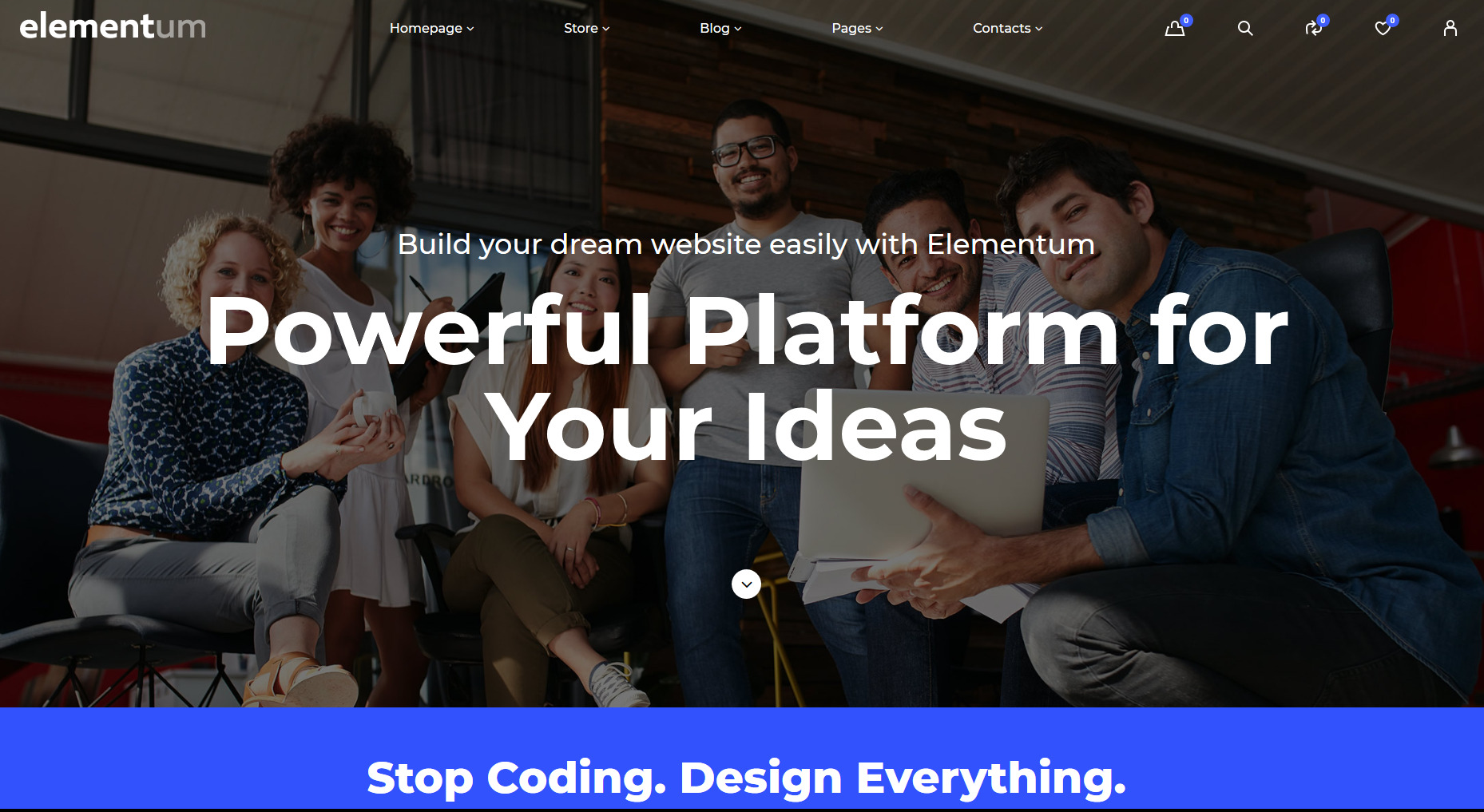 Elementum is a new WordPress theme for Elementor. However, it's beautiful and powerful enough to serve as a launchpad for any business. The theme surprises with awesome animation effects, a super-rich customization toolkit (50+ customizable widgets, more than 900 fonts and icons, header and footer editor, Elementor section templates), and more.
It's a truly multipurpose WordPress theme that allows you to build anything out of it: a creative portfolio, a really functional blog, news portals, restaurants, hotels, stores, and more, including an awesome Elementor blog page template. With one-click demo data import, you'll be able to start really quickly. I think Elementum is also a fantastic alternative to more established Elementor themes & templates – WordPress design agencies and freelancers should give it a try.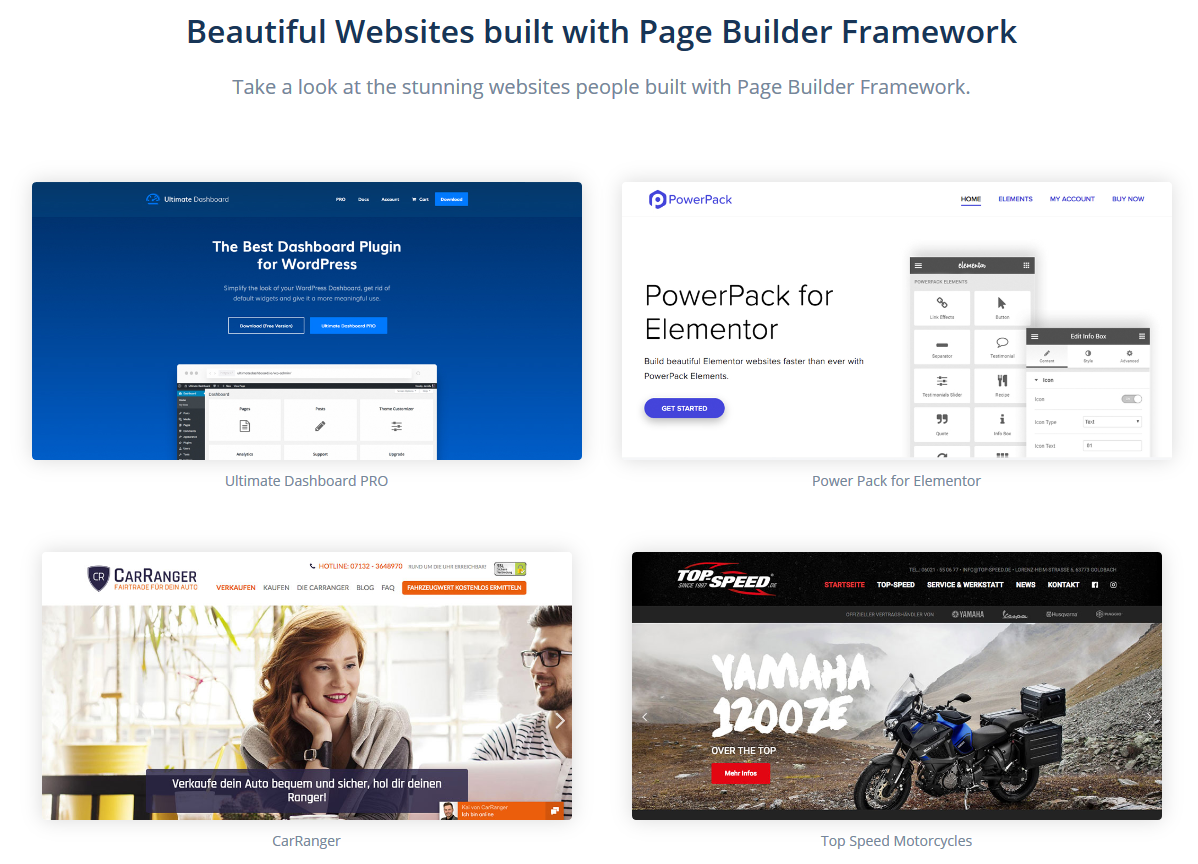 Page Builder Framework theme was designed to work smoothly with major WordPress page builders, including Elementor. Actually, they polish the theme for compatibility with Elementor quite often so you are in good hands with this solution.
The theme itself is free, but you can get a Pro version that comes with dozens of useful add-ons like sticky navigation, typography Typekit, menu hover effects, and more. Support for the WooCommerce plugin is out of the box. This definitely might be the best theme to use with Elementor (take a look at their Elementor website examples to learn more).
Book Author Template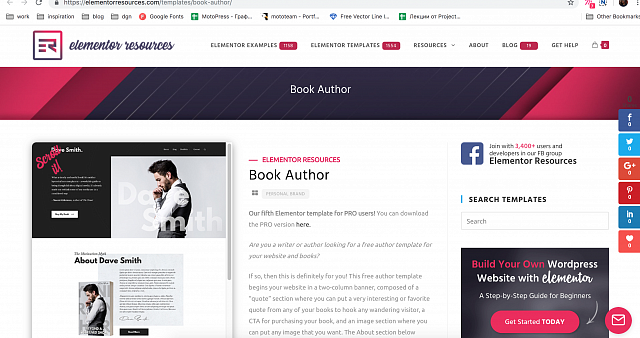 Book Author is an Elementor template designed primarily for new and aspiring writers who want to build a website for their books or themselves immediately and at a low cost. It's incredibly simple but highly optimized for Elementor to maximize performance and versatility on creative Elementor pro best design. The layout is on par with the latest trends in web design so the author would really seem professional and give a powerful impression to their readers. Similar to other free best templates for Elementor, it features include a hero banner with CTA, a nice and compact "About me" section, and a testimonial section.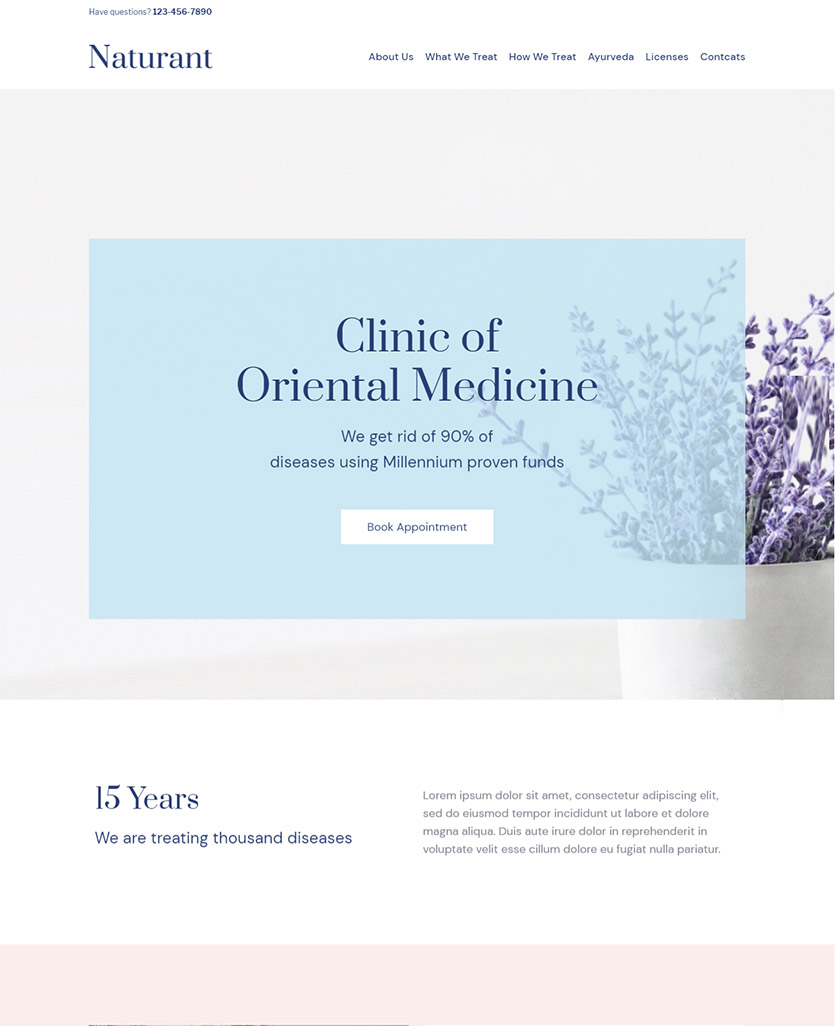 Gutenix is a universal WordPress Elementor theme that comes with pre-built pages for a streamlined editing experience. Among offered demos examples for personal blog, corporation website, personal trainer, helping agency, food, etc., you can choose a template for your personal blog, portfolio, business, or even corporation website.
Theme settings are very diverse and advanced which helps to get a fully-fledged personalized website at the end result. Among Gutenix features, you will find multiple header styles, customizable footer widget area, multiple blog layouts as well as some of the premium features to add to your website.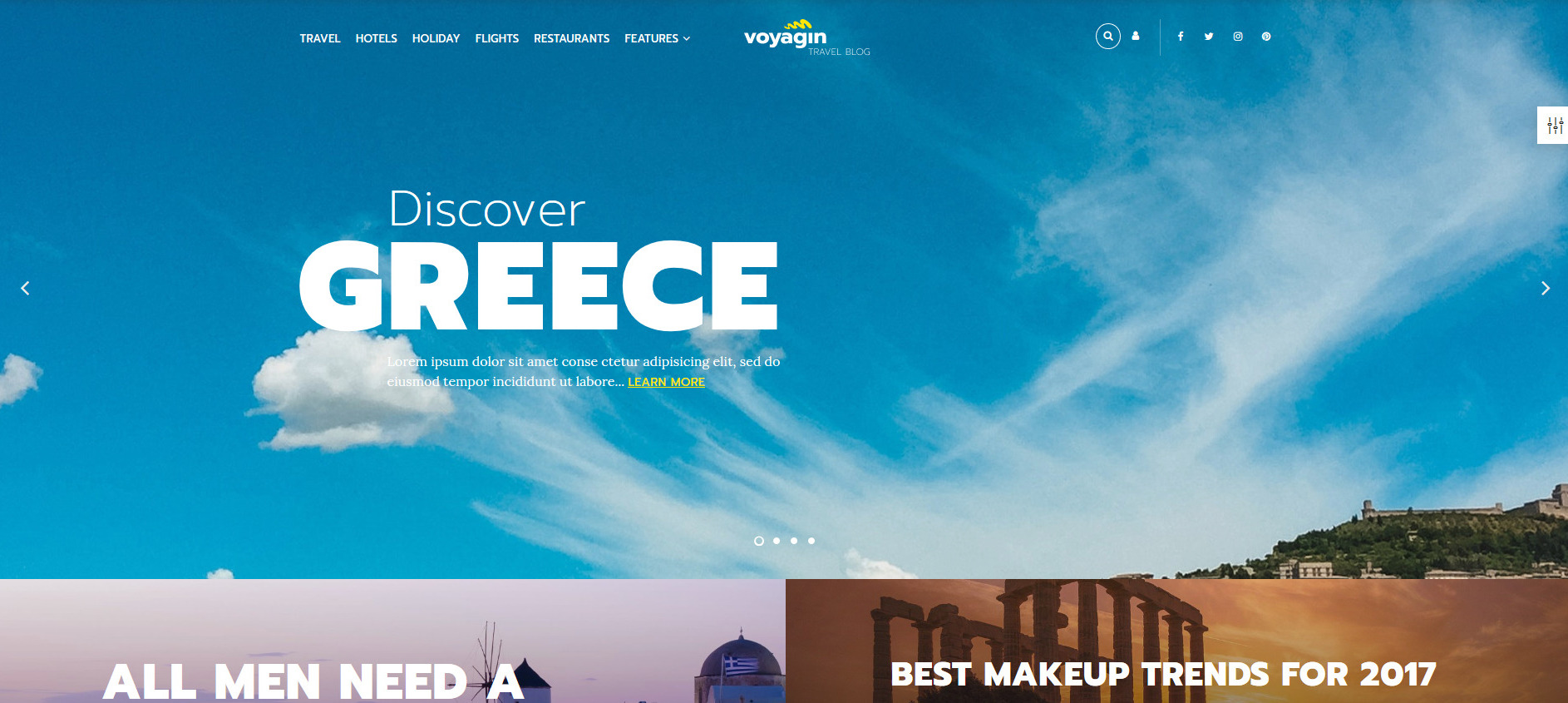 It's a great Elementor theme designed specifically for news portals, however, it's quite suitable for personal blogs as well. It features different demos, which content can be imported in one click – from content-rich news websites to lifestyle and travel blogs. Apart from Elementor, you can tweak the header and footer with the JetBlocks plugin, create eye-catching post sliders and add lots of different media files in a preferable layout. Of course, there are tons of minimalist and complex Elementor blog templates to choose from.
The theme is also equipped with extended post functionality to help you create maximum informative and visually appealing posts.
Hestia Multipurpose WordPress theme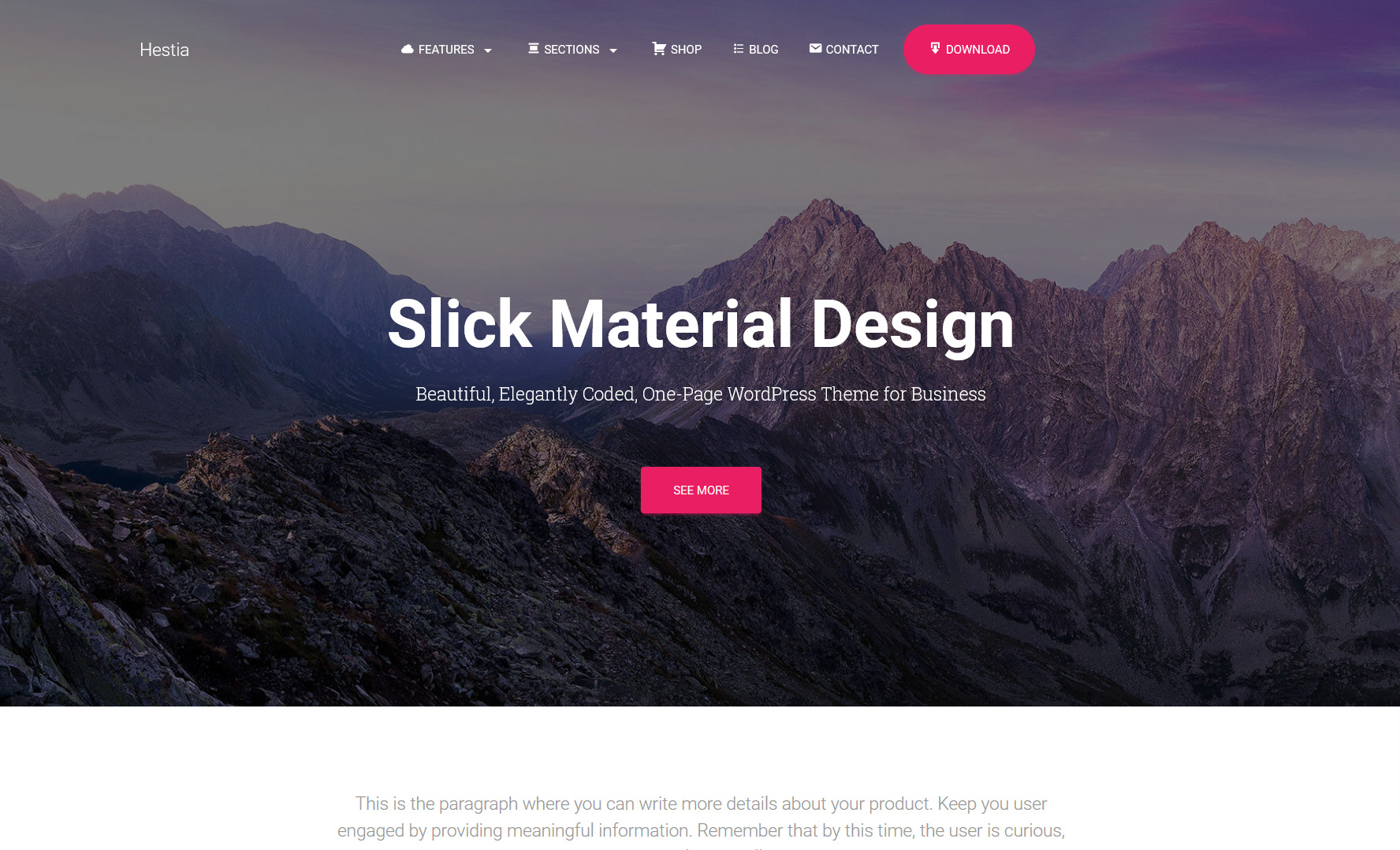 Hestia is a really popular name in the WordPress world – it's one the best and most used multipurpose themes with stunning material design. It works smoothly with Elementor via the Orbit Fox plugin, which provides 10 Elementor templates with free download option. There are lots of theme details you can edit via the WordPress Customizer as well as out-of-the-box front page editing.
Hestia is in the official recommended list of best themes with Elementor compatibility.
Cultera Art and Culture WordPress Theme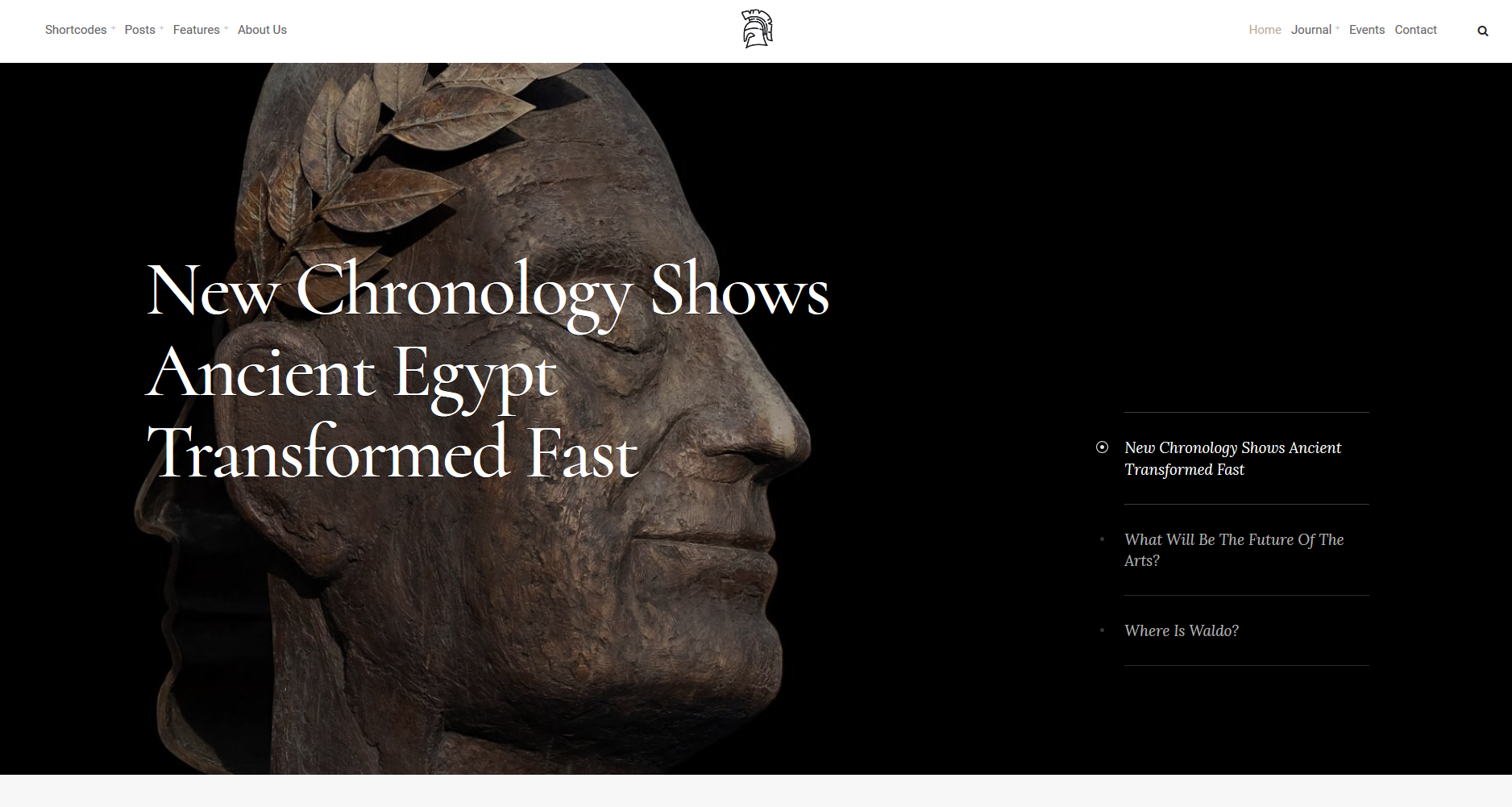 Cultera works as a WordPress theme for Elementor art and culture-related websites. It's bold, minimal, and features lots of breathtaking portfolios providing a great atmosphere for creative projects. It's built with Elementor yet lots of design elements can be tweaked via WordPress Customer – another no-brainer website editor.
This theme gives a lot of space to feature news, events, projects, services, and more. You are free to use standard, video, audio, gallery, and link post formats for your content.
Ayame Florist and Gardening Shops WordPress theme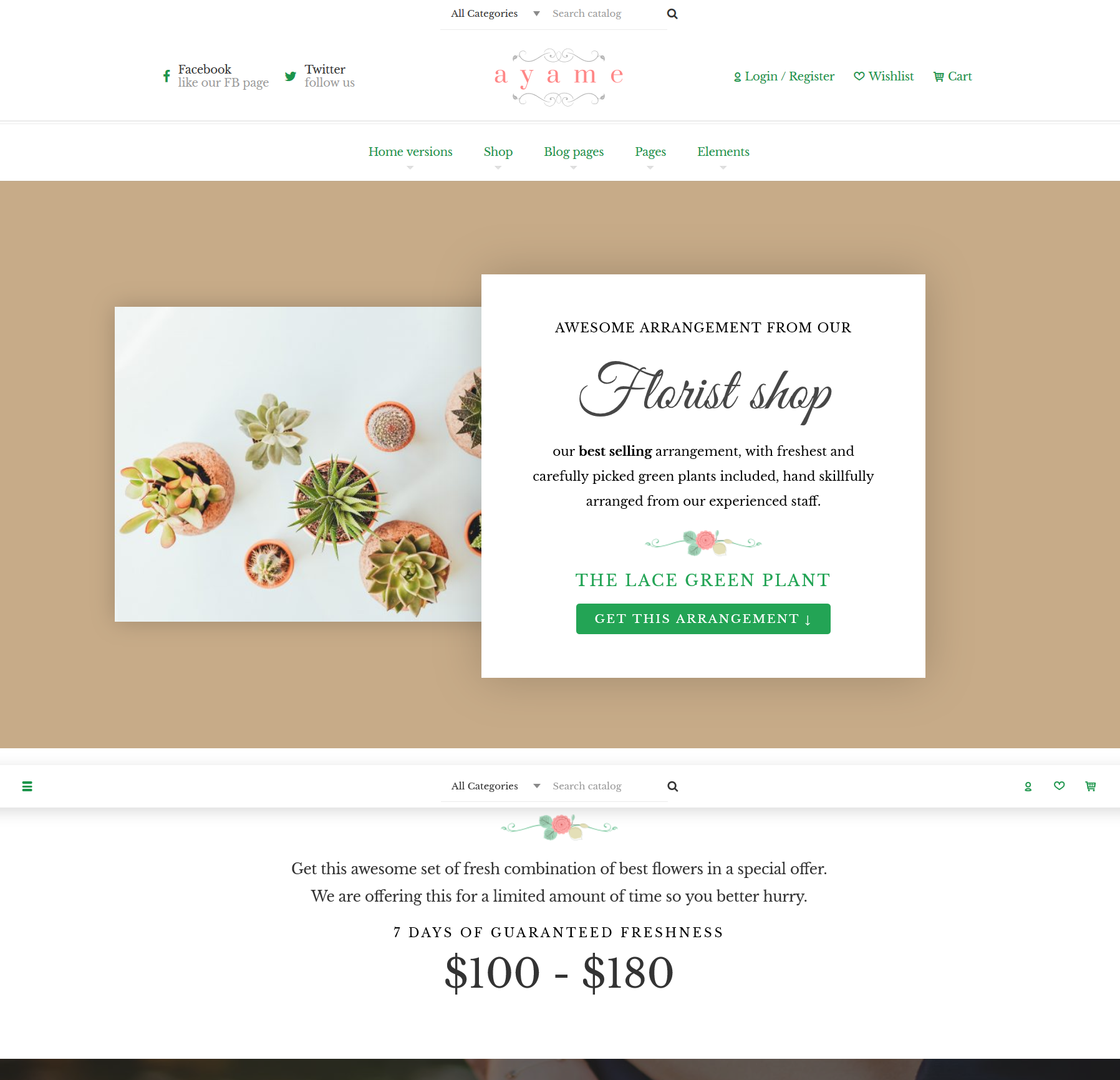 Ayme is tailored specifically for florist shops. Elementor builder the theme is designed with gives you absolute control over the front page, portfolio pages, and other website elements. The design of any of the five available demos is absolutely stunning – elegant, lightweight, and clean. The theme is highly focused on easy visual editing – that's why it's packed with Elementor extension for better integration with WooCommerce, Contact Form 7, and MailChimp (Micemade Elements).
Since it's perfectly optimized for online selling with WooCommerce, I think you can safely use this theme to sell handmade products and clothing as well.
OsTende Theater WordPress theme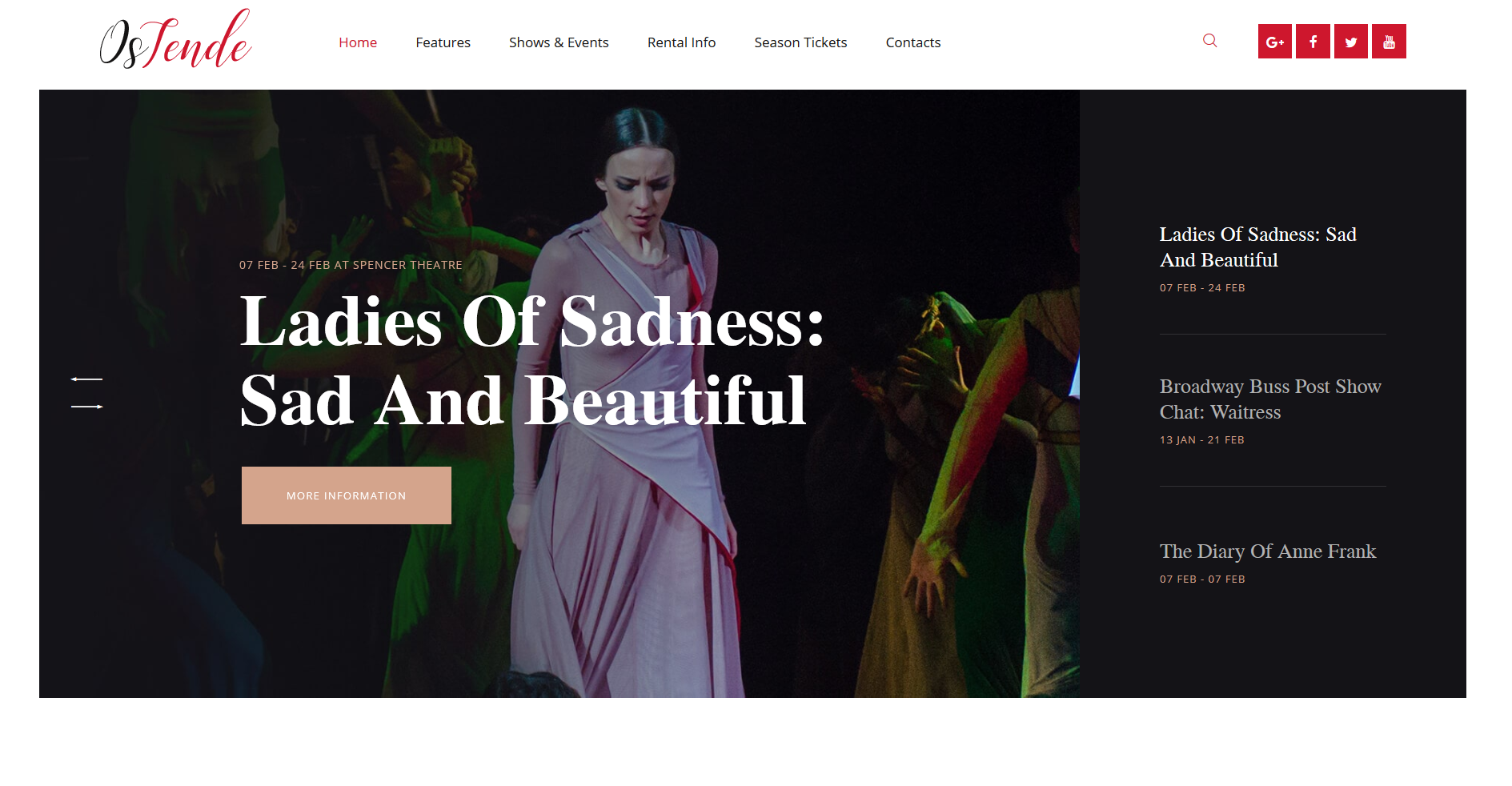 OsTende is an exclusive theatrical activities WordPress theme designed with Elementor. It's best suited for contemporary theater brochure websites, art and entertainment agencies, and passionate theatrical blogs that love to reflect on whether Shakespeare was a pen name or a real person. The theme arms you with a full range of tools to give your creative website your true identity: custom layouts, pre-made color schemes, Elementor section templates, awesome sidebar management, Google fonts, sticky menus, and a dozen more goodies.
Any custom post type, header and footer, social media profile, and more tools can be easily edited via custom ThemeRex add-on. With the tools and design provided by one team, you are going to enjoy a really smooth editing experience. You can easily integrate the theme with event management or ticket selling plugins.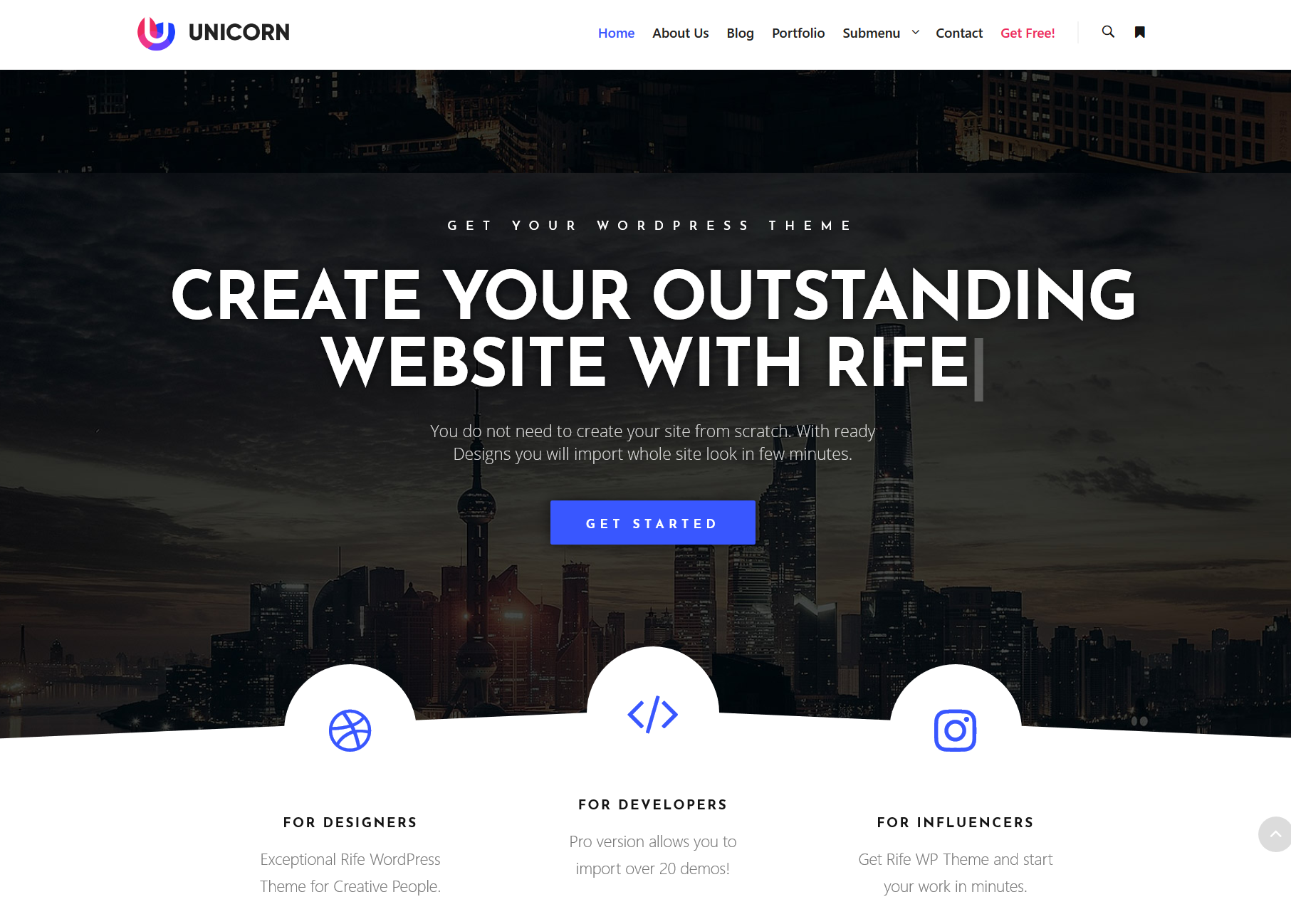 Rife is an awesome Elementor theme available in both free and paid versions. If you are searching for Elementor free themes and choose Rife, it will provide you with three designs and the ability to use WordPress Customizer. Sample data for a chose theme can be imported in several clicks. You can easily change colors, font size, customize all major sections like header, footer and other elements of the front page. Widgets and buttons are also customizable in a free version. Opening Elementor, you are free to update every piece of the front page – galleries, features, calls-to-action, etc.
Overall, Rife Free gives you simply outstanding customization freedom and professional designs to choose from. It's an ideal solution for budget-minded people.
Elementor Template Kit: Templates and Add-ons in Suites
Apart from individual Elementor templates, there are lots of multipurpose rich toolkits in suites created specifically for Elementor. Whether you are a WordPress design agency or just looking for more options for your own website, they may come in handy. Moreover, by opting for such bandles you can save a good sum of money since the suites are typically hugely discounted.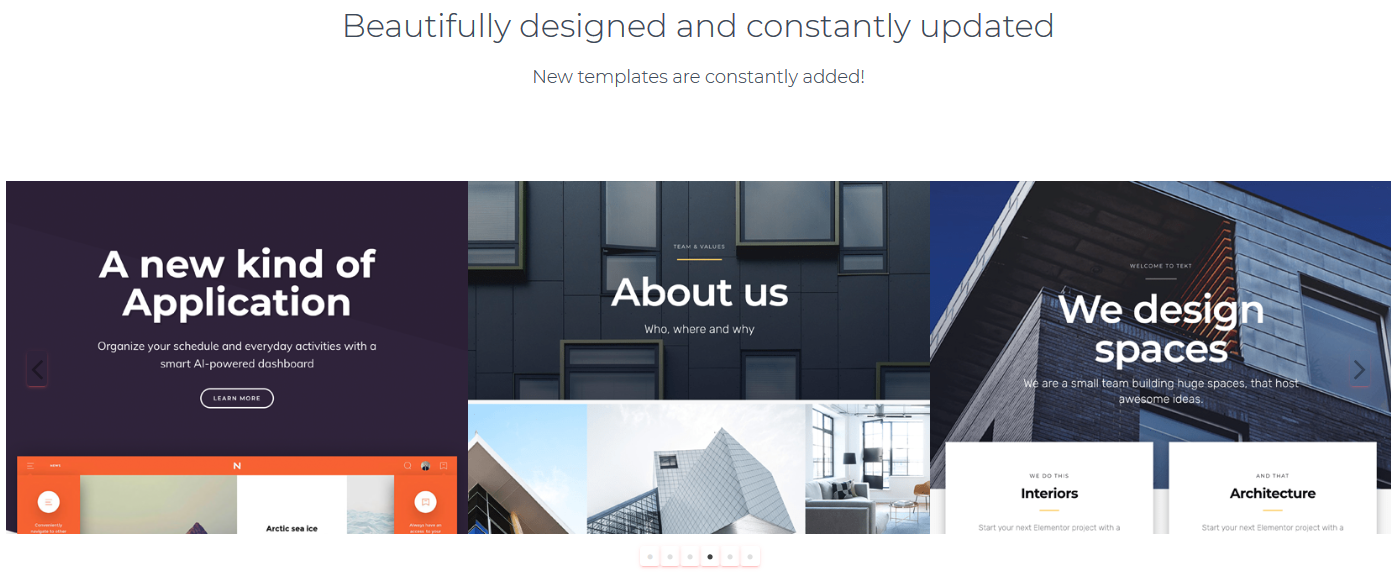 Sizzify suite by a reputable Themeisle team provides add-ons and templates for Elementor in one bundle. This exclusive toolkit includes:
Premium page templates (business, construction companies, marketing, apps, etc.)
Stylish typed heading widget
Flip card widget
A variety of social icons to integrate with your theme in clicks
Review box with custom icons
Plus, all features of the free version.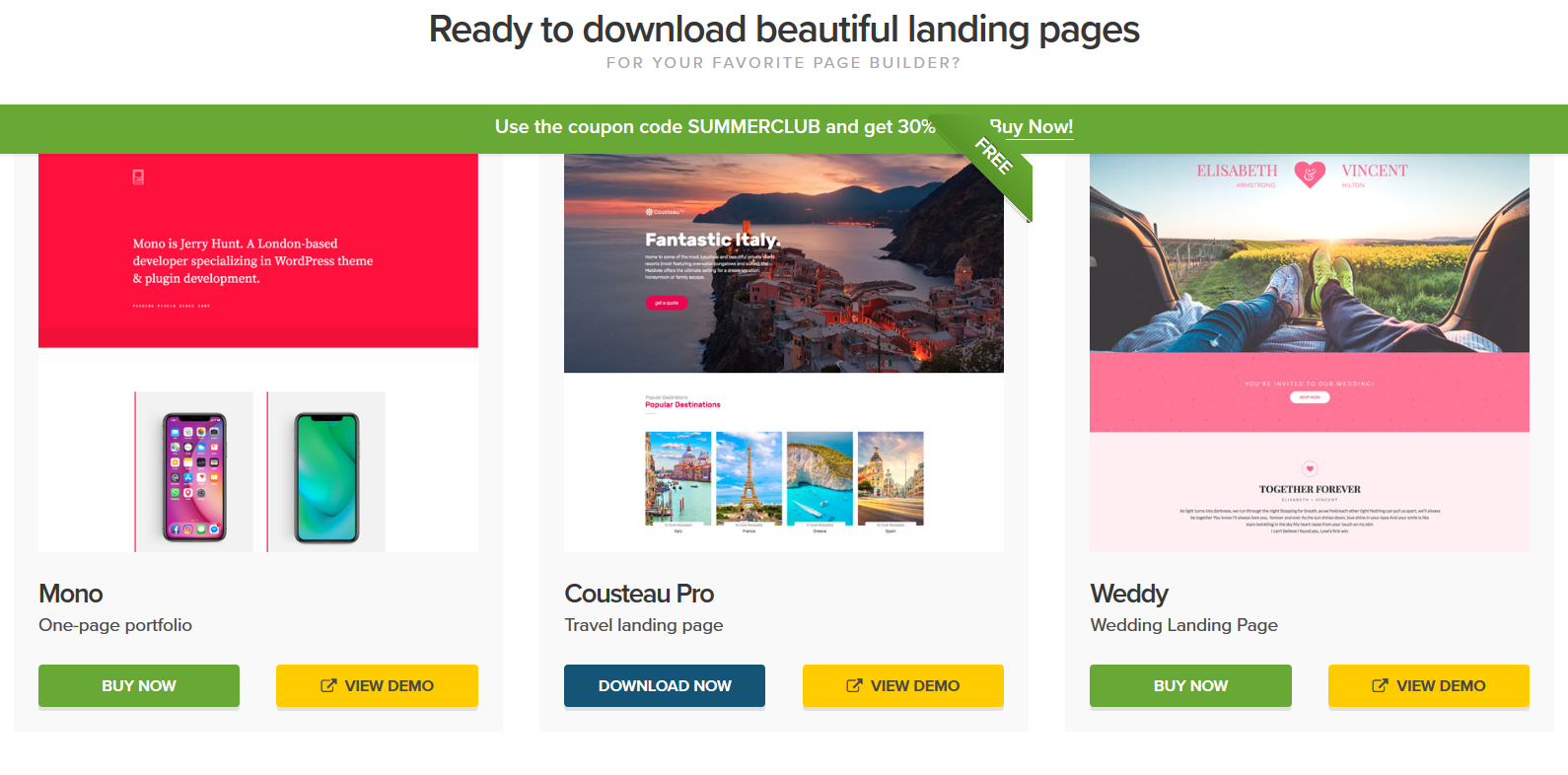 Elementorism is keen on providing you with multiple unique landing pages easily editable with Elementor. E-commerce, consulting, real estate, and other categories are presented in the Elementorism library. Some landing pages include Pro Elementor widgets so make sure to find out this info in advance with Elementorism creators. One year of access to all Elementorism landing pages will cost you $49.
Katka Elementor Template Pack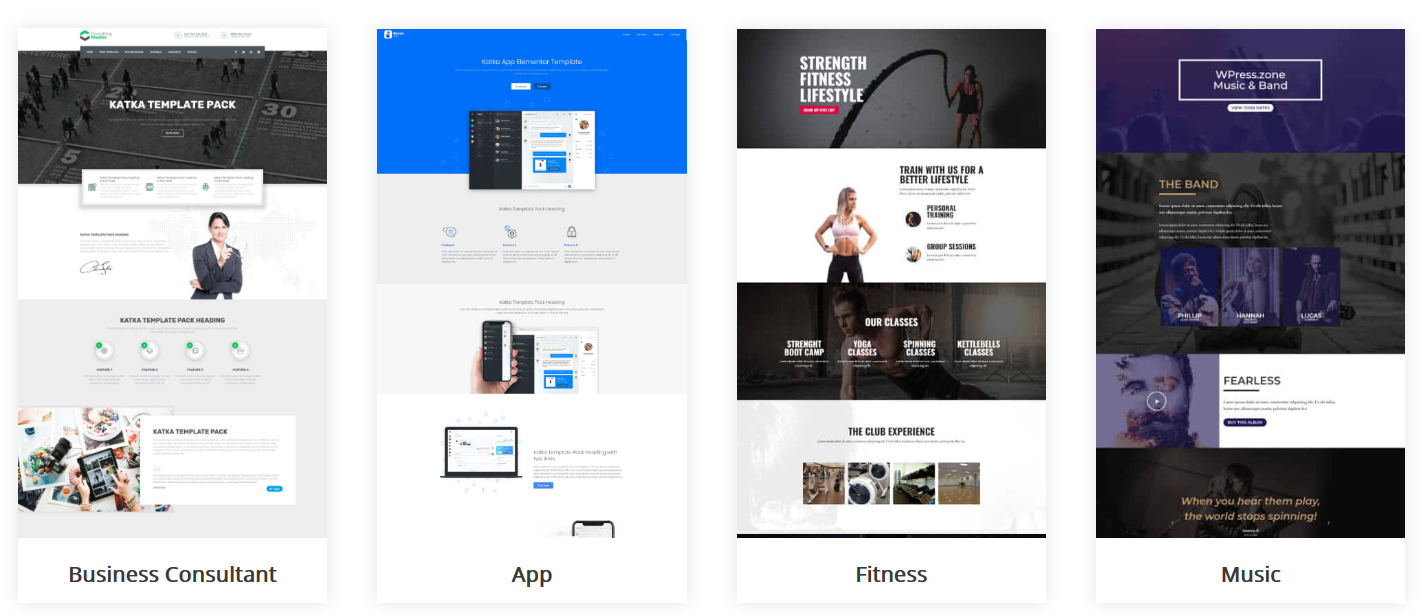 This bundle will have you up and running in hours with beautiful Elementor templates. The Katka suite includes 16 templates and 220+ section block templates (some widgets are supported only in Elementor Pro). Guess what's the price? $10. Or $5, or zero. It's up to you. You can download the pack for free (or pay what you want) and use it for a personal website or for building websites for clients. Pretty good deal, isn't it?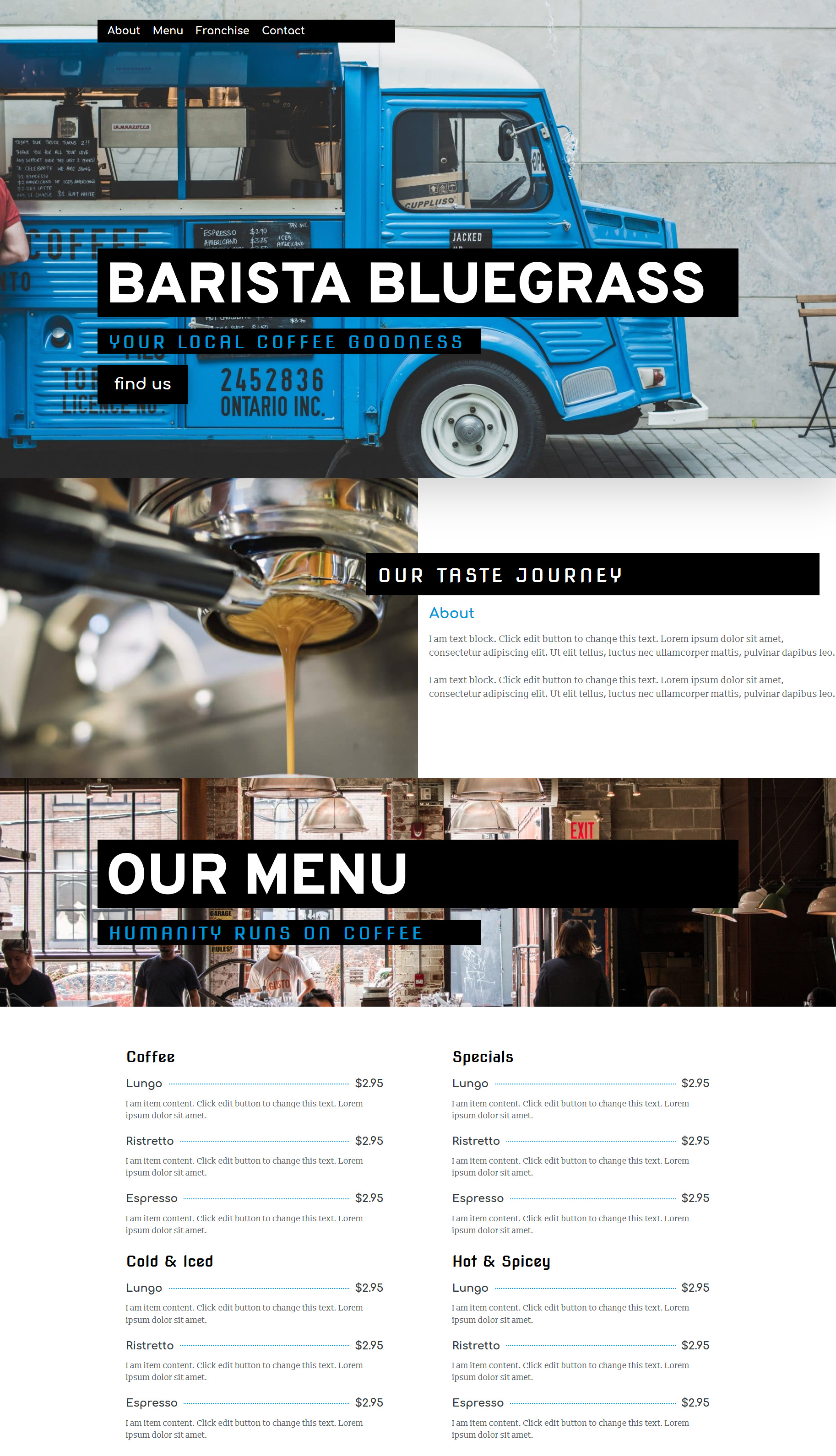 It's a gem for Elementor design inspiration. With this pack of professional Elementor themes, you'll get 12 premium templates for just $45. It's also possible to buy only individual templates – each comes at a price of $25, but honestly, why would you want to lose the deal and not get the remaining 11 templates for… $20? It's worth it – the templates are created by people with a great designer's eye, the performance is taken care of and customization freedom by Elementor is just fantastic. Some best Elementor sites are definitely built with this tool.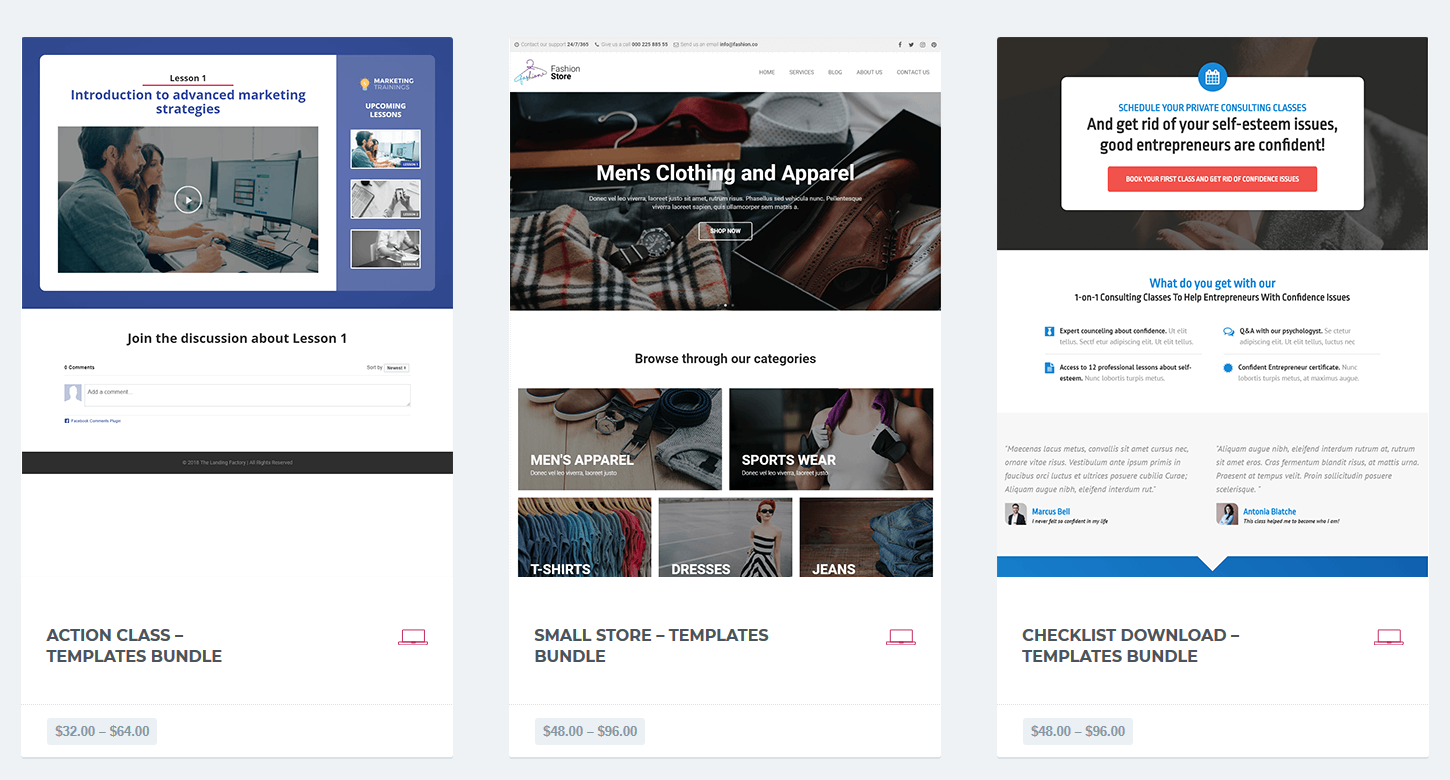 For a personal website, you can get the template for just $16. If you are an agency, you might be more interested in the Membership package that offers 170+templates for a $168 yearly price. It will also meet your needs if you are looking for an Elementor freelancer template. These guys also provide categorized bundles so you can get only the suite for your business niche. All templates follow modern design practices and are notably lightweight.
BTW, if you are currently the active Elementor user, but want to change the look of your website without template customization you may get started with the Elementor page background change. So what is the best theme to use with Elementor for you?
Final Note On Best WordPress Themes for Elementor
Hopefully, we've managed to satisfy your thirst for beautiful themes! So, which WordPress themes with Elementor compatibility are you choosing today?
---
Disclosure: This page contains external affiliate links and we may be paid commission if you buy the products featured above. The thoughts on this page are our own and have not been based on the payment.