15 Best Education WordPress Themes
In this collection of the best education WordPress themes, we're reviewing general theme features and the niches these themes are mostly aimed at. For example, here you'll find solutions for schools, training centers, solo mentors/teachers, or all-around course-optimized themes for remote learning.
Some of the WordPress education themes in this collection come with dedicated LMS plugins, appointment booking apps, forums, page builders and event WordPress calendars.
These plugins will help you build and sell courses just like on the Udemy website, enable students to enroll in chosen courses, schedule events and webinars, organize video conferences or turn your site into the course and tutor booking platform.
Let's not waste time and get down to business.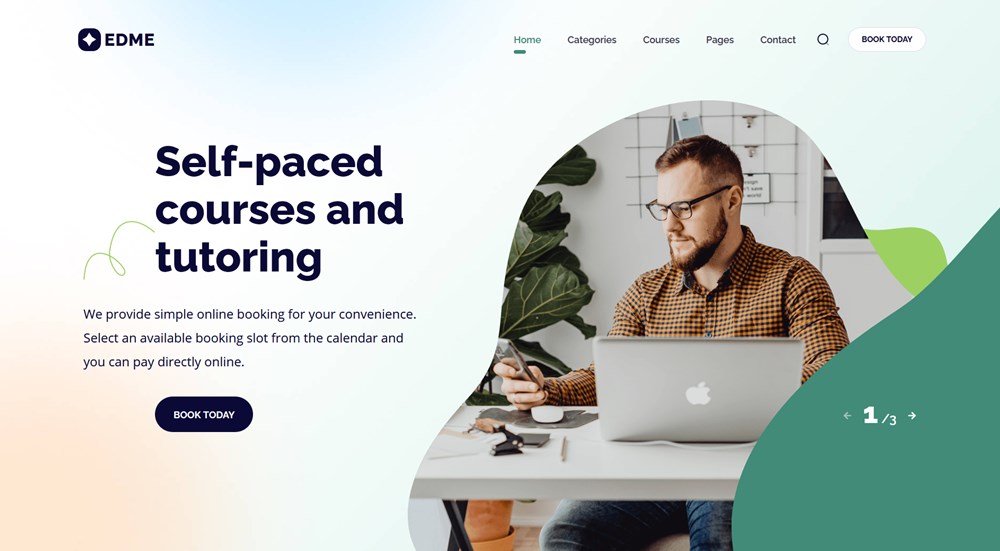 Best suited for: lesson and tutor booking for online and offline lessons (for scheduled date&time)
The Edme education WordPress theme is optimized for a school or tutor site that enables students to learn more about the offered services/courses and place a class/tutor/course booking online, for either online or offline appointments.
The major functionality aspect of this education WP theme is the appointment booking plugin for WordPress, which allows you to build a flexible schedule (with the needed breaks and days-off) for each tutor, set up hourly bookings (or services of any other duration) and manage all the received reservations on the backend.
This WordPress online course plugin powers a very intuitive course or tutor booking wizard on the site that helps potential students book a lesson or consultation in a matter of minutes. This premium plugin is packed for free, so it's a good chance to save fifty bucks.
This course website template has pre-built pages for featuring all your courses, teachers, services, and your story.
VIDEO OVERVIEW OF EDME:
Another great thing is that it allows you to customize all of them visually with Elementor and Stratum. The latter is an Elementor's extension that adds many more design and widget capabilities to the popular WordPress page builder. Another pleasant bonus is that Edme comes with the premium version of this Elementor addon for free!
View DEMO of Edme WordPress Education Theme.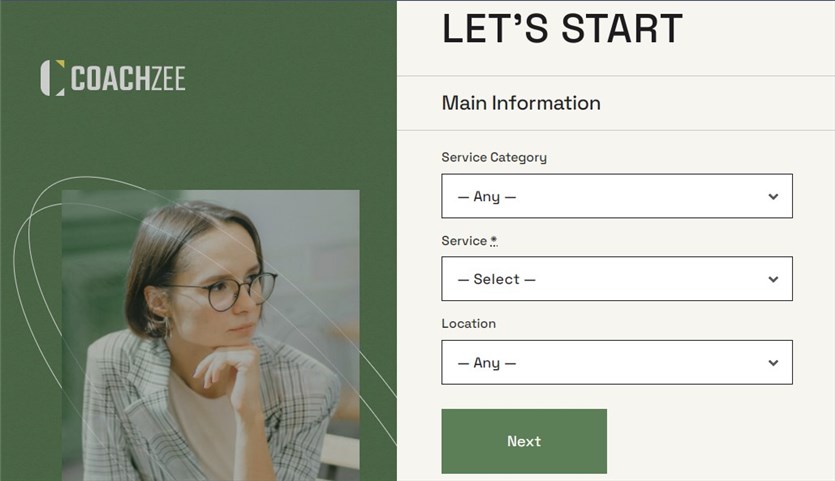 Best suited for: teachers, life or career coaches for scheduling lessons
Coachzee is a multipurpose WordPress theme coming packed with ultra-modern demo designs for instructors, coaches, teachers, and more. Each of them provides you with different color schemes and powerful content blocks. The template is equipped with all the necessary tools to launch a professional website and arrange automated online scheduling for a private practitioner or a firm.
The most prominent feature is the Appointment booking plugin bundled. It empowers the Coachzee theme with its main functionality including an appointment booking widget, multiple booking, and different payment gateways such as Stipe, PayPal, or wire transfers on on-site payments at the office. It is possible to manage all the appointments from the theme dashboard.
With the Coachzee template, you will be able to set up individual timetables for staff members working in different locations, point out these locations, and determine the price per each service. The schedules may involve breaks, lunchtimes, and buffer times added. There are also specialized pre-built pages where you can put all the details about your services.
The page creation is based on Gutenberg which is a WordPress native editor. Its blocks enable you to easily customize the website visual appearance. You are offered also to use the Getwid addon in order to enlarge your toolkit with a collection of 35+ Gutenberg blocks.
View DEMO of Coachzee Education WordPress Theme.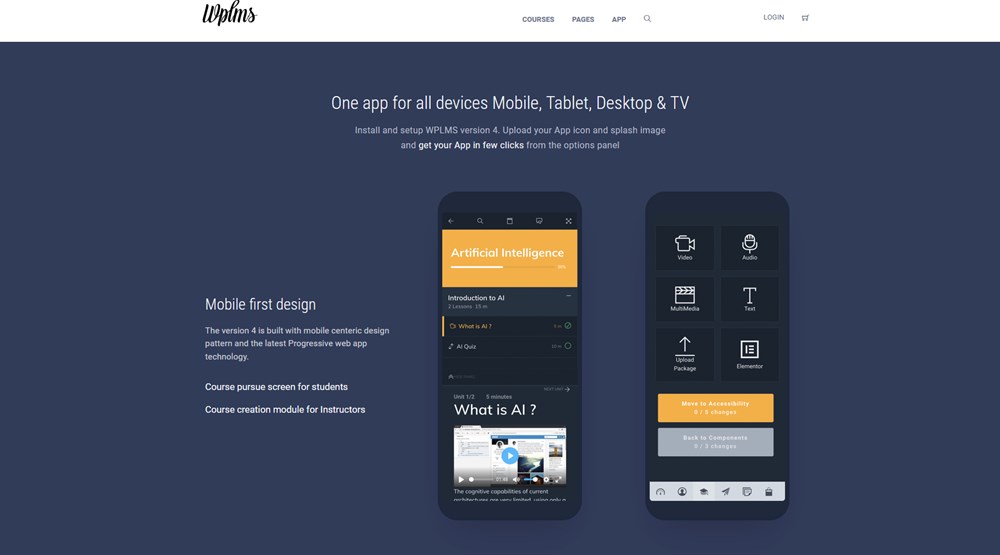 Best suited for: running online learning management system (LMS) by schools and private tutors
With this WordPress education theme, trusted by thousands of course creators, you get everything you'd expect from a learning management WordPress system: an all-around course builder with all types of questions for self-study education, instructors panel, payment gateways to process online payments, login areas for students and teachers, reviews, assignments, stats and more.
One of the most important things for building self-study courses is, of course, the types of content the builder supports. You should have no problems with this aspect – the course builder supports almost every type of content and an easy way to manage it with popular builders.
Among other great features that make this school website WordPress theme stand out from the crowd are seamless forum and chat integration, custom-made mobile apps for studying from any device at any place, and tons of built-in addons for driving more tools (gamification, event calendar, etc.).
If you are looking to build a Udemy-like website on WordPress, this theme is what you need.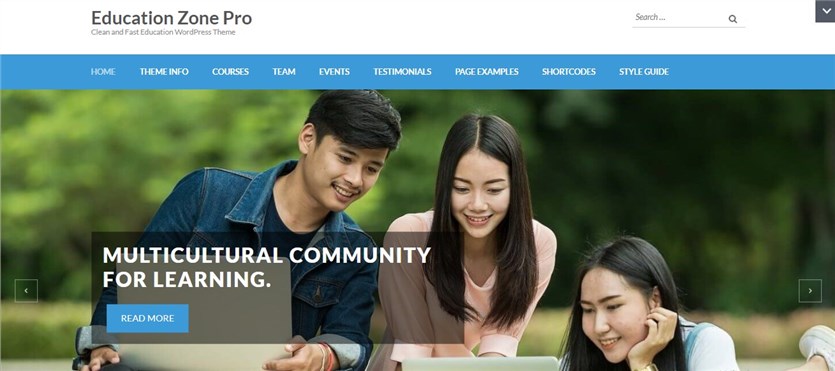 Best suited for: Universities, Schools, Colleges
If you're looking for an easy-to-use theme that is highly customizable and perfect for educational institutions, then you need to check out Education Zone Pro. With just one click, you can import the demo content and get started right away.
This theme offers unlimited color options, 1000+ Google Fonts, and typography features to change your website design according to your needs. And if you want to sell online courses on your site, Education Zone Pro is fully compatible with WooCommerce.
Furthermore, you can display your courses, stats, application form, specialties, team, news, and events in separate sections on the homepage so that potential students get any information they need just by looking into your website.
Education Zone Pro is also a translation-ready theme that supports WPML and Polylang plugins.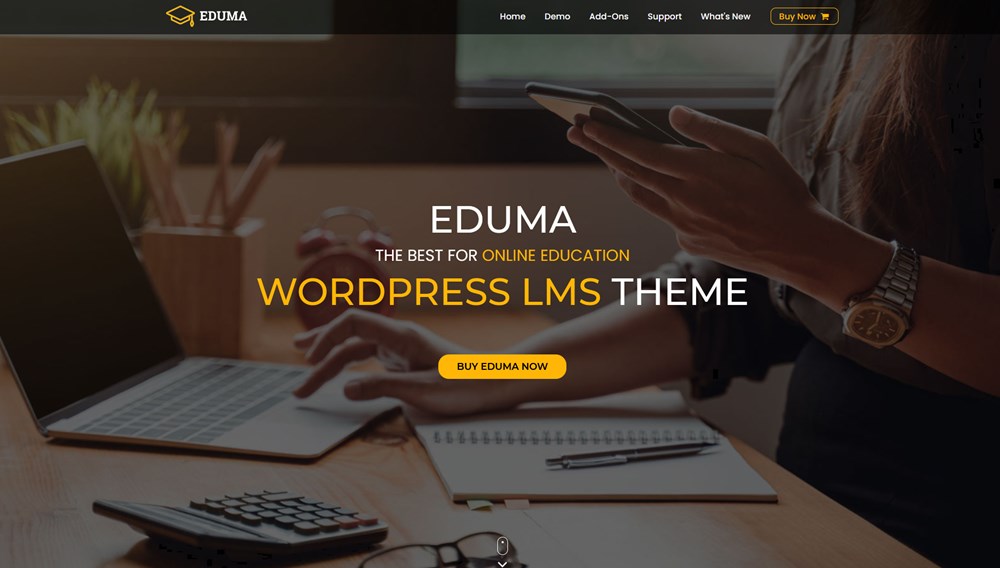 Best suited for: selling course subscriptions, running event sites, and all sorts of educational institutions
Powered by LearnPress, one of the most popular dedicated learning management systems for WordPress, Eduma also gives you a huge choice of pre-made designs (for single instructors, language schools, kindergartens, etc.).
That means the dedicated LMS functionality is backed by an optimized design for whatever theme you choose. Although I'm not a big fan of such themes that include dozens of designs in one pack (a big no-no for a website loading times and overall usability), I must admit there are cases, e.g. running several related projects, when such a model can work.
So… if you like the design solution and pricing, study the features and possibilities of the LearnPress plugin to be sure it'll meet your LMS requirements.
In addition to a great course builder, the theme creators made sure the theme smoothly integrates with WordPress forum plugins (from my experience, communication is a must on websites like this – even if you don't plan to integrate it right now, in the future you may get such a request from your students), page builders like Elementor, and event management solutions.
As a verdict, it feels like this education WordPress theme tries to cover as many scenarios as possible which makes it a bit too multipurpose, but if you do need a solution for complex and diverse educational projects, Eduma can help you get started.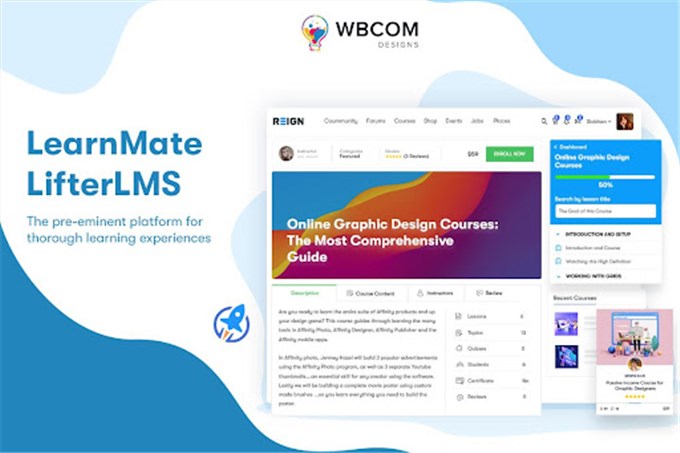 Best suited for: running online learning management system (LMS) by educational centers and online tutors
LearnMate LifterLMS Theme by Wbcom Designs is the preeminent platform for comprehensive learning experiences. The elementary elevation is important for both schooling and earning.
Build your learning platform and gather everything you'll need to get started, whether it's what you need, what's appropriate, or what's relevant. Whether it's creating a course, establishing a brand, or generating cash, the template can help.
Add some high-quality learning assets to your learning solution to gain the attention of your students and educators. The more user-friendly the platform is, the more members it will attract.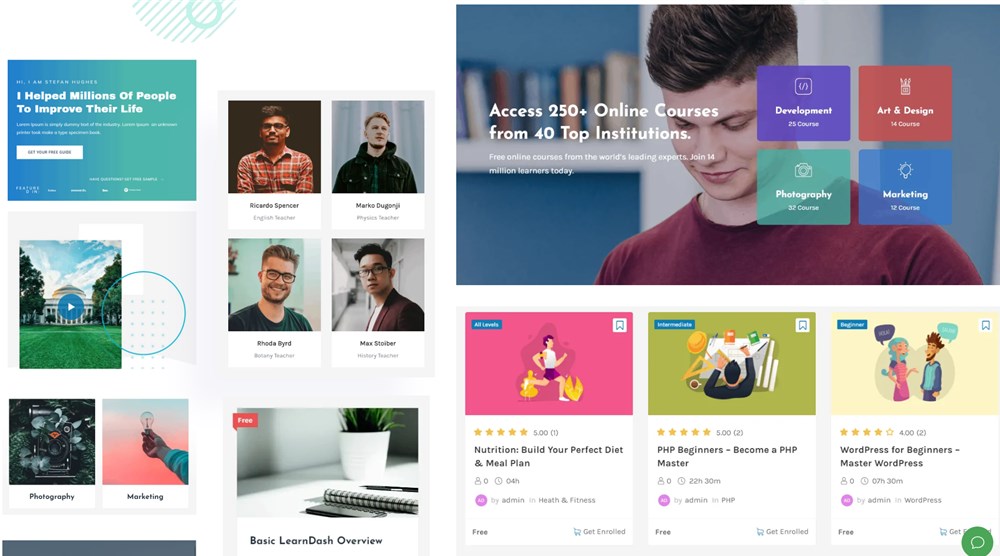 Best suited for: selling course subscriptions, LMS projects, schools and consulting businesses.
Tutorque is an all-around WordPress LMS theme that has it all to run an online course website.
Unlike many other LMS WordPress themes, Tutorque is optimized to a diversity of LMS plugins allowing you to work with LearnDash, TutorLMS or LifterLMS, depending on which functionality you are looking for.
Relying on Elementor for the customization needs, Tutorque doesn't just give you unlimited possibilities in terms of default customization tasks, it also opens up opportunities to connect an ecosystem of other addons you might need for your education or remote learning WordPress website. The WidgetKit Elementor addons package is also included for advanced site editing needs.
Since the theme is packed with numerous ready-made designs optimized for different business niches, e.g. personal tutoring businesses or multi-instructor schools, it makes the theme a great solution for developers or studios that build client websites of this type.
The theme also supports numerous industry-standard solutions, such as WooCommerce for selling things, BuddyPress and BBPress for forum building needs, BuddyBoss for smoother membership features integration, and many more great tools.

Best suited for:  LMS projects, online courses

This is a super reliable and professional online theme called "Michigan Learning Suite". This has been created by Webnus and the demos included in it are powered by the "Deep Theme" codes. The reason behind the existence of such a theme (Michigan Learning Suite) has been to broaden the options for those learning courses which are online.
With Michigan Learning Suite you can upload timetables of your online classes, lessons or quizzes. Also, you can set the time and date for them so your students will clearly know what they would face in the upcoming days.
Michigan Learning Suite main features are: page builder, online courses, lesson manage sale & make money, engagement, course analytics, quiz management, course widgets, goals & events management, courses without LMS System, students & instructor dashboard, certificates.
With Michigan Learning Suite, you can easily upload the teachers' names and any other kind of class information. You should make clear what your goals are. You can do so by showcasing the future programs you are planning for, explaining the affordability of your classes, or talking about yourself using this free WordPress learning theme.
Michigan Learning Suite Theme with its spacious interface grants you some aesthetics to promote them. With the help of these aesthetics, you can achieve the highest engagements and show your students how devoted and well-prepared you are.
As one of the most popular learning themes on the market, Michigan is fully compatible with LifterLMS plugin and has 4 dedicated categories including University, Online Learning, High School, and Kindergarten, so you will have all kinds of users. Each one of these categories has all the features necessary for that specific category.
Michigan theme's demos and features are currently included in Deep theme. So, if you purchase Deep, in addition to its amazing features such as the Header Builder, Elementor page builder and lots of theme options, you will also have Michigan.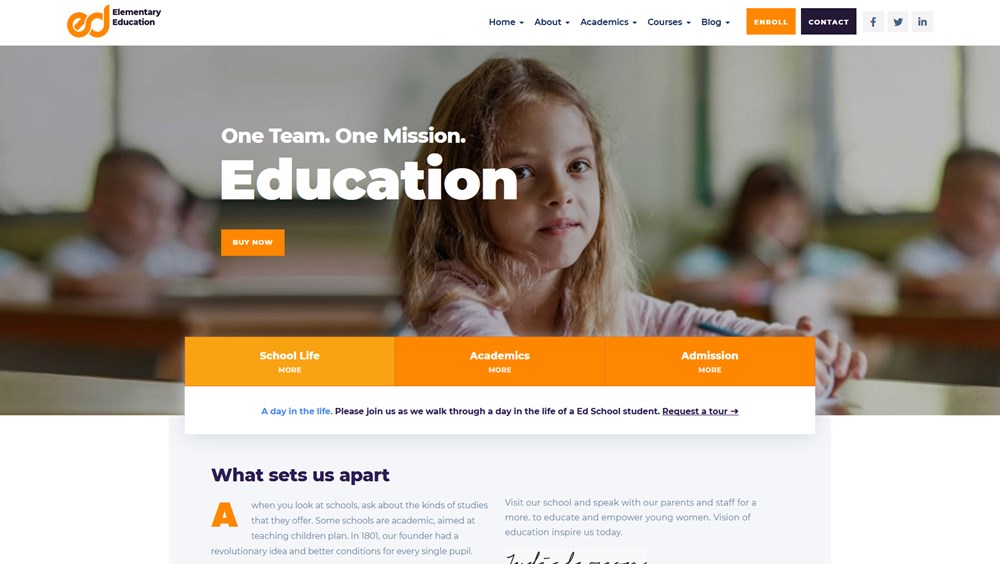 Best suited for: school, campus, and university websites
Crafted with the Elementor page builder, this WordPress theme for school is a great solution for education projects that want to focus on telling their story, feature students and teachers, showcase work, and first and foremost create an official online presentation of their institution.
The theme delivers complete ready-made patterns for the whole website, so you can choose the concept, layout and overall niche that suits your institution. Besides, thanks to numerous custom-crafted widgets, this is going to be an easy task to create something truly unique, with your brand colors and voice.
Although this education WordPress theme is not particularly focused on creating and selling courses, you can actually take advantage of this option because the theme comes with the free version of the Sensei LMS plugin.
This plugin is built for launching courses with WooCommerce, the leader of ecommerce in WordPress. Although this is a free solution, this plugin will require many paid things, like payment gateways or membership facilities, along the way of creating a functional online courses website.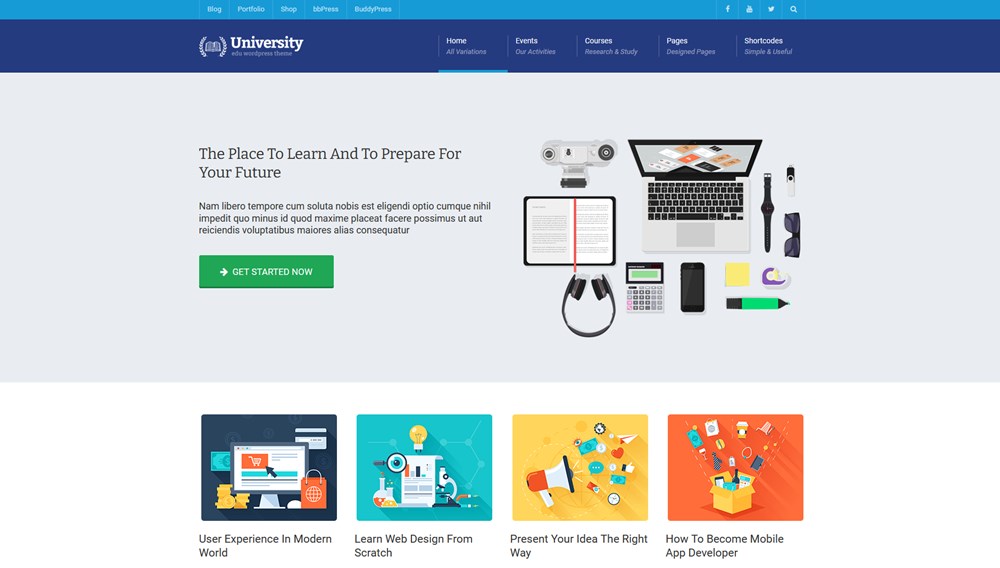 Best suited for: launching online courses and building event sites
The template is advertised as a perfect solution among education themes for training centers, business schools, event businesses and all sorts of educational establishments.
Thanks to the LearnDash plugin integration, you'll be able to feature your courses with their prices and details, instructors and detailed curriculums allowing students to enroll in the chosen courses.
Some of the demos are completely optimized for selling tickets with WooCommerce so you can easily build an event management website as well.
This e learning WordPress theme also comes with numerous ways to integrate a forum, extend the customization capabilities with the Slider Revolution and WPBakery plugins, and sell different types of appointments online with ease.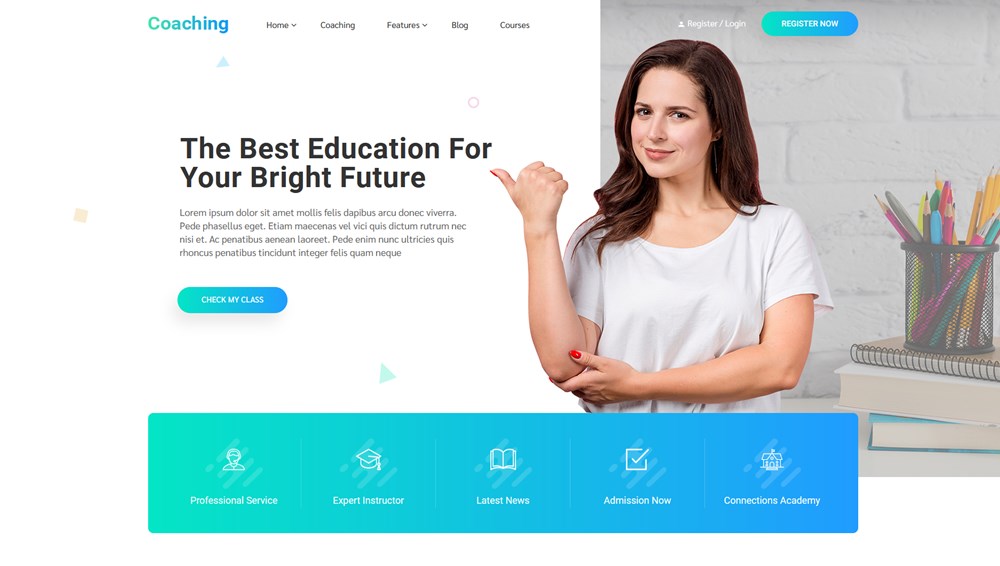 Best suited for: mentor and school sites that want to sell courses with WordPress
The Colead online course WordPress theme is especially attractive thanks to the bunch of plugins it comes with. I mean LearnPress LMS, one of the most used WP plugins for launching online course websites, and the whole pack of premium addons for this LMS plugin. A fantastic money-saving deal, I must say, especially for those who already have eyes for this specific plugin.
Thus, you get two in one – a couple of awesome education-focused designs (for mentors, training centers and tutors) and the course builder plugin as the functionality basis.
On top of that, the theme guarantees endless opportunities for those who want to create and sell events since there are also tools to feature events and sell tickets with WooCommerce. The theme also seems to be relatively lightweight, which is going to benefit your SEO efforts – it utilizes lazy loading effects and takes good care of the page markup.
Additionally to Elementor and its great widgets you can use to edit the site content, the theme ships with some awesome custom widgets, header and footer variations to help you give the site your very own look.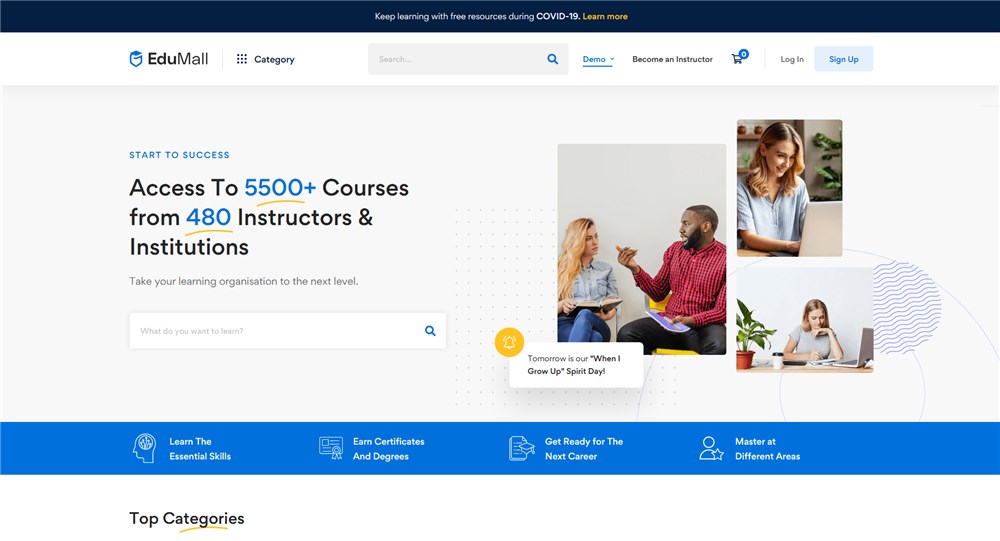 Best suited for: selling online courses, online academy, single instructors
The EduMall education WP theme stands out thanks to three main things: a truly powerful Tutor LMS plugin included, smooth integration with Elementor, and very stylish and modern design concepts. And that's not the limit.
The theme smoothly integrates with WooCommerce, Zoom for video conference and many industry-standard features like Mailchimp, Contact Form 7 and more. With all that powerhouse you won't experience any problems in launching any courses.
There are designs optimized for the schools that offer multiple courses, online academies, single tutors and a few other scenarios. You'll definitely find all the demos eye-catching and clean-looking.
If you like the concept, study the Tutor LMS features, which to my eye is the most complete WordPress learning management system that gives both you and your students numerous tools to interact with the course.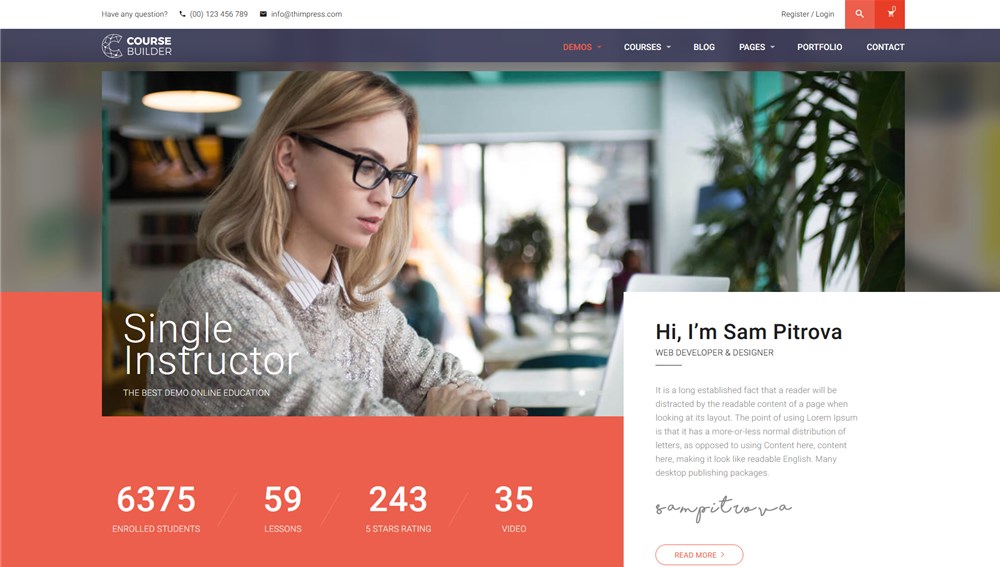 Best suited for: building online courses
A beautiful yet powerful school website theme WordPress users love. Its main focus is on the LMS, so it gives you all you need to build and launch courses for e-learning or, for example, for creating a training center for your employees.
In any case, the theme is supplied with the LearnPress plugin, a specialist tool for creating advanced courses and allowing unlimited students to enroll in them online.
This WordPress online course plugin is full of all the needed functionalities for the course building needs, including content dripping, lesson management, payment gateways, all sorts of quizzes and content types, certificates, co-instructors and more tools you might expect from the education WordPress themes.
The Event Manager plugin is also packed if you aim to run events sometimes. The bbPress for online forums and chats is also supported allowing us to conclude that the theme delivers only those essential tools you might need along the way.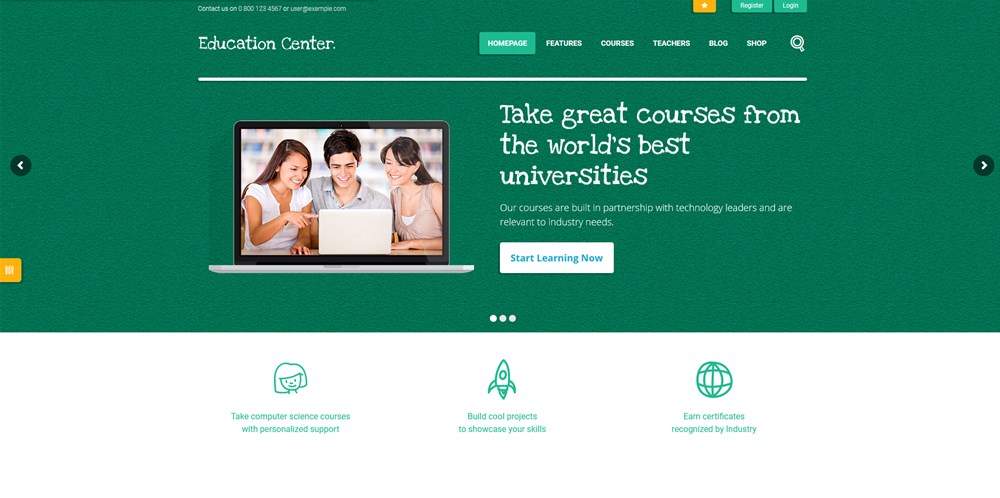 Best suited for: school and preschool education via online courses
Powered by the LearnDash LMS plugin, this elearning WordPress theme helps you build unique courses, make the learning targets clear for students with the dedicated course pages, and completely customize the theme with custom ThemeRex widgets and the WPBakery plugin.
From the design perspective, the theme is a bit of the 'old school' style, but as I know, many educators find it quite engaging and appropriate. There are tons of premade sections to help you build engaging content to foster student motivation.
To help you run even more activities, the theme offers smooth Events Calendar integration for organizing and scheduling events. Overall, the theme is quite appropriate for creating and selling courses of all types as well as launching official educational institutions' websites.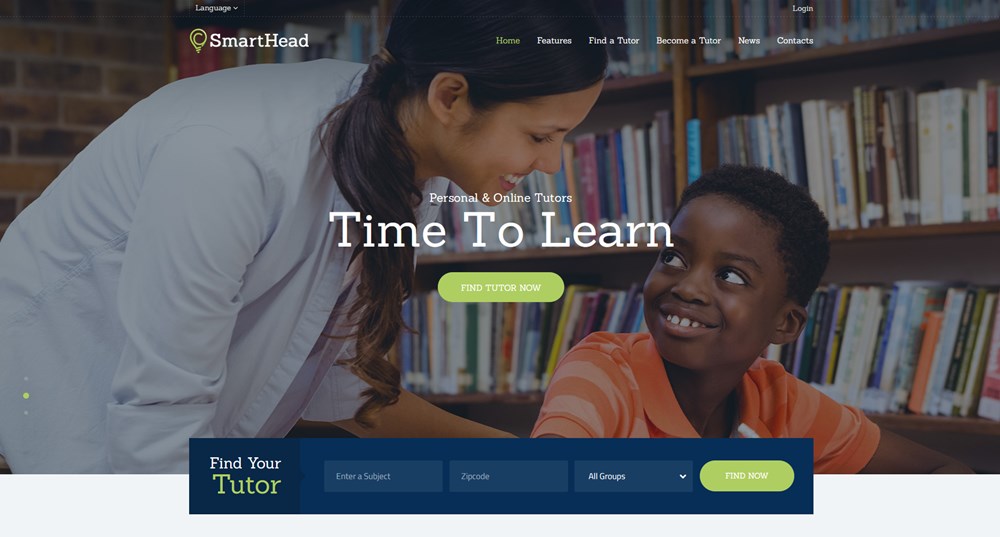 Best suited for: booking online and offline lessons via the appointment booking form
SmartHead is a dedicated WordPress education theme focused on online course and tutor bookings. This functionality is delivered thanks to the full compatibility with the Booked plugin – a WordPress appointment booking plugin.
That means you can feature your courses and tutors allowing potential students to choose a subject, check the tutor's availability and instantly book a lesson – whether it's online or offline.
The Booked plugin is very straightforward in setup and operation, so if you do need this sort of interaction with appointments on your site, this is an old trusted standby.
The theme empowers you to customize its layout and color scheme via the WPBakery plugin and custom theme options. To power up your site even more, you can customize it with the Essential Grid and Slider Revolution plugins.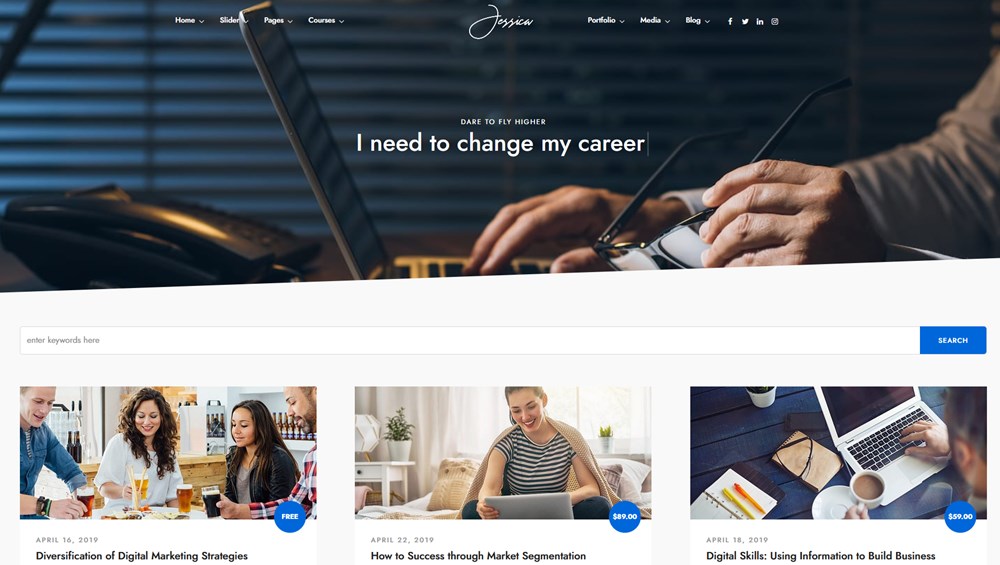 Best suited for: teachers, speakers, consultants and general course builder needs
This relatively new kid on the block has managed to win the market of the education WordPress themes thanks to the offered tools that adapt to the new 2020 realities: Zoom meetings integration, the all-around LMS, focus on smart SEO and brilliant, clean-looking design solutions.
As the main LMS plugin, the DotLife theme uses LearnPress, one of the most used and trusted plugins for building and selling step-by-step online courses.
The plugin supports paid and freemium courses, online payment processing, student and teacher dashboards, all sorts of quizzes, and more dedicated tools.
Delivering default designs with a true wow effect, you can customize the theme further with Elementor, WordPress Customizer, Mega Menu and demo data.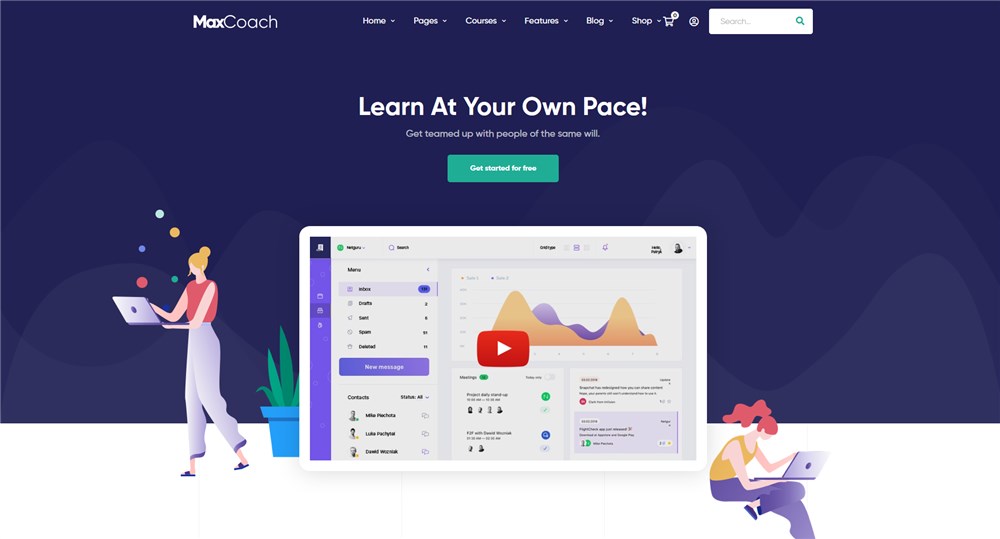 Best suited for: creating an online education environment via the WordPress LMS
MaxCoach is a perfect example of a stylish design optimized for the LMS plugin among the WordPress educational themes.
This course booking theme for WordPress enables you to build courses that encompass all sorts of lessons and quizzes, assign multiple instructors to different courses, take online payments, see the stats on your course performance and take the course over your control. All this is possible thanks to the built-in LearnPress plugin.
Furthermore, the theme is bundled with numerous helpful plugins, including WP Events Manager, WooCommerce and several WooCommerce-related addons. The theme is just perfect for whatever education site you are about to build, so grab it with confidence.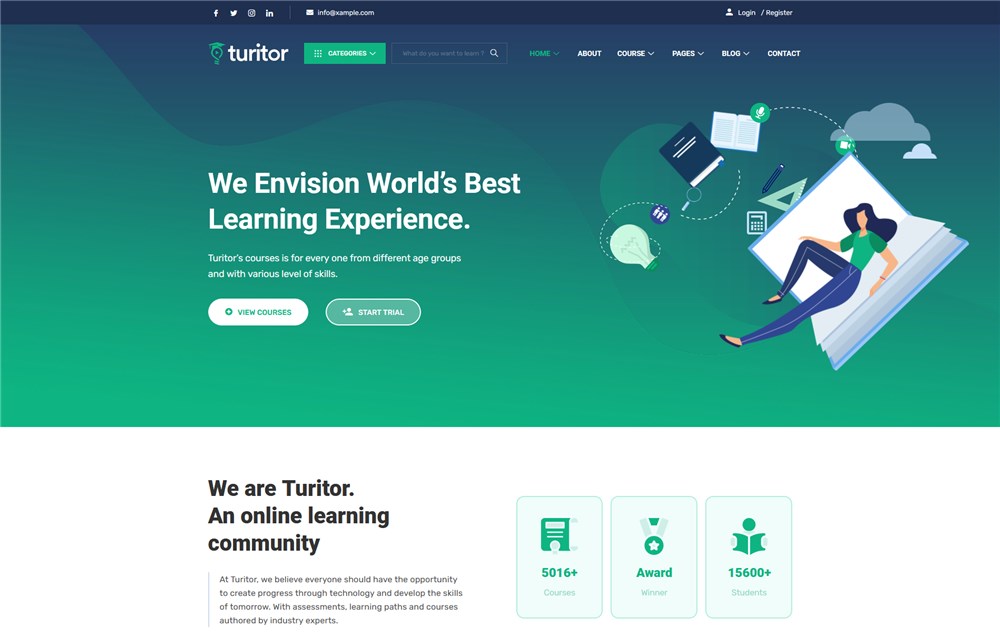 Best suited for: online courses, schools, universities
A great LMS & Education WordPress theme having the lead among education themes integrates with several popular LMS plugins: LearnDash, LearnPress and Tutor LMS. Add this fact to a huge collection of mind-blowing demos, and you get the most flexible education WordPress theme out there.
Speaking even more about its diversity, the theme offers its users compatibility with numerous extra plugins and addons, for example, Elementor and the ElementsKit library; and the default block editor is no exception.
The theme comes with several pre-made course layouts, instructor pages, many site headers, essential widgets and more tools.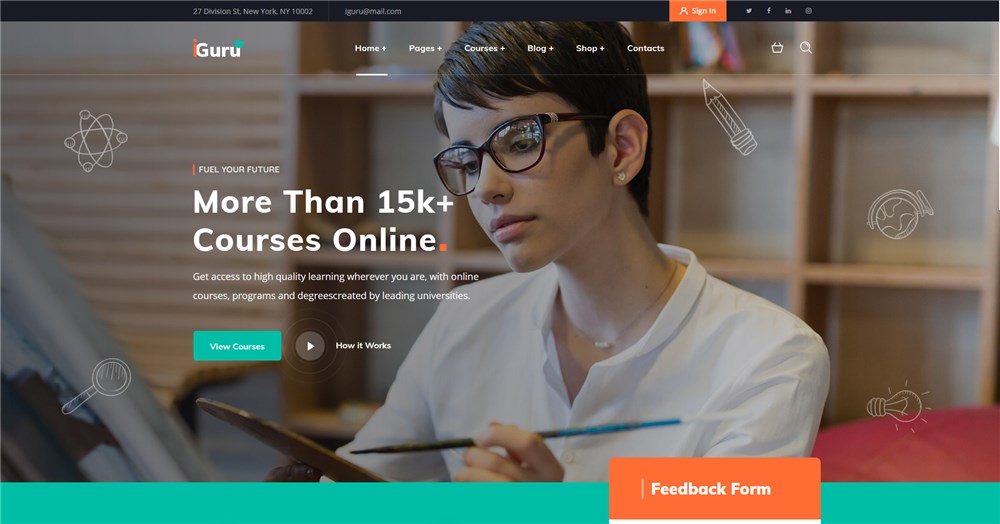 Best suited for: running and selling online courses
This is another great collection of education-focused designs optimized to work with the LearnPress plugin, which makes it a perfect solution for starting your education WordPress website.
It delivers many premade course and instructor pages still focusing on one major design concept, which makes the theme truly lightweight, free from all the bells and whistles other vendors usually include with the theme.
It gives you endless opportunities when it comes to building layouts, changing colors or adding a new piece of content. There are a flexible header builder and a wide range of shortcodes for adding and customizing any content.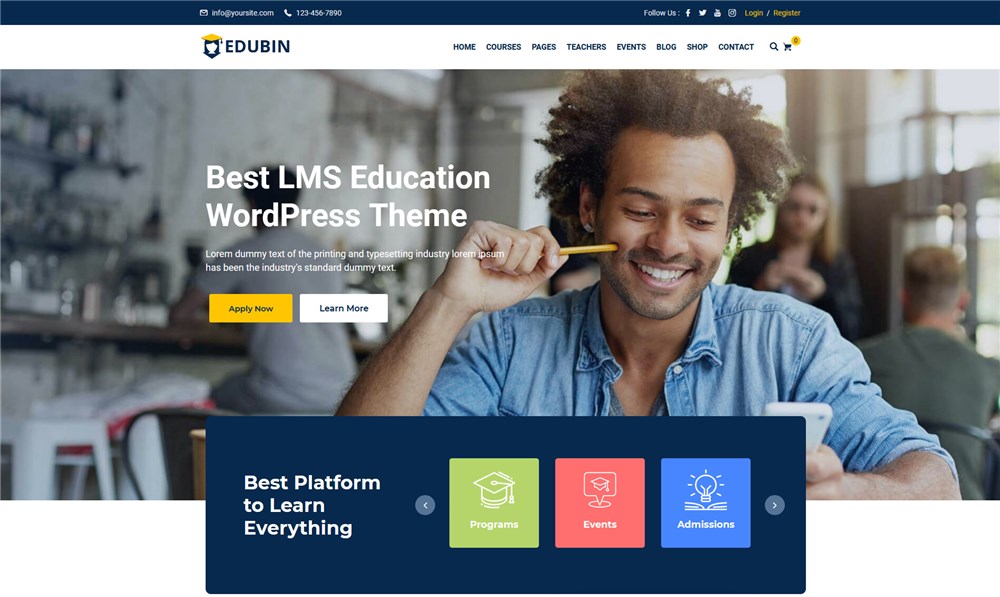 Best suited for: universities, colleges, schools, e-Learning, courses tutorials that want to run self-study learning
This education WordPress theme delivers all the essential tools required for running an online elearning academy. It comes with different design variations optimized for the best WordPress LMS plugins: Tutor LMS, LearnPress, and LearnDash, so you have not just a choice of a design, but of a plugin as well!
It's also optimized for WooCommerce, Zoom and other video conference tools, as well as can help you run an event schedule on your site.
Since the theme is sharpened for many scenarios, you can launch almost any type of website with it and still get a powerful functionality basis.
Final word: Which education WordPress theme to choose?
Some design concepts are better, some worse, but the visual part is mainly a matter of taste. However, the bewildering choice of the education WordPress themes should narrow down when you understand which one meets the needs of your daily business routine.
So, from the functionality perspective, things boil down to several broad scenarios: LMS, appointment booking or event booking needs. My favorites from all these education WordPress themes are Edme, EduMall, MaxCoach, and DotLife because they are very intelligent from the design, SEO and functionality aspects. But which one would you entrust your education website to?

What is the most popular Elementor education theme?
The WPLMS Learning Management System for WordPress is one of the most popular themes that includes all sorts of tools and designs for LMS sites. It also comes with the most comprehensive learning package of addons for free. The theme has been around for 10 years now and is very popular with WordPress users.
Can I use the Edme theme as a learning management system?
No, Edme is designed for all sorts of education sites looking to integrate online lesson bookings. Since it's built with Elementor, you can take its design capabilities further and use it for any other appointment booking site.
Is there an educational WordPress theme built with WooCommerce?
Yes, if you want to sell courses with WooCommerce, you might like the EdSchool theme, University theme, Edumull and some others. They are either powered or easily integrated with WooCommerce for more payment gateways and a smooth online course subscription process.