10 Best Online Course WordPress Themes for Engaging and Effective E-Learning
The design of a perfect educational website varies depending on its purpose. For a personal learning resource, it is crucial to showcase the website owner's professional qualities and encourage visitors to consider acquiring their lessons or online courses.
Appointment booking functionalities should be prioritized over providing learning materials. Conversely, for an online school with multiple courses, the focus should be on streamlining the learning process. This can be achieved through convenient course constructors for administrators and features that enable tutors to check users' homework.
If the task at hand is to build an online platform for any particular educational initiative, rest assured, this overview holds a plethora of options that cater to every teaching enterprise's unique needs. When setting up a tutoring website in WordPress, you can expect that managing your courses and appointments is the most time-consuming process. Handpicked for their top-notch functionalities and eye-catching designs, we present to you the best templates that are aptly suited for establishing the online presence of digital schools, and solo educators, or even for launching formidable platforms akin to Udemy and Coursera.
1. Edme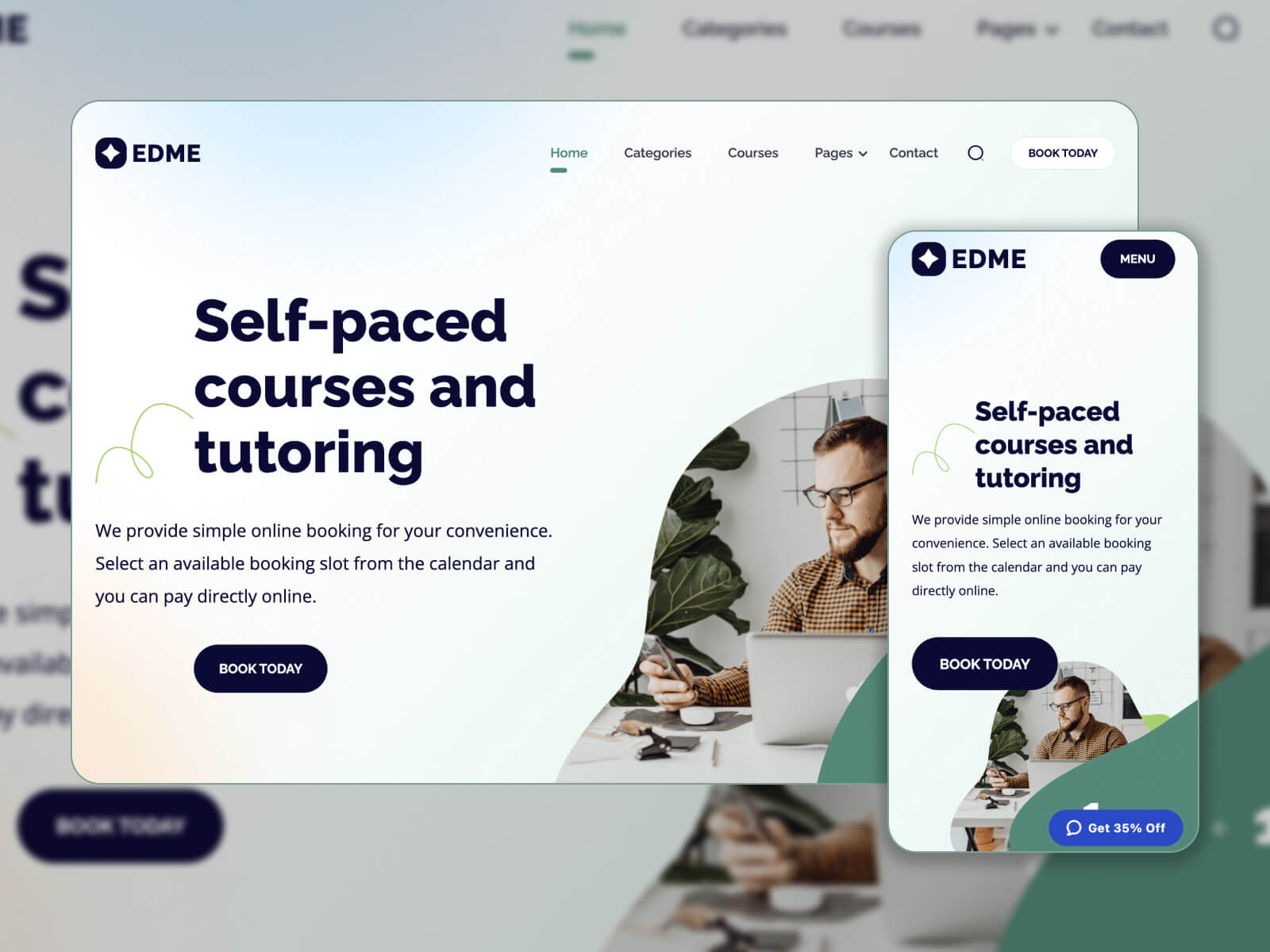 Name
Author
Price
Avg. Demo Speed Score
Edme
MotoPress
$79
Mobile 34
Desktop 72
Tailored to the intricate needs of educational establishments, e-learning hubs, tutoring centers, and private teachers, Edme, a template built upon the solid foundation of Elementor, stands as an avant-garde solution. It is equipped to manage online and offline appointments for various educational services like meetings, calls, and classes. It incorporates an intuitive booking wizard that allows students to reserve courses or lessons seamlessly.
Unlimited locations, adaptable personal schedules, and options for both solo and group appointments are just the tip of the iceberg. In its richly-featured arsenal, you'll find a smartly included booking buffer time, an advanced wizard for online payments, and very convenient tools to manage students. The theme has rich course and service pages, providing premade templates to present offerings in a detailed and organized manner.
Brought to life with the inclusion of the Appointment Booking plugin, the theme skillfully integrates the convenience of time slot reservations. Fine-tuned to perfection, the reservation plugin is optimized to categorize courses and assign tutors. It can manage appointments in physical classrooms and virtual spaces like Skype or Zoom. The template has a centralized admin panel for easy appointment management, offering options to alter booking statuses, update student information, and much more.
Crafted with Elementor, Edme provides a canvas for boundless creativity, empowering educational business owners to mold a variety of website components such as course categories and front-page highlights among others. The theme's versatility is further bolstered by the incorporation of Stratum, an assortment of supplementary widgets for Elementor, presenting an added dimension of personalization. This allows owners to add stunning animation effects, tabs, sliders, and other visually appealing content elements.
2. EduVibe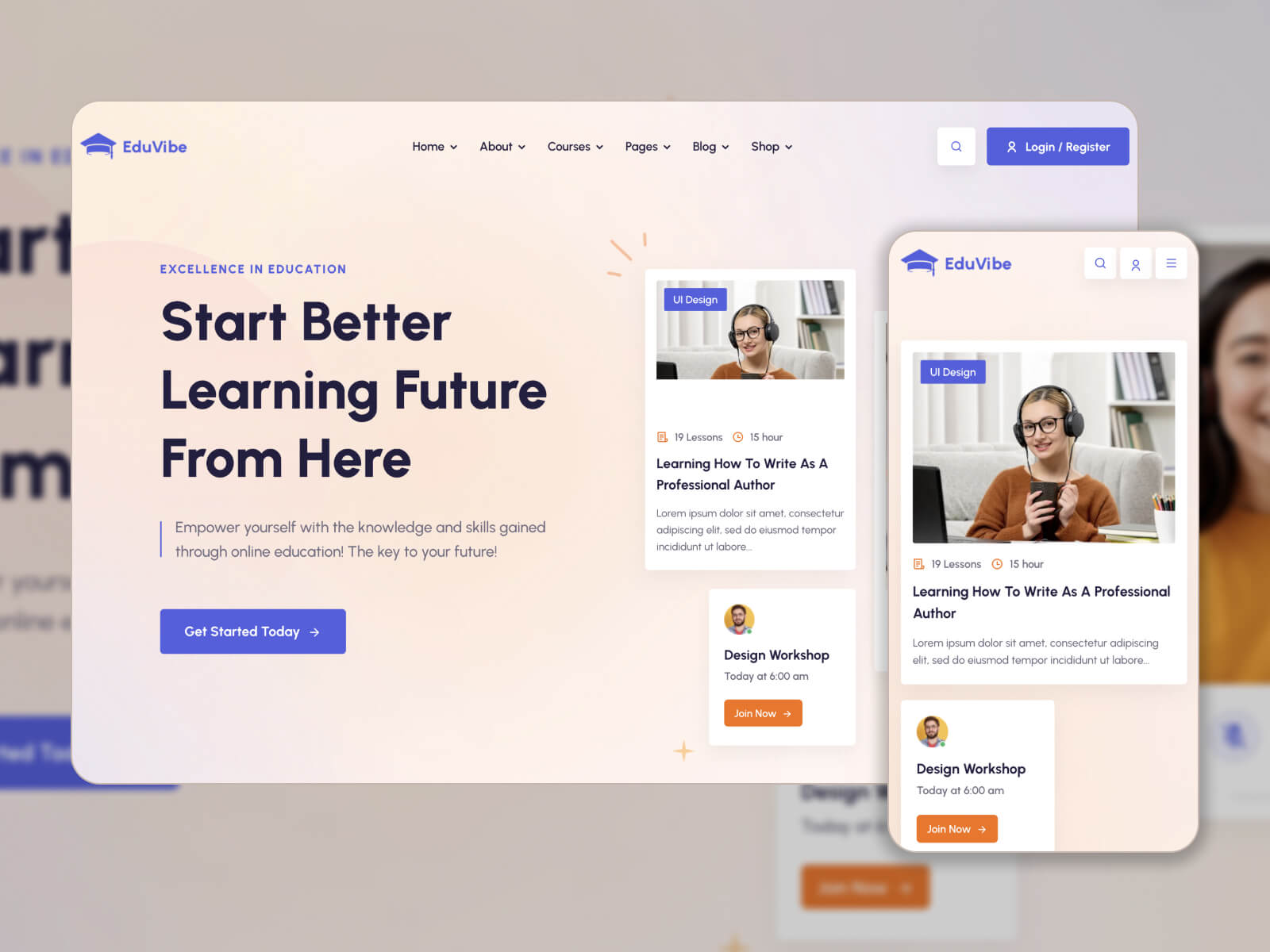 Name
Author
Price
Avg. Demo Speed Score
EduVibe
DevsVibe
$29
Mobile 38
Desktop 71
Within the realm of educational institutions, ranging from universities to distance learning platforms, EduVibe emerges as an all-around WP theme, ready to cater to their diverse needs. It presents an assortment of five unique homepage demos, allowing business owners to effortlessly adjust online resource to their liking. The template boasts a user-friendly interface, featuring editable pages that are ideally suited for customization.
This theme seamlessly integrates with a plethora of plugins, including the renowned Elementor editor and LearnPress. One-Click Demo Import, WPML, and Yoast SEO should not be forgotten either. Within EduVibe, you'll discover more than 50 meticulously crafted pages, boasting sleek, contemporary designs that are finely tuned for search engine optimization. Unlocking a world of possibilities, this template is capable of effectively presenting video lessons, quizzes, and a range of question formats.
One of the best online course WordPress themes has robust support and extensive documentation. Additional features like a responsive layout, compatibility across major browsers, and a sticky header, are also present. EduVibe includes well-documented code and a lifetime free update guarantee. Please note, however, that the Figma file and the Stripe payment integration for LearnPress are not included in the package. These need to be purchased separately if required.
3. Omexo
Name
Author
Price
Avg. Demo Speed Score
Omexo
ThemeMeta
$29
Mobile 42
Desktop 65
This platform is a one-stop solution for e-learning facilities, training hubs, and a myriad of other educational institutions. Crafted with finesse, it meets the diverse requirements of solo educators, schools, universities, and specialized organizations such as language, music, or driving schools. This entry on our list of the best online course WordPress themes is compatible with Elementor, facilitating effortless customization for website owners.
Fueled by the robust Tutor LMS, a remarkable educational WP plugin, Omexo comes with all the bells and whistles you'd expect from a top-tier learning website. It brings to the table a course management system, a quiz creator, and a host of administration tools — all under one roof. Modeled after the giants like Coursera, and Edx, Omexo fits the bill perfectly for anyone with an eye on constructing an all-encompassing educational hub.
The template comes packed with a plethora of functionalities to facilitate an optimal user experience. Beyond the drag-and-drop feature for course creation, quizzes, and forms, the theme provides a clean, modern design that is SEO-friendly. It also boasts compatibility with WooCommerce, cross-browser adaptability, and includes free Google fonts to enhance aesthetics. Everyone who purchases Omexo will enjoy free lifetime updates, ensuring that it remains relevant and up-to-date.
4. Facultic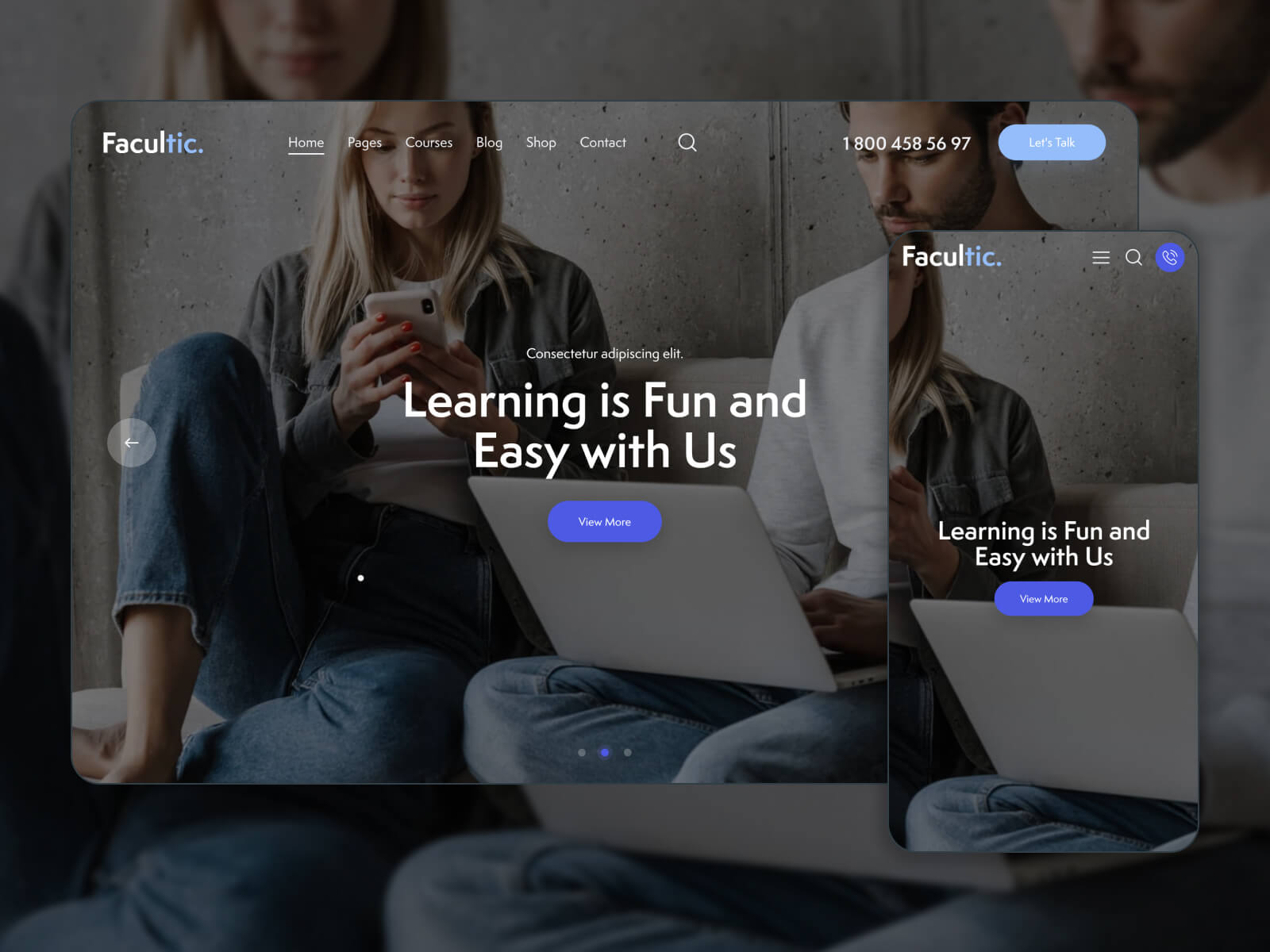 Name
Author
Price
Avg. Demo Speed Score
Facultic
AncoraThemes
$69
Mobile 40
Desktop 47
Meet a cutting-edge template designed to be the lifeblood of a plethora of educational establishments, from preschools to universities, and beyond. Facultic is fully compatible with LearnPress — a remarkable plugin for the creation and administration of e-learning materials. It furnishes tools like a course builder and sophisticated quizzes, as well as a robust system for the distribution of points, certificates, and badges, thereby enriching the educational process.
In the realm of digital design, the Facultic stands out, brimming with an abundance of features that simplify interaction and navigation. Its polished appearance, complemented by the convenience of a one-click demo import, is just the tip of the iceberg. The template brings to the table versatile customizability, guaranteeing compatibility across a broad spectrum of browsers. Paired with the advanced Slider Revolution, it provides a captivating showcase featuring customizable colors and typography.
One of the best online course WordPress themes includes a framework that allows settings inheritance and offers over 750 customizer options, custom post types, widget sets, shortcodes, and a theme options panel. It is compatible with several remarkable plugins such as ThemeREX Addons, Elegro Crypto Payment, MailChimp for WP,  HubSpot, and more. Detailed documentation and regular updates are also provided to ensure optimal performance and usability.
5. EduMall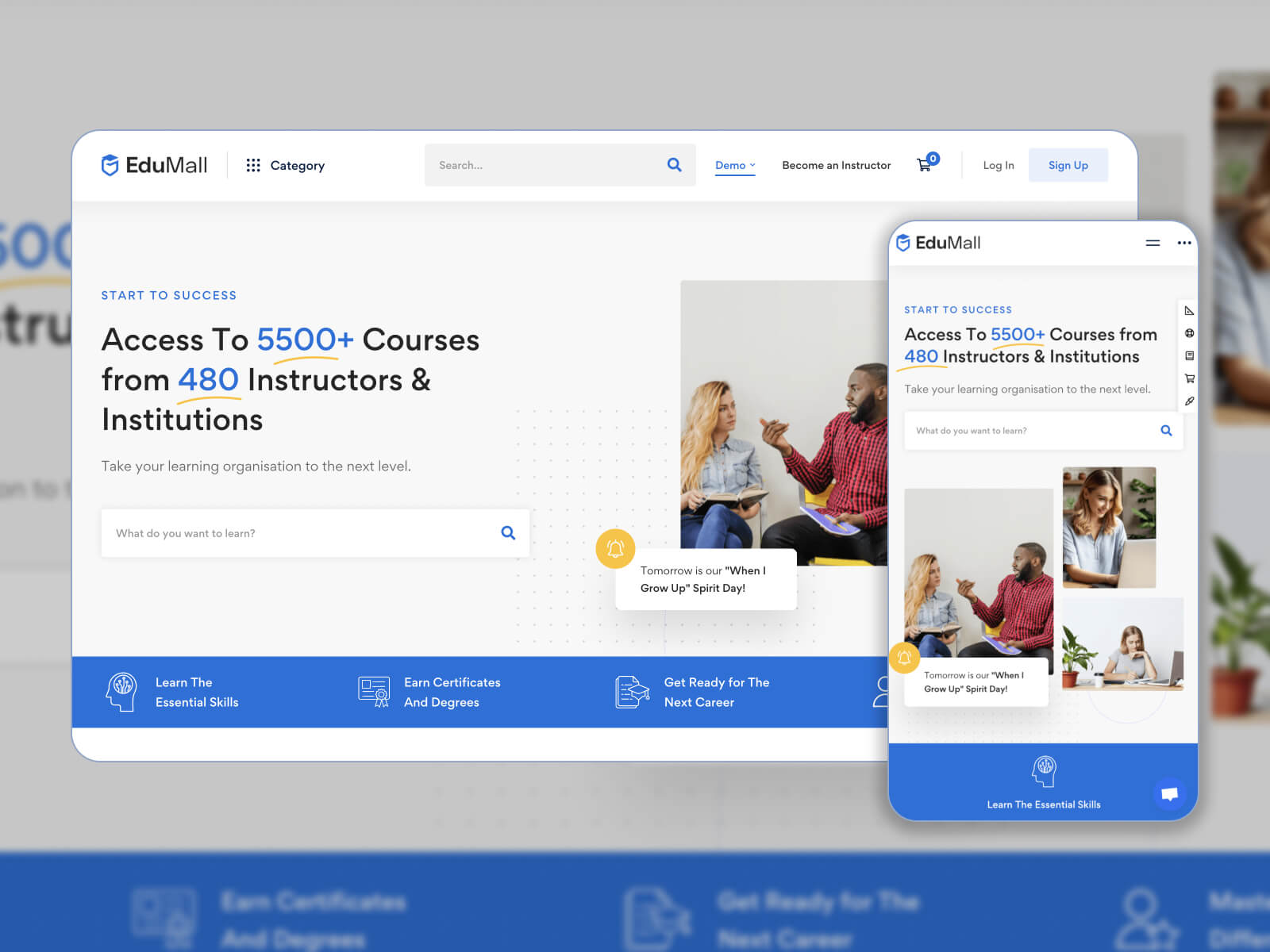 Name
Author
Price
Avg. Demo Speed Score
EduMall
ThemeMove
$69
Mobile 36
Desktop 57
Specially engineered to streamline the development of e-learning platforms, EduMall, a top-tier Elementor template, allows for the effortless crafting of education-focused websites reminiscent of industry leaders like Udemy, Coursera, or ADX. This theme is the perfect fit for those aiming to establish a professional e-learning platform, offline academy, educational hub, or something else. It provides a user-friendly interface for creating a stunning online presence using its drag-and-drop features and beautiful demos.
A multitude of functionalities, including a course management system, quiz creator, and sophisticated administrative tools, are seamlessly provided by the integration of Tutor LMS. Thus, for entrepreneurs desiring to construct an e-learning website, an array of pedagogical capabilities is made readily available. Furthermore, full visual command over your educational resource is facilitated by the inclusion of Elementor, making the customization of learning content a walk in the park.
EduMall includes Zoom Video Conference Integration, offering educational organizations the ability to enhance their online programs with high-quality video sessions. Advanced quiz settings provide 10 predefined question types and options to control quiz attempts, answering time, and set passing grades. The Frontend Course Builder allows users to create course content and add instructors. It also has a certificate generator, options for unlimited instructors, and powerful reports for tracking progress.
6. MaxCoach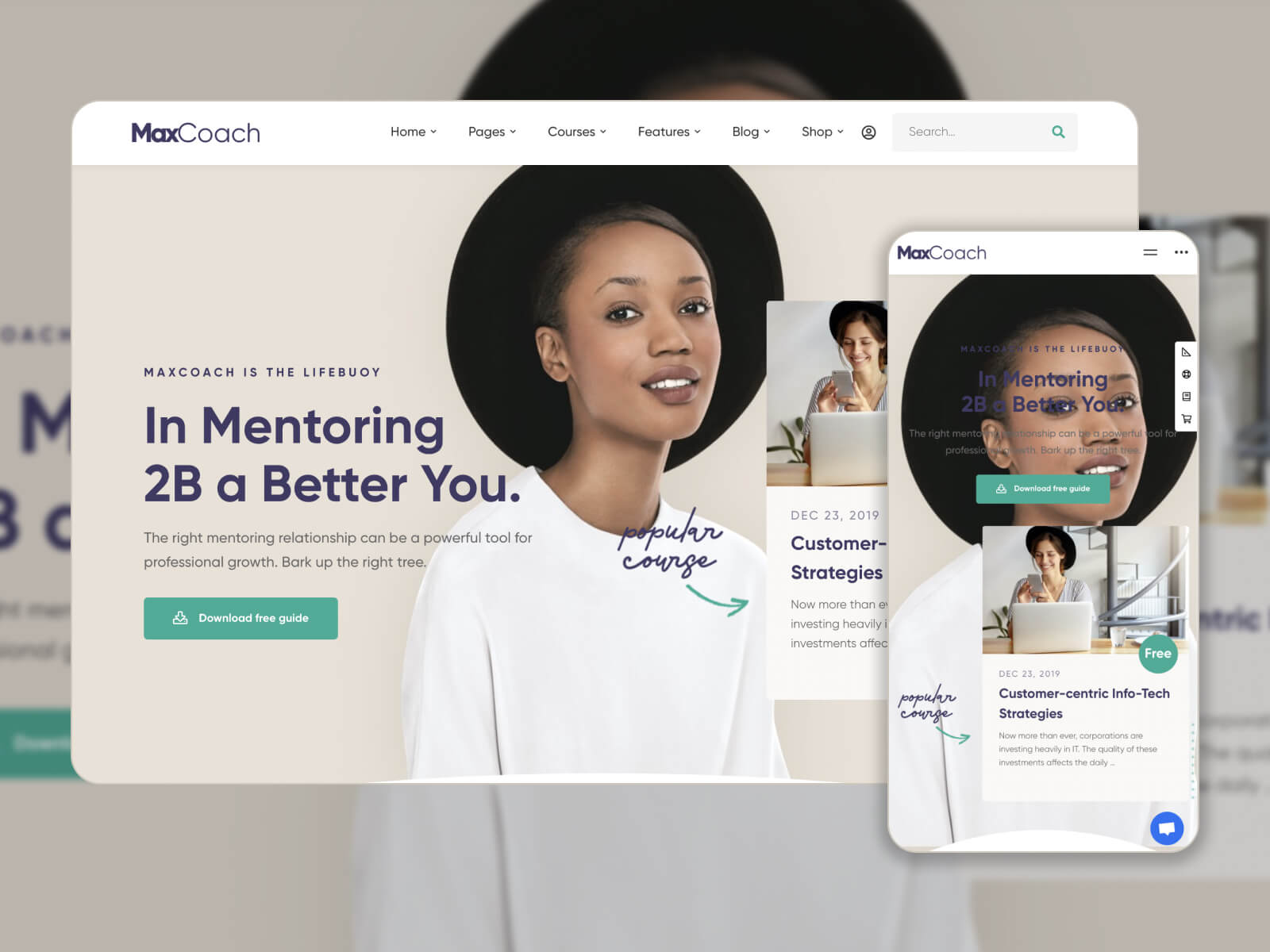 Name
Author
Price
Avg. Demo Speed Score
MaxCoach
ThemeMove
$69
Mobile 36
Desktop 66
Crafted with attention to user experience, MaxCoach stands as an exceptional template that facilitates the delivery of compelling lessons and efficient course management. It serves a myriad of online educational requirements, spanning from e-learning portals and virtual tutoring platforms, to distance education websites and private academies. Equipped with advanced page builders, MaxCoach provides a variety of preset layouts, alongside potent personalized widgets.
Amidst our roundup of the best online course WordPress themes, this particular entry shines with a truly learner-focused design. Beautiful icons and typography add an aesthetic appeal, complemented by the simplicity of a one-click data import feature. The strength of the LearnPress and the Elementor editor simplifies both the creation of detailed lesson content and the structuring of courses. Enhancing its appeal, the template is packed with an impressive assortment of more than 42 exclusively designed custom widgets.
The theme stands out by cleverly breaking down courses into manageable pieces, namely lessons, quizzes, and questions. This structure paves the way for a methodical process of curriculum building, incorporating a handy sidebar that delivers information in a clear-cut manner. Furthermore, the template provides robust functionality for user progress tracking, enabling students to not only monitor their study progress but also to set attainable goals and retrospectively assess their course and quiz records.
7. Learnify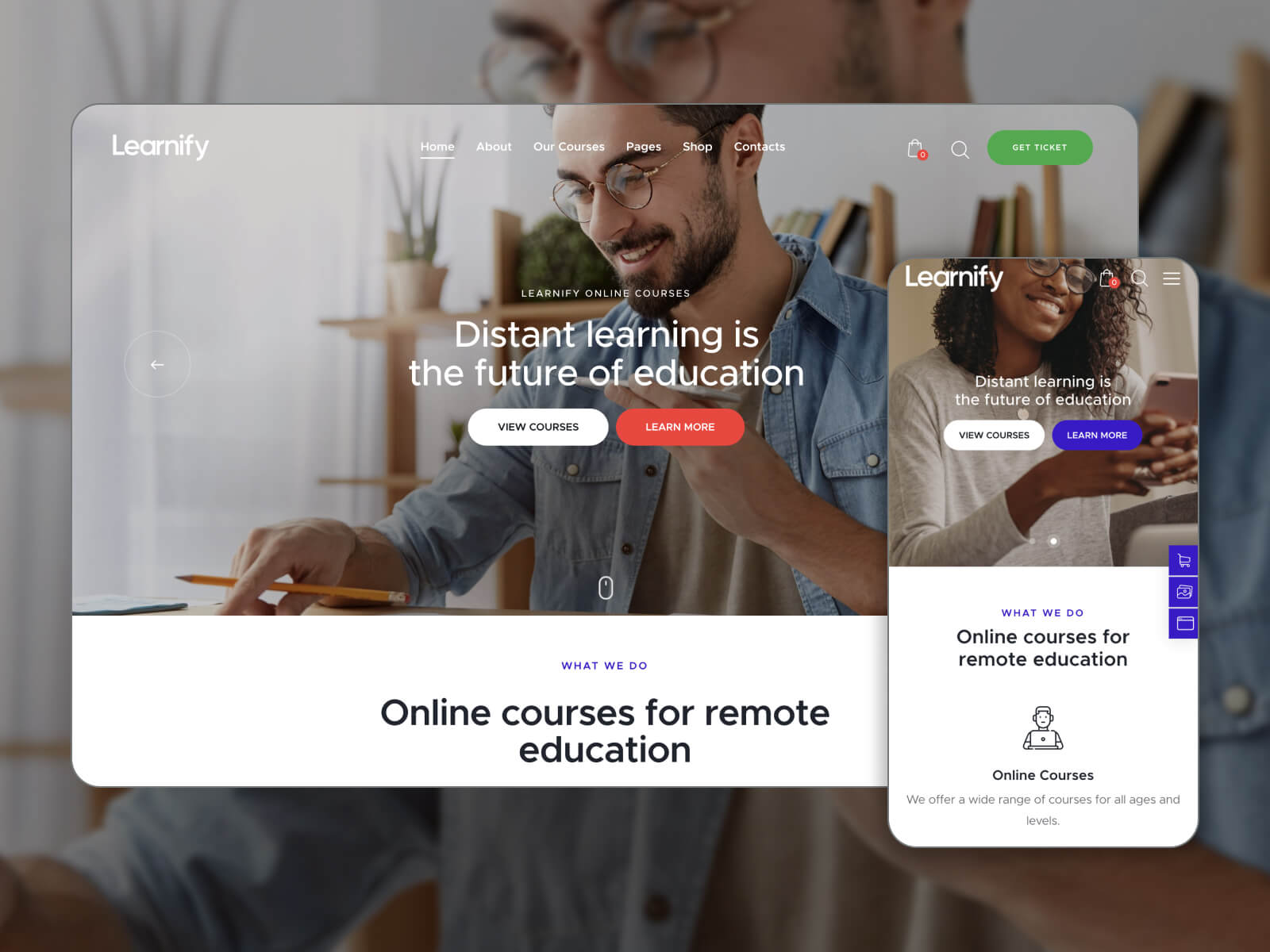 Name
Author
Price
Avg. Demo Speed Score
Learnify
AxiomThemes
$69
Mobile 21
Desktop 42
Seamlessly catering to a diverse range of educational establishments, ranging from preschools to sophisticated tertiary institutions, Learnify serves as an attractive and versatile template. It is equally suitable for online and offline education systems, encompassing not just traditional classroom-based learning, but also personalized tutoring, language training, and a myriad of courses and classes. Moreover, its adaptability extends to institutions that embrace informal learning.
One of the best online course WordPress themes works smoothly with LearnDash, although it's important to note that this plugin is not included with the purchase of the template. LearnDash paves the way for crafting and administering e-learning resources. It's loaded with a plethora of features, like a course builder, sophisticated quizzes, and precise timing options for lessons and schedules. It also permits the distribution of certificates and badges, thereby offering a comprehensive, engaging learning environment.
Learnify provides the tools to personalize and enhance your website to perfection. A slick professional design is accompanied by the convenience of a One-Click demo installation. Among the array of features, it boasts seamless compatibility with a wide range of plugins, like Elementor and Elegro Crypto Payment, to name a few. Additionally, the template seamlessly integrates with MailChimp and The Events Calendar, ensuring that it's well-equipped to meet diverse website needs.
8. Avarton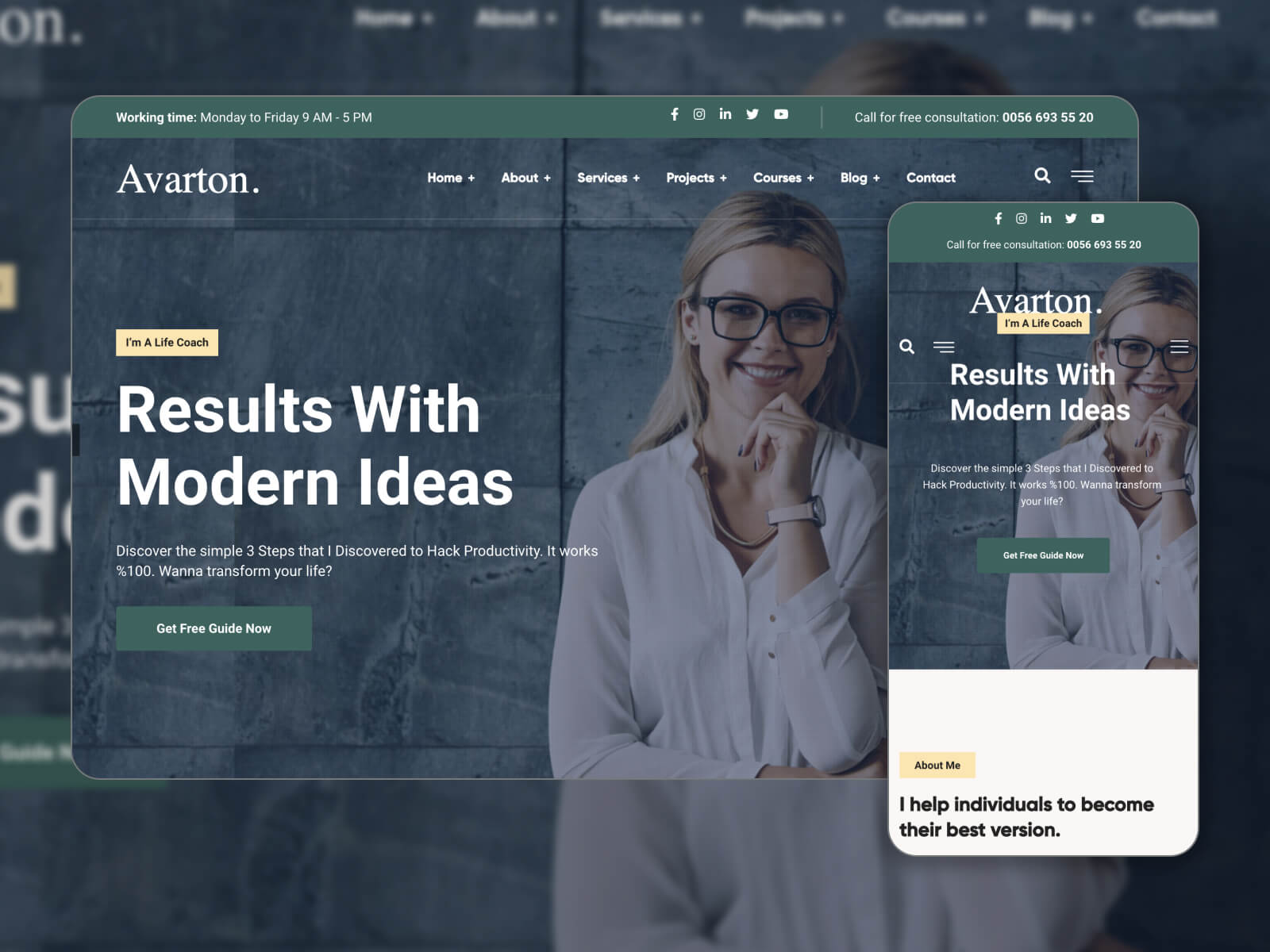 Name
Author
Price
Avg. Demo Speed Score
Avarton
ThemexRiver
$49
Mobile 35
Desktop 65
Specially tailored for a broad spectrum of coaching services, Avarton stands out as a distinctive template. It is versatile enough to cater to both generic realms like business and life coaching and also ventures into more specialized sectors such as relationship and dating coaching. The theme is constructed using Elementor, which offers easy customization with a variety of features and a robust admin panel. The goal is to assist business owners in creating an effective and appealing website.
Avarton comes loaded with a range of opportunities to enhance the website functionality, including a One-Click Demo install, WooCommerce readiness, and MailChimp. A potent tool in its arsenal, the Revolution Slider, enables the creation of striking sliders. Avarton is also meticulously designed to be SEO-friendly and optimized for high-resolution Retina displays. To further enhance its versatility and ensure worry-free updates, it thoughtfully includes a child theme.
This representative of our list of the best online course WordPress themes offers up to eight diverse home pages, lavishing users with a generous selection to resonate with their unique branding and aesthetic predilections. The template's versatility is enhanced by advanced typography options and the freedom to experiment with a limitless palette of colors. Highlighting a crisp and contemporary design, Avarton is underpinned by valid HTML5 and CSS3 and is constructed on the foundation of the most recent version of Bootstrap.
9. Scuola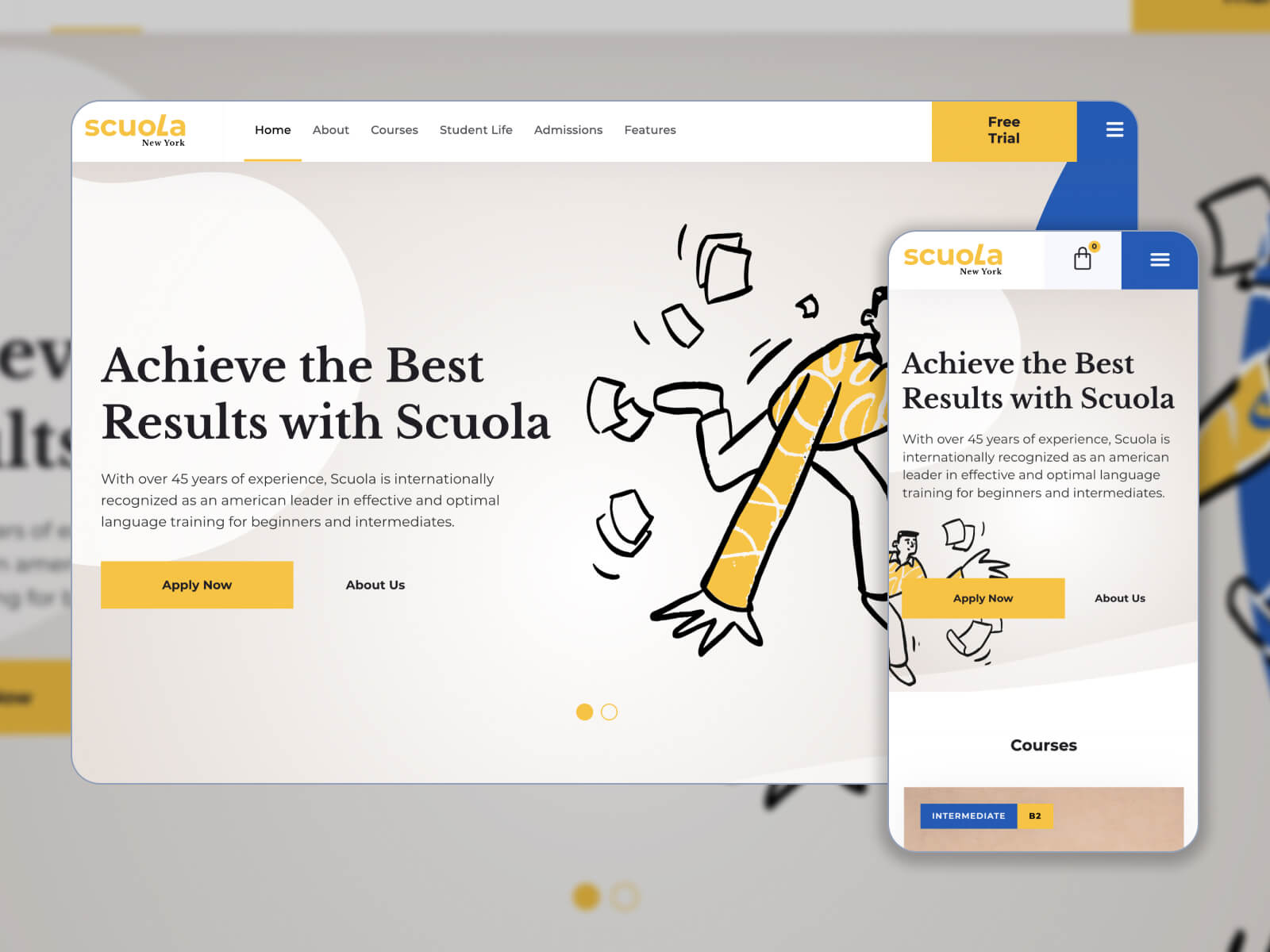 Name
Author
Price
Avg. Demo Speed Score
Scuola
Vamtam
$89
Mobile 33
Desktop 62
Crafted specifically for language schools, courses, and a variety of other educational platforms, Scuola represents an excellent Elementor template. It incorporates a comprehensive learning management system and allows course booking, along with payment functionalities, thereby simplifying the task of managing and generating revenue from educational content. Scuola caters equally to novices with no coding background and to seasoned developers who bring technical expertise to the table.
This theme provides significant value, including $290 worth of premium pictures from Getty Images for free. The visuals displayed on the demo website, included with the demo content, can be utilized for your projects without incurring additional licensing fees. The theme's code merely enhances Elementor and Elementor Pro widgets by introducing appealing styles and animations, thereby ensuring the template's long-term stability and security.
Scuola comes with an extensive setup guide, timely support with an average response time of 8 hours, and 23 HD WordPress video tutorials for beginners, ensuring business owners have all the resources necessary to use the theme effectively. It is also designed to minimize plugin clutter, requiring only Elementor, Elementor Pro, and WooCommerce. The Elementor Pro Global Styles Panel is used as a Theme Panel, providing full control over mobile and tablet versions of the site, including customized breakpoints.
10. Educavo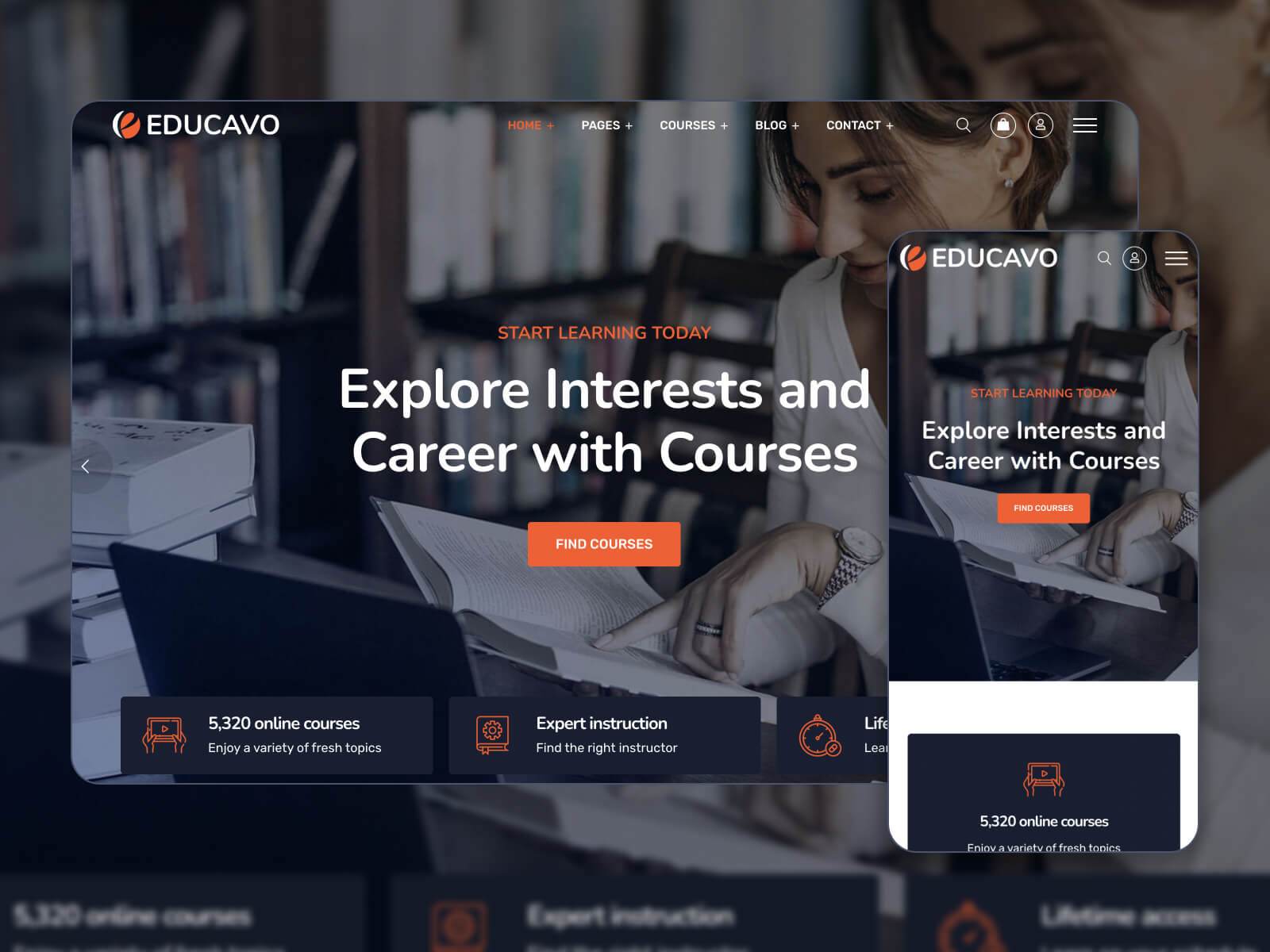 Name
Author
Price
Avg. Demo Speed Score
Educavo
Rs-Theme
$49
Mobile 39
Desktop 76
Fashionably crafted, Educavo serves as an ideal template for an extensive range of educational entities and platforms. From colleges to schools, training centers, and e-learning platforms — it accommodates them all. The theme arrives with 14 pre-constructed, top-tier home pages and an impressive suite of 85 integrated inner pages, featuring course pages, teacher profiles, and a diverse assortment of blog layouts.
Boasting rich compatibility with a wide array of renowned plugins, Educavo stands out as one of the best online course WordPress themes. Essential tools like LearnPress, LearnDash, and Tutor LMS are easily supported, with demos included for each. The template also offers Right-to-Left language support and is ready for WPML translation. Importantly, Educavo offers a one-click demo import feature, making it simple for business owners to get started with their websites.
Revolution Slider, included in the package, grants business proprietors the opportunity to craft compelling sliders with animated effects. Backed by comprehensive documentation and clean coding, Educavo ensures accessibility for easy customization. Further enhancing its allure, the template presents an extensive spectrum of color choices, along with a generous selection of over 120 add-on elements.
Conclusion
We've collected the list of the best online course WordPress themes. Each of the offered alternatives is geared towards the educational niche, empowering entrepreneurs with the freedom to build and strengthen their online presence. The key takeaways are as follows:
Many of the listed options focus on appointment reservations, online course management, and tracking students' progress, which are essential features for any online learning platform.
Each template is compatible with many popular learning management systems, along with Elementor and other popular plugins, providing features like course creation, quizzes, payments, easy customization of various pages, and more.
Several of the highlighted alternatives emphasize adaptability and inclusivity, catering to a wide spectrum of educational requirements — from traditional classroom-based learning to e-learning platforms and personalized tutoring. This flexibility enables educational institutions and individual educators to choose a theme that closely aligns with the specific teaching style and learning needs of their students.
All of the themes are designed with SEO in mind, ensuring that the online courses or educational platforms rank well in search engine results, thus attracting more potential learners.
Here are the three most notable entries on our list:
Disclosure: this article may contain affiliate links for third-party products. If you click a link and later make a purchase, we may earn an affiliate commission that doesn't result in additional charges to you.
FAQ
Which WordPress theme is best for an educational website?
Settling on the optimal template hinges significantly on the distinct niche of your digital platform. Yet, there are a handful of templates such as Edme, EduVibe, Facultic, and EduMall that stand out in their own right.
Crafted with an eye for learning-oriented projects, these themes offer a lot of features, ranging from scheduling appointments and managing courses to seamless compatibility with the most popular plugins. This blend of features makes them a smart choice for anyone seeking to organize their e-learning platform.

Is WordPress good for online courses?
Yes, WP serves as an ideal platform for initiating online courses. The flexibility it offers is truly remarkable, accompanied by a wide range of themes and plugins tailor-made for online learning. These tools streamline the creation of educational content, simplify payment handling, and can ensure an uninterrupted learning experience for your customers.

Which themes are best in WordPress?
The best template for your WP site depends on your specific needs and the nature of your online resource. However, for educational or e-learning projects, themes like Omexo, MaxCoach, and Avarton are highly recommended due to their robust features and customization options.

Where can I learn WordPress theme development?
There are many resources available that can help you gain proficiency in template development. WP Codex, the official section of WordPress.org provides extensive documentation on the most popular CMS in the world. And, among all other data, information related to theme development is also offered.
Other possibly useful resources are various online courses from platforms like Udemy, Coursera, or Codecademy. You could also consider reading WP-related books or attending local WordPress Meetups or WordCamps.