TOP 25 WordPress Appointment Booking Plugins (Most are Free)
Are you looking for the free best appointment WordPress plugins on the official wordpress.org resource? We are here to help you choose the best WordPress scheduler plugin for hourly appointments out of free options and a few premium alternatives.
Such WordPress appointment plugins are essential for service-based businesses, both solopreneurs and companies with multiple employees.
The best WordPress appointment scheduler plugins serve the next common niches:
Education (schools, colleges, tutoring centers).
Coaching & psychology.
Medicine (hospitals, clinics, dental offices).
Beauty & Wellness (spa centers, beauty studios).
Sports (gyms, dance studios, individual coaching).
Equipment rental.
As for the prices for the WordPress schedule plugin alternatives, you might notice several pricing modes:
Free WP schedule plugins usually provide a limited range of tools, such as just one schedule or a limited number of bookings
Premium plugins usually give you all the needed tools, but the differences might lay in the provision of addons, e.g. some key tools might be sold separately as addons, so make sure to check this out too if the cost is of concern. Premium WordPress schedule plugins usually show you the full potential of their features.
As for the types of WP plugins for schedule, there are a few based on how they function, so the functionality difference might be in events, appointments, and rental scheduler WordPress plugins.
To save you some reading time, we have put together free and premium solutions that, in our point of view, win in today's competition. Click on the link to jump to the desired WordPress booking plugin right away!
How to Identify a Good WordPress Scheduling Plugin?
Oftentimes, free booking systems are inferior in functionality to premium analogs. Even if it's the best free appointment scheduling plugin for WordPress, it might lack convenient features like payment or have limitations on the number of employees, services, etc.
On the other hand, not everybody needs a payment feature or the ability to support large teams of specialists. So any free WordPress appointment plugin can be good or not, and it all depends on your personal needs.
But some parameters identify free reservation software as a good one:
Fully-responsive UI (for mobile booking).
Built-in booking calendar WP view.
Regular updates (every 1-3 month/s).
Detailed documentation.
Available on wordpress.org.
Discover TOP Premium Appointment Booking Plugins WordPress Offers
Now, we'll help you find the best appointment scheduling plugin for WordPress, which you can easily integrate into any service-based business.
1. Appointment Booking – WordPress Booking Plugin with SMS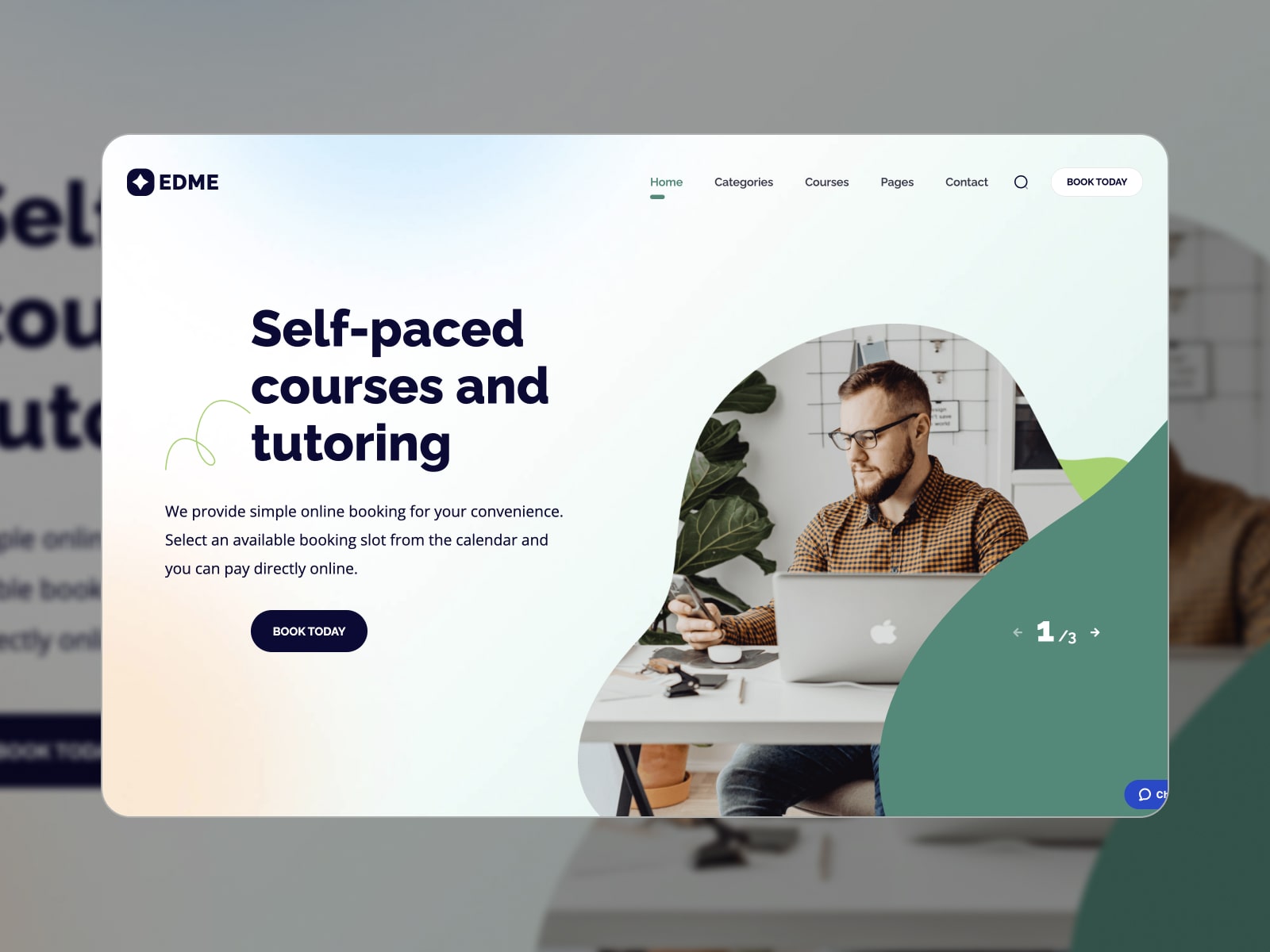 Name
Sales
Pricing
Update Frequency
Turnkey Themes
MotoPress Appointment Booking
1,000+
One site – $59/year
Unlimited Sites – $199.00
Monthly
CoachZee
Restline
Touriny
You don't want to give this solution a miss if you need something with a clear strive for simplicity and flexibility. The WordPress scheduling plugin by MotoPress provides you with a range of essential tools for selling time if you are in the beauty, coaching, tutoring, or other service industry.
Since it's capable of running for unlimited locations, employees and services, you have no constraints as to the scale of your business, be it a chain of departments or just an individual practice.
The rather affordable price of this WP schedule plugin includes online payments via PayPal and Stripe, as well as after arrival payments or wire transfers in advance.
The online mobile-friendly appointment scheduling widget is super intuitive for clients and is deeply customizable – you can hide fields or change field labels, play with pricing based on the number of people and more. Setting up the plugin is not taxing at all – you just need to add your content and then add it as a booking widget to any site page.
The reservation WordPress plugin provides native widgets for the top WordPress builders, such as for Elementor and the block editor, which means it'll satisfy the need for intuitive editing of a bigger number of themes and customers.
Some of the Plugin's Key Features are:
Custom time slots.
Buffer time before & after each appointment.
PayPal, Stripe, turn on Direct Bank Transfer, or allow clients to choose to pay on-site.
Group bookings.
Appointment reminders & notifications.
Elementor, Divi & Gutenberg support.
Customer accounts.
Discount coupons.
Send SMS reminders using a dedicated Twilio addon-on.
Explore how the SMS addon works:
The plugin looks awesome on the backend. You can take a quick view of current bookings, and edit other information in a visual mode. The booking calendar stores data about the service, and employee, and displays its status (confirmed/pending). You can confirm bookings manually or set the automation confirmation mode.
Each of your team members can have access to their profiles and schedules. They can edit their schedule individually: set time for lunch & breaks, including days off and vacations, etc.
More Details Free Version Free Trial

2. Booknetic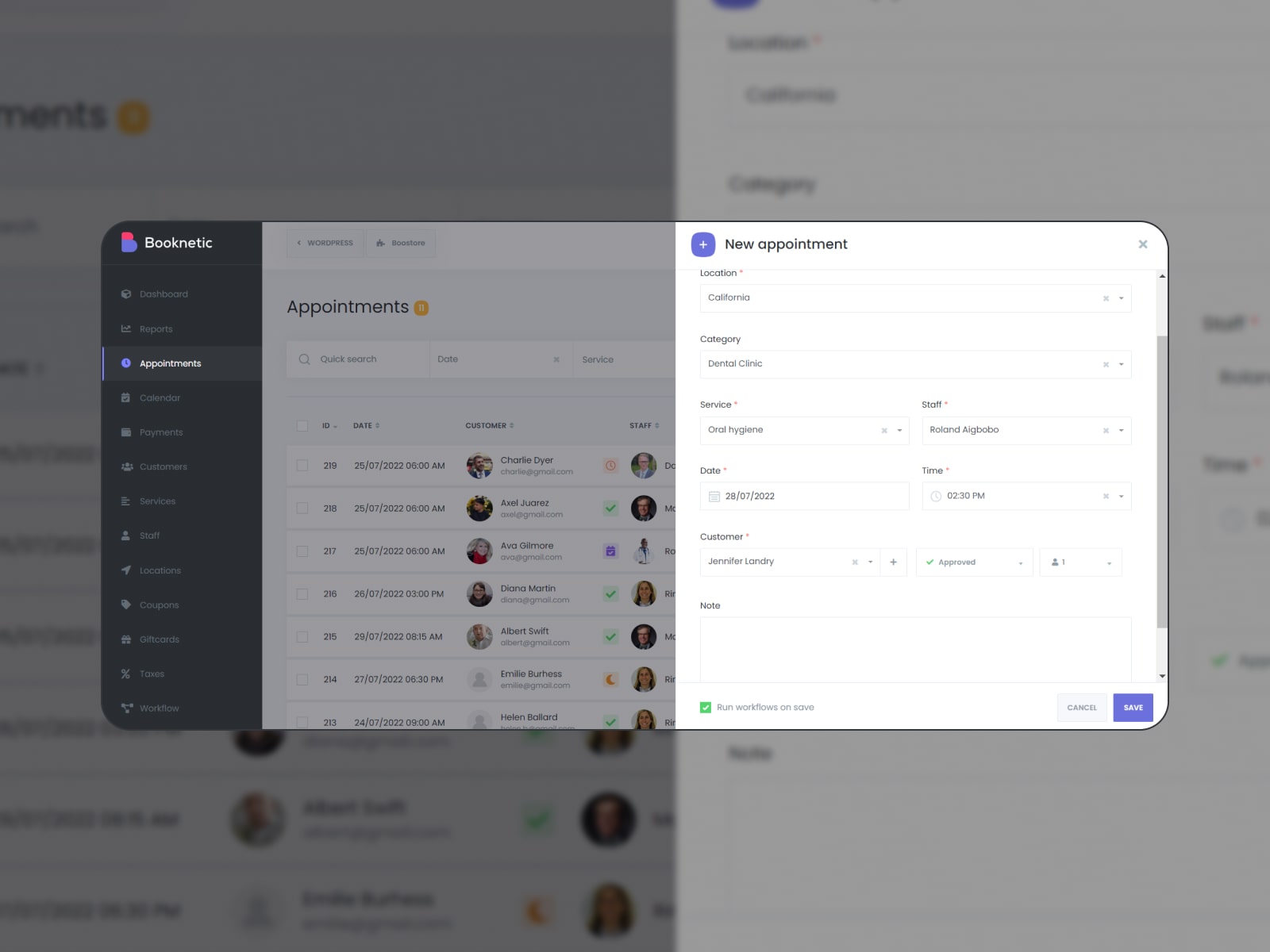 | Name | Sales | Pricing | Update Frequency | Turnkey Themes |
| --- | --- | --- | --- | --- |
| Booknetic | 8,000+ | $79 once | Monthly | N/A |
Booknetic is another awesome WordPress booking plugin with payment, which is relatively new on the market but it's surely gaining traction. The pack of features that comes with this plugin is quite standard, but the plugin differs by an ultra-modern design, which is perfect for mobile bookings in the first place. It also supports multiple locations, services, staff members, and categories.
It's capable of centralizing all the data in one place; it also supports SMS and email reminders, PayPal, Stripe, WooCommerce, and Google Calendar integration.
The design is fully customizable letting you reach an awesome brand look with any WordPress theme. The plugin so far has five out of 5 stars based on 9 ratings. And yes, it's very affordable among other appointment plugins WordPress has to offer.
Key features:
Multiple integrations: Amazon SNS, Mailchimp, Telegram, Razorpay and more.
Numerous addons for adding specific features (taxes, coupons, invoices, SMS, etc.).
Support for group and recurring appointments.
Gift cards.
Reminders.
Booking form builder, plus multiple widget appearance customization tools.
Customer accounts.
3. Booked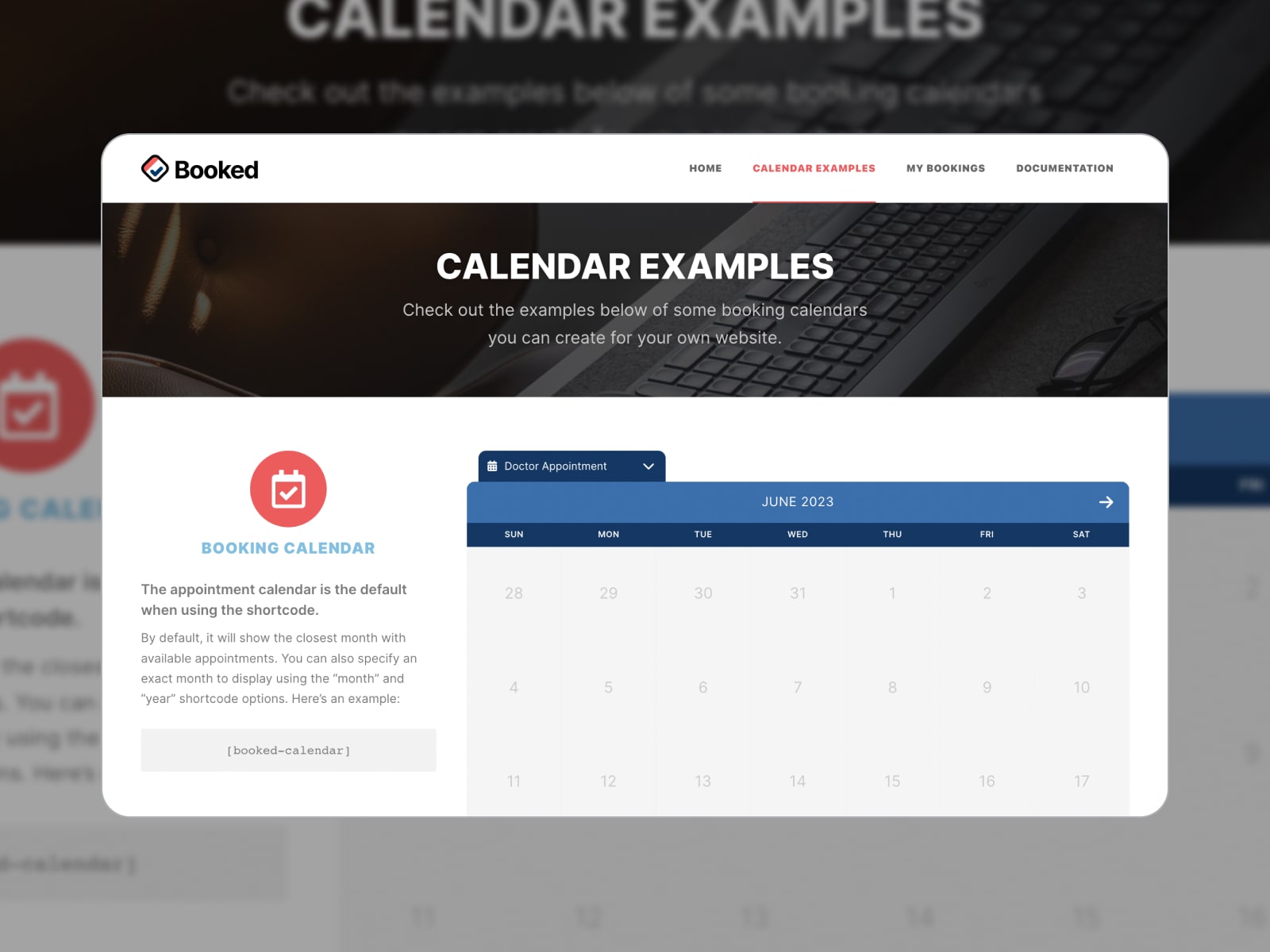 Booked has been around for a long time and has gained the reputation of a high-quality WordPress appointment booking plugin. It's suitable for almost all types of businesses that need to accept bookings online, including coaches, beauty salons, doctors, and more.
It comes with the frontend booking calendar (created for each service and placed anywhere on your site), wherein people can place a booking in a few steps. The calendar booking WordPress plugin comes with familiar to all modern users functionality, flawless reservation experience, and numerous helping tools.
Clients are able to manage their appointments in their own (customizable) accounts which means there is a great chance to retain customers simply thanks to a user-friendly online solution! Online payments with this WordPress bookings calendar plugin can be set via WooCommerce.
The scheduling WordPress plugin will surely work for a small or midsize appointment booking business, with all the critical business tools and without bells and whistles. It's the right choice for those who want to implement quick and simple bookings.
For example, we chose this plugin to accompany the Entrepreneur Appointment Booking WordPress theme. For one thing, because the plugin is very lightweight, has a clean code and offers all the range of tools for both employees and clients.
Key features:
Fully customizable booking widget with the ability to add custom fields.
Fast and easy checkout even for non-registered users.
Accounts for employees.
Powerful admin bookings calendar.
Customer profiles for managing bookings.
Automated email notifications.
4. Salon Booking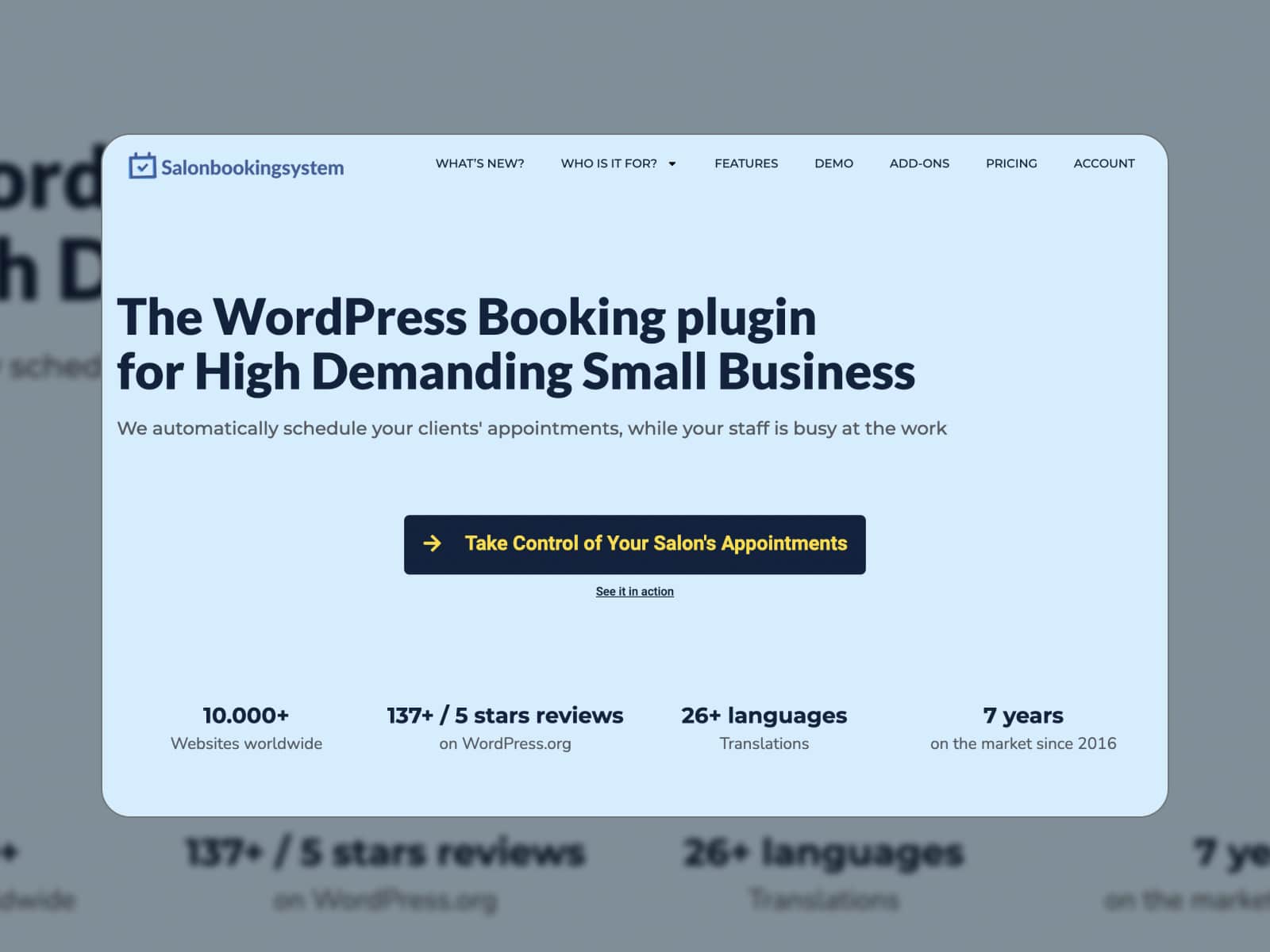 | Name | Sales | Pricing | Update Frequency | Turnkey Themes |
| --- | --- | --- | --- | --- |
| Salon Booking | 12,000+ | $69 once | Monthly | N/A |
The given appointment booking WordPress plugin from an Italian developer has all the industry-standard features you need to build a self-sustainable appointment business.
It seems that this reservation plugin WordPress is dropping behind a little just because it's advertised as a very niche-specific solution (salon booking) but people usually type in "appointment plugin WordPress" when they need to find something like Salon Booking. However, its functionality seems to be of high quality and diversity meaning it fits all business industries – from beauty salons & hairdressers to home-service appointments, tutors, etc.
The plugin suits both small establishments with several service providers and enterprise-grade multi-salon chains, where the latter can have their setting with a separate manager and assistants. Of course, multi-location is available to support this feature.
This WordPress booking plugin with payment offers PayPal and Stripe built-in, but you'll need to pay for other payment gateway extensions. The Google Calendar hook-up and SMS notifications are available.
I think the most prominent benefit of such best WordPress appointment scheduler plugin is that it doesn't charge for every feature, almost all essentials for an appointment plugin WordPress is available in the core functionality.
It comes with numerous translations so it's going to be easier to adapt the plugin to your needs despite your location.
Key features:
Google Calendar sync and SMS notifications.
Fully-featured backend calendar for bookings.
Multiple advanced booking rules to run bookings the way you want.
Advanced service customization.
PayPal, Stripe, Pay on site.
Advanced discounting system.
Booking reports.
Support for multiple languages.
5. Amelia PRO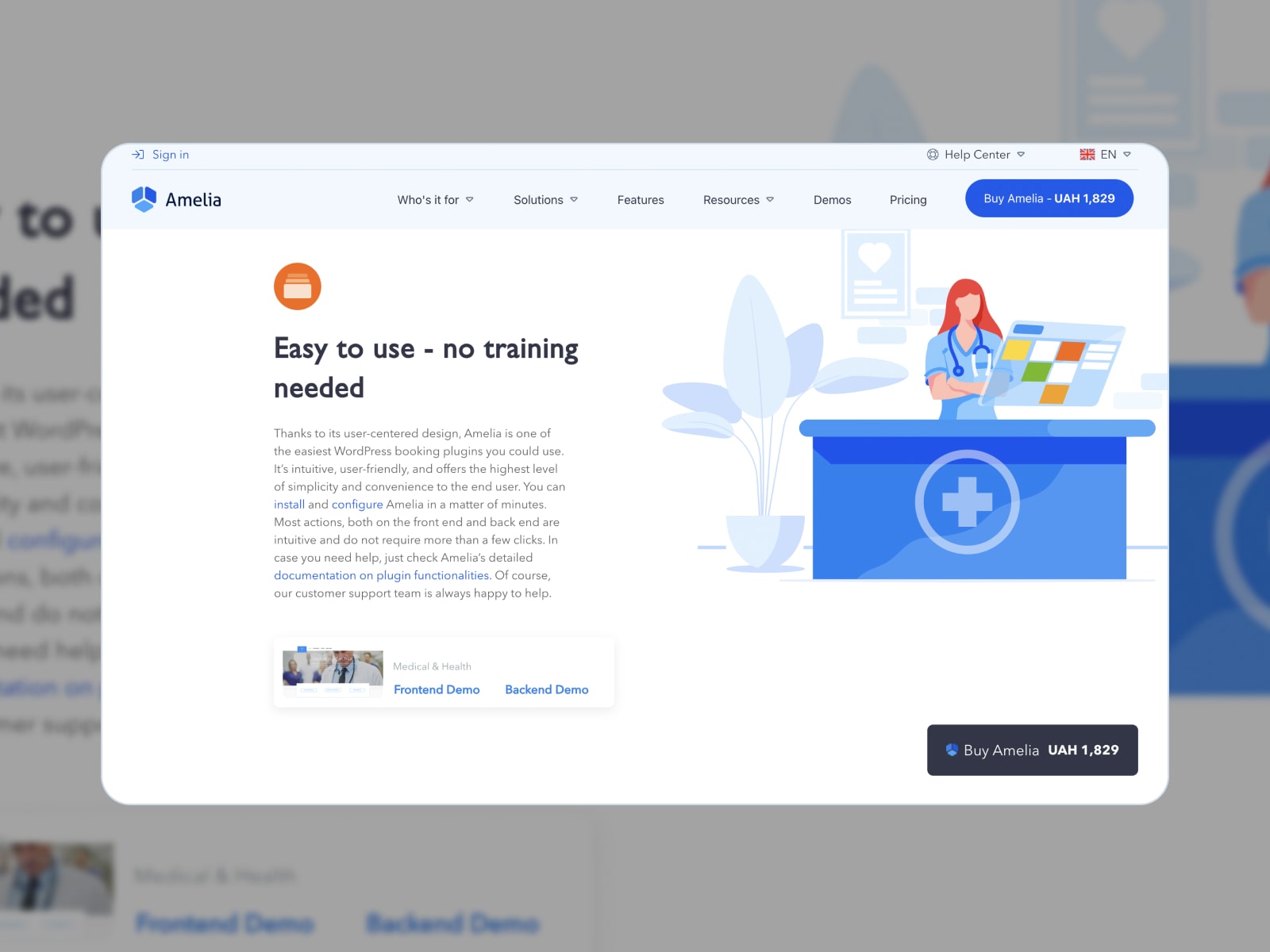 Compared to other WordPress plugin book standbys, Amelia is a relatively new WordPress booking calendar plugin, but it's getting more and more popular for time-based businesses that need a booking solution. I can't think of any major appointment scheduling needs that it will not cover. Amelia is perfectly suitable to deal with unlimited services, employees (with individual working hours), and locations. Its main benefit is that it takes equal care of each part of a circle: clients, employees, and the admin, giving them numerous tools.
Employees may have their own accounts and manage their bookings by themselves (the appointments WordPress plugin supports SMS notifications and the ability to sync appointments with employees' Google calendars). So the scheduled plugin is perfect for a multi-chain appointment business that needs a comprehensive website.
Clients will be able to access their appointments via a front-end customer panel. PayPal and Stripe are available by default; for more, WooCommerce integration is available. Now you see why they're positioning themselves as "enterprise-level", right?
Many WordPress plugin reviewers and Amelia users have come to an agreement that this WordPress appointment scheduler plugin is foremost perfect in terms of design and usability. That means both site admins and clients are guaranteed a flawless booking experience. Unless you need something very region-specific, Amelia is a perfect WordPress calendar booking plugin at the functionality and design aspects.
The price of Amelia might scare budget-minded people away from it. However, on closer inspection, you'll notice that there are no pricey addons like in the rest of the competitors, which makes Amelia more affordable for many serious businesses.
Key features:
Recurring appointments.
Multiple native integrations: Zoom, Google Calendar, WooCommerce.
Tools to analyze your business performance.
Flexible schedule planning.
PayPal and Stripe for online payments.
Multiple services, categories, employees and clients.
6. BookingPress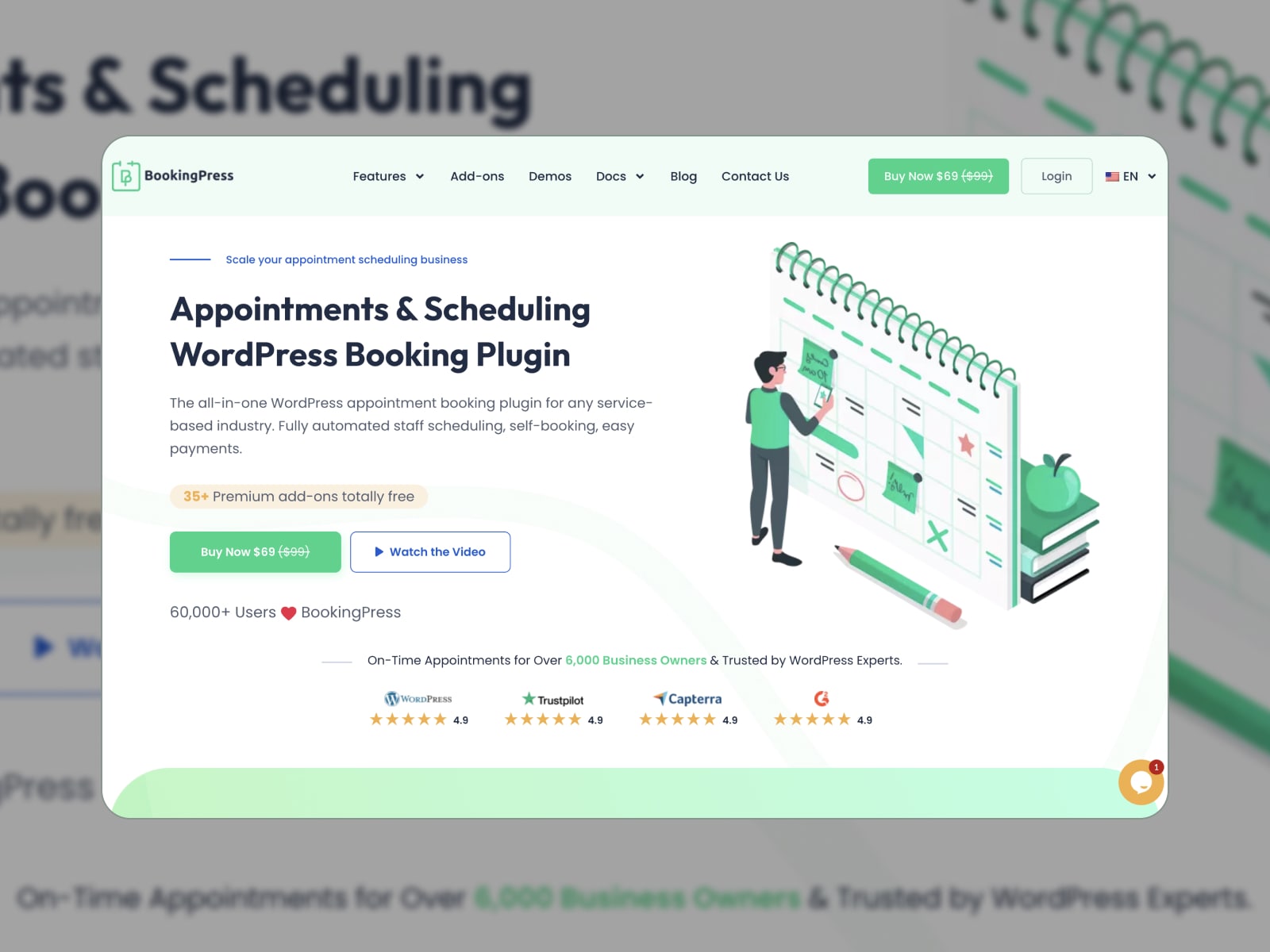 | Name | Sales | Pricing | Update Frequency | Turnkey Themes |
| --- | --- | --- | --- | --- |
| BookingPress | 6,000+ | $69 per year | Monthly | No |
BookingPress is a booking plugin distributed under the freemium model, which means you can use either its free or premium (paid) version depending on your needs. It delivers a handy toolkit for reservation system covers scheduling events, appointment reservations, and services management.
The plugin comes with a handy backend calendar view, which provides full control over all appointments and their statuses.
To add the Booking Wizard to your website, copy and paste the shortcode into an existing post or page, or add dedicated blocks via popular page builders. This plugin ships with a sleek design you can customize when it comes to colors, font sizes, layouts and more details.
One of the most loved features of this plugin is that it offers 15 payment gateways you can use without needing to use other extensions or paying extra.
Key features:
Automatic notifications and reminders, including via WhatsApp and SMS.
Sync bookings to Google calendar.
Built-in bookings and revenue analysis.
Coupon codes, invoice PDFs, tax charges.
Sell extra services along with the main ones.
Waiting list.
7. Calendarista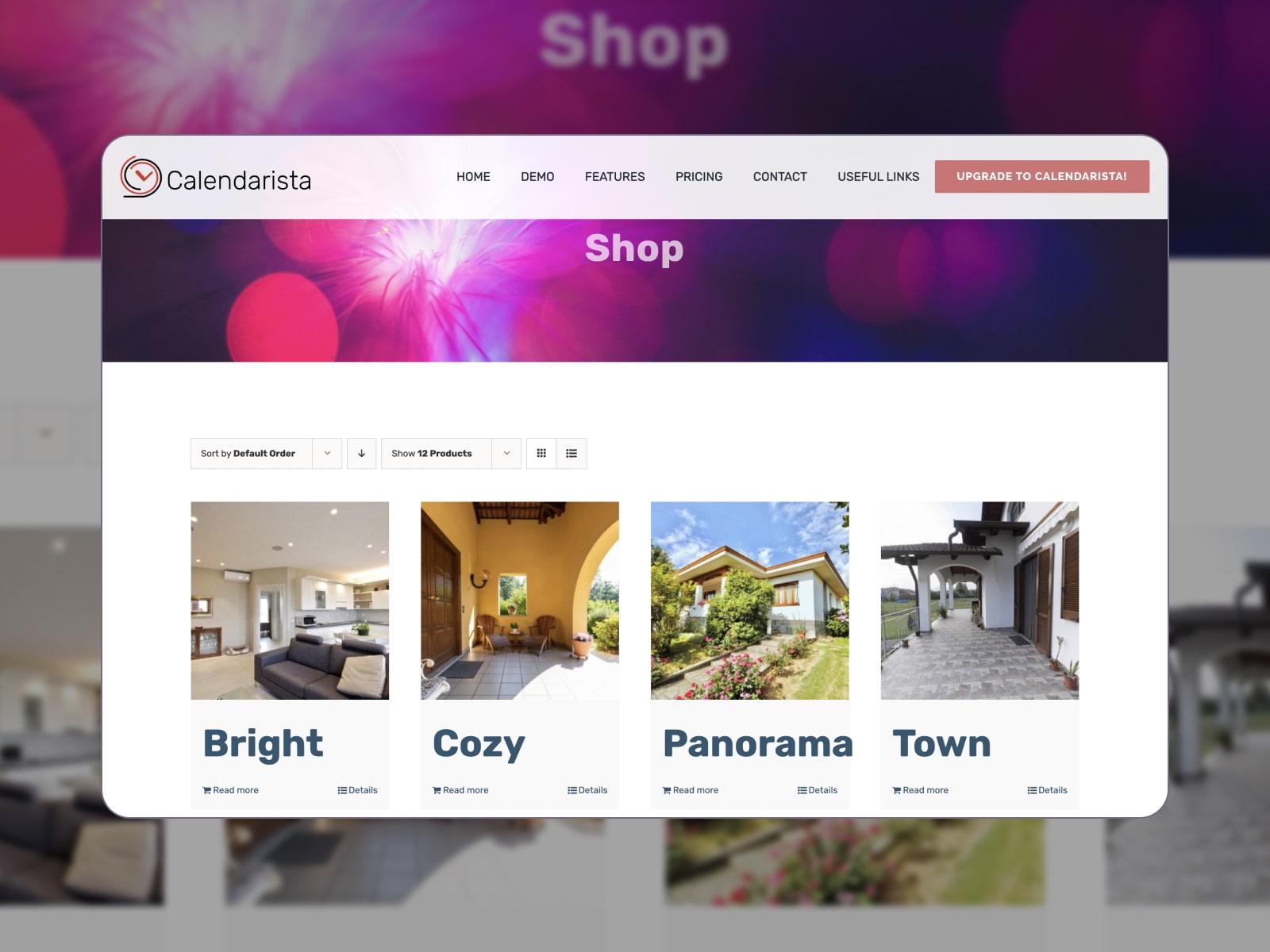 | Name | Sales | Pricing | Update Frequency | Turnkey Themes |
| --- | --- | --- | --- | --- |
| Calendarista | 1,600+ | $89 once | Monthly | N/A |
Calendarista is a quite comprehensive appointment plugin WordPress users choose because of the number of features available in the core system.
It handles everything from unlimited bookable services and staff members to group booking, holiday pricing, and payment gateways (including PayPal, Stripe, 2Checkout, and WooCommerce integration for more).
As you see, this scheduling plugin WordPress provides many tools that are very often sold as extra extensions. The Calendarista appointment scheduling plugin for WordPress offers 20 booking modes, including a single day, single day and time, single day with a time range, booking a round trip, and more.
It looks like so far they don't provide SMS notifications like in some other appointment plugins WordPress offers, but automated email notifications are integrated.
Backend design of this WordPress rental booking plugin is neat, you may quickly and intuitively set up the system from A to Z; the frontend design is also very modern and slick, your clients should definitely enjoy it.
Key features:
Integrations: Zapier, iCal, Google Calendar, Apple Calendar, and more.
The ability to add custom bookings fields.
Stripe, PayPal, and WooCommerce integrations.
Support for the seats availability.
Support for WPML and Polylang to translate the plugin texts to other languages.
Support for discount coupons and deposits.
Fully customizable employee schedule (holidays, days off).
8. Bookly PRO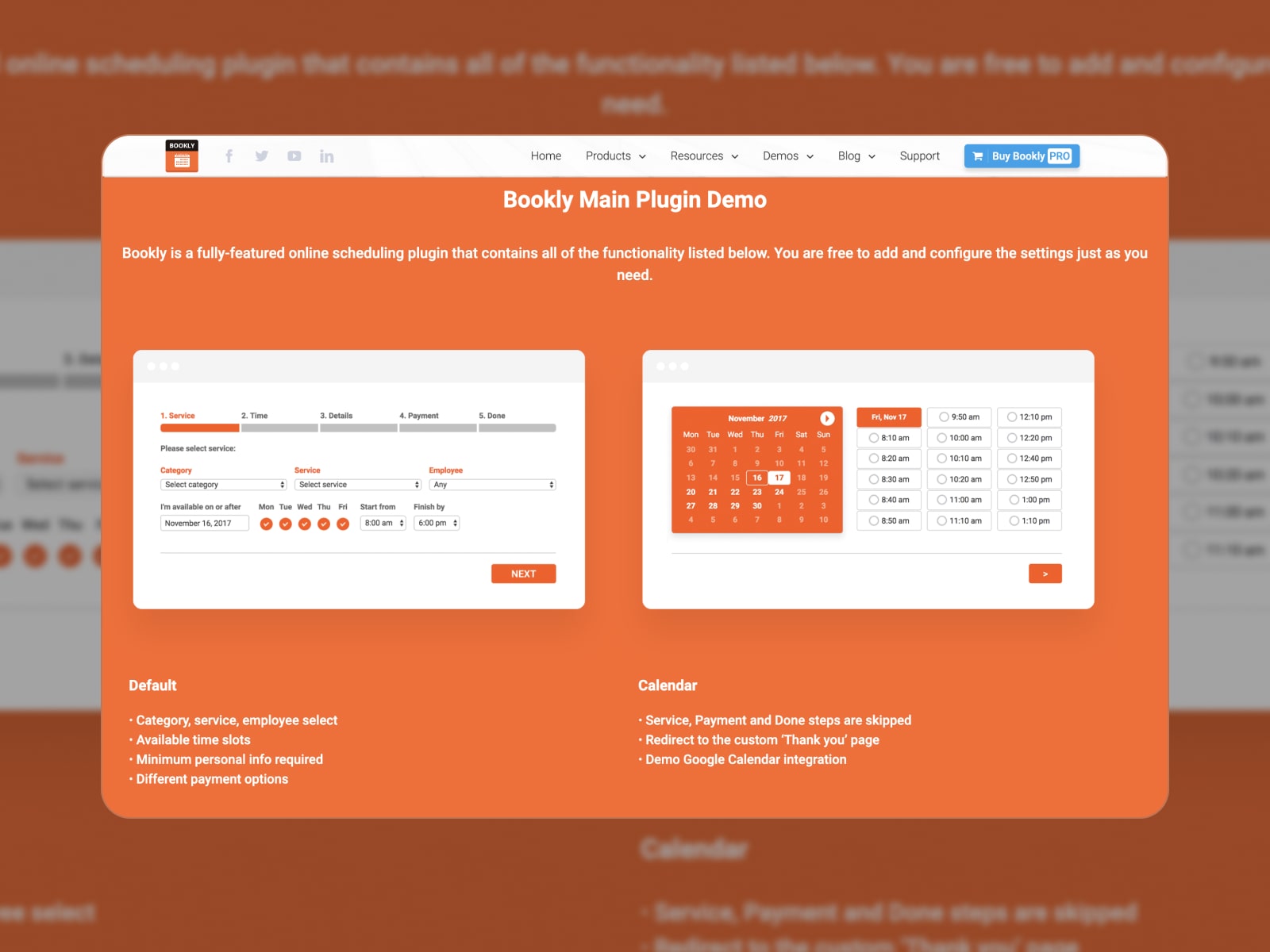 When they say they are the #1 appointment booking plugin, they mean it. Almost 50K sales? That's unbeatable. It's definitely popular with customers who need the same tool as you do.
The plugin has been around for a long time so they definitely know their business and how to cover the maximum number of scenarios, new updates being rolled out throughout the years. This WP booking system is widely used by WordPress developers as well as appointment and scheduling business owners, ease of use and design quality being one of the top highly-rated criteria.
As for details, the list can get really long. It surpasses others in terms of the clean and neat frontend and backend design, supports unlimited services and staff members, adds SMS and email notifications, and more. It's deeply flexible for setting up booking slots and creating individual calendars and working hours for members; Google calendars can be linked.
It's easy to connect online payment processing with available add-ons (extra cost) or WooCommerce; cash on delivery is also available. On the cons side, the list of premium extensions (you need to pay for a piece of dedicated functionality) is really long, so if you, for example, need group booking, a staff member online cabinet, include taxes into the service price, etc., you'll need to purchase extras (it's quite often works the same in other appointment plugins WordPress hosts).
Key features:
Unlimited staff members, schedules, and services.
Zoom, Google Meet, Zapier, and Google Calendar integrations.
Email and SMS notification templates.
12 languages included.
Support for WooCommerce.
Multiple addons you can test in a sandbox.
9. BirchPress Scheduler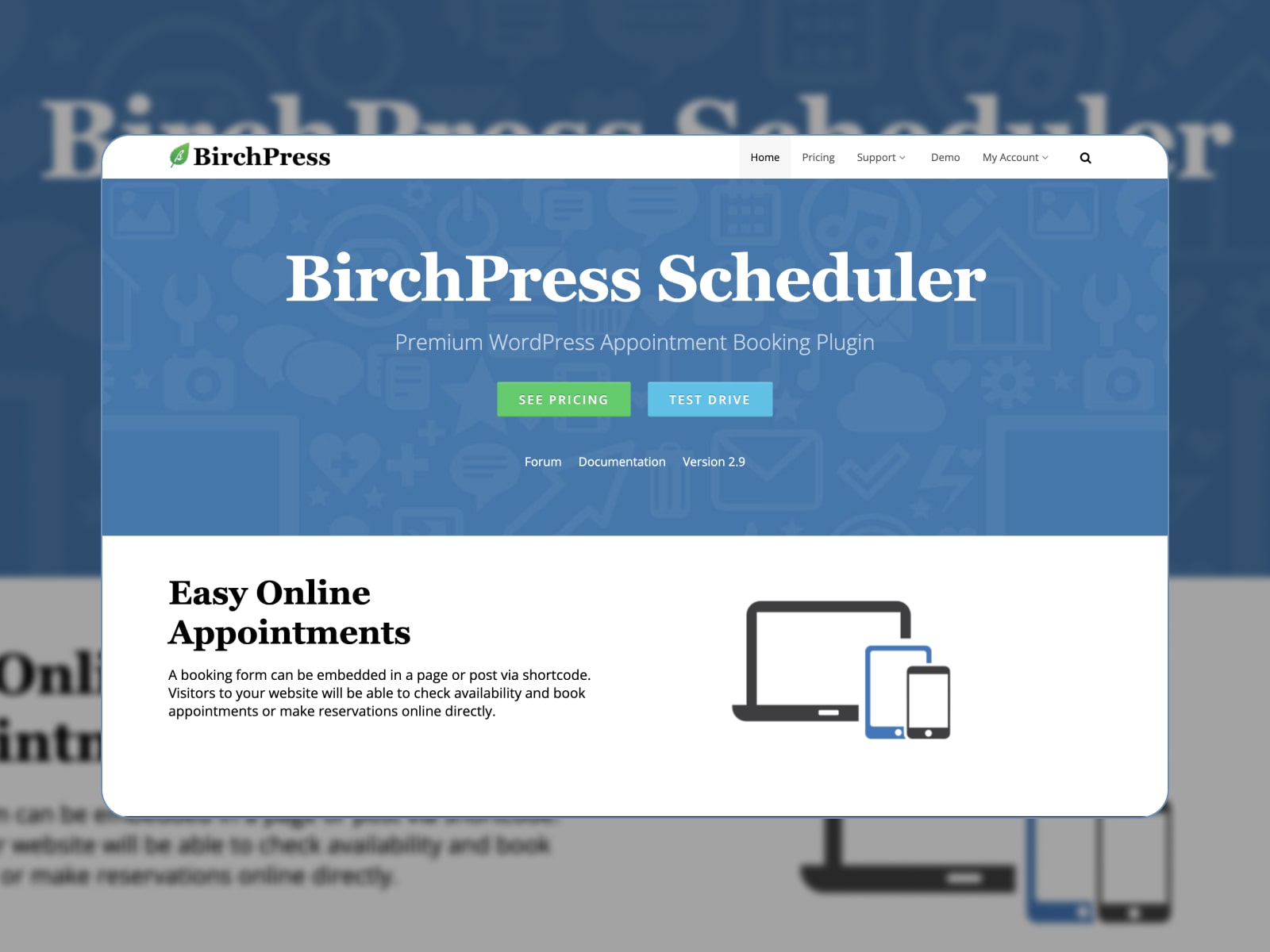 | Name | Sales | Pricing | Update Frequency | Turnkey Themes |
| --- | --- | --- | --- | --- |
| BirchPress Scheduler | N/A | Start at $99/one site/year | N/A | No |
The BirchPress appointment booking system also ensures the must-haves when it comes to creating a fully running WordPress appointment calendar and a booking system for WordPress.
The BirchPress WP booking calendar may be used as a doctor appointment plugin for WordPress, in education, auto, and home services, and more cases where you need hours or dates to be booked. It covers unlimited locations, providers, and services. The work schedule of each employee can contain exceptions.
Just like other appointment plugins WordPress, BirchPress offers a quick and hassle-free way of setting up the WordPress reservation system.
The reservation WordPress plugin supports iCal-based calendars to sync your appointments with personal calendars and stay up-to-date with the upcoming schedule. PayPal is integrated at no extra cost but for more tools, you'll need to hook up WooCommerce.
Additionally, the WordPress calendar schedule plugin has a specific developer's scale giving developers a range of functions, hooks, and filters to tailor the plugin to meet specific client's needs.
Key features:
Integrations with iCalendar sync (Google, iCal, iPhone, Android, or Outlook).
Email notifications and reminders.
Handy form editor.
PayPal and WooCommerce for payments.
Tools for developers.
10. WooCommerce Bookings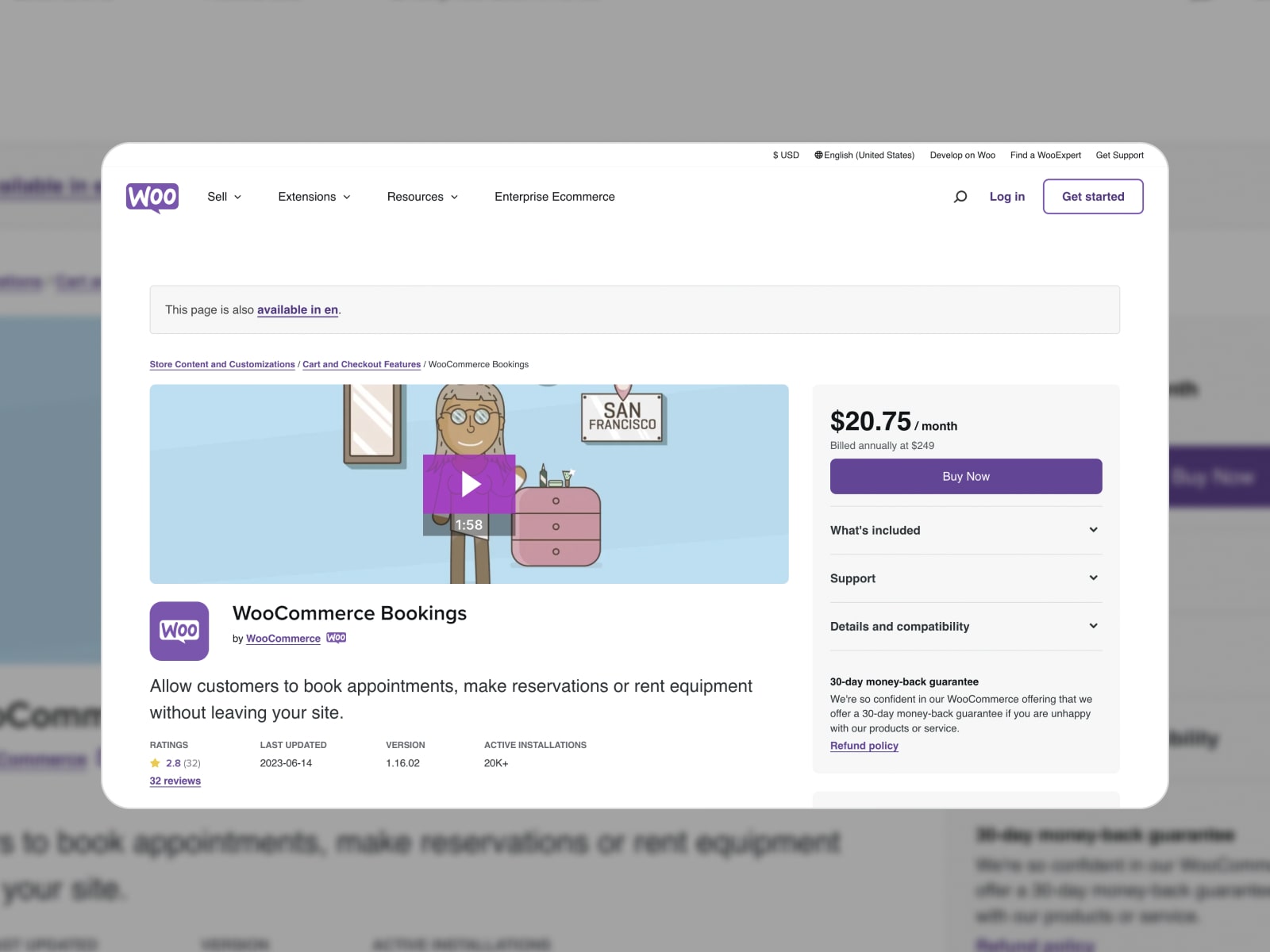 | Name | Sales | Pricing | Update Frequency | Turnkey Themes |
| --- | --- | --- | --- | --- |
| WooCommerce Bookings | 20,000+ | $249 per year | Monthly | N/A |
Of course, you're going to love this plugin if you want to set on the empirically-trusted ecommerce solution for WordPress. The plugin is a paid extension to the popular free WooCommerce plugin.
This particular plugin with the focus on appointment bookings gives you all you need to sell services assigned to different staff members, use WooCommerce for online payments and easily manage payments, bookings and clients.
It's a perfect solution for both one-to-one and multi-person appointments and events, with the customizable pricing for each of these scenarios. The plugin is equipped with great service and schedule flexibility that will help you work at your own pace.
It goes even further by giving you, in addition to the standard pack of features, the ability to show availability in the customer's zone, sync bookings with Google Calendar, to name just a few.
This plugin pretty much relies on the relevant addons, including Deposits, automated upselling and booking cancellation experiences, real-time service availability, options for vendors and more tools. Connecting these addons, you can make it a more holistic WordPress appointment scheduler plugin for any business.
Key features:
Let customers book reservations, appointments or rentals on their own.
Define set options, like fixed time slots for a class, appointment or guided tour.
Show availability in the customer's time zone, ensuring that bookings are made within the hours you set, regardless of the customer's location.
Require confirmation for bookings, send reminders to reduce no-shows, and set cancellation policies according to your preferences.
Google Calendar sync.
Best Free Appointment Scheduling Plugins for WordPress
Let's now take a look at the free versions of the appointment plugins you can take for a spin today without paying a dime – and then decide whether you need something more advanced.
1. MotoPress Appointment Booking Lite

| Name | Rating | Downloads | Last Updated |
| --- | --- | --- | --- |
| MotoPress Appointment Booking Lite | – | 300+ | July, 2023 |
This is a free version of the Appointment Booking plugin by MotoPress, and it's completely usable and functional even without upgrades to PRO. Let us explain why.
For example, you can still employ unlimited locations, staff members and clients, thus selling any number of services in any region, as well as create multiple variable schedules. For free. The plugin also allows you to build a fully custom form by editing field labels and showing/hiding the fields. Overall, even the free version of the MotoPress Appointment Booking plugin sets you with all the necessities for creating a flexible schedule, accepting bookings online, and tracking all of them on the backend.
Key features of this free appointment booking plugin include:
Buffer times before and after appointments.
Minimum and maximum capacity settings for the appointment.
Variable pricing for the service.
Deposit payments.
Pay at the office method.
Sell services with discount coupons.
2. Webba Booking Lite -Doctor Appointment Booking WordPress Plugin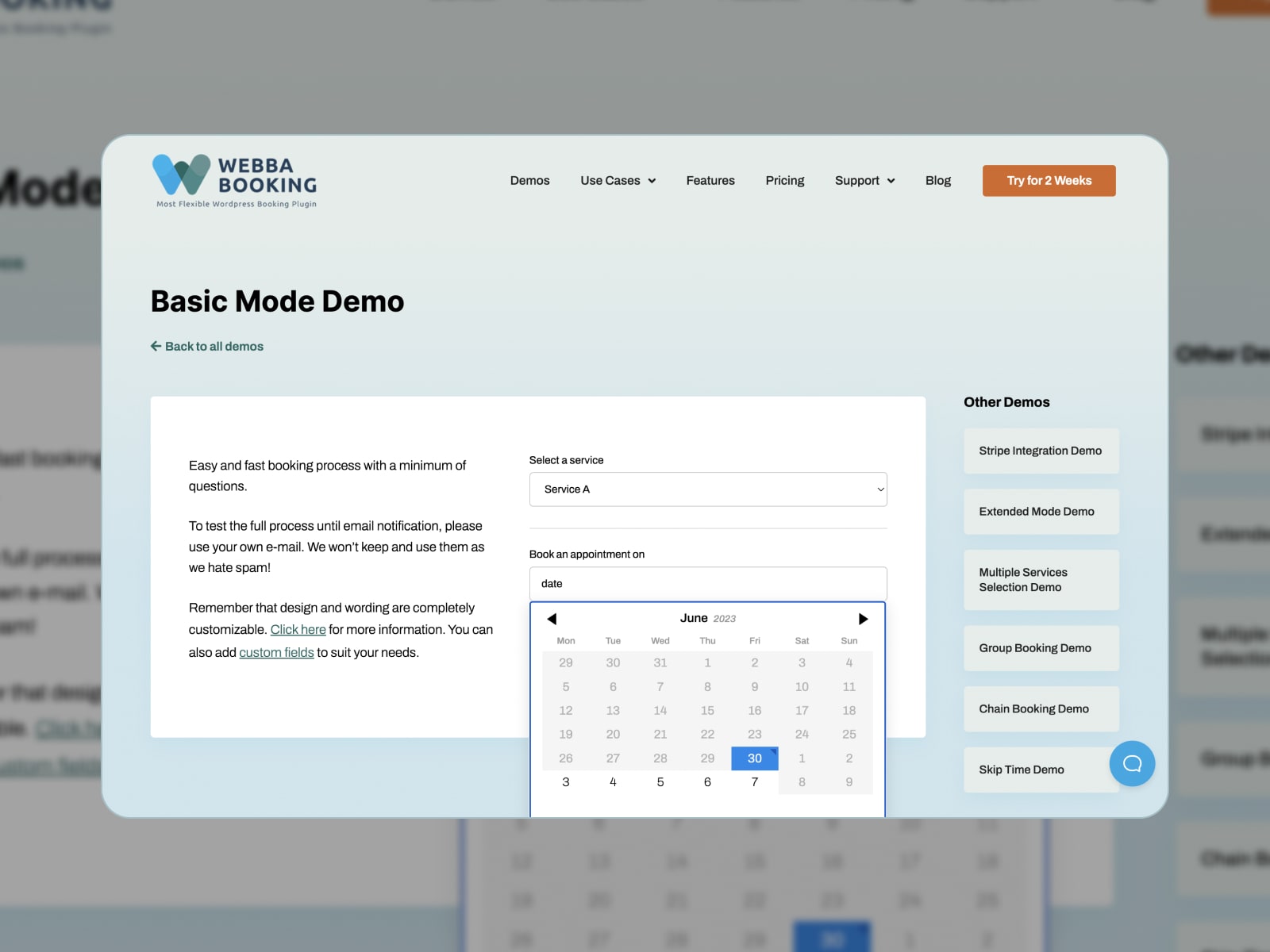 | Name | Rating | Downloads | Last Updated |
| --- | --- | --- | --- |
| Webba Booking | 4.9 | 2,000+ | June, 2023 |
If you want to get a comprehensive booking WordPress plugin free in terms of styling, go for Webba Booking. It offers over 80+ options and 79 presets for styling customization of the plugin's booking form. What's more, the engine suits not only services with hourly appointments but also online event & restaurant bookings.
With Webba Booking, your calendar will not only look great but remain fully responsive for all screens. The free version supports variable booking duration, cancellation of appointments at specific times, buffer timing, and unlimited scheduling.
More features available for the Webba WordPress booking plugin free are:
Custom fields.
Email notifications to clients and employees when bookings are approved or canceled.
Group services & appointments.
Multiple bookings in one session.
The free version does not support any payment methods, coupons, export to CVS, WooCommerce & Google Calendar integration, iCal, and SMS notifications.
3. Pinpoint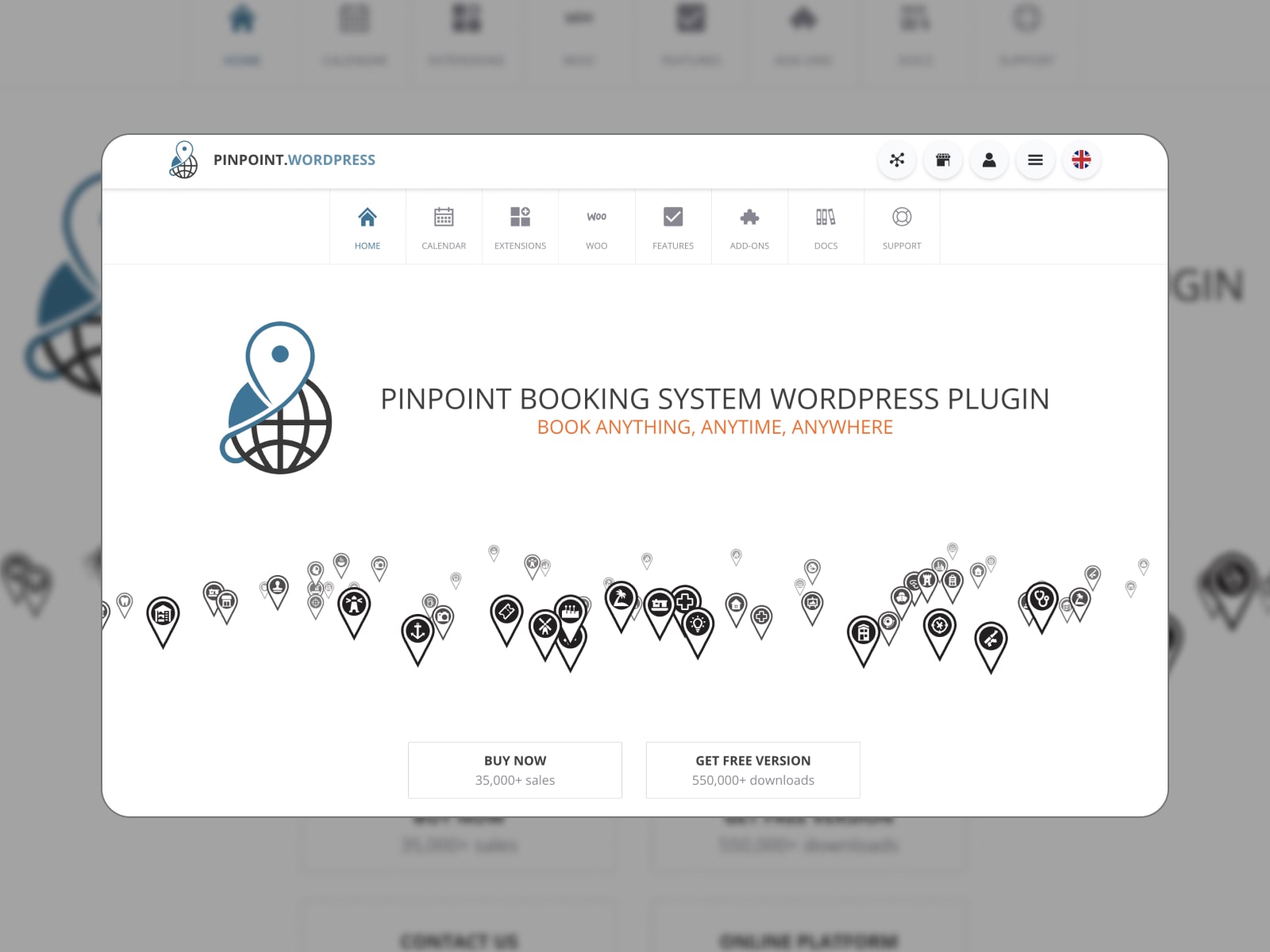 | Name | Rating | Downloads | Last Updated |
| --- | --- | --- | --- |
| Pinpoint | 3.7 | 6,000+ | June, 2023 |
Pinpoint covers the booking needs for a variety of businesses: from accommodation rental to appointment-based services and events. Everyone can use this online reservation system free of cost for the clean interface and universality.
The plugin features a unique and exclusive AJAX booking calendar. The administration area is intuitive, powerful, flexible, and easy to manage, making the Pinpoint system equally well suited for large and small businesses. Additionally, you can enhance the functionality of the Pinpoint booking system with other add-ons.
In Pinpoint Lite, you are restricted to 1 calendar, and 1 location. Also, the WordPress appointment plugin free offers the next features:
WooCommerce support.
Multi-currency support.
Sync with Google Calendar, iCalendar, or Airbnb.
Email & SMS notifications.
Payment methods.
4. Simply Schedule Appointments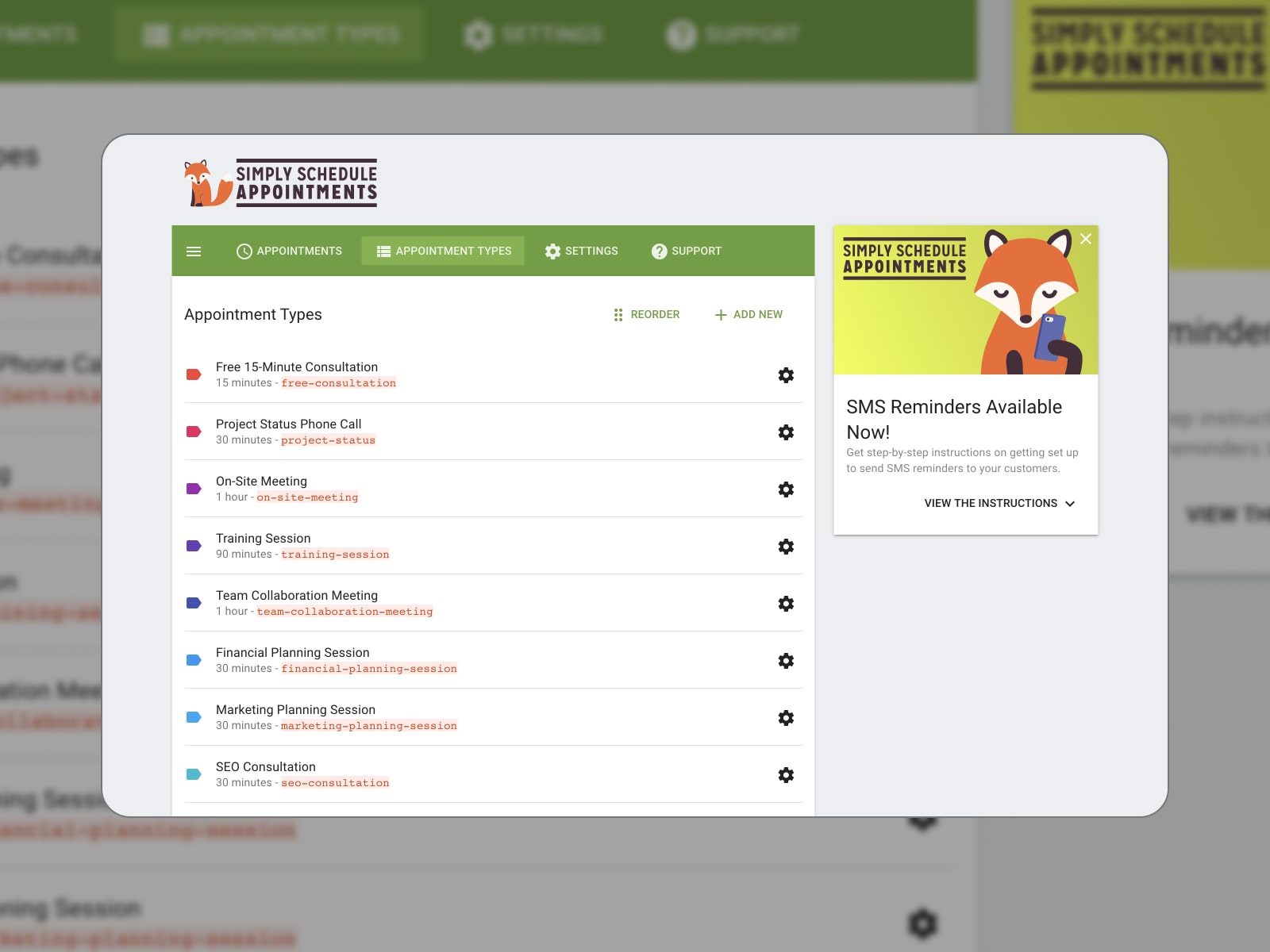 | Name | Rating | Downloads | Last Updated |
| --- | --- | --- | --- |
| Simply Schedule Appointments | 5 | 20,000+ | June, 2023 |
Simply Schedule Appointments offers a built-in double-booking prevention feature. So once a time slot is reserved for a service, it cannot be re-booked for other services.
The basic edition lets you create a free booking site for businesses with an appointment-based model. It covers unlimited appointments and integration with the Events Calendar. In the plugin's appointment calendar WordPress, you can add custom colors, fonts, and padding, and use custom CSS. You can add calendar rules, blackout dates, custom email notifications, and translate a calendar to other languages.
The plugin's free version does not include Google Calendar integration, group bookings, custom fields, payment gateways, email and SMS notifications, analytics, top-notch developer support, etc.
Among other ket feaures are:
One of the most downloadable plugins with good ratings.
Sleek designs.
Group or class event booking with the ability for people to book time slots up to a certain capacity.
Stripe and PayPal for payments.
Zoom and Google Meet integration for virtual meetings.
5. Bookit – Service Booking Plugin WordPress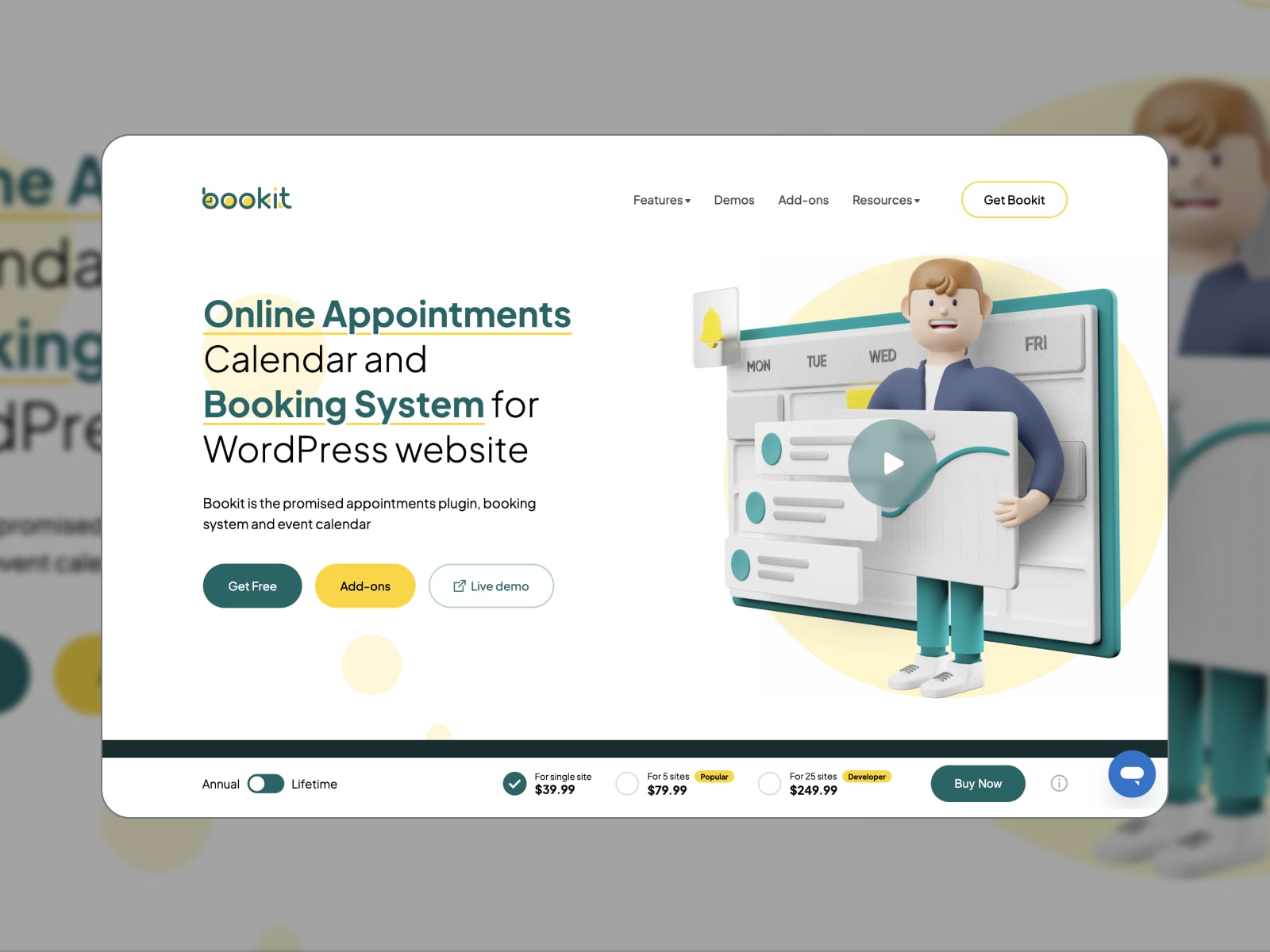 | Name | Rating | Downloads | Last Updated |
| --- | --- | --- | --- |
| Bookit | 3.9 | 10,000+ | June, 2023 |
Bookit is one more great WordPress appointment booking plugin free of cost. It provides a powerful booking calendar, and in many cases, it outcomes more popular scheduling plugins on our list. You can set up a website with any booking calendar, whether for hotels, equipment rental, or appointment-based services.
BookIt opens up a convenient calendar management system on the backend. You can manage the staff, add new members, control the working hours, and edit custom fields. On top of that, you can write down custom email notifications for the bookings' approval/cancelation.
Some major features are as following:
Three types of calendar views: daily, monthly, and weekly.
Automatic notifications about upcoming appointments.
Flexible admin interface and intuitive design.
Working dates and hours can be defined for each service/staff member.
Seamless integration with both Elementor and WPbakery.
Pro version features include WooCommerce integration, Stripe and PayPal integration, Google Calendar sync, custom fields, offline payments, and more.
Supports multiple currencies through PayPal and Stripe payment gate.
6. Easy Appointments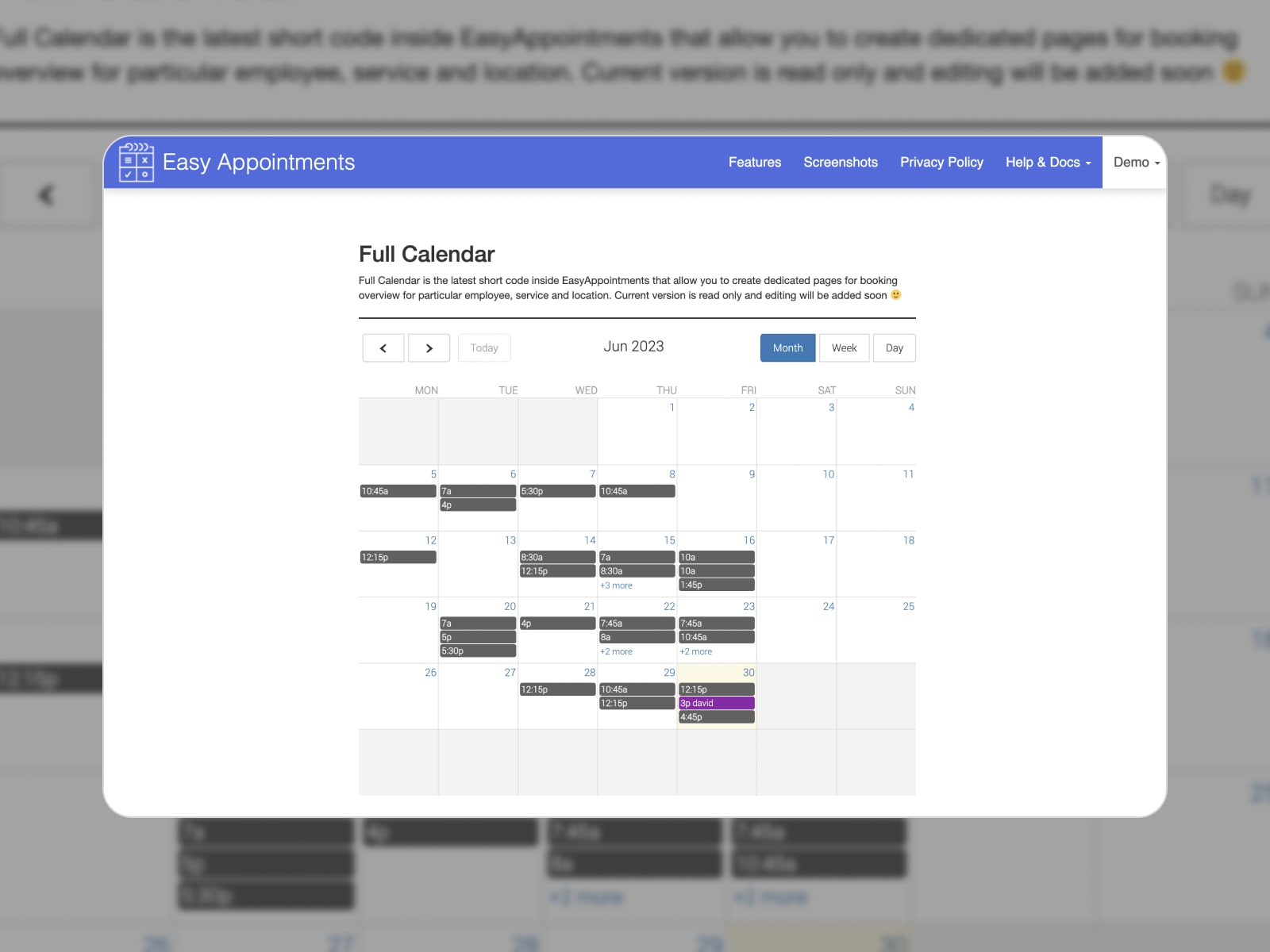 | Name | Rating | Downloads | Last Updated |
| --- | --- | --- | --- |
| Easy Appointments | 4.4 | 20,000+ | May, 2023 |
This booking software for WordPress is packed with essential features to help you step up your appointment businss, inclding the ability to handle multiple locations, services, and workers, wich means it's a great choice for multi-chain business.
This plugin also offers a responsive appointment form layout, customizable form fields, and support for internationalization.
You can create customizable time slots, even for complex schedules, and benefit from an extremely flexible timetable.
The email notifications you send to customers can be personalized with custom content, and customers can confirm or cancel bookings directly from the email.
With the pro version, you get integration with Google Calendar and iCalendar, SMS and email notifications using services like Twilio and Omnicom, as well as integration with WooCommerce and PayPal for payments.
Key tools include:
Multiple Locations, services and workers, each with a dedicated calendar.
Multiple time slots.
Fine granular option for creating even the most complex time table.
Various email notifications.
Confirm and cancel booking via link provided inside email.
7. Appointment Hour Booking – WordPress Booking Plugin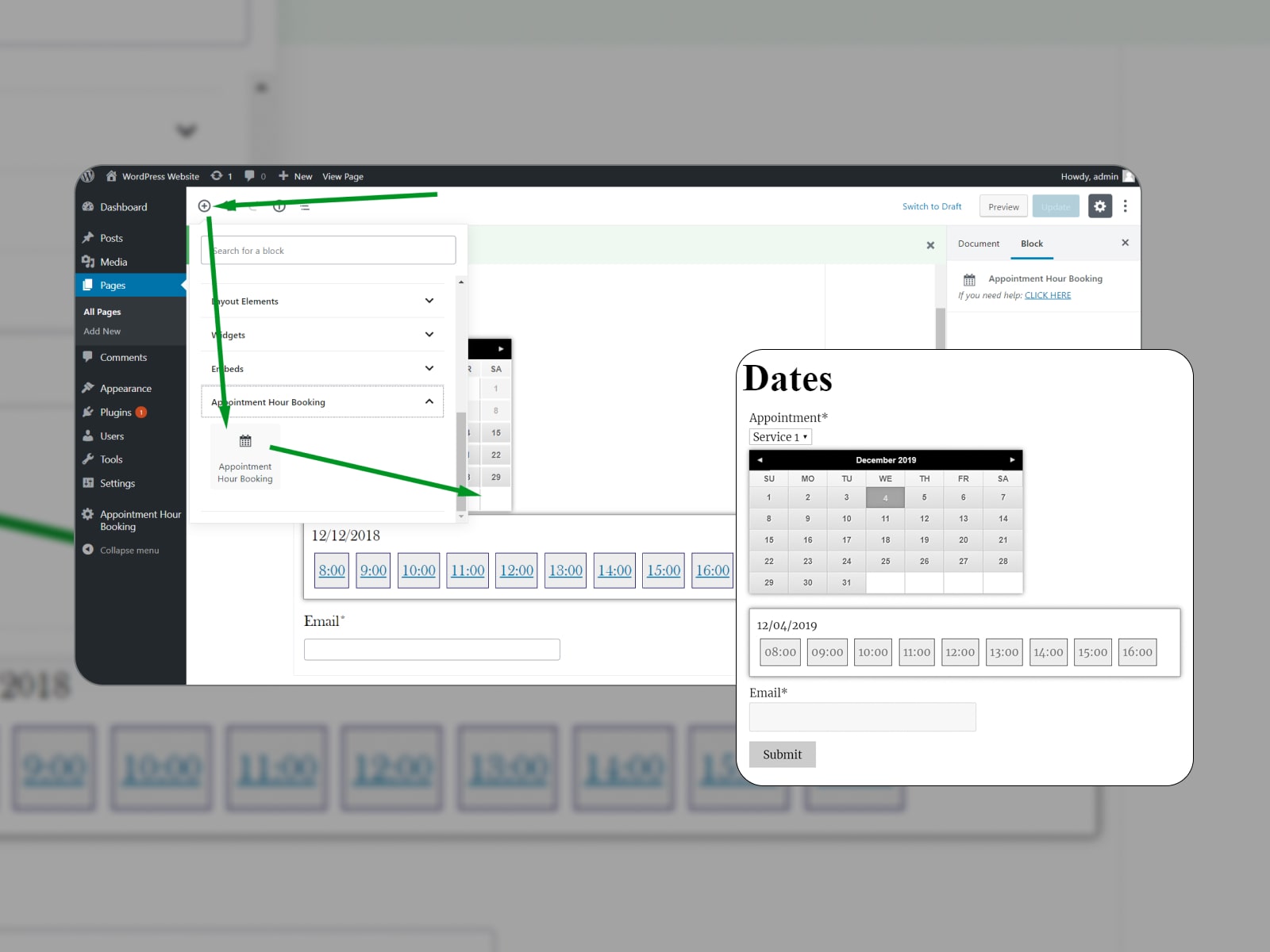 | Name | Rating | Downloads | Last Updated |
| --- | --- | --- | --- |
| Appointment Hour Booking | 4.9 | 20,000+ | June, 2023 |
Appointment Hour Booking is another free appointment plugin WordPress can offer. You can use it to create booking forms for appointments with specific start times and durations.
The plugin defines the start time automatically based on the filled information about open hours and the service duration. The other attractive feature is the automatic price calculator, which sums up the cost of all purchased services.
Similar to other plugins, this plugin provides visual configuration on the backend. You can visually create multiple booking forms with multiple services, and they may have different duration, capacities, and prices.
The WordPress appointment booking plugin free version does not support any payments gateways or integrations with software like Zoom, WooCommerce, or Google Calendar. It does not include a visual form builder and addons for cancellation and SMS notifications.
Other notable features:
Default, maximum, and minimum dates
Email notifications
Manual and automatic CSV reports
Printable appointments list
8. Timetable and Event Schedule Plugin by MotoPress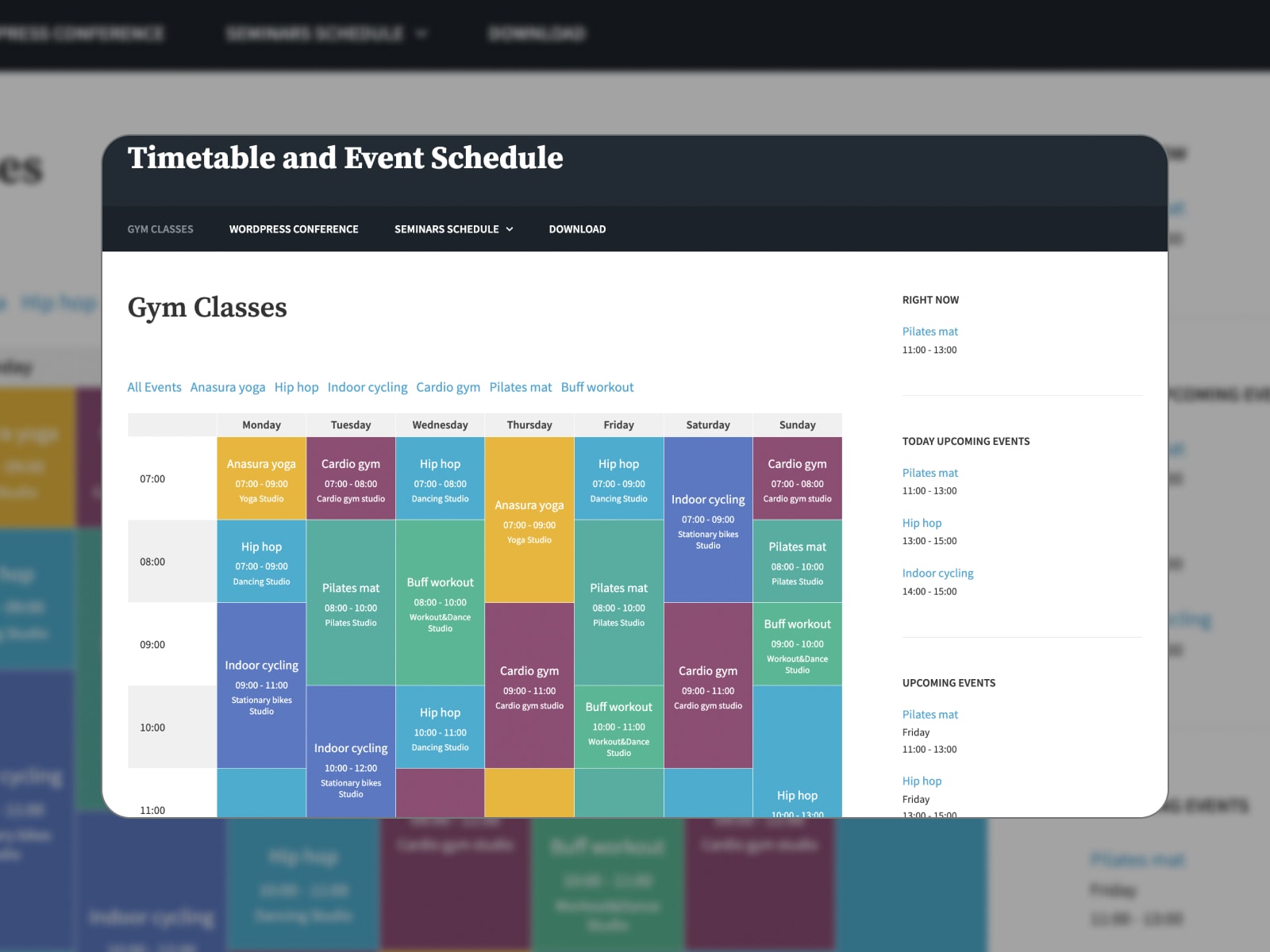 | Name | Rating | Downloads | Last Updated |
| --- | --- | --- | --- |
| Timetable and Event Schedule | 4.5 | 40,000+ | May, 2023 |
The WordPress Scheduling Calendar for events & timetables by MotoPress allows you to obtain all the essential scheduling features. The plugin allows you to adjust all the necessary shortcode settings such as fields to be displayed in the event descriptions. Now you can set time frames for up to 15 mins possible, and tailor many more other setups in this timetable WordPress plugin. E.g., you can manually enter the desirable row height of your chart, and decide if you would like empty rows to be shown.
As a schedule plugin WordPress, the plugin guarantees proper exposure of your timetables on any device, and, moreover, gives you a chance to define their mobile behavior: showcase your events as a chart or let your mobile users see them as a clean-designed list.
Timetable & Event plugin allows fitting the look of your event lists to the design of any theme: feel free to choose background and font colors for every single cell of your timetable and define hover shades for its elements.
Key features:
Color-marked event filtering
Fully responsive layout
Upcoming events widget
Event search filter
Tag/category events differentiation
XML data export/import
9. WP Simple Booking Calendar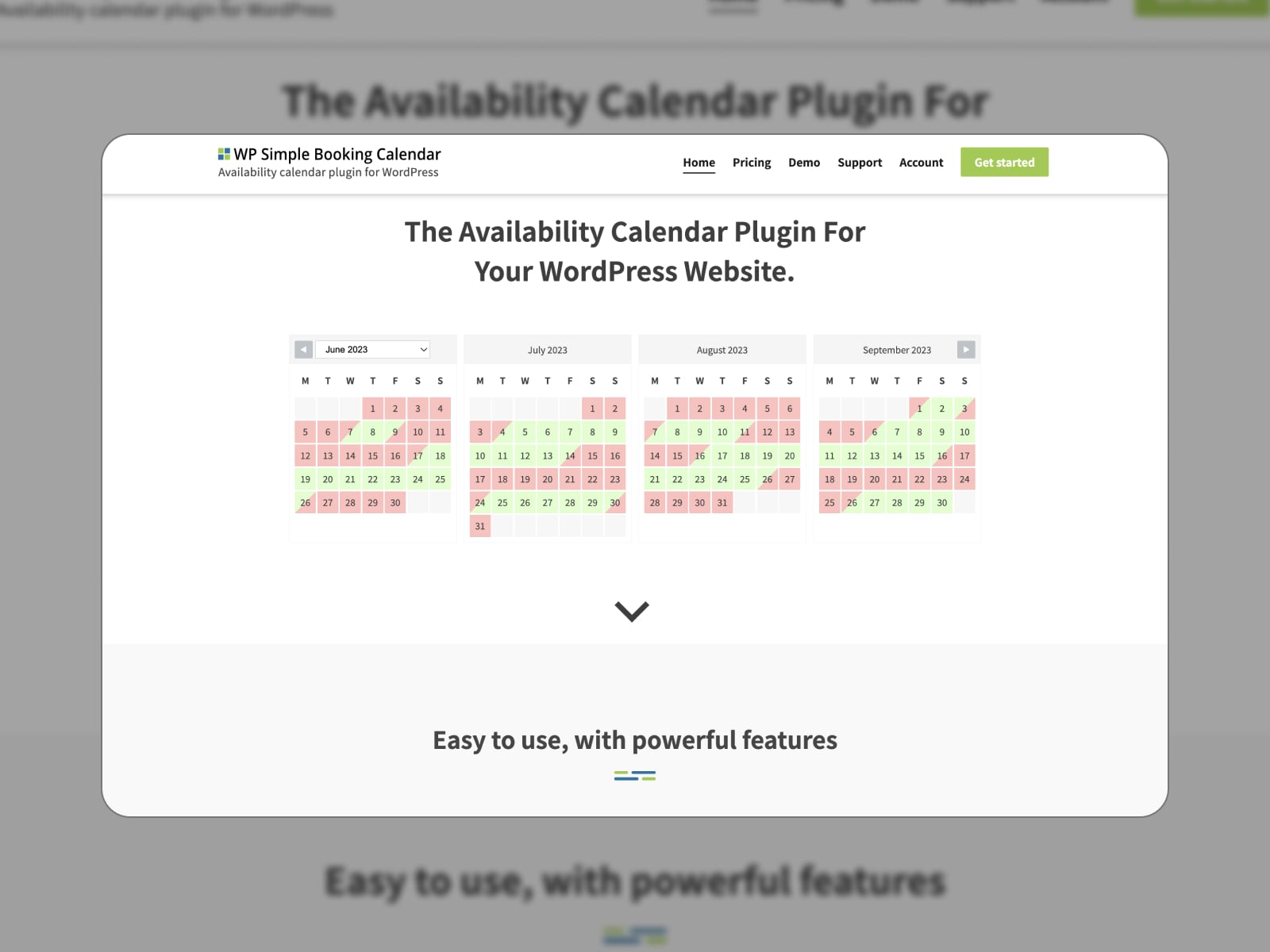 | Name | Rating | Downloads | Last Updated |
| --- | --- | --- | --- |
| WP Simple Booking Calendar | 4.8 | 20,000+ | April, 2023 |
The free version of WP Simple Booking Calendar is made to help you manage the availability of your holiday home or rental property. As you can see from the calendar examples, you can easily display the dates when your property is available for booking.
On a free version, you are able to create just one calendar, displaying a legend. You can add and save booking information for each day, and the legend items and month names can be translated into over 30 languages.
Upgrading to the premium version, you can create an unlimited number of booking calendars and sync them with popular platforms like Airbnb, Booking.com, and HomeAway. There are also more color tools, export dates as CSV files, manage user access to specific calendars, and access to professional support if you use PRO.
Key tools:
Create one calendar.
Simple user-friendly interface with a responsive layout.
Simple user-friendly interface with a responsive layout.
Suitable for equipment rentals.
10. Booking Calendar – Free WordPress Booking Plugin with Payment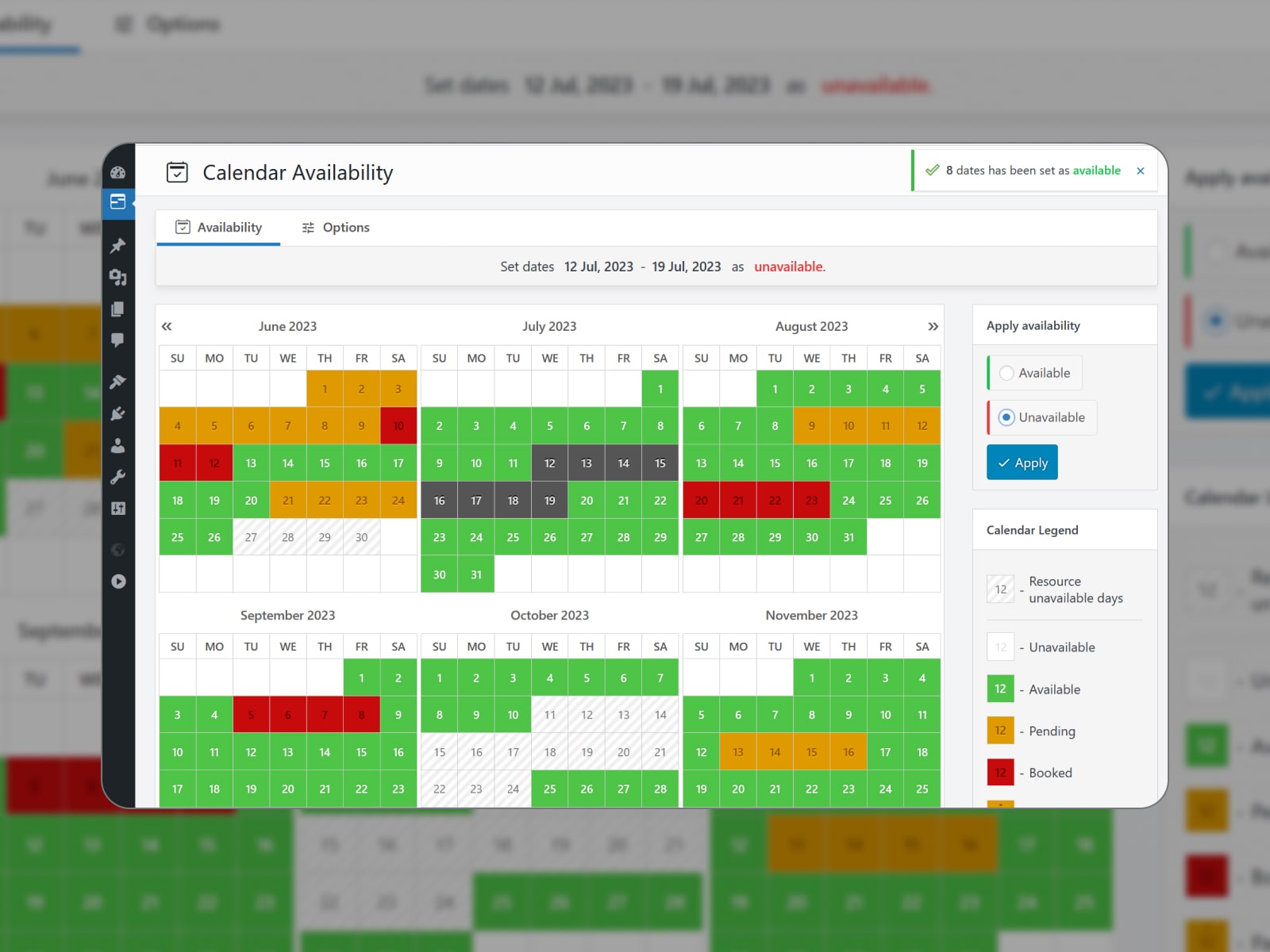 | Name | Rating | Downloads | Last Updated |
| --- | --- | --- | --- |
| Booking Calendar | 4.7 | 60,000+ | June, 2023 |
The Booking Calendar free plugin provides an easy-to-use booking system that allows you to display calendar availability, receive bookings from your website visitors, and manage bookings through a modern and clean admin panel.
Additionally, it allows for syncing bookings with other services, ensuring you stay up-to-date and avoid duplicate bookings.
It will work for multiple business scenarios: renting a property, managing client appointments, scheduling meetings, organizing patient visits, handling equipment rentals, or planning events.
More tools are the following:
Create one calendar.
All booking data is stored in your WordPress database.
Customizable calendar skin and colors.
Choose between single day or multiple days selection mode.
Customize booking form fields and labels.
Google Calendar integration for importing and exporting events.
Sync bookings with other services using .ics feeds.
11. The Events Calendar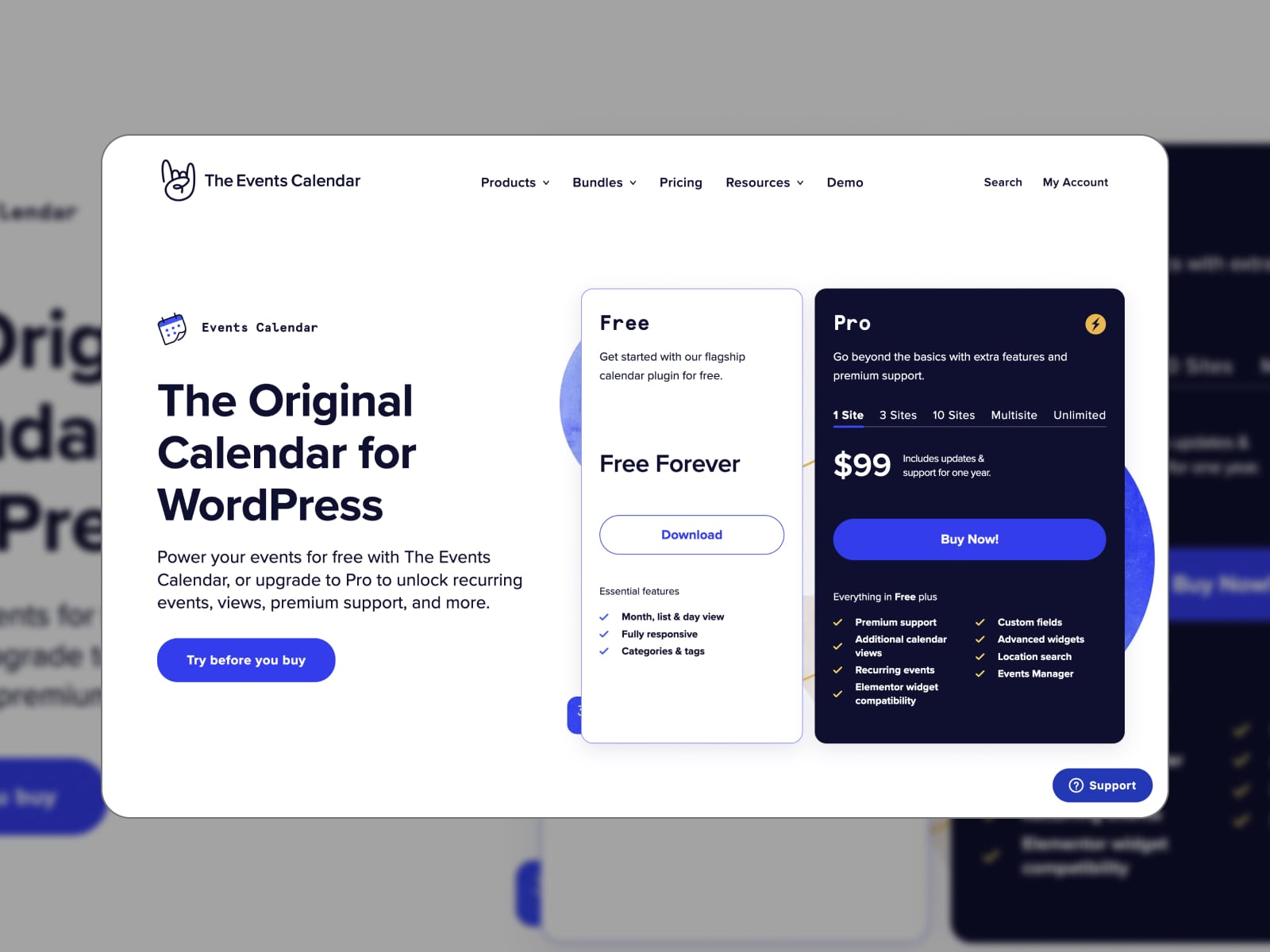 | Name | Rating | Downloads | Last Updated |
| --- | --- | --- | --- |
| The Events Calendar | 4.3 | 800,000+ | June, 2023 |
The entire WordPress schedule plugin may be split into several components: the free core plugin itself, its pro version, and a package of free & paid extensions.
The core events schedule WordPress plugin functionality enables you to define modes of event demonstration by choosing among the standard calendar, list, day, or week views. Your website visitors would easily navigate through the events via keyword search.
Basic iCalendar and Google Calendar import/export options are available as well. The events exchanging process can be automated through the free Advanced iCal Export extension (may be of use for bulk exchanging of events feed) or by means of the paid Event Aggregator add-on (easy event import from Meetup, Eventbrite, GCal and iCal.)
Speaking of the premium version of the WordPress appointment booking plugin, it, first and foremost, widens the event categorizing modes. List your events grouped by venues they are held in (Venue View) or by the person hosting them (Organizer View). This plugin may become the best WordPress calendar solution that lets your users enjoy a "near me" event search by choosing Map View option so that visitors can see nearby events on Google map.
With a premium version, you get a chance to manage recurring events and add custom fields to your event descriptions.
Key tool of a free version:
Tag/Category events differentiation.
Upcoming events widget.
Color-marked event filtering.
Google Maps integration.
Fully responsive.
12. Simple Calendar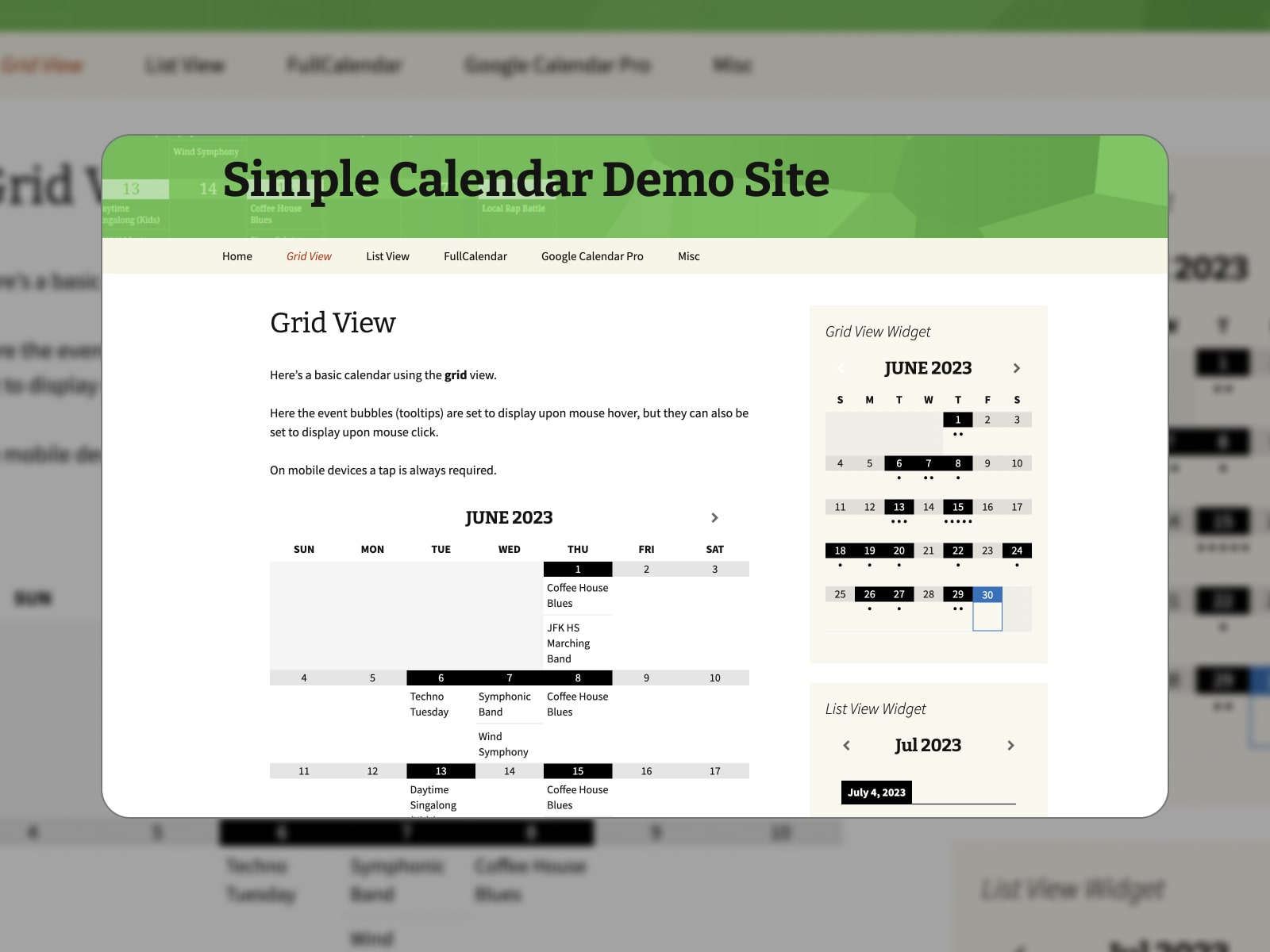 | Name | Rating | Downloads | Last Updated |
| --- | --- | --- | --- |
| Simple Calendar | 3.7 | 60,000+ | June, 2023 |
This plugin stands out from all the other ones in our collection by being a highly specialized tool. Such an ultimate solution lets you import events from any Google Calendar to your WordPress website.
The free version of this scheduling plugin WordPress calendar permits you to add info from public Google Calendars only. At the same time, you won't have to make any questions about the imported data fitting your WordPress theme design. The lite version brings two modes of event displaying (calendar or list) and enables you to tune regional settings of your timetables: set time zone, date format, and starting day of the week for them. In many cases, Simple Calendar is used as a WordPress class schedule plugin with perfectly structured tables and pleasant design.
Meanwhile, the extended functionality add-ons concept is very straightforward: there are two powerful pro extensions available.
The first one, FullCalendar Add-on, enables day and week event displaying modes and allows column height customization in accordance with the number of events it contains.
The second Google Calendar Pro Add-on lets you import events from both public and private GCals and mark each event with exactly the same color that was used in the Google Calendar the events were imported from. You will be as well allowed to display event extended data (organizers, participants info, and their gravatars) or add attachments to the event descriptions.
Key tools:
Fully responsive.
Integraion with the Events calendar newsletter.
Setting the max number of events to be shown in a cell.
13. Timely Events
| Name | Rating | Downloads | Last Updated |
| --- | --- | --- | --- |
| Timely Events | 4.2 | 70,000+ | May, 2023 |
Timely All-in-One Events Calendar is a powerful solution for planning in-person, virtual, or hybrid events. As a SaaS model, the solution is trusted by prestigious organizations like UPS, AT&T, and Harvard University.
With its stunning and user-friendly event calendar, you can choose from multiple themes and customize the appearance to align with your brand by using week, month, or agenda views. It also allows you to set event types, durations, and recurring patterns.
More key tools below:
Color-coded events based on categories.
Events optimized for SEO with ready-to-use Event Schema and Good Web Core Vitals.
Ability to gather event registrations (RSVP) or sell event tickets online using the add-on.
14. My Сalendar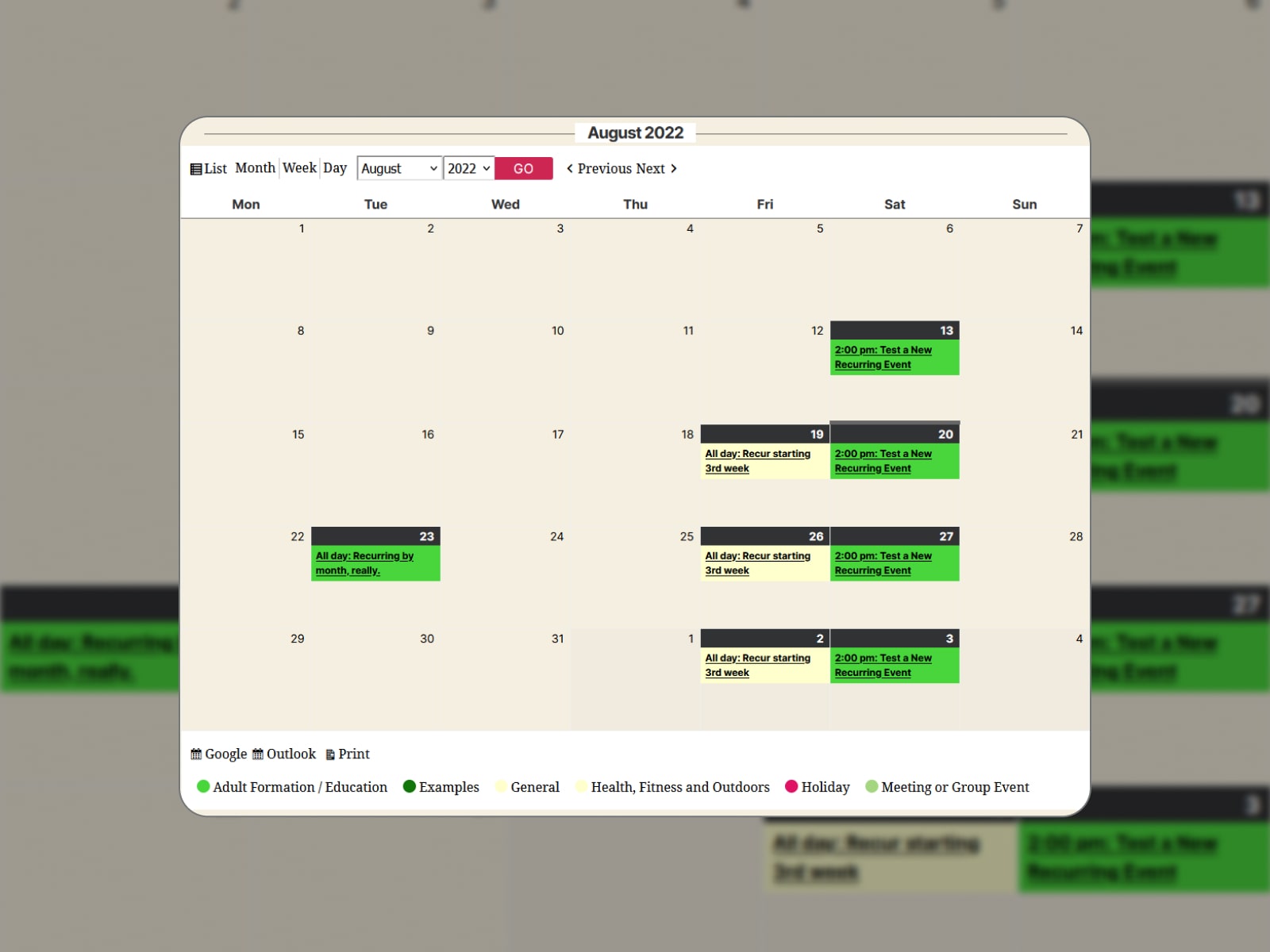 | Name | Rating | Downloads | Last Updated |
| --- | --- | --- | --- |
| My Сalendar | 4.7 | 20,000+ | May, 2023 |
My Calendar is a powerful WordPress plugin for event management. Using it, you can display events, including customizable calendars, lists, and categories. One of the notable features of My Calendar is its commitment to accessibility. It is designed to ensure equal access and a seamless experience for all users, including those with disabilities.
For advanced functionality, My Calendar Pro is available as a premium extension. It enables users to submit events, edit them from the front-end, and even create events automatically when publishing blog posts.
More feature you can find below:
Editable CSS styles.
Email notifications sent automatically when events are scheduled or drafted.
Multisite-friendly.
15. Events Manager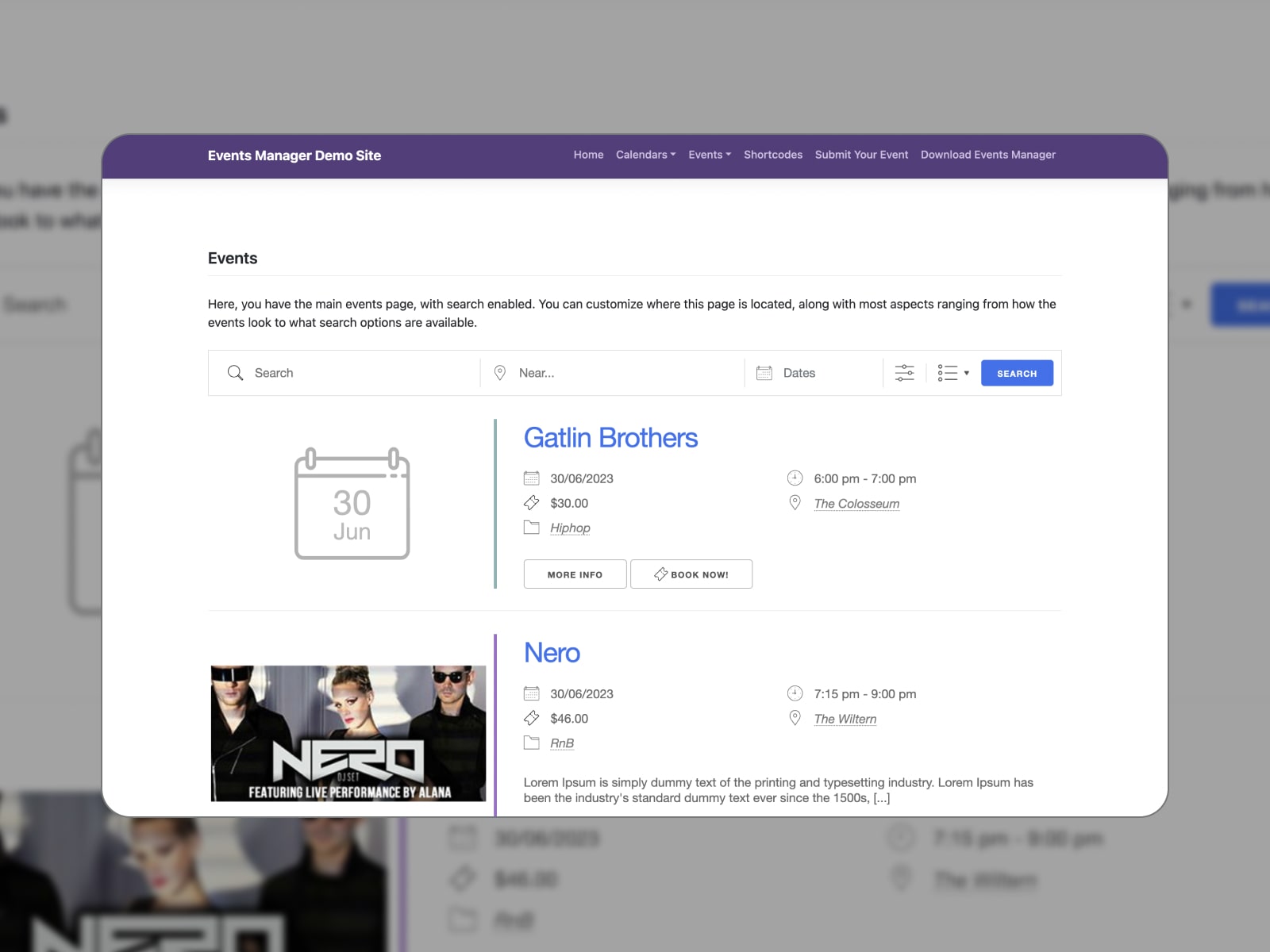 | Name | Rating | Downloads | Last Updated |
| --- | --- | --- | --- |
| Events Manager | 4.3 | 90,000+ | June, 2023 |
Event Manager is a fully-fledged WordPress events tool with the help of which you can effortlessly manage and create multiple occasions. The plugin is very flexible, which allows you to arrange events by days, weeks, etc., export data in CVS, and many more!
This WordPress event and WordPress booking plugins are available on wp.org, which means it is fully free and you won't spend even a cent to get a feature-rich functionality.
There is a premium version of this WordPress calendar plugin as well, having installed which PayPal, offline payments, coupon codes and custom booking emails become possible.
Some of the main features:
Fully responsive.
Setting the max number of events to be shown in a cell.
Easy bookings management.
Event submission by guests
Ability to assign an event to the location.
iCal feed with single or all events.
Events categories.
Ability to create events for different time zones.
16. VS Event List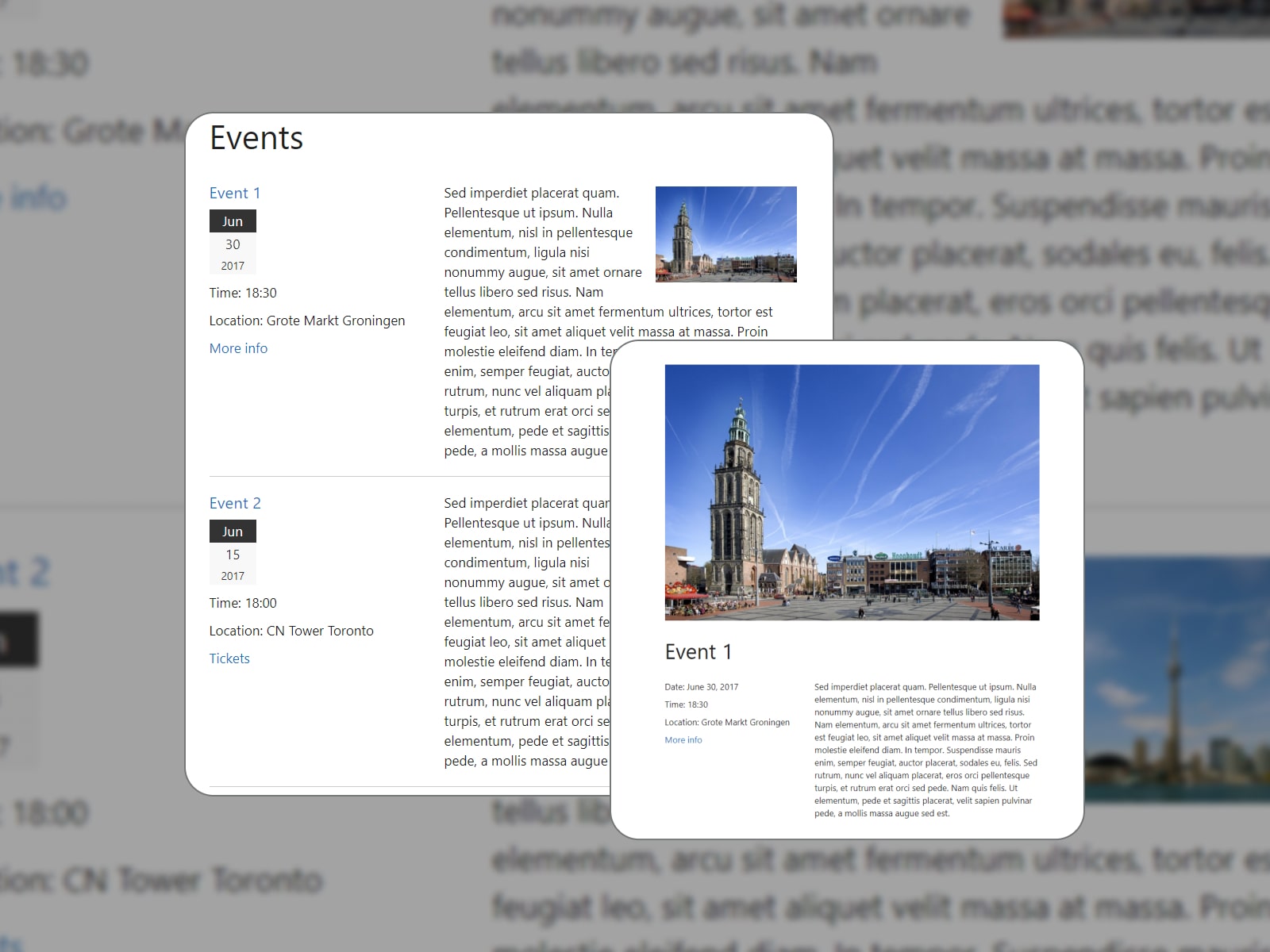 | Name | Rating | Downloads | Last Updated |
| --- | --- | --- | --- |
| VS Event List | 4.9 | 10,000+ | June, 2023 |
This lightweight plugin offers a customized event list for your WordPress website. It's up to you how to display your events using the widget or by adding the plugin to a page.
You can also choose how many events per page to show, the date format, and the order of event listings. This events booking plugin also supports advanced customization by allowing you to add attributes like custom CSS classes, event categories, and more to further tailor the display of your event list.
More tools:
Handy shortcodes to display events to your preferences.
Show events with or without images.
Show or hide events info and summary.
Final Word on Best Appointment WordPress Plugins
Create free booking websites effortlessly using one of the plugins on our list.
All these great appointment calendar WordPress plugins allow you to build a booking system for easy appointments, no matter you are a small salon or a multi-chain service provider.
Most booking plugins released a simplified version of their reservation software free of cost. In many cases, even free plugins can help you manage online bookings for multiple services & employees via a convenient calendar.
---
Disclosure: this article may contain affiliate links for third-party products. If you click a link and later make a purchase, we may earn an affiliate commission that doesn't result in additional charges to you.
What is the best appointment scheduling plugin for WordPress?
The
MotoPress Appointments plugin
corresponds to its value 100% solid. Amelia, Bookly PRO, and PinPoint are the most feature-rich tools when it comes to flexibility and design, although their pricing policies and features available in the core plugin are different. Booked is a great WordPress booking system that ensures quick and simple appointment booking. Bookme is the most affordable premium WP booking calendar that at the same time doesn't significantly fall short of others. Salon Booking is a very straightforward plugin with numerous dedicated tools for appointment bookings of all sorts, including multi-chain and enterprise-grade features. Calendarista Premium allows users to run a WordPress appointments business, including a good range of payment gateways and integrations. Booknetic is a fresh plugin with a very modern design and all the required functionality in place. The Webba Booking WordPress booking system offers one of the biggest numbers of integrations. WooCommerce Bookings is the best choice for those who need more tools than just time-based appointments (e.g. sell products with WooCommerce). BirchPress is one of the old standbys you can rely on for the vast majority of bookings.
How do I make an appointment booking in WordPress?
If you need to create an appointment booking website in WordPress, you need a suitable plugin for handling appointments, services providers, bookings, and payments.

Does WordPress have a booking calendar?
When it comes to choosing the best booking calendar plugin for WordPress, your choice is huge. And if you need a short answer to one question – no, there is no one best WordPress calendar booking plugin! But there is good news, too – the vast majority of the appointment booking calendar plugins are pretty decent to help you build a self-sustainable WordPress website.

Can I create a booking website with WordPress?
Yes, you can. Here are things to consider in the appointment booking plugins that will help you automate your booking-based business and create a booking website with WordPress:
– Deeply customizable (design and functionality).
– Mobile-friendly (highly important since many clients will book appointments on the go).
– Easy access to online payment gateways (some offer more built-in payment gateways, some charge extra fees for them).
– Integrations (iCal, WooCommerce, etc.).
– Regularly updated.
– The ability to try before you buy.