10 Best WordPress Booking Plugins for Hotels: Free & Premium
If you are a solo vacation rental owner, a real estate agency or a developer building a WordPress website for a client, this carefully researched roundup of free WordPress hotel booking plugins is for you.
We've chosen the most successful and powerful booking calendar plugins for property rental needs:

WordPress booking calendar plugins (availability calendars);
property listing;
holiday rental;
tour booking;
resort booking, etc.
Reviewing the following WordPress reservation plugins, we'll touch on many details a real lodging business needs to deal with (taxes, fees, extras, flexibility of bookings rules, synchronization with online travel agents, etc.) so you should find the list pretty comprehensive.
WordPress for hotel booking needs is rather rich, so if you already have a hotel booking WordPress theme, it's time to choose a plugin.
Almost all plugins related to online booking presented in our list provide a bit customization space within a free version. Nonetheless, each of them still provides a unique toolkit to set up and manage a property management WordPress website.
TOP Free & Premium WordPress Booking Plugins for Hotels, Vacation Rental, and B&Bs
It's time to befriend with some best free WordPress hotel booking plugins for lodging business owners.
MotoPress Hotel Booking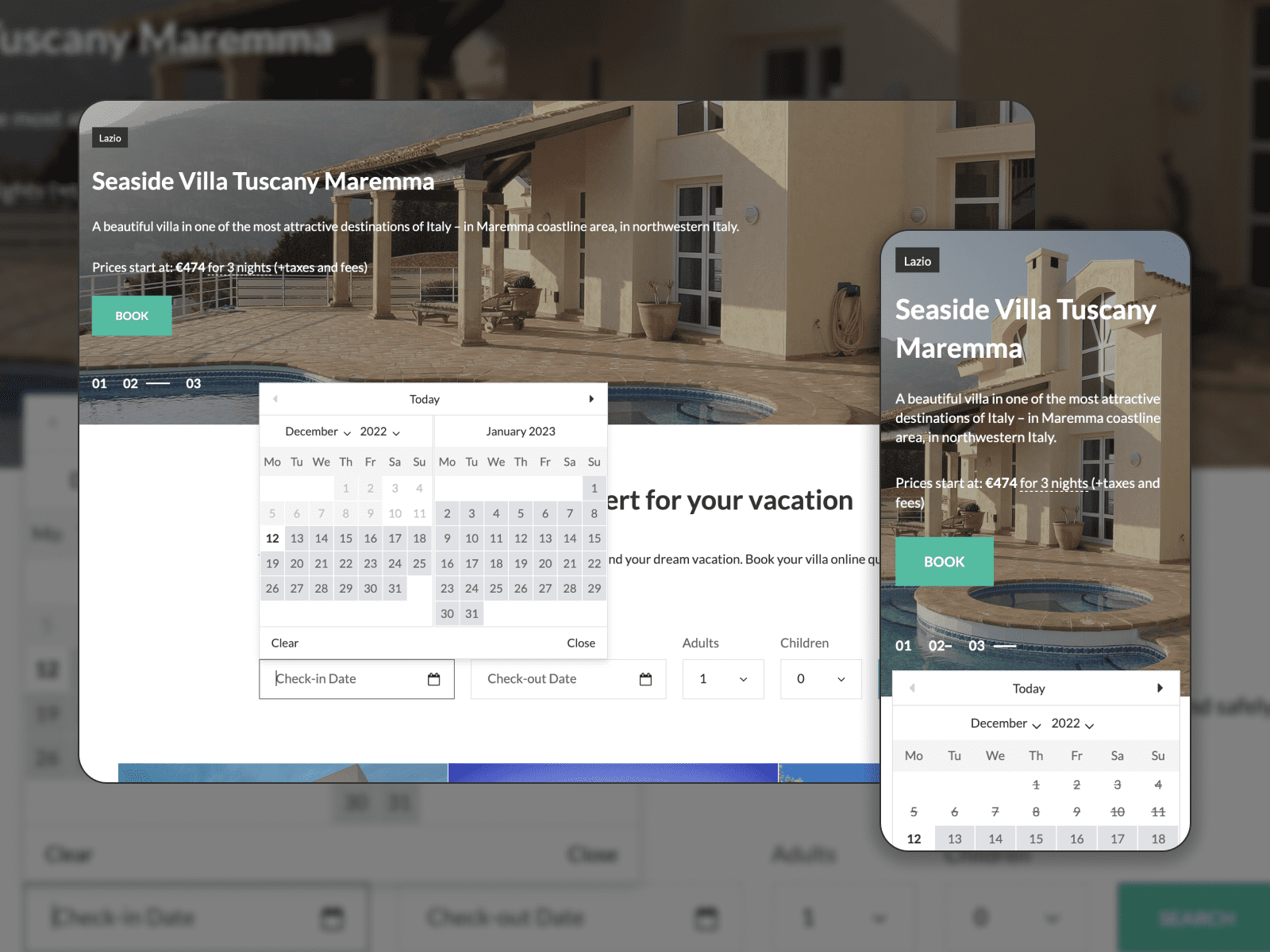 | Provider | Downloads | Built for | Cost of PRO |
| --- | --- | --- | --- |
| MotoPress | 10K+ | WordPress | $99 per year / one website |
MotoPress Hotel Booking is a purpose-built free booking plugin. It was designed for rental property owners and developers who build WordPress hotel sites or the like.
Among other free WordPress hotel booking plugins, this WordPress rental plugin is a perfect choice if you need to create a rental property listing and implement online reservations (optionally). It provides a whole integral system to build a vacation rental or hotel WordPress website right from the outset.
Using this plugin booking hotel WordPress can power, you can add an unlimited number of properties with amenities and services, add a search availability form as a widget to widget areas of your website or place a booking calendar to individual accommodation pages.
As the booking WP plugin, it supports automatic inventory control, all booked rentals will be automatically blocked (or cancelled, or pending) so you will easily avoid overbooking. There are tons of great tools in this booking calendar WordPress plugin for hotels that we'll better organize in a list.
Major features:
Supports all types of lodging establishments (inns, hotels, hostels, holiday rental, B&B, apartments, hostels, etc.).
Automatic search through all website rentals via a search availability form.
Smart search algorithm suggesting accommodations (hotel rooms, houses, appartments, etc) based on a number of guests (plus, booking multiple accommodations by one guest).
Unlimited price variables for rates, seasons and a number of guests.
Free or paid extra services that can be booked along with the accommodation.
Booking confirmation in different ways: by admin or customer, automatic upon a payment.
Automatic email notifications.
WordPress hotel booking plugin calendar and list view for reservations.
Flexible booking rules: min and max stay period, fixed departure and arrival times, admin property blocking for a certain period of time, etc.
Mandatory taxes and fees, included into the summary of all charges.
Complete payment history.
Multiple currencies.
Discount coupons.
PayPal payments.
It can be easily integrated with Elementor via a free add-on or Divi Builder via a free extension.
The plugin works with any theme.
Localized into multiple languages and WPML ready.
Register a free trial to test the Pro version tools on the backend.
A free Hotel Booking plugin and a free theme? It's possible! Check out Palmeria WordPress hotel theme.
Does the plugin have a PRO version?
Yes. The Hotel Booking Pro provides more payment gateways and lets you synchronize bookings of your website with those from OTAs (such as Airbnb, HomeAway, etc.). Also, check out these beautiful hotel and vacation rental WordPress themes if you need a ready-made theme with a Pro version of this plugin included for free: Booklium, Mountainview, Oceanica, Alpenhouse, and others.
If you have a WordPress website and the MotoPress Hotel Booking plugin version 4.1.0 or greater installed and activated, you can also download a free Hotel Booking mobile app. Use it to add and check your bookings on the phone or any other mobile device. You can use apps with free and paid versions.
Hotel Booking & Holiday Rental Themes
PinPoint Booking System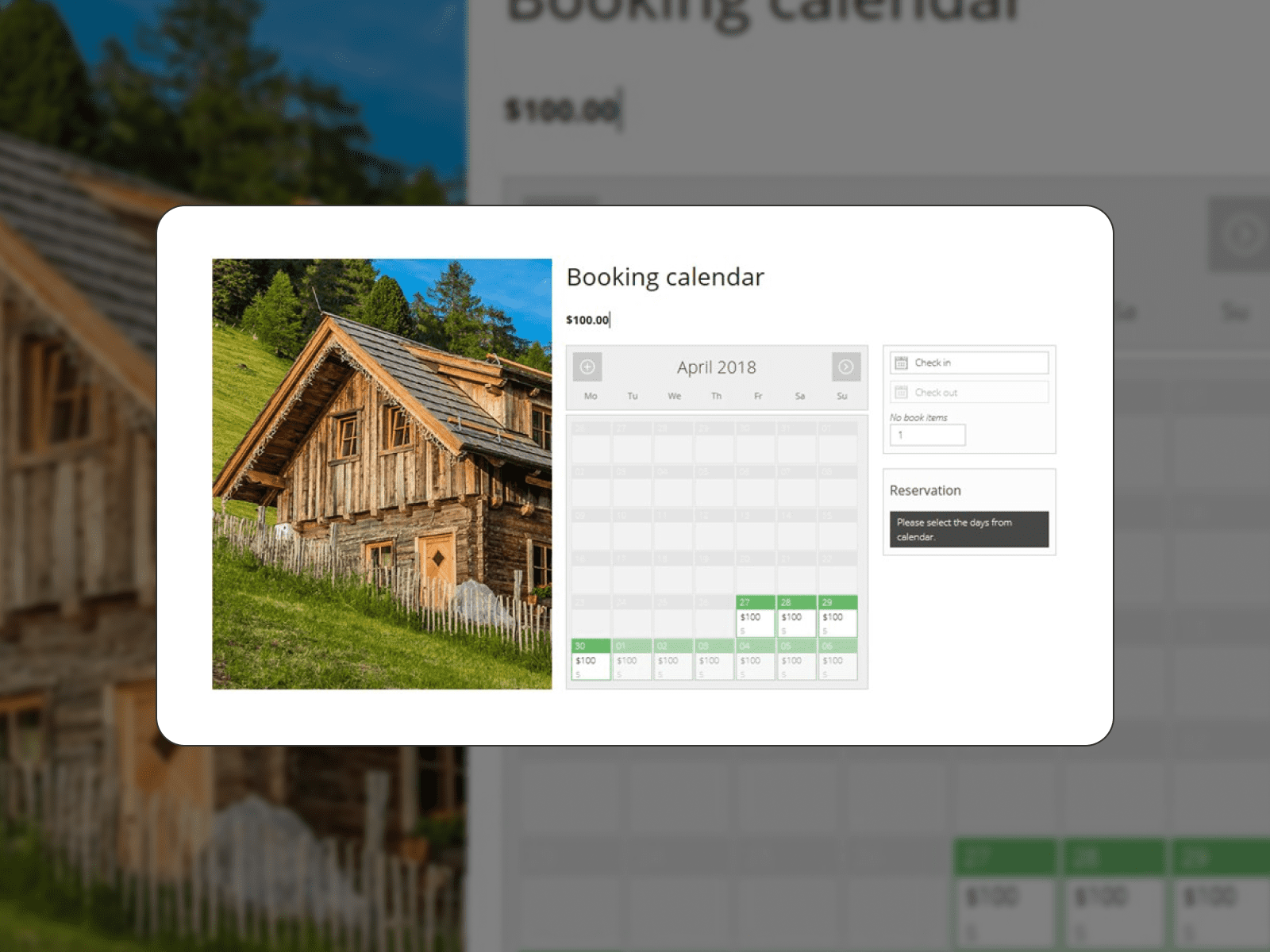 | Provider | Downloads | Built for | Cost of PRO |
| --- | --- | --- | --- |
| Ponpoint.World | 6K+ | WordPress | $70 per year / one website |
Pinpoint WP Booking system is rather a multipurpose reservation plugin, but it will also be perfectly suitable for implementing booking services for hotels, holiday rentals, apartments, travel agencies, B&B, etc. With the help of this WordPress system, you can generate a smart WordPress booking calendar that helps your guests check the room availability and book it directly.
PinPoint is a pretty flexible WordPress calendar booking plugin with all the range of tools you might need to rent out any accommodation. So, what's included in a free version of this hotel booking WordPress plugin?
Key features:
Booking calendars for multiple accommodations on one website (very flexible with days, hours and minutes support).
Statuses of the days displayed right in the WordPress calendar plugin: available, booked, special, unavailable.
Length-based discounts and vouchers.
Locations with Google Maps integration.
WooCommerce compatible (for payment gateways and other WooCommerce add-ons).
WPML compatible and easily translatable.
Admin control over the reservation: add, approve, edit, cancel or reject bookings (calendar and list view).
Synchronization with other systems via iCalendar.
Booking rules: min and max stay-in days.
Bookable extras and services.
Taxes and fees included or not included into the reservation.
SMS notifications.
PayPal payments.
Does the plugin have a PRO version?
Yes. By choosing the Pro version of this system, you will enable the availability search through all website properties, and not just allow booking directly from individual accommodation pages (for example, if you manage a hotel with multiple rooms). It will also be a need if you want to enable access to multi-site or multi-user management and other payment gateways rather than PayPal.
Unfortunately, the plugin doesn't provide an option to test the dashboard of a Pro version on the backend.
WP Booking System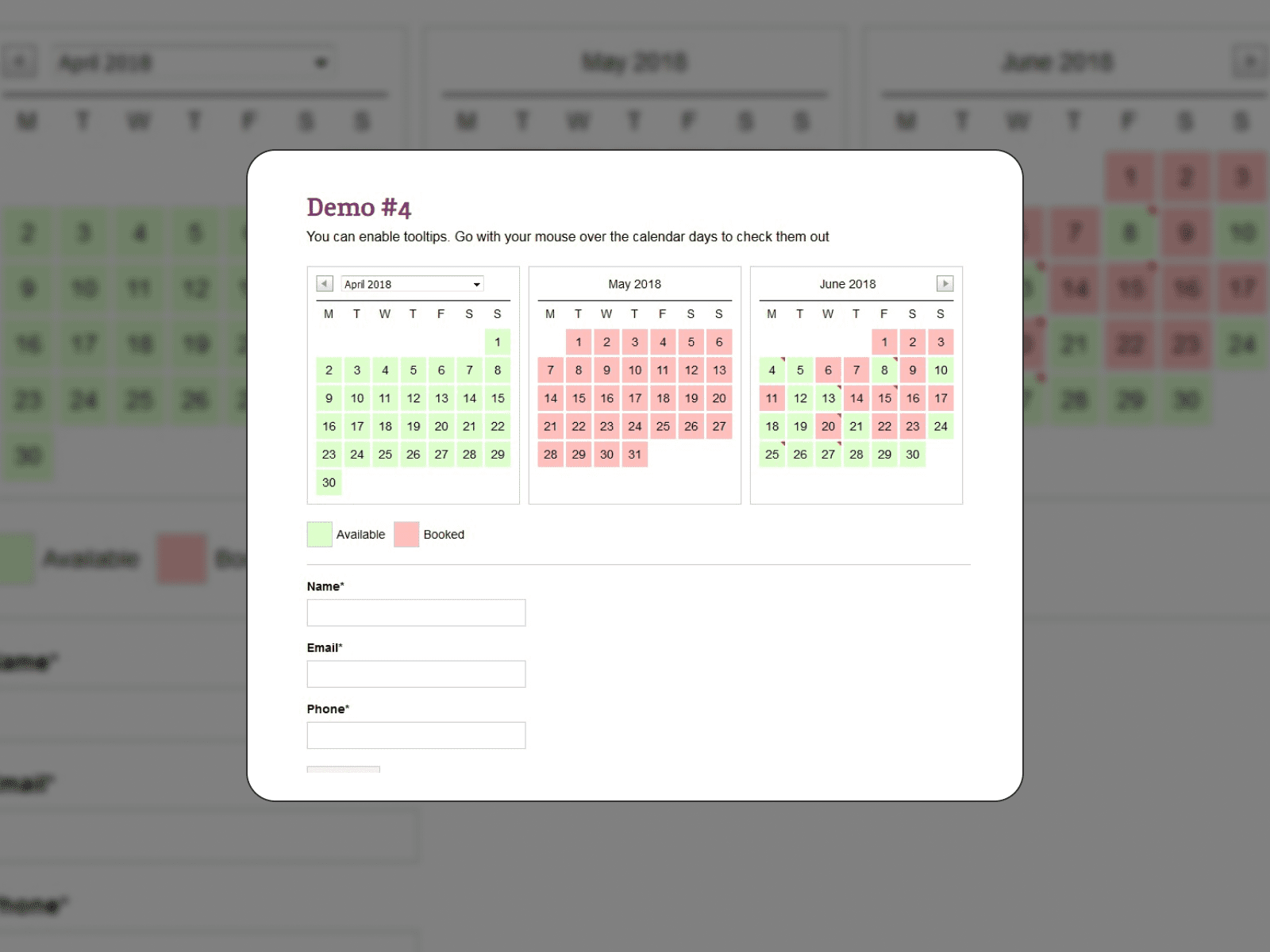 | Provider | Downloads | Built for | Cost of PRO |
| --- | --- | --- | --- |
| Veribo | 10K+ | WordPress | 59 per year / one website |
WP Booking System plugin is another great booking plugin WordPress free to use that is quite flexible to power lodging business websites.
With this plugin, you are able to create multiple booking calendars and place them along with the accommodations that you rent out.
It's quite simple and useful. Let's explore some key benefits of this WordPress house rental plugin.
Key features:
Individual booking calendars for unlimited rentals.
Ability to set availability for each day in the calendar (with a legend).
A booking form along with a booking calendar (with multiple fields and transatbale labels, widget-ready).
Admin booking confirmation – reject or confirm.
A complete database of bookings with client details (bookings history).
Google reCaptcha for a form.
No double booking thanks to automatic bookings control (blocking booked rooms).
Email notifications.
Multiple months displaying in a default calendar.
iCal sync with Airbnb, HomeAway, etc (only export is possible, however, so it's a one-way sync).
Handy tooltips.
Translation ready.
Does the plugin have a PRO version?
Yes. With the premium version of the WP Booking System, you may accept online and offline payments, and also, create an unlimited number of booking calendars & forms. The other core advantages of the PRO version are the iCalendar sync, booking notifications, the ability to set a minimum number of days that a visitor must book, etc.
If you are looking for the all-in-one theme with the premium version of this plugin integrated for free, the most popular one is Bellevue Hotel + Bed and Breakfast WordPress theme.
VikBooking Hotel Booking Engine and PMS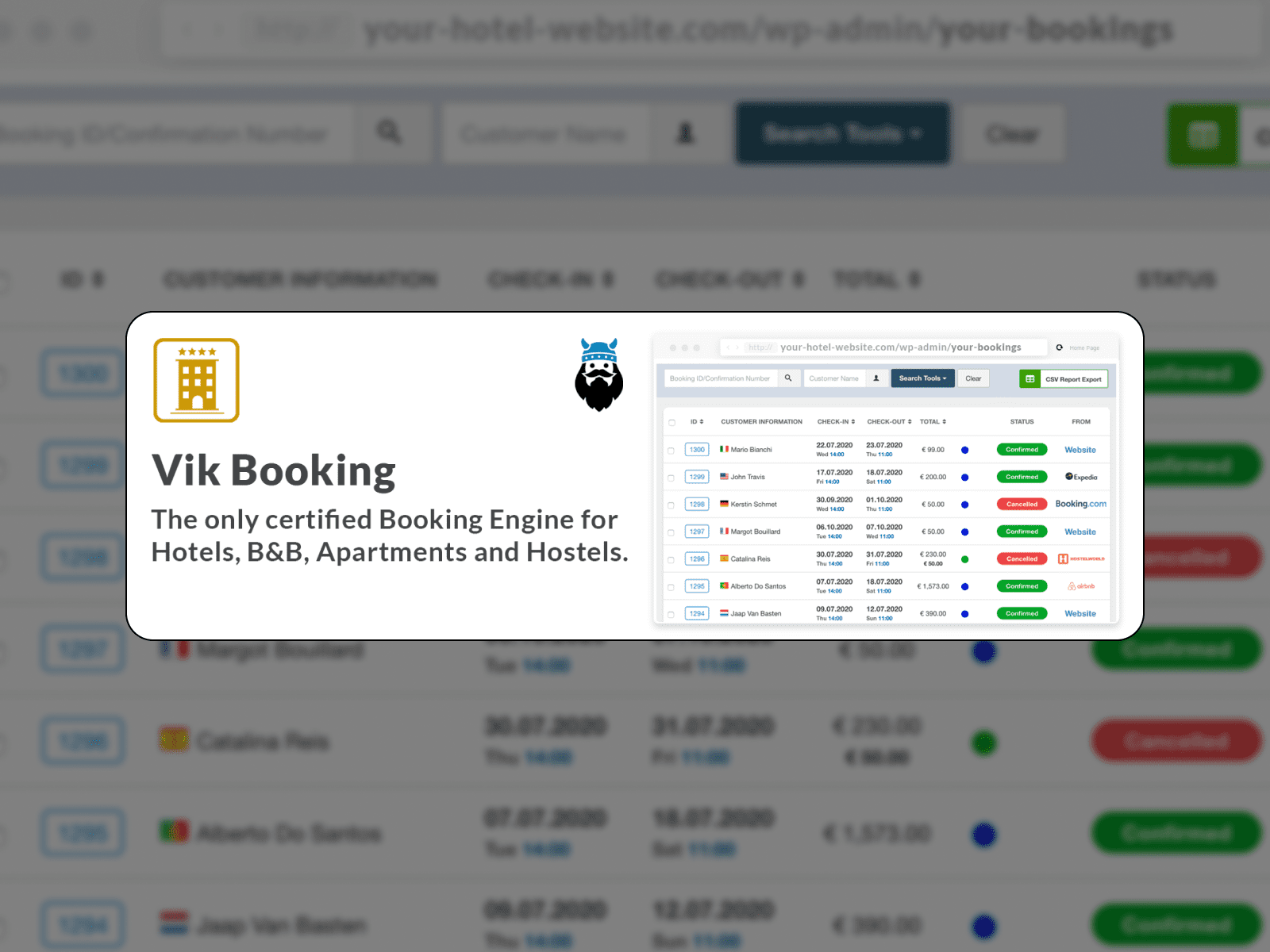 | Provider | Downloads | Built for | Cost of PRO |
| --- | --- | --- | --- |
| VikWP | 5K+ | WordPress and available for other platforms | €140 |
The Vik Booking WordPress hotel plugin is now available for all WP users, but initially, it was developed for another CMS. This is a reservation plugin WordPress users love primarily thanks to its flexibility.
With it, you can manage reservations and adjust the booking details of each room or bed you rent. This WordPress rental plugin provides you with eight different shortcodes, which help display different views for the front-end.
Apart from that, there are more features.
Key features:
Variable rates options.
Real-time search availability calendars.
Accommodations occupancy overview.
Many features for developers.
Custom booking process.
Ability to assign various users roles.
Multi-language support.
Does the plugin have a PRO version?
Yes. The plugin's PRO version adds options and extras for each room, sets restrictions for certain days/months, adds seasonal prices, and much more. Your clients will be able to pay with 60 payment gateways and receive invoices after payment.
Oscar Hotel Booking Engine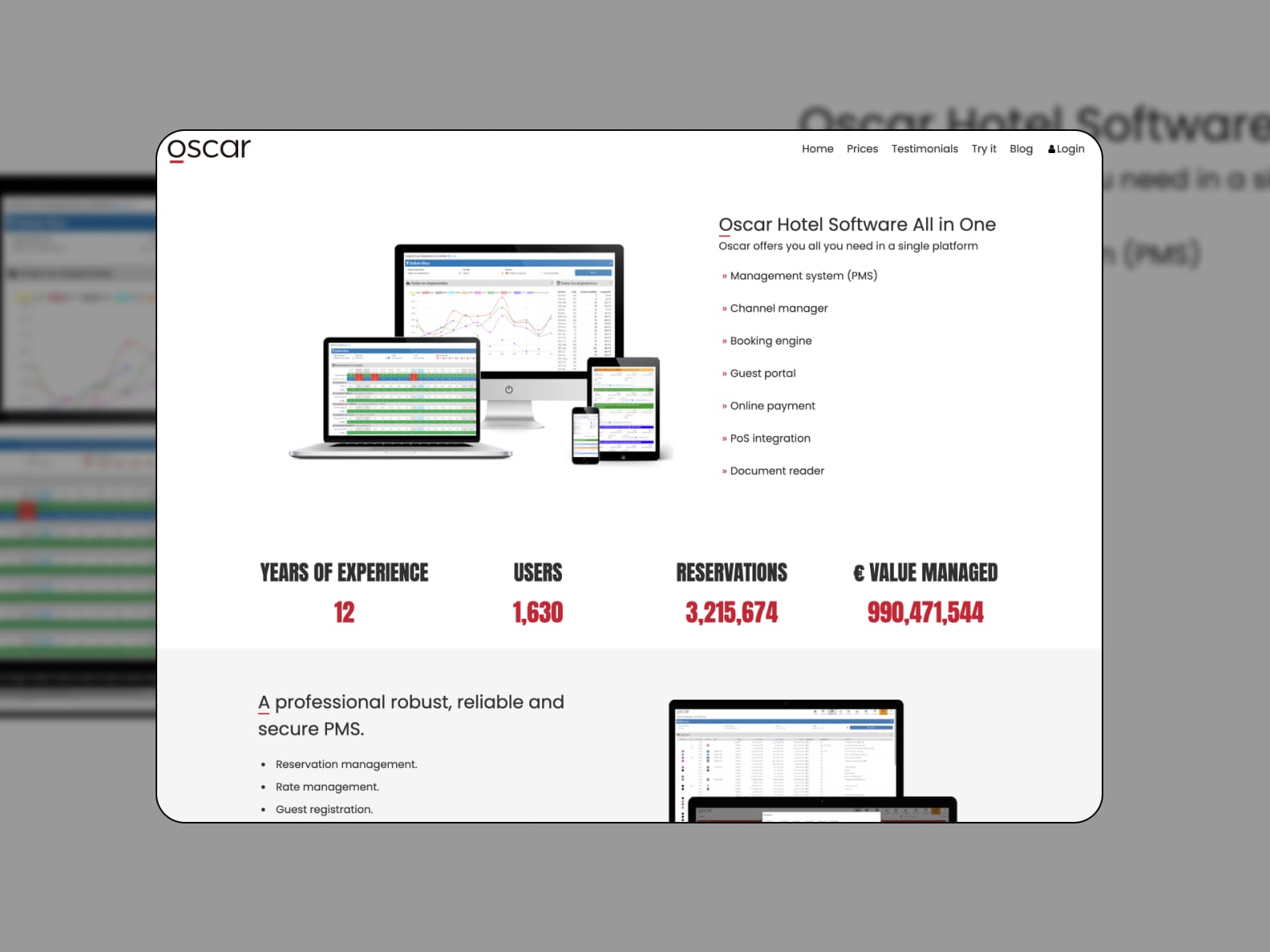 | Provider | Downloads | Built for | Cost of PRO |
| --- | --- | --- | --- |
| Redforts | 200+ | Any platform | Prices start at €19.53 per 5 accommodations |
The Oscar Hotel Booking engine is not that known compared to other free WordPress hotel booking plugins in our article, but it certainly can solve multiple needs of hotel owners aiming to build a site.
Just like a few other free WordPress hotel booking plugins in this list, this plugin is an integration utility with the Oscar system, a Spanish software for rental property businesses.
In addition to all standard tools, it also offers you a professional document scanner, POS (point of sale) integration, and an advanced guest portal with multiple tools for travelers.
Key features:
All essential tools in place, including channel managers, invoicing, housekeeping, financial reporting, booking software, messaging system, etc.
A pricing model is pretty affordable and depends on the number of properties, at the same time, the cheapest plan up to 5 accommodations doesn't contain c channel manager.
Different options for direct and indirect sales.
Multiple marketing tools to make people stay longer.
Checkfront
| Provider | Downloads | Built for | Cost of PRO |
| --- | --- | --- | --- |
| Checkfront Inc. | 3K+ | Any platform | Scalable pricing from €34EUR per month |
Just like Beds24, Checkfront is a top-of-the-line software in the property management niche that requires creating an account. The good news is, you can easily connect your Checkfront account to WP via the free dedicated plugin.
However, it's worth noting that while the plugin is free, it won't work without a paid Checkfront account. But don't worry. You can try before you buy with Checkfront's free trial. With no credit card required, you can test out any plan for 21 days, giving you ample time to see if it's the right fit for your business.
In terms of product features and integrations, Checkfront holds its own against Beds24. It includes all the payment gateways you can imagine, as well as integrations with productivity tools like Zapier, conversion and messaging tools (50+ integrations in total).
Key features:
Clear, user-friendly software interface.
Automated notifications.
Zoho and Nutshell CRMs ready to be connected.
Handle follow-up transactions: manage deposits, finalize remaining balances, and issue refunds.
Smooth integration with accounting tools, such as QuickBooks Online and Xero.
Various pricing plans to suit your needs (the features will vary too).
Beds24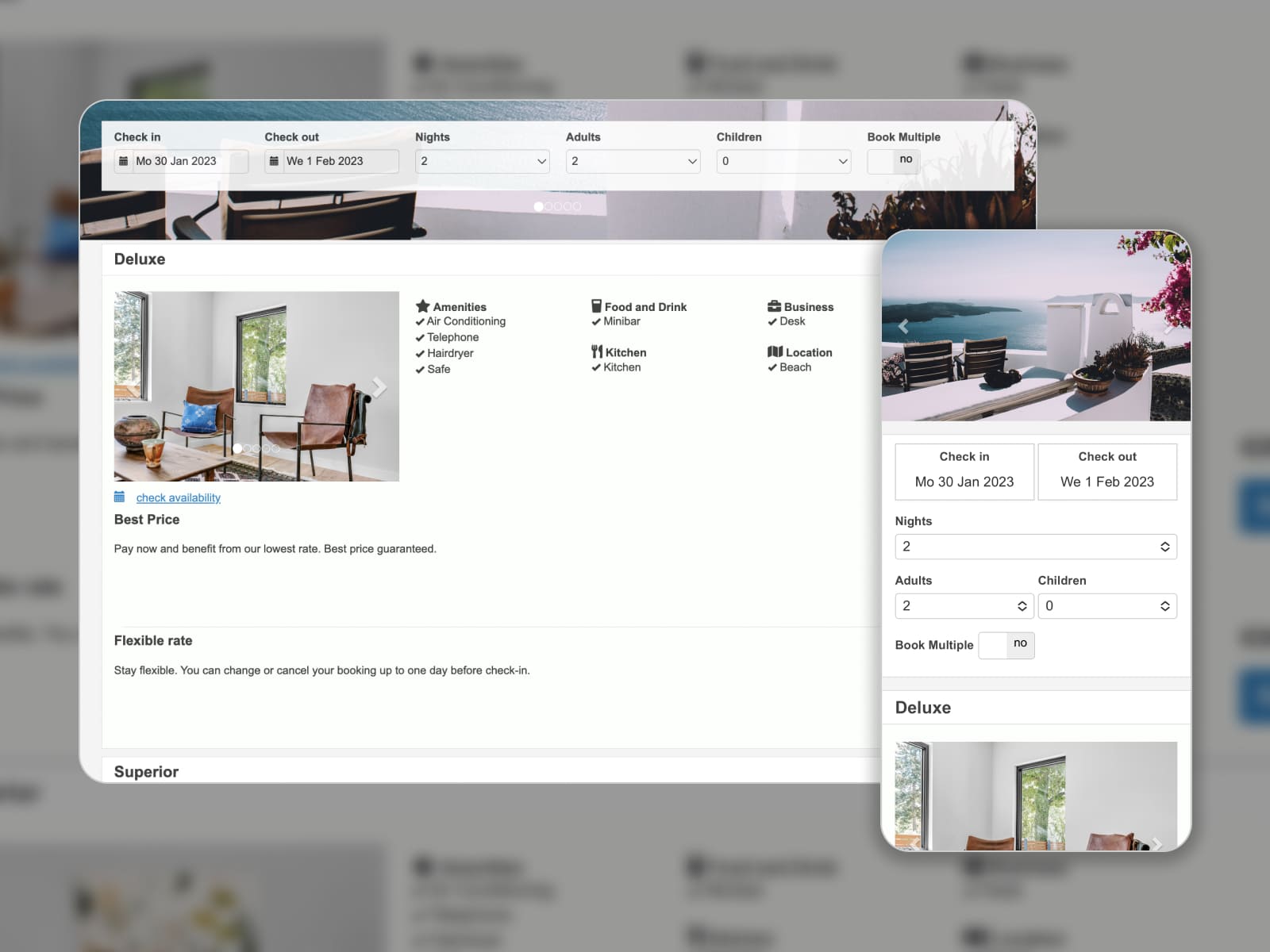 | Provider | Downloads | Built for | Cost of PRO |
| --- | --- | --- | --- |
| Beds24 | 2K+ | Any platform | Scalable pricing from €9.90/month |
At its core, Beds24 is a cloud-based property management system that works for a wide range of businesses, such as hostels, hotels, bed and breakfasts, vacation rentals, and other types of accommodations.
Just as any other best-in-class software, Beds24 offers a booking engine, channel manager, and property management system all rolled into one.
No limitations with the payment options, too, various payment gateways like PayPal, Stripe, and Worldpay are there. Needless to say, you can easily sync it with popular channels like Booking.com, Expedia, and AirBnb. Automated invoicing, inventory management, agency and multi-property capability accounts are supported.
The Beds24 connection plugin you'll find on WordPress is free, but once you install and activate it, you'll need to connect a Beds24 account, the latter can be obtained only with any of paid plans. Prices start at €9.90 per month.
Key features:
A powerful front-desk PMS for managing your clients, inventory, messaging and payment collection.
A dynamic multi-calendar with multiple customizable views.
Communication is made easy with the integration of WhatsApp.
Flexible pricing rates with tons of conditions.
Multiple workflows are automated.
Multiple integrations with leading apps, such as VRScheduler, Xero, Checkin and more.
A handy Beds24 calculator is available to help you assess your possible expenses on the software.
WP Hotel Booking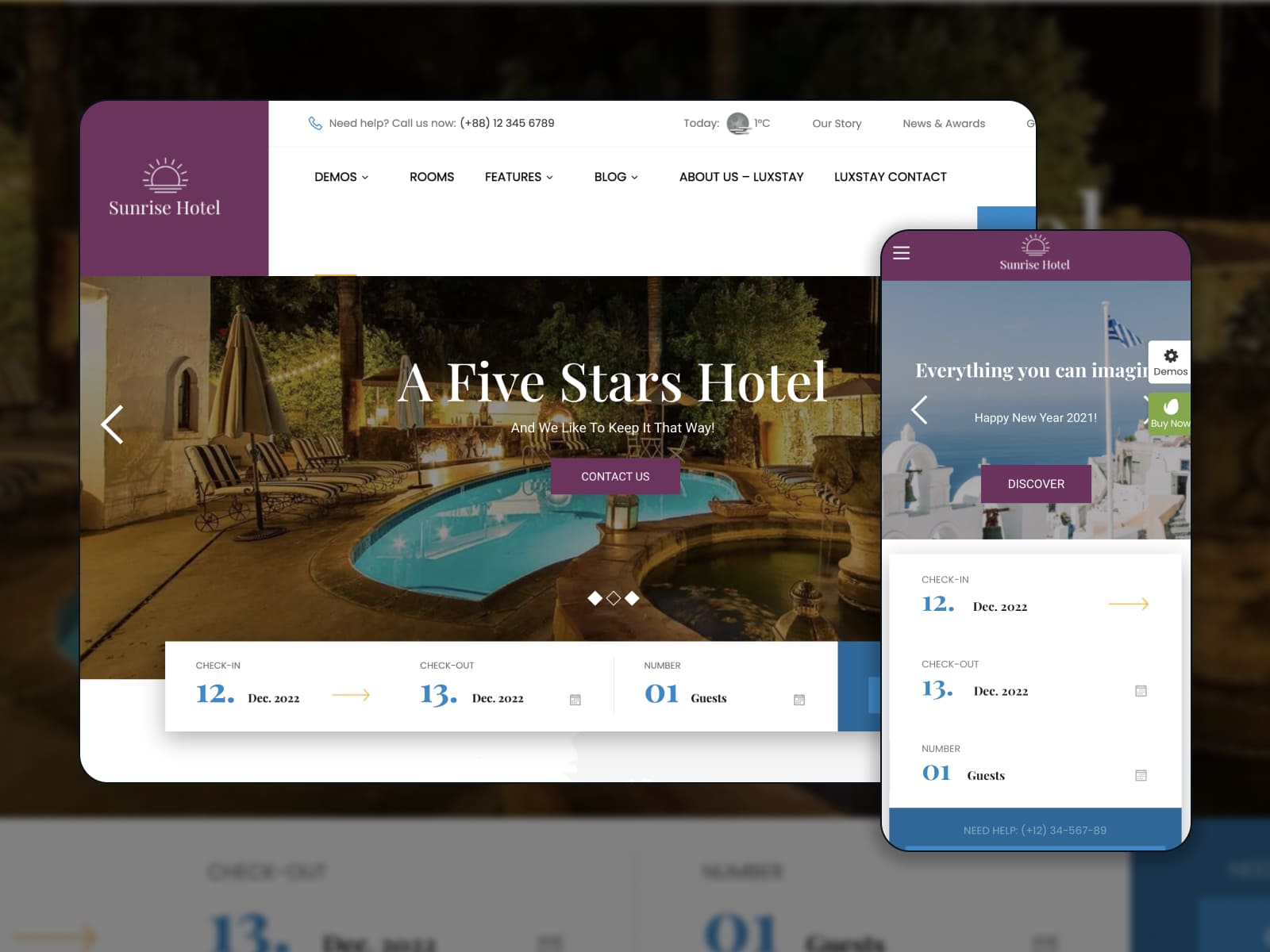 | Provider | Downloads | Built for | Cost of PRO |
| --- | --- | --- | --- |
| ThimPress | 10K+ | WordPress | no |
WP Hotel Booking plugin is a great solution to build and manage an ultimate WordPress hotel website. This WordPress rental plugin comes with all the necessary tools building a rooms listing, rooms management, and implementing online room reservations via the most popular payment gateways.
The WordPress travel plugin allows you to add unlimited rooms with the needed descriptions, photo galleries, amenities (amenities can't be taxonomized, unfortunately), WordPress bookings calendar, capacity for adults and children, extra services, etc. The guests will be able to find a room thanks to a few sorting clicks in the search availability form.
Key features:
Easy room management – customize room's appearance, track and modify its status.
Bookings management – view and modify bookings (completed, cancelled, pending statuses).
Price variables per day.
A list of multiple free addons at hand (for payment gateways, statistics, coupons, WPML support, WooCommerce compatibility).
WP booking system with multiple currencies.
Block special date management.
Does the plugin have a PRO version?
No, but this WordPress apartment booking plugin powers several popular hotel themes like Hotel WP.
Hotel Booking & Holiday Rental Themes
Hostel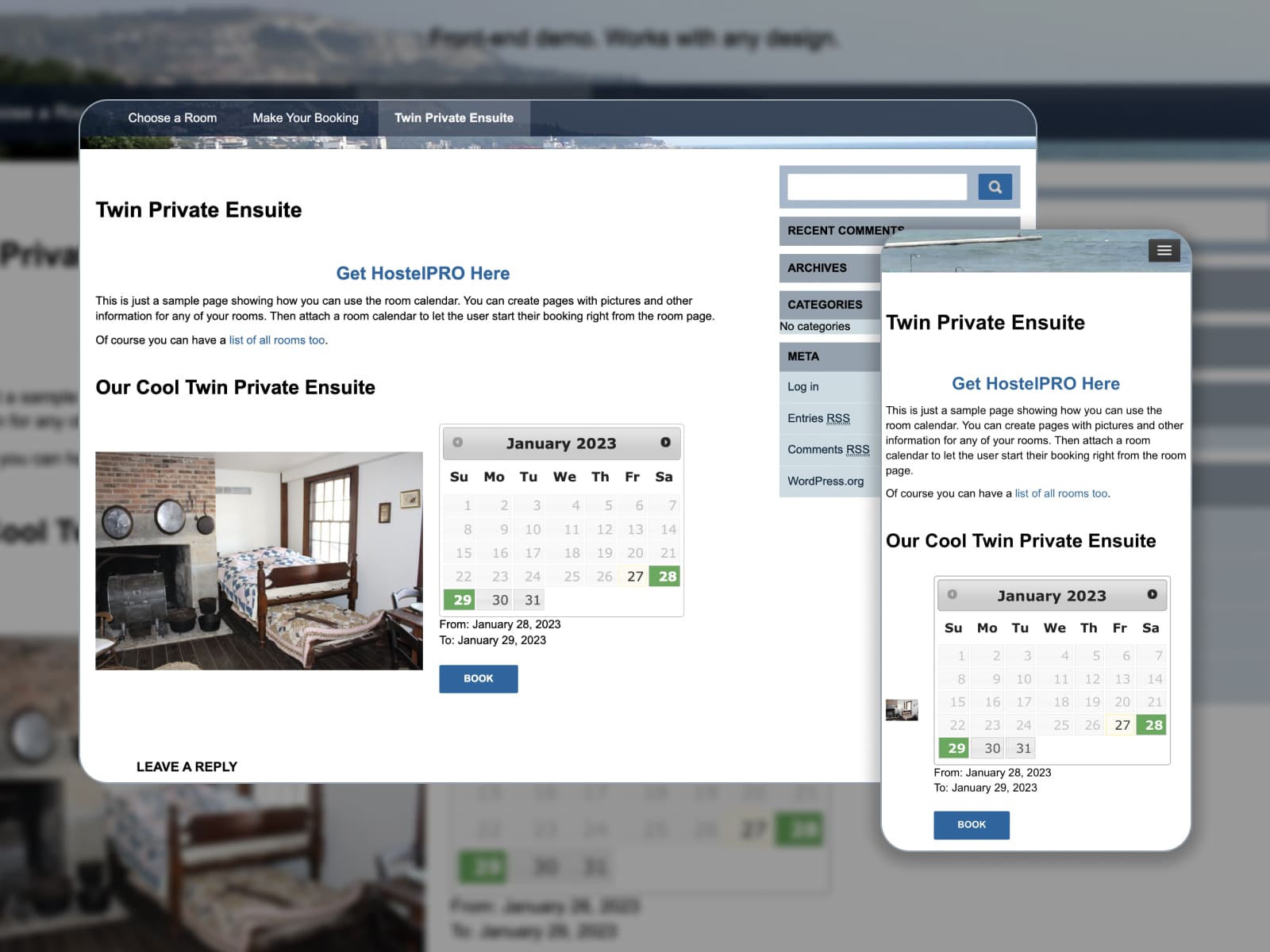 | Provider | Downloads | Built for | Cost of PRO |
| --- | --- | --- | --- |
| Kiboko Labs | 80+ | WordPress | $77 one time |
The WP Hostel PRO is a premium solution for WordPress websites, which, of course, also has a free version. It offers a wide range of features, including the ability to create and manage multiple rooms and beds, create seasonal pricing, and manage bookings through a color-coded calendar view of available and unavailable days.
It has "hostel" in the name, making it particularly well-suited for hostels. This gives you the ability to create and manage multiple rooms and beds, which is different from traditional hotels that only rent out rooms.
But don't let the name fool you, this solution can be used for any type of property, not just hostels. The plugin also includes an integrated payment gateway, allowing customers to make bookings and payments directly on your hotel or hostel site, via PayPal, Stripe or manually.
And of course, the WP Hostel plugin also comes with an interface for managing customer information, including contact details and booking history. This makes it easy for you to keep track of your guests and improve their experience.
Key features:
Set a default price per bed or for the whole room per night.
PayPal and Stripe for online bookings, as well as bank wires and payments upon arrival.
Useful filters for finding bookings in the admin dashboard.
Customize a booking form, including the ability to add custom fields.
Set discounts and seasonal pricing.
Individual availability calendars for rooms.
iCal support to sync rooms and beds availability with external platforms.
HBook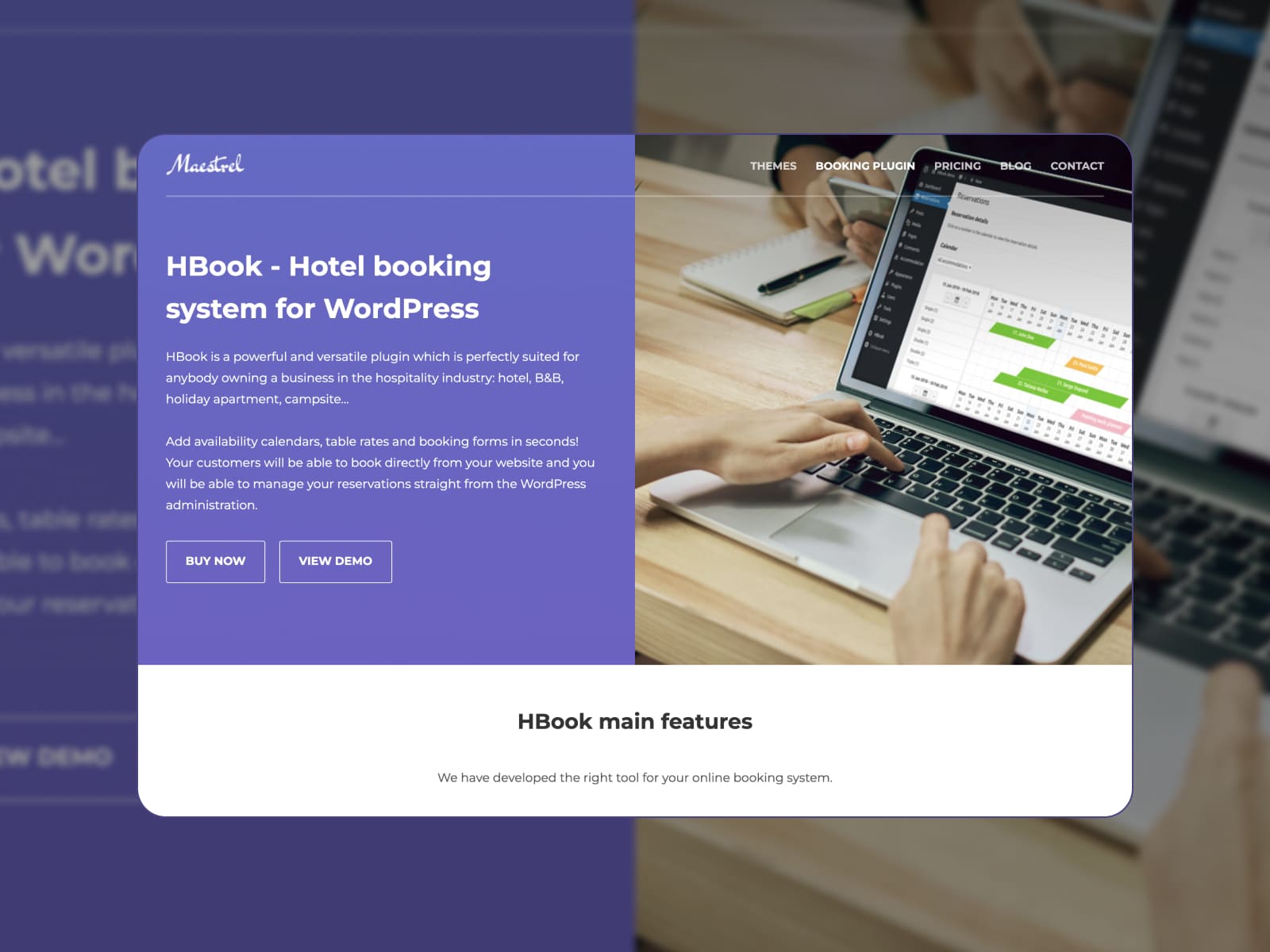 | Provider | Downloads | Built for | Cost of PRO |
| --- | --- | --- | --- |
| Maestrel | 8K+ | WordPress | $65 once |
HBook is a premium-only plugin exclusively for WordPress, which is completely dedicated to rental property management by owner. That is, it lets you build a hotel booking or home rental website with the integrated booking engine, payment collection, and sync to external platforms.
Just like MotoPress Hotel Booking, this plugin offers a decent level of flexibility when it comes to seasonal pricing, discounts, and various booking conditions.
It also has a few WordPress themes on offer, which means you can opt for designs styled up for this particular plugin and make your site look stunning too.
Key features:
Sell extra services easily.
Invoicing and automatic emails are supported.
Add a security bond to the pricing.
Give vouchers and offer discounts.
PayPal and Stripe are supported for online automated reservations.
Charge and refund your clients online.
Bookings sync to external OTAs for maximum exposure.
So, which are the best free WordPress hotel booking plugins?
Hopefully, we've helped you choose the best booking plugin WordPress offers, as well as other cloud-based platforms that offer WordPress integration.
All solutions presented in the list are reputable solutions, but they are not necessarily interchangeable (and there is unlikely one best booking plugin WordPress users can employ). Here we provide a few really reliable solutions.
Prices are subject to change*
If you have a few rentals and simply need to add individual availability and booking calendars to them, PinPoint is a good choice.
MotoPress Hotel Booking Lite is an off-the-shelf kit suitable for building a property rental or a hotel website from scratch, with all the needed tools for creating an accommodations directory and managing booking services. It's one of the most powerful free booking plugins for hotels.
WP Booking system, as another multipurpose plugin, should be high on your list if you want to serve multiple booking needs in addition to the main function of renting out your property.
The VikBooking booking WordPress plugin has brought numerous features to WordPress so it's also quite reliable.
WP Hotel Booking is another flexible plugin with lots of built-in payment gateways.
The Hostel PRO plugin might seem the most affordable solution in terms of the cost since it's a one-time payment, you pay just once and use the software for as long as you run your business, with no limitations of the features. On the downside, it doesn't look that well-designed or feature-rich.
All cloud-based software, such as Beds24 or Checkfront, which provide a free connection plugin to WordPress are usually the most dedicated out-of-the-box solutions but the pricing can get really high for small businesses.
So, which free WordPress hotel booking plugins sound like a way to go for you?
---
Disclosure: this article may contain affiliate links for third-party products. If you click a link and later make a purchase, we may earn an affiliate commission that doesn't result in additional charges to you.
How do I create a free WordPress booking?
If you need to create an appointment-related booking website, you need to pick a suitable plugin among
free WordPress booking plugin
specifically optimized for appointments. They will help you add an appointment booking wizard to your website and drive direct hourly bookings. The number of free tools in plugins varies.
Is there a WordPress plugin for booking rooms in an office?
Rooms in an office are basically rental spaces, therefore you are free to use any booking plugin for hotels or houses, simply name your rental properties accordingly. Any plugin in this article is suitable for this need.

How do I add a plugin to my WordPress booking?
Nothing is easier. If you are talking about free plugins, go to your WordPress dashboard > Plugins > "Add new" and search for the needed plugin by typing its name. Once found, install it and activate.