Direct Hotel Bookings or OTA: Which Way Should You Choose?
Booking, TripAdvisor, Expedia…These companies seem too important to ignore. Hoteliers are lured by their money and power. Developing our WordPress Booking System plugin, which is meant for direct accommodation bookings from independent websites, was a kind of risky path. Can it be compatible with OTAs, is there any demand?
We decided to dig deeper. To be perfectly honest, some in-depth analysis is beneficial for both sides: it delivers insights for hospitality business owners and lets us create a better version of MotoPress Hotel Booking plugin for your WordPress website (however, the info will be useful even if you use another CMS to power you lodging business website).
Here are major questions we are trying to answer in this post:
Should you list your rental property on popular booking websites only – OTA (online travel agency) like Booking.com?
Should you provide booking services on your independent website only?
Or probably you should use both?
To get some up-to-date answers directly from hoteliers, we've created a survey to collect data and see what choice they make (winter-spring 2017).
As the chart shows, the vast majority of our respondents run hotels:
Hotel
Hostel
B&B
Vacation Rental
Apartment
Other
Choose property type of your business
The biggest number of hoteliers (57.1 percent) prefer the direct bookings from their websites only:
Yes, on our website + popular OTA (e.g. Booking.com)
Yes, property booking on our website only
No, don't use any booking system but want to try
No, don't use any booking system and don't want to try
Yes, but we want to try another booking system
Yes, OTA only
Other
Do you provide online property booking service for your guests?
14,3 percent already have an experience with booking software, but are looking for alternatives. Those who don't have a booking software on their website yet, want to give it a try.
However, as the last chart shows:
Don't use it
Don't use it yet, but want to try
Very satisfied, it helps us increase revenue of our hotel establishment
Not satisfied, we decided to use an independent booking website
Other
How are you satisfied with popular booking systems like Booking.com?
42,9 percent of hoteliers want to try them (OTAs). 28,6 percent don't use OTAs at all and 14,3 percent were not satisfied with them.
To sum it up quickly, the vast majority of hoteliers either use the hotel booking system or are going to implement it. As for OTAs, almost a half of respondents want to try them and 14,3  percent were not satisfied with them. Others use direct website bookings.
What are the reasons for these tendencies?
A love-hate play between hotel brands and OTAs has started with the rapid growth of technologies and travelers' demand for hotel brands transparency.
Just think of it. You are the boss on your own website and more likely you won't "allow" negative reviews on your site. The "marketplace" concept of OTA, on contrary, won't generally allow you to filter good and bad reviews, so the travelers often feel much safer relying on them.
However, it's not clear which path is actually best for your lodging business – building a booking system on your website or compete with other hotels in your area using OTAs.
There are perks and pitfalls of both.
Pros and cons of direct website bookings website and OTAs bookings
We analyzed the major pros and cons of both alternatives. So we can touch more aspects and provide you with more general details.
The Pros for hoteliers
Of Booking.com, TripAdvisor and other similar platforms

Of independent property booking site

Top rankings in all search engines – the main directory, not your particular hotel est.
 Good choice for hotel brands without proper brand recognition
Popular among modern travelers thanks to a big choice of hotels, comparison, extra information, ease of booking process
Secure payments
The vast majority of travelers believe "honest reviews" on OTAs

You have full control over the website content – presentation of rooms, reviews, etc.
A choice of booking software – free and paid, plugins or cloud service
More customization freedom and generally better support from small companies that will help you implement booking services
An opportunity for building an independent business without a middleman, developing your brand recognition
Controlling and regulating your pricing and rates when needed much easier
The Cons for hoteliers
Of Booking.com, TripAdvisor and other similar platforms

Of independent property booking site

To an extent, you allow the OTA to "own" your brand name
The system of bidding for position – hotels with little bargaining power, especially in popular destinations, risk not to be noticed
The contracts you have makes it very expensive for a hotel to sell a room; commission rates cut your revenue (the room can go highly discounted, so be prepared to sell it at lower prices)
You should stay proactive in updating the OTA with all your inventory and available rooms
Shady SEO practices that steal traffic from your brand website (if any)

Being your own boss, you'll need to spend more time on setting up booking software
You'll need to invest more time and money into hotel marketing
SEO competition with OTAs is hard
If not listed in the OTA, you are not in the "mainstream" and probably losing your piece of the pie
Sometimes more limited booking software, fewer options for customers – like less payment gateways, more difficult booking process
Is OTA any good?
Good question.
Customers trust them. From their perspective (I also use OTAs sometimes), all seems pretty easy and clear. But another side of a coin, where the industry representatives compete, is darker.
There are many controversial facts about OTAs.
For example, in March 2017, the Association of Turkish Travel Agencies took the radical way to get rid of world-known booking monopolists – a Turkish court simply banned Booking.com website:
"Lawyers for the Association of Turkish Travel Agencies had argued that Netherlands-based Booking.com was engaging in unfair competition in the marketing of hotels in Turkey.

Anadolu said that government authorities are expected to block access to the website as soon as they receive official notification from the court".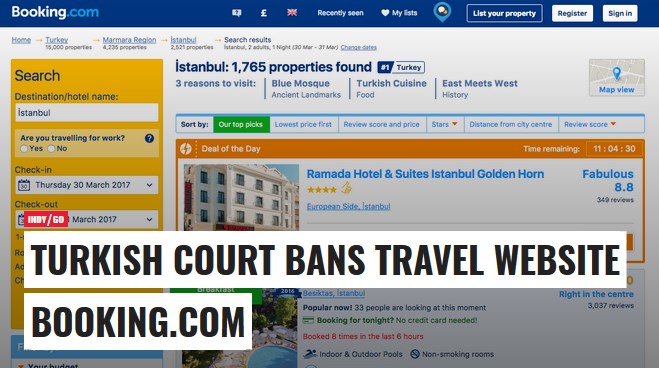 Image source: Independent.co.uk
So far, the Booking.com website is still running and you can book the needed accommodation in Turkey.
Probably this is a battle for domination and we, WordPress guys, are just scratching the surface here. But the fact that local hotel businesses want to fight with "cannibalizing" their natural hospitality market signals that businesses are not satisfied and they are looking for changes and alternatives.
The only clear thing is that hotels relying on one OTA alone risk a lot.
Of course, this is just one case. However, many questions arise. Do OTAs really create a healthy and fair competition environment?
In addition to positive answers, hoteliers across the net claim that the top positions in hotels listings in OTAs are all bought, the search algorithms are too tricky and there are no chances for hotels with little to no bargaining power to be noticed by travelers.
All in all, hoteliers face different troubles. Are there any real conspiracy theories behind those claims? Yes, it's impossible to satisfy every hotelier, but there's no smoke without fire.
Another example, back in 2012, TripAdvisor was involved in countless lawsuits across the world being asked to remove the word "trusted" form their website as the company couldn't prove their reviews were honest.
In the article "What You Don't Know About TripAdvisor. How the World's Largest Travel Monopoly Ultimately Hurts Travelers & Small Businesses" published in 2016 Heather Stimmler-Hall stresses that hotels use so-called "reputation manager" companies to polish and "fix" their reviews on TripAdvisor which definitely leads to unfair competition.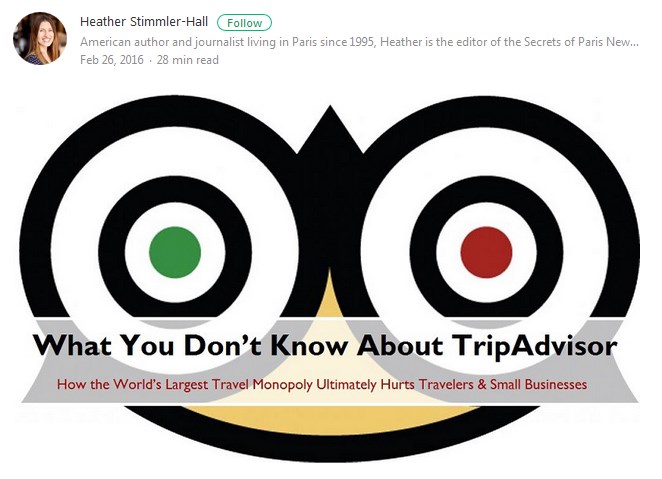 Image source: Medium.com
TripAdvisor is also often accused of promoting their own companies' business listings above those independent ones. In the same article Heather tries to look at the problem at different perspectives:
"I have experienced TripAdvisor over the past 15 years as a professional travel writer, as a business owner of a tour company, and as an independent traveler. While TripAdvisor may have started as a sort of consumer watchdog site empowering hotel guests, I've watched it turn into a greedy travel monopoly profiting at the expense of both travelers and small businesses."
And finally, she gives advice for travelers (just curious, how many conscious ones have already stumbled upon her research?):
"Whenever possible, book hotels, tours, restaurants, cooking classes or any other travel service DIRECTLY with that business. TripAdvisor knows we're so busy we prefer the easy one-click option on their site (even if the price isn't cheaper), but by booking direct you are helping support small businesses (and they're happier to have you as a client), keeping overall prices down, and cutting out the middleman in the communication and accountability chain in case something goes wrong."
Probably some of those facts surprised you or, on contrary, you can tell even more about the side effects of working with popular hotel booking platforms. OTAs help many small businesses.Or don't. Each case is different.
What about customers?
If you are now evaluating what's the best option for your business, brand, occupancy, revenue, etc, don't forget about one of the most crucial points – customer satisfaction. Your hotel establishment doesn't serve your business only, it serves your customers.
You know your requirements and your claims to OTAs. But what are the requirements of modern travelers? In a couple of words, the vast majority of travelers want the entire hotel room booking process to be handy, fast, and secure.
You won't argue – these are features OTAs provide on a high level.
These are features MotoPress developers found really hard to polish developing a WordPress hotel booking plugin for independent websites: creating a smart search algorithm, implementing lots of payment methods, translations and multilingual support, creating a modern lightweight design – the experiments and hard work took mostly a year to achieve satisfactory results.
So, you can only imagine how much money the OTAs invest into improving their platforms to outperform local hospitality businesses. And many travelers across the globe use OTAs, they simply trust them.
And do travelers want to use a direct booking service on your website? Do you think you can offer something as reliable as OTAs do? Well, it depends on the booking software you use and your audience. As for software, we've already made a quick note a while back. Most of the software, including WordPress property rental reservation software, follow common best practices and coding standards, so you can feel safe in their hands. As for the audience…
To solve this puzzle, hotels should try to find the answers to the important brand questions:
Who is your guest segment ? What kind of traveling is the most popular among guests  – business or budget? etc.

If you know "your people", you'll more likely make your choice wisely.
For example, budget travelers are always looking for the best deal, so they might surf through many hotel comparison services, so OTAs are generally their first choice. These travelers generally don't care about a hotel brand, they are much more interested in reviews, location, and value.
What about business travelers? It's often a case when business people don't book accommodation by themselves. Someone from the office staff does. Chances are, they will be interested in revising the hotel brand website – generally, business representatives are more interested in hotel brand recognition. However, reviews and location still come in the first place.
As you see, there are a lot of factors you should consider.
Conclusions
Let's get back to our questions and see whether we've moved a little forward.
Should you submit your hotel to OTA only?
Should you provide booking services on your independent website only?
Should you use both? As with all pros and cons, each of the channels (OTA and direct booking) is a good resource of generating hotel bookings.
So, the answer is – it depends.
If you don't have any marketing and SEO concept for developing your brand, just start building your hotel recognition or offer one extra bedroom in your house as a B&B host, don't have time and money for marketing, ready for marketplace business competition and for all kinds of positive and negative reviews, ready to share your revenue with the OTA, and primarily deal with budget travelers, the first option might be a good way to start.
On contrary, if you want to be fully responsible for your brand name, ready to improve your hotel marketing on your own, cut expenses on commissions and be independent, don't play the middleman game, have more peace in mind that your website will be up and running when you want it, deal with conscious budget and business travelers, the second option looks more attractive.
There may be tons of your own circumstances and experiences which can lead you to an absolutely different answers.
For example, some hoteliers can find the balance using both channels. On the one hand, it looks like the battle of your own channels, but on the other hand, it's a fact that many travelers go to visit the brand website after finding it in any of the OTAs. In this way, you'll generate some direct bookings from your website and from OTAs, too. However, managing two channels you'll need to double your business workload and resources as well (more work = better results).
As you might sum up, here we are only trying to make an attempt to find the answer by providing you with some facts and basics of customer psychology.
Focus on what your hotel is today and what you want it to be tomorrow – balance out all your resources and expectations and make your choice.
Your turn! As a customer, how do you book a room? As a hotelier, which path do/will you follow?
Looking for a WordPress property rental plugin that can synchronize direct website bookings with OTAs? MotoPress Hotel Booking plugin is a way to go.