Hotel Booking App Development: Surefire Way to Improve Your Business
Mobile apps created a steady shift in the way hotels do business.
In this post, we'll share a few ideas on hotel booking app development benefits, app types, and a ready-made solution that we had created.
Let's clarify one thing first.
Who is the final user of the hotel booking app you are looking to develop or use? Your hotel management staff or travelers?
Because naturally both types exist and based on your answer, you'll understand what category you fall into and which type of a booking app you need.
So first of all, let's understand what types of booking apps prevail on Google Play and App Store.
Booking app types
Google search, Maps and Assistant are by themselves quite popular enhancers that can promote your hotel or rental property business by displaying your availability and rates.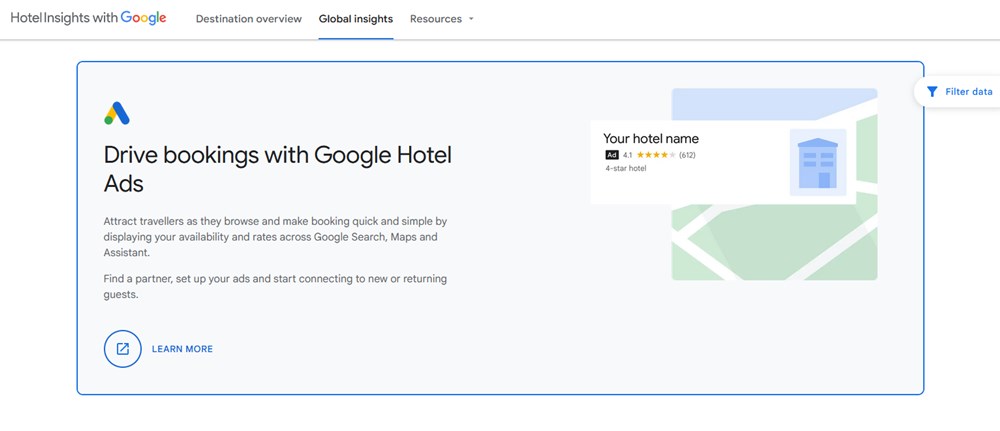 However, a custom mobile app designed for your business helps you create a more personalized and independent solution.
Hotel booking apps differ by wider and smaller concepts, the type of rental property/equipment, and the end user.
OTAs

Usually they support various types of booking options, such as hotels and properties, flights, cars, events, etc. Multiple companies of different types can submit their offerings via this sort of app and travelers can book them in the same app. (KAYAK, Hopper, etc.)

Hotel aggregators

These are as a rule focused on hotels and properties, giving both sides, property owners and travelers, capabilities based on their role. (Hotels.com, Booking.com, etc.)

Hotel chains or standalone hotels

Booking application by a hotel or hotel chain, that is very micro-niche. Users deliberately use such apps of the hotels they already know.

Booking management apps
There are multiple types of the booking management apps of independent booking software providers. They are used by property owners for managing bookings, clients and inventory from their phone. That means this type of app is completely irrelevant to travelers.
Needless to say, if you want to develop hotel bookings apps that would measure up to the first two types, they require huge resources since this is basically about creating an entirely new business.
In this article, we'll be talking about both types, but the area of our expertise is the type mentioned last, a mobile app for owners who need to manage bookings.
We'll be talking about it in the light of the core functionality for hotel bookings, the MotoPress Hotel Booking plugin, a solution completely dedicated to WordPress.
Needless to say, we're not going to talk about how to make a booking app for the end users, namely travelers.
That means, if you want to launch the hotel booking app development like that of Booking.com, Airbnb or TripAdvisor, where property owners can submit and list their property and travelers, respectively, book accommodation, this is not the case.
For that, you'd need to search for the app development company listing your requirements and asking for a meta.
You'll definitely want to read further, however, if you want to see how to use a hotel booking app for your small rental property business.
Creating a hotel booking app for travelers
Scenario: you are a small or midsize hotel business owner and looking to enable your customers to book your hotel via a standalone app
Over the past few years, the reliance solely on mobile phones for booking travel-related things is only growing: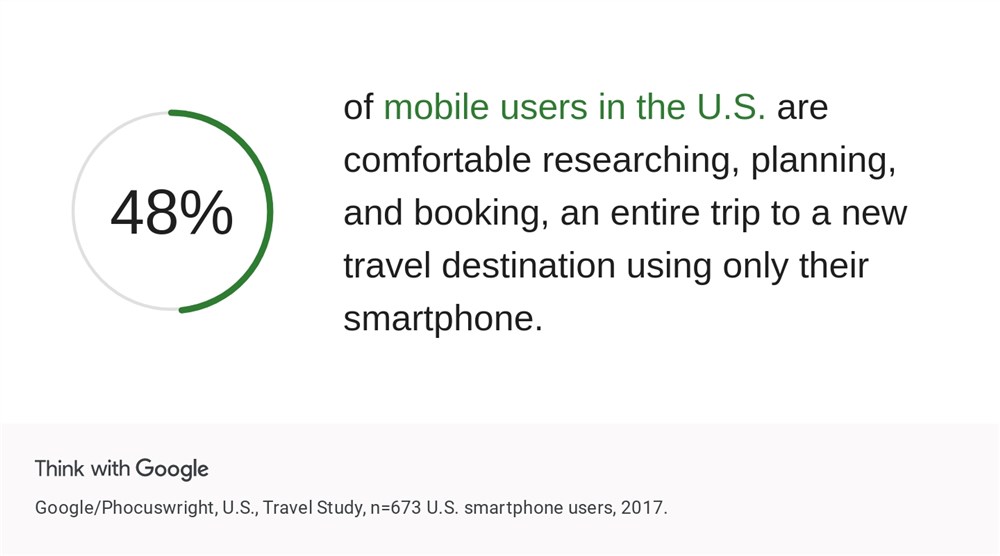 Who can most benefit from the app of this sort?
Small property business owners.
Hotel chains.
Both mean hotel reservations apps offered by private businesses to their customers.
They are very common with big and small hotel chains like Hilton Honor, for example.
Hotel apps development of this kind is usually performed by specialist app companies.
Here is an example of an app of one of the biggest hotel chains in Greece: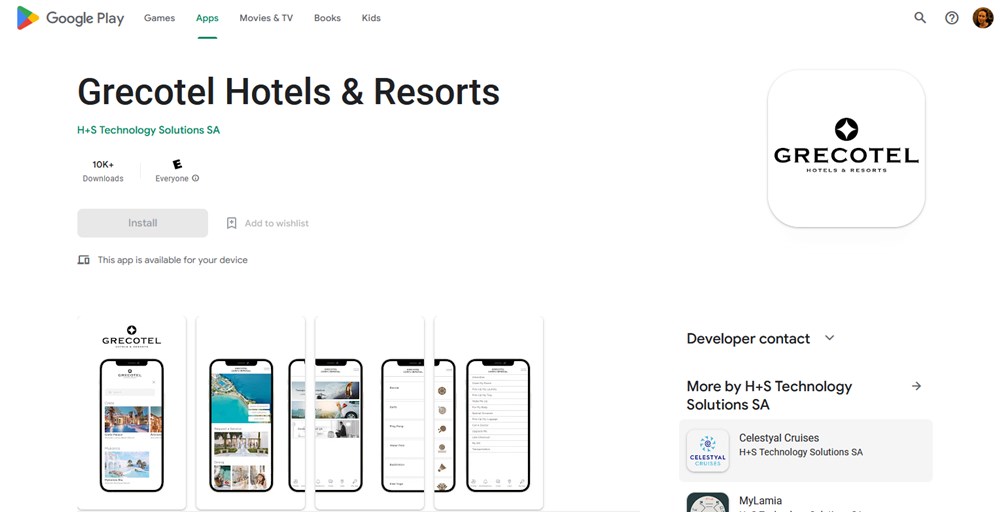 A custom mobile app clearly changes the game for many of such businesses that rent out properties, both visitors from home and away, especially local and regional businesses have a chance to promote their brands easier.
No doubt, travelers will always refer to giant hotel aggregator apps (known as OTAs) to book quickly and securely, but at the same time, you can give them an alternative.
Even if you are not a big chain, we can name at least a few main reasons why you might want to develop an app for your hotel that would allow customers to book directly with you:
Retain most valuable travelers.
Improve marketing via better app ads, communication, and outreach.
Open up more monetization models for your business.
Conversion rates on apps are higher than via websites.
Since customers adore apps, providing booking options via apps helps you greatly promote a people-first mindset in your lodging business.
So an app basically lets you combine various goals, and hotel chains that have already been using apps enjoy these benefits.
Hotel booking app development for property owners
Scenario: you need a connecting app to your current hotel booking website/account for managing bookings and clients
If you are a developer looking to create a rental property website for your client, obviously with the bookings app on offer, we can help you here.
Since creating such an app from scratch is a laborious process, we can recommend you to go with hotel booking engines that offer a mobile app as a feature.
We'll talk about the one we created for the Hotel Booking WordPress plugin, so that if you are on WordPress and need this sort of app for your business or your client, don't hesitate to learn more about our extension.
In terms of functionality, it's a sort of an admin booking com app.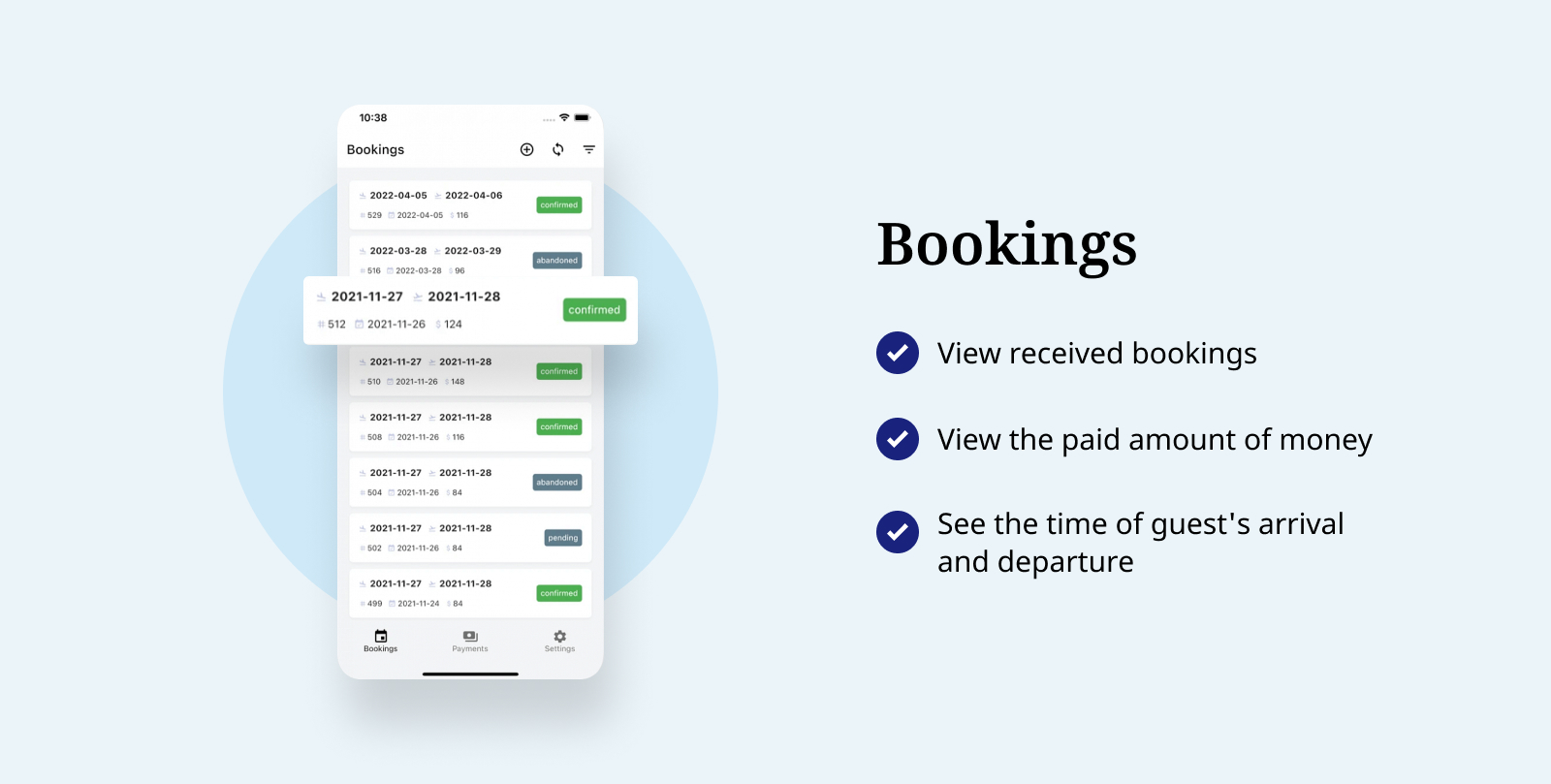 The Hotel Booking mobile app sets you up with a whole bunch of things and features for on-the-go viewing and managing bookings you receive via your WordPress.
It's a lightweight yet sturdy plugin. Its main purpose is to make a web-to-app experience for your hotel staff seamless.
Here are some of its key functions:
View past and upcoming bookings in the calendar.

View details of every booking, such as client name, room information, etc. There are handy filters you can use for search.

Add bookings right from your phone.

View payments and statuses of them (paid, left to pay), as well as change the status of every booking manually.
We used Flutter to develop this app for managing bookings for the MotoPress Hotel Booking plugin.
If you are looking for how to create hotel booking website, we have already covered that too.
In case you really want to build a custom hotel booking or property management app yourself or by hiring a developer, we couldn't recommend Flutter more.
Flutter offers pretty much endless opportunities and allows you to create booking app easier.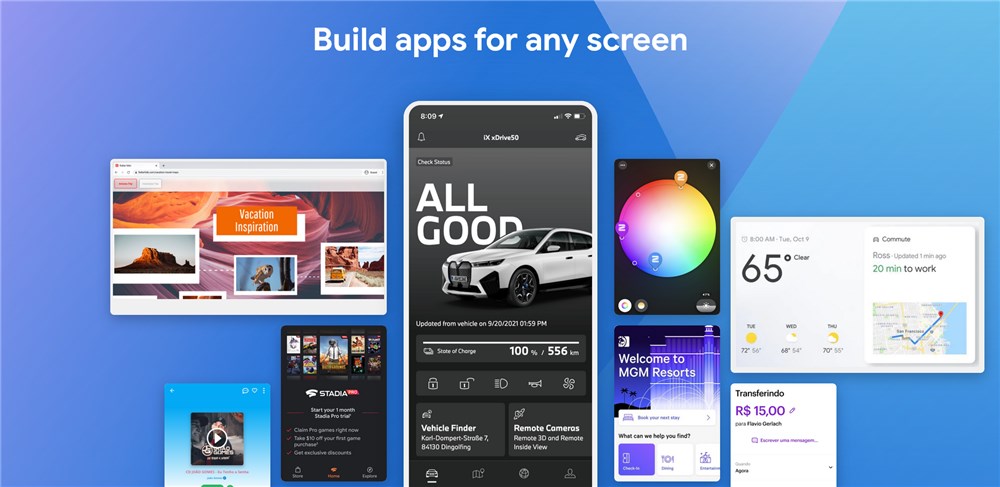 Even more so, we'd be glad to hear from everyone who wants to contribute to the development of our app on GitHub.
Why we chose Flutter and why recommend it:
It's fast and lean guaranteeing high performance for you and your clients.
Flutter supports mobile, web, desktop, and embedded devices.
A dream developer toolkit that dramatically reduces the hotel booking app development time.
The solution is trusted and maintained by a global community of developers.
So you really can't go wrong here with Flutter or, if you find it the right guy for your needs, the Hotel Booking app.
Of course, the app won't work without the core Hotel Booking plugin by MotoPress since all the data is fetched from there.
Conclusion: Don't wait to see an app development as an opportunity you missed
Not every business in the lodging and rental industry will find it appropriate to launch a hotel reservation app; moreover, some might find it wiser to get it for one side of the business more than for another (namely, more useful for the staff than travelers).
Multiple things are crucial before deciding to create an app for travelers: understanding your domestic and international split, knowing trends in your domestic market, and learning where your next guests might be arriving from. But it's much easier with the bookings management app, you don't need to perform any research.
We encourage you to think about a hotel booking app development as a wholesome opportunity in the first place.
Which opportunity? Any that suits your reality: a powerful marketing strategy that can drive success, a go-to convenience for your clients, an indispensable bookings management tool for your staff, you never know until you try.
A mobile app can eventually turn out to be your best card, so be sure to test it out.