Hotel Booking Sync Plugin: Synchronize Bookings With OTAs
Happy to announce wonderful news! The MotoPress Hotel Booking plugin for WordPress can now perform as a middleman for all your properties submitted anywhere on OTAs like Airbnb. It'll help you do things like integrating booking.com into WordPress.
To rephrase, you won't need any hotel channel manager to control the reservation process. Thanks to the iCalendar support implemented within the latest updates, you can connect all your online channels with your website and with each other.
Sounds great?
Let's not waste time and see how you can synchronize bookings with OTAs with the updated MotoPress Hotel Booking plugin.
Synchronization Channel Manager OTA + MotoPress Hotel Booking
To iCal synchronize your hotel bookings across all online channels via iCal, go to your WordPress dashboard > Bookings > Sync Calendars. You'll see a list of all your real accommodations with their unique URLs (under Export).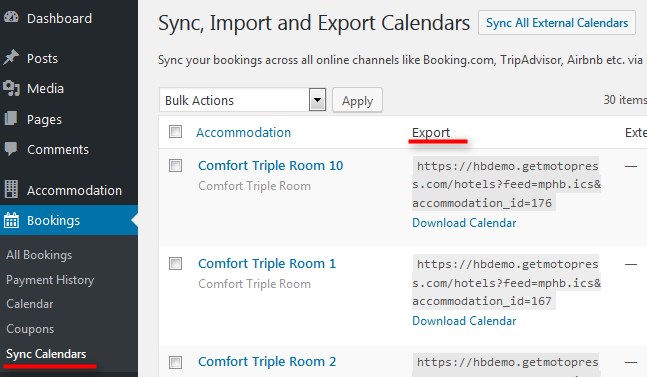 To set up synchronization, you have to perform 2 steps:
– export a calendar URL to an external channel/channels (to let their system 'know' about the bookings made through your site)
– import the link from OTA channel managers to the iCalendar WordPress dashboard (to let your site 'know' about the bookings made through the channels).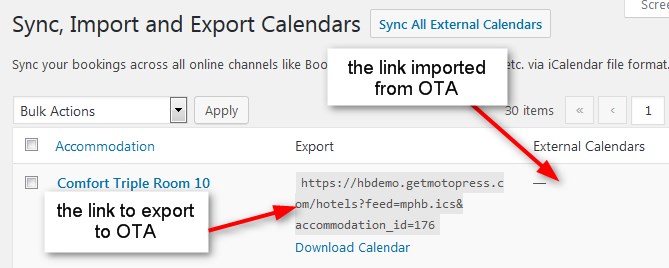 In this way, your availability across channels and a website will always be up to date. Basically, this is link exchanging.
How Does The Booking Sync Work?
How to export your WordPress hotel website iCals to external online channels.
To do this, you need to copy the Export Calendar link to export your calendars to any external online travel channel.
Each real accommodation comes with its unique URL which you must add to each appropriate listing. So, just copy the URL and paste it into the appropriate field in the OTA's iCal application.
How to import iCals from external online channels to your hotel website on WordPress.
Simply go to the external online travel channel, find the iCal file URL, and copy it. Then go to your WordPress dashboard Bookings > Sync Calendars > choose a needed accommodation and click Edit > click Add New Calendar > paste the URL > Update.
Here you may add as many URLs from different channels that support iCal as needed.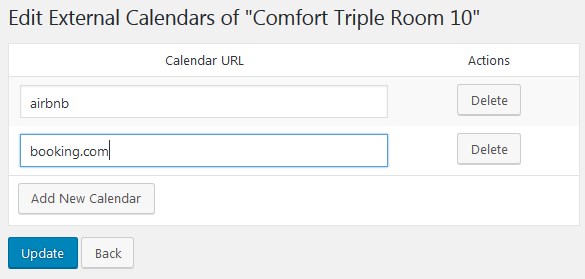 Here are some useful links on how to import/export calendars across the most popular online channels:
How to import or export Calendars on Booking.com
How to import and export Airbnb calendars
How to import and export HomeAway calendars
How to import and export TripAdvisor calendars
If you list your property on any other online travel agency, you should make sure that it supports the iCal file format for synchronization.
Okay, what's next?
Once you imported and exported all calendars across the channels and your WordPress hotel website, you'll need to keep an eye on synchronization.
To synchronize all calendars for all accommodation, click on the 'Sync all external calendars' button and wait for the process to start and complete.
To sync only a specific accommodation across the channels, click Sync external calendars only under this particular accommodation: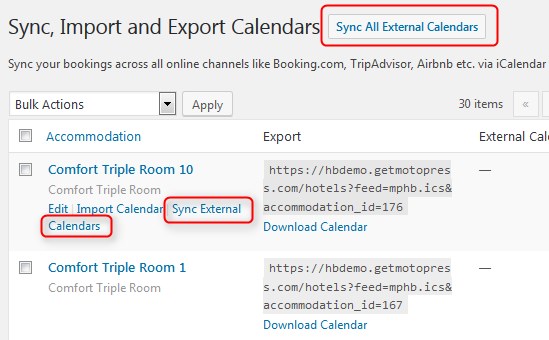 The booking sync process is performed on the background, so you'll see the Sync status on the WordPress admin bar even if you navigate somewhere else on your dashboard: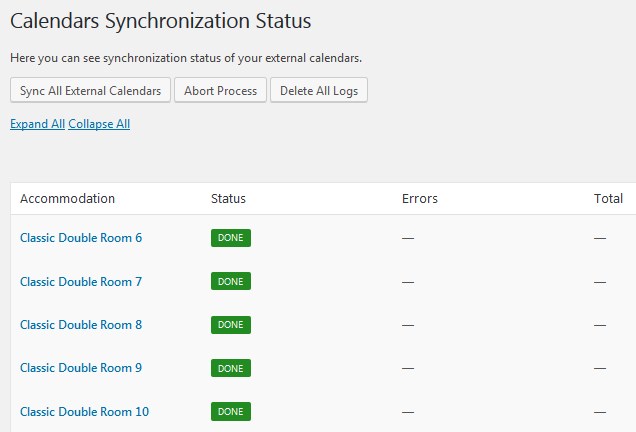 When all the iCals are synchronized, you can click on any chosen accommodation and see how many bookings were received. Booked days will be automatically unavailable on your site. The external booking channels that were interlinked will download bookings from your website according to their own schedules and will make the booked dates in their calendars unavailable accordingly.
All those room or bed bookings will be listed in the "All Bookings" menu and "Calendar" menu on your WordPress dashboard. So far, you may check the source of the booking (whether it's a website or any external online travel channel via All Bookings > choose booking > click Edit > view Logs).
At the moment, you'll have to keep an eye on the synchronization and control the process manually.
Update! You can also set up automatic synchronization!
In the Accommodation tab > Settings you can enable and configure the automatic booking sync:

Choose the time when the synchronization should start in the Clock field and the time period of the synchronization in the Interval field. Your options for the booking sync are:
daily
twice daily
once hourly.
By default, to prevent unnecessary requests to the server, the automatic booking sync is executed in the set time interval only if there is a visitor on your website within that time interval. This means that the plugin will download bookings from external calendars as soon as someone visits your website.
You may also manually download calendars from your site on your PC or upload external calendars by clicking Import Calendar or Download calendar buttons: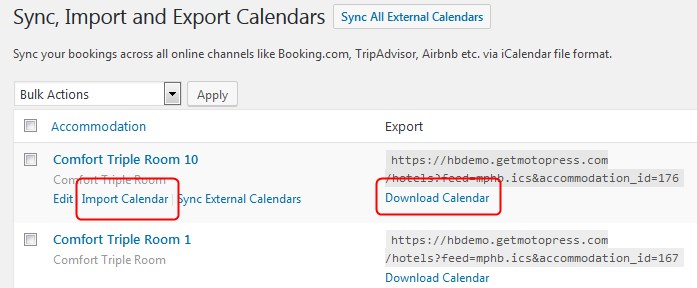 Conclusion: iCalendar For WordPress In The MotoPress Hotel Booking Plugin
A new feature of the MotoPress WordPress Hotel Booking plugin is a huge step forward in making the plugin a complete hotel and vacation rental system for WordPress. Now you may not only create a perfect listing of your accommodations, rent them out online with instant payments, but also have a tool that comprises iCal plugin to set up an advanced channel manager to easier iCal synchronize all your bookings across all OTAs. The streamlined and quick WordPress sync process contributes to a more flawless and optimized managing experience of your website.
If you haven't started building a website yet, you might be interested in the WordPress themes with the built-in Hotel Booking plugin that supports automatic bookings sync: Oceanica for hotels, Villagio for multiple properties, AlpenHouse & Mountainview for a single property bookable by the room.
Browse all hotel themes to choose the best match.
Besides, MotoPress offers many more free & premium WordPress themes for business websites (WooCommerce, appointment-based services, etc). Take a look down the link.
Awaiting your comments and questions as for OTA sync!
Direct website bookings or OTAsync? Data might hint you the answer.