Important Fixes since Appointment Booking Version 1.15.2
The latest version 1.15.2 of the WordPress Appointment Booking plugin is dedicated to fixing bugs that may have occurred in certain scenarios, as well as adding a few minor improvements for increased plugin usability.
We've addressed a bug that could have caused significant issues for clients trying to book available time slots through the booking form on your site.
This issue prevented them from successfully completing their service bookings due to time-related problems.
The cause of the problem was the discrepancy between the time zone on your site and your local server, which could have led to time-related issues, such as booked times appearing too late or too early for clients making a booking.
This caused the available times to be displayed inaccurately. With version 1.15.2 of the Appointment Booking plugin, this problem has been resolved.
Another related problem with keeping the available times up-to-date concerned dealing with the process of turning abandoned, canceled, and trashed bookings into available time slots.
We've also addressed issues with that process, so you can now rest assured that all time slots for such bookings will become available immediately.
Additionally, we've also improved the email templates menu by categorizing the email template tags and removing deprecated ones. This ensures a safer and more streamlined menu interface for you to use.
For example, we've put the customer tag categories into a separate group to better visual presentation of the former. The tags related to the payment information were all moved to the separate "Template part tags" section for quicker access of these tags from any email template. The email tags you'll see will depend on the booking confirmation modes chosen in the settings.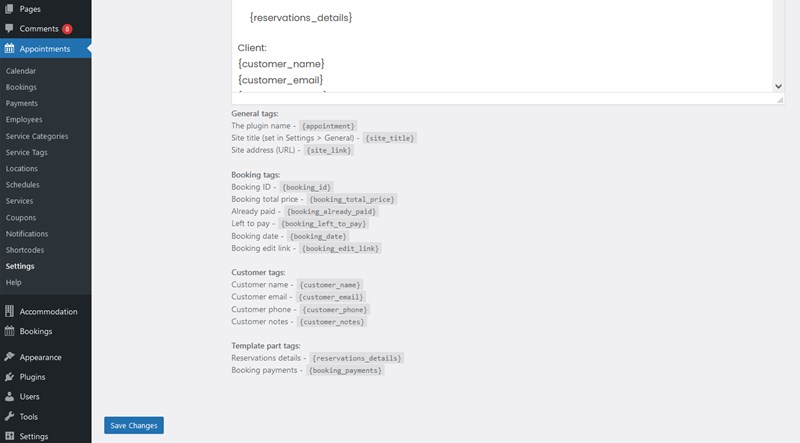 If you use the legacy widget of the Appointment booking plugin, we've also made improvements to it so it now supports the payment gateway options.
As for other minor improvements, we've polished the plugin to be better compatible for working with Elementor. Remember that you can work with Appointment Booking content via dedicated Elementor widgets and edit it visually with drag and drop.
We hope these updates will help you enjoy using the Appointment Booking plugin even more. Send us feedback or feature requests, we constantly work on them!