Meet New Google Analytics Addon for Appointment Booking!
In our aim to extend the possibilities of the Appointment Booking plugin, we've just released the new extension that will smoothly connect the core plugin with Google Analytics 4.
This brand-new integration extension will help you get more insights into the user behaviors, specifically focusing on interactions with the appointment booking form and e-commerce activities, including service purchases.
It feels good to know more about what clients are doing on your website!
What's really cool, you can make use of it whether you are already using Google Analytics with your business website or not. For the latter scenario, our new extension provides an easy way to add the Google Analytics code to your website in a matter of clicks.
So don't miss out on trying this solution and getting data-driven insights about your business, even if you are not familiar with Google Analytics yet!
Why use Google Analytics for Appointment Booking?
Why would you even need to analyze the Appointment Booking data on your website with the help of Google Analytics 4?
Here are the key benefits:
Track essential e-commerce events, such as which services are booked most often and what the custom journey looks like.
Understand where to improve the user experience with the booking form or your website.
Analyze the number of customers who add items to their cart but don't complete the purchase.
Measure refunds and negative user experiences.
Get insights into the overall checkout process and understand what might be a stopping factor for completing a purchase.
And we are just scratching the surface!
You can get the most out of the toolkit by learning the key possibilities of Google Analytics itself; and most importantly, you don't necessarily need to hire an expert to get the basic data and measure the performance of your appointment scheduling software added with MotoPress.
Let's now look at what it takes to add the add-on to your website.

How to set up and use the Google Analytics for Appointment Booking extension?

As with any other integration solution, you need to copy and paste the crucial identification data from your Google Analytics 4 account to the extension settings.
Assuming you've already installed and activated the addon, do the following:
On your WordPress dashboard, go to Appointments > Settings > Integrations > choose Google Analytics.
Fill in the fields with the data copied in your GA account.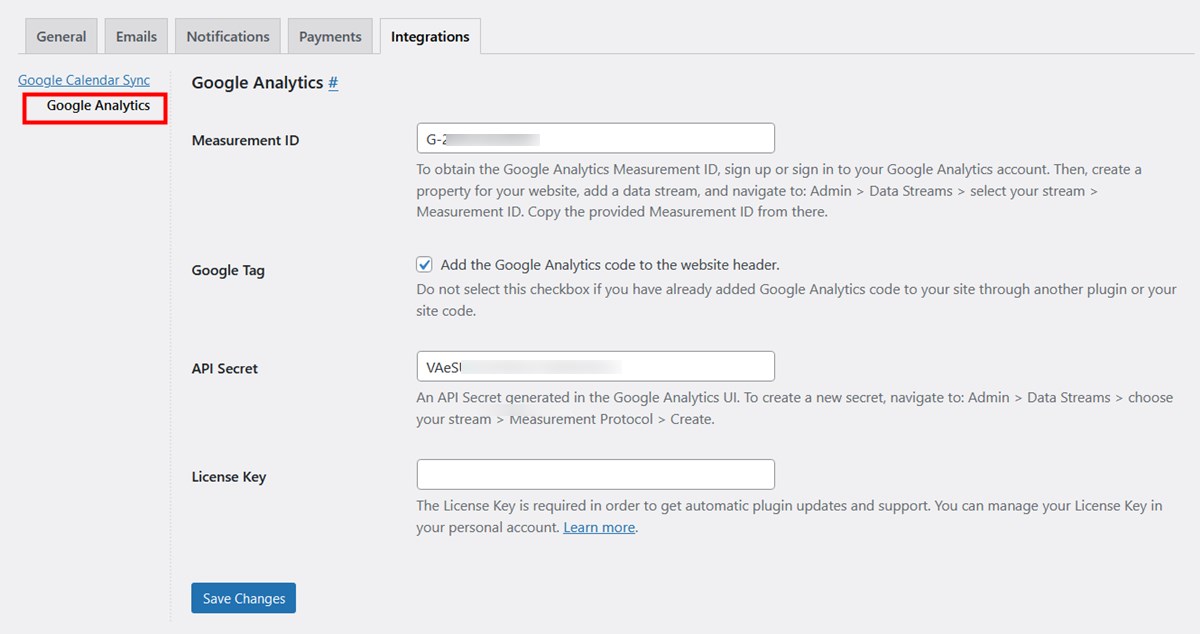 To get your Measurement ID for the Google Analytics for Appointment Booking addon, follow these steps:
Go to your Google Analytics account > select "Admin." (below on the left).
Under "Admin," select "Data Streams."
Choose the stream that you want to work with (associated with your website's domain name).
Look for the Measurement ID and make sure to copy it.
Google Tag
If you haven't installed Google Tag on your website yet, you can do it easily by checking this box. This will automatically add Google Tag to all your website pages. This will allow you to track user behavior related to the content generated by the Appointment Booking plugin, such as service bookings and service page views.
Keep in mind that it may take up to 48 hours for the data to be collected and displayed in your Google Analytics account if you're installing the tag for the first time. You can also view data instantly in real-time reports.
To create an API secret, do the following:
Again, go to your Google Analytics account and click on "Admin."
Under "Admin," select "Data Streams."
Choose the stream you're working with.
Go to "Measurement Protocol" and click on "Create" to generate an API secret.
If it's your first time creating an API secret, you need to prove your acknowledgment before you are able to create it. Simply click on the prompt and select "I acknowledge." to activate the API secret creation functionality.
License Key
Make sure to add the license key you received to activate your addon's license.
The add-on will add seven e-commerce events to Google Analytics 4 associated with the plugin's interactions. Some of them include view cart, add to cart, remove from cart, begin checkout, and more.
Where to see the stats?
Where do you see your stats? Below are a few menus:
View e-commerce events: Examine user behavior > Events.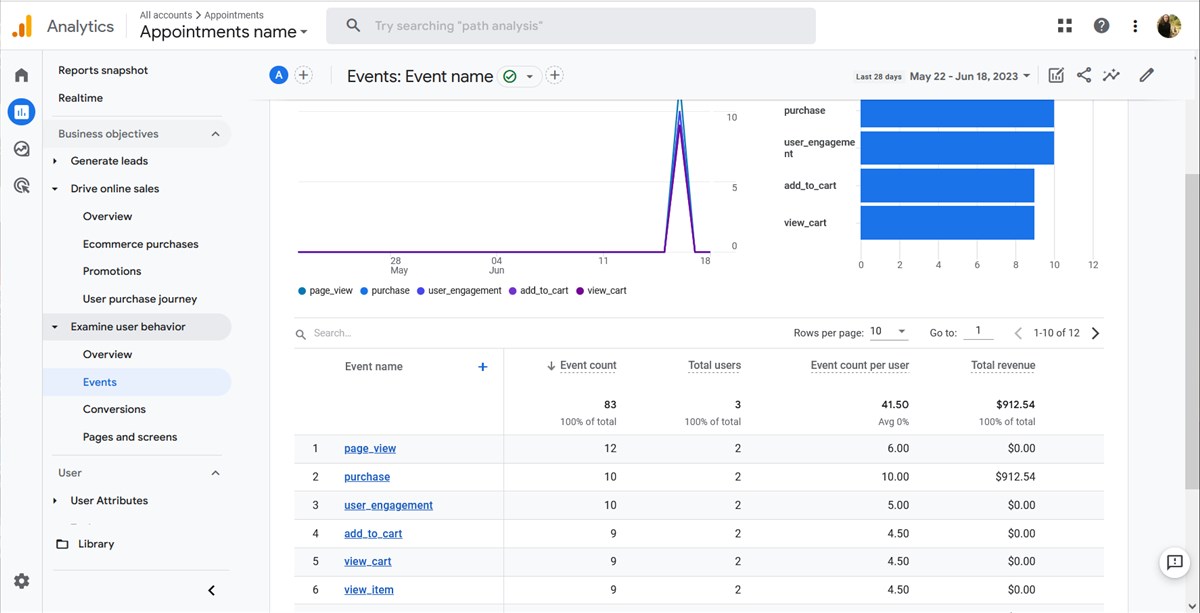 View purchase statistics: Reports > Monetization > Ecommerce purchases.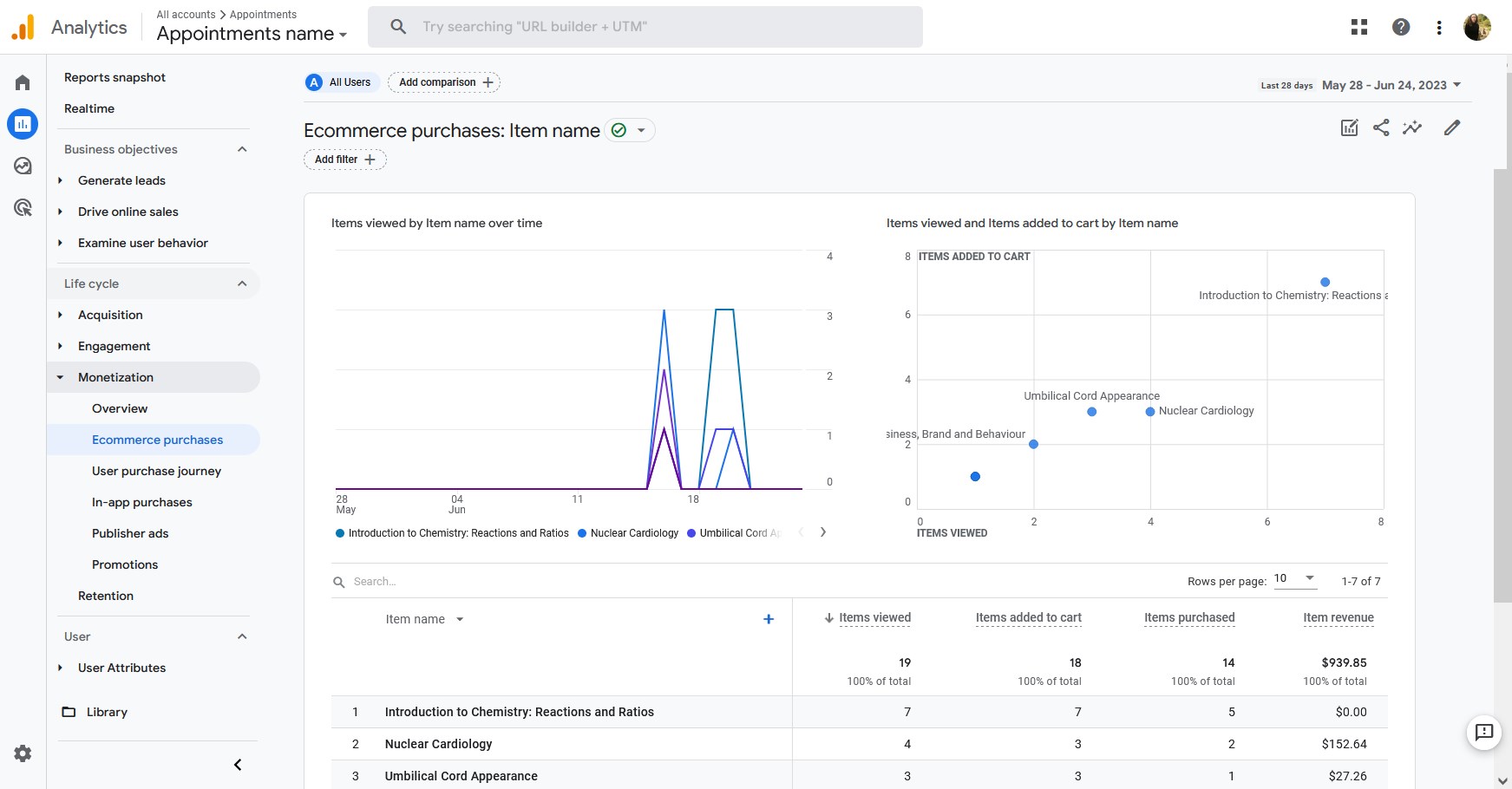 Understand the journey to a purchase: Reports > Monetization > User purchase journey.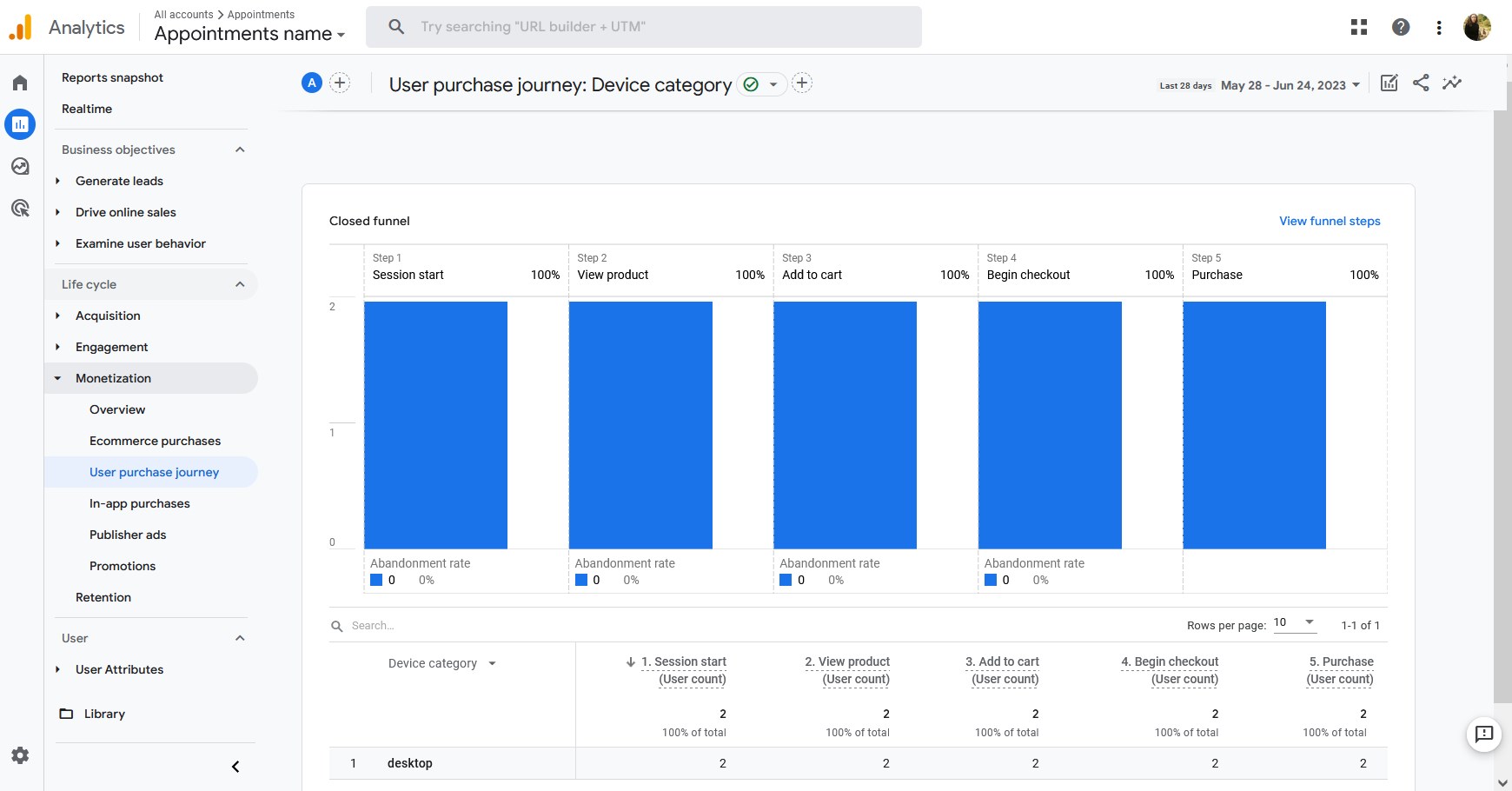 View revenue per item: Reports > Monetization > Ecommerce purchases > Item revenue.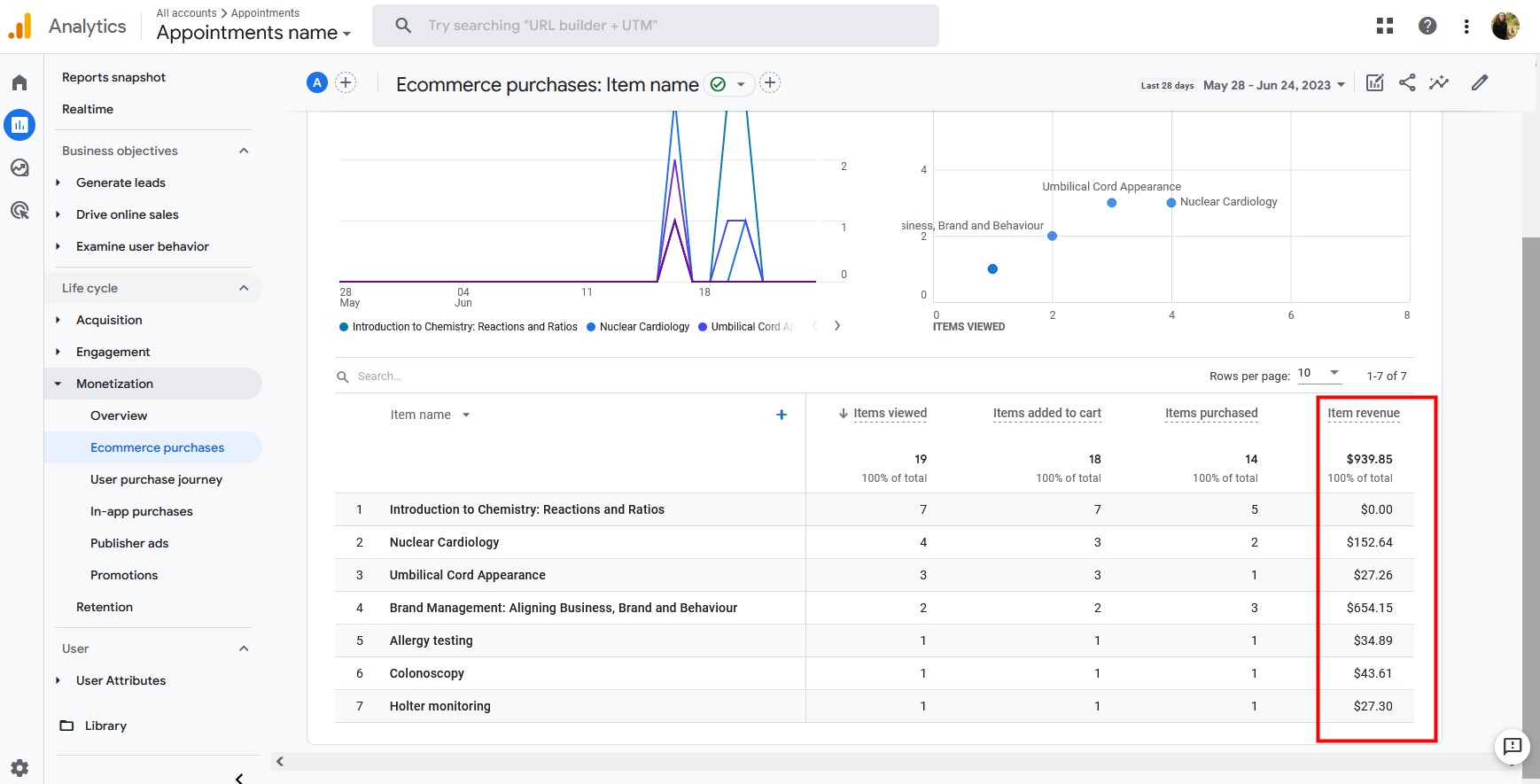 Enhance appointment scheduling efficiency with Google Analytics
The Google Analytics for Appointment Booking extension is made to help you get better data-driven insights to optimize your service conversion strategies on the website.
By embracing the features of Google Analytics 4, you are sure you are always using the latest and the greatest version of the most powerful website analytics tools out there, and can create multiple ways to use it to the advantage of your appointment business.