Export Bookings to CSV since Appointment Booking Plugin 1.20.0
Since the MotoPress Appointment Booking plugin version 1.20.0, there is an option to export all your booking details into a compact CSV document in a matter of clicks.
CSV files are a universal file format you can import into other software systems to integrate your booking data, such as a CRM or accounting system.

This is a very needed feature overall if you want to print out a weekly appointment schedule, analyze your revenue, and automate various daily tasks to improve the efficiency of your service business.
All you need to do to generate such a report containing the reservation data is to go to the Bookings menu, filter your appointments using the 'Scheduled for' options, click 'Filter' to apply your preferences, and then hit 'Export' as the final step. Voila, the generated report is downloaded to your computer!
Using the date/date range, service, employee, and location filters, you can create tailor-made CSV reports for all or only specific services, staff members, and areas. It's worth mentioning that if you have multiple services booked within one reservation, all of them will be added to the export file if at least one of the services chosen for export is in the booking.
Important: If you don't click 'Filter' before clicking 'Export', ALL existing bookings will be exported to a CSV file.
So, if you need to export a report only for the filtered data, it's necessary to 1) Apply filters, 2) Click 'Filter', 3) Click 'Export'.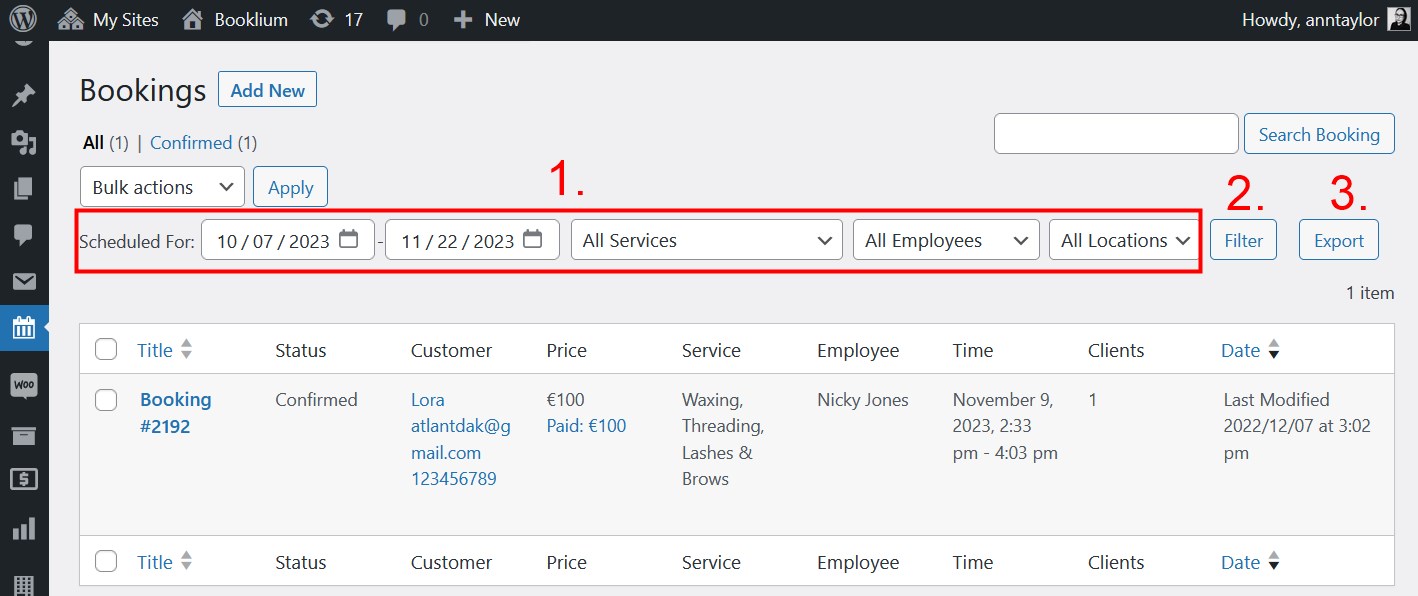 The dates you choose in the calendar filters are the dates of the actual scheduled appointments. Note that the calendar filter automatically uses the date format that's set on your browser.
Once the file is downloaded, you can edit it with any preferable software, including Microsoft Excel or Google Sheets.
Note: Service, Employee, and Location filters are displayed in the admin area only if there is more than one of them.
Needless to say, you can simply use the 'Filter' option to see the needed appointments on the screen, without downloading them as a CSV report.
Which booking data is exported in the CSV file?
Booking ID
Booking status
Customer name
Customer email
Customer phone
Customer notes
Service
Location
Employee name
Date
Time
Number of clients
Service price
Service subtotal
Coupon code
Coupon discount
Total Price
Total Paid
Payments
Understanding information in the exported file
In a CSV report, one row equals one appointment. If there were multiple appointments in one reservation, each one will be placed into a separate row but with a shared ID.

Predicting your question… no, there is no option to further filter bookings information before the export. The tools like Excel or Google Sheets, as a matter of fact, give you plenty of options to remove, add or edit information in the sheets.
Use the full potential of the new feature! Here are a few options that might not be visible at first glance:
the ability to filter bookings by status: first select the status, then apply your filters.
Select just the first date instead of a date range if you need to export data for all appointments taking place after the chosen date.

To sum up, the bookings data that you can easily export from your Appointment Booking backoffice will into a CSV file, hopefully, help you better manage daily tasks, in particular:
Analyze your performance with external software, identify booking interests, and get other insights.
Generate reports for internal and external stakeholders.
Identify problems and improvement areas.
Update to v. 1.20.0 of the Appointment Booking plugin and try experimenting with the new tools! Subscribe to the MotoPress Membership to get all booking plugin's addons and themes discounted.