15 Best Free & Premium WordPress Plugins for Instagram Feed (2023)
Looking for the best Instagram gallery WordPress plugin? Considering that the vast majority of people are visuals, it's no wonder that almost entirely image-centric Instagram has landed among the world's most popular social media outlets.
Surely, marketers and business owners can conveniently benefit from Instagram's potential through influencer marketing, sponsored posting, or similar strategies that turned out to work perfectly on this platform and made content promotion look and feel a lot less salesy.
So if let's say, you have a solid brand reputation or a huge follower base on Instagram, bringing testimonials of your social media success to your own business website can be kind of a double win: firstly, you'll make your site look more engaging and credible, and secondly, will induce your clients to follow your brand on multiple platforms.
Enriching your site's content with an Instagram feed is quite straightforward when it comes to WordPress-based websites – you, as one would expect, will need to install a dedicated plugin.
Choice of such a plugin from a fairly big list of all the available ones mainly depends on your needs and budget: there is a great deal of free options for basic duplication of Instagram photos on your WordPress site and a variety of premium plugins letting you customize the imported content in lots of ways, starting from color adjustments and ending with selective image importing or combining feeds from multiple Instagram accounts.
In this article, we'll be describing free, premium and freemium options. So let's not waste any time more and get down to reviewing the most popular and trusted WordPress Instagram plugins in the market.
Free Instagram Plugins for WordPress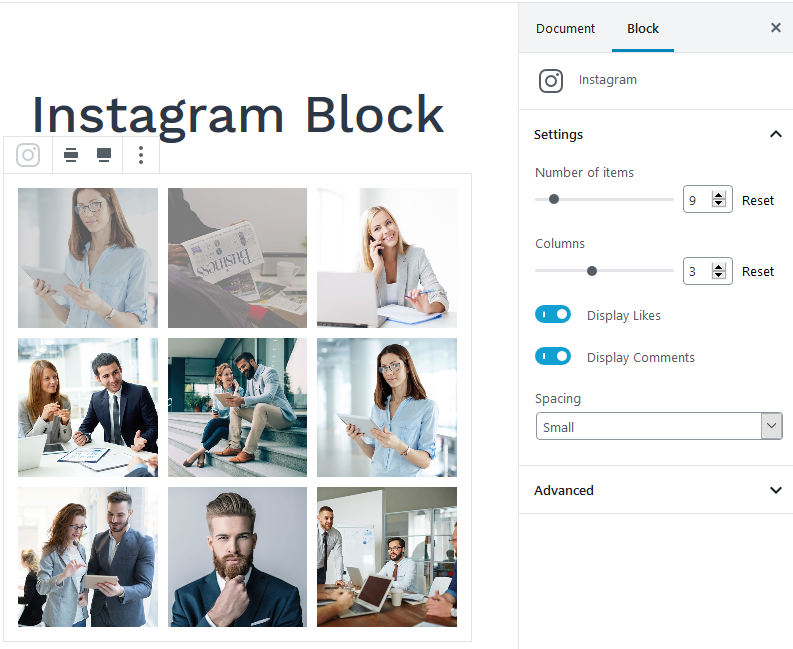 If you enjoy the interface of the new Block Editor and would like to use it for importing Instagram posts to WordPress, there's a solution just for you. Our free Gutenberg blocks plugin – Getwid – now adds a dedicated Instagram block to Gutenberg and lets you place Instagram feed on your pages without even leaving the editor. Quick, easy, and free solution, which, by the way, works great with the default Twenty Nineteen WordPress theme!
Learn more about it here.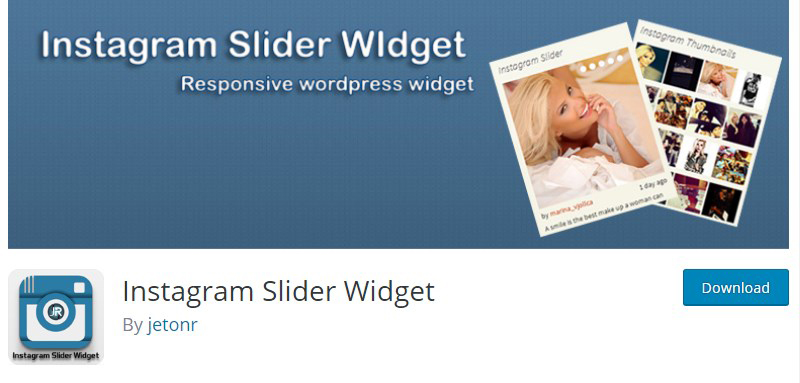 With 100,000+ active installations on WordPress.org, Instagram Slider Widget stands among the most well-liked tools to add the Instagram feed to WordPress with. The reason of the plugin's success appears to lie in the straightforwardness of its concept: you'll be able to display an Instagram feed from a user or hashtag as a thumbnail grid or slider in widget areas of your theme, plus have a chance to define image sorting mode (by popularity, date or randomly.)
Price: free.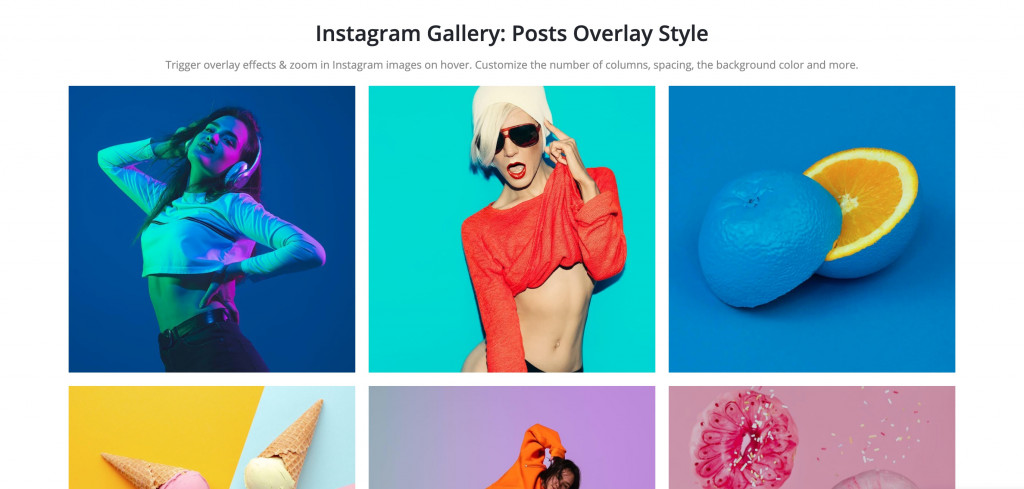 For lovers of Elementor – one of the most popular WordPress page builders – MotoPress offers Stratum. The addon is a freemium collection of 24+ Elementor widgets elements for both business and personal websites.
Among the Stratum widgets, you will find a free Instagram widget. It allows you to display a real live feed in any palace of the website. Apart from a traditional feed consisting of 9 images, you will be able to change the number of displayed imaged from 1 to as many as you want. Also, you may regulate whether to show or hide comments or likes on hover.
Price: the premium version of Stratum starts at $29.
Learn more about the Stratum Instagram widget here.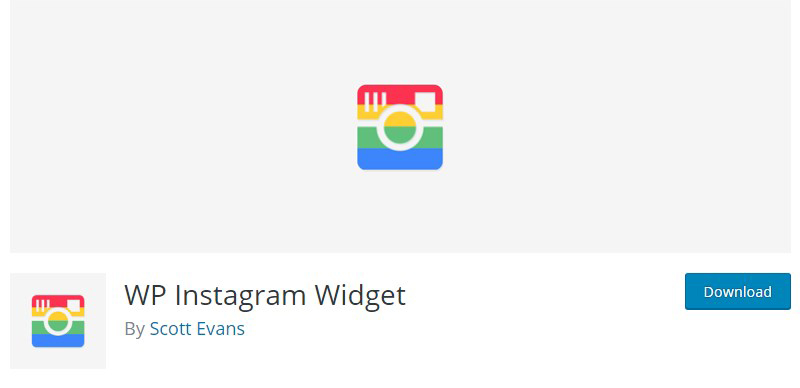 To have a feed from your own or any other Instagram account fetched to a WordPress site with WP Instagram Widget, you won't be obliged to provide an access token or go through whichsoever authentication process. Moreover, WP Instagram Widget leaves you room for tweaking the look of imported galleries with custom CSS to make them match your theme's styling.
Price: free.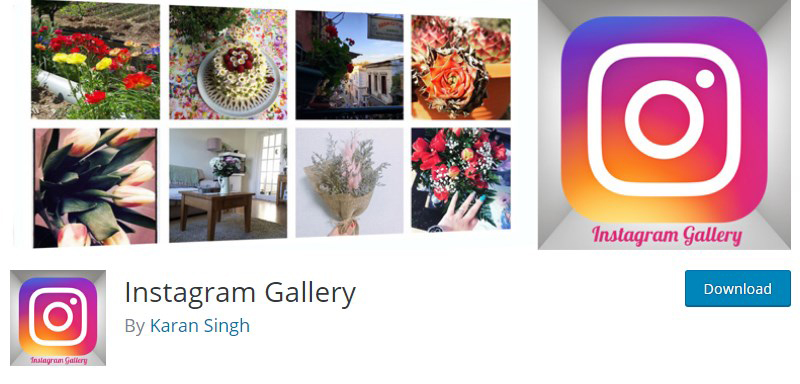 As its name implies, the Instagram Gallery plugin lets you create a classic grid galleries out of the imported Instagram images on your WordPress site. But the choice doesn't actually end there: if you'd like to present the images in a more dynamic way, the slider layout is at your disposal too. It's possible to display the feed both in the content area of your site (i.e., on posts or pages) and on the sidebar or footer.
Please note that in order to use this Instagram feed plugin, you first need to generate your Instagram Access Token.
Price: free.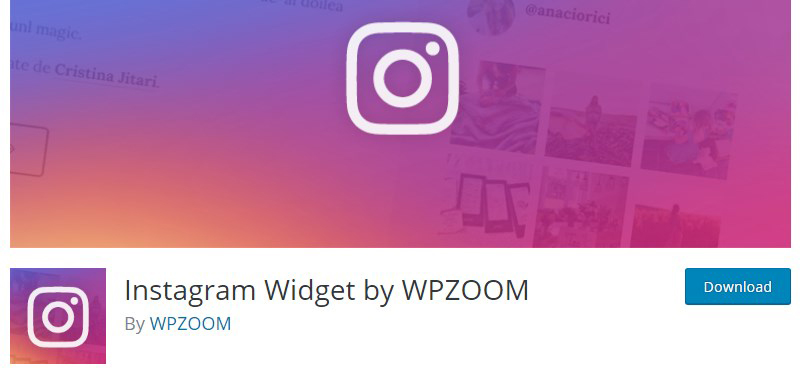 WordPress Instagram widget by WPZOOM provides you with two modes of Instagram feed displaying: lay out the images as a grid gallery with selectable number of columns or create a full-width Instagram feed slider (the one that is typically located in footer area.)
WPZOOM Instagram WP widget doesn't require you to have Instagram Access Token to show Instagram content on your WordPress site but limits the maximum number of images to be displayed with no token to 12.
Price: free.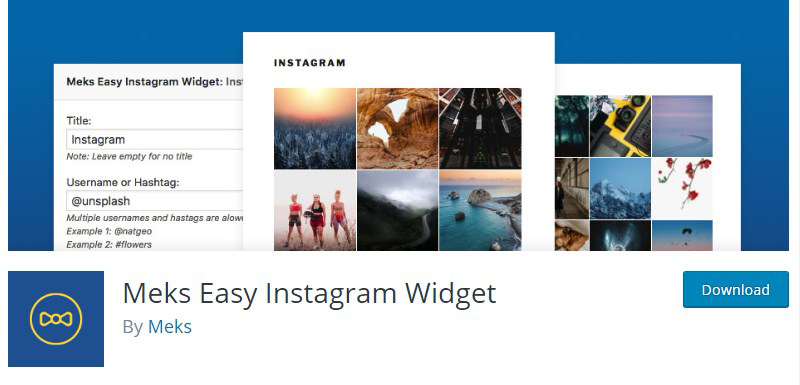 Instagram feed widget by Meks is a free and easy to use a plugin that yet offers a decent set of tunable configurations. The plugin lets you import Instagram posts by user or hashtag and supports separate displaying or combining media from multiple accounts and tags.
As a result, you'll get minimalist image collections displayed in a widget area of your choice. To make the embedded feed, even more, engaging and interactive, equip them with a custom link leading to your Instagram account, landing page, online store, or whichever page you see fit.
Price: free.
Freemium WordPress Plugins for Instagram Feed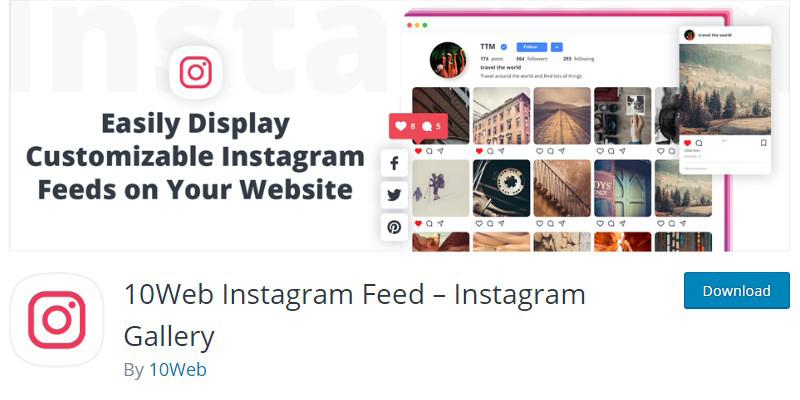 Choose between the free or premium version of the 10Web Instagram feed WordPress plugin depending on the freedom of customization you wish to have for the Instagram feed you import.
The starter free version enables you to retrieve Instagram posts from a certain hashtag or account and define in which way the full list of the images or videos has to be unfolded (choose between static pagination layout or dynamic autoloading.)
Advanced pro version of WordPress Instagram plugin by 10Web, first and foremost, adds support for multisource feed import, broadens the choice of available content layouts, and enables social sharing and downloading of media you showcase.
Price: prices start at $25 for the Basic plan.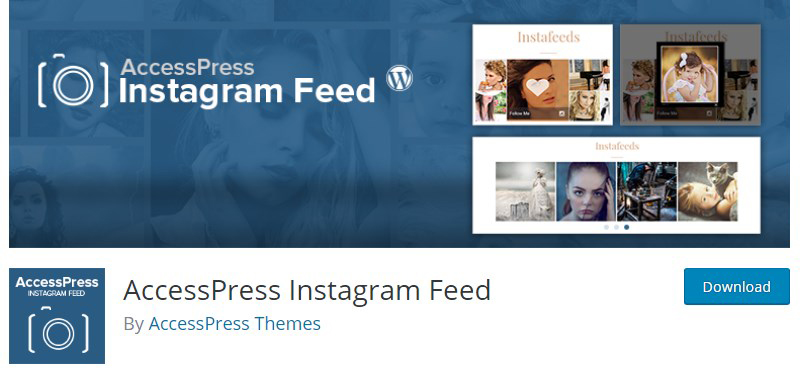 This WordPress Instagram feed plugin is, truth to be told, one of the most fairly priced options for IG content embedding. As the plugin comes in both free and premium editions, you may start off using basic functionality in the lite version and upgrade to pro for more advanced features if it turns out to be needed.
The core version of the Instagram plugin by AccessPress lets you choose between 3 layouts for arranging the media you've imported: Mosaic, Mosaic LightBox, and Slider.
The pro edition offers an extended set of predefined styles and layouts, offers filters for photo editing, and lets you moderate Instagram posts before they appear on your WordPress site.
Similar to many Instagram Feed best WordPress plugins, it requires access to the Instagram Access Token.
Price: $18 for premium version.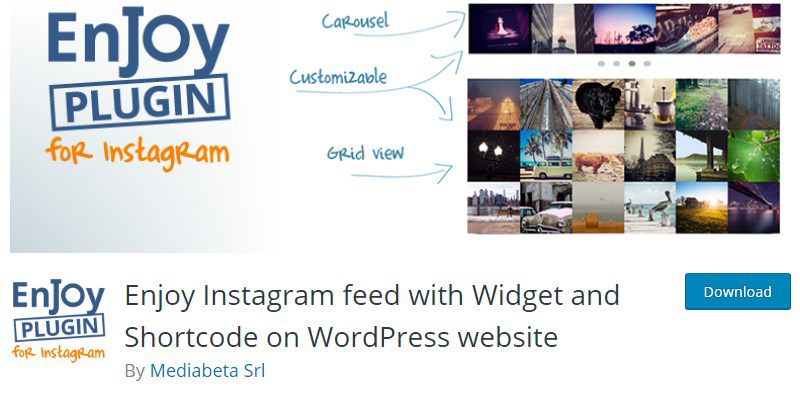 Enjoy Instagram plugin is shipped with a lot of features available out of the box in the lite version. You get a profile and hashtag-based feed import, carousel and grid content layouts, animation effects for image galleries, and a couple of other features free of charge right after the plugin installation.
At the same time, the pro version of Enjoy Instagram WordPress plugin is worth consideration too, if only because it adds an extremely beneficial moderation feature letting you check and approve/disapprove every single Instagram post to be featured on your WordPress website.
Plus, if you are a beginner, check out the video you'll find on the plugin's official page on WordPress.org – it's detailed enough to serve as an introductory usage guide for you.
Price: €16.99 for premium version.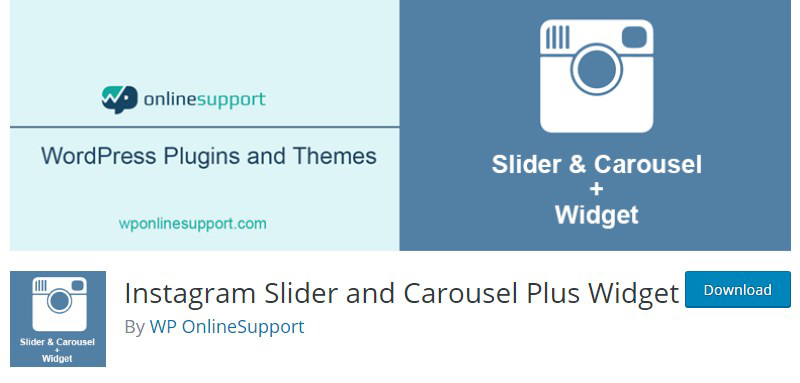 WPOS Instagram plugin WordPress is a no-frills shortcode-based tool for displaying Instagram pictures both on posts, pages or widget areas. The feed imported directly to content areas can be laid out as grid gallery, carousel, or slider.
Thanks to the plugin's overall simplicity, it can be fully well used with WordPress Block Editor. More specifically, you'll need to copy and paste the plugin's shortcode to the Shortcode block of the new default editor.
Price: free; plugin's pro version can be purchased only as part of subscription packages (prices range from $49 to $299).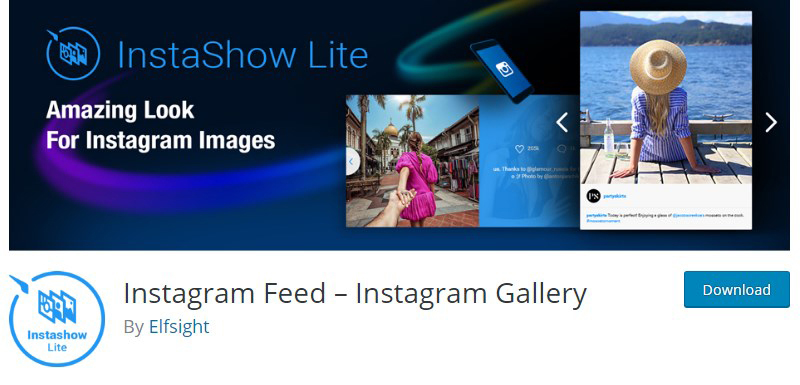 This Instagram WP widget is offered in two pricing models so you can make a choice bearing in mind your budget and specific objectives.
In case your goals are limited to displaying Instagram content on a single WordPress site, you may consider purchasing a pro version of the plugin on CodeCanyon ($29 as of now) to unlock all the advanced functionality at once.
However, if you plan to use the plugin on multiple sites built with CMS's other than WordPress or want to utilize other social, eCommerce or similar third-party integration widgets offered by Instashow authors (e.g., Facebook Feed Integration, PayPal Button or YouTube Gallery), signing up for a cloud-based account might be a better option.
Price: free; $29 for premium version.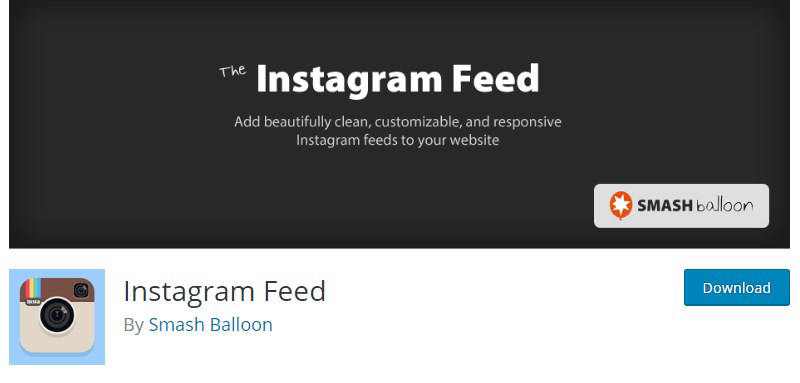 Out of the box, the lite version of the plugin lets you display fully responsive Instagram feed galleries from single or multiple user IDs (for non-private accounts only.) The free Instagram Feed plugin has over 800,000 (!) installations on WordPress.org so can rightly be called the best Instagram plugin for WordPress in terms of user loyalty.
Premium edition brings a host of extended functions among which are hashtag-based feed import, showing likes, image lightbox view, comments, and post captions, to name just a few.
For you to have full control over the content to appear on your WordPress site, the plugin lets you build 'permanent' feed galleries with a fixed set of images or filter and moderate incoming Instagram posts manually before they go live.
Please be aware that this plugin obliges you to provide Instagram Access Token.
Price: free; premium version is offered in 3 pricing plans: Personal for $39, Business for $79 and Developer License for $119.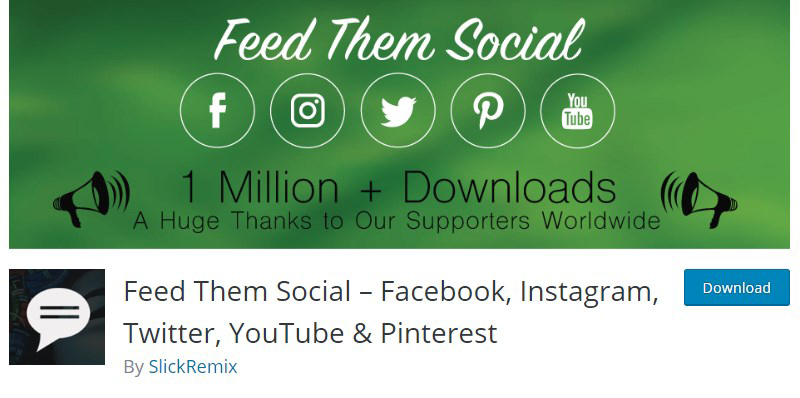 Feed them Social is a complex solution for integrating social media content into WordPress sites. This means that apart from embedding Instagram posts, you'll be free to import Facebook, Twitter, YouTube, and Pinterest feed or separate images, albums, or videos from the sites above.
Settings of how the imported content is displayed on the front-end are managed with shortcodes.
Like many Instagram feed plugins for websites, Feed Them Social is available in free and pro pricing plans. Also, it offers a set of premium addons for obtaining specific functions.
Advanced features you'll receive with the pro extensions are: Facebook reviews import, building Facebook image and video carousels, and combining feeds from multiple social platforms (e.g. intermixing your Facebook and Instagram posts into a single content stream on your WordPress site.)
Price: free; prices for pro version and each of the premium addons start at $50.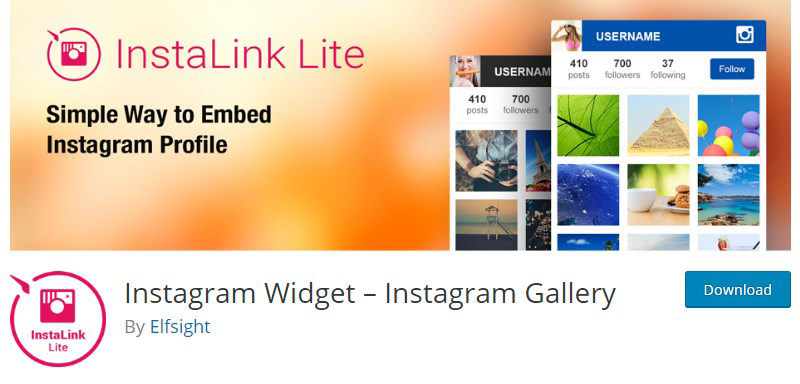 The free version of the Instalink Instagram widget WordPress plugin allows you to create a mini version of your Instagram account on a WordPress site with thumbnails of your posts and a custom header to display your profile name and number of followers/following.
Upgrading to pro lets you define the size of images to be displayed in imported galleries and adds support for fetching Instagram posts by hashtag.
InstaLink Instagram widget for WordPress is compatible with WPBakery Page Builder (formerly Visual Composer) for you to edit and embed shortcodes generated by the plugin in WYSIWYG mode.
Price: free; $25 for premium version.
Premium WordPress Plugins Instagram Feed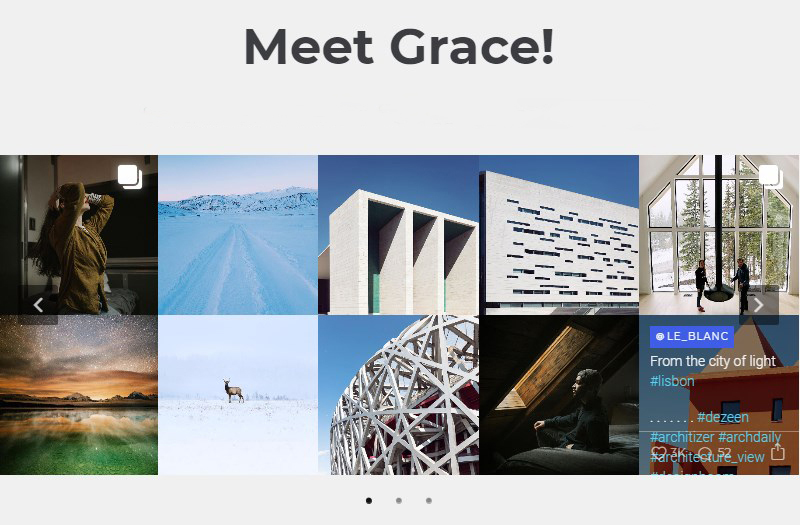 Duplicate the content from your business or personal Instagram account or combine feed from multiple sources (accounts, hashtag, URLs, geotags) into a single media stream and tweak the look of imported galleries with a multitude of customization options.
With Grace WordPress plugin Instagram, you can choose between a slider and three types of grid layout for your feed and have control over the content to appear on your WordPress site by manual moderation.
Just like many Instagram feed plugins WordPress, Grace provides options for social sharing and follow buttons to turn your website visitors into Instagram followers.
Price: $19.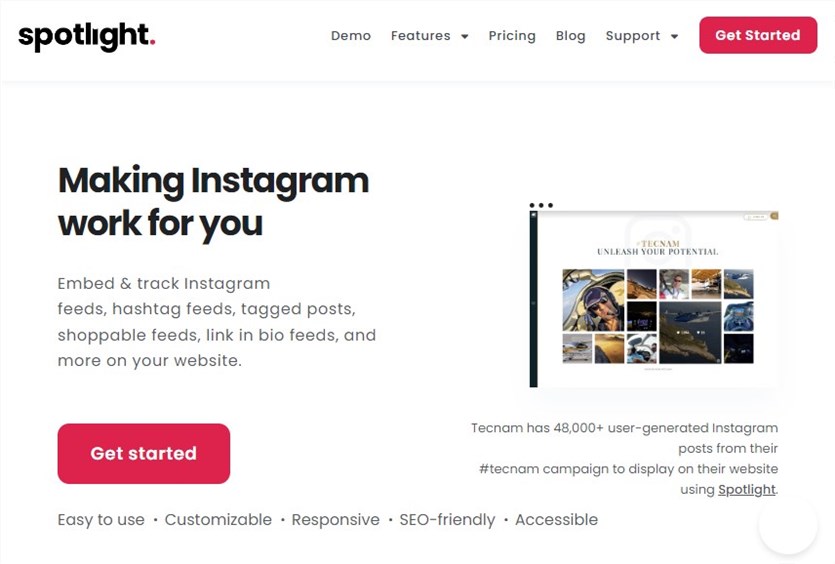 If you like better working with the dedicated plugin, not an Instagram WordPress widget, give Spotlight a try. A list of the features you get depends on the chosen plan. A powerful toolkit enables you to add the best live Instagram feed in a few clicks. Use one of the ready templates and tailor its design to your needs.
Do you want your photos to be updated automatically? This Instagram page plugin has got you covered! You can also power your website with user-generated content and launch a hashtag campaign.
It's easy to create a bio link page to increase traffic to your website. The "Shop My Instagram" page is an effective tool to link your Instagram posts with WooCommerce products.
Trusted by 40K+ customers, Spotlight lets you select preferred and excluded posts, apply filtering options, and retrieve analytics to track your feed performance.
Price: the plugin is provided in 3 pricing plans: Essentials for $39, Pro for $59, and Performance for $99.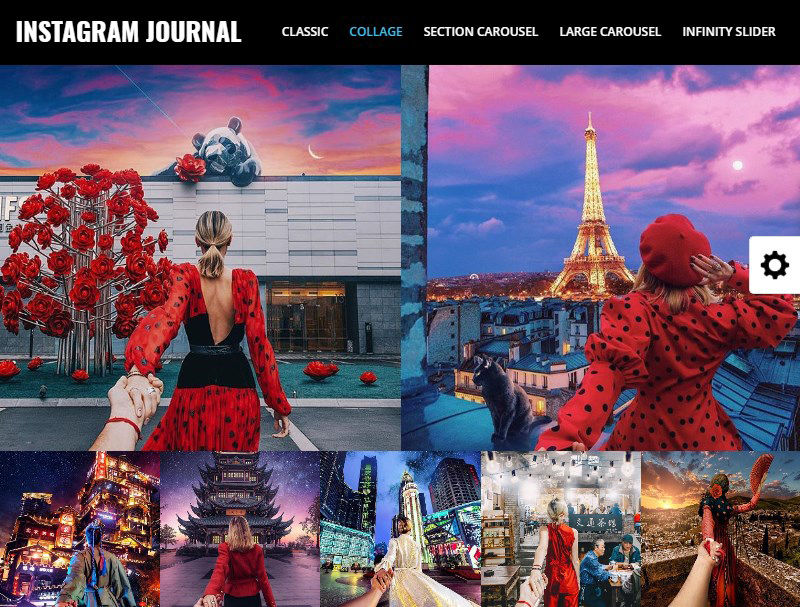 Instagram Journal is the last plugin to be on our list of best plugins for Instagram feed on WordPress. It provides you with a truly varied selection of displaying modes for Instagram galleries on your WordPress sites. The choice stretches between collage carousel, section (or card) carousel, large-scale image carousel, and classic full-width filmstrip slider.
As a result, you'll be free to add multiple image collections to your website pages with every single gallery looking unique.
To assist you in building your media-rich website, even more, the plugin comes packaged with a premium theme tailored specifically towards visual content (the theme is included for free.)
Price: $20.
Final Word
Is any of the plugins for Instagram feed for WordPress presented in our roundup worth bearing the title of 'the best Instagram feed plugin WordPress can ever offer'?
Don't hesitate to write a comment if you have any remarks or suggestions!
---
Disclosure: this article may contain affiliate links for third-party products. If you click a link and later make a purchase, we may earn an affiliate commission that doesn't result in additional charges to you.