12+ Free Addons for Elementor: Which One to Choose?
Looking for the most generous free version among the free Elementor addons? And we don't necessarily mean the number of free widgets; that's why we'll look at the plugins at different angles (styling options, speed optimization, etc.). In this roundup, we are reviewing freemium solutions that one way or another provide a set of free Elementor widgets.
What are freemium Elementor plugins, by the way?
Freemium is a sustainable pricing model that is mutually beneficial for developers and clients: you can use a free version for as long as you feel comfortable.
Once you need a specific widget or advanced functionality, you can buy a premium license. Almost all Elementor unlimited addons have PRO versions with extra solutions. However, the ability to make Elementor addons free download is a great starting point, regardless of the website.
Although there are many premium add ons, we tested the waters with the vast majority of items in this list of Elementor essential plugins – and are ready to share the results we achieved and troubles we faced. Some popular Elementor plugins might come with tons of widgets but fail to do widget styling easily, for example. There are a few fresh addons among the established ones as well.
We're also including the upgrade costs for each Elementor free addon for you to consider expenses in advance. Let's get started with the best WordPress website creator.
Roundup of 2021 Best Free Elementor Addons

Compared to other popular extensions to Elementor, Stratum is a relatively new kid on the block. Naturally, it hasn't gained much traction yet (not a simple task in the saturated Elementor addon environment!).
What's unique about the free addons for Elementor by Stratum? There are two main things you might find really useful.
First, the plugin will help you work faster since it perfectly inherits the styles of your current WordPress theme to ensure design consistency sitewide out of the box. Furthermore, it offers business-critical elements with premium-like customization tools. As a result, you get numerous feature-rich widgets that won't create bloat on your website.
Needless to say, the lineup of Stratum's solutions for Elementor is growing, also offering a standalone Mega Menu addon for Elementor.
With Stratum widgets, you can:
play with post layouts since Stratum has Elementor posts widget free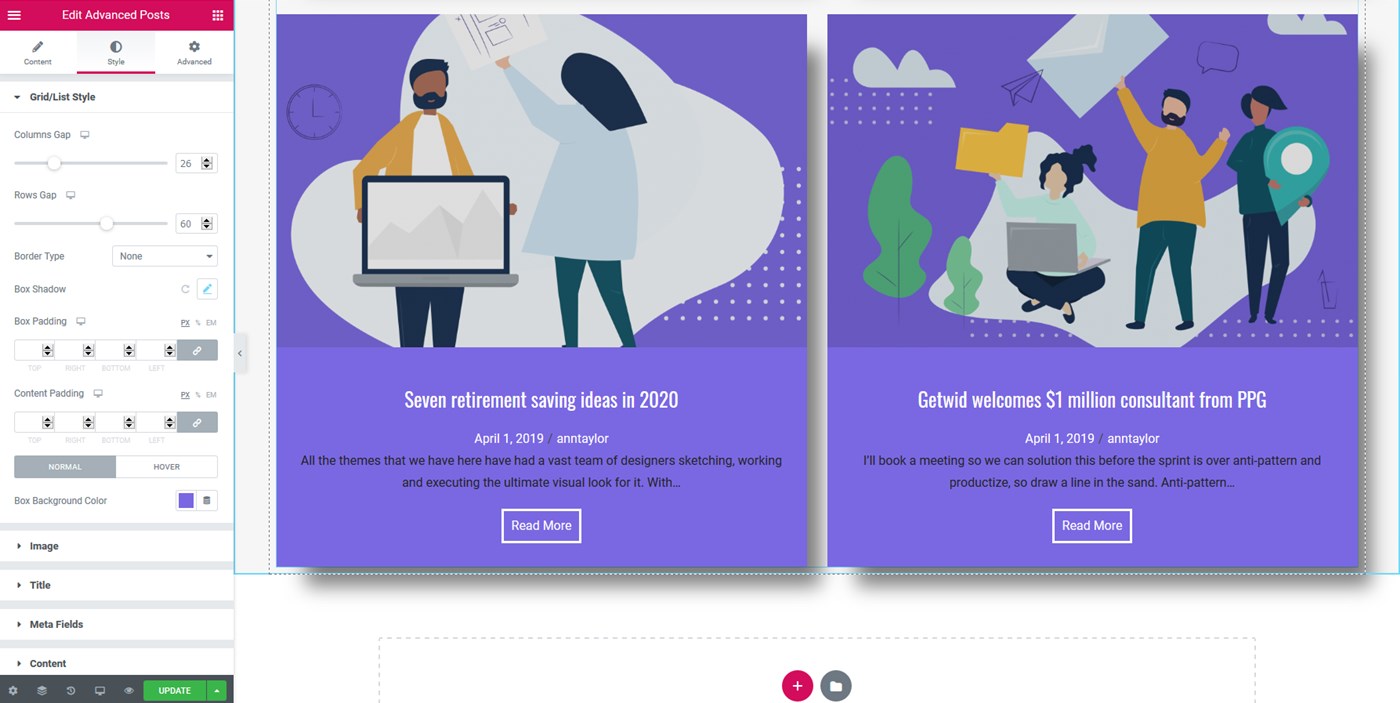 build mouth-watering cafe menus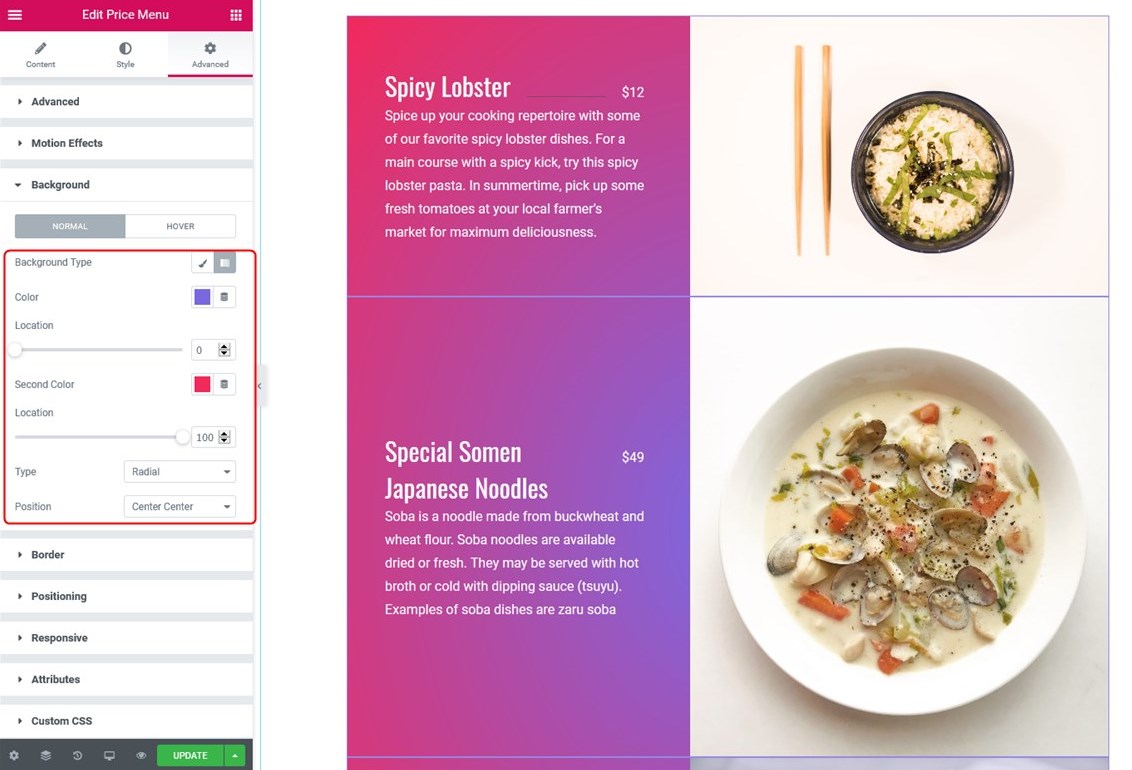 create exceptional skills and services sections
add pricing tables and just the regular table widget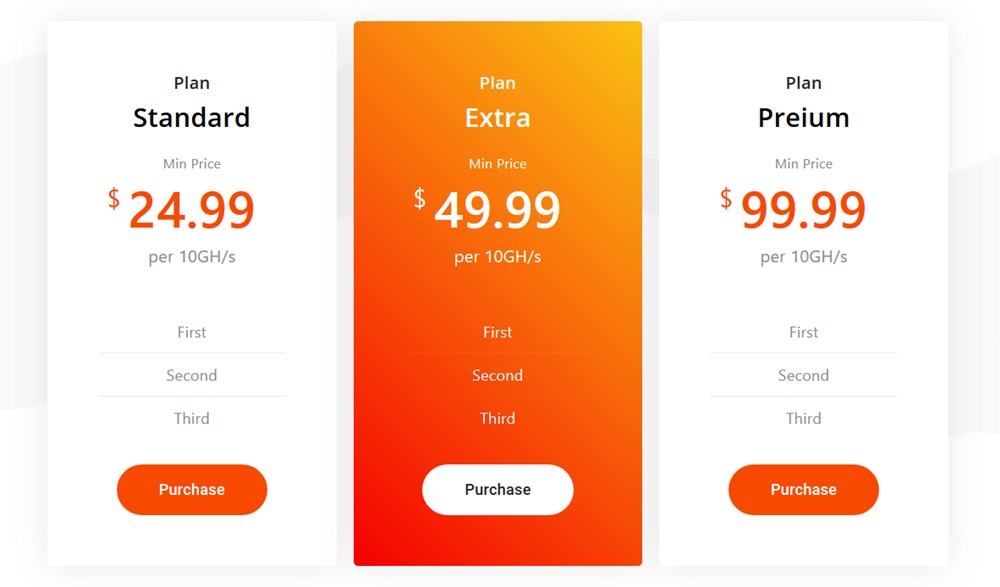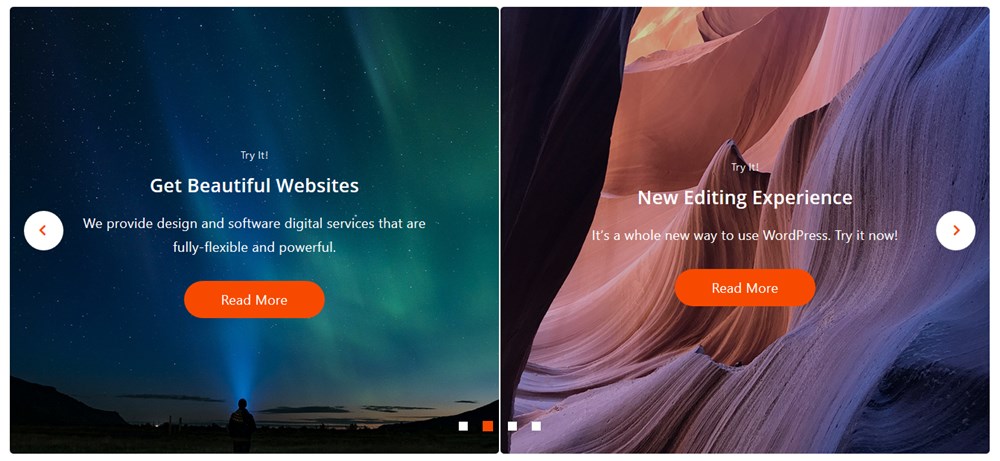 Key features:
Free Elementor widgets: 20+ widgets, including Image Hotspot, Price Menu, Masonry Gallery, Instagram Feed Gallery, Flip Box, etc.
Free design templates: no.
Pro version: yes, the PRO Elementor Stratum Elementor widgets plugin is $29 per one website (offers extended customization options for widgets).
Stratum Elementor widgets free download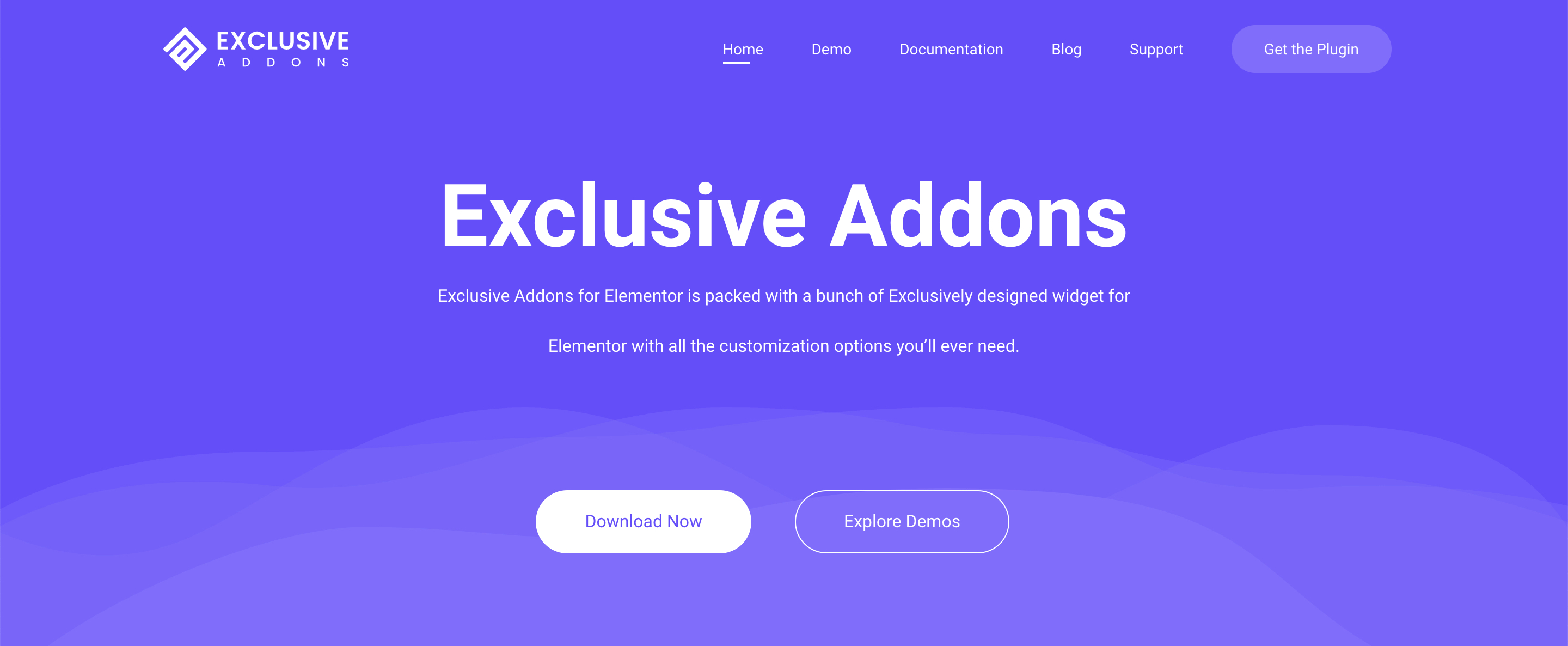 This addon hits top Elementor plugins easily. Exclusive Addons for Elementor is an open-source WordPress plugin and compared to other mentions on the list, this addon has no premium version. All 30+ widgets developed by the DevsCred team come 100% free.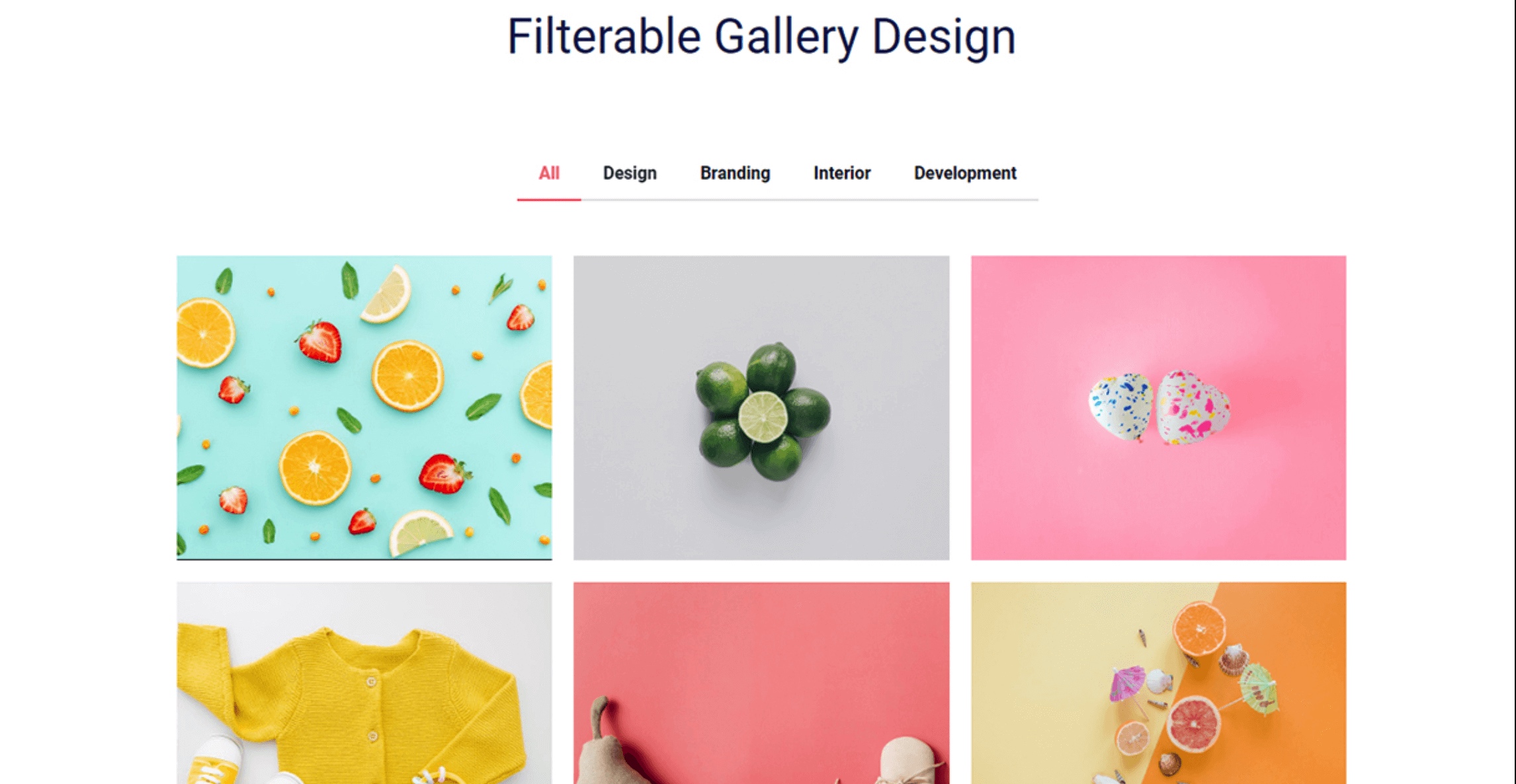 The name of the plugin speaks for itself: the number of offered extras for Elementor are indeed exclusive as for a free collection of Elementor widgets. For instance, you can hardly find such widgets as Covid-19 Stats, Image Magnifier, News Ticker, or Logo Box packed in one place. Most of them typically come as a separate WordPress plugin, which creates more hassle and may even affect the loading speed of your website.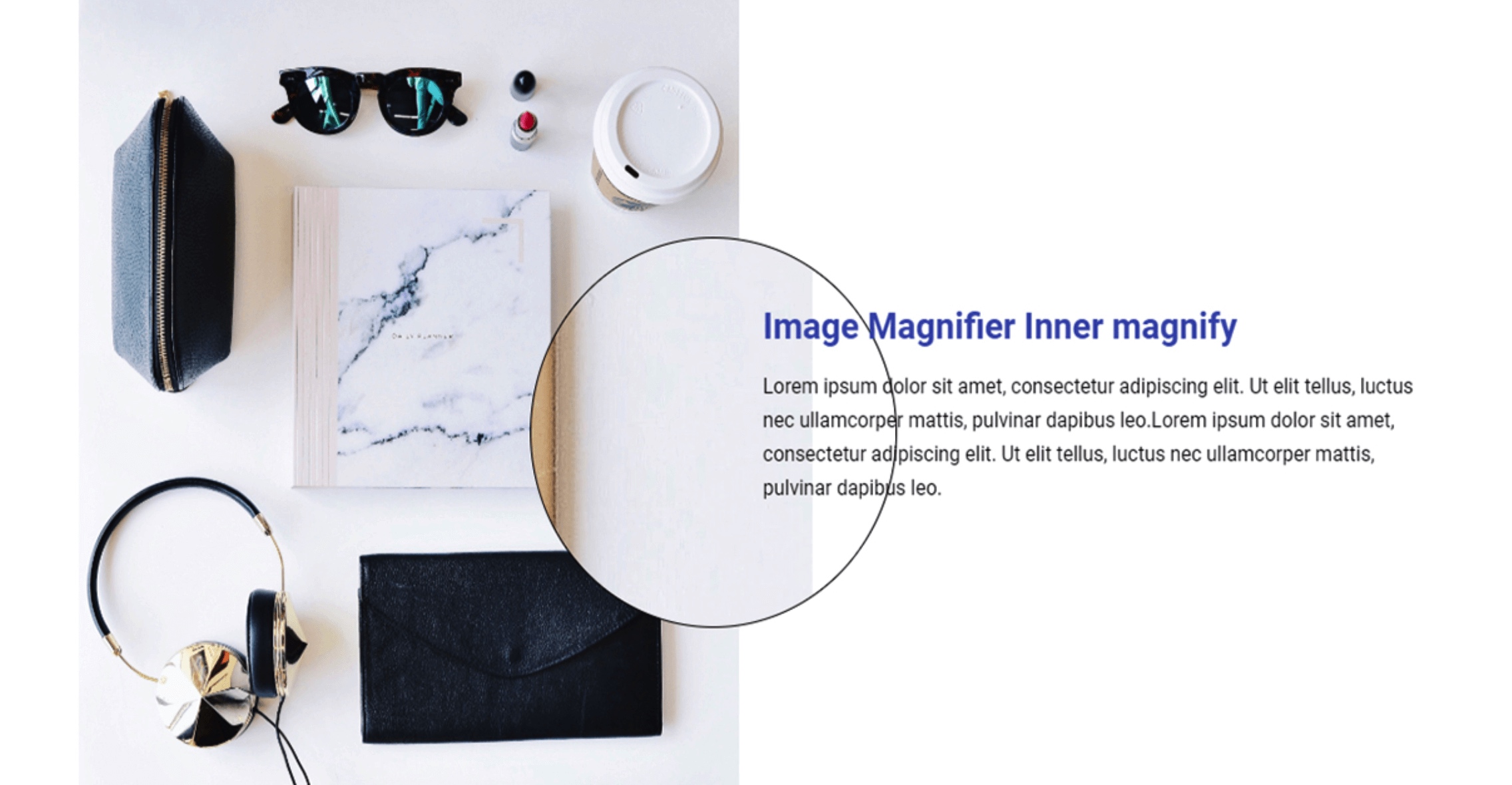 Key features:
30+ Elementor widgets come FREE.
The plugin is extremely fast and compatible with ANY WordPress theme.
Inline editing is available with Live Preview for most elements.
Global Style settings allow you to change colors for all widgets on your page.
Free Elementor widgets: 30+ widgets, including Info Box, Testimonial, Post Timeline, Filterable Carousel, Logo Carousel, Contact Form 7.
Free design templates: no.
Pro version: none.

The Master Addons for Elementor plugin is another awesome set of categorized widgets: 33 free content widgets will be a nice starting point for any type of website! Additionally, the plugin provides five form stylers and eight extension elements. 
This toolkit for Elementor can boast of such great widgets (that you'll unlikely find in other plugins) as Changelogs, Nav Menu, Search Elements, Dual Heading, and some others. Eye-pleasing animation effects are also available:

Key features:
Polished design and optimized animation transitions.
Fast and completely customizable widgets.
A bunch of pre-built free Elementor templates.
Free Elementor widgets: 46 widgets, including News ticker, Table of contents, Search Element, Image comparison, Timeline, Team Members slider, Changelog.
Free design templates: yes.
Pro version: a yearly license for one website is $19 and the lifetime package of unlimited usage is $199.

One of the most used Elementor extras, Essential Addons for Elementor Free, definitely deserves its reputation. I don't think it would be exaggerating to say that it's one of the biggest libraries of Elementor widgets.
Even the free version gives you a decent bunch of widgets to help you build and monetize your Elementor website: you can choose from outstanding design elements to powerful marketing widgets. Opting for the EA Elementor Pro plugin, you get up to 70+ widgets in total!
If you build complex forms with such popular WordPress form builder plugins as Ninja Forms, Caldera Forms, and Gravity Forms, the free addon is going to be your saver. It provides probably the most diverse lineup of styling widgets for these dedicated contact form plugins.
The free version also has solutions (e.g. Data Table) for tasks commonly considered to be design challenges in WordPress.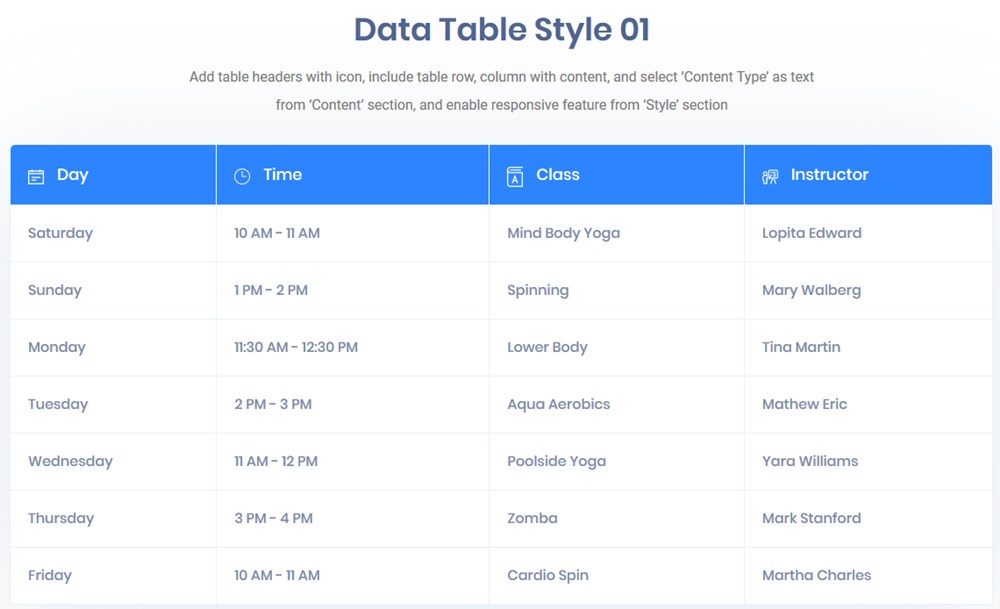 On the cons side, the plugin doesn't state any tested integration with translation plugins and doesn't provide Elementor design templates.
More Elementor Tools & Designs
Key features:
A brilliant range of elements of all types: content, dynamic, marketing, creative, social, and other widgets.
Activate/deactivate any Elementor widget.
Intuitive customization experience.
Free Elementor widgets: 40 widgets, including Post Timeline, Facebook Feed, Data Table, Typeform Embedder, Flip Box, and Event Calendar (works with different calendar solutions, e.g. Google Calendar).
Free design templates: no, but there is a free Flexia theme optimized for Elementor and Essential Addons.
Pro version: 1 website is $40; the unlimited Lifetime package is $170.


Now let's get down to the largest collection of Elementor widgets in the free segment – QI Addons. Designed by an award-winning Qode Interactive, the addon ensures users with the highest product quality.
All 60+ Elementor widgets allow users to present their business & personal projects in a visual interactive manner. They are categorized into widgets for typography, business, showcase, infographics, SEO, WooCommerce, form styles, and simply creative addons. This makes the addon a perfect solution for developers working on multiple projects, whether it's an online store or a creative portfolio.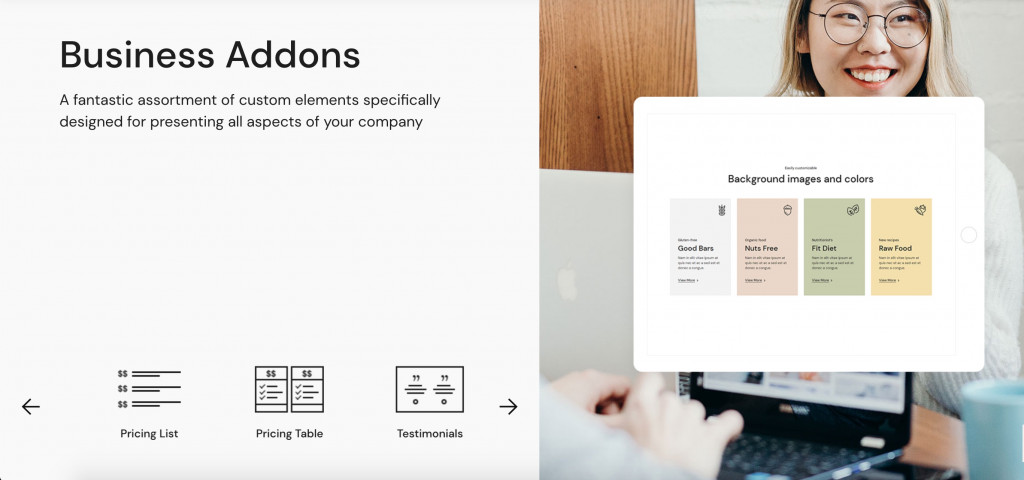 Creators of QI Addons made sure the plugin corresponds to the finest coding practices. It provides quick loading times, smooth configuration, and easy optimization. They guarantee regular updates, professional support, detailed documentation on each widget, and YouTube tutorials.
Key features:
Elegant & modern widgets design.
The largest collection of FREE Elementor widgets.
Distinct minimalist styled widgets.
Satisfy multiple user needs, from creating simple buttons to building extensive galleries & sliders.
Free Elementor widgets: 60+ widgets categorized in groups for SEO, WooCommerce, typography, etc.
Free design templates: no.
Pro version: no.

The clutter-free, minimalist design concept of the Livemesh Addons for Elementor Page Builder will be a grand starting point for creative portfolios and business websites.
The plugin is not the best match for those who need everything but the kitchen sink, but it's a perfect, though-out collection of the essentials widgets.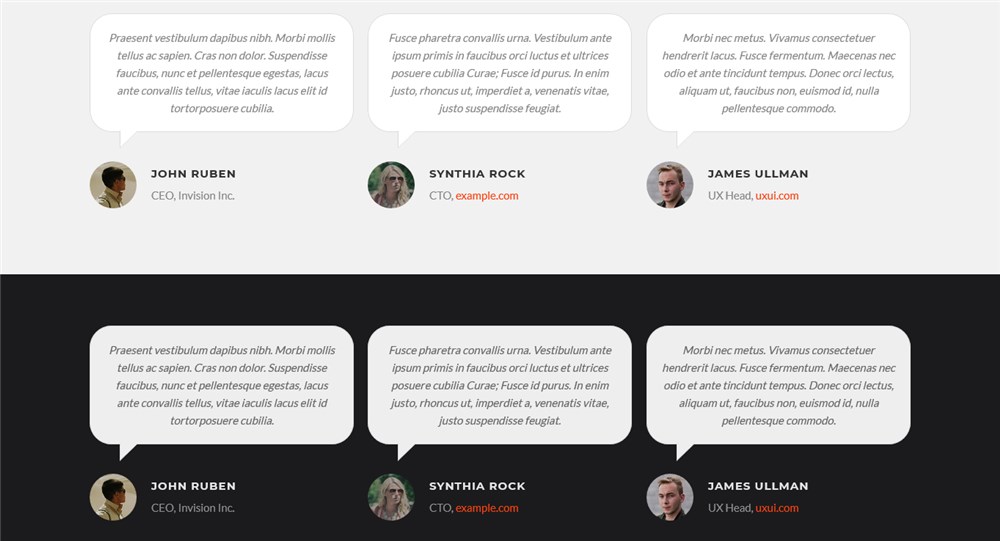 The plugin creators put a lot of effort into the performance aspect to ensure lightweight designs across devices, so if fast-loading is at the top of your list, try this one.
Such features as animation effects, video galleries, demo data import, and post portfolio grids are supported only in a Pro version. Last not least, it's a pleasure to work with these widgets in Elementor. You should have no problems managing the website with Livemesh addons.
Key features:
Stunning elegant designs.
All widgets come with dark and light versions.
Mobile-optimized designs.
Regular updates.
Free Elementor widgets: 13 widgets, including Counters, Bar charts, Post Carousel, Pricing Plans.
Free design templates: no.
Pro version: $37 per one website per year; a lifetime license for 25 websites is $199.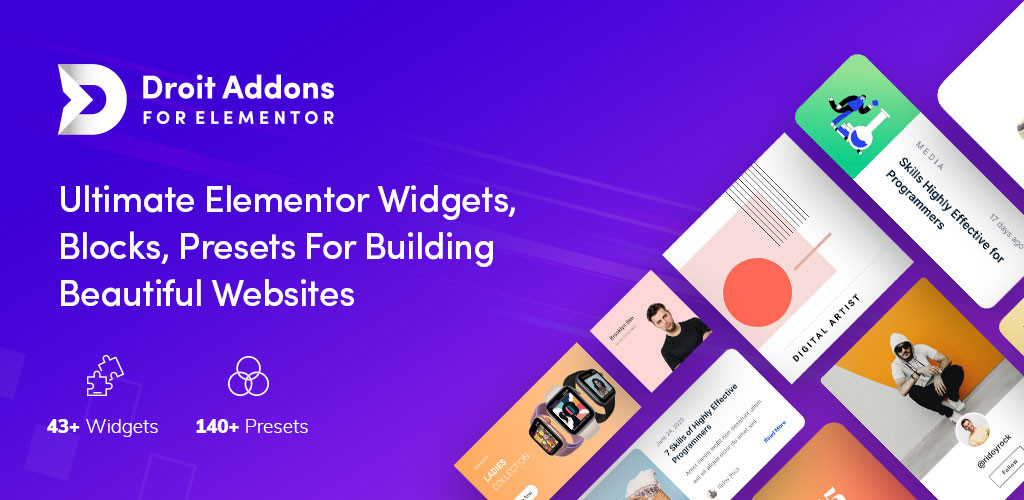 Droit Elementor Addons was launched at the end of 2020 so we may consider it a relatively fresh solution among Elementor addons. It's a usual thing when new plugins, especially in the saturated Elementor ecosystem, can't withstand competition, but looks like this one measures up to the old standbys.
I was satisfied with how the plugin performs. It offers a thought-out installation screen that prompts the key things about the plugin: docs, widgets, modules, API and extra tools.
The plugin draws a line between free and paid widgets quite similar to others: a range of commodity widgets are free, while their advanced versions are available as PRO. Let's take tabs, for example. First off, it's worth mentioning that there are many free pre-designed patterns for the widget: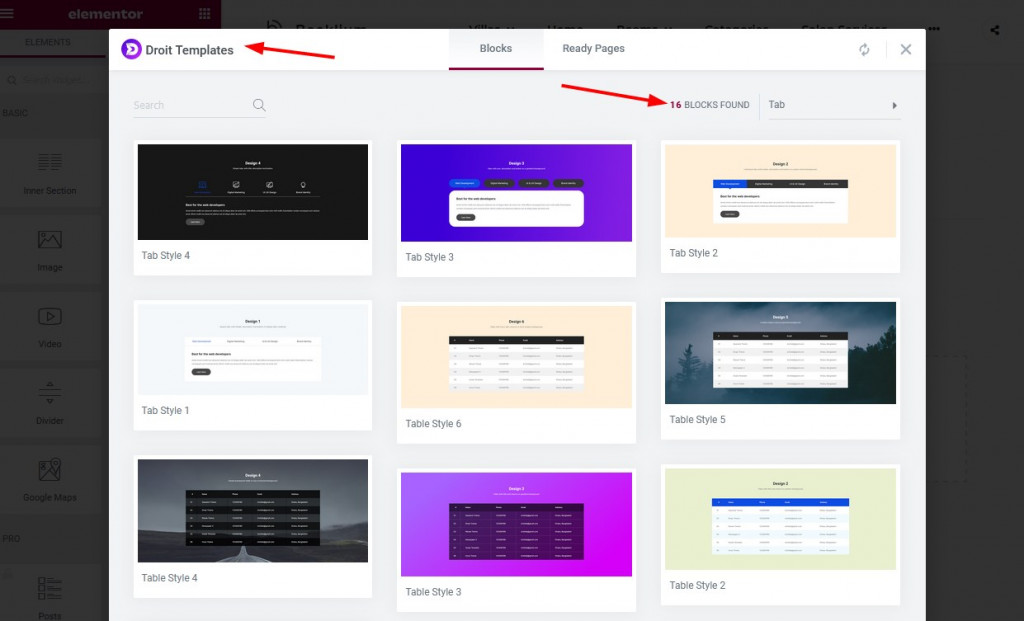 So my tabs look good right away – and there are loads of styling settings. But when you want to add another Elementor widgets inside tabs' content, for example, it looks like you can't do that; and probably this will be offered as a premium option: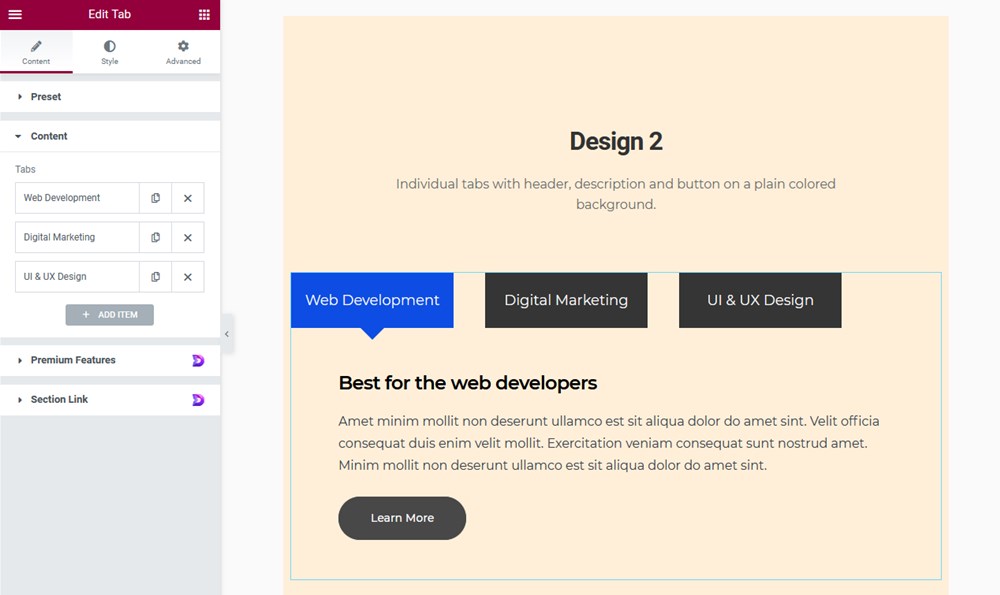 This is how it works with others as well.
So if you like the design solutions, style choice, and layout building approaches, you may find Droit Addons a useful extension to Elementor.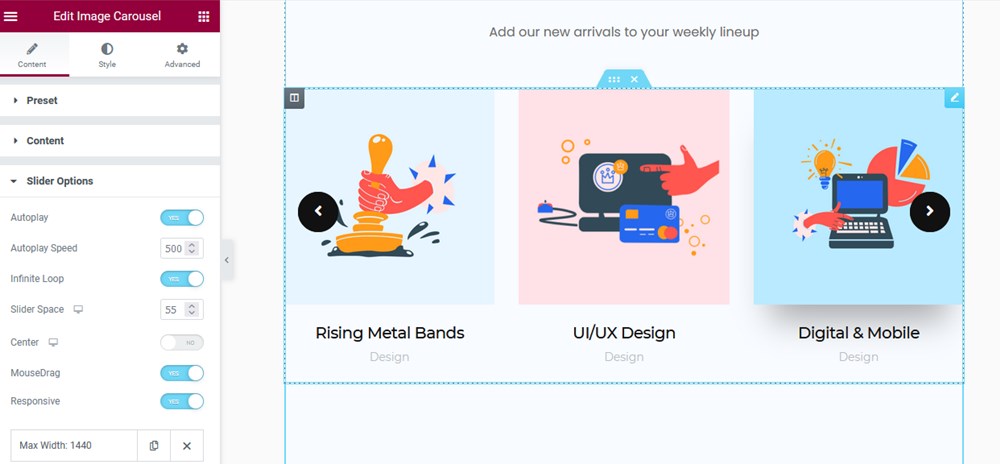 It actually wins your trust with loads of presents for free widgets: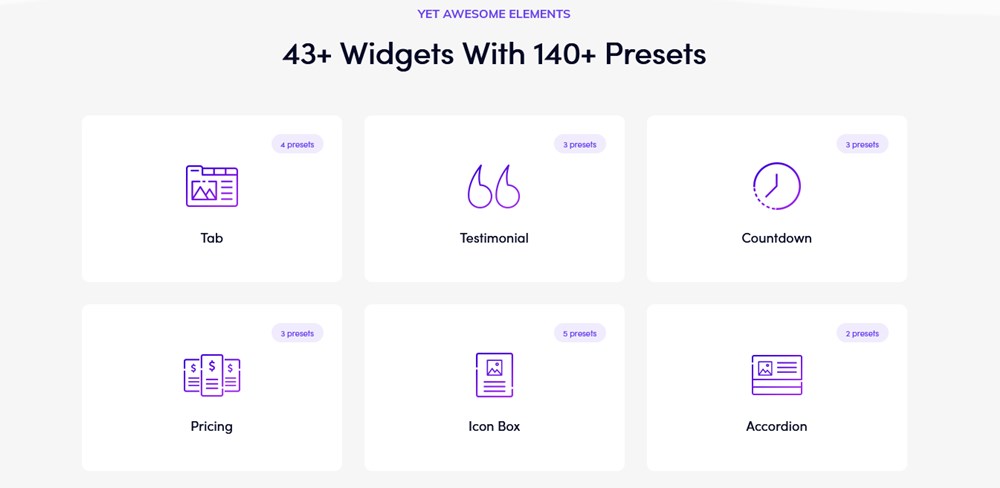 I also like that they come with the entire pre-made page sections for different purposes: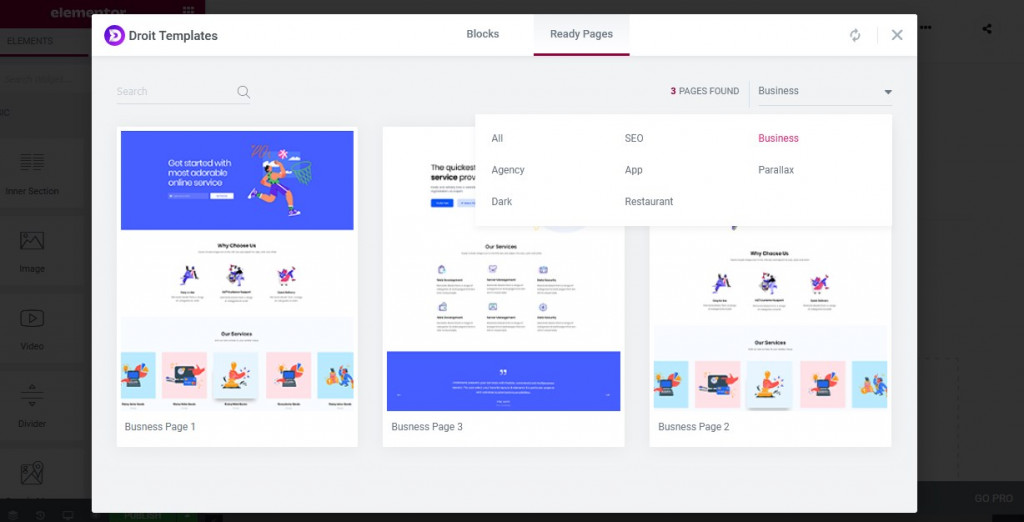 Among the cons, some widgets, such as Post Grid and Image Comparison, which you can use for free with some other addons, are paid in Droit Addons. Also, it seems you can't leave up the widget styling to your WP theme, Droit widgets apply their own styles.
Key features:
Fully responsive 43+ widgets & free Elementor blocks.
Nest an unlimited number of sections with utmost ease.
Advanced caching ability to make sure your widgets load super fast.
Powerful & versatile controls for customization options even in the free version.
Free Elementor widgets: 23+ widgets, including pricing, FAQ, timeline, teams, table, info box, image carousel, share button, Twitter feed, alert box, news ticker, animated text, and many more.
Free design templates: numerous presets and a few niche pages.
Pro version: a yearly license for one website is $29 and the lifetime package of unlimited usage is $239.
Coupon code: Guys also contacted us to give a special discount for the readers of this post for their premium version. Use 'MOTOPRESS' as a coupon code to get a 10% extra discount.

The PowerPack Addons for Elementor comes with different categories: form stylers, creative widgets (the biggest set), and business-critical content widgets.
Just like the Essential Addons for Elementor, PowerPack ships with a few dedicated form styler widgets for Gravity Forms, Caldera Forms, and others.
Professional, clean-looking designs catch the eye right away. This addon is a true gem for creative projects since it's not just packed with the biggest number of widgets of this kind, it also offers vibrant design skins for each widget. For example, here is the Image Accordion widget:

Or the price menu widget that will help you bring any creative cafe concept to life: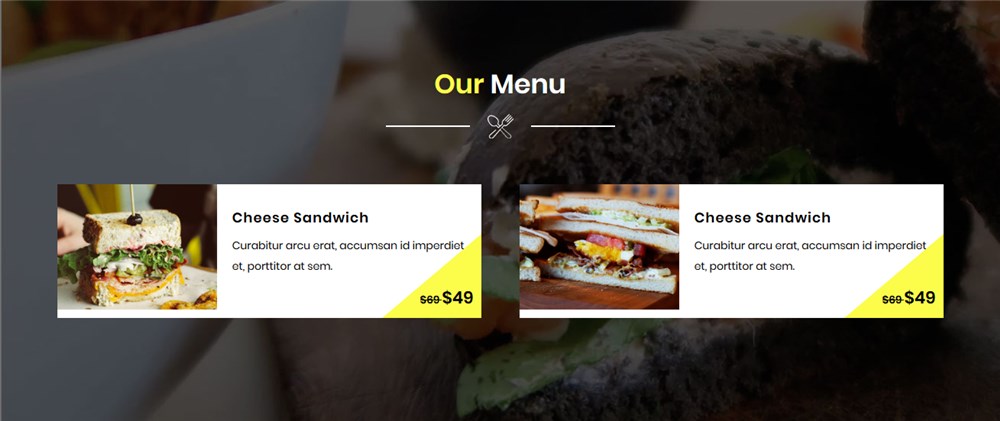 The Pro version offers numerous premium widgets to eliminate the need to install any other Elementor addon. The Pro version is also jam-packed with WooCommerce blocks, header/footer builders, SEO widgets, and handy tools for speeding up the customization process.
Key features:
Many creative Elementor widgets with diverse design concepts.
Styles for the most popular form builders.
A huge number of styling options for all widgets.
Truly advanced Pro version.
Free Elementor widgets: 30 widgets, including Business Hours, image Hotspots, Instagram Feed, Image Accordion, Price Menu.
Free design templates: no.
Pro version: the plans vary depending on the widgets; prices start at $69 for unlimited sites.

HT Mega Absolute Addons for Elementor is one of the biggest sets of Elementor addons that covers all types of widgets, including content elements, dynamic post-based widgets, social media integration elements, WooCommerce elements, stylers for third-party plugins, and any element you can think of.
If you are building websites for clients, you can rely on HT Mega Absolute Addons for Elementor for every task – from building classic pages to customizing third-party plugins like booking calendars, bbPress forums, and WooCommerce shops.
The huge list of free Elementor widgets includes such interesting tools as Flip Boxes, Image Comparisons, Image Magnifiers, fancy Panel Sliders, Popovers, Video players, and more.
Make sure to study the list of elements and see examples to assess its possibilities. The plugin also offers a few ready-made templates you can use at no cost, for example: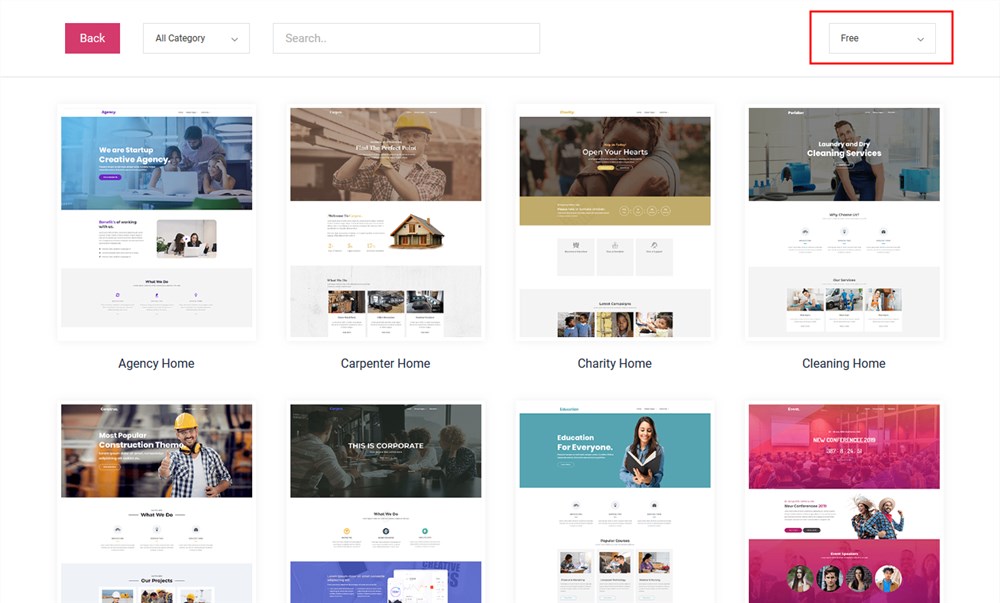 As for the cons, the plugin might be overwhelming if you don't want all the bells, whistles, and repeating widgets from an Elementor addon – you might even have to sacrifice the performance of your website to some extent.
Also, some of the important styling options, such as background, heading, and content colors are available only in a premium version. Coming soon and 404-page builders are also editable in Pro.
Key features:
Each widget comes with pre-set styles.
Styling support for a huge list of third-party WordPress plugins.
Header and footer builder.
15 categories/template sets.
Many WooCommerce widgets, plus a free WooCommerce theme.
Free Elementor widgets: 85 widgets, including multiple post, form styler, and WooCommerce-related elements.
Free design templates: 15 templates, plus the 99fy free WooCommerce theme. Many page templates are available in a Pro version.
Pro version: Prices start at  €54 for one website per year. To use the lifetime advanced package you'll need to pay €382,80.

Despite the name, this plugin is quite generous as for tools you get at no cost! Indeed, the addon offers free premium-like widgets for Elementor.
It offers several free and premium widgets for each category, primarily focusing on advanced content, marketing, and image widgets within a free version.
I especially like the blog widget layouts, creative image widgets that allow for smooth scrolling and stunning grid concepts, as well as banners and modal boxes for promo sections.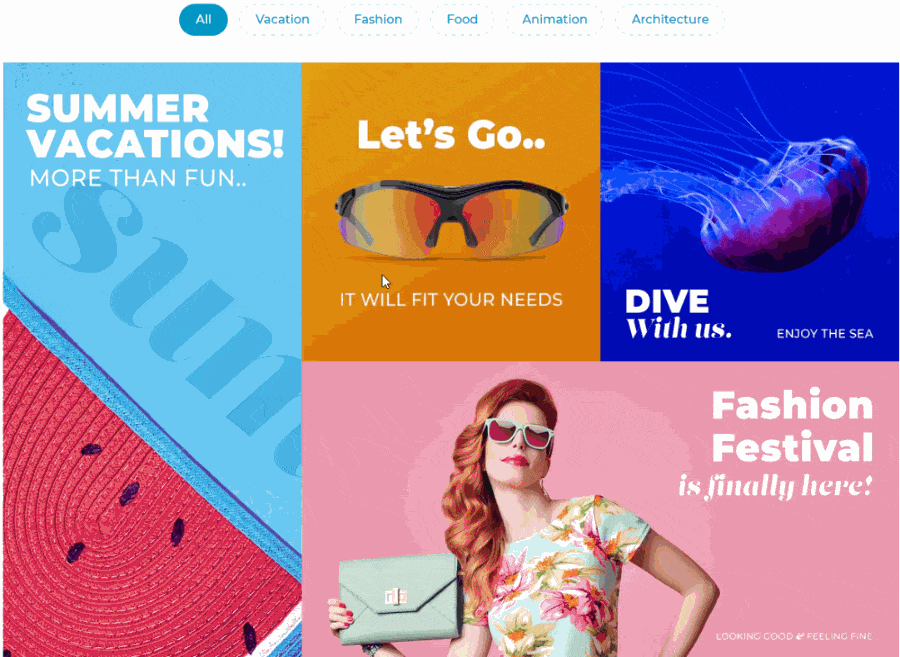 This ultimate Elementor addon will surely aid you in creating nearly every type of website but it's no doubt suitable for designer or photographer portfolios, landing pages, freelance agencies, and similar niches.
Blazing-fast widgets, intelligent and smooth modular design, flexible customization – all these features make the Premium Addons for Elementor plugin stand out from the rest of its counterparts.
I can't think of any critical cons, the plugin is nearly perfect. However, some widgets commonly offered as free by the competitors (e.g. Flip Box) are premium in this plugin. Also, some heavily styled widgets can be counterproductive in terms of performance.
Key features:
A diversity of modern design solutions with a good bunch of animation and transition effects.
Many unique styling options.
Fancy off-grid widgets for marketing sections.
Free Elementor widgets: 22 widgets, including Modal Box, Progress Bar, Fancy Text, and Form stylers.
Free design templates: yes, a free library of Elementor section templates.
Pro version: prices start at $39 for a single site per year or $199 for a lifetime license.

Happy Addons for Elementor is among the most used and loved free extensions for Elementor. For a reason! It's an ever-growing library of rather unique addons optimized at multiple levels: design, performance, and smooth interplay with Elementor.
The free add ons plugin is packed with numerous free widgets devoted to multiple businesses – Card, Info Box, Skill Bars, Review, and more.
The free addon plugin will be suitable for both seasoned WordPress developers and designers who build complex websites for clients – it's a brilliant tool to solve complex customization challenges with no or minimum coding knowledge. For example, here is a free Gradient Heading widget in action: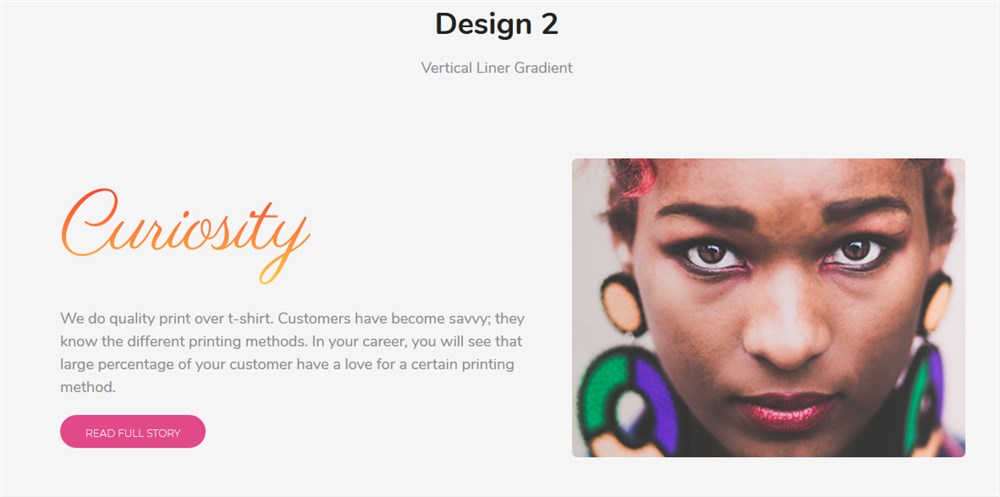 Although by going Pro you'll unlikely need anything else, a free version is also one of the most powerful and feature-rich toolchains. Well, happy designing times are guaranteed!
Key features:
Many lightweight unique widgets.
Stylers for the most popular contact form plugins.
Unique customization tools optimized to work smoothly in Elementor (button, icon, and shape adjustment options).
Floating and transition effects to make elements more dynamic.
Free Elementor widgets: 35 widgets, including Logo Grid, Step Flow, Calendly integration, News Ticker, and other tools.
Free design templates: yes.
Pro version: $39 per site/per year or $549 for a lifetime license.

The Element Pack is literally the biggest set of Elementor addons. There are 30 free widgets at your disposal in the Lite version and a whopping number of 140 Pro widgets! We are now interested in the free ones only, so is the lite pack any good?
Certainly – it measures up to its competitors in all aspects: the number of widgets, the purposefulness of widgets, and customization options are quality and to-the-point.
It's also packed with the form stylers, numerous marketing-oriented elements, and even unique integrations with the Tutor LMS plugin: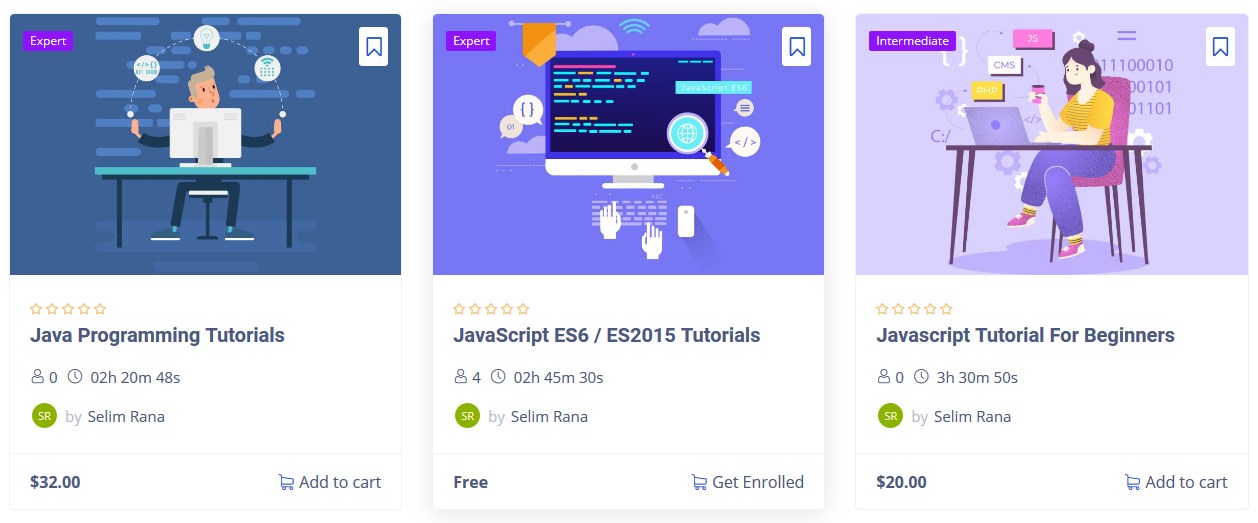 Key features:
Professional lightweight design solutions.
Twitter integration and a huge number of contact form plugins supported (Caldera, Ninja Forms, weForms, and more).
Support for exclusive third-party plugins.
Free Elementor widgets: 30 widgets, including Cookie Consent, Fancy List, Ninja Forms, Panel Slider.
Free design templates: in a Pro version.
Pro version: $39 per one website.
More Elementor Tools & Designs

Envato Elements is a multidimensional Elementor asset for creatives. It's probably one of the best WordPress free plugins.
It ships with a reliable free pack of splendid Elemanto templates making it a perfect addition to any other Elementor addon in this roundup. The plugin gives quick WordPress access to templates, graphics, photos, fonts, and more to aid you in styling widgets in the Elementor WordPress plugin.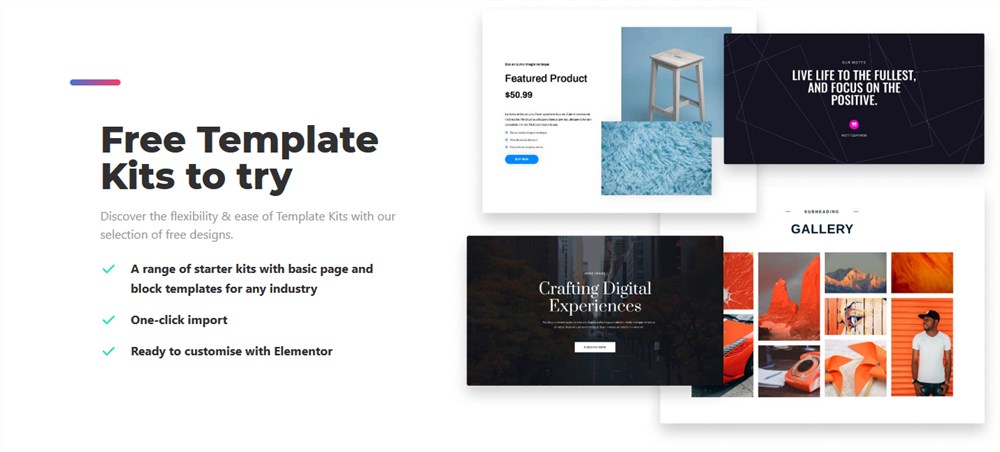 Key features:
Easily browse, import, and customize templates for designers, hotel sites, business, etc.
Among the best plugins for Elementor that easily connect to Envato.
Code quality checked by Envato.
Fully flexible customization.
Free design templates: multiple free templates.
Pro version: premium templates are available for Envato Elements subscribers (prices start at $16.50/m).
Best Free Addons for Elementor, or You are Spoiled for Choice
The choice of top free WordPress plugins for Elementor is huge. Since all of them are one click away, you can test-drive these addons on your WordPress installation to make sure the one you chose meets your requirements.
For example, Stratum is a great solution if you need advanced customization settings and widgets you can't unlock in the free version of Elementor, Droit is well-suited thing for those looking for ready-made templates, Livemesh is a great lightweight thing that won't influence your website performance, etc.
Some of the best Elementor plugins in this list are packed with features you might never need while others come with a bunch of to-the-point unique tools you won't find in the average addon. So it's up to you which approach is preferable.
As you see, some of these free Elementor plugins come with no pre-made templates, the latter are huge speed boosters in the customization work, as we know. If this is the case, don't worry, you can always browse free Elementor templates and see whether there is something that satisfies your needs and can be used together with Elementor plugins from this list.
After all, it all boils down to whether you need a one-stop solution with a bunch of classic widgets or you are looking for specific widgets for creative purposes, styling mechanisms, or customization optimization solutions. We're curious to know which one you settled on!
Other Elementor addons worth mentioning include: the Plus Addons for Elementor, Ultimate add ons for Elementor, Elementor Power Pack addons, Elementor element pack.
Free Elementor addons FAQ
Are these Elementor addons really free?
Yes, some of the best free WordPress plugins for Elementor in this list can be downloaded and installed on your WordPress site. As for paid options, almost every addon has a PRO version, which gives you either more widgets or more customization tools. For example, the Stratum plugin gives you ALL its widgets for free, while only some advanced options are paid. However, there are plugins like Ultimate Addons for Elementor coming at a premium version only.
Which free Elementor addon offers the biggest number of widgets?
As its epic name suggests, the HT Mega Absolute Addons plugin offers a whopping number of 85 free widgets for Elementor.
Which Elementor addon can I use for creating an image gallery?
Almost every addon allows you to create and edit an image gallery, including Instagram galleries, Masonry galleries, and other fancy galleries
Can I create an Elementor mega menu with these addons? 
No, you need a standalone addon for creating a mega menu with Elementor (one of them is Stratum Elementor Mega Menu). These addons will rather help you add more unique widgets to the basic ones offered by Elementor.