Top 15 WordPress Contact Form Plugins for Every Need and Budget
One of the easiest ways to get in touch and effectively communicate with your customers online is adding a contact form to your website: the clients will be able to reach you out directly and preserve a certain amount of privacy at the same time.
What's more, contact forms let you interact with your website visitors without having to actually reveal your email address or other personal data that significantly reduces risk of spam attacks.
Our today's collection features WordPress contact form plugins of various types and concepts:
free tools to create basic forms
freemium options for you to be able to expand primary functionality by upgrading to pro
powerful premium plugins with lots of extra functions
add-ons and extensions for specific plugins or page builders.
Let's start looking for the best free contact form WordPress can offer us or find the most feature-packed premium plugin for your website together!
If you are using Content Editor by MotoPress to build your website pages and would like to add and edit contact forms visually as well, look at Simple Contact Form Add-on. You will be able to use 9 types of fields for creating forms (checkboxes, radio buttons, text areas and labels, etc.) Anti-spam functionality is backed too: the add-on allows equipping your forms with Google reCAPTCHA.
After you've installed the extension, a new Contact Form widget will appear among the other available Content Elements of MotoPress Content Editor.
Opinion: Decent solution for frontend creation of contact forms with anti-spam protection. The add-on is applicable, however, within one particular WordPress page builder only.
Price: $12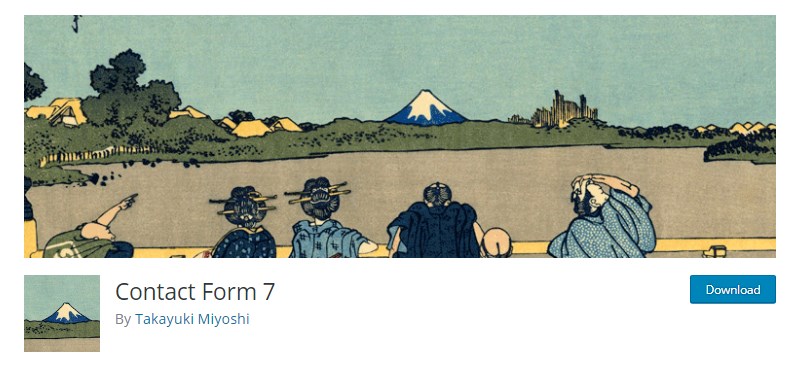 Contact Form 7 plugin with its 5+ million installs is truly the most beloved free contact form plugin WordPress has ever had in its plugin repository.
Contact Form 7 enables quick and straightforward creation of basic contact forms and allows configuring essential settings for them (defining emails for receiving collected feedback, changing default text of error notifications, etc.)
The plugin interface is analogous to that of the native WordPress pre-Gutenberg text editor and doesn't allow for visual building of the forms. Out of the box, the plugin doesn't allow viewing gathered feedback in your WordPress admin dashboard either.
The most popular free Contact Form 7 addons are:
Opinion: Perfect tool for creating basic online forms with all the primary functionality ensured. MotoPress team uses Contact Form 7 for some of their products as well and highly recommends giving it a try if you are looking for a reliable free contact form plugin. CF 7 won't be a good fit, however, if you'd like to have a visual editing option or third-party integrations by default.
Price: $0.00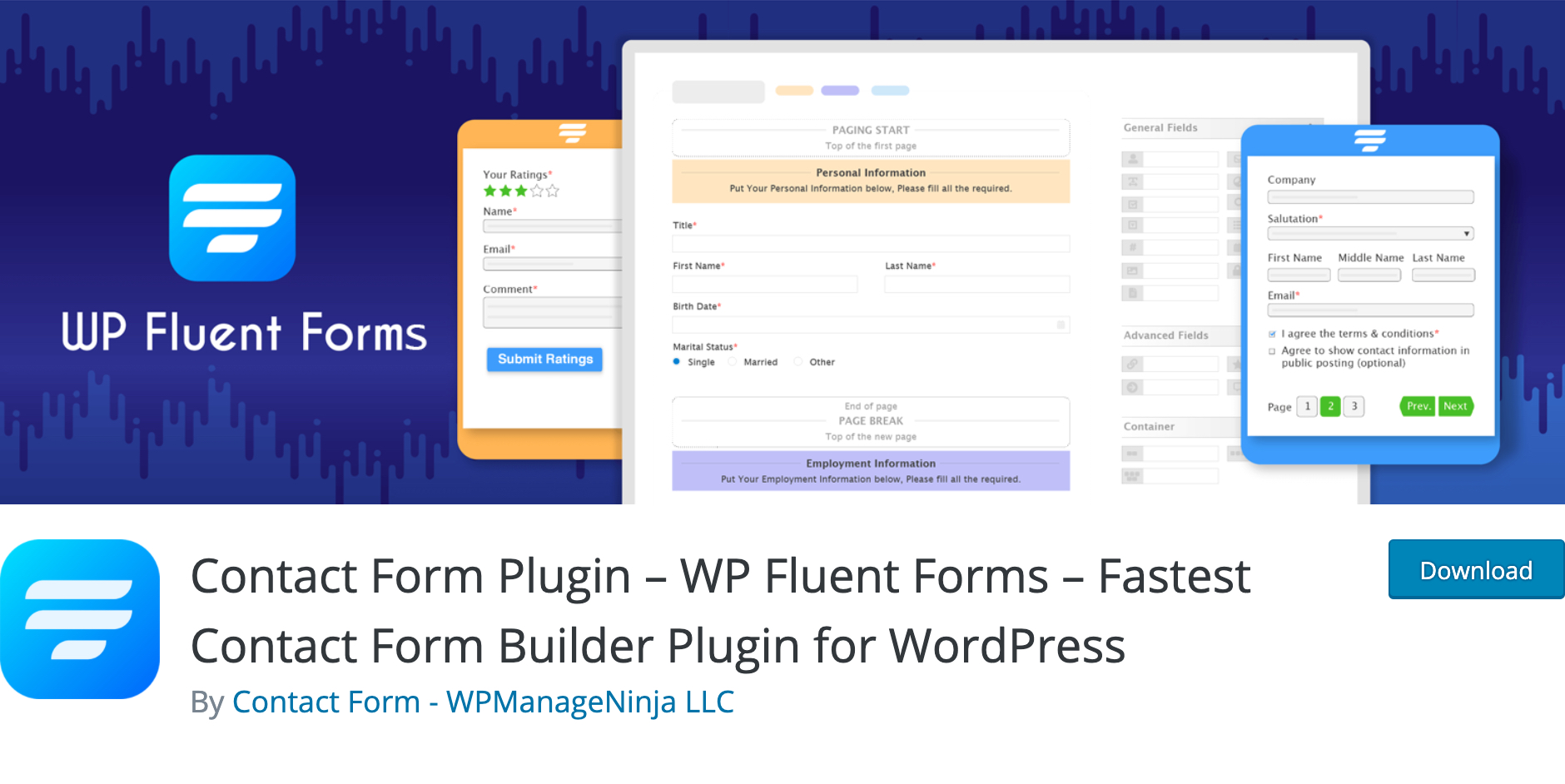 WP Fluent Form is one of the most underrated WordPress form plugins. The truth is, it's the fastest and most intuitive plugin for building forms with over 60 ready-made templates and an attractive user interface.
Whether it's a simple contact or a checkout form, WP Fluent Forms ensure the building process remains fun and playful. Everything becomes even easier with custom drag-and-drop fields, integration with multiple third-party addons (HubSpot, MailChimp, Slack, etc.), multi-step formats, and many more.
You can download the plugin with the basic functionality for free from the WordPress directory. But if you are craving to try the advanced functionality set, you will need to invest in a premium version available on the official website.
Opinion: WP Fluent Plugins justifies their claims of being the "world's fastest WordPress form builder plugin". The premium version of the plugin is indeed an all-around solution to get all the must-have contact form functionality covered at once.
Price: Pro version starts at $59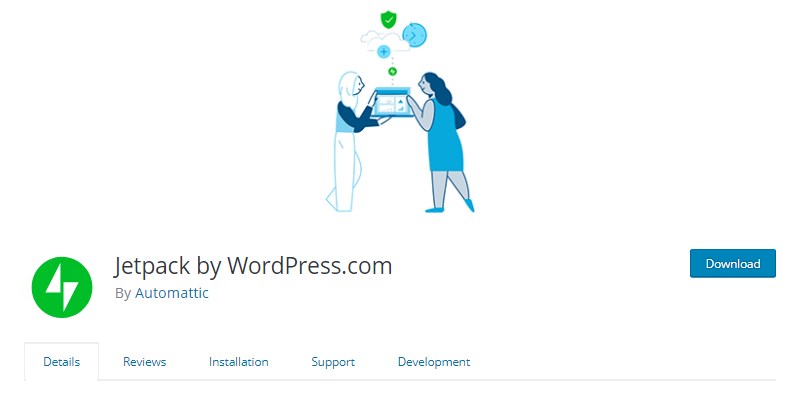 Generally, Jetpack is a feature-rich tool for boosting the default functionality of self-hosted WordPress.org sites with more advanced WordPress.com features.
The vast variety of Jetpack functions is split into various modules. Contact Form module is enabled on default right since the plugin installation and moreover, it is now possible to create and edit Jetpack contact forms with the new WordPress editor: the plugin adds custom Form block to the list of default Gutenberg blocks. Each field within the contact form is treated as a separate building block of the main form and has quite a large number of available settings to configure.
Please note that Jetpack allows adding of a maximum of one contact form to a page or post.
Opinion: If you already have Jetpack installed on your site, there is no need for you to look for additional plugins to create contact forms: Jetpack will be totally sufficient for covering the essentials.
Price: Pro version starts at $39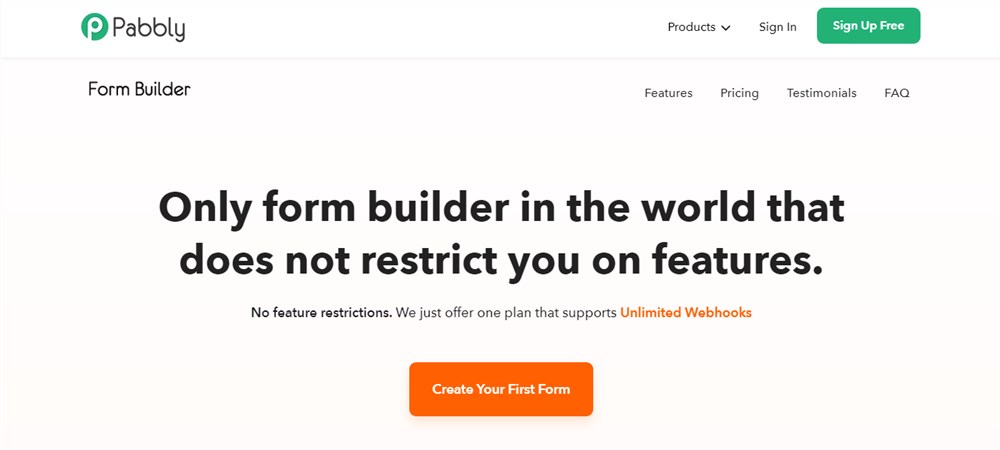 Pabbly Form Builder could be an extraordinary choice in case you are searching for a reasonable form builder that is likewise effective and simple to use. The key highlight of this tool is, it doesn't restrict users on any feature whether it is a conversion rate optimization feature or usage. From unlimited submissions, payments, file uploads to partial form submissions, custom branding and reports every feature is accessible with every form.
Pabbly isn't just a plugin, yet can be considered as a standalone form builder software offering various form field options that are customizable. You can custom-tailor everything about your form effortlessly.
Opinion: It is suitable for all business types as it has all beginner-friendly as well as advanced options available for every single form.
Price: $10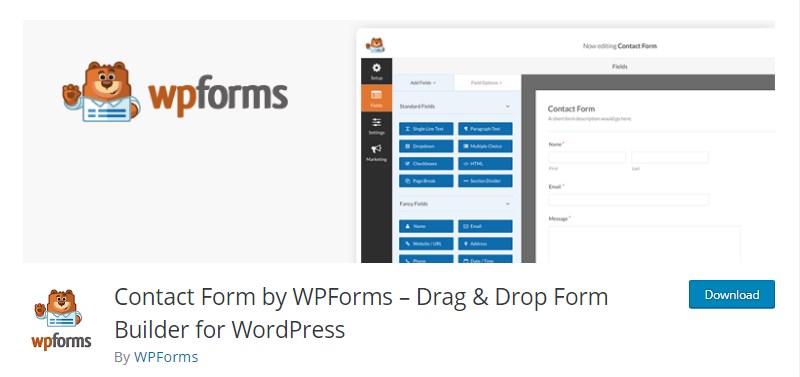 WPForms is aimed at making contact form creation an achievable goal even for entry-level WordPress users: сustom drag and drop form builder and ready-made templates for various types of forms ensure the quick and effortless start of form building.
The plugin can be found for free download in the WP.org repository but the full potential of WPForms unlocks within the premium version. The pro features are conditional logic, spam protection, file uploading, multi-page forms, PayPal and Stripe integration, signature field, etc.
Opinion: If you are looking for a premium plugin that offers an intuitive and beginner-friendly form building interface, WPForms will be a perfect choice.
Price: Pro version starts at $39.50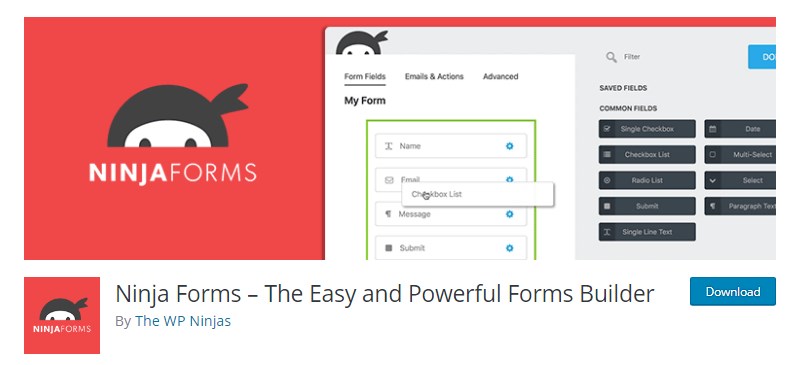 The core version of Ninja Forms provides the following features: viewing feedback directly within the WordPress admin area, anti-spam options, email notifications of new responses, instant Ajax form submission without page reload.
Ninja Forms also offers a user-friendly interface for contact form creation: сhoose a predefined template or build forms from scratch using default or custom fields. Extended functionality can be obtained by purchasing premium addons, sold both separately or in a bundle.
The extra addons bring payment gateways, integrations with various email, analytics, and CRM platforms, and some other advanced functions for form building.
Opinion: The concept of the free core plugin and separately sold addons allows you not to pay for the whole bunch of unneeded features and purchase the one extension bringing precisely the functionality you need.
Price: Pro version starts at $99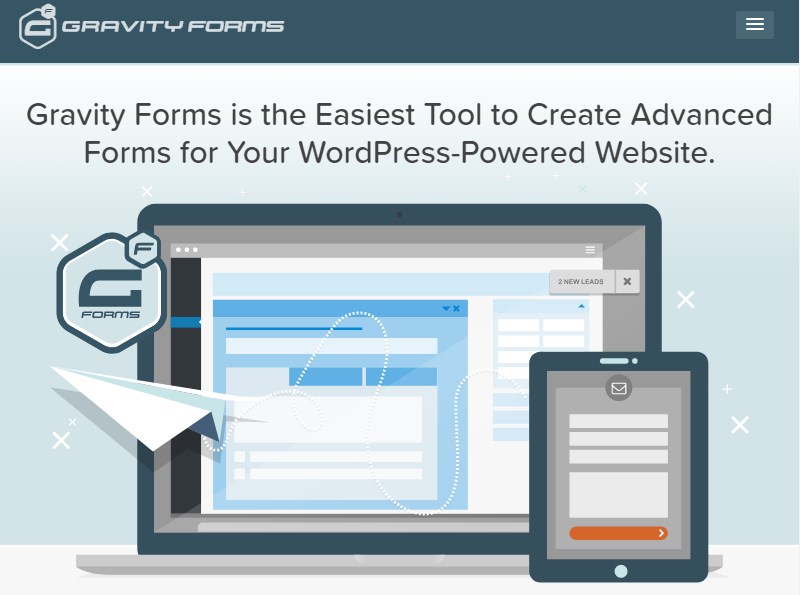 Gravity Forms is a premium contact form WordPress plugin that, similarly to the other plugins in our collection, allows building contact forms visually: pick the field type you need and add it to your form or change fields order with drag and drop.
The key features of Gravity Forms are conditional logic for defining contact form behavior to depend on responses entered by users; email notifications of new form submissions; Save and Continue functionality for saving progress of the form filling. Extra addons enable integrations with a great number of external services, user registration, discount coupons, etc., and are not available to be purchased individually.
The plugin doesn't offer a free version but provides 3 pricing plans to choose from. The pro features within each pricing plan are complemented by the corresponding addon package.
Opinion: Gravity Forms will be fit for you if you are looking for an all-around premium solution to get all the must-have contact form functionality covered at once and have the choice of pricing plans as well.
Price: Starts at $59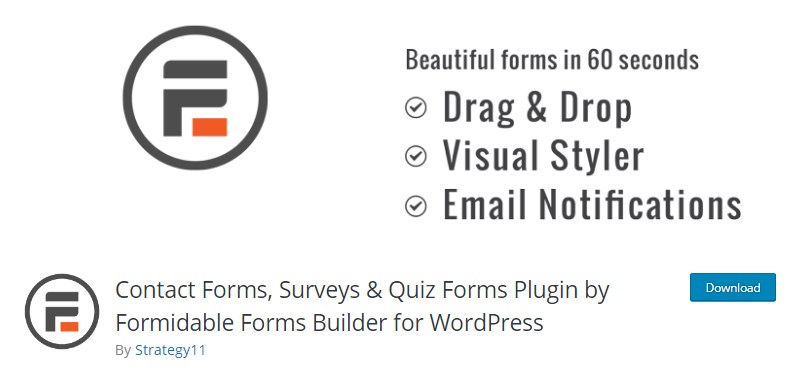 Formidable Forms is probably one of the most feature-rich tools to create a contact form for WordPress.
Its free version provides basic functionality such as drag-and-drop editing, viewing responses within the WordPress dashboard, email notifications, etc. Upgrading to Pro unlocks more advanced functions the number of which depends on the pricing plan you choose.
What's remarkable is that the premium version offers a good deal of extra functions that are commonly not provided by a majority of other contact form plugins. The examples are: creating graphs, tables, and other infographic reports based on the feedback gathered; calculator fields for building payment-related forms; form scheduling; autofill for registered users, and many more.
Opinion: Formidable Forms would be the right choice for developers or developing agencies that create various websites for their clients and need a complex tool to cover any need that may arise. The rich functionality of the plugin may, however, turn out to be excessive for personal or small business websites.
Price: Pro version starts at $49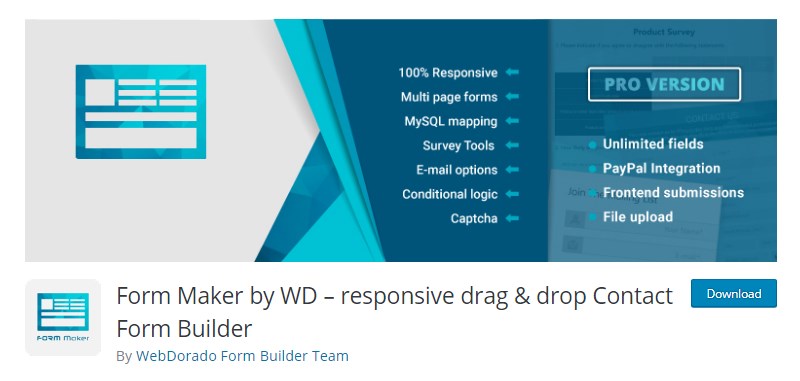 The free version of Form Maker provides a truly generous functionality for both form creation and styling: intuitive builder with 30+ default fields, submissions visible on the back-end, multi-page forms, 14 styling themes, 4 form display options (Embedded, Popup, Top Bar, Scrollbox). Pay attention, however, that you are allowed to create forms consisting of maximum of 7 fields within the free version.
Plugin's premium version is offered in 3 pricing plans, all of which enable PayPal integration, file uploading, and adding an unlimited number of fields.
The pricing plans differ in a number of supported domains and length of access to updates and support.
Opinion: If you are looking for a plugin offering visual form building and a decent set of advanced design and styling features, Form Maker by WD would be a good choice.
Price: Pro version starts at $30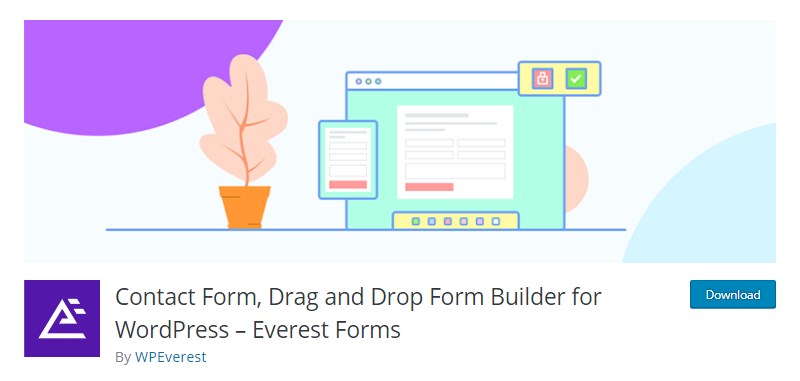 With Everest Forms, you'll be able to either stick to the free basic version or choose among 4 premium pricing plans.
Features available for each version, including the free one, are the unlimited number of fields, form responses in WP Dashboard, Google reCAPTCHA, CSV data import, multiple recipients for email notifications.
All the plugin versions also allow creating contact forms with a visual drag and drop builder that is truly intuitive to use.
Features like multi-page forms, PayPal integration, conditional logic, and file uploading are enabled via addons that are included in the paid pricing packages.
Opinion: Everest Forms will be suitable for the users who don't necessarily need a wide range of features for contact form creation, however, still would like to enjoy handy visual form building, professional support, regular updates, and all the other benefits of a decent premium WordPress plugin.
Price: Pro version starts at $29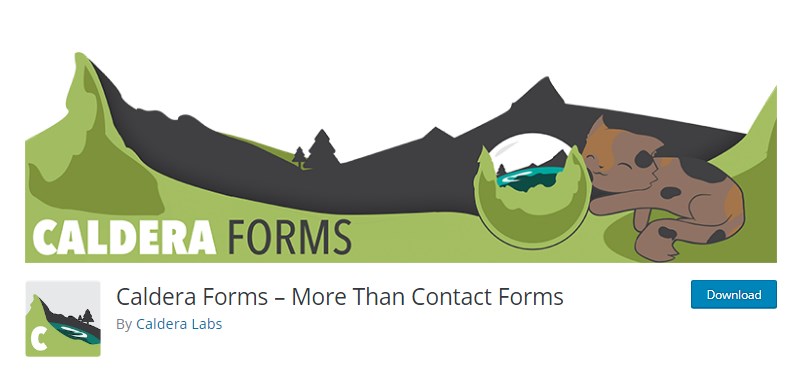 Caldera Forms is rightly considered to be a plugin offering one of the richest sets of features available in the free version.
Options like WYSIWYG editing, conditional logic, multi-page forms, auto-responding, file uploading, email validation, and anti-spam honeypot will be enabled for you at no cost.
Therefore upgrading to pro with Caldera Forms is more about making free functionality more advanced and less about increasing the actual number of features.
At the same time, 30+ free and paid addons allow integration with external analytics, email marketing, and payment services. The addons can be purchased separately or as a part of addon bundles for each premium pricing package.
Opinion: Caldera Forms would probably be one of the best solutions if you are looking for a free plugin with robust functionality. The user interface of the plugin's form builder may seem somewhat unhandy but once you get used to it, you'll find it ok.
Price: Pro version starts at $14.99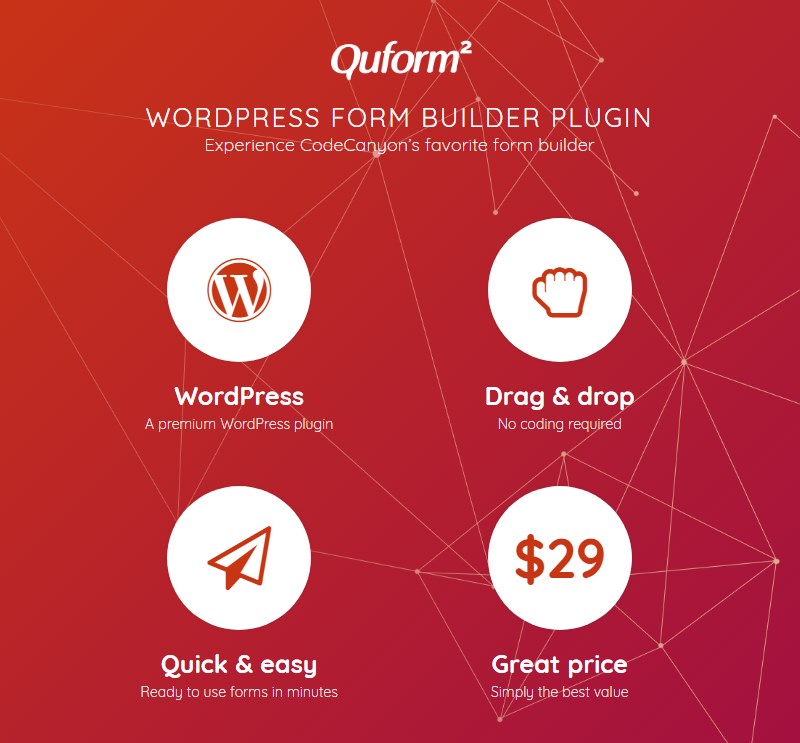 Quform premium contact form plugin owns all the important features for creating both basic Contact Us forms and forms with more complex layouts: the plugin provides multi-page forms, reusable fields, conditional logic, access to received feedback directly from WordPress Admin Panel, and a lot of other essential features that can be found in the majority of contact form plugins.
The plugin also offers a visual form builder that is, however, a bit different from the ones provided by other plugins of this kind and usage of which may take some getting used to.
Opinion: Please note that the plugin is at the moment offered to be purchased for a single-site use only: multiple and unlimited site licenses are currently not available. This makes the plugin suitable for creating personal or corporate websites but inapplicable to be used by developers.
Price: Pro version starts at $29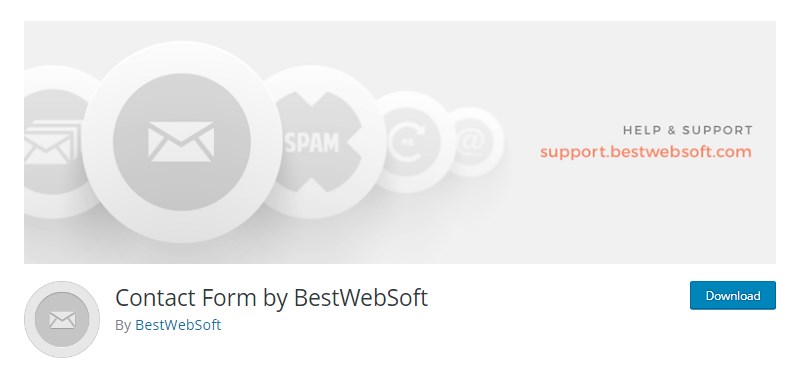 This plugin is aimed at the creation of simple contact forms with basic Name, Email, Subject, Message, and a couple of other prFformiimary fields.
The free version offers a quite limited number of features: changing forms' width and alignment, drag and drop reordering of fields, and file attachment option.
The pro version adds extra fields to the form (e.g. required checkboxes I agree to the terms and conditions, etc.) and enables basic style customization.
The number of forms to be created with the plugin is by default limited to 1 but you can purchase a Contact Form Multi extension to overcome the limitation.
Opinion: Contact Form by BestWebSoft will be a sure choice if you are looking for a plugin to add a simple form to the Contact Us page of your site. If you would like to create multiple contact forms of different types, we'd suggest considering other options.
Price: Pro version starts at $30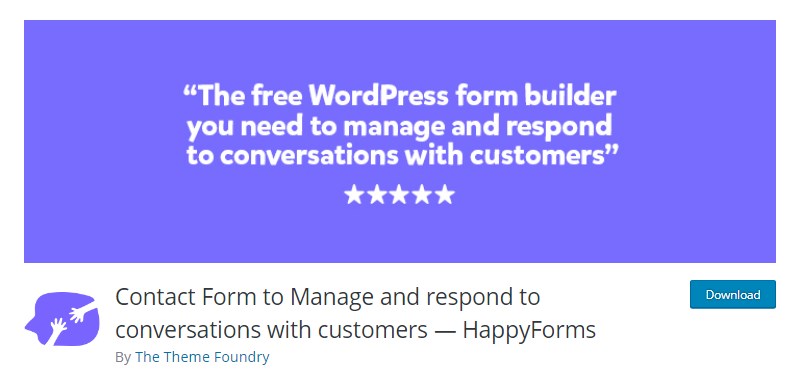 HappyForms free contact form plugin ensures all the essentials of contact form creation and allows building forms via visual builder with interface analogous to that of WordPress Live Customizer.
You will be free to create an unlimited number of forms and duplicate them, build multi-column forms and keep them secure from spam with Google re-CAPTCHA or HoneyPot.
Submission confirmation messages for users, email notifications of new responses for admins, and viewing feedback in the WordPress dashboard are available too.
The plugin is Gutenberg-compatible: it adds a custom HappyForms block to the list of default blocks in the new WordPress editor.
Opinion: HappyForms will fit the bill for those who would like to get a fully functional tool for creating contact forms at no expense. Unlike the Contact Form 7 plugin, which also comes in a free version only, Happy Forms offers much more user-friendly UI and more extended functions but still would not beat the popularity and straightforwardness of CF 7.
Price: $0.00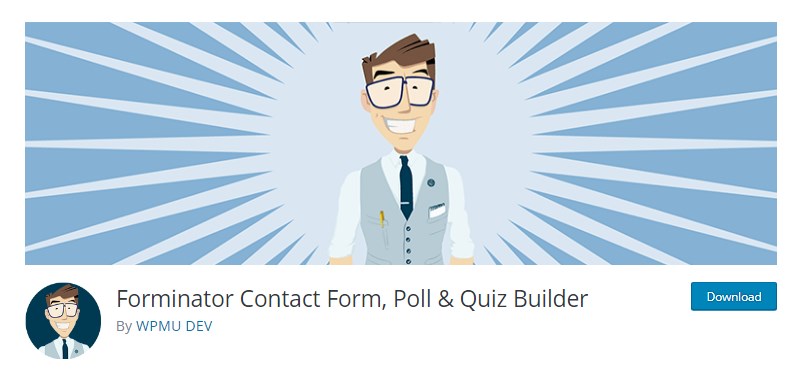 The functions of Forminator are not limited to creating contact forms: the plugin also provides two pre-arranged modules for building various types of quizzes and polls.
As for the contact forms themselves, the available options are quite decent too.
The visual form builder of Forminator has a truly intuitive and clean user interface. Along with picking necessary fields for the form you are creating, you'll be able to configure settings for design, emails, integrations, and other parameters from one place in a couple of clicks.
Forminator is compatible with the new WordPress Gutenberg editor and lets you extend its basic functionality via integrations with 8 external platforms and services as well as view form entries in WP Admin Area.
Opinion: Forminator is a proper choice if your aim is equipping your website not only with contact forms but with other elements for increasing user engagement like polls, surveys, or quizzes.
Price: $49 for an unlimited license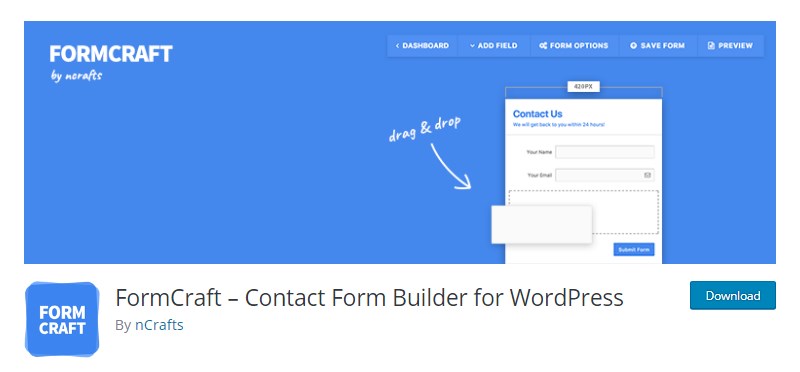 Free Form Craft version takes care of the no-frills basics: 8 types of fields, email notifications of incoming submissions, fields validation.
Premium version of Form Craft unlocks more extended functionality: pre-styled templates, analytics, and stats to assist the processing of received feedback, conditional logic, and basic math formulas, etc.
Integration with external payment or email marketing platforms and some additional features like multiple page forms can be obtained via free and paid addons.
Opinion: The premium version of the plugin ensures all the must-haves and will be sufficient for backing the essential needs of an average business or personal website. Lite version can, of course, be used as a standalone plugin, however, won't be suitable if you're in search of a free plugin with a large number of features.
Price: Pro version starts at $36
Summary
Let's now give a brief summary of the foregoing and categorize the plugins by the purpose we consider the best fit for:
free tried and tested the plugin for quick creation of basic Contact Us-forms: Contact Form 7
free contact form plugin with a decent set of functions for building advanced forms: Caldera Forms, Happy Forms
freemium plugin for upgrading to pro whenever necessary: Ninja Forms, Form Maker by WD
beginner-friendly contact form plugin: WP Forms
plugins with an extended set of features (good picks for developers): Formidable Forms, Gravity Forms
the best go-to choice for MotoPress Content Editor users: Simple Contact Form Addon by MotoPress
the top go-to choice for Jetpack users: Jetpack Contact Form module.
Do you agree with our verdict? Which one do YOU consider the best contact form WordPress plugin?
Tell us in the comments below!