10+ Best WP Review Plugins to Build a Testimonial Block or Page
Customers would like to be sure that they make the right choice while buying your product or service. That's why they go to the reviews section and read the personal recommendations given by people who've already used it. Your website should feature informative and well-designed testimonials. And WP review plugins help you build a dedicated block or page to provide this value.
There are many ways to enhance your website with reviews. We are going to consider solutions that suggest applying
a Gutenberg WordPress block;
an Elementor widget;
or the WordPress plugin functionality.
Why Should You Add a Block or Page with Testimonials?
Is it possible to have a good website without a testimonials section? The answer is yes, but… If you sell a product or service, allow for the fact that customers give more trust points to the page with others' experiences. The main advantages of testimonials are the following:
Social proof: positive reviews increase the credibility of your business and connect with customers.
Trustworthy collaborations: clients you've worked with can tell more about you than someone else. Great if they have a good reputation.
Schema markup analysis: testimonials section helps your website be ranked higher.
Boosted interest: visitors are engaged with reading reviews and spend more time on your website.
The Roundup of the Best Review Plugins WordPress Provides
We've tried to find different solutions to add testimonials to the website. Let's discuss in detail the freemium product review plugins that are available on the WordPress CMS platform!
Stratum – Elementor Widgets


Stratum comes with 24+ free Elementor widgets that have a vivid and flexible design. They are aimed at multiple needs of a professional website: images, galleries, posts, price plans, and more. What's more, you get access to a set of customization options, animation effects, and pre-made templates.
Some of the Stratum widgets are free alternatives to the Elementor ones. It's worth noting that there is a paid, yet affordable version of Stratum providing you with the extra settings toolkit.
The Testimonial Carousel widget by Stratum enables you to embed testimonials and save space at the same time. You may place them in one or two-column style with a horizontal direction. Cube and overflow effects make the section dynamic.
Advanced Slider is one more widget solution to enrich your website with a stylish testimonials section. It features flexible layouts, both vertical and horizontal. The interaction may be boosted with stunning animation effects.
Getwid – WordPress Blocks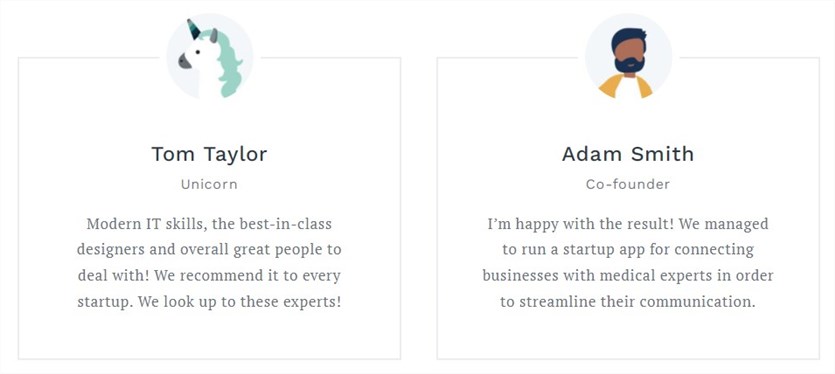 Getwid includes a collection of 40+ free Gutenberg dedicated blocks and a library with ready-to-go templates. Working with the native editor implies fast performance and easy customization. Template Library contains 35+ well-crafted designs that suit any kind of website.
You are able to manage a mobile-optimized style of the blocks and modify them as you wish: shapes, sizes, colors, fonts, spaces, styles, animation, and many other things. Getwid Gutenberg blocks inherit the styling peculiarities of your WordPress theme.
Being one of the clean-coded and lightweight WordPress review plugins, Getwid has a Testimonial WordPress block. It offers you a ready-to-go minimalistic design of a testimonials section. Media & Text Slider is another great way to embed customers' reviews into your website in a few clicks.
Getwid addon extends the style of your theme with a Section block. It is a creative way to insert multiple Gutenberg blocks, customize their style, and control background, typography, color, and animation settings.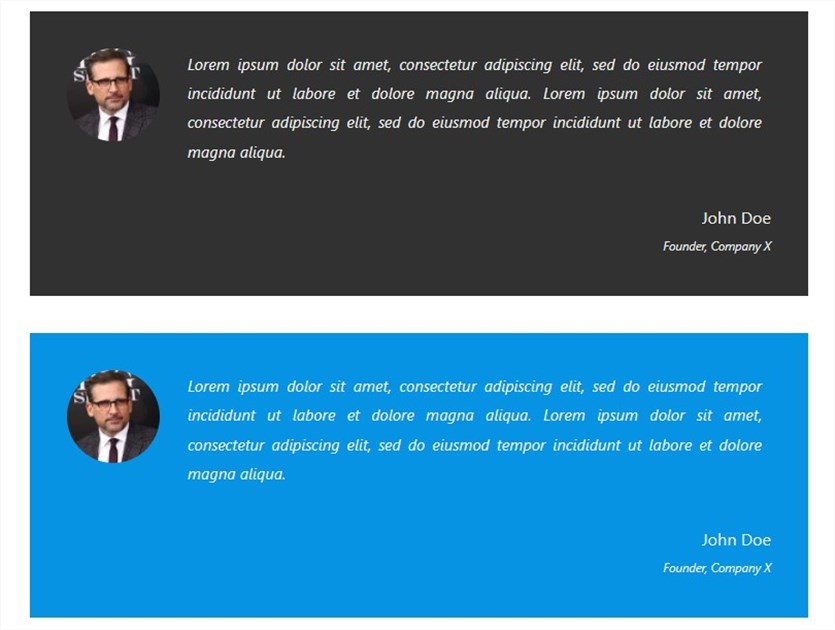 Ultimate Blocks helps you jumpstart your website with usable and functional blocks for WordPress native editor. They facilitate the task of content insertion and management. The provided collection has different types of tools that are necessary, for example, for your blog, marketing campaigns, social media integration, and more.
Viewing the demo of a Testimonial block, you can see 2 ready layouts containing the main elements of any testimonial. Star Rating is another useful Gutenberg block for visualizing how many stars your product has.
Moreover, the Ultimate Blocks make you equipped with a Review Gutenberg block. Thus, your pages and posts may feature a beautiful review box with different sections. Enabled schema is a considerable benefit.

Kadence Blocks – Review Plugin for WordPress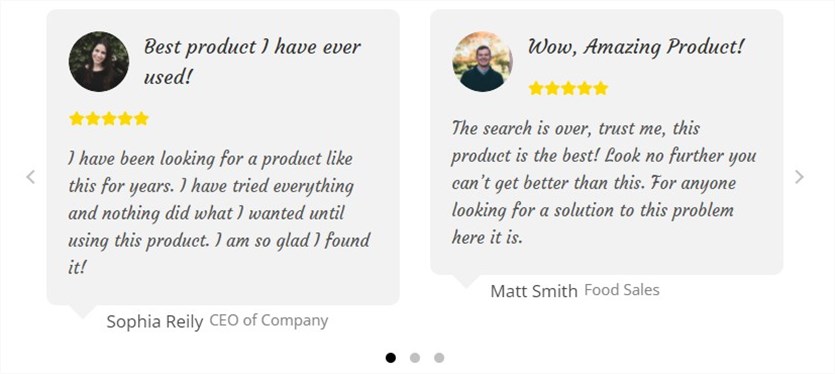 Built with fast and easy performance in mind, Kadence Blocks supplies you with custom Gutenberg blocks to enrich and edit your website pages. These advanced tools are made for attractive sections of different purposes. If it's necessary, colors, text, backgrounds, and other elements of responsive layouts are ready for customization.
Since this plugin is listed as one of the product review WordPress plugins, it has a Testimonial Block allowing you to showcase feedback from your customers. You are enabled to decide on one of the four pre-made styles displayed as a carousel or grid. They let you focus on either the review text or customers' photos.


It is easier to get started on website pages with Essential Addons. You require no coding skills to apply a wide collection of versatile Elementor widgets and extensions. They are flexible, lightweight, and well-controlled. The plugin provides you with free and premium WP solutions.
The testimonials widget comes for free and has space for the customer's image, short portfolio, and review text. Essential Addons features allow you to modify the widget style and insert social share icons. That's useful to stay in touch with your clients.
The premium version ships with a Testimonial Slider widget that covers well-organized testimonials shown in one creative website section.
Spectra – WordPress Website Builder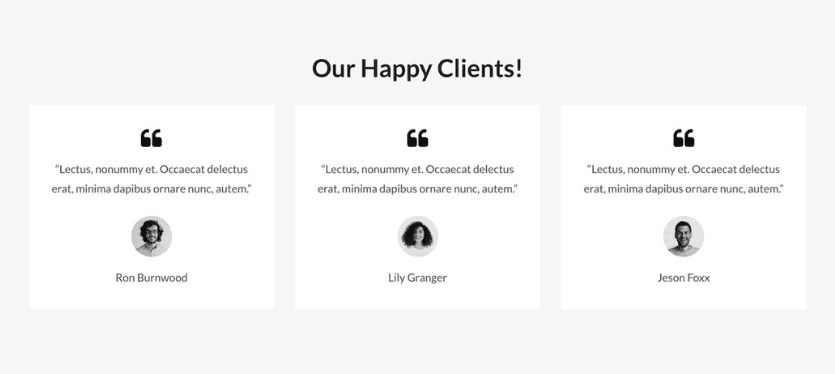 Spectra is a plugin that adds 28 blocks and so much more to the default WordPress editor. Each delivers improvements and extra blocks and features that WordPress doesn't have.
One block included within Spectra is the testimonials block. That's why it's listed as one of the top WP review plugins. The testimonial block makes it easy to add a carousel or static testimonial layout to showcase feedback on your website. It's simple to use thanks to drag and drop and enables you to include as many testimonials as you like.
As well as the testimonials block, Spectra adds 27 other blocks, a number of readymade templates, wireframes, and block patterns. It has been designed to work seamlessly with the WordPress editor and with most WordPress plugins without impacting performance.
WP Social Ninja – WordPress Social Media Plugin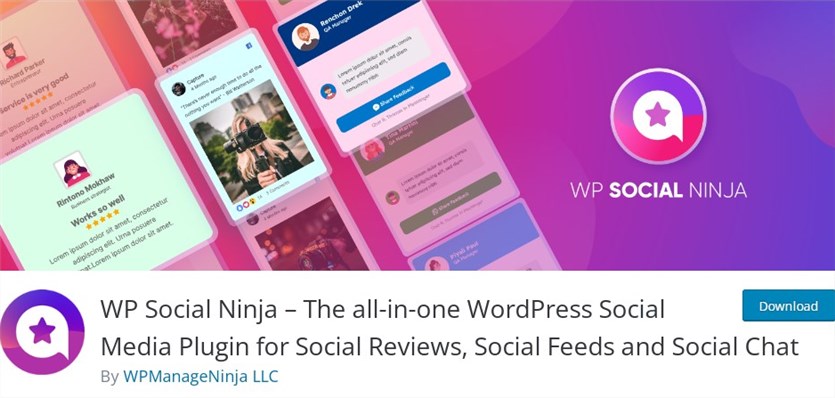 A social media plugin that serves multiple purposes for a WordPress website. WP Social Ninja is associated with 29+ social media platforms, making it easy for you to manage your business's most popular social channels.
This all-in-one social media solution has some excellent key features: Social feeds, Social reviews, Chat widgets, a Notification popup, a Shoppable Instagram feed, a Facebook album feed and event feed, and more. If you want to collect your social media reviews like Google, Amazon, and Yelp, you can do this automatically when you integrate your account with WP Social Ninja. For manually collecting the reviews you have a full-functional testimonial feature.
The advanced editor panel has several edit options, e.g. – it will let you display your reviews with filter options; where you can choose which reviews you want to add/remove. And for creating your testimonial widget you will get multiple options to customize every element of your testimonial. Plus, with its custom style editor, you can give a stylish look to your templates.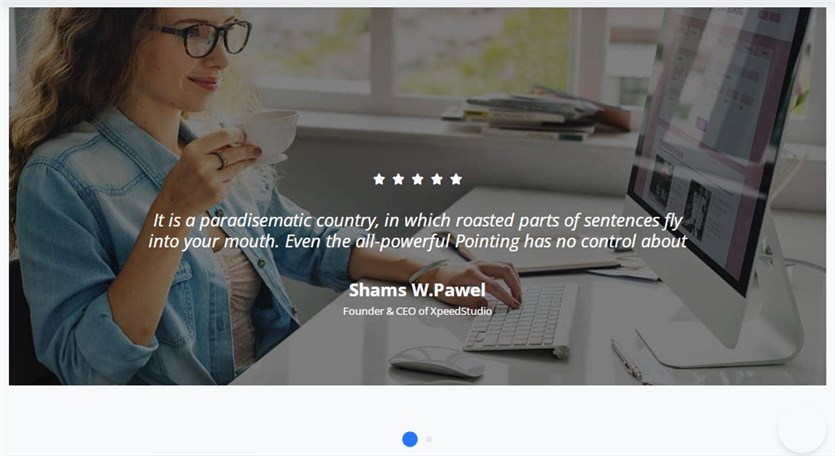 The collection of review plugins for WordPress includes ElementsKit. This plugin simplifies your Elementor page-building experience with all-in-one blocks, widgets, and modules. Options toolkit involves layouts customization, header & footer builder, widget builder, and mega menu builder.
This Elementor addon has a free Testimonial widget enabling you to build a testimonial page. You may insert modifications in its style through customization options for a wrapper, description, title separator, customer's about info, and more. ElementsKit developers have prepared grid & image styles for a logo, animation effects, and Star ratings with a gradient effect.
In case your business has a page on Facebook, feel free to use a premium Facebook Review widget and add Facebook reviews to attract new customers. It is simple to set up content and style layouts.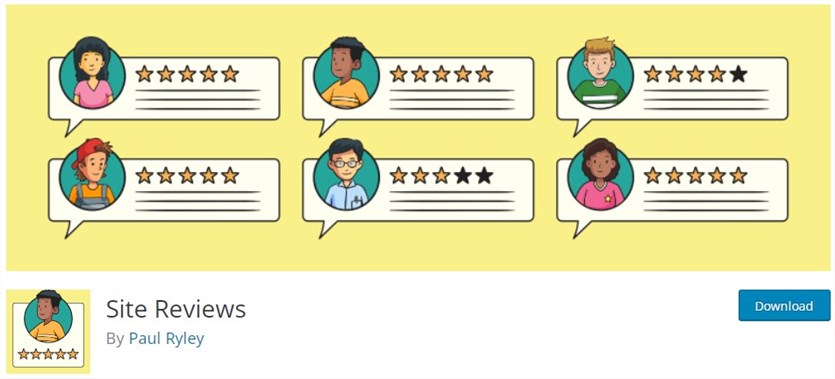 Site Reviews is mentioned as one of the best WP review plugins because it is a great solution to build a dedicated section with a 1-5 star rating. The submitted reviews can be divided into categories. In addition, you may assign reviews to users or pages. There is a specific algorithm to sort them by ranking.
With Site Reviews, it is easy to edit the content with the Gutenberg native editor or Elementor. Import from third-party services is supported. You are allowed to configure some restrictions related to members, specific words, emails, and so on. Other important features include REST API, rating summaries, protection from SPAM, and WP privacy tools.
The Site Reviews Pro plugin comes packed with extra addons providing advanced features. Some of them are review filters, forms, notifications, and more.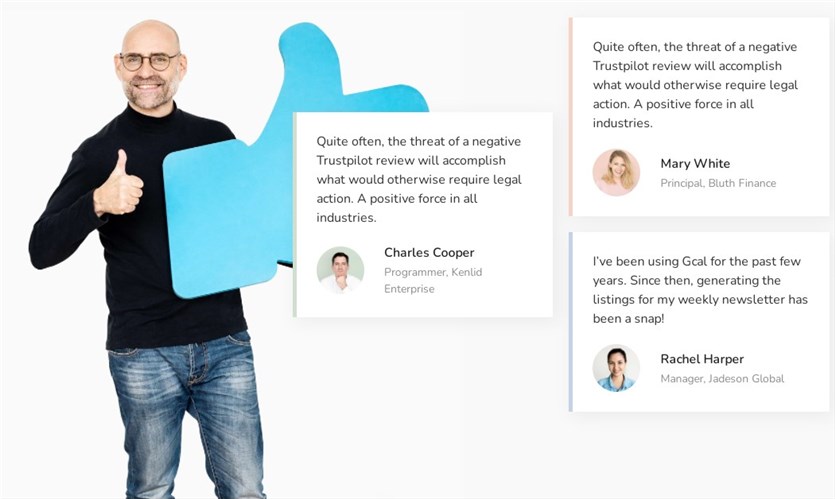 Happy Addons is your toolkit to work with Elementor-based free & premium widgets and specific features. The addon gives you the freedom to choose a default template or set up a custom style. You have an opportunity to create any kind of menu. Plus, pro options broaden your building and editing capabilities.
Happy Addons stays prominent among WordPress product review plugins with features for comparison chart and review widgets available for free. You may place photos, texts, and star ratings and modify the style while using the latter. The plugin lets you set the maximum rating number and review alignment.
Testimonial is another free widget from this collection. Smart options involve the client's photo and designation sections and customization panel. With the testimonial widget from the paid version, it is possible to add testimonials as an attractive carousel.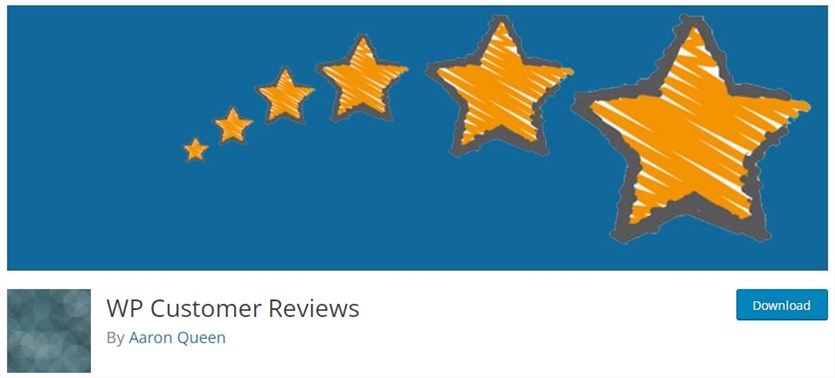 WP Customer Reviews is a good choice if you need top review plugins for WordPress. It is a simple way to build a website page and showcase feedback on your business. The plugin supports WP Multisite and Multiuser and integrates easily with caching plugins and custom themes.
With the WP Customer Reviews plugin, you receive tools to improve your design skills. Additionally, you become a reviews moderator and make decisions on reviews, their content, and fields. The star rating image is fast and light. This plugin comes with a set of useful shortcodes.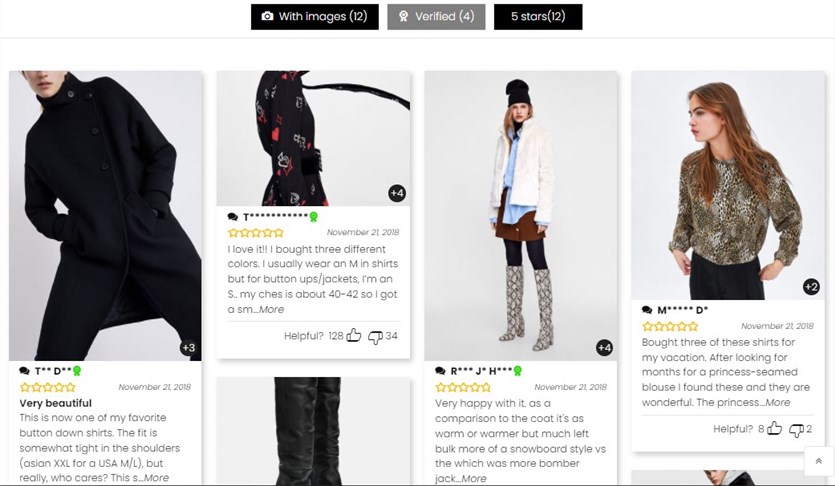 Photo Reviews for WooCommerce is one of the exclusively-built WP review plugins since it enhances your e-commerce website with trustworthy product reviews. It should be mentioned that this plugin works with WooCommerce. You obtain control over options for sending review reminders and thank you letters with a coupon code via email.
Have a look at the plugin if you're focused on your product reviews posted with pictures. Photos can be displayed on the frontend by time. The styling options you get are related to front-end style, background and text colors, rating count, and image sizing.
The Premium version lets you enjoy such extra benefits as Ajax pagination and filter, review title, image folder, popup form, import/export reviews, and other features.
Concluding Remarks
So, we've tried to tell you how WordPress product review plugins may add credibility to your business and encourage your customers to choose you. You should make it easy for your clients to submit a review and read the feedback given by others. An attractive reviews section is one of the ways to increase your conversion rates.
The WordPress solutions we've described can help complete that task. No matter whether it's a Gutenberg block, an Elementor widget, or a dedicated WP plugin. Choose what you like best. You are also responsible for the quality of your product/service. It's crucial to gather positive reviews and put them in a well-crafted block or page. Wish you great sales!