WP Rocket Review: Best WordPress Caching Plugin – Hot or Not?
Are you deciding if WP Rocket is a suitable solution to speed up your WordPress website? In this WP Rocket review, we are all set to go into this caching plugin: its main features, installation guide, configuration steps, and more. Also, we will test drive how WP Rocket works on a real website. Let's check whether it is worth purchasing!
Caching Plugins: Why Do You Need Them?
First of all, let's answer the question – what is caching?
When users go to any website, it takes time for the server to receive the request and send the needed page with all the content elements to the browser. In simple words, caching implies that data from the website is copied and located on temporary local storage. Thus, your website skips a few page generation steps, and cached content loads much faster.
Caching can be processed on WordPress websites too. WordPress is one of the most popular content management systems. If you don't set up caching on your WP site, data will be retrieved from the database. Only after some other steps users will have a page loaded. So, your website may get slowed down.
And then, the next question is – why is caching important for your website?
The main point is that it decreases the loading time of your website and improves its performance. Why should you be concerned about it?
It's worth mentioning that loading speed is one of the crucial ranking factors on Google. So, the time it takes for your website to appear on the screen after a user clicks on it does impact its ranking on the SERP – search engine result page.
Google recommends 5 seconds or less at 3G for your page to be loaded.
In 2010, Google announced that speed became a new signal in their search ranking algorithms for desktops, as it influences user experience. In July 2018, this factor was included in mobile device results.
You may use PageSpeed Insights by Google to measure the performance score and get an issue analysis.
Hence, if you don't want your website to be excluded from the top results because of slow-loading pages, you should find a performance boost tool.
But how about users? When we talk about the users' side, they don't like to wait and wish to get results from web pages immediately. If your website is slow, visitors will likely move on to another one, loading in less than 3 seconds. It's easier for them to click "back" instead of staying.
The conversion rate drops with every second of waiting. Let's have a look at some numbers that confirm it.
According to the report by Unbounce, almost 70% of customers agree that page speed affects their willingness to buy from an online retailer. When the website isn't loaded as expected, they are less likely to make a purchase. Most users bounce after 3 seconds.
Do you add animations and videos to attract customers' attention? They won't like them if these elements bloat your pages and make them wait longer.
Also, we have discovered the Think With Google statistics. It says:
"As page load time goes from one second to 10 seconds, the probability of a mobile site visitor bouncing increases 123%. Similarly, as the number of elements – text, titles, images – on a page goes from 400 to 6,000, the probability of conversion drops 95%."
So, you can see the importance of your website's loading speed.
What is a caching plugin?
Considering all the above-mentioned points, caching is a must-have for any website to increase its performance scores. You can find hosting that includes caching in its list of services. However, WordPress offers you a fully-equipped solution to automate this process – a caching plugin.
This article has to do with one of the best WordPress caching plugins – WP Rocket. Let's get down to business!
WP Rocket Review: The Ins And Outs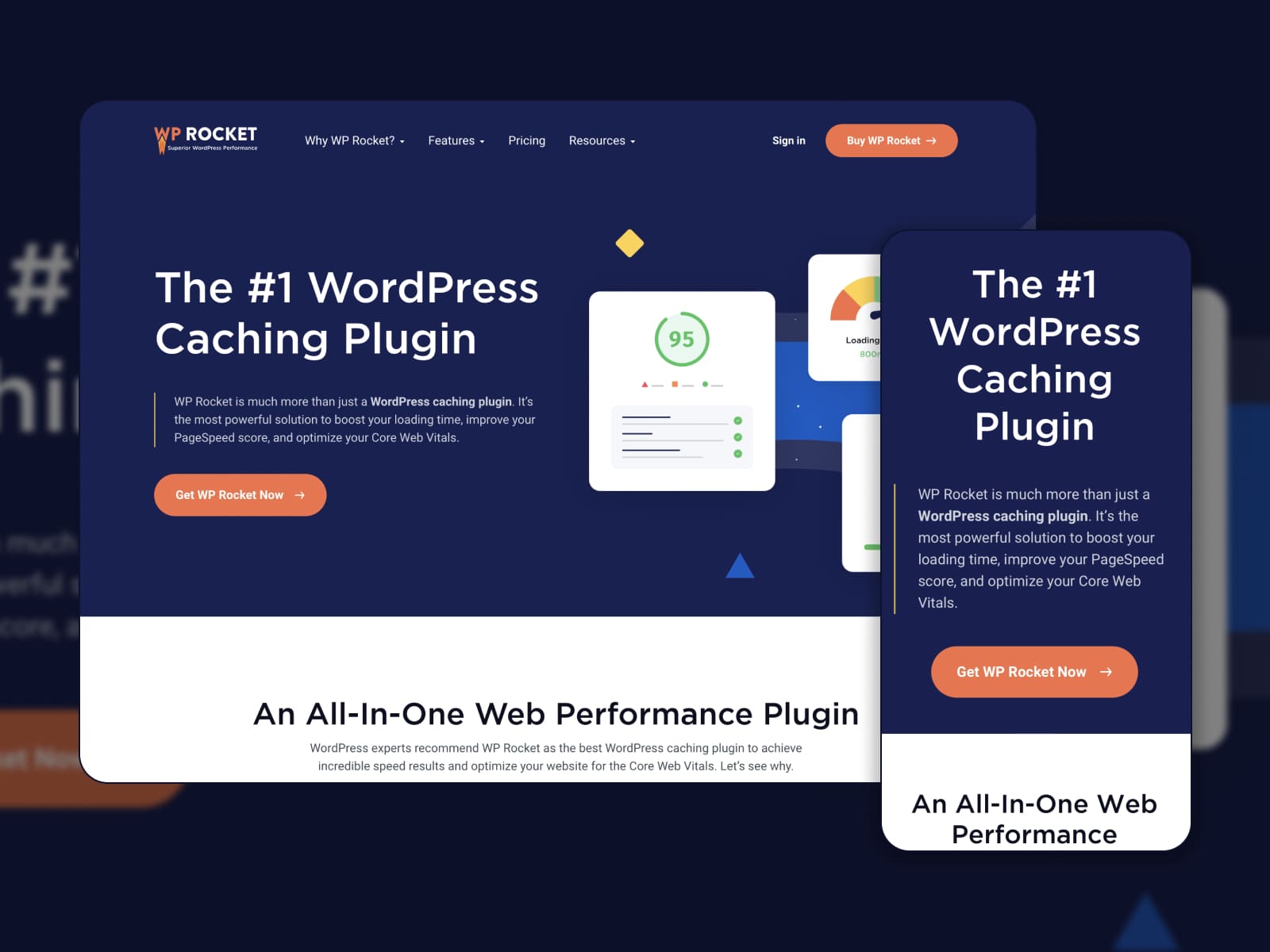 We get going with the quick WP Rocket overview. It includes the plugin's main features, target market, and pricing plans.
What is WPRocket?
Why have we chosen WP Rocket for a blow-by-blow review? Because it is a leading caching plugin in the WordPress market. Its overall functionality and the number of active installations prove that. As you can see from the official website, more than 2 million users get WP Rocket to speed up their websites.
Does it work for your website?
WP Rocket suits all types of WordPress websites, especially if they deal with:
eCommerce: increase conversions thanks to the fast purchasing experience. The plugin is compatible with WooCommerce.
Blogging: visitors keep on reading blog posts that appear on the screen with all the elements in a blink. If you share images there, they don't have to slow down the page. It's possible in case you have an advanced caching system on your website. WP Rocket smoothly integrates with popular WordPress blog themes and page builders.
Freelancers and agencies: immerse clients into your website loading at a glance. Thus, you'll keep them from abandoning the page and be able to successfully showcase your services.
Key Features
WP Rocket covers different features for multiple performance purposes (not caching only) under one roof. So, it is even more than just a caching plugin.
When it comes to the essentials that are common for some of the popular WordPress caching plugins, we can name:
Basic cache settings: they include standard optimization processes to create cached pages.
File minification and combination: WP Rocket allows you to minify and combine the CSS and JS files, thus, doing away with unnecessary content.
Lazy loading feature for media: this option is applied to load images or videos only when needed. They get "off-screen" which greatly picks up the speed of your website.
CDN integration: make your website available faster for visitors from different countries that are far from your server location. WP Rocket enables you to integrate a content delivery network via two methods.
Database optimization: the plugin cleans up your database via effective dedicated options.
On top of that, we've found some unique features coming in favor of the premium-only access to WP Rocket:
Tools to enhance Core Web Vitals scores: for example, you can delay the execution of JavaScript files until user interaction.
Support: users often point out the high-quality support received from the team.
WP Rocket add-ons: you can purchase them to extend the plugin's toolkit.
Tutorials: there is a dedicated tab right on the dashboard.
The Pricing
WP Rocket is the premium-only plugin. The price tag is different depending on the number of websites. There are 3 pricing plans:
$49/Year – for 1 website;
$99/Year – for 3 websites;
$249/Year – for unlimited websites.
The license guarantees you product updates and support for one year.
Also, the company policy implies a 14-day refund guarantee. So, if you're not satisfied with the plugin, you can submit a refund request.
Pros And Cons
Each WordPress caching plugin has pros and cons. And WP Rocket is no exception. We have singled out the following benefits you get access to:
Pros
What is it about
User interface
After installation, you will get a user-friendly dashboard where you can set up the plugin in clicks.
Ease of use
You need no advanced tech skills to come through the main setups and improve your website's speed.
Fast to install and set up
As you will see from the next section, it takes a few steps to install and activate WP Rocket.

Then, you come through a tab-by-tab configuration process on the dashboard.

Features to improve the site's performance
The plugin comes with a fully-packed toolkit for a multi-side approach.

It means that WP Rocket works not only with caching but with file minification, image optimization, etc. as well.

Compatibility with CDN
Content delivery network enables you to decrease a global page's loading time.
Support
Many positive reviews on reliable sources such as Trustpilot are left for the WP Rocket support team.

Support agents come back to you as soon as you have any issues or queries related to the plugin.

Integrates with popular hostings
You can use WP Rocket with the popular WordPress hosting providers due to its built-in integrations.
Caching for mobile devices
With WP Rocket, you can speed up your site for mobile visitors.

It's a significant advantage. Mainly, if most of the users visit your website from their mobile devices.
All the cons are connected with the premium-only version as it's one of the main concerns among users.
| Cons | What is it about |
| --- | --- |
| No free version | WP Rocket team has no free version with limited functionality and doesn't offer a free trial period. |
| The Pricing | Many users find it too high for one year of support and updates. |
Now, we are going to give you a walk-through of the WP Rocket plugin and its easy-to-follow dashboard.
How To Get Started With WP Rocket
You don't need coding skills to take the first steps and start using the WP Rocket plugin. We'll include some screenshots in our guide and come through each of the tabs to configure the plugin settings.
Step 1: Install and Activate
Firstly, you should upload the plugin's file to your WordPress dashboard manually. Do it via Plugins > Add New > Upload. Once the plugin is installed, click "Activate".
At the starting point, WP Rocket performs GZIP compression, page caching, and browser caching right after the activation.
These practices are enough to speed up your website from the very first seconds – one more argument in support of the premium-only version. It's a great benefit for beginners who haven't sorted out the settings yet.
Let's get into the details of the user-friendly WP Rocket dashboard!
Step 2: Dashboard Tab
After the activation, you'll see a welcoming message in the Dashboard tab: "WP Rocket is now activated and already working for you. Your website should load faster now!"
In this tab, you can view your account and subscription information. Also, it allows you to carry out such quick actions as:
Clearing all the cached files;
Enabling cache preloading;
Purging OPCache content;
Removing used CSS cache.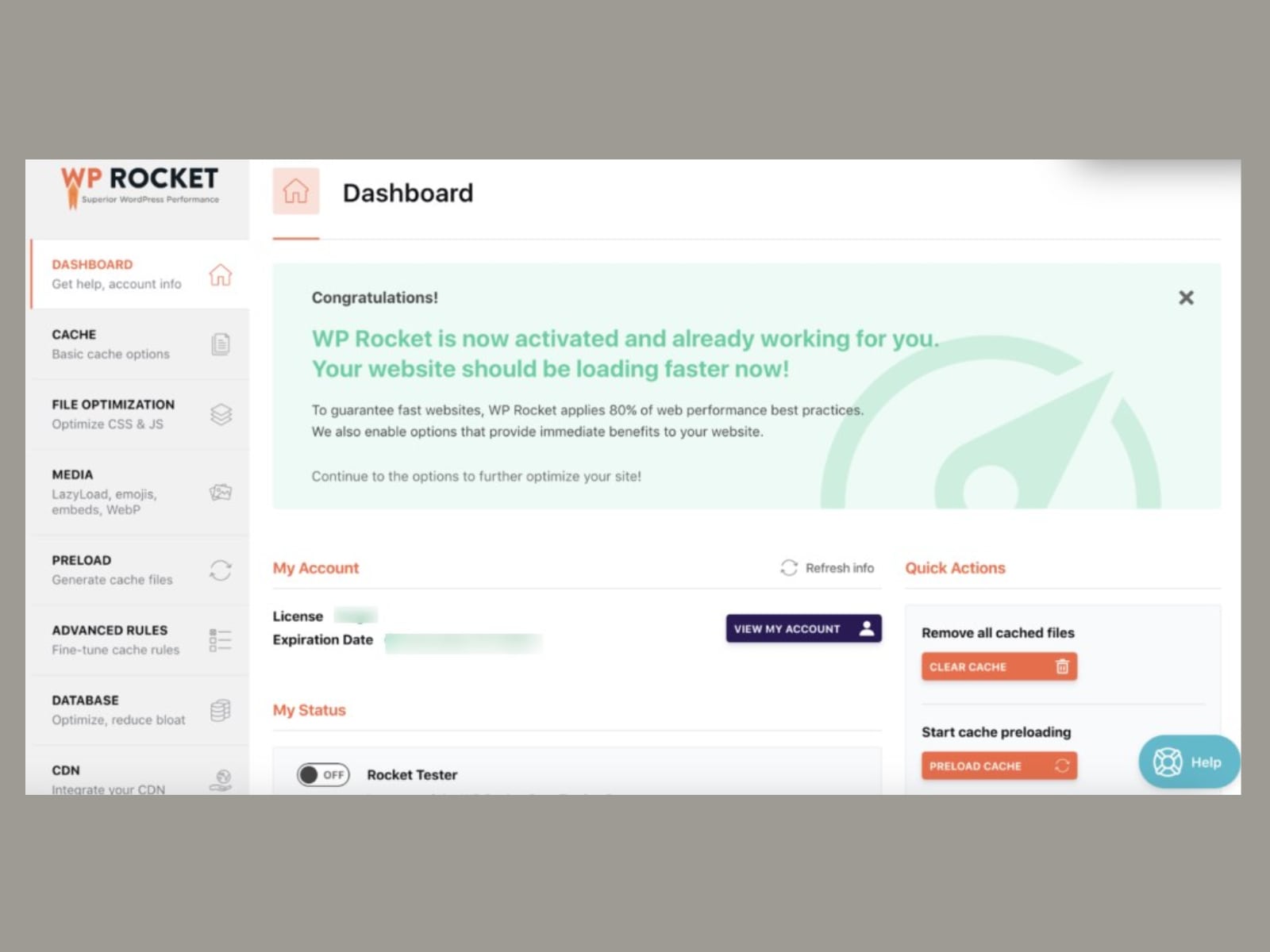 We will continue to further optimize the website.
Step 3: Cache Tab
If you go to the Cache tab, you will be able to set up and insert changes to the basic cache options. They include:
Mobile Cache: you can enable caching for visitors using mobile devices. Then, it unlocks the option to create separate cache files for mobile devices. If these settings are activated, your website will be fully optimized for mobile visitors.
User Cache: it's possible to enable caching for users who logged in to their WordPress accounts. This option is handy when you add user-specific or restricted content to your site.
Cache Lifespan: this subtab lets you define the period for WP Rocket to store the cached version. Once it expires, older cache files are removed. If you have a static website that rarely changes, you may specify a longer lifespan.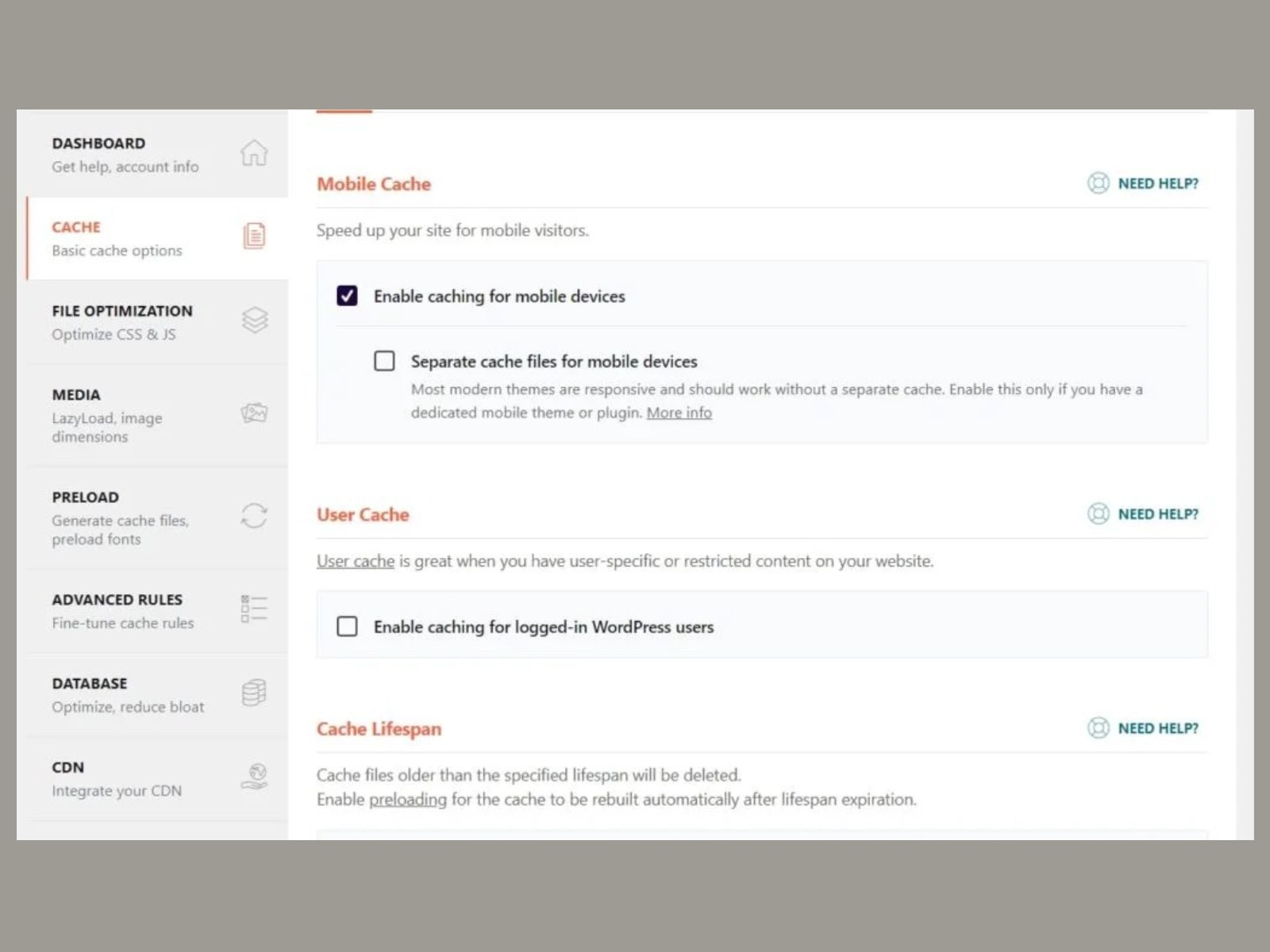 Step 4: File Optimization Tab
In the File Optimization tab, you can optimize CSS and JavaScript files. But one step at a time.
CSS Files settings are there for you to:
Minify the files: the plugin deletes whitespaces and comments;
Combine them: files will be merged in one (the WP Rocket team recommends enabling this option only if your host uses HTTP/2);
Optimize CSS delivery: you should choose between the 'Remove Unused CSS' and 'Load CSS asynchronously' methods.
Note that you are allowed to exclude CSS Files from being minified, combined, or removed.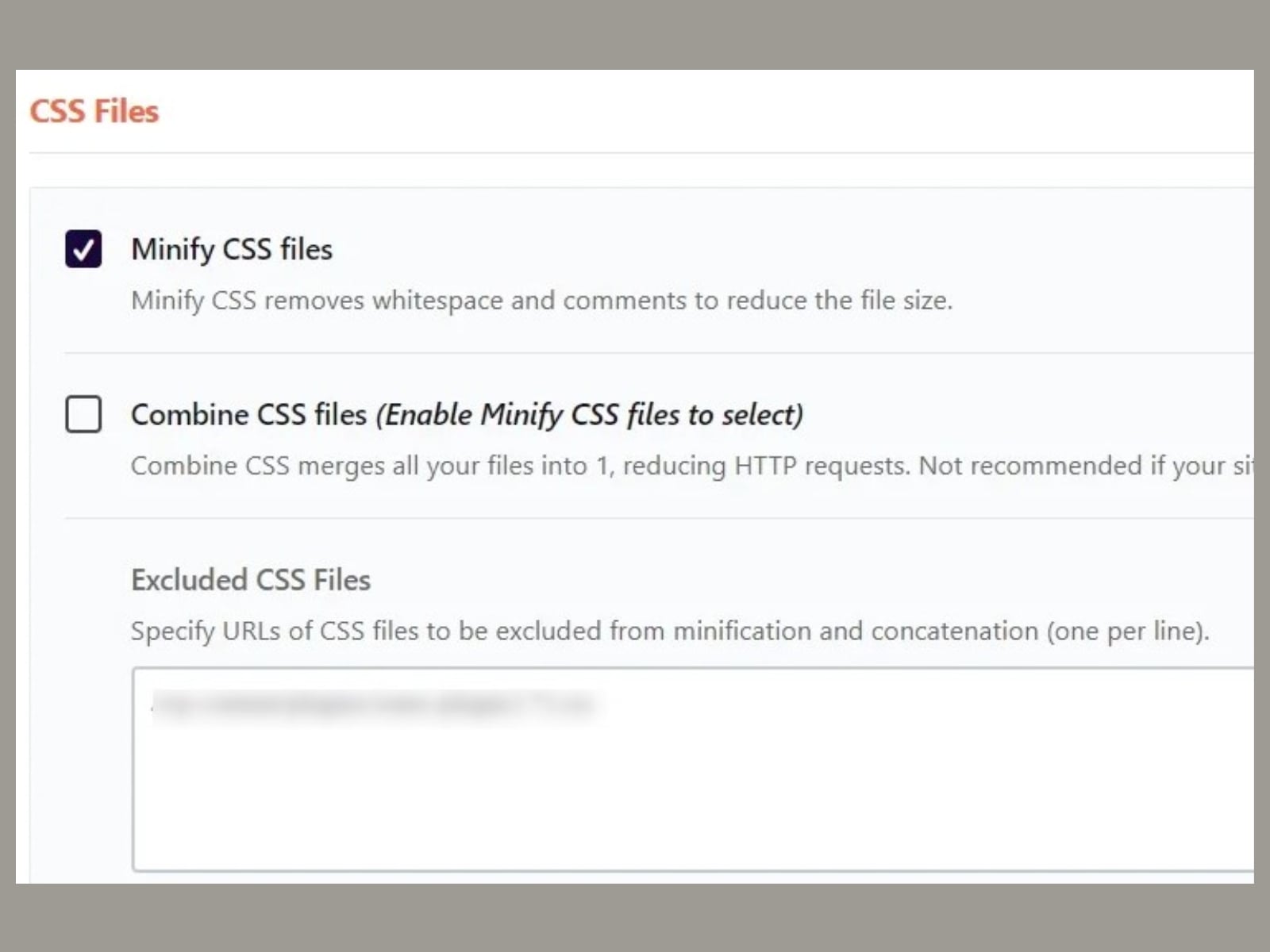 When it comes to JavaScript files, you get access to the options to:
Minify these files and decrease the website's size;
Concatenate them and reduce HTML requests;
Load JavaScript deferred for removing render-blocking JS on your website;
Delay JavaScript execution until a user interacts.
Similarly to the CSS Files, you can specify JavaScript files to be excluded.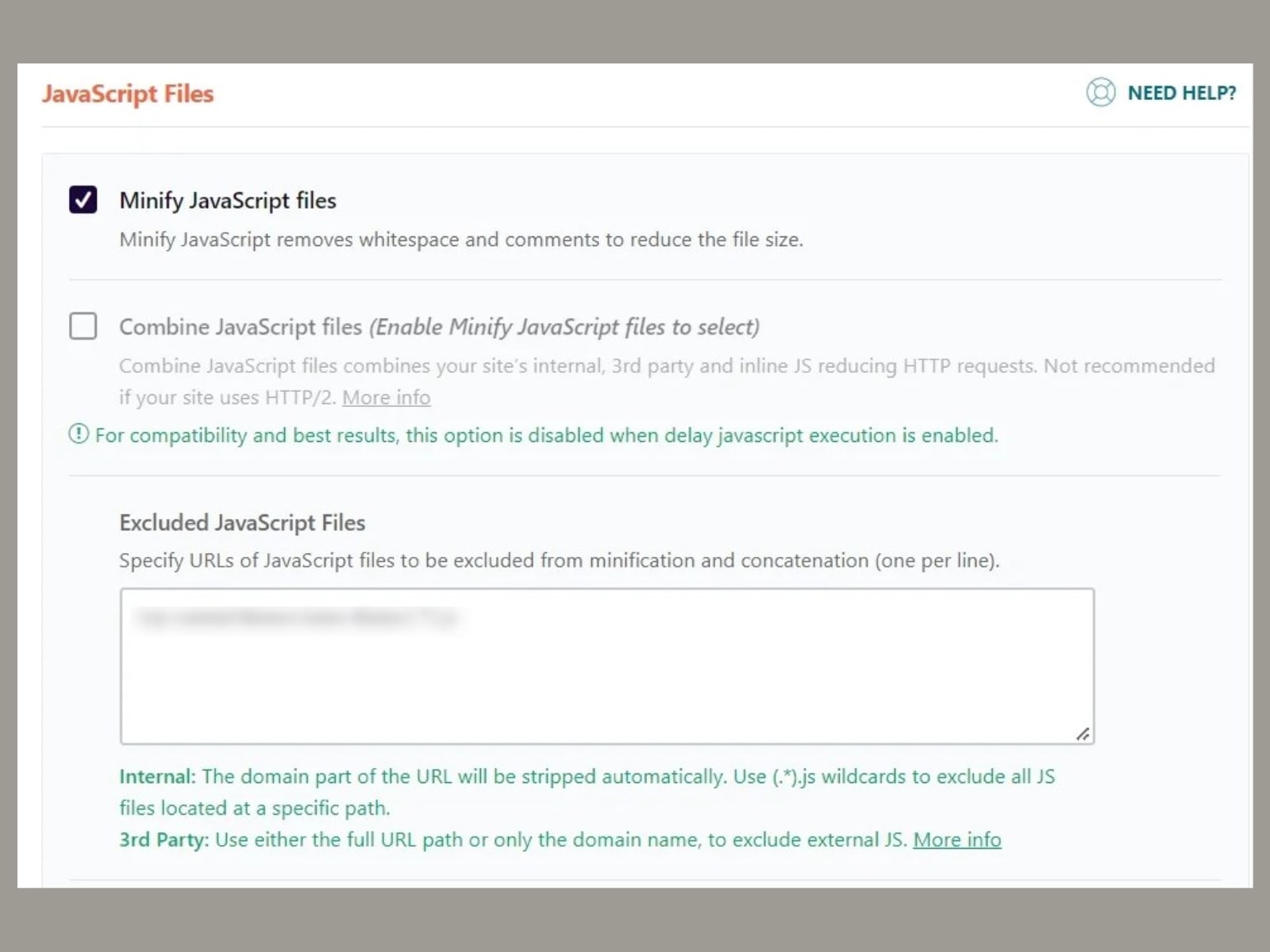 Step 5: Media Tab
Media Tab deals with images, videos, and other media content you upload to your WordPress website. LazyLoad is the most significant feature to optimize their speed.
You can apply it separately to videos and iframes or images. So, they won't be loaded until the visitor reaches (or is about to do so) them on a page.
If you add many YouTube videos, the option to replace YouTube iframe with a preview image can greatly improve the loading time of your website.
WP Rocket empowers you to add missing image width and height to keep the layout from shifting.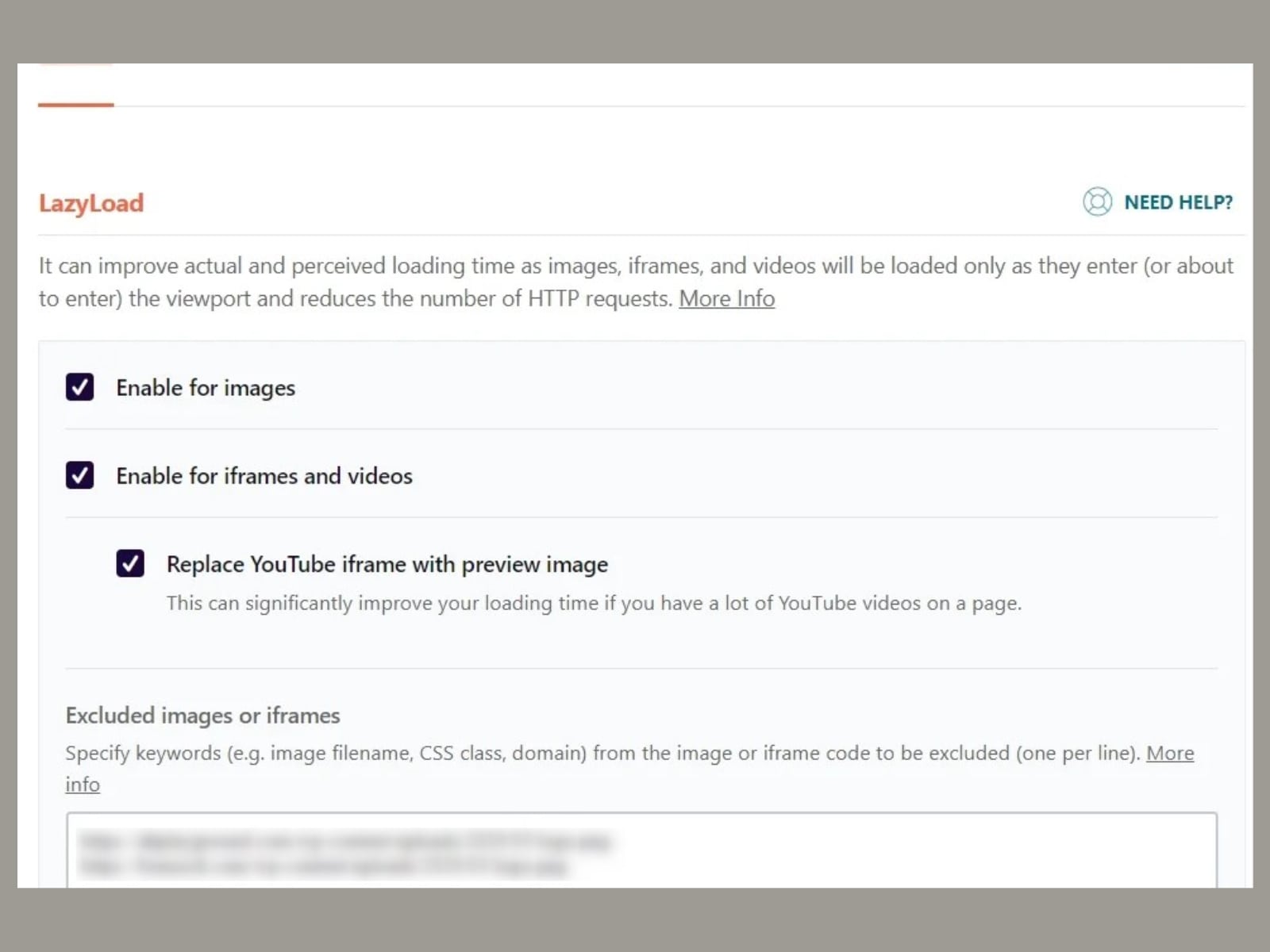 Step 6: Preload Tab
The Preload Tab holds the options to configure preloading. It is divided into several subtabs, including:
Preload Cache: this feature is used to make the content cached before users visit a page for the first time. If you activate the preloading only, WP Rocket will create the cache for your homepage and all the links from there. When sitemap-based cache preloading is activated, the plugin will preload your whole website based on the sitemap.
Preload Links: if you need to improve the site's loading time, enable link preloading.
Prefetch DNS Requests: you can add URLs to be prefetched so that external links load faster.
Preload Fonts: fonts you specify for preloading must be hosted on your domain or the domain pointed in the CDN tab.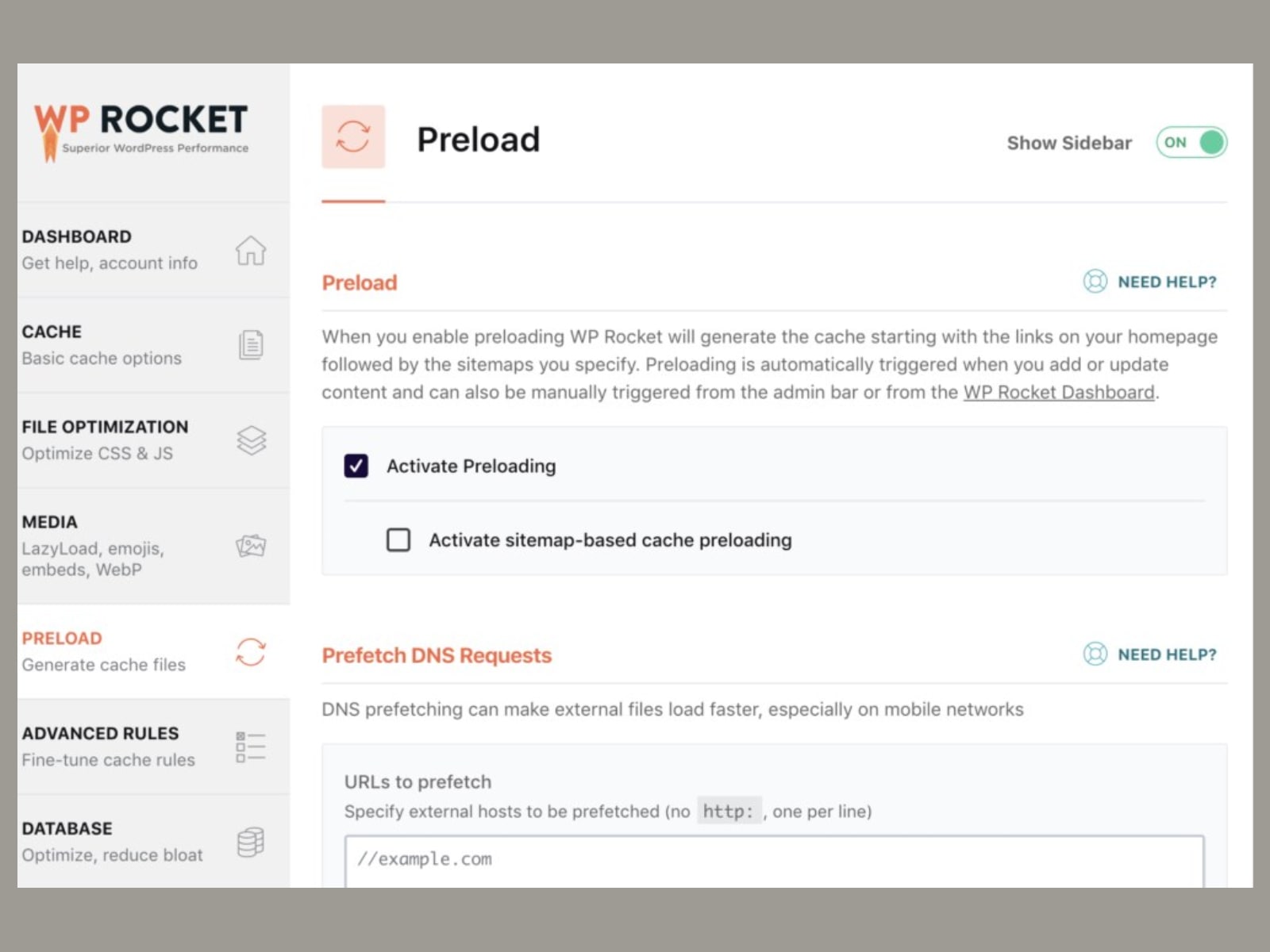 Step 7: Advanced Rules Tab
The Advanced Rules Tab in the WP Rocket dashboard allows you to get more control over the cached content. Specifically, you will be able to:
Specify which pages are never to be cached: for example, such sensitive pages as login or logout;
Add cookies that should not be cached;
Include Never Cache User Agent(s);
Point out URLs that are always purged during the post or page update.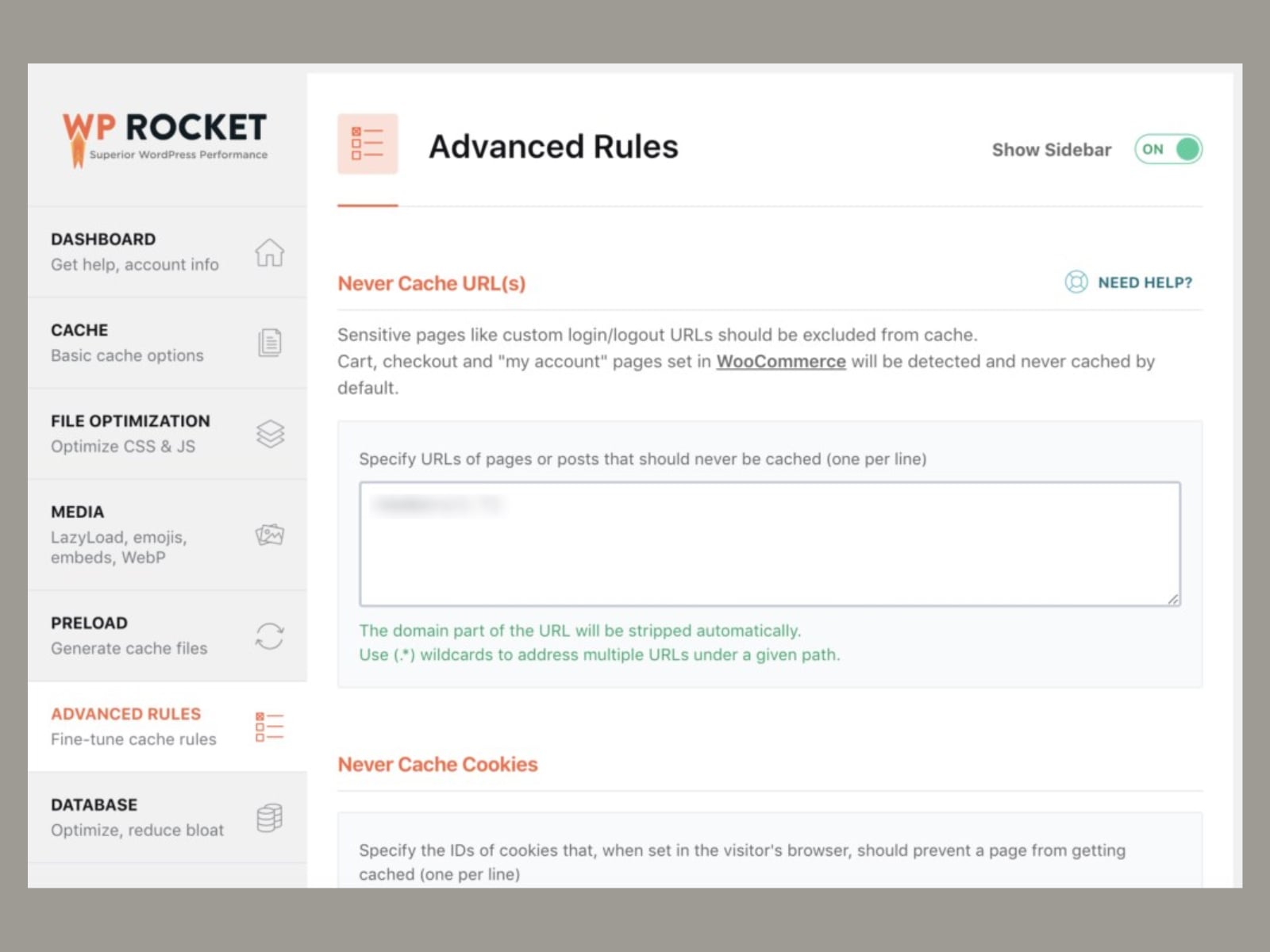 Step 8: Database Tab
Database optimization is necessary to get rid of the unessential content and reduce bloat on the website. Cleanup is performed on different levels:
Post Cleanup: revisions, auto drafts, and trashed posts;
Comments Cleanup: spam and trashed comments;
Transients (temporary options) Cleanup;
Database Cleanup: table reducing;
Automatic Cleanup that can be scheduled.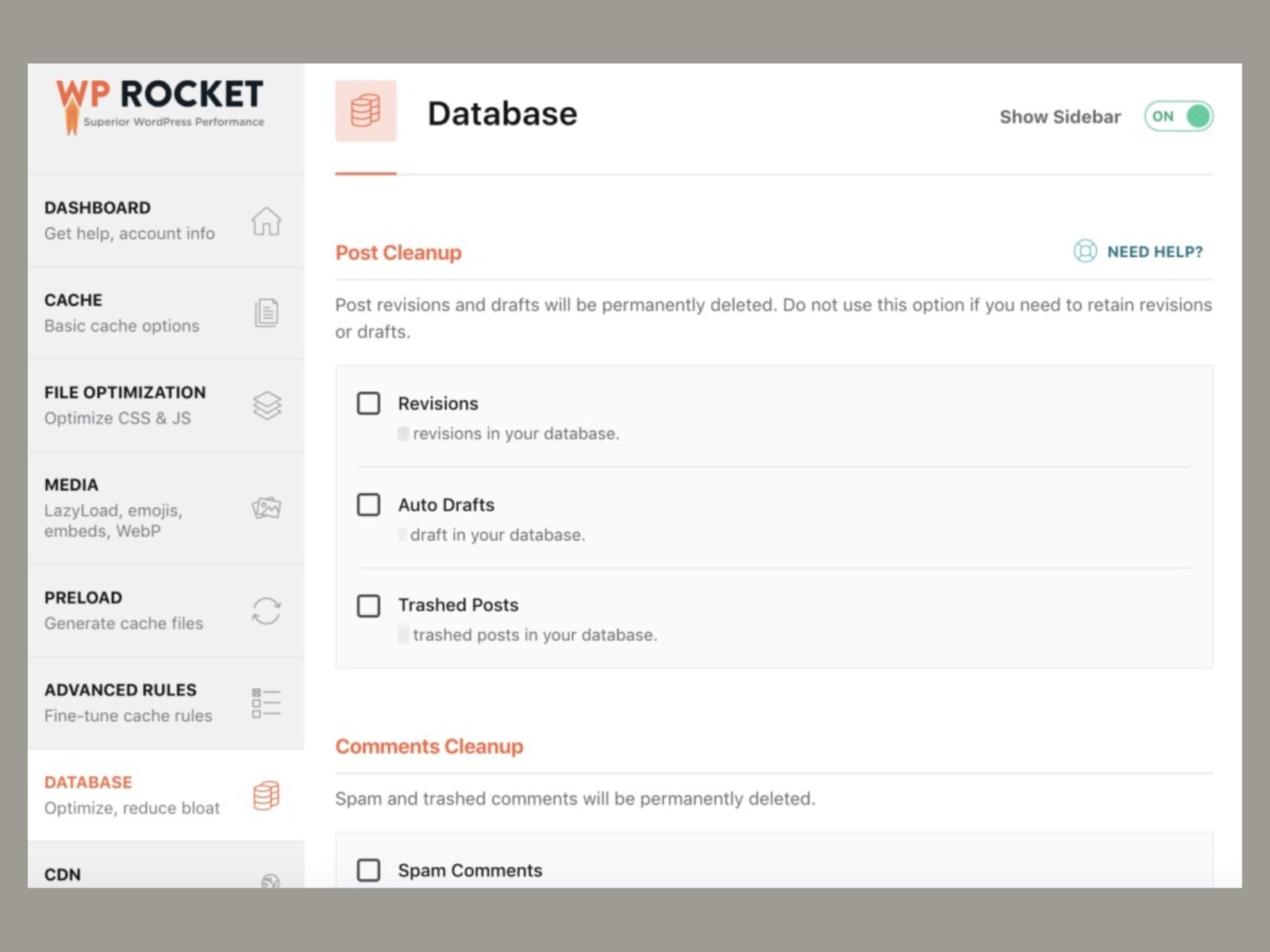 Step 9: CDN Tab
The WP Rocket plugin makes it possible to integrate a content delivery network using either a third-party CDN service or RocketCDN.
RocketCDN is a premium service by the WP Rocket team. It is powered by StackPath and helps you deliver the content from your website to visitors from any country in the blink of an eye.
The subscription comes at $7.99 per month and includes such features:
Automatic configuration;
Unlimited bandwidth;
All CDN files are automatically served over HTTPS;
SSL Traffic;
All Global PoPs.
You can activate your subscription in the CDN tab. The recommended configurations will be set automatically.
What's more, you are free to add the CDN CNAME(s) to all files, images, CSS & JavaScript, just JavaScript, or just CSS.
It's easy to specify files that should not be served via CDN.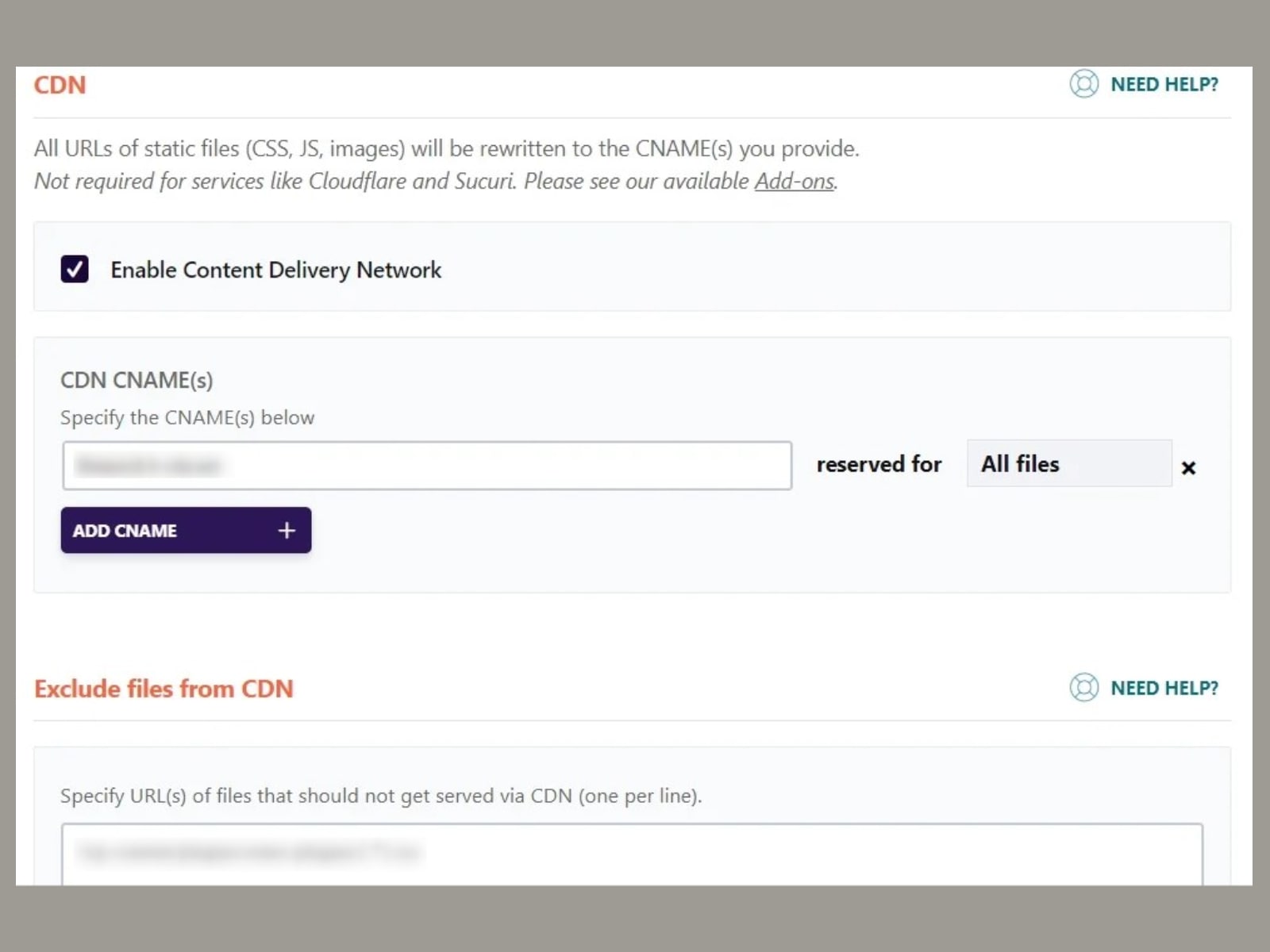 Step 10: Heartbeat Tab
You should go to the Heartbeat tab if you want to reduce or completely disable the activity of the Heartbeat API. The main reason is that this always-working feature is resource-intensive for a server. Apply different rules for the website's backend, post editor, and front end.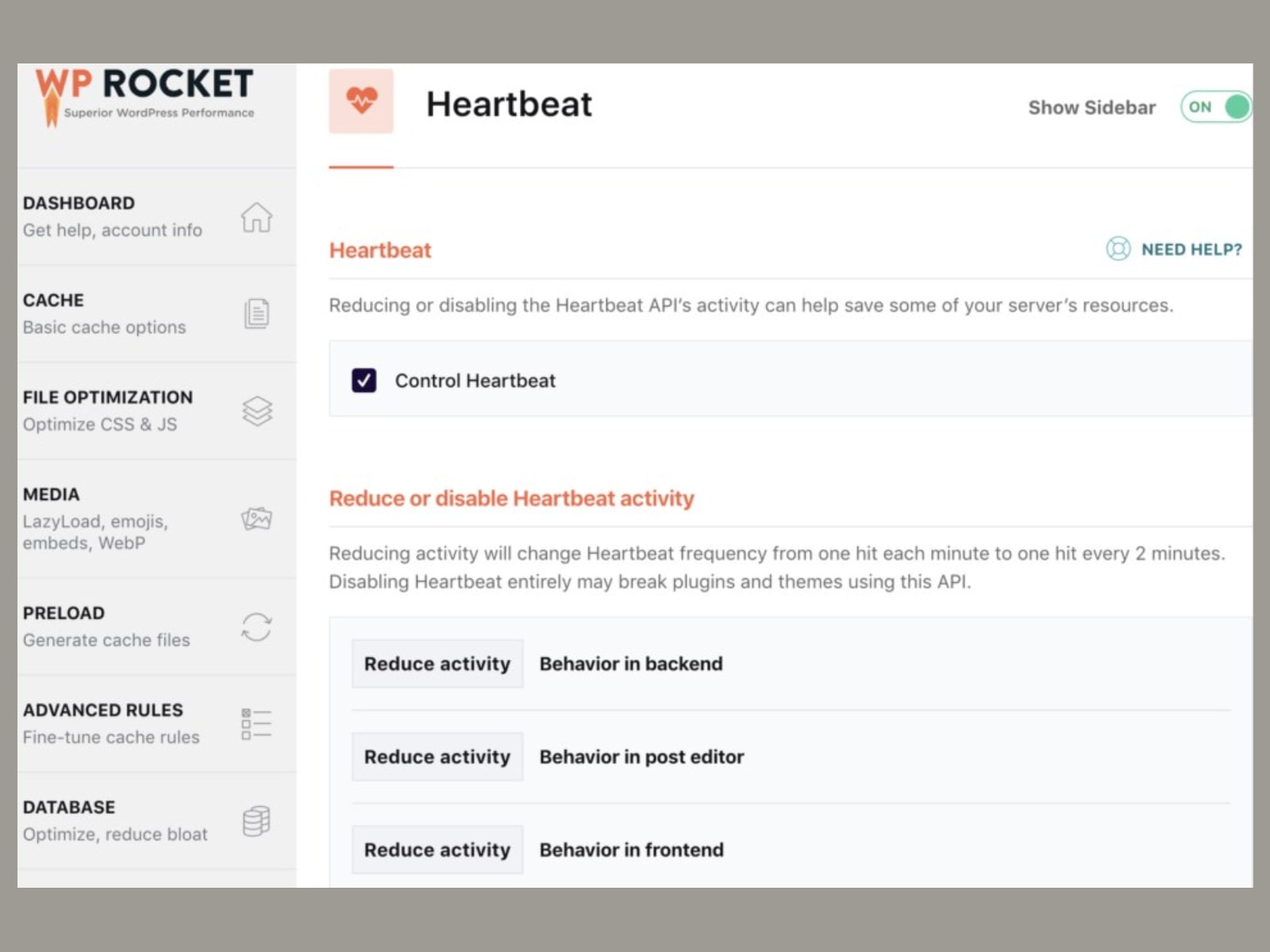 Step 11: Add-ons Tab
As we've mentioned before, add-ons are here to extend the options available with the WP Rocket plugin. Let's explore each of them in more detail!
For example, you need to activate the Varnish add-on to clean up the Varnish cache.
You can enable the WebP Compatibility add-on if you have WebP images on your website.
The Cloudflare add-on lets you integrate your Cloudflare account and clear the Cloudflare cache. If you activate it, a new settings section will appear. You should add your account email, global API key, and domain to use its toolkit.
The Sucuri add-on helps you clear the Sucuri cache at the same time as the WP Rocket cache. It requires your API key.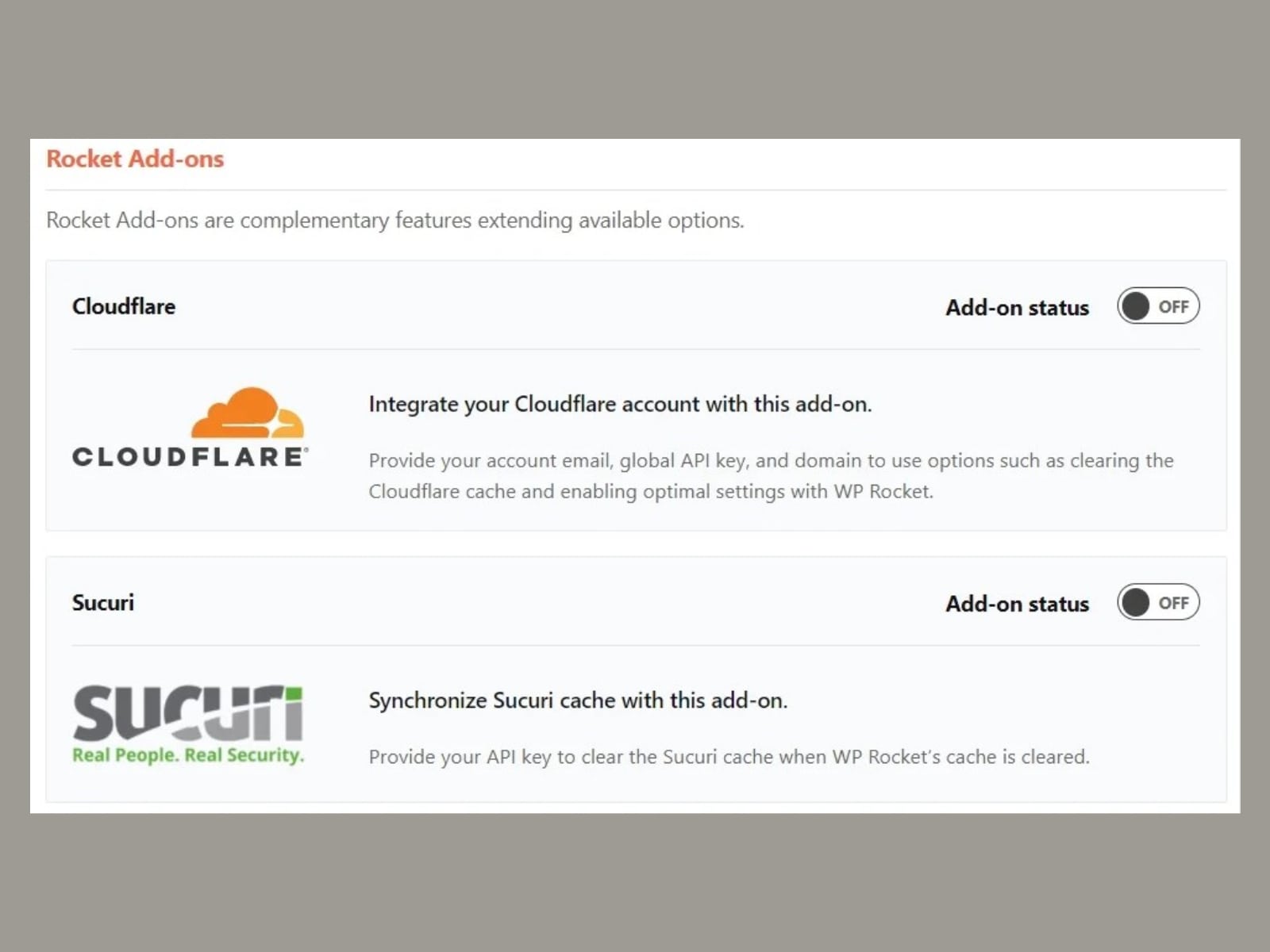 Step 12: Image Optimization Tab
Optimized images make a huge difference in page load time. WP Rocket offers you to use the Imagify plugin to compress them without visible loss in quality and boost the speed of your website. You can find more information on it in the Image Optimization tab.
WP Rocket Documentation
If you need some help with the plugin configuration, search for more detailed information in the prepared documentation. You can click on the 'Need Help' button to get instant answers.
Do all the features lead to the boosted performance of any WordPress website? Let's look at the test!
WP Rocket In Use
Now, we are reaching the main goal of this WP Rocket review – to check WP Rocket in action. We are keen to use Villagio on the test site for this analysis. It is one of the top vacation rental themes for WordPress.
In addition to a modern and flexible design, Villagio comes packed with the WordPress Hotel Booking plugin and extra WordPress blocks by Getwid.
The first column contains metrics received from WebPageTest to measure the performance score of any page. Firstly, we've recorded the Villagio performance metrics without the WP Rocket plugin. You can find them in the second column.
After we had completed the WP Rocket activation and configuration steps, we could see the results. They are mentioned in the third column. And the fourth column is about the percentage of decrease for each metric the Villagio theme has got.
| Metrics | Without WP Rocket | With WP Rocket | Decrease Percent |
| --- | --- | --- | --- |
| Time to First Bite (TTFB) | 0.834 s | 0.484 s | 42% |
| Largest Contentful Paint (LCP) | 4.952 s | 1.882 s | 62% |
| Fully-Loaded Time | 5.9 s | 3.6 s | 39% |
| Page Size | 2 368 KB | 1 919 KB | 19% |
| HTTP Requests | 71 | 36 | 51% |
So, the WP Rocket plugin does a great job of increasing the performance scores of our test website and optimizing users' experience.
What Do People Say About WP Rocket?
We've prepared some comments that may interest you. HARO has helped us find testimonials from website owners and developers on the WP Rocket plugin. In a nutshell, our query includes questions on the plugin's effectiveness, ease of use, and price.
It was an attempt to catch feedback from real users. They tell us about their experience of using the plugin on their or clients' websites. Notably, they single out some points you should pay attention to while working with WP Rocket. So, this is a so-called customer stories section.
For example, Jonathan Buckley, the owner of a WordPress management agency – Buckley Web Services LLC, shares his thoughts on WP Rocket:
We specialize in WordPress and install and configure WP Rocket on all of our clients' websites.

We have tested many different paid and unpaid speed optimization tools on our WordPress websites and now settle with WP Rocket for all of our clients (with a couple of exceptions).

I have personally installed and configured WP Rocket on more than 30 websites and found it to be the most effective solution. WP Rocket has shown the most significant improvement in page loading times when tested with Google's Lighthouse testing and GT Metrix.

Even without configuring the plugin, WP Rocket has shown consistent and immediate improvement in our websites' loading speed. After configuring the plugin, the speeds we see on our clients' websites are better than any other speed optimization plugins we have tested.

The price is negligible for the number of speed improvements that we have seen, especially with a lifetime license. It is a fantastic value, especially for agency owners.

Dimitar from the CLICKVISION company emphasizes that WP Rocket functionality is worth its price:
Our company CLICKVISION provides digital marketing solutions and builds software for businesses.

The caching and optimization performance of the WP Rocket plugin justifies the price that you pay for it. But you will also need high-quality hosting for this plugin to work optimally.

You will need to configure the plugin for the best results. But the UI is simple enough and they also have a reliable support team to help the users. It has a vast range of features and you can easily bring down the load time for your website.

We have received an in-depth pitch from Kristin Lee – a travel expert as well as the owner and author of the travel blog Global Travel Escapades:
I actually purchased the WP Rocket plugin during their Black Friday sale this year and have had a generally positive experience. When I installed it, I noticed that the default settings helped my site speed jump from 79 to 89 for mobile and didn't change my desktop speed (95) according to PageSpeed Insights (PSI). After this, I looked at some of the information they sent in their welcome email, which included various tutorial videos on how to mess with their settings.

One by one, I flipped different settings on the plugin and checked my PSI to see what helped and what didn't. At one point, my site speed was almost perfect but there were formatting glitches on my site. This looked bad aesthetically, so I reverted back to the previous setting and hoped my site would go back to how it was since this is what WP says it will do if anything breaks. Unfortunately, there were still some formatting issues, so I went in and manually corrected them. Then I went back to testing different settings until I found what settings worked best for me.

In the end, I was able to find the combination that broke my mobile speed up to 99 and my desktop speed up to 100. It was all able to be done within a couple of hours, so I would say WP Rocket is a great plugin to add if you're really struggling with your site speed. You just might need a bit of patience!

Nazmul Hasan is a WordPress plugin developer with 5 years of experience. He is the Co-Founder & CEO of Pluginic, and he has already published a few plugins on the WordPress.org platform. His experience with the WP Rocket plugin is the following:
Yes, I have used the WP Rocket plugin on several WordPress sites, both my own and those of my clients. In each case, the plugin has been highly effective in speeding up the overall performance of the site. I have found that the plugin dramatically reduces the loading time across both desktop and mobile devices, resulting in a smoother user experience.

The plugin also does a great job of optimizing the images, scripts, and other elements of the site, reducing the overall size and improving performance. This was especially important for clients who had large, media-rich sites.

Another feature that I found quite useful was the ability to minify HTML, CSS, and JavaScript. This feature alone was able to significantly improve load times, especially on pages with a lot of complicated code.

Finally, the plugin also includes a number of caching options that can further improve the performance of the site. This was especially helpful for clients who had a lot of traffic and needed to ensure that the site was always running at its best.

Overall, I have been extremely satisfied with the WP Rocket plugin. It is a powerful and effective tool that I would definitely recommend to anyone looking to speed up their WordPress site.

Roger Senpai from the Senpai Blog tells us his story of using WP Rocket:
WP Rocket is awesome: I've been using WP Rocket for over a year now and it's worked wonders for my website! Before WP Rocket, I was using free plugins to optimize my website speed. Needless to say, I had mixed results. Sometimes my website would be fast, other times the site would log.

But when I decided to purchase WP Rocket, the plugin made things so much easier for me. Not only was my website speed consistently fast, but a lot of the advanced technical stuff was taken care of by the plugin.

For example, I'm not too keen on Javascript or CSS. I'd probably mess things up if I tried to code or change the settings on my own. But WP Rocket takes care of all that for me. And if I do have any issues, the team behind WP Rocket has been very helpful with any problems I have.

So overall, the annual price I pay for WP Rocket is totally worth it. Website speed and optimization are very important today, especially in Google searches. Having some of that importance taken care of by a plugin like WP Rocket makes life as a blogger like myself a lot less stressful.

And the last comment for this WP Rocket review was left by Yash Dutta, the founder of GeekDroids.com:
I am a website owner at Geekdroids.com who uses the WP-Rocket plugin and I have to say that it has been a wonderful experience using the plugin so far. It is very effective in page caching, just the out of the box settings helped in reducing our load times but later I configured it for much more effectiveness. The plugin coupled with an easy-to-use and affordable CDN – BunnyCDN helped reduce our load times from >3s to <1s.

Its file compression of JS and CSS files is pretty great too and helps reduce the size by a great margin and hence speeds up the website.

The Lazy-Loading images technique is also a prominent feature of this plugin which rather than loading all content at once, loads the content as it is needed, as the user gradually scrolls.

Overall, WP-Rocket is an effective plugin for speeding up WordPress websites. By enabling caching, file compression, and lazy loading, WP-Rocket can help to improve the website's speed and performance, which can provide a better user experience for website visitors and improve the website's search engine rankings.
These comments may be handy for you to decide whether to use WP Rocket for your WordPress website or not.
WP Rocket: Top 4 Alternatives
This section of our WP Rocket review is devoted to WordPress caching plugins other than WP Rocket. They are considered to be top solutions to set up caching and improve the site's performance. The main difference is that these plugins have free versions. Let's dive into their key features!
W3 Total Cache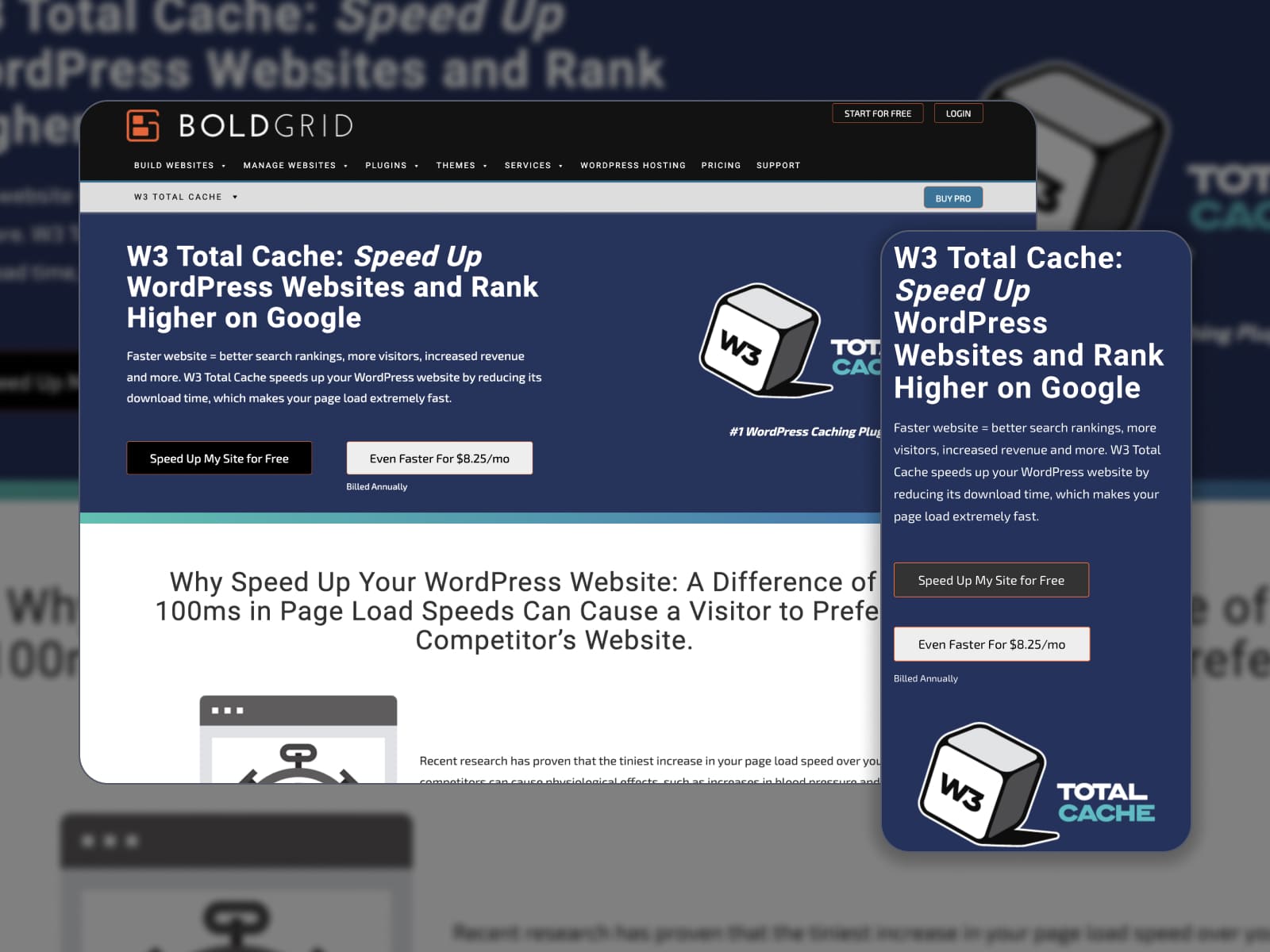 W3 Total Cache is any good performing WordPress website optimization and improving Core Web Vitals. This plugin is available for free on the WordPress repository. So, it takes a few clicks to download and set up it. W3 Total Cache supports a content delivery network, accelerated mobile pages (AMP), and a secure socket layer (SSL).
Pages and posts, CSS and JS files, feeds, search result pages, database objects, and fragments – all of these elements undergo caching via minification and compression. It's possible to defer non-critical CSS, Javascript, and offscreen images. Security features let you keep your website safe from any kind of online threats.
On top of that, you can upgrade the plugin to the pro version and unlock premium features. They are advanced caching statistics, fragment caching, and full-site delivery. They help you make the most of W3 Total Cache.
The pro version also supports extensions, REST API caching, and a Lazy Load option for Google Maps.
Key Features:
Both free and premium versions;
Easy-to-configure plugin;
Compatible with shared hosting;
Caching for mobile devices;
Easy CDN management;
Caching of different elements and site sections;
Deferring options;
Browser caching.
WP Fastest Cache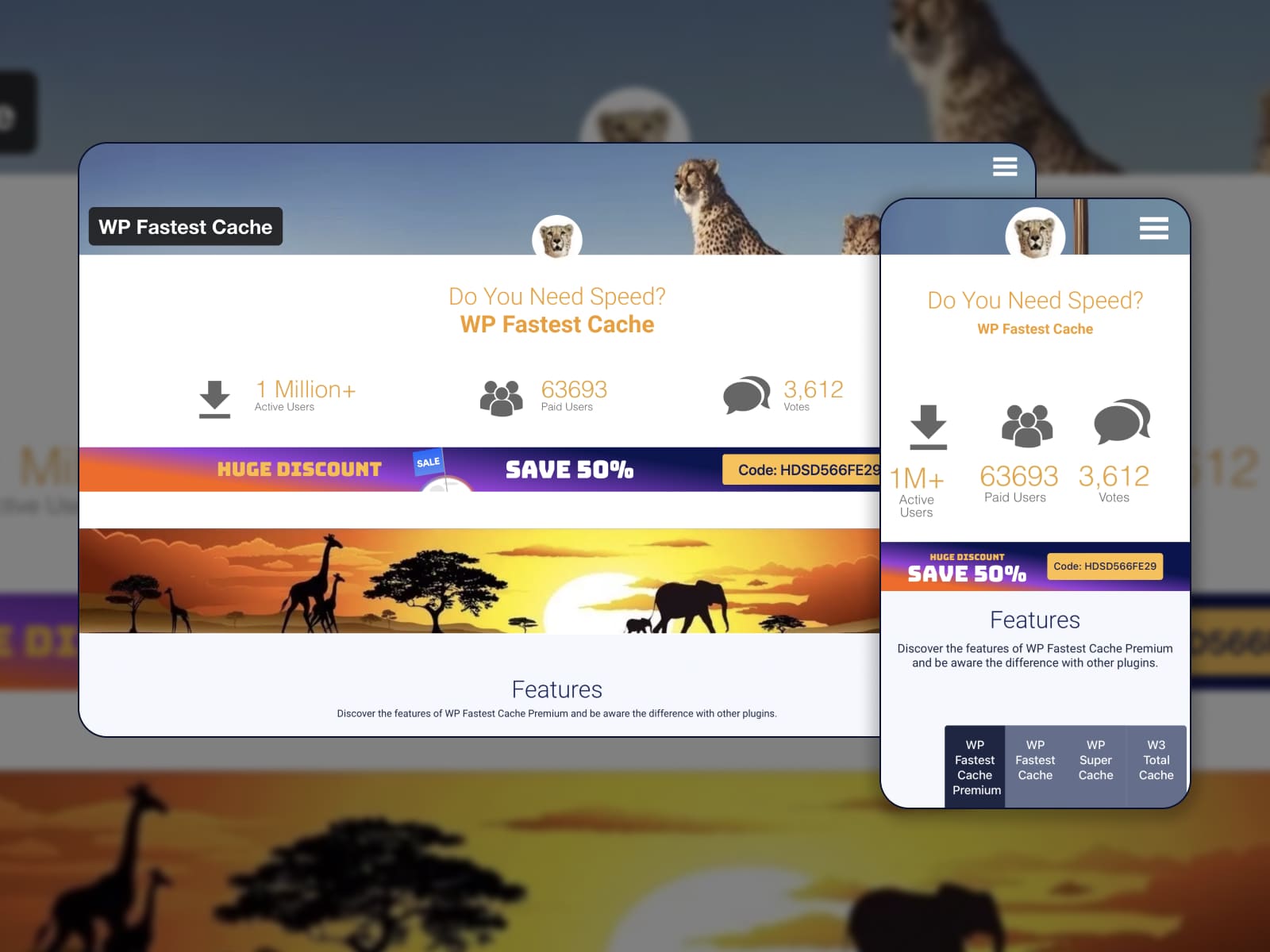 The main benefits you access with the WP Fastest Cache plugin (its free version) include CSS and JS file removal, cache timeout, CDN support, and more. Admins can delete files from the options page and block certain pages or posts from being cached. The plugin allows you to enable or disable caching for logged-in users.
WP Fastest Cache equips your WordPress website with the Mod_Rewrite method, SSL support, preload cache option, and WP-CLI cache clearing.
Premium optimization involves such features as HTML and CSS file minification, GZIP compression, file combination, leverage browser caching, and emoji disabling. If you upgrade the plugin to WP Fastest Cache Pro, you'll get optimized images, database cleanup, a Lazy Load option, a widget cache, and more features.
Key Features:
File minification and deletion;
Support for a content delivery network;
Cache timeout option;
Caching for mobile visitors;
Caching for logged-in users;
Preload cache;
Shortcode for blocking cache;
Premium options for advanced performance optimization.
WP-Optimize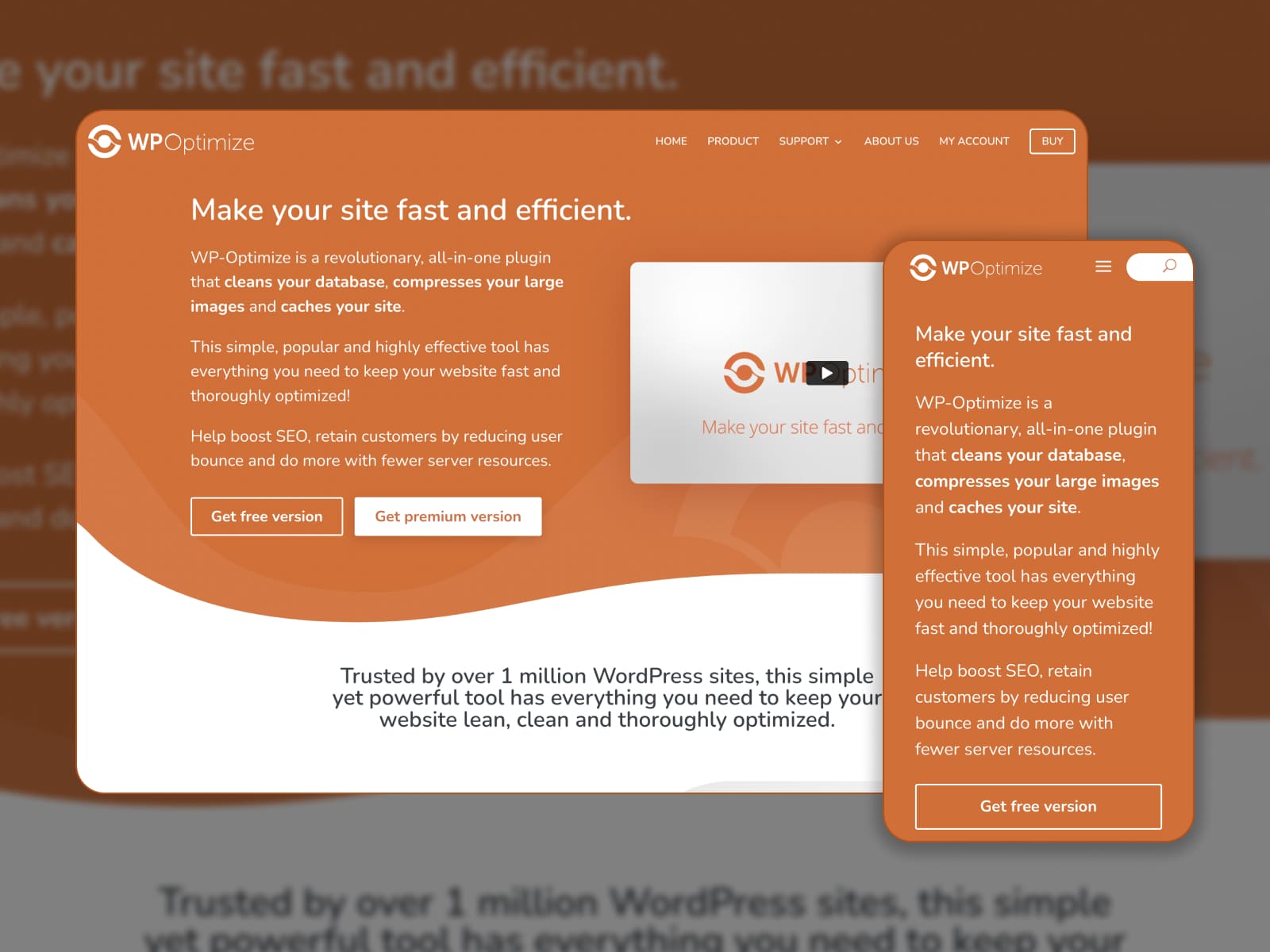 | Name | Official website | Release Year | Active Installations |
| --- | --- | --- | --- |
| WP-Optimize | https://getwpo.com/ | 2014 | 1+ million |
All the options provided by the WP-Optimize plugin come in handy to make your WordPress website render faster for its visitors. For example, it carries out caching, database cleanup, and image compression. You can also minify and defer CSS and JavaScript files.
The caching process by WP-Optimize implies many powerful features, including cache preloading, GZIP compression, device-oriented cache, and browser cache. You can keep logged-in users, URLs, or cookies from being cached by configuring exclusion rules.
Recurrent database cleanup is important because it eliminates unnecessary files (trashed, spam, not approved, etc.), implements automated optimizations, and compacts MySQL tables. View the statistics to see the results and potential savings.
Image compression is essential since image loading time affects the site's speed. The plugin uses a dedicated technique to compress the uploaded images and save them in the media library. It works with PNG, JPG, GIF, BMP, and TIF pictures up to 5MB in size.
This tool allows multiple image compression performed through a multi-pass lossy algorithm. In addition, it features 'Restore Originals', EXIF data-keeping, and auto-compress options.
WP-Optimize Premium can be used for multiple sites. It enables you to schedule automated clean-ups, preview optimization, and apply a lazy loading option for images or page sections. You can choose tables for being optimized and set up image deleting.
Key Features:
Fast-to-set-up caching;
Useful caching options;
CSS and JavaScript minification;
Advanced exclusion rules;
Database cleanup;
Image compression with multiple functions available;
Extended toolkit in the paid version.
WP Super Cache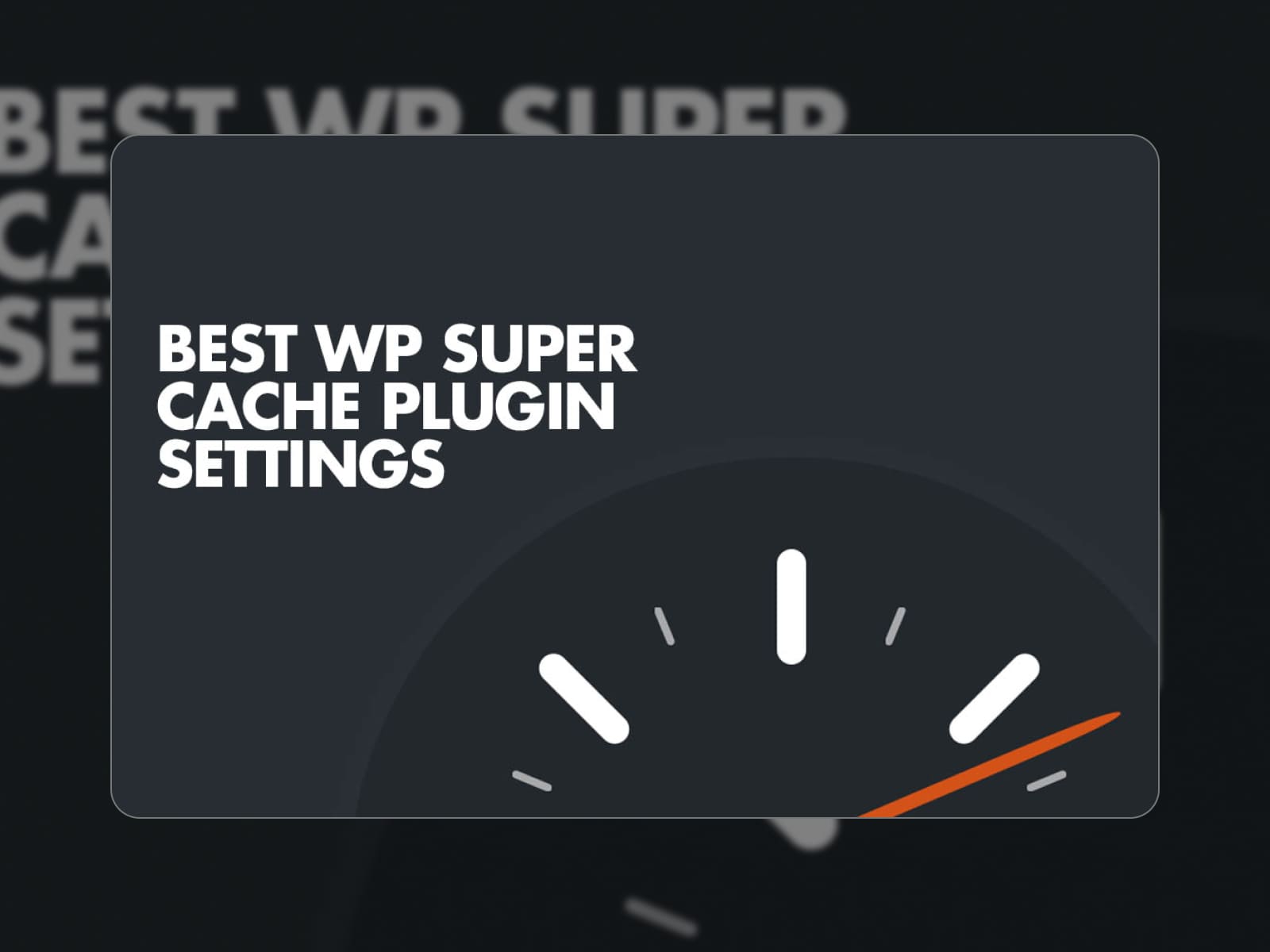 WP Super Cache is the only WP Rocket alternative in this review that has no pro version. More than 2 million users choose this plugin to fine-tune their WordPress site's loading speed at no cost. It uses simple, fast, and effective tools for that.
WP Super Cache makes copies of your website pages and saves them as static HTML files. Hence, when users go to your website, they get a copied version that loads much faster. After the caching is turned on, WP Super Cache will start working right away. Cache delivery methods include simple and expert ones.
You're allowed to enable page compression and dynamic caching. 'Cache restrictions' let you disable caching for logged-in users or visitors who have a cookie set in their browser. Next, you are free to configure expiry time and garbage collection. It's easy to exclude specific pages from caching.
With WP Super Cache, you will have the power to set up CDN in the corresponding tab. The preload mode is there for you to create super cache static files for all posts and pages.
Key Features:
Available for free;
Static HTML files;
Different cache delivery methods;
Compression options;
Cache restrictions;
Expiry time and garbage collection;
CDN support;
Preload mode.
WP Rocket Review: Concluding Sentences
In this WP Rocket review, we have taken an in-depth look at the WP Rocket plugin and its functionality. It's one of the five-star caching plugins in the WordPress directory. If you ask us how likely we are to recommend WP Rocket to other WordPress users, we'll say that you should give it a go if it doesn't break your budget. Caching your site with WP Rocket is easy to do thanks to a load of useful features. Let's sum up some results!
A WordPress caching plugin is a rather good investment. It skips several steps so that your website visitor doesn't have to wait. Pages are served more quickly to visitors. The site speed is used in Google's search ranking algorithm so cache plugins that can improve your page load time will also improve your SEO ranking.
With over 1 million active installs, the WP Rocket plugin brings together the best technologies for boosting site loading speed. It is used by different specialists and businesses.
One of the main points of this WP Rocket review was to check whether this plugin gives the required results for boosting the site's speed. We have used the WebPageTest tool to see whether WP Rocket provides an improvement in the overall site performance with the Villagio theme activated.

As a result, the Time to First Bite was decreased by 42%. Largest Contentful Paint which is an important Core Web Vitals metric dropped by 62% while page full loading time changed by 39%. Page size and the number of HTTP requests were reduced by 19% and 51% correspondingly.

When your website is fully configured, you will improve the overall user experience for your visitors without having to change a host, theme, or plugin. Combine caching with database optimization and image compression and you'll see a significant difference in the website's performance.
If you have a limited budget and can't afford WP Rocket, you can find a free alternative. In this case, you get a set of basic tools to automate caching. We've considered the most popular WordPress caching plugins you may choose instead of WP Rocket.
---
Disclosure: this article may contain affiliate links for third-party products. If you click a link and later make a purchase, we may earn an affiliate commission that doesn't result in additional charges to you.
FAQ
How long does WP Rocket take to work?
The plugin starts working right after the activation. A website achieves boosted performance due to page caching, browser caching, and GZIP compression. Then, it takes less than 30 minutes to set up other optional tools.

Is WP Rocket better than SG Optimizer?
These caching plugins are often compared. We need to make a complete SG Optimizer review to give a certain answer to this question. Now, we can confirm that we have received good results after applying WP Rocket.

Can I use WP Rocket for free?
No, there is no free version and free trial period. However, the team offers you a 14-day refund period when you can get your money back. Many users are ready to pay for the premium-only license, as they like the plugin's functionality and support level.

Is Rocket CDN any good?
Rocket CDN service has many advantages, including unlimited bandwidth, CDN files being automatically served over HTTPS, SSL Traffic, and more.