Which is the Best Equipment Rental Software for WordPress?
Looking to create an equipment rental software website on WordPress? For renting out bikes, boats, hiking supplies, warehouse equipment, construction tools, or any other types of things?
It's not difficult to start with an equipment rental website if you already have an up-and-running one on WordPress.
I can't say there are countless options of the equipment rental software for WordPress, but still you have a choice, the market offers you about 10 decent WordPress rental system plugins that work for service industries.
These WordPress rental plugins are usually focused on the advanced scheduling software features that allow you to automate your equipment bookings.
Those are usually hourly bookings but the length of rental period can be easily tailored.
So which equipment rental software will help you keep up with your business needs?
There is unlikely a silver bullet but, hopefully, we'll help you narrow down your choice by highlighting some key tools and specifics of the WordPress plugins for rental the equipment rental needs.
How to Choose the Best Equipment Rental Software?
Let's focus on some essential tools of the equipment booking systems for WordPress and see how various plugins work in terms of all features.
Some WordPress rental plugins are better at one aspect while others are doing a better job at the others, as well as pricing options might differ.
Since it's almost impossible to check out and access all the features before you can purchase a product, at least try to prepare a list of questions for the companies you want to purchase a product from.
So here it goes!
Setup & Launch
WordPress plugins are normally easy to install but the general setup process might differ. Pay attention to whether the WordPress rental booking plugin has automatic installation wizards that usually help you get started easier and faster. A reduced learning curve will save you some time and energy.
Customize Rental Rates and Conditions
The price range customization is of high importance for any business so try to pay attention to the types of rates you can create and whether there are flexible further rules for tailoring your pricing system.
Length of Rental Period
Find out the default and minimum rental period since it's crucial to know if the solution is made for hourly or per-night rentals.
Inventory Management
Check whether the rental WordPress plugin provides solid inventory management tools to help you keep all your rental data structured and centralized. Simply describe your business scenario to the company you find suitable and ask whether they can meet your needs.
Online Payment Processing
What payment methods do you want to integrate on your WordPress rental website? Check if you can do that for free (sometimes payment methods are offered as premium extensions, so make sure to check it out beforehand).
Connect Your Website to Rental Platforms / Other Integrations
Smooth integrations with the external rental platforms are not always easy. If you want to rent out your tools on multiple platforms, you need to find out if you can do that easily (or probably you need to pay for that?). As for other integrations, those might be Google Calendar, Apple Calendar, etc.
Client Accounts
Do you want to allow for a user account registration? That would be a great help for returning customers as well as automating your rental processes.
Limits to the Number of Products You Can Offer
Check if there are any limits to the number of products/bookings and whether you might need to pay extra if there are any.
Mobile Applications
Do you want to take the key management tasks to some sort of mobile application and manage rentals / reservations on the go? A mobile app can solve this task.
Ready-to-go designs
Despite the fact that you can use any WordPress theme with almost all WordPress equipment rental plugins, some companies go further and provide you with pre-made designs and website builders.

Equipment Rental Systems for WordPress
Let's help you choose the best WordPress rental plugin and take a look at a few top examples!


The MotoPress Appointment Booking plugin is optimized for reservations of any duration and any service types, including equipment rental. It's the solution for easy appointment scheduling by the MotoPress family of plugins.
It takes care of all sides of the process, employees and clients, providing flexible schedule settings, Google calendar integration for staff members, various online payment options (PayPal, Stripe and more), and tons of options to customize and rent out your equipment.
Key Features
MotoPress is well-known for its WordPress booking solutions. They also have the WordPress Hotel Booking plugin for vacation rental websites. There is a collection of WordPress themes for a rental property of any type and size: Ciestra, Villagio, Alpenhouse, and others.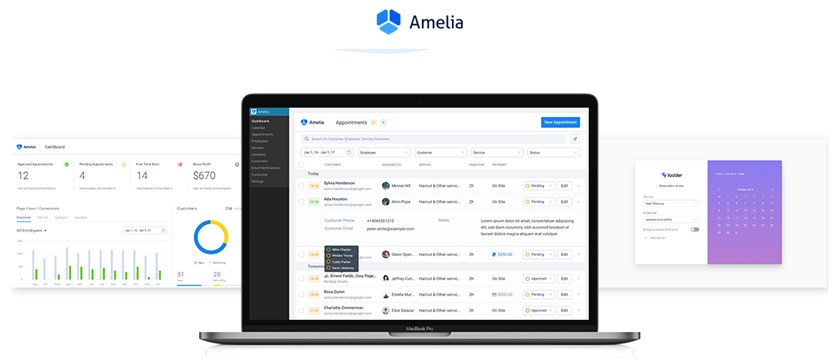 Amelia is one of the most popular booking systems for WordPress, suitable for both services and equipment rental businesses. It can boast of offering numerous enterprise-grade features that might sound like a good solution for a business chain that needs an all-inclusive pack of tools.
Compared to other best equipment rental software solutions for WordPress, Amelia might seem expensive for many, but notice that it comes with all the possible addons altogether, meaning, no need to buy addons.
Key features
Client accounts
SMS notifications
Google & Apple Calendar integration
PayPal and Stripe for online payments
Available in many languages.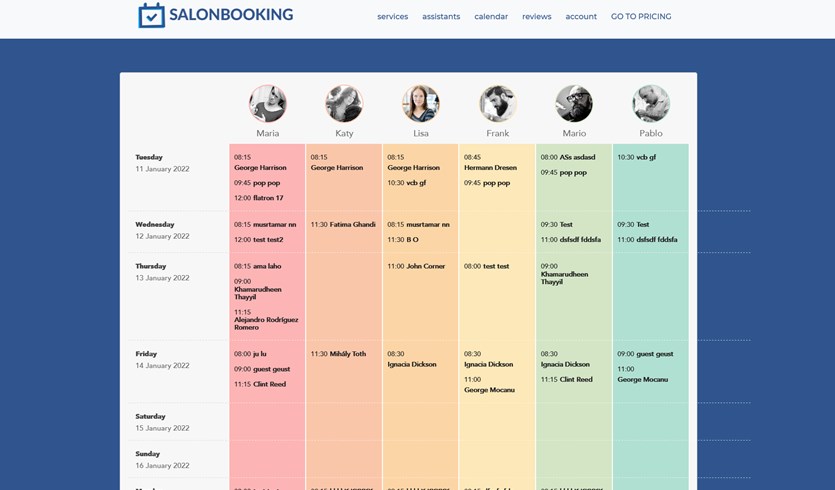 The Salon Booking System plugin has many demos for different types of time businesses and services, equipment rental among them.
This rental plugin WordPress has a very good focus on managing assistants, so if it's an important factor for you, pay attention to a list of the respective features. It also offers a huge list of extensions and integrations, discounting system, handy booking wizard, and many more tools.
At a very affordable price, you can use the first-in-class booking plugin that is easily extendable with tons of tools.
Key Features
Mobile app
SMS and email notifications; Facebook Messenger chatbot
PayPal, Stripe, pay later and more options, especially a good list of addons
Reports and analytics data.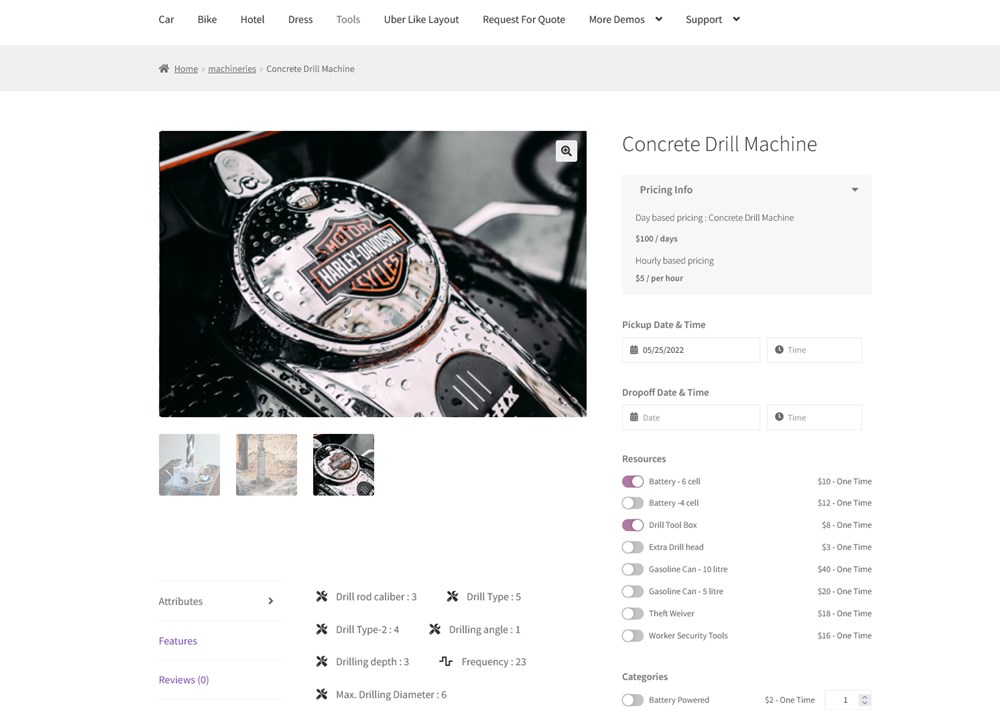 This equipment rental software is made specifically for WordPress and will help you easily rent out cars, bikes, tools, services, gadgets, and the like. It comes with all the needed tools for the payment processing options, booking notifications, language settings, and more.
The plugin ships with many integrations, including Google Calendar, WPML, WooCommerce and more world-popular tools. It's also used by around 8 thousand people, time-tested and reliable!
Key Features
Request a quote feature
Hourly range pricing
Inventory management and variations
Unlimited payable resources and the number of people
User dashboard
Hour-based / distance-based pricing
Discount system.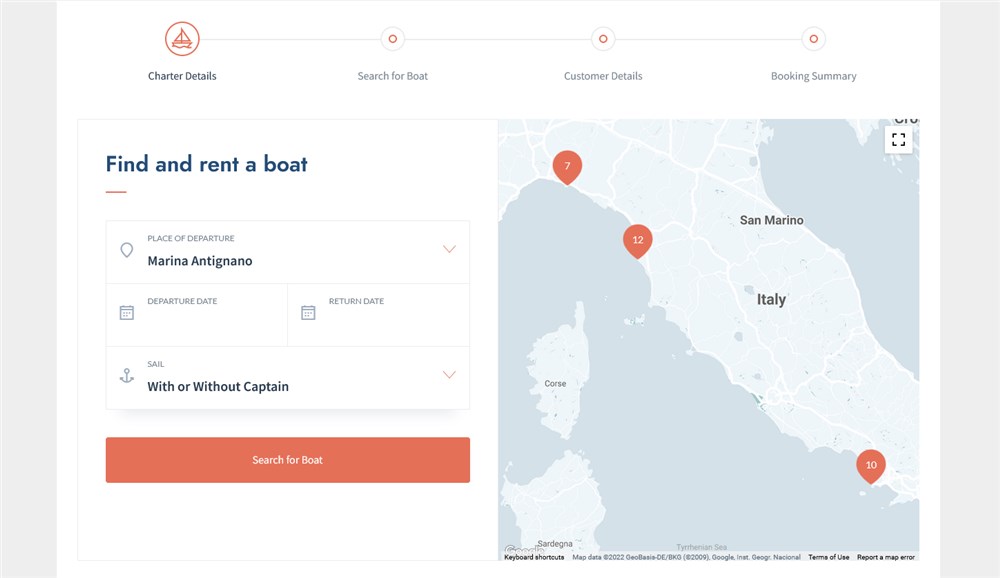 This equipment rental system plugin is made specifically for the boat rental business so it has all the tools you need for operating this type of business online and automating your boat rental business. It's a rather fresh solution but since it's made for a very specific niche, you can save a lot of time on the customization process.
The equipment rental WordPress plugin is suitable for any number of rental boats and unlimited bookings.
Key Features
Add many bookable forms to the site
Customize the color scheme and the map
Feature unlimited locations on a map
Customize dedicated boat area details
PayPal, Stripe, cash, and wire transfer methods, as well as support WooCommerce
Booking rules, coupons system, tax rates, business hours
SMS integrations.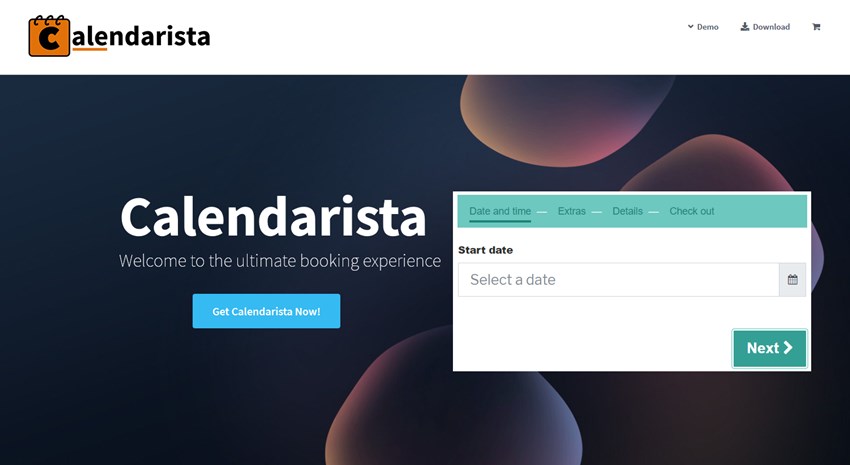 Calendarista is a great tool for all sorts of appointments, with options to be customized and used as an equipment rental software; for this, it offers you 12 bookable modes you can tailor to meet the needs of your business.
For example, if you need to calculate and set up a specific pricing for the distance and cost, you can easily do that with the Calendarista plugin.
Key Features
Extensive features for tours and trips
Support for iCal to ease the sync process with external platforms, Apple Calendar, Google Calendar, Outlook etc.
Stripe, PayPal, support for WooCommerce settings
Discount coupons, desposist, seats, and other specific features support
All types of ranges for dates and pricing.


If you are looking for free software for tool rental needs, you can use the Booqable Rental plugin, which is optimized specifically for the rental booking needs. The free equipment rental software version, however, is limited; but you can always upgrade if you need more tools. Also, this plugin is rather a connection tool with a cloud account you need to register with Booqable.
Key Features
Flexible pricing settings, including security deposits
Real-time availability to keep your inventory always up-to-date automatically
Request a quote feature / automatic send a booking notifications
Stripe, PayPal, local gateways.
Manage Equipment & Inventory With the Best Equipment Rental Software for WordPress
In general, these plugins can be used in multiple ways, such as construction rental equipment software, appointment scheduling solutions, and for other types of rentals, which are rather optimized for hourly bookings.
Such tools Booqable or RnB are optimized specifically for the equipment rental software for WordPress while others (MotoPress Appointment Booking, Calendarista) are more multipurpose and can be easily bent into any direction.
As I said in the beginning, it's always a good idea to go through the checklist of features to see if you can adjust the software for rental equipment online.
---
Disclosure: this article may contain affiliate links for third-party products. If you click a link and later make a purchase, we may earn an affiliate commission that doesn't result in additional charges to you.