Discover the Best WordPress User Profile Plugins for 2023: 12 Top Choices
Are you looking for WordPress user profile plugins that offer rich functionality? Or maybe you need to create a personal page for your customers without any complexities? Whatever your goal is, it is evident that with WordPress, all of it can be done in a few clicks thanks to diverse plugins. This means you don't need to be a seasoned web developer to build something your clients will appreciate. In today's post, we have prepared a selection of the best solutions for creating a stunning user profile.

Here are our top 5 picks for your WordPress website, including both free & premium plugins:
How to Get Users to Register on My Website with WordPress User Profile Plugins
When setting up your website, it is necessary to think in advance of ways to encourage your potential users to register. Both design and content play a major role here. While the first element works to get your visitors' attention, the second makes them stay on your website. The provided content may vary but it always needs to be relevant for your clients.
Additionally, when developing your online presence, some website features, such as commenting or sharing files, are provided only to registered users. You may also add a website membership to deliver unique content, which can not be found anywhere else. As a result, you'll get more visitors to register & access everything your site has to offer.

How to Choose User Roles at Registration Plugin in WordPress
User profiles are an important part of any modern online presence. This is also true for WordPress-based websites. With its help, your registered visitors can get access to restricted parts of a website and assign custom profile pictures. However, before making it possible, it is necessary to allow user registration on your site. This can be done by enabling the Membership option in the General settings menu of your site's dashboard. You'll also need to choose the default role for your users with pre-defined permissions, such as "Subscriber". For blog-oriented websites, you may require the "Author" Role to allow some users to post content.
To improve your user's experience, it is recommended to apply WordPress user profile plugins. Besides, you don't need to limit yourself just to these plugins. Due to the block-based nature of WordPress editor and its Gutenberg builder, having something ready-made for customization is quite necessary. That's why we also recommend using the Getwid plugin. This tool has lots of bundled blocks as well as the template library and AI content writing assistant. If you are just getting started with WordPress, using this tool can help you a lot.

Top 6 Premium WordPress User Profile Plugins
Now, let's take a look at the best premium WordPress user profile plugins that you can use to make the creation and management of user profiles a smoother experience for you as a website owner. From simple user roles to more advanced features, such as regular content delivery and tailored payment options, there are lots of awesome benefits these plugins offer.
1. WP User Frontend Pro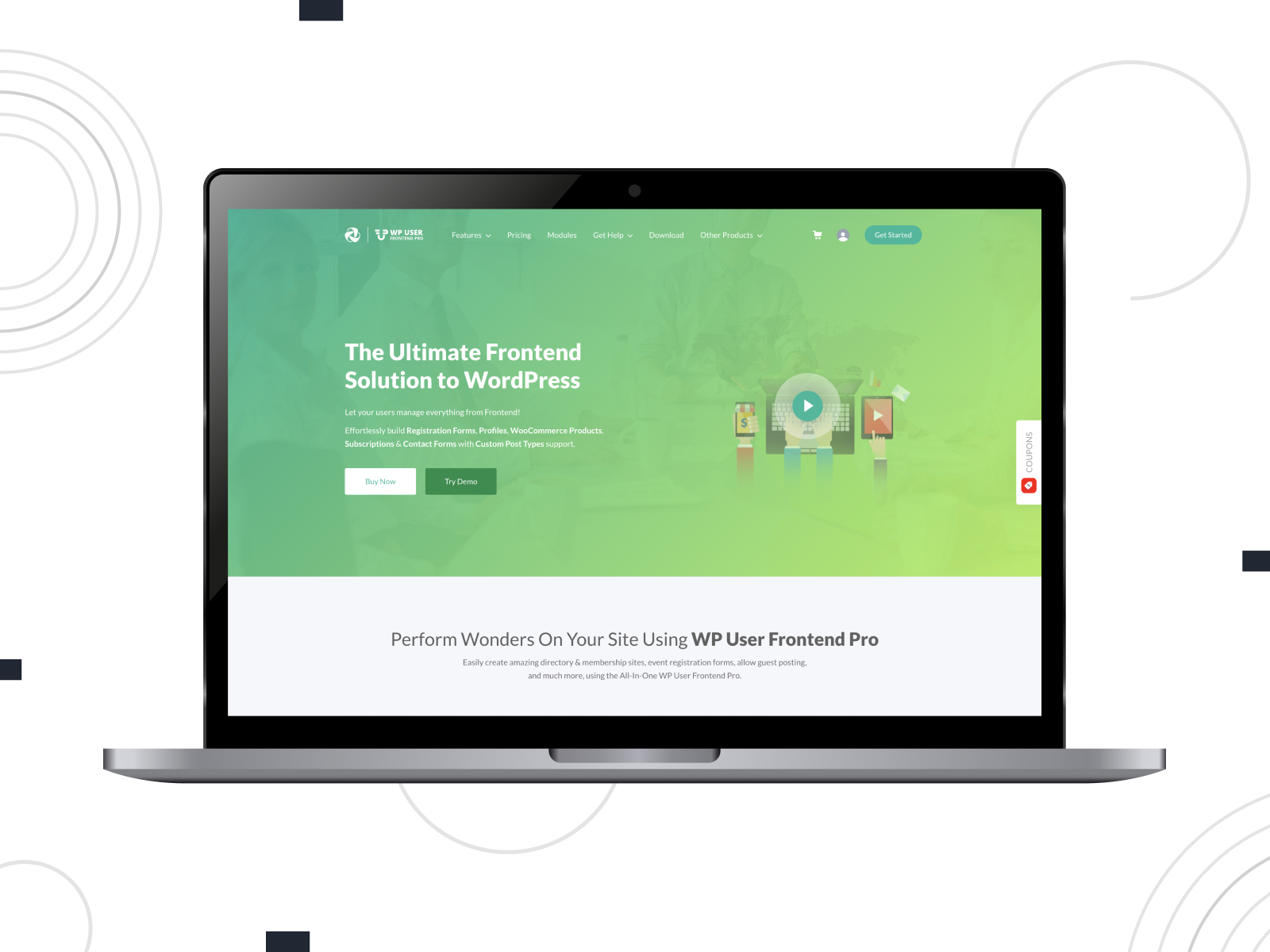 One of the first solutions for user profiles that we'll look at today is WP User Frontend Pro. This is a ready-made WordPress plugin designed for the effective creation and management of user profiles, registration forms, subscriptions, and many other features that can improve your website. The plugin offers a variety of pricing options, including a free plan with the basic options available to everyone. Besides, it comes with dozens of useful integrations and advantages, such as:
Drag & drop profile builder;
Frontend posting;
Subscriptions & content restriction;
Unlimited forms;
Custom fields & post types.
| Name | Developer | Price | Installations |
| --- | --- | --- | --- |
| WP User Frontend Pro | weDevs | Free/from $49 per year | 20,000+ |
2. MemberPress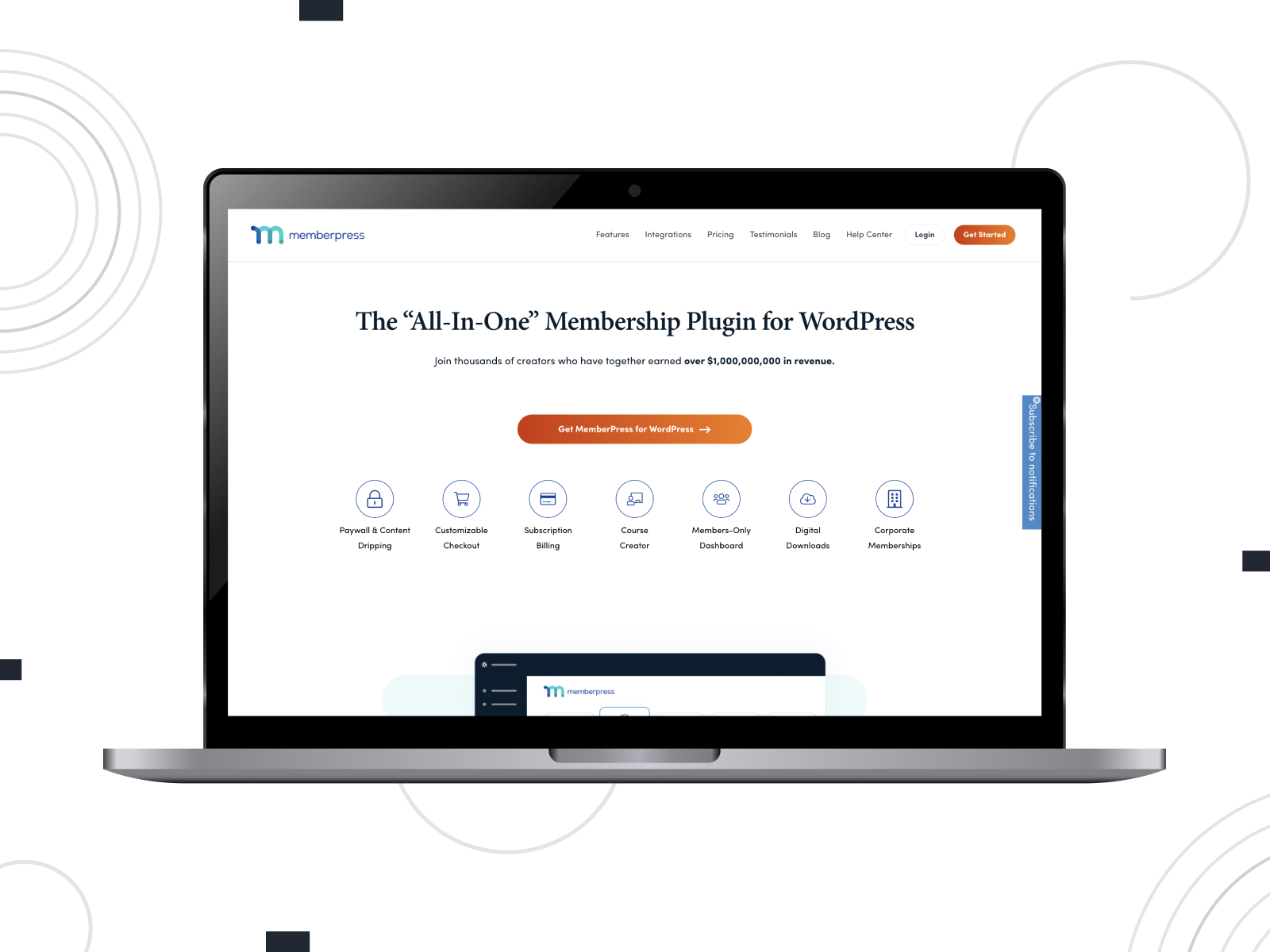 If you are looking for WordPress user profile plugins that are membership-oriented, one of the most appropriate picks here would be MemberPress. With its numerous features, you can create customizable user profiles, while also offering subscription-based pricing to unlock exclusive content on your website. Besides offering your clients well-built user profiles, you can also use this plugin as an all-in-one marketing tool. Here's a small part of what MemberPress provides:
Flexible content access rules;
PDF invoices for customer transactions;
Protected downloads for your subscribers;
Extensive REST API to ensure secure user authentication;
Add-ons for forums and communities;
| Name | Developer | Price | Installations |
| --- | --- | --- | --- |
| MemberPress | Caseproof, LLC | from $179.50 per year | N/A |
3. SureMembers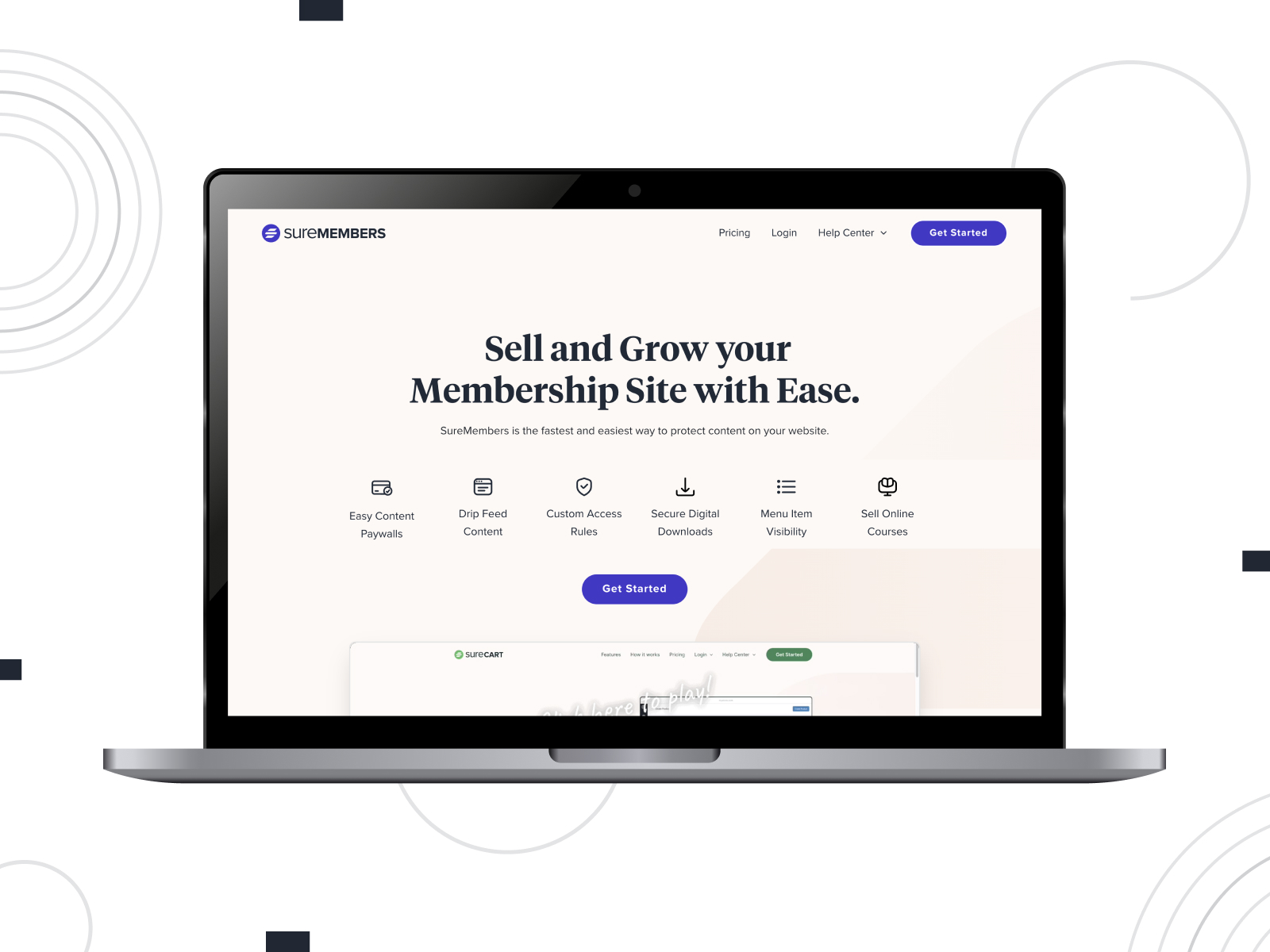 Continuing with the membership-based solutions for your WordPress website, we need to mention the SureMembers plugin. This is one of those solutions that are aimed at content providers that deliver something unique to their subscribers. Just like MemberPress, this solution gives you full control over content. Moreover, it allows you to create not just individual member profiles automatically but specific groups with different permissions. Aside from this functionality, here's what else the plugin offers:
Login restriction;
User role synchronization;
Centralized rules system;
Content paywalls;
Secured digital downloads;
Bulk customer profile editing via using groups.
| Name | Developer | Price | Installations |
| --- | --- | --- | --- |
| SureMembers | SureCart, Inc. | from $69 per year | N/A |
4. UserPro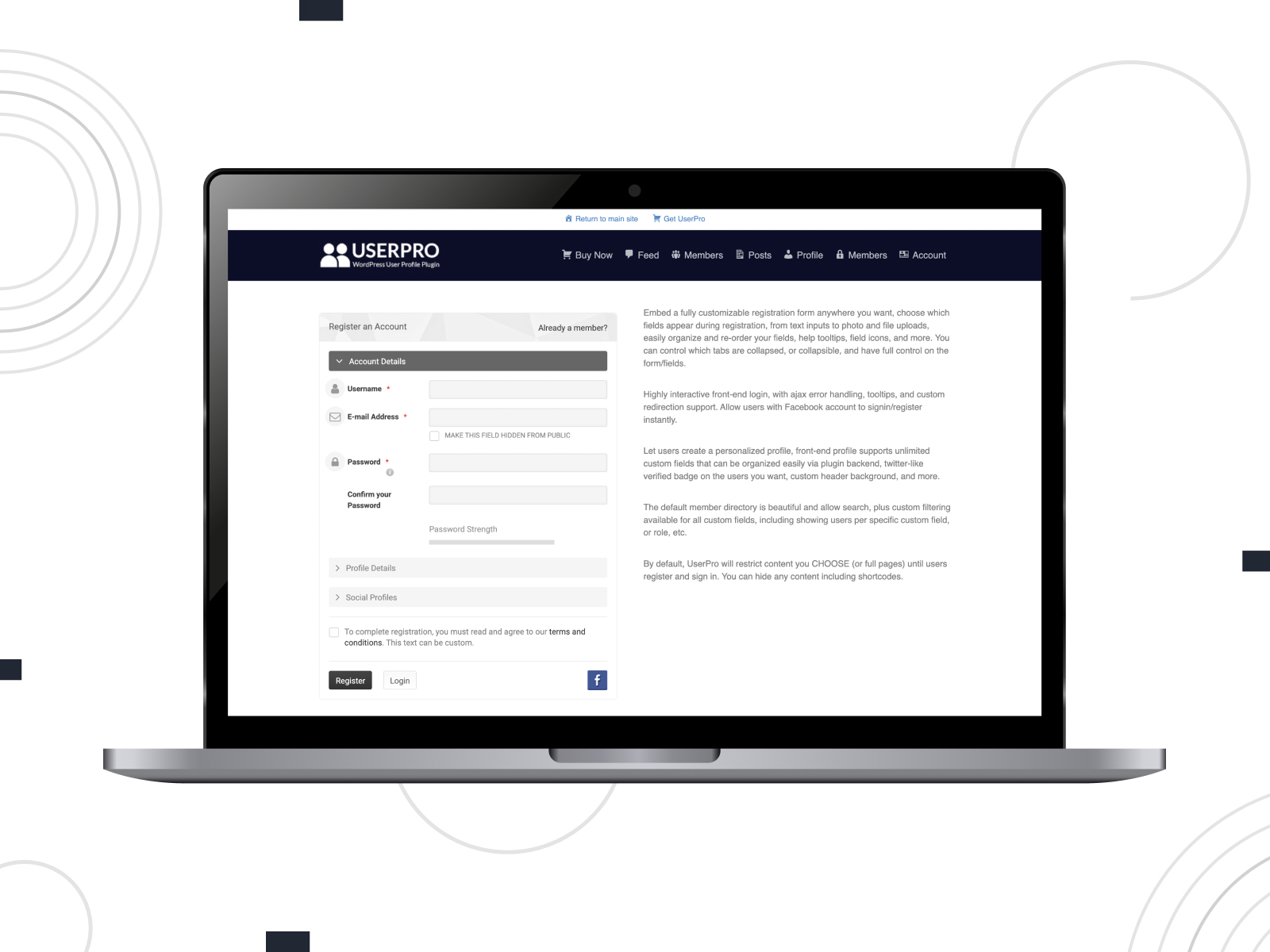 UserPro is one of WordPress user profile plugins designed to help you organize a community on your website. It provides a wide variety of options for improved management and control of user roles and accounts. First of all, you can create and fully customize forms for login and registration. There is also a wide range of included member features. For example, with this plugin, you get a searchable directory of your users and can even set up a social network with connections, followers, and activity feeds. Other useful features are as follows:
Attractive and configurable user profiles with badges and achievements;
Easy-to-edit login forms with custom fields and social login support;
WPML compatibility for a better multilingual experience;
Front-end publishing tool with custom post types and categories;
Diverse member listing layouts;
A variety of add-ons to extend the plugin's functionality.
| Name | Developer | Price | Installations |
| --- | --- | --- | --- |
| UserPro | DeluxeThemes | $39 | 20,000+ |
5. ProfilePress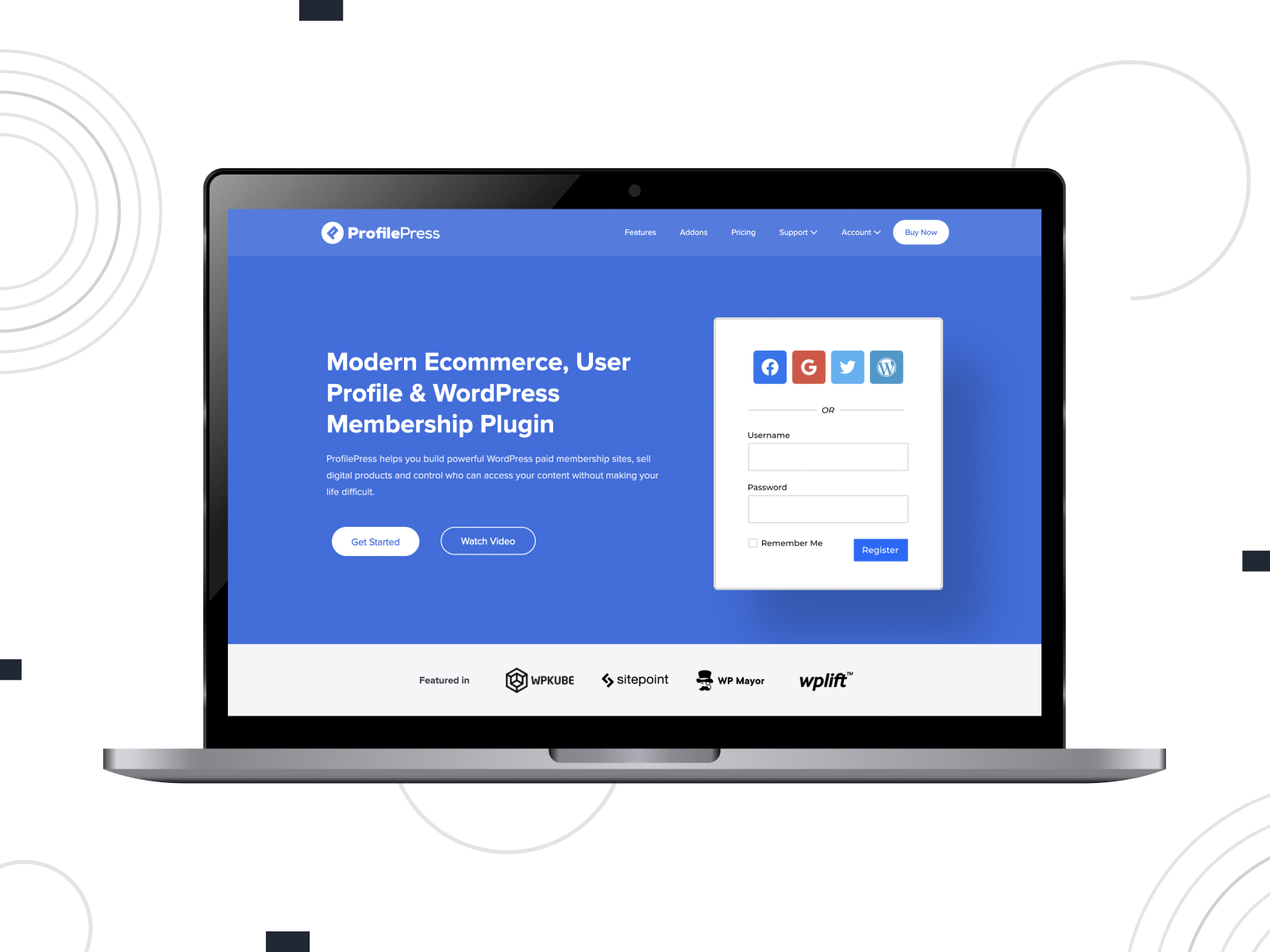 Next on our list of plugins for user profile management is ProfilePress. This tool helps a lot when you need to monetize your website and automate user profile creation. Aimed towards the setup of paid membership plans on your website, it is a handy plugin for those businesses that deliver paid online courses. However, even if you just want to offer specific content to your members, ProfilePress comes with diverse payment service integrations. This allows you to include various methods of accepting payments on your website. Additionally, this plugin delivers these benefits:
Easy member management with the support of orders & subscriptions;
Customizable frontend forms for user registration and login;
Powerful email marketing tools;
Automatic login and redirection;
Reset of logins and passwords;
Quick generation of coupons and discount codes for your users.
| Name | Developer | Price | Installations |
| --- | --- | --- | --- |
| ProfilePress | Proper Fraction LLC | from $129 per year | 400,000+ |
6. User Meta Pro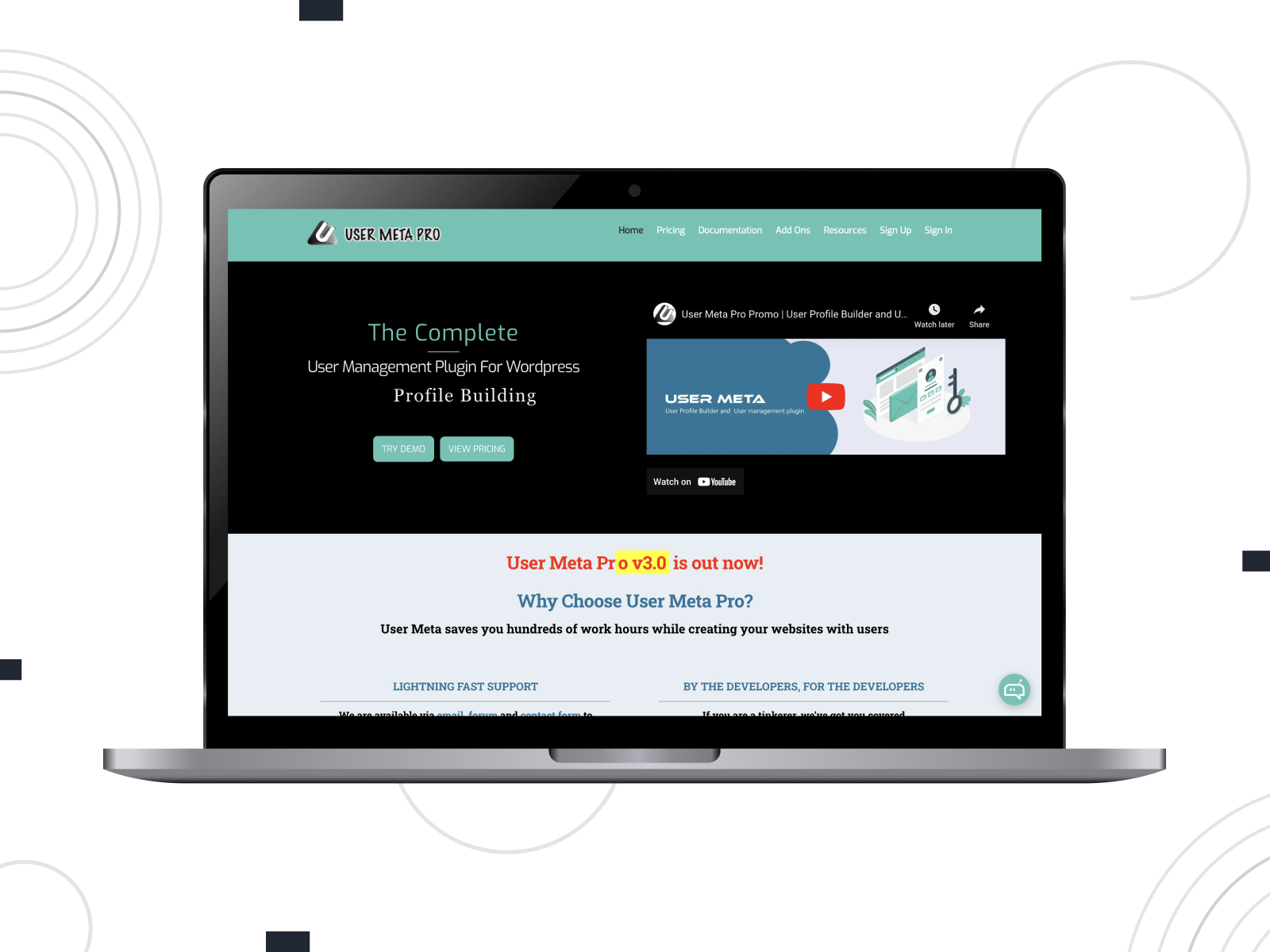 In case you need WordPress user profile plugins that provide extensive user profile setup and management, User Meta Pro can be the right pick. From efficient user registration to public profiles and integrations, such as MailChimp, this solution offers a wide choice of options. It also allows for detailed customization of registration forms as well as redirect support after the signup is complete. The following features are also included:
Role-based user profiles with extra fields;
Custom fields for registration and login forms;
Admin approval and e-mail verification for new users;
Easy import/export of user lists in CSV file format;
Customizable e-mail notifications.
| Name | Developer | Price | Installations |
| --- | --- | --- | --- |
| User Meta Pro | User Meta Pro | Free/from $39 per year | 2,000+ |
6 Free WordPress Registration Plugins
Aside from paid solutions that simplify user profile management, there are dozens of free ones. In our overview, we'll mention only 6 of them. Despite the lower quantity, these plugins are top-notch solutions that deliver a wide selection of user-oriented features for your website. From more attractive profiles and automatic user role assignment, there are lots of benefits packed with each of these plugins. Now, let's look at what they have to offer.
7. WP User Manager (FREE)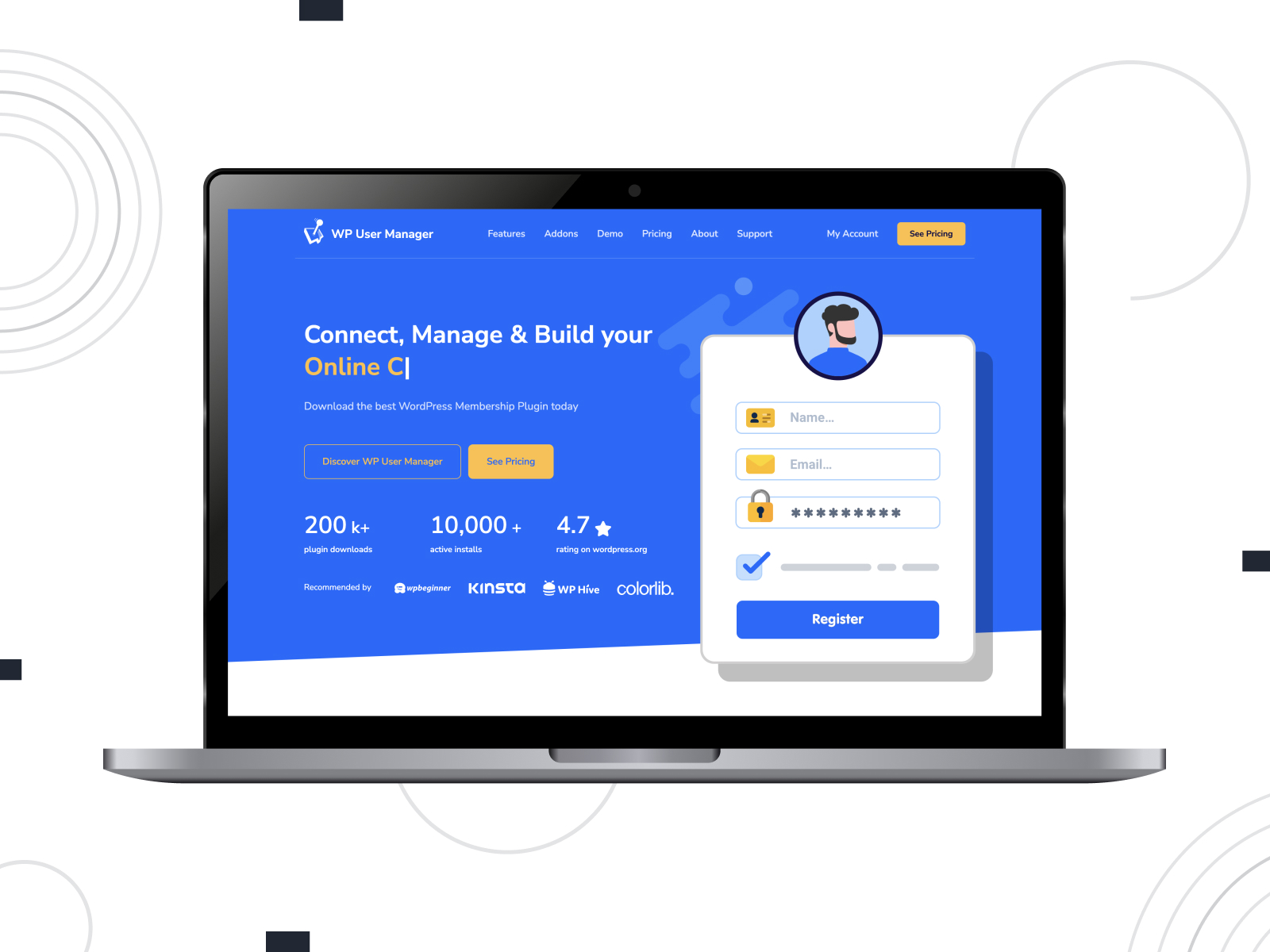 WP User Manager is one of those solutions that are built for more flexible user profile creation. Whether you need to add custom forms for login and registration pages or integrate certain payment methods, this plugin can simplify these and other tasks. It is also a fitting choice for membership-based websites. Alongside the mentioned features, it provides the following advantages:
Custom email notifications;
Shortcode editor;
SEO-friendly user profile URLs;
Custom widgets and redirects;
Public user directories;
Powerful password management.
| Name | Developer | Price | Installations |
| --- | --- | --- | --- |
| WP User Manager | WP User Manager | Free | 10,000+ |
8. User Profile Builder (FREE)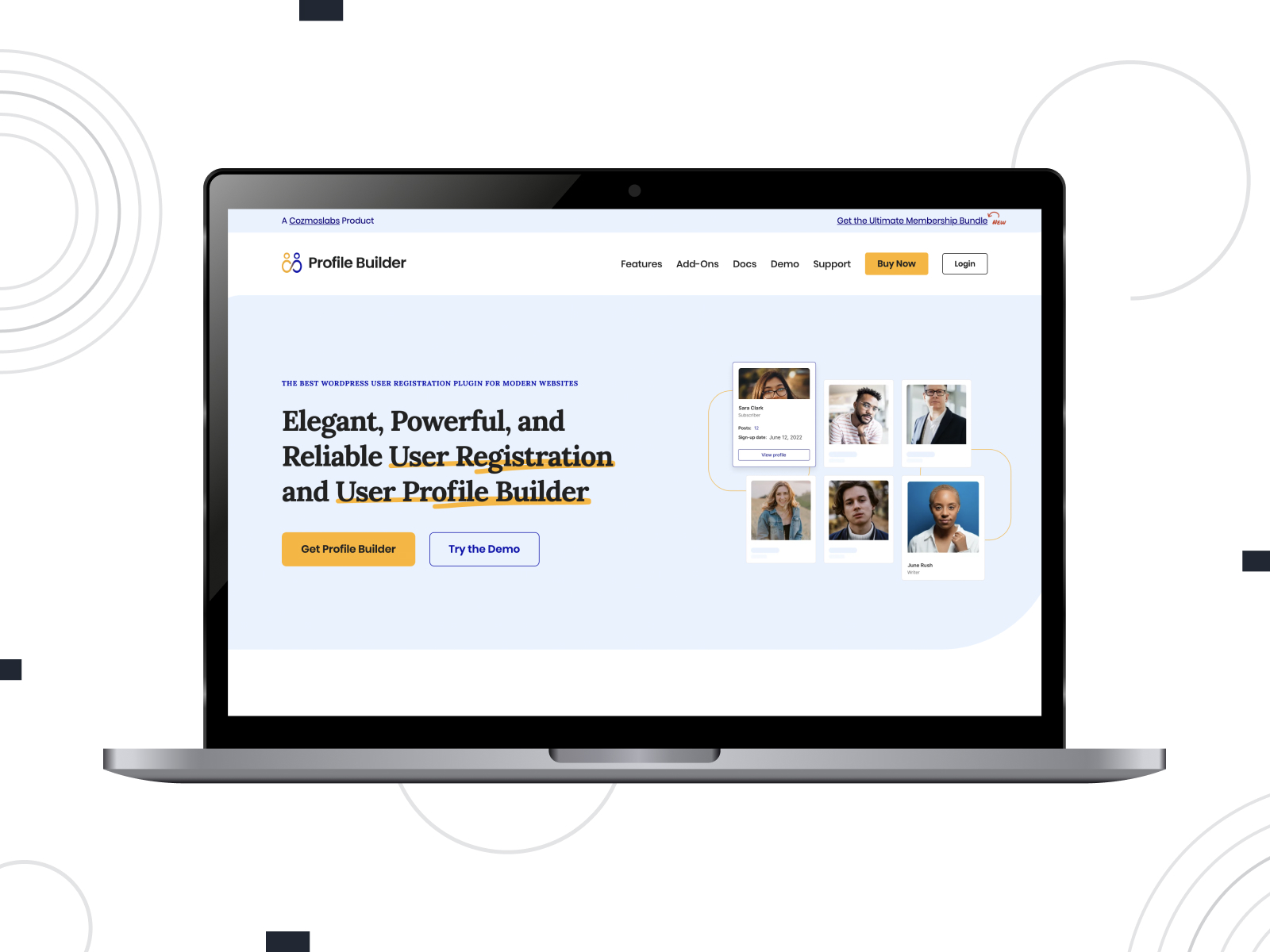 User Profile Builder is one of WordPress user profile plugins that can help you deal with dozens of routine tasks. This tool provides solid assistance when it comes to automating user roles, managing online communities, and protecting your users' data. It is a great option if you aim to build a job board website or a news website. Additionally, this plugin offers the following features:
Advanced profile builder with drag & drop support;
Email reminder customization;
A variety of shortcodes for your forms;
Access restriction to certain content on your website;
Customization of minimum and maximum password strength.
| Name | Developer | Price | Installations |
| --- | --- | --- | --- |
| User Profile Builder | Cozmoslabs | Free | 50,000+ |
9. BuddyPress (FREE)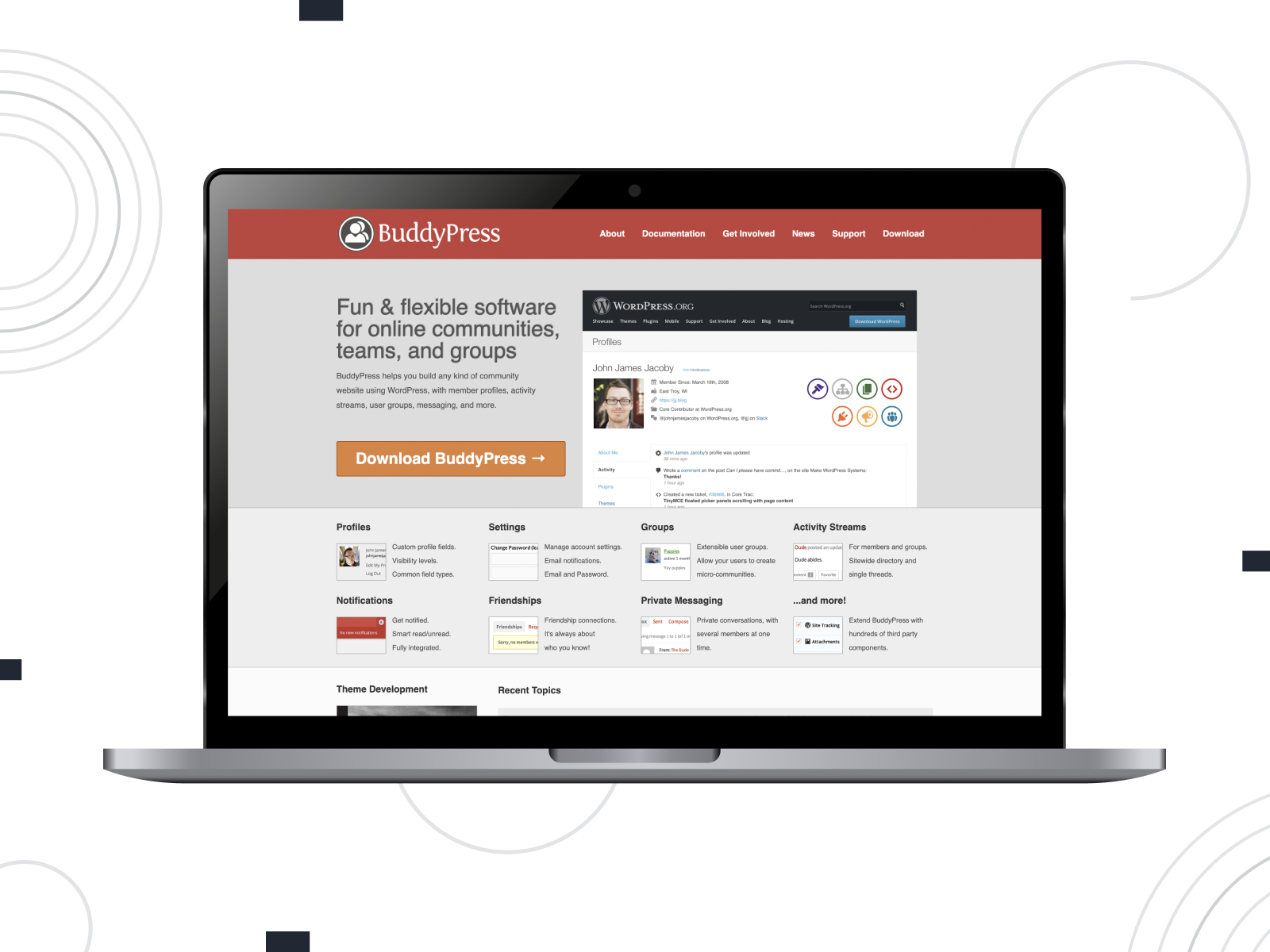 Our next plugin for user profiles is BuddyPress. It is a well-known community tool for any WordPress website owner. With over 100,000 downloads and installations, this plugin allows you to establish a social network with groups, and connections between user profiles, and create topic-based communities. As a result, you get a fully-fledged solution offering you total control over user profiles, roles, messaging, and many other user-oriented activities. This plugin also comes with a bunch of other benefits, such as:
Custom profile fields;
Editable e-mail notifications;
Extensible user groups & micro-communities;
Sitewide user directories;
Friendship connections between users;
Private messaging;
Dozens of extensions for additional functionality.
| Name | Developer | Price | Installations |
| --- | --- | --- | --- |
| BuddyPress | The BuddyPress Community | Free | 100,000+ |
10. User Registration (FREE)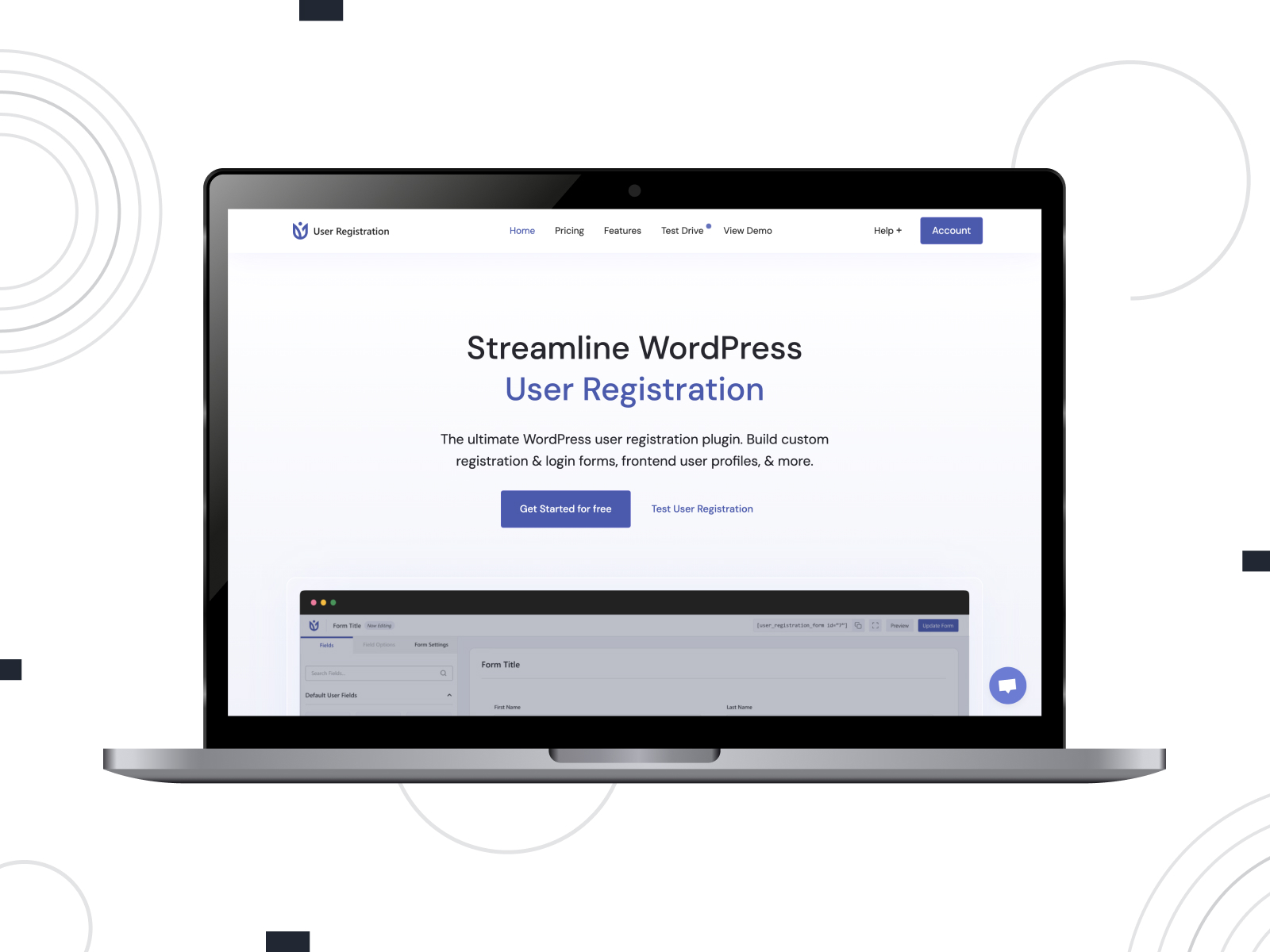 If you aim to integrate proper registration functionality without applying any coding, the User Registration solution can help you. It is one of the WordPress user profile plugins that allows you to easily create custom registration forms for your site and show them on any page. The free version of User Registration allows for extensive customization of any form as well as including extra functionality. Moreover, this tool comes with:
Drag & drop form builder;
A variety of default & custom form fields;
Quick form preview;
Spam protection (Google reCaptcha, Honeypot);
User roles and capabilities;
| Name | Developer | Price | Installations |
| --- | --- | --- | --- |
| User Registration | WPEverest | Free | 60,000+ |
11. ProfileGrid (FREE)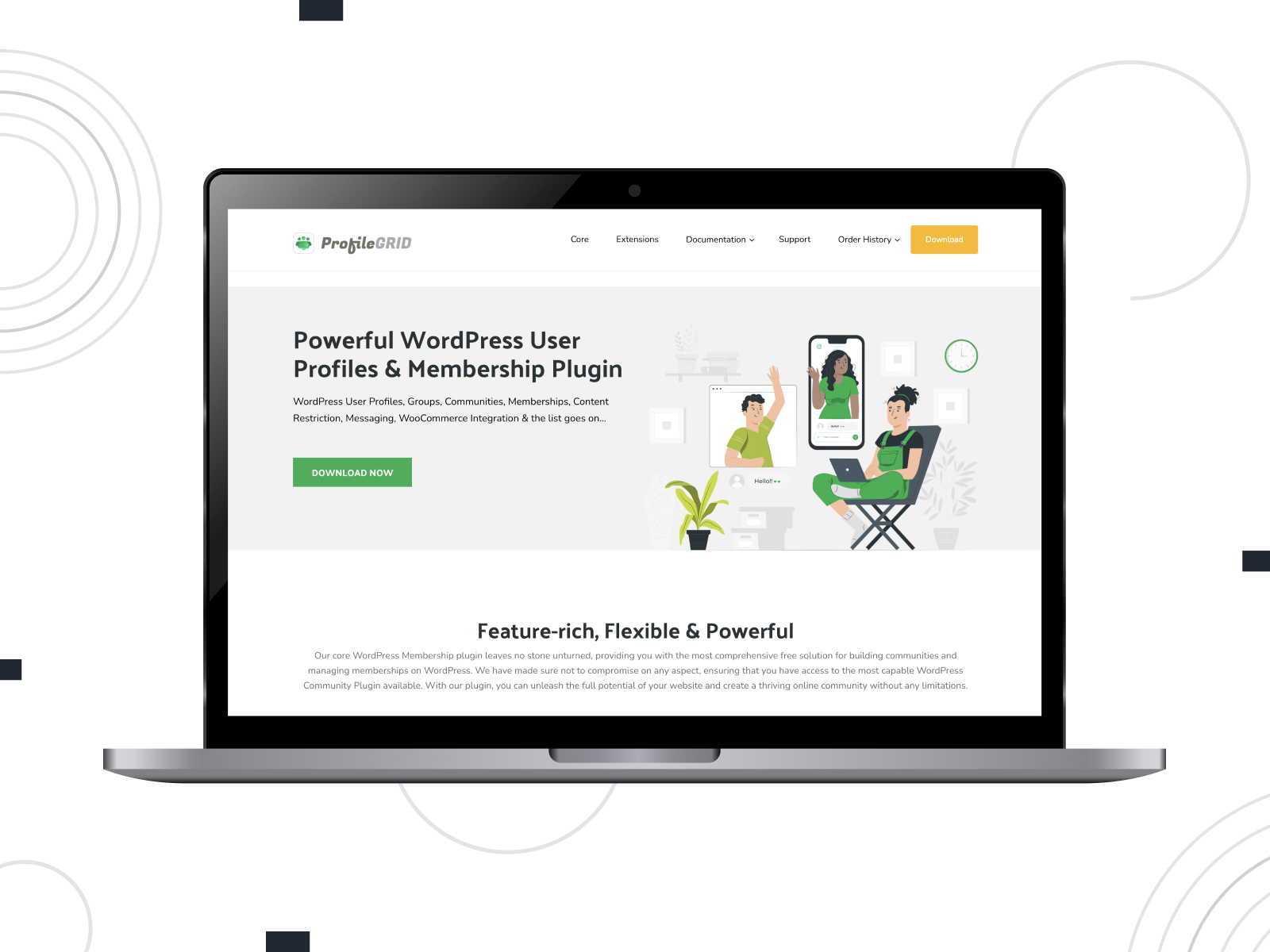 Another useful plugin for user profiles is ProfileGrid. Like some previously mentioned plugins, it helps with memberships, groups, and communities if your website is built with WordPress. Additionally, this solution is useful when you need to restrict access to some content or make it available to certain groups of users. Such groups can contain diverse profile types and can be moderated differently. Also, the plugin offers the following functionality:
Public and private user groups;
Login & password recovery or reset;
Community-based content privacy levels;
Limit the number of members in groups;
Powerful user & group management in WordPress dashboard.
| Name | Developer | Price | Installations |
| --- | --- | --- | --- |
| ProfileGrid | ProfileGrid | Free | 7,000+ |
12. Ultimate Member (FREE)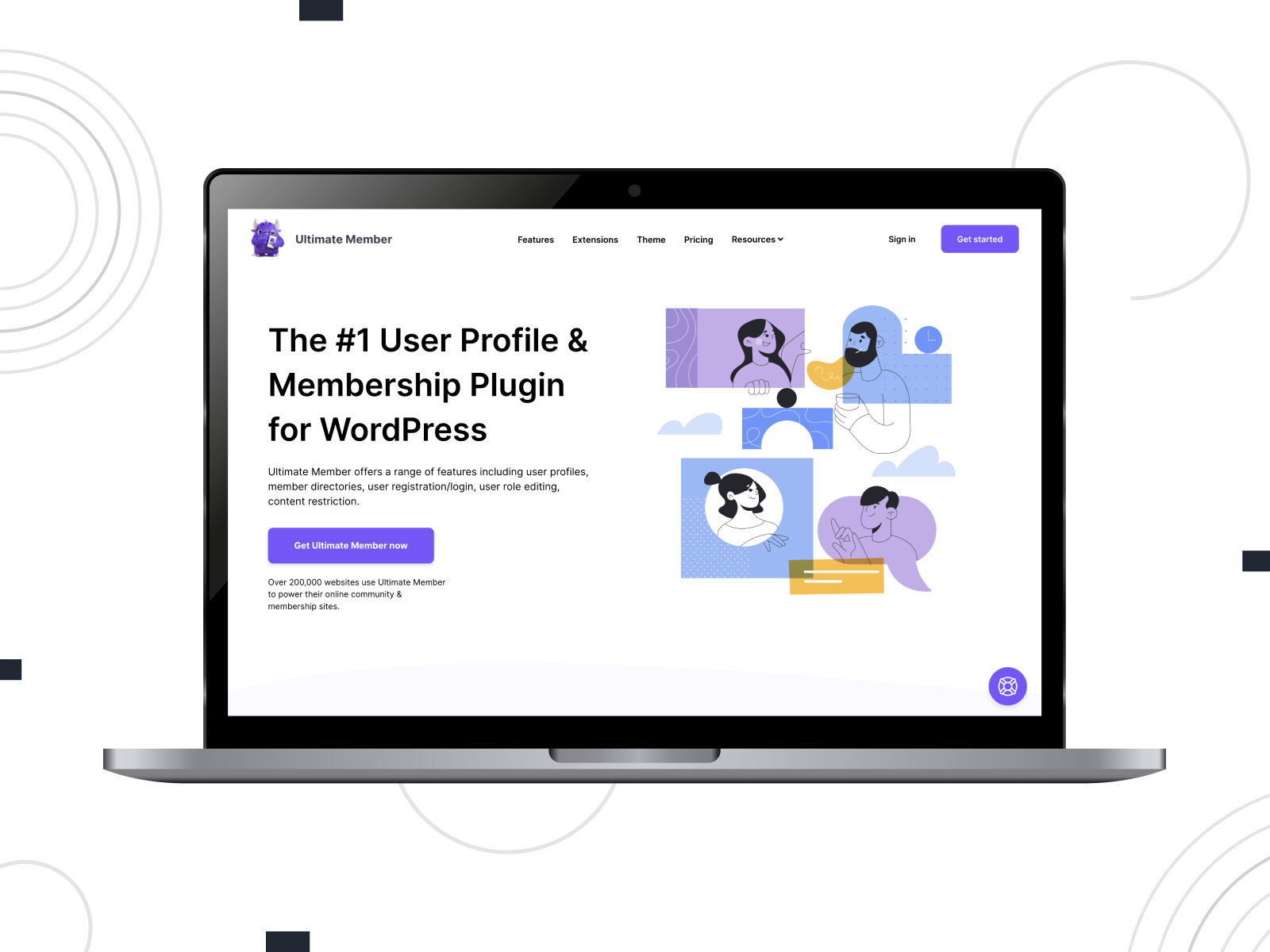 Another one of the membership-centered WordPress user profile plugins on today's list is the Ultimate Member solution for WordPress. It is a complex and versatile tool for adding beautiful user profiles and creating subscription-based communities with exclusive content. The plugin has dozens of premium and free extensions that enhance its range of features. Moreover, it simplifies the registration process and overall improves user management on your website thanks to the following advantages:
Front-end user profiles and registration;
User account pages;
Conditional fields with wide form customization;
Lots of filters for easier content search;
Member directories;
Email notifications.
| Name | Developer | Price | Installations |
| --- | --- | --- | --- |
| Ultimate Member | Ultimate Member | Free | 200,000+ |
All in One Invite Codes – Invitation Codes Plugin for WordPress (FREE)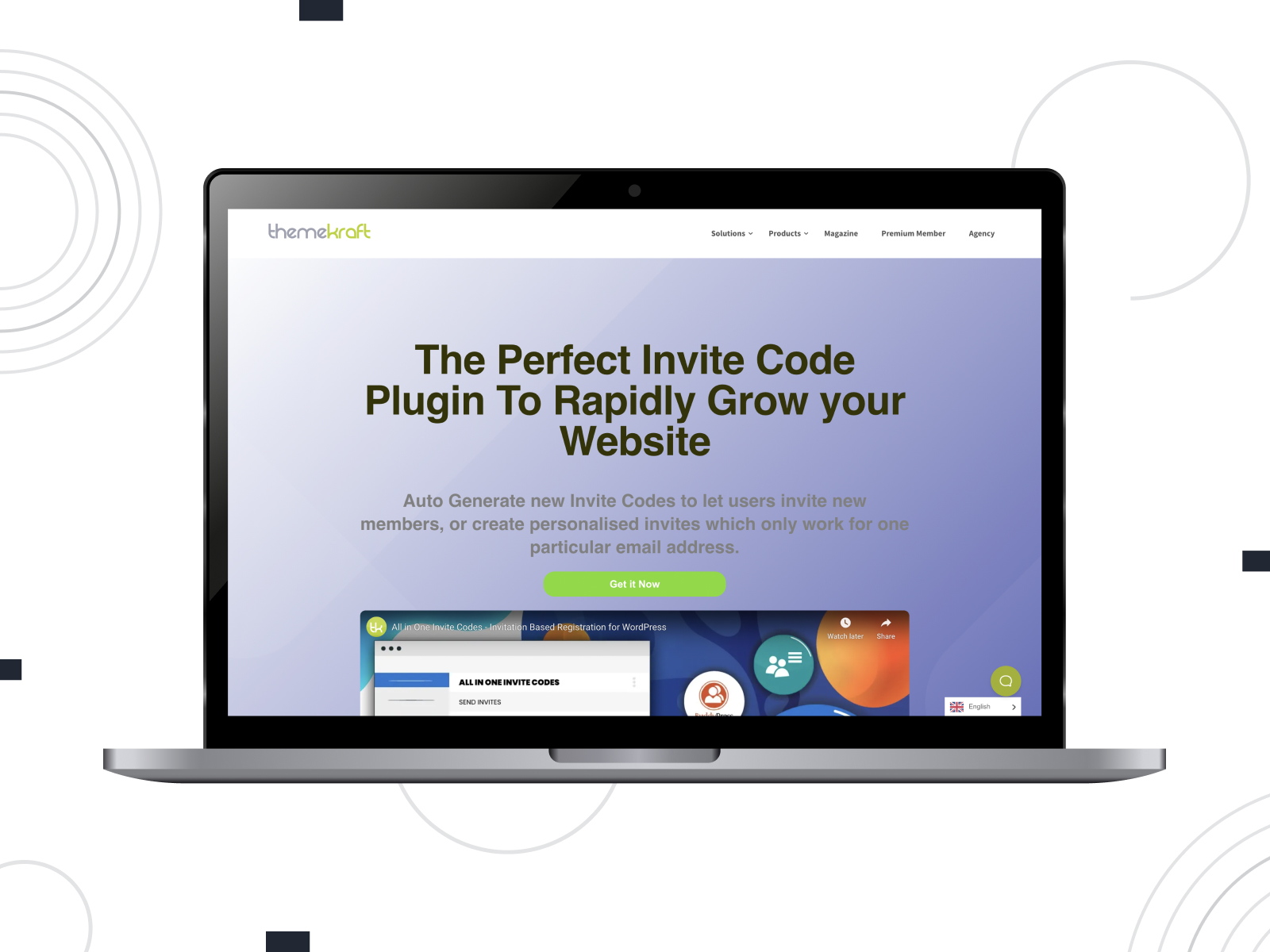 One of the important features when it comes to effective user management on websites with exclusive access is invite codes. Some solutions mentioned today provide functionality aimed at automating invites, such as the premium version of the User Registration plugin. However, you can freely get this functionality just by installing a tool designed just for invites, for example, the All-in-one invite codes WordPress plugin.
It is a great marketing solution as you decide how many codes or invites you want to create and which of them can be used for the same user. Additionally, the same user can send their invite codes to others to increase the number of your registered clients. Aside from these benefits, there are others you'd also appreciate:
Auto-generation of invite codes;
Lots of field types and customizable form templates;
Assigning invite codes to email addresses;
Premium addons for BuddyPress, WooCommerce, and other services.
| Name | Developer | Price | Installations |
| --- | --- | --- | --- |
| All in One Invite Codes | ThemeKraft | Free | 200+ |
How to Create a User Registration Plugin in WordPress
As you can see, many WordPress user profile plugins offer customizable form-building functionality. Besides, they improve the built-in registration and login features with these forms and allow management of the user base & related roles more effectively.
Developing such a plugin means gathering all these benefits in one solution. It is a task that requires an understanding of how WordPress works as well as a good knowledge of its core technologies, such as PHP and JavaScript. However, those who are looking for a simpler and more accessible solution prefer to use ready-made plugins like the ones we mentioned in our article.
Conclusion
With such a selection of WordPress user profile plugins, you can easily choose the one that fits your website the most and is configurable enough to meet all your user management needs. Whatever you choose, it is necessary to remember what these plugins are commonly used for:
User registration and login: This is the basic functionality provided by any plugin designed for user profiles allowing you to improve the process with automatic and customizable email notifications for your users.
Establishing informative user profiles: This feature helps to make the profiles of your users look more attractive and informative being especially useful for multiauthor or membership-based websites.
Providing content access: Many user profile plugins offer additional content restriction features that help website owners monetize their sites and deliver quality content regularly.
Protection from spam & scammers: Lastly, by providing a thought-out registration procedure you give less space for spammers. And with extra protection measures offered by certain plugins, you decrease the probability of your users' data being stolen, which improves your reputation.
FAQ