20+ Best WordPress Directory Themes in 2023
If you want to make a fast start with an online directory, you may turn to WordPress. Its repository has an impressive collection of professional solutions. WordPress themes are handy as a turnkey tool to build a fully-operating site. When it comes to the best WordPress directory themes, we've prepared a list of premium themes worth checking out.
Before exploring their essentials, let's outline some points to consider first. It's great when the WordPress directory theme features:
Advanced search options;
Monetization capabilities;
Various map providers;
A powerful user dashboard;
A multi-criteria system of reviews & ratings;
A private messaging system;
And compatibility with WordPress plugins that extend your site's functionality (booking plugins, WooCommerce, etc.).
We can even go further with the list as there are many aspects you should take into account while choosing the WordPress theme for your website. And now, we come right to the point!
The Collection of WordPress Business Directory Themes (Premium Only)
This WordPress themes list includes only paid items since they give you access to the advanced toolkit and help you create a full-featured directory on your site. Let's get it started!
Classima – Classified Ads WordPress Theme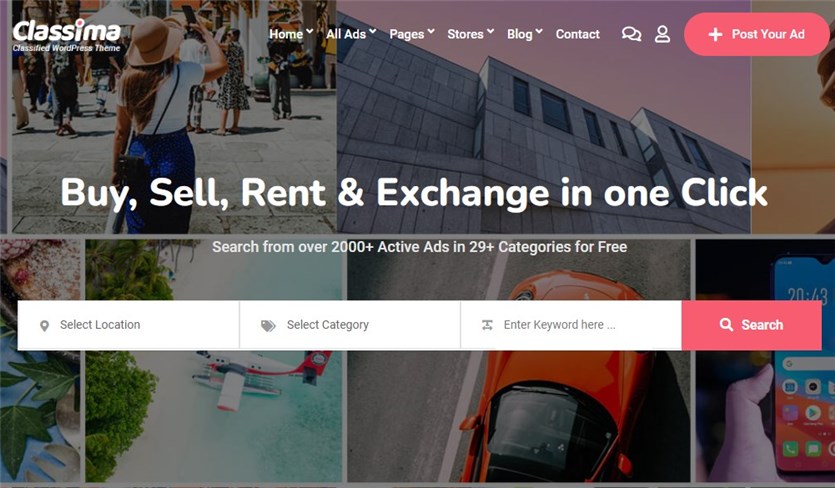 You have everything you need to craft a creative and clean-coded directory and listing website if you choose Classima. This best WordPress directory theme is easy-to-customize since it's built with Elementor. Classima ships with ready homepage designs and user-friendly grid & list views.
The theme allows users to add different types of ads and manage them from the user dashboard. Multiple ways to earn money from your website are available. For example, top ads, bump-up & featured ads, or membership options.
By default, Classima supports such payment gateways as PayPal, Stripe, Authorize.net, and offline payments. The ads feature list also includes color control, store facility, Google Map with API, reviews & ratings, ajax filtering, and more options.
ListingPro – WordPress Directory & Listing Theme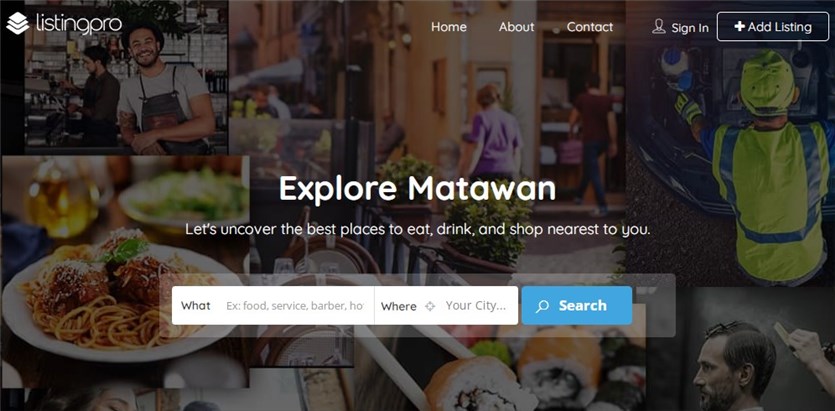 ListingPro takes the top place in our roundup of the best WordPress directory themes because it's a well-known and feature-rich solution for different niches. You can build & monetize an online directory and accept payments via Stripe, PayPal, and 2CO. Add-ons enable more gateways.
You need no additional plugins to set up appointment booking and manage events calendar. Advanced filters & search systems come in handy for enhancing navigation on your website. Create custom listing forms in a few clicks via drag & drop form builders.
ListingPro has an area for your users to leave multi-criteria ratings and reviews. You can promote listings via ad campaigns to generate more leads. An internal messaging system helps you communicate with them.
Listify – Best WordPress Directory Themes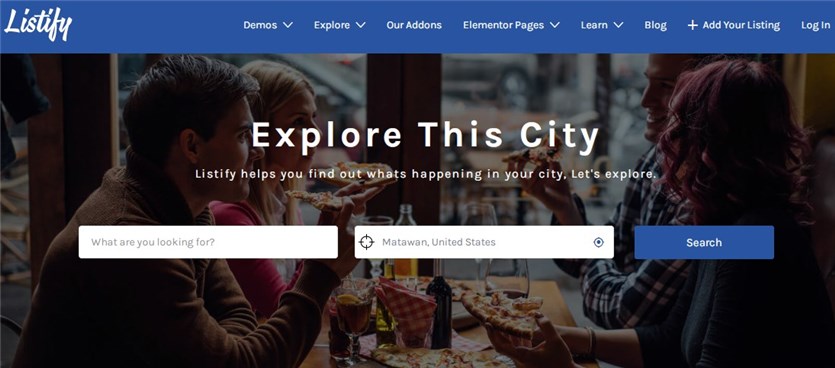 Get started on your directory in minutes with the Listify theme! There are several niche designs to pick from. Customize pages and tailor the website's design to your needs, even if you have no skills in coding.
Appointify makes it possible for you to create appointments, save calendar events, and connect your website to Google Calendar. The geolocation technology Listify works with enhances your website. There are several ways to monetize the directory:
claim a listing;
submit a listing;
and through subscriptions.
The theme supports different plugins, including Gravity Forms, Contact Form 7, WooCommerce, and others.
MyListing – Listing & Directory WordPress Theme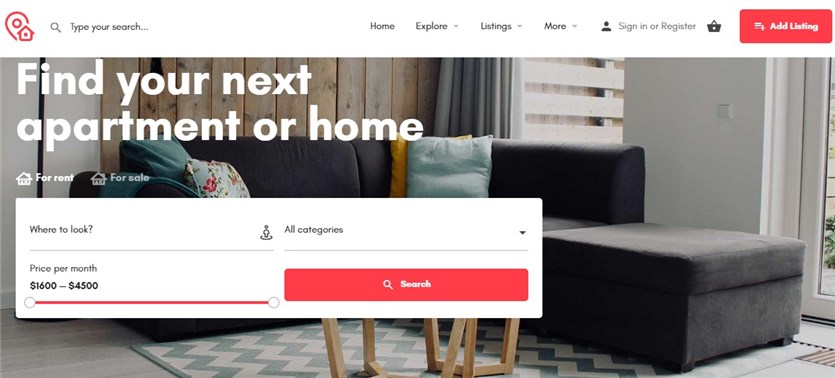 Are you looking for the top listing WordPress themes? MyListing has got you covered! You'll find the necessary tools to create and configure any number of listing types, add custom fields, and generate revenue from the directory. The Elementor page builder is a simple way to customize pages.
Explore pages involve advanced customizable filters, geolocation options, and maps by Google Mapa and Mapbox. Settings of single listing pages allow you to create tabs, add blocks, showcase WooCommerce items, include related listings, and more.
You may earn money through paid or promoted listings with MyListing. Users can leave their reviews and communicate in direct messages.
Classifieds Plus – Ultimate Directory WordPress Theme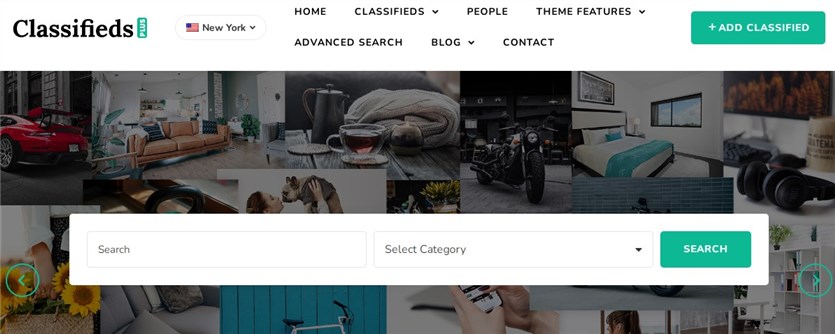 The Classifieds Plus theme has a clean and well-organized design that helps you highlight listings, categories, and more elements. There is a ready package of templates, widgets, and customization tools for you to create a fully-packed website.
This theme lets you use a responsive homepage developed with details in mind. It's packed with search options, the 'Call to Action' button, and other page elements for a better user experience.
Classifieds Plus includes such features as tweaking options, locations and maps, an advanced search & filter system, and custom fields for listings. What's more, you can accept classified ad submissions and get income from paid ad posting. The theme supports PayPal.
Wilcity – Directory Listing Theme for WordPress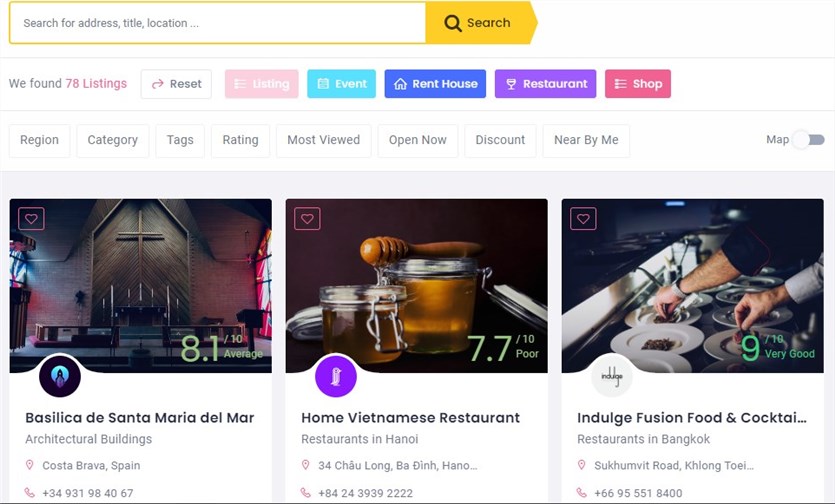 Wilcity provides the visitors of your directory site with advanced search functions and filters. They can know the distance due to the calculation feature. The theme empowers you to add unlimited directory types, modify fields, and turn on ratings & reviews.
You are free to customize the listing location, listing category, taxonomy, and login pages. The combination of Elementor and King Composer facilitates customization.
Wilcity is compatible with the WooCommerce Bookings plugin and has Dokan features. Entrepreneurs who need an application for the theme might like that Wilcity offers them free Android and iOS apps. Mapbox, which has up to 50,000 views, comes integrated with this theme.
With Wilcity, you get three payment gateways supported by Wiloke Submission by default. You can charge users via the paid listing, promoted listing, and paid claim listing.
Listeo – Best Directory WordPress Theme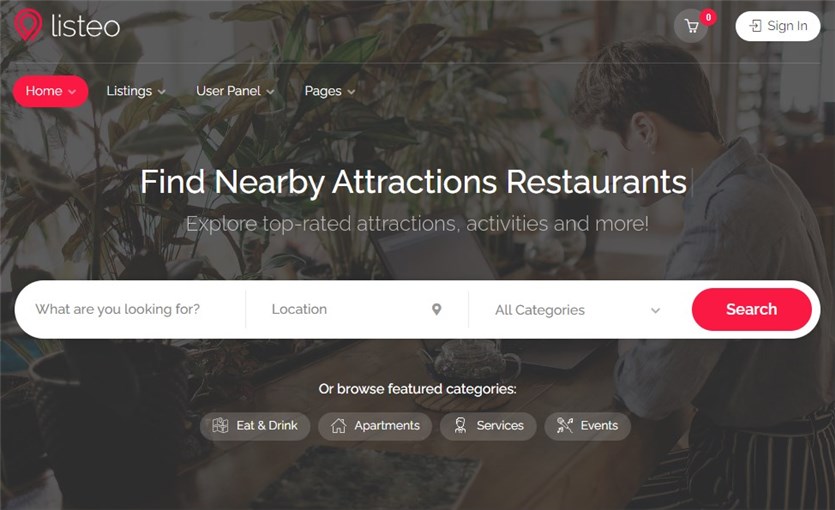 Listeo can be called the best directory theme for WordPress because you are able to build a professional directory & classifieds website. This theme is equipped with a built-in booking system and multi-vendor marketplace by Dokan. On the powerful front-end dashboard, users have an opportunity to manage listings, packages, bookings, and a private messaging system.
Monetization options include listing submissions, packages, monthly subscriptions, and fees on booking services. Furthermore, Listeo works smoothly with different map providers. And that's not all! You can synchronize the availability and bookings submitted through your website with online travel platforms that support iCal.
You're allowed to set up multiple criteria for users to leave reviews and ratings. The mobile application for Listeo is also available.
Adifier – WordPress Theme for Classified Ads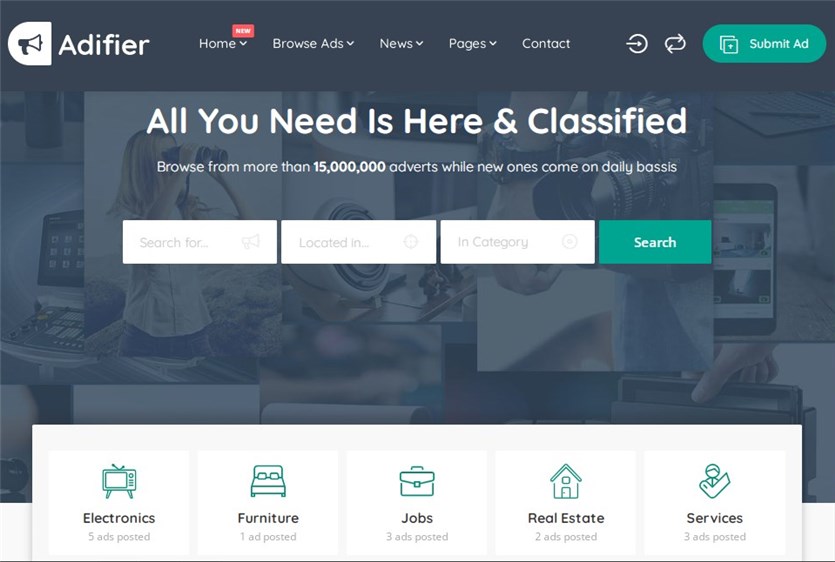 You may take a look at Adifier in case you're searching for an Elementor-based theme to create a complete classified ads marketplace. It offers users to add different types of advertisements and sort them by type. Advanced custom fields allow sellers to display all the necessary details and enhance filtering options.
With Adifier, you have a chance to earn money from ads posting (via packages or subscriptions) or ads promoting. This theme supports such payment methods as PayPal, Authorize.Net, Stripe, PayUMoney, iDEAL, Wallet One, Paystack, PagSeguro, and Bank transfer.
A well-developed reviews system helps add social proof while an auction system deals with biddings for classified ads. A private messaging system is the best way to establish communication between buyers and sellers. A user-friendly dashboard lets users handle their profiles and see all the details.
Lisfinity – WordPress Classified Ads Theme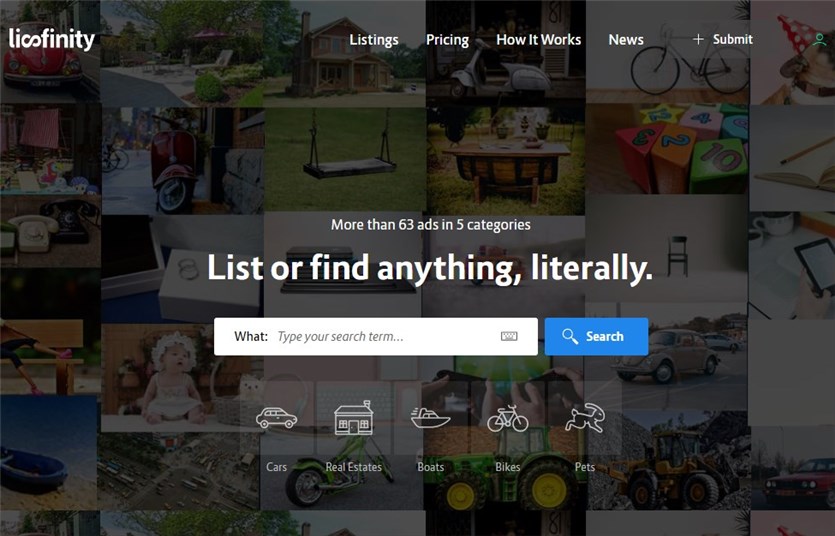 Lisfinity is available for customers as an all-in-one WordPress classified ads theme. You can drag & drop custom fields and categories on your directory website and build pages with Elementor. WooCommerce features open you access to pricing packages, promotions, and premium profiles.
Premium profiles mean progressive discounts, unique pages, search my store, and more options. Lisfinity lets you make a profit from your site using charges for extra images, documents, or videos. Or else, you can activate bump up, bump color, or featured ads.
Listivo – WordPress Listing Theme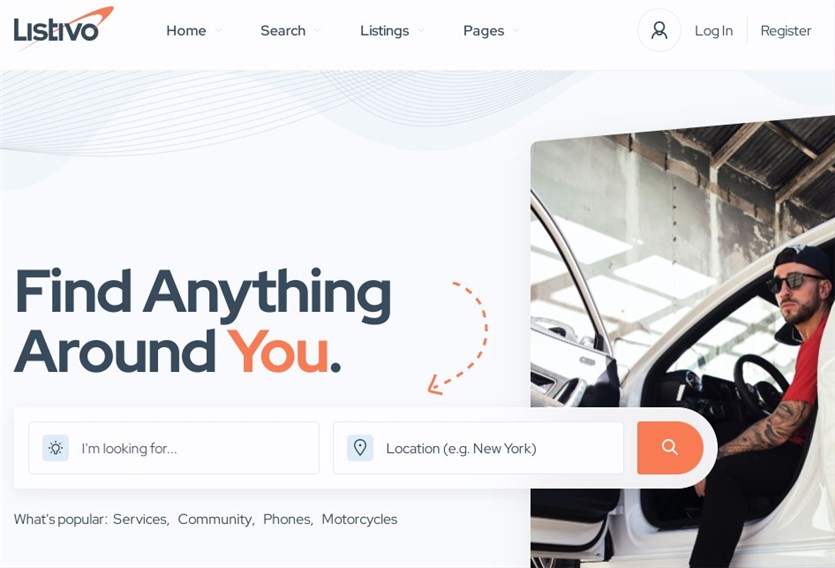 Listivo is the listing theme WordPress provides for you to create your website in a couple of clicks. You require no coding skills to edit flexible pages with Elementor and add custom fields. Powered by Google Maps, Listivo enables you to launch an intuitive search like in many advanced search WordPress themes. It takes a few steps for users to submit a listing.
A monetization system is effective as it allows you to set the featured or listing duration and configure free packages or submissions. WooCommerce extends your powers by integrating different payment gateways.
Listify comes with beautiful layouts for a blog where you can share the latest news and related information. On top of that, the theme is compatible with different WordPress plugins.
Brikk – Directory Listing Theme WordPress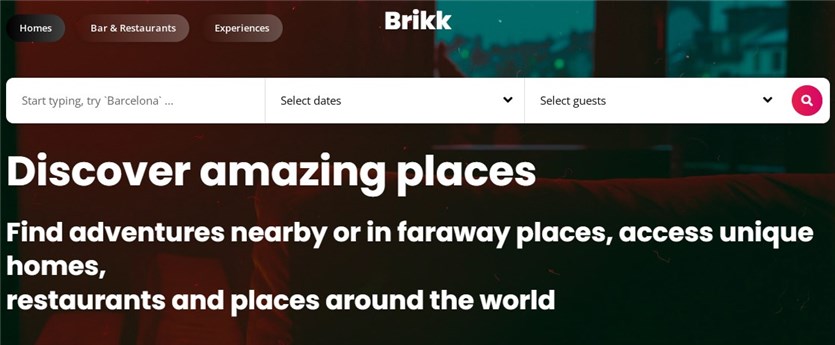 Brikk is one of the best WordPress directory themes suitable for multipurpose industries. You can create any number of listings and customize pages with the drag-and-drop editor by Elementor. The toolkit enables you to build submission forms, listing fields, taxonomies, etc. Multiple actions for each listing are possible with Brikk.
There is a built-in user area to take control over the content from the dashboard. The map system supports Mapbox GL and Google Maps. WooCommerce helps to handle all the payments. By the way, different payment types are accessible in the theme. Since monetization is crucial for this category of WordPress themes, Brikk offers you:
Listing pricing plans;
Listing promotions;
And fees from user's revenue.
Features of an online booking system include daily and appointment bookings, a booking calendar on the dashboard, different booking modes, and iCalendar synchronization. Brikk has options for reviews, notifications, and chat messaging.
Citybook – WordPress Directory Template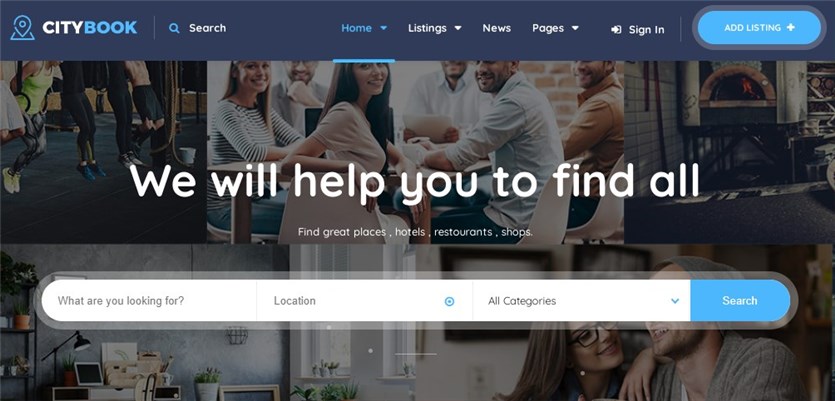 Citybook is an incredible directory website template WordPress suggests to you. You receive customizable listing page layouts and 5 different styles for a home page. Citybook has a simple and modern design that adapts to any screen size.
The theme supports YouTube, Vimeo, and HTML5 videos. It comes with unique parallax effects and a powerful admin dashboard. With Citybook, you can add a Twitter feed and Ajax MailChimp subscription form to your local or global directory website.
TownHub – Best WordPress Directory Themes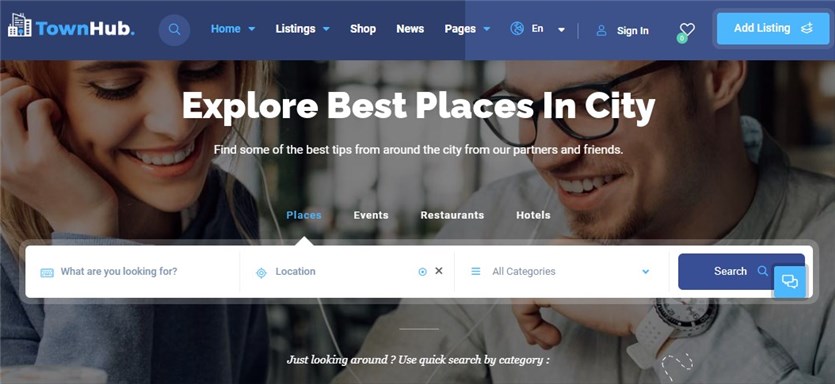 TownHub is going to help you manage and monetize any listing & directory site. You can change the visual interface with Elementor and its advanced elements. Membership options let you earn money from packages with the limitation & expiration periods or subscriptions. The site owner is allowed to sell AD positions for listings. By the way, TownHub supports different payment gateways.
The theme equips you with a listing single layout builder and a free OpenStreetMap. Additionally, it has a powerful admin panel, smart search options, and Google Maps integration for listings. A collection of widgets are used to connect your website to social media.
DWT – Directory & Listing WordPress Themes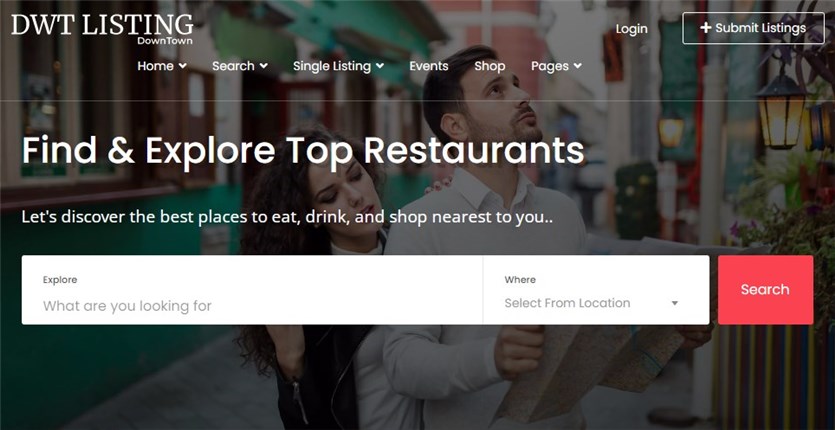 DWT is one more WordPress premium theme you may use to build any type of modern directory website. The theme offers you to choose among 11 ready-do-go designs covering different businesses. It takes a couple of clicks to drag and drop page sections with Elementor and integrate more elements.
Methods to gain profit from your business with the help of this WordPress directory template involve packages, listing claims & submissions, coupon codes, and dedicated ad slots. DWT is a WooCommerce-ready theme so that you can empower your website with multiple payment options.
Timekit integration ensures an effective online reservation system. The DWT theme also supplies you with a complete review system. You can start events, view the analytics of your listing via dedicated tools, and set up an intelligent search.
Golo – WordPress Directory Theme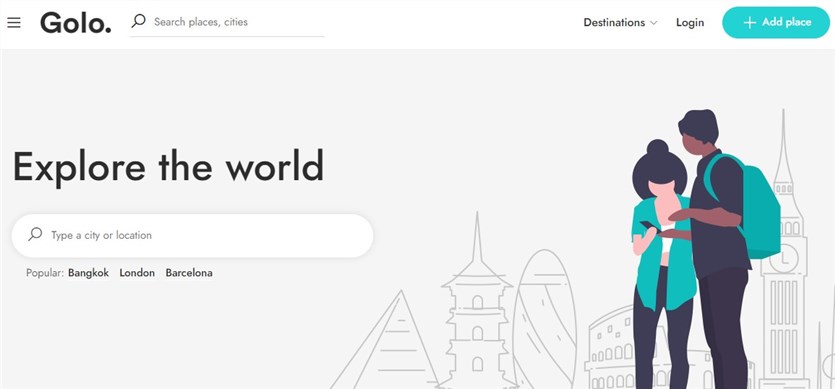 Golo is a WP theme directory creators will like due to its stylish & flexible design and smart functions. You have enough freedom to customize a preferred demo and listings, configure a search with a beautiful design, and set up filters for faster search results. With Golo, you can set multiple actions for listing types and have access to different booking types, including:
It's easy to manage listings, bookings, reviews, and other details from user and partner dashboards. Put forward membership packages and accept payments via different payment methods. You may try out the free mobile application available on Google Play and App Store.
ListGo – WP Directory Theme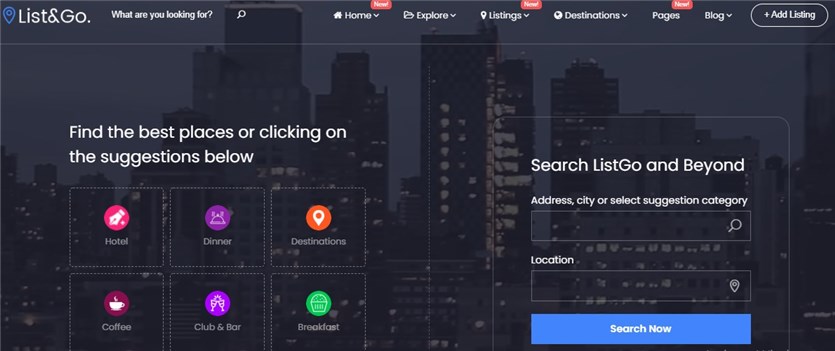 ListGo is a powerful WordPress list theme that you might need to create a directory website with monetization opportunities, advanced filters, online booking software, and a notifications system. It's possible to modify the Add Listing page and integrate unique listing details into a responsive design. Users can create their locations.
A built-in mega menu is a perfect solution for large menus on your website. Events can be added to each listing. The latest upgrades bring payment gateways integrated and coupon code tools. ListGo is enhanced by the OpenTable plugin and Wiloke submission options.
AdForest – Classified Ads WP Theme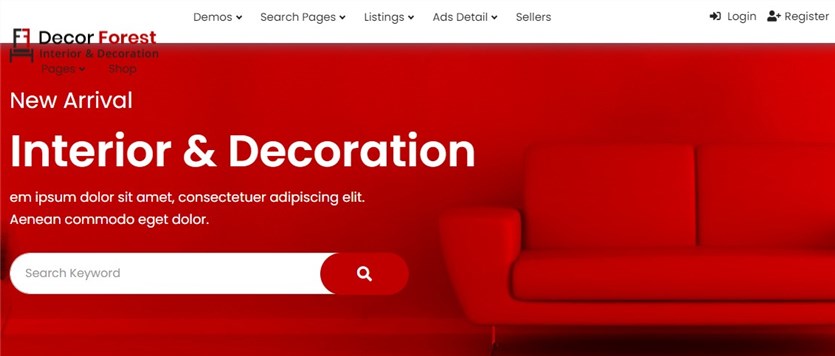 AdForest is an ultimate WordPress solution that works smoothly for multi-vendor and classified ads websites. These websites may bring you revenue thanks to the monetization options. They include commission forms, pricing plans, Google AdSense, and promoted ads. It's worth mentioning that the theme has native Android and IOS apps.
A search page is developed for you to search using keywords, categories, prices, etc. Google Maps is integrated with this theme. AdForest makes it easy for you to integrate WooCommerce payment options, use the bidding module, and bump up a messaging system.
Listingo – Business Directory WordPress Theme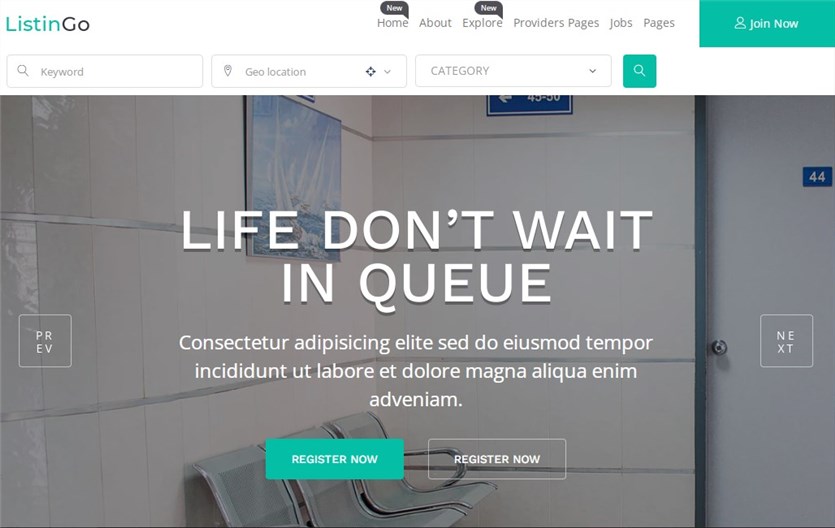 Listingo is a WordPress listing theme dedicated to an ultimate online directory with built-in provider account functionality. If you check its demo, you'll see a clean and up-to-date design, a lot of features, and well-crafted inner pages. There is a built-in article extension for providers to create their articles on the site.
Listingo has WooCommerce payment gateways integrated. Also, a free appointment booking system lets service providers create time slots. The OTP System helps you avoid fake bookings. Providers can manage experience, certificates, and services in the dashboard.
Like other best WordPress directory themes, Listingo supports a multi-criteria reviews system and powerful search filters. Access to the bbPress forum raises communication to a new level.
Service Finder – Provider and Listing WordPress Theme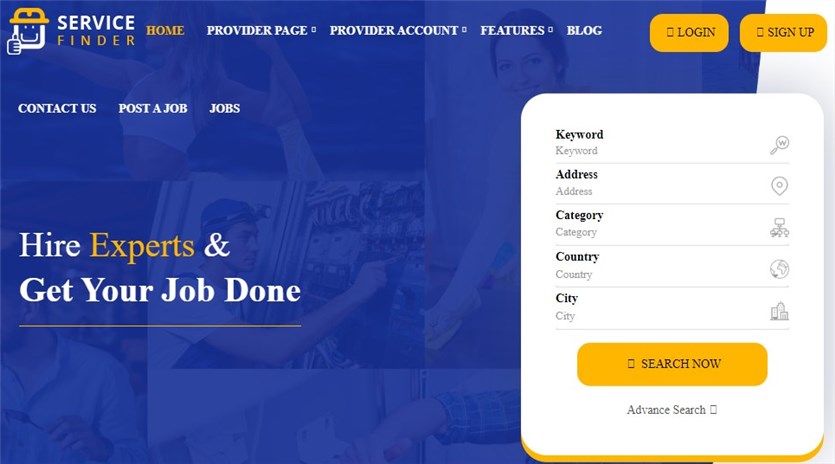 As its name suggests, the Service Finder theme deals with business and service providers from different categories. This business directory template provides flexible styles for pages of profiles, jobs, a blog, and search results.
Customers have an opportunity to view their profiles, book services online, and rate services. Providers manage their profiles, services, payments from different gateways, and submitted bookings. Service Finder offers customers to publish and handle jobs with relevant requirements.
This theme ships with social login options, a messaging feature, a quotation system, and a WooCommerce payment option.
Workreap – Freelance Marketplace & Directory WP Theme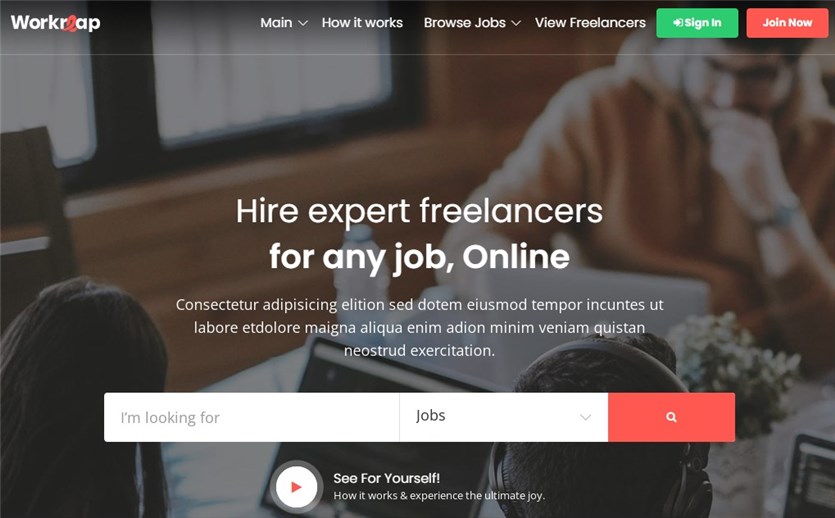 Workreap is listed as one of the best WordPress directory themes suitable for an outstanding freelance marketplace and a job board. It allows freelancers and employers to register and create their profiles. Then, the theme supports proposal submissions, payments, and a wallet system. A commission system lets the admin monetize the directory.
Workreap also features a built-in messaging system to settle communication between employers and freelancers and has an advanced review system to put rates. It's possible to integrate WooCommerce payments, enable a search function, and set up email templates.
ListingEasy – Directory Listing WordPress Themes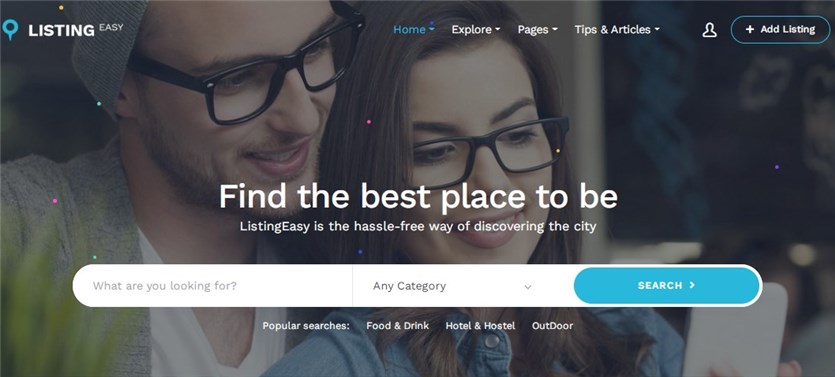 ListingEasy refers to the top business WordPress themes for a directory and listing of any purpose. You'll be able to choose the desired design of the home page and map, set up simple & fast search options, and use WooCommerce features. Visual editing is easy with Visual Composer and drag & drop builder.
Monetization is made easy with ListinEasy. As a result, you can sell packages and charge users for listing submissions. Bookings are available as well. This theme supports different WordPress premium plugins.
Conclusion: How to find the best WordPress directory themes?
So, this was our WordPress theme list for you to find a premium website directory template that meets your needs. We've included different solutions that help jumpstart a directory website and make your business stand out. First off, you should decide on the main tools you're looking for.
Next, choose a WordPress theme perfect for your niche and witness how your work comes to life. We would be delighted if you share your experience or suggestions in the comments section below!
Disclosure: this article may contain affiliate links for third party products. If you click a link and later make a purchase, we may earn an affiliate commission that doesn't result in additional charges to you.