20 Best WordPress Themes for Videographers: Showcase Your Creativity
The best videographers WordPress themes are often highly functional solutions built to impress the fans of your creativity. They can help you quickly build a notable online presence for your creative work. In today's article, we have prepared a diverse selection of such themes alongside tips for videographers who want to establish an attractive and feature-rich platform for their videos.

Below we have gathered the top 5 free & premium videography WordPress themes that you can start with:
| Theme | Cost | Rating |
| --- | --- | --- |
| Astra | Free | 5.0 |
| Vlogger Video Blog | Free | 5.0 |
| Inspiro Blocks | Free | 5.0 |
| Plexx | $39 | 4.96 |
| Mato | $59 | 4.80 |
Is WordPress Good for Video Posting?
WordPress is one of the most versatile and popular platforms today. Thanks to its open-source nature and a variety of ready-made solutions for it, anyone can create websites with its help. But when it comes to posting videos with this CMS, few industry professionals and enthusiasts choose it. Most prefer going for video hosting services like Vimeo & YouTube.
However, the best videographers WordPress themes give you more control over all aspects of presenting your content correctly. You can easily change the look of your portfolio and the whole website layout. Moreover, with sitewide customization, it is pretty simple to transform your website fully. An ability to make a complex and well-developed showcase of your creative potential is what makes this platform one of the best choices for both amateur and professional videographers.
10 Free Videographers WordPress Themes

If you have just recently discovered WordPress and don't want to invest in premium design solutions right away, there are lots of free themes you can try. In today's overview, we feature high-quality themes that you can freely download without paying anything. They allow you to begin creating your videography website. These 10 WordPress themes listed below are a good choice for anyone who wants to save money and time on web development for the filmmaking industry.
1. Qi (FREE)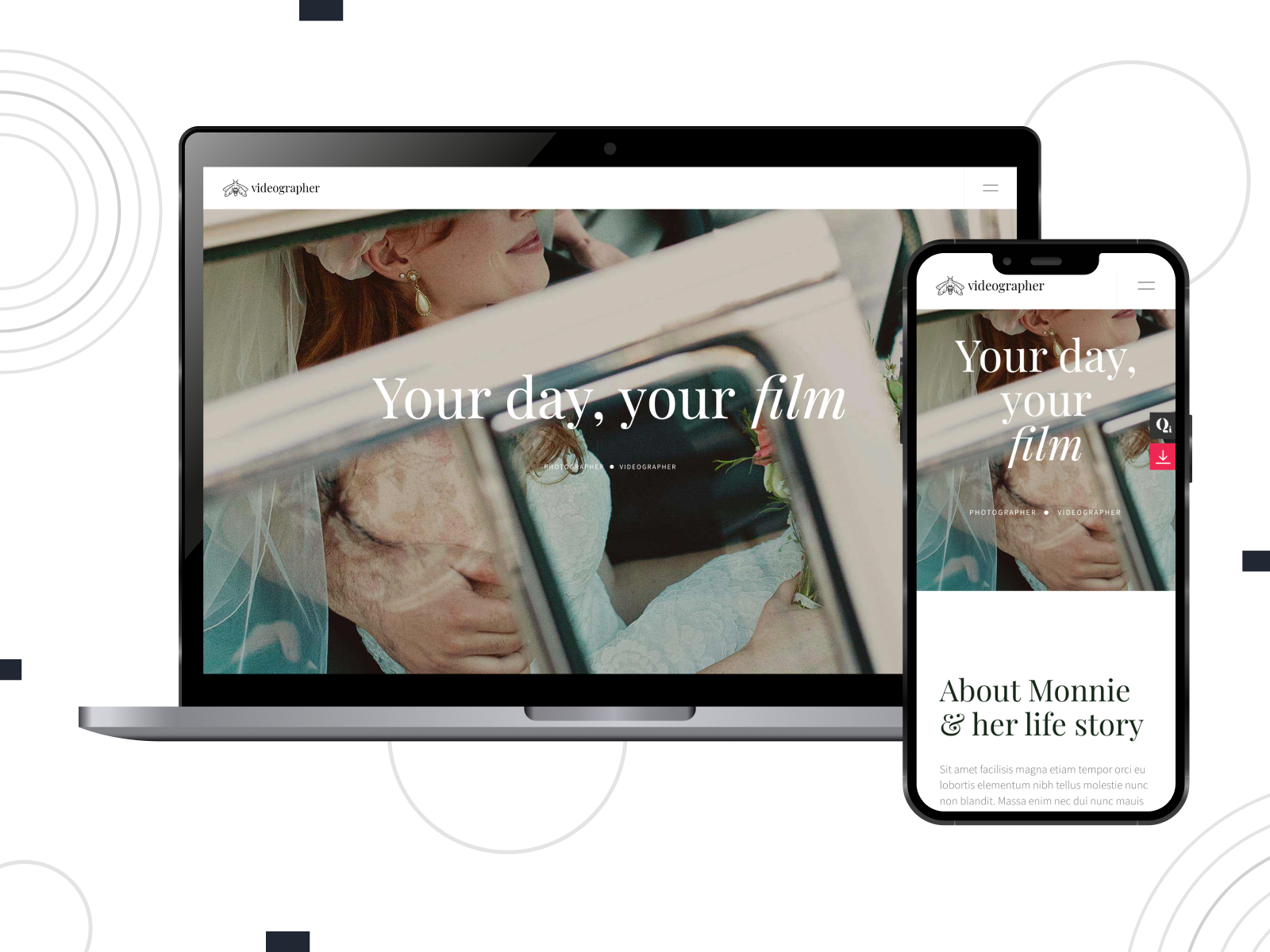 Qi is an all-in-one package for WordPress that allows you to create any website you can think of. Being multipurpose and fully configurable, this theme offers a diverse range of benefits as well as a nearly limitless collection of layouts available in both paid and free versions. It also includes a ready-made design for a wedding videographer website. With a fullscreen banner, pricing table, and animated portfolio, you can transform a regular website into a remarkable presentation of your skills and experience. Other useful advantages are:
Pre-designed About & Portfolio pages;
Background video section;
Slider for photos and testimonials;
Drag-and-drop theme customization with Elementor builder;
Google Fonts & adaptable typography.
Name
Author
Price
Avg. Demo Speed Score
Qi
Qode Interactive
Free
Mobile 32
Desktop 73
2. Videographer Studio (FREE)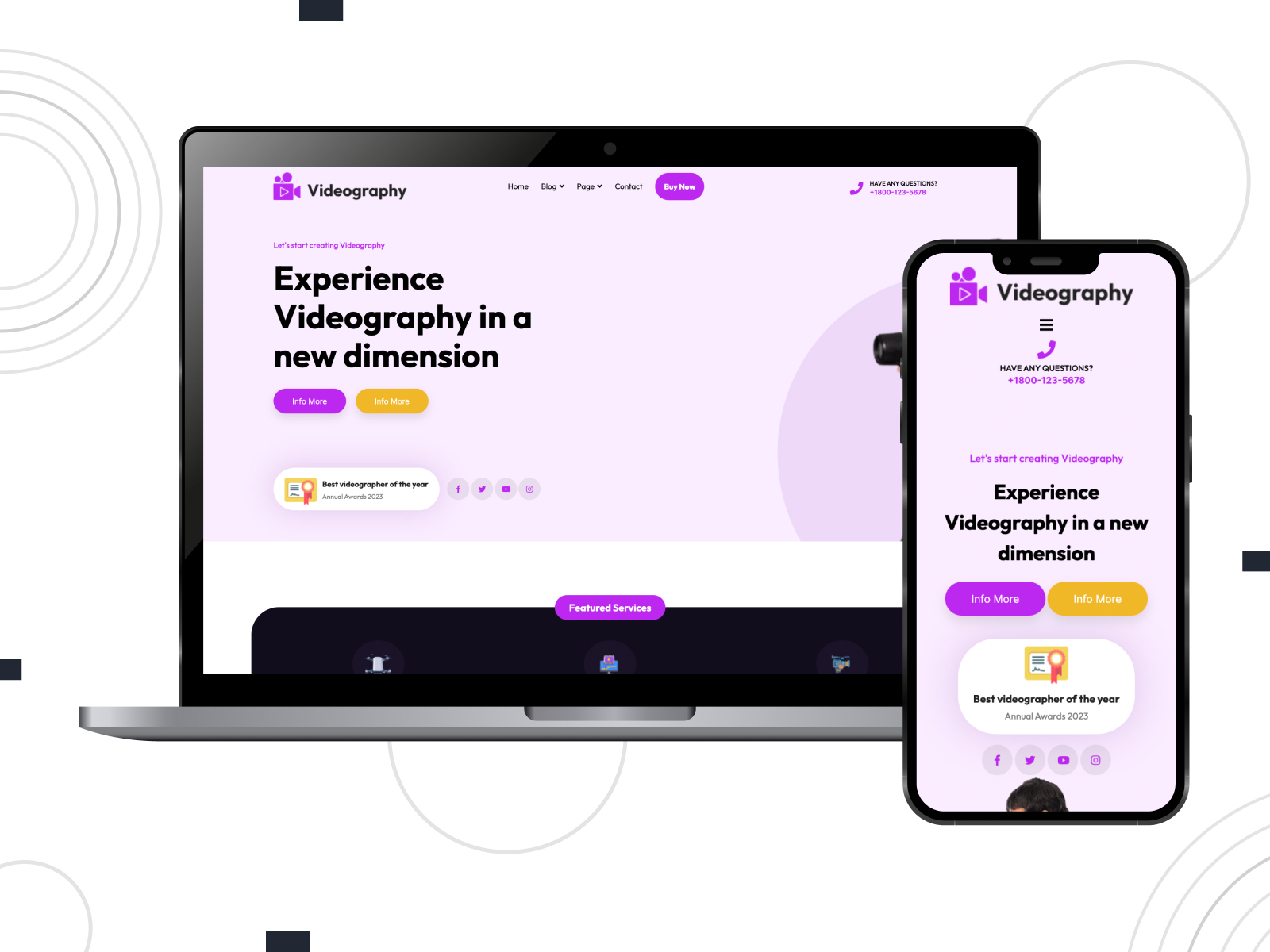 This solution offers everything necessary for a reliable online presence of a videographer or filmmaking studio. It comes with a well-designed home page for a creative expert, allowing you to advertise your services properly on the internet. From describing your skills to showcasing your latest projects, this solution can solve a lot of tasks. It also comes with a bunch of awesome features, such as:
4 blog page layouts;
Fluid layout & easy customization;
4 sidebar options;
WooCommerce compatibility;
Name
Author
Price
Avg. Demo Speed Score
Videographer Studio
Themes Pride
Free
Mobile 34
Desktop 79
3. Astra (FREE)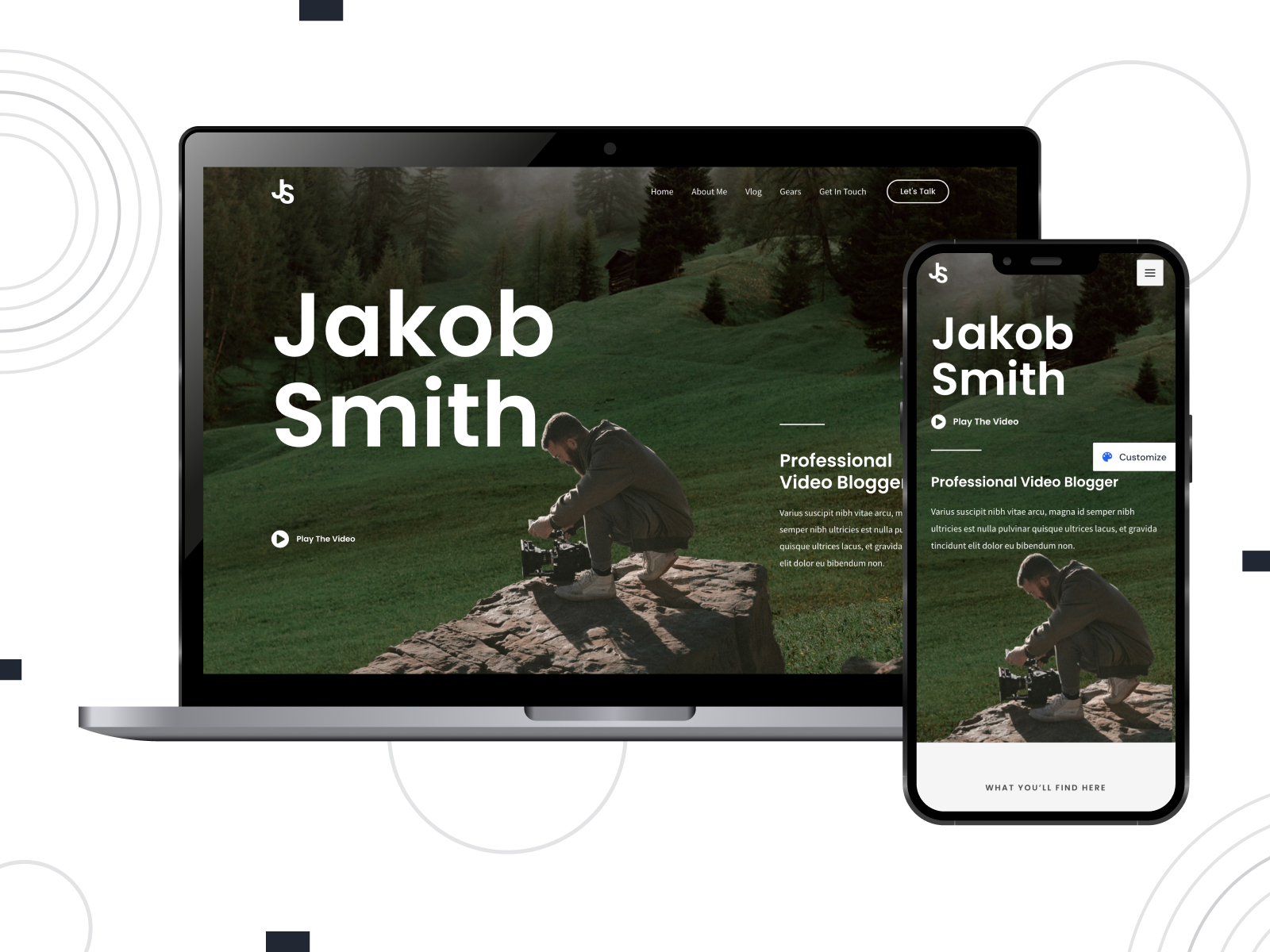 If you are looking for a slightly more multipurpose design solution, the Astra free WordPress theme is worth your time. While this product comes with a bunch of pre-designed templates for different topics, it also includes a variety of video-oriented layouts. Like many presented best videographers WordPress themes, Astra is available in free and paid versions. Its designs provide extensive content variety as well as diverse features, for example:
Pre-built home page for videographers and bloggers;
Multiple header options;
Attractive portfolio template for your projects;
Seamlessly integrated with the Elementor builder;
Improved performance.
Name
Author
Price
Avg. Demo Speed Score
Astra
Brainstorm Force
Free
Mobile 53
Desktop 61
4. Inspiro Blocks (FREE)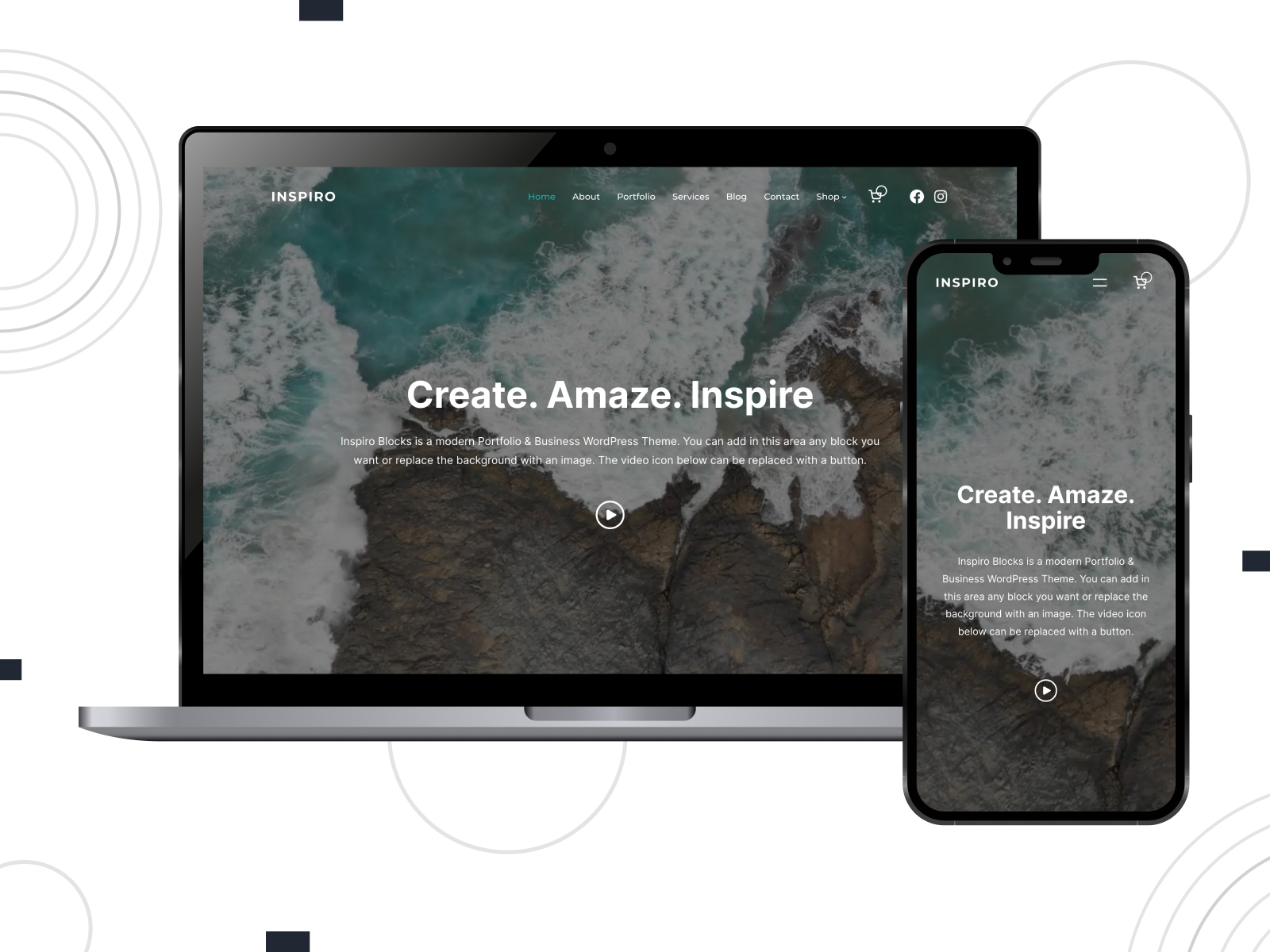 Since WordPress 6 was released, developers worldwide have become oriented towards the block-based design of themes. Inspiro Blocks is one of the solutions that show why using blocks positively impacts the platform's performance. This theme features a full-width portfolio and background video to showcase your best works. Moreover, thanks to the Full Site Editing support, it is fully compatible with custom solutions for the WordPress site editor, such as the free AI writing block by Getwid. With its help, you can create custom content for your videography website in a few clicks. There are also other benefits included with the theme:
Pre-designed Portfolio and blog pages;
eCommerce-ready Shop pages;
Customizable video background;
Team & Testimonials sections;
Easy-to-configure contact forms.
Name
Author
Price
Avg. Demo Speed Score
Inspiro Blocks
WPZOOM
Free
Mobile 55
Desktop 99
5. Cinematic Photographer (FREE)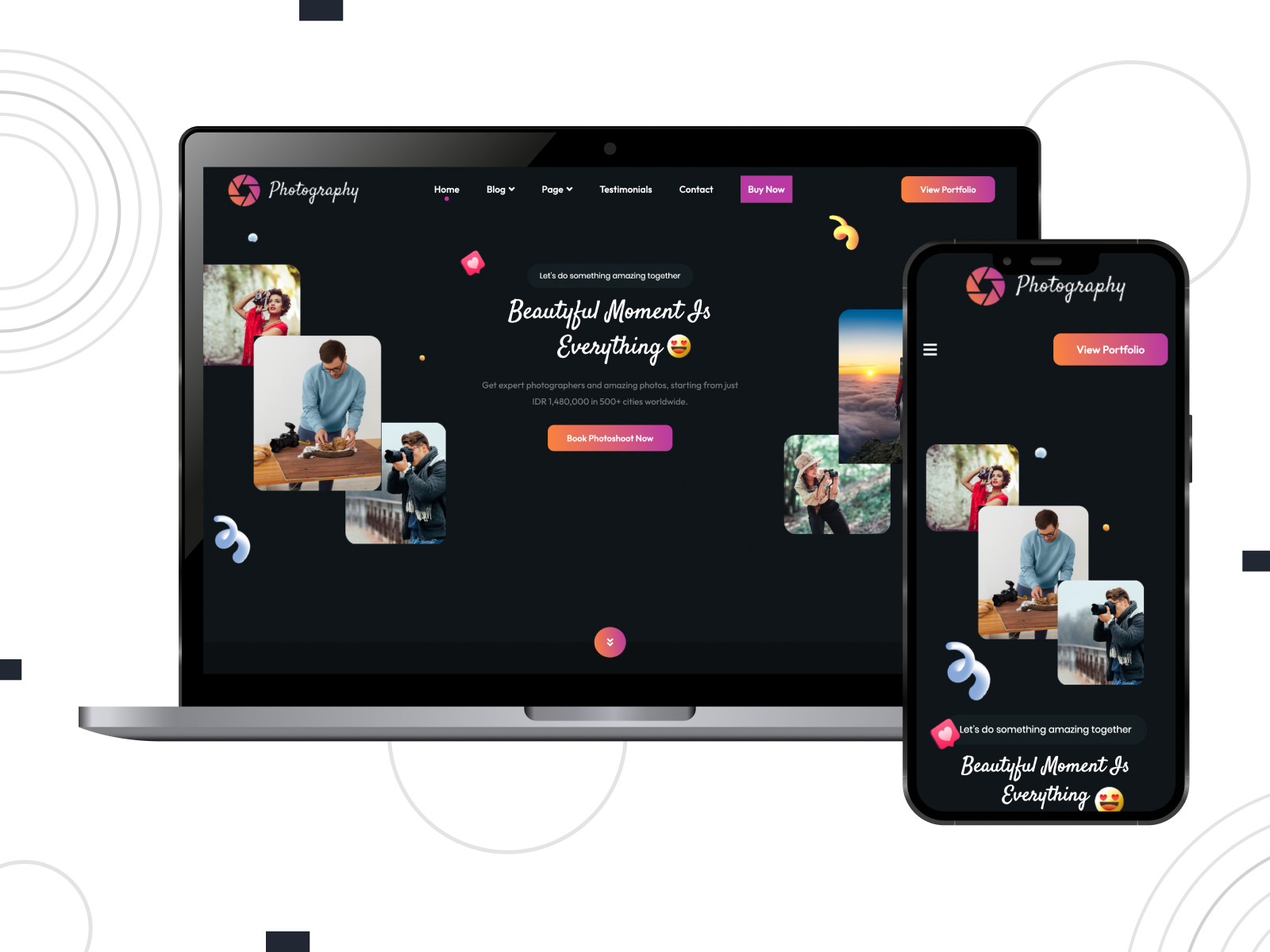 Many videographers often use a website that is designed to impress and has diverse functionality. Cinematic Photographer is one of the most appropriate choices in that matter as well as the best videographers WordPress themes. This solution comes with a stunning layout for photographers and videographers as well as multiple pages to promote your work. The engaging homepage includes everything you need to attract your visitors. From pricing tables to portfolios and testimonials, this solution has everything necessary to impress you. Moreover, it comes with a wide set of essential features:
4 diverse design options for the blog;
Flexible page layouts;
Smoothly animated block transitions;
Dedicated page for testimonials;
Social media integration;
Simple yet powerful customization.
Name
Author
Price
Avg. Demo Speed Score
Cinematic Photographer
Themes Pride
Free
Mobile 34
Desktop 84
6. Videography Filmmaker (FREE)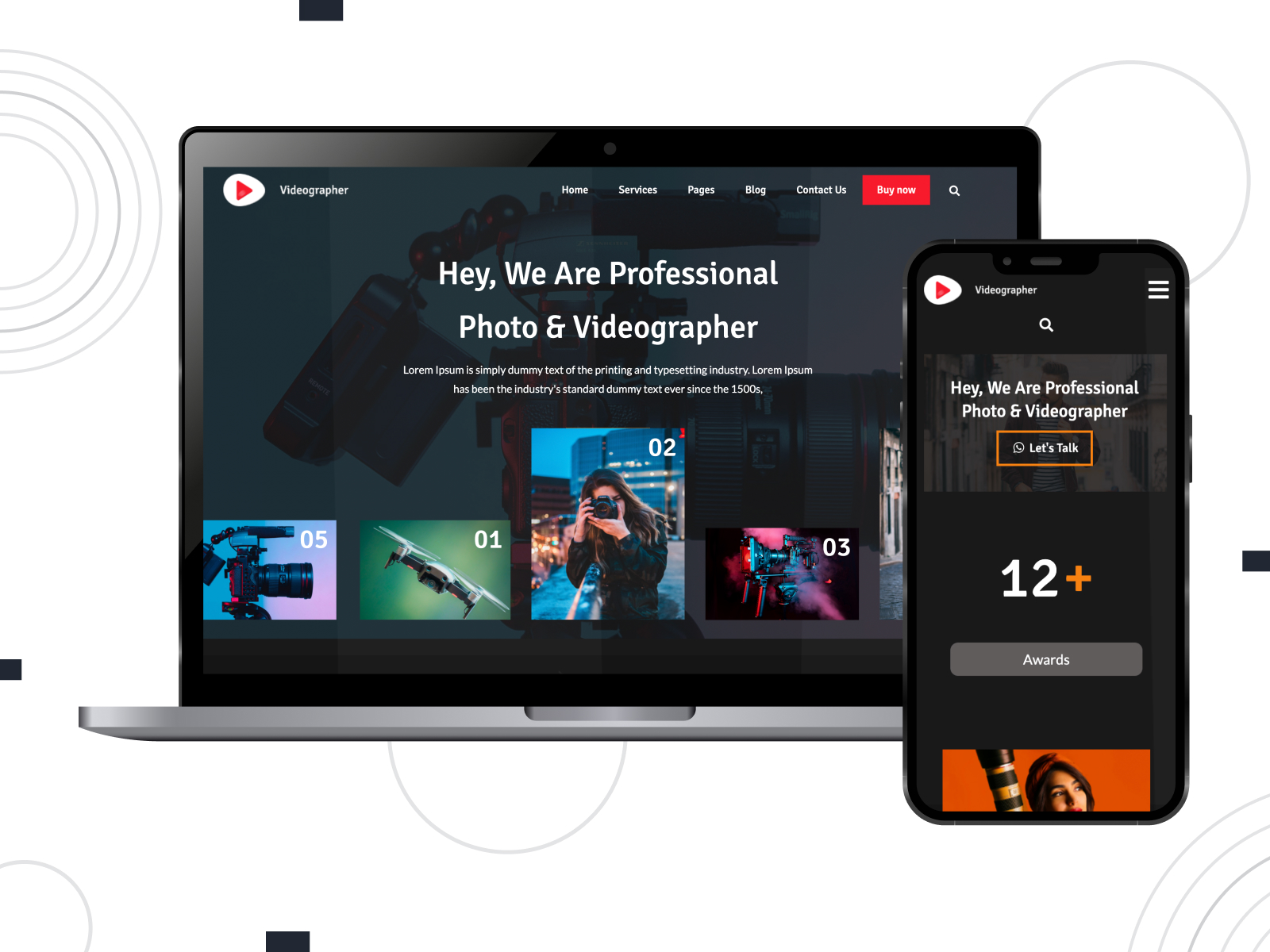 Videography Filmmaker is a free solution that combines quality content with modern and spacious design. Its responsive and easy-to-edit layout helps with the proper presentation of your skills and videography projects. Being one of the best videographers WordPress themes, it allows for advertising your movies and photos the right way. Moreover, this theme includes a variety of advantages that can enhance your website:
Content-rich & informative home page;
Full-width slider section for videos;
Impressive portfolio with quality images;
Achievements & testimonials sections;
Left and right sidebar page templates;
Blog and services pages included.
Name
Author
Price
Avg. Demo Speed Score
Videography Filmmaker
Themes Caliber
Free
Mobile 25
Desktop 41
7. Vlogger Video Blog (FREE)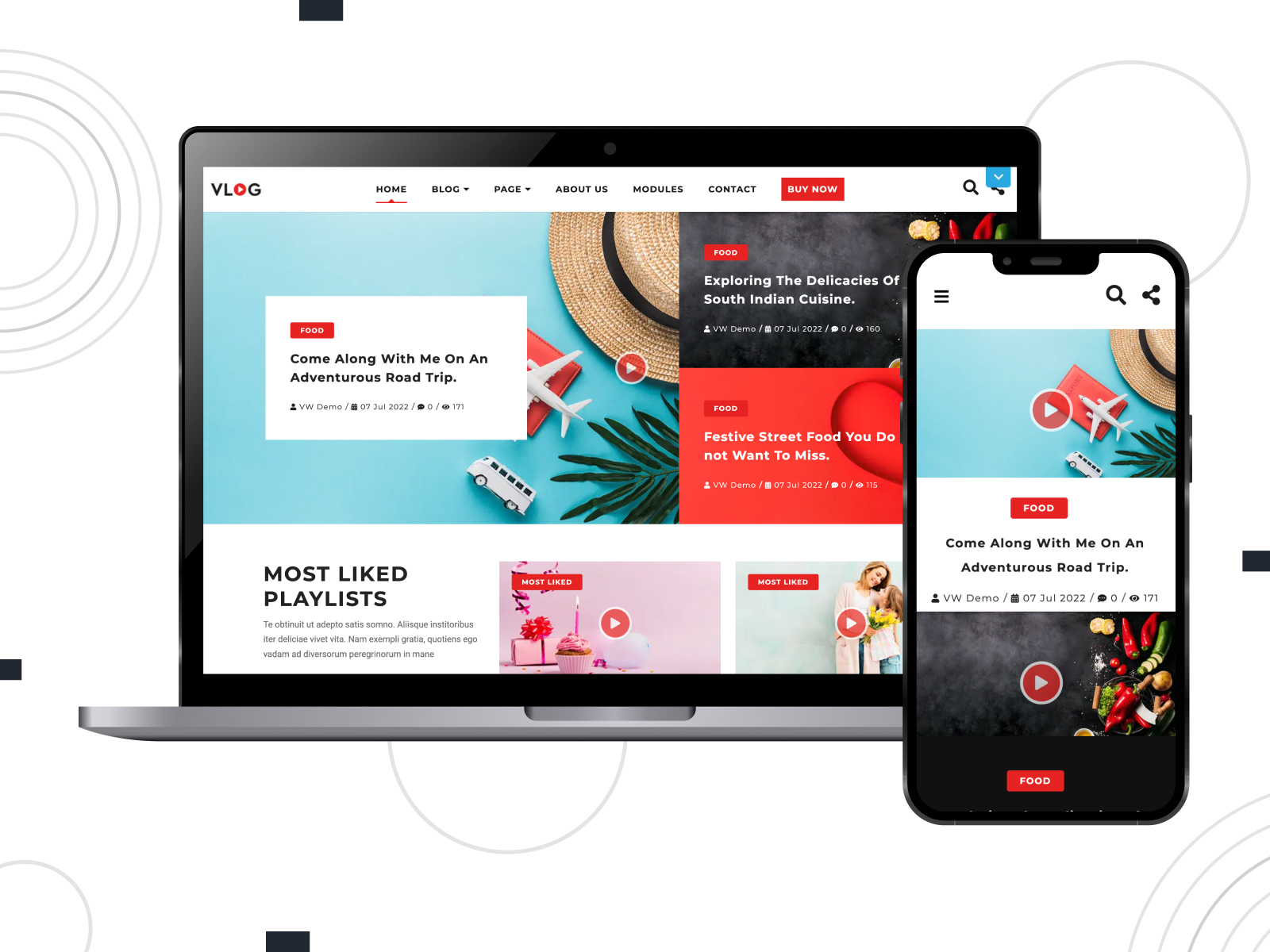 Not only do videographers require a well-designed website. Many vloggers who film videos for their YouTube channels, also need to have a proper online presence. The vlogger Video Blog theme is just the right solution if you want not just to promote your videos but also to organize them properly. With a variety of pre-defined video categories and playlists, you can use this solution to create an attractive place to showcase your vlogs and videos. With the following features, you can further improve your website to meet your viewers' expectations:
3 blog layouts;
SEO-friendly & translation-ready;
10+ ready-made pages;
Customizable design and color palette;
Easy-to-use navigation.
Name
Author
Price
Avg. Demo Speed Score
Vlogger Video Blog
VW Themes
Free
Mobile 61
Desktop 90
8. SKT Videography (FREE)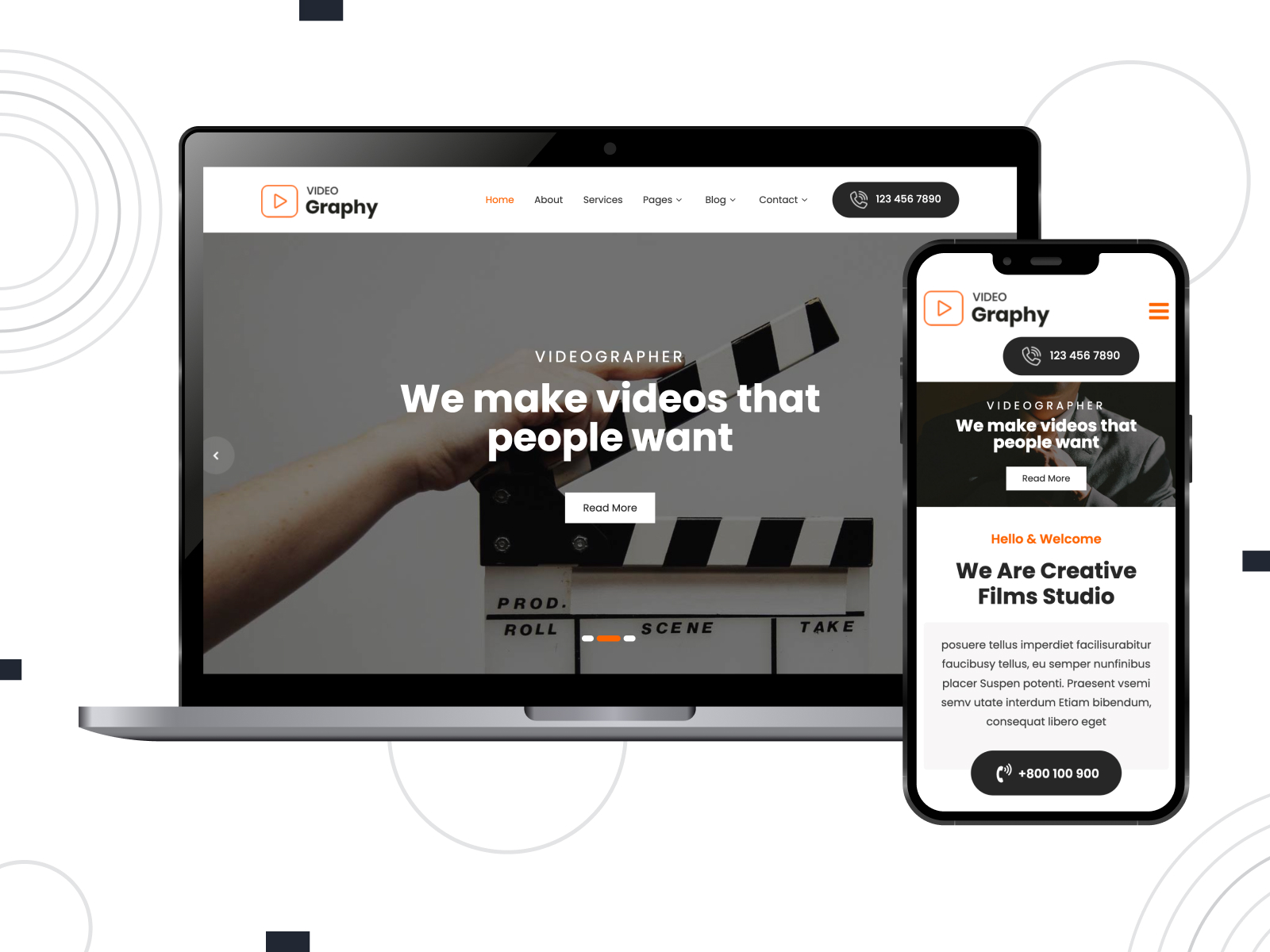 SKT Videography is a responsive and free theme that can be used as a starting point for your videography website. Designed as a clean and stylish theme for videographers, it offers a variety of ready-made pages to help you showcase your works. With its spacious sections, you can tell more about your video studio, display your latest projects, and publish regular news and updates. Additionally, there are other impressive features included:
Easy-to-edit homepage sections for your videos & services;
4 Blog layouts;
2 Contact page variants;
RTL-ready typography;
Compatible with the NextGEN gallery plugin.
Name
Author
Price
Avg. Demo Speed Score
SKT Filmmaker
SKT Themes
Free
Mobile 55
Desktop 80
9. Videography (FREE)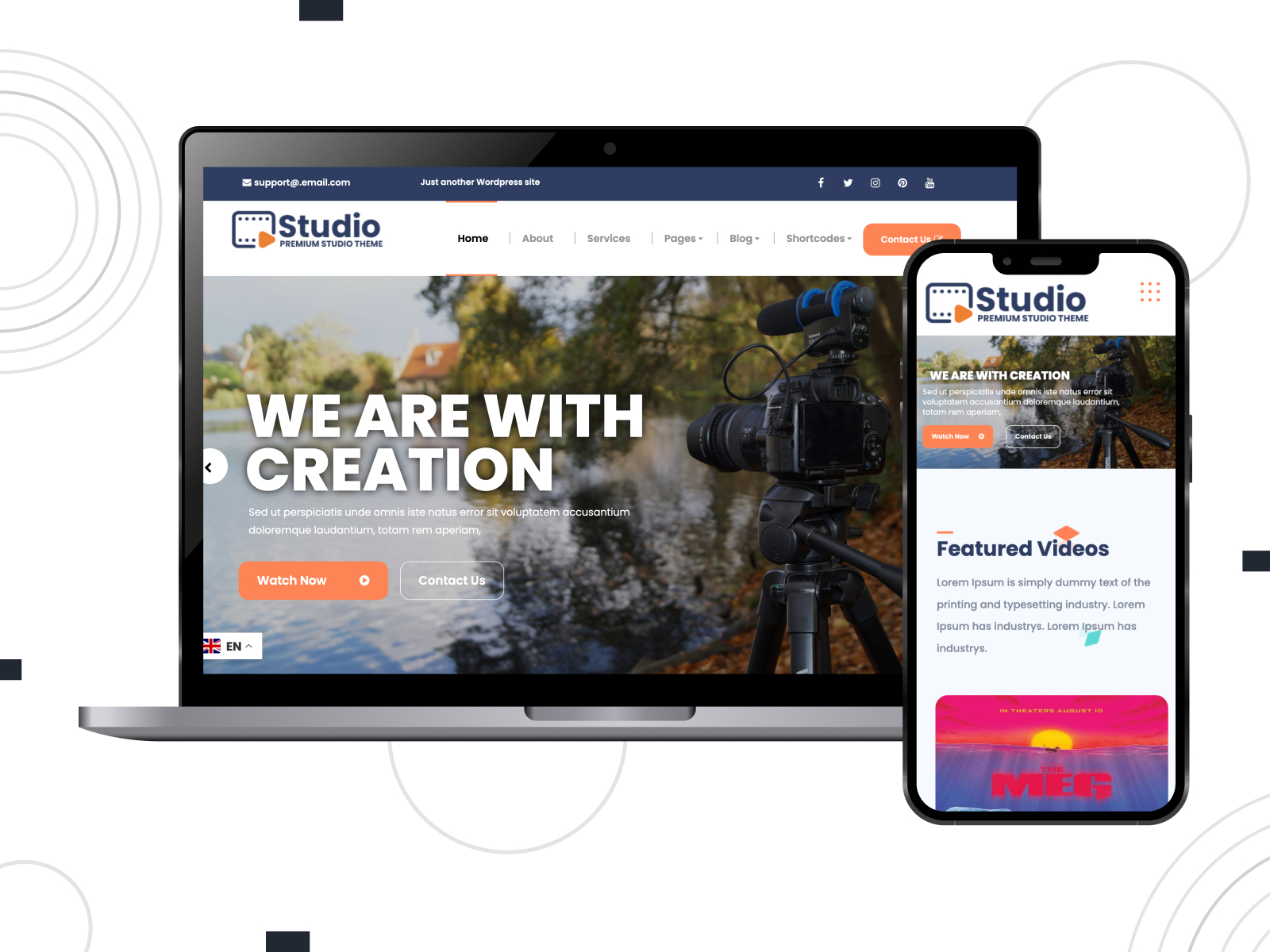 There are a lot of the best videographers WordPress themes that are simple yet effective when it comes to developing a fully functional website. One such solution is the Videography theme. It provides a wide set of advantages suitable for filmmaking studios and individual specialists in the industry. From banner slider and responsive design to featured and newest video sections, this solution provides lots of advantages to present your works:
Switchable page sections;
Mobile-ready and fully responsive design;
Built-in video categories;
Customizable color palette;
W3C valid code.
Name
Author
Price
Avg. Demo Speed Score
Videography
Luzuk Themes
Free
Mobile 52
Desktop 91
10. Film Maker Lite (FREE)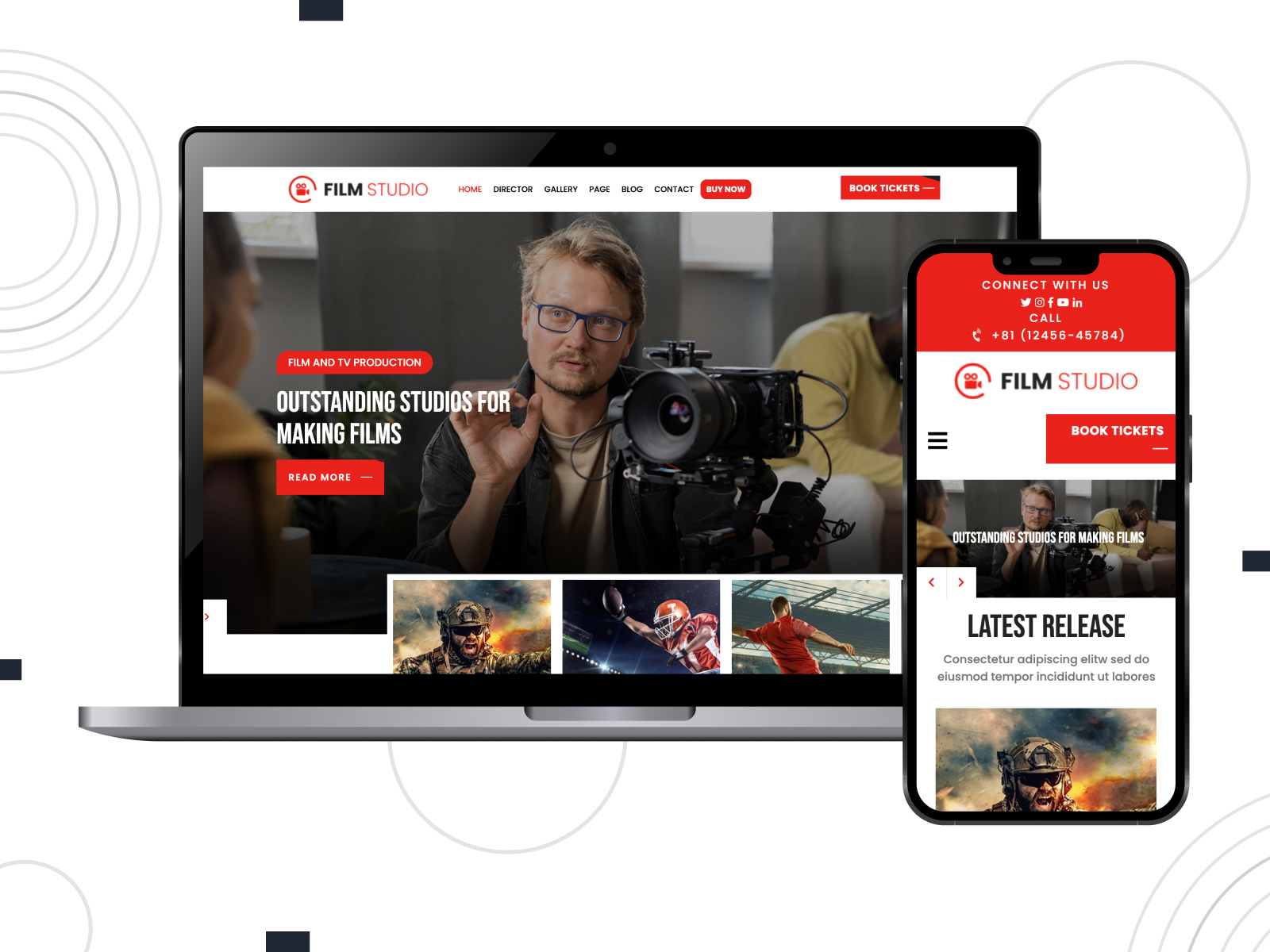 The next theme on our list of free & best videographers WordPress themes is Film Maker Lite. Designed specifically for filmmaking studios, this solution unites clean design with a flexible layout suited for videography websites. With simple customization and responsive design, the mentioned theme provides space to advertise your films and video projects to any audience. Moreover, it includes a vast set of benefits, such as:
Customizable slider for the home page;
Latest videos & achievements sections;
Informative footer and easy-to-use navigation menu;
Blog pages with left & right sidebars;
Easy-to-use contact forms.
Name
Author
Price
Avg. Demo Speed Score
Film Maker Lite
Themes Pride
Free
Mobile 23
Desktop 75
10 Best Videographers WordPress Themes
While free themes may be a good starting point for some website owners, many videographers usually go for premium-class solutions. The next are the top 10 themes for videographers and filmmakers that feature not just outstanding design but also a comprehensive set of benefits and functional advantages. With such an abundance of affordable & well-performed design solutions with multiple packed features, crafting a unique videography resource can be done risk-free.
11. Pelicula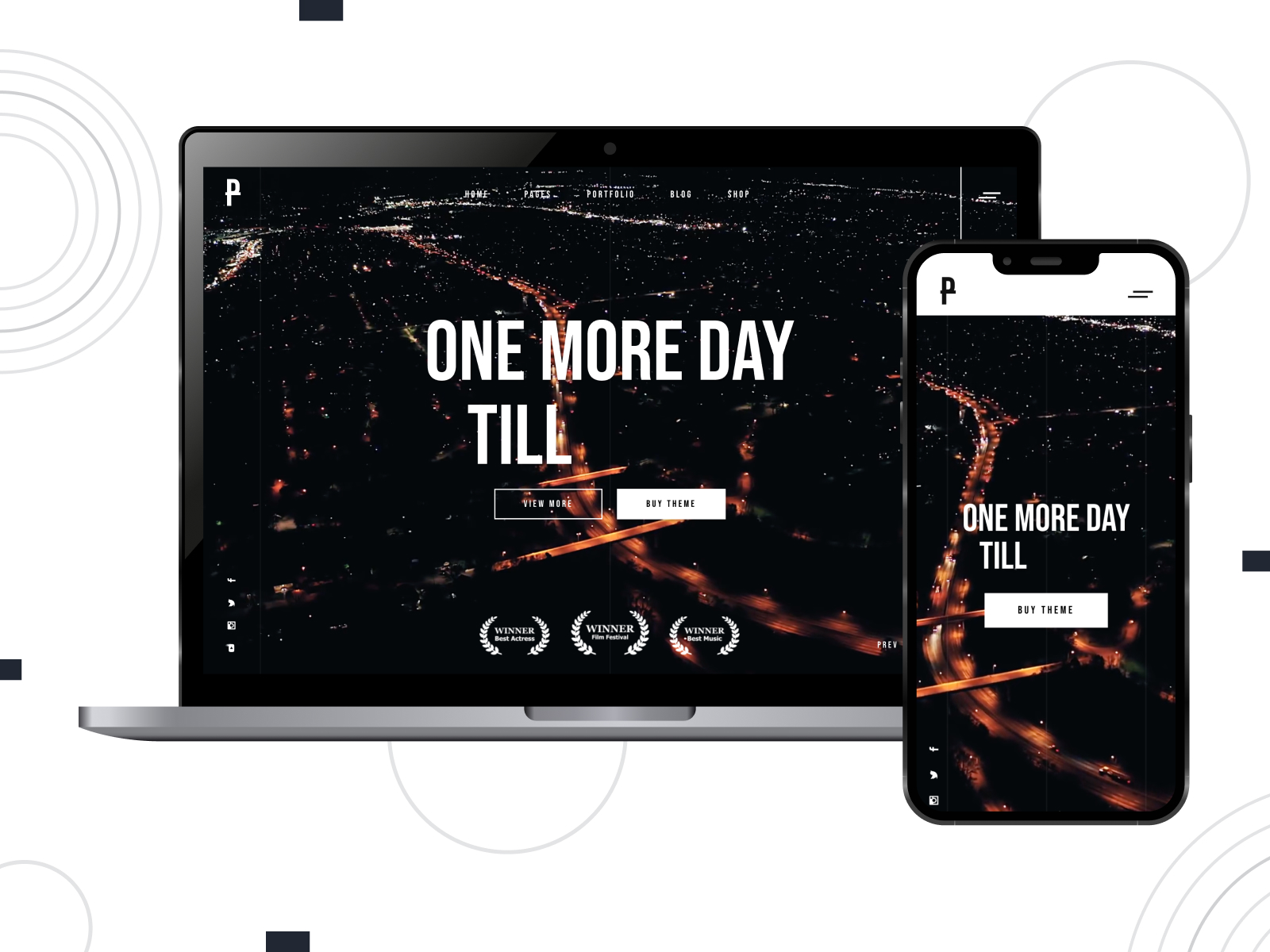 Designed for the modern filmmaking industry, Pelicula is one of the best videographers WordPress themes. With a wide range of homepage designs, this solution is an all-in-one tool when it comes to web development for videography. The mentioned theme is packed with diverse page layouts and portfolios to help you set up a showcase of your videos in no time. Moreover, Pelicula provides a wide choice of other great features:
13 Homepage layouts;
eCommerce-ready Shop pages;
10+ Portfolio design options;
A variety of pre-designed animations;
4 Blog page variants;
Diverse paginations and shortcodes;
5 header types.
Name
Author
Price
Avg. Demo Speed Score
Pelicula
Qode Interactive
$75
Mobile 29
Desktop 53
12. Bazna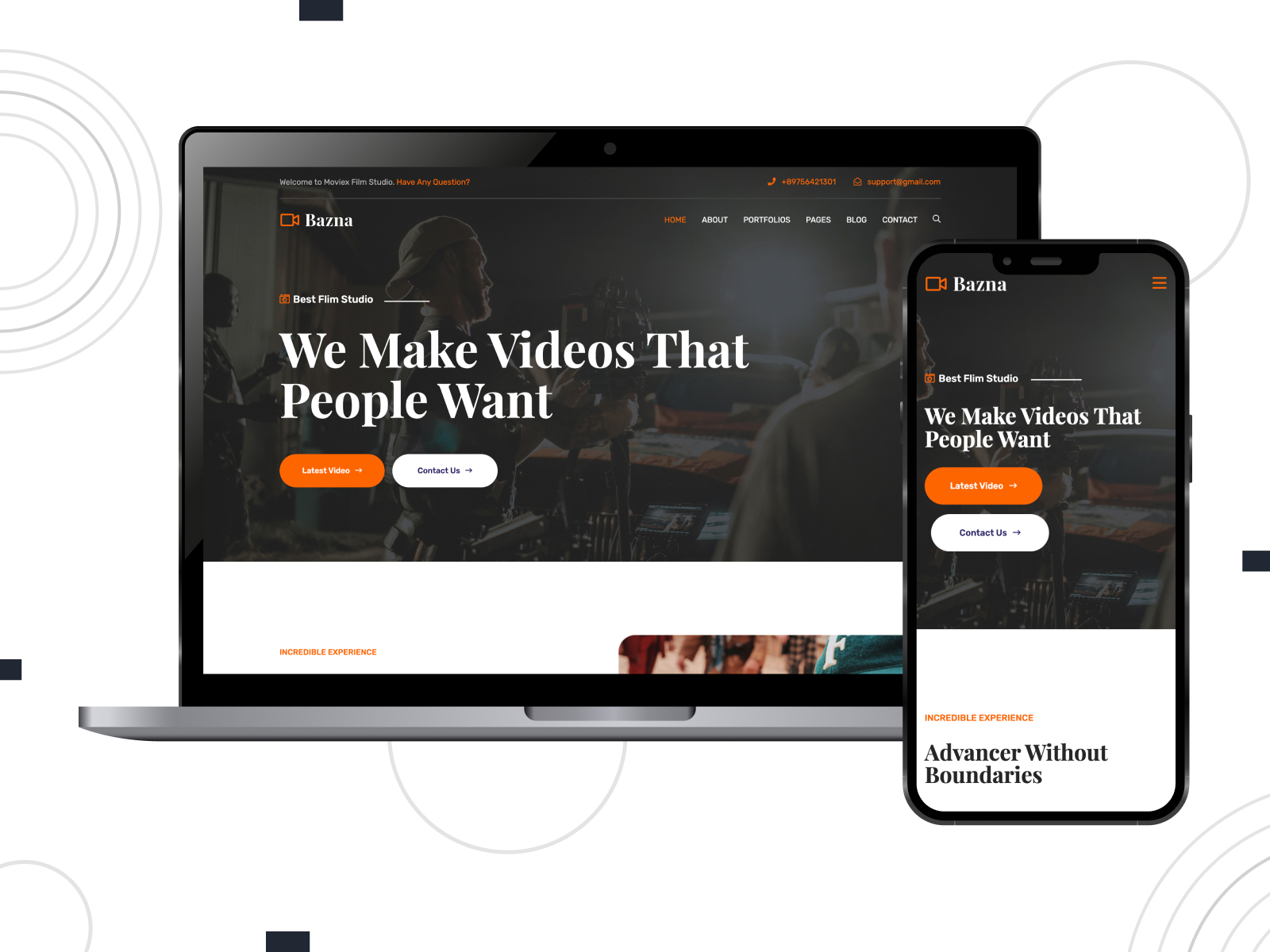 Bazna is a multipurpose WordPress solution built for movie production websites. It provides a unique selection of built-in designs and advantages. For example, it includes 6 different homepage layouts for filmmakers and movie directors. With its impressive inner pages, you can express your creativity by using a video portfolio. This theme also allows you to create dedicated pages for your actors and film crew members. Besides, it comes with a vast collection of benefits:
4 Portfolio & About page layouts;
Gallery & Testimonials homepage sections;
Optimized for performance;
Integrated Contact Form 7 plugin;
Font Awesome icons & Google fonts;
Built with the Bootstrap 5 framework.
Name
Author
Price
Avg. Demo Speed Score
Bazna
BDevs
$79
Mobile 39
Desktop 70
13. Pixetti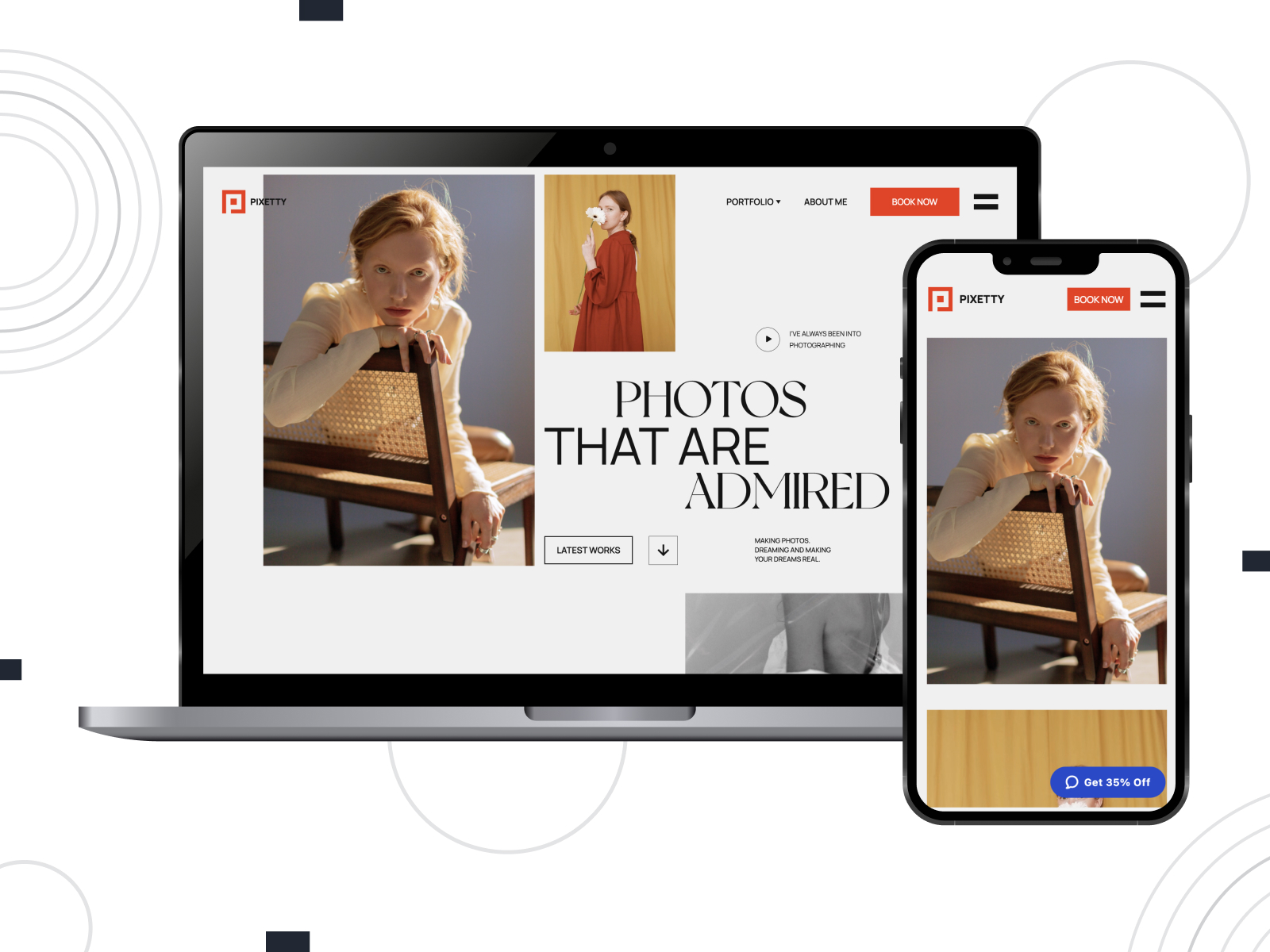 Quality-designed portfolios are an essential element for the best videographers WordPress themes. That's why solutions with these components are highly popular among individual creative experts. A great example of this matter is the Pixetti theme. Being developed for photographers, it is also a nice fit if you need a spacious and minimalistic layout with attractive typography. Using the MotoPress Appointment Booking Plugin, this theme allows your clients to organize consultations with you in just a few clicks. Besides, Pixetti is loaded with a set of other interesting benefits:
2 stylish gallery layouts;
Easy-to-use scheduling system & online payment processing;
Pre-designed Getwid blocks included;
Tailor-made inner pages for various needs;
SEO-optimized layouts for photography & videography booking;
Seamless Google Calendar integration.
Name
Author
Price
Avg. Demo Speed Score
Pixetti
MotoPress
$79
Mobile 53
Desktop 94
14. Mato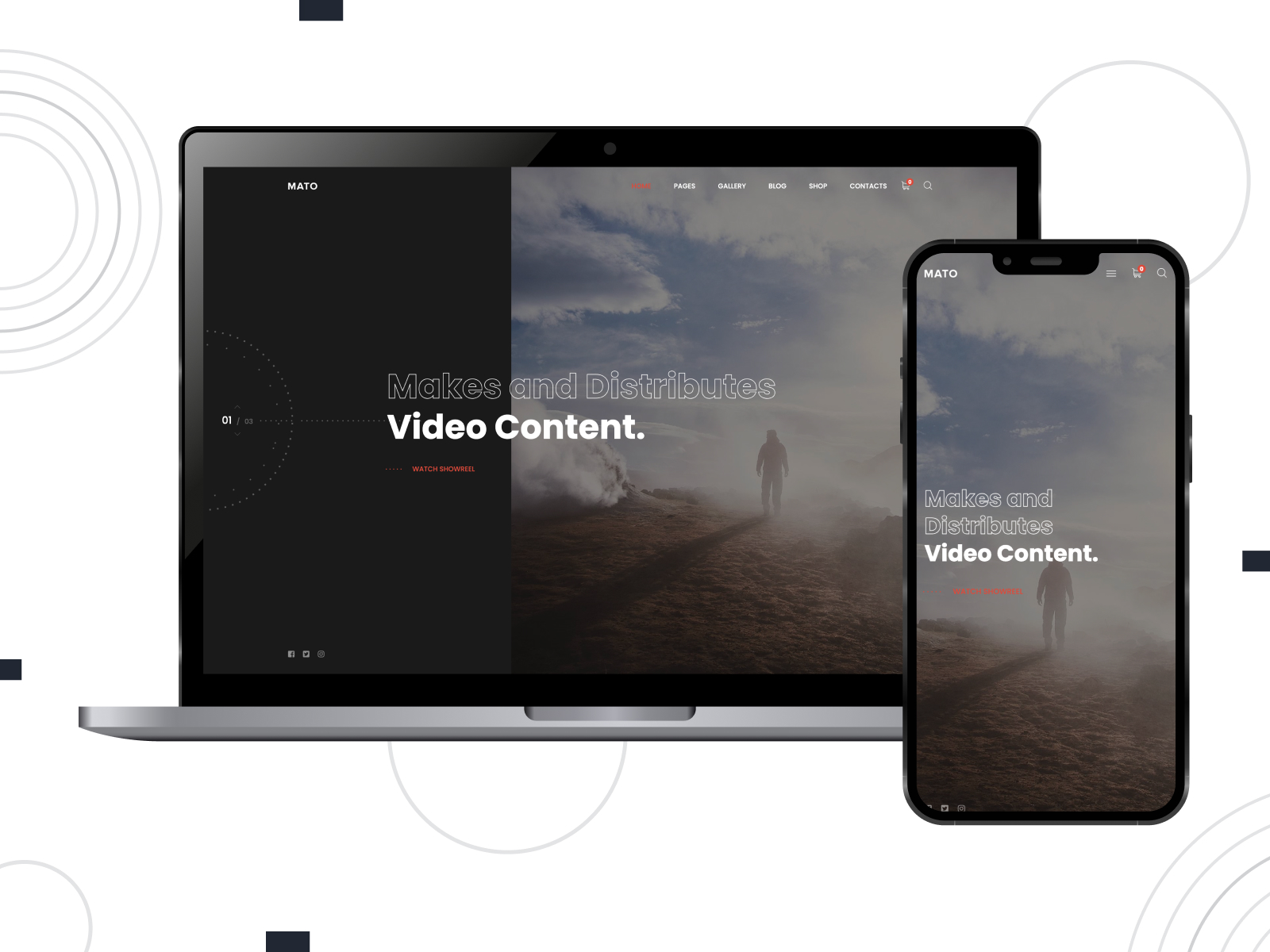 When it comes to presenting unique creative projects, Mato is one of the best videographers WordPress themes for that task. Supporting the most common video format – MP4, this solution allows you to upload your videos and publish them in no time. It also supports videos from YouTube and Vimeo, while also offering a diverse number of designs to present your creativity. Alongside these advantages, there are other useful features provided:
10 homepage layouts;
8 Portfolio & Blog layouts;
eCommerce-friendly Shop pages;
GDPR-compliant content;
Configurable pages with contact forms;
Supports all popular WordPress plugins.
Name
Author
Price
Avg. Demo Speed Score
Mato
Promo Theme
$59
Mobile 25
Desktop 32
15. Plexx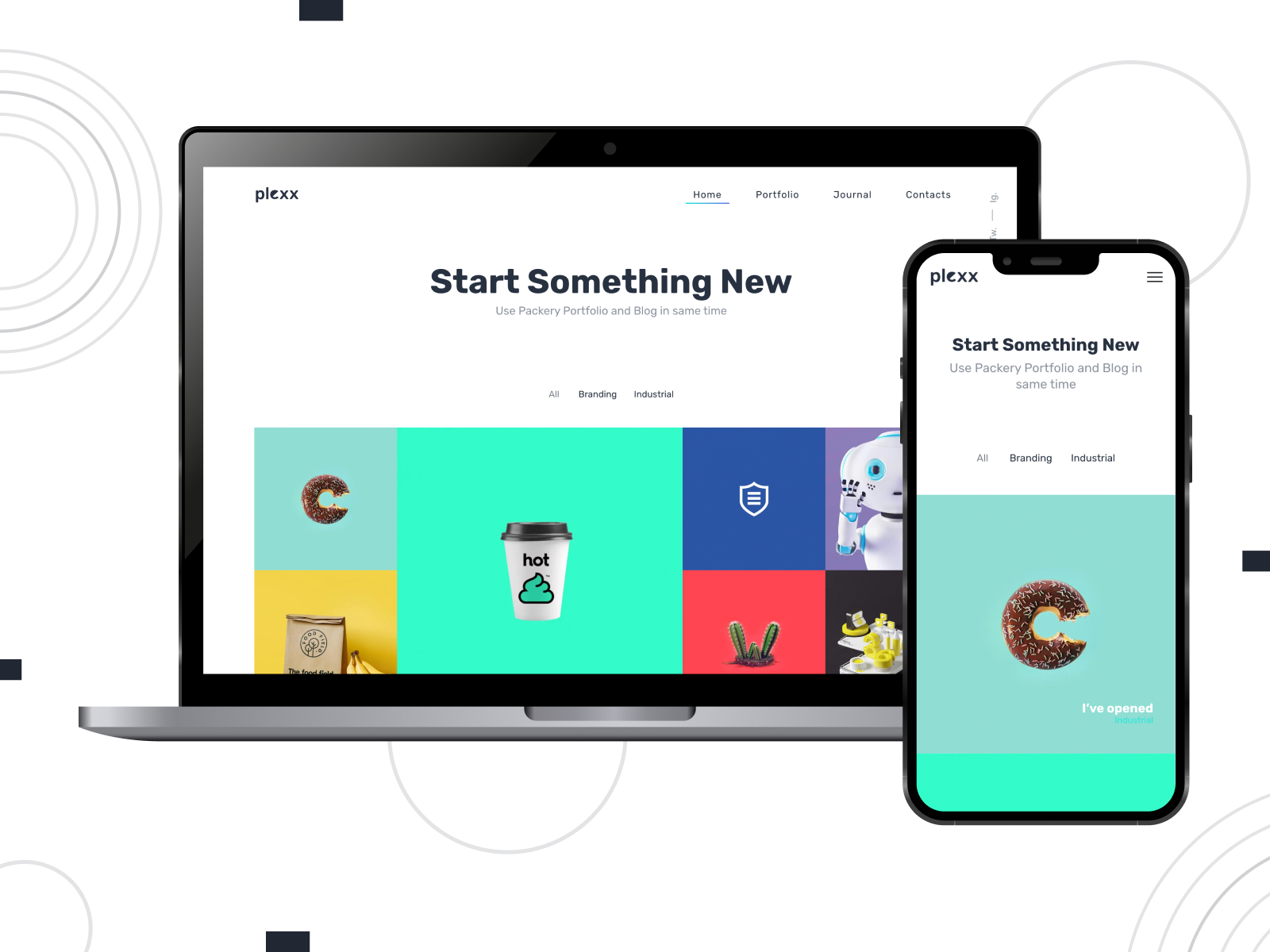 Plexx is a top-notch solution that can be used out of the box to advertise your filmmaking skills. With its varied collection of fullscreen portfolios & galleries and minimalistic design, any videographer and photographer will be able to quickly establish a flexible and responsive online presence. With the support of popular Elementor addons & widgets, you can customize your site and craft a unique online experience for your users. Moreover, you can benefit from using the following functional advantages:
20+ Portfolio layouts;
3 Blog variants;
6 menu designs;
Dark and light color schemes;
Variable grid size;
Smooth scroll & page transitions;
Customizable footer with widgets.
Name
Author
Price
Avg. Demo Speed Score
Plexx
mallini
$39
Mobile 54
Desktop 82
16. VidoRev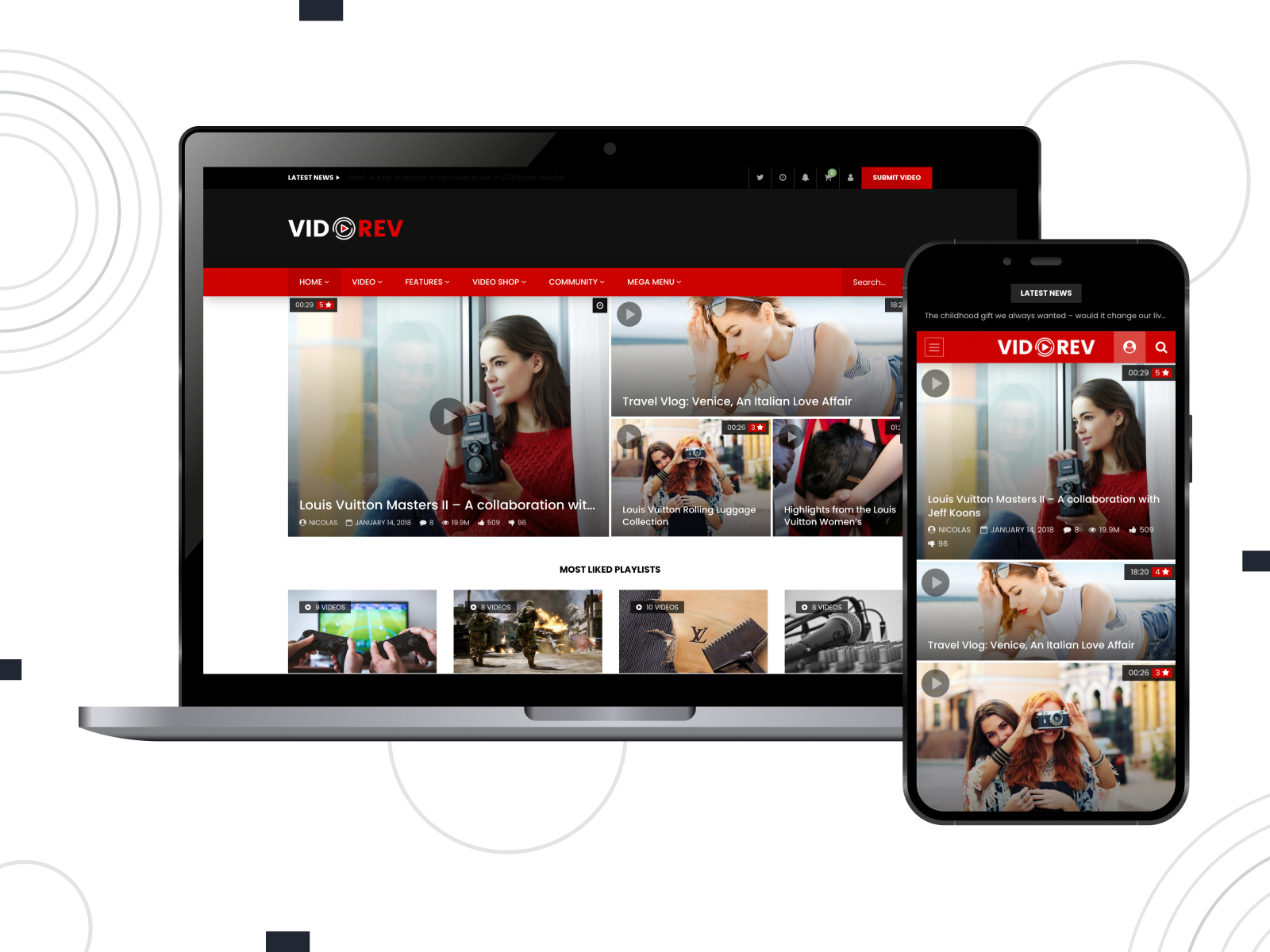 Video-oriented websites are often used as news sources. That's why the developers of the VidoRev theme designed it to fit this type of website. While it can be used by videographers, this solution was initially built for online magazines and blogs. With extensive features for publishing and organizing your videos, VidoRev is one of the most suitable choices if you have varied visual content on your website. Moreover, we recommend taking a look at the following advantages:
10+ ready-made homepage layouts;
12+ pre-made video page designs;
Video preview on hover;
Automatic import of videos and playlists;
Supports APIs of YouTube, Vimeo, Twitch, and other services;
Front-end content editing;
Storage mode for submitted video files.
Name
Author
Price
Avg. Demo Speed Score
VidoRev
Beeteam368
$59
Mobile 28
Desktop 61
17. Viseo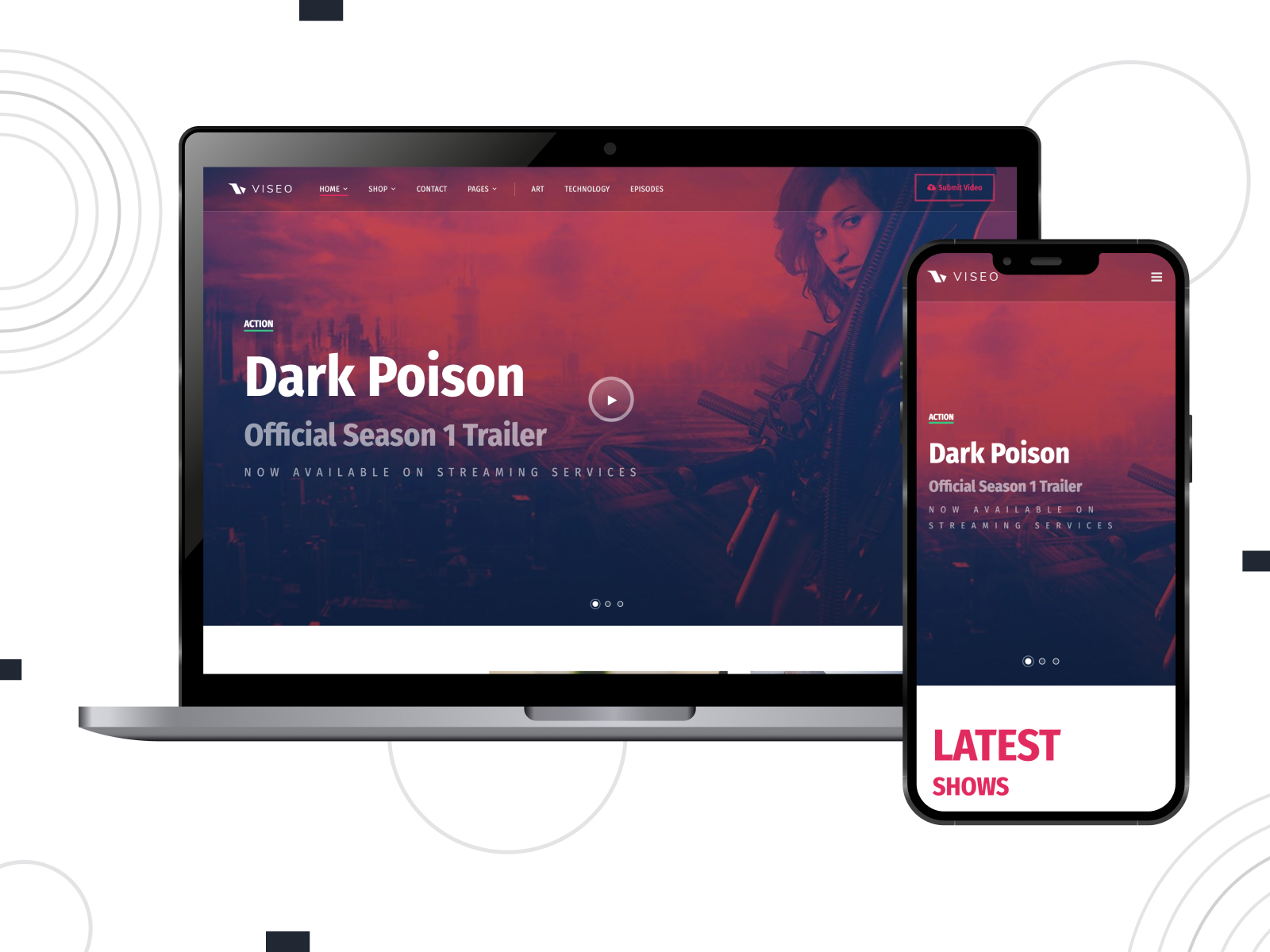 Another notable solution appearing on our list of the best videographers WordPress themes is Viseo. Similar to our previous mention, it can be used by news portals and video-oriented websites. However, it is also an awesome choice for podcasts. If you film your videos regularly and want to upload them not just on YouTube but on your site as well, choosing Viseo is recommended. It comes with a set of categories for your content as well full-width video slider and other features:
3 pre-designed home pages;
Built-in eCommerce layouts;
10 post formats and pagination types;
Support of locally hosted videos;
Responsive & retina-ready design;
Sticky header with mega menus.
Name
Author
Price
Avg. Demo Speed Score
Viseo
Progression Studios
$59
Mobile 39
Desktop 57
18. Niftyfifty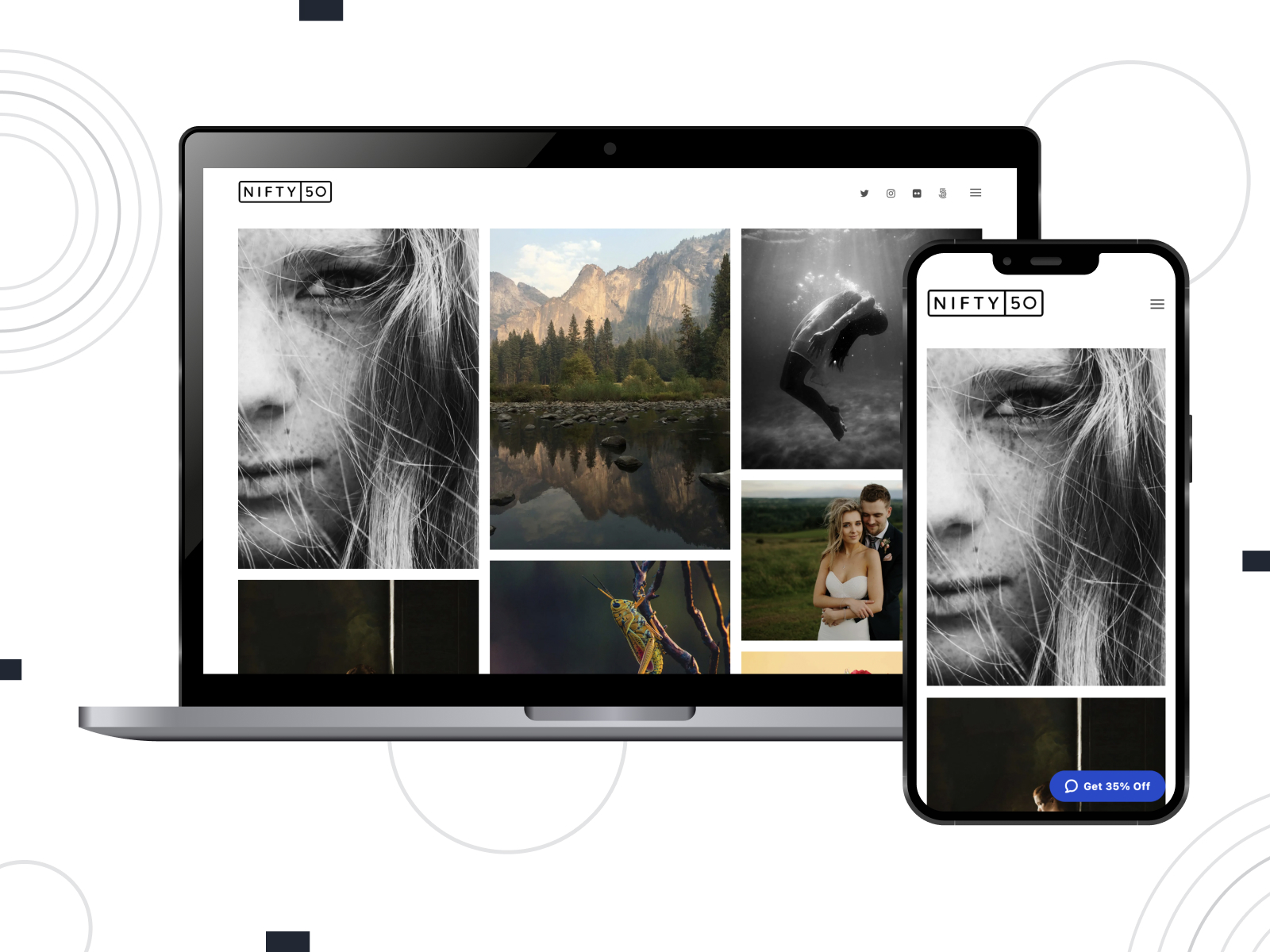 Niftyfifty is a minimalist WordPress theme for photographers and videographers. Designed as a portfolio for creatives, this solution allows you to present your works with diverse designs and layouts available as a single & affordable package. With Light and Dark modes, you can easily choose how you want your photo & video gallery to look. Furthermore, this theme comes with a bunch of practical advantages you can surely use when developing your videography website:
5 portfolio categories;
7 gallery layouts;
Password protection of your content;
Easy-to-use website navigation;
Ready for SEO;
WooCommerce-friendly Shop pages.
Name
Author
Price
Avg. Demo Speed Score
Niftyfifty
MotoPress
$39
Mobile 68
Desktop 93
19. Ftage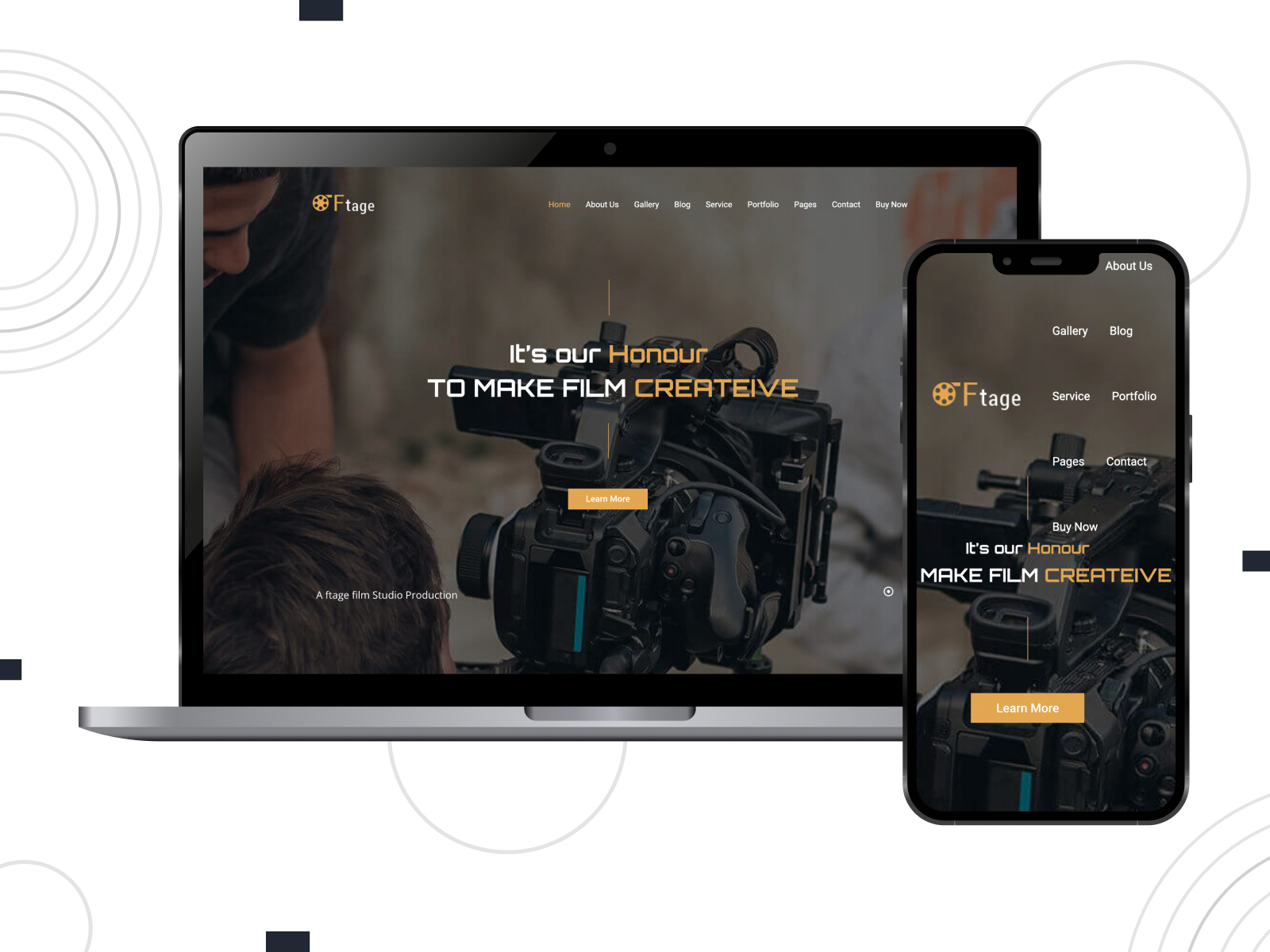 Ftage is one of the best videographers WordPress themes built for proper video presentation. It comes with several pre-designed layouts suitable for film studios, actors, and movie festivals. The included Slider Revolution allows you to create stunning presentations of your movies and creative projects. Also, this theme allows you to regularly post updates about the movies you shoot using the provided Blog pages. Other benefits include:
9 homepage layouts in light and dark designs;
8 gallery & portfolio types;
Easy customization with the Elementor page builder;
WPML-ready & SEO-friendly pages;
Unlimited color options.
Name
Author
Price
Avg. Demo Speed Score
Ftage
HasTech
$69
Mobile 27
Desktop 73
20. Miker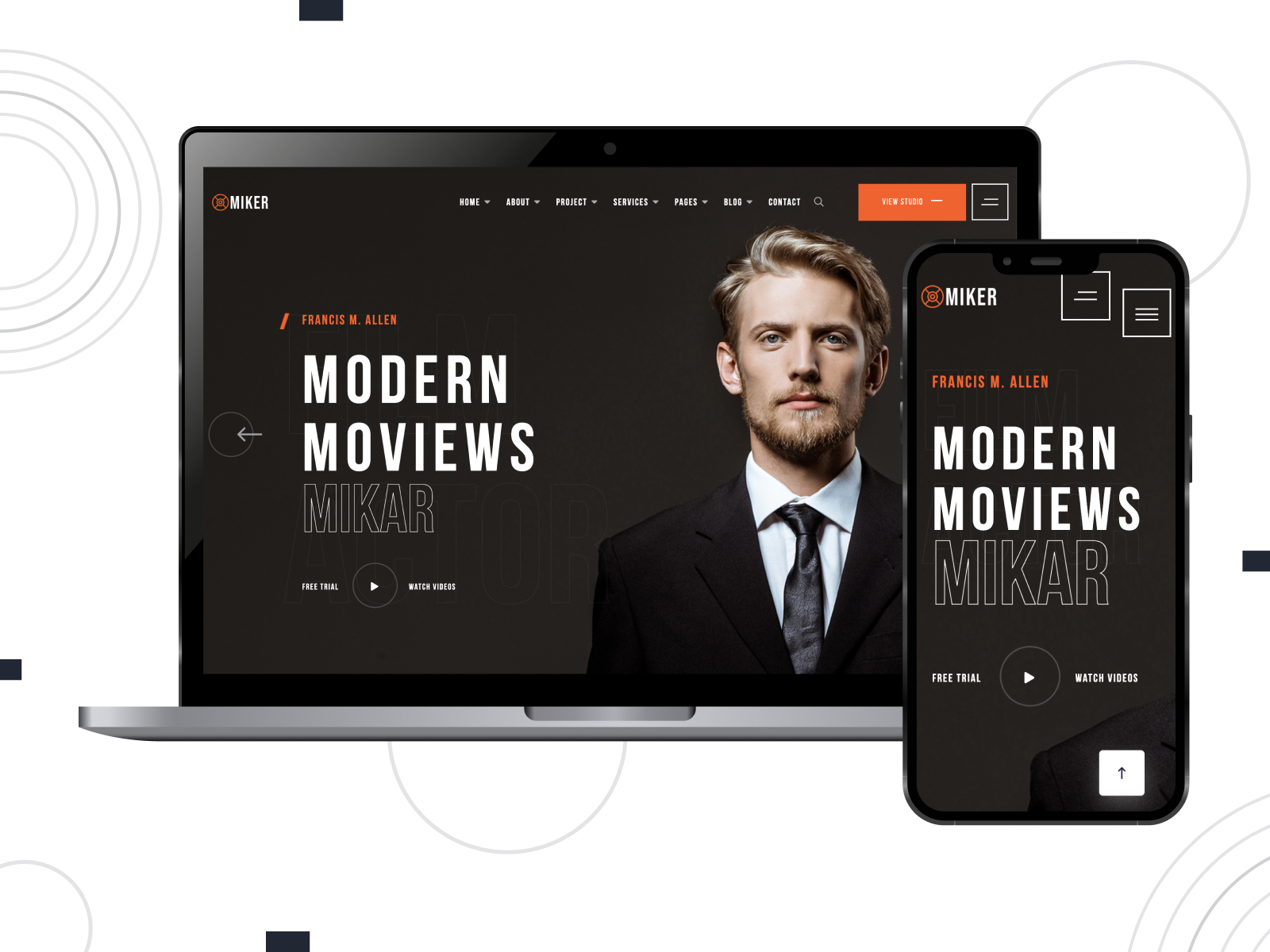 If you want to develop an elegant filmmaking website that is fully responsive and informative, using the Miker WordPress theme can help you get started. It is a fully-featured solution offering not just a collection of layouts but also a variety of useful advantages for any videography website. From RTL support to integration of famous WordPress plugins, such as Mailchimp, Miker delivers a wide range of incredible benefits:
3 stunning homepage designs;
7 gallery layouts for your movies and projects;
3 diverse types of blog pages;
Easy-to-setup contact forms;
Well-animated sections and transitions;
Simple & quick demo import.
Name
Author
Price
Avg. Demo Speed Score
Miker
shthemes
$129
Mobile 58
Desktop 88
How Big Should a Video Be in the Best Videographers WordPress Themes?
If you're a videographer who works with ultra-high-quality footage, you may want your website to handle videos of all kinds. With modern video formats supporting up to 4k resolution and 60fps framerate, this means increased filesize. However, not all WordPress themes support large video files out of the box. For that reason, many theme developers include integrations of popular video hosting websites.
But what if you want to upload a video straight to your WordPress website? In this case, it depends on your current hosting & CMS settings regarding the maximum upload size. Still, it is recommended to keep all your files, including videos within 128MB each to ensure the best performance for your website.
Is it Better to Self-Host Video on WordPress?
When you start developing your website using the best videographers WordPress themes, at a certain point you may wonder if it is a good idea to self-host your videos. While many filmmakers choose popular video hosting services for these tasks, self-hosting is also applicable in specific situations. For example, it is a good idea to host your videos if you need:
Total control over your videos;
Customizable player;
Direct traffic;
No advertisements;
Simple access to video files.
So if you plan to add videos that attract more potential visitors and make your website stand out, it is recommended to host such files on your site. This way WordPress has direct access to content. As a result, it is displayed without any delays. Still, if you need to feature extensive and top-quality videos in high resolution, it is suggested to use well-established online platforms for publishing your videos. Later, you can feature them on your website in a few clicks, while also attracting new viewers to your social media.
Closing Thoughts
Without any doubt, the best videographers WordPress themes in both free & premium categories provide you with outstanding benefits for your website. Whether you are planning to upgrade your current online presence or create a new one, the abovementioned themes can provide you with more than just a stunning design. Based on today's theme collection, here are the top 4 things to expect from WordPress themes for filmmakers:
One of the significant parts of any videography website is a portfolio section. It represents you as a videographer and editor by showcasing your work. A well-designed video portfolio also helps you generate new leads and get more clients. No wonder it's often a vital element of any personal website as it reflects your creative potential and expertise.
To create a memorable website representing you as an expert, having a dedicated biography page is also necessary. Even adding a similar section to your About page will help you build a personalized & professional profile on your website. Including facts and information about your projects and the story of becoming a skilled videographer will help you earn the trust of both regular and new clients.
Make your online presence more content-rich by adding a blog to your site. Since WordPress has built-in blogging capabilities, it is undoubtedly one of the best choices to create your videography website. Diverse blog layouts and designs supplied with modern themes for this CMS can be easily used to keep your clients and fans in the know of the latest news about your video projects.
Lastly, it is essential to have a user-friendly contact page. Without it, your potential clients won't be able to reach you. Moreover, a poorly designed contact form can negatively impact their user experience. Luckily, all the best videographers WordPress themes have a nicely built contact page. Therefore, applying these ready-made solutions to your website makes website development an uncomplicated task even for beginners.
Using WordPress themes for filmmakers and videographers is a great way to help your viewers discover your creativity. Moreover, such themes serve as a perfect starting point for your future website. Regardless of your experience with the platform or the themes for it, rest assured that your fans and clients will be satisfied with the final result.
FAQ

What is the best WordPress theme for videos?
Multiple WordPress themes can properly showcase your videos. With rich functionality such as a pre-designed portfolio, multilanguage support, or customizable headers & footers, they can quickly increase the discoverability of your website. One of such themes is Bazna. Built for filmmakers and movie studios, it has everything to impress your viewers and present your videos the right way.
Is WordPress good for video?
Being the leading CMS, WordPress can handle videos well. Whether you want to add videos from other websites or upload your own, you can rely on this platform to properly display and showcase your video collection with customizable players and page layouts. Note that WordPress has certain limitations when it comes to uploading videos. This is mainly applicable to videos of several gigabytes in size and usually depends on the PHP & theme settings.
What is the best WordPress theme for movie reviews?
If you aim to create a high-quality website to gather & publish movie reviews, we recommend using the Viseo WordPress theme. It is a highly customizable and fully responsive solution that provides a wide selection of features and advantages for reviewing movies as well as publishing podcasts and selling movie-themed products right on your website.
What is the most popular theme for WordPress?
WordPress provides access to a vast choice of themes for your website. When developing a videographer's website, picking a popular theme is a sure way to create something spectacular. In this case, the Mato theme for WordPress is one of the fitting solutions that we may suggest. With its minimalistic design and profound portfolio layouts, you can present your movies and videos most effectively.