Meet Pixetty: WordPres Portfolio Theme with the Photography Booking System
Pixetty is a WordPress photography booking template made for creating a professional portfolio website. It's crafted by our designers and developers specifically for photographers, event planners, videographers, illustrators and other creative people and studios. Since it comes with the photography booking system integrated, the theme is also a full-scale starting point for an appointment reservation platform!
It's a well-balanced, creative, and informative template you'll find really easy to customize.
This mesmerizing template ships with numerous must-have features of photography websites (image galleries, services pages, team presentation, contacts info) including many sophisticated and memorable details.
If you want to sell arts, not services and appointments, you might want to go to one of the best collections on our blog of WooCommerce art WordPress themes.
Let's now see in more detail what's included in the theme! The tools it comes with will help you personalize your portfolio for any appointment business you might have.
So first off, here is a checklist of the tools that come with the Pixetty design:
Getwid is our extension to the native WordPress block editor, also known as Gutenberg. It provides native creative templates and blocks extra for the editor to help you edit the site (around 45 templates and blocks).

The Appointment scheduler WordPress plugin is the booking engine for your sessions, which, upon the setup, integrates the automated step-by-step wizard for appointment bookings on your site.
It's worth mentioning that all these tools are created by our team, which means we're not leaving the core theme functionalities dependent on third-party providers.
This also means we'll always be able to provide you with regular updates, fixes and consultations. And we also know our own products best so we're going to be always ready to help you with the customization process.
As for some other tools, the Pixetty theme comes with a few more utilities that help you set up the portfolio, run bookings, configure the image displaying, and import sample data for easier template setup and customization.
Get this theme for free by joining the MotoPress Club!
Front page: Inspiring header, images galleries, and more
The front page is made to help you present your photos or other creative work in different ways and in various shapes.
For example, the header part is made to introduce your business area, a few image examples and also some calls-to-action, such as "Book an appointment".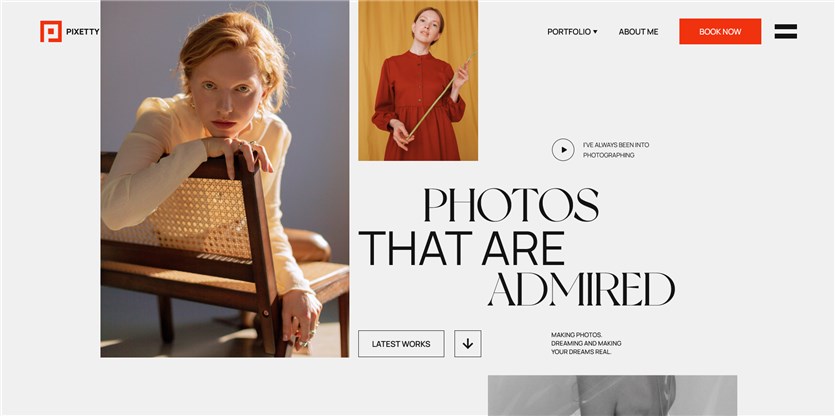 Whether you are building a personal portfolio or for a studio, you still need room for adding your bio, key message, mission statement, or putting any other information in the spotlight.
The portfolio has a dose of animation effects, allowing you to improve the navigation experiences through the site for your prospects and website visitors.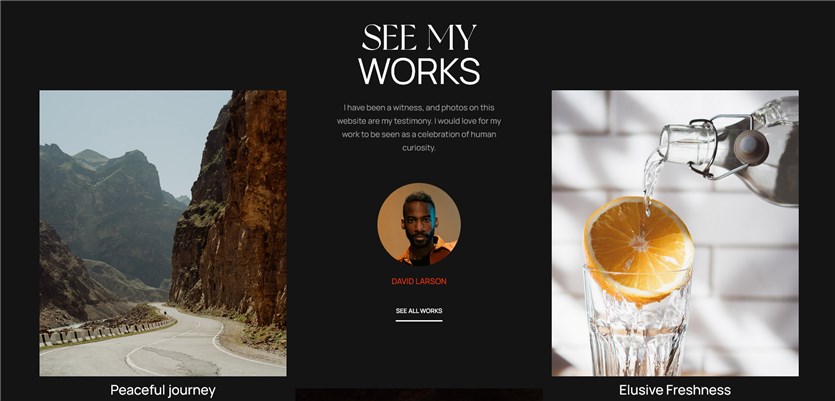 The other next parts are dedicated to your actual photos or visuals. Feel free to present in multiple galleries and portfolios.
Since they are created in the WordPress block editor, you can add different types of multimedia files, not just images, also giving your portfolio a different shape.
A prominent feature of the theme is that usually images come combined with text messages allowing you to tell even more about your work.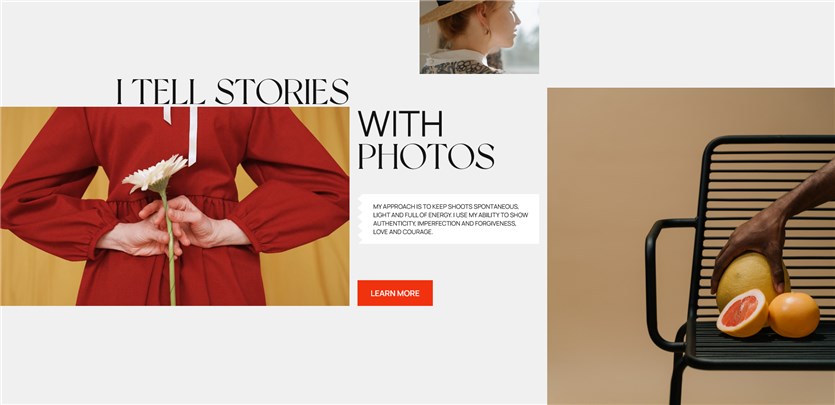 We've also integrated a fantastic widget for Mailchimp, namely, you can now collect email addresses of your prospective customers, there is a dedicated widget for that right on the front page.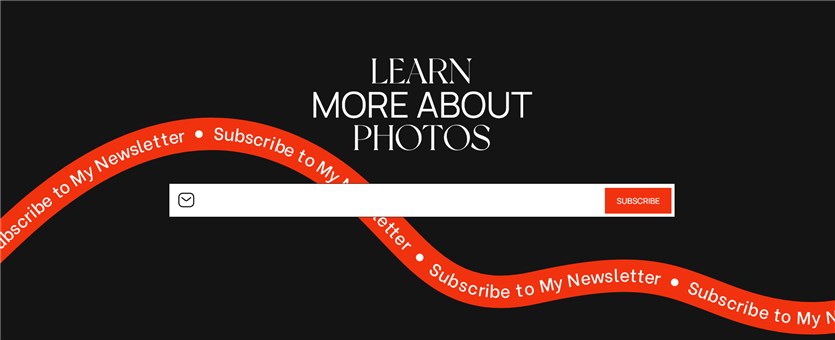 We're also providing a post-focused widget that will automatically source news and stories from your posts to display in a pre-styled blog widget. Actually, on the front page, you can have a few featured stories. You wouldn't need many here!
We're also proud of the footer area in Pixetty, which is bold and stylish. You have a few big spots here to display your contact info, a book button, social networks or something else you find suitable.

Pixetty has only a few buttons featured in the navigation menu just to help you focus on the most important things. You can, however, add more ones to be displayed directly in the menu.
Even though the main buttons are not displayed in the menu, this WordPress photography booking system theme still has many pages included.
Click on the hamburger menu to see all of them!
WordPress portfolio template
For instance, it has several portfolio variations:
A classic photographer portfolio, which is a well-balanced grid.

A sophisticated portfolio, which is a masonry-styled disproportionate grid.
Biography page
It's a compact and bold template that will help you display your bio in an easy-to-grasp and memorable way.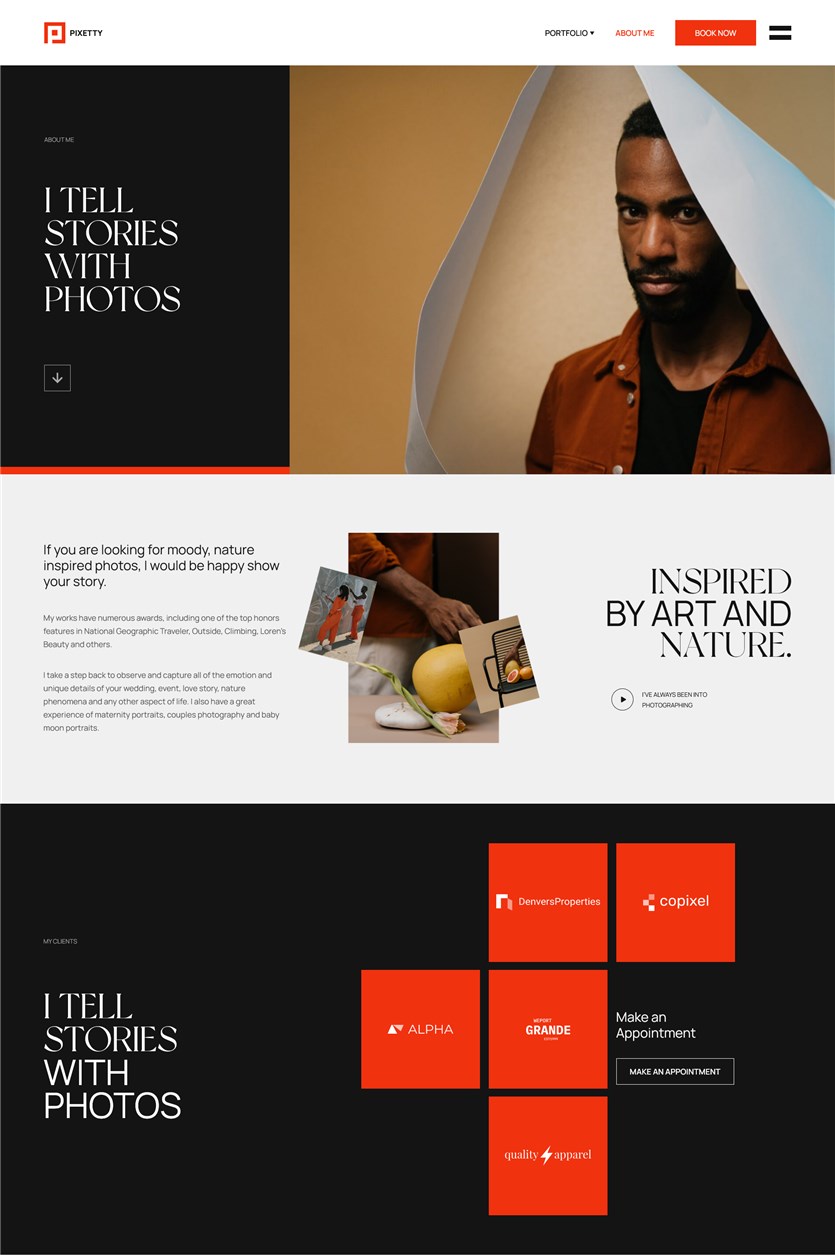 It has spots for displaying the company brands or people you worked with – or any other visual information you find suitable.
Contacts page
Surely, you want to let people know how to find you and give the best possible way to get in touch with you.
The Contacts page by default displays your contact details and the contact form.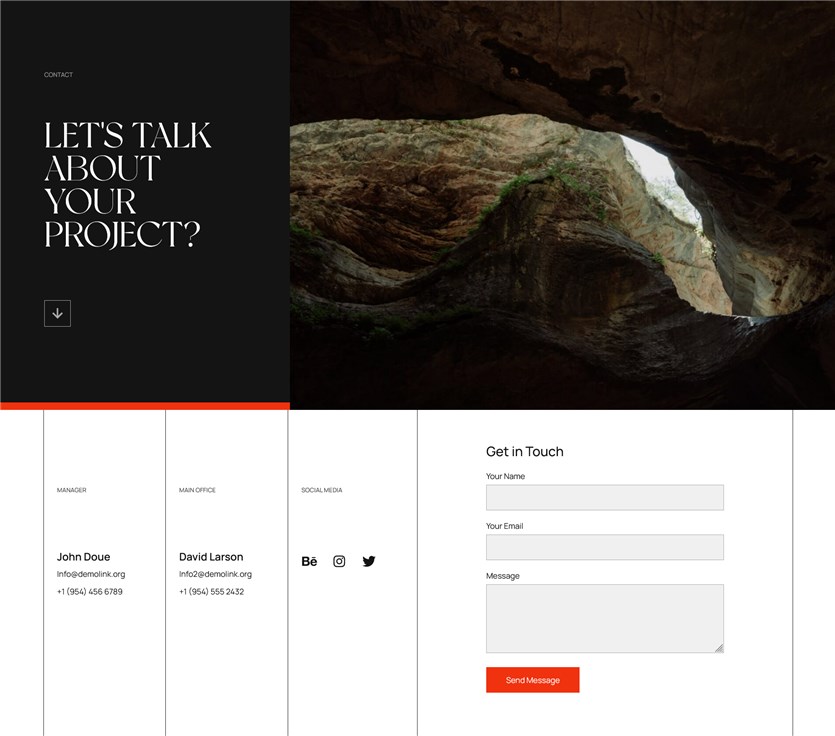 Services
Tell people in more detail what services you offer, how the photography sessions are organized, what current events you hold or what discounts you can provide.
The block that features services presents them as appointments with a cost and duration, encouraging people to instantly book them!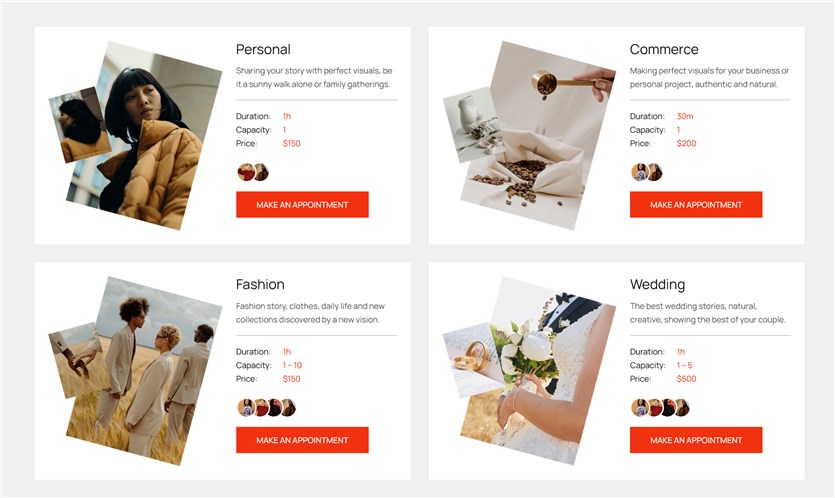 Team
You can showcase your team if you've got one. Add a few lines of every person, add links to their contact details, including social networks, and don't forget to include a photo!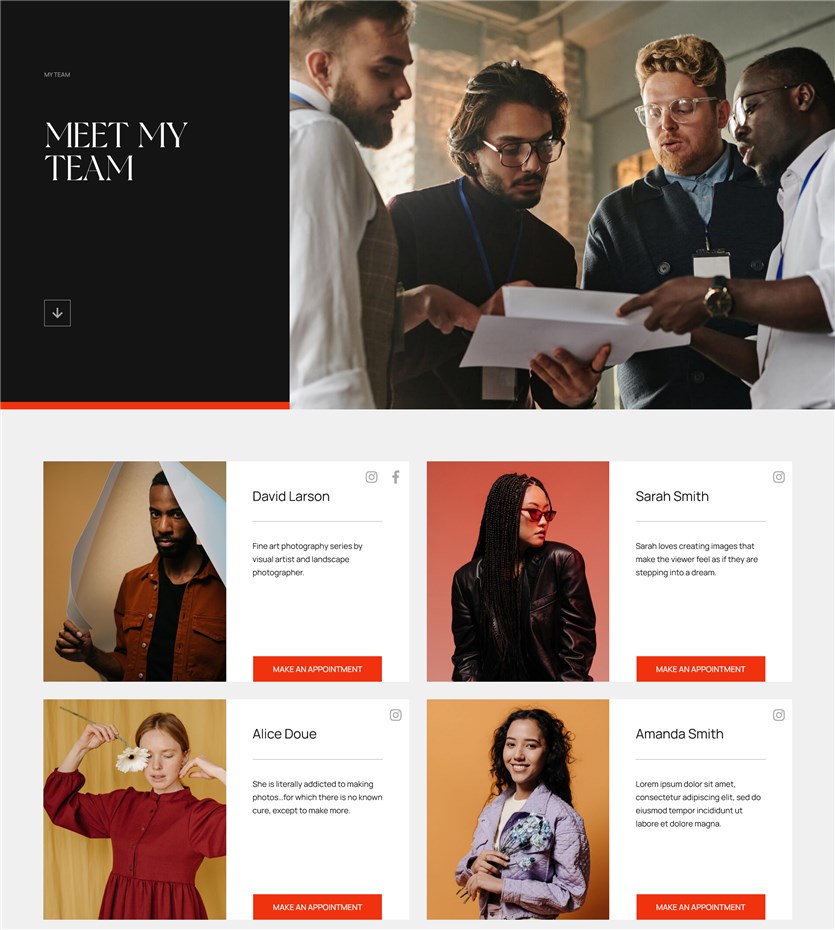 Every piece of your story you can update easily in the WordPress block editor.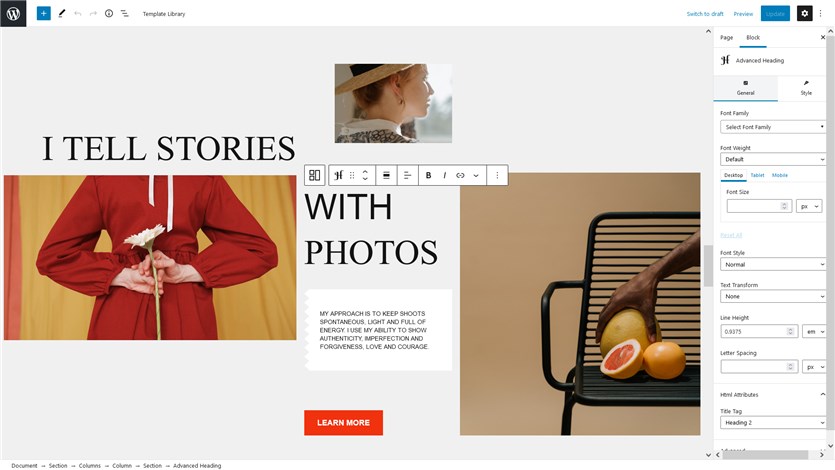 Now let's get to details of the photographer booking system integrated by the MotoPress booking plugin.
The Photography booking system with MotoPress
By the way, we also have another great photography theme for WordPress in the lineup, which is a portfolio theme without the booking widget, check out the Nifty Fifty template.
Clients will find it super intuitive to book an available timeslot via the MotoPress booking widget.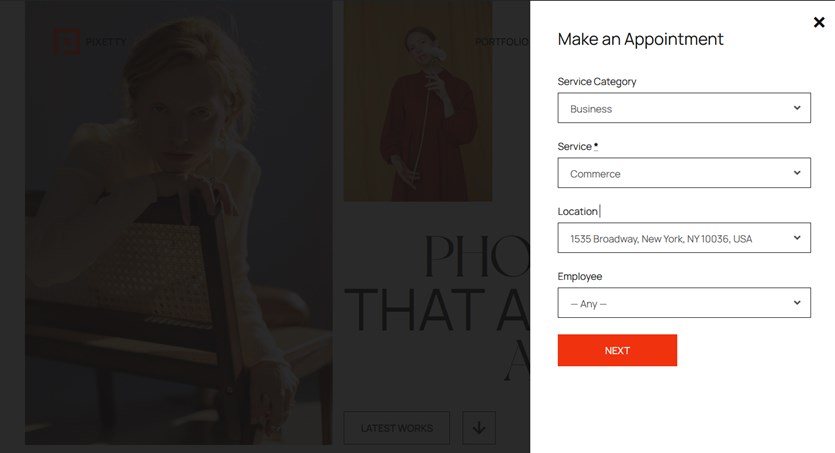 They pick the service, free time and date, then optionally pay online.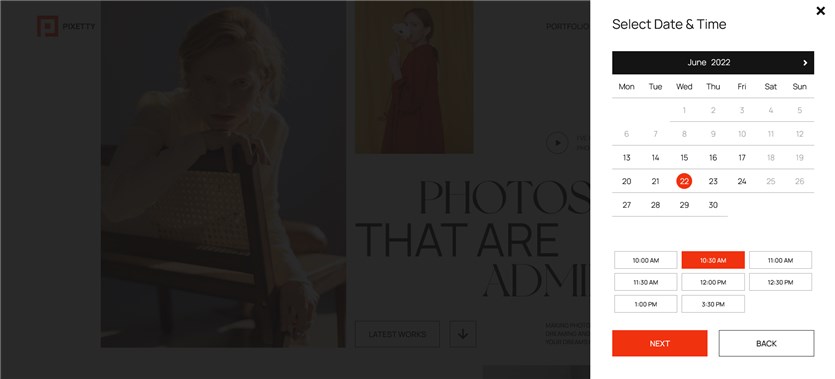 Of course, they need to submit their contact details, too.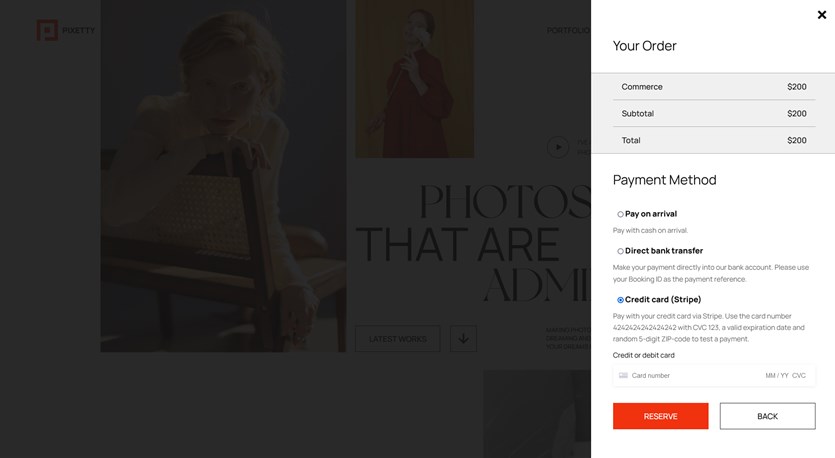 On the backend, you can manage clients, reservations, payments and more. You'll find many tools for that, the Bookings calendar and reservation editing instruments among them.
In addition to accepting bookings on the frontend, you can also add them manually from the admin's menu.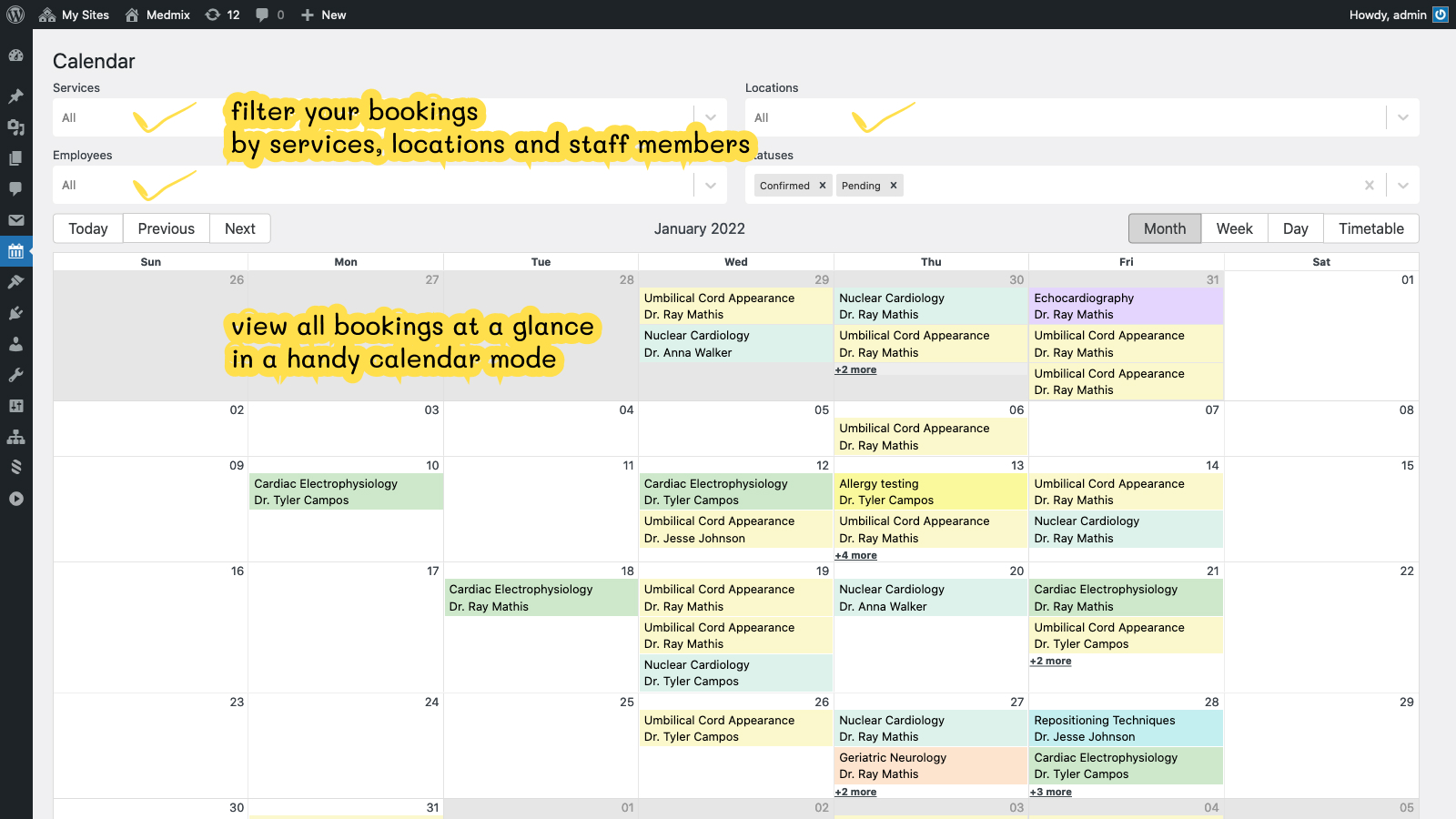 So it's quite easy! Keep all your bookings paperless with just one website and a booking system.
Final word: Get the professional WordPress portfolio theme with the photography booking system included
We're fans of professional and inspiring photography, as well as of perfectly coded WordPress themes that can boost your online presence and help in your SEO efforts.
Get Pixetty with the online photography booking system integrated and start automating your session bookings, save many hours of your creative work!
Get the Pixetty WordPress photography booking template