10+ WordPress WooCommerce Themes for Creatives
Looking for a creative WordPress portfolio theme you can feel on the same wavelength with? Need to create your own online art store or design agency website? We've chosen first-class WordPress WooCommerce art themes for creatives like you, which are ready to meet both of those needs: build a unique online presence and sell your creative products with a free WooCommerce plugin. Whether you are looking for a WordPress theme for a painting artist or a modern designer, this roundup is the right place to find one.
WooCommerce setup for beginners – video tutorial
All WooCommerce WordPress themes in this collection can be used for a variety of creative needs: art store, illustrator portfolio, product design agency, handmade drawings collection, and more. Feel free to dive in.
Artday – an artist shop with minimalist design
Artday WooCommerce WordPress theme is a perfect example of a trendy design with a focus on simplicity, clutter-free spaces, and attention-to-details imagery. The theme will be a comfy home for your paintings, art prints, posters, or product design portfolio. A variety of layouts can also suit modern furniture designers – play up with the sizes, headers, and overall content presentation with a help of drag-and-drop page builder and Slider Revolution.
Artday theme
The theme comes packaged with stunning Parallax effects, 3 menu and blog layout alternatives, and a range of footer widgets.
With WooCommerce-ready layouts you'll be able to sell art prints: it features quite user-friendly shop navigation:
Artday shop
If you run a design agency, this theme will help you establish a professional look and gain people's attention and credibility. Artday also includes a Layered Popup premium WordPress plugin for free, so it will definitely help you simplify your promo campaigns. The theme is constantly updated, so you'll be pleased to see several cool features released constantly.
Artwork – museum, gallery & painter WordPress theme
Artwork is an engaging WordPress theme for painting artists. This full-screen theme is perfect for online art studios and painters. Owning this theme, you'll be able to build a breathtaking home page with smooth Parallax effects and your best works in the spotlight – all the tweaks are made visually via WordPress Customizer, so you'll unlikely require any tech help. You may also use any post format, including video and gallery to make your website more informative.
Artwork theme
If you need a website for buzzing about art events and actually scheduling them in your local area, grab this theme along with a free WordPress Events Schedule plugin and turn it into a really functional and attractive online presence. The theme comes packed with a premium MotoPress Content Editor plugin (a saving of $29), so adding any sophisticated content module won't be a problem – you'll just need to drag and drop content elements around.
The Artwork is fully compatible with WooCommerce – check its custom shop design to see whether it meets your expectations. It can be used to sell literally any sort of creative works – art prints, illustrations, etc.
Artwork shop
The theme is widely used by painters and handmade craft fans.
Blaze WordPress WooCommerce art theme – a design agency portfolio with loads of layouts
Blaze is a bold and multipurpose creative portfolio WordPress theme with WooCommerce integration. It opens up a lot of opportunities for your imagination thanks to a diversity of pre-made layouts and customization options. For example, for individual portfolios, you may use Pinterest style, classic tiles, standard list, slider, gallery, full-screen, and more layout options.
Blaze theme
Blaze WordPress WooCommerce theme for creatives also supports image and video lightbox, crossfade images, multiple header styles and behaviors, smooth Parallax transitions, a typography set, complete social share functionality, etc. As you see, your customization toolkit is ultimate, which is a great help in making your online creative portfolio really different.
The online store is easily set up with pre-designed WooCommerce layouts – handy user navigation and quick checkout:
Blaze shop
Traditionally, Blaze comes with WPBakery and Revolution Slider plugins to ease and enrich customization work with website posts and pages. The really sweet theme, isn't it?
Bimba – a creative theme for handcraft arts
This is a creative yet minimalist WordPress theme for a handmade and craft shop of any kind. Although the theme has a special focus on children's products (e.g. an online store for kids clothing or toys), you can basically use it to sell all sorts of textiles, handmade clothes, gifts, decor, or other handcrafted goods.
From the functionality standpoint, this is probably the most modern theme in this collection since it's built with the Gutenberg blocks accompanied by the custom blocks by the Getwid blocks plugin. This means you'll have a chance to experience user-friendly editing and a variety of pre-made content modules, including eCommerce-dedicated ones like Banners, Calls-to-action and more. Moreover, since it's suited with the one-click demo data installation functionality, it'll reduce your workaround and customization hassle significantly.
Bimba theme
Bimba's online shop design is prepacked with a clean-looking, organized shop directory and is accompanied by a free wishlist plugin. All traditional website pages, such as Contacts, About us, and others are pre-installed. Bimba also looks and works perfectly on modern mobile devices.
Bimba shop
You may also be interested in Frutta Verde – a WooCommerce shop theme for grocery websites from the same provider.
Weston – a multipurpose creative portfolio for freelancers
Weston WP WooCommerce art theme comes with absolutely different built-in layouts – minimal shop, minimal portfolio, freelancer portfolio, etc. So if you have any color and design preferences, you'll more likely achieve your goals. The theme comes with a 1-click demo import tool to speed up the customization process. A  range of Google fonts, video backgrounds, multiple header layouts, Parallax backgrounds, custom colors is at your disposal.
Weston theme
The theme is fully compatible with WPML and Contact Form 7 plugins. As for the WooCommerce shop layouts, they feature default products, which you can easily replace with your crafts. The shop layout is really clean-looking and stylish:
Weston shop
Weston will also save you some money as it comes with Slider Revolution and WPBakery plugins included for free.
Creatista – a clean-looking portfolio for cartoon illustrators or product designers
Creatista WordPress WooCommerce theme for creatives is definitely known for its extra design simplicity and lightweight functionality: you'll quickly figure out how to create your portfolios in different styles and categorize them with a free Jetpack plugin.
The theme doesn't contain any painful plugins that usually only complicate the process, especially for creatives who are not going to spend their time tinkering with a tech side of a website.
Creatista theme
Creatista comes with wide-screen layouts letting you feature any sort of design project, illustration, or chart in detail. With the Jetpack plugin you'll set the needed layouts and a number of columns. You may also visit Creatista shop to see that it provides fantastic intuitive shop navigation with WooCommerce ready layouts:
Creatista shop
Overall, Creatista is a good choice for product designers and illustrators. It can also serve your needs as a custom printing WordPress theme.
Gutenix WordPress Designer Art Theme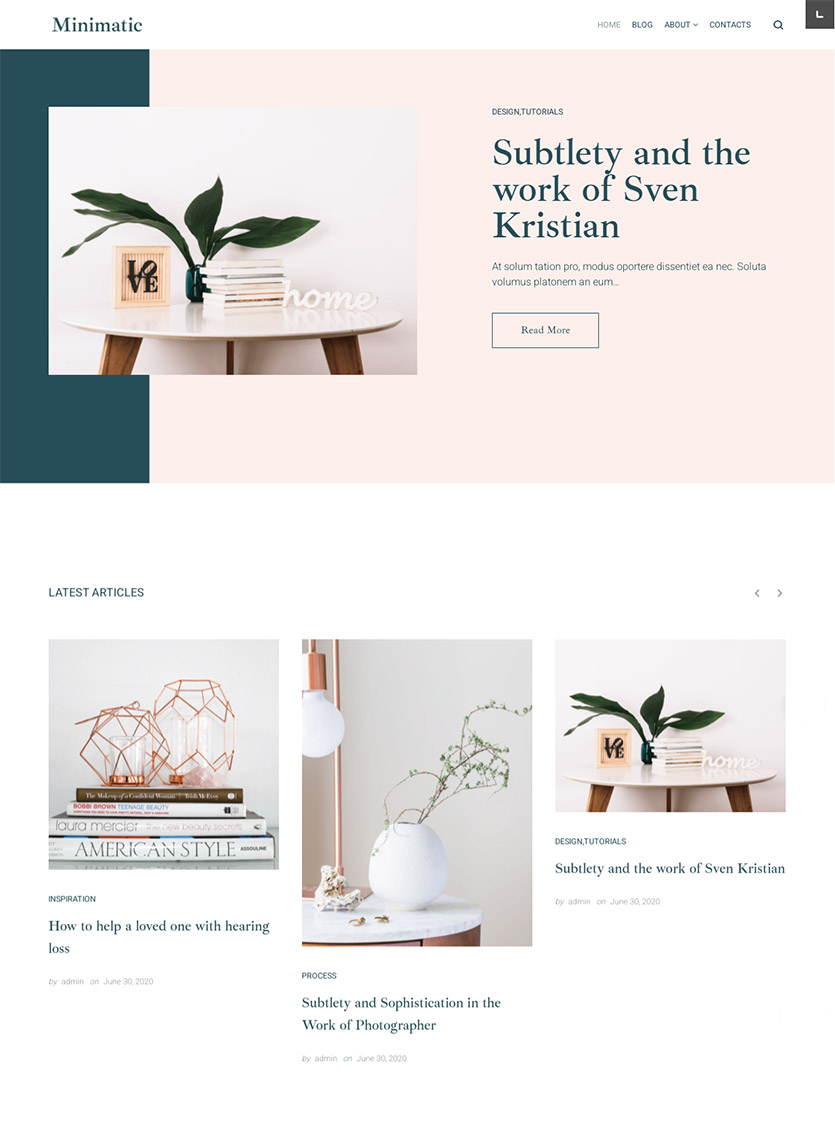 Gutenix is a universal Gutenberg optimized theme suitable for creative artists, photographers, and bloggers to showcase their works and sell them right from the website. The theme comes with an uncluttered design and easily customizable features for streamlined website management and increasing your revenue.
Gutenix theme supports multiple blog layouts like listing, masonry, grid, justify (use this creative layout to display publications in a responsive alignment by the main axis). The blog is a great source of traffic that you can convert into potential customers, so don't neglect this tool.
The header and footer are fully customizable as well and come with nine different layouts to adjust the theme to your needs.
Thanks to WooCommerce integration, high performance, and advanced settings for all website elements, Gutenix serves as a great solution for an e-commerce art theme to drive conversions and increase revenue.
Lorelei WordPress WooCommerce Art Theme- a sophisticated blog and shop theme
Lorelei is just perfect for creative bloggers who also sell their works. It will create a perfect harmony around your works thanks to neat typography, elegant color scheme, and a nice balance of content modules – your Instagram feed gallery and even ads in the sidebar will be displayed in style!
For your customization needs, Lorelei comes with 5 blog and 5 header layouts, 2 layouts for featured posts slider, customizable header image, and more.
Lorelei theme
Lorelei doesn't feel that "commercial", giving you a chance to make your website really personal and present yourself authentically. The theme supports different post formats and comes with several plugins included: Advanced Custom Fields, Contact Form 7, Mailchimp, WP Instagram, and, of course, awesome WooCommerce integration to sell your creative products.
Lorelei shop
It's worth mentioning that Lorelei comes with sample demo data and a child theme to help you work easier and safer with your website content.
NiftyFifty – a super lightweight theme for photographers and designers
NiftyFifty is a creative portfolio WordPress theme to demonstrate your works in style. If you take a look at the navigation menu, you'll notice that it's really tiny, thus, the theme is 100% focused on your images.
The galleries of the portfolio are built with a flexible Jetpack plugin, which means you can control how to present your works: the number of columns, the layout (e.g. grid or Masonry), metadata, etc.
NiftyFifty theme
You can easily categorize your works and use multiple Jetpack features – optimize images, view statistics, etc.) The theme is available in dark and white color schemes. The default WooCommerce shop layout is also quite unique in design:
NiftyFifty shop
NiftyFifty theme also comes with advanced SEO and awesome responsive layouts. It uses 'srcset' attribute to automatically define a device-pixel ratio to show each photo in the most suitable way depending on the device. Overall, it's a fantastic minimalist layout for any creative portfolio.
Fineart – an art store WordPress WooCommerce theme
The front page of this WordPress WooCoomerce art theme starts with a shop – so if you need to only sell things, the Fineart painter WordPress theme shows you the example of how your future shop would look. It lets you easily choose the product layout of the theme and helps to categorize your galleries, paintings, photographs, etc. The theme also features a cool widgetized footer and rather a classic blog.
Fineart theme
The theme will let you choose a color scheme (7 pre-designed ones are available), customize the logo and footer, add your social media links and install the theme in one click. As Fineart is mostly based around WooCommerce, you'll get a perfectly thought-out art store.
Fineart shop
Lorem WordPress WooCommerce Art Theme – a portfolio theme for any creative idea
Lorem WordPress theme comes with multiple pre-made layouts for any creative idea, be it a design agency, personal creative portfolio, handmade works studio, or just a blog. Each demo comes with lots of interesting animation effects to impress your site visitors. With this theme, you'll be able to customize your sidebars, change colors and typography, customize your menu and edit it easier with sample data.
Lorem theme
This portfolio theme is packed with a drag-and-drop WordPress page builder, Revolution slider, and full WooCommerce compatibility. The interface of its Handmade Store demo is especially attractive for creatives:
Lorem store
KON/CEPT – a stay-away-from-mediocrity portfolio
Koncept WooCommerce art WordPress theme is stunning. It's not only visually stunning, but it's also functionally powerful – multiple custom layouts and animation styles, awesome modular grid, creative blog styles, and more. The drag-and-drop page builder is also available, but you'll unlikely need it because your customization manipulations can be easily done with just portfolio galleries and custom blog styles. At first glance, the theme was born for product designers, but I'm sure you can use it for any type of creative portfolio.
Kon/cept theme
Using any of the 4 navigation styles, you can completely change the look of your portfolio. This WordPress WooCommerce theme comes with a ready-made art store design – with perfect visual balance and hover effects:
Kon/cept shop
The theme is really quick, slick, and professional in many aspects.
So, are you ready to continue your creative journey online with a new web design shape? This is really easy to share your creativity with the world and at the same time monetize your passion – just choose a WordPress WooCommerce theme that relates to your own sort of vibe.
Updated on March 27, 2020

---
Disclosure: This page contains external affiliate links and we may be paid commission if you buy the products featured above. The thoughts on this page are our own and have not been based on the payment.