36 Wedding WordPress Themes. Discover Your Dream Wedding Look with the Best Wedding WP Themes
Weddings are those special moments everyone holds dear for years. If you're in the bridal industry, whether as a photographer, planner, coordinator, or another professional, it pays to make an effort to draw in more clients. For those offering services in this field, having a website that's both engaging and well-optimized is a must. Building one? You might want to explore some of the best wedding WordPress themes.

For your convenience, here is the table of the best wedding WordPress themes, worthy of your immediate attention:
Explore the World of Wedding Themes
The realm of wedding templates is as varied and unique as the couples planning their special day. These themes serve as the digital canvas for sharing their journey and celebration with the world. From rustic charm to modern elegance, wedding WordPress themes provide the aesthetic foundation that ties all the elements of a wedding together.
Why Choose WordPress for Your Wedding Website?
WordPress stands out as a superior platform for building any website due to its flexibility and ease of use. Renowned as an intuitive content management system, it enables couples or wedding planners to create stunning and professional online resources without needing to know how to code. The platform's vast library of plugins allows for the addition of important features such as forms, photo galleries, and event details, all of which are invaluable for wedding coordination.
Selecting the Ideal Theme for Your Wedding Style
As we've established that WP is the optimal choice for organizing an online presence related to weddings, another question arises: how do you choose the most appropriate template for your specific needs?
The theme should resonate with the couple's personality and the overall ambiance they envision for their event. It's crucial to consider factors such as color palettes, typography, layout options, and the capability to showcase imagery when selecting a template. That's why we've curated this selection to help you find the perfect WordPress wedding theme for your special day.
Captivating Designs That Tell Your Love Story
A wedding website is more than just a source of information; it's a storytelling platform. Captivating wedding themes offer the tools to weave the narrative of your love story into every digital page. High-quality images, engaging layouts, and romantic design elements all give visitors a glimpse into the couple's journey.
Whether through a timeline of the relationship's key milestones or a gallery of shared moments, these designs help set the emotional tone of the wedding and invite guests to become a part of the couple's continuing story.
5 Best Free Wedding WordPress Themes
For those who prefer to explore free options first, to understand which features and design peculiarities suit their needs, we offer several no-cost WordPress templates related to wedding-centered activities.
1. Wedding Hall (Free)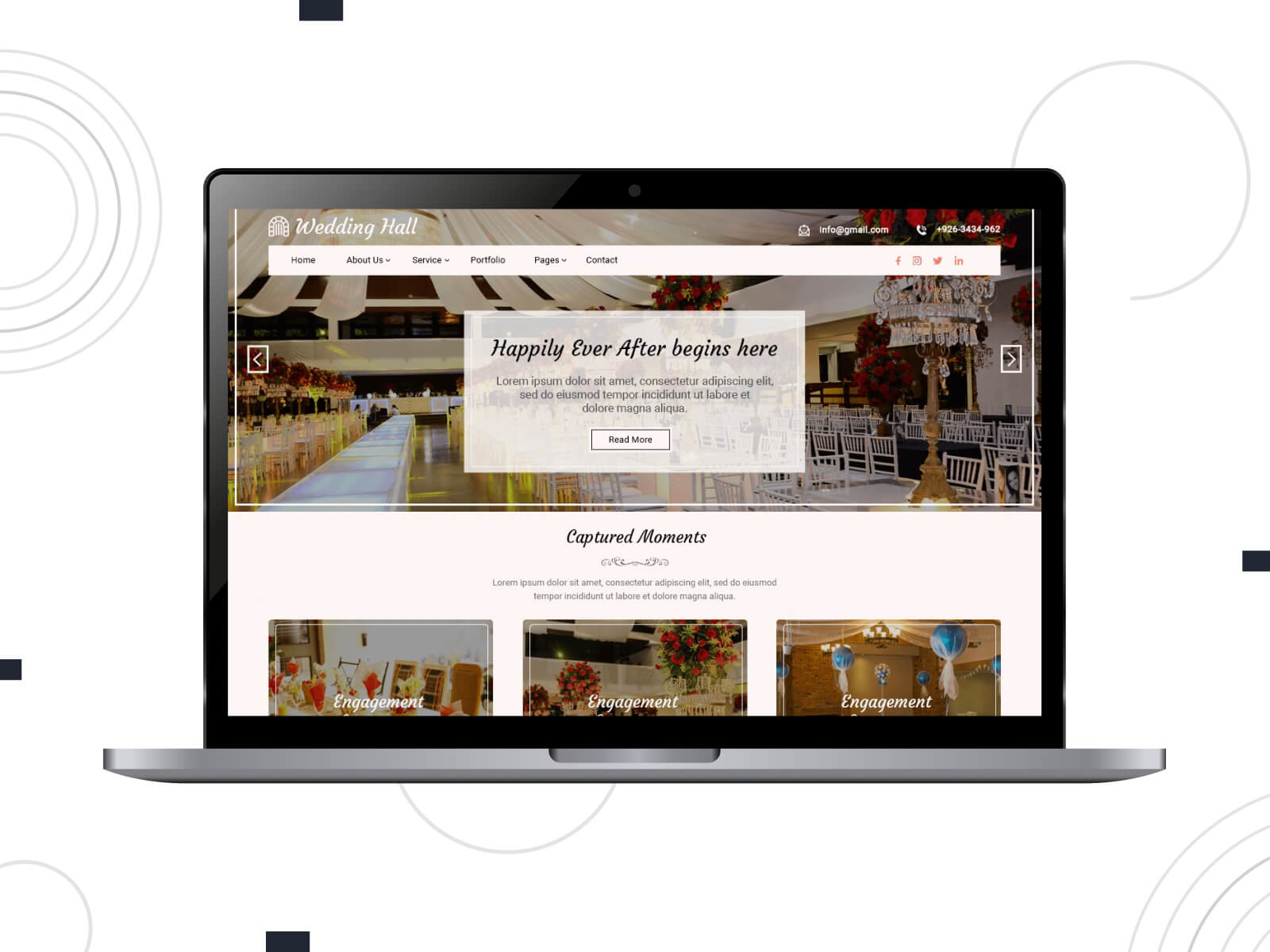 Author
Rating
Avg. Demo Speed Score
luzuk Themes
5,0
Mobile 71
Desktop 94
Meet a responsive and elegantly designed WordPress theme, perfect for any marriage-related events and enterprises. Its rich and sophisticated layout is intended to showcase your event or business details. With this template, you can take advantage of its user-friendly admin interface, which allows you to create a polished website without needing to delve into complicated technical aspects.
The theme effortlessly blends in social media features, making it a breeze to share your special moments and insights across different platforms. Crafted on the Bootstrap framework, the template is SEO-friendly and has optimized code under the hood, which ensures your website loads quickly. Additionally, there are special dedicated sections to showcase your team and other highlights.
2. My Wedding (Free)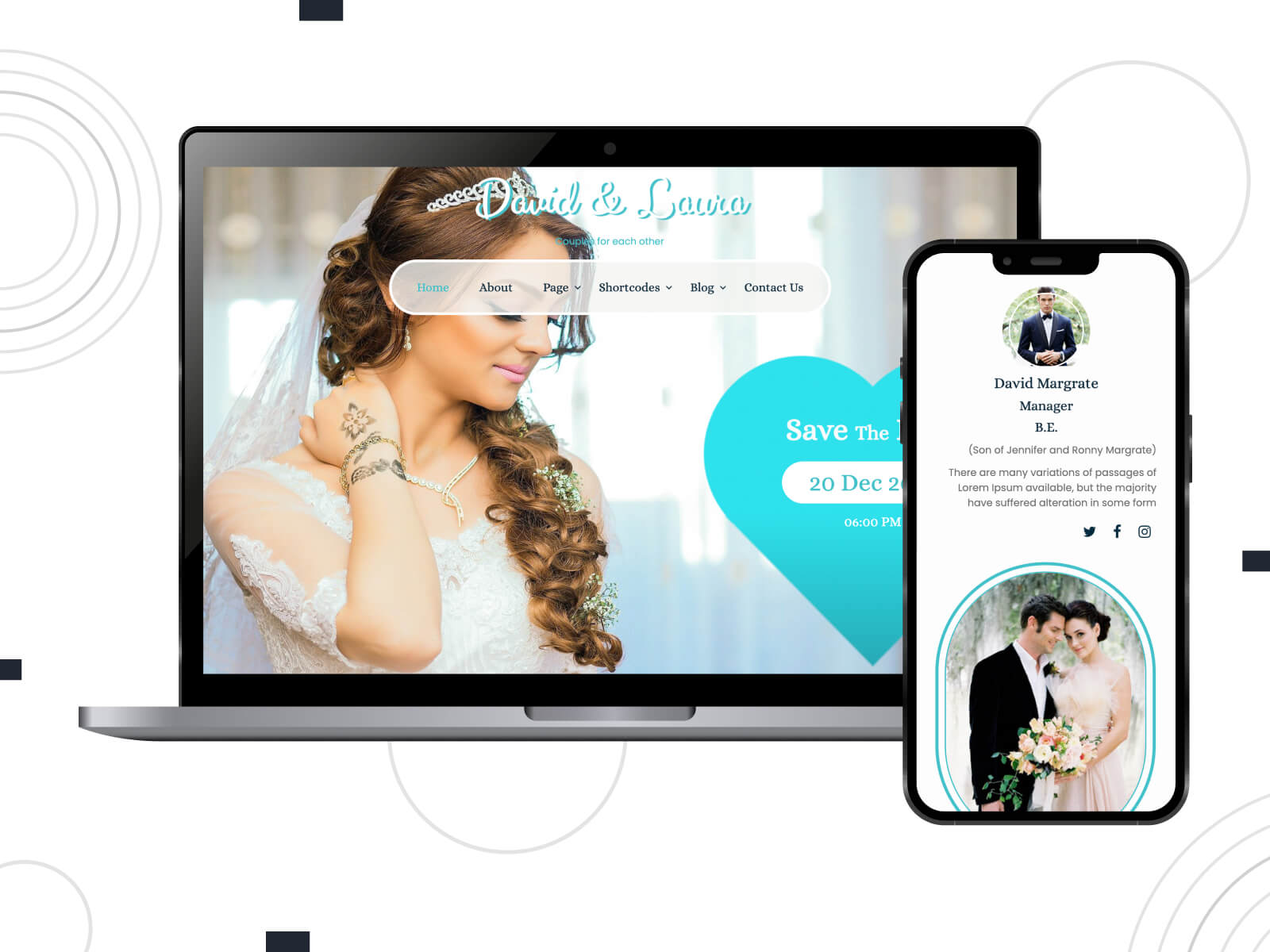 Author
Rating
Avg. Demo Speed Score
luzuk Themes
5,0
Mobile 76
Desktop 88
My Wedding goes beyond just looking great: it's incredibly practical too. Imagine being able to tweak and personalize your website in real time with live customization features. Pair this with a wealth of marketing tools like seamless social media sharing and plenty of engaging Call-To-Action buttons — it's every marketer's dream come true. Moreover, you can rest easy knowing that this theme has a high level of security.
What's impressive about the template is its lightning-fast speed, all thanks to the highly optimized and SEO-friendly code under the hood. Also, My Wedding comes packed with features like a Testimonial section for gathering client feedback, a striking banner to catch the eye, and several other goodies. This mobile-friendly theme is your ticket to a stunning and successful online presence for anything wedding-related.
3. Bosa Wedding (Free)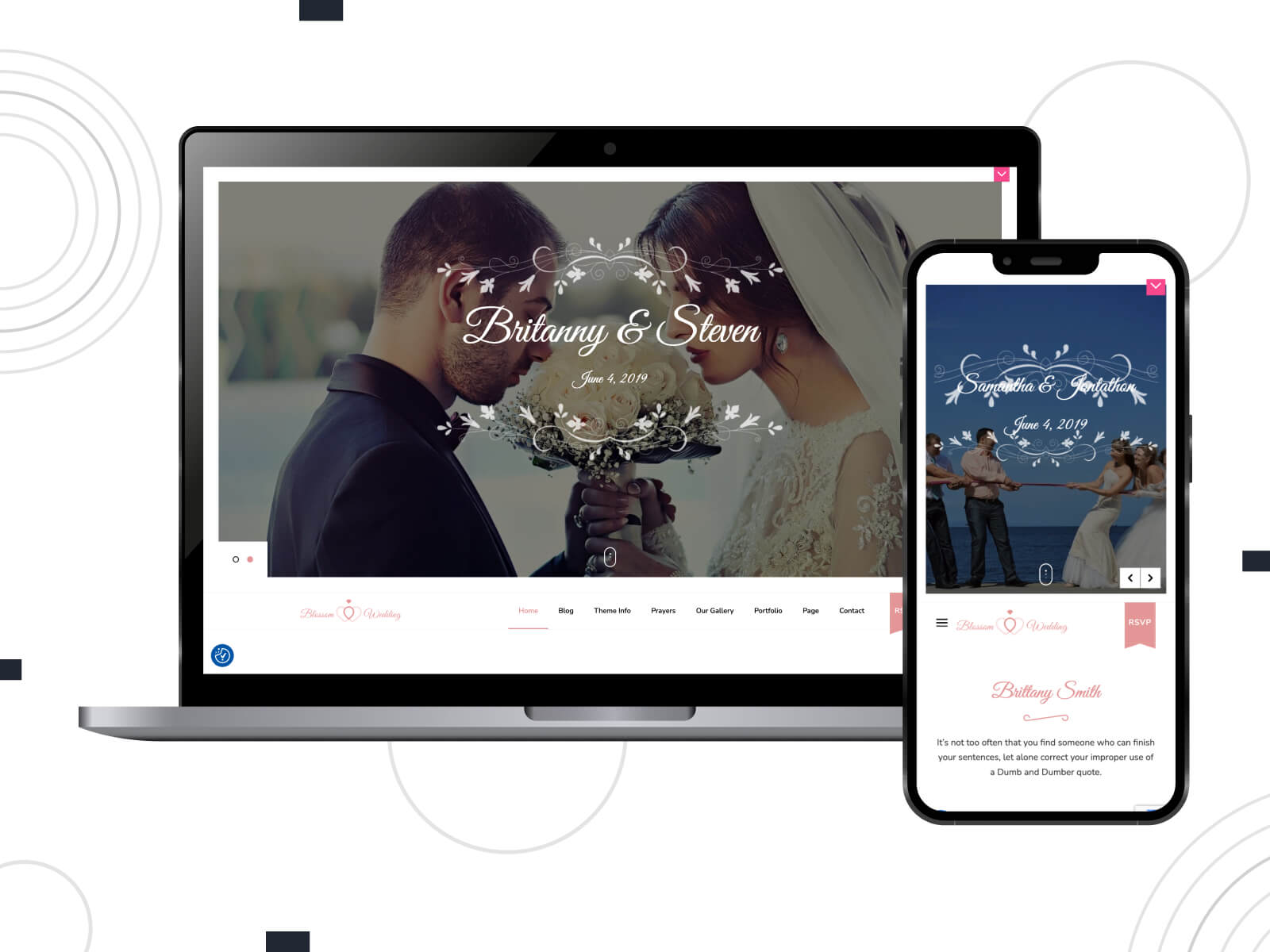 Author
Rating
Avg. Demo Speed Score
Bosa Themes
5,0
Mobile 56
Desktop 67
Whether you're crafting a website for a magical wedding day, offering top-notch wedding photography services, providing essential celebration rental equipment, or anything in between, this template is your go-to solution. It's also a perfect match for catering services, charming boutique flower shops, joyful baby showers, and lively wedding bands. With its adaptable nature, it's an excellent choice for any wedding-related online presence.
At its core, Bosa Wedding is a child theme of Bosa, a versatile and free WordPress template. Like its parent, this child plays nicely with Gutenberg and Elementor, making editing a breeze. It's been crafted with a focus on SEO, speed, and user-friendliness, boasting various header and footer layouts and pre-designed home and inner Pages. Plus, it's fully compatible with all the popular extensions like WooCommerce, Yoast, Contact Form 7, etc.
4. Classic Wedding (Free)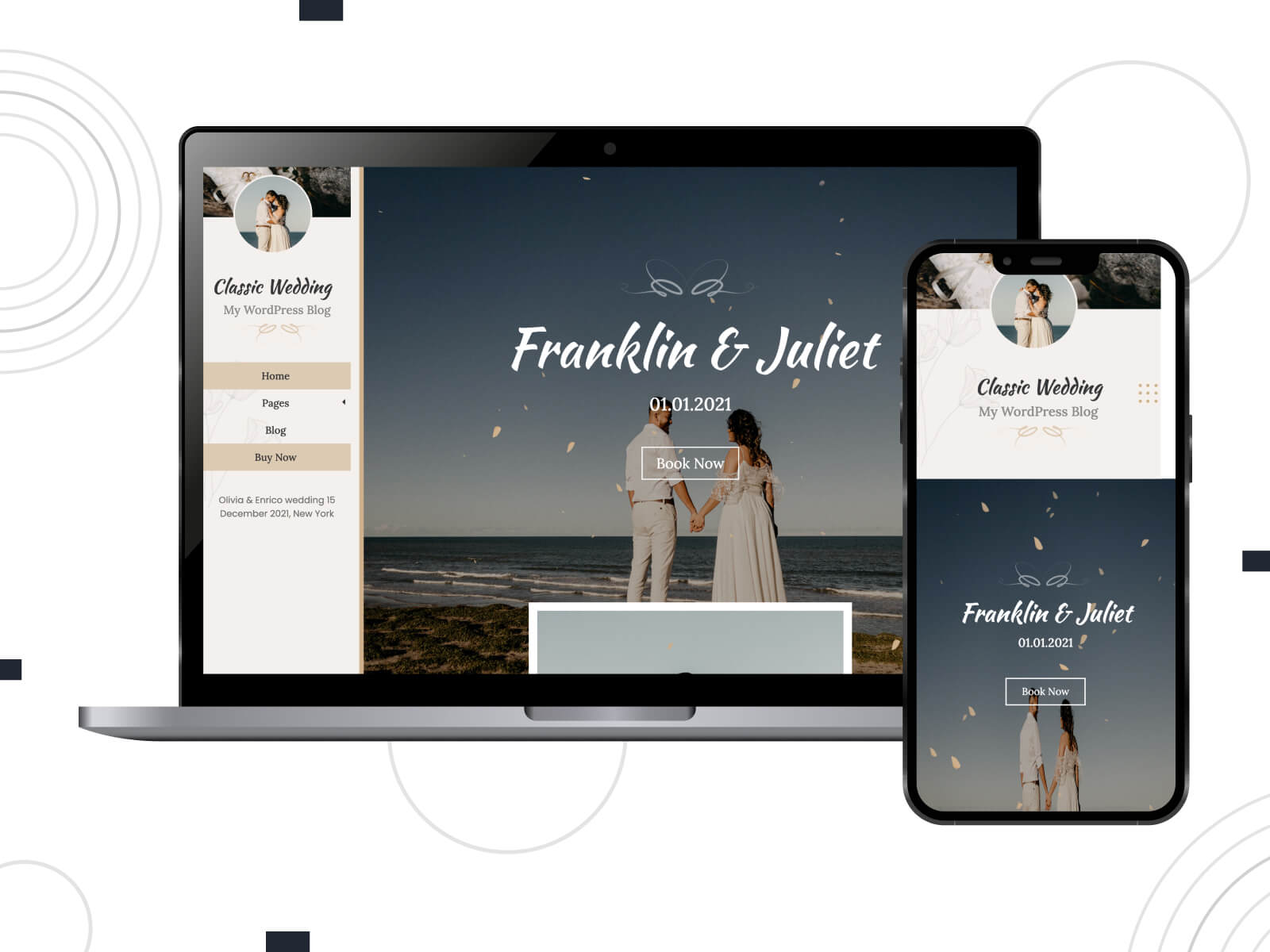 Author
Rating
Avg. Demo Speed Score
Classictemplate
5,0
Mobile 83
Desktop 93
Here's another great option for anyone in the wedding business. This template has a fully responsive design, guaranteeing that your site will look impeccable on any device. It comes loaded with all sorts of useful functionalities, including featured content, sliders, page builders, and video displays, making it super easy for you to create the perfect online presence for your wedding-related initiative.
The theme goes beyond merely offering a pretty face; it's all about forging connections. Therefore, one of its key goals is to enable you to share all the details of your wedding and those special, joyous moments with your guests, thanks to integrated social media buttons. Moreover, Classic Wedding provides the necessary functionality to keep everyone stylishly and systematically updated on wedding events.
5. AT Weddy (Free)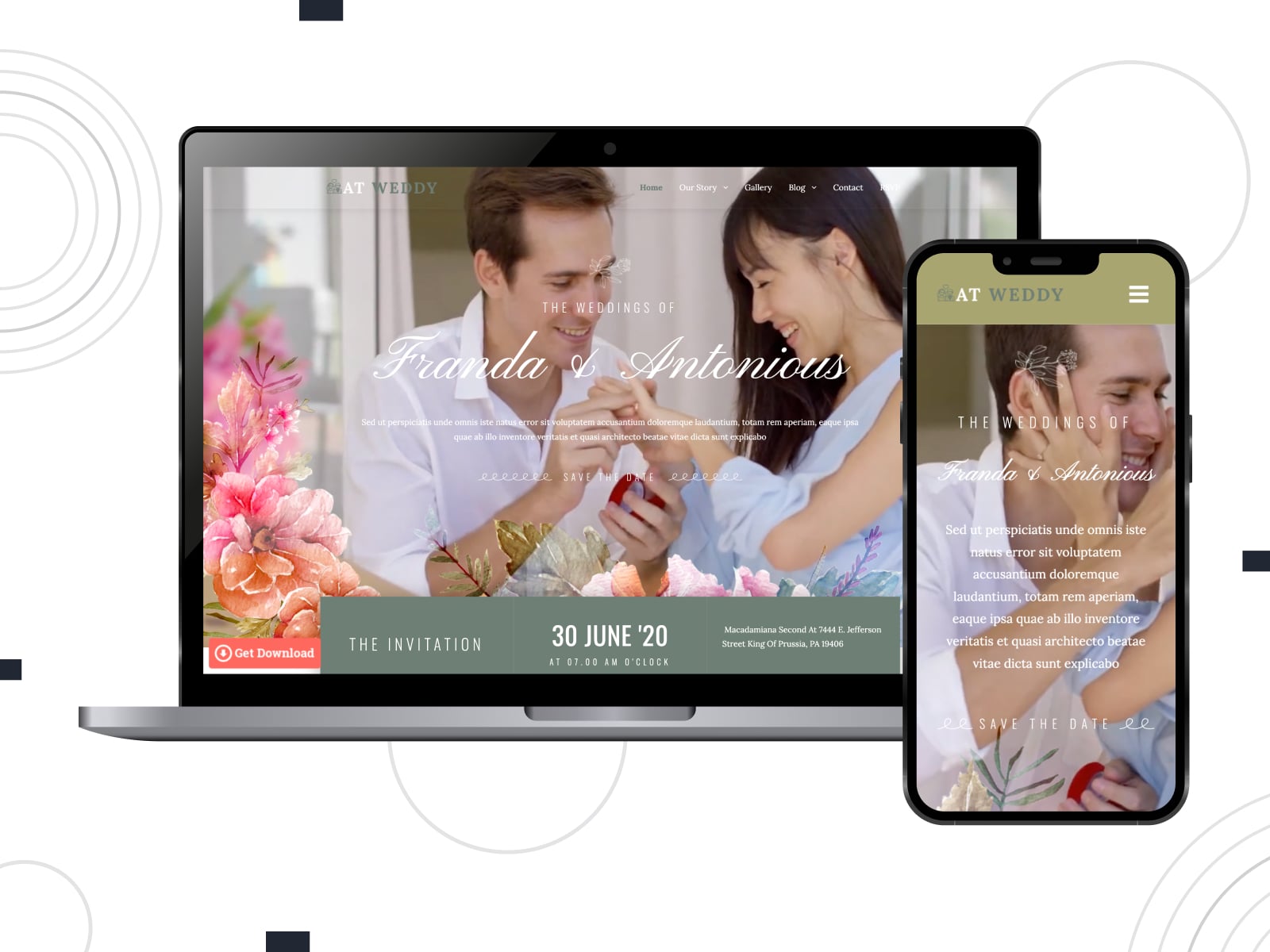 Author
Rating
Avg. Demo Speed Score
AgeThemes
5.0
Mobile 32
Desktop 77
AT Weddy is a free responsive theme listed as one of the best WordPress wedding themes suitable for wedding planners. You get access to elegant and flexible designs to showcase your wedding timeline, share ceremony details, add photos about your love story to stunning galleries, etc.
With AT Weddy, you can build up a unique site's style thanks to the Elementor page builder and its options. Tailor colors, fonts, and typography to your preferences. Apart from that, this theme lets you insert a simple or complex contact form with the Contact Form 7 plugin.
6. Catch Bells (Free)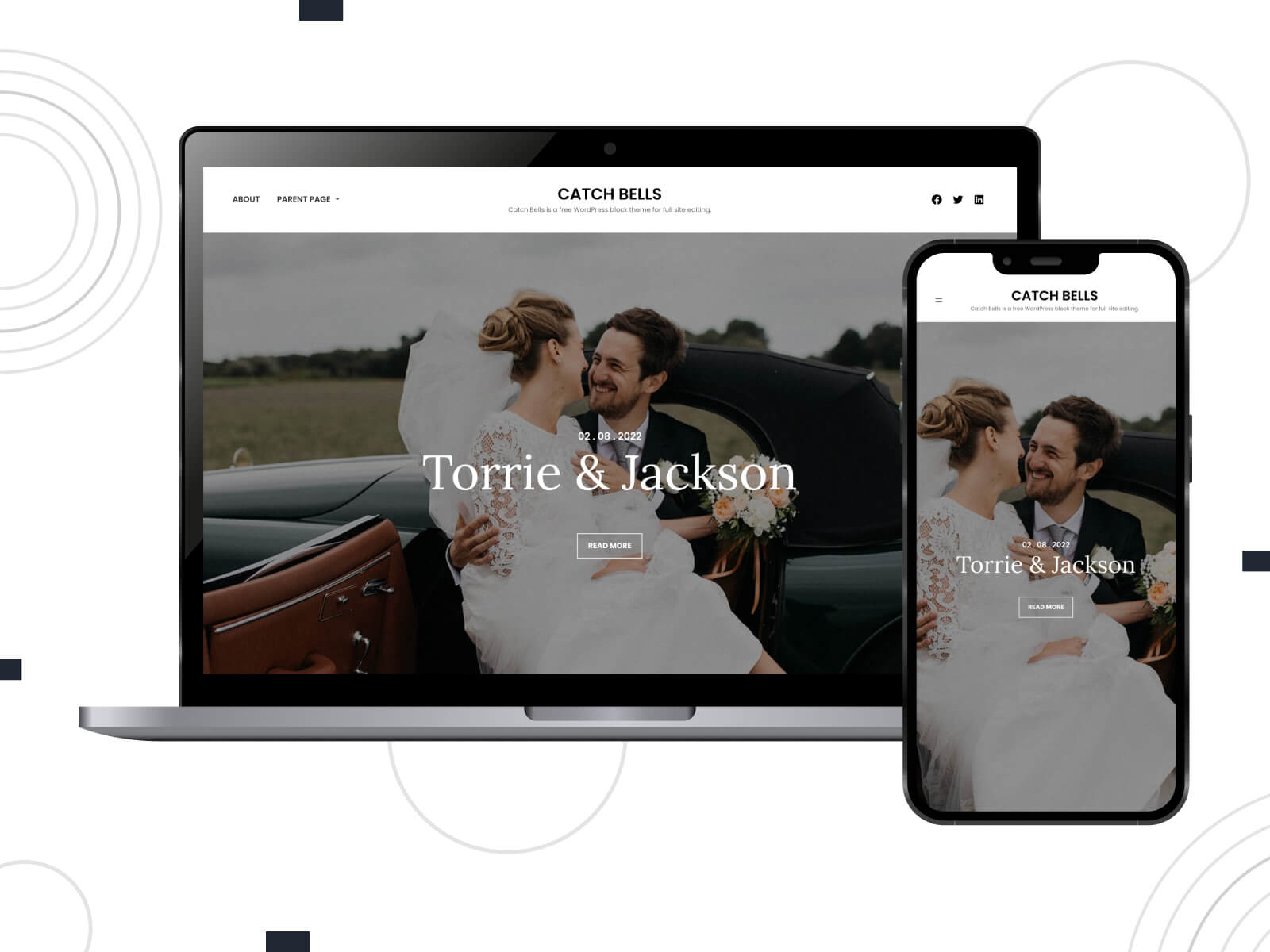 Author
Rating
Avg. Demo Speed Score
Catch Themes
5,0
Mobile 99
Desktop 96
This is a template for anyone looking to create a stunning personal wedding website or venture into the wedding business. Catch Bells shines with its responsive design, ensuring that your site looks fantastic on screens of all sizes. Packed with a variety of stunning features, it gives you the creative freedom to build a truly marvelous wedding project online that mirrors your unique style and vision.
One of the best wedding WordPress themes makes website creation a breeze with its intuitive block patterns. Building your site becomes as simple as dragging and dropping blocks to get the look and feel you desire. There are 14 block patterns, 11 templates, and 7 template parts presented. From a stylish 404 header with a background to eye-catching Featured Posts, versatile Footer layouts, engaging Header Media, and handy Social Search bars, it's got everything you need and more to tailor your site just the way you like it.
30 Best Premium Wedding WordPress Themes
Are you planning to create a new website or revamp an existing one? Here are some cool WordPress themes for weddings, available on a paid basis.
7. Gutenix — WeddingFairies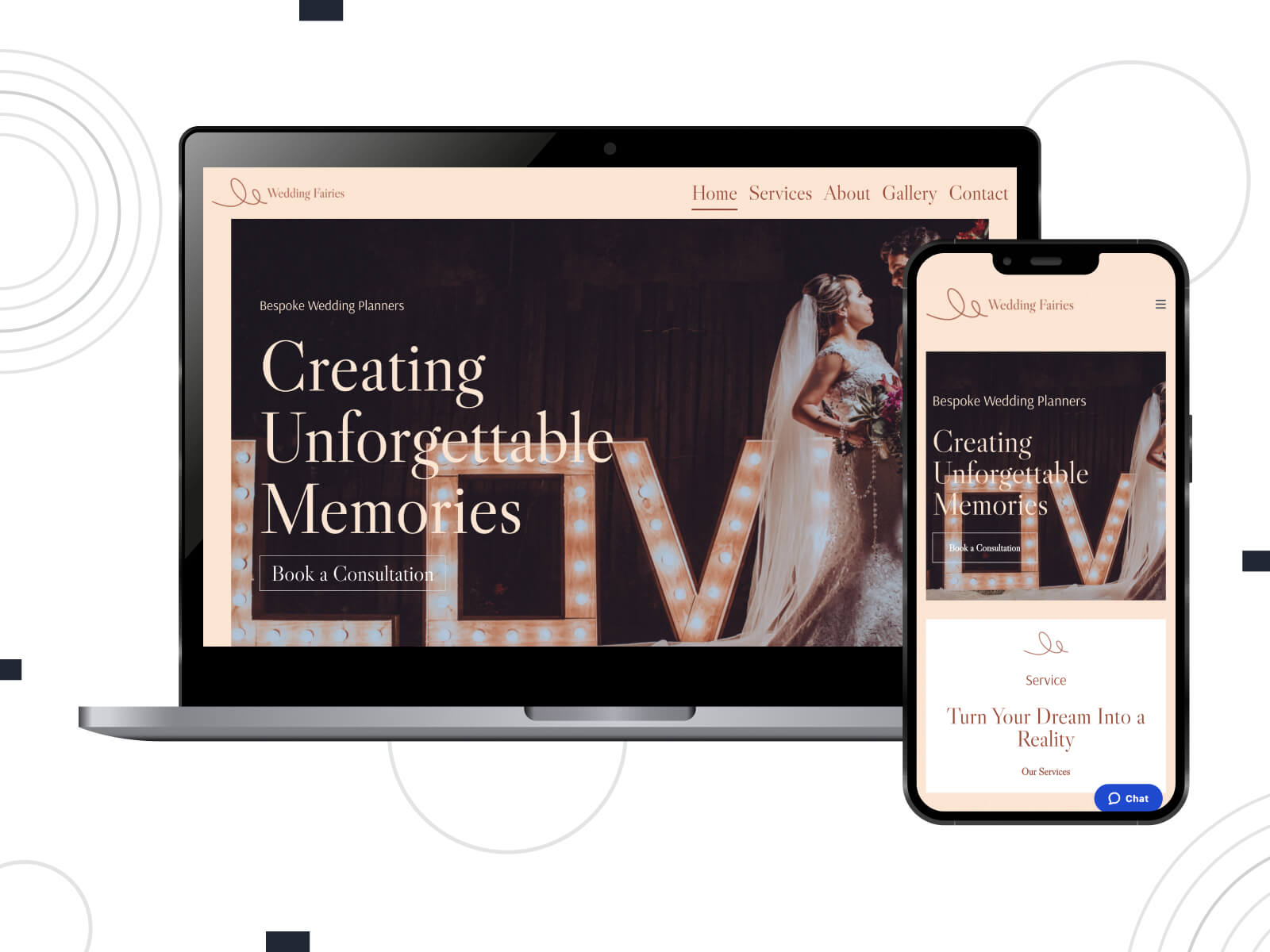 Author
Rating
Avg. Demo Speed Score
MotoPress
5,0
Mobile 66
Desktop 88
Gutenix is a WordPress theme that comes with a lot of pre-designed demo variations for different businesses. One of the best layouts that it has for marriage-related activities is WeddingFairies. Utilizing the comprehensive feature set of the Gutenix template, you can effortlessly create an attractive image gallery, display a catalog of your services, and manage bookings.
The WeddingFairies skin can be imported with just one click in its existing form, or you can modify it according to your taste. Ideal for couples planning to showcase their special day or agencies offering various wedding services, this soft and bright WordPress wedding theme captures unforgettable moments beautifully. Fully customizable through Brizy, it lets you craft stunning sliders, and engaging call-to-action sections.
Further, it can help you enhance your websites in various ways such as:
By using the ZeGuten Plugin: It has over 20 blocks on steroids, various stylization options, and responsive settings.
WooCommerce compatibility: You can start an online shop with this feature.
8. Gutenix — CozyCake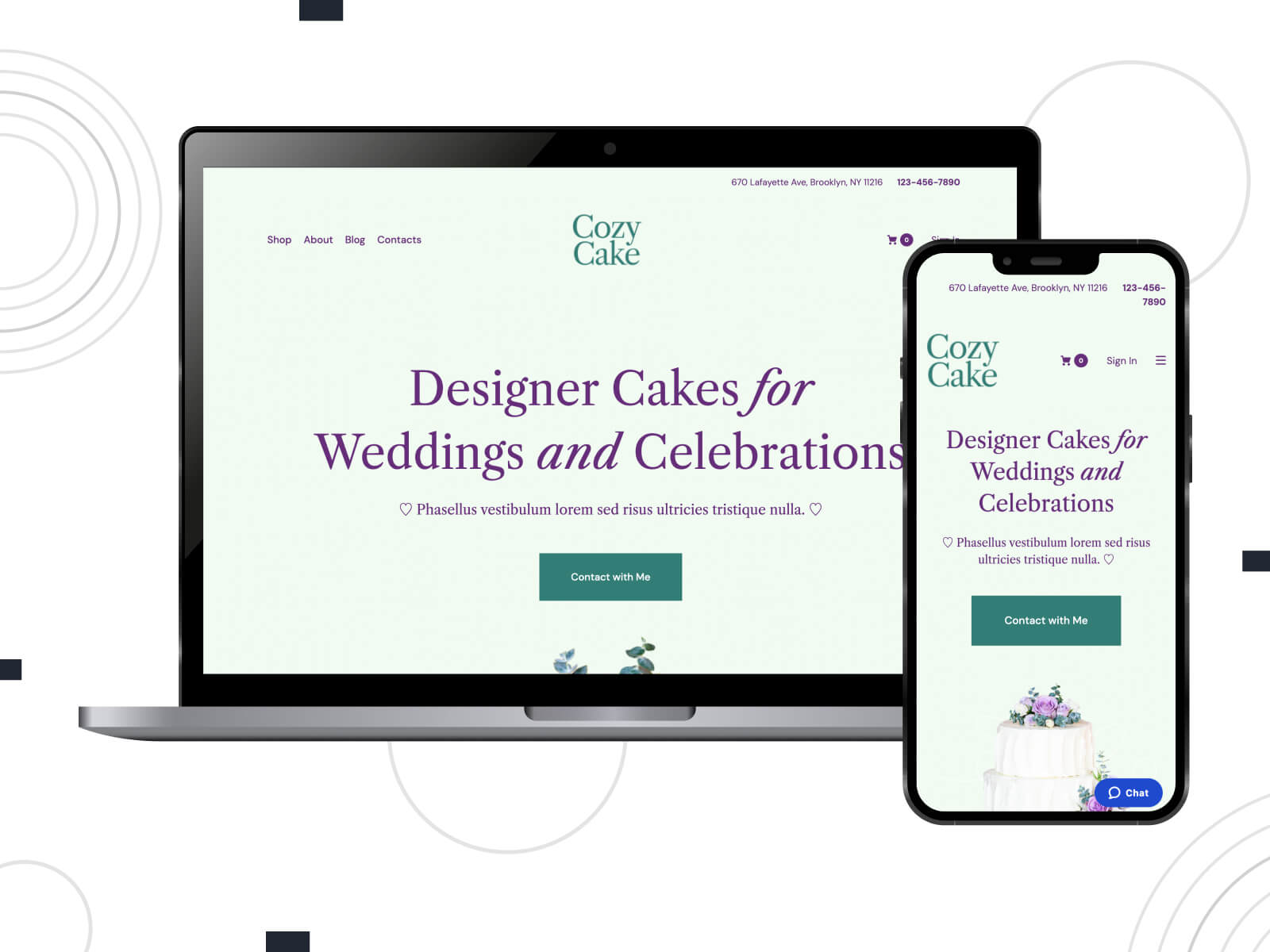 Author
Rating
Avg. Demo Speed Score
MotoPress
5,0
Mobile 53
Desktop 87
We have just mentioned the versatile Gutenix template, and now we'll expand our story about this theme by focusing on another specialized design variation — CozyCake. As its name implies, the appearance of this demo is as sweet as a cake. It features a bright design with elements in shades of violet and green, catering specifically to those who specialize in bakery and cakery services for weddings and celebrations.
The design variation features a broad, wide-width layout that provides ample space to showcase your work and products effectively on the home page. You will appreciate the user-friendly skin customization process facilitated by the popular Elementor editor. As a friendly reminder, this page builder allows for effortless adjustments and personalization, enabling you to tailor the look and feel of your website to perfectly match your brand and style preferences.
9. Solene — Wedding Photography Theme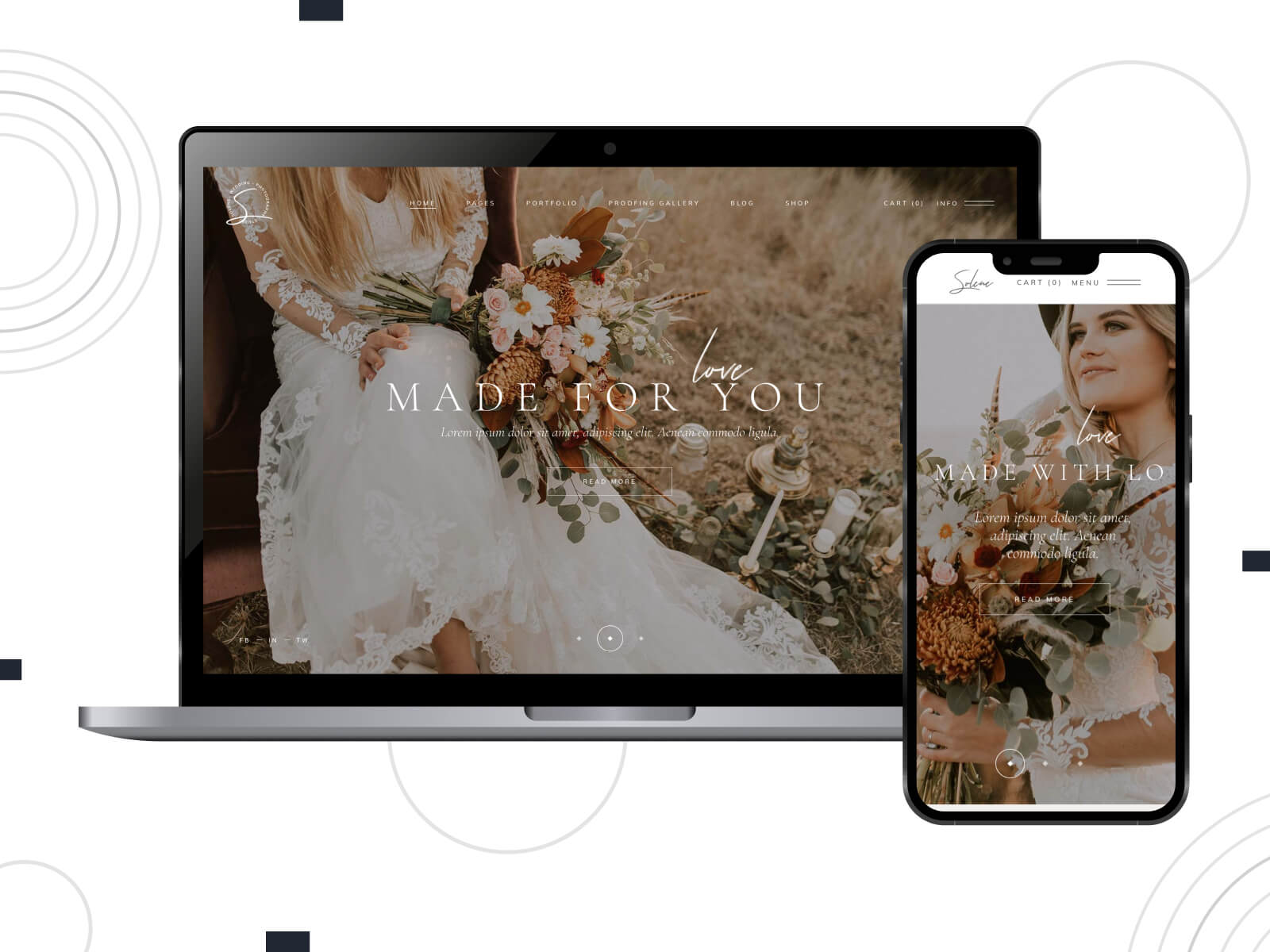 Author
Rating
Avg. Demo Speed Score
Elated-Themes
4,3
Mobile 33
Desktop 77
If you are a wedding photographer and planning to extend your business, you surely need a Solene-powered wedding photography website. The theme is the perfect pathway to designing a website that will effectively showcase your work. How?
The pre-included homepage and inner page demos ensure that all of your stunning images are up for viewing. Moreover, you can arrange these pictures in the way you want by using various portfolio layouts.
The theme is responsive, which means that people on their phones can also view your work. Lastly, it is compatible with plugins like WooCommerce, making it easy for your respective customers to buy the images online.
10. Ekko — Multi-Purpose WordPress Theme with Page Builder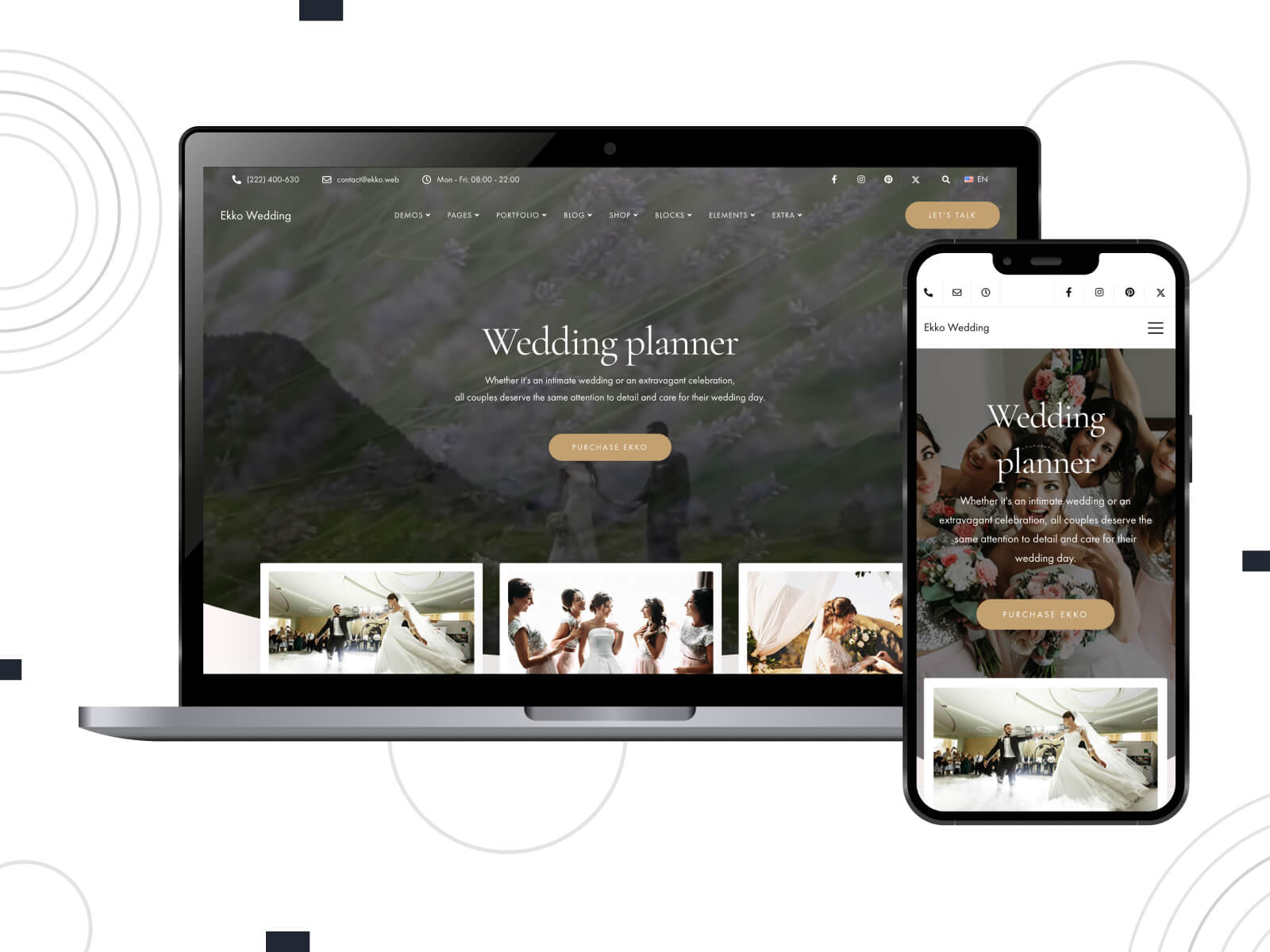 Author
Rating
Avg. Demo Speed Score
Key-Design
4,76
Mobile 51
Desktop 67
Making a wedding-related website with coding can be a bit of a hectic and long process. Hence, you need something that can speed things up. Ekko is a brilliant wedding theme that provides you with a utilitarian page builder plugin. With this, you have all the flexibility to design your wedding website the way you want.
The drag-and-drop page builder eliminates the need for coding while increasing the scope of customization. You can choose from over 50 complete wedding website designs, 250 template blocks, and 40 design elements.
Other than this, you can get various plugins for free such as Revolution Slider, Contact Form 7, and WooCommerce. Use the Revolution Slider plugin to showcase your wedding photography work interactively.
11. Bridge — Creative Multipurpose WordPress Theme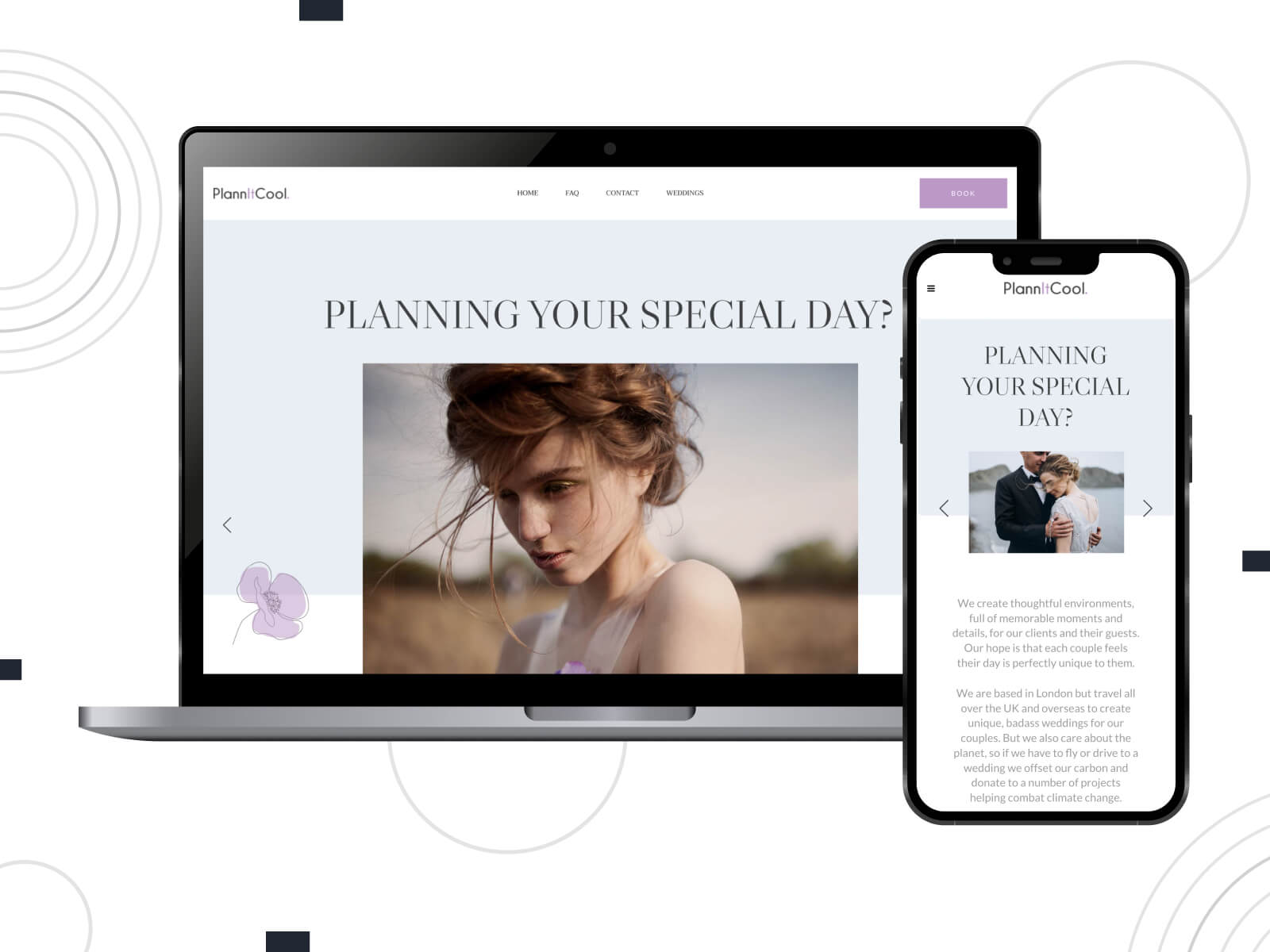 Author
Rating
Avg. Demo Speed Score
QODE
4,76
Mobile 43
Desktop 89
Behold! Here is the master theme for you. The term master suggests that Bridge can be used for making various types of wedding-related websites. Now, how is it possible? Let's find out!
The first thing that supports the master nature of Bridge is the number of demos it offers, which is 550. So, there will be no shortage whatsoever. Plus, the theme comes with not just one but 2 page builders.
You can start any type of online wedding store with the WooCommerce compatibility of this theme. Moreover, features like one-click demo import, countless modules (listings, music, magazine, etc.), elements, blog layouts, and others enhance the overall utility of your wedding website.
12. Stockholm — A Genuinely Multiconcept Theme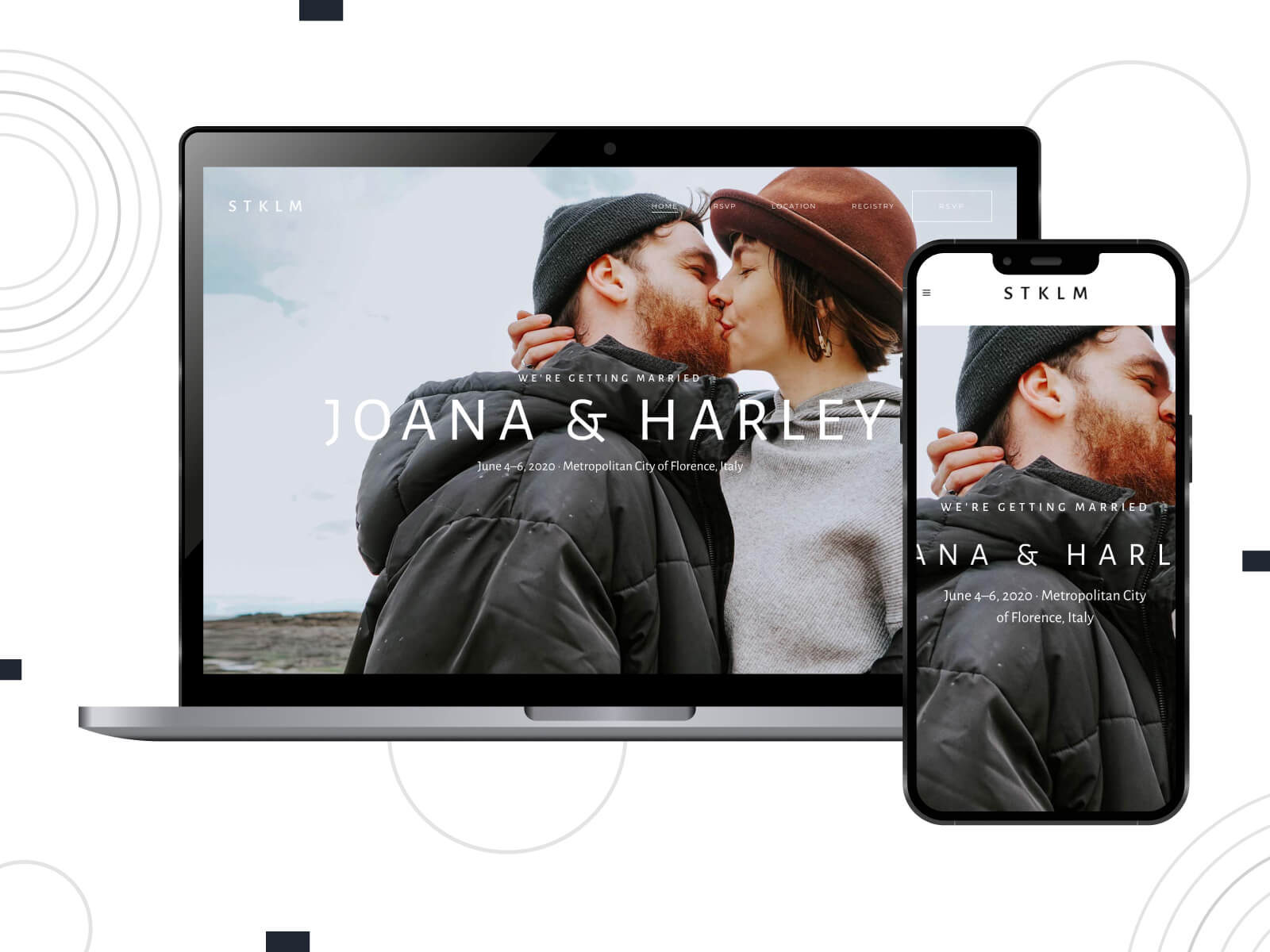 Author
Rating
Avg. Demo Speed Score
Select-Themes
4,71
Mobile 46
Desktop 64
All of our best wedding WordPress themes can be beneficial if they have plugins. Fortunately, Stockholm is blessed with compatibility for various plugins that may save you a lot of money. As said, the theme is fully compatible with plugins like:
WPML
WooCommerce
WPBakery
Elementor
LayerSlider
Revolution Slider
Another great feature of Stockholm is that it comes with video tutorials to help users use the theme well. Moreover, it offers you over 140 demos that include all types of websites. So, whether you are a wedding planner or photographer, you will have plenty of choices.
Lastly, the theme is fully responsive and also provides you with social sharing options.
13. Kalium — One of the Best Wedding WordPress Themes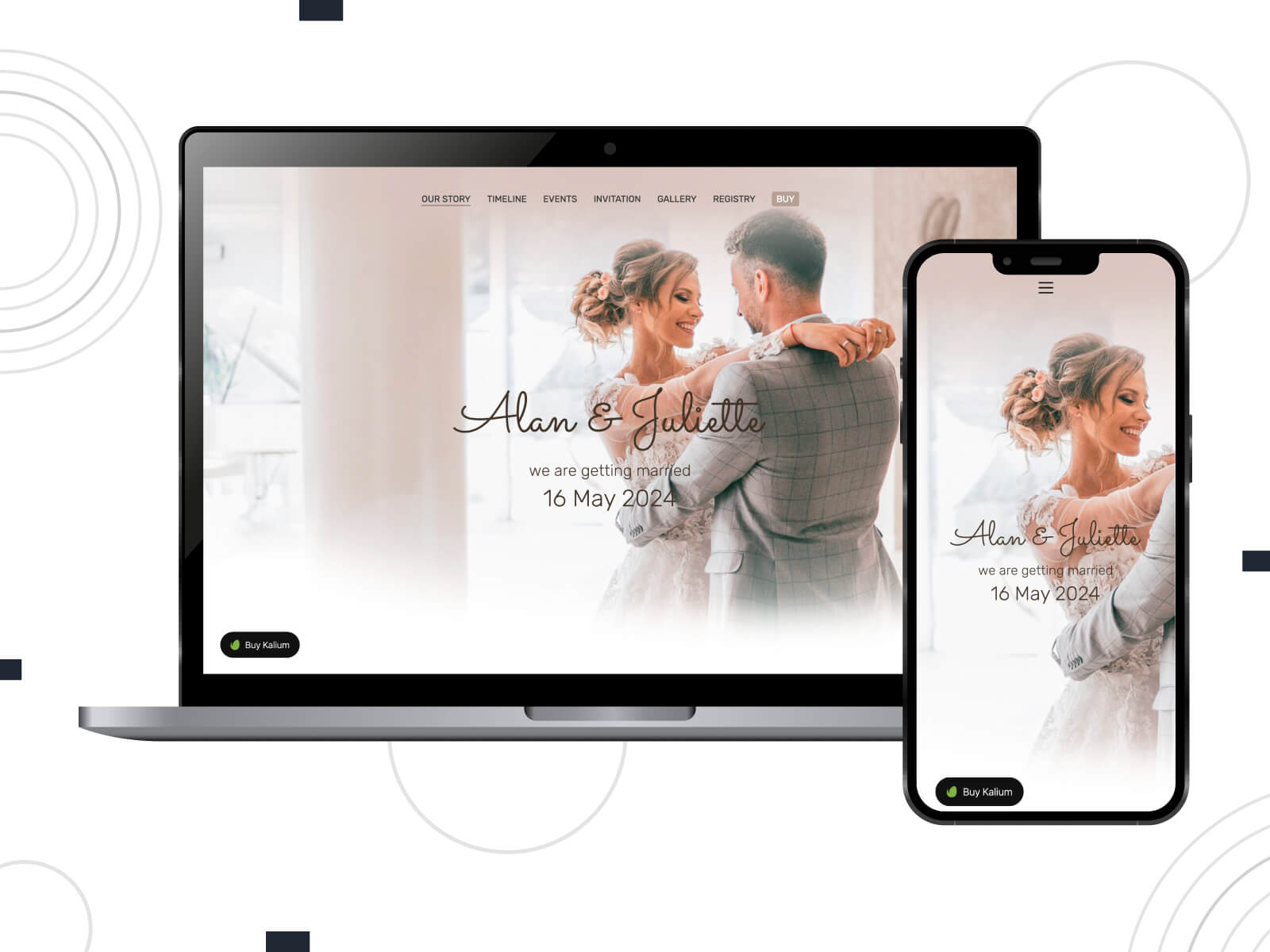 Author
Rating
Avg. Demo Speed Score
Laborator
5,0
Mobile 87
Desktop 99
Kalium is a multipurpose WordPress theme that comes with an elegant & stylish demo for a wedding website. You can create and edit a beautiful website with the Elementor or WPBakery page builder. Use a portfolio to showcase photos from the event.
Blog options let you share posts in a preferred layout. What's more, you get a collection of 15+ header styles and customizable elements for site sections. Kalium supports different WordPress plugins that will extend your site's functionality.
14. Pixetty — WordPress Photography Theme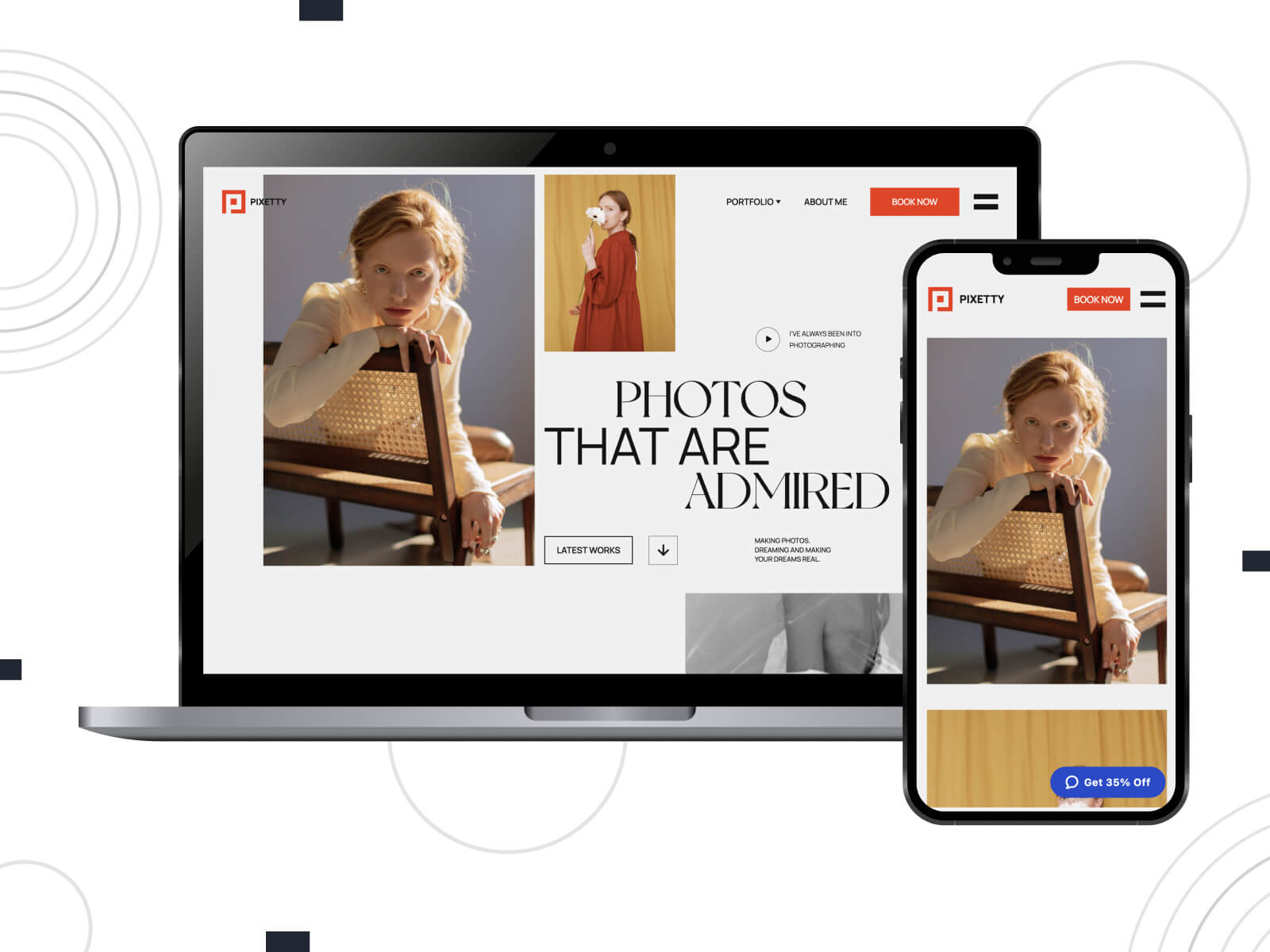 Author
Rating
Avg. Demo Speed Score
MotoPress
5,0
Mobile 83
Desktop 93
Pixetty is a WordPress photography theme crafted with the Gutenberg editor and Getwid WordPress blocks. It helps photographers and studios emphasize their notable works on pre-made creative pages. Along with inspiring galleries and fully packed pages, it gives you control over automated appointments.
A dedicated WordPress Appointment Booking plugin enables photography sessions in different studios, professionals' portfolios & schedules, and easy-to-use appointment management tools. The plugin supports multiple payment methods and allows you to add discount coupon codes. You can set up email notifications and sync appointments with an employee's Google Calendar.
You may also take a look at Artwork Lite — a free theme for WordPress creative websites from the same provider.
15. Brooklyn — Creative Multipurpose Responsive WordPress Theme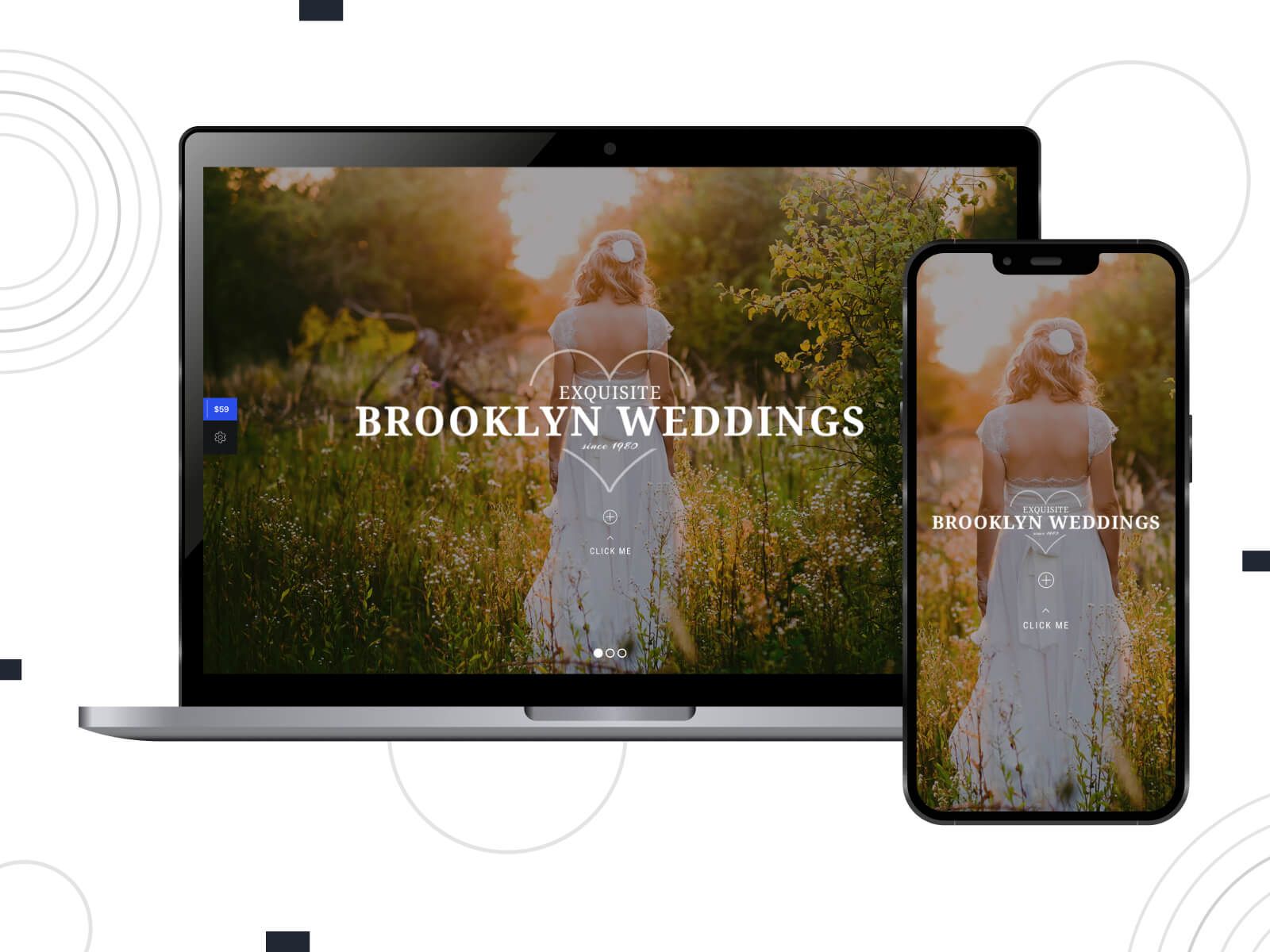 Author
Rating
Avg. Demo Speed Score
UnitedThemes
4,69
Mobile 41
Desktop 91
When it comes to beauty, Brooklyn is the Wedding theme for WordPress that you need. Brooklyn is considered one of the most beautiful themes for weddings. Why? Well, one reason is that it comes with a free add-on of video thumbnails. You can use this to bring life to your static work portfolio. This will further help in attracting more clients.
On top of this, Brooklyn offers you over 50 pre-made website templates that you can use as they are in just one click. Further, you get 100 organized panels, dark and light themes, Slider Revolution, and many other plugins for use. As per the speed parameter, the theme excels by scoring one of the highest PageSpeed scores.
16. The Aisle — Elegant Wedding Theme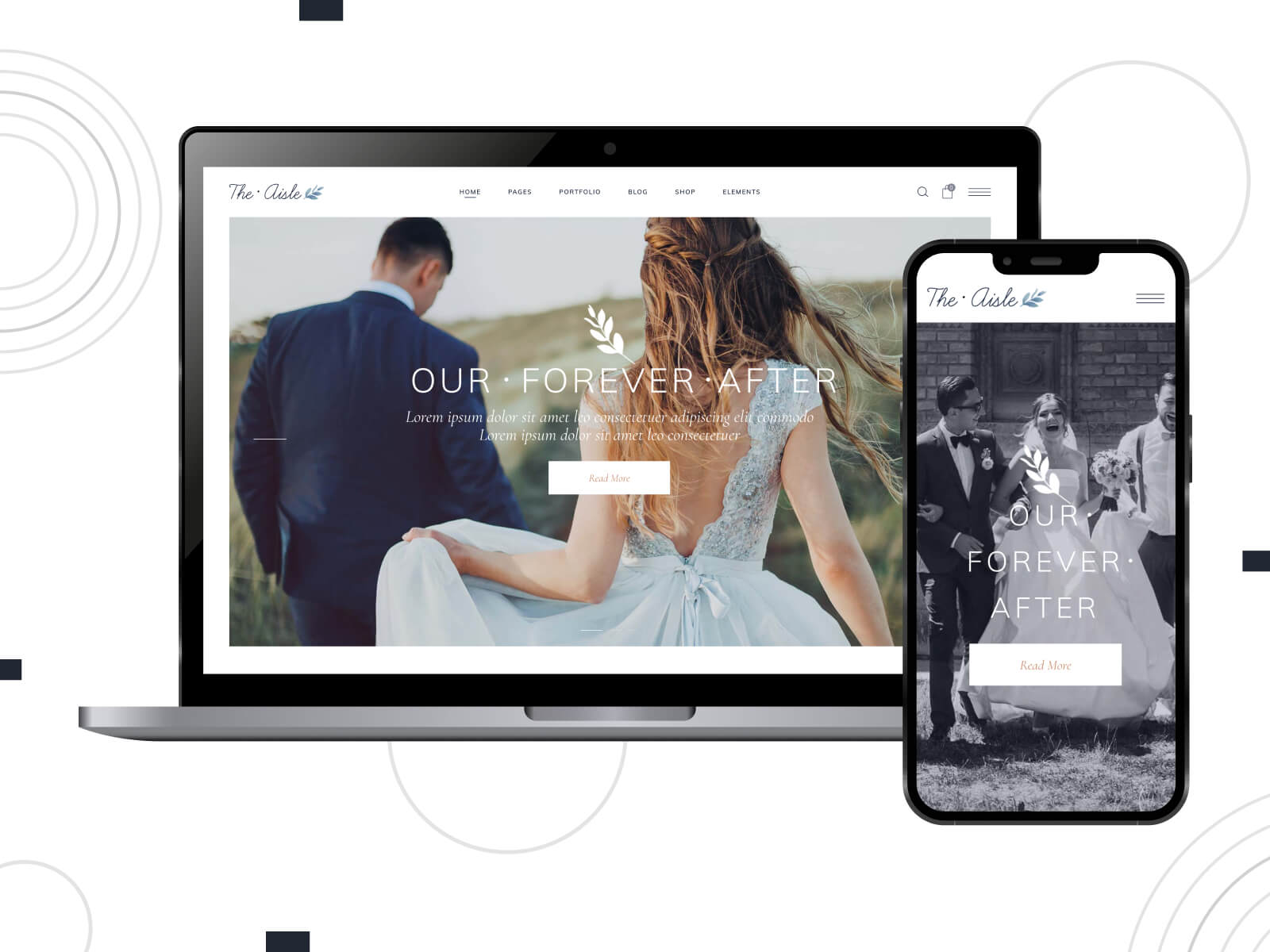 Author
Rating
Avg. Demo Speed Score
Elated-Themes
4,11
Mobile 51
Desktop 76
Well, the name of the theme is enough to reflect its significance. The Aisle is one of the most beautiful yet fully functional solutions among our list of best wedding WordPress themes. The first look at the theme will give you a clear idea as it has a light color scheme that perfectly blends with its purpose.
The Aisle comes with a drag-and-drop WPBakery builder that helps to design the website you want in real-time. Besides, the WooCommerce compatibility and elegant shop templates of the theme enable you to start your online store at any time. The theme is also backed by friendly customer support if needed!
17. Reflector Photography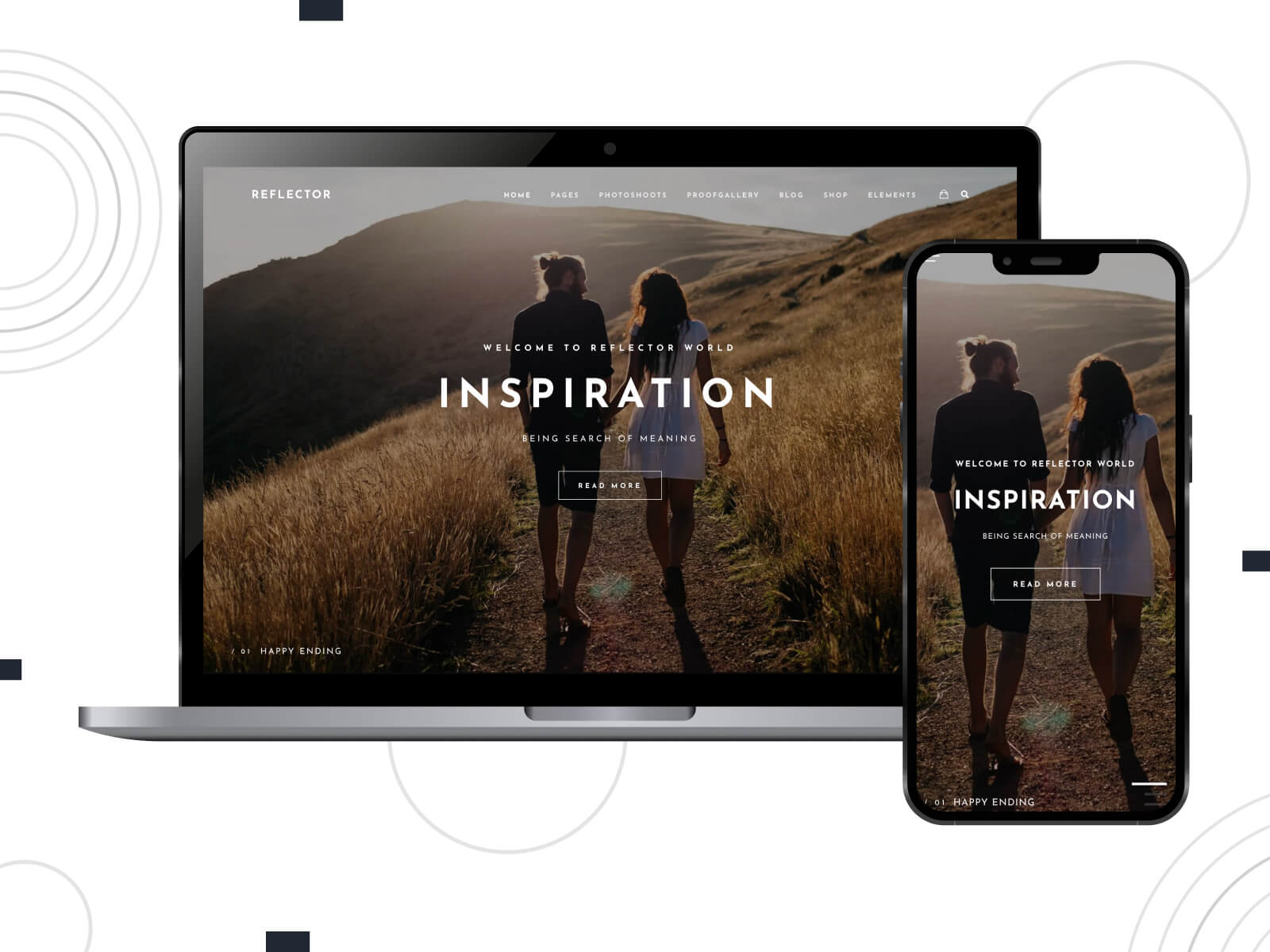 Author
Rating
Avg. Demo Speed Score
Fox-Themes
4,68
Mobile 33
Desktop 71
If you are a photographer and also have a studio, then Reflector Photography is a great theme to showcase your work online. To begin with, it has over 25 pre-built homepages that can be used instantly with just one click. You can also shuffle the elements within various templates as needed to make a custom website.
You can manage your portfolio with over 14 portfolio pages and 17+ gallery templates. Take your presentation to the next level with the ten slider integrations provided in the theme. Besides, you can also start blogging related to your work using the blog templates.
As for performance, the theme is fully responsive for mobile devices and also has a remarkable loading speed.
18. OneLove — The Elegant & Clean Multipurpose Wedding WordPress Theme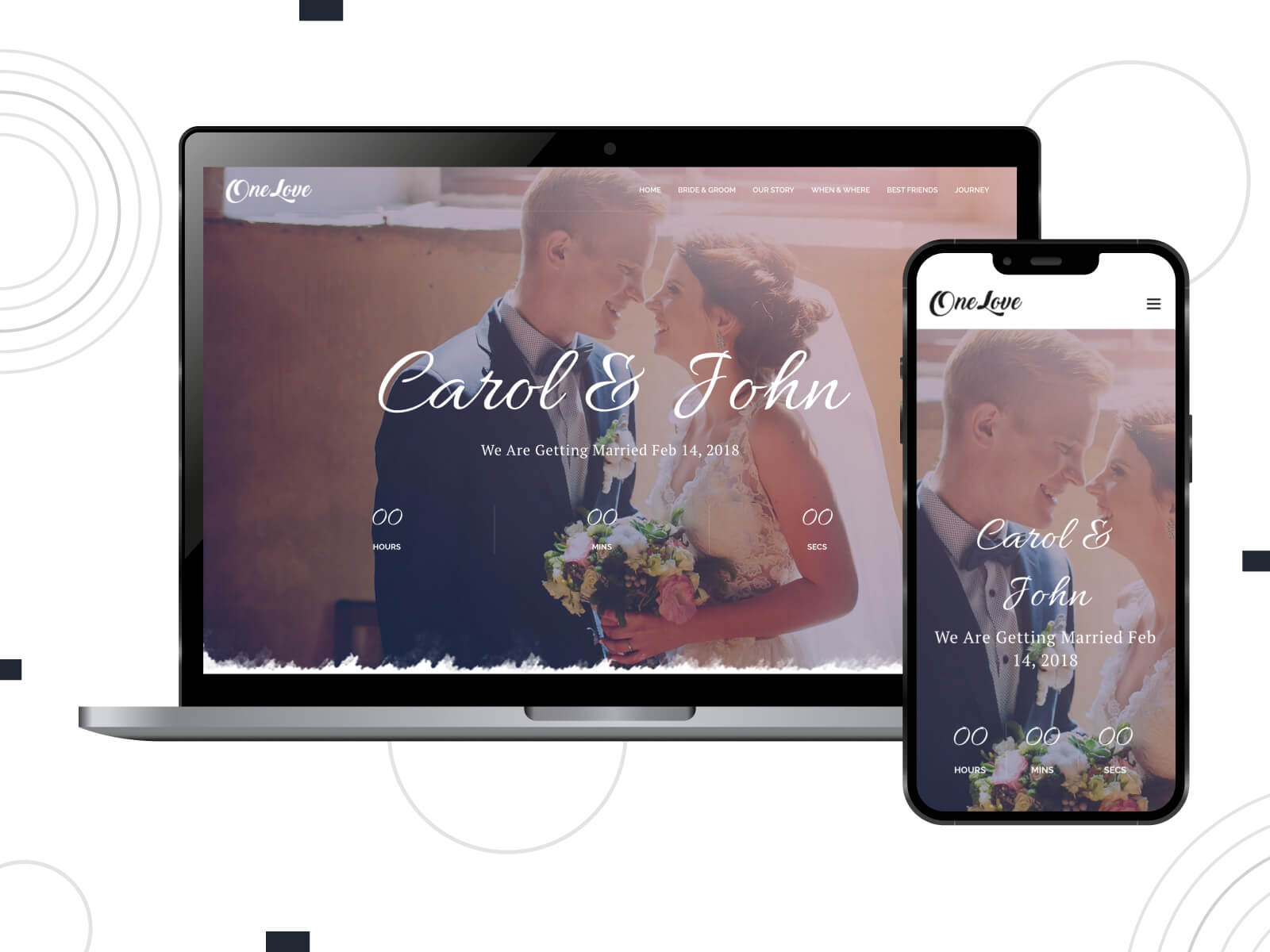 Author
Rating
Avg. Demo Speed Score
Catanis
4,86
Mobile 45
Desktop 79
If you are a couple and want to create your wedding website, then OneLove is the theme to bet on. You must be thinking, why? Here is the answer!
OneLove is a clean theme that provides you with 22 different demo homepages for wedding-related websites such as planner, planning, modern, etc. The unlimited photos and gallery layouts allow you to add images and videos to display your work more interactively.
Thanks to WooСommerce compatibility, you can easily start selling wedding-related items from your website in no time. As the theme has a drag-and-drop visual page builder, you don't have to be proficient in coding for making the website.
19. Jevelin — Multipurpose Responsive WordPress AMP Theme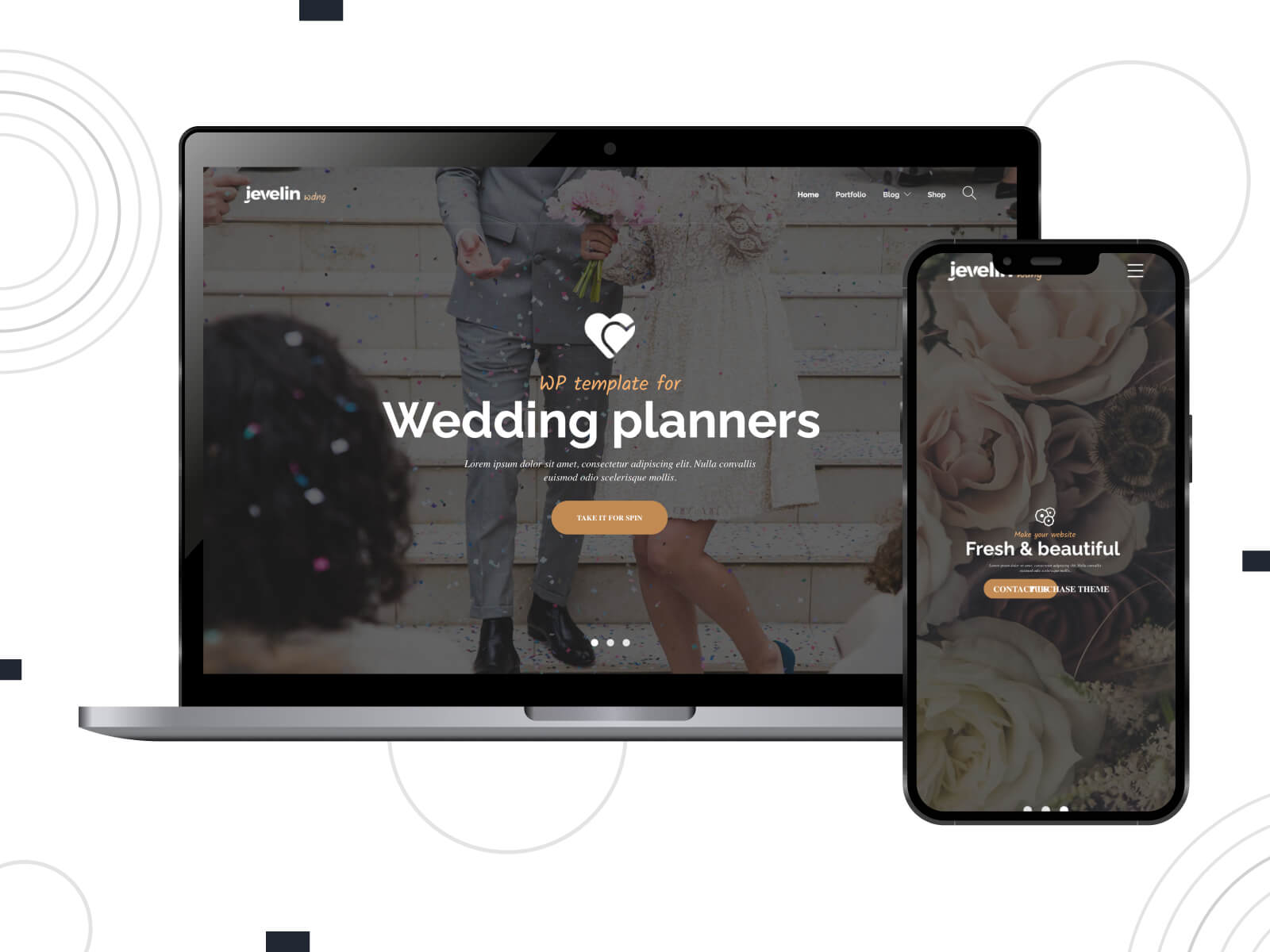 Author
Rating
Avg. Demo Speed Score
Shufflehound
4,59
Mobile 35
Desktop 76
When you look at the Jevelin wedding template, you will naturally be wowed. The super artistic theme has all the awesome aspects that one needs in a wedding theme. Let's begin with the best features:
Mobile-friendly: The theme's responsiveness makes it look brilliant on a mobile device.
Customization options: Jevelin, just like other best wedding WordPress themes, will help you beautify your site with hundreds of options related to various aspects.
Tutorial and support: You can use the video tutorial to learn how to use the theme. If not, you can also contact customer support if you have any other issues.
Other than these, the theme is Woocommerce ready and has compatibility with Contact Form 7 and Slider Revolution.
20. Wedding Planner — Responsive WordPress Theme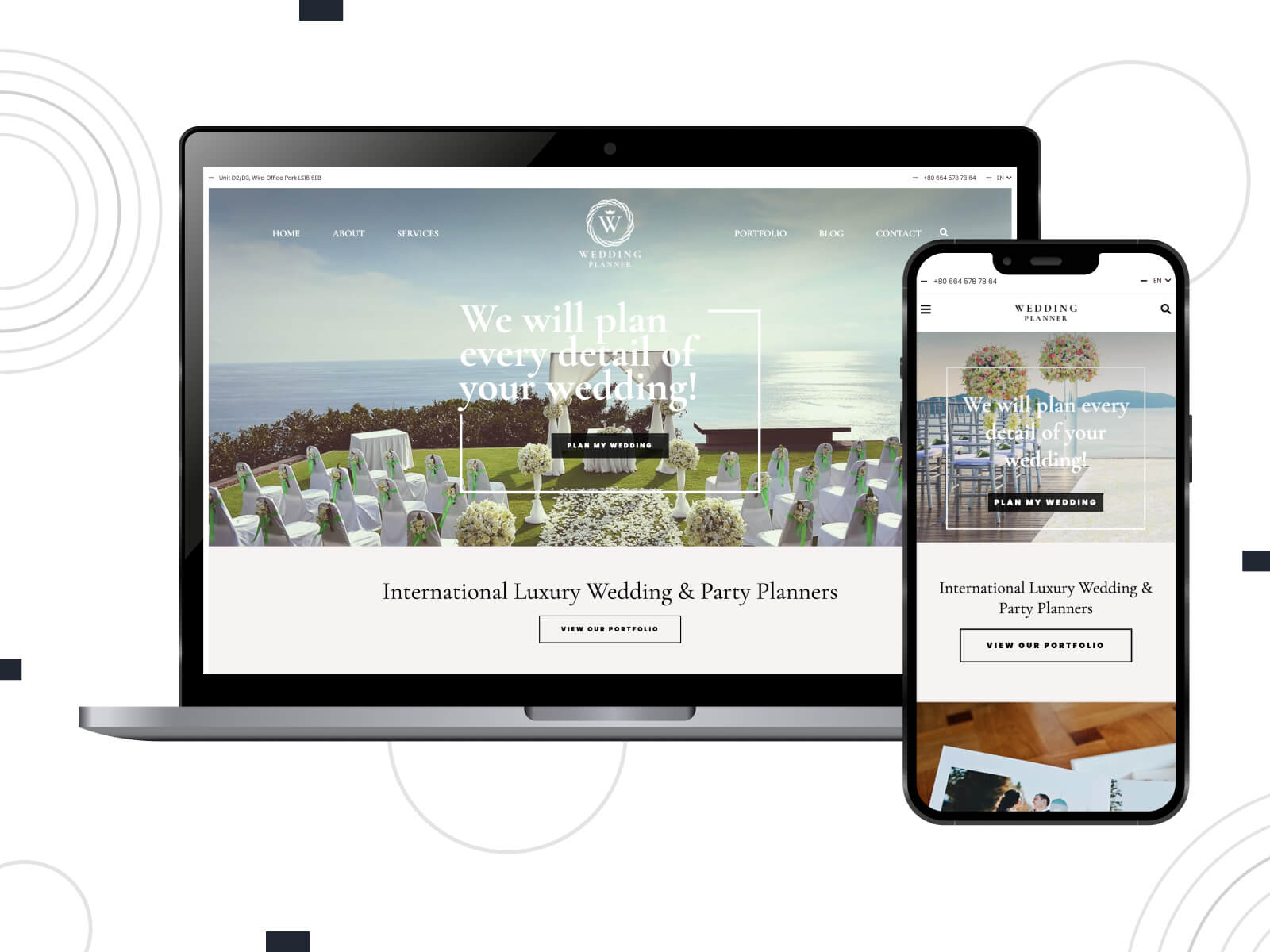 Author
Rating
Avg. Demo Speed Score
Freevision
4,88
Mobile 39
Desktop 81
Being a wedding coordinator, you need to keep up with the competition. And for that, you need to get yourself an engaging website. Wedding Planner is a great theme that has 8 homepages and over 20 other page demos to kick off your website-building process.
To make it easier for you, the theme comes with a live composer visual drag-and-drop page builder so that you can monitor every change you make. The theme has countless home pages and inner wedding page demos to choose from. You can start using them with just 1-click and make changes as per your needs.
Use multiple portfolio styles to showcase your wedding-related work. Moreover, make your website understandable by using the WPML plugin so that more people can see and understand your work.
21. Sweetinz — Creative OnePage Wedding WordPress Theme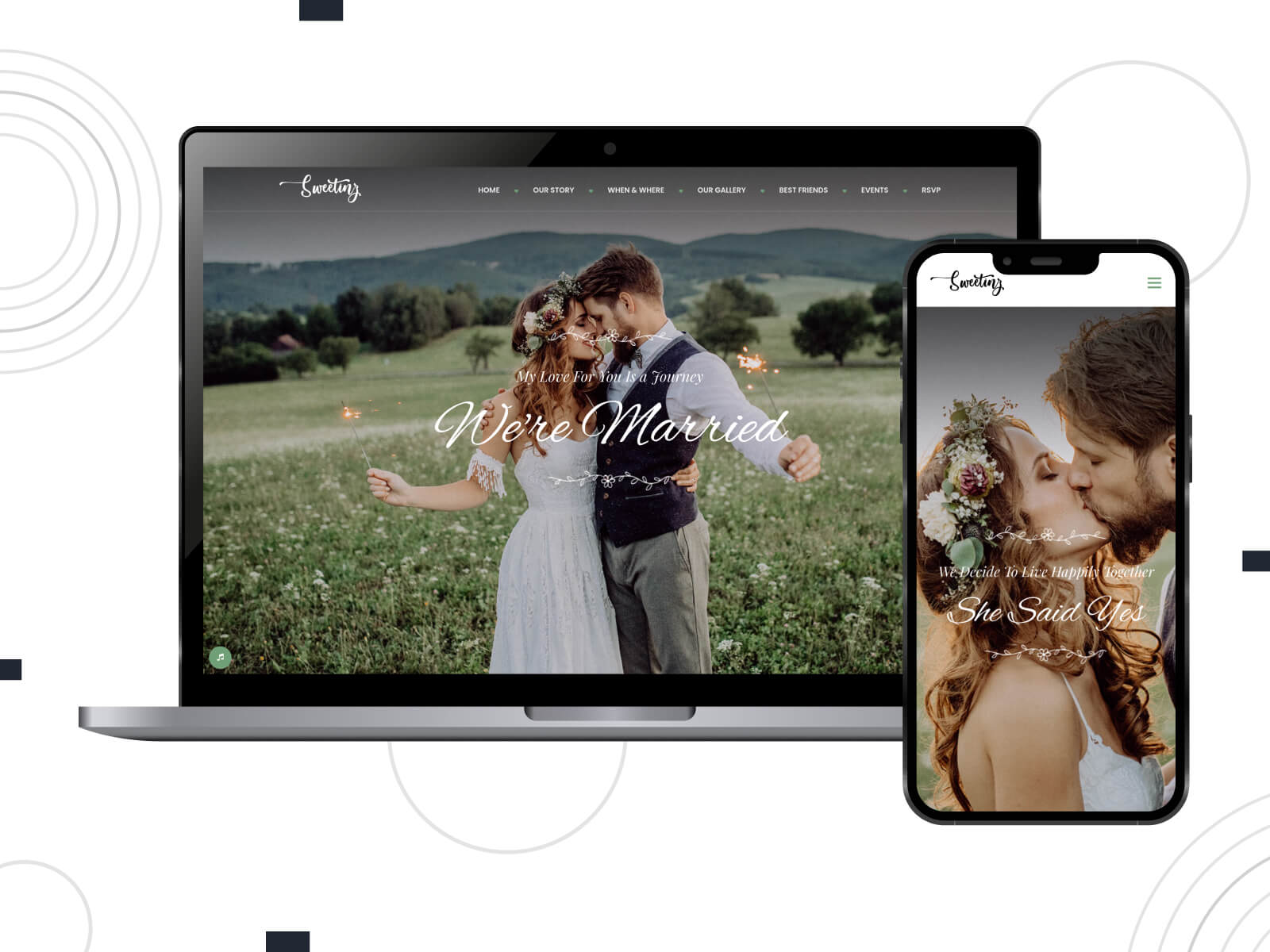 Author
Rating
Avg. Demo Speed Score
Catanis
4,73
Mobile 35
Desktop 65
If you are a developer & want to learn how to launch a wedding-related website, then Sweetinz is the spot-on match to start from. The number one feature of the theme is the documentation and tutorials. So even if someone does not know how to build, it will be convenient.
Other than this, the one-page theme is made fully responsive and retina-ready. It provides you with various color options so that you can beautify it as per your preference.
With Sweetinz, you don't have to spend any extra money on the plugins as some of the best ones are included in it, like Slider Revolution and WPBakery.
22. Fleur — Wedding Theme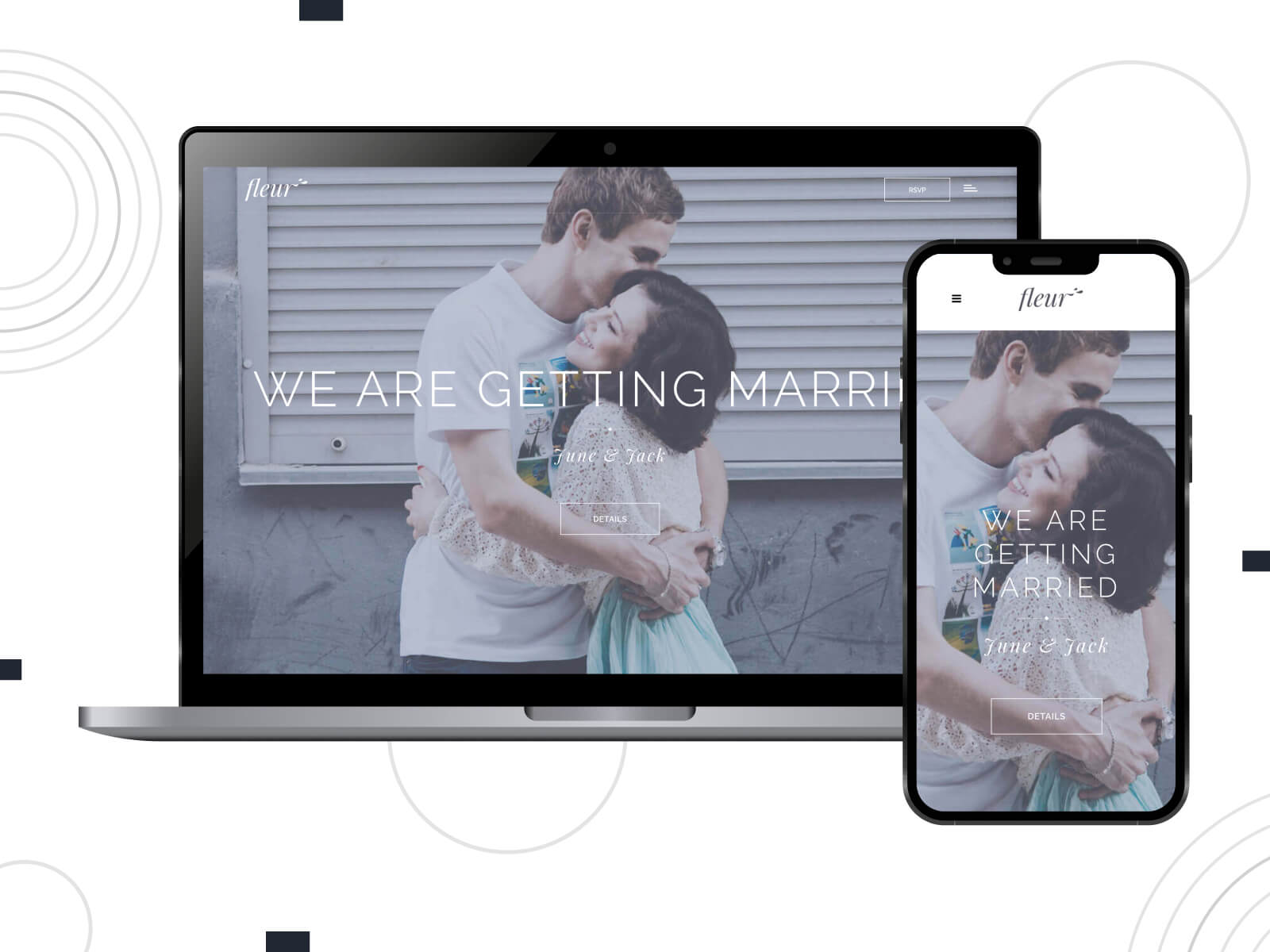 Author
Rating
Avg. Demo Speed Score
Mikado-Themes
4,73
Mobile 33
Desktop 58
If you offer quality, clients will naturally turn to you. To provide them with world-class services, consider Fleur, an exemplary choice among the best wedding WordPress themes for your site. Here are some top-end aspects that earn it a place on this list:
Extensive and user-friendly interface
One-click demo import
H1-H6 headings
Mikado Slider for parallax functionality, image zoom animation, and content entry animation (optional)
13 home page layouts
Compatibility with plugins like WPBakery page builder, Slider Revolution, etc.
23. Gretna Green — Best Wedding Blog Theme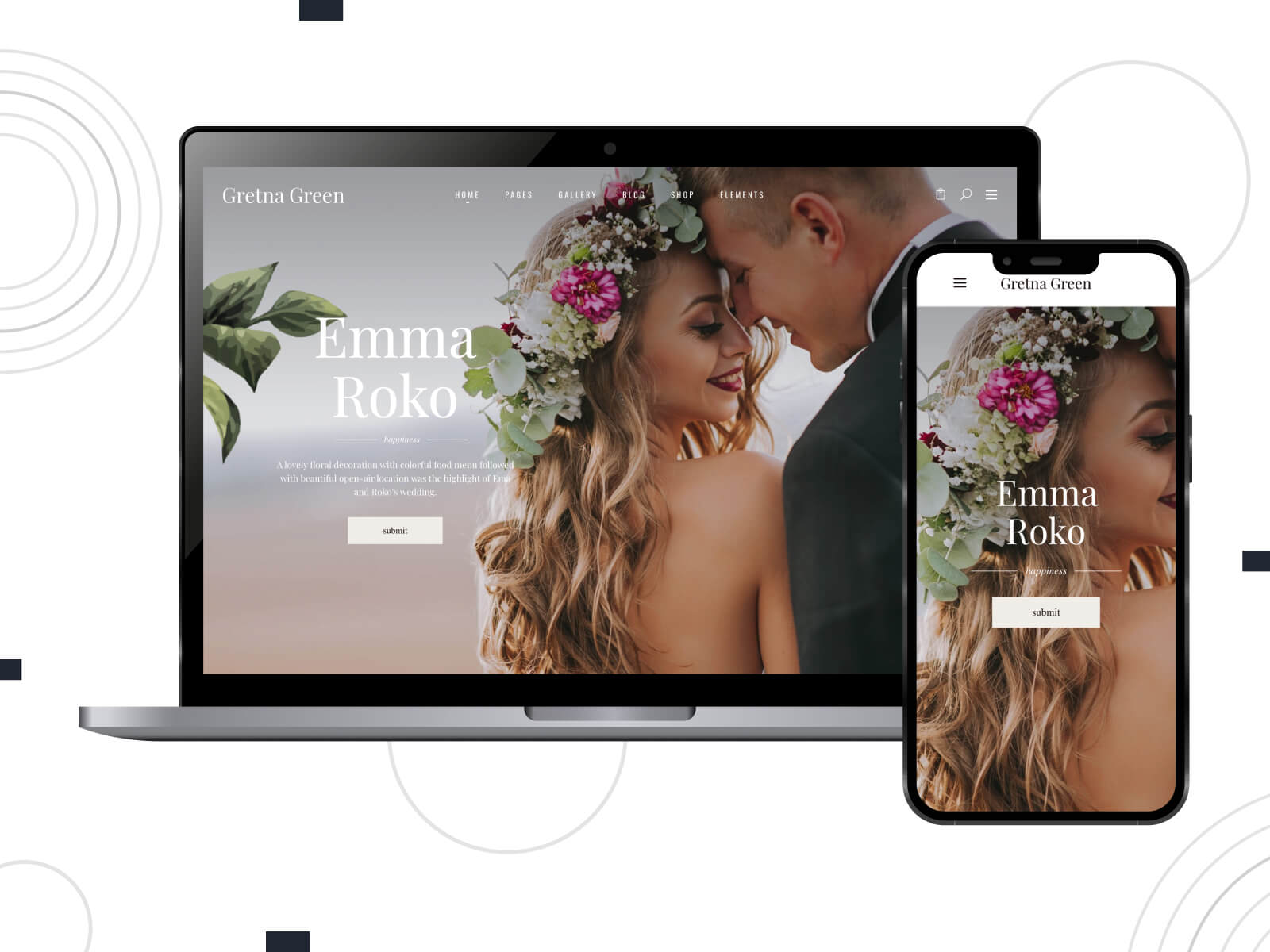 Author
Rating
Avg. Demo Speed Score
Elated-Themes
4,64
Mobile 35
Desktop 85
Gretna Green is an innovative theme not just for weddings but for all sorts of celebrations. The coolest feature is the invitation form with RSVP. You can use this form to invite guests and know in advance if they are coming or not.
Thanks to the various blog layouts, it is easy to share your wedding experience with your guests and people through your writing. Its fully responsive design ensures that your website can be easily accessed on the phone and other devices.
The Slider Revolution plugin can be used to create image sliders with beautiful animations, while the WPBakery builder can be leveraged to build web pages without coding.
24. Wiso Photography — Creative Wedding Website Design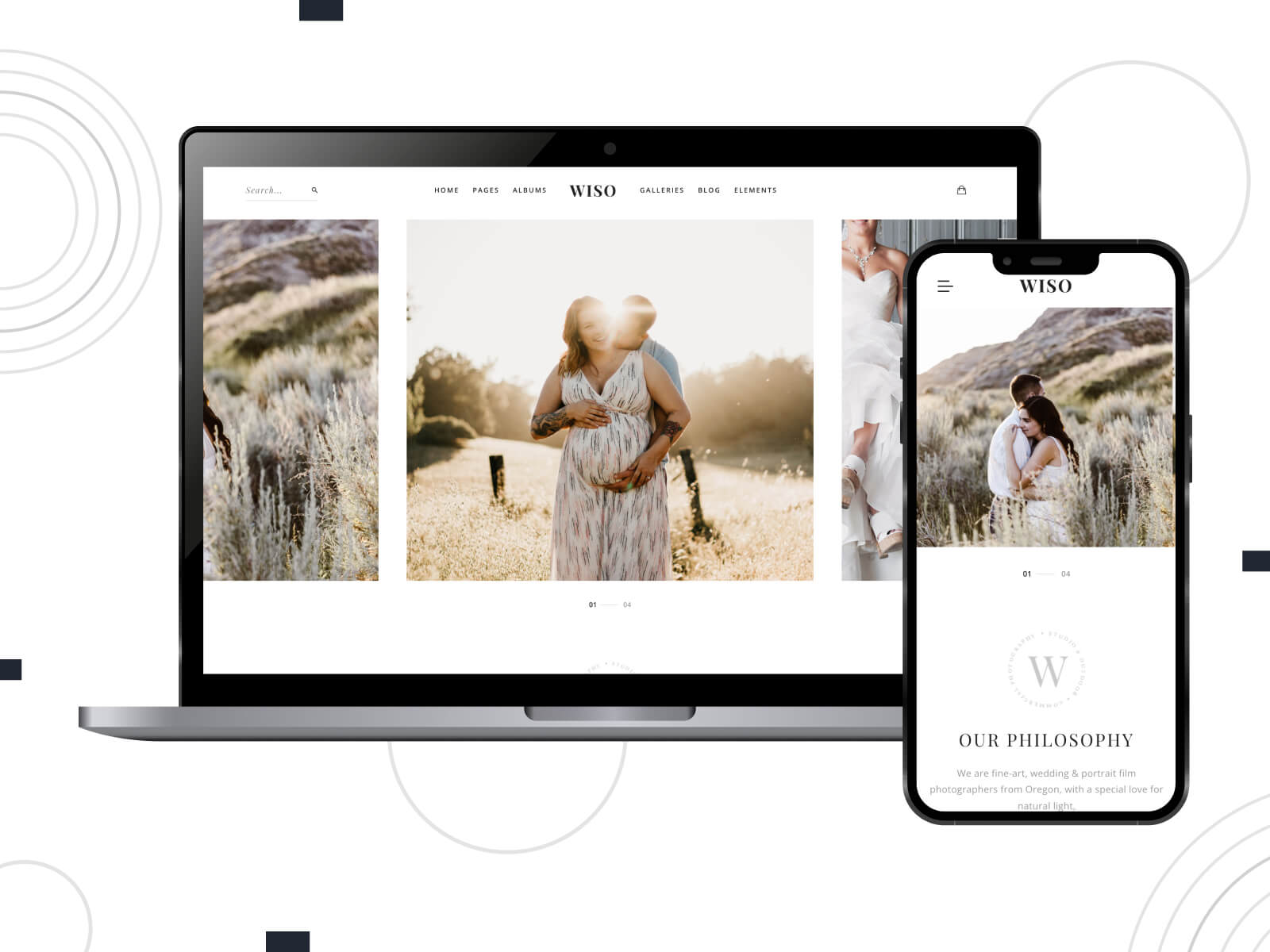 Author
Rating
Avg. Demo Speed Score
Fox-Themes
4,38
Mobile 45
Desktop 65
Most of the best wedding WordPress themes offer you almost the same features, but Wiso is not like other themes. Along with regular features, Wiso offers you the ability to create proofing galleries that can be used to share wedding pictures with dedicated clients for approval. Unlike face-to-face meetings, you can provide them with their wedding pictures online.
On top of all of this, you get over 34-page demos that you can alter as per your wedding-related website needs. You can easily manage your entire workflow by leveraging the booking calendar feature. Moreover, if you are a bit creative, you can upload your creative pictures on your online shop using the WooCommerce capability.
25. Belle Fleur — Wedding Landing WordPress Elementor Theme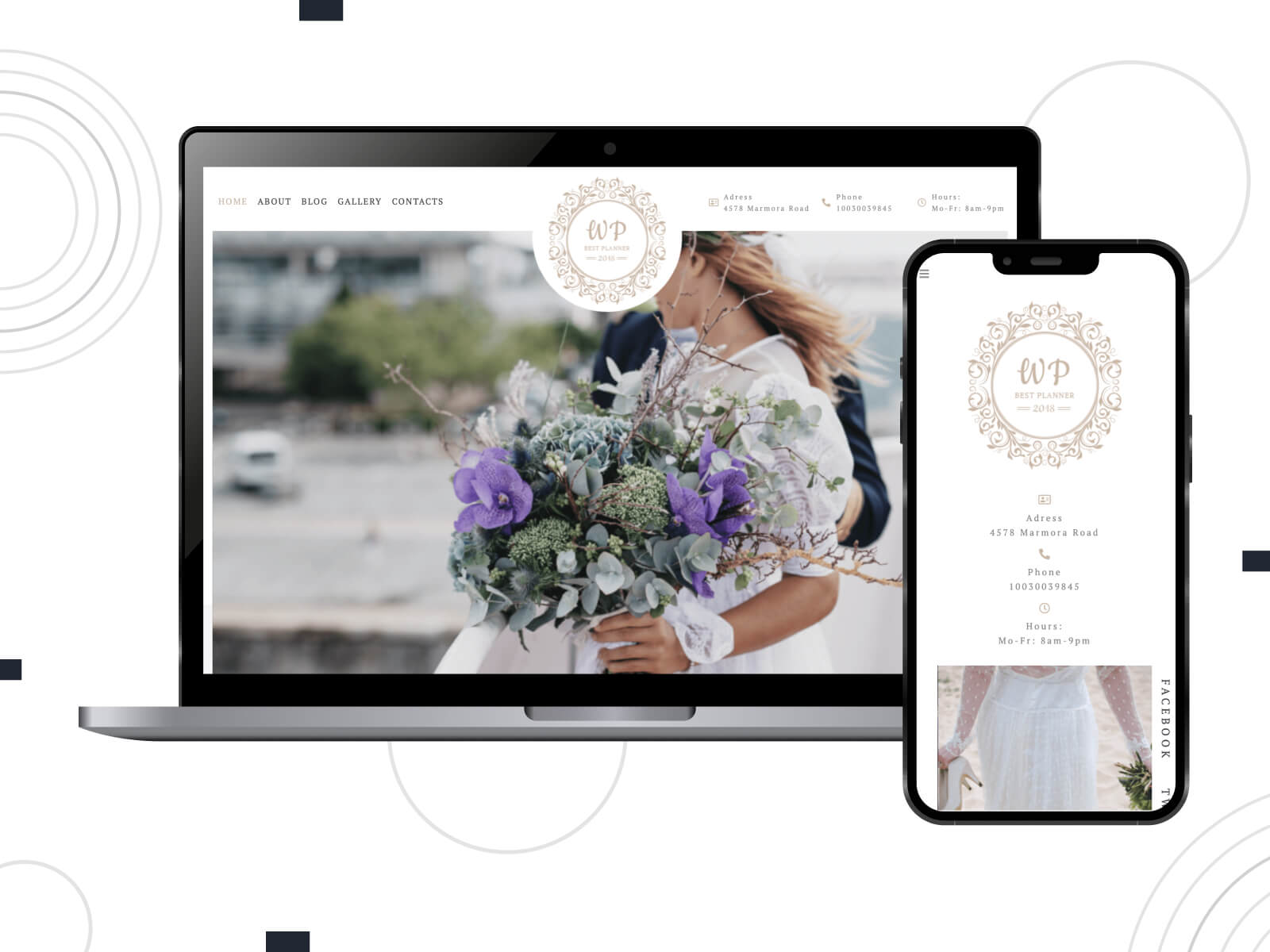 Author
Rating
Avg. Demo Speed Score
ZEMEZ
4,6
Mobile 61
Desktop 95
Apart from the fact that these best wedding WordPress themes are for weddings, every theme has something unique such as several demos, support for plugins, proofing gallery, etc. Belle Fleur also has a unique feature, and that is it comes with a set of free stock images. So, you can use these pictures without the fear of copyright issues.
Other than that, the theme is backed by detailed documentation to ensure that you do not face any issues with your website. The theme is built with Elementor, which is one of the best page builders.
Further, you can increase the utility of the theme by using JET plugins that come included with it. Some of them are JET elements, JET blogs, JET blocks, JET tricks, etc.
26. Alis — Wedding Planner
Author
Rating
Avg. Demo Speed Score
Vamtam
5,00
Mobile 61
Desktop 87
WordPress themes for weddings can be a bit tough to pick when you have so many choices. But, when you get to know about the features of Alis, you may not go for any other. Why? Here is the response:
The theme comes with a premium image stock worth $370.
It provides you with video backgrounds for rows and columns.
Friendly support and 23 video tutorials to help you make the best website.
Faster loading with translation-ready design.
27. Wedding Theme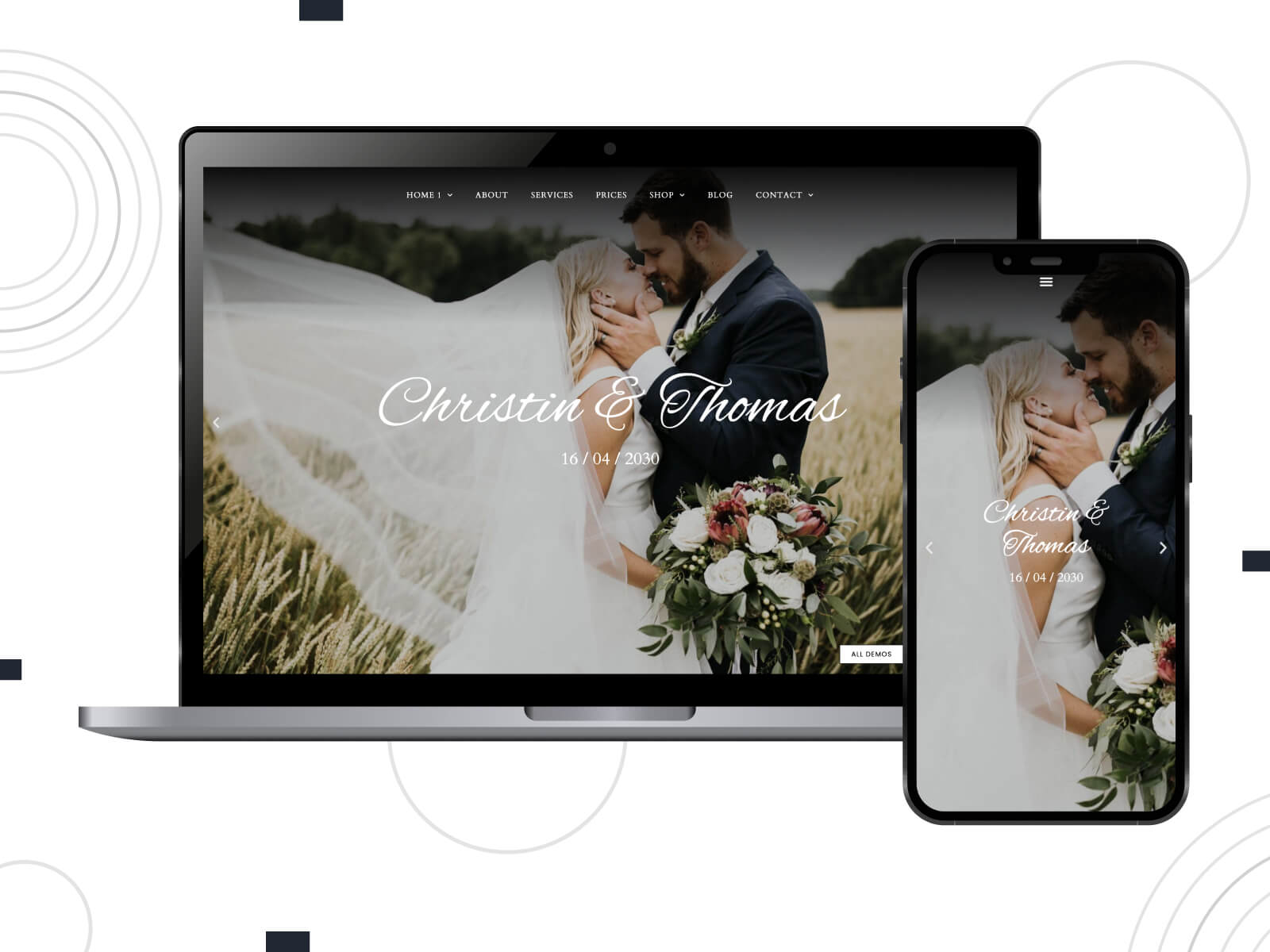 Author
Rating
Avg. Demo Speed Score
Nicdark
4,41
Mobile 47
Desktop 73
Developed by Nicdark, the Wedding is a theme meant for almost all types of wedding-related websites. Some of the cool features that this theme offers you are:
RSVP forms: you can create and customize these forms to invite people and check if they are coming or not.
Support for plugins like WooCommerce, MailChimp, Slider Revolution, and many more!
Location settings: while making the website for inviting people, you can add the wedding location to help them find the place easily.
Easy to install: the theme can be imported with one click and used easily.
Speed: lightning-fast speed backed by short and optimized coding.
SEO ready: it helps your website rank higher in SERPs.
28. Grenda — Event Planner WordPress Theme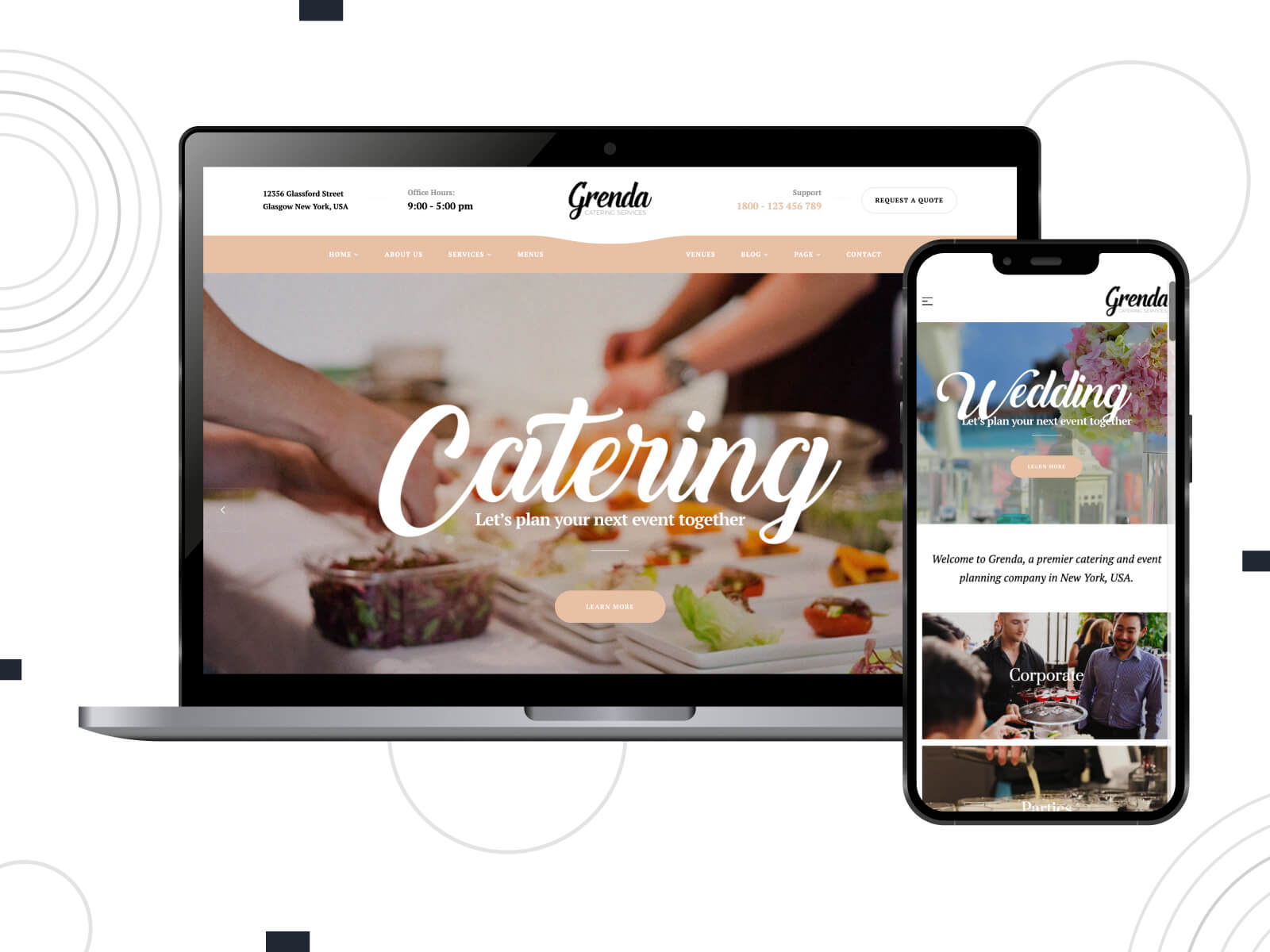 Author
Rating
Avg. Demo Speed Score
Opal_WP
4,11
Mobile 38
Desktop 85
Grenda is a unique theme. Why? Well, while other best wedding WordPress themes primarily focus on wedding photography, planning, and all. Grenda is meant for catering services. So, if you provide wedding catering services, you can use this theme for marketing your business.
Grenda is equipped with some of the best features, such as:
Creative homepage templates to allure clients.
Support for plugins like WooCommerce, Mailchimp, Slider Revolution, and many more!
Vent conference manager for seamless showcasing of services.
Catchy inner pages.
Seamless content management.
All these aspects rank Grenda among the best themes for weddings.
29. Framed — Photography WordPress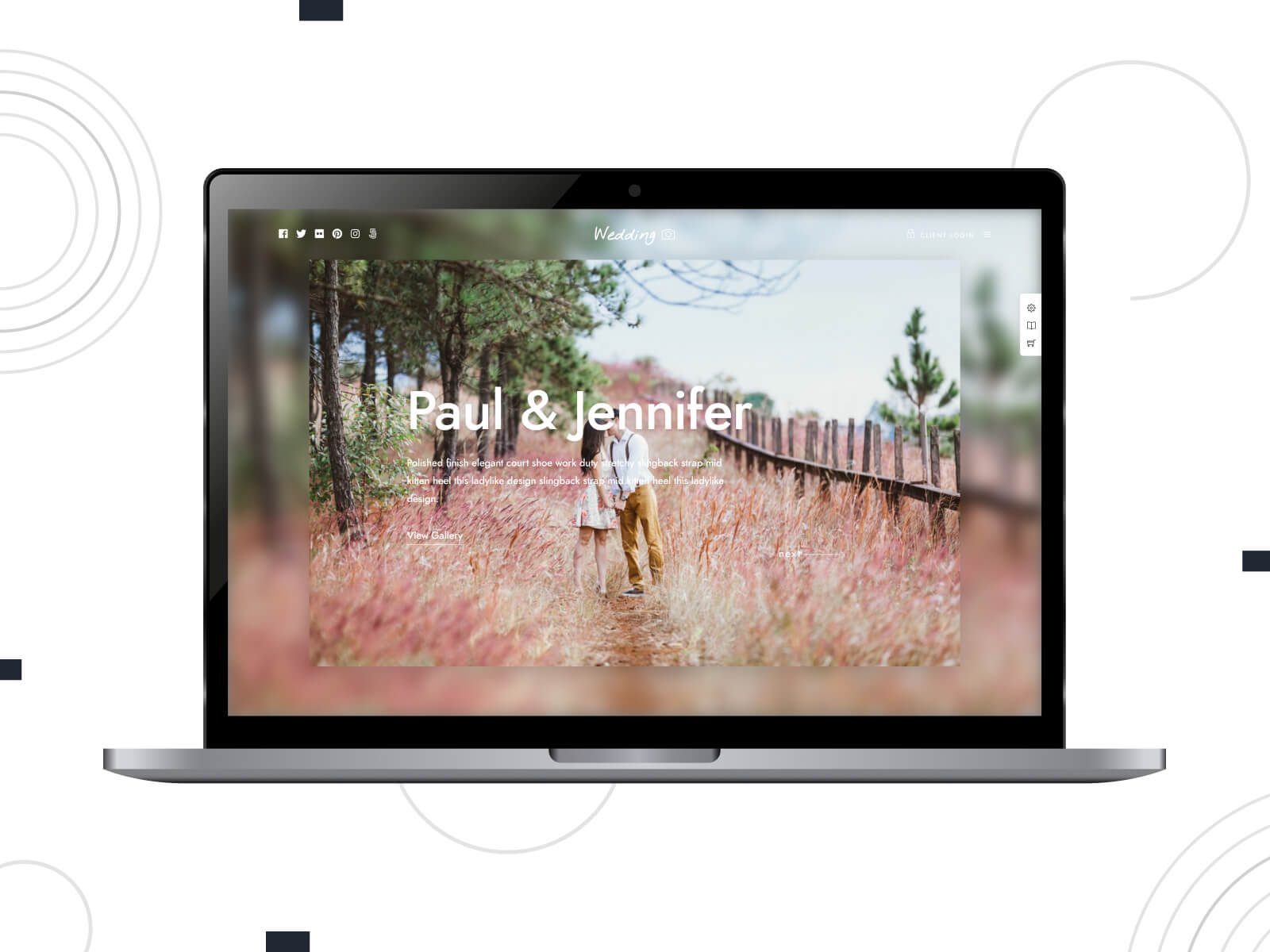 Author
Rating
Avg. Demo Speed Score
ThemeGoods
4,75
Mobile 58
Desktop 86
Designed for professional wedding photographers, this template provides a range of ready-to-use websites catering to various photography styles including events, food, landscape, fashion, and more.
Besides, you also get the feature of client management and photo proofing, using which you can allow your clients to log in to the website and check the work for approval. Moreover, the flexible gallery layouts, slider layouts, and image protection features make it a must-have theme.
You can also make decent money from your photography skills by starting an online shop using WooCommerce compatibility.
30. Amie — Romantic Marriage Website Theme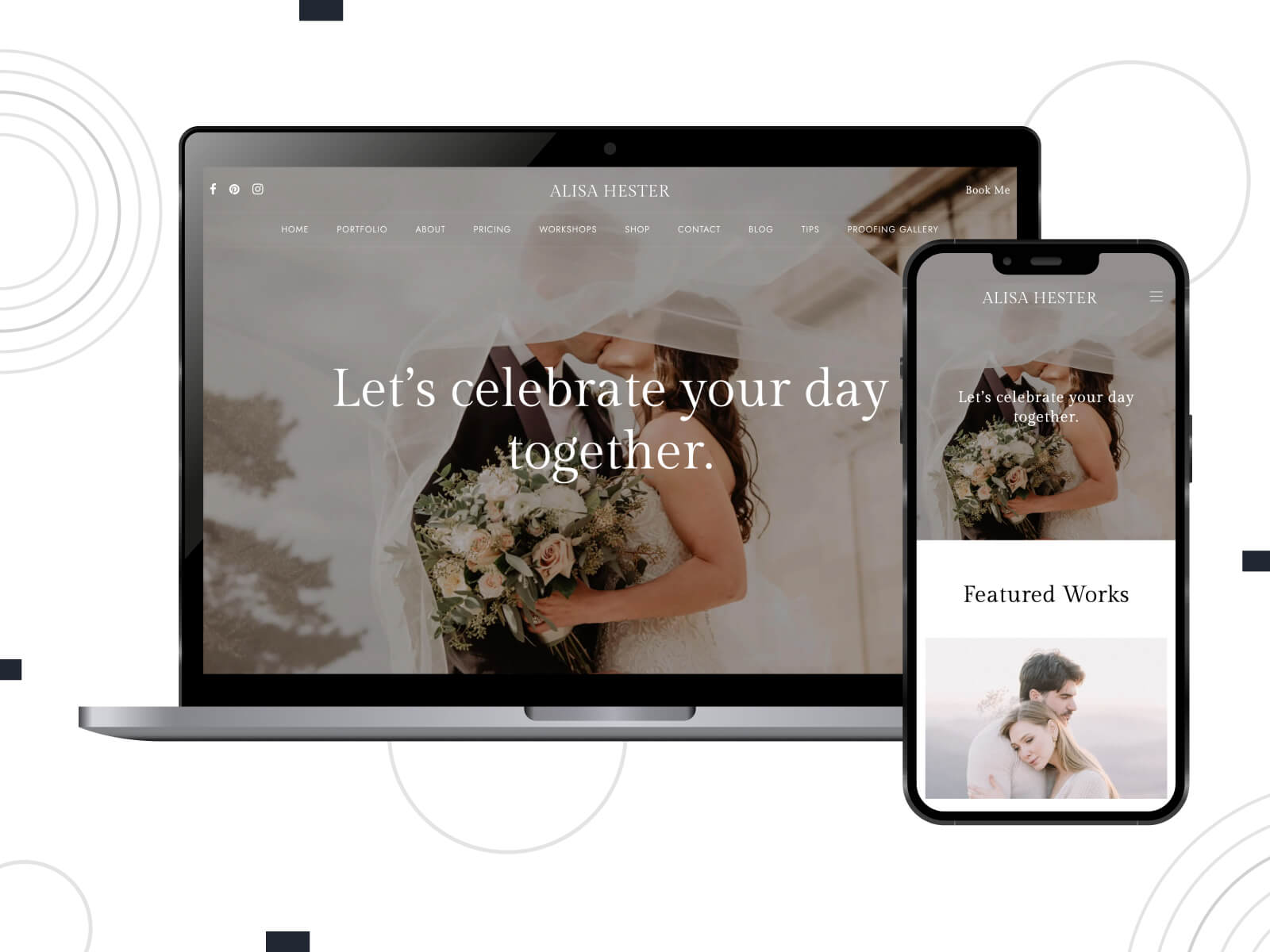 Author
Rating
Avg. Demo Speed Score
Firstsight_Design
5.00
Mobile 49
Desktop 76
Meet one of the best wedding WordPress themes tailored for photographers, particularly ideal for wedding and family photography. The template offers stunning portfolio layouts, password-protected galleries, and client proofing, making it a comprehensive tool for online service booking. Amie is fully compatible with Elementor and multi-language plugins like Polylang and WPML, which enhances its versatility.
The theme emphasizes ease of use with features like one-click demo import and a clean, fully responsive design that is mobile-first and looks great on all devices. It includes four demos — Multipurpose, Onepage, Modern, and Slider — ensuring a sharp appearance on retina displays. Additional features include a proofing gallery for private client sharing, direct photo delivery via the website, and special pages for workshops.
Amie integrates BoxZilla popups for service promotion and customer engagement. Furthermore, it supports WooCommerce, enabling the sale of a wide range of products and services, and ensures products are easily discoverable with categories, tags, and attributes.
31. Banquet — Customizable Wedding WP Theme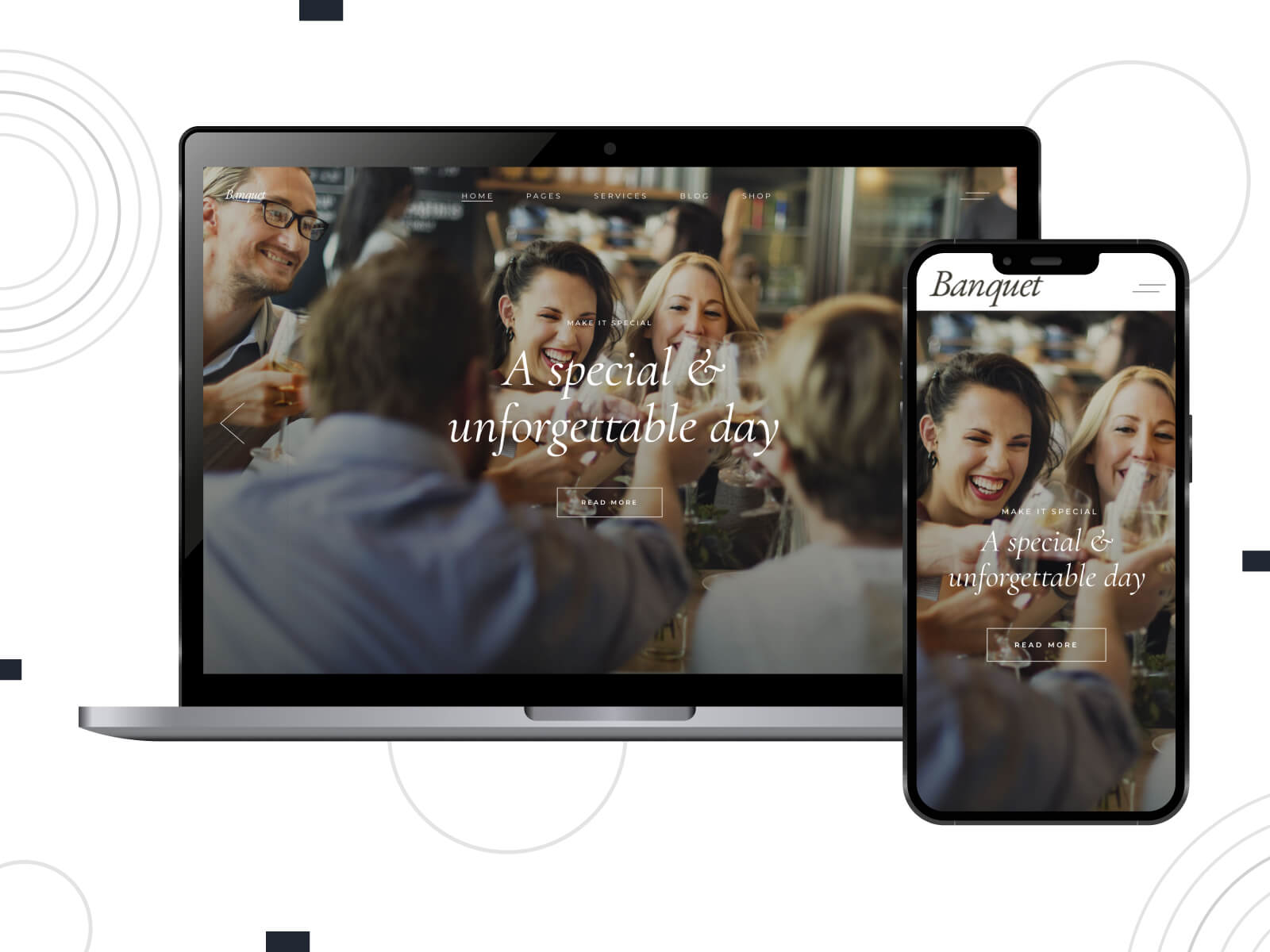 Author
Rating
Avg. Demo Speed Score
Edge-Themes
4.40
Mobile 31
Desktop 75
As an elegant WordPress theme designed for modern catering and event planning businesses, including those specializing in weddings, Banquet boasts a visually appealing design and comes equipped with every necessary feature and option for event organization.
A suite of functionalities includes a robust admin interface, seamless one-click demo import, and compatibility with WPBakery and Slider Revolution plugins. Also, the template offers a wide assortment of industry-specific shortcodes, encompassing elements like restaurant menus, pricing tables, countdown timers, client rosters, and testimonials.
Banquet supports various header types, including Standard and Minimal, and offers customizable mega menus, a range of widget areas, and WooCommerce compatibility for online sales. The theme's power is further enhanced with translation readiness, WPML compatibility, and customizable typography settings, making it a versatile choice for a global audience.
32. Bridey — Responsive Wedding Template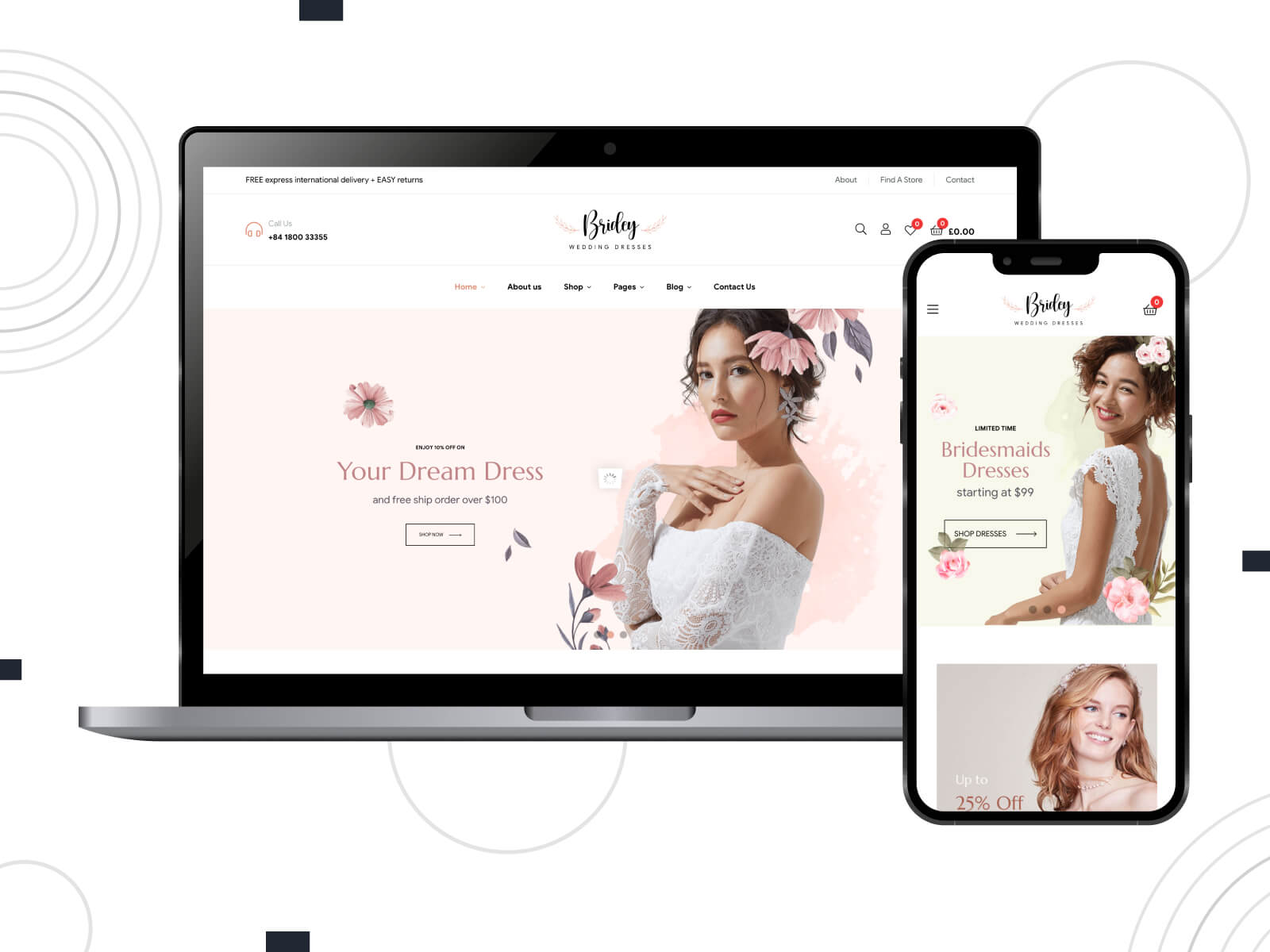 Author
Rating
Avg. Demo Speed Score
Opal_Wp
4.20
Mobile 35
Desktop 78
Primarily Bridey is designed to help launch bridal shops for offering beautiful dresses, suits, and wedding decorations. It features 6 stunning homepage demos loaded with appealing features, providing a variety of options to choose from. The theme integrates seamlessly with Elementor for easy drag-and-drop editing.
Various color schemes are offered for high customization of the template, which is fully responsive, retina-ready, and optimized for fast loading. Key features of Bridey, such as a mobile-first design ensuring optimal viewing on all devices, and great speed optimization for a professional website experience, are included.
Several headers and footers are provided by the theme, offering additional dimensions for customization in appearance. Support of WPML & RTL enables the creation of multilingual sites. Overall, the establishment of a magnificent wedding shop website is made straightforward by these features, catering to a wide range of customer needs and preferences.
33. Dreama — Beautiful Wedding Theme for WordPress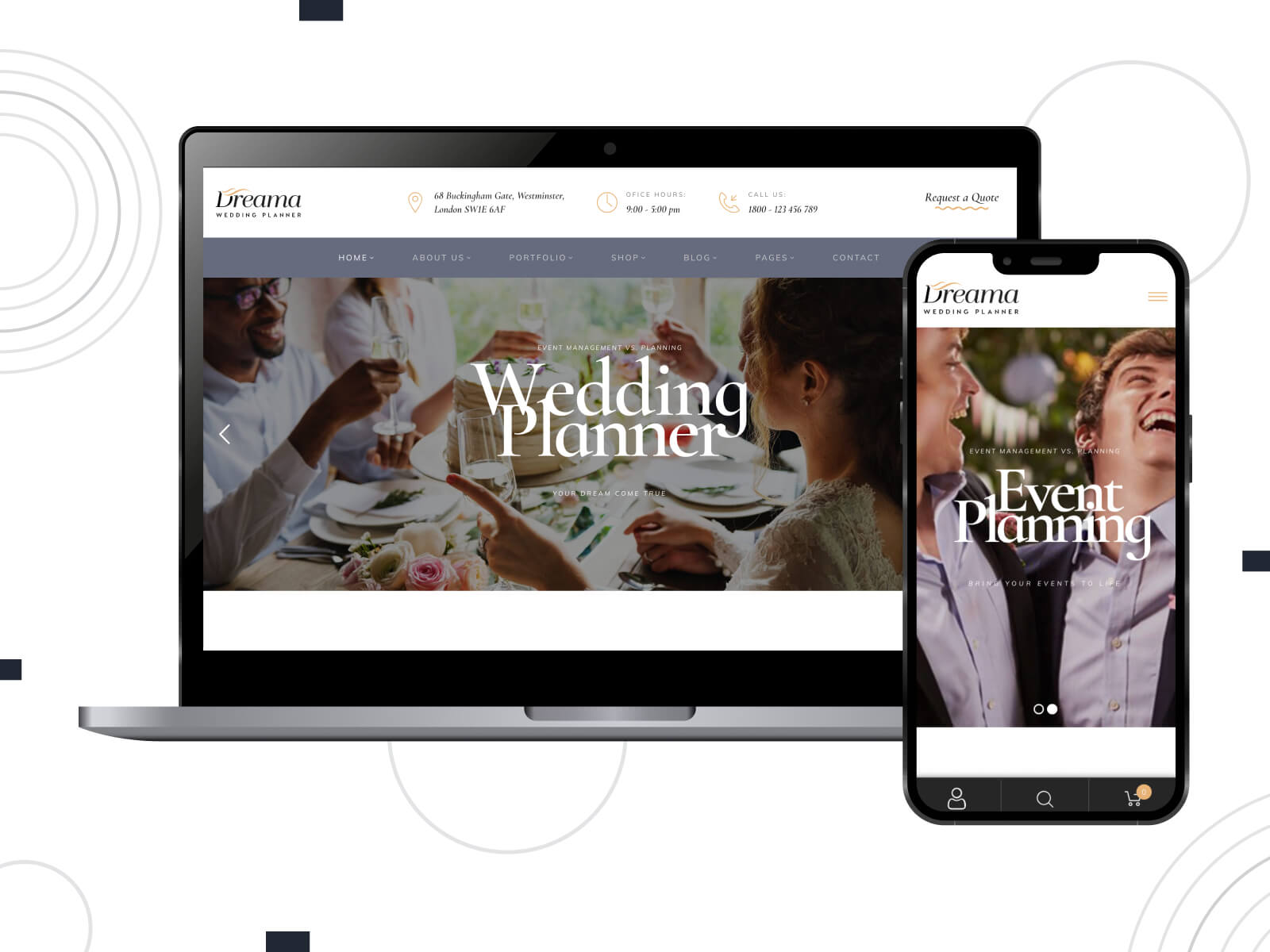 Author
Rating
Avg. Demo Speed Score
Opal_Wp
4.56
Mobile 39
Desktop 65
This theme is perfect for capturing the sweetest moments of any romantic story, wedding event, or party schedule. It's also ideal for running a wedding shop or agency. With its 20+ charming pre-designed homepages and numerous inner pages suitable for various uses, the theme offers an intuitive, responsive design. Easy customization is achievable without any coding knowledge, thanks to the support of Elementor. This is further complemented by a rich set of animations and powerful shortcodes, ensuring a hassle-free experience.
Various customizable wedding-related skins are included, featuring different backgrounds and color options, with easy changes facilitated via the Theme Options Panel. Inspiring gallery layouts for showcasing photos are provided by the theme, along with an RSVP form, managed through Contact Form 7, for guest tracking. Furthermore, Dreama can be utilized as an ideal space for blogging, where users are enabled to share love stories and organize great weddings.
34. Feelings — Modern Wedding Template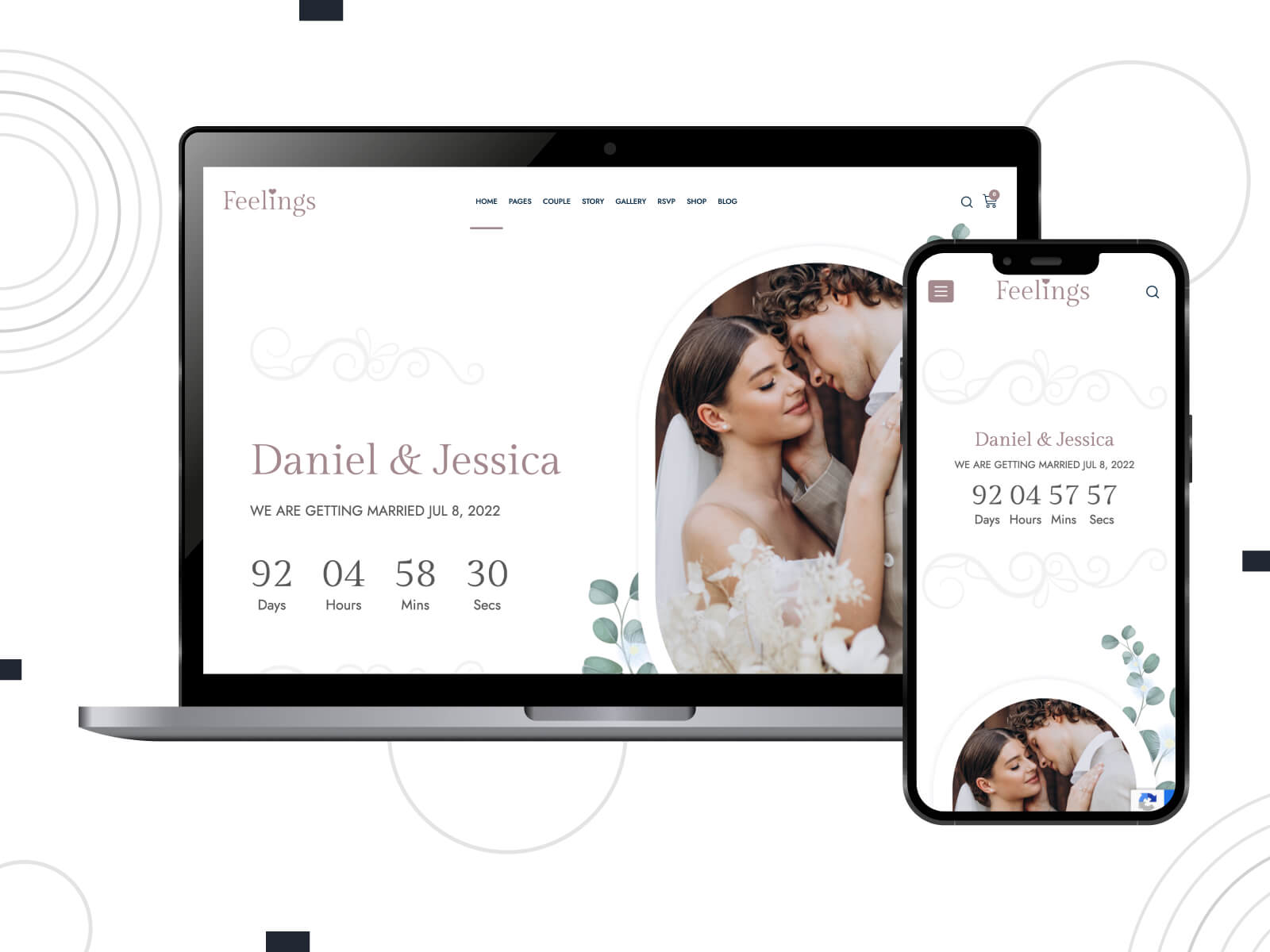 Author
Rating
Avg. Demo Speed Score
WpOceans
5.00
Mobile 46
Desktop 78
Another great template tailored for wedding ceremony planners, consultants, and services. It offers customizable sections and a modern design with several pre-made pages: Pricing, Shop, Testimonials, Single Portfolio, and Single Service. Customization is made easy with the provision of unlimited colors and advanced typography options, ensuring a pixel-perfect design.
The theme's simplicity is complemented by advanced features like Elementor support for drag-and-drop page building. Included are six home page layouts, the GiveWP WordPress Donation Plugin, a one-click demo importer, a sticky menu while scrolling, Flaticon support, etc. Additionally, the theme is fully WooCommerce compatible and offers integration with Google Maps.
35. Lovelove — Premium Wedding Website Design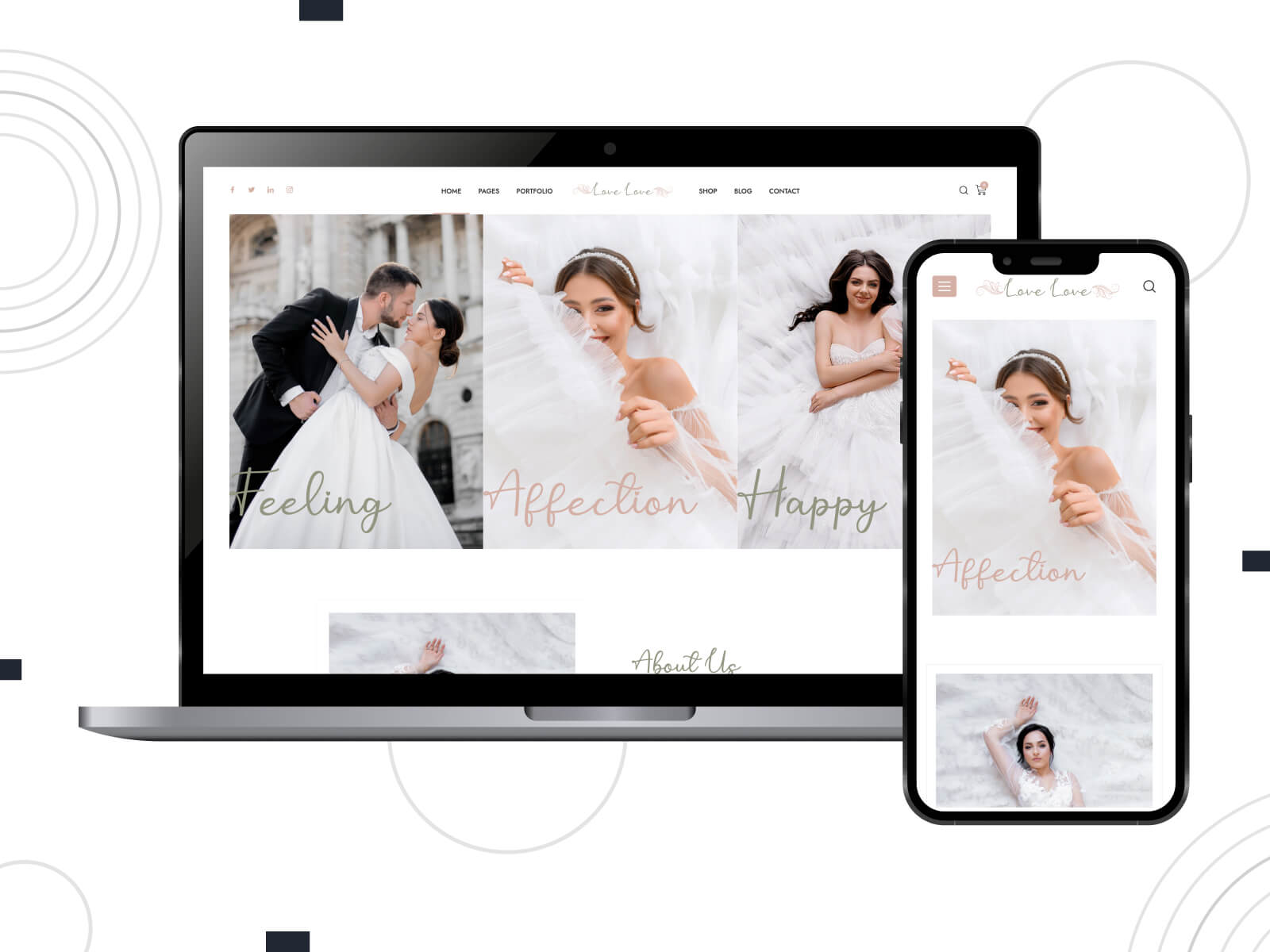 Author
Rating
Avg. Demo Speed Score
WpOceans
5.00
Mobile 50
Desktop 67
Lovelove boasts an array of nine stunning home pages, encompassing four pages dedicated to wedding planning, two for Asian weddings, and one for Muslim weddings. The template is equipped with vital functionalities such as a wedding planner, a guest list manager, and an RSVP manager, facilitating the smooth coordination of your events. Developed using Elementor, this theme guarantees a professional aesthetic for your site.
Included in the additional feature list are various product pages, cart, checkout, testimonials, project profiles, and nearly all the modern integrations required for a comprehensive WordPress website: One-Click Demo Importer, Codestar Option Framework, and Contact Form 7. Extensive documentation and lifetime free updates are also included. The theme has been regularly updated to ensure optimal performance and compatibility with the latest WordPress versions.
36. Taysta — Elegant Wedding WordPress Theme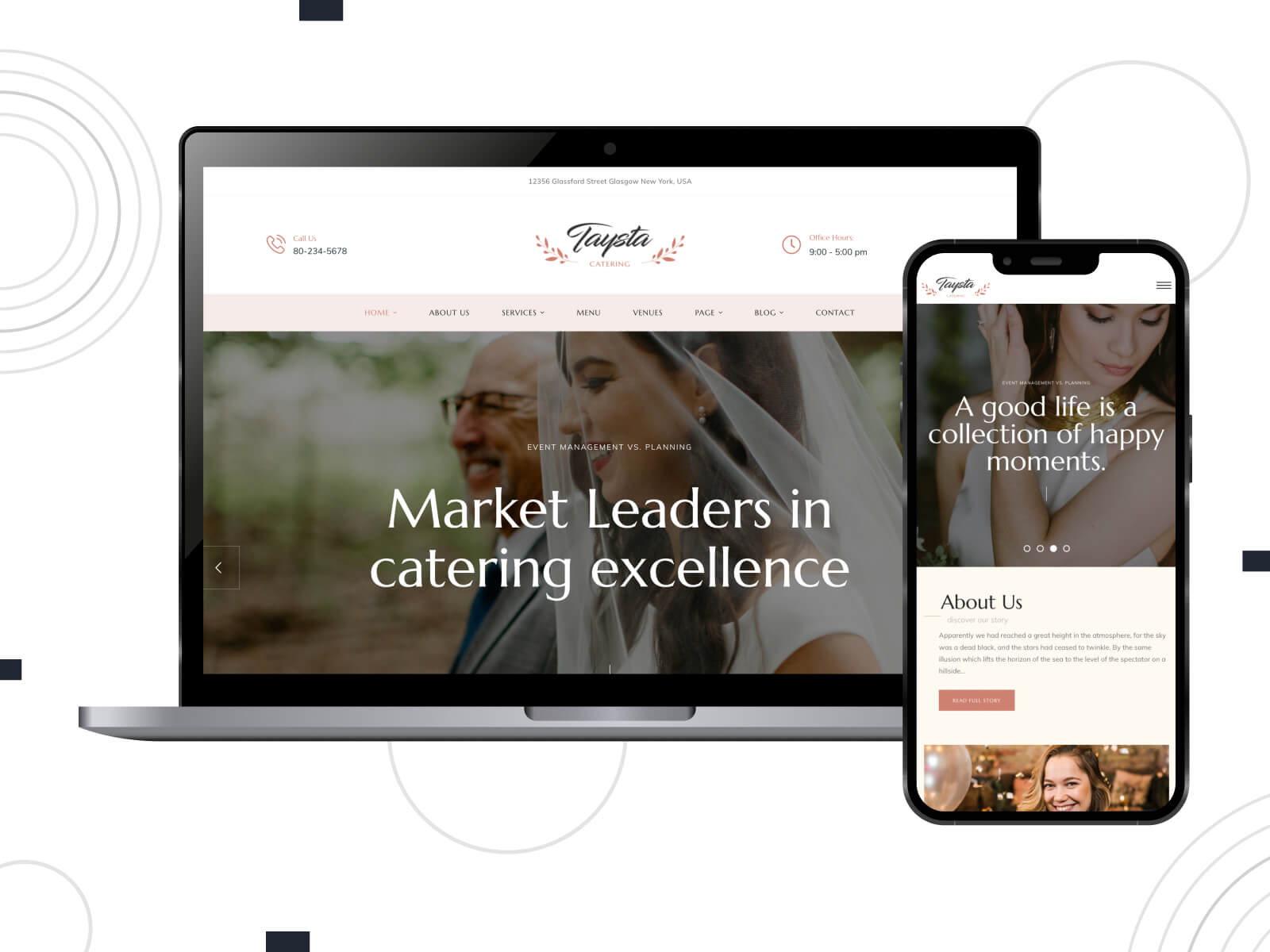 Author
Rating
Avg. Demo Speed Score
Opal_Wp
4.83
Mobile 36
Desktop 88
A versatile WordPress theme has been tailored for event and wedding planning businesses, ideal for the creation of websites related to engagements, parties, anniversaries, and ceremonies. Four ready-to-use homepages with one-click import are offered, enabling website owners to select a design that best suits their needs. A range of options and features, including portfolio grids, team showcases, menus, galleries, and more, have been included, specifically designed to enhance the online presence of an event planner.
Additionally, Taysta integrates Google Maps, making it easy to display your business location. It supports numerous plugins like Elementor and Contact Form 7, is SEO-ready, and is fully compatible with various devices, ensuring easy access for potential clients. The theme also includes multiple functional pages like About Us, Contact, Blog, and a 404 page, saving time in website development.
Key Elements of Wedding WordPress Themes
This was our list of the best wedding WordPress themes. Use them for such businesses as wedding planners, photographers, florists, catering services, and more. But despite different niches, the key requirements for all service-based websites remain the same:
Compatible drag-and-drop builder — e.g. Elementor, Divi, WPBakery, etc;
Responsive design — the ability to customize the website look for each mobile device;
SEO-friendly design — ensures better optimization in search engines;
Hourly booking engine — available through third-party solutions like this Appointment Booking plugin by MotoPress. This all-in-one solution allows users to accept and manage appointments, organize staff planning, and create front-end scheduling calendars. Try the Appointment Booking plugin.
Pay attention to these features to improve the user experience on your website and ultimately, generate better sales!
Disclosure: this article may contain affiliate links for third-party products. If you click a link and later make a purchase, we may earn an affiliate commission that doesn't result in additional charges to you.
FAQ
Is WordPress good for wedding websites?
The most popular CMS in the world is an excellent platform for creating wedding websites. It is flexible, easy to use, and has a wide range of customizable themes and plugins. With WordPress, you can easily create a beautiful and functional website to share your wedding details, photos, RSVPs, and more.
Additionally, if you offer wedding services, such as photo sessions,
equipment rental
, or the preparation of special wedding dishes, WordPress is one of the best options for establishing your online presence.
How to create a wedding website on WordPress?
The process of creating a wedding website on WordPress is similar to that of any other site. First, you need to choose a hosting provider. Then, install WordPress: either by downloading the CMS from the official website and uploading it to your hosting account, or by using the custom functionality offered by your hosting provider, if available.
Next, select one of the wedding WordPress themes listed in our article to give your site the right look and feel. Customize the chosen template with your details, such as photos and wedding information, or include a description of your services and photos of your work if you offer wedding-related services. You can also add plugins for features like RSVP forms, countdown timers, and guestbook functionality.

What is the most popular theme for WordPress?
As of the time of writing, the most popular templates are
Avada
and
Betheme
, each with hundreds of thousands of users. They are known for their versatility, compatibility with the vast amount of plugins, and user-friendly design, which makes them popular choices among a wide range of website owners. For wedding sites, specific themes like
Wedding Planner
or
WeddingFairies
might be more suitable.
Do weddings need themes?
While it is not mandatory, having a website with a specific wedding design for your event can add a unique and personalized touch to your celebration. A WordPress template can reflect the style of your wedding and the overall lifestyle of the bride and groom, thanks to a corresponding color scheme, graphics, fonts, and textual content. It helps create an online representation of your special day and can sometimes significantly streamline the invitation process for your guests.