Best WordPress Photography Themes
WordPress is one of the most popular CMS around the world. The clear reason is its popularity and its support for around 60 languages, over 8000 themes, and 58,000 plugins.
So if you are thinking of shifting your photography business online, go for WordPress and its photography themes.
These themes will not only reduce the hassle involved in making a great website but will also offer you countless features to choose from. Here are some of the best picks for themes, templates, and WordPress layouts for photographers.
Check them out!
Top 15 WordPress Photography Themes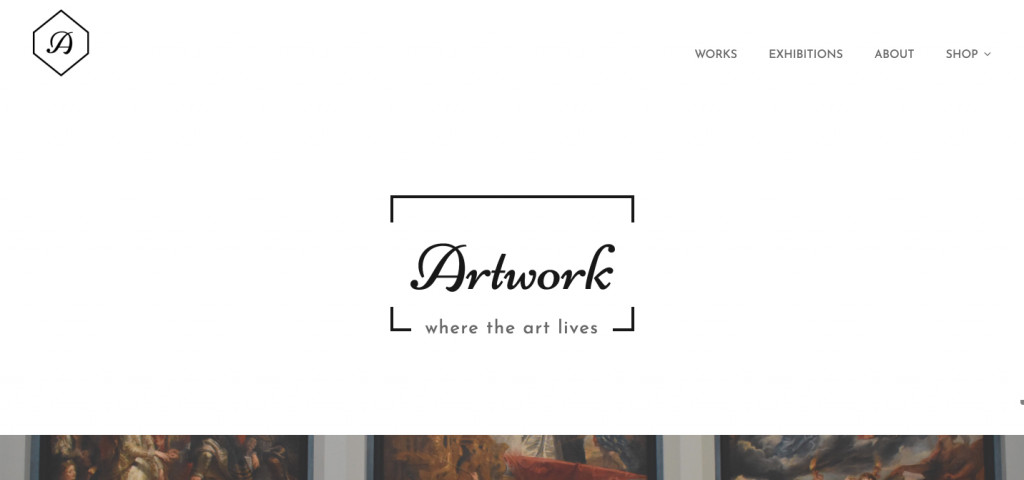 Source: Artwork
Ideal for: Artistic and Photography websites
For all of those who possess the art of photography, sketching and want to bring it in front of the world, here is the best photography theme for WordPress, Artwork. The theme offers you some incredible features that help you highlight all your greatest creations with style.
Starting off with the most critical element, the visual page builder using which you can create super interactive pages for your website. One can also edit the size and content of the elements of the page with ease.
Counted among the best WordPress themes for photographers, Artwork boasts a full-screen front page that helps in gluing the audience to your website instantly. Besides, the theme is packed with various post formats such as images, links, galleries, or videos. You can use any of these to keep your users interested.
There will be no use of your artwork unless you cannot explain what is in it. For this, the remarkable theme supports countless Google fonts that you can use and alter in terms of size, type, weight, etc. As color psychology plays a pillar role in grabbing user attention, you can also choose from a list of colors for your website headers, text, and more to make it alluring.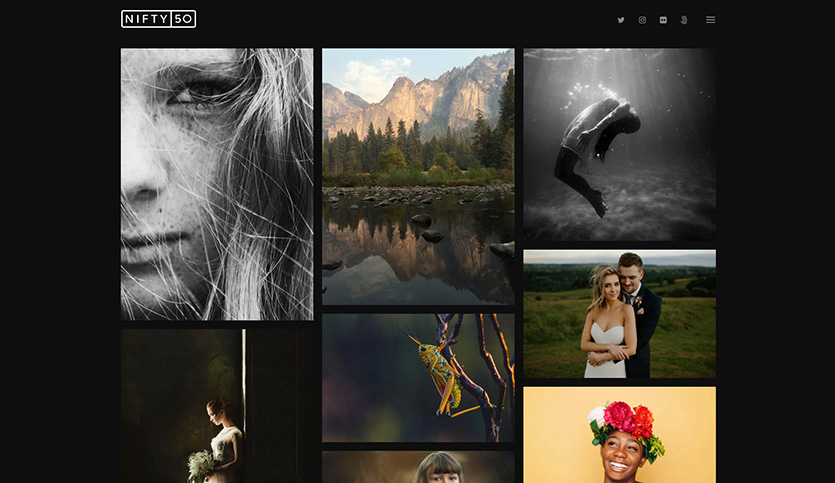 Source: Nifty Fifty
Ideal for: Photographers, sketchers
Nifty Fifty is a minimalist WordPress photography theme available in dark and light modes. It comes with a great UI, navigation, and performance. You'll benefit from this theme strongly if you are looking for a fast-loading, SEO-optimized, and image-focused theme.
By SEO-optimized, we mean it: NiftyFfity offers unique URLs for each image, categorized portfolios, Jetpack helps you keep the authenticity of your photos without cropping or blurring them; images can be previewed in different sizes.
Moreover, by running built-in Photon, an image acceleration service, your photos will load instantly, keeping your website performance metrics as high as possible – as well as pleasing the site visitors.
It's a 'portfolio' design as it should be – it places the major accent on your photos and visual works leaving no room for excessive website elements. Shop integration is offered so you can easily start selling your arts if needed, using a dedicated shop design page.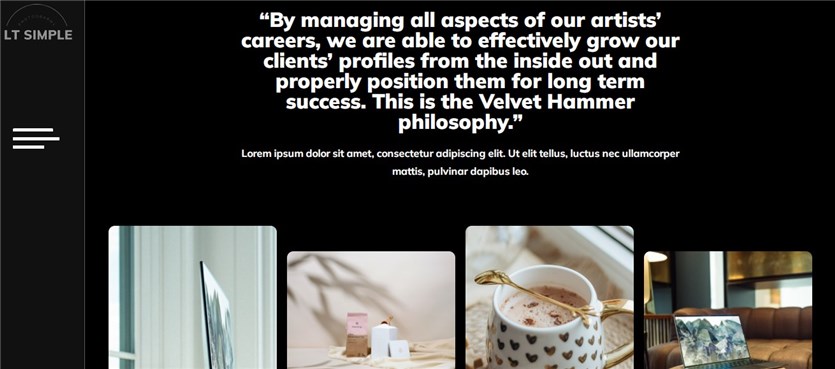 Source: LT Simple
Ideal for: Photography Companies or Agencies
You should consider a features toolkit of the LT Simple theme in case you're searching for a free solution to build a photography website. Elementor page builder and its drag & drop feature make it easy to manage and edit the responsive layout.
An eye-catching design allows you to spotlight your works, team, and services details. A set of customization options imply a color change for you to create a custom page style. What's more, it is displayed on any device. A smooth website creating experience is possible due to the template compatibility with:
WooCommerce: use it to launch e-commerce on the website.
Smart Slider 3: sliders will help you make the pages dynamic & interactive.
WPForms: this plugin gives you access to different types of forms.
Additionally, a well-developed blog page is a great way to share your stories and stay in touch with the audience. Contact forms embedded enable you to have the necessary information about the customers. You can upgrade the theme to the pro version to get the extra features.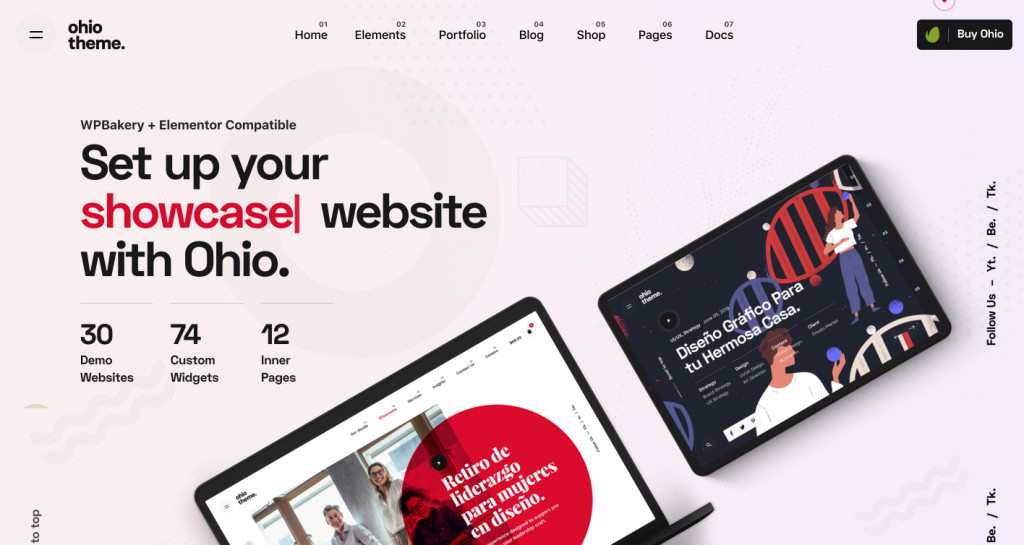 Source: Ohio
Ideal for: Illustrators, Photographers, Designers, and Architecture website
Ohio is a creative theme primarily crafted for illustrators, designers, architects, and other professionals of the same niche. However, if you want to use it for another kind of website like gym, writing, electronics store, etc., it will not let you down.
The state of the art theme is packed with some great features, free of cost, like:
WPBakery page builder
Advanced custom fields
Slider revolution
Unlike other features of the best WordPress Photography themes, these ones help to build a highly converting site. For instance, the WPBakery page builder helps you create web pages using the drag and drop feature. The good thing here is that you don't need any coding knowledge for this. Moreover, with the live preview aspect, you can easily see how the new changes would look without the hassle of reloading the page.
Get access to countless pre-made demos for various pages that can be imported with just one click. Other than that, use the pre-made headers and menu layouts to provide the required look to your website.
The theme not just excels in terms of aesthetics but also delivers performance. The Google PageSpeed score of Ohio is 96 and is also translation-ready. Thanks to the WooCommerce plugin, you can also start your online shop if required in the future.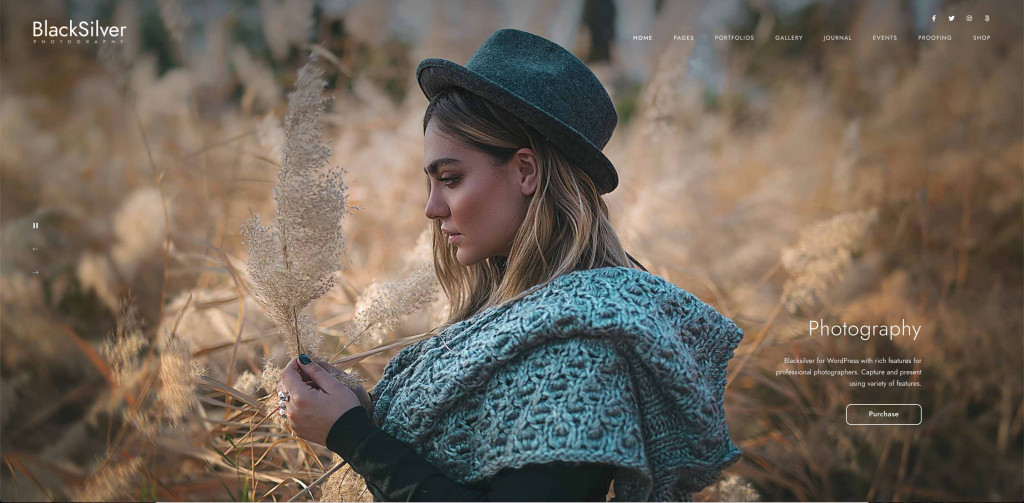 Source: Blacksilver
Ideal for: Professional Photographers
If you are more of a pro in the field of photography and want to bag bigger clients for your work, check out the Blacksilver theme. The theme has professionalism at its root. For example, it has the full-screen slideshow feature where you can add all your beautifully clicked pictures with transitions, titles, and captions to impress your audience.
Thanks to the WooCommerce plugin, you can use it to start your own online shop. Upload pictures with specs like size, frame, material, and price. To make it easier for the users to shop, you can create and add purchase links to the lightbox images. These links can also be added to the external of the website to extend the scope.
To streamline the website building process, Blacksilver is equipped with an Elementor page builder that helps you simply drag and drop page aspects like blocks, images, text boxes, etc. Further, you can also use it to alter background, colors, fonts, and typography.
The theme offers WPML support so that your website is not just limited for viewing in your country but worldwide. The coolest feature among all is password protection. You can password-protect each page of your website, which can come in handy while managing clients' data.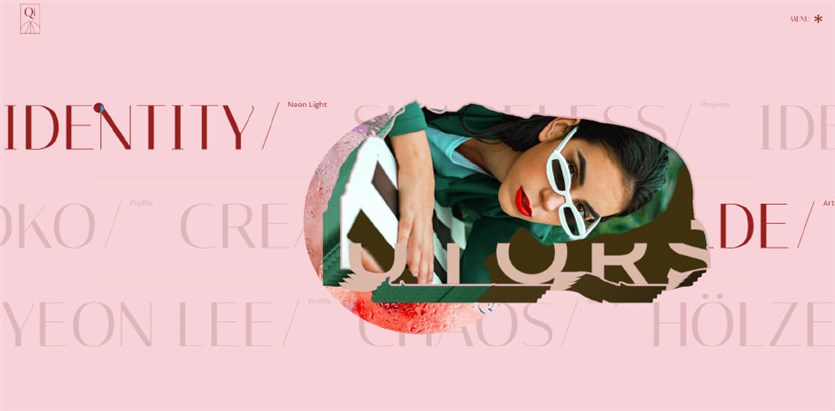 Source: Qi Theme
Ideal for: Photographers or Artists
The amazing Qi theme will easily steal a professional photographer's heart as it was created with such attention to detail that only artists and creatives can truly understand how precious it is.
Contemporary style, original details, and flexible features make Qi a top photography WordPress theme. It also includes a wide array of photography demos – you can choose the one that meets your style and niche the best.
This WordPress template is easy to use and fully compatible with the Elementor page builder so you'll find it easy to customize.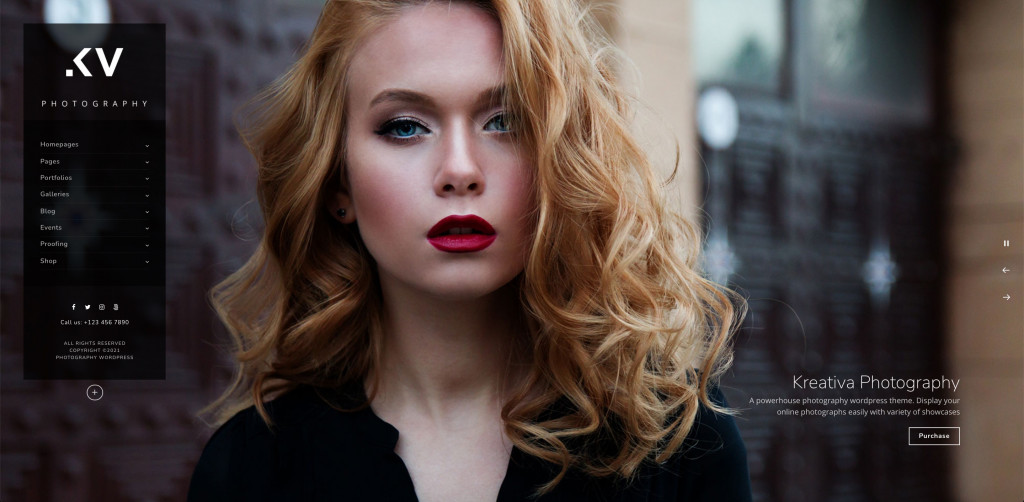 Source: Kreativa
Ideal for: Professional Photographers
Having an online shop is the need of almost every business today, and as a professional photographer, you can use the Kreativa theme for this. It is one of those WordPress photography themes that offer you photo proofing using which you and your clients can collaboratively work on the images. Moreover, it also provides you the ability to manage your clients.
Keep your users and clients engaged with your artwork using the lightbox feature. It enables you to present your creative work with add-ons like thumbnail navigation, transitions, zoom control, link support, etc. The feature that makes Kreativa one of the top photography WordPress themes is its compatibility with:
WooCommerce: You can start your online shop with this.
Mailchimp: Easy to manage your email marketing campaign.
Lightroom: Use this feature to improve and edits images in the lightroom software.
WPML: Enables your website to be translated into multiple languages for a worldwide reach.
The theme is fully responsive, which makes it best for viewing on a mobile screen. Moreover, it is also retina-ready, which makes it appear crystal clear on every display.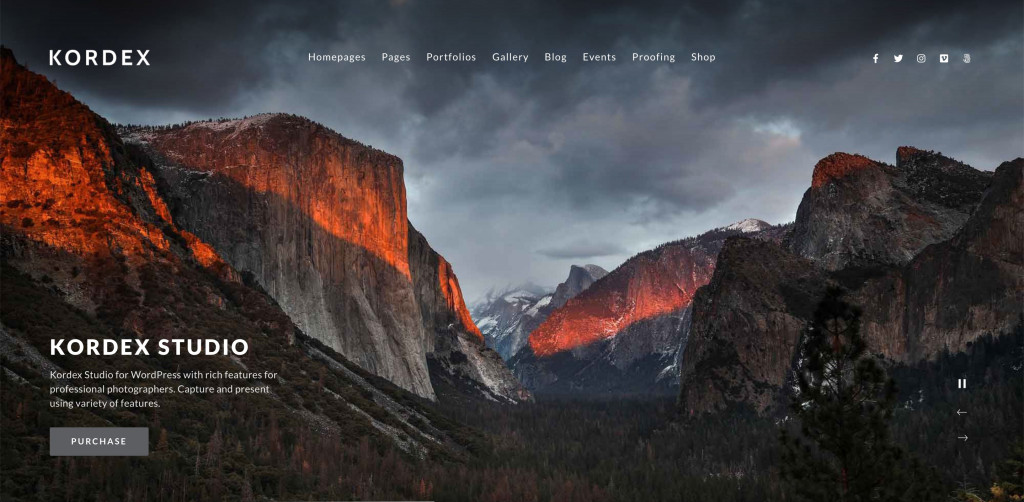 Source: Kordex
Ideal for: Photographers and Designers
Kordex is another great theme in the collection of photography website templates for those who need to extend their business beyond the four walls of their home. Packed with some awesome features, Kordex gives you resources to bring your unique image portfolio to the web. The theme allows you to drag and drop images and add tags to them so that they are easy to filter for your users and clients.
Entertain your users with full-screen slideshows and interact with them using the photo proofing feature. Thanks to the one-click demo installer, you can easily create the exact site without making anything from scratch. However, you can customize the site content if required.
If you want to make a custom site as per your own preferences, you can use one of the best Elementor page builders included in the theme. The drag and drop facility of the page builder makes it ideal for adding and customizing the interface of the website. Moreover, you can monitor all the changes done live.
Furthermore, you can add slideshows, control the opacity of the page, manage events, and can even start your online shop by using the WooCommerce plugin. All these features rank Kordex among the premium photography WordPress themes.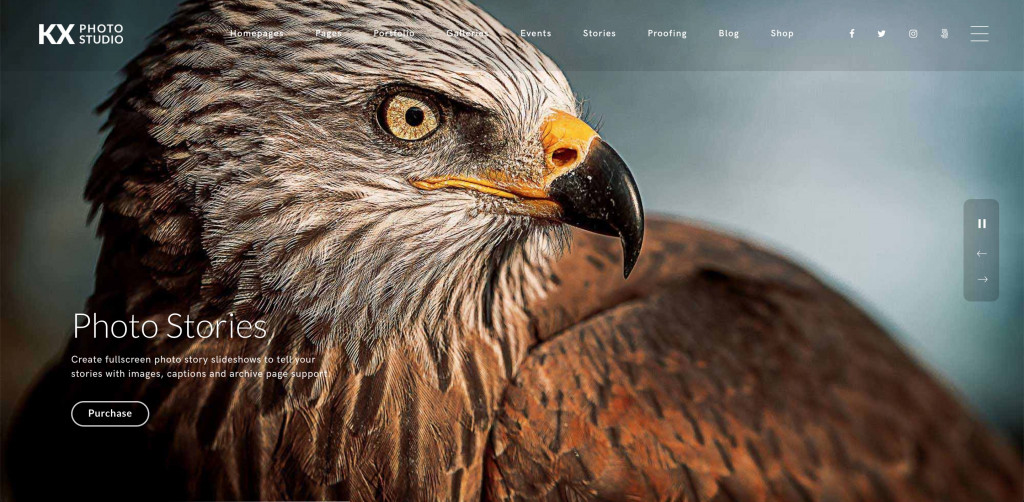 Source: Kinatrix
Ideal for: Professional Photographers
Looking for a high-performance photography WordPress theme? Well, Kinatrix is here for you. The aesthetically pleasing theme is SEO optimized to help your website rank among the top Google SERPs. Moreover, the theme comes with two skins, light, and dark. You can choose any one as per your preference.
One of the best things about the Kinatrix is the pre-included revolution slider that helps you to create a responsive website slider with pictures, videos, text, and animations.
Backed by the best page builder, you can build a powerful yet light website that loads and performs faster. Besides all of this, the theme has countless modification choices such as:
Menu styles
Theme skins
Fonts
Colors
Range sliders
Using these, you can configure the theme as per your website needs.
Unlike others, Kinatrix offers you two types of menu choices, namely horizontal and vertical, that you can toggle with just a click.
Make use of slideshows, lightboxes, and photo proofing provided by the theme to lure users into checking your visual work on the website. Display all your images in various photo and portfolio galleries.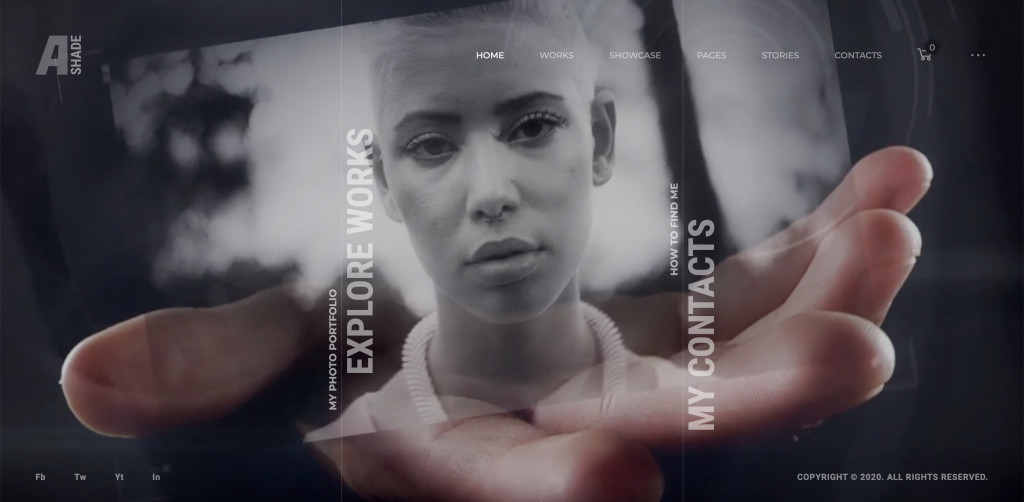 Source: AShade
Ideal for: Photography or any other type of showcases
Ashade is one of those WordPress themes for photography that comes with only dark skin. It has some ingenious aspects that make it easy for you to create a mind-blowing website. For instance, Ashade has 18 layouts of photo galleries and sliders that can be used to beautify your website.
Besides, it also offers you layouts for home pages where you can add all of your necessary information like your beautifully clicked images and contact details for your clients to see and contact you.
Furthermore, to make the homepage more attractive, the theme provides 3 background options of video, static image, and photo gallery. The photo gallery option is used with Ken Burns Effect. Moreover, Ashade also offers you the ability to start an online store as it is compatible with WooCommerce. You can create your own product listings, product pages, shopping cart, and checkout pages in no time.
Thanks to the countless Elementor page builder widgets, you can modify your website as per your preference. Ashade provides you with a circular progress bar, info card, info card grid, testimonial grid, bricks gallery, masonry gallery, carousel, and other widgets to design your photography website.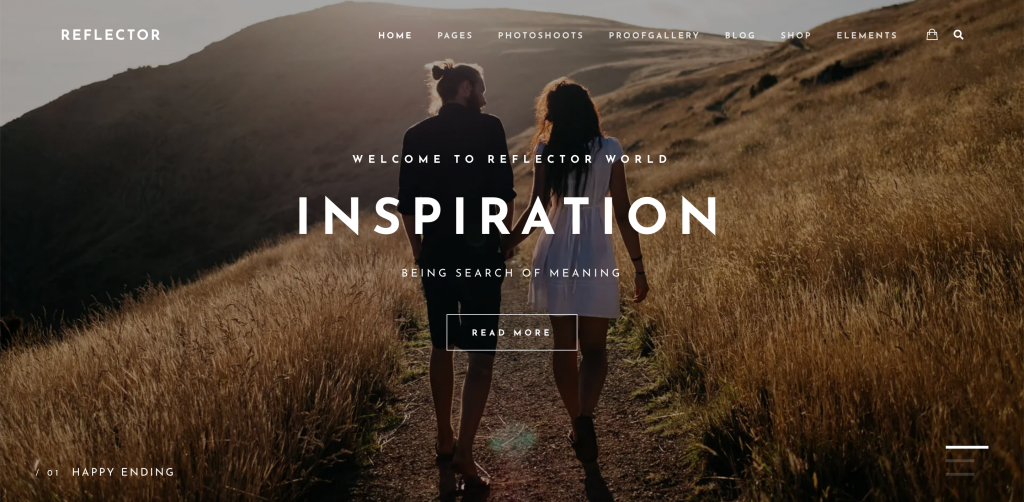 Source: Reflector
Ideal for: Modern Photographers and Studios
Want to set up a website for your professional photo studio? If yes, then Reflector is one of the best WordPress photo themes to bet on. Why? First off, the theme has over 25 home page demos that are not just importable by a single click but can also be modified as per user preference. Demo elements like text blocks, image blocks, and others can be interchanged.
It is pretty evident that to engage users; you need to add some of your best work on the web, right. So, to support you with this, Reflector provides you with over 14 portfolio management pages. You can add images to these pages and kick start your online business. Along with the portfolio management pages, you can also choose from over 17 galleries to showcase your work.
One more way via which you can present your work well is through sliders, and fortunately, Reflector provides you with over 10 slider integrations. Also, as one of best WordPress Photography themes, it comes with:
WooCommerce integration
Gutenberg editor
Contact Form 7
Google Maps integration
Adaptive images system
And many more! Along with photography, you can also start your blog with the included blog templates.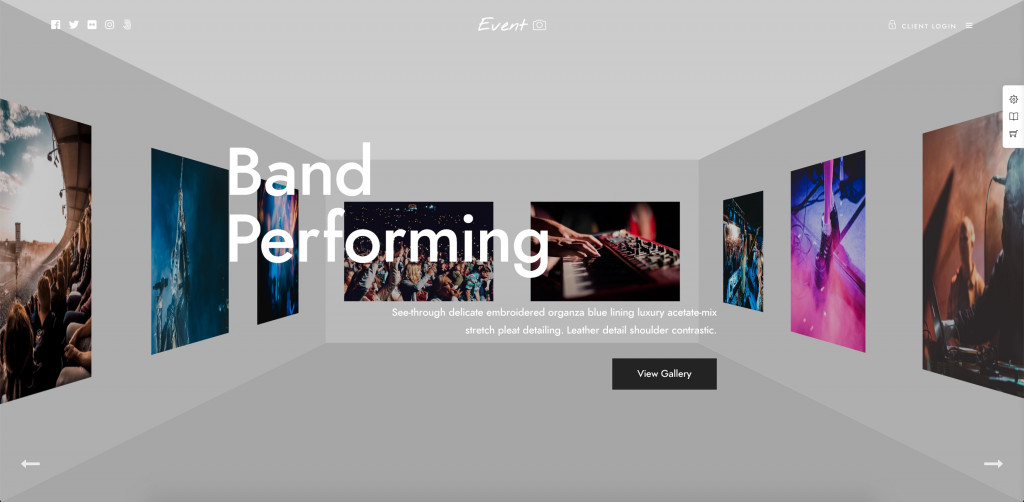 Source: Framed
Ideal for: All kind of Professional Photographers
The key factor that makes this theme one of the distinguishable WP themes for photography is its versatility. Unlike others, Framed is meant for photographers of various kinds like Event, Food, Landscape, Travel, Street, and many more. Therefore, it features a plethora of website templates that you can import and use with a single click.
Thanks to the photo proofing feature, the theme helps you create accounts for your clients so that they can review their assigned galleries. Moreover, these accounts are password-protected, so no chances of misuse.
The unique and by far the best feature of Framed is gallery and image protection. Using this feature, you can keep your images from unauthorized use by implementing password protection, right-click, image dragging, and watermark. At the same time, the lazy loading feature conserves resources by loading images when scrolled to.
Moreover, if you want to make your photography website one of a kind, leverage the power of flexible gallery layouts, creative slider layouts, black and white color schemes, and more. Further, you can do all of this with the simple drag and drop Elementor page builder that does not need any coding skills.
Lastly, to keep your users updated with your content, you can link your Instagram and Flickr accounts with the website.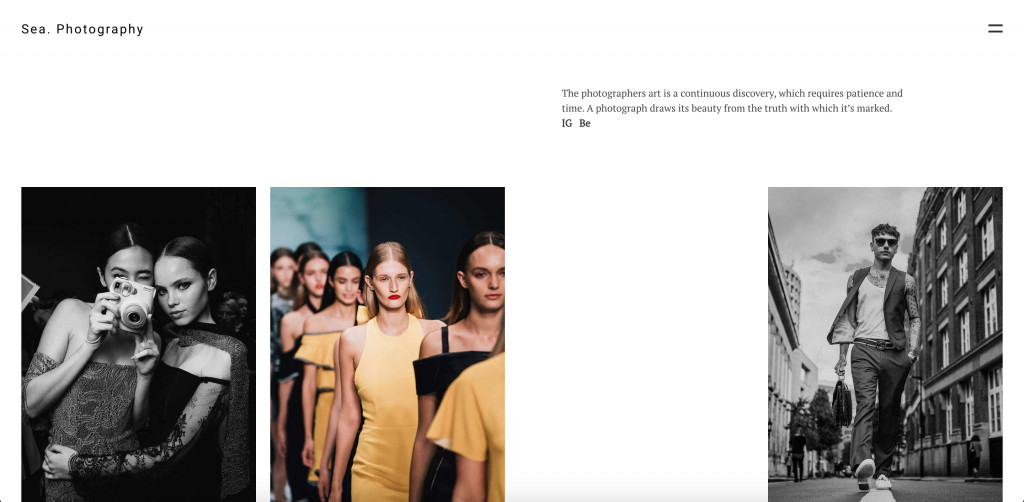 Source: Sea
Ideal for: Designers and Photographers
If performance is your priority, then Sea is one of the promising WP themes that you can get for your website. The theme is compatible with WordPress 5.7 and supports WooCommerce 5.2, which proves that you can start selling online at any time. It comes with a number of landing page demos related to various photography niches such as technology, fashion, architecture, art, etc. You can leverage any of these based on your requirements.
The theme is equipped with a unique BM content builder that helps you structure your website with its drag and drop facility. Hence, no need to be proficient at coding. Moreover, the changes that you make can be seen live as it is a live builder.
As far as the performance of the theme is concerned, the efficient, SEO-optimized code makes it lightning fast in terms of loading and ranking on Google. Besides, the responsive design of the theme makes it absolutely device-friendly, i.e., the theme fits perfectly as per the device's screen.
Other aspects that make it one of the ideal WordPress layouts for photographers are,
Pagination
Lightbox
Slider animation
7 post formats
7 header layouts
Retina ready design
Translation ready
And many more!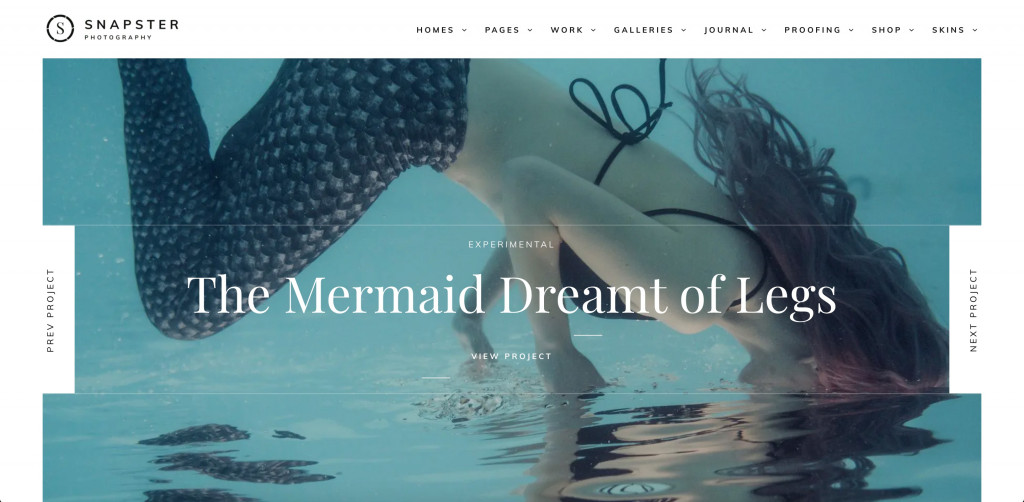 Source: Snapster
Ideal for: Studios and Photographers
If you like to blog along with doing photography, then Snapster is one of the top-rated photography WordPress blog themes for you. The theme offers you a well-managed blog list along with numerous single post blog templates that you can edit as per your choice. You can add videos, images, links, and many other elements to your blogs.
Furthermore, if we talk about functionality, the theme is responsive, which makes it mobile-friendly. Besides, you can leverage the WooCommerce compatibility to begin selling your beautiful and demanding pictures. Moreover, you can also customize the theme with the Gutenberg block editor as per your business needs.
Thanks to the Elementor page builder, you can easily create and edit your website with the drag and drop functionality without any coding knowledge. Further, here are some more benefits that you will get from this theme:
18 home page demos ready to be imported with just one click
24 portfolio management single pages
Creative galleries like 3 columns, 4 columns, masonry, and many others to showcase your work
Photo Proofing management to let your clients review their assigned gallery
Over 10 slider integrations
Retina ready design
Contact Form 7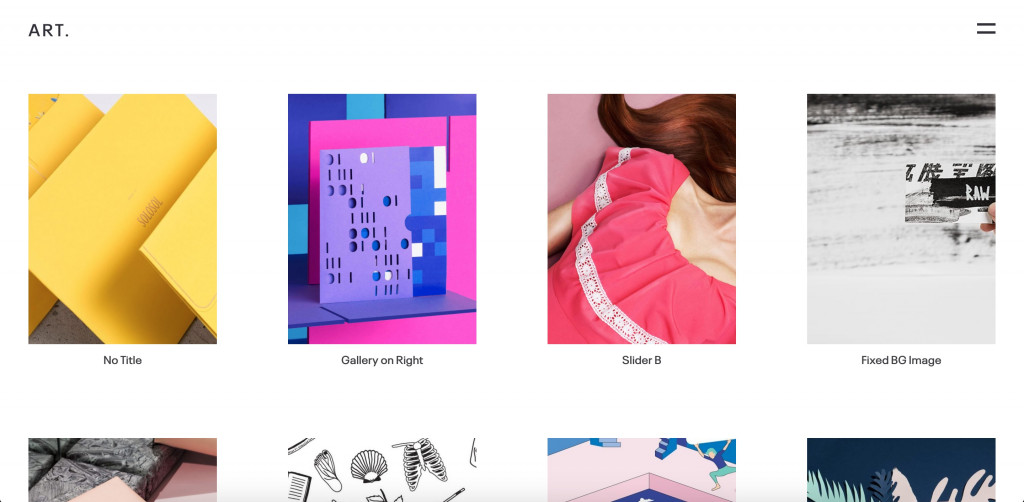 Source: Art
Ideal for: Simplistic Photography Websites
Beginning with a simple website is the best thing to do, and Art is the theme that can help you build an elegant one. There are countless features that make it demanding, such as flexible header layouts and the ultimate font library.
As of now, Art has 19 layout options for making the header of your choice. Plus, you can use around 2000 Google and Adobe fonts to enhance the readability of the text. If you have any fonts of your own, the theme lets you use those too.
Being one of the best WordPress Photography themes, it offers 3 mobile header layouts that make it fit into the mobile screen perfectly. Plus, the retina-ready design makes it look crystal clear on any display. The well-organized, clean and SEO-optimized code ensures that your website loads in minimum time and ranks among the top Google SERPs.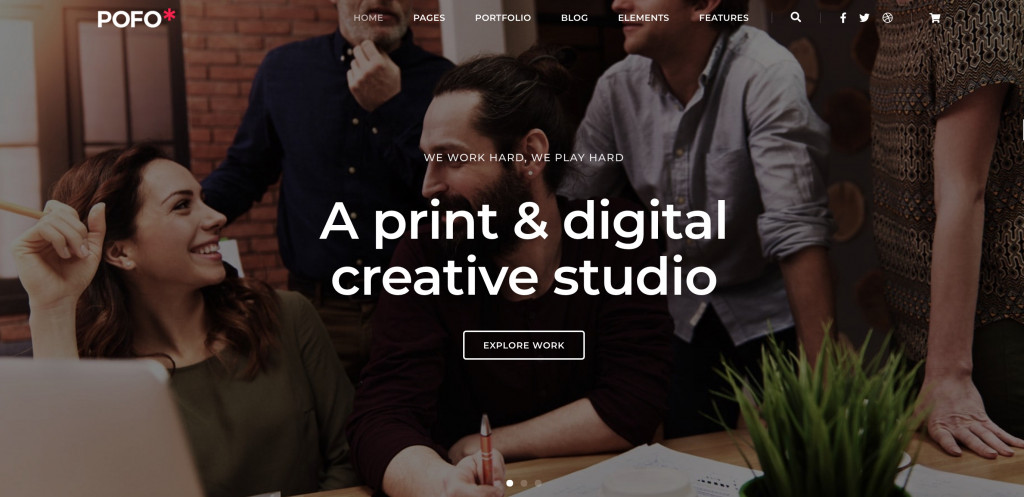 Source: Pofo
Ideal for: Photographers, Artists, and Corporate business
When it comes to detailing, there is nothing better than Pofo. It is a WordPress theme that has some classy features making it ideal not only for photography websites but also for any corporate business website.
The newest version Pofo 1.2 has some great features like,
The use of Adobe as well as custom fonts
Responsive typography settings
Social sharing style option
GDPR privacy popup
And many more! Apart from this, the WPBakery drag and drop editor and WYSIWYG (What You See Is What You Get) GUI make it easy for you to add, omit and customize various elements of the website pages and posts.
With this template, photography can be presented through the use of the slider revolution plugin to create awesome and interactive sliders with images, videos, or animations. The coolest plugin to use in the theme is Mailchimp, using which you can send automated email and seamlessly run your email marketing campaign.
The theme is also compatible with the W3 Total Cache plugin that enhances the website performance by caching every aspect of the site while reducing repeated downloads. Also, Pofo's compatibility with WooCommerce will help you start your online store with ease.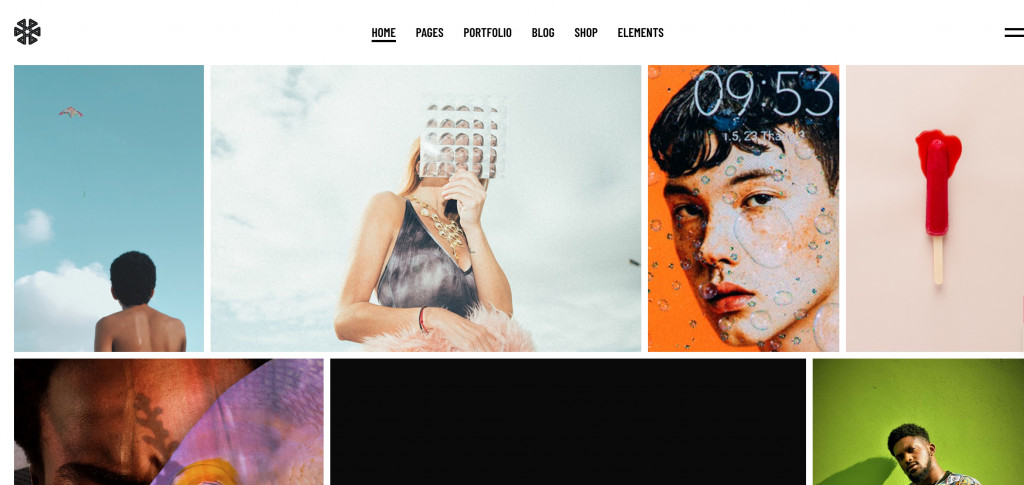 Source: Boldlab
Ideal for: Creative Agency and Photography Portfolio
If you own a creative agency and want to present your work to the world, then Boldlab is one of the coolest WordPress photography portfolio themes to opt for. Why do we say so? Here are some reasons!
First off, the theme offers you the ability to design high-profile website pages and posts either with Elementor or WPBakery page builder. Both of these are drag and drop page builders that greatly streamline the website building process as you don't have to be proficient in coding. Moreover, the pre-included inner page templates of the theme may reduce your designing work to a minimum. You can just choose anyone and start adding your content to it.
When it comes down to engaging the audience, the theme offers you countless portfolio designs that can help you present your work in the most interactive manner. As far as the performance factor is concerned, the theme is SEO optimized and responsive, which makes it look beautiful on all devices.
You can easily work on a user-friendly admin panel and can conveniently import all the aspects of the theme with just one click. This saves a lot of time spent in making them from scratch.
Conclusion: choose the best photography theme for WordPress

It is pretty obvious that when you have so many choices, picking one of the photographers' WordPress themes can get a bit difficult. However, the best way to shortlist one is to align your preferences. There are countless features in almost every theme, but it is not imperative to use all of them. One can even use the basic features of a theme and curate a better website. Features like WooCommerce compatibility, WordPress theme photo gallery, drag and drop page builder, etc., are some of the prime features for the photography themes. So, consider the one that has these and some others that you need.
We can say that if you're trying to build a free photography website, you may face some limitations in the set of features. There are some points in favor of the top premium WP themes. That's the reason why our collection presents the photography website templates you have to pay for.
With WordPress, you are in safe hands; you will surely end up with the best website for your photography portfolio.
Disclosure: this article may contain affiliate links for third party products. If you click a link and later make a purchase, we may earn an affiliate commission that doesn't result in additional charges to you.