Real-life Websites Built with WordPress Hotel Booking Plugin & Elementor
Since the introduction of the WordPress Hotel Booking & Elementor free conjunction add-on, we keep receiving positive feedback from homeowners and WordPress developers. This integration indeed made it possible to take advantage of both plugins: set up a WordPress property booking system with MotoPress and make its content look beautiful with Elementor.
So if you are looking to build a WordPress vacation rental website, you have a chance to do it with less fuss, using virtually any WordPress theme.
Just grab the template you find suitable, implement the MotoPress Hotel Booking plugin (the setup is a half-automatic procedure), install Elementor (either free or Pro version), and, finally, tie both plugins together for visual editing, install a free Elementor integration add-on. And that's it.
Advantages of Our WordPress Hotel Booking Themes
To brag a bit, if you don't mind, we have a nice collection of WordPress hotel themes, where all these tools are put together. You may wonder whether there is any advantage to choosing these themes over third-party ones. There are two:
The price of a premium theme covers not just the design itself, but the price of the premium Hotel Booking plugin, which is included at no extra cost (you save at least $49).
Our award-winning designer manually polished the theme styling applied to the content modules generated by the Hotel Booking plugin. Third-party themes may require some extra adjustments in this regard.
However, if you are already building a hotel or vacation rental website with Elementor and a theme of choice, you'll also find it easy to implement the WordPress reservation and property management system by MotoPress and Elementor integration extension.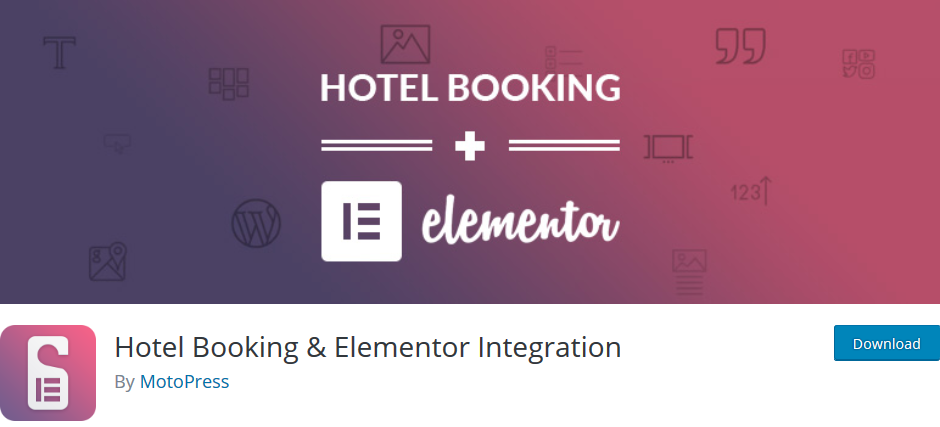 To back up all these claims, we've chosen some real-life examples of hospitality sector businesses, whose websites were built with the MotoPress Hotel Booking plugin and Elementor.
The collection for your inspiration includes different themes from both MotoPress and third-party providers. Let's see whether you can relate to any!
Accommodation Type: houses, suites and rooms for holiday rent
WordPress Theme: Ciestra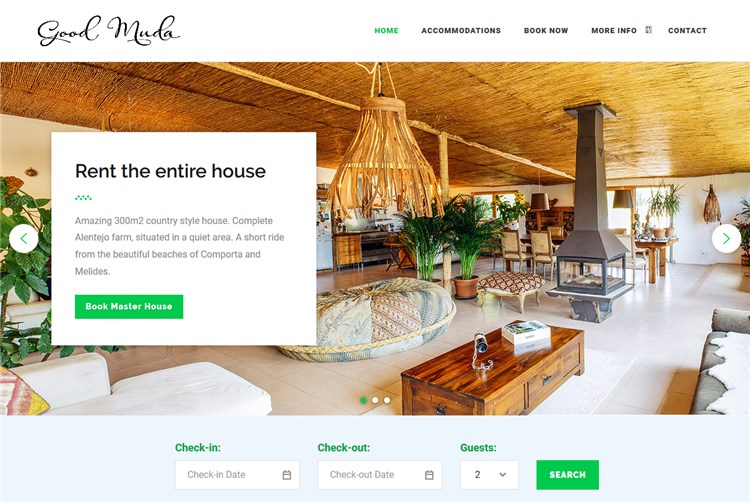 The front page comes with a fantastic property slider carousel that just works. The rest of the website is perfectly clean, with two major components in the spotlight: the accommodations and testimonials. You may also notice that the search availability form uses "guests" instead of the standard "adults & children" search fields – this is what you can customize in the Hotel Booking plugin in clicks.
The Zion House
Accommodation Type: vacation rental
WordPress Theme: Aquentro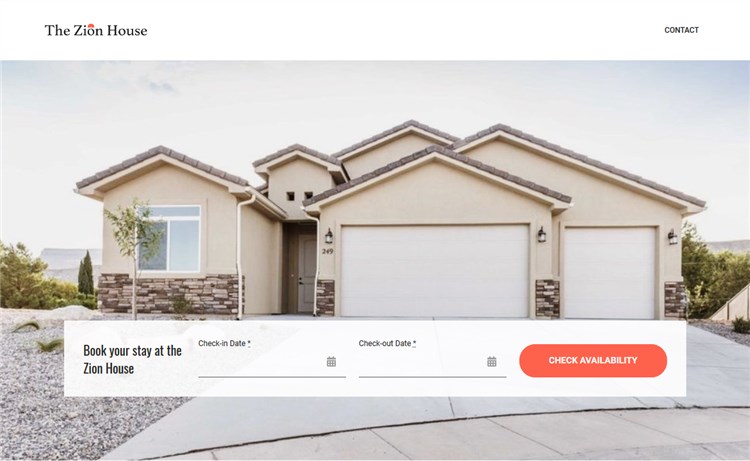 Being optimized for a single vacation rental or serviced apartment, the Aquentro theme lets this website "breathe" – it loads in a blink of an eye, pulling you in a nice harmony of a static holiday home presentation and dynamic slideshows. The website accepts reservation payments via Stripe. Since the house is rented out as one unit, the search availability form doesn't use capacity fields.
Accommodation Type: multiple cabins
WordPress Theme: Alpenhouse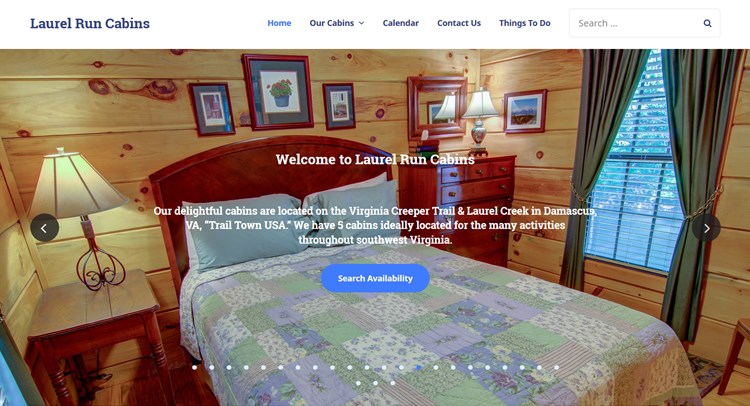 This WordPress hotel booking website widely uses high-quality images in the front-page slider to encourage guests to feel totally immersed in the cabin's atmosphere. Individual accommodation pages come with 360-degree VR tours to help prospects get an even better idea of the interior and eventually fell in love with the property. As for the booking functionality, guests can reserve a cabin from its dedicated page or use a real-time search form through all website rentals. It's required a 2-night minimum for weekend guests staying in-season.
Venice Mansions
Accommodation Type: luxury apartments
WordPress Theme: OceanWP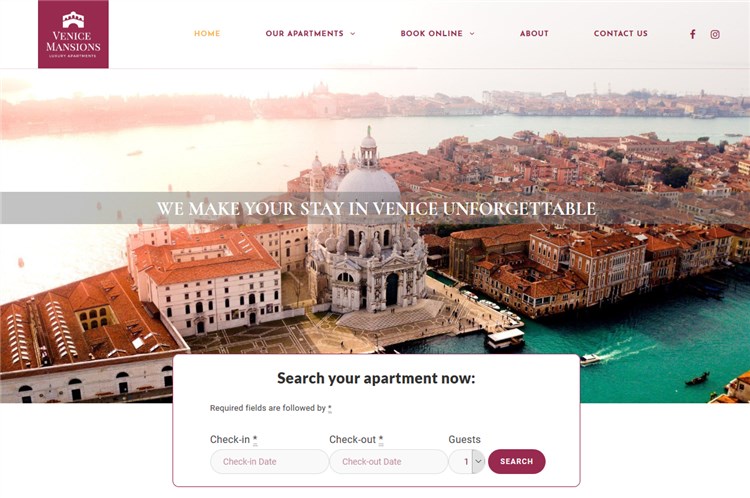 This website comes with a perfect visual hierarchy of content elements, smart Airbnb reviews integration, and eye-catching accommodations galleries. Travelers can search for the needed accommodation using date fields and the total number of guests. The website owners allow guests to pay online through the website via Stripe.
Russei Meas Paradise Bungalows
Accommodation Type: bungalows
WordPress Theme: Ciestra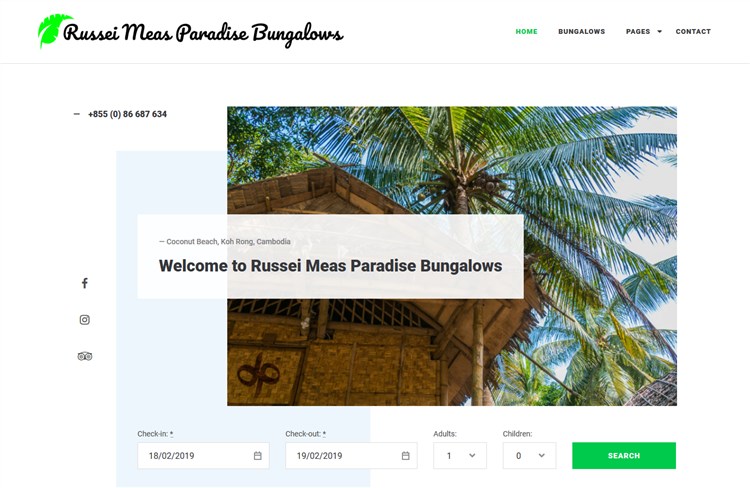 This website quite precisely uses the demo of the default Ciestra WordPress hotel theme – a custom header with the image and real-time bungalow finder, some intro info, available bungalow, surroundings, guest reviews, and a real-time Instagram feed (which looks astonishing). Of course, it's easy to reach a designer-styled layout since the Ciestra theme offers one-click sample data import, which means you'll be able to replace demo info with your custom content in no time. People who reserve a bungalow through the website can pay cash on arrival.
Accommodation Type: hotel with multiple rooms
WordPress Theme: Hoteller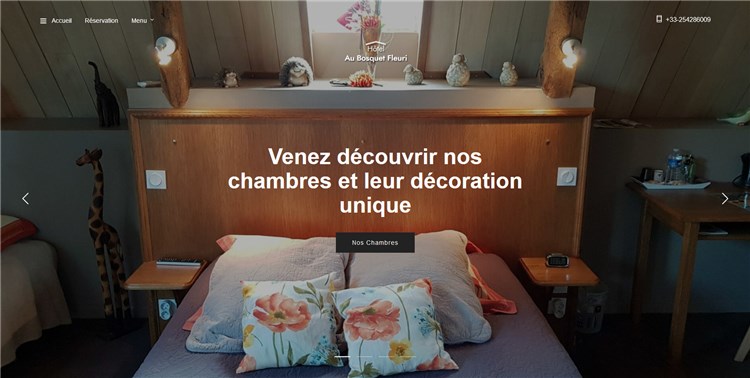 This hotel website is quite photogenic, with a specific emphasis on diverse rooms' interior and exterior, surroundings, restaurants, and activities. All this creates a complete picture of the resort for the potential guest. In addition to direct website bookings, the website allows reserving a room via preferable OTAs.
Vacation Homes In Malaysia
Accommodation Type: serviced apartments
WordPress Theme: Aquentro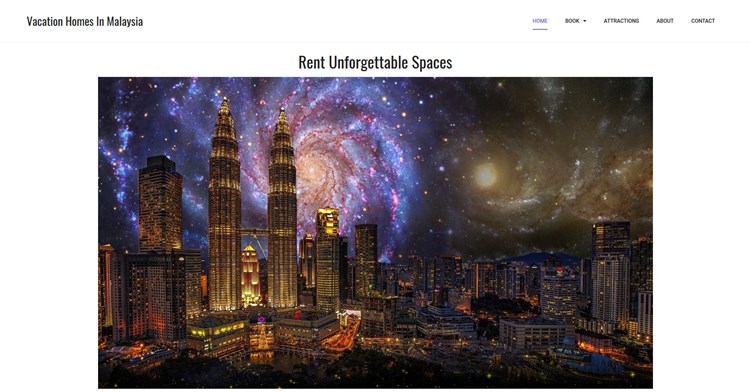 Thanks to a bunch of breathtaking images and inspirational stories, this rental property website makes it crystal clear that they don't just rent out Malaysian apartments, but experiences. You can edit all those blocks visually in Elementor builder. Guests can book a room directly on the website and pay via PayPal. For your information: MotoPress allows to enable PayPal, 2Checkout, Braintree, Stripe, and Beanstream/Bambora gateways for free.
Accommodation Type: holiday accommodation
WordPress Theme: OceanWP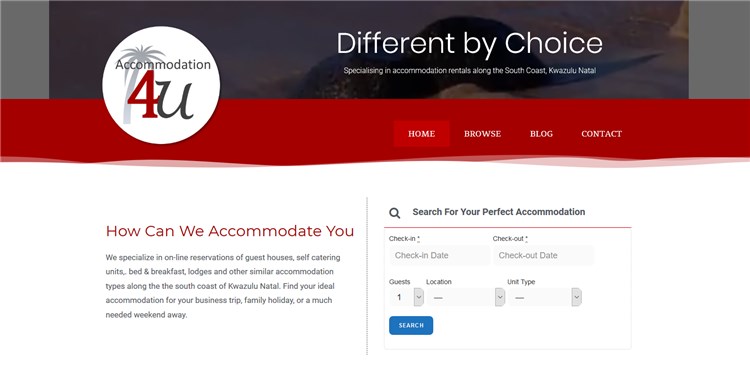 Quite a minimal and rather classic design makes this website look very balanced and professional. In addition to standard fields, the property search form uses extra custom search form fields – location and unit type that allows guests to perform an advanced search. Any number of custom fields can be added with no tech skills via the Hotel Booking plugin. There are several additional free and paid services guests can add to their reservation.
Accommodation Type: hotel
WordPress Theme: Alpenhouse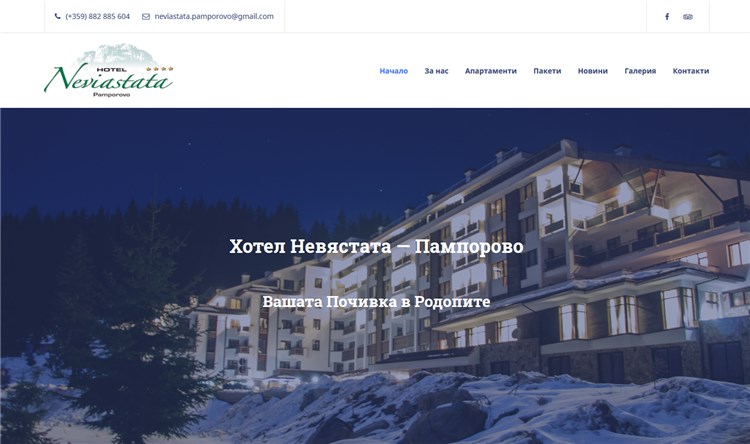 The Alpenhouse theme allows giving each and every room the attention it deserves. There is a lot of space for images, experience showcases, awesome galleries, and packaged tours. All contact information is perfectly visible so that guests can find the needed contact info to make a reservation in advance. The availability calendar of each room allows seeing booked and available dates. Overall, if you don't want to use the booking functionality on the website and just need to present your accommodation, MotoPress also makes it possible.
Accommodation Type: restored holiday cottages and apartments
WordPress Theme: Aquentro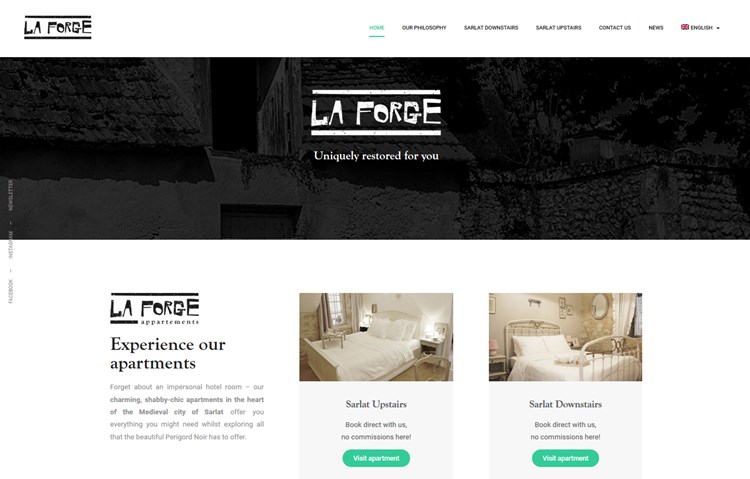 Quaint apartments in Medieval cities can make any heart bounce. The Aquentro theme provides a lightweight and stylish stage for the story, philosophy, and of course, picture-perfect rooms of La Forge. You may also notice that the website is available in several languages. By the way, the Hotel Booking plugin is available in 14 languages letting you go multilingual easier.
Accommodation Type: B&B and winery
WordPress Theme: Campterra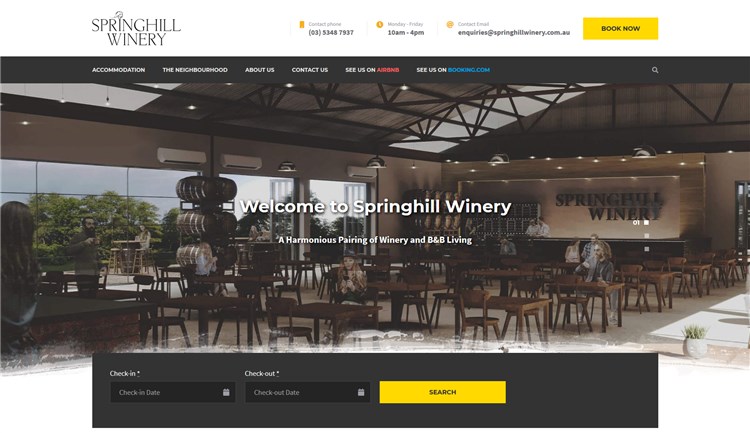 Here you can see that everything is in balance: picture galleries, stories, available activities, and bookable suites. The website keeps almost all default blocks available in the Campterra theme. The website gives guests an option to book directly using PayPal or via external travel agents. Don't forget that with the MotoPress Hotel Booking plugin you can sync all bookings from all platforms that support iCal (Airbnb, HomeAway, Booking, etc.) and your website, with almost no risk of overbooking.
Accommodation Type: rental suites
WordPress Theme: Bellevue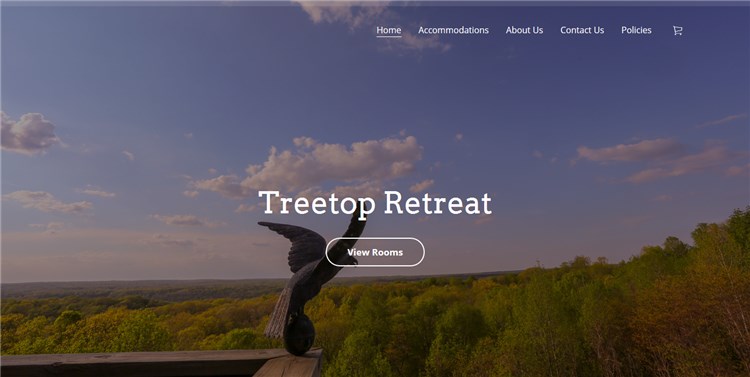 A well-balanced, uncluttered design layout of this website shows travelers the most sought-after details clearly and in one place: available accommodations and packages. Guests can pay via the website by PayPal or Stripe. Inquiries can also be sent via a regular contact form.
Accommodation Type: bookable active holidays, courses and events
WordPress Theme: Campterra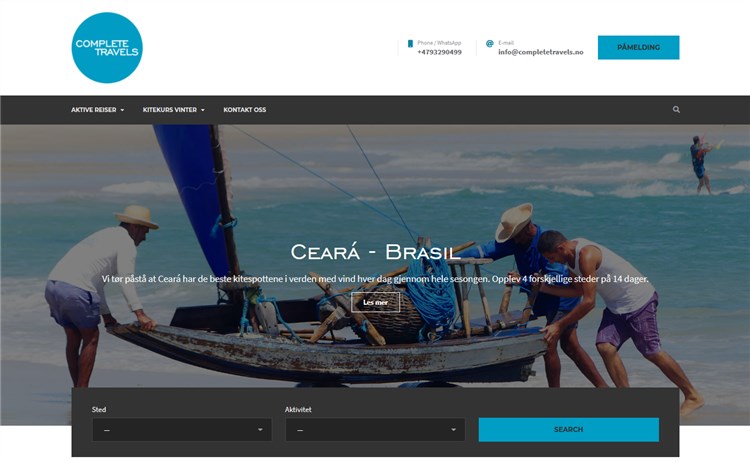 This is not a typical rental property website because it offers bookable events. Stunning Parallax effects and dynamic slider in combination with professional images provide a great feeling of an outdoor lifestyle. It's worth mentioning that such a specific search form (without arrival and departure dates) involved coding, meaning, the same can't be reached with default functionality (which directly deals with check-in and check-out dates).
Accommodation Type: accommodation and venue
WordPress Theme: Alpenhouse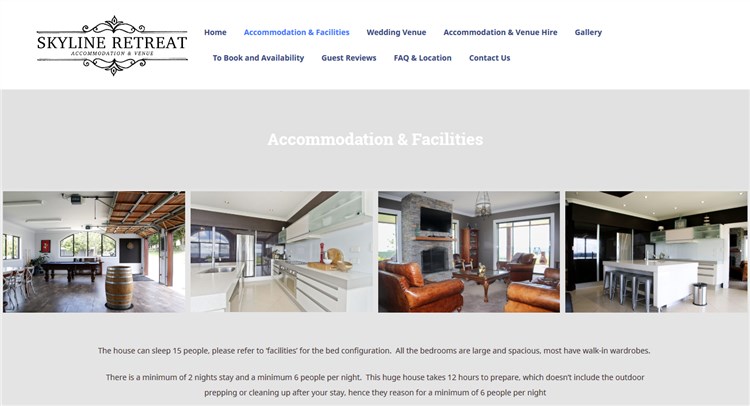 On this website people book accommodations as well as hire venues, each of the options comes with lots of details. People can also check the availability calendar on a separate page. The front pages use a static image, but you should know that Alpenhouse offers four different front page alternatives you can choose and edit with Elementor.
Accommodation Type: campsites, cabins, and floating homes
WordPress Theme: Campterra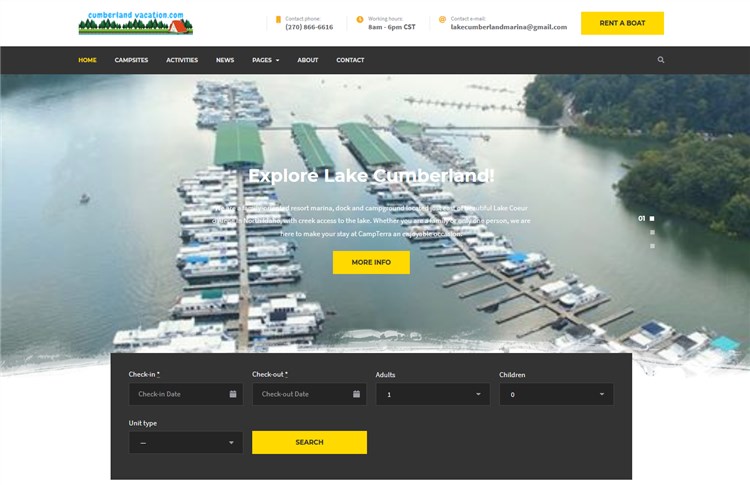 Lake Cumberland Vacations website features a directory of campground units, cabins, and boats people can book in a preferable way. Right in the search results, travelers can discover more with slider images, which help them picture themselves in that specific accommodation. It definitely encourages people to click through, explore, and book easily.
Accommodation Type: hostel
WordPress Theme: Alpenhouse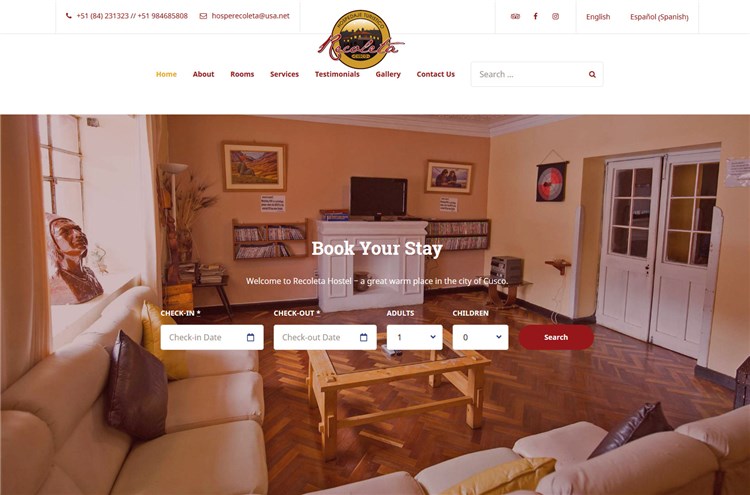 This website uses one of the default Alpenhouse demos with the search availability form built into the header. It makes the overall website quite compact. To make guests fall in love with the property before arrival, there are lots of fancy content elements on the website: a hotspot add-on with animated markers, a statistics counter, an image gallery, services, and more. The website is available in several languages; the reservation can be done without payment.
Next step to Your Dream WordPress Hotel Booking Site
As you see, some client websites presented in our collection of best WordPress hotel booking sites simply showcase accommodations, without providing an option to book a room. Others, on contrary, are huge directories of properties of different kinds, with a variety of rates and pricing options, specific booking rules, and online payment gateways turned on.
When you are ready to get the most out of the MotoPress & Elementor powerful combo, here is what you need for your hospitality website on WordPress:
MotoPress Hotel Booking
Hotel Booking & Elementor Integration extension.
Plus, a rental property WordPress theme of your choice.
Should you have any questions or ideas related to WordPress hotel booking plugins, don't hesitate to share them with us.
---
Disclosure: this page contains external affiliate links and we may be paid commission if you buy the products featured above. The thoughts on this page are our own and have not been based on the payment.