How to Translate MotoPress Hotel Booking with WPML Plugin
Do you need to create multiple language versions of your property rental WordPress website built with the MotoPress Hotel Booking plugin? Since our booking plugin is officially compatible with WPML Plugin, one of the most popular WordPress multilngual tools, in this post we'll show that it's really easy to translate your website!
First up, why WPML? This is one of the widely recognized choices on the market, a regularly being improved WordPress translation plugin with a highly intuitive interface. Moreover, the plugin's developers approved the Hotel Booking + WPML plugin compatibility, so you may safely use it on your site.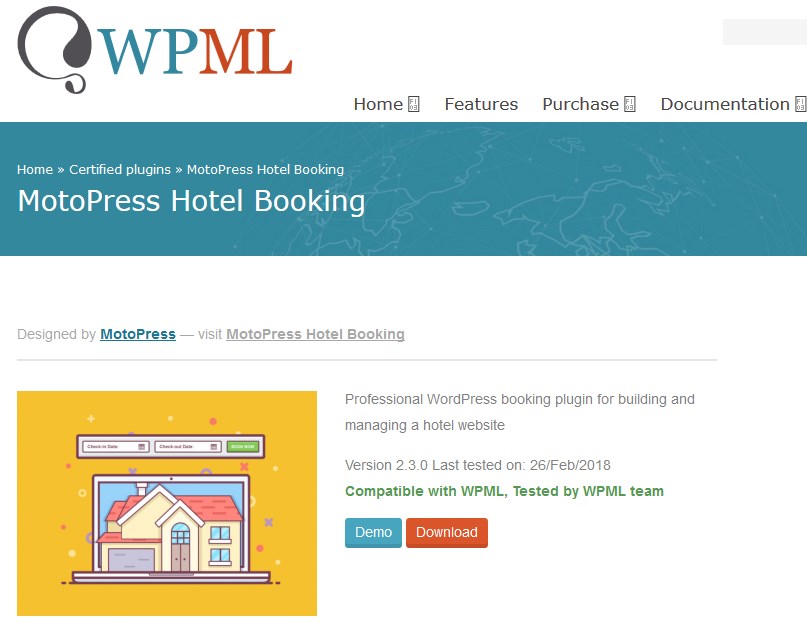 The most pleasant thing, the future updates of the WPML plugin for WordPress will be focused on making the editor more advanced – with your own translation glossary and memory, spell checker, real-time editor, taxonomy slug translation and even Gutenberg integration (for those unfamiliar, the future block-based WordPress core editor).
To show you how the integration works in action, we've created a test German version for the Villagio property rental WordPress theme – you may check out the language switcher in the theme header.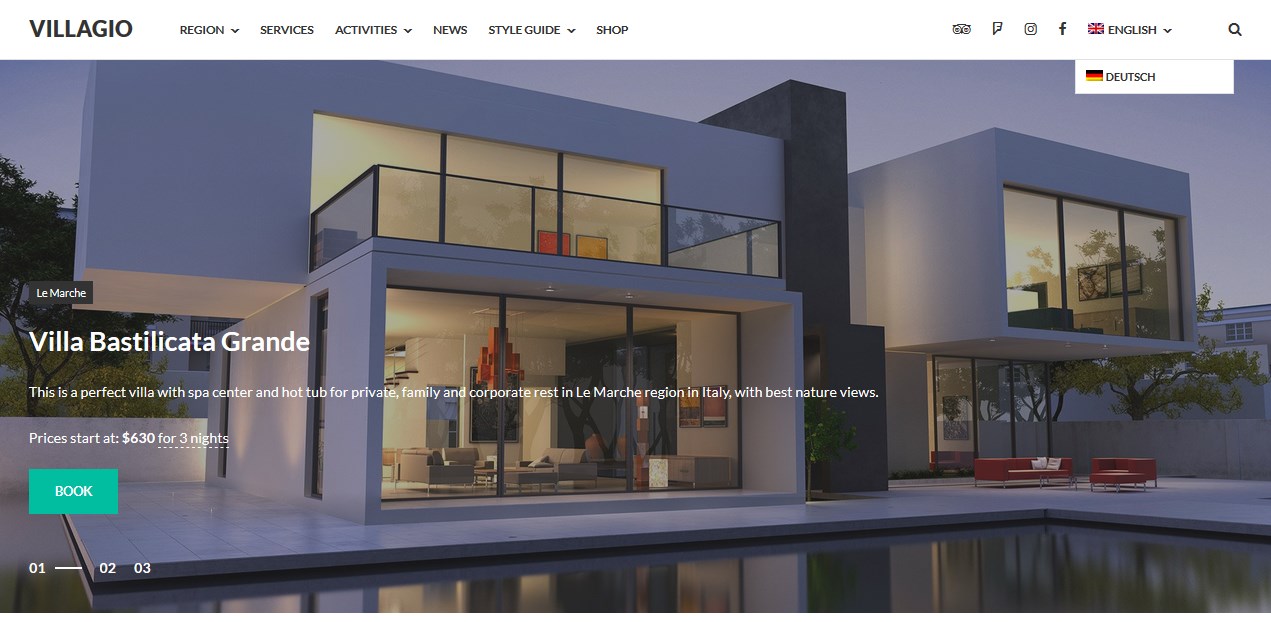 For another example, check out the language switcher in the header of the AlpenHouse vacation rental WordPress theme.
So, how do you use WPML with the Hotel Booking plugin? To build a multilingual WordPress website, you'll need:
To get started, install and activate the WPML WordPress plugin. If you haven't installed MotoPress Hotel Booking yet, don't forget to do that as well. Also, make sure to add all content via the Hotel Booking plugin before translating it into any language. This way, you'll simplify your work with translations and won't need to go back and forth all the time.
Languages
Firstly, add the languages you are going to translate the plugin to: go to WPML > Languages > Add Language. We've chosen German to replicate a demo of Villagio theme mentioned a while back (please bear with the Google Translate version!). This is your accommodation google translate version: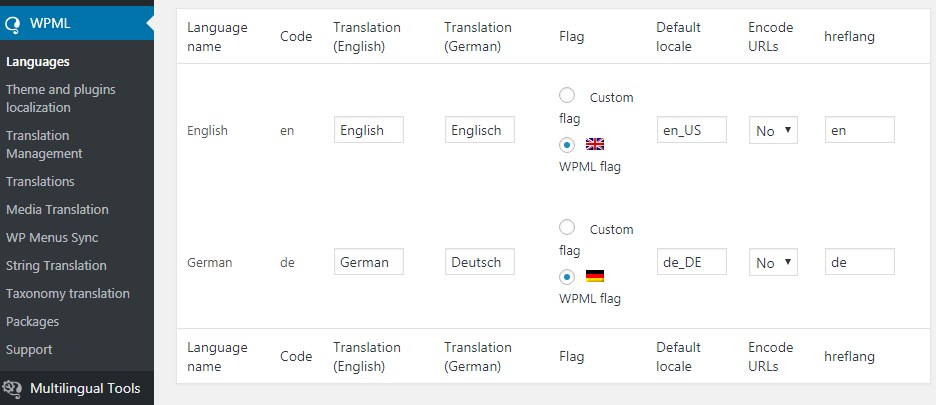 There are lots of settings you can apply according to your needs: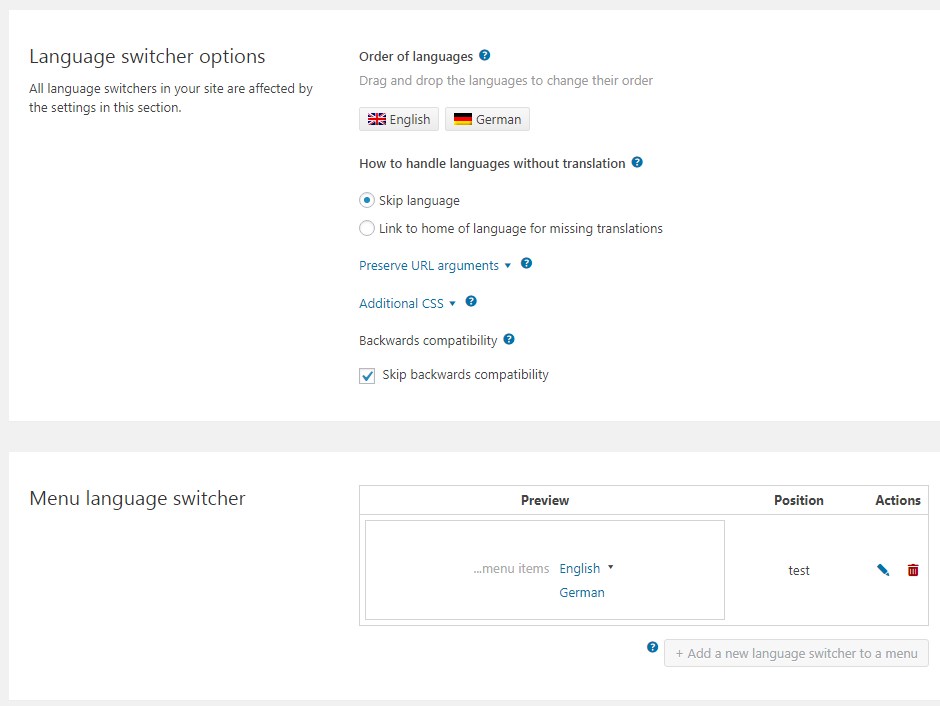 Set a default language
Language URL format
Language switcher options (the order of languages and how to handle languages without translation)
Managing widget areas where you can add the language switcher, etc.
Translating Custom Taxonomies
The order of adding your translation is similar to the one of setting up the MotoPress Hotel Booking plugin for WordPress: start with taxonomy. It will help you later add a translation for accommodations with all amenities and services quicker and easier.
One of the ways to do it is via WPML > Taxonomy translation. From the drop-down menu choose the needed type of Hotel Booking taxonomy and then add the translation of the already existing content. In the same section, you can translate Hotel Booking categories, tags, accommodation categories, and more.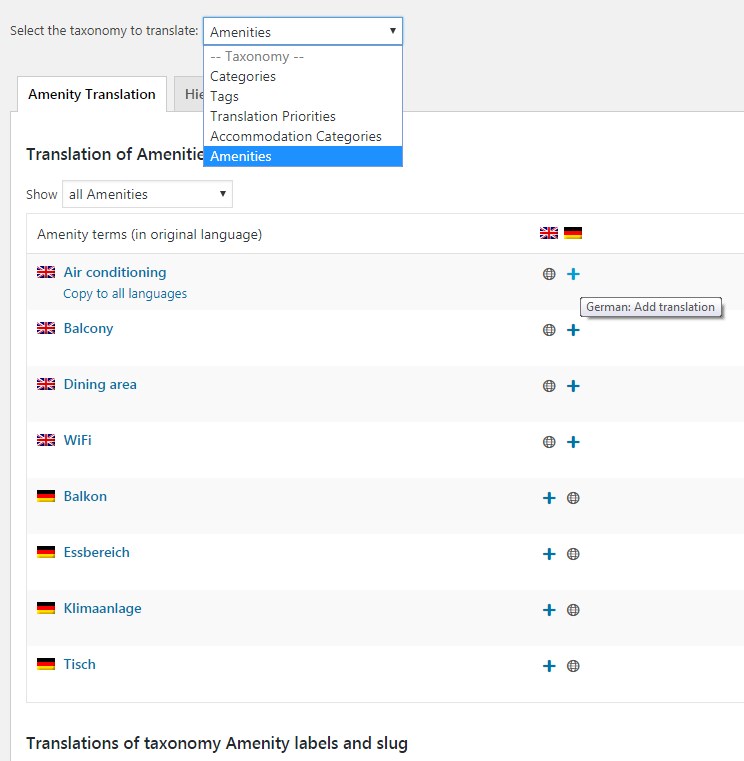 Also, you may translate the taxonomy via the Hotel Booking plugin. For example, go to Accommodation > Amenities > edit amenity.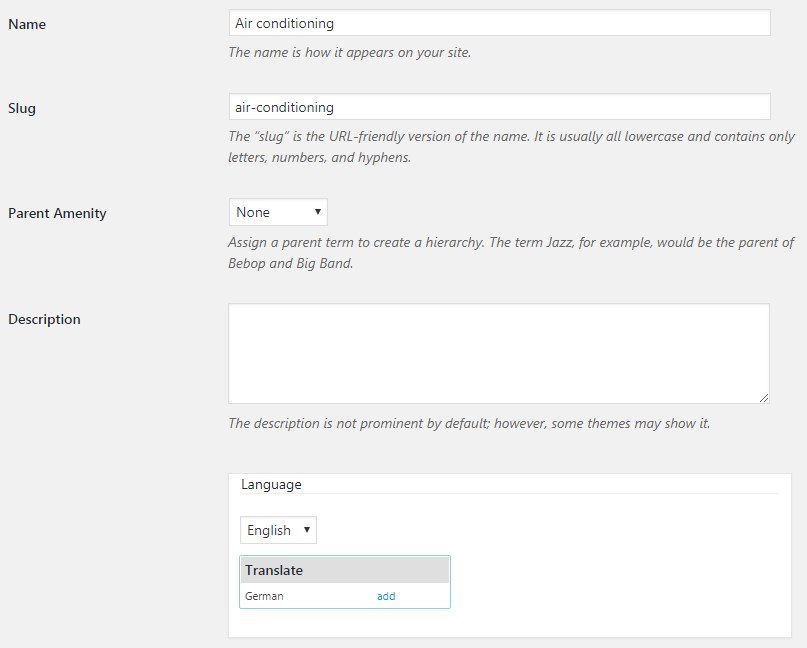 Speaking from our own experience, it's easier to edit taxonomy via WPML as you have all items on one screen. That significantly saves your time on editing! One more plus of editing with WPML is that you can jump quickly to only untranslated items.
Translating posts, pages and custom post types
First of all, add services and bed types. Services can be easily edited as standard posts: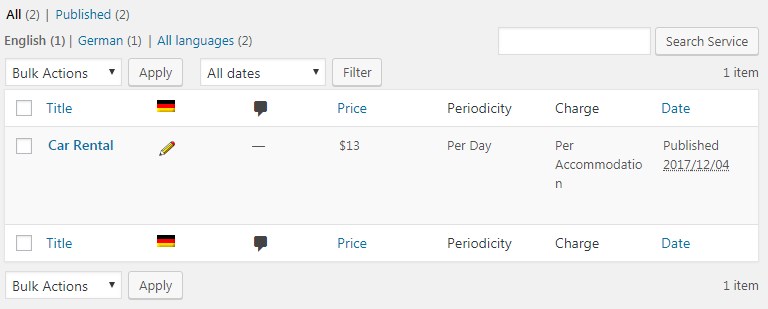 As for bed types, go to Accommodation > Settings and scroll down to bed types > add new > add your translation to the list of your bed types listed in the source language. Firstly, we put the English version and as another list of bed types – a German translation.

As for Seasons, there is no need to add translations to this menu as these are just backend settings.
Now you are ready to add accommodation types! Once all the taxonomy and posts are translated, you are free to translate your rentals – add the description in a target language and images, then simply choose items from the previously translated taxonomy (amenities, categories, tags, services, bed types).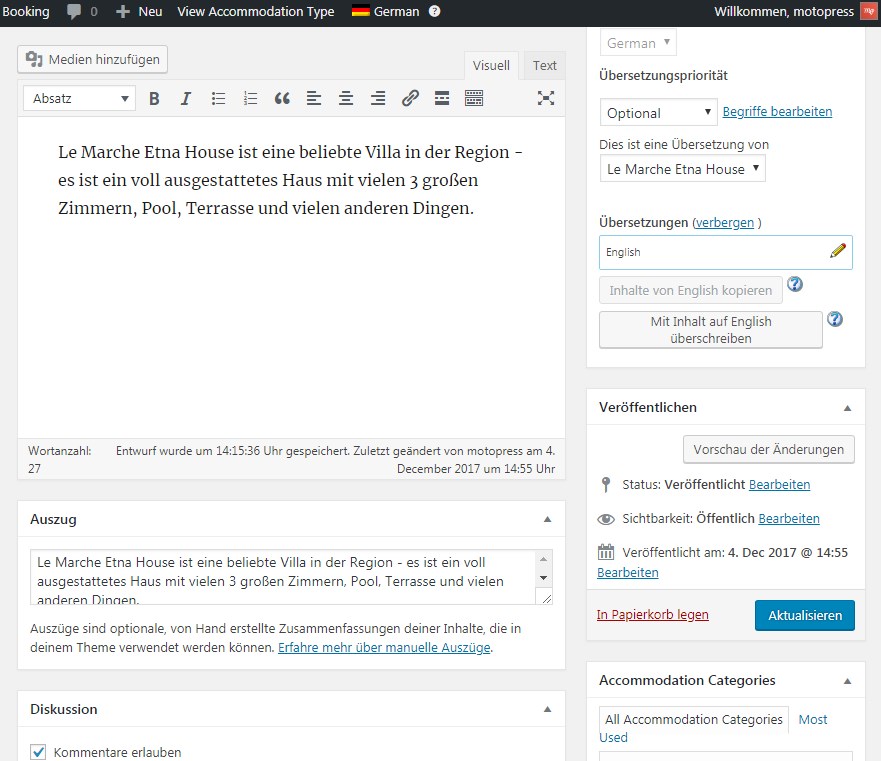 Now it's time to translate your rates. For this, go to Rates > Edit > select the accommodation type and translate rate descriptions. There is no need to edit prices, so WPML will offer you to translate a rate description only.
You'll also need to translate custom texts (if any) of the system pages (created with shortcodes). Go to Pages > search results, search availability, etc., and translate your custom texts. System plugin texts are already translated into 14 languages. You can add your own translation to the texts within shortcodes through WPML > String Translations. The String Translations module will also let you translate the email templates that you and your customers receive when a booking is placed. You may also choose where to add the language switcher (to any widgetized area of your WordPress theme) in WPML settings.
That's it! With WPML, you can also go ahead and translate the rest of the pages of your website – pages, posts, custom post types, and media. If you face any issues, feel free to report them as we're keeping an eye on all compatibility bugs.
WPML Plugin WordPress: Bottom Line
Was this MotoPress hotel booking tutorial hard? Absolutely not. Taking into account all future improvements of the WordPress WPML plugin, the experience of making your website multilingual is going to be even smoother. So, if you are thinking about reaching a wider audience today or tomorrow and attracting more international travelers to your lodging, this is just the right time to start with a multilingual website.
---
Disclosure: this page contains external affiliate links and we may be paid commission if you buy the products featured above. The thoughts on this page are our own and have not been based on the payment.