How To Create a Beachbody Coach Website on WordPress
If you are running a sports center, yoga studio or work as a fitness consultant, we've prepared this tutorial for you. In particular, we'll tell you how to build a website in WordPress with a dedicated template. In result, you'll be able to create a beachbody coach website with a stunning design and the appointment booking widget for direct site coach reservations.
If you've already installed WordPress, you don't need to search for beachbody coach website templates.
For this tutorial, we'll use the CoachZee coach WordPress template.
Why will you like CoachZee?
Well, first of all, it's made specifically for coaches, namely, it comes completely optimized for sports and fitness-oriented service websites. It, moreover, includes a pre-styled widget for bookings powered by the MotoPress Appointment Booking plugin.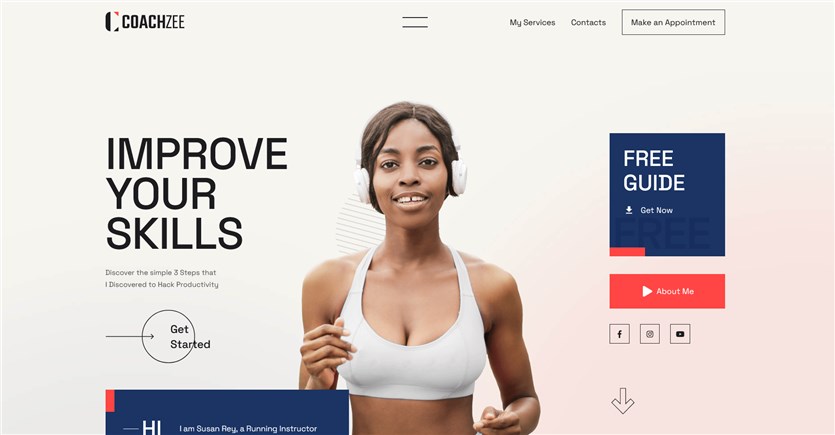 And here are some key features:
CoachZee is suitable for both single instructor websites and schools, studios or sports centers.
There are many exclusively crafted pages for the team, portfolio, services, appointment booking and others.
CoachZee is built in the native WordPress block editor, also known as Gutenberg, which means you'll have the most recent, secure and powerful platform for the site building needs.
On top of that, the theme ships with a collection of 40+ extra WordPress content blocks and designs by Getwid, our custom-made extension to WordPress.
The design and functionality supports unlimited locations and unlimited instructors without extra charges.
Fast and easy demo content setup, which will help you get your site a professional look as in the demo.
So let's now see what the process will look like for you.
Step 1. Install the CoachZee theme and import the Fitness coach demo
After you've installed and activated the CoachZee coach WordPress template., go to the Appearance menu > Import demo data > choose the Personal (fitness) coach demo template.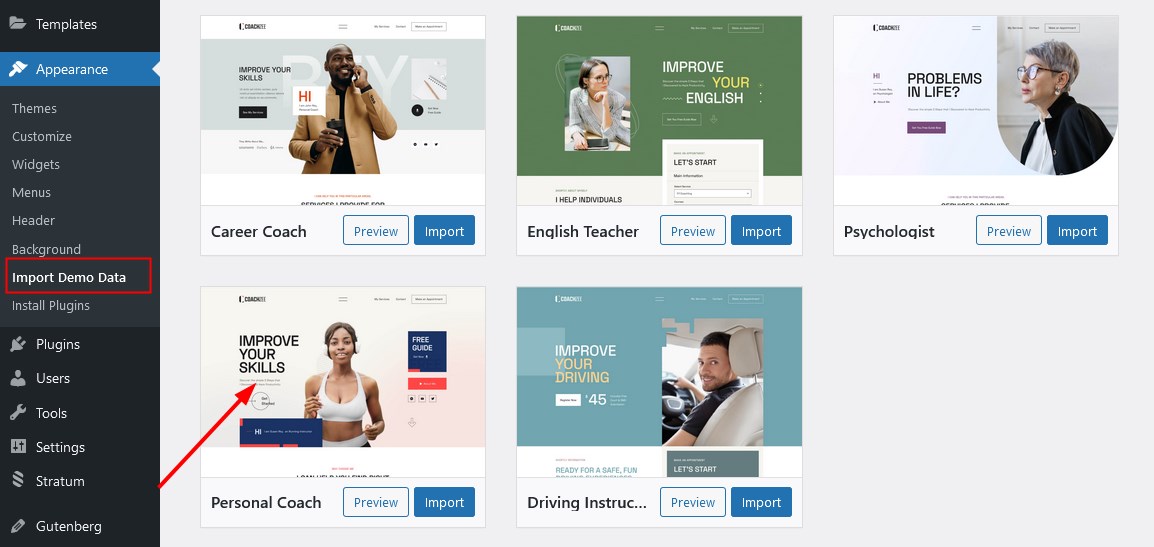 Note: although this template is optimized for fitness and sports website needs, you can actually choose any template to your liking, not just this one.
This default fitness coach template will serve perfectly for building a professional and stylish beachbody coach website in WordPress.
It's perfect for both a personal coach website as well as for studios, sports centers and communities that have multiple instructors.
If you fall into the latter category, go to the Pages > Our Team in the demo.
You'll see that it's a movable part (section) that you can place to a more visited page on your website, for example, the home page.
You can do that thanks to the WordPress block editor that works as a modular system and every piece of content, both individual blocks or multi-block sections, can be moved to other website parts. Even to the widgets and sometimes to the footer area.
Your next step is to start optimizing the content of the demo and start building a perfect beachbody coach website.
If you are still searching for the best booking theme, take a look at our collection of the appointment booking themes for WordPress.
Step 2. Set up the booking system (optional)
As we've already mentioned, this WordPress theme comes shipped with the MotoPress Appointment scheduler plugin, an all-around solution for your coach booking needs.
It's up to you whether to use the widget for automated bookings. For example, you might just want to have a beachbody coach website portfolio, without any booking options.
If for you, however, the booking software is of top priority, let's better start with setting it up.
Let's have a quick walkthrough and play with our beachbody coach website design for WordPress.
General settings
Decide on the booking confirmation mode, that is, do you want to schedule your sessions automatically upon a payment or without one?
Set up the currency.
Check if you want to use discount codes on your website.
Optionally allow clients to book several services at a time.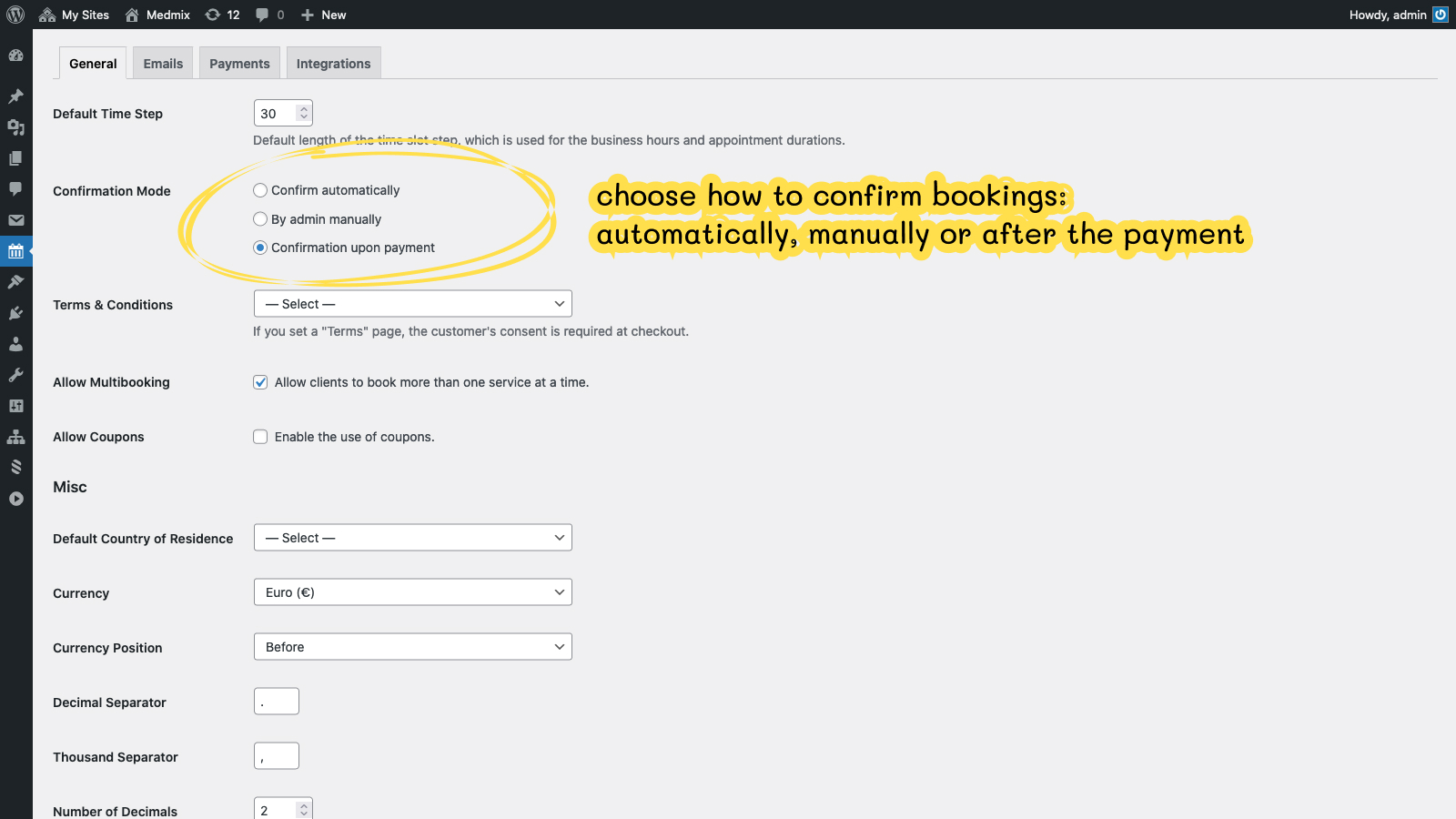 Configure email notifications
The system will automatically send the needed notifications to your admin email address as well as to your clients. For all the things like booked or canceled appointments there is an email!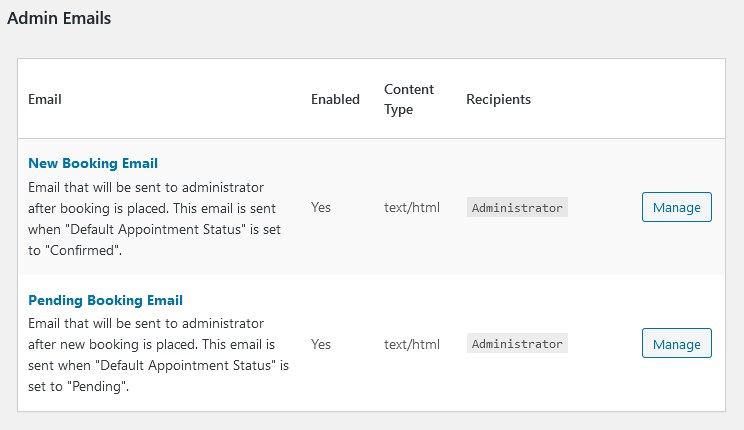 Build the presence for a coach/coaches
Managing staff workers is hard in real life, but the software makes it really easy. You can create information-rich profiles for your coaches that will be a great proof of expertise in the eyes of your customers.
There are pre-made blocks for this in the CoachZee beachbody coach website template, which you can easily tailor in the visual editor.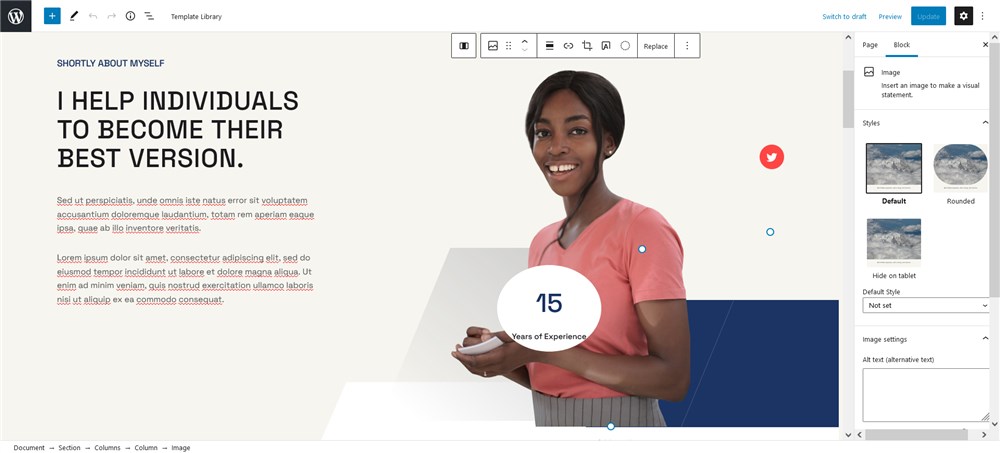 Set locations, physical or virtual
Where do you provide your lessons, in physical spaces or probably use virtual apps?
The MotoPress booking plugin allows you to create any type and any number of locations. Clients will be able to choose the needed one when placing a booking.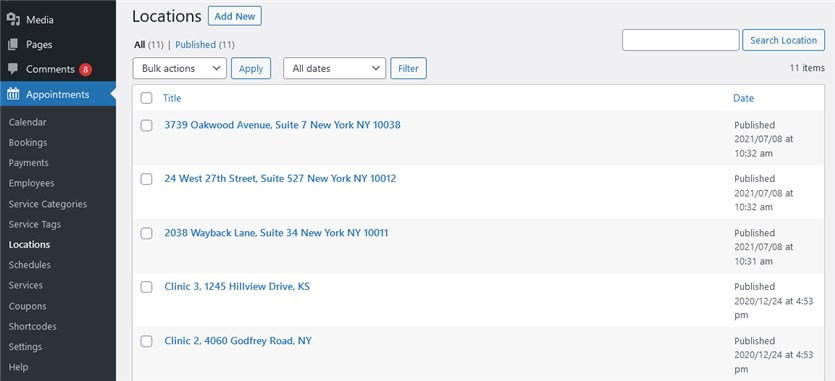 Schedule the availability of your coaches
The integrated scheduling system will help you create an individual flexible schedule for every coach. A regular working timetable can be customized with break, lunchtime, vacation, and day off periods.
It won't take much of your time to set up the system for every employee.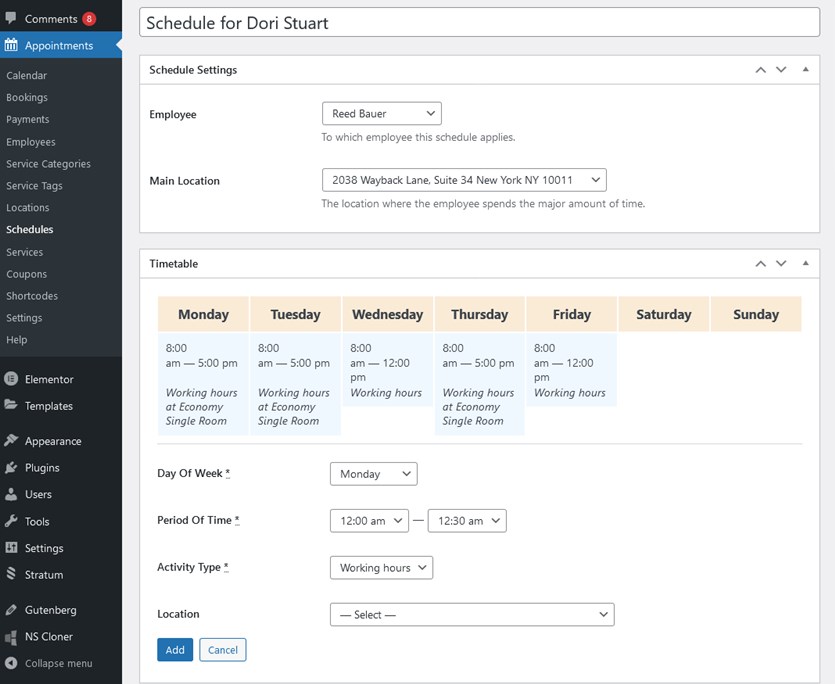 It's also possible to give your employees access to your website, where they can see their schedules, bookings, availability and optionally connect their Google calendars to their accounts in order to receive on-time notifications and see their future bookings on their devices.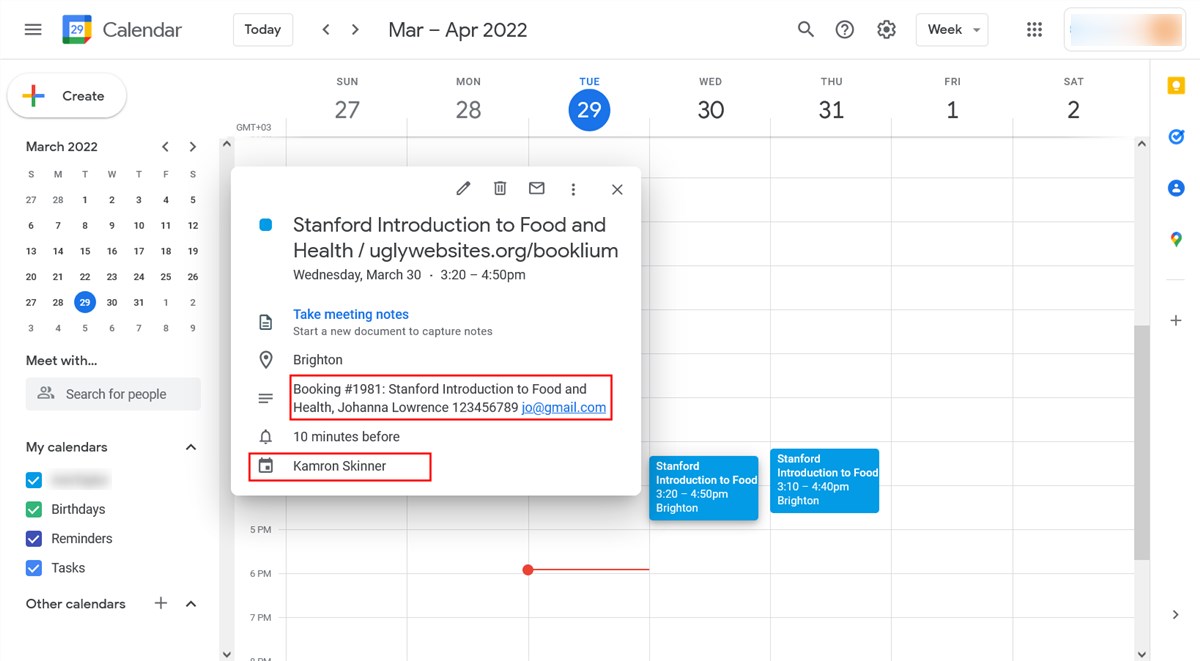 Go through the service settings
Services are what you sell as appointments. In the MotoPress appointment system, you can customize them as to:
price
appointment duration
buffer times
min and max capacity per session
staff members who can provide this service
Even more so, you'll be able to set a different pricing range for services based on who provides them.
Add payment methods
You'll be able to add gateways for automatic payment processing, including PayPal, Stripe, direct bank transfer and pay on arrival methods.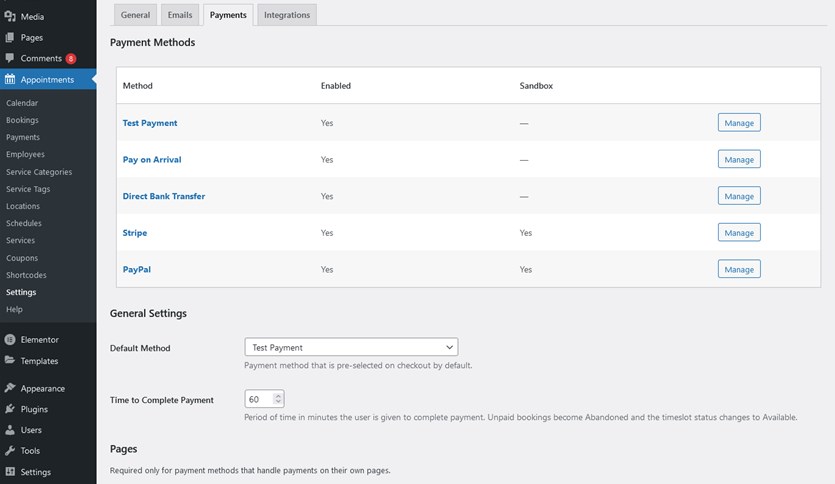 You can enable multiple gateways at a time, thus, giving your clients a chance to choose their preferable way to pay for your services.
Tailor the booking wizard 
The step-by-step booking wizard you see in the CoachZee demo is customizable as to what fields to show and how to label those fields.
For example, you can rename the fields and hide the category or coach selectors. If you are the only fitness coach, you don't really need the Employee field in your booking form!
Those changes can be applied in the WordPress block editor or widget settings.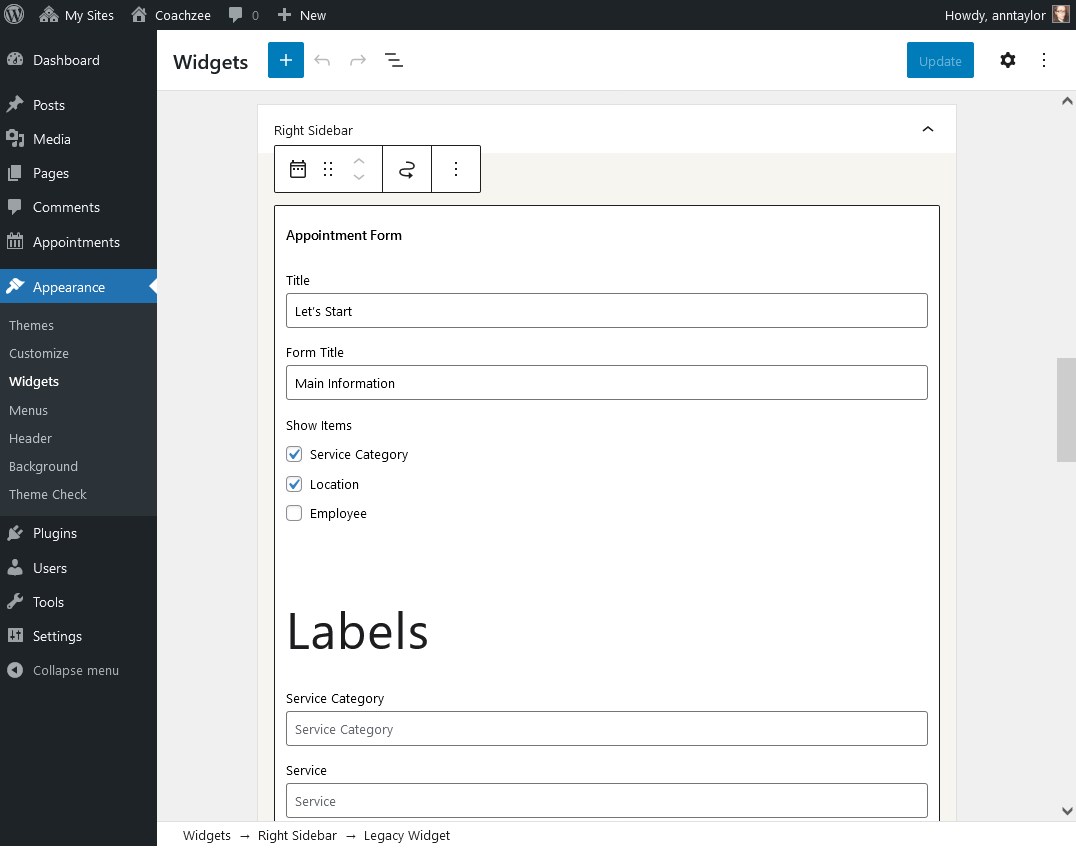 Let's now try walking in your client's shoes and see how the process looks for them on your site.
At first, they need to apply basic preferences, like what they want to book and optionally choose a coach.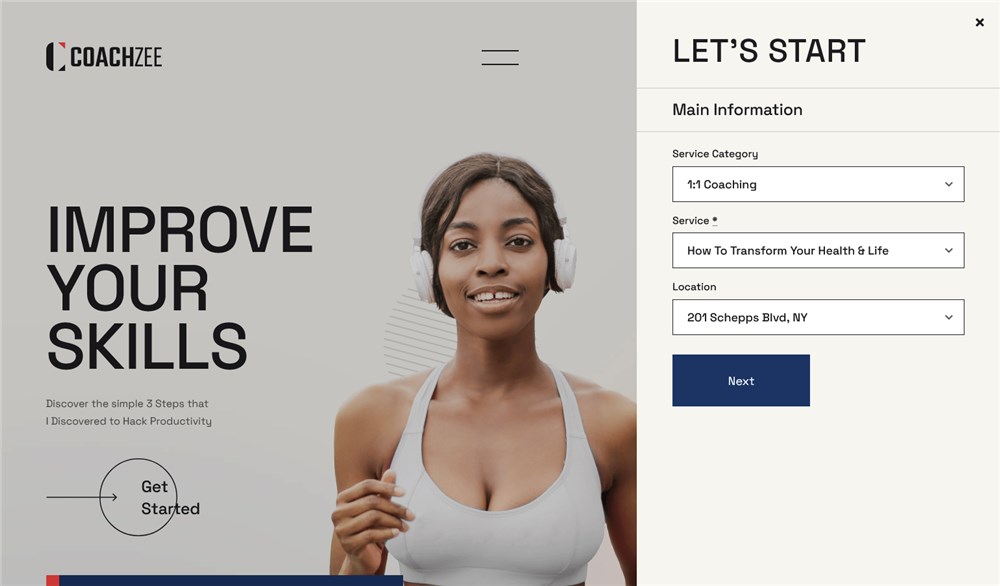 On the next step, they need to choose free slots of time and date: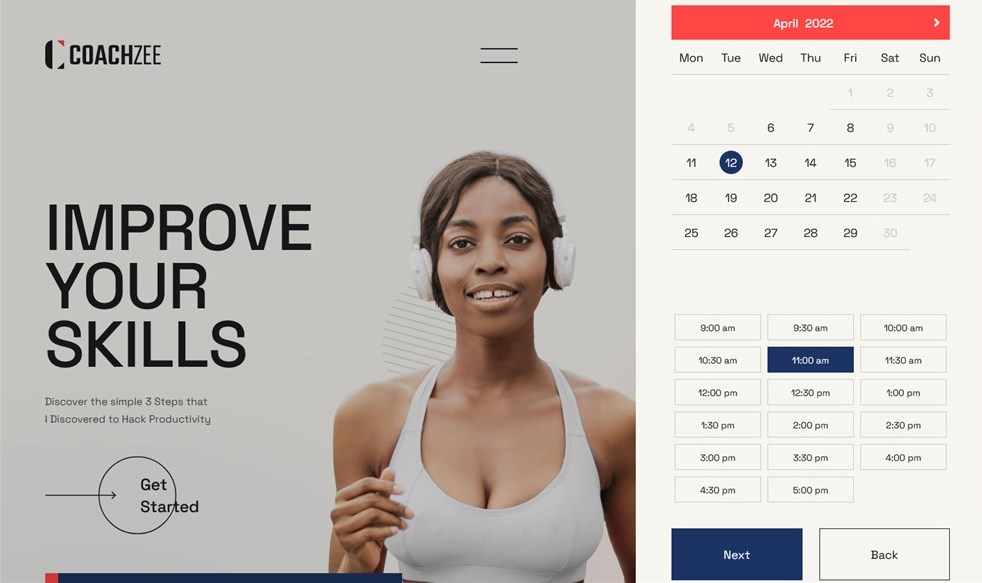 On the next step, they can add more services to their reservation or change the number of people for those appointments they've already chosen.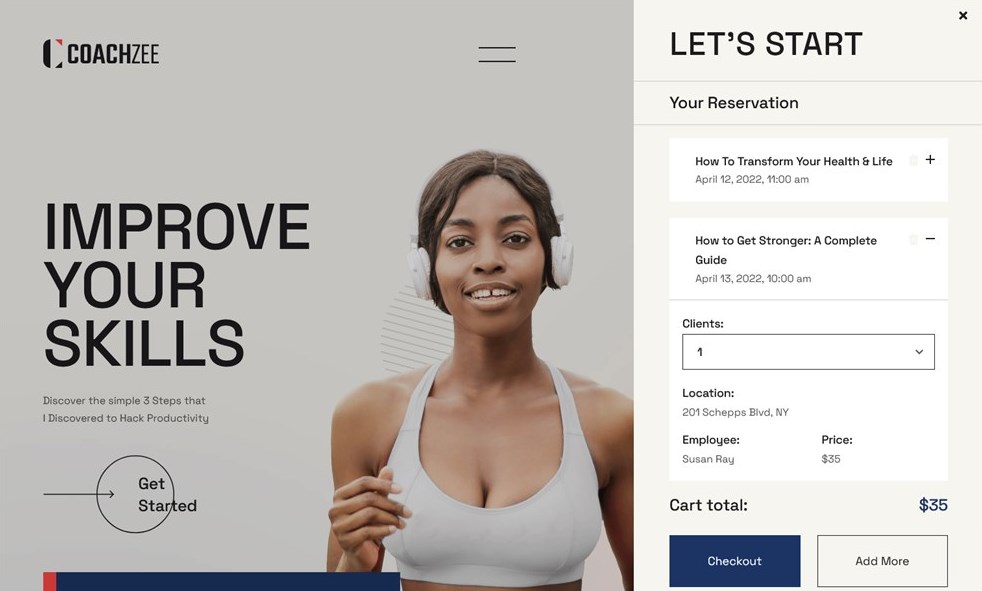 After that it's important to provide some of their personal information for further communication and booking status updates. An email address and phone number are required fields.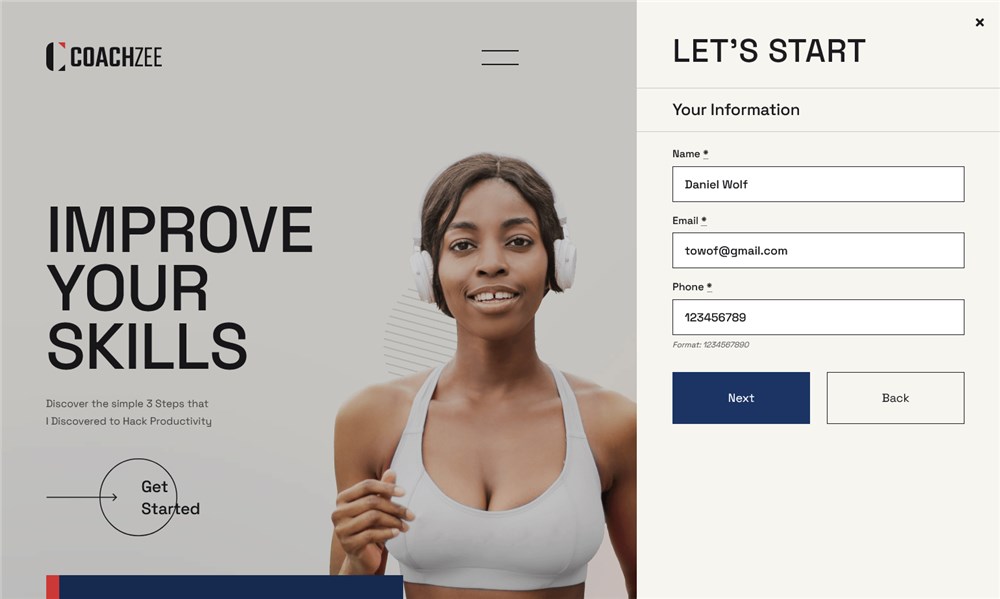 Based on your plugin settings, your clients will need to choose how they prefer to pay (or confirm their intention in any other way).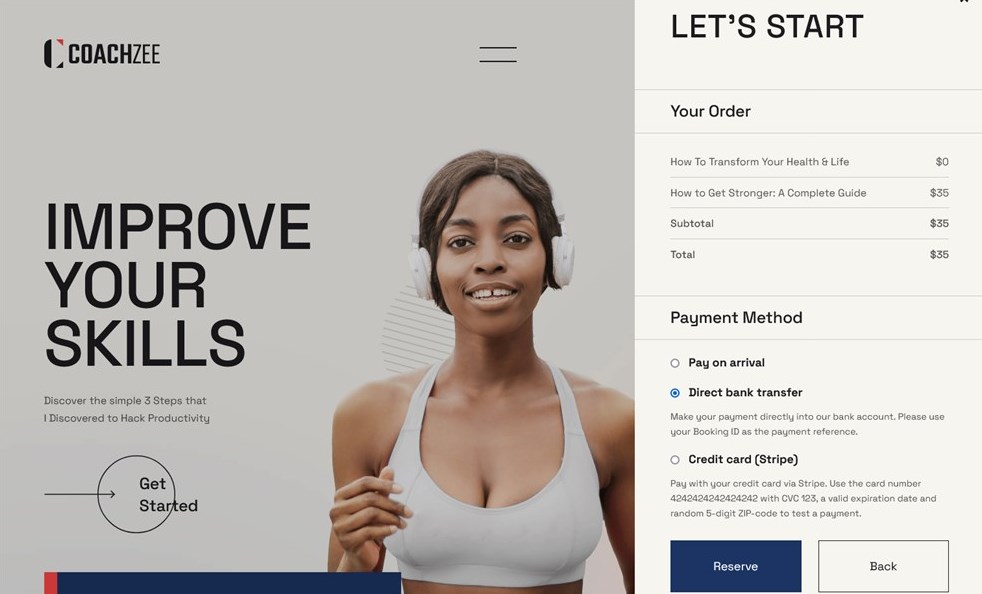 Success!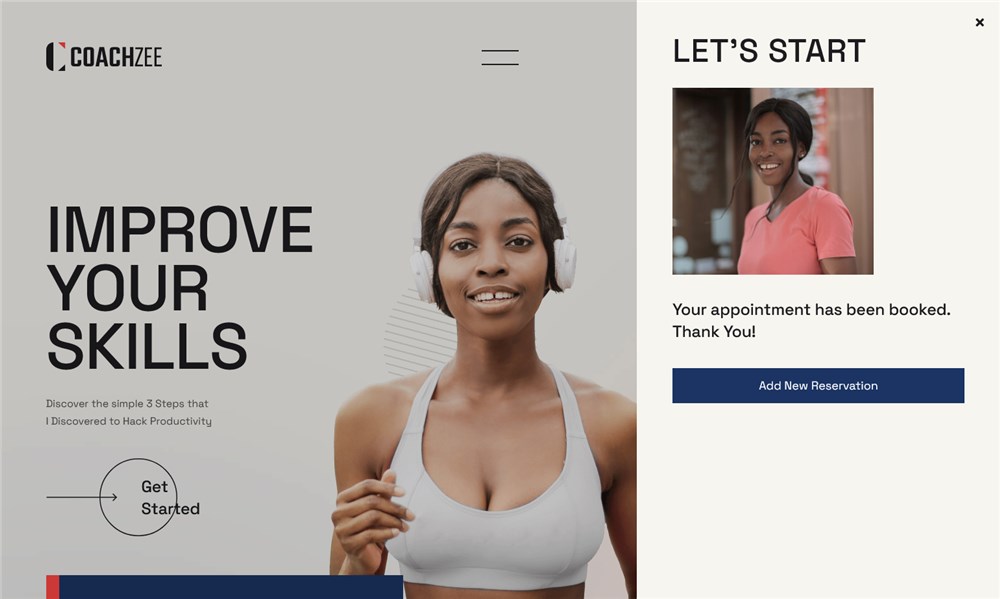 As you can see, it's super intuitive for clients to place a booking. The booking widget works smoothly on the phone or tablet, too, making it hassle-free for your clients to place a booking even on the go.
Manage bookings, clients and transactions
Viewing and managing bookings and clients is not hard. There are such common management tools in the Appointment Booking plugin as the bookings calendar, transaction management and client management tools.
It's so handy and intuitive you won't need to learn!
As for the possibilities, you can:
edit bookings
add bookings from the admin dashboard
add payments paid after arrival by hand
view transactions and clients
change booking statuses
view the history of actions of working with your particular bookings
And more!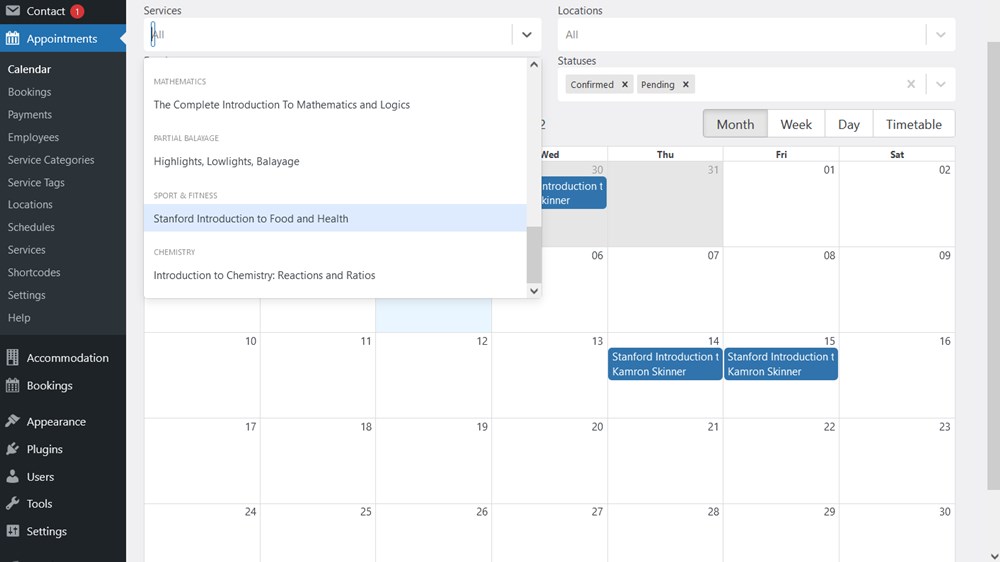 If you set the appointment booking widget, it's going to be a paperless work for you of operating your sessions on your own website.
Step 3. Customize key website pages
As we've already mentioned, the CoachZee template has it all pre-built and pre-styled – and fully customizable, too.
For example, the front page gives you a chance to feature your certificates, achievements, photos, and services with many creative details.
You can customize call-to-action buttons, provide extra links to your printed or other materials, state key missions and more.
At this aspect, CoachZee provides a truly great combination of spots that will suit as points of sale, as well as many creative elements that will add up to how people will remember your website.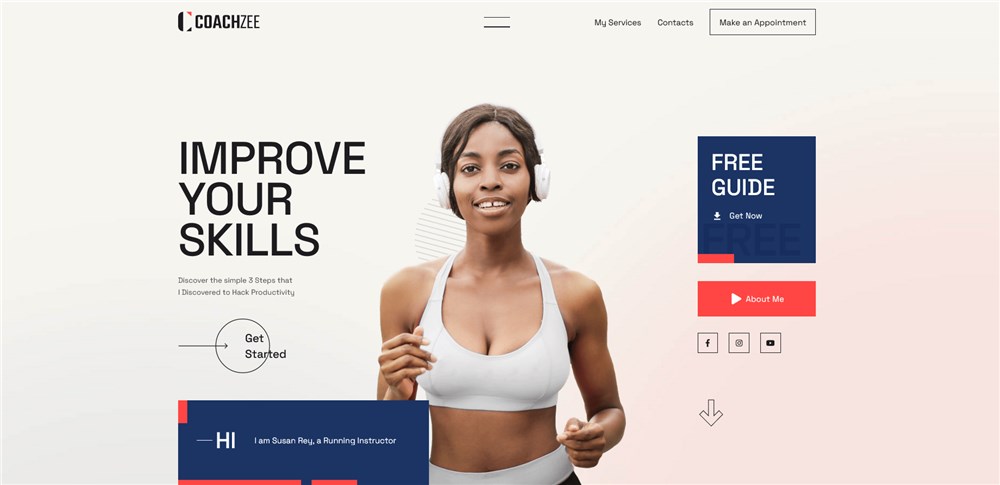 Feature your sessions, courses and classes
Of course, your fitness offerings must be in the spotlight. And CoachZee gives you a great way to display details of your offerings in an easy-to-grasp manner.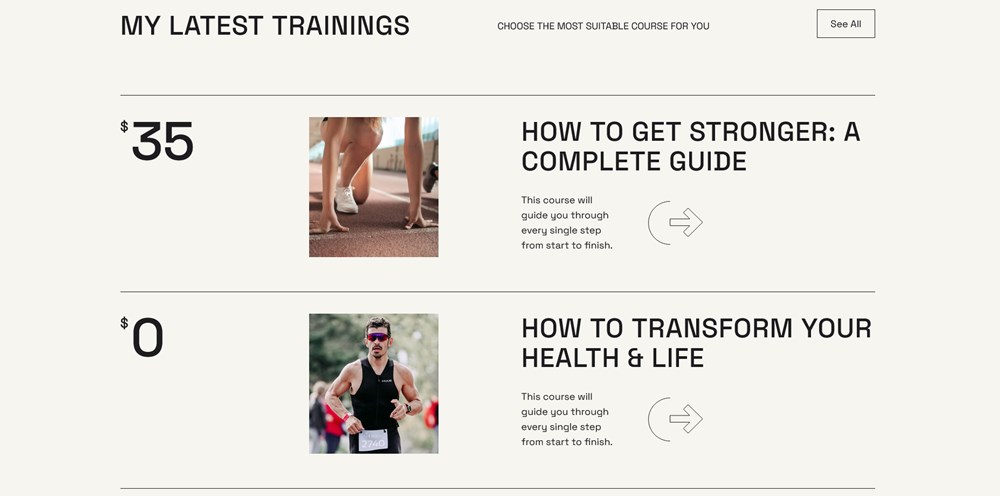 You can put up a list of services as well as link each one to the page of individual services with details. Individual pages give you more options to present services in a more comprehensive way.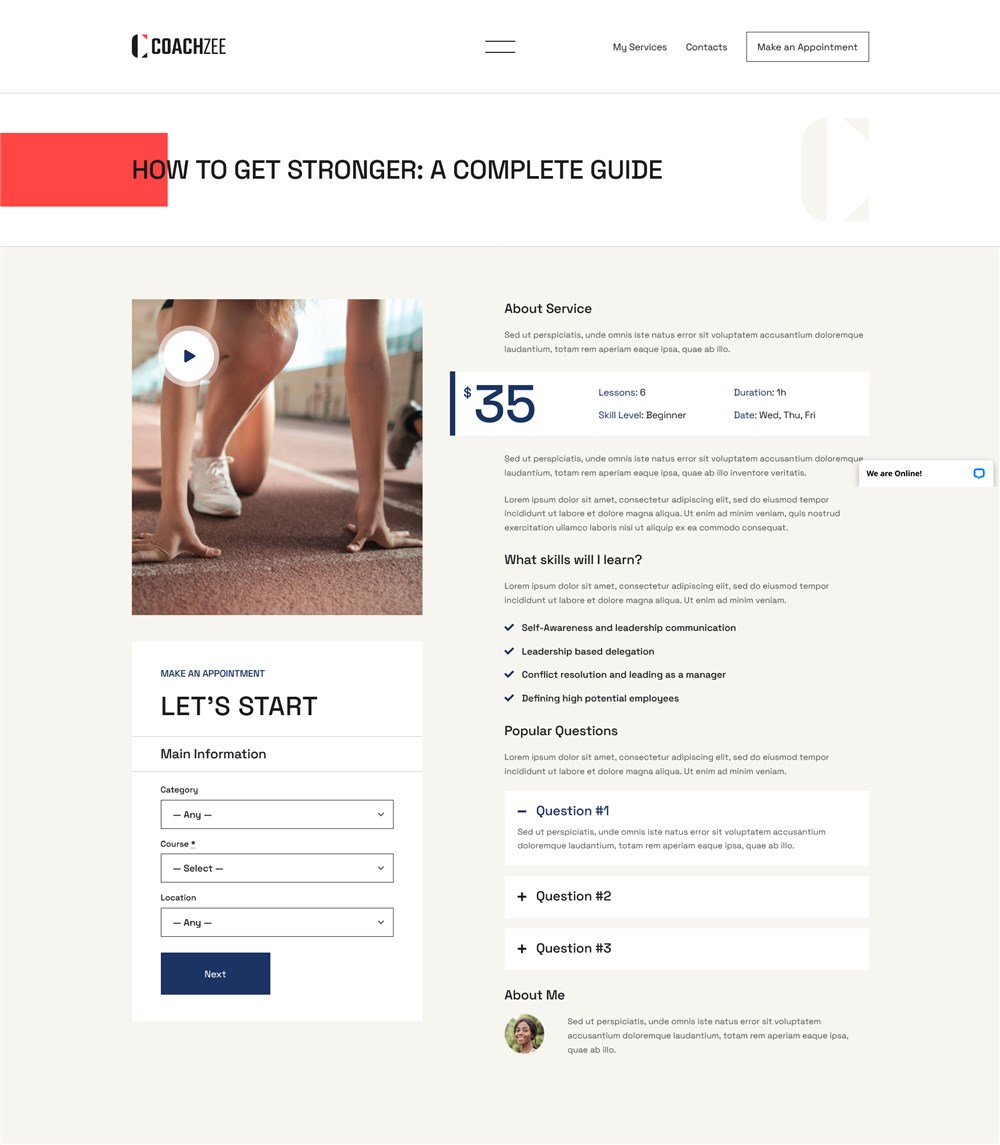 Don't forget the social proof 
There should be a dedicated page or at least a section of your testimonials. It's necessary to build trust with clients and CoachZee allows you to do that in the best possible way.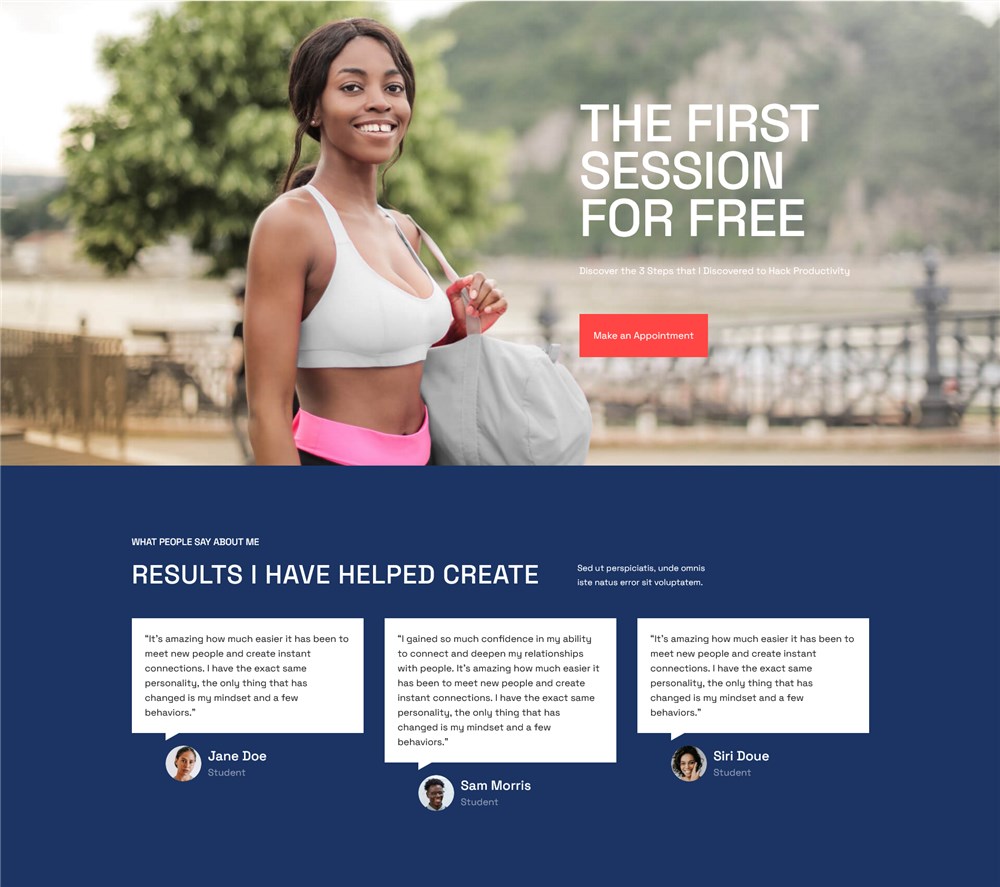 We hope you noticed that the content elements in the visual WordPress block editor are completely customizable, you can move them around and tailor such things as colors, typography, animation elements, size, etc.
But even if you still stick to the default design of CoachZee beachbody coach site template, it still should look fantastic since all the blocks come professionally pre-designed.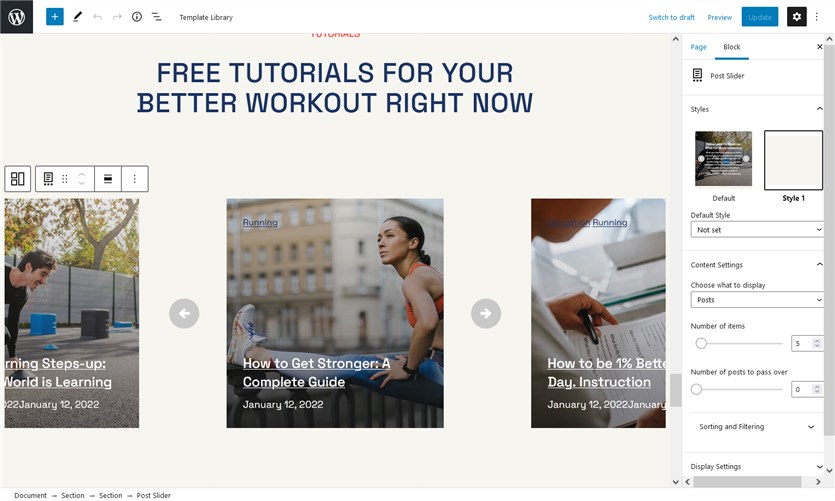 Get more authentic with social networks
Today people trust fitness businesses that have social accounts.
Don't forget to show some social activity right on your website – there are many tools for this, for example, CoachZee makes it easy thanks to the integrated widgets for Instagram that displays the real-time feed right on your WordPress site page.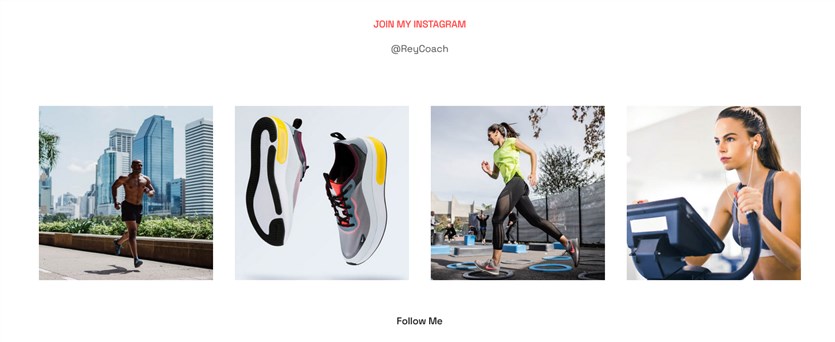 Present your team and bio
Your works present your lifestyle and way to work but people would also love to learn more about your personality and expertise.
Pricing plans and offerings
If you have some specific pricing plans or exclusive offerings on your beachbody coach website, such as classes, you can offer that with the help of the pricing tables, banners or other dedicated blocks available with Getwid and WordPress.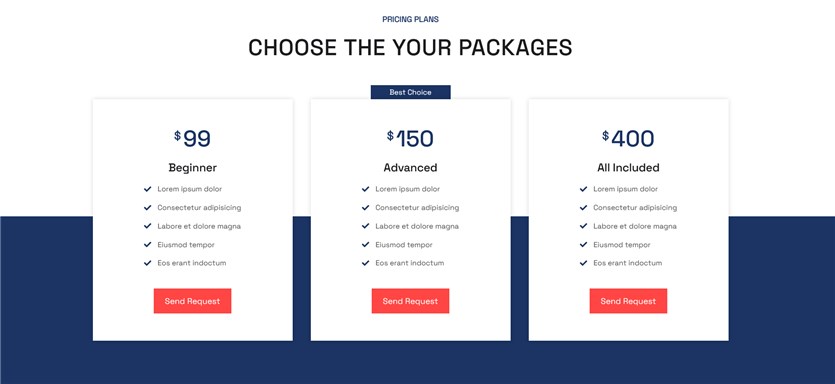 Display your contacts information
Of course, your clients want to know where to find you, so make sure to add an interactive Google map to your Contacts and also feature a contact form since some people might still want to get in touch in a more traditional way.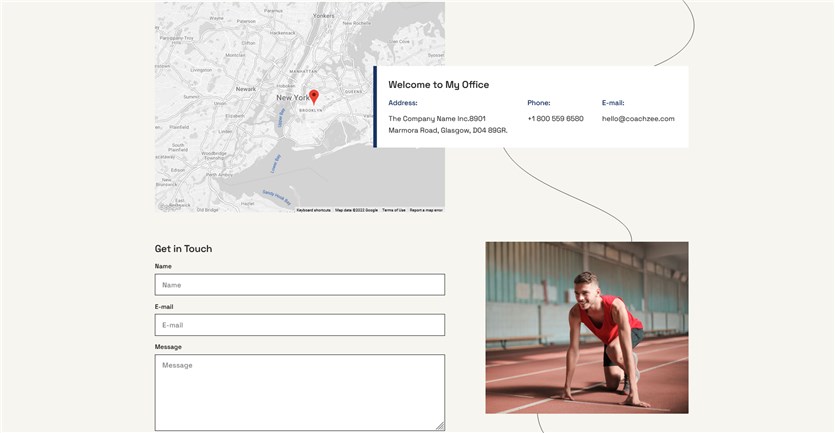 Well, these are just the basics, you can add many more blocks, widgets and even entire pages to your site or use and reuse those already available in the theme you're on (CoachZee in our case).
So, how to create a beachbody coach website on WordPress?
If you've already dealt with all the things related to the WordPress installation and get proceed to the design and functionalities, the things will boil down to these things for you:
Choose a beachbody coach website that appeals to you and install it in your WordPress (we used coach WordPress template in this tutorial)
Configure the appointment booking system to meet your fitness business needs, including the visual updates and the booking system performance, e.g. set up schedules, services, payment methods and more. (Appointment scheduler plugin in this guide)
Add and customize key website pages in WordPress using the page builder of your choice.
So if you are still asking how to set up my beachbody coach website, hopefully, we've helped you to see the opportunities.