Online Booking System for Fitness Classes and Personal Trainer (WordPress)
In this post, we're looking at the way the online booking system for fitness classes works on WordPress sites.
We'll show what it takes to set up the working schedule, services, and payment methods in order to be able to accept online appointment bookings that eventually connect you directly with your customers.
So whether you're operating a yoga studio or gym, this guide might come in handy for creating a fitness class booking site.
You can create such a booking system with any preferable set of instruments; WordPress offers you a few good solutions, we'll use dedicated business-fueled ones by MotoPress.
So what are the tools you need to make it work for your fitness classes or personal trainer online presence?
Here are the key WordPress instruments we'll be using to illustrate the process:
Plugin: the WordPress schedule plugin by MotoPress that will help you accept and manage unlimited bookings on your WordPress site. You can easily adjust it to use as a full-fledged online sports and fitness booking software.
Design: the CoachZee coach WordPress theme designed specifically to work with the MotoPress WP schedule plugin.
For you and your customer's convenience, you can accept appointment reservations and payments.
A few words about the CoachZee WordPress coach template
CoachZee is a coach WordPress template with five pre-designed demo sites dedicated to coach businesses: therapists, driving teachers, life coaches, teacher and health coaches.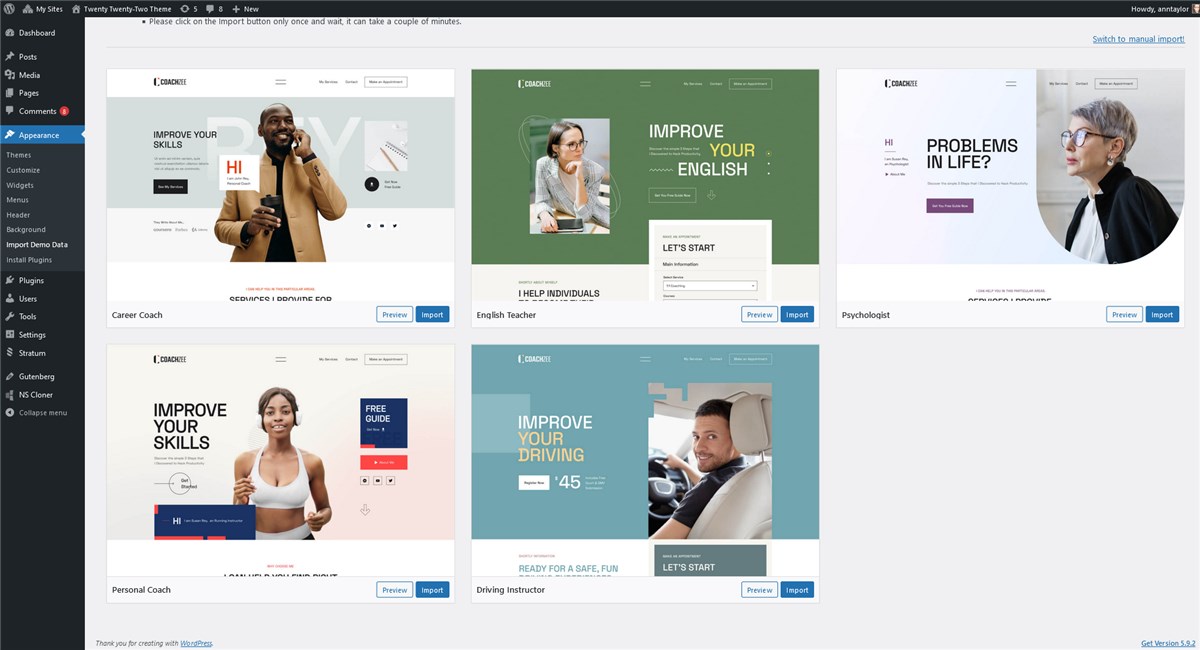 You can choose the most suitable one after the theme installation. It takes a few clicks.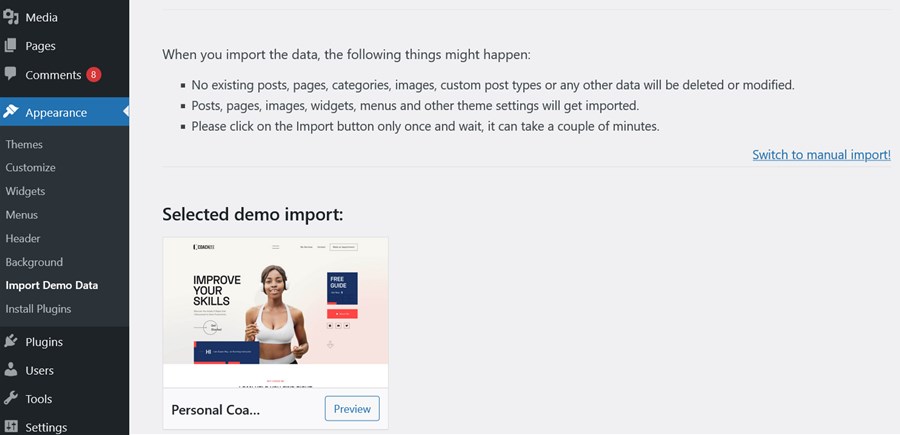 Here are a few more theme highlights:
It has designs for both a single instructor and schools, so feel free it'll suit any need based from both visual and functionality perspective.
The theme features exclusive landings for presenting your authentic self, services and prices.
The theme is optimized for the native WordPress block editor.
It comes with many pre-designed normal website pages (About, FAQ, Contacts, Portfolio, Bookings, etc.).
Includes the library of 40+ extra content blocks and designs by Getwid.
You can use it for unlimited locations and unlimited employees.
Simple demo content setup, which ensures you get a professional design right away.
For our tutorial, we'll go for the fitness trainer demo theme by CoachZee.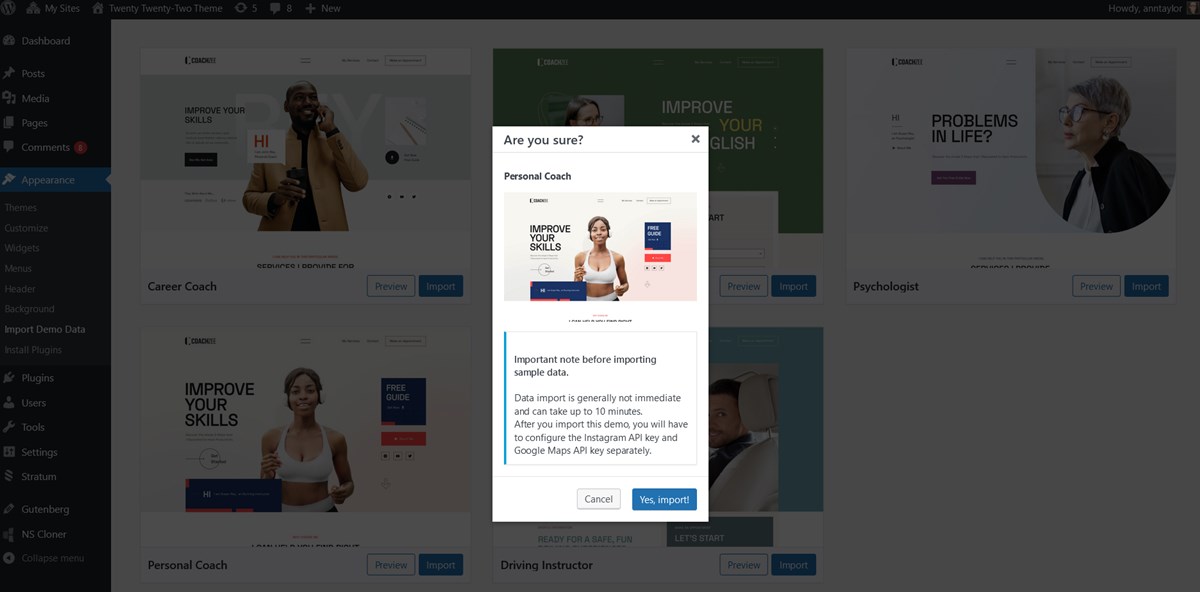 It's worth noting that you can use any other CoachZee design that visually appeals to you, the offered demo themes are the same from the functionality perspective.
Once the core CoachZee theme is installed and activated, you'll be able to pick a demo of your choice and import it to your WordPress installation in a few clicks.
Follow the guides to install the demo data on your WordPress.
Let's now move to how you can set up the booking system for fitness classes.
Set appointments on autopilot with the MotoPress scheduler plugin
Note that in order to use the MotoPress WordPress appointment booking plugin, you can go with any other WordPress theme of your choice; the plugin is not theme-dependent.
But it's of course beneficial to use CoachZee or any other appointment theme from MotoPress (scheduler plugin creators) since it's pre-styled visually to look awesome when used with the plugin.
From the tech side, this personal trainer booking system allows you to create a booking widget with the look and functionalities you need to tailor to your type of classes, locations, and the appointment types.
In this tutorial, we won't cover all the steps since we have a blow-by-blow guide on how to add the appointment booking widget to WordPress with the help of the MotoPress plugin for appointments.
However, we'll focus on the key things you can achieve with the plugin of the latest version and how you can employ it as a fitness class booking software.
As a personal trainer creating a class booking site, you actually start with the website itself.
So let's have a bird-eye view on what the CoachZee theme can help you achieve.
Build a stunning and professional home page
The personal coach WordPress demo by CoachZee ships with a hand-crafted frontpage that allows you to put your achievements, services and offerings in the spotlight, with tons of details and nuance.
For example, you can add call-to-actions, download link guides, social media links, key messages, etc.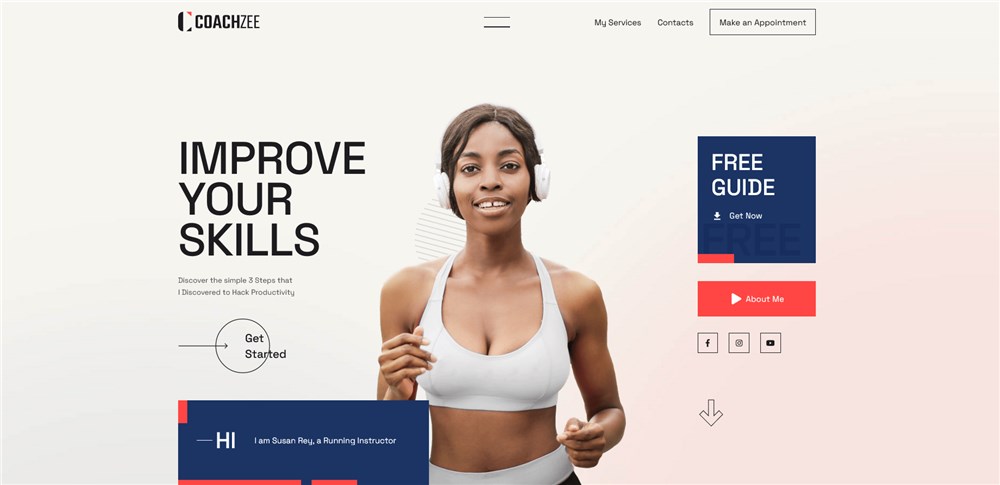 Categorize courses and classes details 
The theme also contains a few cool blocks featuring current lessons and courses that customers can enroll in.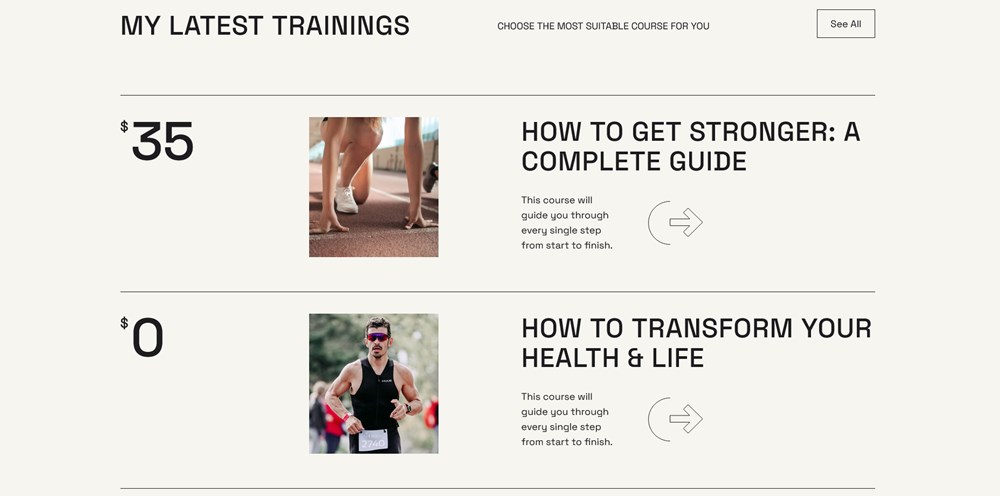 It's a quick list; customers can check out details of particular lessons and courses. Since every page is structured and categorized, you can easily output some significant information about your services in a comprehensive way.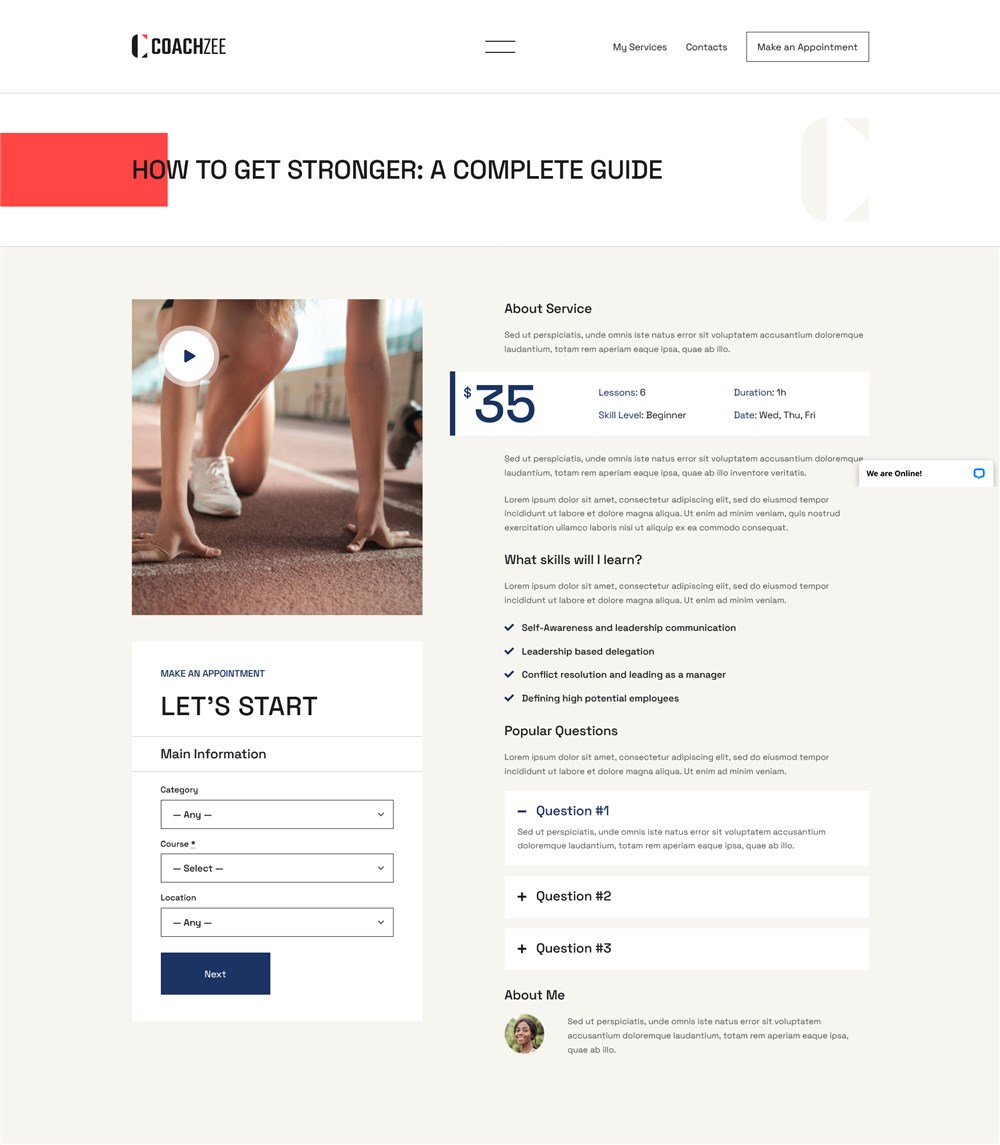 Of course, you'll need some space for testimonials and social proof, your prospects want to understand why they should trust you.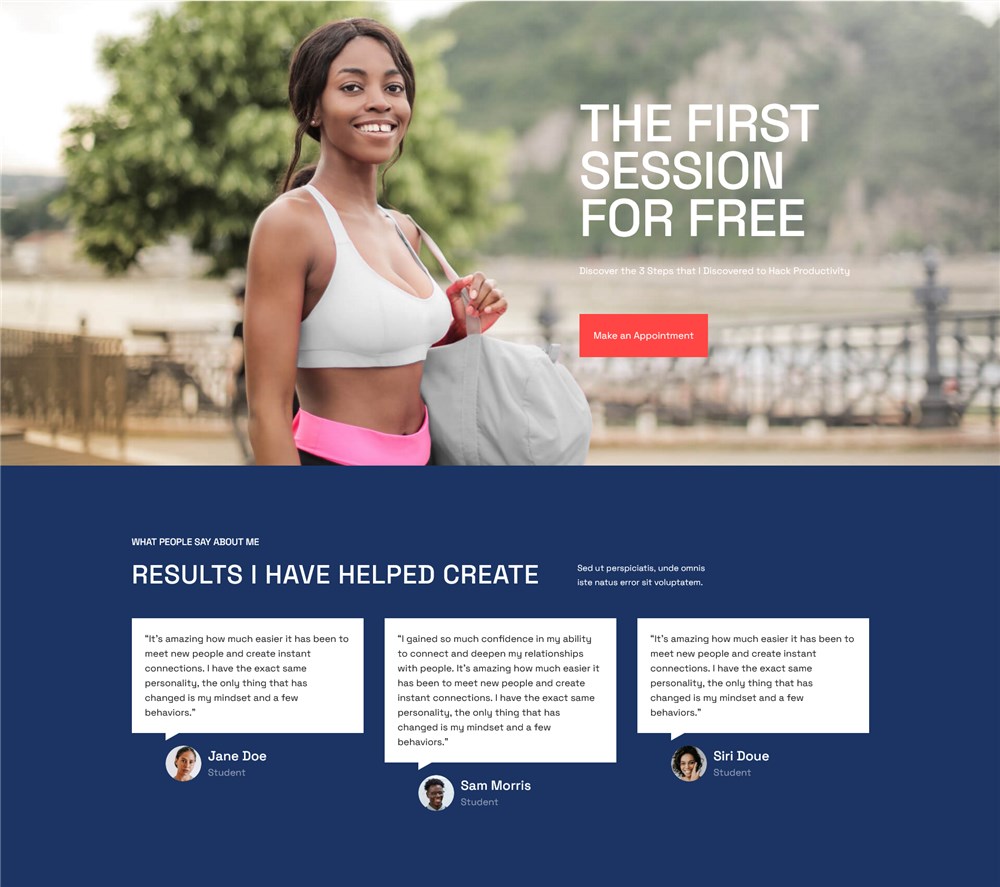 All the blocks you see in this theme are native WordPress content elements that can be manipulated on the page as single items allowing you to update colors, typography, text, layouts, design, decoration and many more things via the block's editing panel, namely, completely visually.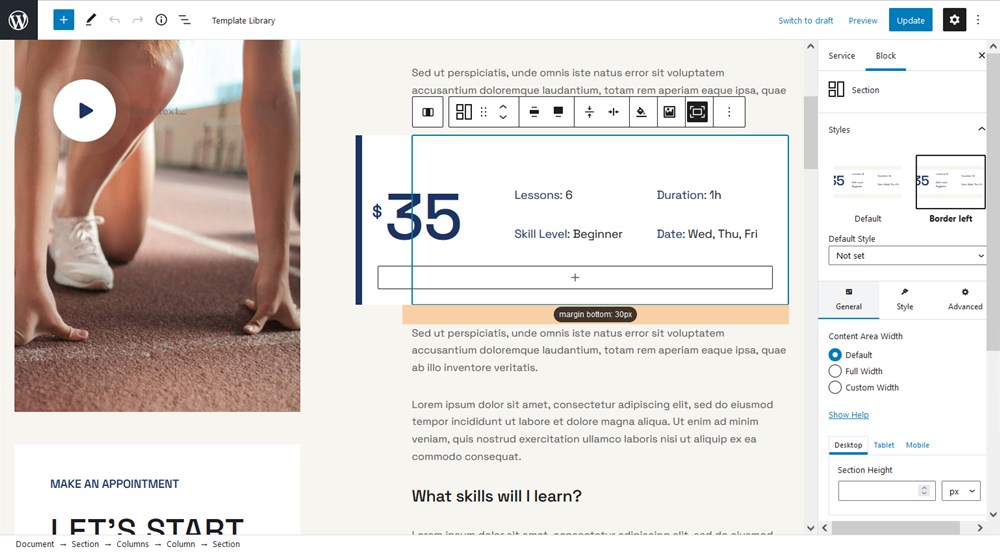 The native WordPress block editor is flexible and secure, mature enough to lead the way among proprietary page builders.
So how do you go about creating a booking system for fitness classes on your WordPress website?
Setting up the online booking system for fitness classes
To boil things down to key settings, here is what you'll need to configure to make the booking plugin for appointments function properly on your website:
Go through the general settings, including currency, the minimum appointment time, default booking statuses.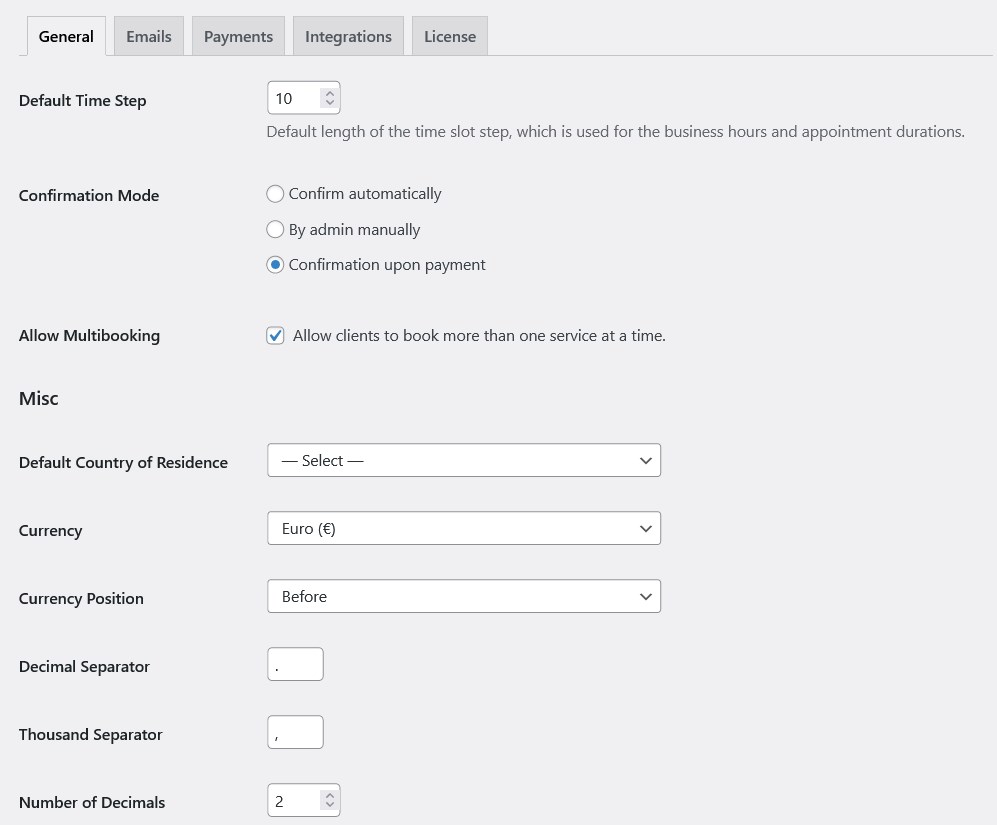 Update the content of email notifications, including email template branding.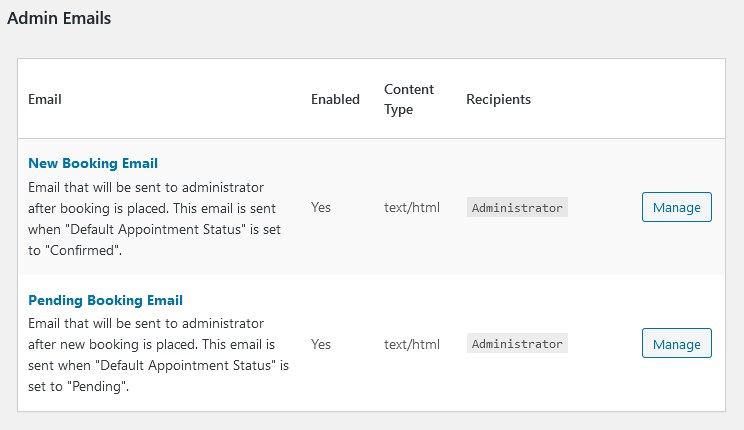 Create your personal trainer profile/profiles of your team. You can do that with some standard tools as well as use the WordPress block editor to create a tailored employee/team member/instructor page. Remember that the plugin allows you to create any number of profiles for your team.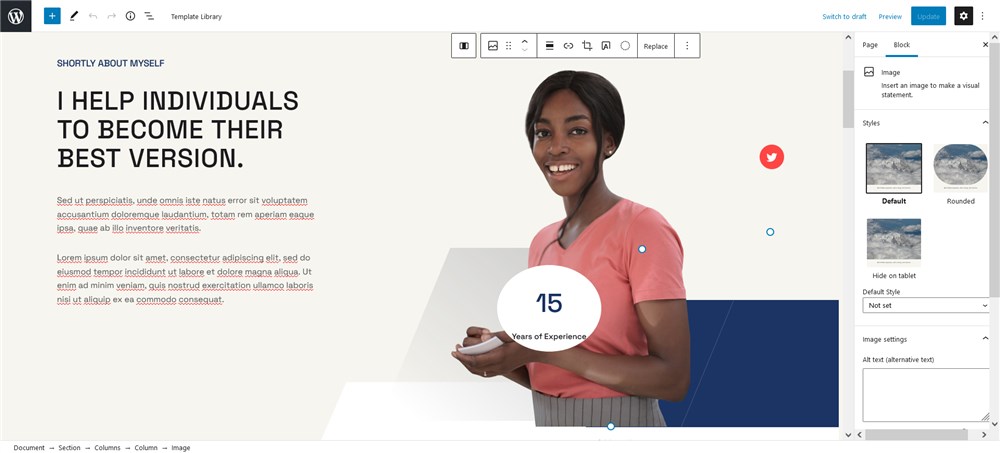 In case with the CoachZee theme, you have a lot of pre-made widgets and sections that will serve you further in promoting your offerings.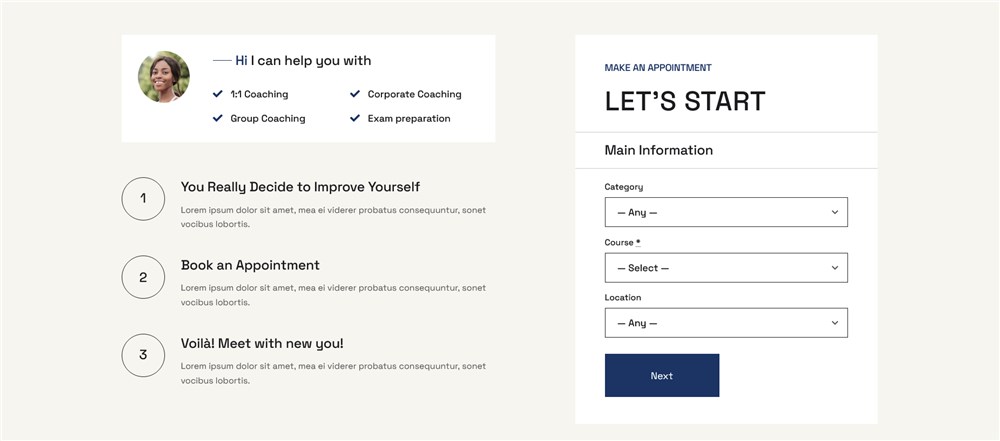 Add locations, be those gyms or virtual rooms for online fitness classes.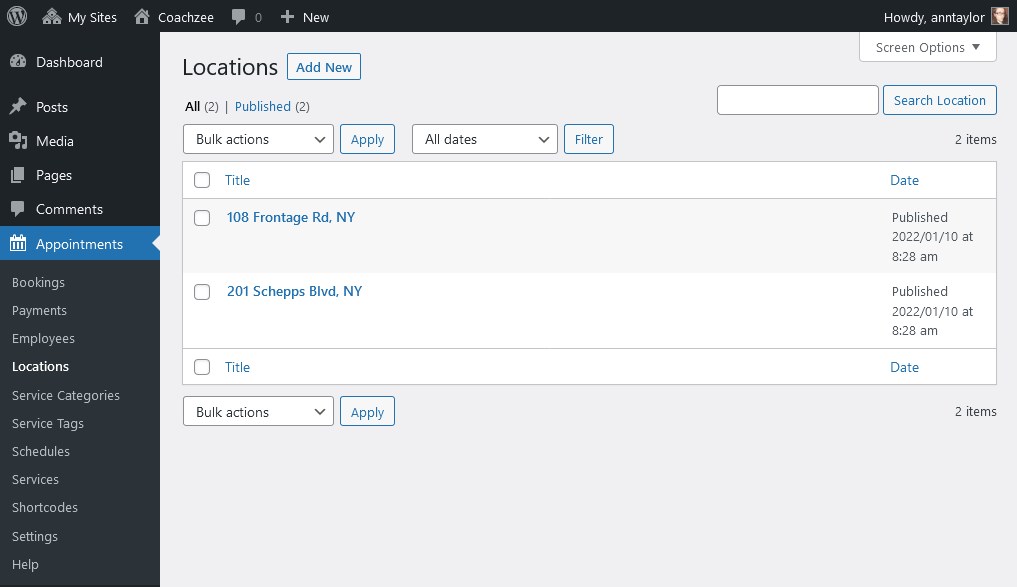 Create a regular schedule taking into account lunchtimes, breaks, days off, etc. it's also possible to change the location depending on the work day in the schedule.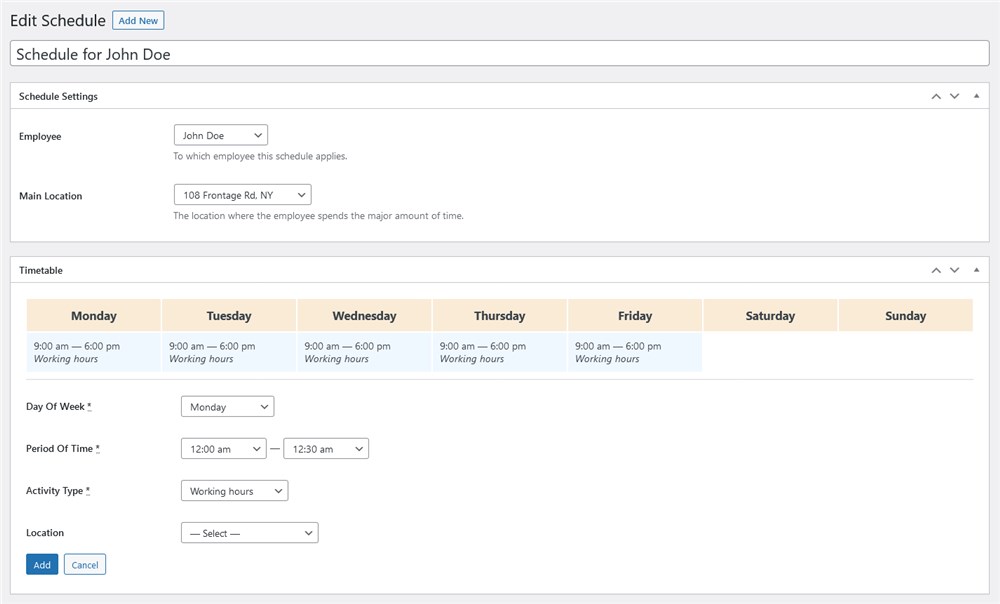 Customize all the services you provide, for example, set the price, appointment duration, buffer times, min and max capacity per class, and designate who among your staff can provide this service.

Set up payment gateways, optionally enable PayPal, Stripe, direct bank transfer, and pay on arrival.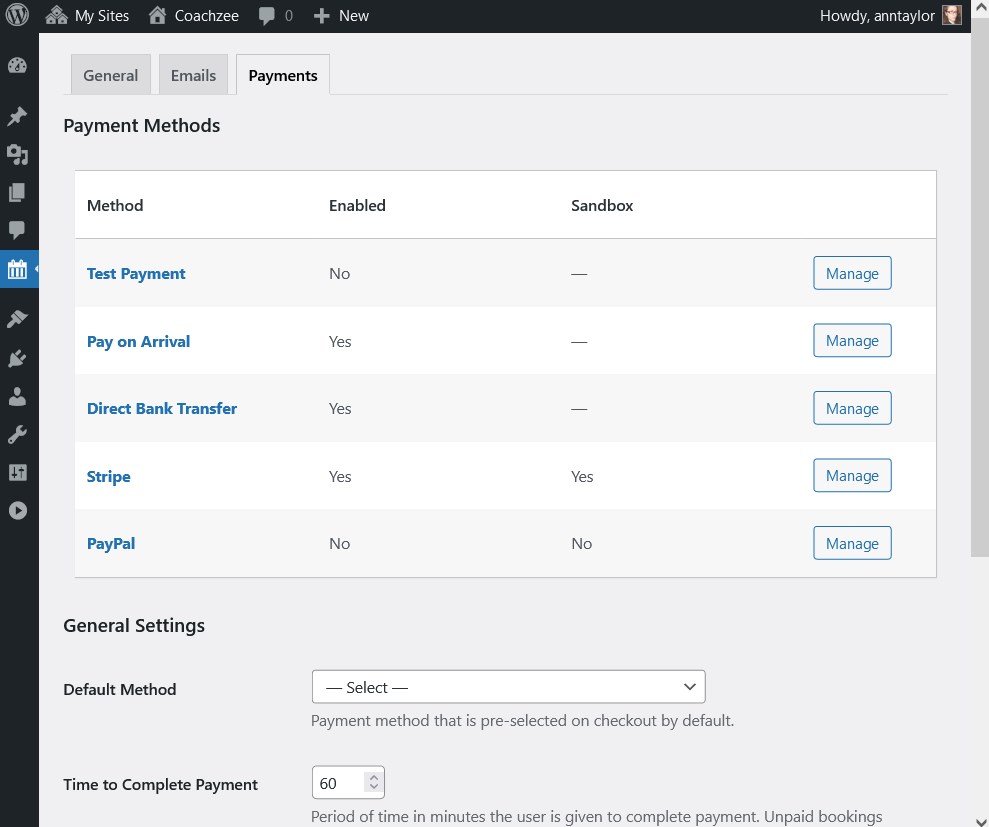 Optionally assign different user roles to your staff members so that some can only view bookings, while others can work with them more broadly.
Connect your Google calendar to your WordPress site to sync bookings and get instant notifications on all new appointments.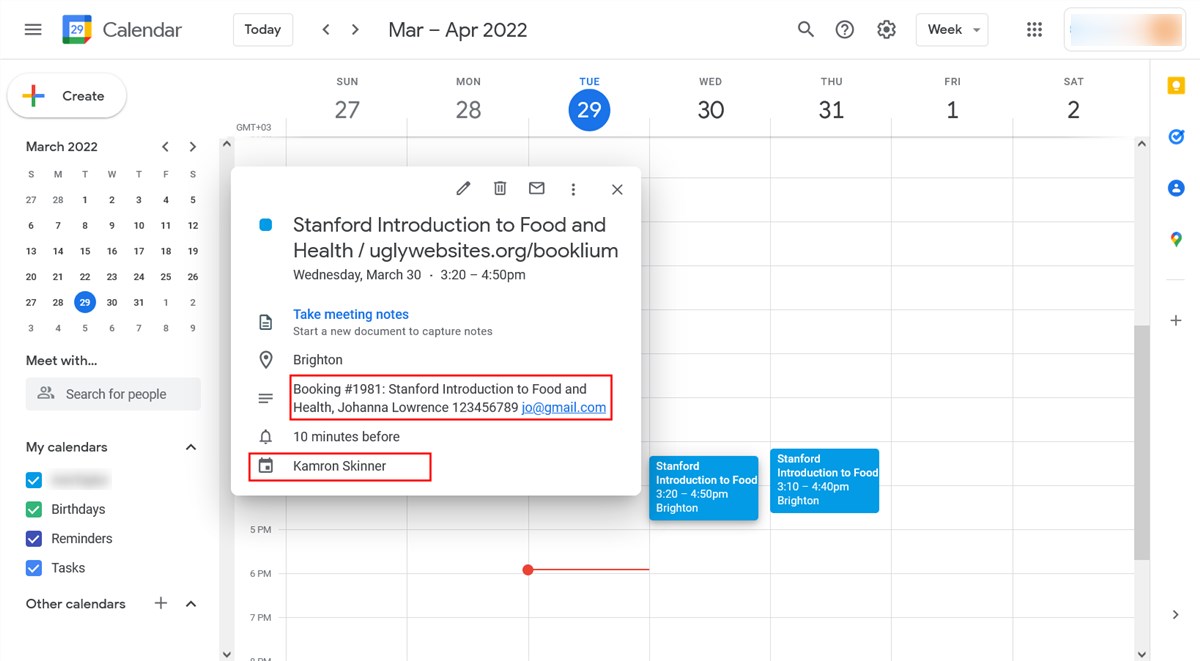 Customize the booking widget in a number of ways – rename or hide fields, etc. So it shouldn't be a hassle to make a booking widget clear and familiar for yoga studio customers or general fitness attenders. What's cool, you can do the customization in any editor, including Elementor and the block editor.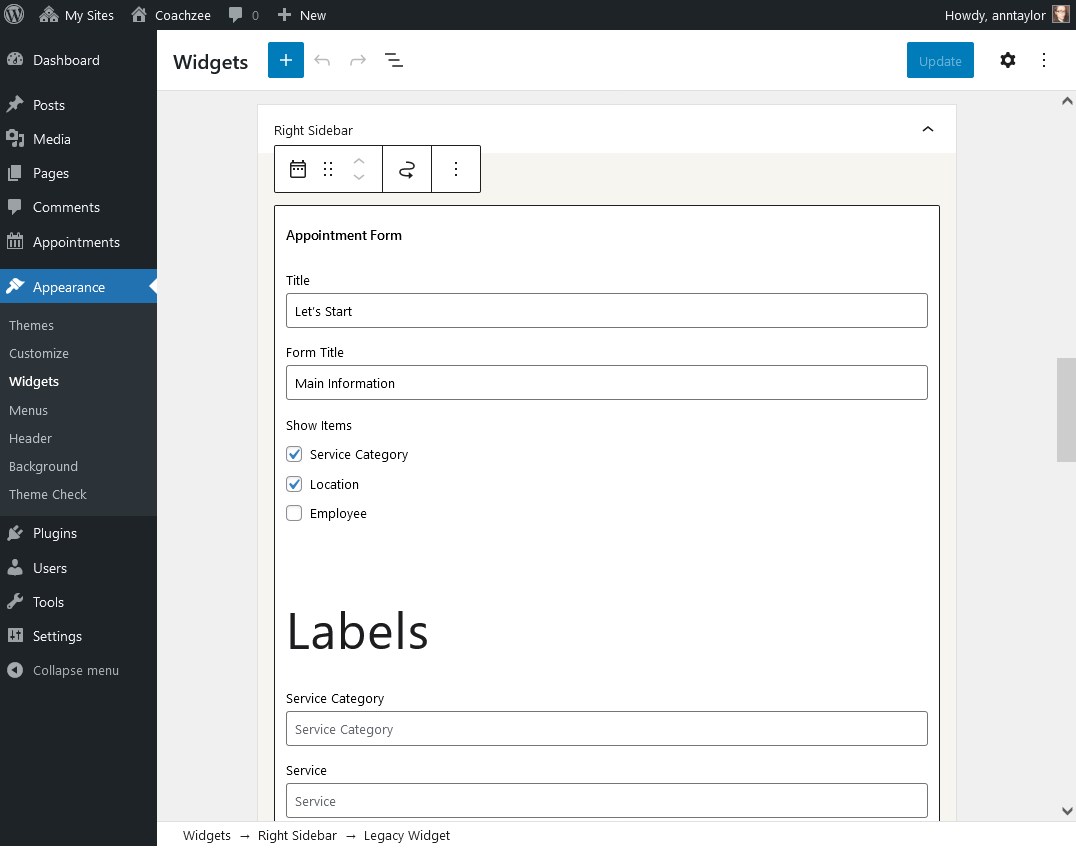 The look of the online booking system for fitness classes and personal trainer you create with the MotoPress scheduler plugin is up to the theme styling; with CoachZee, it looks perfect out of the box.
Let's go through the steps your clients will need to take to book a class:
First of all, they choose a service and location or type of appointment, optionally choosing a service provider as well.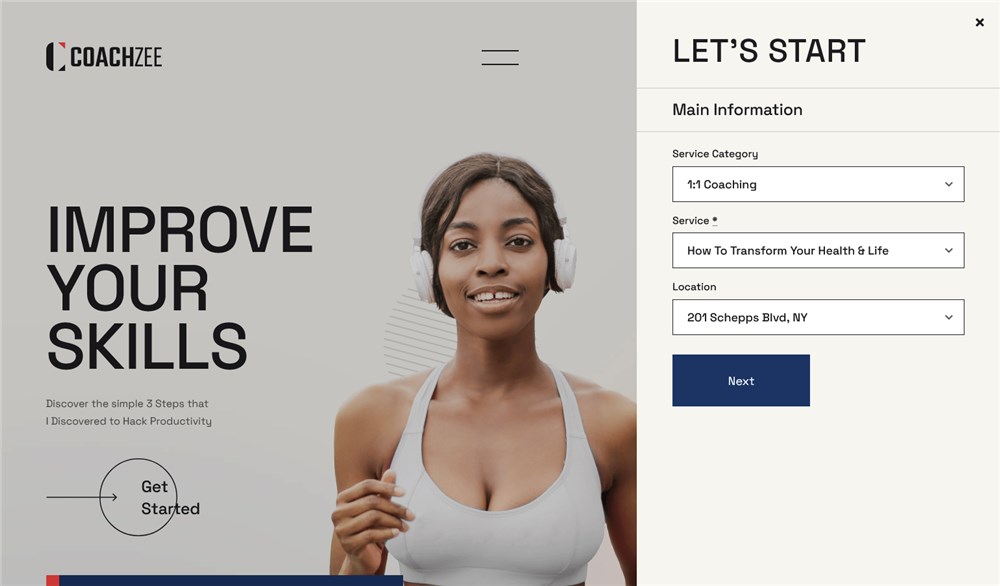 Next, they choose the needed date available.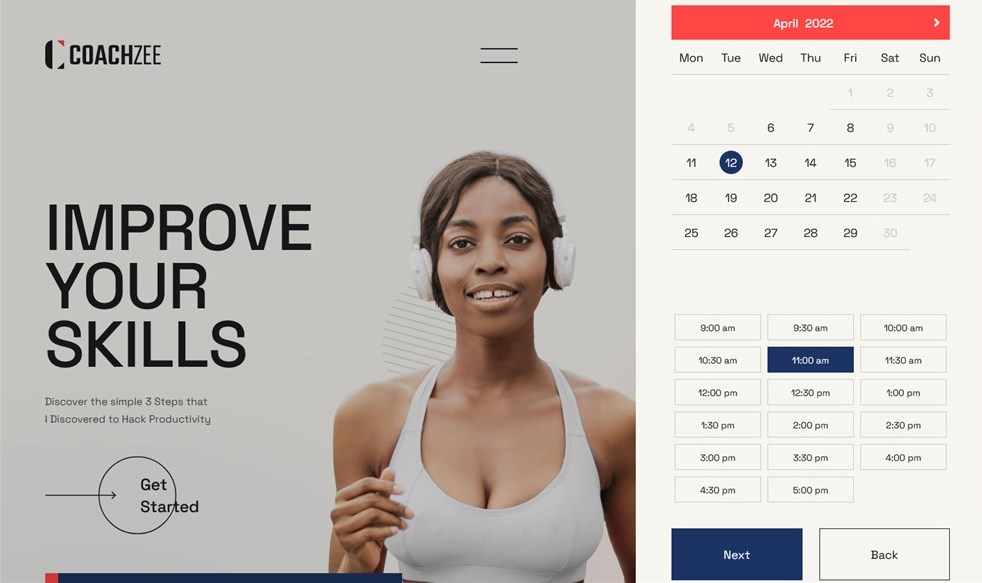 After that they customize their shopping cart, for example, a customer can also select extra services, as well as choose the number of people for an appointment if such an option is enabled.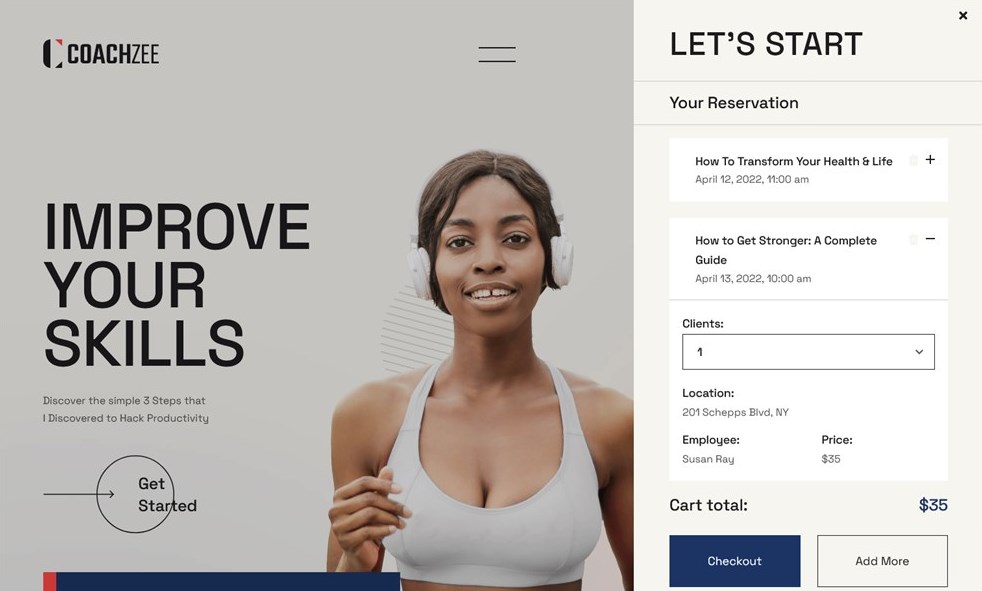 They also need to fill in customer details, such as name, email address and phone number.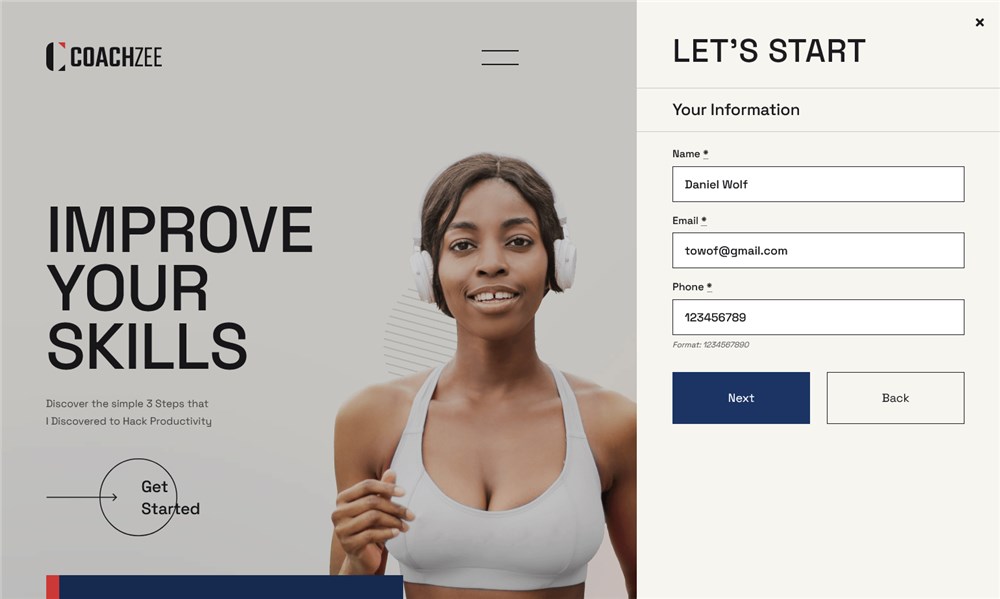 On the next step, they are ready to pay. They can choose how they'd prefer to pay by choosing from the options you enabled; those can be online payments or after arrival ones.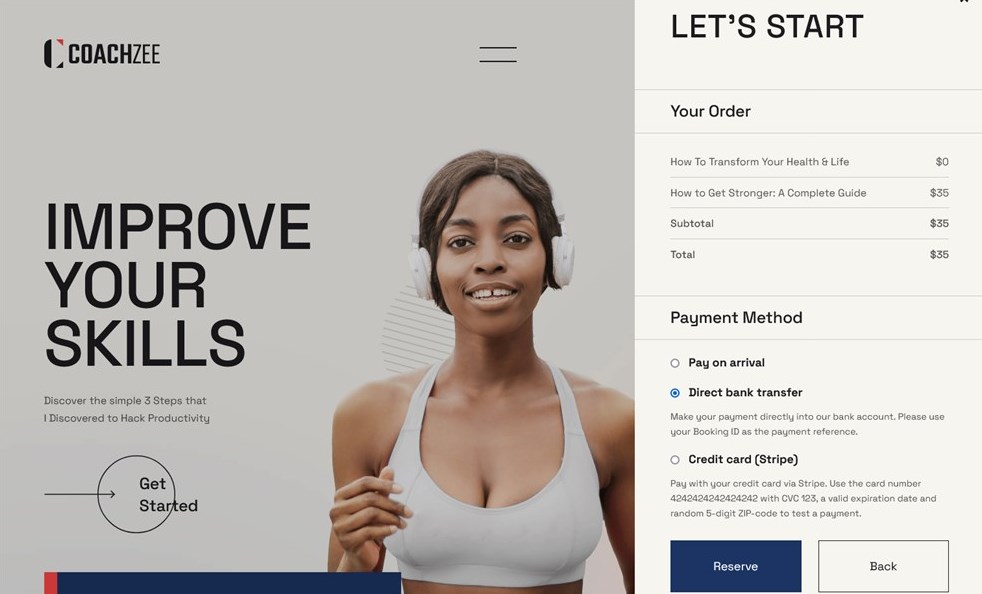 Upon these actions, the plugin system will send automated emails about the booking, its status and further actions. You can update the content of those emails, including colors and branding.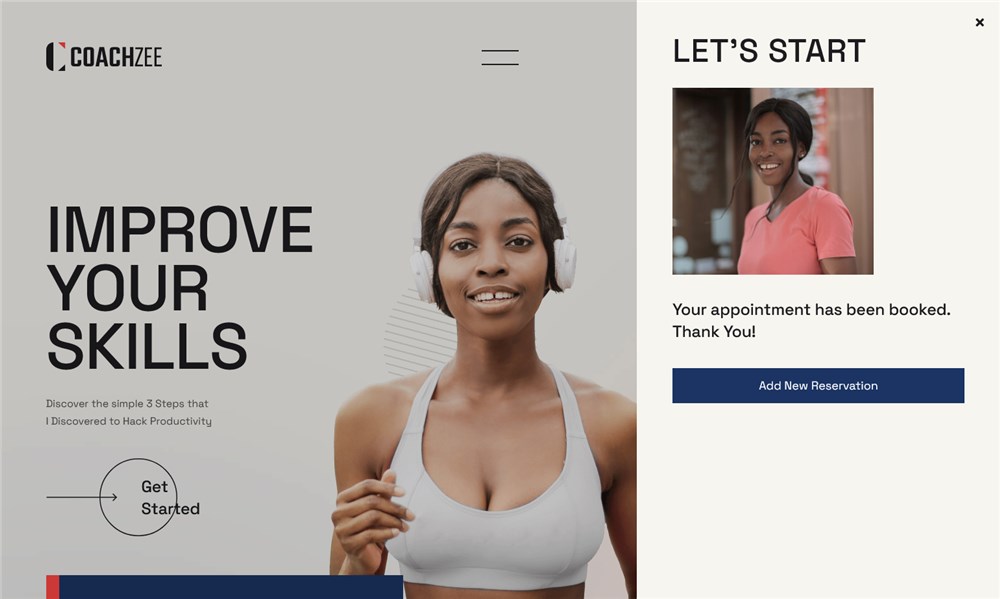 The checkout experience should be quick and easy for your clients, it must not take a lot of time or effort to place a booking request.
Manage bookings, customers and classes
There are several ways you can work with appointments: view them all in a filterable booking calendar, check out transactions, payment history, change booking statuses, and more.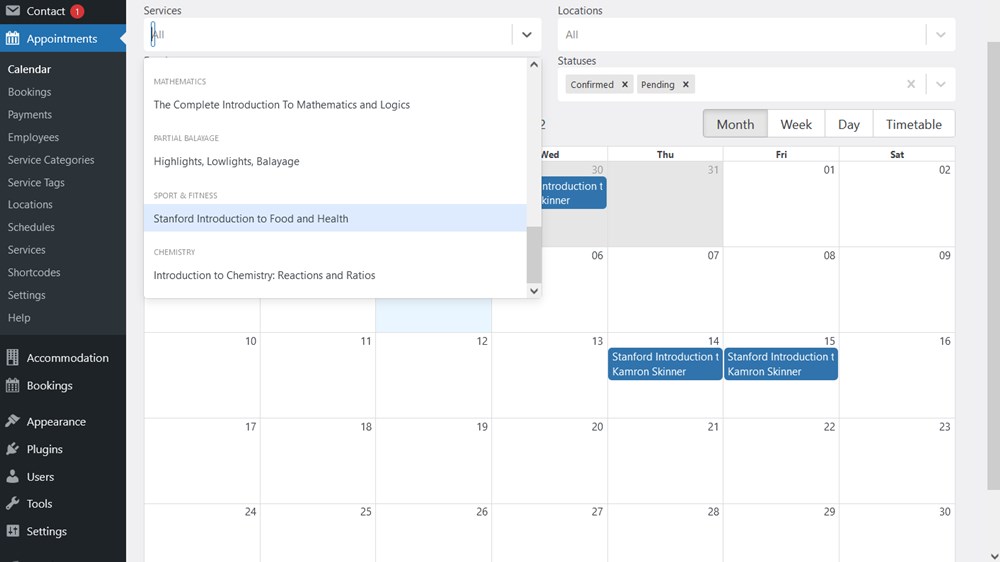 You'll also have a separate dashboard for the list of bookings in total. It's also possible to edit existing bookings, for example, to change services in the reservation, change dates or add new booking manually to the dashboard.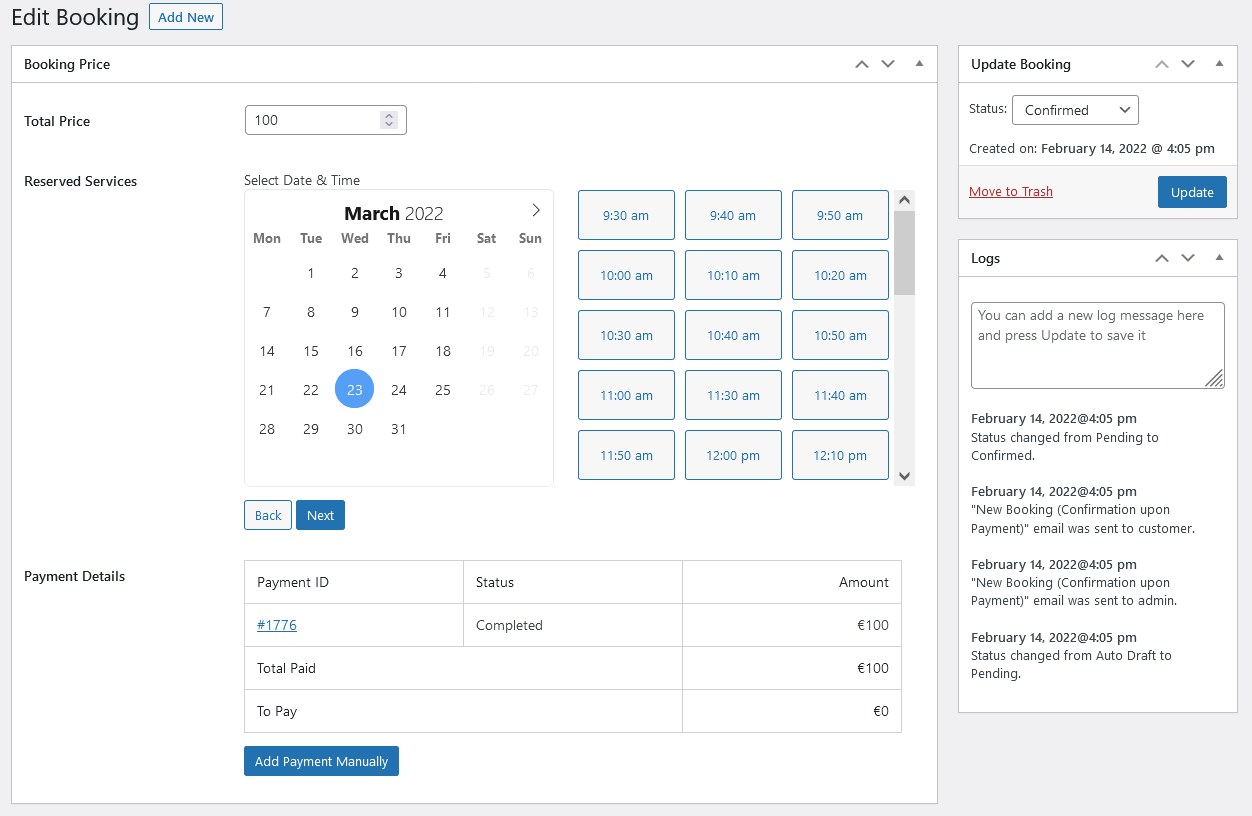 Since you can also customize user roles in the plugin, you are free to give different access to the site for your team. So all the interactions with clients or client/booking info is properly though-out, giving you a good balance of automated as well as tools for manual control. This is online booking software fitness classes can use without much of the learning curve.
Final word: Create a booking system for fitness classes on WordPress
With CoachZee, you can customize your own fitness and gym booking website with any hassle, getting the professional site look in just in a few simple steps. However, you can get the sole WordPress scheduler plugin by MotoPress and use it with any theme or framework within WordPress.
Guess it's a high time to simplify the overall routine of managing your fitness class booking system online?
Get CoachZee