Download Beautiful & Printable Free Gift Certificate Templates
Looking for custom gift certificate templates free to download and printable? Want to find an alternative to Canva? We have a great solution!
Well-designed gift certificates can serve as a marketing tool for your business and a great attractive gift for your customers. They have the power to catch the eye of customers and may encourage additional purchases of your services.
Our in-house designer has created a set of awesome and clean-looking gift card templates available for free download and customization. Our Appointment Booking software customers – or even anyone in the service business in search of professional gift card templates – can use them without limits.
Following the link below, you'll find seven professionally designed free gift certificate printable templates that you can customize in Figma in clicks, including images, colors, texts and fonts.
Note: You need to have a free Figma account to copy every free printable gift certificate template. Please don't send edit requests! To edit files In Figma, click on the 'Gift Cards' title on top> click Duplicate to your drafts. This way you'll transfer files to your Figma.
Download Gift Certificate Templates
The free gift certificate templates in the pack include: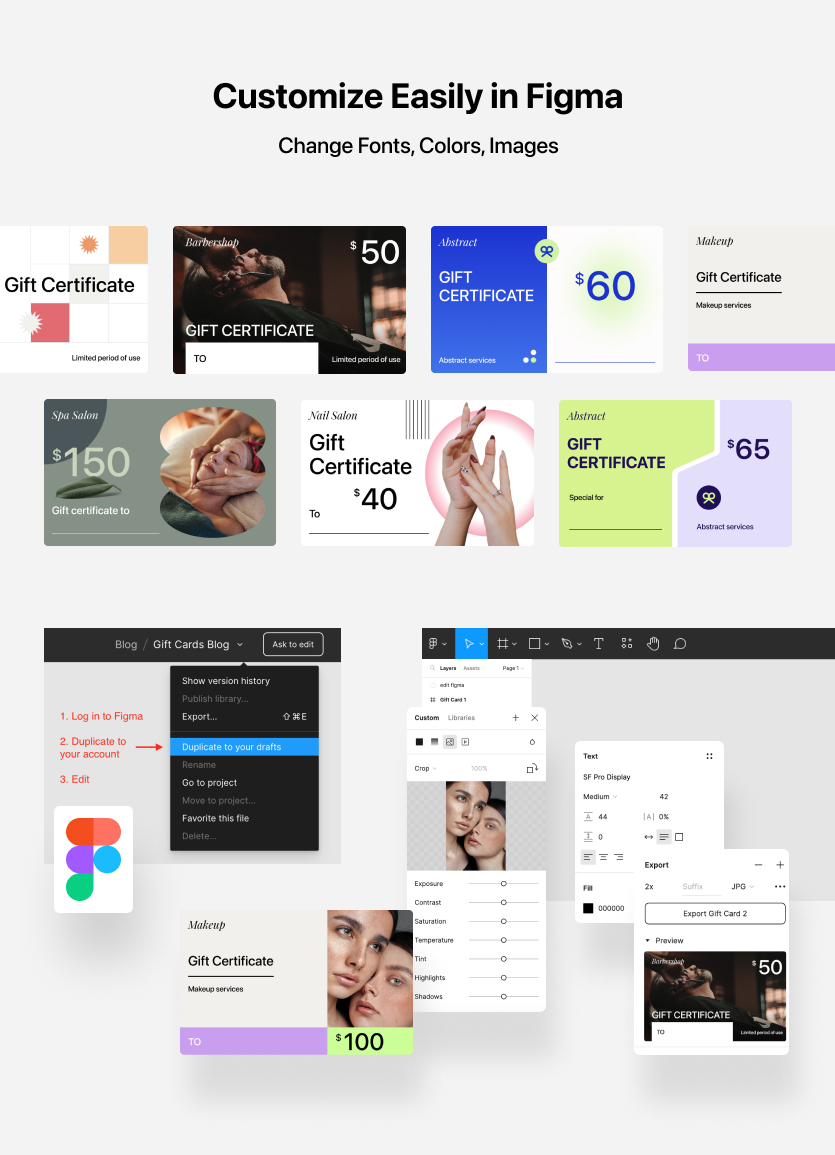 Nail salon gift certificate template.
Makeup free gift certificate template.
Barbershop gift card template.
Spa salon gift certificate.
Three universal gift card templates for any business.
Every design comes with free gift certificate images!
How to customize these Free Gift Certificate Templates in Figma?
Every customizable gift certificate template is ready to be smoothly edited by following the next steps.
Log in or sign up with Figma. Use your Google account for login to speed up the process. It's free.
Follow this link to access the assets with free gift card templates.
Click on the 'Gift Cards' title > Duplicate to your drafts in Figma. Don't send the file edit requests!
Navigate to your Figma and find the gift certificate files you copied.
Choose a template you want to use. Now you can edit colors, fonts, images, and texts (more guides below).
After you are satisfied with the result, click on the title of the edited version in the left-hand menu, then click Export > pick the needed file format to save your gift certificate.
Edit images


Select the template you like > choose a layer with an image from the left-hand menu > Design tab on the right >Fill > click 'Image' from the right-hand menu > hover your mouse over the image > click Choose image > Upload your image. Customize your image (change position, apply filters, etc.).
Edit texts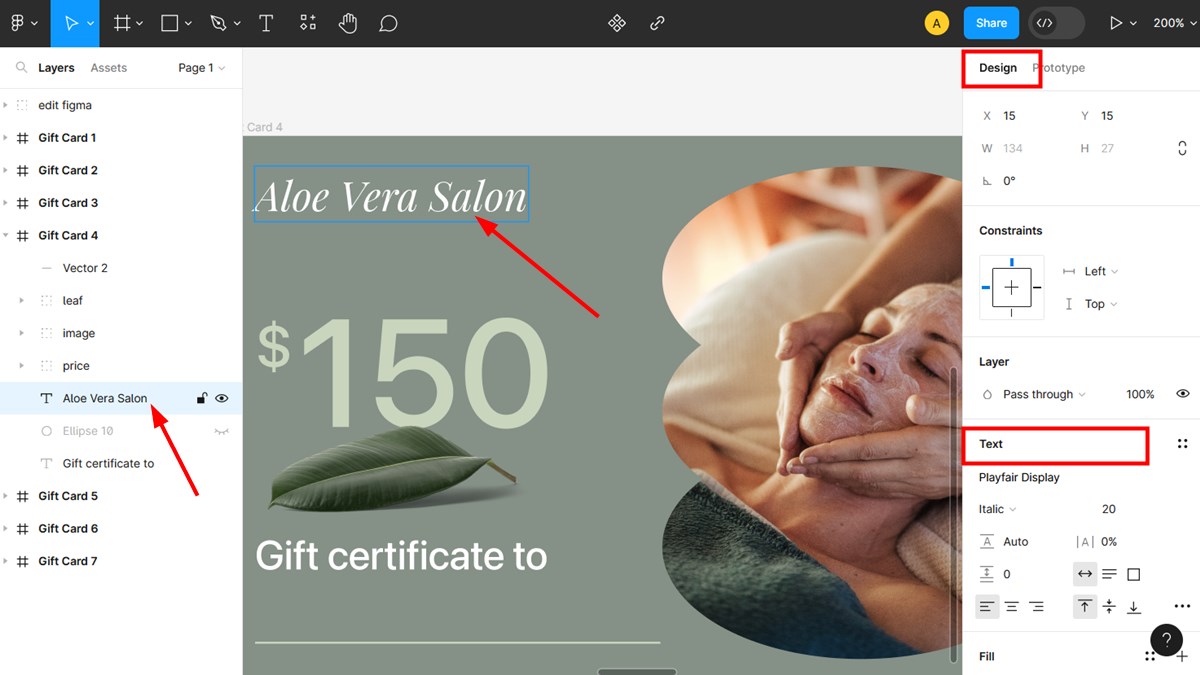 Select the template you like > Click on the text you want to edit > click the text tool > get back to the piece of text and edit in the template. In the Figma editor, each text component is accompanied by a corresponding title.
Edit colors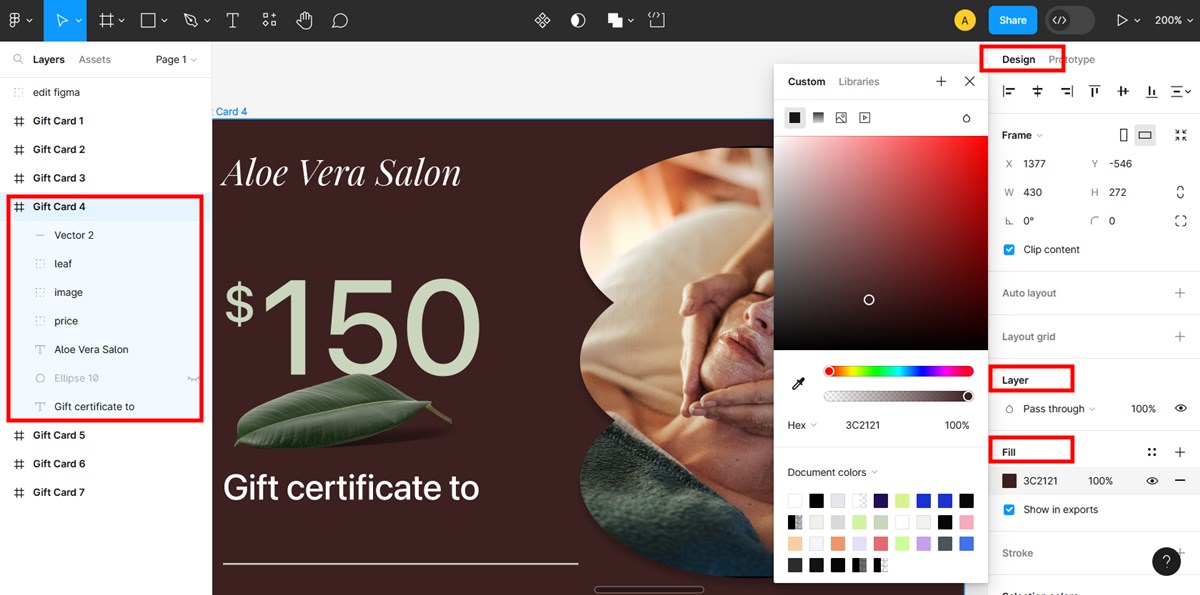 Choose an area where you want to edit the color (to edit a background color, choose all elements at once in the template) > go to the design tab from the right > Fill > customize a color.

How to sell gift certificates with the MotoPress Appointment Booking plugin?
You can use them as printable gift card templates as well as digital ones.
If your WordPress website is made with our Appointment scheduling plugin or theme and you want to sell digital certificates, we can suggest a few ways:
Sell them as digital products using a popular WooCommerce plugin. If you use WooCommerce, check out our Appointment Booking WooCommerce extension.
If you use Square to take paid appointments, use our Square Appointments extension that supports selling and accepting online payments with gift cards. Square allows you to choose gift card designs, upload your brand visuals, and set the desired card amount. These gift cards can be bought by customers through a dedicated page offered by Square, which can be seamlessly added to the navigation menu of your WordPress website.