Download Free Social Media Banner Templates for Hotels (PSD)
In the past, we gave away a few stunning, professionally crafted hotel brochure templates. You could effortlessly personalize and incorporate them into your hotel marketing efforts, including print materials.
The hotel and vacation rental industry owners were highly receptive to these templates, which is why we've now enlisted our team of talented designers, experts in crafting WordPress themes and visually-stunning solutions for hotels, to create even more eye-catching visuals for hotel owners seeking unique and effective materials for promoting their business on social media.
Today, we're excited to unveil a fresh collection of free social media banners for hotels, which are fully-brandable. Download them now and unleash your creativity without any restrictions.
Pss, here are more Free Social Media Hotel Templates for Instagram and Facebook.
Featuring a range of unique and contemporary designs for hotel promotions, these banner ads templates cater to hotels in the city, mountains, and beachfronts.
Whether you own an urban hotel, a charming mountain inn, or a serene beachfront resort, there's a design among our free social media banner templates for hotels to suit your needs.
All these social media templates (ads for hotels) include multiple essential elements that will help you catch attention of your prospects and guests:
Labels.
Calls-to-action.
Brand logo.
Images.
Key message.
Text area.
Buttons.
Titles & headings.
Make the most of these templates to showcase your hotel's
discounts, offerings, activities, advantages
, and more.
Each hotel banner template comes in PSD format, making customization a breeze with popular web design tools like Photoshop. With an initial size of 1080 x 1080 pixels, they're the perfect fit for Instagram square ads and carousels, as well as other social media platforms.
One of the most tried-and-true tips for Instagram success is still relevant – for the best results, upload images that are 1080 pixels wide. This width is not only required for Instagram stories, carousels, Reels, but also for Facebook stories and ads, marketplace ads, sponsored messages, and more.
Even on LinkedIn, the recommended width for sponsored content carousel images is 1080 pixels.
And with the customizable templates, you can easily achieve the correct dimension using any additional design tools.
So let's now take a closer look at our free social media banner templates for hotels and hotel advertisement examples.
Free Social Media Banner Ads for a Marine Hotel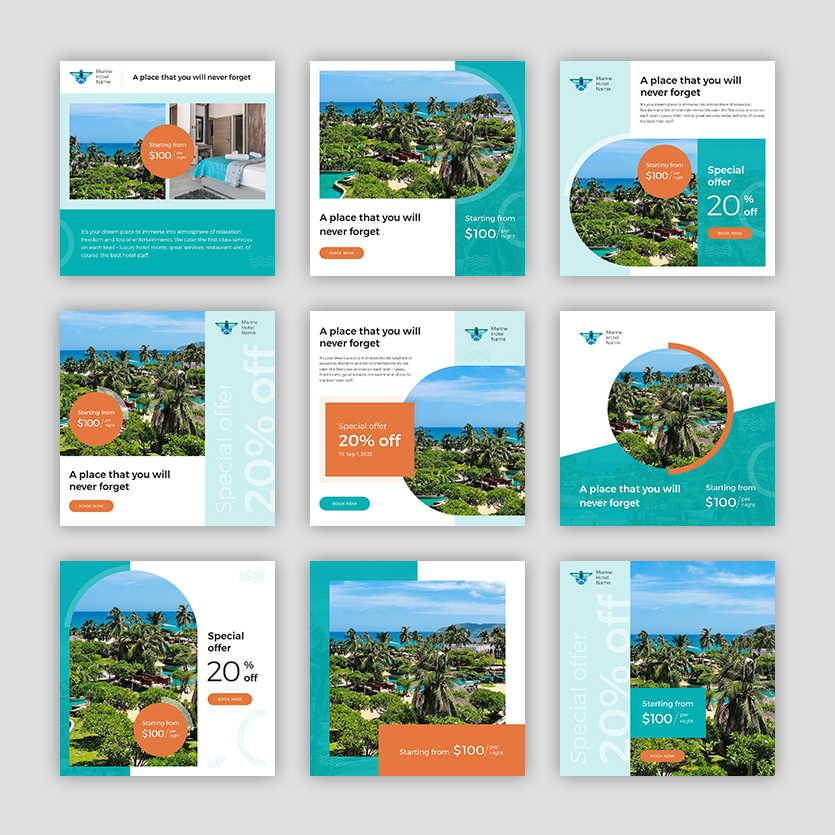 This set of blue and white banner ad templates is the perfect fit for beachfront resorts, charming seaside villas, and hotels nestled near the river.
Download Seaside Resort Banner Ads
Free Social Media Banners for a Mountain Vacation Rental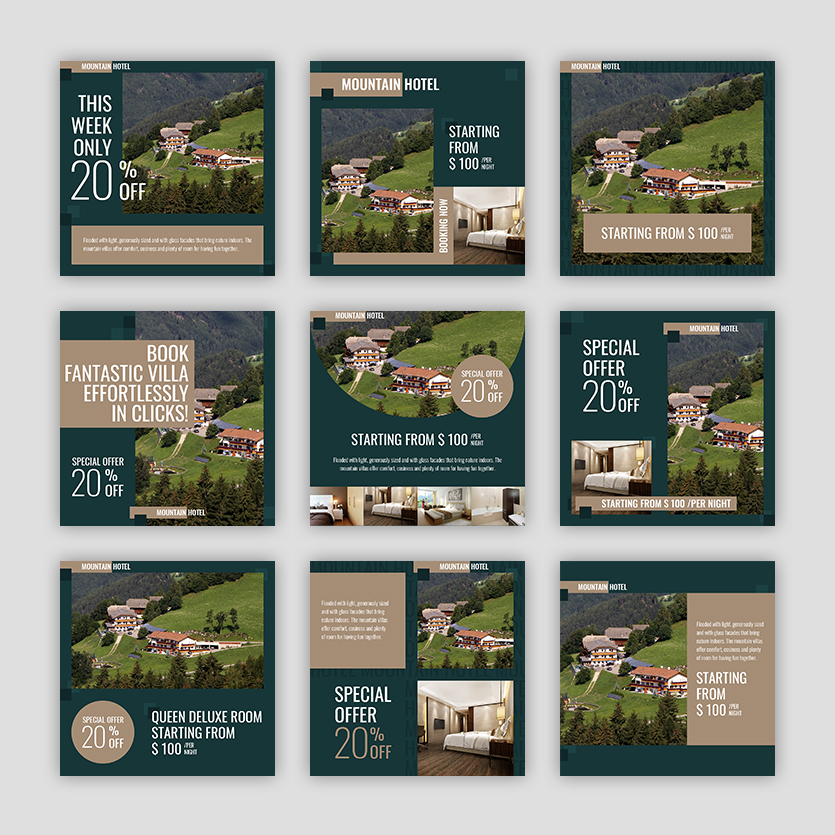 Make a statement with these green and gold social media banners, perfect for mountain-based hotels looking to promote themselves in style on Instagram and Facebook. It'll take you a few minutes to modify them and create your own professional ads.
Download Vacation Rental Banner Ads
Free Social Media Templates for a City Hotel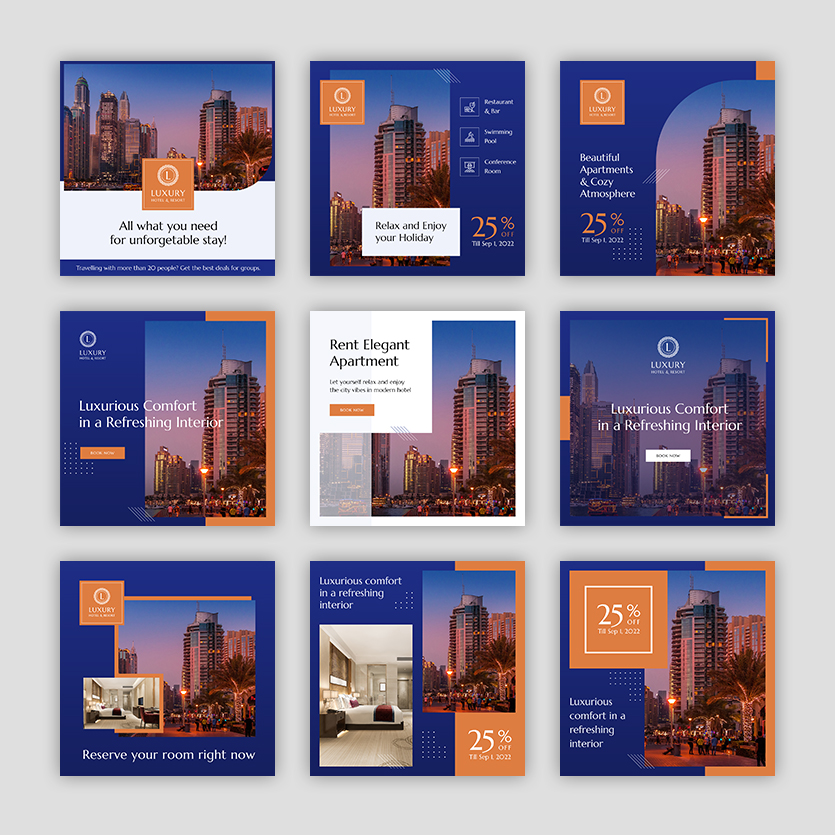 These social media banners are the ideal solution for urban-style hotels, boutique hotels, bed & breakfasts, and apart hotels. Simply change the colors and fonts to match your property and create custom ads with ease. Tailor these templates to your specific needs and start promoting your business on social media in no time.