11 Best WordPress Backup Plugins: Pros and Cons
Is the backup of your WordPress website worth the investment? It's one of the certain ways to save data for any occasion. Otherwise, what would you do if the site gets hacked, something is wrong with an update, or your server crashes? That's why WordPress came up with backup plugins you can entrust this work to. In this article, let's find the best one!
Backup – Why Is It Important for Your Website?
First of all, let's discuss the backup basics and explore its key benefits for any website.
What is backup?
The backup process involves creating a copy of the data on your website: a WordPress theme, plugins, and database. In case the original data is lost or corrupted, you can use a backup. It is also used to restore older files deleted from the system.
If your website is even temporarily unavailable, you might lose traffic, customers, and rank in search engines. So, you should be prepared to fix it as soon as possible.
When does backup come in handy for you?
Information takes a leading role in today's world. Imagine a situation when website owners don't take care of their websites' backups. Then, they will irrevocably lose all the data if
someone hacks their website;
they accidentally delete something;
there is a plugin or theme conflict;
their server crashes;
there is a problem with the hosting server.
That is when backup can save the situation!
Backup by Hosting or by Owner?
Now you know the reasons to create backups for your WordPress website. The next point is to choose the right tool for it.
How to arrange bug-free backup and make your data out of danger?
In most cases, if you choose a good hosting company, a backup service is already included in the provided package.
However, it's always better to rely on yourself and have an independent backup tool.
Being the most popular website-building platform, WordPress has affordable solutions. WordPress backup plugins are available for you to copy your website and restore it if necessary.
What makes a good WordPress backup plugin?
WordPress directory involves many dedicated plugins. How to find the best one? While making a decision, you should consider whether the backup plugin supplies you with:
Automated backup options.
Safe storage.
Complete and incremental backups.
Easy-to-follow restoration options.
Support for third-party cloud storage.
Backup scheduling settings.
High-quality support.
Pick up the essential features for your website and read further to find the best plugins!
Top Plugins for Website Backup on WordPress
And now, let's move on to our collection of free and premium WordPress backup plugins. We'll highlight the ups and downs that may help you make an effective decision for your website. This article includes solutions for every need and budget. Let's get started!
UpdraftPlus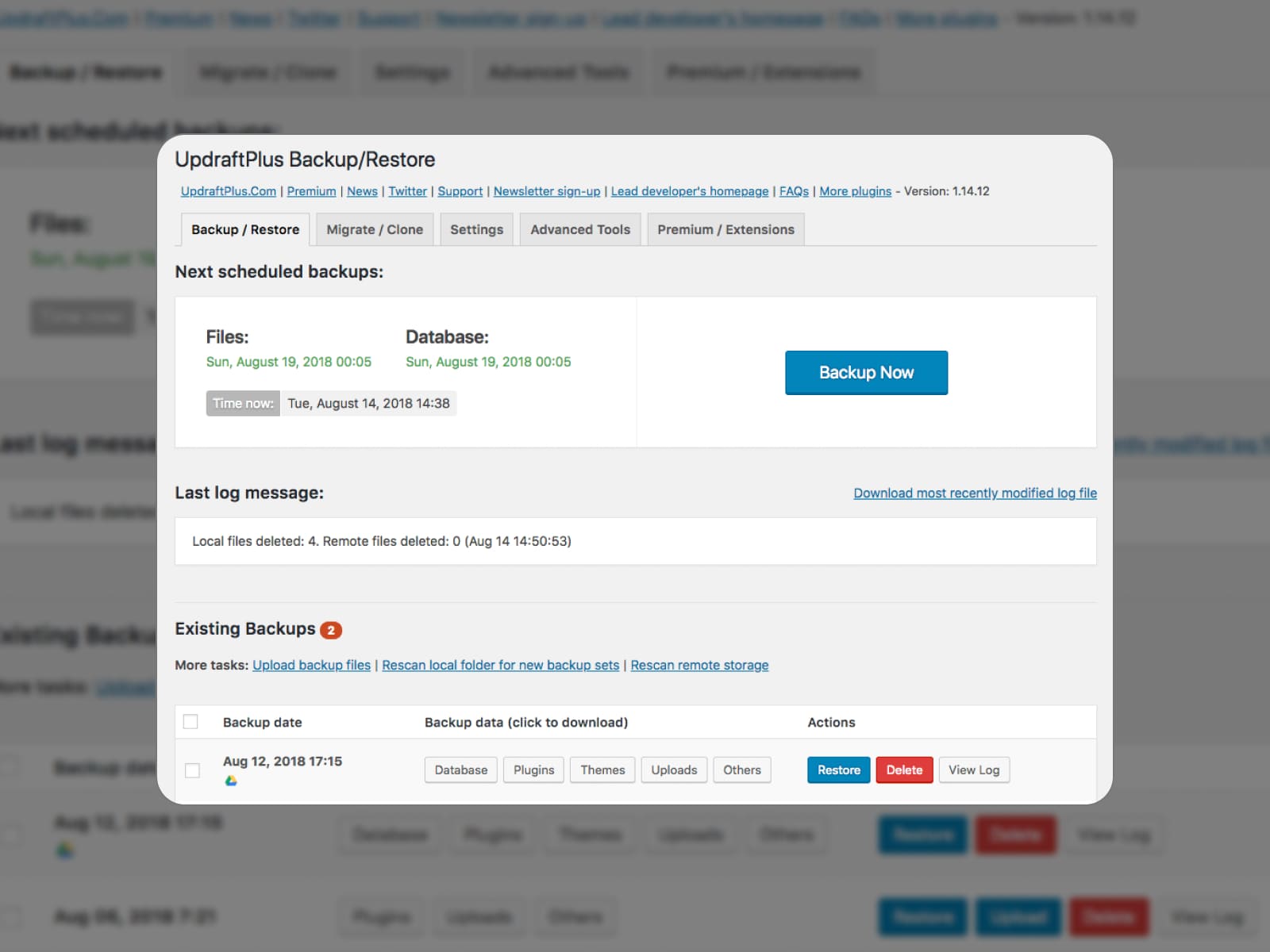 UpdraftPlus stands first in this roundup due to its powerful backup and restore options available even in the free version. You're allowed to choose the elements to be included in the backup. This plugin supports different cloud platforms. Remote storage options are helpful to avoid risks connected with web-server storage.
UpdraftPlus works with both manual and scheduled backups. They can be performed every 4, 8, or 12 hours; daily, weekly, fortnightly, monthly, or at a specific time. The premium version unlocks more features and options for your WordPress website backup. There are also extensions enhancing the plugin with extra functionality.
Free Features:
Support for Dropbox, Google Drive, Amazon S3, UpdraftVault, Rackspace Cloud, FTP, DreamObjects, OpenStack Swift, and email storage destinations;
Backs up files to 100 GB;
Basic reporting features;
Remote storage support.
Pro Features:
Support for more cloud platforms: Microsoft OneDrive, Microsoft Azure, Google Cloud Storage, etc.;
Compatibility with multi-site or multinetwork;
Backup to multiple remote storages;
Incremental backups;
Extended reporting options;
Database encryption;
Website migration;
WP-CLI support;
Personal high-level support.
Pros:
A feature-rich free version;
More than just a backup plugin;
Restoration is available;
Backup scheduling option;
Tested on more than three million websites;
Backup of limitless non-WordPress files.
Cons:
The plugin doesn't offer real-time backups;
Works more slowly on websites with a lot of content.
BackUp WordPress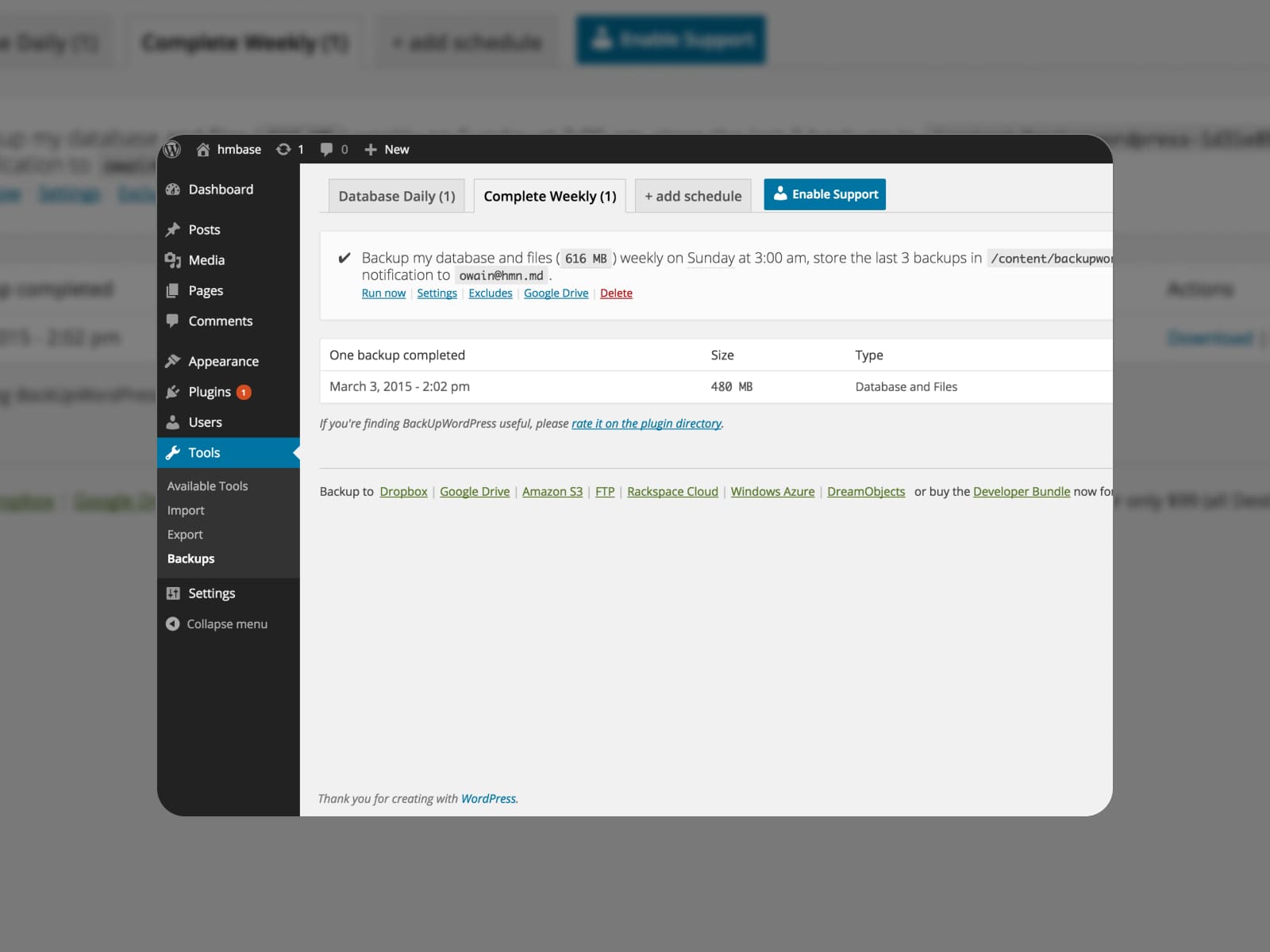 BackUp WordPress is the free-only WordPress plugin for backups. It is a simple-to-use and lightweight solution for your website. Its toolkit includes only basic features which can't be extended. If your budget is limited, you may choose the BackUp WordPress plugin to perform backups of the entire website, including database files.
Free Features:
Operates on Windows and Linux servers;
Backup schedules;
Exclusion options for files and folders;
Multiple scheduling options.
Pros:
Easy-to-set-up plugin;
Support for free customers;
It's possible to set the maximum number of backups;
Translated into multiple languages.
Cons:
Paid add-ons (for backup to Google Drive and Dropbox) are no longer available and supported;
Backup is sometimes slow;
The plugin doesn't support non-WordPress files and folders.
BackWPup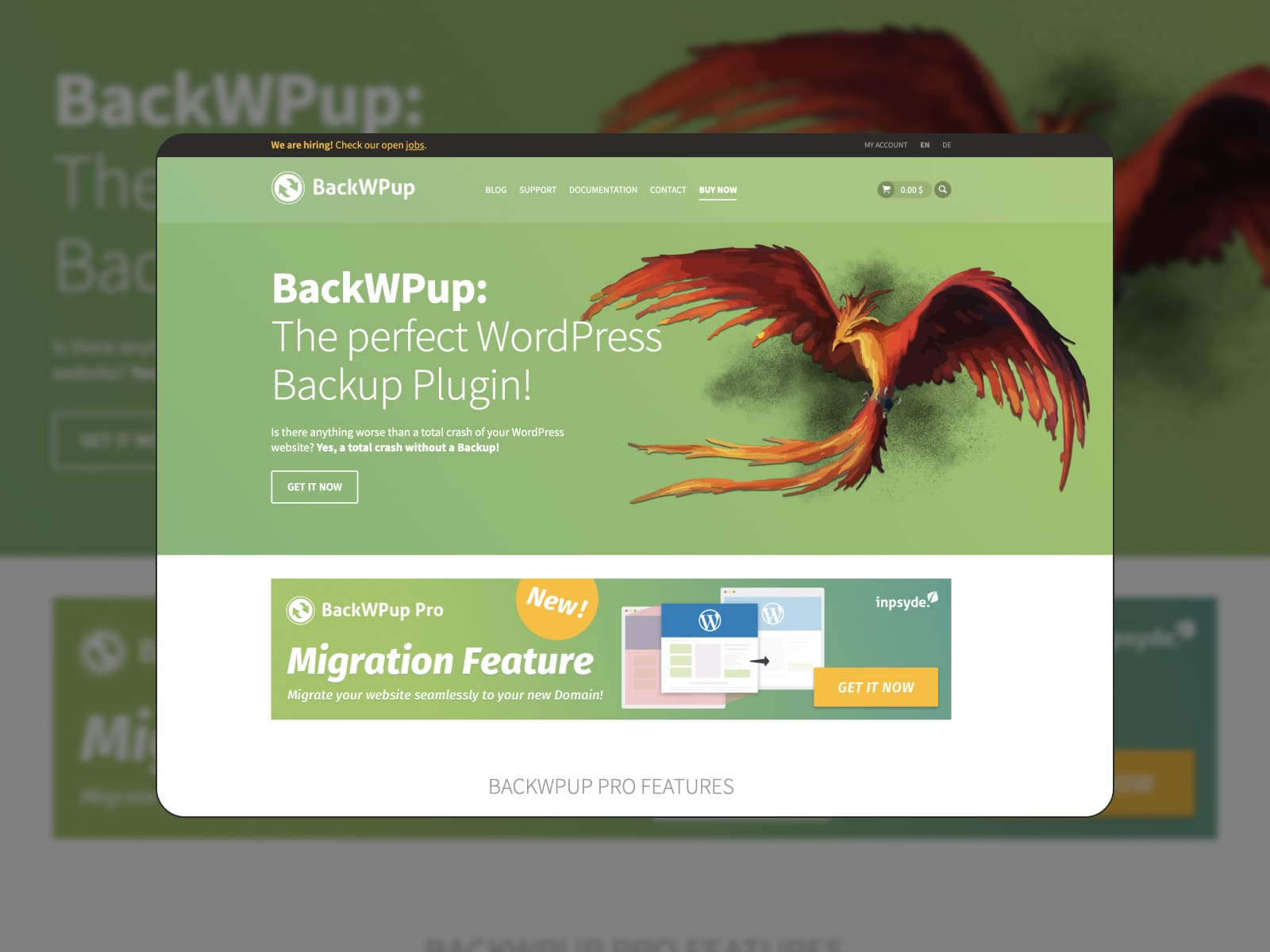 BackWPup is a great free plugin to automatically back up your website and save copies on external servers like Dropbox. The biggest strength of this plugin is the number of available servers you can send the backups to. The settings and tools of the plugin are well-categorized for a convenient user experience and productive work.
The upgrade to BackWPup Pro unlocks more servers and individual support. It extends restoration and database backup options. The price depends on the number of websites you work with.
Free Features:
Database backup;
File backup;
WP XML export;
Email reports.
Pro Features:
Backup to Google Drive, OneDrive, and HiDrive;
Restoration from the dashboard;
Backup archives encryption and restoration;
Restoration of the encrypted backups;
Differential backup options.
Pros:
BackWPup supports many external backup servers;
There are optimization tools to check the database and repair corrupt files;
Multisite support;
The ability to manage backup archives and log files.
Cons:
Some essential features are included in the premium version only;
The price is high for multiple domain licenses;
The plugin does not provide migration or cloning tools.
WPvivid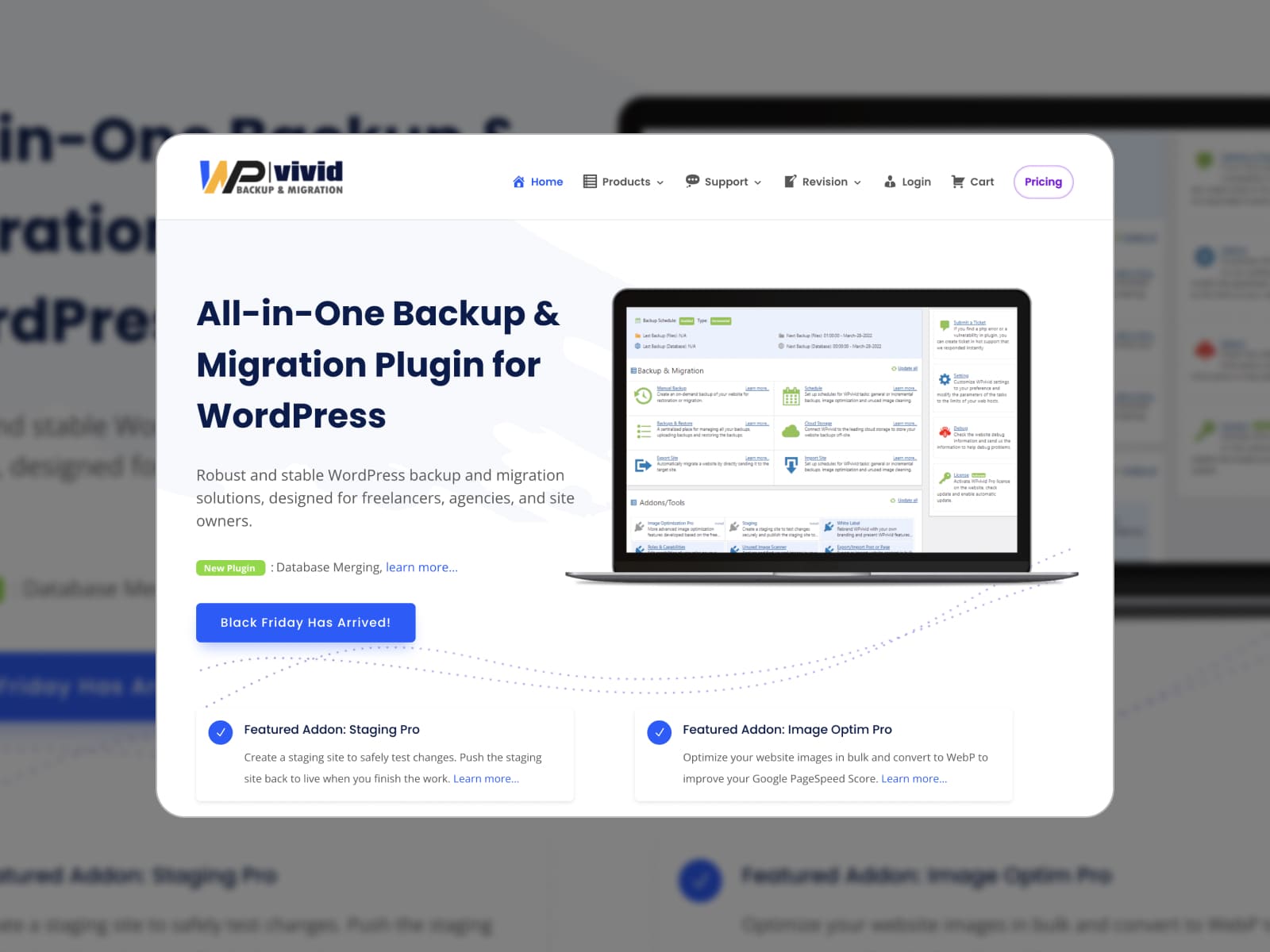 WPvivid is a fast-growing WordPress backup, restoration, and migration all-in-one plugin. It contains all the necessary features that you will need to maintain a regular backup for your WordPress websites to the popular storages, for free!
Along with basic backup features, WPvivid Pro provides tools to back up the multisite network, set up backup schedules, and configure custom migrations. It allows you to manage backup rules and user capabilities.
Free Features:
Automatic WordPress backups to the cloud storage (Dropbox, Amazon S3, Microsoft OneDrive, and Google Drive);
One-click restoration;
Supports up to 2 GB database;
Email notifications;
Temporary files cleanup.
Pro Features:
The ability to back up WordPress core, themes, and plugins;
Advanced remote options;
Cleanup of unused images;
Flexible backup rules;
Website migration to the web server, remote storage, and target site;
Different user roles.
Pros:
Can be used on most hosting platforms;
Different types of backup schedules;
Simple-to-use interface;
Backup size is not limited;
Control over file size;
Options to set up local backups.
Cons:
No multi-user support in the free version;
The free version doesn't offer an incremental backup.
Duplicator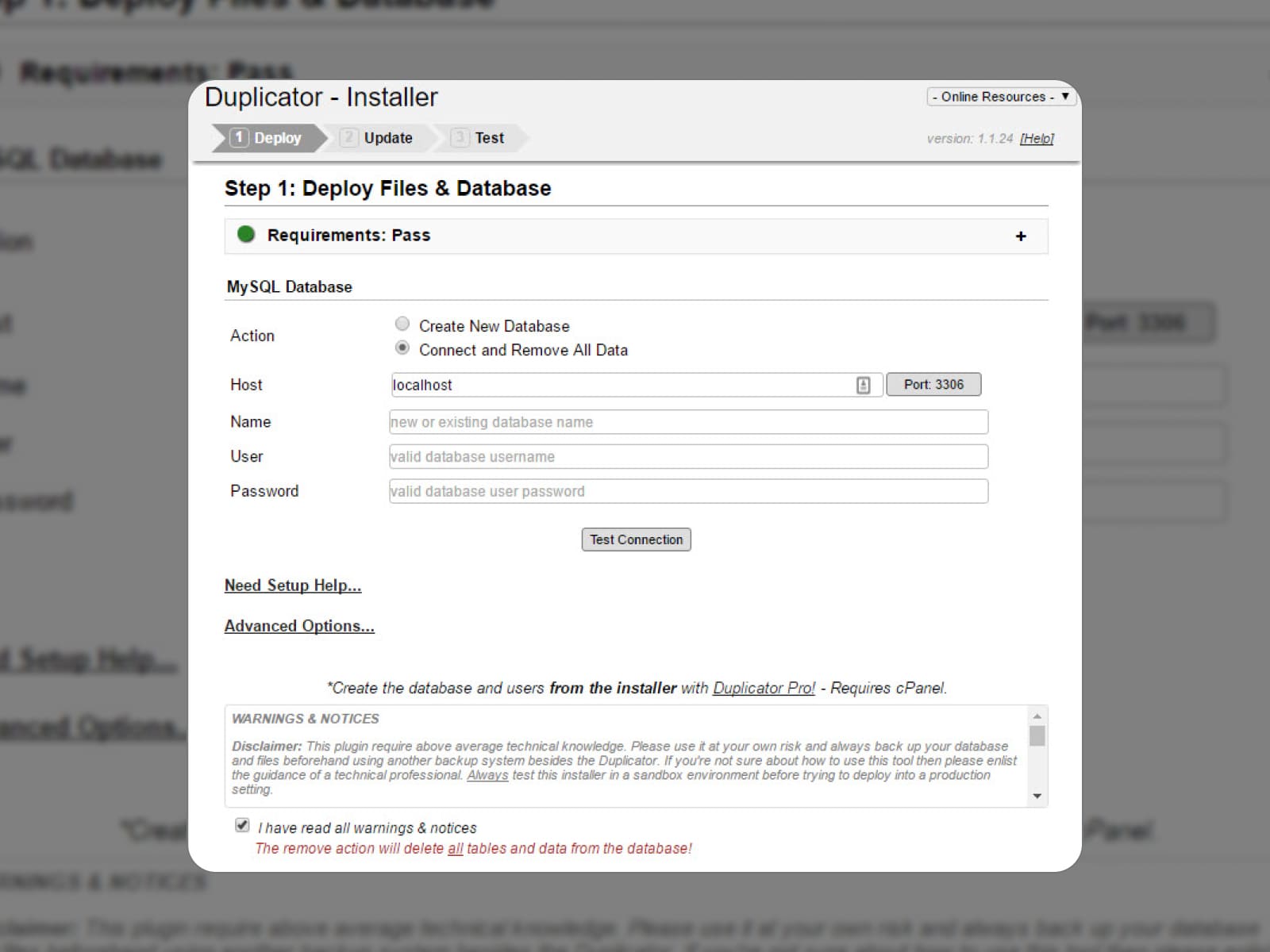 You'll find Duplicator in most lists with the best WordPress backup plugins. Why is it so? That's because it combines backup and migration features. This plugin has over a million active installations on WordPress. You can move, clone, or migrate a website between domains and hosts. In addition to these options, Duplicator has a simple backup toolkit.
Duplicator Pro powers up your WordPress website with backup schedules, cloud storage, premium support, and more features.
Free Features:
Migration, cloning, and backup tools;
A .zip package with all the plugins, themes, database, and WordPress files;
Migration between different hosts;
Live site duplication.
Pro Features:
Scheduled website backups;
Support for Dropbox, Google Drive, Microsoft OneDrive, Amazon S3, and FTP/SFTP services;
Drag-and-drop archive installs;
Recovery Points;
Works with managed hosts;
Support for the WordPress multisite network backup;
Email notifications.
Pros:
The ability to back up the entire website or part of it manually;
The combination of migration and backup features;
The package can be used in different locations.
Cons:
There is no option to create automated scheduled backups in the free version;
Cloud services are not available with the Duplicator Free.
Total Upkeep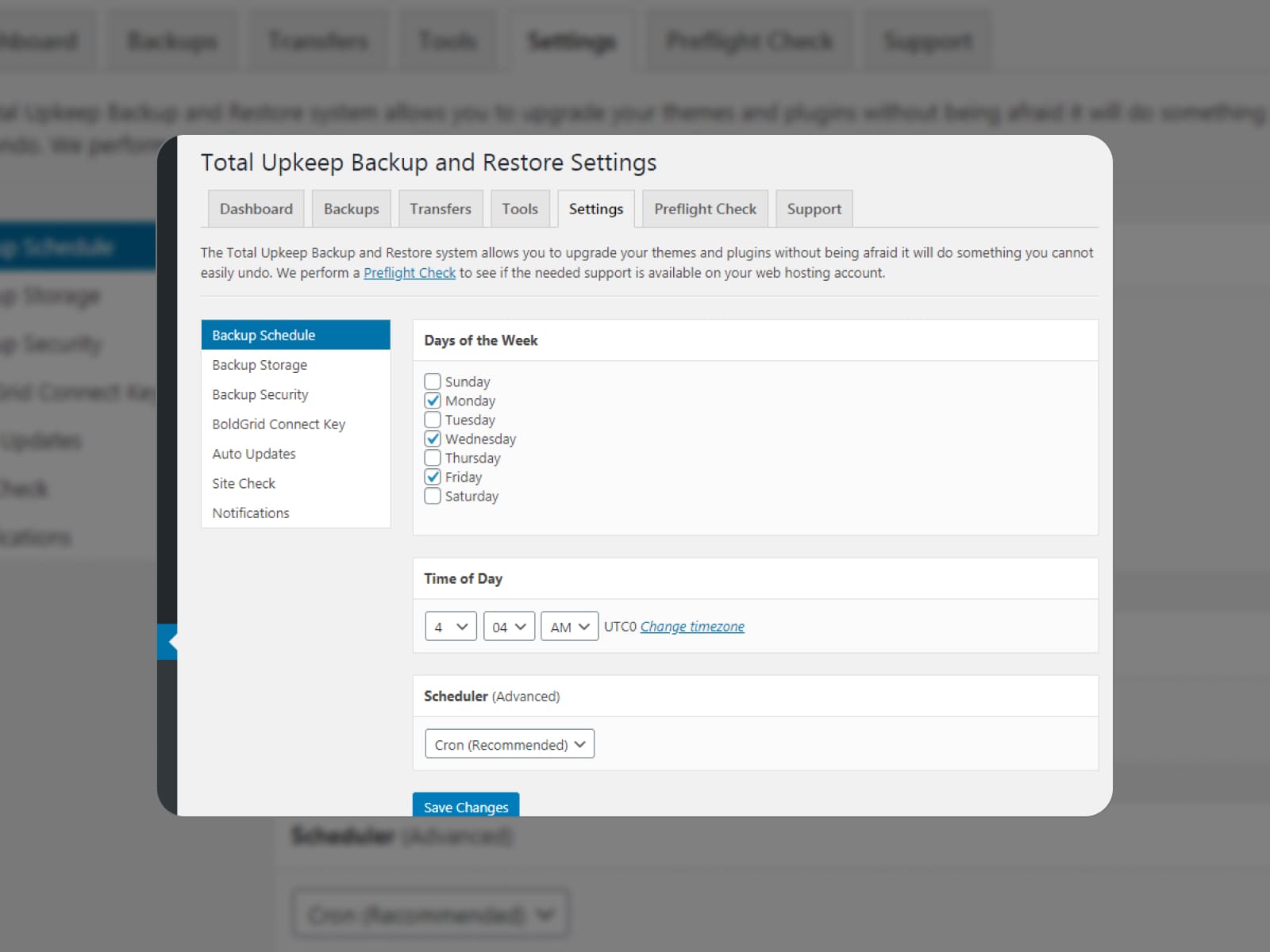 Total Upkeep by BoldGrid is a powerful backup WordPress solution for your website. Its security features enable you not to keep a backup in the first place due to the automated rollback. It is performed if the website crashes after one of the updates. Thus, you avoid crucial data loss.
The plugin also includes options to migrate, clone, or duplicate the website. The premium version of Total Upkeep takes its features to the next level. For example, it opens third-party storage services, restoration options for individual files, timely automated updates, etc.
Free Features:
Automated and manual remote site backups via FTP/SFTP;
Fault protection;
Backup of full files and database;
Restoration and migration tools;
The ability to create staging websites.
Pro Features:
Backup to Amazon S3 or Google Drive;
Single file restoration;
Database encryption;
Historical versions and history updates.
Pros:
The plugin unlocks both automated and manual backups;
The rollback feature for failed updates;
Total Upkeep checks whether the web server has the required features for hassle-free backup archive storage.
Cons:
The plugin supports only Amazon S3 or Google Drive storage services;
It's possible to restore a website that is down. However, this process required advanced technical knowledge.
WP Time Capsule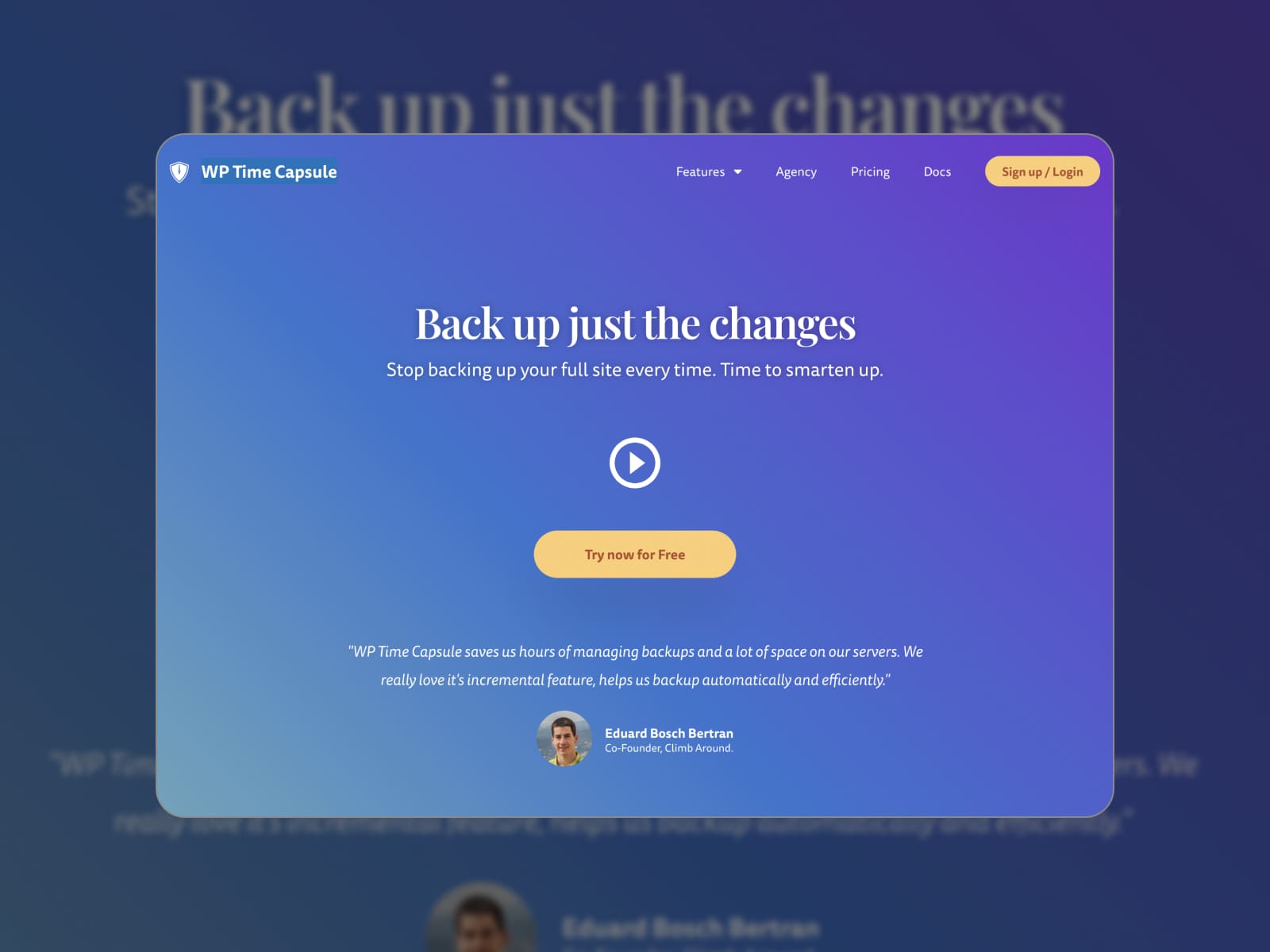 WP Time Capsule is one of the premium-only WordPress backup plugins without a free version. It offers a 30-day free trial period to check the plugin's functionality at zero cost. With WP Time Capsule, you'll be able to save only the changes. Backups are real-time and incremental.
So, this plugin is different from other plugins in this roundup. Its features help you quickly back up and restore your website without manual effort. All the data is stored in a cloud app account – Google Drive, Dropbox, or Amazon S3.
Pro Features:
Automated change backups without any schedules;
Staging site to test updates, changes, new plugins, etc.;
Backups before updates;
Support for Google Drive, Dropbox, and Amazon S3;
Restoration options.
Pros:
Since WP Time Capsule backs up and restores newly made changes, the backup process doesn't slow down your website;
The server is not overloaded with multiple copies and files;
Backups work in the background.
Cons:
The Business plan implies that changes are saved for a 30-day period only;
Backups are sent to third-party storage tools that may require additional payments;
There is no free version available.
BlogVault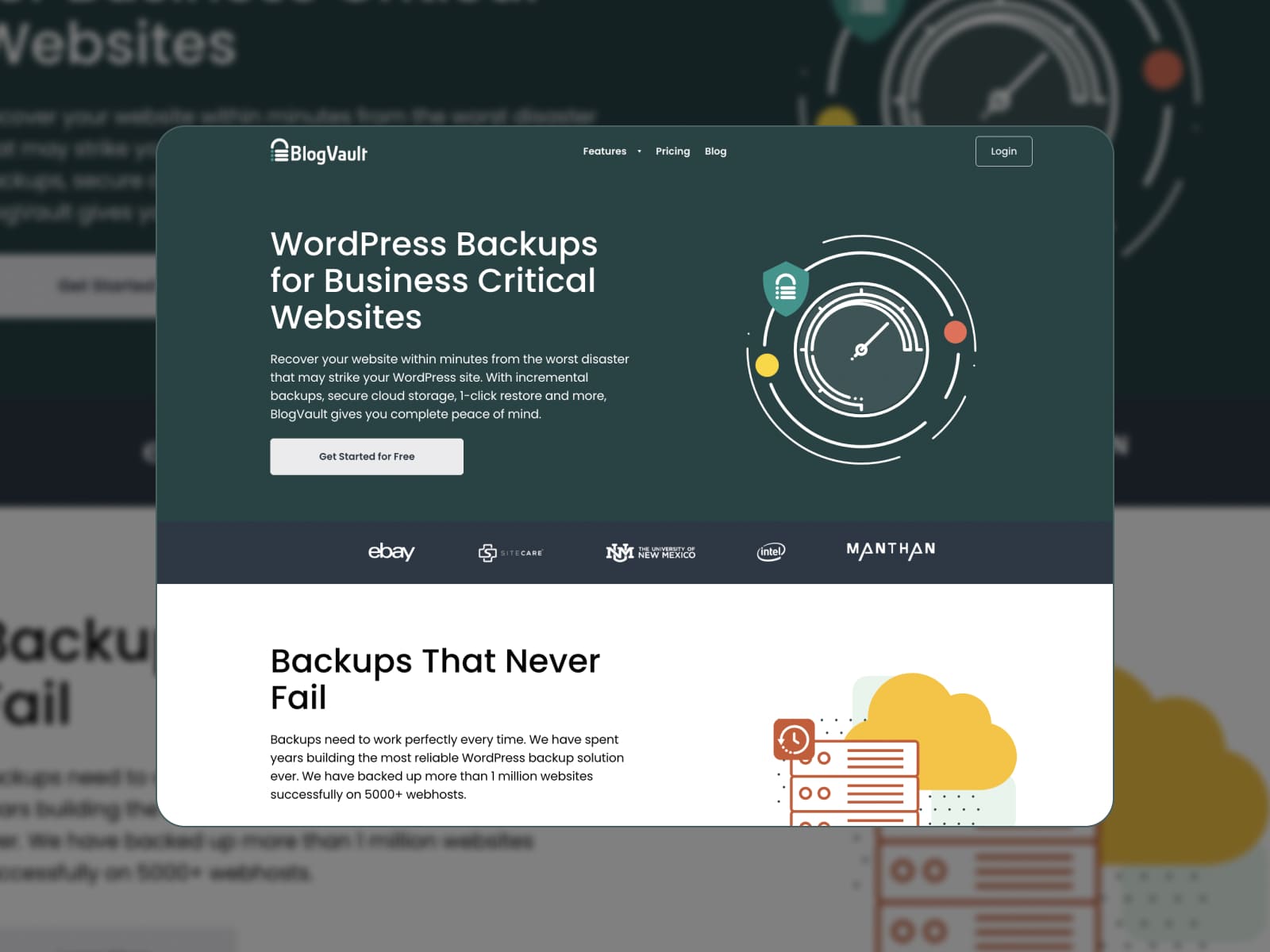 BlogVault is undoubtedly a nice solution to rely on if you need an all-around WordPress backup plugin for backup, migration, and security needs. It is a zero-configuration plugin that is handy for beginners.
The free plugin you download from the wp.org repo is just the connection tool to a premium BlogVault account (can be used for free during a 7-day trial period). The features you get depend on the pricing plan you choose for your website. We'll take a closer look at the features offered within the cheapest plan.
Pro Features:
Automated daily backups;
One-click auto restoration;
The unlimited number of backups (living up to 30 days);
Website migration in one click;
One staging site for testing purposes on the fly;
Secure cloud backups (Dropbox, Google Drive support);
Backup activity reports;
Tech support.
Pros:
The plugin supports WordPress multisite backups;
The ability to restore a website if it's down;
There are advanced backup protection options;
BlogVault integrates with the Malcare plugin (their sister company) to offer you extra security features.
Cons:
There is no free plan available for BlogVault;
The size of backups is limited;
You need to send backups to the third-party storage manually.
WP Database Backup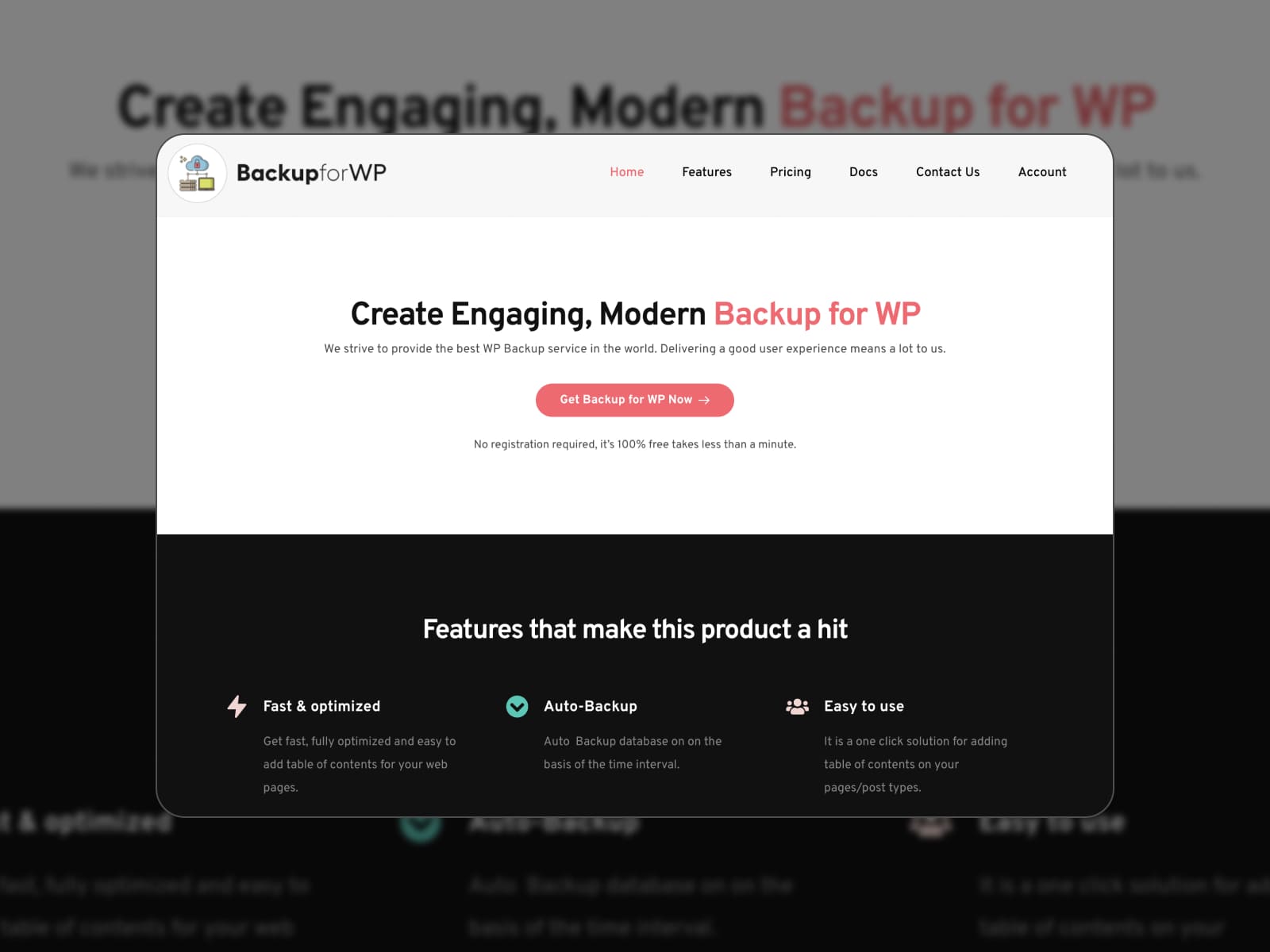 Are you looking for a reliable solution to set up a backup of your website database? WP Database Backup is one of the top-notch WordPress backup plugins available! The Backup for WP team has developed a free plugin to provide automated and manual database backups in a few clicks.
You can set up schedules for automatic backups and manage multiple store locations. The pro version called the Backup for WP plugin delivers options for a table of content and premium support.
Free Features:
Backup to Dropbox, FTP, email, Google Drive, and Amazon S3;
Repeating schedules for automated backups;
Database restoration options;
Backup email reports and notifications;
Backup files in a .zip format.
Pro Features:
Easy-to-add table of content;
Fixed or sticky TOC;
Individual support.
Pros:
An easy-to-configure plugin that requires no advanced tech skills;
Sorting & search options;
Supports automated and manual backups.
Cons:
The backup is limited to a database.
JetBackup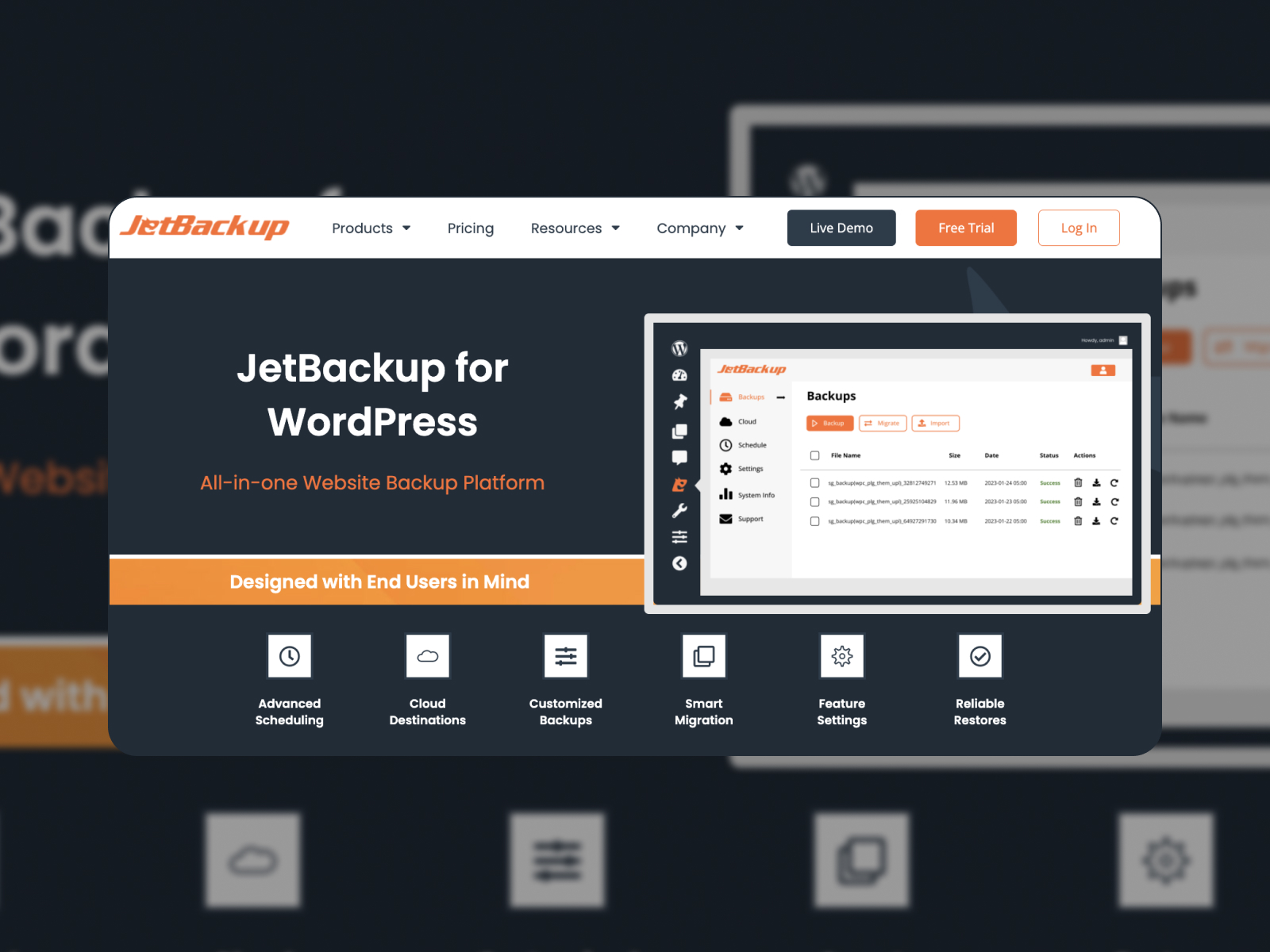 The JetBackup plugin for WordPress is a well-packed choice for users who want to back up, restore, and migrate their websites with one WordPress plugin. It comes with both free and paid toolkits. They cover the main needs to perform unlimited backups. This plugin makes it possible to create backups for files, a database, or both.
What's more, it enables you to restore them at any time with clicks. You are free to manage backups: delete, view, or restore the log. With the JetBackup Pro, you get access to SSH, FTP/SFTP, Amazon S3, Google Cloud, Google Drive, Wasabi, IBM Cloud, Oracle Cloud, and Scaleway destinations.
Free Features:
Any number of backups;
Restoration options;
The ability to see backup progress in real-time;
Backup import/download;
Backup management options.
Pro Features:
Unlimited accounts;
Migration options to migrate a website to another hosting or domain;
Unlimited jobs, schedules, and destinations;
Account filters;
Custom cloud path;
Multiple remote destinations;
Email notifications on backup/restoration;
Premium support.
Pros:
The plugin supports WordPress multisite/network;
JetBackup lets you cancel the backup before it is finished;
Cross-platform backup and restoration;
Background mode for backup.
Cons:
The free version doesn't support third-party storage services.
BackupBuddy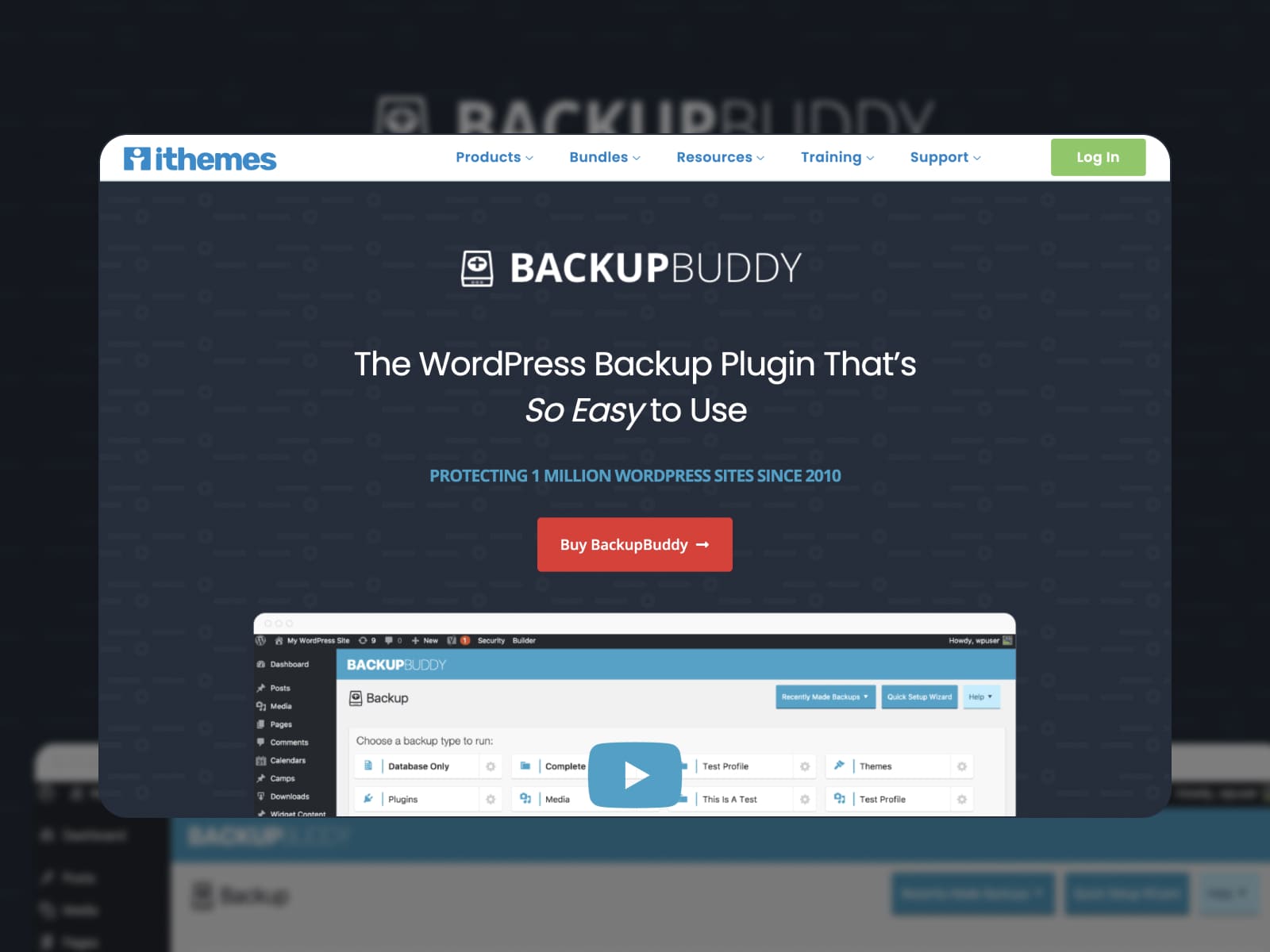 BackupBuddy is a premium WordPress backup plugin to duplicate, migrate and restore your website. Though it will cost you a minimum of $99 (Basic package), the plugin offers a whole bunch of services that will help you not only back up your WordPress website professionally but maintain it on different levels and get additional perks from support and regular updates.
It's a nice solution since it allows you to run different backups selectively in real-time – widgets, the Media library, database, comments – anything can be restored in one click. It's also going to take care of WordPress security issues like hacks, malware, user errors, deleted files, and running bad commands.
Pro Features:
Scheduled automated backups;
Website restoration from a backup;
A seamless integration with Google Drive and Dropbox;
Backup files in a .zip format;
Restoration with the ImportBuddy tool;
Rollback feature for the WordPress database;
Email notifications.
Pros:
The plugin performs malware scanning;
It's possible to restore individual files;
There are backup profiles you can customize;
BackupBuddy has migration options to change a host/domain and replace URLs;
Backup files are stored off-site to prevent a hack.
Cons:
BackupBuddy doesn't provide a free plan;
The Basic package includes only 1GB of storage space;
It doesn't work for WordPress multisite.
Conclusion
So, this was our roundup of high-rated WordPress backup plugins to help you find the ultimate solution. Let's outline the main points!
In simple words, backup is a process of copying data from your website which enables you to later restore lost or crashed files. You should think of a way to restore the information ahead of time.
Who is responsible for the backup of your WordPress website? Many web hosting companies take charge of it. But this service won't help you if something goes wrong with a hosting server or if you can't access your admin dashboard. We stick to WordPress which suggests different plugins to back up the entire website or separate files.
But still, would you entrust all your hard work to a backup plugin with few downloads, mixed reviews, or no professional support? That's why this collection of the 11 best solutions suitable for any WordPress website is created! We've listed their main features available in free and premium versions. Also, you can find the benefits you get from each of them. However, every plugin has its cons that might be crucial for your choice.
Almost all the plugins from this article have free and premium pricing plans. It's worth mentioning that they greatly differ in the accessible features and the level of support.
At this point, we are ready to highlight the top 3 best backup WordPress plugins and give more details on them in the table below:
---
Disclosure: this article may contain affiliate links for third-party products. If you click a link and later make a purchase, we may earn an affiliate commission that doesn't result in additional charges to you.
FAQ
Which plugin is best for WordPress backup?
The choice of the best backup WordPress plugin depends on website size & type and your needs. For example, UpdraftPlus performs both manual and automated scheduled backups, while WP Time Capsule works for real-time changes backups.
Also, you should decide whether you want to save backup achieve files on remote storage locations. The WP Database Backup plugin delivers this option for free. JetBackup supports different third-party storage services in the premium version only.
How do I backup my WordPress site plugin?
You should install and activate the WordPress backup plugin. Next, you should navigate to its settings and configure the backup process. For example, choose the files to be included in the backup or set a schedule for automatic backup. Once all the settings are done, start backup on your website.
Is there a backup on WordPress?
A WordPress backup deals with a complete copy of your WordPress site. This copy can be restored if something goes wrong with a website. There are several ways to back up a WordPress site: use the provided services by the web host, apply a dedicated WordPress backup plugin, or do a manual backup.
What is a backup plugin?
A backup plugin is a plugin that creates copies of your site's files and/or its database. Then it should enable you to restore backup files.