Best Elementor Addons to Display Blog Posts On Your Website
How to make users stay longer on your website? First of all, you keep their attention with quality content. It can be anything, from eye-catching media to animated elements and CTAs.
A site blog concentrates the most valuable content for new users. If you strive to grow your business online, publishing high-quality articles is a must-do.
But here is a thing: even the greatest content won't make any sense if nobody can see it. As a website owner, your task is to suggest visitors view as many blog posts as possible.

The more visitors will be suggested to read the best or related blog posts:
…the more time on average they'll spend on your website;
…the more reduced the bounce rate will be;
…the more respect they'll have for your blog content and the authors.
So how to implement the Related Posts/Best Posts section on your website?
If you are a fan of Elementor, you can display blog posts with one of the next 7 Elementor addons…
Paid & Free Elementor Addons For Blog Posts In 2022
"What about the Posts widget?" – you may ask. Indeed, owners of Elementor PRO have access to a more extended collection of elements, one of which is the Posts widget.
But here is a deal. More users stay on the free side of Elementor because they prefer using custom widgets from third-party addons.
Why so?
Users don't want to pay extras, so they'll be hunting for freebies.
Users search for more advanced widgets alternatives among custom addons.
Below are the 7 best Elementor addons (both free & premium) for displaying blog popular or related posts. Most of them make a library of multipurpose widgets, while others are posts-related only.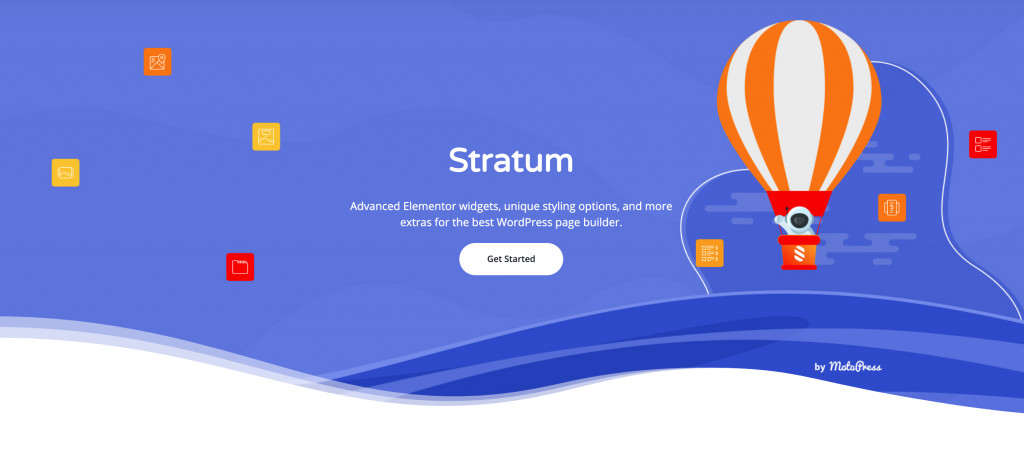 Of course, we want to start our list with Stratum. We are proud to build an almost free solution of such quality, which counts 26+ Elementor widgets for both personal and business needs.
The library consists of elements allowing you to create dynamics sections with advanced styling. One of them is the Advanced Posts widget, and it's made to display:
Latest blog posts (project news, announcements, etc.)
Manually selected posts (e.g. most popular posts)
Any dynamically sourced posts
Compared to the PRO Posts widget, the Stratum one provides us with 4 different styles of display: list, grid, carousel, and Masonry. Users can manually select the number of featured posts or pages by including or excluding the needed ones. The other functionality includes transition behaviors and multiple animation effects for better dynamics. Also, the widget contains customizable UI controls for the carousel posts slider and supports automatic slideshows.
The Advanced Posts widget comes in both free and premium versions of the Stratum addon. Users of Stratum PRO receive a more extended set of functionality for each widget.
In particular, the Advanced Posts widget acquires the next PRO features:
Pagination
List checkerboard
Taxonomies
Terms relation
The "Animate on Scroll" feature
View DEMO of Stratum Elementor Addons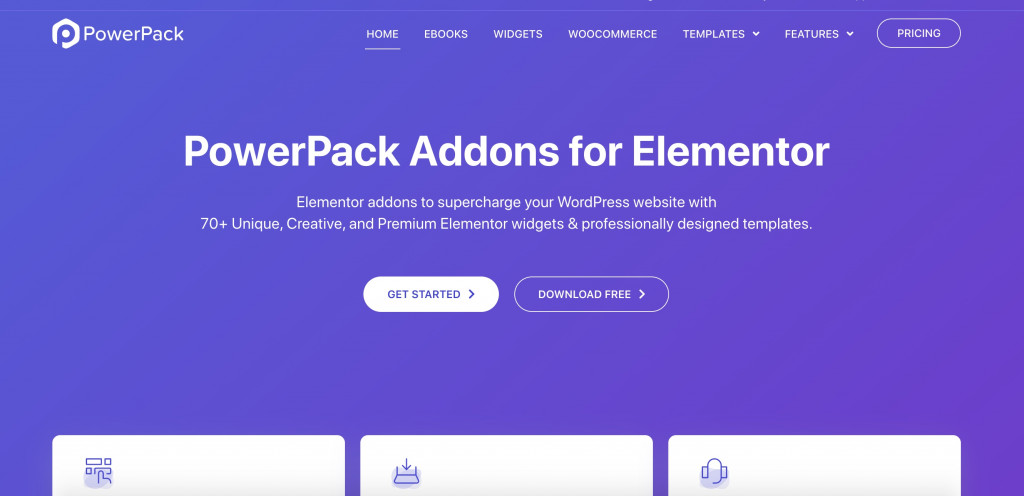 The next WordPress plugin to display blog posts in Elementor is PowerPack. Like Stratum, the addon has its Elementor addons free version on wordpress.org. But unlike the above-mentioned plugin, PowerPack LITE grants free access to only half of all PowePack widgets. Out of six Posts widgets, the free version has only two: Post and Content Ticker.
The Post widget is a standard element for creating blog layouts. Meanwhile, Content Ticker lets you display updates, popular content (e.g. blog posts), or messages on your website. It allows you to display post author & category, display custom content, use clickable items, use images & animation.
In a premium version, you have 4 more advanced elements for the posts display:
Card Slider
Tiled Posts
Magazine Slider
Advanced Posts
With a Card Slider, you can feature posts in a beautiful slider layout. With Tiled Posts, you can showcase posts in a Masonry layout. With Magazine Slider, you can create independent sections with posts displayed as if it's a homepage of an online magazine. The last Advanced Posts widget is very similar in functionality to the Stratum widget of the same name.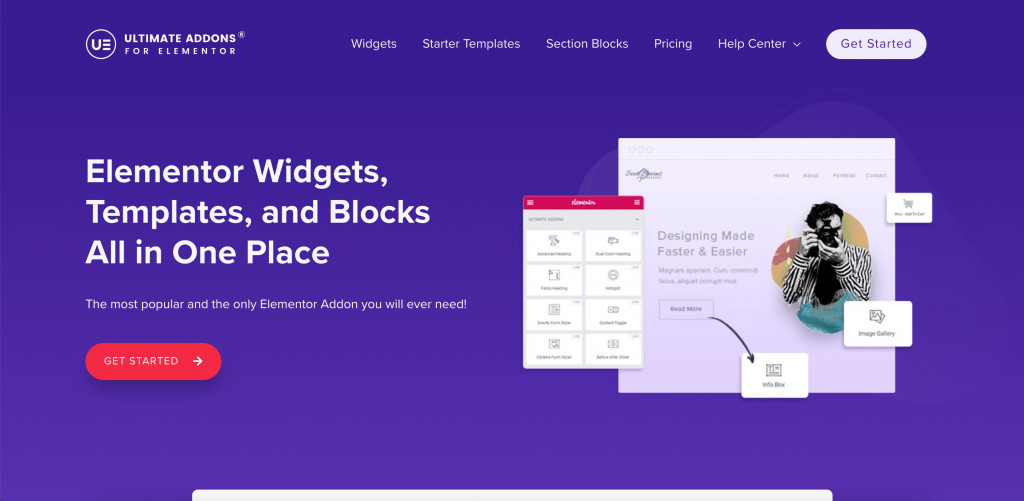 The next library of widgets is premium-only and it's called Ultimate Addons. The plugin is known for providing 40+ widgets & extensions for different purposes. It has a convenient widgets categorization: basic content widgets, creative elements, form style widgets, and widgets for SEO & Woocommerce. On top of that, UA customers will get access to 100+ website templates and 200+ section blocks.
The plugin provides us with a single Posts widget with a standard package of layout options: masonry style, carousel, featured, or grid. Unlike Stratum, UA allows you to filter articles by different categories. The content settings let you fill in the post meta, excerpt, title, and put a featured image. Also, you can enable the call-to-action element in your blog posts section.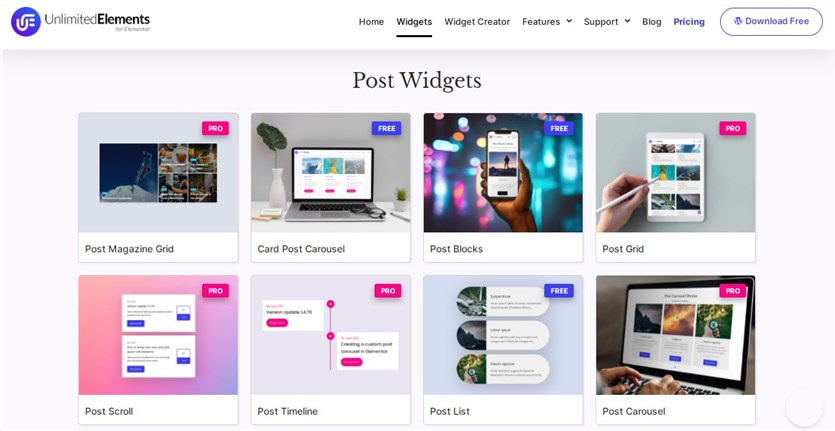 If you are looking for an Elementor add-on that offers multiple widgets to display blog posts, Unlimited Elements might be the one you are looking for. It outpaced all addons for the number of post-related widgets. So far, the addon provides 7 FREE as well as 14 PRO widgets for displaying posts.
The list of free post widgets includes elements for displaying posts in tabs, accordion, blocks, list, ticker, and card post. There is a separate free widget for post pagination. The Pro widgets offer more advanced solutions, such as:
Post Carousel
Post Timeline
Post Scroll
Post Gallery
Masonry Post Grid
Post Slider
…and more.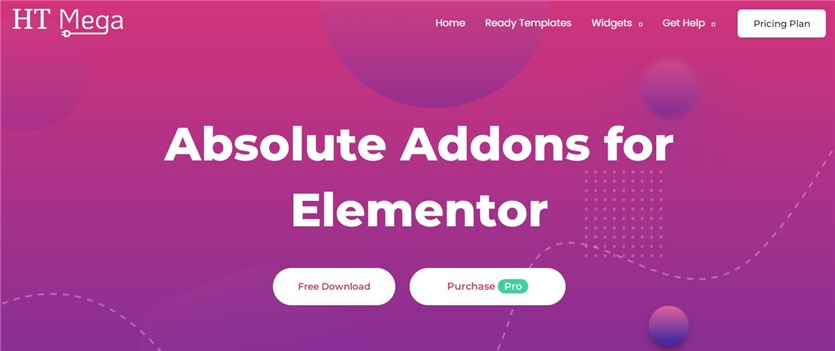 HT Mega is an excellent addons plugin for the well-liked Elementor page builder. It offers a wide range of features, including 84+ free widgets, 90+ page templates, and support for various post types. With HT Mega Plugin, you can create custom menus with ease, using the HT Menu Builder. It also allows you to duplicate posts and pages with the HT Post Duplicator.
If you want to display your post in a unique manner then HT Mega Addons has got everything you need. It offers 5 distinctive widgets to showcase your posts:
The Post Carousel
The Single Post
The Post Grid
The Post Grid Tab
The Post Slider
News Ticker (to display your latest posts in a scrolling ticker)
HT Mega is the ultimate plugin for displaying your posts in a variety of ways on your website.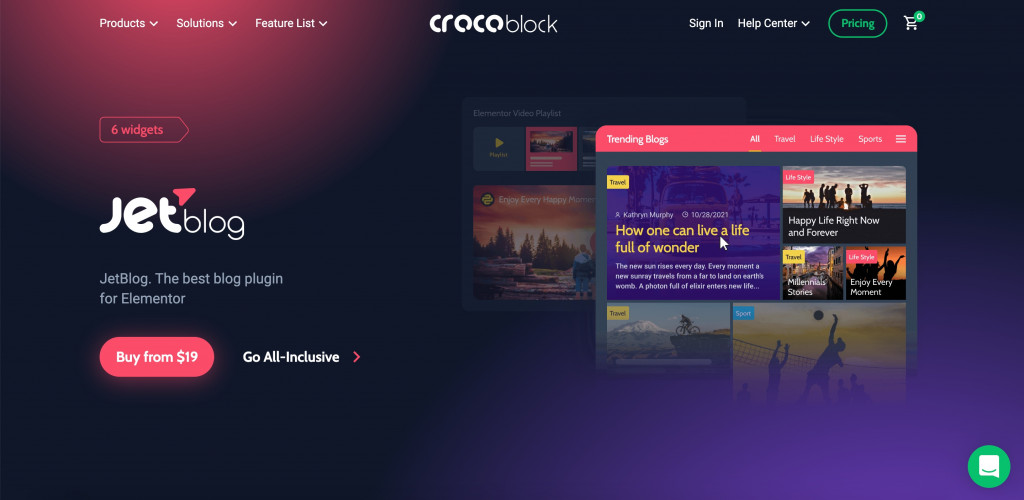 JetBlog is another paid Elementor option for a blog site. Although the addon helps you create advanced blog pages. it's easy to work with. The plugin contains various layouts, custom WP Query, supports RTL, video playlists, post pagination, Elementor tickers, smart posts & tiles and more. Overall, JetBlog offers 6 posts widgets types:
Posts Navigation;
Posts Pagination;
Smart Posts Lists;
Smart Posts Tiles;
Text Ticker;
Video Playlist.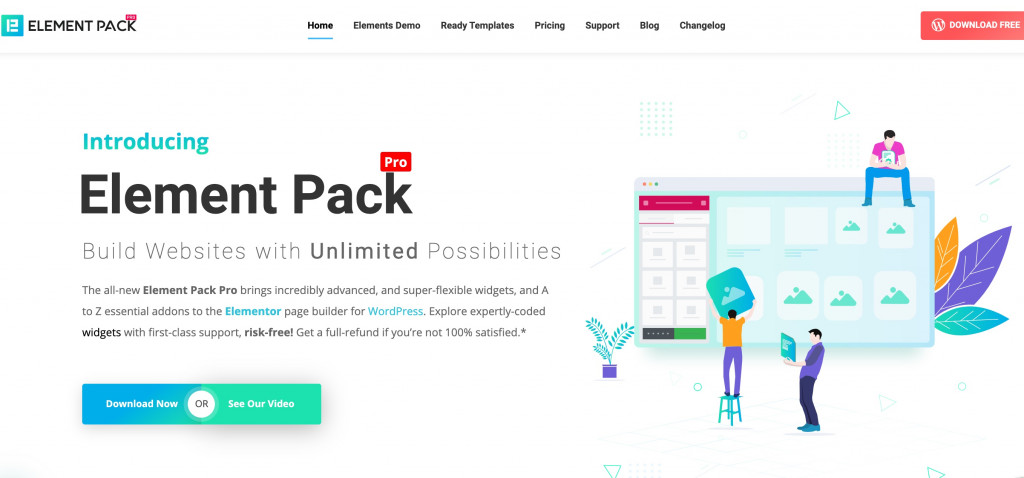 The most significant perk of Elementor widgets libraries is the fact that one addon can substitute a few more. But if you choose Elementor Pack, you will replace more than a hundred plugins. Both free and premium versions of this plugin count up to 200+ essential elements needed for building a website of any size, complexity, and niche. For pro users, the addon offers a unique Widget Creator Framework allowing them to develop new widgets for particular needs.
ElementPack comes with 9 post widgets, yet all of them are available only in a PRO version of the addon:
Post Slider
Post Card
Post Grid
Post Grid Tab
Post Gallery
Post List
Post Block
Post Block Modern
Single Post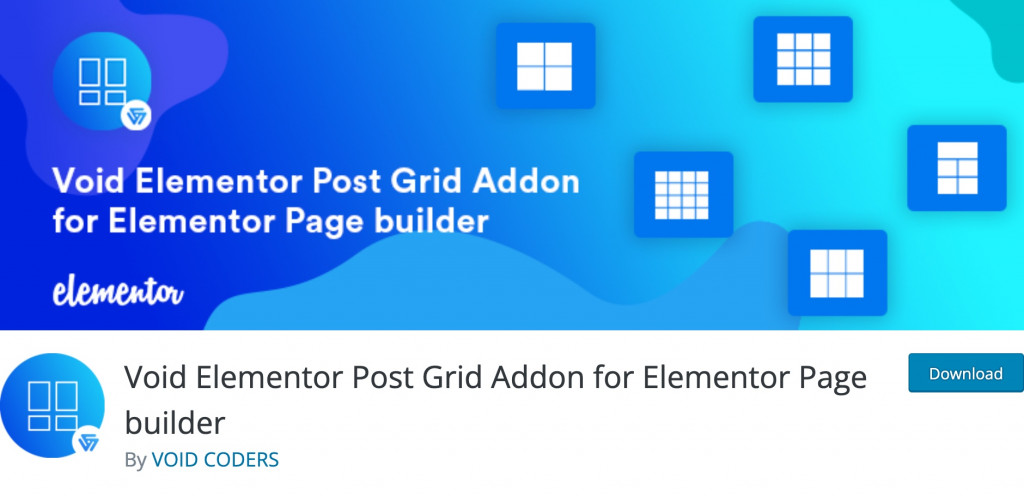 VOID is one of the best free Elementor addons for showcasing posts. It's is not a custom library of different widgets but simply a post grid addon.
The plugin helps you showcase your blog posts, custom post types with custom taxonomy in five different styles:
Grid
List
Minimal
First big post than Grid
First big post than List
As for a free plugin, VOID is a great solution when it comes to settings and their functionality. Whether you want to display blog posts in grid WordPress or show it as a list, you can either filter with a general post or with a custom post type. Also, you can display as many posts as you need, add or remove pagination, post Offset, order them by certain criteria, etc.
Conclusion:
New visitors will not find the killer and most valuable articles on your website unless you give them a hint. Fortunately, WordPress and, in particular, Elementor offers us almost ready-to-go elements for a beautiful posts display. All you have to do is download one of these addons, find the Posts-related widgets, and customize till you are satisfied with a result.
Hope you found this article helpful!