10+ Best Elementor Blog Widgets for WordPress
The blogging industry is developing extremely fast. People are moving online to find a grateful audience and share their experiences on different topics. Because of the many competitors, it becomes more challenging to attract new subscribers. So in addition to different creative ways, such as collaborations with other bloggers, advertising, and online challenges, you need to take care of basic tactics to develop your personal site, namely quality content based on a fast and modern engine.
Moreover, you should be enriched with maximum functionality and features. We'd like to enlighten you about Elementor as the most widely-known WordPress page builder and its feature-rich addons. Thanks to the Elementor blog widgets WordPress provides, you don't have to be tech proficient to use widgets. You can focus on the content rather than customizing the functionality.
There are numerous facts in favor of these very tools you can get in most cases for free. We want to highlight only some of them and move to a more detailed overview.
Why Should You Use Elementor Addons for Your Blog?
No coding required: you can create content-full pages even without special tech skills.
Save your money: many addons offer enough free widgets to cover all your needs.
Rich options toolkit: you'll have a set of features at your fingertips for the right website appearance.
Fast & easy work: beyond doubt, the work with Elementor and its elements accelerates the process.
The Collection of the Best Blog-Related Addons for Elementor
The next Elementor addons for WordPress roundup is compiled of free and premium addons for Elementor. To make it easier for you to make a decision, we make a special section with the topic-relevant widgets to add to the blog. We included the most popular Elementor premium addons and its free alternatives that you can put into force.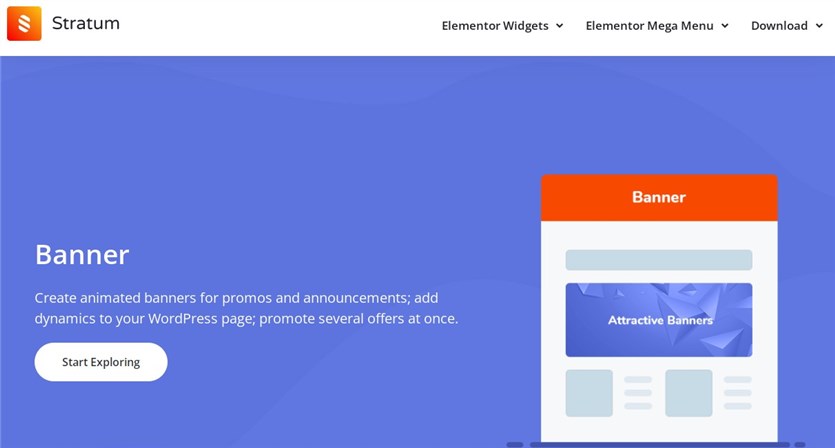 Stratum ships with some blog widgets being free alternatives to the Pro ones in Elementor and other Elementor addons. Stratum is a powerful collection of 20+ free Elementor widgets. They are especially prominent for a wide range of customization options and a minimalistic design.
The plugin is a perfect tool to build a creative and fast blog with extended functions. All the visual elements you get are lightweight and easy to use. There is also a powerful set of Elementor templates enriched by Stratum addon widgets for Elementor. Styles from your theme can be inherited as well. Check out the demos before downloading.
Elementor widgets for blogs by Stratum:
Advanced Posts – the most popular free widget that helps you display your latest posts in different layouts, including an easy-to-customize grid, list, carousel, and masonry ones. Such additional features as advanced term relation settings, posts pagination, and more are available in the Stratum Pro.
Banner – the Stratum custom banners come with eye-catching hover effects to make your blog look dynamic. Moreover, put your content in the alignment you prefer. All functions you receive at zero cost.

WordPress blog widgets can also be found in the PowerPack Addons pack. It offers both free and paid solutions for an attractive blog display. Along with Elementor widgets, you can benefit from some useful extensions. We can name broad styling and customization options, and user-friendly tools as the key features of this addon.
Elementor widgets for blogs by PowerPack:
free Elementor Posts: the name suggests its intended purpose (amazing posts on the Elementor-based pages).
Advanced Posts (Pro): it's possible to present your posts in the selected layout.
Post Timeline (Pro): it allows you to create a timeline for posts.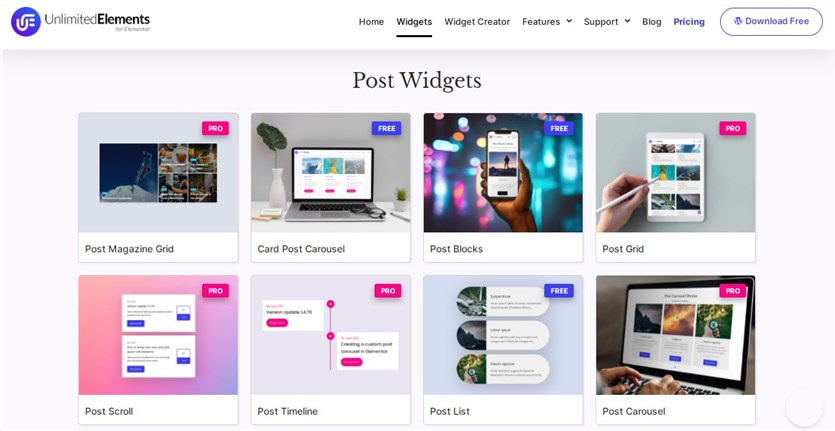 Blog widgets WordPress delivers through Unlimited Elements are effective for your website. You'll find the necessary tools to enhance your blog and make it unique. They are subdivided by their purpose. Take control over all settings and create custom fields. If you upgrade the addon to the pro version, the number of the available widgets in the blog will increase.
Elementor widgets for blogs by Unlimited Elements:
Post widgets: this section is compiled of numerous widgets. So, you can make use of Post Pagination, Post Blocks, Post Tabs, Post Gallery (Pro), Author List (Pro), Post Card Slider (Pro), and more widgets (others you'll find on the product page).
Social Network icons: with Glare Effect, 3d Buttons, Shape (Pro), Circle Fill Effect (Pro), and other widgets, the blog will get to a new level.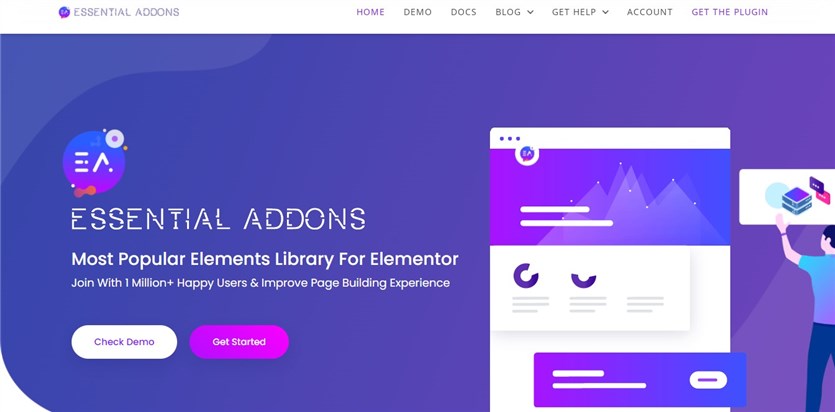 You'll like the Elementor blog-building experience with Essential Addons. Each element is fully customizable for you to accomplish the desired design. Like other Elementor addons in this roundup, it comes with a bunch of useful widgets to blog. They are optimized for fast loading and live editing processes.
Elementor widgets for blogs by Essential Addons:
Widgets for posts: the list comprises Post Grid (with 4 unique styles) and Post Timeline tools.
Content Ticker: utilize slider & ticker effects if necessary.
Post Block (Pro): at extra cost, you can post your content in different styles.
Post Carousel (Pro): it lets you display multiple posts at once.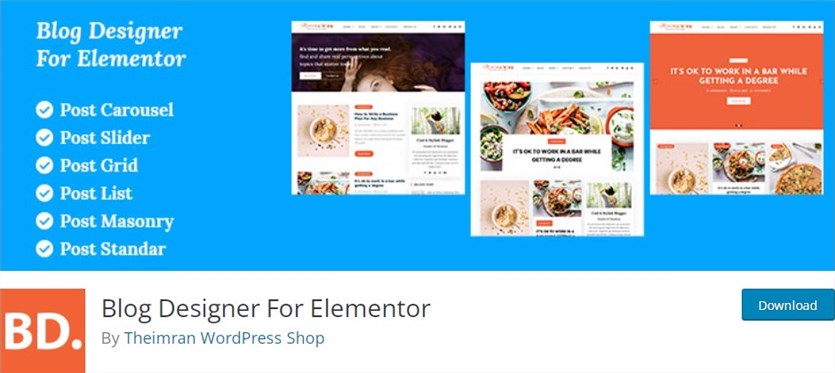 Blog Designer is one more source for the free widgets blog can be favored with. They are deeply responsive and ready for your modifications. All the available options are user-friendly and boost your page-building skills. You'll need no coding skills to engage more visitors to your blog.
Elementor widgets for blogs by Blog Designer:
Post Carousel / Slider: you can showcase your posts by categories in 8+ nice slider layouts and even add page pagination. There are also such specific features as Auto Play On / Off, Smart / Fluid Speed, Mouse / Touch Drag, and more.
Post Layouts: exhibit the posts by categories / per page, employ show or hide options, and manage post thumbnail size & position.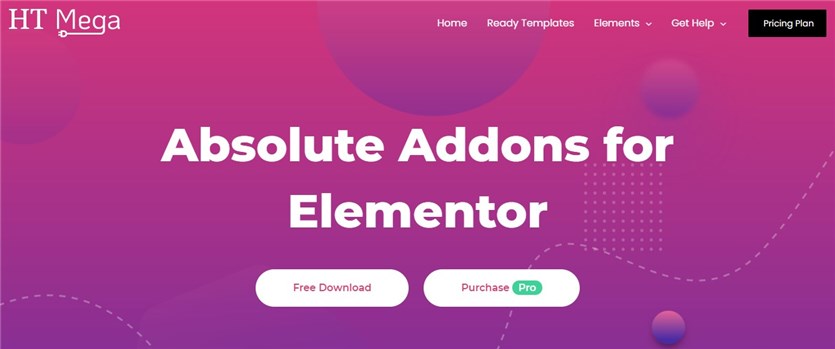 HT Mega enhances your website with a considerable number of widgets and blocks. Plus, they can have variations. This absolute addon is furnished with responsive and fully customizable elements that support Google Fonts, 15 categories/template sets, and 15 page templates in a free version.
Elementor widgets for blogs by HT Mega:
Layouts for Posts: display them in Grid, Slider, or Carousel layout. Or else, add to your blog a single post with its individual style.
Banner Box: it comes bundled with 4 fashionable styles.
Social Share: social network icons can be shown in 9 different ways, from minimalistic to extended ones.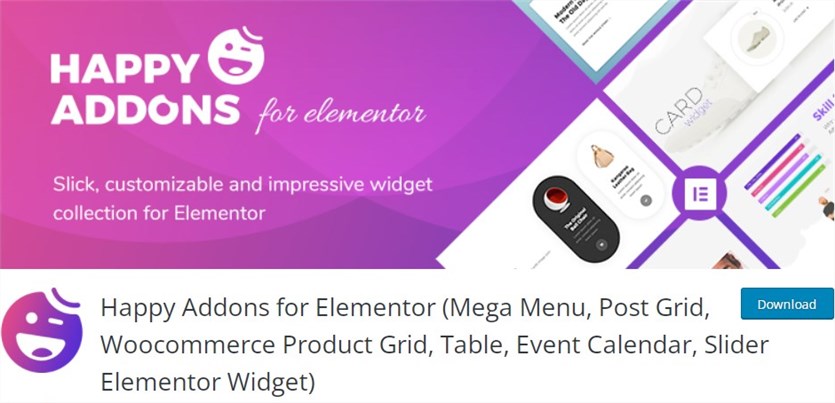 Happy Addons presents free and premium blog widgets WordPress users will enjoy while working on the Elementor-supported blog pages. They are notable for broad customization options and special designs for each element. By the way, the addon embraces 70+ full-page Elementor Templates and 400+ readymade Elementor blocks.
Elementor widgets for blogs by Happy Addons:
Elementor Post List: check out this Elementor posts widget to list your posts creatively without charge.
Social Share: place it on your page just dragging the widget to the necessary section.
Post Grid / Carousel (Pro): present your pages in the grid or carousel view using pre-made skins.
Author List (Pro): tell about the writers in one area.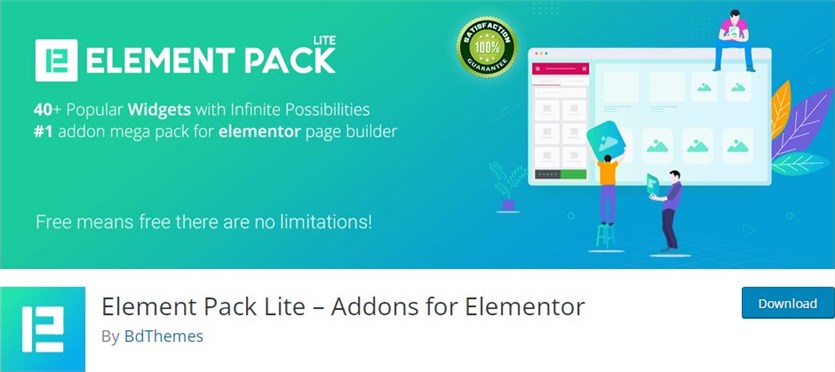 Element Pack is a popular professional solution for website building. Users will come across 40+ flexible widgets and drag and drop editor. These are the keys to hassle-free blog creation. There are free solutions, but the widgets we find important for the blog are included in the paid version.
Elementor widgets for blogs by Element Pack:
Widgets for Blog Posts (Pro): such widgets as Single Post, Post Slider, Post Card, Post Grid, Post Gallery, Post List, Post Block, and more belong to this group.
Social Share (Pro): you'll get a handy blog widget to keep the visitors involved.
Comment (Pro): stay in touch with the readers to exchange opinions.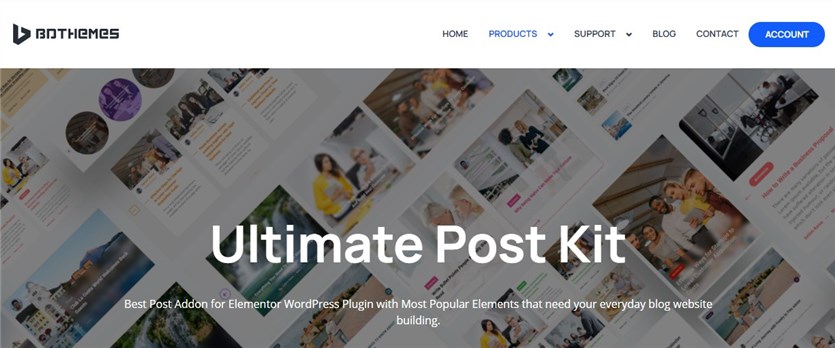 Ultimate Post Kit is another component of the Elementor addons list meant for blogs. It suggests numerous post-related widgets and the drag & drop feature. You can control them with no programming skills. They help manage all the content you want to publish. It's also possible to view all the demos (here are only some of the relevant widgets).
Elementor widgets for blogs by Ultimate Post Kit:
Widgets for different post layouts: the categories include Alex, Alice, Alter, Elite, Hazel, and more. Each of them implies Grid / List / Carousel and other layouts.
Author: people sometimes want to know more about bloggers.
Post Calendar (Pro): along with extra layouts, the premium addons version offers to acknowledge visitors about post date.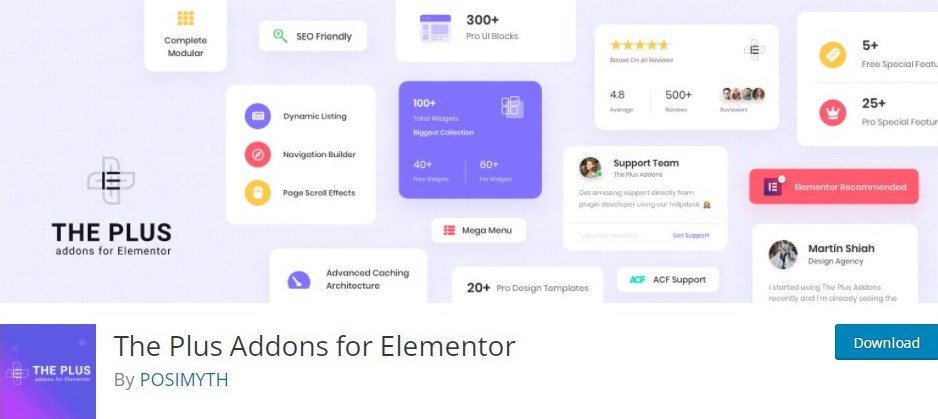 If you choose The Plus Addons as the main tool, you will stay satisfied with the widgets & extensions, blocks, and pre-designed templates it provides. Integrate it into your work without coding knowledge. On the website, you can study all the suggestions, but now we'd like to stop on the WordPress blog widgets.
Elementor widgets for blogs by the Plus Addons:
Blog Builder: this widget is aimed at easy blog building. It concerns post title, content, featured image, meta, author, and comment sections.
Blog Posts: the posts can be strengthened through Grid, Masonry, Metro, and Stagger Load layouts and their customization options. The number of layouts is wider in the premium add ons version.
Post Navigation & Post Search (Pro): they simplify the navigation process for website visitors.
Social Sharing (Pro): in this case, you have to pay for this widget to share social links.
In Closing
We recommend you to have a look at the presented list of Elementor addons and blog widgets WordPress offers you for free or at a certain price. They were designed keeping in mind the user experience, SEO standards, and ease of use. These tools will help you make public your content in a visitor-friendly way. Plus, properly designed content on well-structured pages will drive traffic to your blog.
You should keep pace with the new trends in the blogging world to make your visitors enjoy your posts. Choose only the best widgets from one of the Elementor addons and add them in simple mouse clicks!