15 Top-notch WordPress Menu Plugins
When people google something, they receive a list of websites to visit. But where do they stop? Nine times out of ten, the website attracts their attention with clear and good-looking navigation areas. The most useful tool, in this case, is a menu that can be made with WordPress menu plugins. It performs functional and aesthetic purposes at one stroke.
Even if you are a WordPress website owner, the default menu isn't likely to help you reach the desired effect. That's why you must look for the best menu plugin with the necessary features and learn how to make a menu.

The range is wide because there are many WP menu plugins. Making this list of the best menu plugins WordPress developed, we keep in mind the well-known demands on the website menu. This collection of free & paid menu plugins for WordPress will complete the task of creating a well-structured menu.
The Collection of the Best Menu Plugins for WordPress
The clear and beautiful navigation area appearance depends on the WP plugin you choose. All of them provides you with a sufficient features toolkit to build a perfect menu. Let's move further to all suggestions!
Elementor, one of the most popular page builders, can be a great combo with the Stratum Mega Menu addon. It serves as a tool for adding mega menus on different Elementor-based websites including e-stores, business, and news pages.
Alongside numerous color and typography options, you get access to the rich collection of Elementor widgets. Apply them to your mega menu and make the navigation menu of your website diversified, multimedia, and extremely informative.
The big advantage of this plugin is three possible layouts that make it fully responsive. You can choose between horizontal and vertical menus. There is an option of a hamburger menu for mobile devices. Any extra element e. g. icons or badges can be inserted into these menus and customized.
The Elementor Stratum Mega Menu plugin is perfect for anyone who wants to improve their website visitors' navigation experience.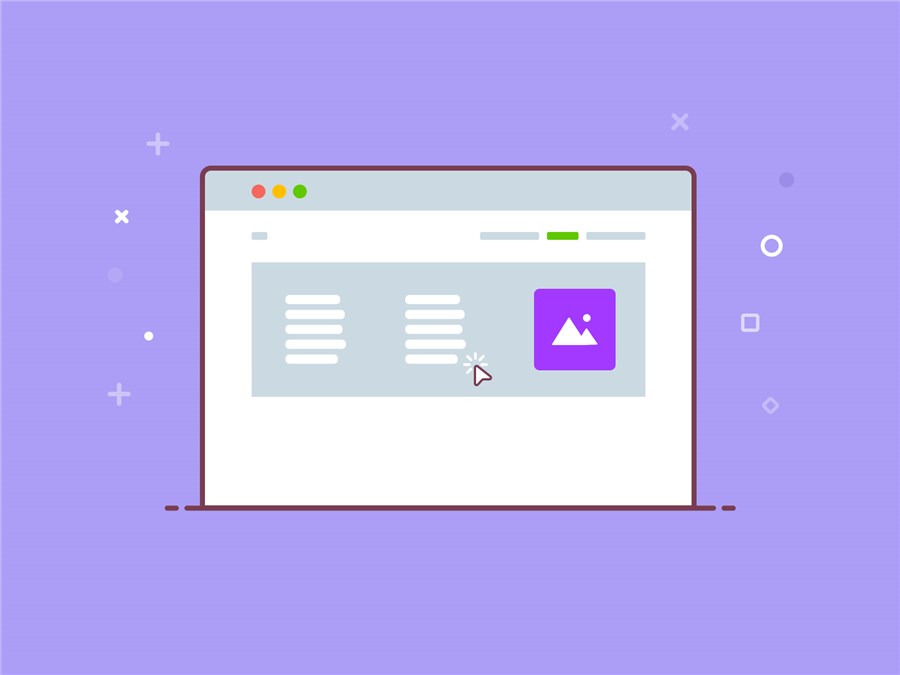 Gutenberg is a great base for everyone who's searching for how to make a menu. The Mega Menu Block plugin proves this claim as one of the WordPress mega menu plugins free for downloading. The navigation area on your website can be filled with customizable content blocks for Gutenberg, regular block editor elements. No coding skills are required to set up a vertical or horizontal layout, or even switch to a hamburger menu for mobile devices.
The structure is an essential part of good visual perception of the website. Hierarchial blocks of this one of the best WordPress mega menu plugins help to gain it irrespective of the menu type. Moreover, this plugin offers inserting submenus in the menus, thus allowing to build up to three levels of the navigation menu with Gutenberg blocks
Different elements in this structure are ready for changes. You can play with labels, colors, typography, and sizes options. Mega Menu Block for Gutenberg is a productive plugin for a free menu solution.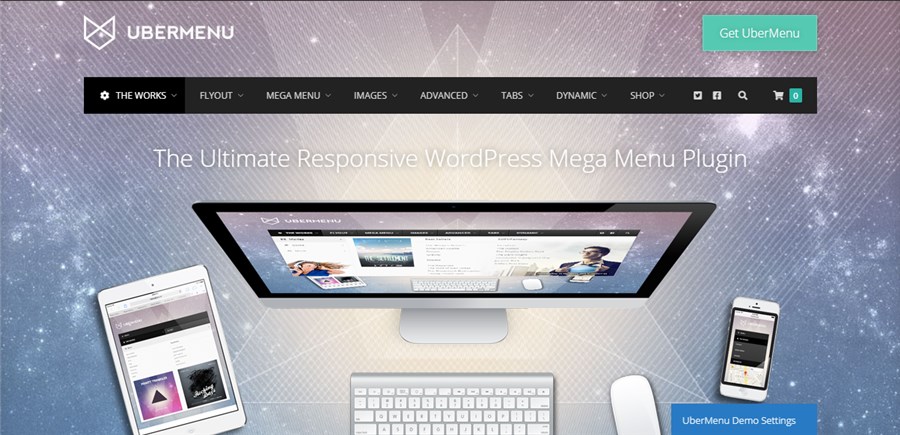 UberMenu has some captivating features to make the menu on your website unique. This one of the leading menu plugins for WordPress was designed to organize different types of menus, namely, flyout menus, drop-down image menus, mega menus, and tabbed menus. The navigation areas on the website will become rich in displayed content.
Many preset menus are available, but their appearance is customizable and under your control. You can place different items there, from numerous icons to images. The big plus is that the created menus can be viewed on mobile devices, meaning that it is a 100% responsive menu plugin for WordPress.
One of the most distinctive features is represented by the dynamic menu. Thanks to this option, you can avoid static links and set up displaying the latest content on the menu. By the way, it will suit well bloggers' purpose.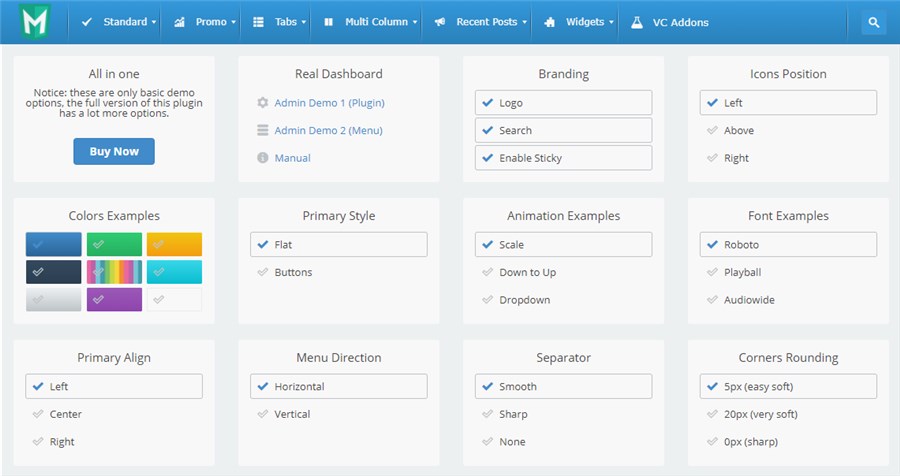 Mega Main Menu is a premium WordPress suggestion for the trendy menu on your website. Coming closer, you will highly evaluate the collection of 10 dropdown variations. Menu links, text, images, widgets, and shortcodes can be easily placed in this navigation area.
The menu color comes in harmony with the general website look since many color options are available. It is necessary to leave an impression of the elements unity. Besides, you can insert the logo into the menu to make it memorable.
To improve the menu effect, add icons from the Mega Main Menu collection of 1600+ vector icons and choose one of the 600+ customizable Google fonts. The definition of the menu made up in the visitors' minds can be extended with the help of this leader among WordPress mega menu plugins.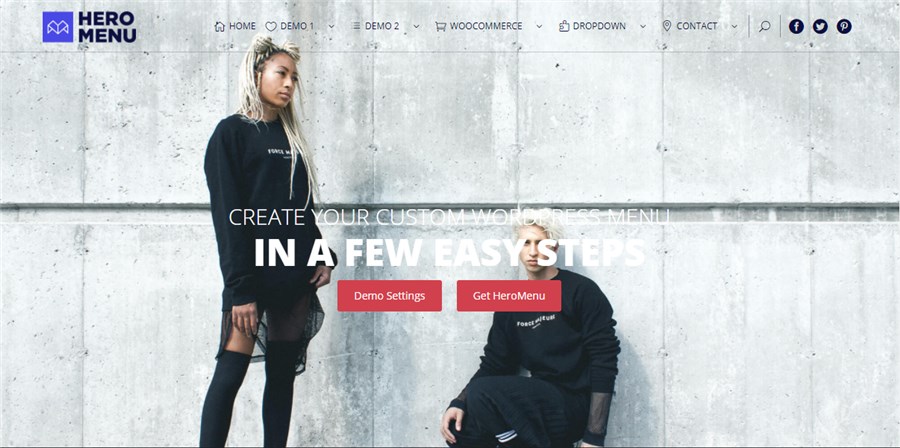 To build a responsive menu, you need to install Hero Menu. Then you will notice that this WordPress plugin is easy to use and meets your requirements. It helps you create both simple and mega menus depending on their purpose. Drag & drop designer simplifies significantly the navigation menu creation process.
It is integrated with WooCommerce enabling you to showcase products or categories of your store right in the menu. This menu can be also enhanced by gorgeous background or featured images for better visual perception.
Select color from 60+ color presets or create your own palette as you think fit. Available Google fonts, icons, maps, and contact forms will give a strong accent to your menu and its elements. For the reason that this WordPress menu plugin is mobile-friendly, the menu can be seen on any screen size.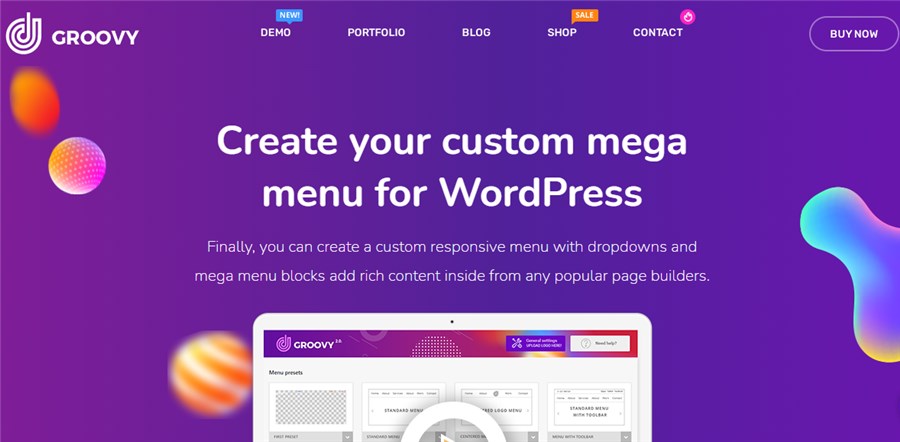 One of the core features of another paid WordPress menu plugin is its compatibility with all WP themes and page builders such as Elementor, Divi, WPBakery Page Builder, and more. We are talking about the Groovy Mega Menu that solves your issue of a content-rich menu.
Being fully responsive, it offers you a library of presets that can be an alternative to your designer solution. They are customizable, everything depends on your choice now.
There are so many ways to modernize the menu on your website. For example, you can add widgets and shortcodes or pick the menu color and the background to display. Another point is the choice of a menu location. It can be placed on a side-on vertical panel or be sticky.
Many features of the Groovy Mega Menu plugin make it multifunctional and effective in the navigation area upgrade.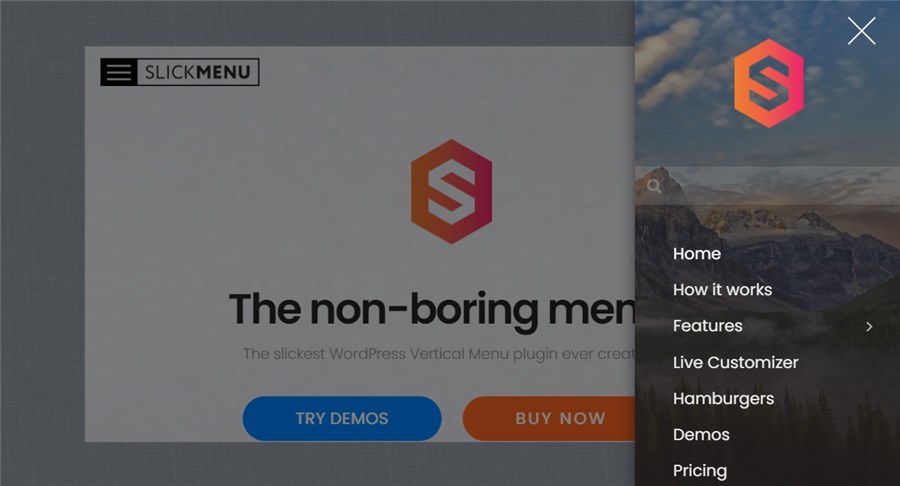 The next menu plugin for WordPress in our list is the Slick Menu plugin. It can be used for a menu with unlimited levels, each with separately customized options and 14+ animation effects. Switch easily between them and fill them with different menu elements.
The design of the plugin is 100% responsive expecting it to be accessible on all devices. Live Customizer allows you to view all the changes and check whether they fit or not. User experience will be greatly improved by employing an attractive background as it can be supported with images or videos.
The top place in the key features of this WP plugin is occupied by 14 animated hamburger menus. Their position, size, and colors are deeply customizable. Practice your designer skills during easy vertical mega menu creating.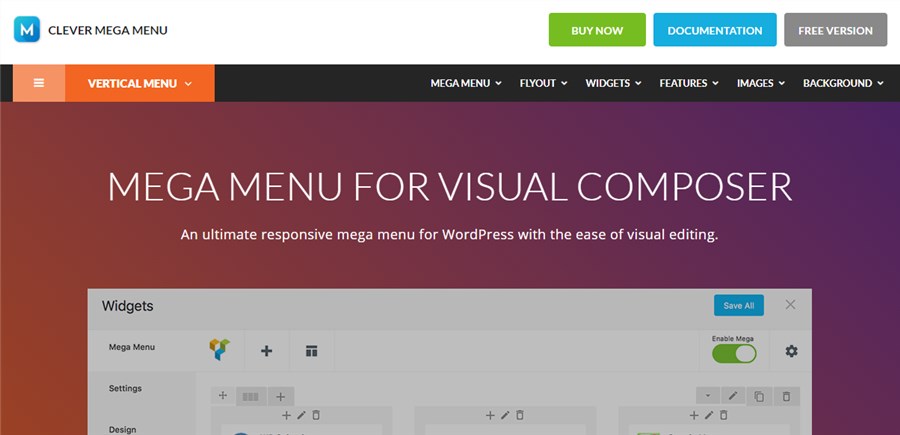 The Clever Mega Menu plugin turns out to be the user-friendly WP menu plugin adapted for WPBakery Page Builder. That means that in the mobile mega menu build-up you use its interface and benefit from its main options.
The menu can feature different content categories and layouts as well as a set of Font-Awesome and Clever-Font icons. This mobile-friendly plugin aims at full control over the mega menu customization and navigation menu area improvement. An ability to design tabbed submenus is also worth mentioning.
You can create not only a simple but even a good-looking mega menu full of multiple widgets, shortcodes, images, and lots more. That's an important point that there is an opportunity to construct the mega panel image that will impress the visitors at the first glance. With Clever Mega Menu, your menu will be outstanding among others.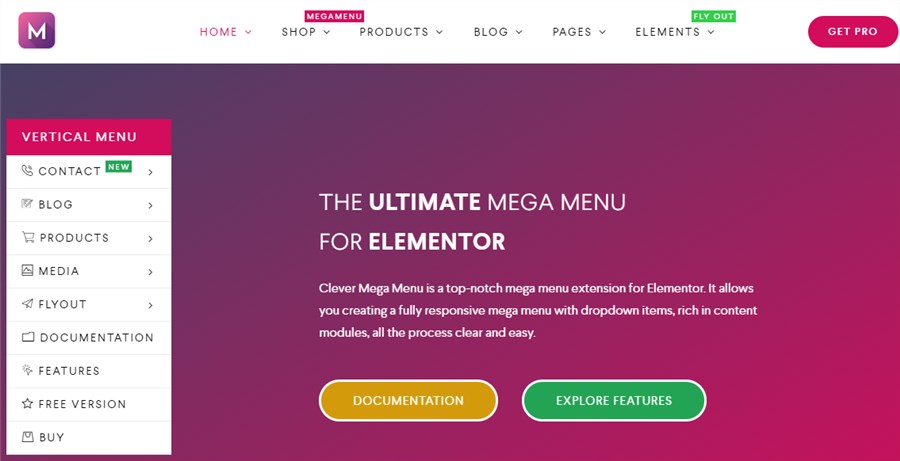 An integration with Elementor page builder makes Clever Mega Menu easy to use and one of the best menu plugins for WordPress. Drag & drop designer can be named as the key reason for this. The Elementor Custom Menu is a tool for locating your menu in any page section.
One of the widespread demands among WP users is a customizable plugin. And the Clever Mega Menu plugin meets this requirement to the full extent as you make decisions about the menu size, color, and background. Set up a menu layout that you want (horizontal or vertical) without coding knowledge.
With this plugin, you embody the idea of fully responsive design and answer on how to make a menu that is adaptable to all screen types. After all, users will see a well-organized structure of your menu from different devices.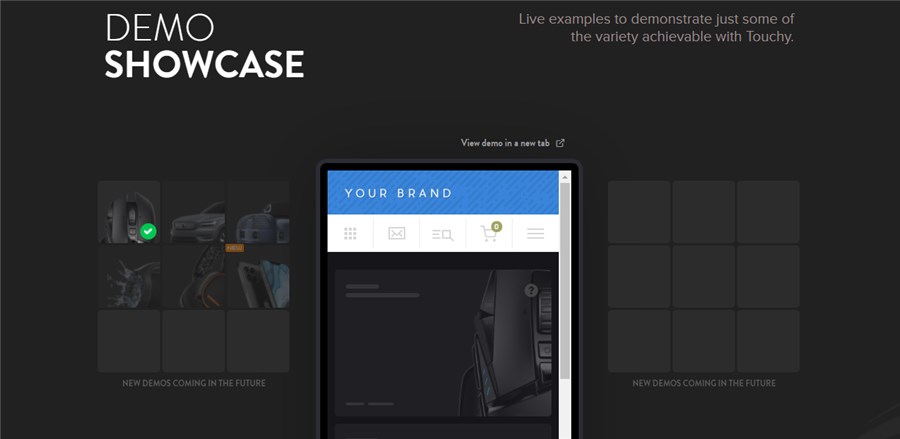 Touchy is the perfect premium WordPress plugin for menus displayed on small screens. The website visitors will be glad to enjoy the content-rich menu created purposely for their smartphones. The plugin can be added to any of your WordPress themes.
After several updates, Touchy is a great navigation tool for the website you develop. It offers customizable options for the header too. The logo can be featured with different colors and sizes, or upload an image in this area. Additionally, you can hide the header or other menu elements.
Although your menu can contain many levels, the navigation won't get complicated with Touchy. This plugin ensures a high rate of 1500+ icons customization. Animation effects and the scrolling option help make each level reachable. Call/ e-mail/ search/ back/ WooCommerce cart icons are prepared for easy integration.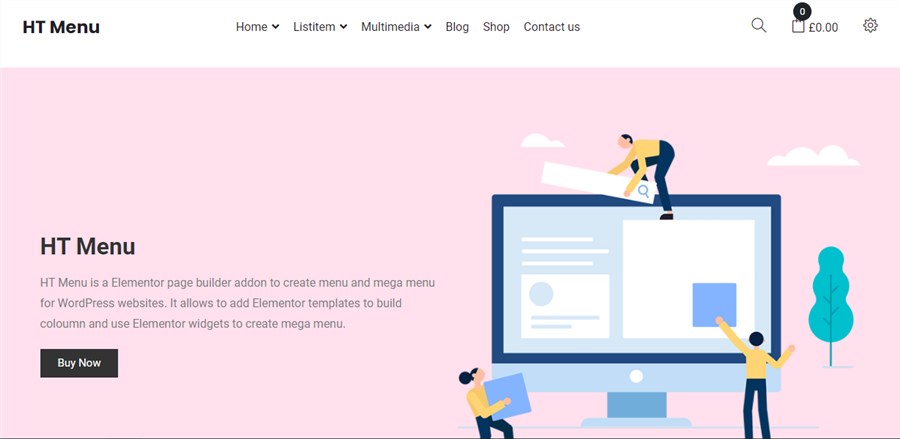 The Pro version of another WordPress menu plugin, HT Menu, extends your dynamic navigation area development opportunities. It empowers you with the main options needed for the unique menu.
Firstly, Elementor Page builder is a reliable base utilized by this WP plugin in creating menus and mega menus. Consequently, it becomes the source of numerous widgets and column layouts. You can also add Elementor Template under a menu.
With HT Menu Pro, you get access to picker and color icons and such badges as color and
background color. The width of the individual menu can be regulated what's convenient. There is also a place for sub-menu position insertion.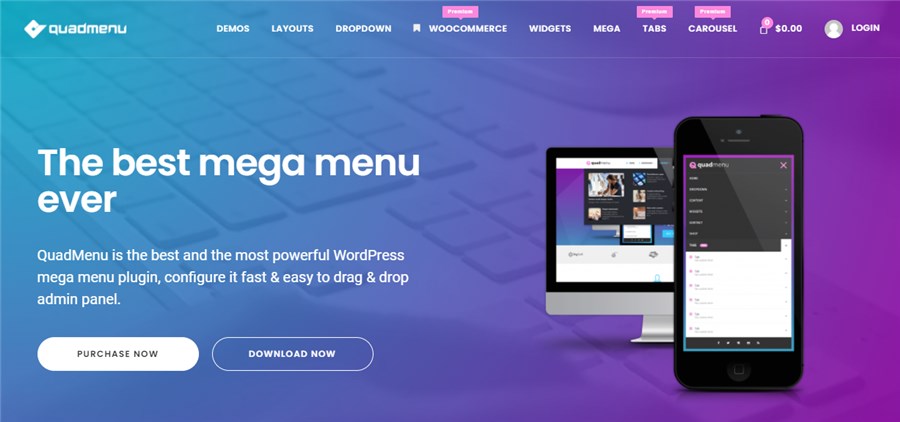 The QuadMenu plugin is another opportunity WordPress provides to create a menu free of charge. Plus, this mega menu can be manually or automatically integrated into your WP theme in a single click.
The work with this plugin suggests a choice of a suitable menu layout. It can be a horizontal, vertical, off-canvas, or sticky menu that explains the fact of this plugin top-level. The drag & drop interface simplifies the setting up process.
You are sure to cope with the changes in your menu look. Beyond that, preview them in real-time. The free version supports WP widgets, icons, cart, and dropdown style while pro features include tabs, carousel menu, and more.
Alongside responsive design adjustable to any screen size you get the plugin with touch screen events to improve user experience. The defined menu items can be hidden depending on the screen size. This feature highlights this plugin over others listed.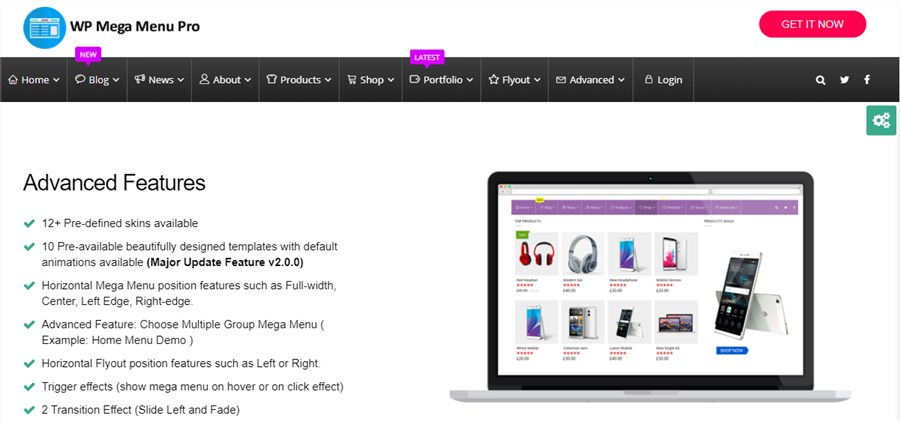 Our collection of mega menu plugins includes WP Mega Menu Pro. With this premium plugin, WordPress offers you to create a tremendous mega menu featuring many structural elements.
You face 10 amazing pre-designed menu skins and the opportunity to work on your mega menu. You get both vertical and horizontal layouts alongside mega menu and flyout submenu styles. The number of customization options is limitless as you can customize icons, colors, fonts, and much more your menu to fit your website perfectly.
What's great about this plugin is that you fully control the navigation area and can add, for example, multiple tabs or make your menu sticky. A rich package of features enables you to insert links, images, or text making the menu visually attractive.
The secret of the WP Mega Menu Pro plugin popularity is in multiple design offerings for users and being 100% responsive.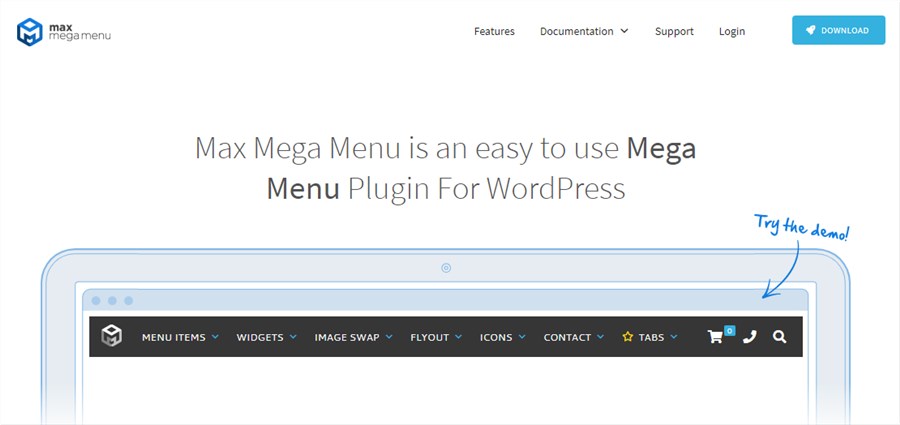 The Max Mega Menu plugin gets you interested as one of the best free WordPress menu plugins. Some reasons are leading to the choice in favor of this plugin. Drag and drop editor, working parallel to the default WP editor, makes the menu creating easier and full of additional customization options including color, text, type, and others.
The plugin offers you to create a menu free and select a format among flyouts, submenus, tabbed menus, and vertical layout. The navigation menu area can be completed with icons, WordPress widgets that make it more advanced for the website visitors.
You manage your menu behavior in the built-in WP settings. This functionality establishes your control under the mega menu. It also allows you to organize the sub-menus. In particular, you can apply animation effects in this section such as hover, click, fade or slide up.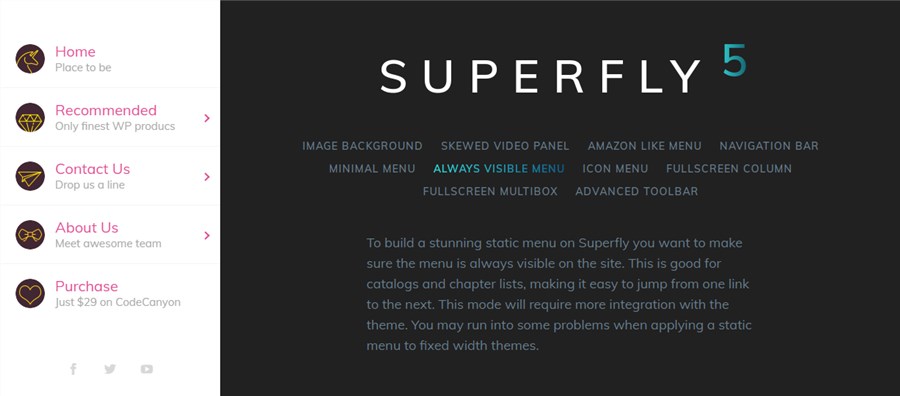 Superfly Responsive Menu is one of the top responsive menu plugins for WordPress necessary for your website if you are looking for a vertical menu system. Your menu can be presented on desktop and mobile devices in different ways: skewed, full-screen, or even icon layout.
Live Customizer is in your toolkit to alter the menu elements as you wish. Give your glance to the full-packed icon library. Above that, you can add a contact form to upgrade the communication opportunities for the visitors or enrich the menu with WordPress widgets, custom HTML, and shortcodes.
To expand the displayed information, create a menu with multiple levels. Each of them is visible on the extra panel. That's an easy task with Superfly and its main features. You'll love this WordPress plugin thanks to different modes and content-rich navigation area.
Closing Words
To sum up, you have an opportunity to look at the menu plugins WordPress designed for multiple purposes from different angles and explore deeper the topic of how to make a menu. We made a mix of free and premium plugins offering you plenty of options. The main task of this post is to encourage you to make the navigation on your website creative and, maybe, fun.
Even the most interesting website can be missed because of the boring and unattractive menu. After monitoring the WordPress menu plugins order online one of them and continue work on your website improvement!