How to Create the Best Spa Website on WordPress
It's important to stick to a niche-specific theme if you plan on opening a spa & salon website on WordPress.
Such a spa template won't just deliver the right set of tools, it'll also save you a lot of time on the customization routine – since it as a rule comes with loads of pre-designed blocks you might ever need.
In this tutorial, we're about to show you the major steps of creating a spa salon website on WordPress with the professional dedicated theme, the Lotus appointment spa salon WordPress theme.
The Lotus theme is designed with the right look and feel for a beauty salon WordPress site. It perfectly suits the needs of beauty, wellness, hair, nail and spa websites – and everything in between.
Spa Website Template Features
In addition to that, the Lotus spa WordPress theme also comes with a pack of convenient features to manage online appointments.And this is often a must-have thing to automate appointment scheduling via your site.
All you'll be required to do is to upload your text and multimedia content, add your staff bio, describe services and set up the booking settings – the last one is optional, though.

If you are aware of the WordPress page builders, rejoice, because this theme is created with Elementor, one of the most powerful, creative and popular WordPress design tools and page builders. It'll let you solve any customization task, with the default instruments or third-party Elementor addons, the range of which is amazing.
So let's get down to business and show you how to build the best spa website on WordPress.
Of course, we assume that you've already managed the spa website installation and initial configuration things and browse through the main routine steps.
Make your spa salon website look like a professional demo
First off, you're able to import the demo data from the default Lotus demo – it will give your new site the exact professional look of the spa design demo and will make it easy to change it using your content via visual builders.
Lotus comes with a one-click demo data import tool that will help you import sample data in a few clicks.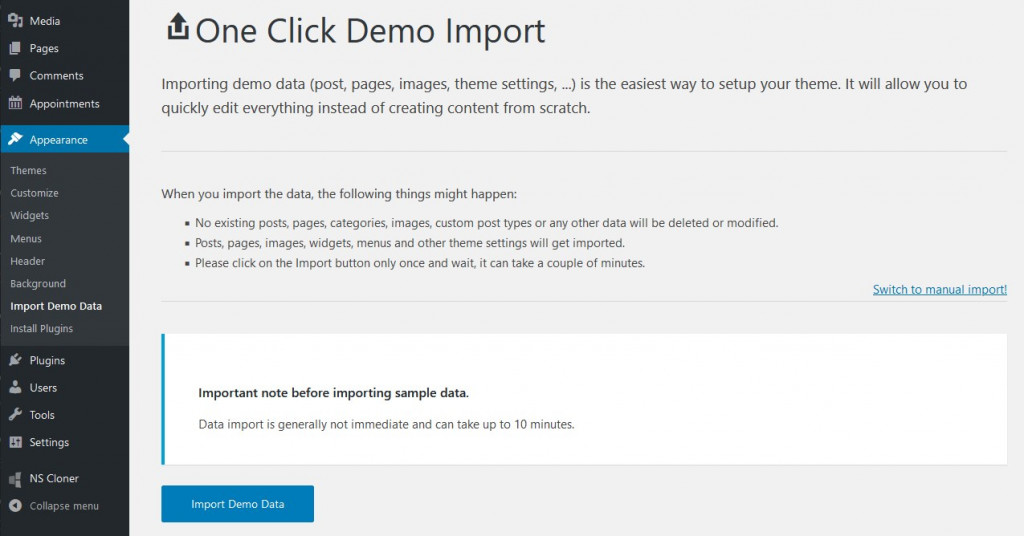 Niche-specific parts of the Lotus spa appointment theme for WordPress
How to create a salon Website on WordPress? There are two easy ways to customize the theme: some global, site-wide edits you need to perform via the WordPress Customizer.
The Lotus WordPress salon theme comes with a selection of pre-made layouts and site sections, including for the spa appointment site needs.
Contacts and an appointment booking direct button.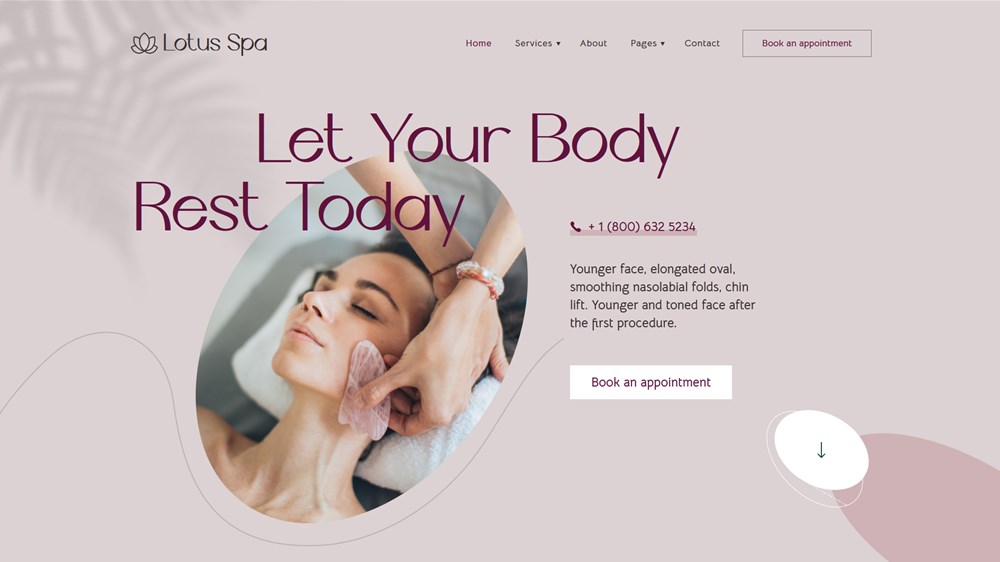 Call-to-action section that you can link to the Mission, About us, Expertise or any other intro pages that are usually a must on spa salon website templates.

The service booking widget (fully customizable – you can remove or rename fields, etc.)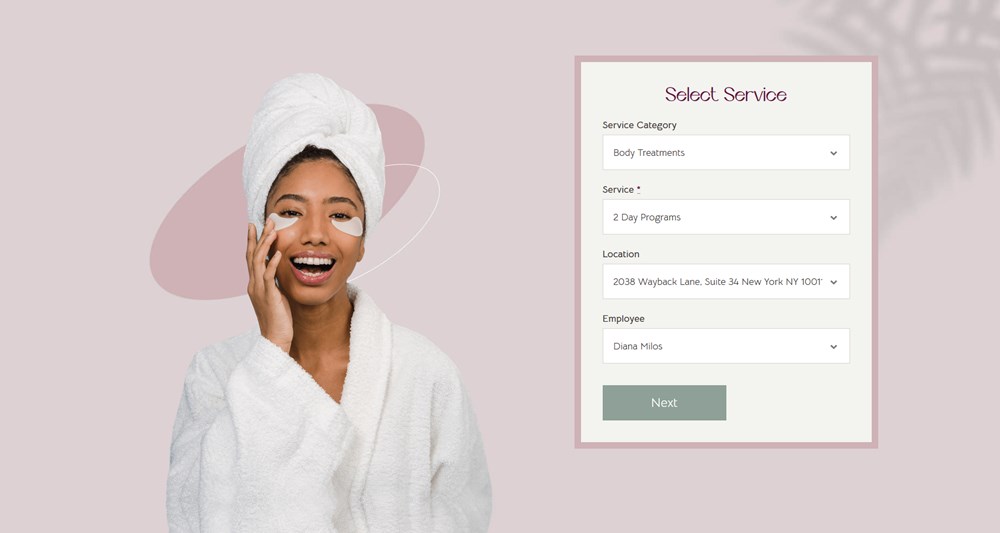 The services listing (there are several templates with and without prices).
A slider with your spa website services.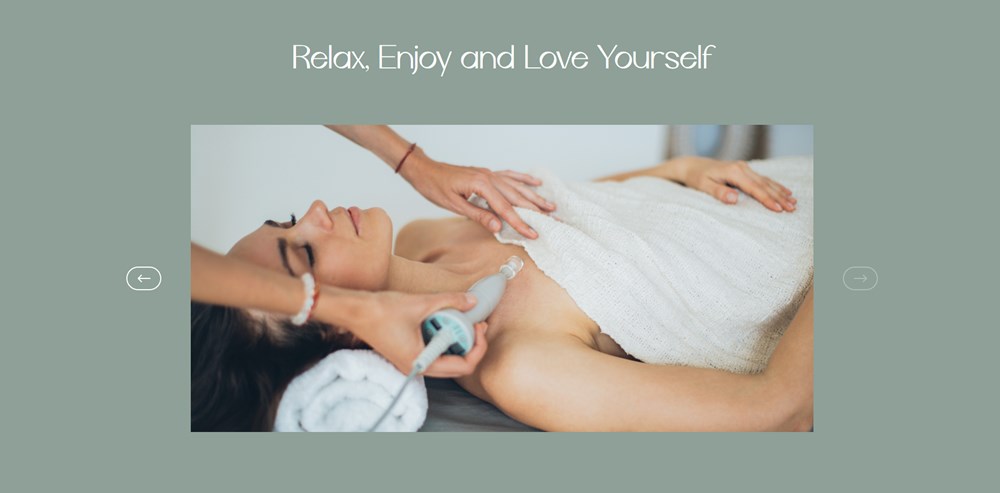 An awesome team slider (custom-crafted).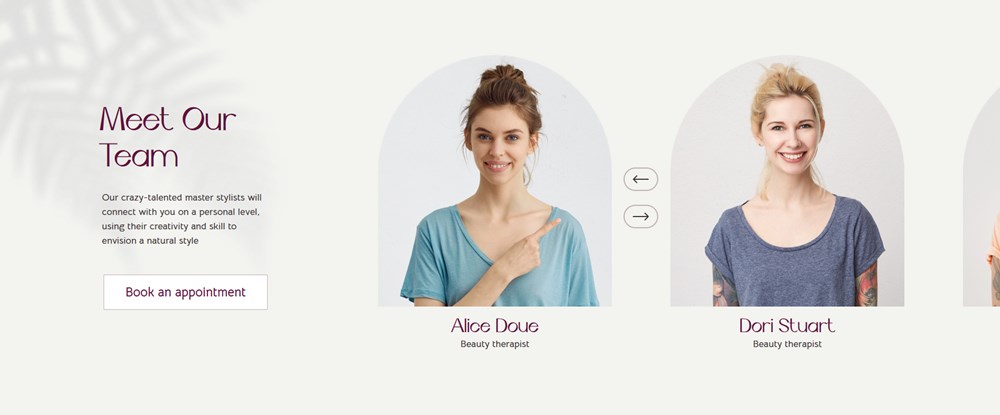 Lotus comes with the custom styling optimized for the list of employees sourced by the MotoPress Appointment Booking plugin).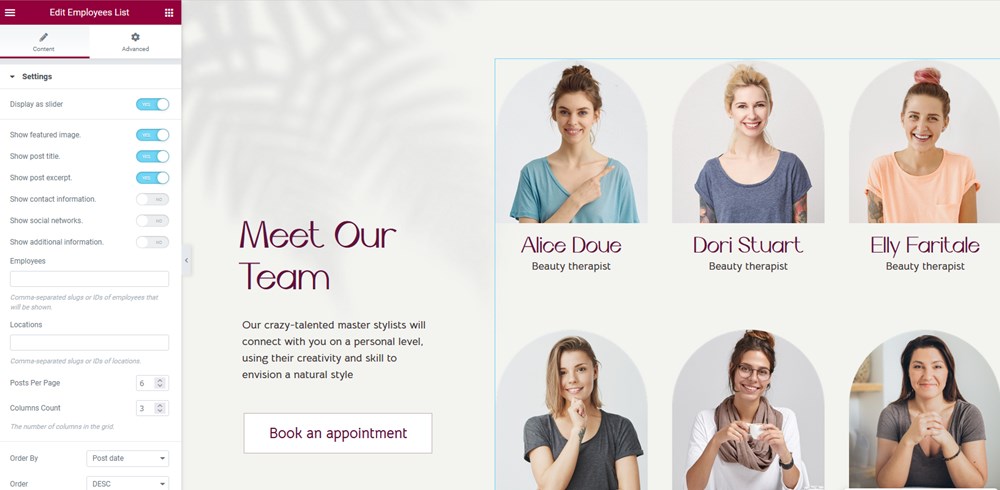 This means you can easily, with a few button clicks, decide what to show about your team (name, title, avatar, social media info, contacts, etc.). It's one of the important things to showcase your team when you create a salon website on WordPress.
Gift cards (these are custom-crafted widgets delivered by the extra Lotus engine installed with the theme).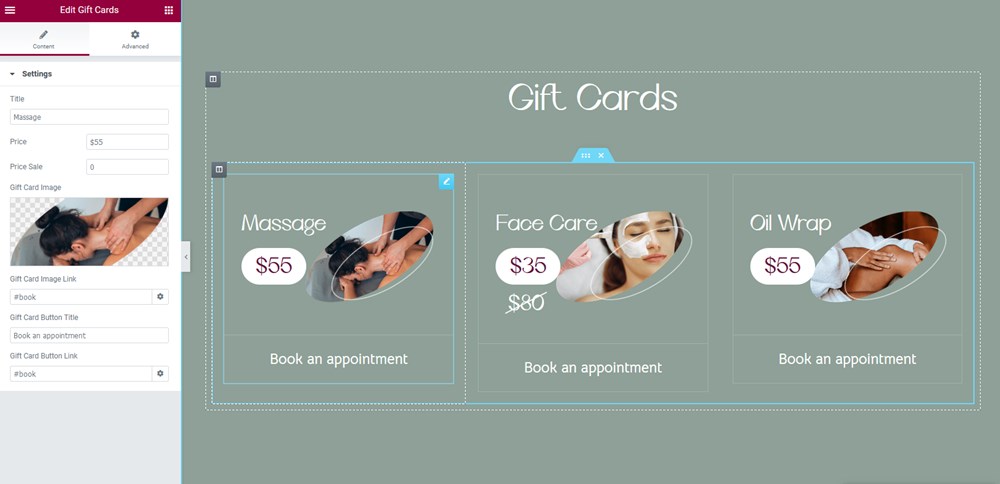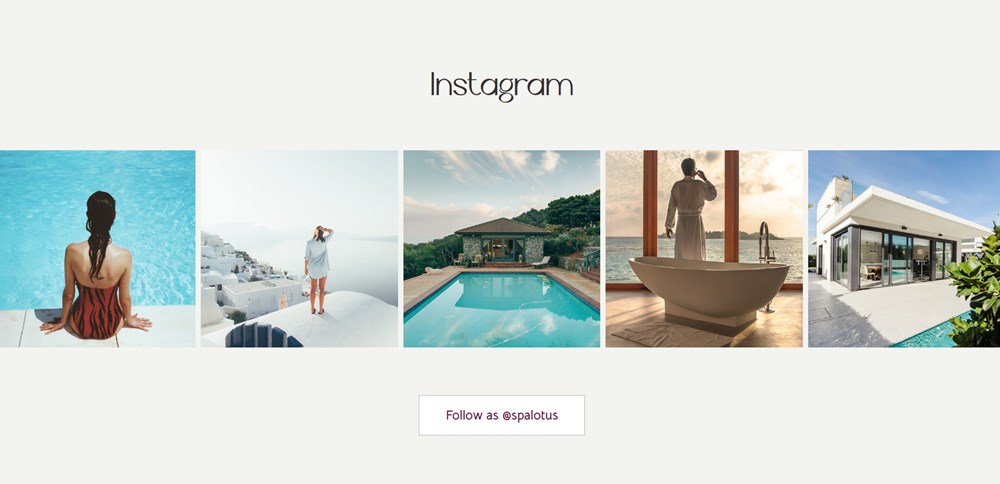 Testimonials carousel – these are admin-added ones, so you can play with them using Elementor – e.g. upload images, add text of a testimonial, etc.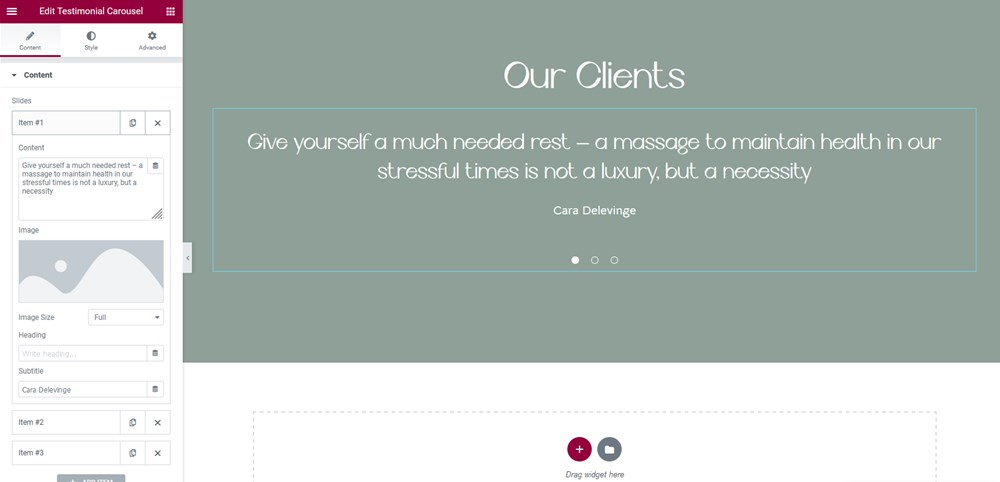 There are tons of other inner pages you can use with the default layouts and colors or change to your liking, again, without any technical skills.
For example, such website pages that make sense to a beauty salon website, are services, FAQs, etc. And they are already in the Lotus beauty salon WordPress theme for you.
If you want to focus on the services separately, there are pages that are made with the help of price lists and FAQs: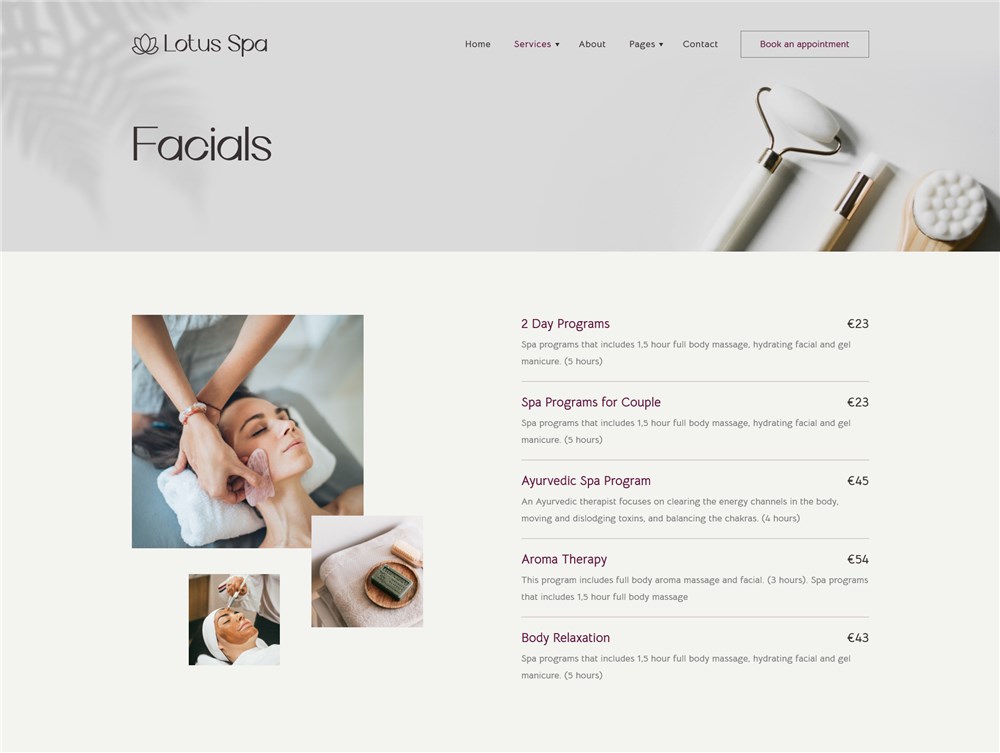 To aid you in your WordPress SEO efforts, this spa theme for WordPress offers you a stunning clean-looking blog layout to post your stories thus optimizing your blog for the most popular keywords: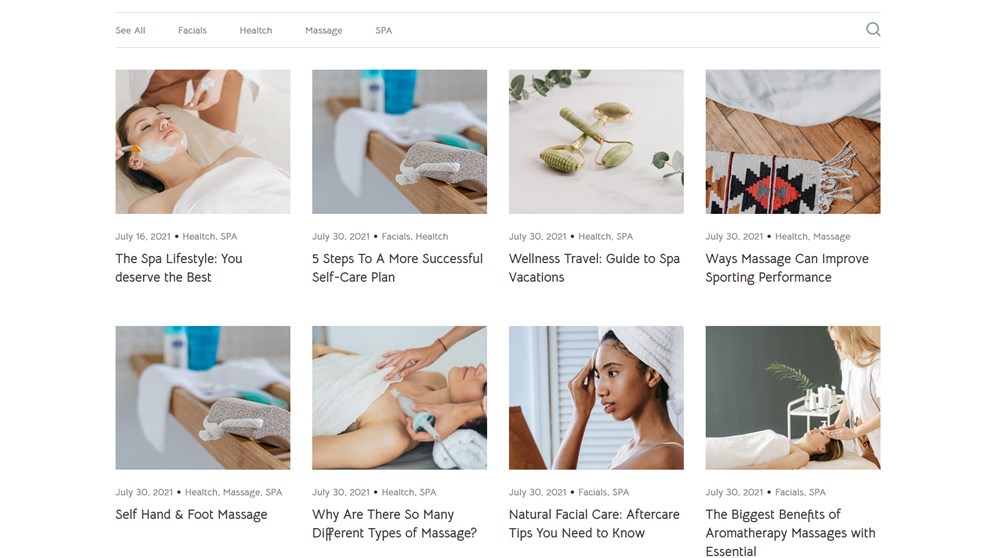 The Contacts page is quite simple yet informative, too, it allows you to create a contact form (if a booking widget your phone number is not an option for your prospect), add an interactive Google Map, and state your working hours: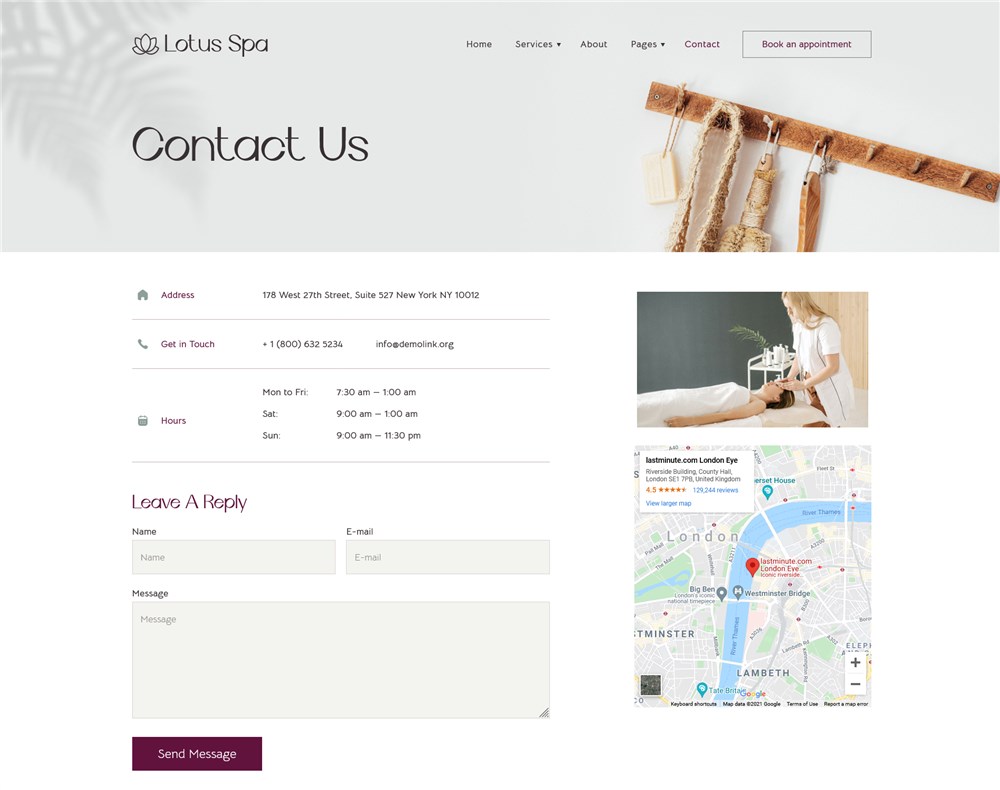 For each of these widgets or site sections, there is a handy Elementor toolset that allows you to change the font, color, layout, style, etc. depending on what type of content you are working with.
With the Lotus spa salon WordPress theme, you also get two Elementor boosters:
Stratum Elementor widgets – a premium widgets library we've packed for free
The Lotus engine plugin – a set of hand-made widgets for Elementor designed specifically for Lotus and its business niche
Thanks to these plugins, you'll take your customization tasks much further and will be able to add more interactive elements, creative galleries, and eye-catching visual elements.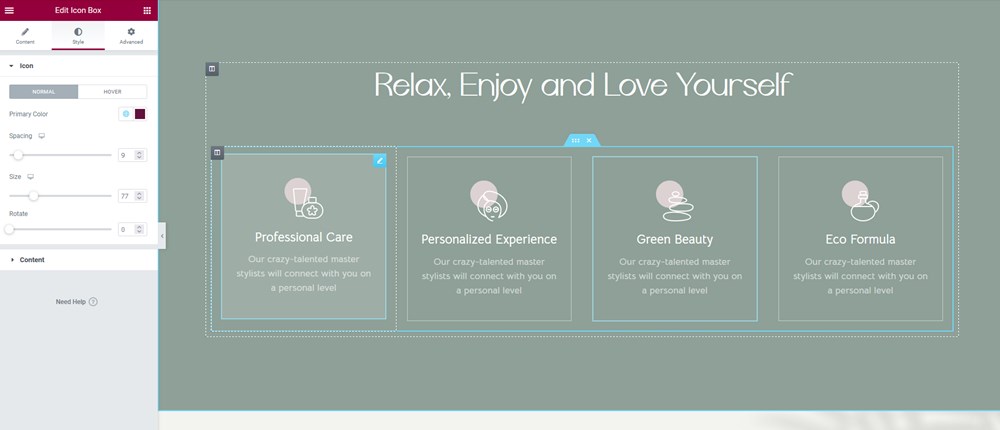 Global Lotus WordPress beauty salon theme settings
For some across-the-site settings, you can refer to the WordPress Customizer.
It gives you access to the site identity, color scheme (two main accent colors), menus (you can change the footer social menus and the top navigation menu), and more to create a salon website on WordPress.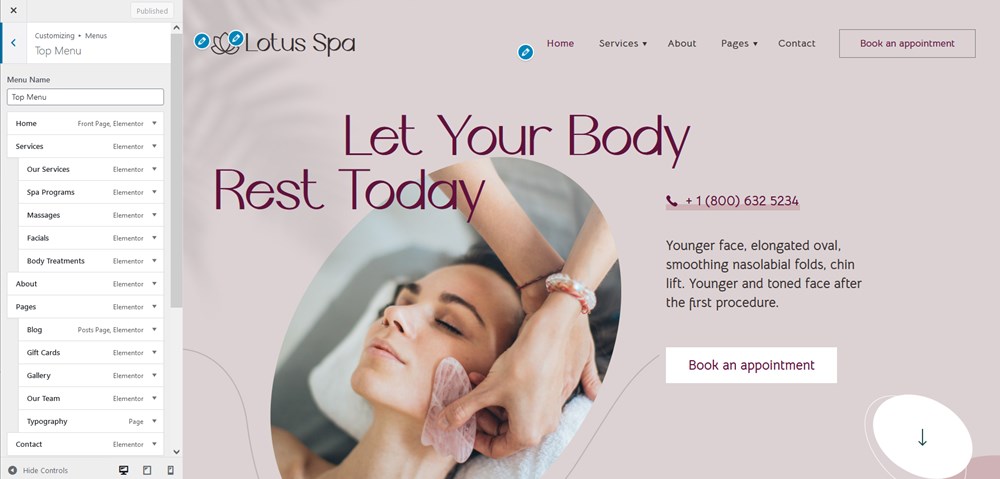 In this menu, you can also update numerous footer widgets that are quite flexible: you can place an email subscription box (connected to Mailchimp), contacts info, opening hours, privacy page links, photo galleries and more info you need:

In this same menu, you can alter an appointment booking widget that opens by clicking a button in the header navigation menu of your spa website design:
How to set up and manage appointments with Lotus
The Lotus spa website design is pre-packed with the MotoPress Appointment Booking plugin – an all-around yet handy spa appointment plugin for accepting reservations online.
The styles of the Lotus WordPress spa theme perfectly support the plugin allowing you to just configure settings of this medical spa software and get a perfect design without effort.
Here are a few key things you can set up via the WordPress scheduler plugin by MotoPress:
Add one or multiple salons (in one or different locations).
Create your treatment services specifying their duration, price, capacity, eligible employees, and more settings.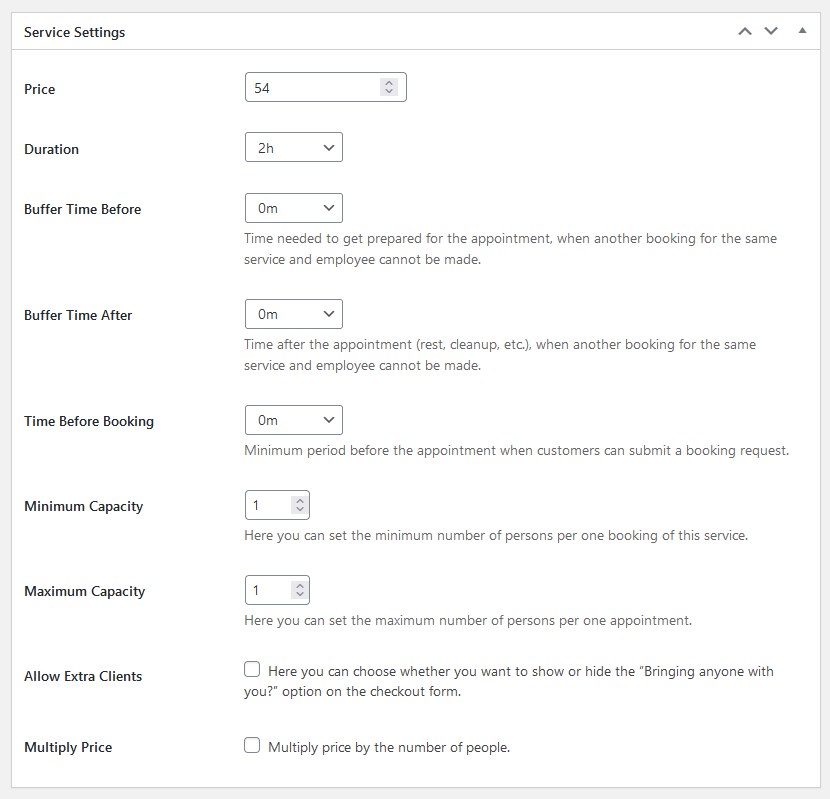 Add unlimited staff members and create individual working schedules for them (with the service price varying based on the staff member).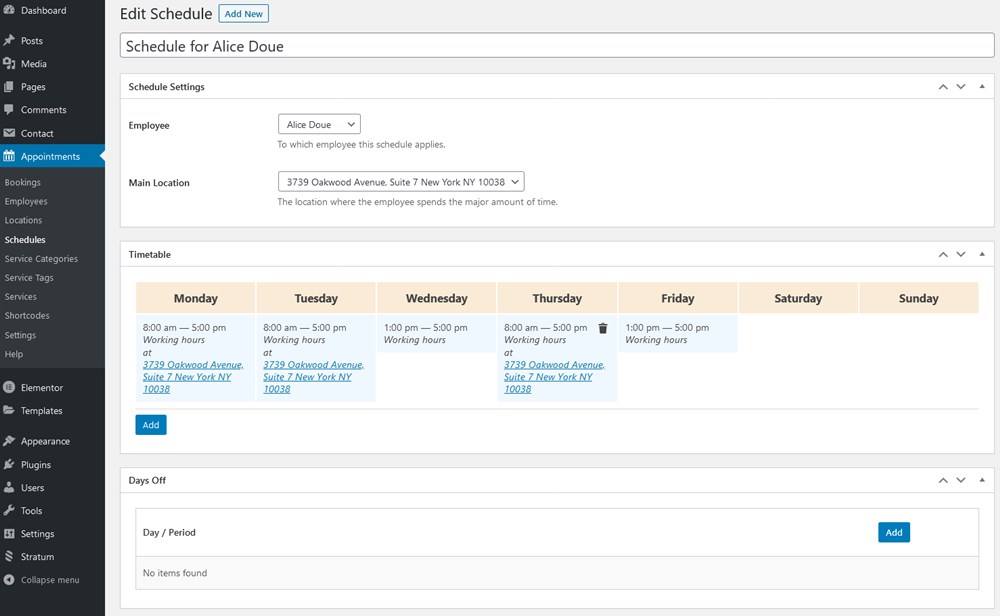 Set the needed language (the plugin is so far available in English, Italian, French, German and Spanish).
Customize the look of the booking widget – you can add or rental fields.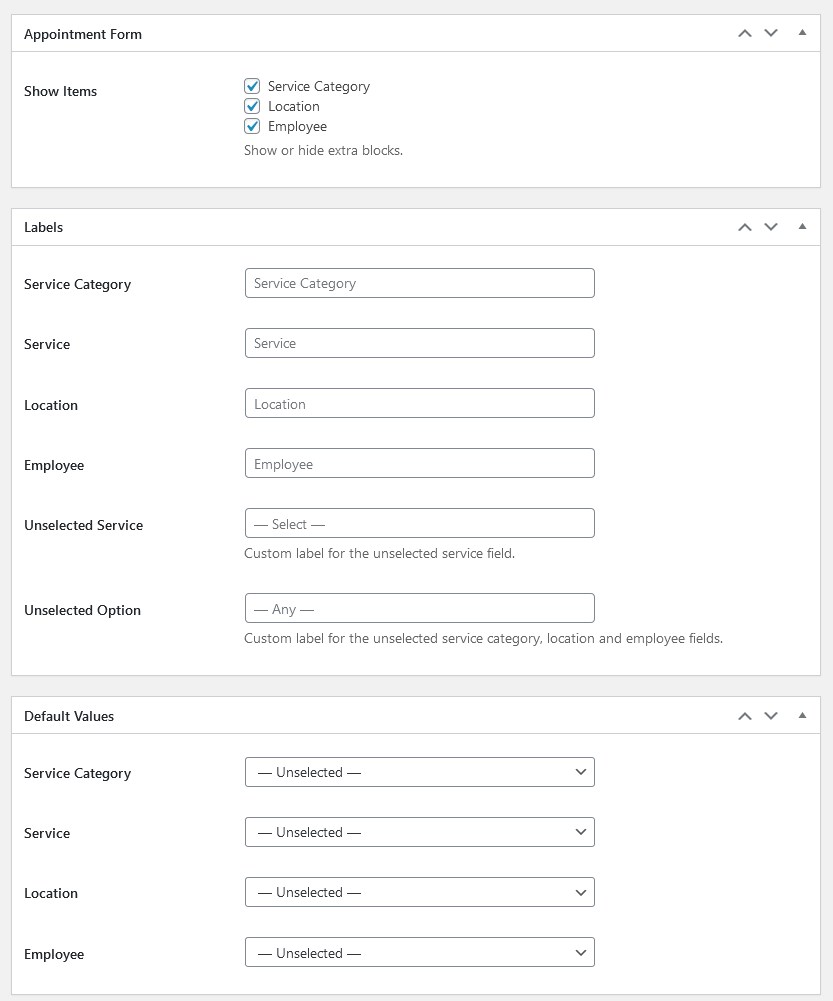 You can also add various payment methods to enable your clients to pay, including PayPal, Stripe, wire transfer and others. If you enable any, the dedicated field will appear in the checkout form.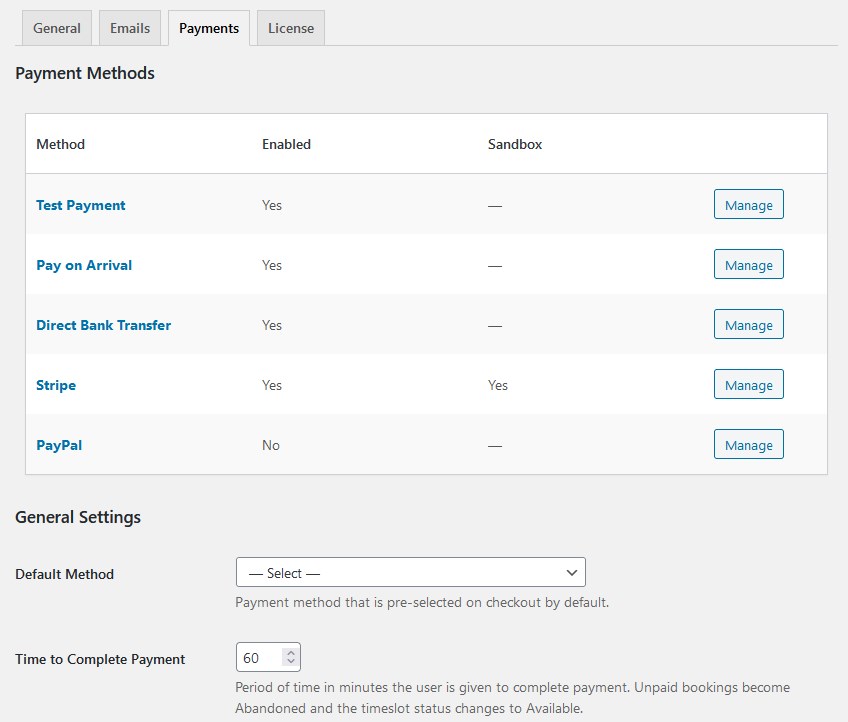 On the site, the process of booking a service is extremely easy – a client chooses all the needed info and available slots: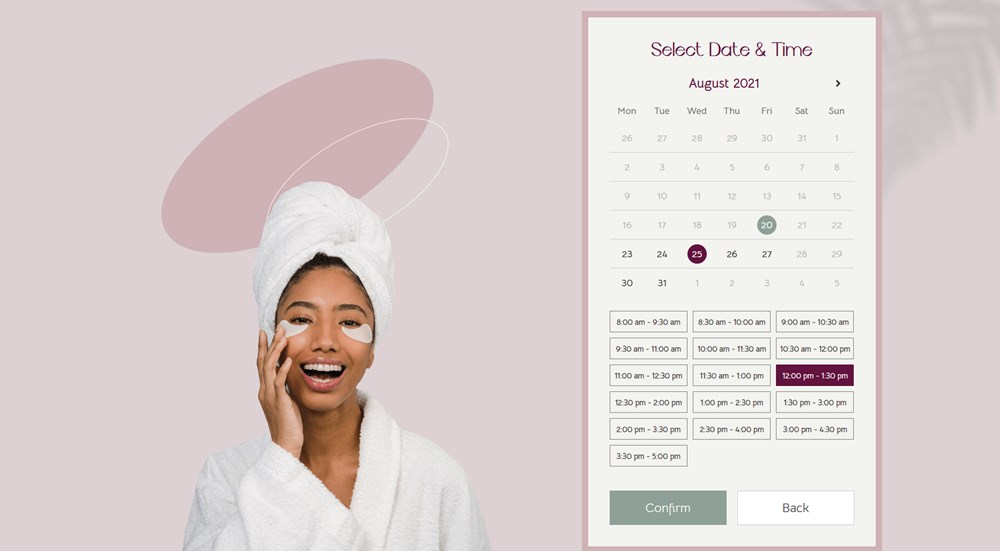 A client can also add several services to the cart before completing a booking: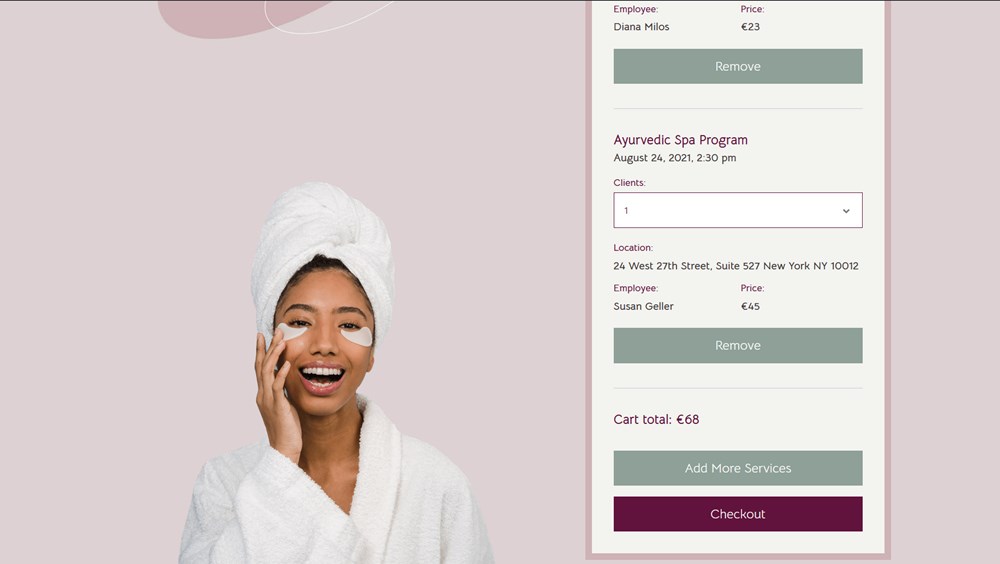 If your service capacity allows a client to book a treatment for a group of people, then a shopper will also be able to select the number of people in a widget.
The checkout page prompts with the booked services details and asks to submit client details: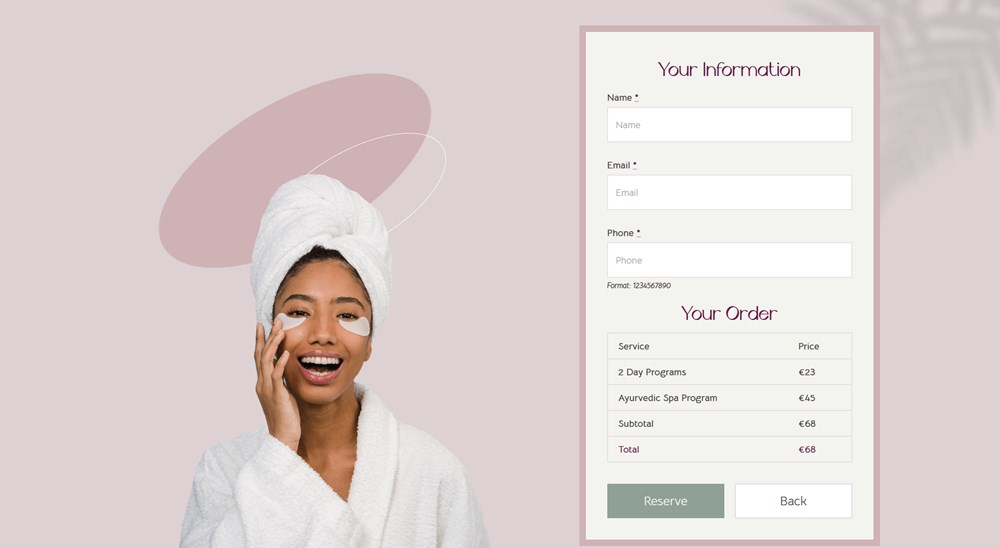 When you receive a booking request, the system sends notifications two ways – you and your client are notified. You, as a website admin, can also further change the booking or client details, or change the booking status on the WordPress dashboard.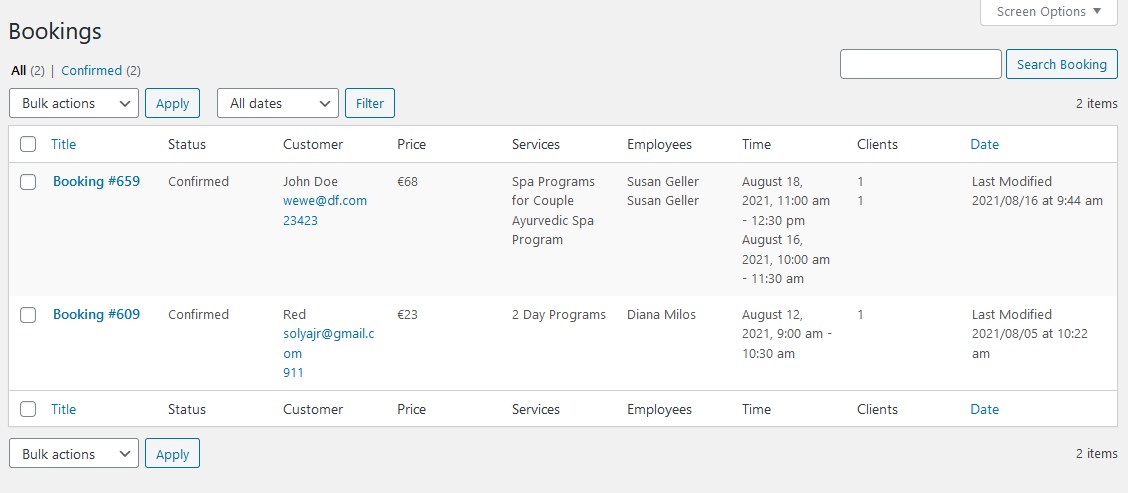 Remember that you can optionally enable payment gateways.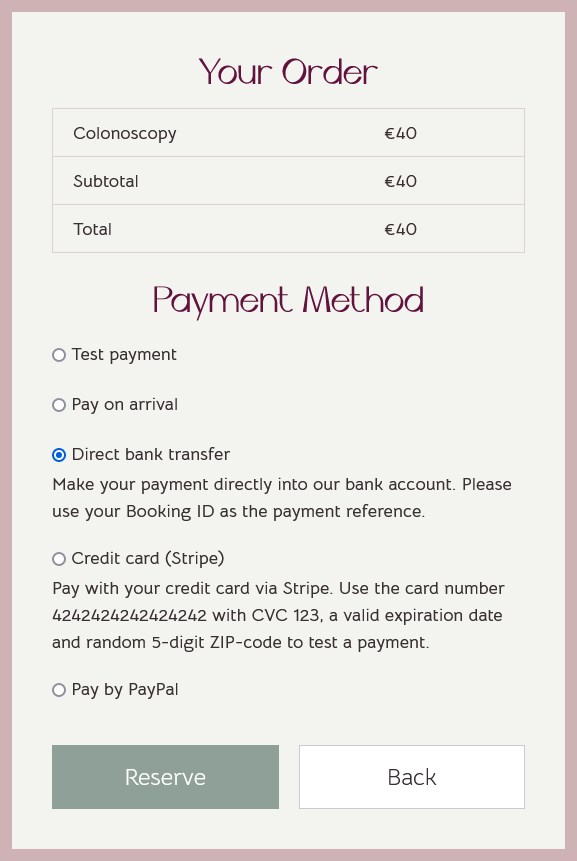 You can also see all received bookings, payment history and payment methods in the admin dashboard.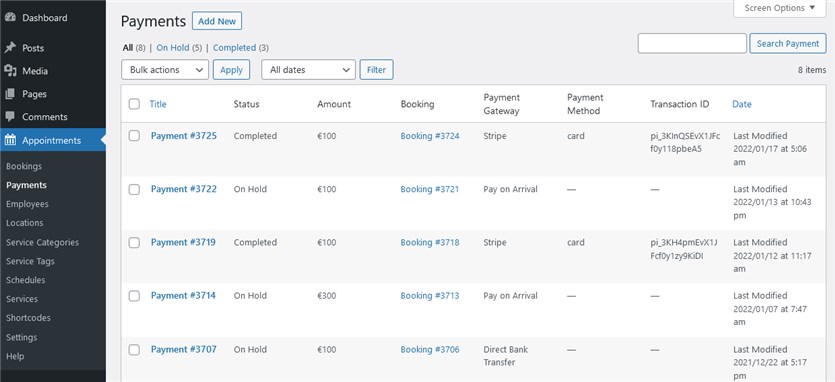 That's it! You don't really need to manage a lot of things on this type of website. Apply a few design tweaks, set up the appointment widget if needed and get ready for your first online clients.
Of course, the site optimization doesn't finish with the installed site, this is just the beginning of the hard SEO and performance optimization work. But a good, niche-specific spa salon site design is what will ensure a soft launch.
How to create a salon website on WordPress with the best spa website design
The Lotus Spa WordPress theme is perfect for a salon appointment website, both brochure sites as well as those for automated appointments. You can build a spa website on WordPress with a toolset offered along with the theme pages, no need to refer to the third-party plugins. Grab the theme and build a WordPress spa website of your dream.

Can I use Lotus Spa for a hairdressing salon?
Definitely, the theme comes with a multipurpose beauty and salon design so it's easy to tailor it to your needs, no matter the beauty industry.
Is it difficult to set up the appointment scheduling widget?
No, it's a user-friendly widget that doesn't require technical skills. You simply add employees, services, schedules and configure their settings to your business realities.
Do I need to purchase the booking plugin separately?
No, the appointment booking WordPress plugin is already included with the Lotus Spa WordPress theme.