Build a WordPress Clothing Store Site with Laveri & WooCommerce
How to build a WordPress clothing store site? It might seem really daunting to build an online store website, especially when you're just getting started.
But from our experience, it doesn't take that huge time, effort, and money resource if you are on WordPress.
In this post, we'll take a closer look at our brand-new fashion store WordPress theme, Laveri. We'll try to highlight its main functionality and design features of this template to help you see whether it's something you are looking to use for your online presence as a clothing store site.
*This theme is free to install on unlimited sites for all MotoPress Club members.
Video guide for beginners: How to set up WooCommerce with Laveri
What is Laveri and how does it differ from similar solutions?
Laveri is a WordPress clothing store theme built with WooCommerce and Elementor, which means it's powered by the most powerful and time-tested WordPress solutions.
Its default design gives out a modern fashion store vibe thanks to the sophisticated layouts, bold promos and categories, clean-looking product pages with immersive images galleries and more. In this design, we're successfully mixing and matching vintage design pieces with high-end contemporary design solutions.
It's a fantastic solution in the fashion themes niche for those who want to showcase their own fashion brand, create an impressive fashion blog, or want to find the eyes for your clothing designs.
The theme design is what makes Laveri different from the other things – we created a lot of hand-crafted content elements specifically for Laveri, such as unique sliders, banners and category layouts.
Also, it ships with a few premium and unique Elementor addons you can use for free with this theme.
So let's quickly sum up the categories Laveri can cover:
A general WooCommerce store theme
WordPress theme for clothing store
WordPress theme women's clothing store
shoe store WooCommerce WordPress theme.
What functionality tools are packed with the Laveri clothing store WordPress theme?
The Laveri theme smoothly integrates with WooCommerce, which gives you the flexibility to build a multi-vendor clothing store marketplace as well as a small clothing boutique store.
For the customization needs, we've packed the theme with Elementor, a favorite builder of many WordPressers.
To boost Elementor's features, we've also packed a few premium addons for Elementor that are aimed at particular tasks: building a shop menu, creating promo banners, product sliders and more.
So, in total, here is a list of the key plugins you get with Laveri:
WooCommerce
Elementor
Stratum Widgets – an addon for Elementor to add more creative widgets
Stratum Mega Menu – an addon for Elementor for building a shop menu
Wishlist integration for your e-store.
How you can customize your Laveri store WordPress template
Let's say there are several ways you can customize Laveri. First, for rather global, across-the-site changes, you refer to the WordPress Customizer settings.
For example, here are major things offered as editable via Customizer:
Menus & widgets (for example, add social icons, a newsletter subscription box, or any other functionality to the footer)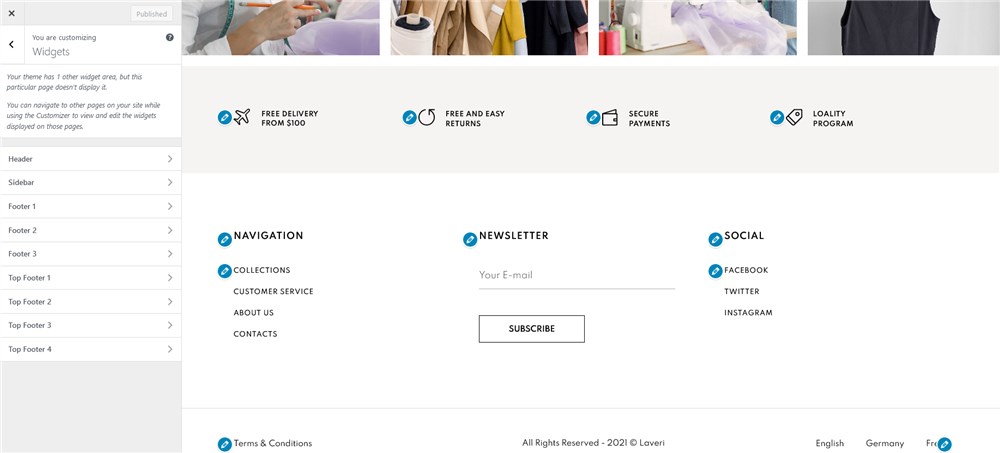 Choose a default blog layout
Customize the look of your store powered by WooCommerce.
We've integrated several WooCommerce features responsible for the look of your store into the WordPress Customizer. For example, you can choose either a one-column or classic single product gallery layouts.
In a one-column layout, product images are huge and immersive, perfect for viewing details: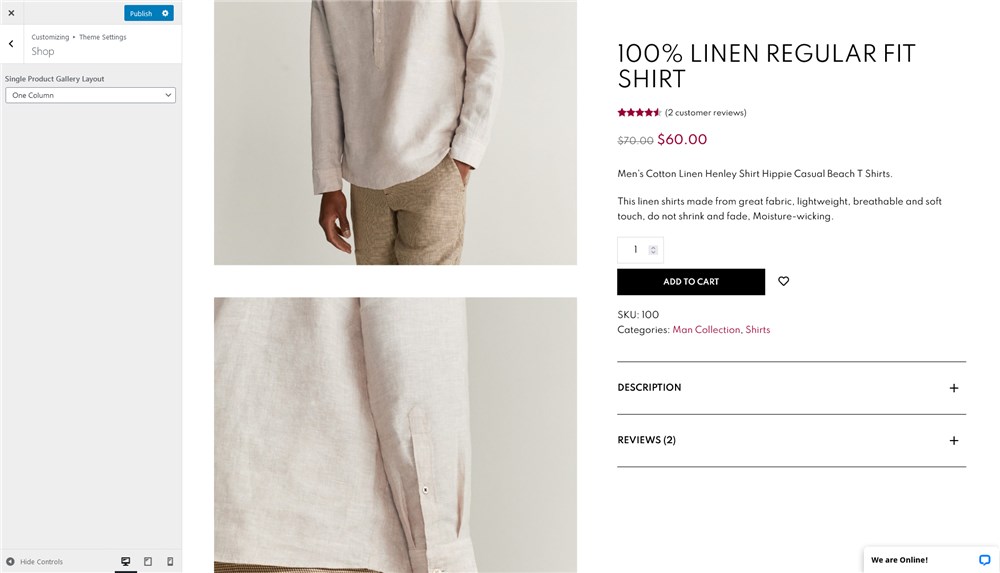 Opting for the classic product view, you can output product images in a classic grid view: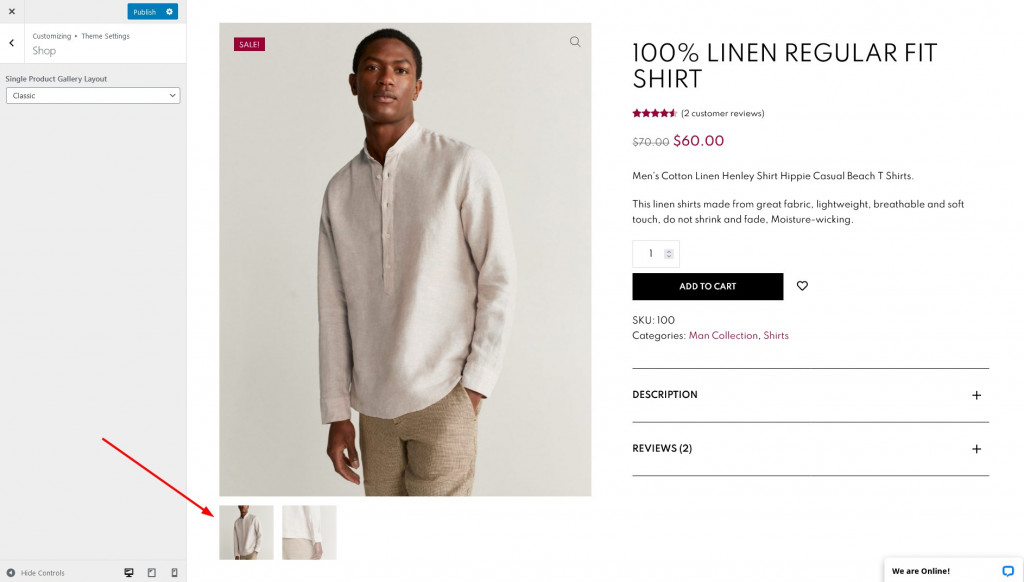 Via Customizer, you can also personalize functional icons your customers see in a header: feel free to include shopping cart, search, contacts, wishlist and account icons.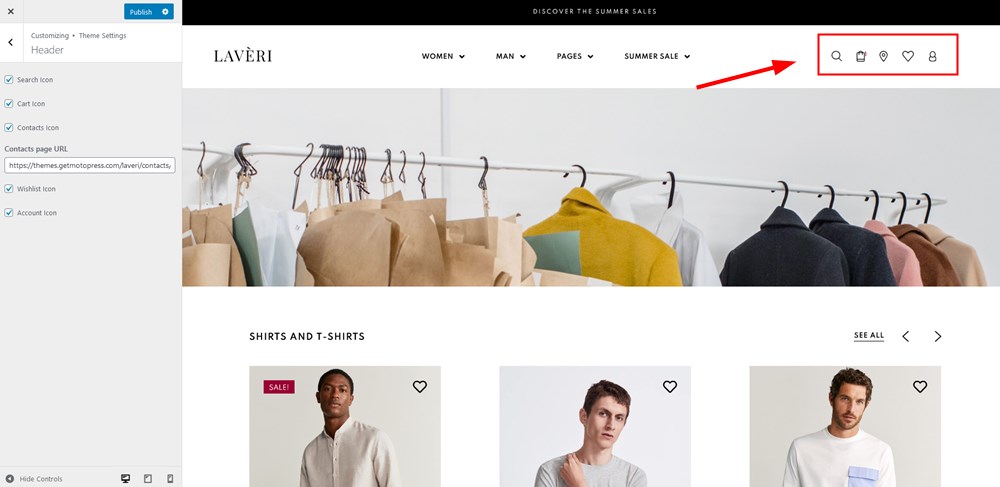 Customize the clothing store WP website with Elementor
We did a lot of 'sewing' work for Laveri – it comes with many hand-crafted widgets and content blocks specifically for e-stores that you personalize in a visual mode. Let's get down to a few of them.
Product slider
The full-screen homepage slider is built with Advanced Slider, the widget by the Stratum addon for Elementor – you can customize the text, buttons and images in each slide.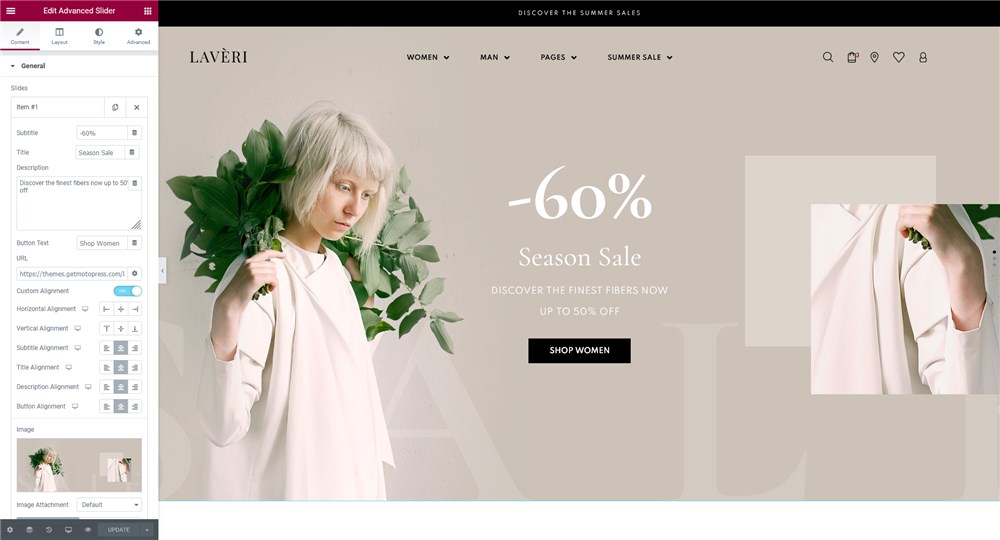 Featured store categories
This is a custom widget created specifically for Laveri – here you can feature the main categories in style, using tiny subtitles that are visible on hover.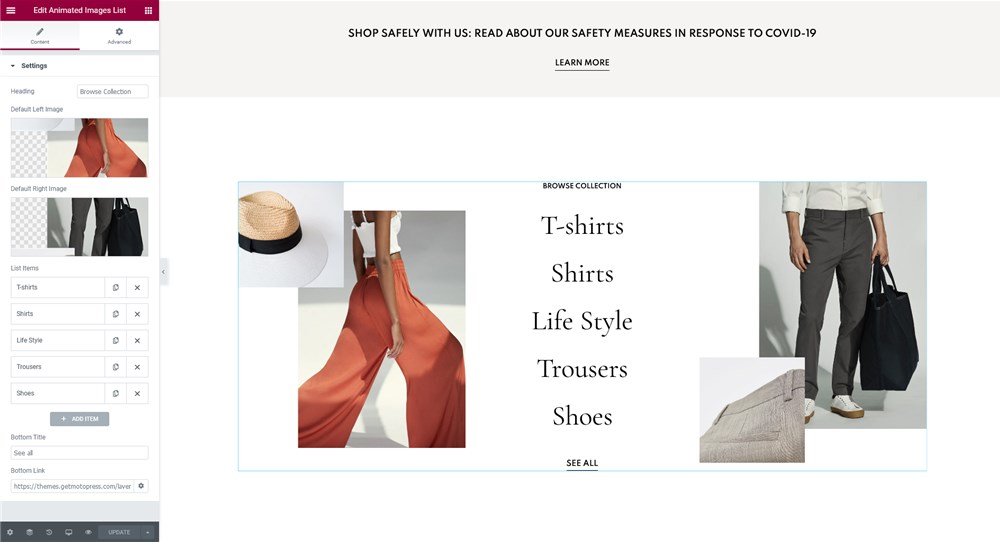 Season bestsellers
Another Elementor widget we created exclusively for this clothing store WooCommerce theme. It allows you to showcase bestsellers and help shoppers navigate through them easily. Shoppes can hover over a product and either see options or add it to the cart directly from this slider.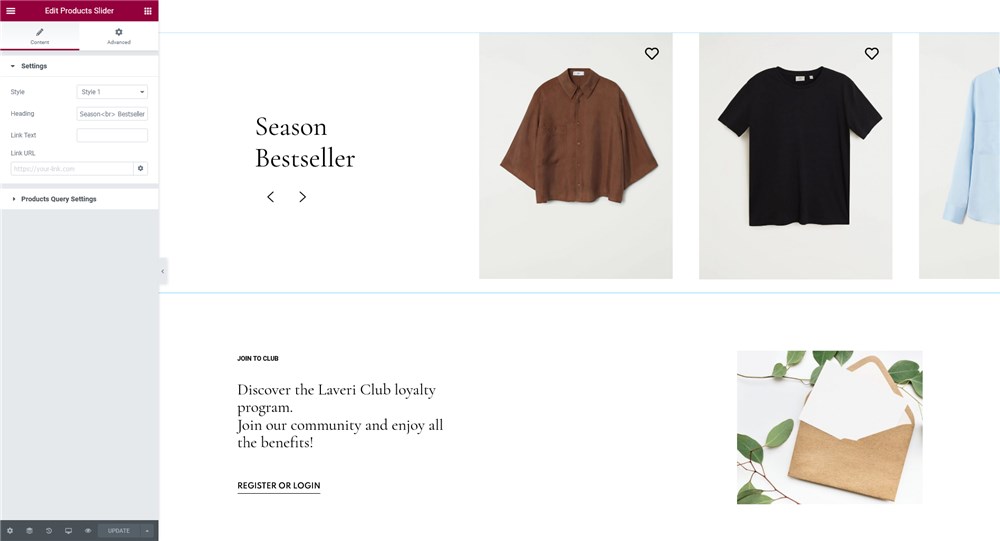 Slider
A very simple but immersive slider that looks like an animated gallery – a default slider by Elementor you can customize in a few clicks.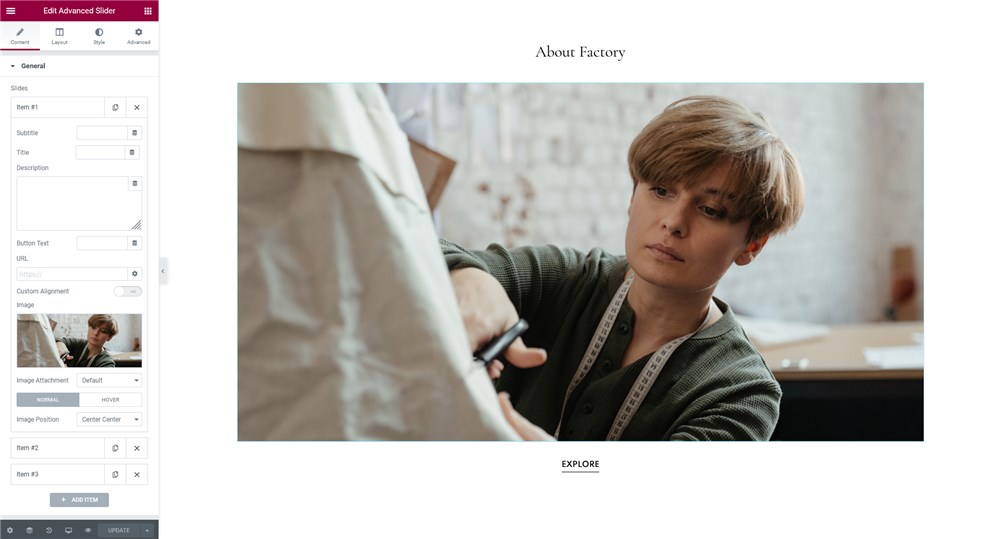 Instagram widget
There is no denying it – Instagram has become part of the daily routine of clothing stores. Laveri gives you an easy way to connect your Instagram to the store in a click and boost the base of your followers.
You can also play with the Instagram gallery styling, change the number of columns, spacing, etc.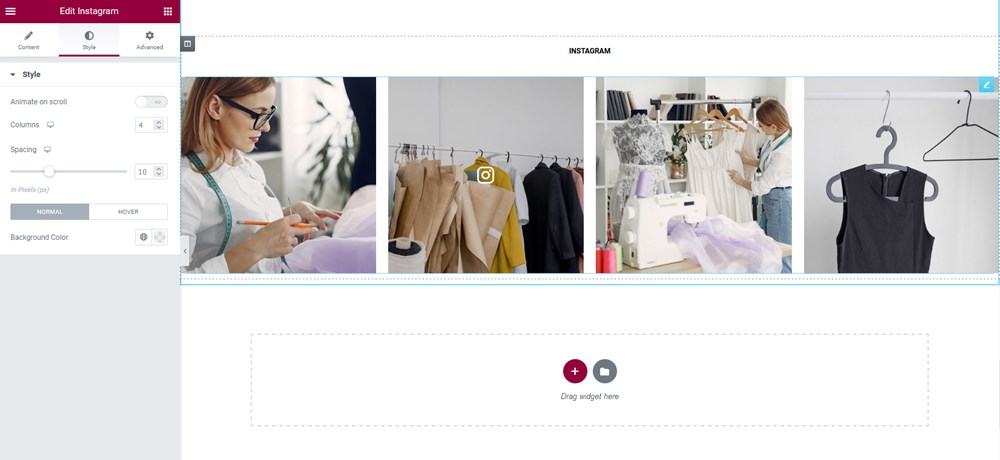 Footer
The footer section is big enough for putting any widget inside it, whether it's an icon, contact details, social icons, or anything else. You can customize them via the Widgets area and WordPress Customizer.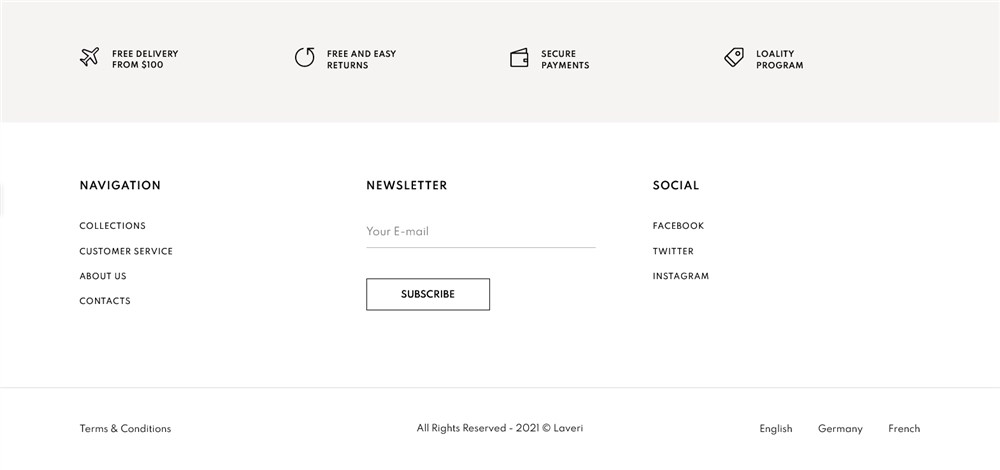 Mega Menu
If you want to go beyond the regular navigation menu, you are free to work with Stratum's Mega Menu addon for Elementor we've packed at no extra cost with Laveri. It allows you to output any Elementor widget into the submenu: shop products, banners, images, sliders and more.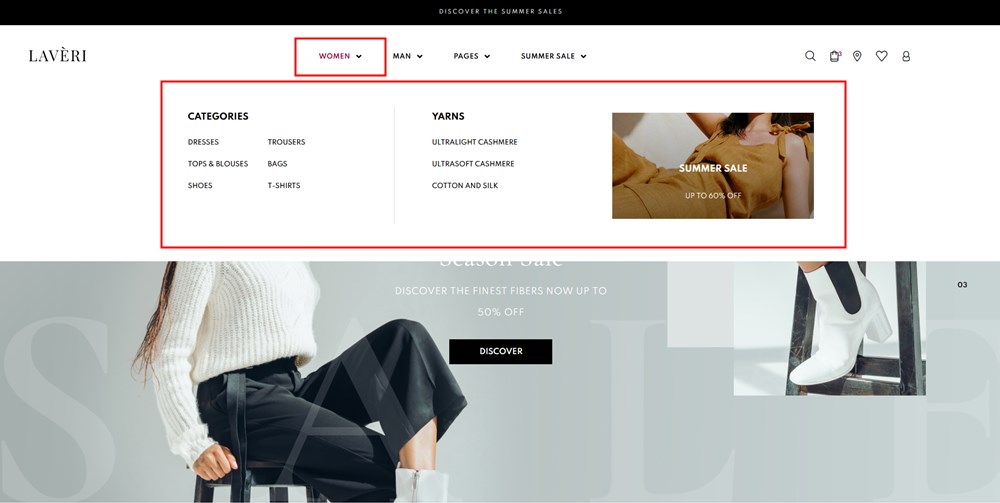 You can also boost up the regular menu with icons, color highlights, et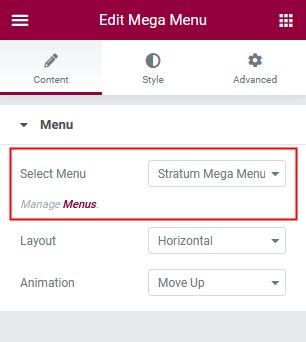 News feed
On the Laveri demo, you can also find many useful Elementor widgets on the inner pages. For example, you can showcase your latest blog news on any page thanks to the Advanced Posts widget by Stratum or a regular slider.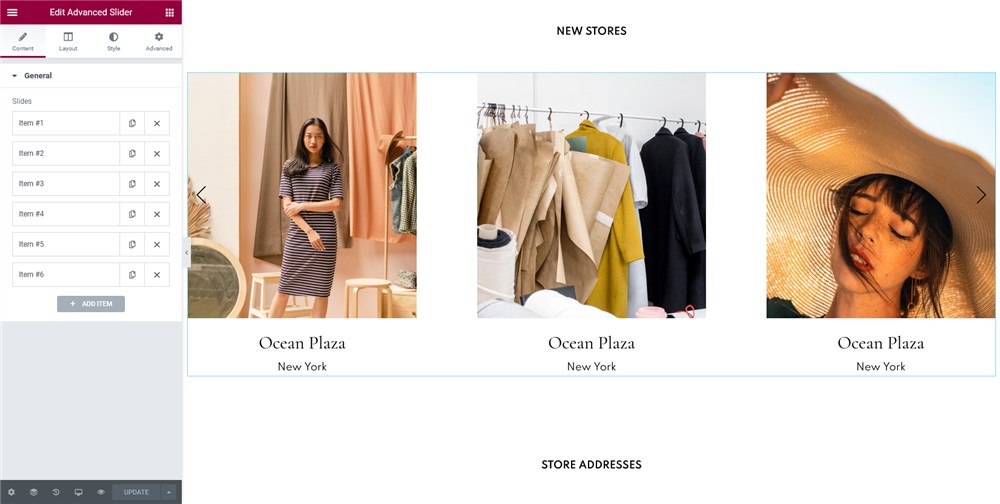 Store addresses
Thanks to the handcrafted Icons list widget we developed exclusively for Laveri, you can list your stores or departments in a compact and organized way.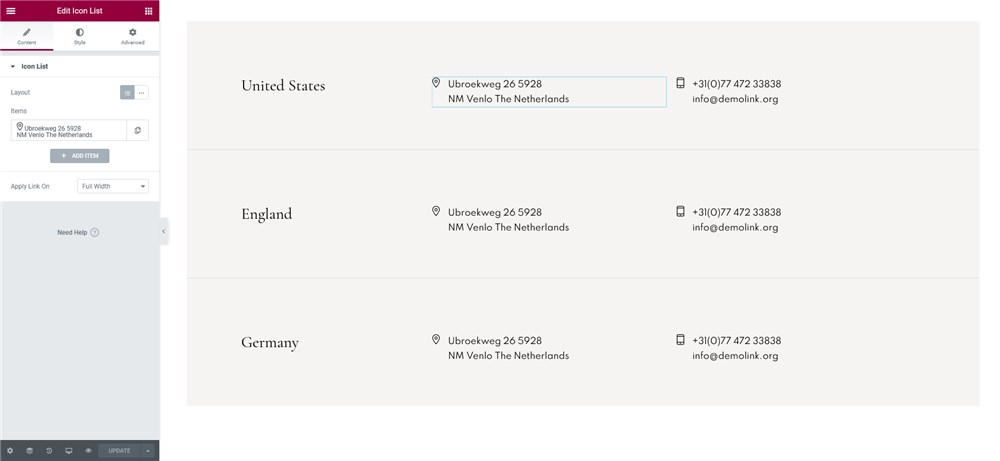 Helpful pages
There are many pre-designed shop-related pages to help your clients choose a product, for example: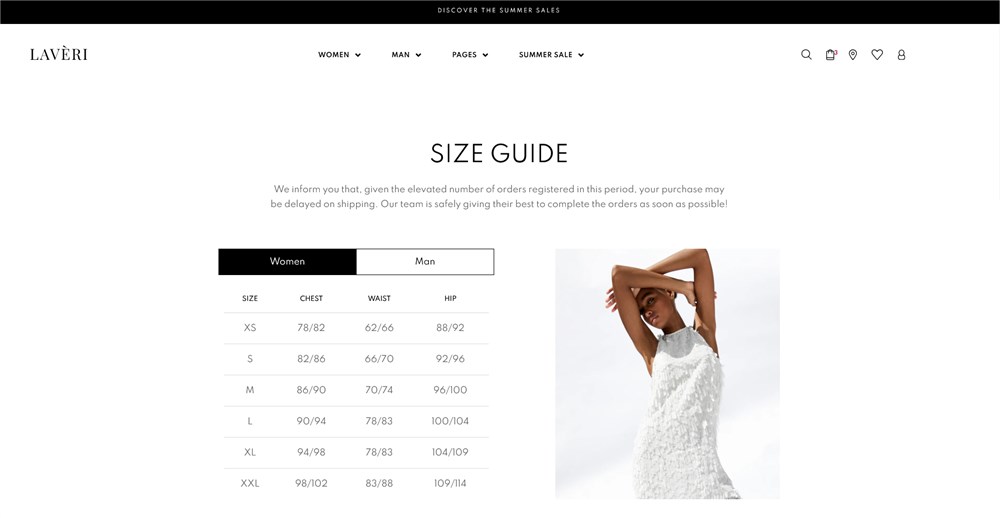 FAQ and other support or delivery information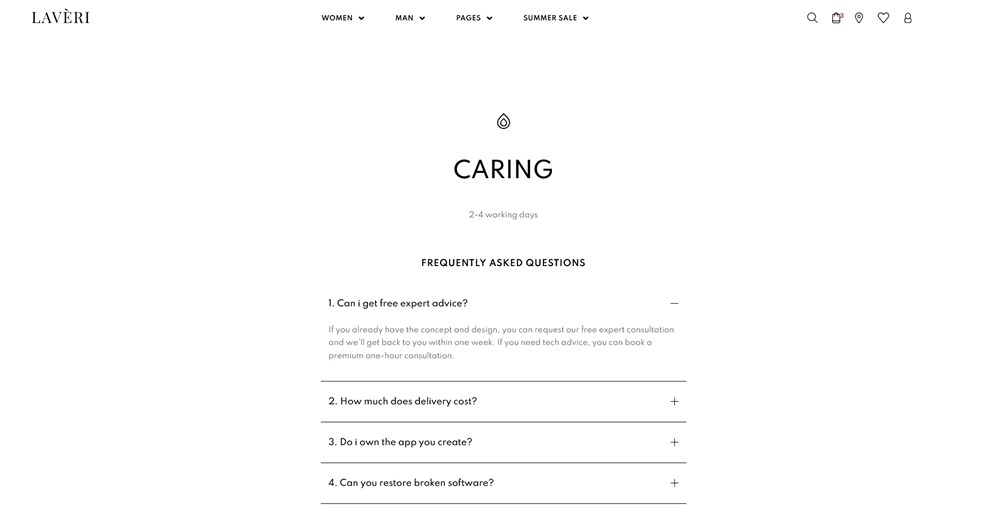 The WooCommerce store & selling tools: how to customize the store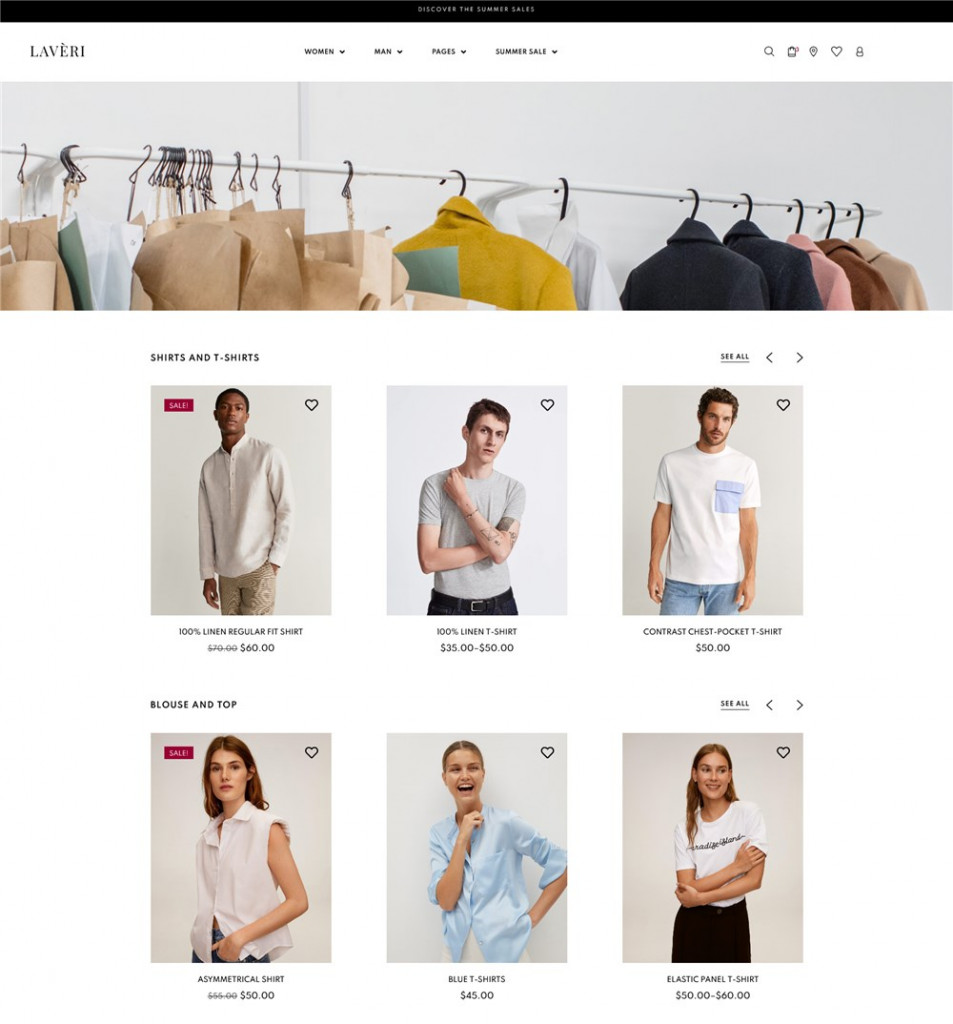 The Laveri WordPress clothing store theme has everything the WooCommerce engine offers, including payment gateways, inventory controls, pricing system, shipping methods and more.
Let's now have a closer look at the shop layout in particular.
Via the same visual WP Customizer interface, you can tweak the shop look by configuring the following settings:
Show products, categories, or both in your default shop page
Show products, subcategories, or both in the default category view
Customize the default product sorting by price, popularity, etc.
Set how many products per page and per row to show
Decide on the default product image in a shop grid.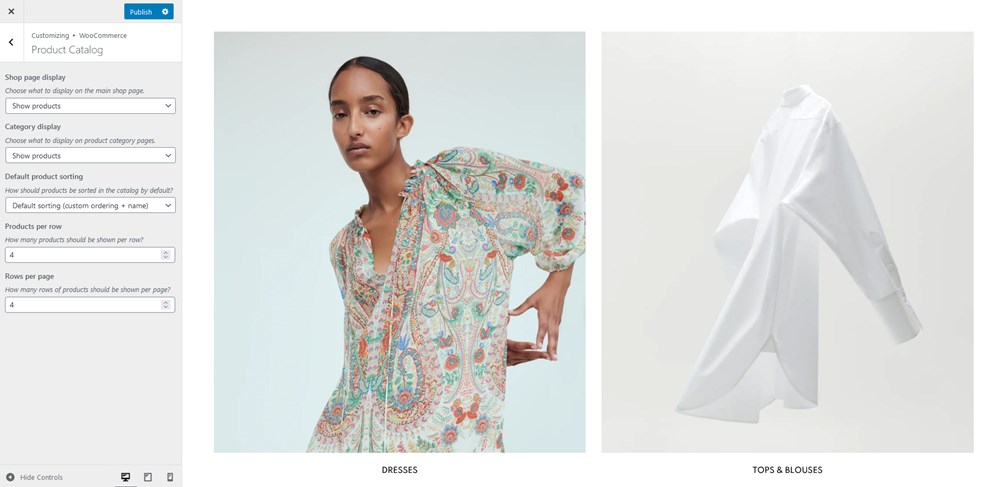 Here you can also customize the checkout experience for clients by editing specific fields.
The handy categorization, filtering, sorting and breadcrumb options will benefit the shopping process of your clients, making it fully streamlined and intuitive.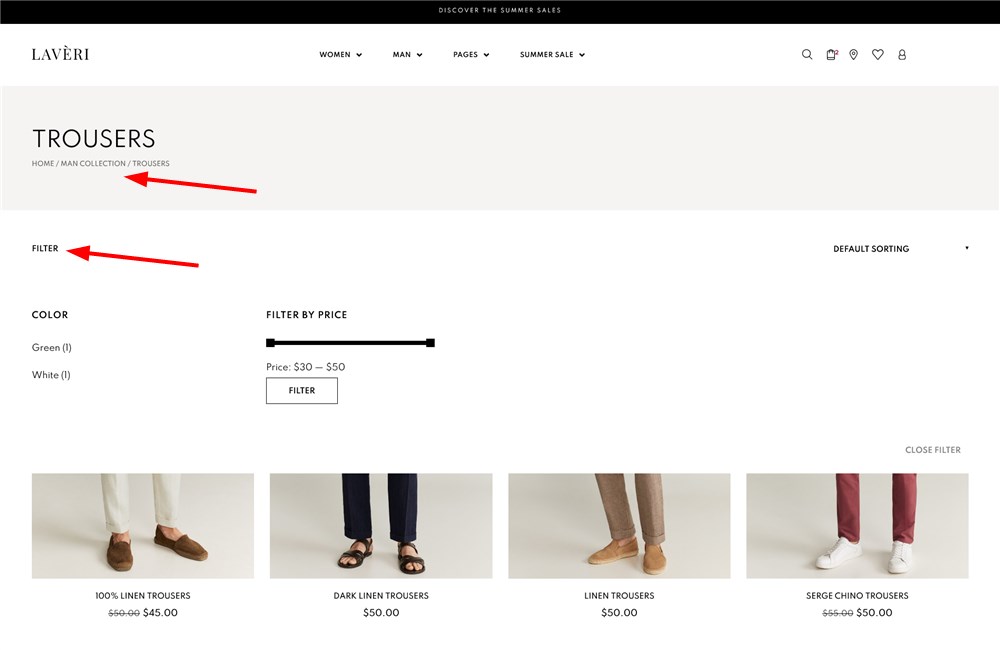 The Add to cart functionality is Ajax-based, which means products are added to cart without page refreshing.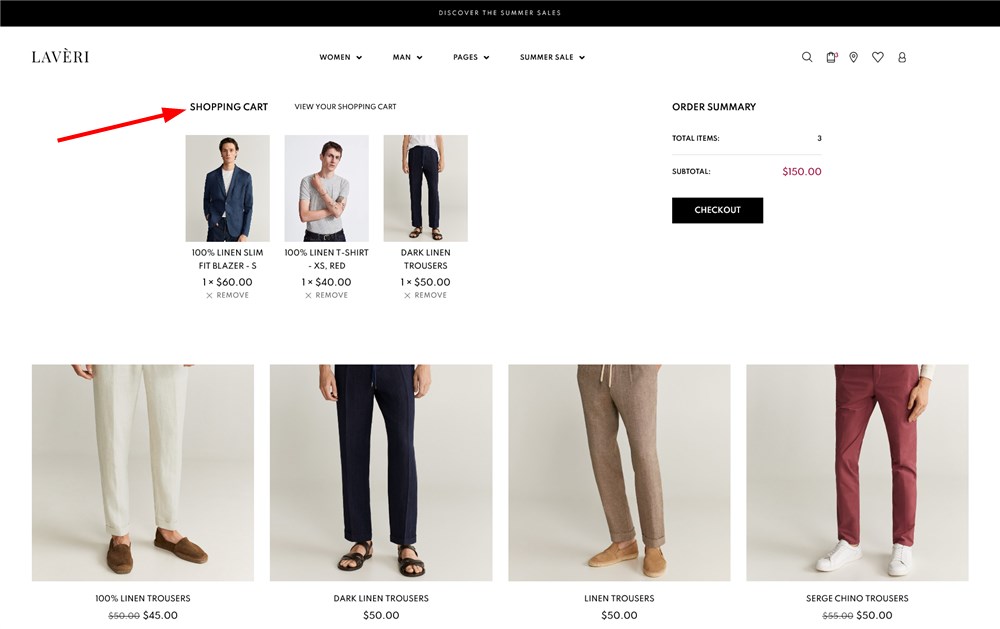 There is also a handy wishlist functionality, the look of which you can also customize via a free plugin.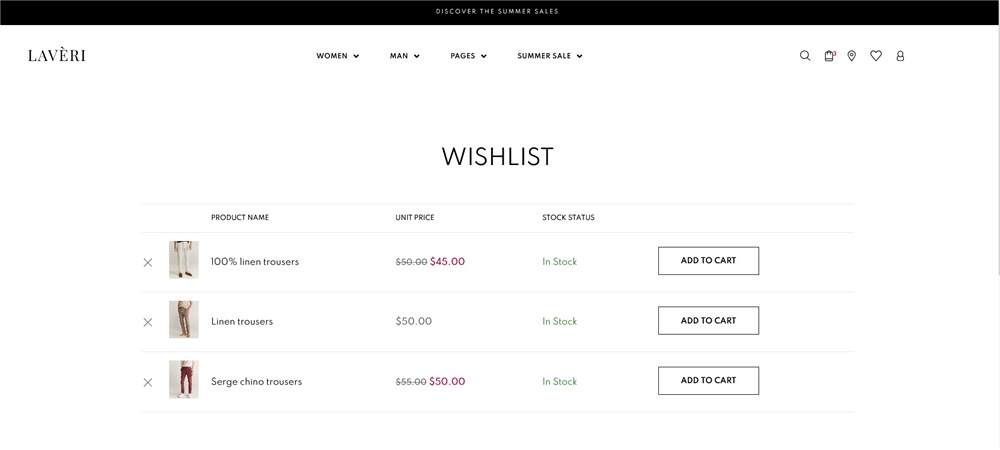 When setting up your store, WooCommerce will help you go through the process with a handy store wizard, but still you need to know what else you can do.
Payment gateways in Lavery are available via basic WooCommerce capabilities:  feel free to enable PayPal, cash on delivery, direct bank transfer, and check payments without any paid addons.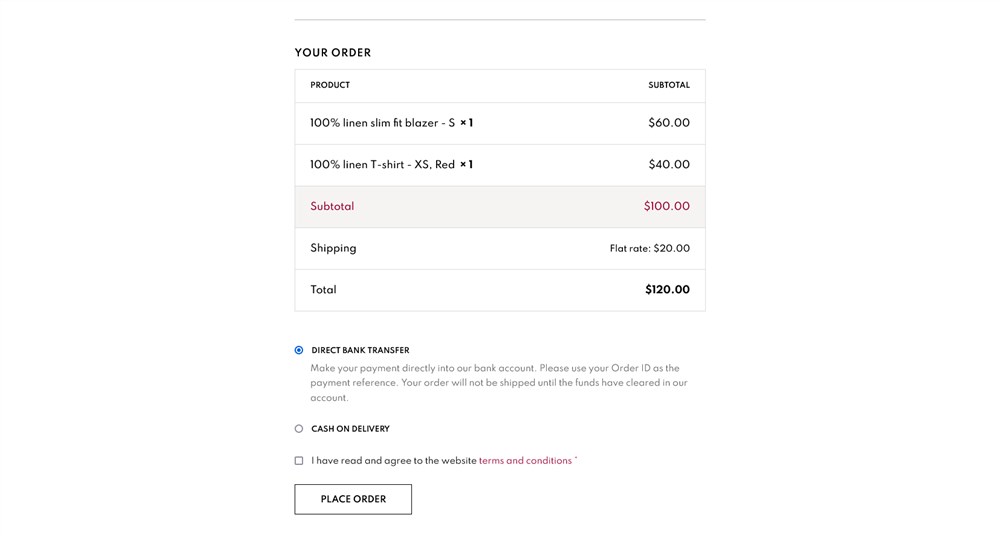 Delivery options allow you to deliver locally and abroad. WooCommerce supports flat rate, free shipping, and local pick-up delivery methods. Entice your shoppers to buy more by offering a free delivery for a specific order amount.
Product reviews are incorporated with the default Woo functionality, with Laveri we also make a great accent on them, so it's a great chance to build trust with customers by displaying real user-generated reviews.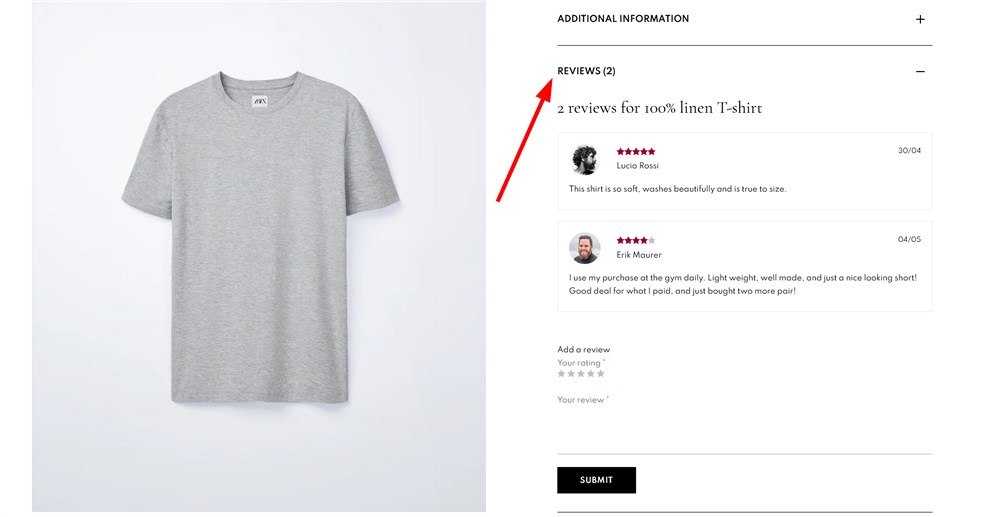 Describing all the WooCommerce features deserves a post of its own, there is a huge ecosystem of the native and third-party addons made to cover every possible need of every local requirement (e.g. local gateways or scheduled delivery options).
Creative blog layouts for your outfit posts
We went the extra mile to design and pack Laveri with outstanding blog layouts. So it's also a great starting point if you just need a lightweight fashion blog template with or without selling options!
You can pick a blog layout via the Customizer in a click. For example:
A creative blog layout is rather asymmetrical with random sizing of the featured blog images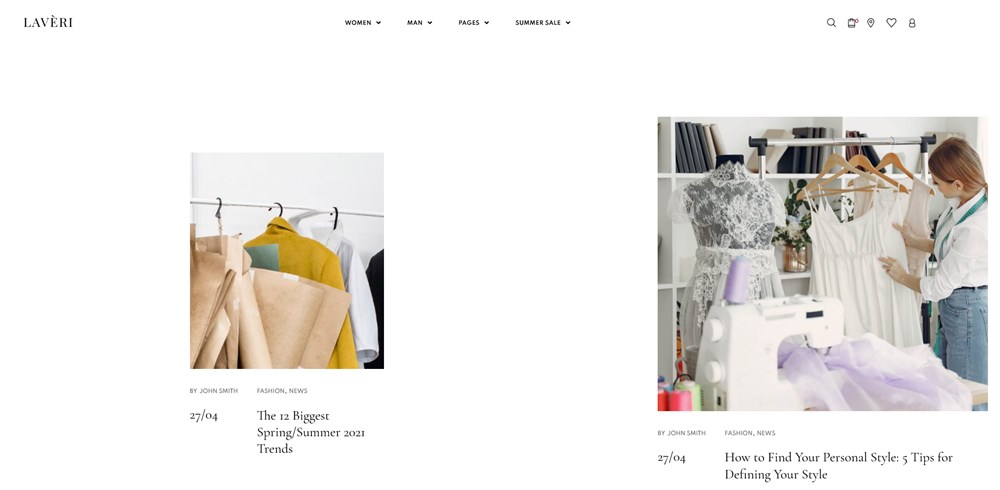 A modern blog layout has a rather classic view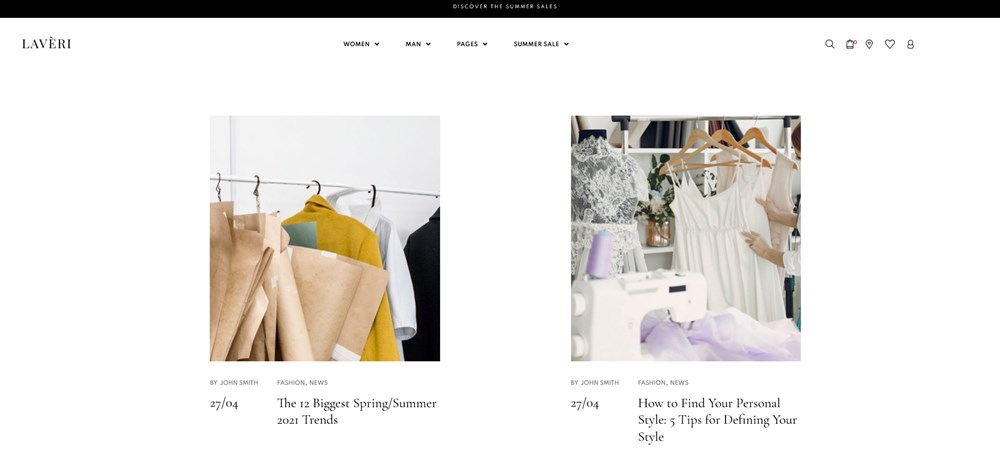 A Journal style for a minimalist view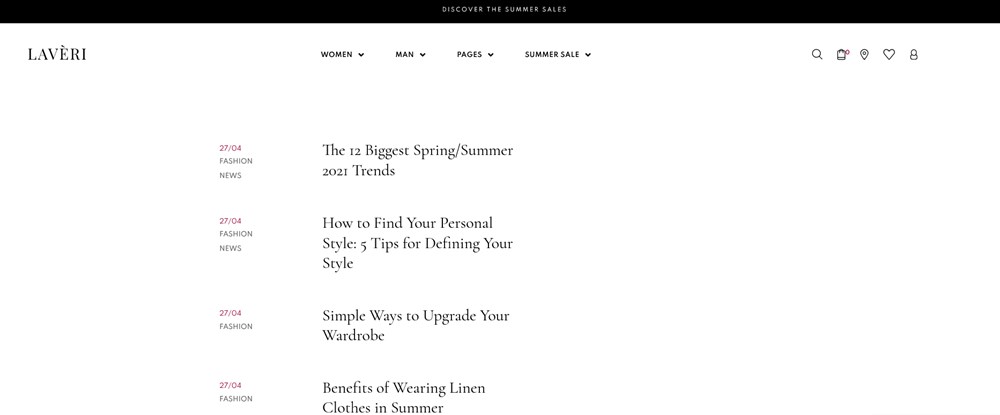 How to work with the Laveri boutique clothing store WordPress theme
It won't take a lot of time since many processes, in particular getting your site look like in a demo and setting up your clothing store site, are automated. Here is a quick outline of those steps after you've already installed WordPress on your hosting:
Install the theme – you'll be prompted to additionally install and activate a list of extra plugins that make sure your clothing store site works smoothly.
Import demo data with a handy packed tool – it'll help you get your site look like in a demo so that you can simply replace the default content with your current one.
Set up WooCommerce with the help of the automated wizard – it'll help you step by step configure the main store-related settings before you can start selling.
Edit the front page, menu, and other website pages via the visual builders, including WP Customizer and Elementor.
That's it!
Conclusion: Laveri – WordPress themes for clothing store
With Laveri, a modern store template, you can always stay on-trend not just in reality, but in your online presence.
Examining Laveri, you can see that we are committed to steering clear of excessive design decorations to guarantee a lot of white space, clean-looking layouts, a rather pale color palette, focus on the products and functional store elements – all this must contribute to a better shopping experience online and put this template at the top among other clothing themes. What's more, you are absolutely free to customize the theme in any preferable way with Elementor, Stratum Addons and WordPress Customizer.
Can I use Laveri for a shoe store WooCommerce site?
Sure, Laveri is optimized for any clothing or related store and comes with all the needed WooCommerce functionality. Its universal design will help you showcase any sort of products in the best light.
Are the premium Stratum Elementor widgets included for free with Laveri?
Yes, the Stratum Elementor addons and Stratum Mega Menu are bundled for free with Laveri. The first one will help you make your online store more creative while the second one will help you build a professional navigation menu optimized for maximizing sales.
Can I connect Laveri to Instagram?
Yes, you can embed your real-time Instagram gallery feed into Laveri thanks to a dedicated Elementor widget that comes packed with Laveri.