Carni Rosso Review: WooCommerce Fish & Meat Website Template for WordPress
If you're looking for a WooCommerce butcher's shop WordPress theme, Carni Rosso is a brand-new fish and meat website template by MotoPress.
It's a perfect WordPress eCommerce theme for butcher's shops, farms, food markets, seafood companies, and grocery stores. In other words, for anyone selling food, especially fish and meat online.
It will set your sales on autopilot, allowing customers to order any item via familiar gateways, and get it delivered or take it away. The theme will help you build a seamless customer journey from marketing to purchasing – and we're going to tell you more in what way.
*This WooCommerce WordPress theme is free to download for MotoPress Club members.
What can you achieve with this fish and meat website template for WordPress?
With this WordPress theme for butchers and seafood stores, you can:
Create a professional butcher shop layout on WordPress with minimum effort (thanks to ready-made designs).
Add unlimited shop items with details and feature them by types/categories, bestsellers, brands, pricing, etc.
Maintain inventory online or delegate it to your team members.
Run online sales via any gateway (WooCommerce gives you access to hundreds of addons for using any preferred methods and local gateways).
Accept and manage online orders and keep all the documentation online.
The theme is by default provides easy shopping on mobile devices.
All WooCommerce themes by MotoPress, including Carni Rosso, Frutta Verde, etc. put a performance in the first place, which means your shop will show benchmark page load times.
WooCommerce site setup video tutorial for beginners
Build a scalable WooCommerce store website with essential plugins
We don't love all those bells and whistles when it's not clear where to click and why you need this or that.
The Carni Rosso WooCommerce WordPress theme is packed with just a few essentials plugins that serve specific purposes, so you can avoid a lot of figure-outing tasks:
One Click Demo Data Import will help you set up your store with all those stunning content blocks in a minute.
WooCommerce to give you all you need to run a scalable and fully functional e-store (it also comes with a step-by-step wizard that makes it easy to shape the shop settings to your needs on the setup stage).
Getwid Gutenberg blocks plugin that adds tons of extra content blocks and design patterns to the native WordPress block editor.
How do you customize it? Power up WordPress native block editor with Getwid
The Carni Rosso theme is all about visual editing. There are three ways you can get about customization:
WordPress Customizer opens up a lot of ways to configure global site identity.
You can change a logo, update accent colors across the shop: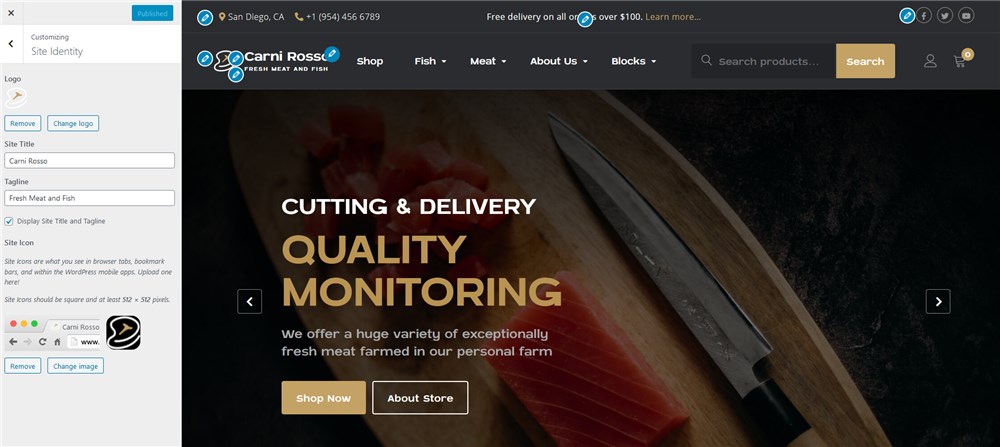 Change menu locations, add or delete individual navigation menus. As you can see, the footer menu is very widget-rich – you can add an email subscription form, icons of the supported email gateways, social media icons, and more.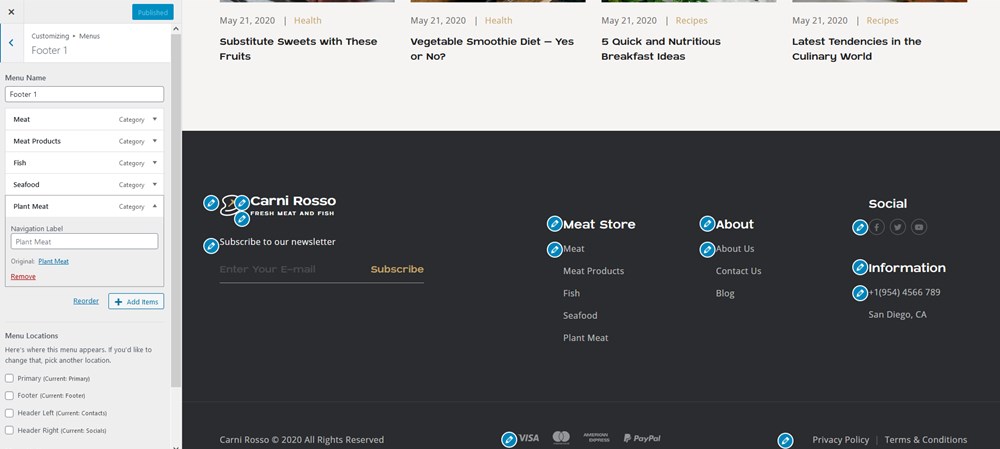 Apply some key shop display settings, e.g. show individual items or categories, define how many products per row to show, etc.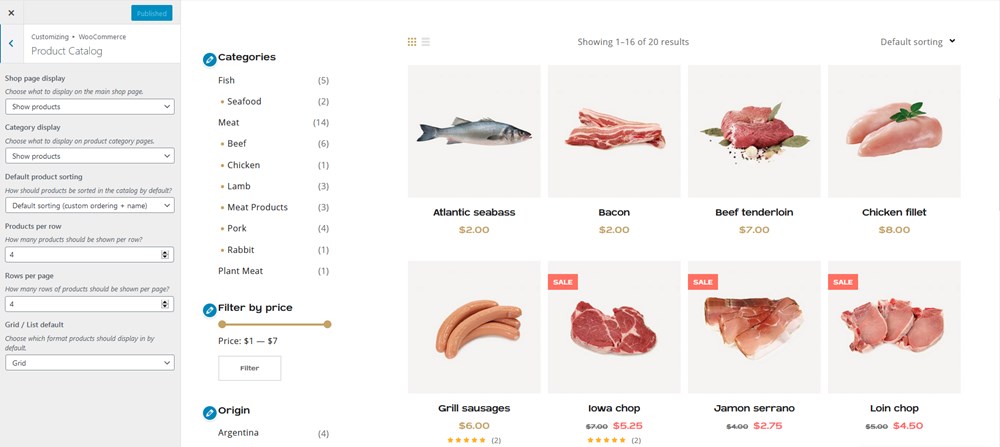 The front page is optimized for shopping.
You can see a lot of content blocks dedicated to eCommerce on the front page. A custom-made slider is easy to customize in Gutenberg with the Media & Text Slider block powered by Getwid. You can showcase bestsellers, active discounts, or any other hot topics.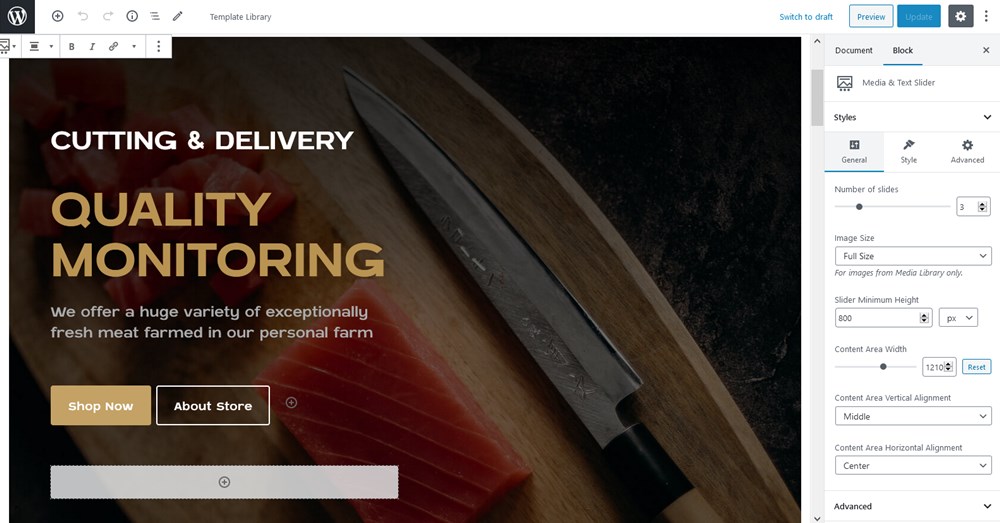 The next part will help you put all the needed shop categories in the spotlight. You can use any featured images for them and organize them in any number of columns on the page with the WooCommerce shortcode.
You can also create a product carousel with some top products (e.g. bestsellers) – you are free to use either specific WooCommerce blocks for this purpose or Getwid (it works with WooCommerce posts so you can choose only hand-picked products to show in a slider).

Visitors can add products to their cart right from this slider!
If you want to tell more about your services, delivery options, etc., there is a dedicated area in the default theme. You can customize everything from image and buttons to a color scheme: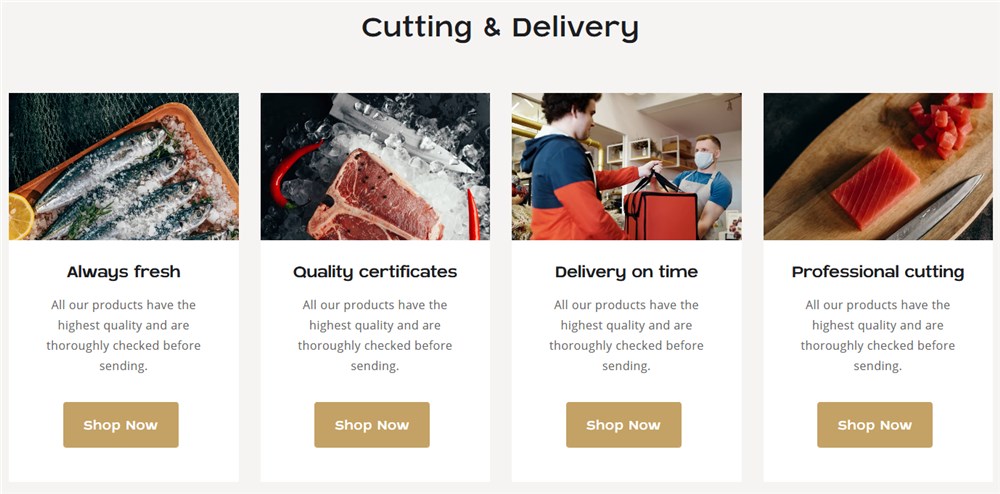 For FAQ sections, Getwid offers a few blocks so you can choose the needed one. The default one used on the front page is the Accordion block, which enables you to display shop information in a compact way right on the page, without redirecting them anywhere.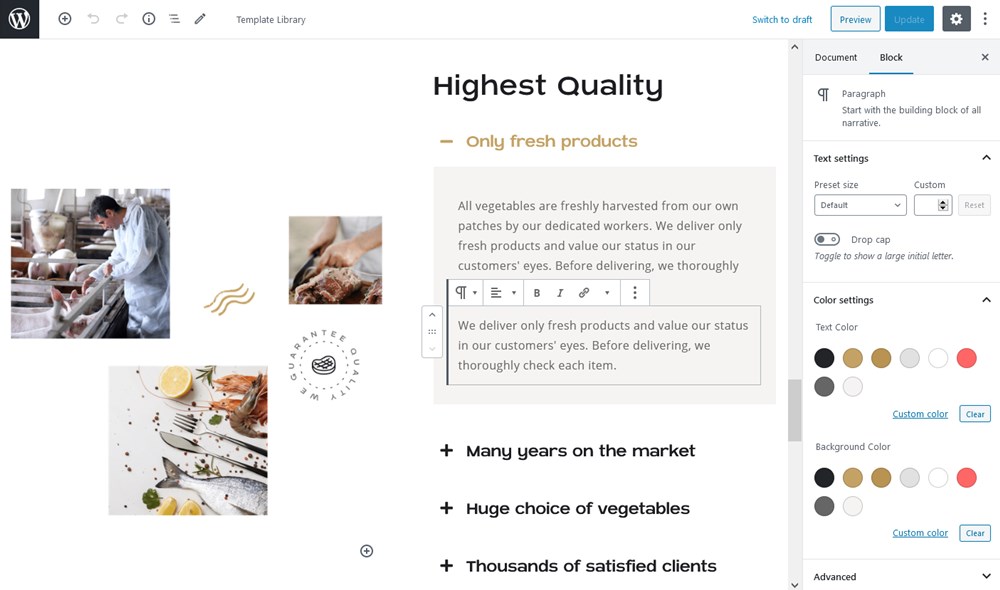 Use Getwid for advanced customization tasks.
As you see, the Carni Rosso fish and meat website template for WordPress completely relies on the native WordPress editor, but you can easily take any customization challenge further with the Getwid Gutenberg blocks plugin we've packed with the theme.
It will serve you whether you need to create a slider, banner, image gallery, place social icons, or any other piece of content a modern site can require.
Let's take a look at a few Getwid-powered examples that are by default in Carni Rosso:
Stunning product banners:

You can use animated images or even videos: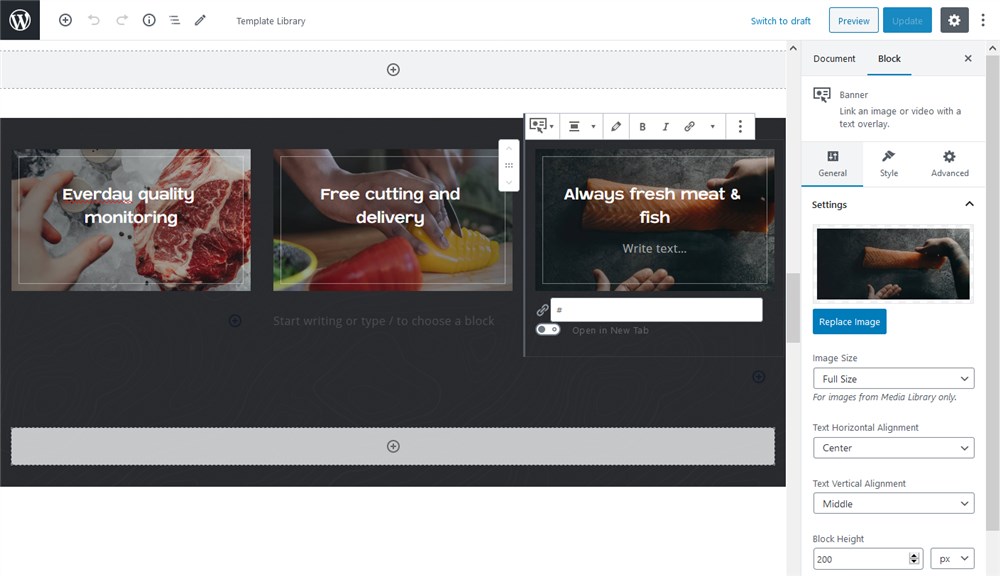 Showcase user-generated photos with the Instagram widget.
This WooCommerce theme allows you to add shoppable Instagram photos to your site with the Getwid Instagram widget for the block editor. The widget is already built-in, so you just need to add your Instagram access key, choose the needed layout and the photos will be uploaded automatically!
You can also send promotional emails with Mailchimp, which is also integrated through the specialist widget.

You can build a contacts page and features Google Maps: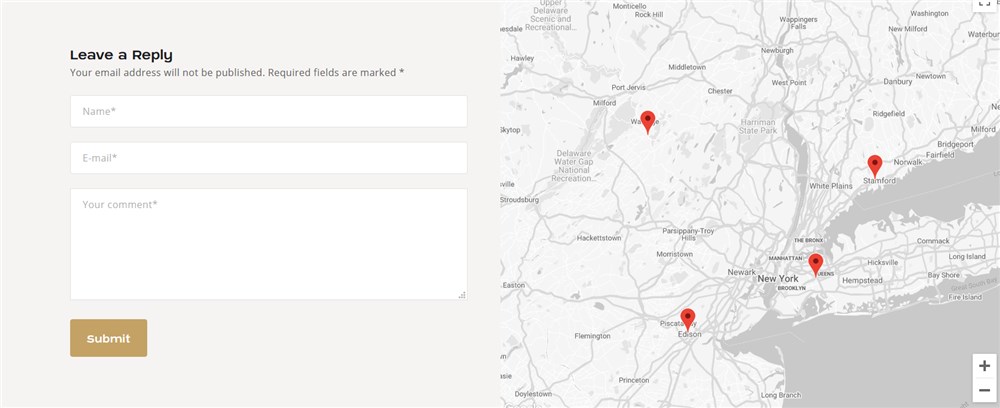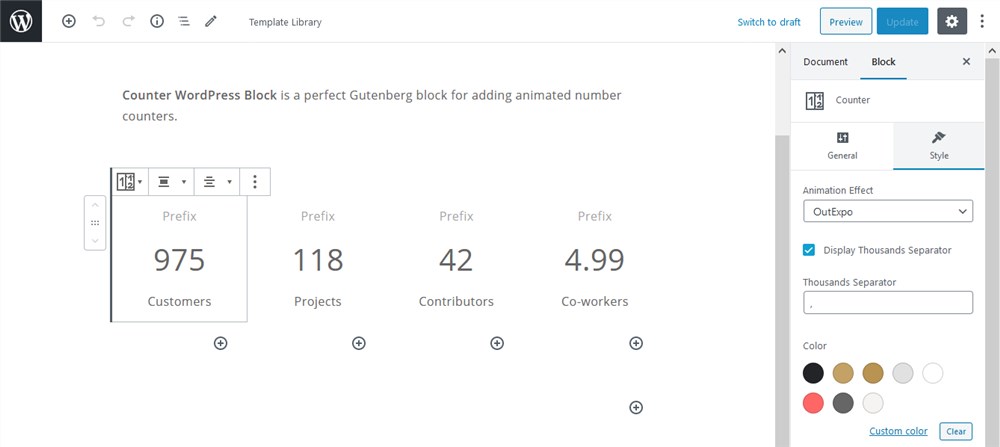 Create a blog with culinary tips, discounts or anything you think is worth sharing: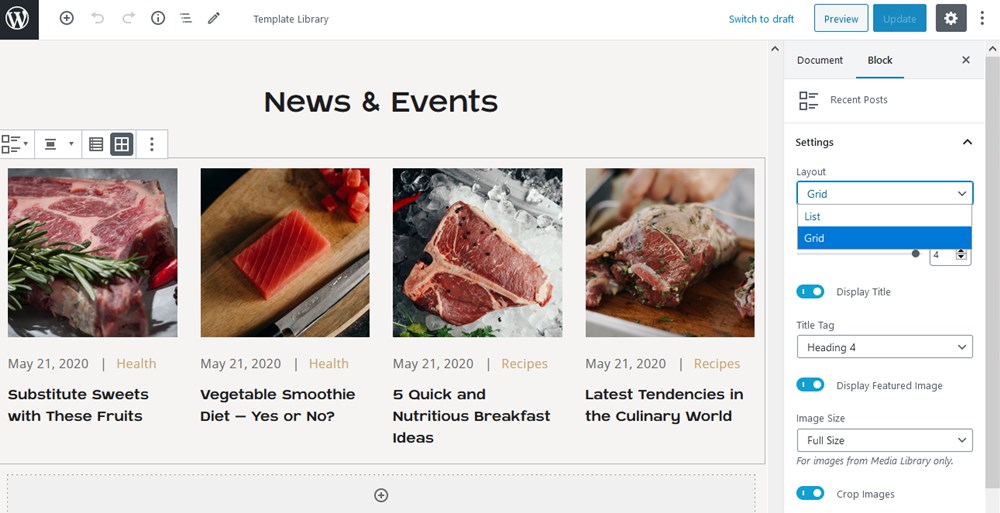 Build all sorts of sliders (Getwid even supports automated slides sourced by your posts or WooCommerce products).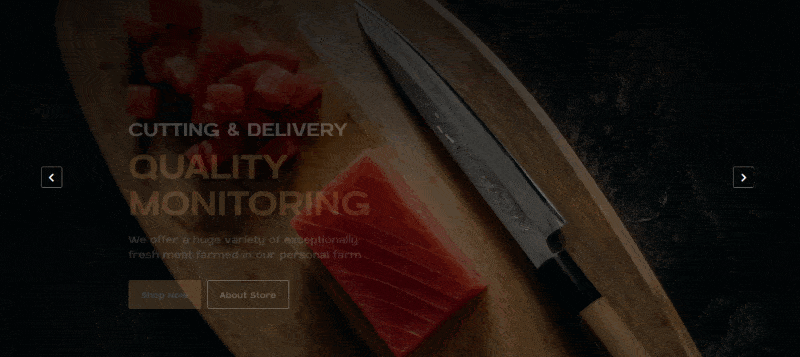 It's really easy to customize the content of slider and its styling in the visual block editor: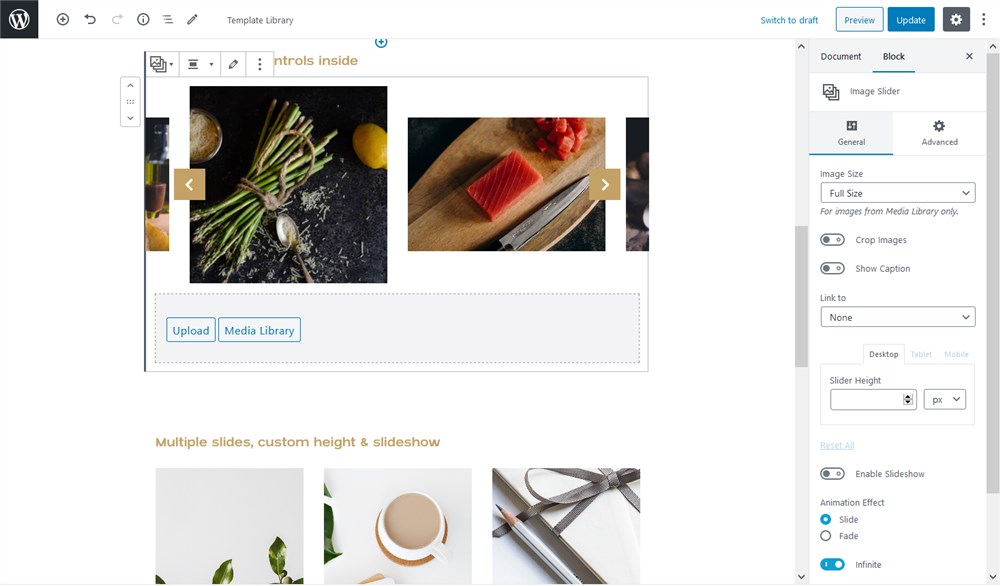 Create awesome image galleries to create a wow-effect on your store: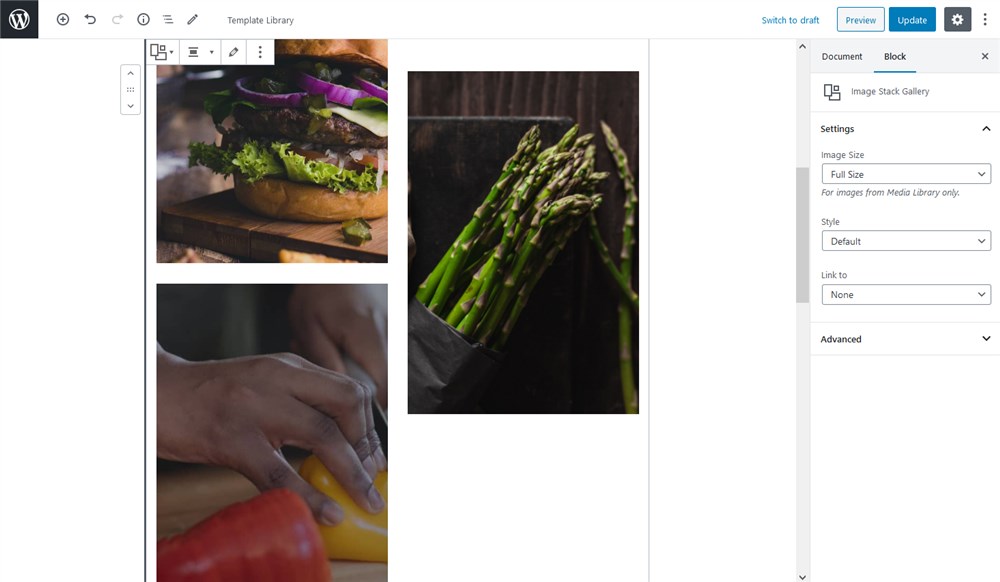 Showcase image hotspots, e.g., in culinary recipes in your fish and meat website template: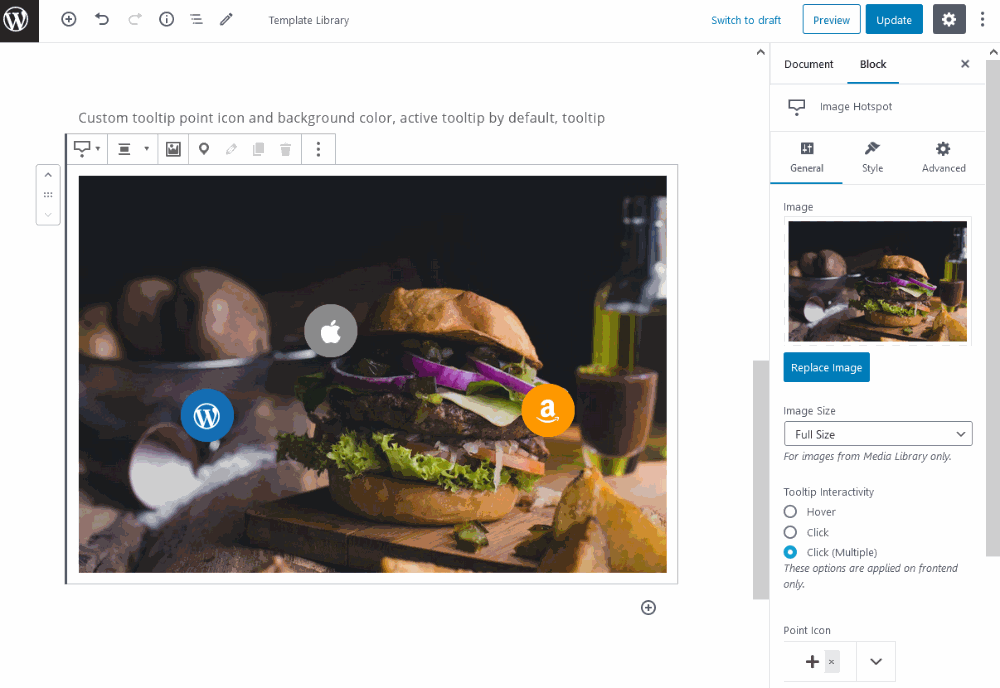 Many more Getwid blocks allow you to change many essential things on your site, including typography changes, background and text colors, social media buttons, images, etc. As you see, the theme is downright easy to set up and customize in just a day.

WooCommerce tools to run a profitable e-store
The Carni Rosso theme is powered by WooCommerce, which means you can use tons of powerful options available in this most popular eCommerce plugin for WordPress.
A default shop design offers clean-looking store pages, which are easy to tweak by choosing products or categories to showcase, setting default pricing by popularity or price, and deciding on how many rows must be shown.
Customers can toggle between grid and list layouts while they are doing shopping on your site (this is the work of The WooCommerce Grid / List Toggle plugin included with Carni Rosso farm WordPress theme).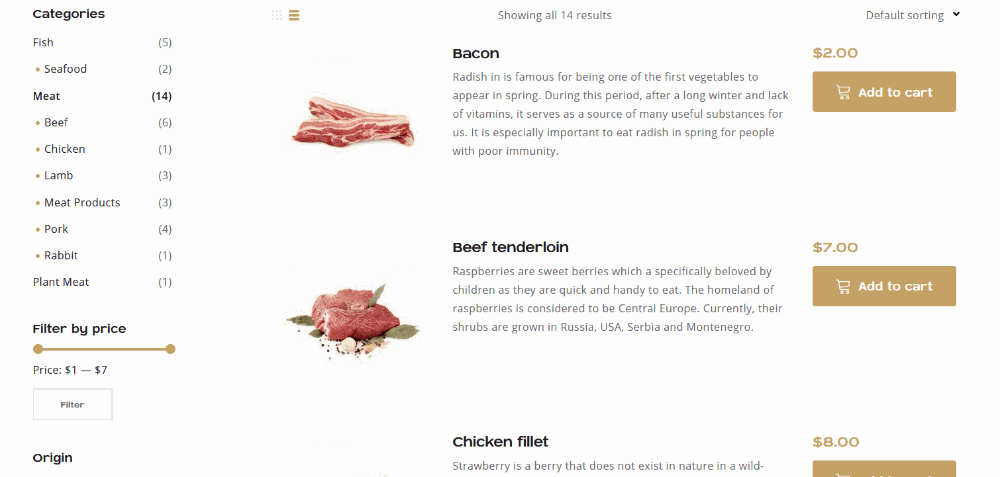 Another awesome tool, the Categories Images plugin, allows you to set a featured image for each store category: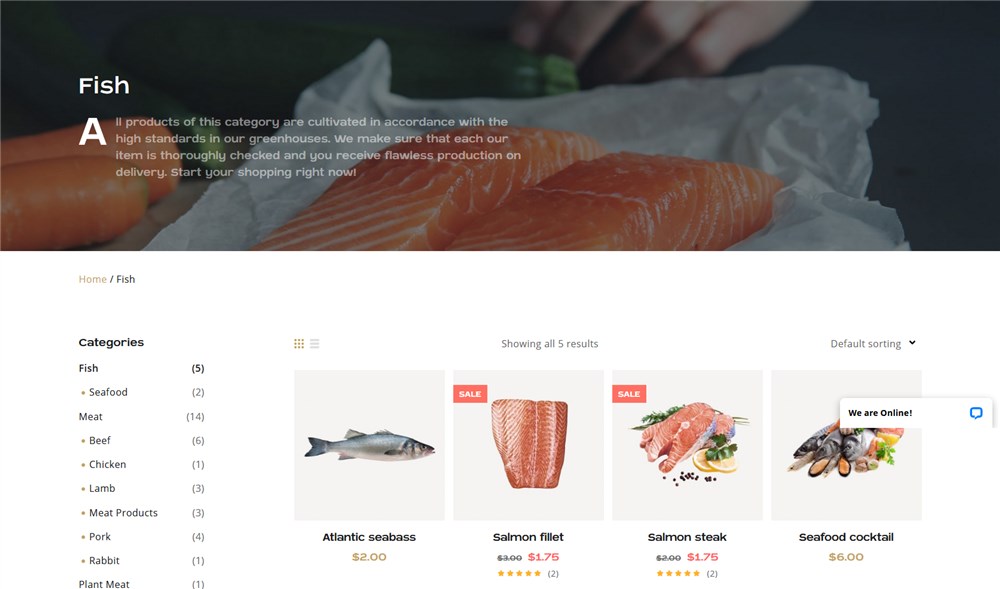 WooCommerce allows you to choose among many default checkout options: PayPal, cash on delivery, direct bank transfer, and check payments. For more, you can choose any free or premium addon and integrate it with the plugin.
If you want to deliver store items, WooCommerce free features give you all the needed essentials:
Deliver locally and abroad.
Flat rate, free shipping, or local pick-up shipping methods.
Free delivery for a specific order amount.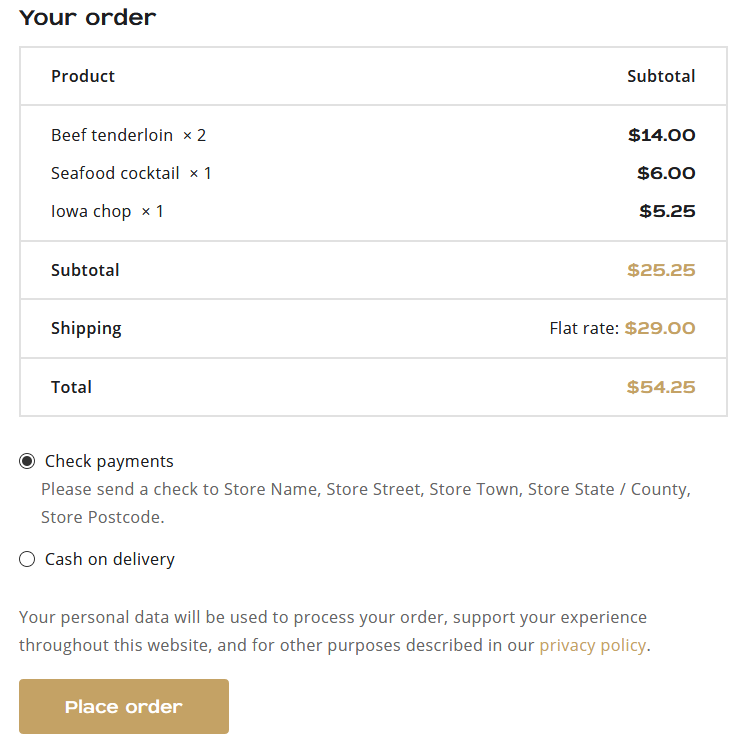 The widget in the theme header allows you to display all crucial information right away:

WooCommerce also allows you to enable user-generated reviews, comments, etc.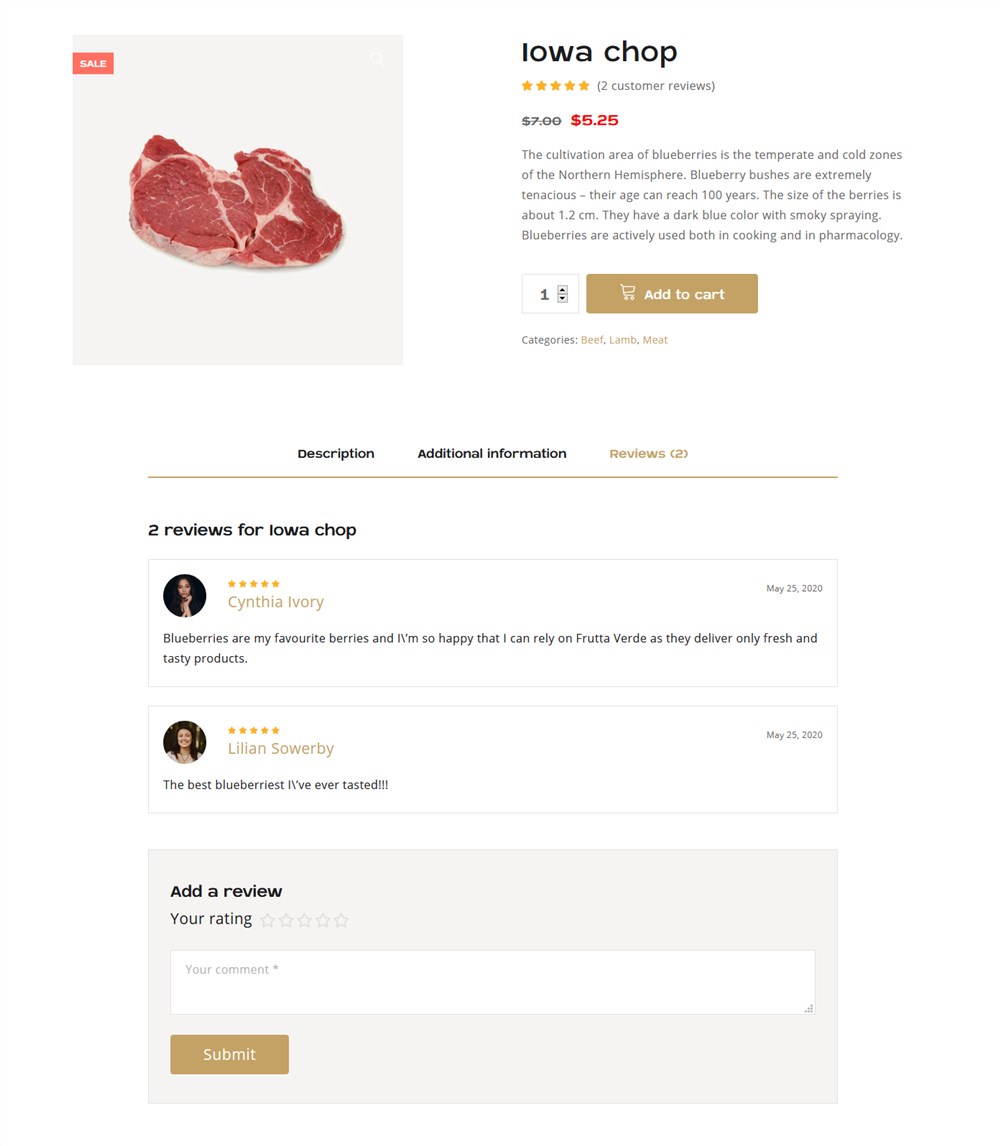 Download Carni Rosso: the fish and meat website template for WordPress
Carni Rosso is designed specifically for butcher shop layouts and seafood stores, so you can run a full-scale online shop with the most powerful WordPress & WooCommerce combo. We'd love to hear from you so make sure to reach out if you have any questions. 
Do I need to pay extra for WooCommerce integration?
No, the integration is already included with the theme. You might need to pay extra for WooCommerce addons or payment gateways you might need to connect to your online store. All of them are available on the WooCommerce store.
Can I use Vite Nera for a grocery store?
Sure, you can use this e-store theme for any other type of business, including multipurpose grocery stores. But you might also consider our Frutta Verde theme – its design is optimized for selling fruit and vegetables online; the same delivery and selling functionality is supported. In our collection of WooCommerce themes, you can also find a solution for wine stores.
How do I customize Vite Nera?
This WooCommerce meat theme is built in the native WordPress block editor, which is also powered up by Getwid. This combination gives you plenty of blocks to add whatever content element you need and also helps you be prepared for any future update of the block editor.