12+ Best Food Delivery WordPress Themes in 2024
Whether you own a grocery store, restaurant, cafe, or catering service, creating an attractive online storefront with delivery functionality can significantly boost your profits. You may even transition into an exclusively online delivery-based enterprise. Fortunately, setting up a website for this purpose is now easier than ever, thanks to the best food delivery WordPress themes from our collection.
Any type of food business is now embracing delivery services. According to the latest report from Statista, as many as 1.2 billion people globally use online food delivery platforms. Moreover, when it comes to the process of ordering food, most customers highly value minimal distractions and maximum time savings.
The savviest owners of restaurants, coffee shops, and health food stores have already implemented convenient delivery systems on their websites. Now is the perfect time for you to do the same!
How to Make a Food Delivery Website?
Besides customer service, food quality, and fast drivers, the success of your food delivery business depends on storefront design. The site must have an attractive appearance, an intuitive interface, and a short ordering path for the fastest and most pleasant customer experience.
Fortunately, using WordPress can greatly simplify the process of creating a food delivery website. In this section, we'll guide you through the basics of setting up an online project of this type using the world's most popular CMS:
Domain Name and Hosting. Before you start, you'll need to purchase a domain name and rent a hosting. Many providers offer specialized WordPress hosting, which can simplify the process.
WordPress Installation: Once you have secured hosting, follow your provider's instructions to add your domain name to your hosting account and install WP on it.
Choosing a Theme. There are numerous templates designed specifically for food delivery services. They usually come with built-in features essential for this type of business.
Orders and Payment Processing. For e-commerce capabilities like online ordering and payments, install and configure the WooCommerce plugin. Make sure to choose a WP template that's compatible with it.
Content and Plugins. Finally, populate your website with essential content such as menus, delivery information, customer reviews, etc. You may also want to add some plugins to improve security, turn on caching, or implement some special features important to your business.
What CMS Platforms for Food Delivery Websites are Available?
In today's digital landscape, WordPress is undoubtedly the most popular CMS worldwide. However, there are also some other well-known platforms, such as Shopify, Magento, and Joomla. Each alternative has its pros and cons, so if you want to dig deeper into the subject, read this publication. Whether you choose WP or another popular substitute, make sure to select a platform that aligns with your business objectives and offers a comprehensive set of features you need to succeed.
What Should a Food Delivery Website Include?
A food delivery website serves multiple functions: it is a menu, an advertising platform, a customer service portal, and an online storefront all rolled into one. To create a successful and user-friendly online project of this type, there are several essential elements you should incorporate:
Attractive and Functional Menu. This is the heart of any food delivery website. It should be visually appealing and easy to read, with high-quality images of the dishes.
Online Ordering and Payment. A food delivery website must have a secure and user-friendly online ordering system. Integrating payment gateways that people commonly use will increase the site's usability and credibility.
Real-Time Tracking. Customers appreciate the ability to track their orders in real-time. Implementing a corresponding tracking feature will enhance customer satisfaction and provide a significant edge over competitors that lack this functionality.
Reviews and Testimonials. Potential customers often rely on reviews to make their final decision. Including a section for customer reviews and testimonials will build trust and potentially boost sales.
Special Offers and Promotions. Having a dedicated section for special offers, discounts, and promotions is a good way to incentivize orders and attract new customers.
How Much Does a Food Delivery Website Cost?
Creating a food delivery website involves multiple elements that can vary greatly in cost, including domain registration, hosting, theme purchase, plugin acquisition, and content creation. Here is an approximate breakdown:
Domain and Hosting. Expect to spend around $10-$20 per year for a domain name and anywhere from $50 to $300 per year for reliable hosting, depending on your needs and the scale of your online project.
Theme Purchase. Premium food delivery WordPress templates can range from $30 to $100, sometimes even more if they include specialized features or come with bundled extensions.
Plugins. While WooCommerce itself is free, additional tools for extra functionality (like real-time tracking or payment gateways) could range from free to around $100 per year or even more.
Content Creation. The time spent on creating content can be considerable, especially if you're aiming for high-quality photos, menu descriptions, blog posts, and other written content. Whether you create the texts, photos, and videos yourself or hire professionals, this is a crucial part of your website that shouldn't be overlooked.
Time Investment. Expect to spend at least 20-40 hours setting up the website if you do it yourself. This includes theme setup, plugin configuration, and content creation. If you hire professionals, this time could be reduced, but the costs would increase.
How to Use WooCommerce for Food Delivery?
WooCommerce has become an increasingly popular choice for food delivery services across a variety of businesses, including restaurants, pizzerias, and grocery stores. You may be surprised to discover the range of features and styling options this e-commerce plugin offers to website owners.
The main perks of WooCommerce food delivery website templates are:
easy to install and configure;
simple and ready-to-use food delivery procedure;
affordable for everyone's budget;
1 year or lifetime support from developers;
compatibility with all premium WordPress plugins (some may be included for free);
compatibility with drag-and-drop page builders.
Why WooCommerce is Popular
Versatility
The most popular e-commerce plugin can handle various kinds of food delivery models. Whether you're running a single restaurant or a multi-vendor food delivery network, this e-commerce solution has the flexibility to accommodate your needs.
Payment Gateways
The extension supports numerous payment gateways, including PayPal, Stripe, and various local options, allowing customers a wide range of payment choices.
Integrated Solutions
Numerous add-ons and templates are designed to work seamlessly with WooCommerce, providing functionalities like online ordering, menu displays, and real-time tracking.
Setting Up WooCommerce for Food Delivery — Step-by-Step Guide
For your convenience, here is a brief overview of the actions you can take to customize WooCommerce for your food delivery needs:
Install Plugin: After installing WP, WooCommerce can be added directly from the WordPress plugin repository.
Select a Theme: Choose a WooCommerce-compatible food delivery template that suits your brand and desired functionalities (a list of the best food delivery WordPress themes will be provided below).
Configure Settings: This involves setting up payment gateways, shipping options, tax settings, etc.
Add Products: Populate your online menu by adding products. You can categorize them into different types like appetizers, main courses, and desserts for easier navigation.
How to Set Up a WooCommerce Store — Video Tutorial for Beginners
And, for even greater convenience, here is a video overview of the setup process:
In the sections ahead, we'll introduce you to an array of over 12 WordPress templates tailored for food delivery services in restaurants, cafes, and grocery stores. We'll zero in on the specific features these themes can offer for various types of food and beverage establishments, including coffee shops. Each skin has its unique set of functionalities, so choose the one that aligns most closely with your business requirements.
Restaurant WooCommerce Templates
1. Carni Rosso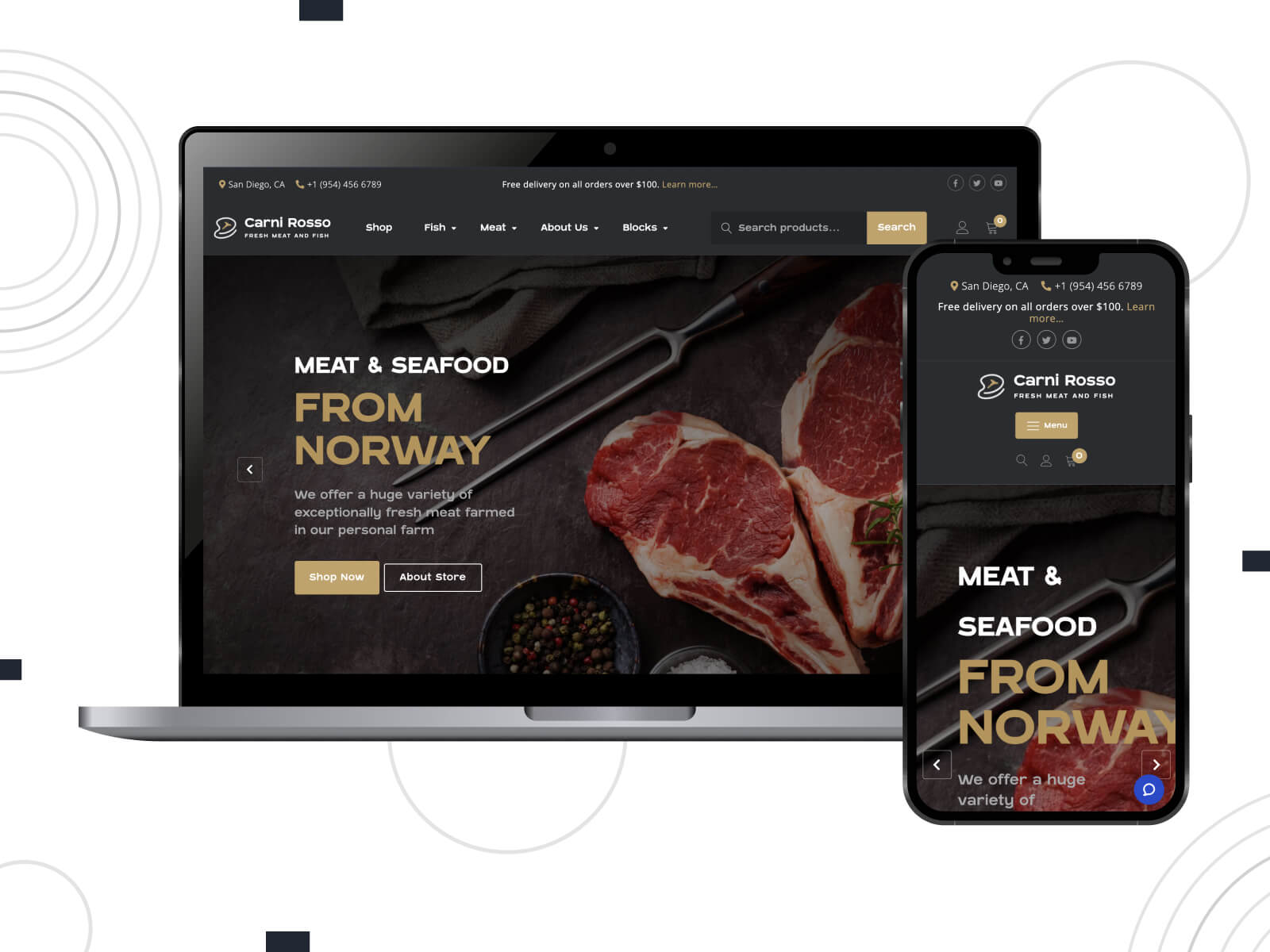 Author
Rating
Avg. Demo Speed Score
MotoPress
5.0
Mobile 57
Desktop 86
Carni Rosso is a neat and responsive WooCommerce theme for websites dedicated to food delivery businesses of any kind and scalability. This template design works perfectly as a base for butcher's shops, organic food stores, meat & fish suppliers, food delivery WooCommerce services, and many more.
The theme is 100% WooCommerce ready meaning it contains the needed elements for performing effective sales, delivery, and a takeaway service. Everything from checkout to multiple payment getaways ensures a smooth eCommerce experience for customers from both your locality to the entire world.
Carni Rosso is entirely Gutenberg-optimized, so each of its elements is fully editable, responsive, and interchangeable. The default WP editor allows you to try extra blocks along with the basic collection, in particular, by installing Getwid. The plugin comes free and offers 40+ more dedicated blocks with advanced functionality and unique features.
Core Features:
Clean & Minimalist;
Universal Pre-made Layouts;
7 Widget Zones & 4 Navigation Menus;
40+ extra blocks by Getwid;
One-Click Demo Import;
Complete WooCommerce Food Delivering System;
SEO optimization;
Cross-browser compatibility.
2. Grand Restaurant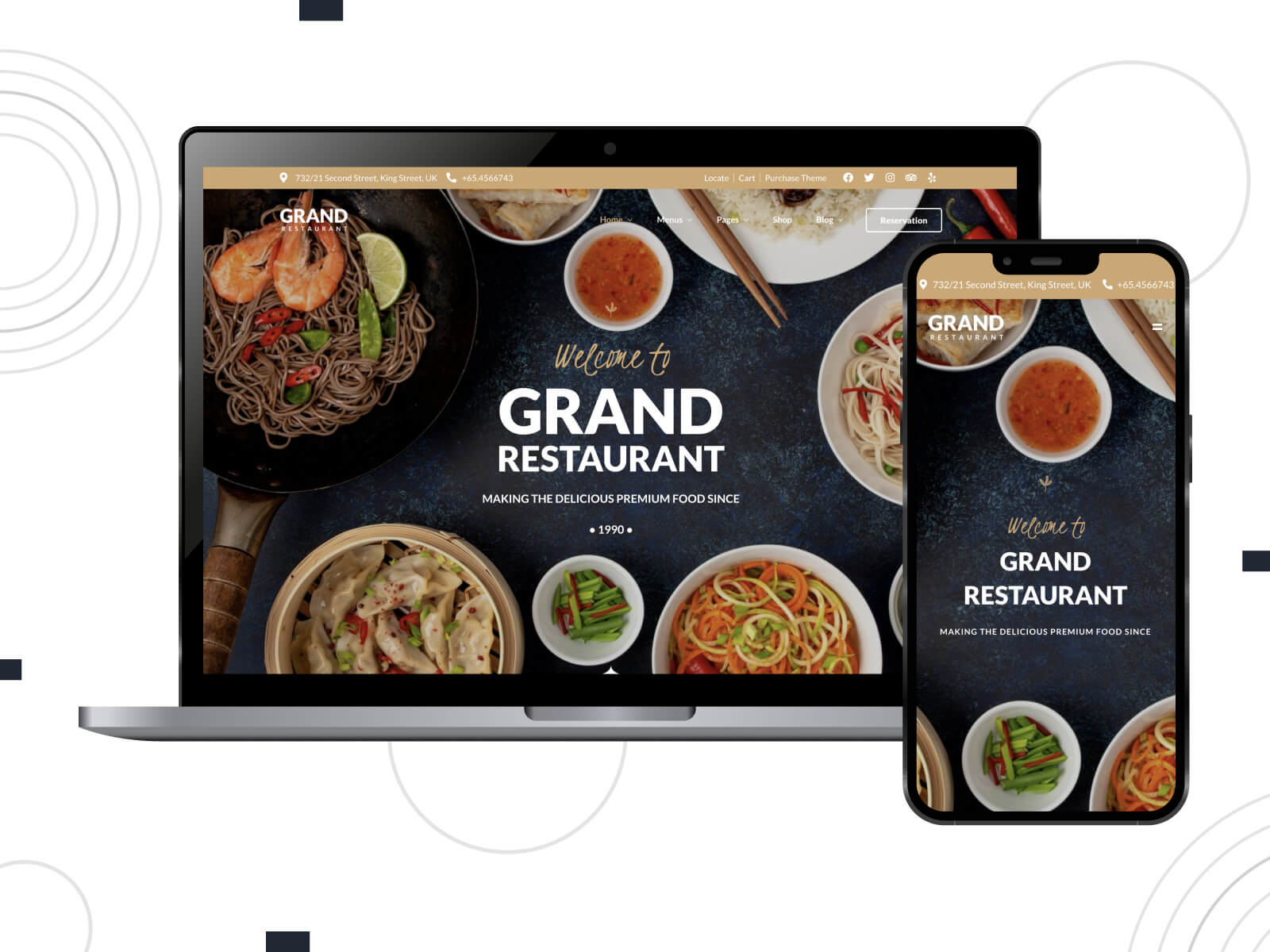 Author
Rating
Avg. Demo Speed Score
Themegoods
4.66
Mobile 36
Desktop 57
Grand WooCommerce theme will be a total overlook for top-class restaurants. The incredibly beautiful elegant design combines with a variable menu and online reservation options, home delivery systems, coupon code systems, the benefits of international payments, and much more.
Now when it comes to the WooCommerce plugin, you are getting a shopping cart feature, product display based on category, ID or SKU, custom featured product slider, and much more. Most importantly, Grand provides you with a direct purchase link option support. Users will only need to link the purchase link of each menu item, and it will be added to the shopping cart.
Alongside, the theme comes bundled with Revolution Slider, Yoast SEO, and WP Super cache that has various options for the sidebar, blog pages, menus, etc., and also, it also supports WPML.
Core Features:
6 Demos and templates for your restaurant page main display;
Restaurant Food Delivery with online payment & direct link option;
Google Maps Style and multiple locations;
Multiple Size and prices for restaurant menu;
Multiple Reservation Options;
Drag & Drop Content Builder;
Custom Page Templates.
3. FoodBakery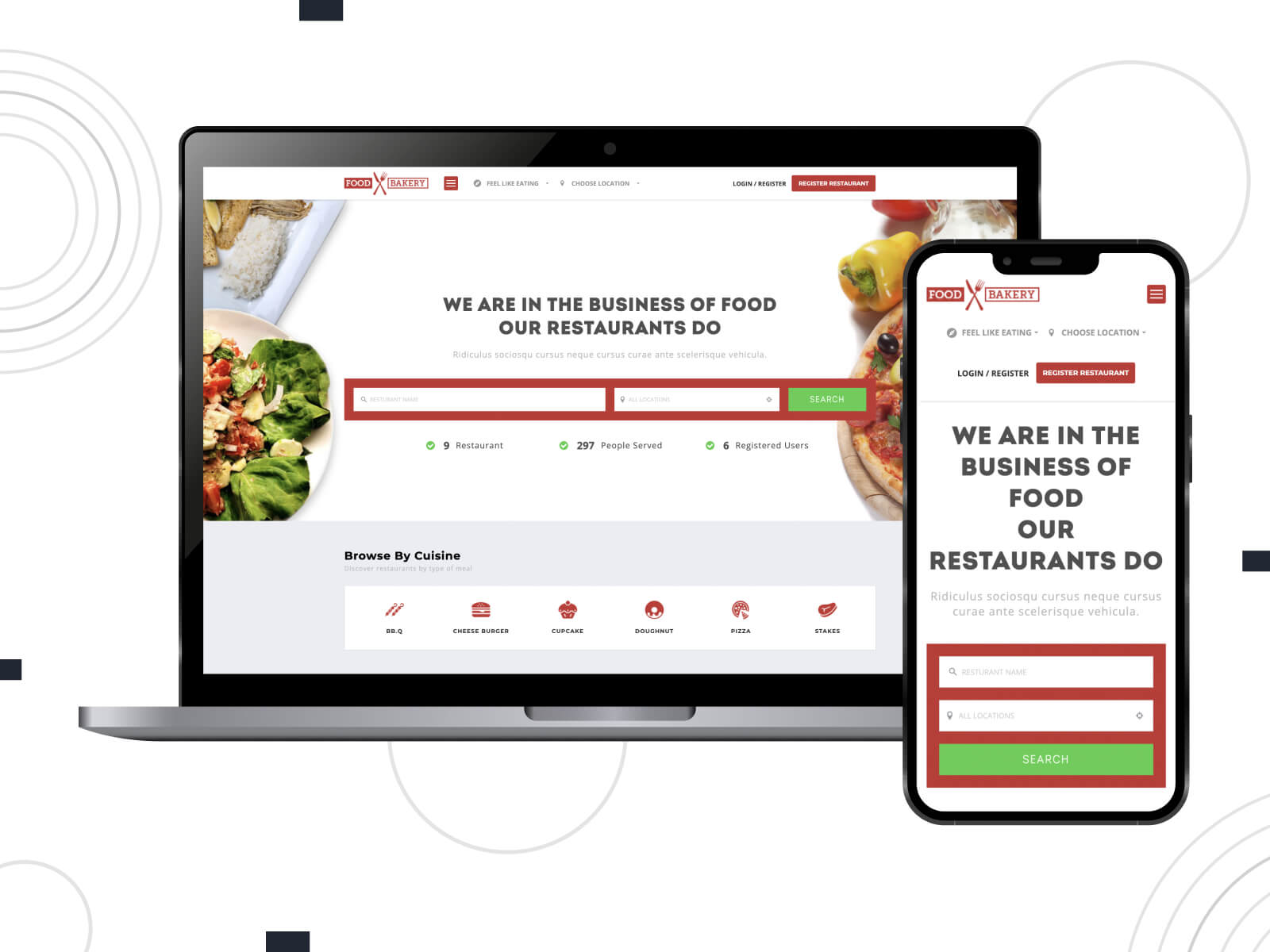 Author
Rating
Avg. Demo Speed Score
Chimpstudio
4.74
Mobile 53
Desktop 85
As one of the best food delivery WordPress themes, this template is particularly suitable for food delivery chains. The design was crafted to allow customers to browse the restaurant menu online and place orders directly on your site, rather than calling the service.
FoodBakery isn't a place for elaborate styling and designs. The website reflects the main idea of food delivery – simple, fast, yet modern-looking and extremely user-oriented. The theme works perfectly if your target audience is people in their 20s looking for budget-friendly meals for their stay-at-home activities or office lunches.
Core Features:
6+ Demos (1 Multipurpose, Mexican Restaurant, FoodShop, Food Court, RTL, Single Restaurant);
Merchant Dashboard to manage orders and bookings;
Email Alert for Orders;
Multiple Payment Gateways (Paypal, Skrill, Authorize.net, and bank transfer for merchant listing websites);
Single & Multiple Restaurants Listing Theme;
One-Click Installation – Quick Start Guide.
4. Cafe
Author
Rating
Avg. Demo Speed Score
Vamtam
4.57
Mobile 52
Desktop 83
The Restaurant & Cafe theme is an elegant, beautifully structured, and easy-to-use WordPress restaurant template. It is designed as a platform for business development and is equipped with modern, multifunctional tools that allow you to set up delivery without any previous website development knowledge. Nevertheless, the theme contains a set of advanced tools for pro developers.
Core Features:
Minimalistic & User-Oriented Design;
Easy Parallax builder;
Live Customizer;
One-click Demo Content Installer;
Revolution Slider, FoodPress, Premium Icon Set, etc.
5. Cinnamon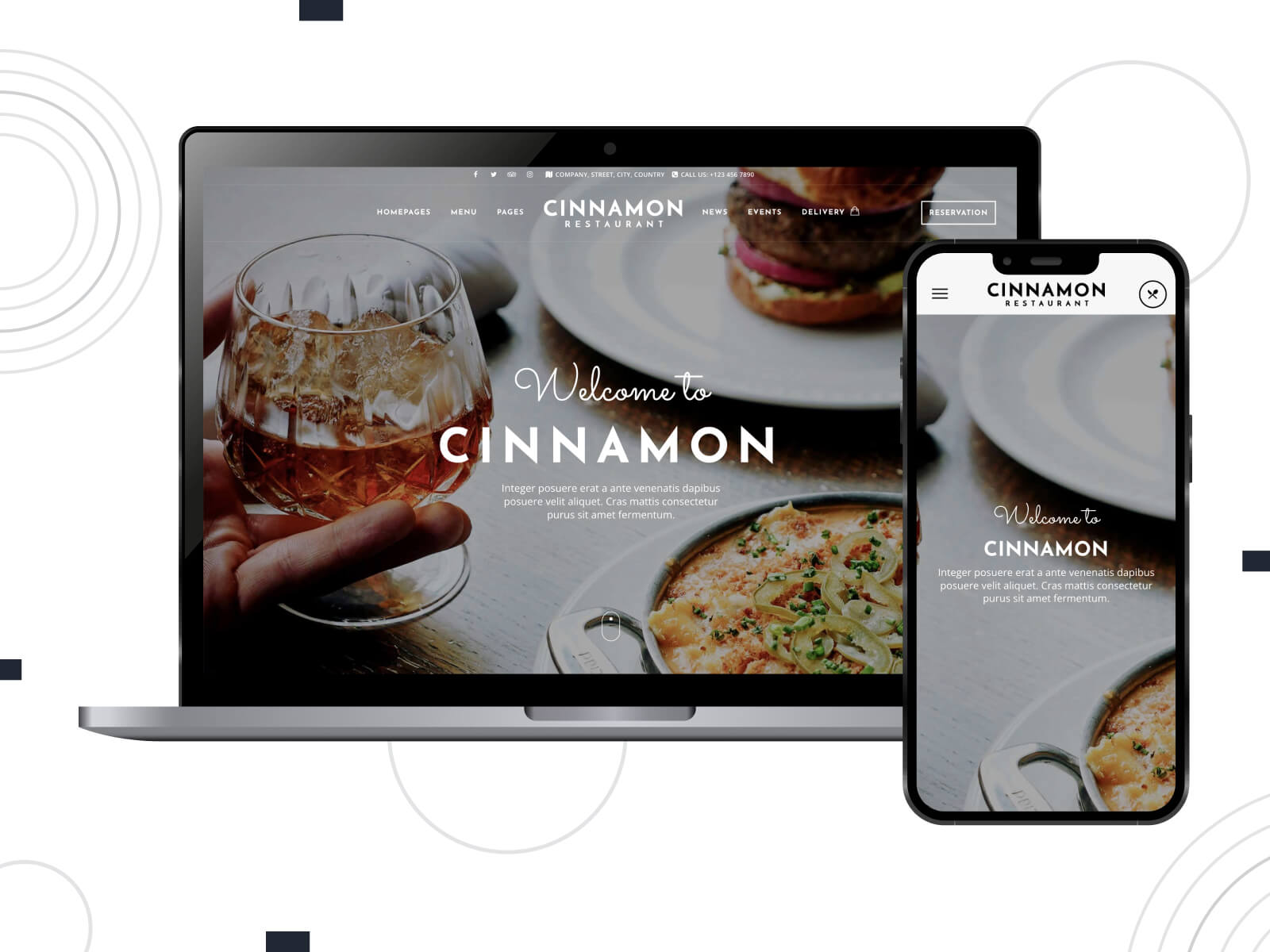 Author
Rating
Avg. Demo Speed Score
Imaginem
4.39
Mobile 30
Desktop 60
Cinnamon is an adaptive multi-purpose WordPress theme designed for all types of food-related websites, whether it's a small or large restaurant, pizzeria, coffee shop, etc. It can also be used to create a website with a single-page layout.
An order button is readily accessible to visitors in the form of a modular sliding window that contains either a form or a link to a dedicated page. Cinnamon supports the integration of OpenTable and offers several food menu layouts for displaying menus. Most importantly, it provides a variety of WooCommerce options. These are especially useful when setting up a delivery page with multiple payment systems, whether online or upon receipt.
Core Features:
Food Post Type;
Events Post Type;
Shortcodes and Shortcode Generator;
4 Types of Headers;
7 Menu Customizing Options.
6.  Picante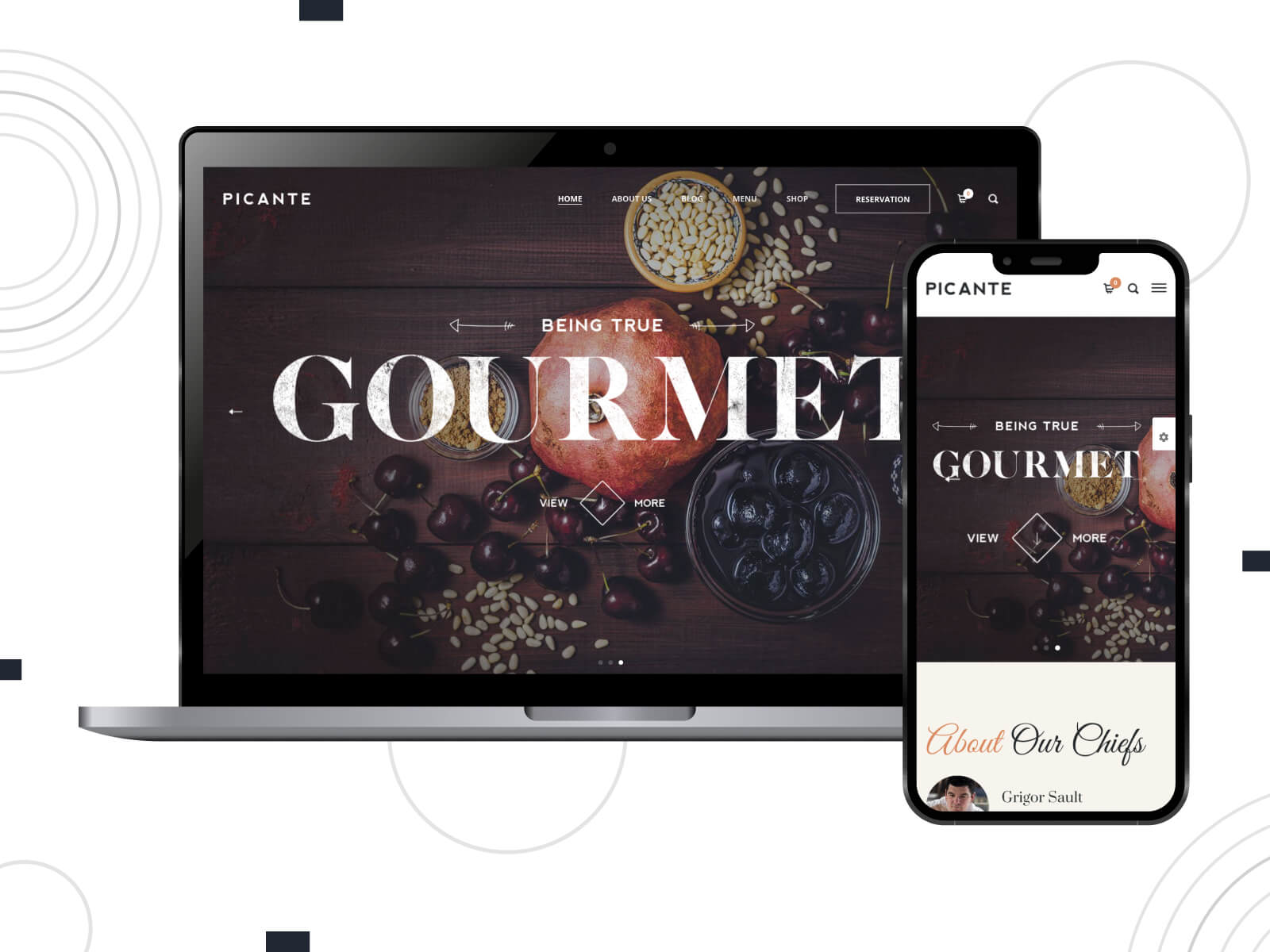 Author
Rating
Avg. Demo Speed Score
Code-Less
4.33
Mobile 36
Desktop 86
Picante is a clean and modern WordPress template for a cafe and restaurant or any food-related business website. The template considers the latest web design trends and features all the necessary elements for eCommerce orders.
This skin supports a responsive layout and looks great on all devices. It has predefined demo styles for classic bars & restaurants, organic shops, coffee shops, gallery slideshow, pizza & fast food, reservation homes, blog boxed, blog full width, and shops. All of them can be imported with one click.
Core Features:
8 Premade Unique Templates;
100+Content Blocks;
Live Page Builder and Live Composer;
Cool Product Menus;
Custom modern Checkout and Thank You Page Style.
Pizza Delivery WordPress Themes
7. Restaurant Vincent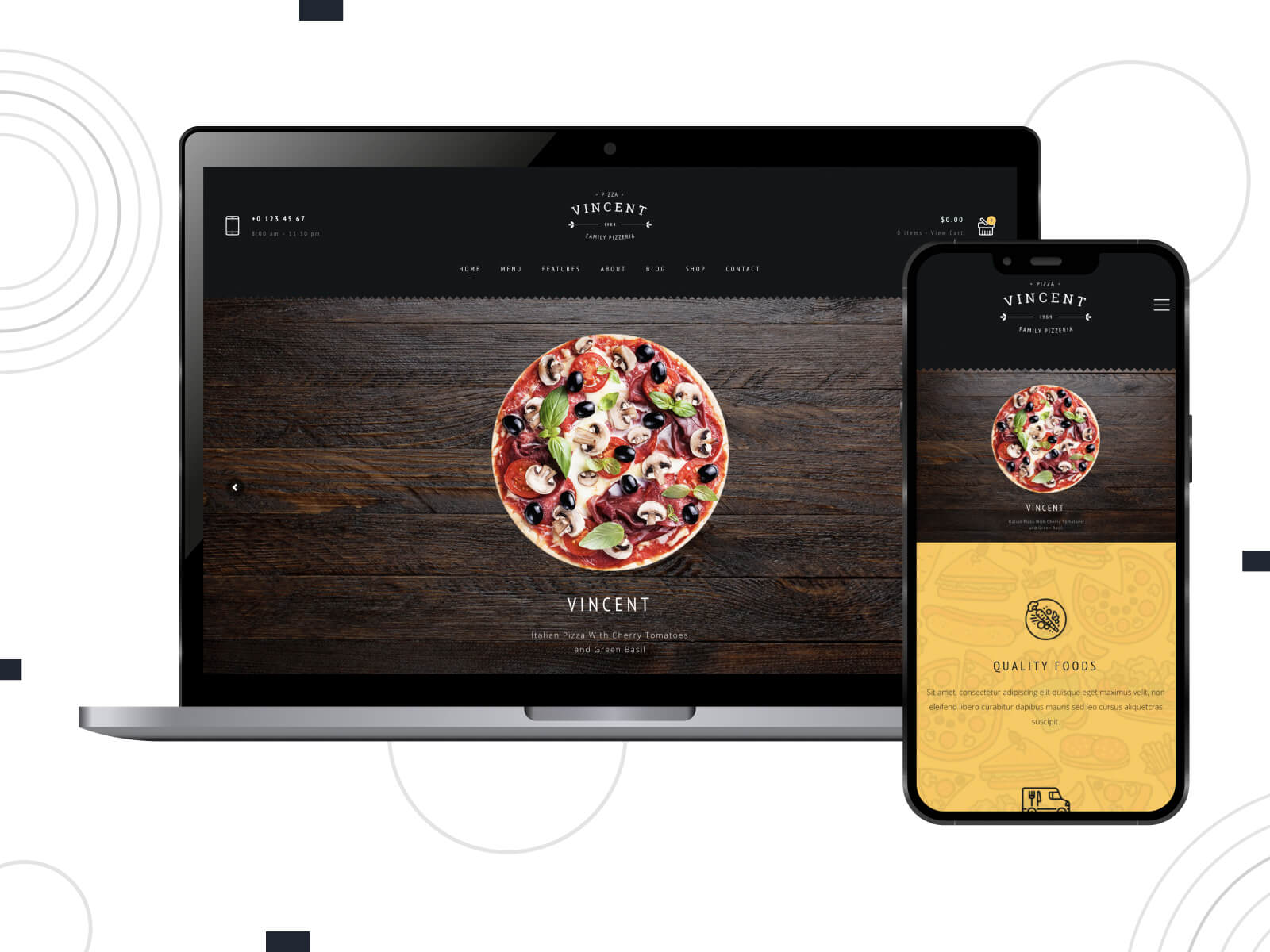 Author
Rating
Avg. Demo Speed Score
Pixel-Mafia
4.93
Mobile 38
Desktop 78
Selling yummy pizzas? If you set up a pizza delivery service, Vincent is your jackpot. Pizzas, burgers, salads, or any other WordPress theme food will look fantastic on any page, especially with such a minimalistic dark-theme design. Set up a blog, or choose among 6 options for the home page, 3 contact form templates, and 3 types of menus.
Vincent supports the popular WooCommerce plugin, which has a built-in visual page builder, which makes it possible to create pages by simply dragging and dropping elements from the library, including Pixel-Mafia. The theme allows you to create a powerful beautiful slider, and it is possible to change the color gamut.
The template provides uploading menu items using AJAX, and it is compatible with a large number of free popular plugins. Vincent is regularly updated, and it supports multiple WordPress versions.
Core Features:
WPBakery Drag-and-Drop Page Builder;
Included Slider Revolution;
Demo Content Import, Multilingual, and Mobile Version.
8. Lafka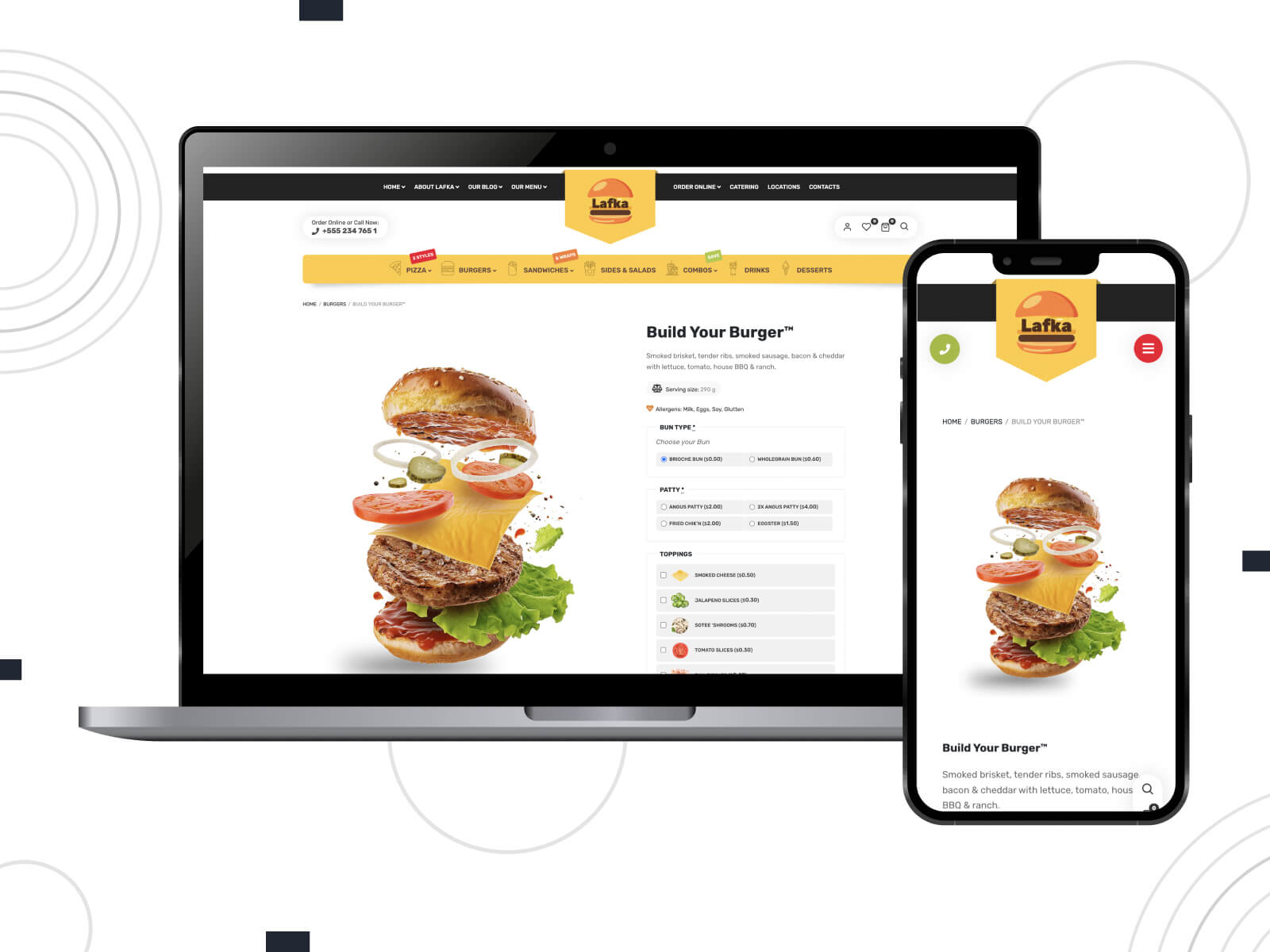 Author
Rating
Avg. Demo Speed Score
Althemist
4.46
Mobile 35
Desktop 70
If you own an authentic American diner with the best burgers and pizzas, Lafka is one of the best food delivery WordPress themes to choose from. Among the 6 demo-made websites offered by the template, you will also find stylish layouts for a bakery, sushi restaurant, and even a food truck.
Full integration with WooCommerce allows you to make purchases and pay through the site, which is convenient for both the user and the business owner. The menu sections were designed specifically to get acquainted with the ingredients and their look. All you are left to do is download images of dishes using various types of galleries. More to say, the theme is SEO-optimized to boost your online visibility and get you ahead of competitors.
Core Features:
Flexible Food Menu System;
50+ Fast Food Icon Fonts;
Build your own burger/pizza functionality;
Powerful Custom Restaurant Menu post type;
Powerful Shortcodes and Widgets;
Full Woocommerce Integration.
9. TH Shop Mania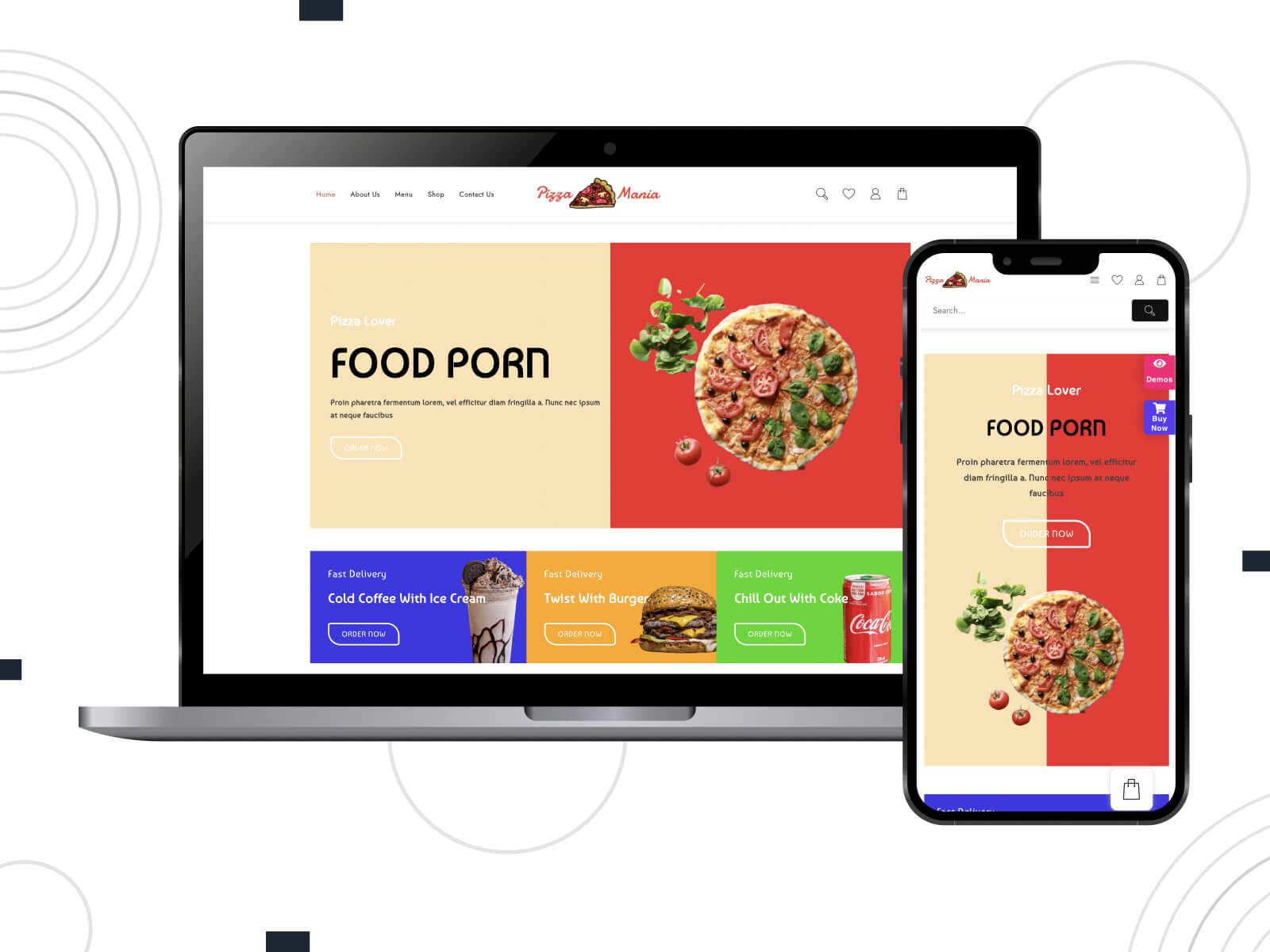 Author
Rating
Avg. Demo Speed Score
ThemeHunk
5.0
Mobile 58
Desktop 75
TH Shop Mania is an Elementor-based eCommerce WordPress theme. It has a modern and minimalist design which will help you create any type of shopping website. The theme has many advanced options and very attractive demo templates which will give lots of opportunities to welcome customers, introduce them to your business, and sell site products.
This beautiful theme provides all the necessary functionality, all wrapped up in a fully modern and stylish design. The demo package includes the skin for Online Food Delivery. It is crafted for professional food ordering and online food delivery websites. You can easily highlight and customize the information there.
Core Features:
SEO-optimized design;
Suitable for multi-vendor shops;
Compatible with WooCommerce;
Leading page builders, such as Elementor, Brizy, and Gutenberg;
TH Advanced Product Search, TH Woo Cart, and TH Variation Swatches plugins.
Woocommerce Food Ordering Themes
10. Frutta Verde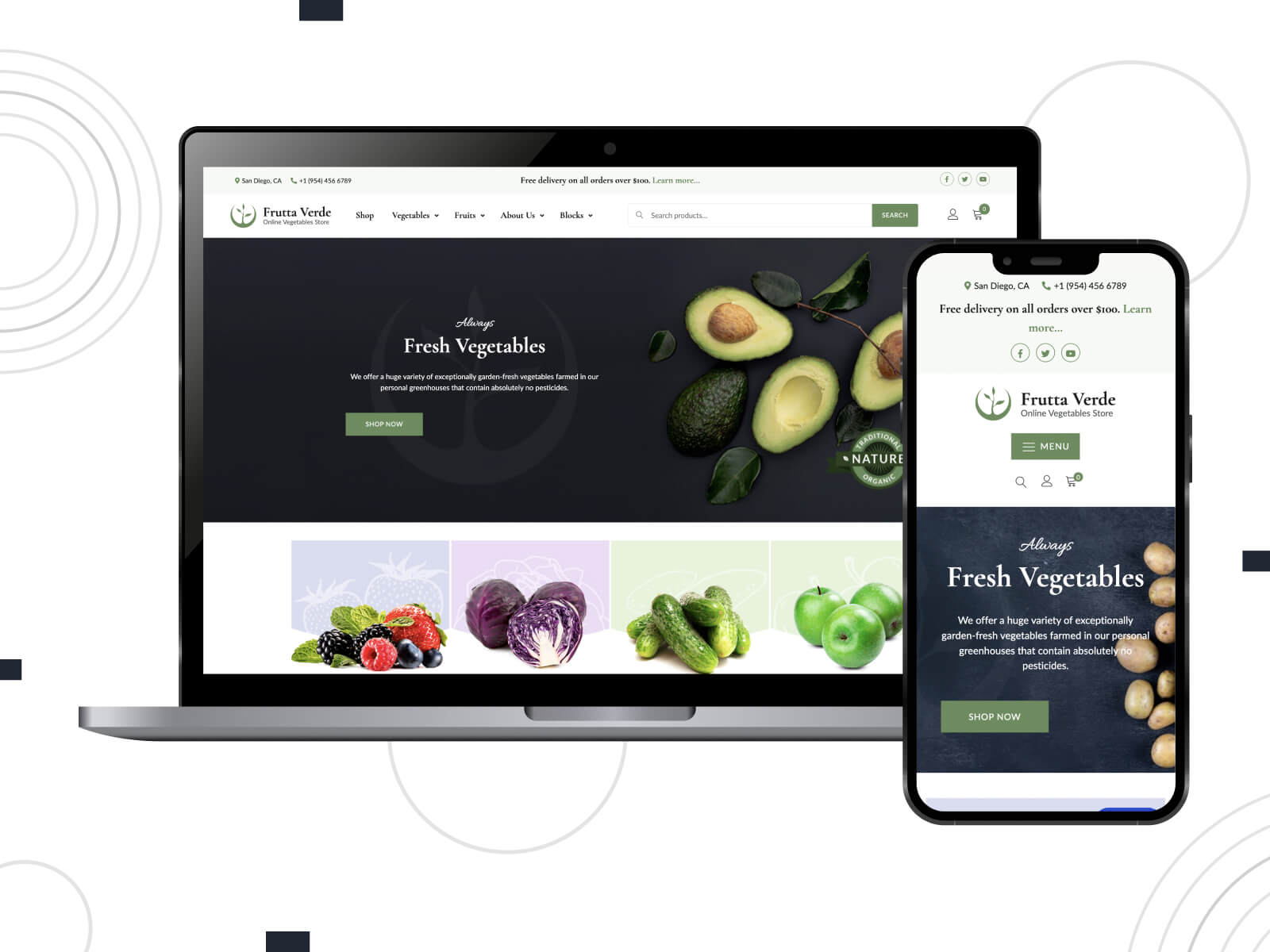 Author
Rating
Avg. Demo Speed Score
MotoPress
5.0
Mobile 56
Desktop 93
Frutta Verde is one of the best food delivery WordPress themes with a particular focus on WooCommerce compatibility. It works perfectly as an online storefront for fruit and vegetable shops, farmer's markets, catering companies, etc. However, despite such a narrowly targeted name and the demo, this WooCommerce theme has all the needed tools for hosting online stores of a wider business range.
The Frutta Verde design looks fresh and lightweight and does not feature any abundant elements. Such a clean design solution is highly performance-oriented and will not slow down your platform. Here is a video review so you can get a more comprehensive impression:
Powered with WooCommerce functionality, the theme allows users to manage online orders and reach out to advanced delivery options. In particular, you will be able to ship items to different delivery zones and enable customers to pay online via popular payment gateways. Finally, you'll have access to a single dashboard where you can see the total turnover.
Core Features:
Eco-friendly & Multipurpose Design;
Optimized for Quick and Easy Checkout;
Delivery & Takeaway services;
Supports WordPress Customizer & Gutenberg;
40+ advanced Getwid Blocks;
One-Click Demo Data Import.
11. Vite Nera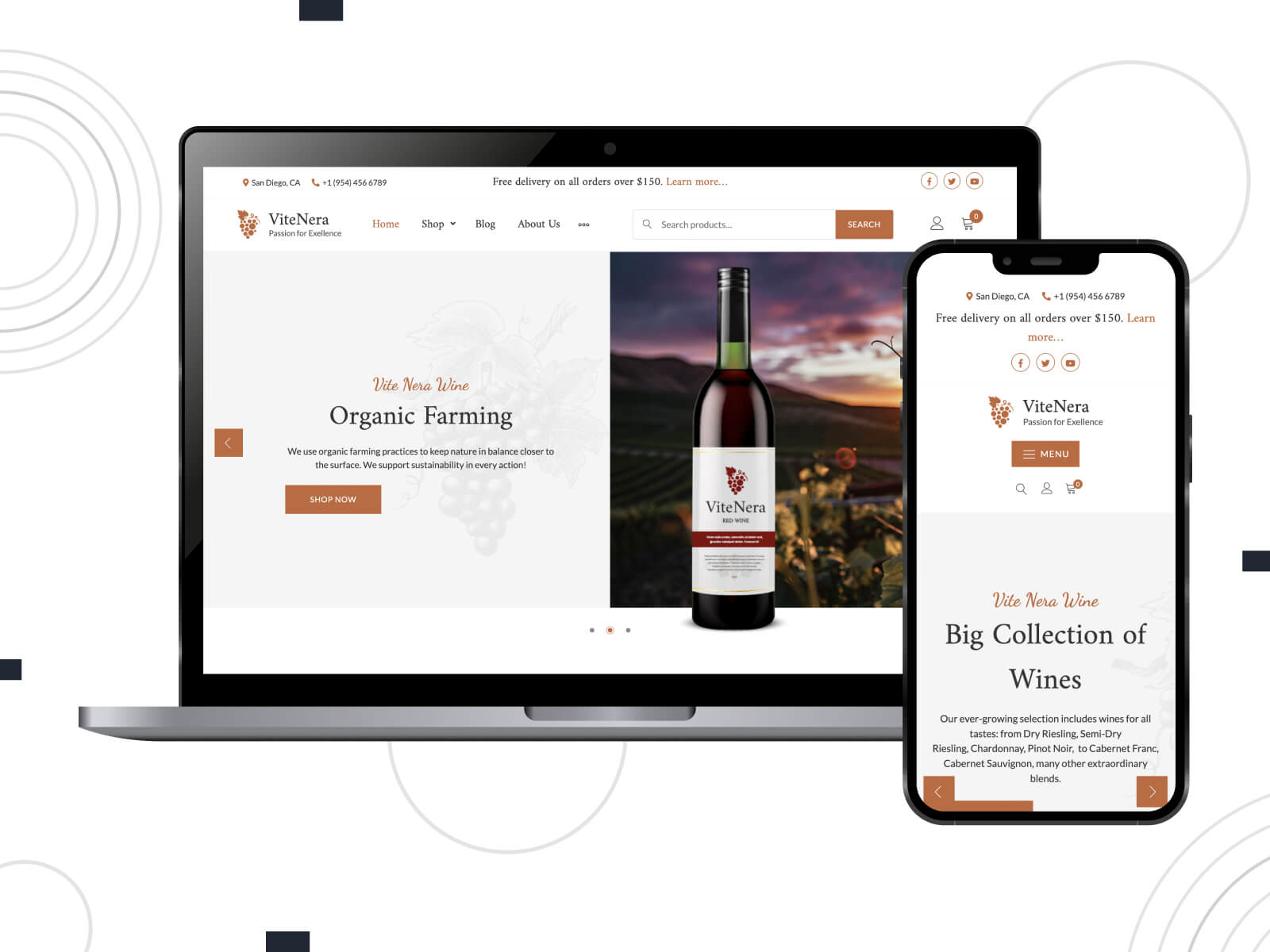 Author
Rating
Avg. Demo Speed Score
MotoPress
5.0
Mobile 75
Desktop 95
If you are thinking of doing a delivery for a wine shop, or any type of local winery, you can represent your brand with Vite Nera. This is a Gutenberg-optimized example of the best food delivery WordPress themes with minimal design and solid code. The entire Vite Nera layout remains universal for all different types of online shops, while you may enjoy editing pages with drag-and-drop blocks. Its multiple attributes like sliders, filters, and banners help in showcasing the products on the web.
The theme comes bundled with all the perks of the WooCommerce plugin, including multiple payment gateways, delivery & takeout options, product reviews, and more.
Core Features:
Product-oriented universal design;
Optimized for the WordPress block editor;
40+ Gutenberg Blocks by Getwid;
Integrated WooCommerce functionality;
SEO-friendly;
Mailchimp integration.
12. Cake Bakery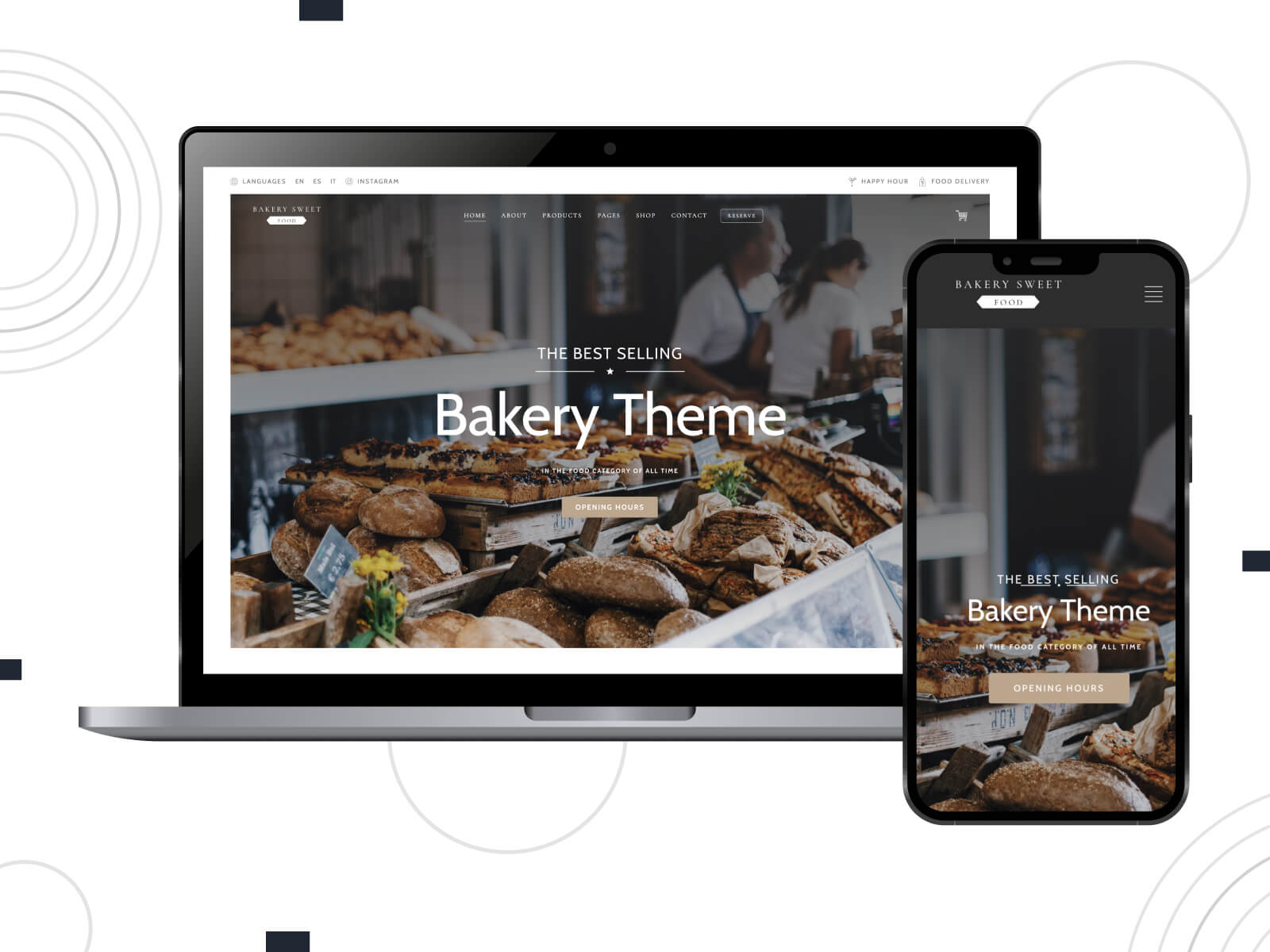 Author
Rating
Avg. Demo Speed Score
Nicdark
4.55
Mobile 56
Desktop 88
You don't need vibrant colors to create a powerful and "tasty" design for the cake bakery website. This statement is 100% justified after working with the Cake Bakery – one of the most popular multi themes to create a food delivery website. With numerous constant updates and newly-released options for business, whether it's a bakery, pastry shop, cafe, or confectionary store, your business website is guaranteed to have the most modern look and functionality.
From the point of view of the developer, there are also many useful things, including advanced slider settings, multiple plugin compatibility (WooCommerce, ContactForm 7, Events Calendar, Yoast SEO, and more), and full-responsive set-up features.
Core Features:
Shop Skins: Frozen Yogurt & Ice Cream Shop, Chocolaterie & Coffee Shop;
WPBakery Page Builder;
Revolution Slider included for FREE;
Sections Parallax / Image And Video Background.
13. Organic Store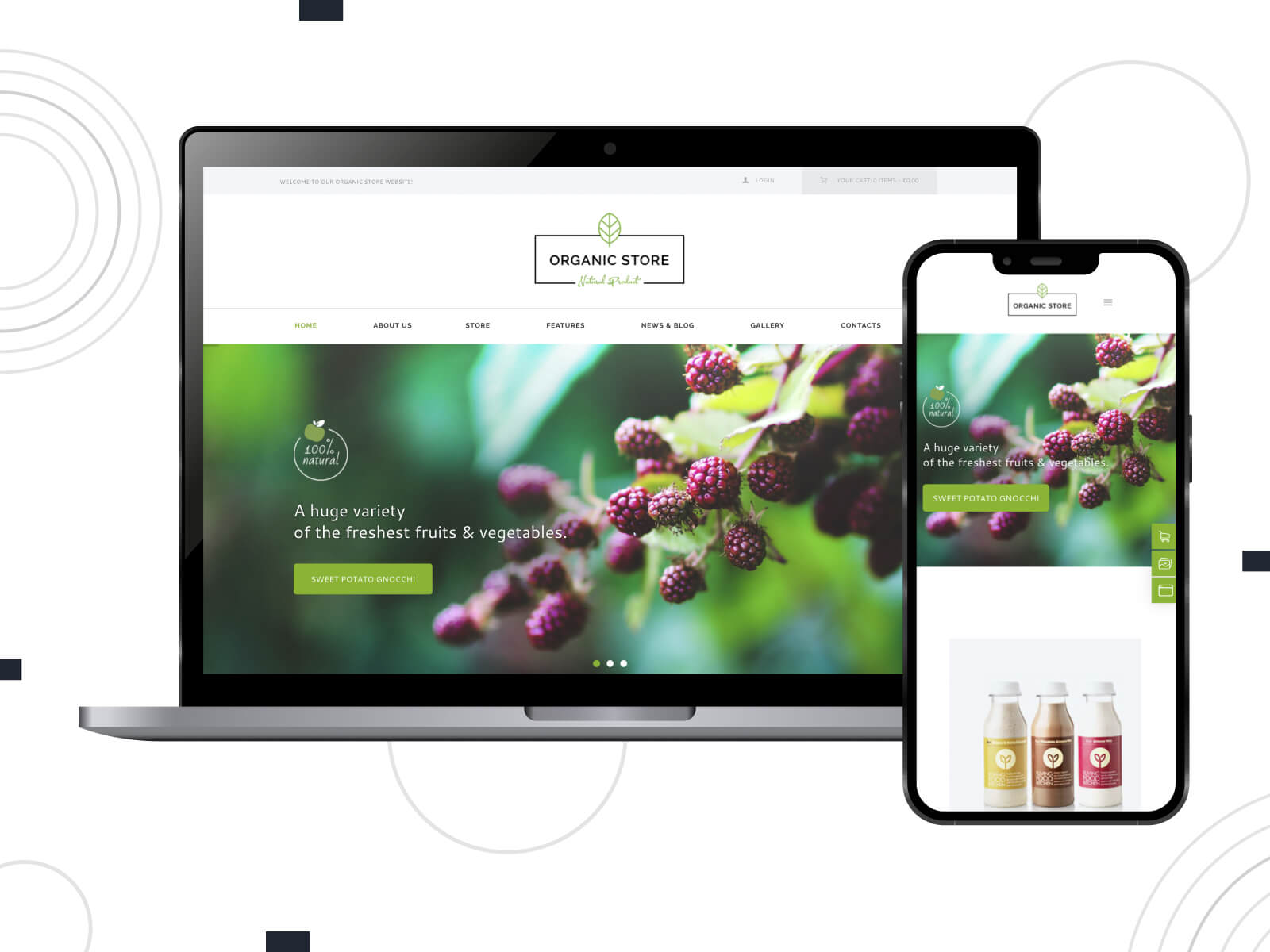 Author
Rating
Avg. Demo Speed Score
Axiomthemes
4.60
Mobile 52
Desktop 81
If the prospect of a new pandemic still frightens you, rest assured there is always a solution. Specifically, your best way out is setting up product delivery using a highly efficient Organic Grocery Store template. This gentle calm design and eco-friendly motives work in your favor, not to say, there are 5 stunning design options to your choice. All designs are modern, using bright colors and stylish Google fonts that remain adaptive on any mobile gadget.
Along with options for customizing the animation of galleries, you get powerful WooCommerce features with full shop design integration. Alongside this, you are getting the best experience with Visual Composer, WPML, Essential Grid, and Revolution Slider.
Core Features:
5 Premade Homepage Layouts;
Full Woocommerce Store Compatibility;
Beautiful Gallery & Blog Post Designs;
Multiple Ready-to-use Shortcodes;
20+ Post Animations;
GDPR Framework WP Plugin included.
14.  Rosewood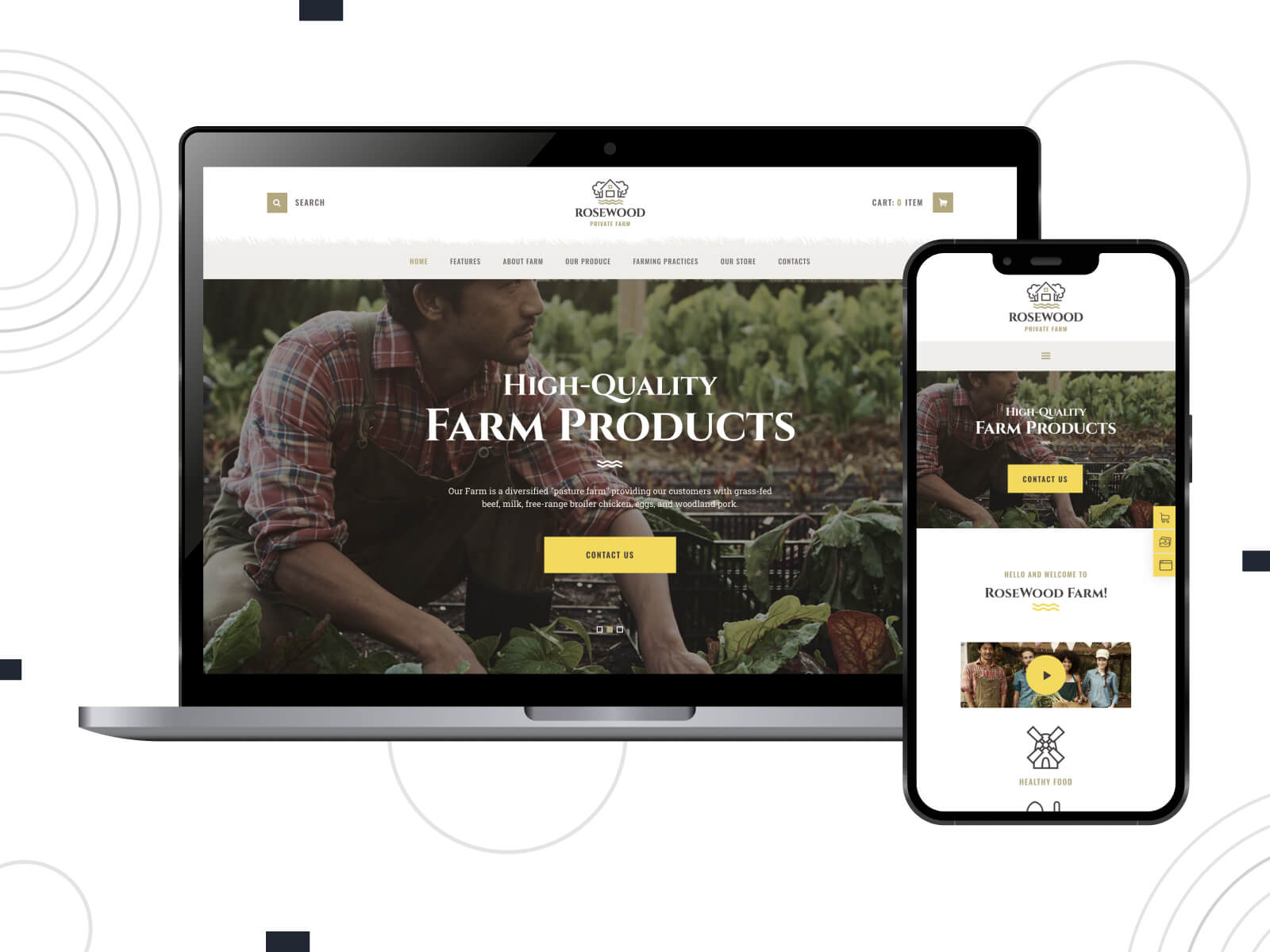 Author
Rating
Avg. Demo Speed Score
AncoraThemes
5.0
Mobile 32
Desktop 63
Lastly, take a look at this multi-functional, convenient, and responsive WordPress theme for an organic food store. The theme was designed to help small and medium-sized businesses showcase organic goods, whether it's farm vegetables, fruits, dairy, meat, or cosmetics.
Since Rosewood comes with built-in functionality essential for all WooCommerce food delivery themes, you gain access to multiple premium features. These include viewing products in either a grid or list format, as well as filtering and quick-view options.
Core Features:
WPBakery Page Builder Compatibility;
Sticky Menus;
Big Number of Shortcodes;
Revolution Slider, Essential Grid, Instagram Feed;
Easy Automatic Updates.
WooCommerce Food Delivery Themes Roundup Wrapping Up
Food delivery has become popular for a variety of reasons. It's convenient in many ways, including a hassle-free ordering system and the luxury of enjoying favorite meals at home without the need to cook. According to statistics, the revenue in the industry is expected to grow annually by 7.5% for the following 5 years. This suggests that creating a food delivery platform now could be seen as a reliable long-term investment.
The market for food-related WordPress themes is diverse, catering to a wide range of niches, from restaurants and bakeries to organic stores and wine shops. The common denominator for all these templates is the integration with WooCommerce, a powerful plugin that provides the necessary capabilities for a seamless e-commerce experience, such as online payments, shopping cart features, and advanced delivery options.
Themes like Carni Rosso and Vite Nera from MotoPress stand out for their Gutenberg-optimized designs and integration with the Getwid plugin, offering advanced blocks for enhanced functionality. Grand Restaurant and FoodBakery emphasize a modern, user-focused design and offer features tailored for restaurant owners, such as menu displays and online ordering systems. Themes like Picante and Lafka focus on providing a variety of pre-made designs to cater to different food establishments, from bars to fast food chains.
At its core, whether you're operating a restaurant, helming a bakery, or overseeing an organic store, there's a WordPress template designed just for you. This ensures a powerful online presence and seamless experience for your customers. So, dive in, make your selection, and let us know about your journey in the comments below.
Disclosure: this article may contain affiliate links for third-party products. If you click a link and later make a purchase, we may earn an affiliate commission that doesn't result in additional charges to you.
FAQ
What is the best theme for a food blog?
While the majority of the best food delivery WordPress themes listed in our article can be adapted for a food blog, alternatives like Cinnamon and Picante seem to have the most appropriate design and set of features suitable for food blogging. But again, depending on the specific needs and style preferences, you can choose any other option listed within the scope of this roundup.

Is WordPress good for a restaurant?
Absolutely. The world's most popular CMS offers various templates tailored to the restaurant industry. Options like Carni Rosso, Grand Restaurant, and FoodBakery come with specific functionalities that cater to this type of establishment. These include online reservation systems, integration with payment gateways, and a range of plugins for speed and SEO optimization, among others.

Which theme is best for a restaurant?
Which template is the best really hinges on the individual peculiarities of the business. While Grand Restaurant boasts a sophisticated design with versatile menus and online booking features, FoodBakery is a robust solution for food delivery chains. It comes equipped with several default demo starter kits and a dedicated admin section that simplifies order management.

Which Pizza delivery WordPress theme is best for SEO?
Most WordPress templates today are optimized for search engine visibility. Among the options highlighted in our roundup, both Restaurant Vincent and Lafka stand out as the top pizza delivery-focused themes in terms of search engine optimization. Notably, Lafka emphasizes its optimization features to enhance online visibility, making it an excellent choice for those prioritizing SEO.

Which site is best for online food delivery?
For businesses focused on food delivery, both Carni Rosso and Frutta Verde are highly tailored to this niche. Carni Rosso is particularly designed for online ordering, boasting a simple and modern design. It offers a high level of user-friendliness in the ordering process, seamless payment gateway integration, and, as an added bonus, it comes with 40+ additional Gutenberg blocks thanks to Getwid integration.

Where can I get free WordPress themes?
While the templates listed above are premium, WordPress offers a wide range of free options in its
official repository
. However, for specialized cases like restaurant websites and food delivery projects, premium themes often offer more various pre-packaged designs, tailored features, and dedicated support.