Best Alternatives to WordPress (& Why We Better Use WP)
The latest 2022 statistic by W3Techs claims WordPress hosts 64.1% of all the websites built with any kind of CMS. Not only is it a solid leader among all existing content management systems but also among ALL site-building solutions. 43% of all websites on the Internet are based on WordPress (as of the year 2022).
But even if WordPress is the most popular platform for site development, it will not change the real fact. The rest 57% of users prefer WordPress to something else.

So which site-building solutions count as "something else"?
5 Best Alternatives to WordPress 2022
We're going to take a look at the 5 best alternatives to WordPress, their key strengths, and major difference from the most popular CMS.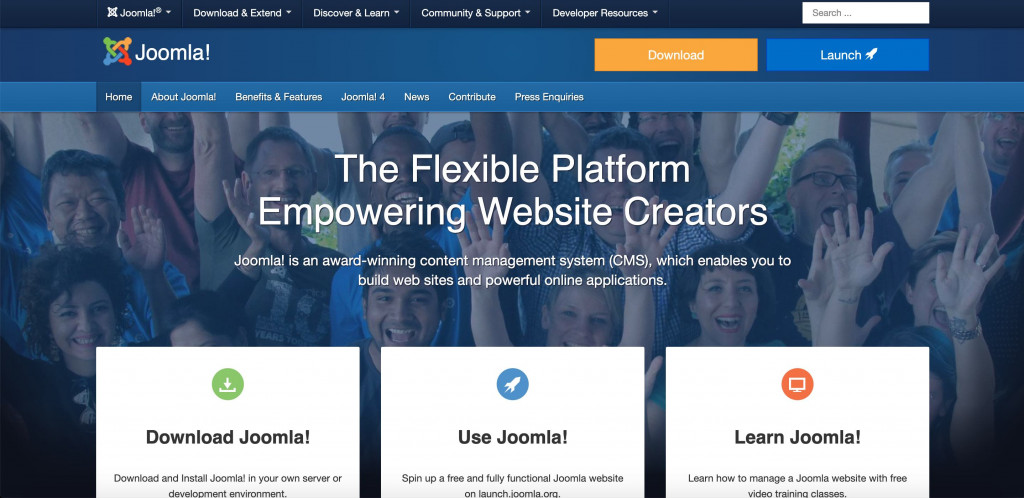 Best for creating scalable or complex websites of any type with no programming skills
One of the most popular WordPress alternatives considered an "open-source content management system" is Joomla. It comes with extensive themes, multilingual features, and plugins to help you build your site and add extra features. The platform gives you great control over working content and templates that shape the look and feel similar to WordPress themes.
One of the significant Joomla features is the built-in Access Control List (ACL), which defines who or what can access an object (program, process, or file) and what operations are allowed or denied to be performed by the subject (user, group).
Highlights:
Powerful PHP framework for building apps;
Built-in cache management tool to speed up site performance;
Highly-reliable security system;
2-factor authentication;
Multilingual support.
Joomla VS WordPress
Compared to WordPress, Joomla provides more extensive functionality for customizing sites on the backend. That's why Joomla can be more difficult to master for newbies than WordPress.
But despite its complexity, this CMS is more secure and less prone to hacks than WordPress. Along with a flexible interface, Joomla offers tools for an intuitive menu building system and SEO. You can also improve the functionality of your Joomla site with a large number of extensions that work similarly to WordPress plugins.
The platform is so far one of the best WordPress alternatives for developers as it gives greater control over working content and templates.
Price: free software (with an opportunity to purchase paid extensions)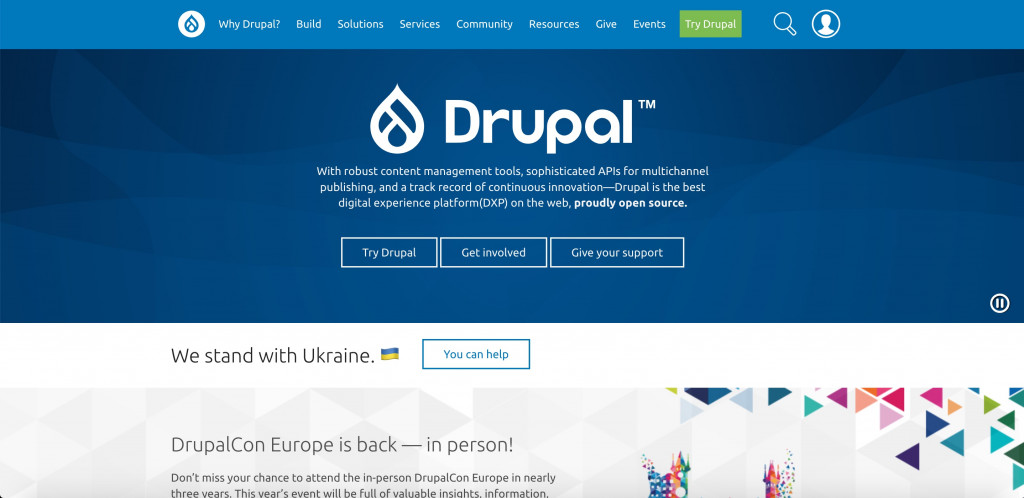 Best for large scale complex sites (especially those that need to manage a lot of client data)
Drupal ends the second place in our list of top CMS WordPress alternatives among content management systems after Joomla. Drupal is fast loading, well supported, secure CMS with an open-source code. Its customization options have almost no limits allowing you to build advanced websites of any kind.
Drupal is great for organizing and storing large amounts of data. So it will be a great choice for large corporations or government sites. When it comes to WordPress blog alternatives, Drupal will not likely become your priority option due to the steep learning curve.
Highlights:
Plenty of custom field types: modules, templates, and other site elements;
Supports prototypes;
Multiple themes and modules that will expand your current functionality.
Drupal VS WordPress
If you're used to WordPress, you'll find Drupal quite similar with its modules, plugins, and website templates. However, experienced users would claim Drupal is less beginner-friendly than WordPress. But instead, it comes with limitless editing options. Building a Drupal site also takes longer due to the complex nature of the system.
It's generally more secure and less prone to hacks than a WordPress site.
Finally, Drupal combines a powerful framework with great flexibility. Mastering this platform is definitely worth it if you count on excellent performance and scalability.
Price: free open-source software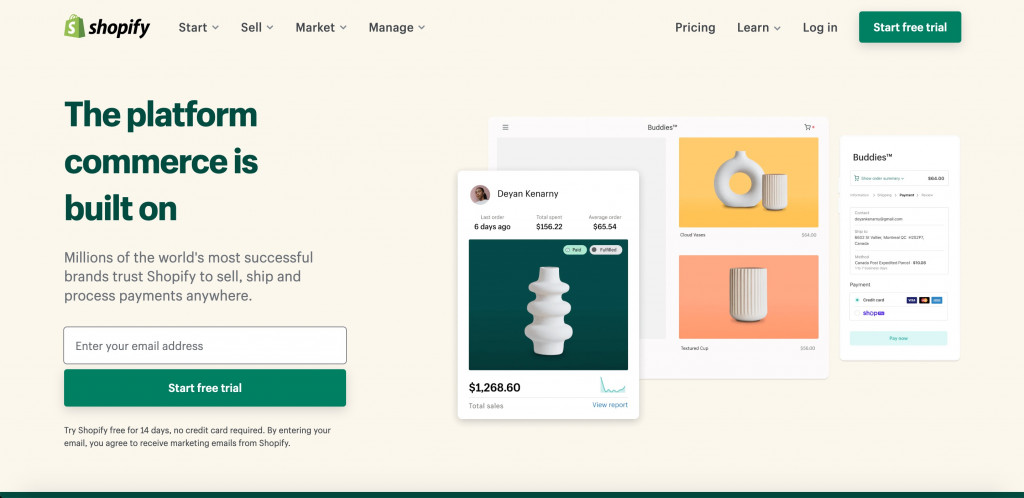 Best for eCommerce websites of all scalability (small online stores and large online marketplaces)
Shopify is a huge name in the world of site building solutions counted as one of the best WooCommerce alternatives for WordPress.
Shopify is a SaaS eCommerce platform allowing you to sell products to customers anywhere in the world. It provides access to all the products needed to run such type of business, including tools for marketing, customer acquisition, shipping, and payment tools. Also, Shopify offers SSL and PCI certification to encrypt all data, so you can be 100% sure the site data remains safe.
Shopify has a large variety of themes that you can detect by using the Gochyu Shopify Detector.
Highlights:
Nice options for cash flow management & payment gateway;
Plenty of free business tools;
24/7 customer support.
Shopify VS WordPress
Shopify is a closed source hosted platform and a SaaS tool. This means, compared to WordPress, you don't have to worry about monthly fees for self-hosting. On the other hand, Shopify does not allow you to view and edit its code while it's possible to do so with the WP software.
Anyway, Shopify might be worth paying for if your site is 100% eCommerce-oriented and have perspectives to scale up. For other types of websites with a mix of eCommerce and blogging or business portfolios, WordPress seems like a better choice.
Price: 3 available plans: Basic ($29/mo), Shopify ($79/mo) & Advanced ($299/mo)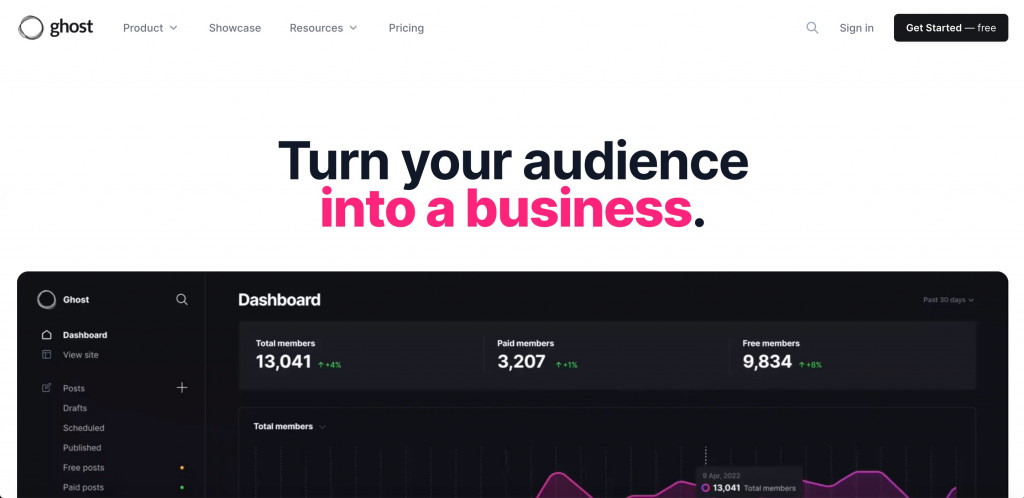 Best for blog & magazine websites of any kind
Ghost is at your service if you are looking for something more specific, namely WordPress alternatives for bloggers and publishers.
This CMS comes with versatile features for customizing page layouts, scheduling, entering analytics code, and more – all in one package. Ghost also makes it easy to optimize and create content and distribute it across multiple channels to increase the number of readers.
Another important advantage of Ghost is that it's extremely developer-friendly. You will be given full control over API integration and theme development. Besides, you'll have an automatic content backup system so you don't have to worry about your content disappearing in case of an unexpected crash.
Highlights:
Subscription & RSS feed management;
Markdown available (converts content into well-structured HTML);
Simple tools for managing users and assigning roles;
Built-in AMP support for faster loading on mobile devices and better SEO rankings.
Ghost VS WordPress
Similar to WordPress, Ghost can work as an open-source platform. However, while WordPress has grown from a blogging solution to a universal site-building platform, Ghost has deliberately chosen to keep it simple. This makes this CMS much more lightweight and easy to manage. The backend editor seems more user-friendly and "smooth" than WordPress.
Also, the Ghost community is significantly smaller than the WordPress one. This means it's a bit difficult to find plugins that imitate familiar WP features.
Price: FREE or PRO versions available. The last one offers 4 plans: Starter ($9/mo), Creator ($25/mo), Team ($50/year) & Business ($199/year).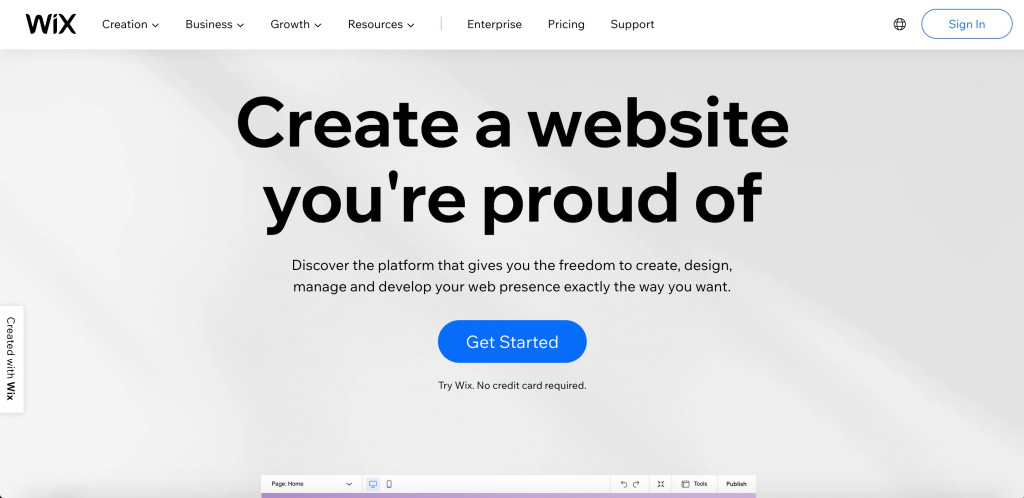 Best for all types of small- and medium-size websites
It seems as if site developers choose CMS alternatives to WordPress for more control. However, someone would still prefer services like website builders. Those are SaaS platforms with a default drag-and-drop approach in site development. Wix remains one of the big leaders in this particular niche.
This platform is a great way to create a website that fully meets client requirements. Wix supports features for both simple blog sites as well as large eCommerce platforms (e.g. compatibility with PayPal or Authorize.net).
Wix comes with plenty of ready-made designs, 500 templates, SEO tools, high-level security features, scroll effects, and custom coding. The service is both free and paid. The premium plan comes with more advanced features and an ad-free interface.
Highlights:
One of the most user-friendly services;
Easy to use and understand even for novices and beginners;
Own marketplace with tons of extensions;
Large feature set including SEO, blogging, website building, social media integration, and more – even in the free plan;
Large selection of well-designed templates.
Wix VS WordPress
There is no substantial difference between both in terms of the end result. Both platforms help you create amazing websites of any type. However, Wix is likely one of the most user-friendly alternatives to WordPress for websites.
Wix offers the easiest solution for a complete beginner to launch a website. The Wix editor is super simple and intuitive. You see the admin panel and it's not burdened with options, so it will be easily perceived by users. There is also no need to search, buy and configure hosting, templates, and plugins. Everything is included in a paid plan. The straightforward Wix builder makes WordPress look like a more complex software than it actually is.
Price: FREE or PREMIUM plans available. The last ones start from $4.50/mo, while the most expensive plan will cost you $35/mo.

Why Choose WordPress For Your Website (Despite All Options)?
This was a roundup of 5 best alternatives to WordPress for blogging, eCommerce, or a universal use. We covered both free open-software solutions (similar to WordPress) as well as premium SaaS services with more of a "ready-to-go approach".
Indeed, a solid percentage of users would go for solutions like Wix or Ghost. They will save time on learning the software and installing the hosting & domain.
So, why choose WordPress for CMS over other solutions?
There are plenty of reasons why WordPress is beneficial and it all depends on the software we compare WP with.
When it comes to SaaS services VS open-source CMS like WordPress or Joomla, one thing is clear. Open software has a lot more long-term potential in functionality and utility. Open software provides limitless opportunities for scaling up your website and adding any functionality with a help of useful extensions. In particular, WordPress.org has no limitations set by a pricing plan.
What's more, with WordPress, you are free to use any hosting & domain plan and company, while SaaS services let you use their own hosting & domain. This means WP offers greater flexibility, so you can decide which plan fits your personal needs.
Besides, WordPress comes at no cost and yet, has no ad placement or limitations on the number of hosting websites
Speaking of the difference between WordPress & other CMS, we'd like to specify the next points:
WordPress is so far the easiest content management system for creating websites of all sizes and types. You need minimum time to figure out how to set up the software, connect the domain & hosting, and research tools (themes, plugins & addons) to make your WordPress experience even easier.
By default, WordPress supports both visual customization via the Gutenberg block editor and editing via HTML/CSS.
WordPress is spam-free (thanks to the Akismet plugin) and SEO-friendly.
The core WordPress software (without plugins) has a high level of security.
WordPress hosts one of the largest collections of templates, plugins, and other extensions. The official repository hosts more than 10k free solutions for all types of websites. Besides, there are independent third-party developers like us providing advanced WP software. You can take a view of our full list of MotoPress products down the link.
The WordPress community is huge! It means you can find answers to all questions in forums and on social media.
Overall, the choice is always on you. Hope this post leads you to the best decision!